Are you looking for things to do in Hilo with kids? Keep scrolling to learn how to do the Akaka Falls hike near Hilo, Hawaii for a fun adventure.
This post about how to do the Akaka Falls hike with kids contains affiliate links which means if you purchase something from one of my affiliate links, I may earn a small commission that goes back into maintaining this blog.
Are you looking for Big Island waterfall hikes in Hawaii that are kid-friendly?
We just did the Akaka Falls hike with a 5-year-old and I highly recommend it! Keep scrolling for my honest tips and trips for how to hike Akaka Falls with kids.
Plus, I'll tell you what to wear, what to pack, and how to make the most memorable time exploring this Big Island waterfall with your family.
You can enjoy hiking at Akaka Falls without worrying about your little one getting tired or bored on the trail. It's also an excellent way of keeping them active while showing them some beautiful scenery along the way.
And if they do get tired then don't worry because there is a covered sitting area near the lookout where you can take a break before continuing back to your car.
The best part is that we didn't have any issues finding parking so it was easy peasy! If you're planning a trip soon then definitely check out my blog post for more information on this awesome Big Island waterfall hike with kids!
So let's dive right into our top 5 favorite things about hiking Akaka Falls with kids.
Don't have time to read a bunch of Hawaii blog posts and reviews? Here are some of our top picks for visiting the Big Island with kids.
Best Kid-Friendly Big Island Tours/Activities
Best Kid-Friendly Big Island Resorts
Want to Rent a Car in Hawaii?
One of the best places to rent a car in Hawaii is Discount Hawaii Car Rental because they get the best rates from top national companies like Alamo, Dollar, Thrifty, Avis, Enterprise, Budget, and Payless.
Want to skip all the planning and just access my detailed Big Island Itinerary complete with daily schedules, kid-friendly activities, and travel hacks? Click the button below.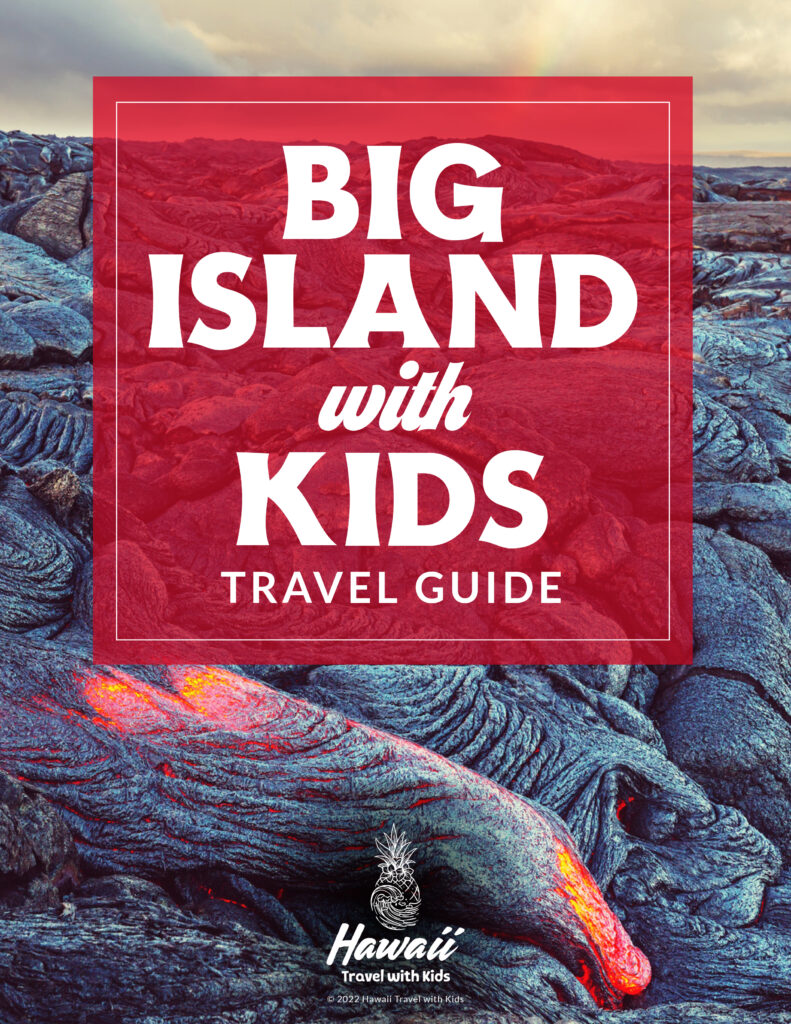 Waterfalls on the Big Island FAQs
What are the Hawaii state parks with waterfalls?
You can find waterfalls at Wailuku State Park and Akaka Falls State Park on the Big Island. On Kauai, the Wailua River State Park is home to both Opaeka'a Falls and Wailua Falls. Maui has Pua Ka'a State Wayside.
What are the best Big Island waterfall hikes?
If you're looking for an easy Big Island waterfall hike, head to Akaka Falls near Hilo. It's a short look to see Kahuna Falls and Akaka Falls on a paved path in the jungle. There's also Pe'epe'e Falls in Hilo. Or you can drive right up to the Rainbow Falls lookout.
Are there any Hawaii Big Island waterfalls near Kona?
While there are tons of Hawaii island waterfalls, most are on the Hilo side of the island. That's the rainy side and it makes sense there would be Hawaii waterfalls there. Kona is the dry side of the island and you won't find any waterfalls there.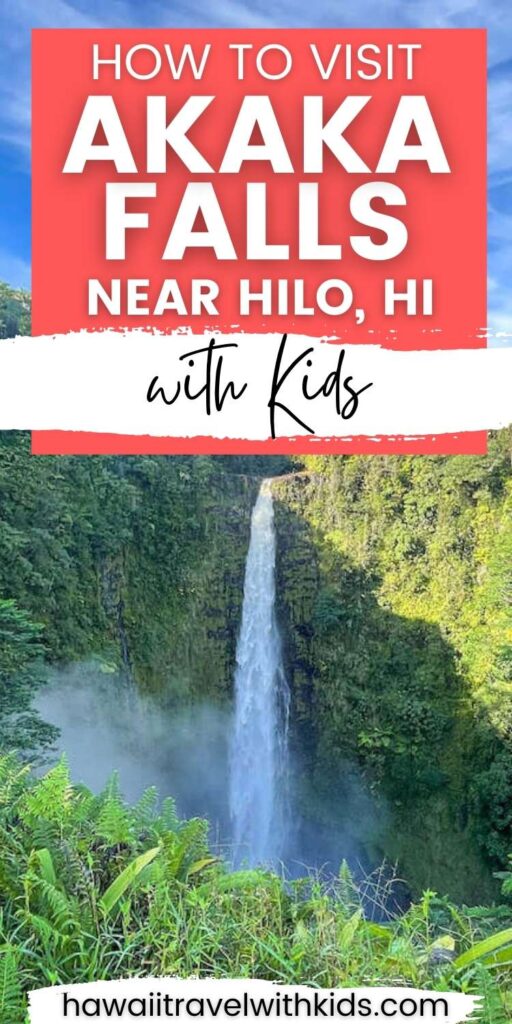 Where is Akaka Falls on the Big Island?
Akaka Falls State Park is about 30 minutes from Hilo, Hawaii. The address is 875 Akaka Falls Rd, Honomu, HI 96728. The Akaka Falls hours are 8:30 a.m. to 5:00 p.m.
The drive up there is really pretty and you'll pass a few fruit stands and even a goat farm.
Parking and Entrance Fees
There is a decently large parking lot at Akaka Falls State Park. You do have to pay for parking as well as entrance for everyone.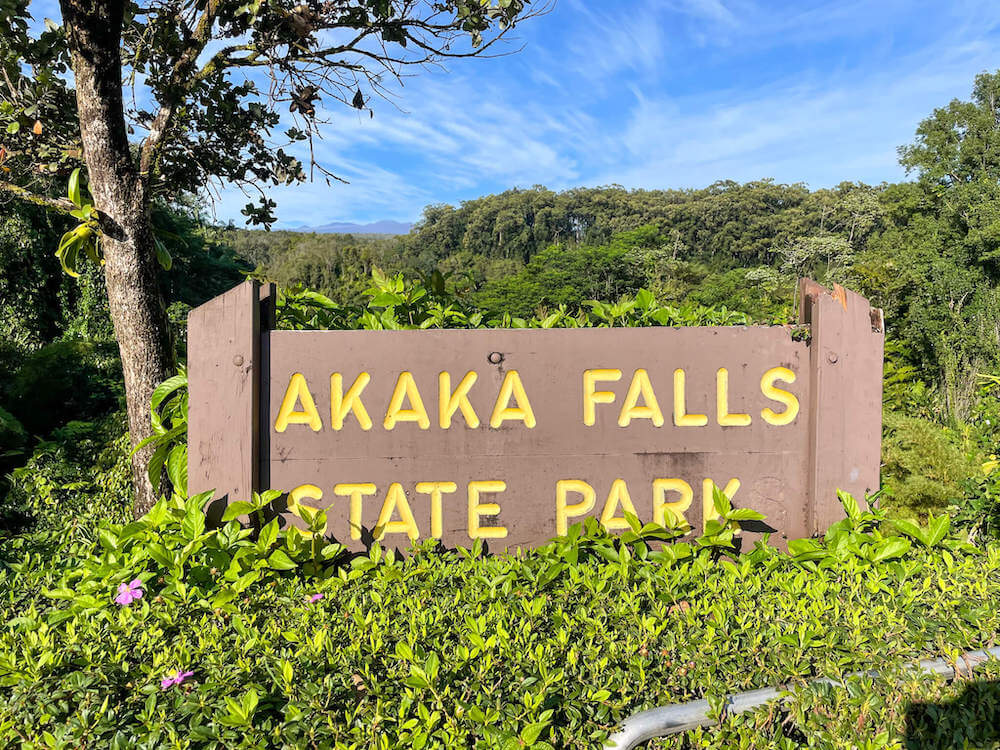 I went with my 5-year-old and we paid about $20 for parking and entrance fees at Akaka Falls.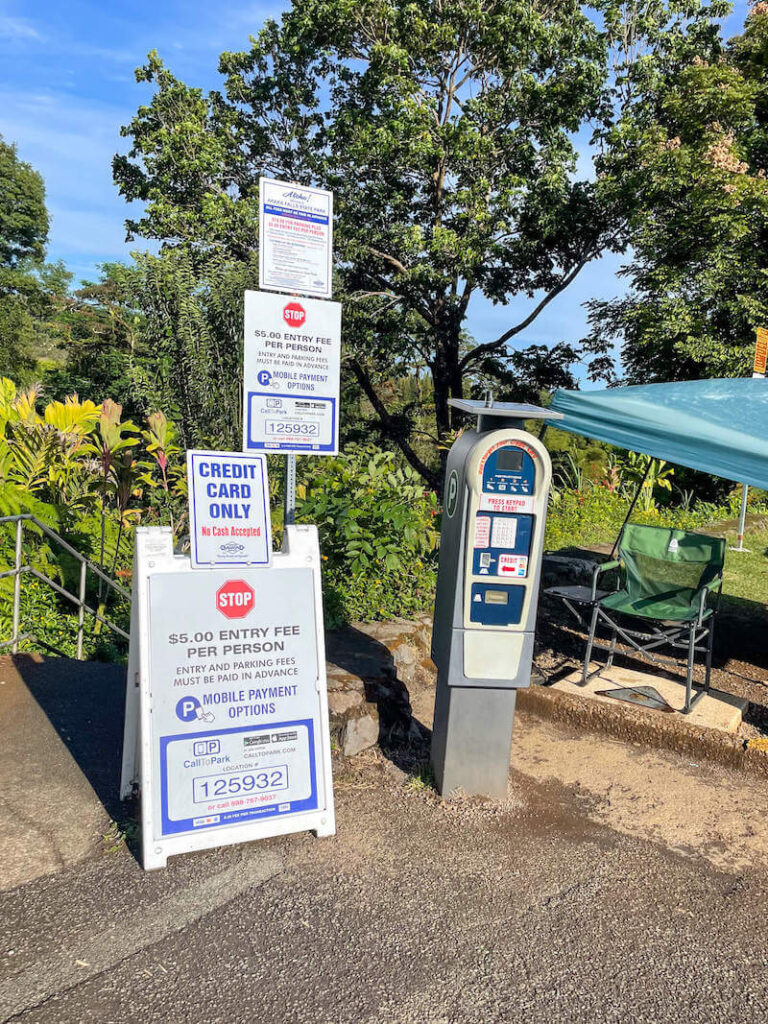 They also had staff members hanging out near the payment booths to make sure people paid to enter.
I did see a few cars park on the road right outside of the parking lot to avoid the parking fees. I don't recommend doing this. The parking fees help offset the Hawaii state budget. Be a responsible tourist and just pay the fees.
What Can I do at Akaka Falls State Park?
Really, the main thing to do at Akaka Falls is to hike the paved path to see this Big Island waterfall. Your parking ticket will give you about 1 hour to explore, which is plenty of time.
There's also a public restroom, so you can make it a potty stop as well.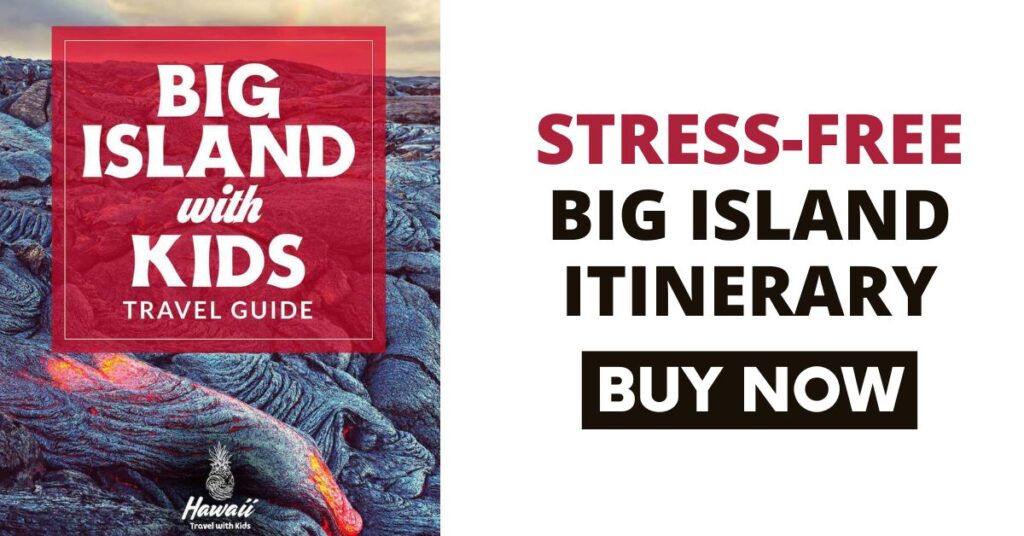 5 Favorite Things about Hiking Akaka Falls Near Hilo with Kids
1. The Entire Path is Paved
I always appreciate pathways that are clearly marked and it doesn't get much clearer than a paved path. It also means you don't have to watch out for tree roots or large rocks that might trip younger kids.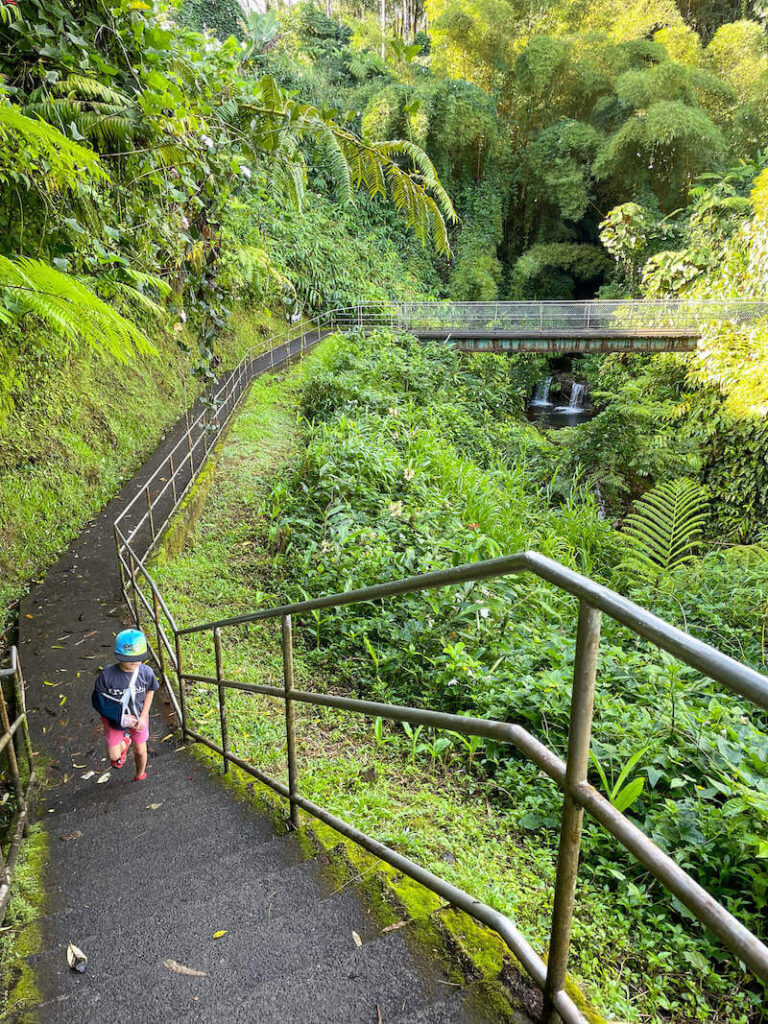 There are also a lot of stairs on this path, which are often easier than climbing up a hill on a path that might be slippery.
But the paved path makes it one of our favorite Hawaii waterfall hikes.
If you need are looking for a Big Island accessibility tip, head to the path on the left to get a view of the falls without doing the stairs.
2. There are Handrails
If you feel a little unsteady walking (especially if you are pregnant) you can simply reach out and use the handrail. Actually, they have them on both sides of the Akaka Falls trail.
3. Stunning Photo Spot on the Big Island
I'm always down to get a cute selfie with my kids at a pretty spot in Hawaii. It doesn't get much better than the Akaka Falls lookout! You'll feel pretty close to the waterfall and get some beautiful photos.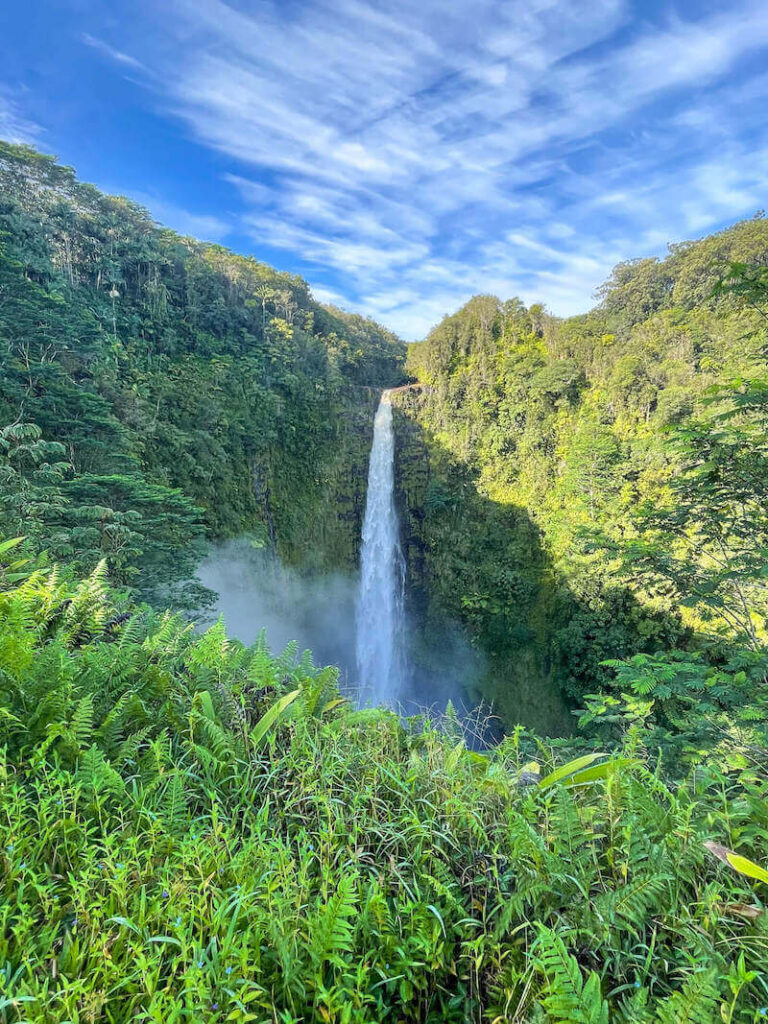 This is definitely one of the prettiest waterfalls near Hilo Hawaii! And Akaka Falls is one of the top Big Island Instagram spots!
4. It Takes Less Than an Hour
My kids aren't always up to tour around all day long. So, I always try to find some short excursions we can do if they are running out of steam. This is a great activity to do in just 30-60 minutes. Plus, it's only about 25 minutes from Hilo so you can knock it out pretty quickly.
5. There's a Bonus Waterfall
If you do the circle tour (the path that goes to the right) you get to go to a tiny overlook where you'll see a different waterfall tucked away in the hills. This is Kahuna Falls.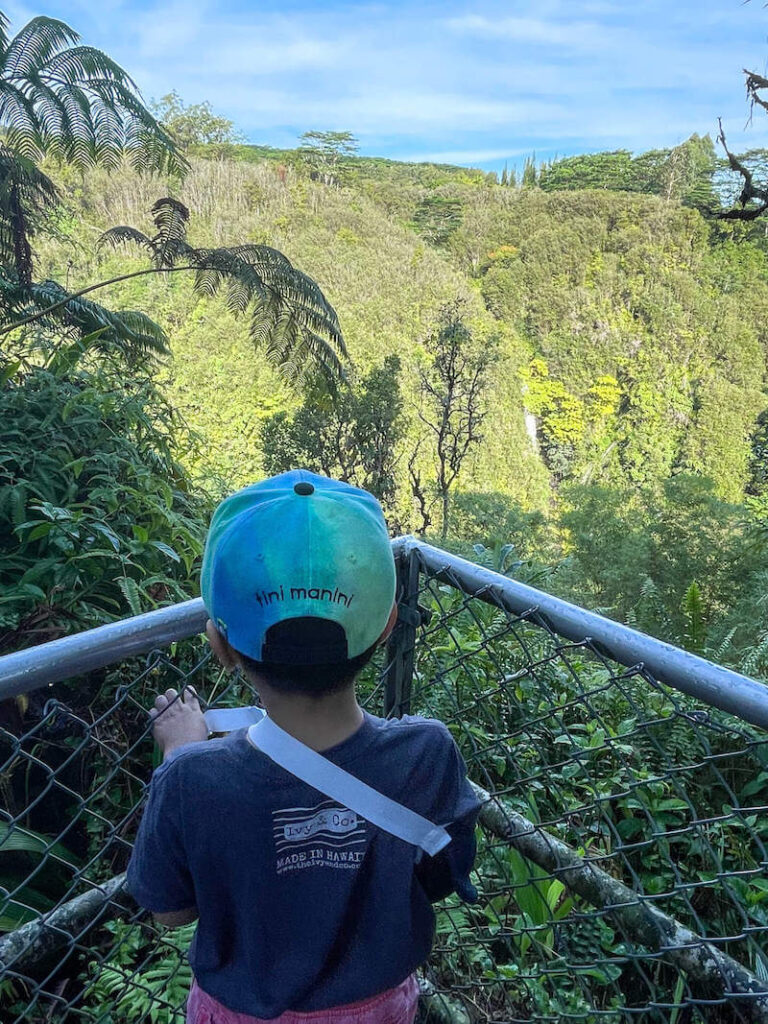 It has it's own little viewing platform and it kind of makes you feel like you've "discovered" it in the jungle, which is fun for kids.
Tips for the Akaka Falls Hike with Kids
What to wear
Because you'll be walking around in the jungle in Hawaii, it can get quite warm. We went right when they opened at 8:30 a.m. and I was a hot sweaty mess by the end.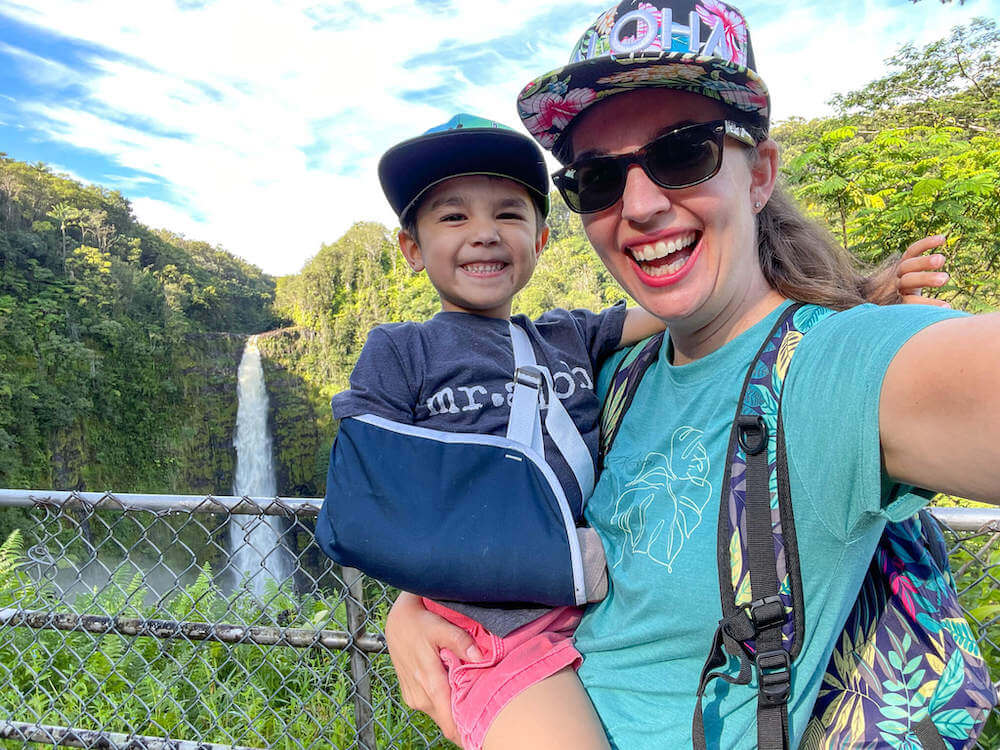 So, I suggest shorts and a shirt/tank top. You could probably do the Akaka Falls hike in flip-flops, but athletic shoes or sandals are my recommendations. The path was a little wet and we felt sturdier in real shoes versus flip-flops.
What to pack
Definitely add bug spray to your backpack if you tend to get bitten. We felt some bugs on us when we were walking and my son touched some of the plants where mosquitos were hanging around.
Sunscreen is another smart idea. It's always good to put sunscreen on first thing in the morning and then reapply throughout the day. Most of the trail is shady, but the scenic viewpoint is in direct sunlight.
Which path to take
So, there are actually two paths for the Akaka Falls hike. The sign will recommend the circle tour, which is the one we did. I hiked it with a 5-year-old in about 30 minutes and we stopped to take photos and look at plants along the way.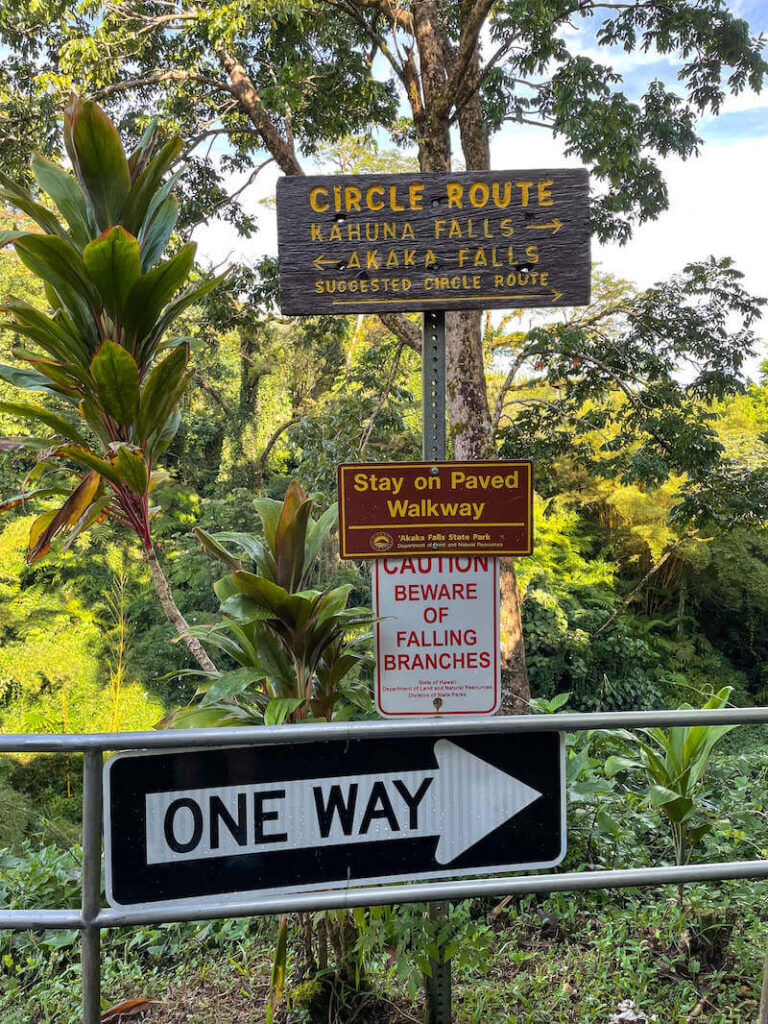 There's also a shorter path that goes to the Akaka Falls viewing platform. This is a great option if your kids are tired or you just want a quick stop to see the waterfall.
Families with babies and toddlers
The path is completely paved the entire way. However, there are LOTS of stairs. So, it's definitely not stroller-friendly. Instead, plan on using a baby carrier.
If you have a few grown-ups, you could send one with older kids on the circle tour while another does the shorter path with babies or toddlers. They both meet at the scenic lookout.
So, is it worth hiking Akaka Falls with kids?
Absolutely! This was one of our favorite things to do in Hilo and it was totally worth the entrance and parking fees.
I loved that it was a short Big Island hike on a paved path and we got to see a majestic waterfall up close. It's no wonder why Akaka Falls is one of the most famous waterfalls in Hawaii.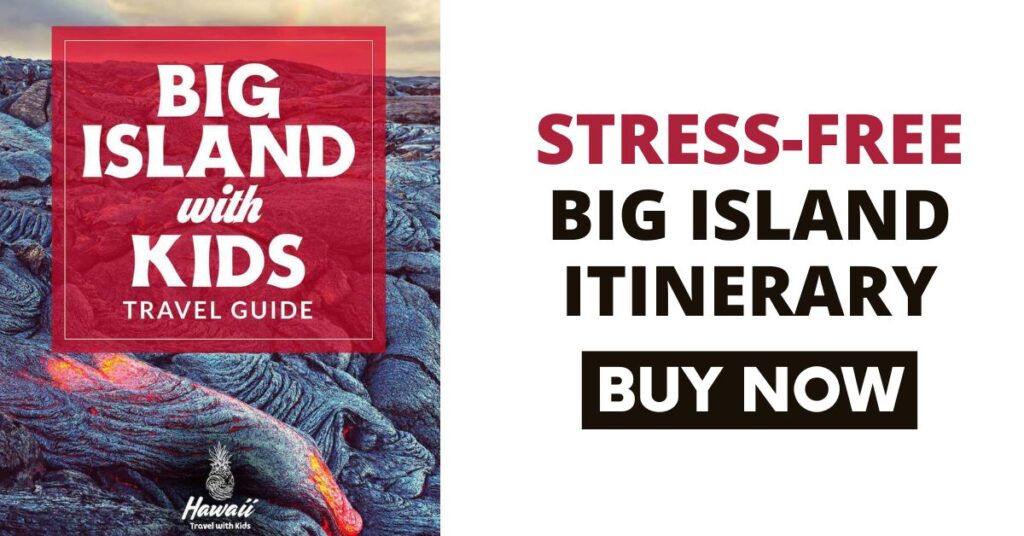 What Are Some Other Kid-Friendly Waterfalls on the Big Island?
Now that you know how awesome Akaka Falls is, you're probably wondering if there are any other Big Island Hawaii waterfalls worth checking out with kids.
Rainbow Falls in Hilo
There's actually a super accessible waterfall just minutes from downtown Hilo. Rainbow Falls is tucked away in a residential area and it's one of the easiest Big Island waterfalls to see.
You basically park and walk like 20 feet to get to the first viewing platform. You can take a few more steps to go up to another platform for a slightly different angle. It's one of the most popular Hilo waterfalls for families.
They used to have a hike to get up to the top of the waterfall, but that closed in March 2020 and hasn't re-opened yet.
P.S. Join our Hawaii Travel with Kids Facebook group to get connected with other families planning a trip to Hawaii!