Are you looking for the best things to do on the Big Island with kids? Keep scrolling to read my honest review of the Big Island ATV tour at Aloha Adventure Farm.
This Big Island ATV Tour Review contains affiliate links which means if you purchase something from one of my affiliate links, I may earn a small commission that goes back into maintaining this blog.
Are you visiting the Big Island with your family and want to do an epic adventure?
My family recently did a Big Island ATV tour at Aloha Adventure Farm. It's a 2 hour ATV tour that takes you through the jungle where you'll stop and learn about Polynesian history and culture along the way.
You can drive your own ATV or have one of their guides drive you in a UTV, which is what we did.
Keep scrolling to read my honest Big Island ATV tour review and see if it's worth adding to your Big Island itinerary.
I'm going to share everything from our experience on this awesome adventure so that when it comes time for you to plan out your trip, whether it be for yourself or with kids, you'll know exactly how much fun we had exploring Hawaii's beautiful landscape while learning about its rich history & culture all in one day!
This is definitely not just another touristy activity but rather something unique that will make sure everyone has an amazing time during their visit – even if they're only here for a few days!
And don't worry parents because there are plenty of things planned throughout the ride so no need to worry about keeping them entertained either.
Scroll down further because I've also included some helpful tips below too! So let me tell you…I think this might be my new favorite thing to do on the Big Island!
Don't have time to read a bunch of Hawaii blog posts and reviews? Here are some of our top picks for visiting the Big Island.
Popular Big Island Tours/Activities
Favorite Big Island Resorts/Hotels
Want to Rent a Car in Hawaii?
One of the best places to rent a car in Hawaii is Discount Hawaii Car Rental because they get the best rates from top national companies like Alamo, Dollar, Thrifty, Avis, Enterprise, Budget, and Payless.
Want to skip all the planning and just access my detailed Big Island Itinerary complete with daily schedules, kid-friendly activities, and travel hacks? Click the button below.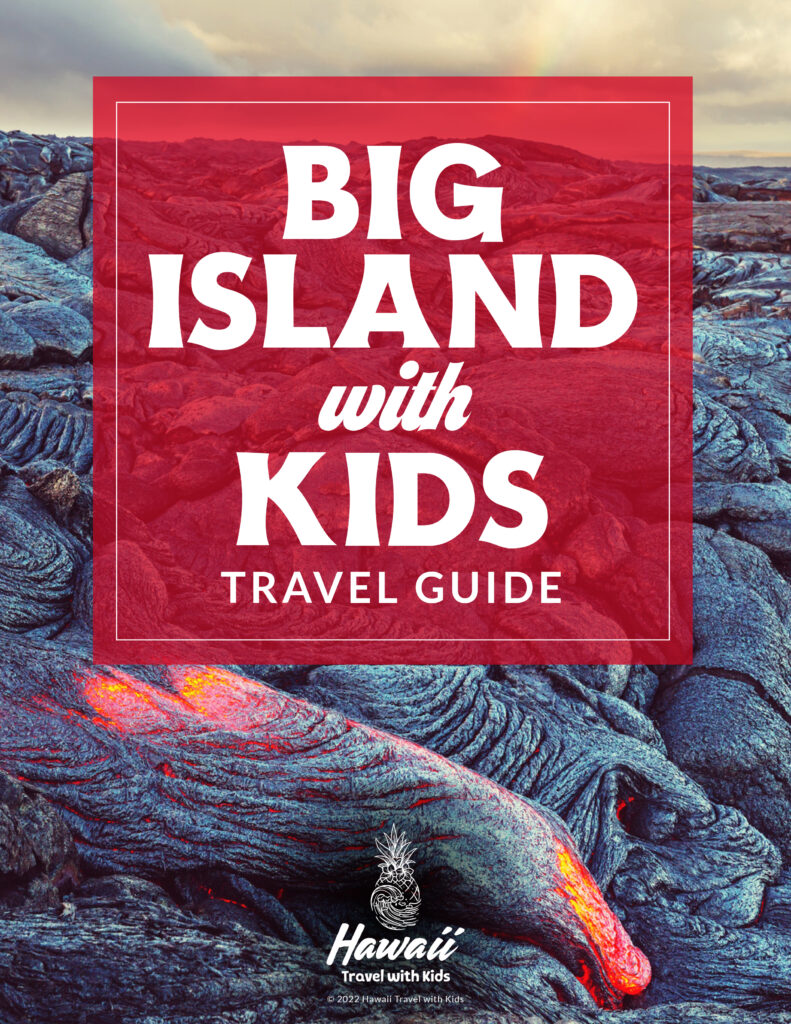 Hawaii Big Island ATV Tours FAQs
Can I take my own photos?
Yes and no. You can totally take photos at the different stops in the jungle or while you're not operating the ATV. However, you won't be allowed to use a phone or camera while driving the ATV because it's unsafe.
What if it rains on my Big Island ATV tour?
Unless there are extreme wind or weather conditions, the ATV tour will go on as usual. In fact, a lot of people prefer doing the ATV tour in the rain because they can get super muddy!
Is there a place to eat at Aloha Adventure Farm?
While they don't have a restaurant, they do have a gift shop with an impressive array of snack and drink options. These are easy grab-and-go items.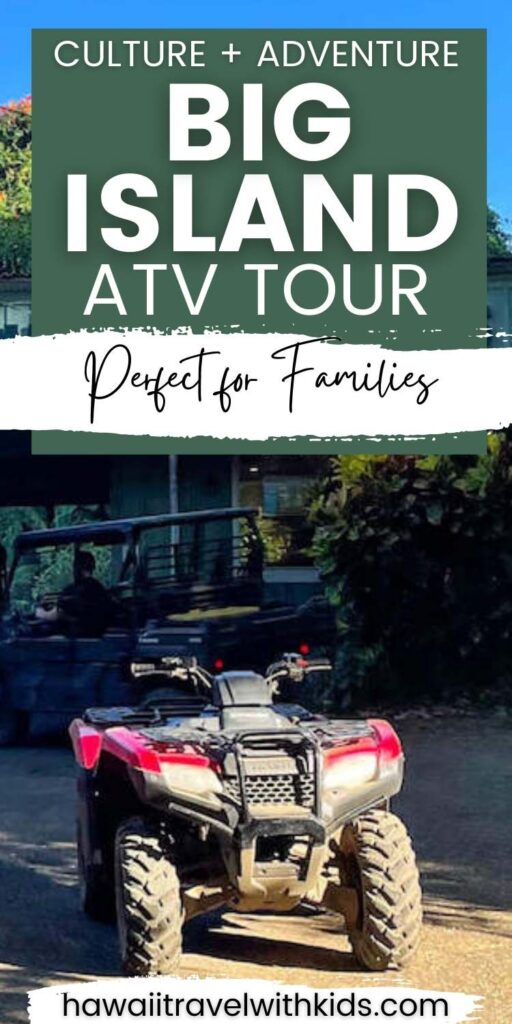 About Aloha Adventure Farm
The Aloha Adventure Farm started in late 2019 in historic Holualoa near Kona. The owners used to run a cotton farm in Arizona.
They actually cleared all the ATV trails themselves about a month before they opened for tours.
They are located right next to the Kona Le'a Plantation, which is home to Holualoa Kona Coffee Company. You'll actually drive past a lot of coffee plants on the ATV tour.
Aloha Adventure Farm Tours
There are currently two tours at Aloha Adventure Farm. Both of them incorporate Polynesian culture.
Hawaii ATV Tours
If you want to ride an ATV through the jungle in Hawaii, this is a great option! I'll be explaining more about the tour in detail later in this post. Check the latest rates and availability.
Polynesian Wood Carving
Another awesome thing they offer at Aloha Adventure Farms is an authentic Polynesian wood carving class. You'll leave with one of the coolest Hawaii souvenirs!
What to Know about the Aloha Adventure Farm ATV Tour Before You Go:
Arrival
They ask you to arrive about 30 minutes before your tour. You'll head inside their gift shop and fill out the waiver on an iPad. This is also where you can check out the photos after the tour.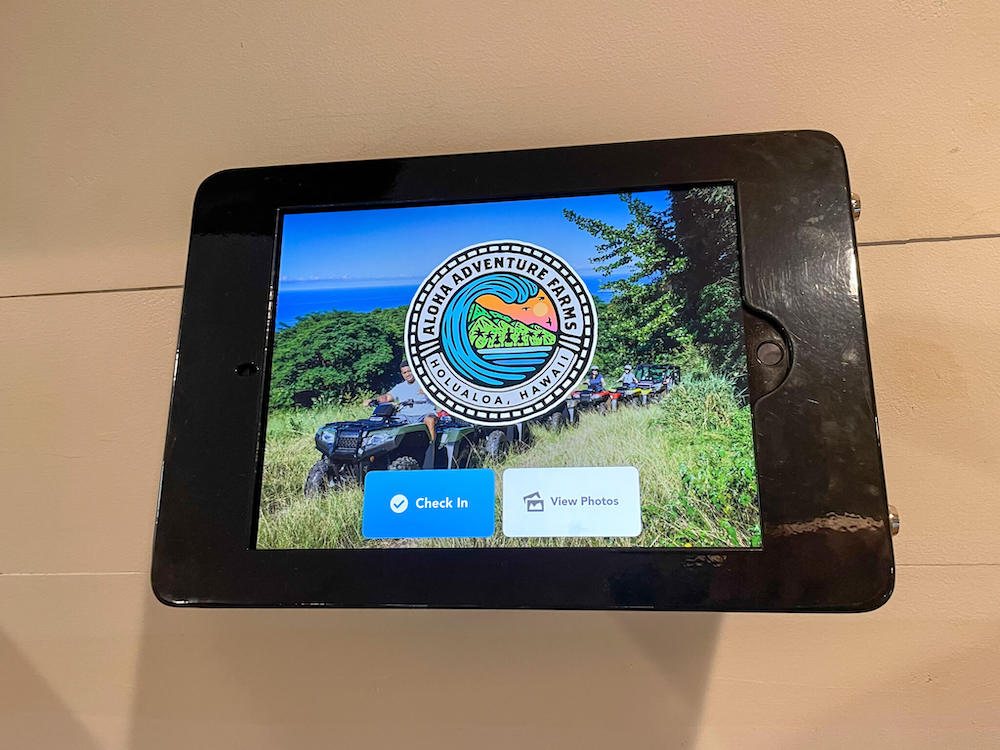 Next, they will fit you with a helmet and goggles. These are just for the people riding ATVs. However, if you or your kids are riding in the UTV, you can ask for goggles to help minimize the dust.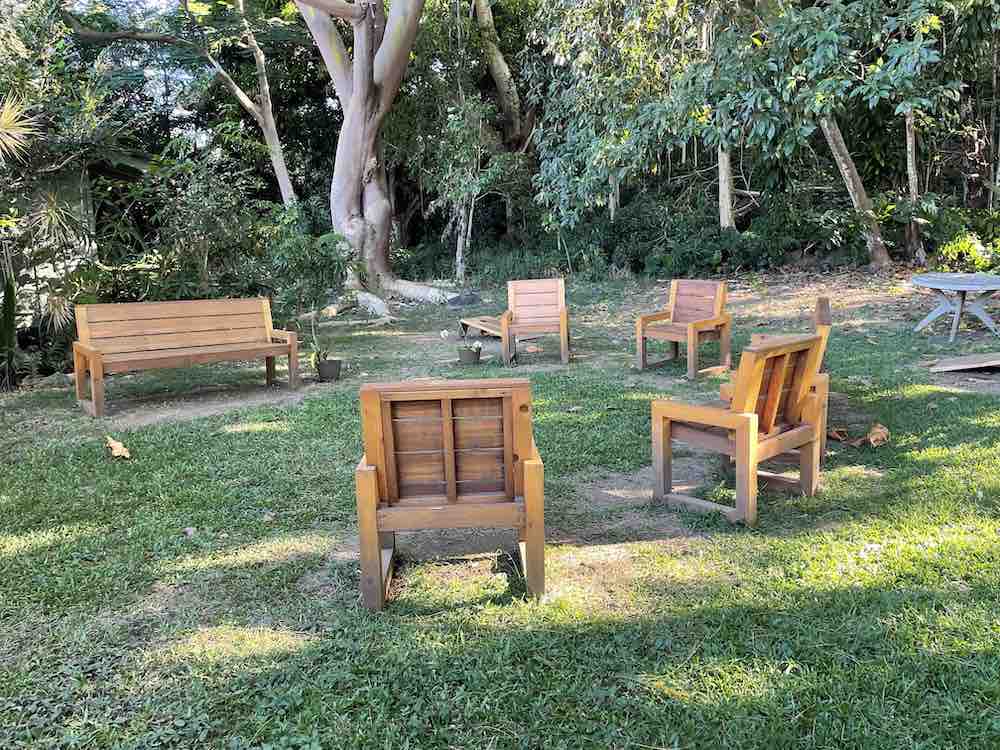 Then, you'll hang out in the outdoor seating area so they can go over safety precautions and explain how the tour goes.
Finally, it's time to hop on the ATVs. Thankfully, there are a lot more instructions on how to operate these specific ATVs and you'll get an opportunity to practice a bit before hitting the trail.
Big Island ATV Tour
For the Big Island ATV tours, you'll ride an ATV that has switches on the handlebars. These are a bit different than the ones that feel a bit more like a motorcycle. I'm mentioning it in case you are experienced and that makes a difference to you.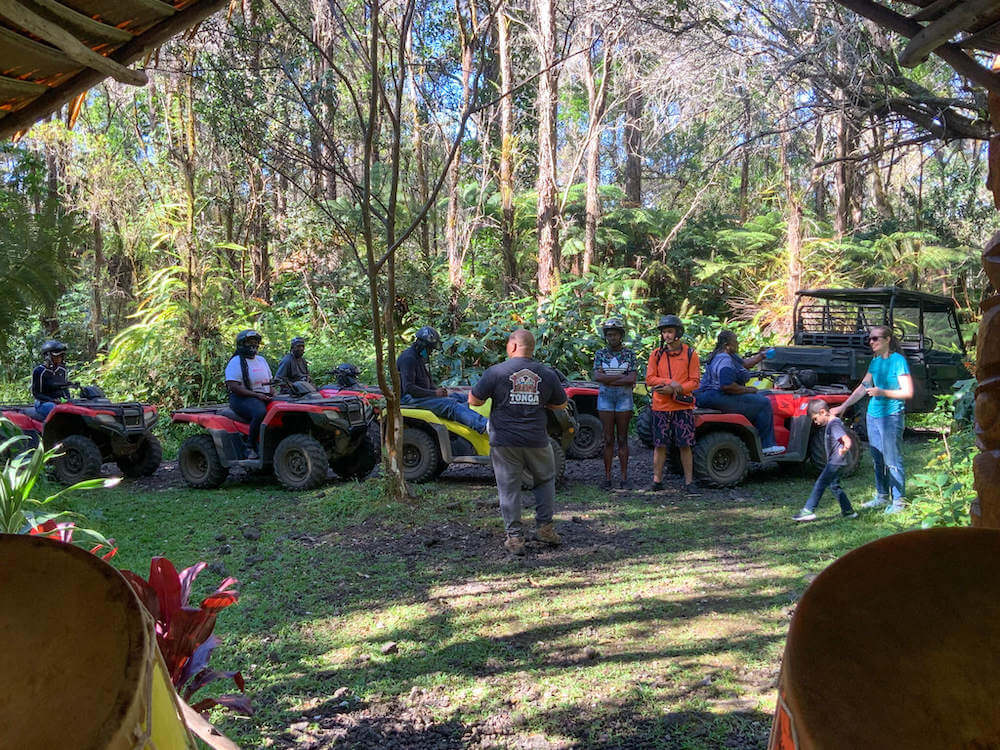 You'll stay in a line as you hit the trail. It can get very dusty so it's important to wear goggles and either a face mask or bandana to keep dust out of your mouth. These are a lot of fun and everyone on our tour was smiling.
Big Island UTV Tour
I brought my 5-year-old son and we both did the Big Island UTV tour. This is the same as the ATV tour except that we road in a UTV (kind of looks like an off-road golf cart) and the tour guide drove us around.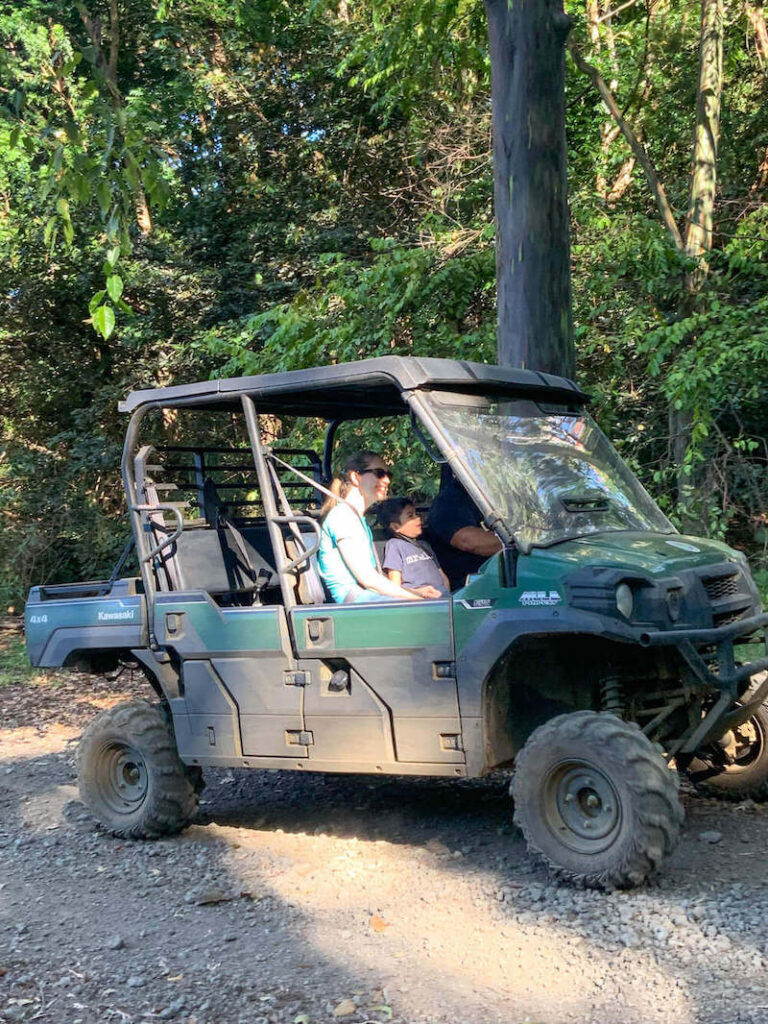 I'm not adventurous enough to ride an ATV, so this was PERFECT. Plus, we got to chat with the guide and learn about the farm, Polynesian culture, and just life in general.
The UTV had a windshield, so we didn't get super dusty. Plus, I was able to take photos and video while we were riding around. Check the latest rates and more information.
The Highlights of this Big Island Tour and What You Should Look Out For
What sets this ATV tour apart from other Hawaii ATV tours is the cultural component. You'll stop by 4 villages during this two-hour tour and each one has an activity. I'll describe them below.
Tonga
First up is Tonga. Our guide actually grew up in Tonga so it was really cool to have him present a bit about his country.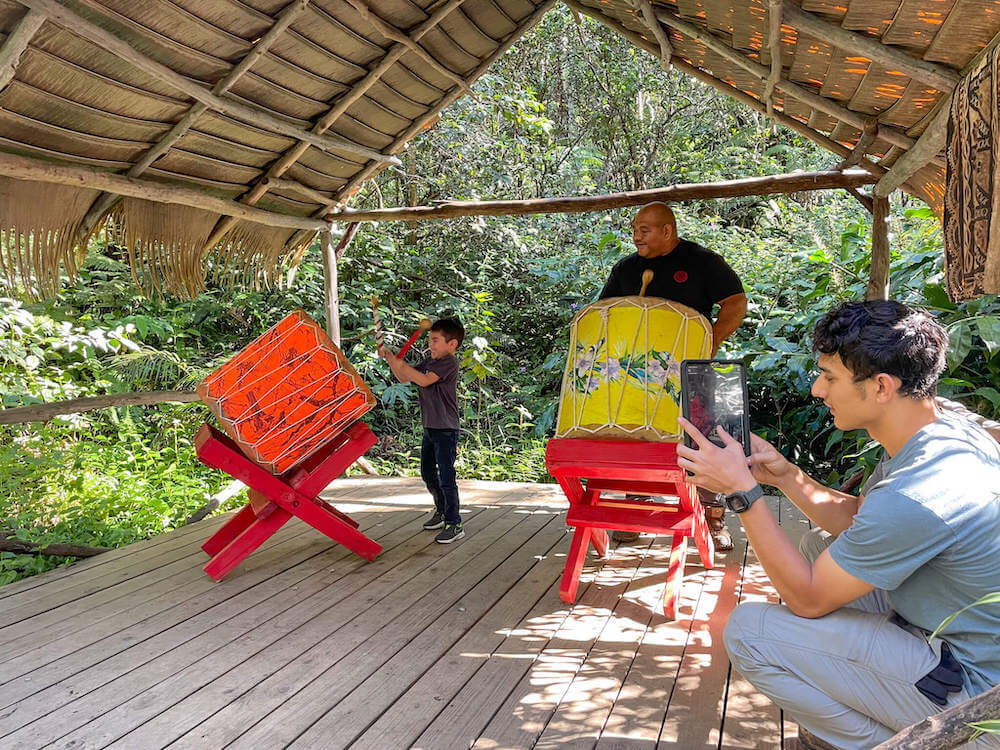 They called up two men in the audience to do a traditional Tongan drumming session that was used as a wake-up call in the islands. This was similar to what they do at the Polynesian Cultural Center.
Then, they called my son up to try and he had a BLAST! He tried to do the shouting and beat the drum really quickly.
Samoa
Next up was the Samoan village. This is where we learned all about coconuts and how vital they are to many Polynesian cultures.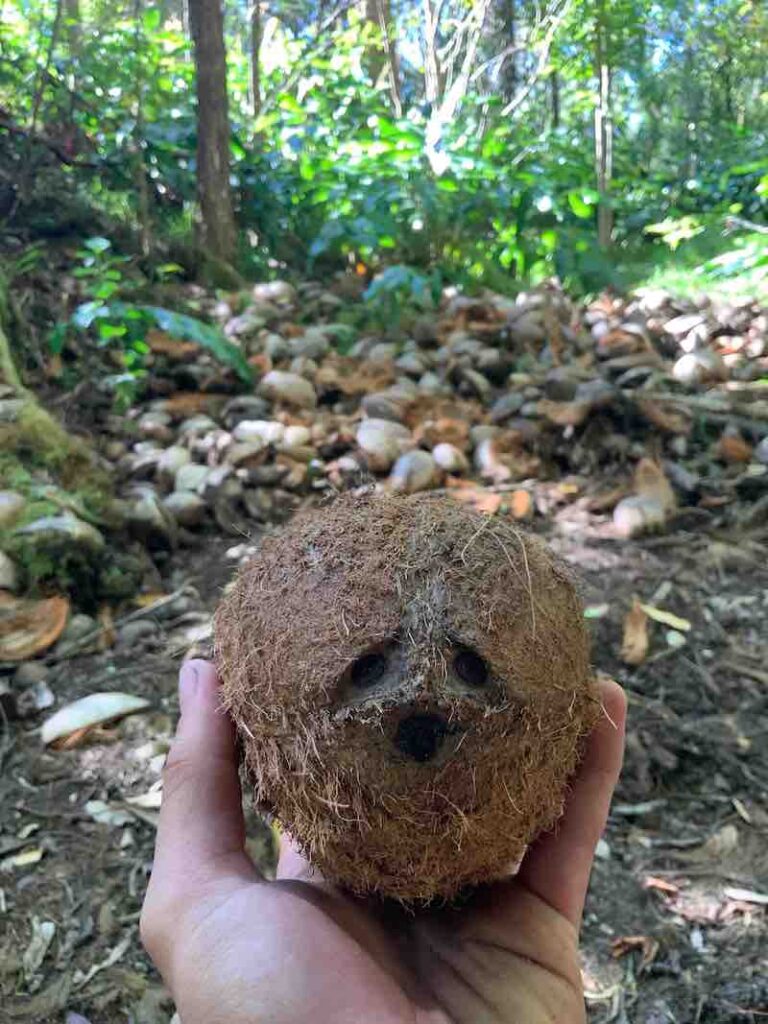 They did a funny demonstration about how to crack a coconut (and how NOT to crack a coconut). We were able to taste fresh coconut water and freshly shaven coconut. Plus, we learned how to make coconut milk by squeezing the fresh coconut.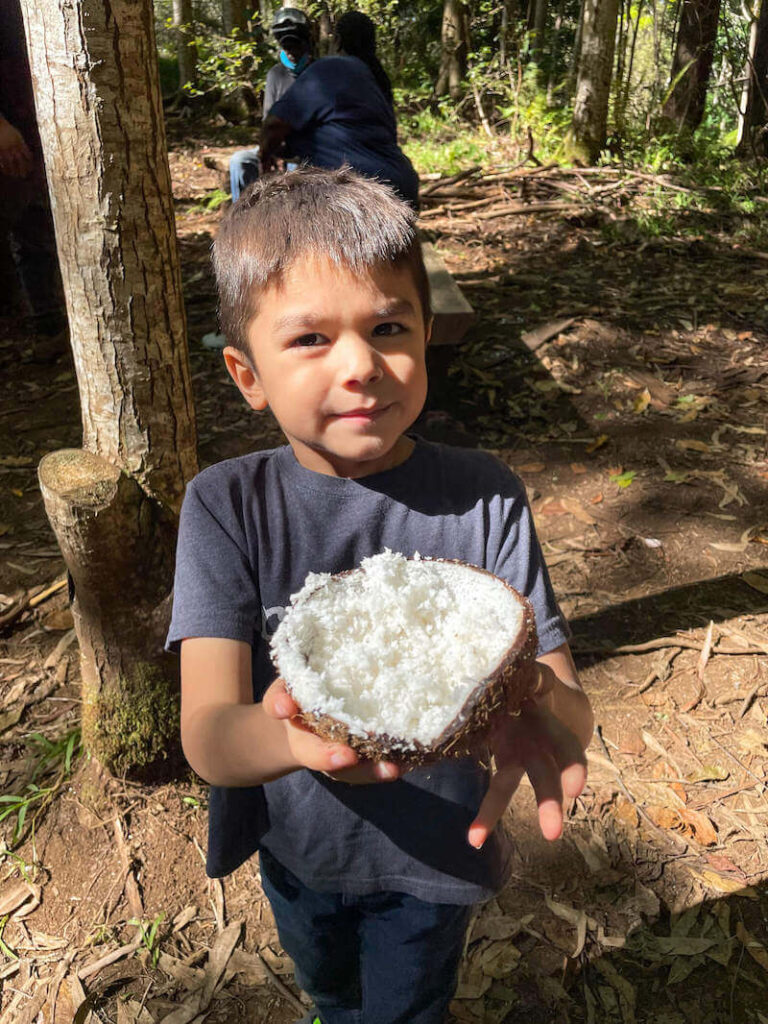 Apparently, you can use coconut milk as a bug repellent, which was pretty fascinating.
Fiji
The next village was Fiji where we got to play a really fun (and competitive) game with large sticks. We listened to the instructions and then had to move to our right or left depending on which Fijian word our guide said.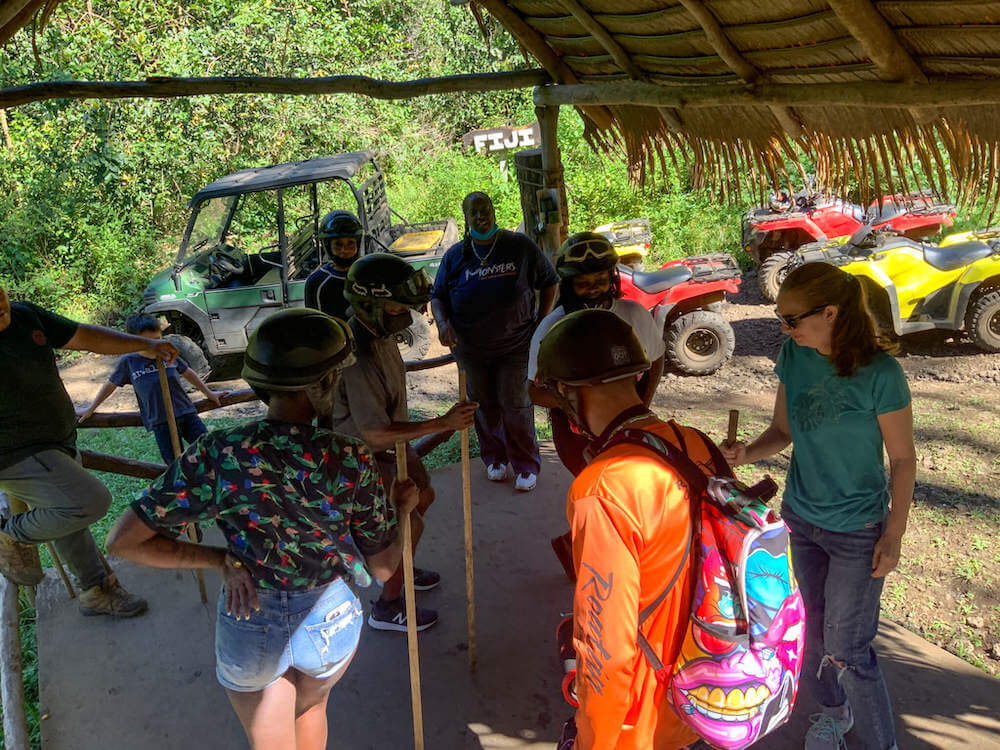 After the game, there was an opportunity to smash a pineapple with a weapon. They let my son try first with a small weapon and then had an adult try it with a much larger weapon.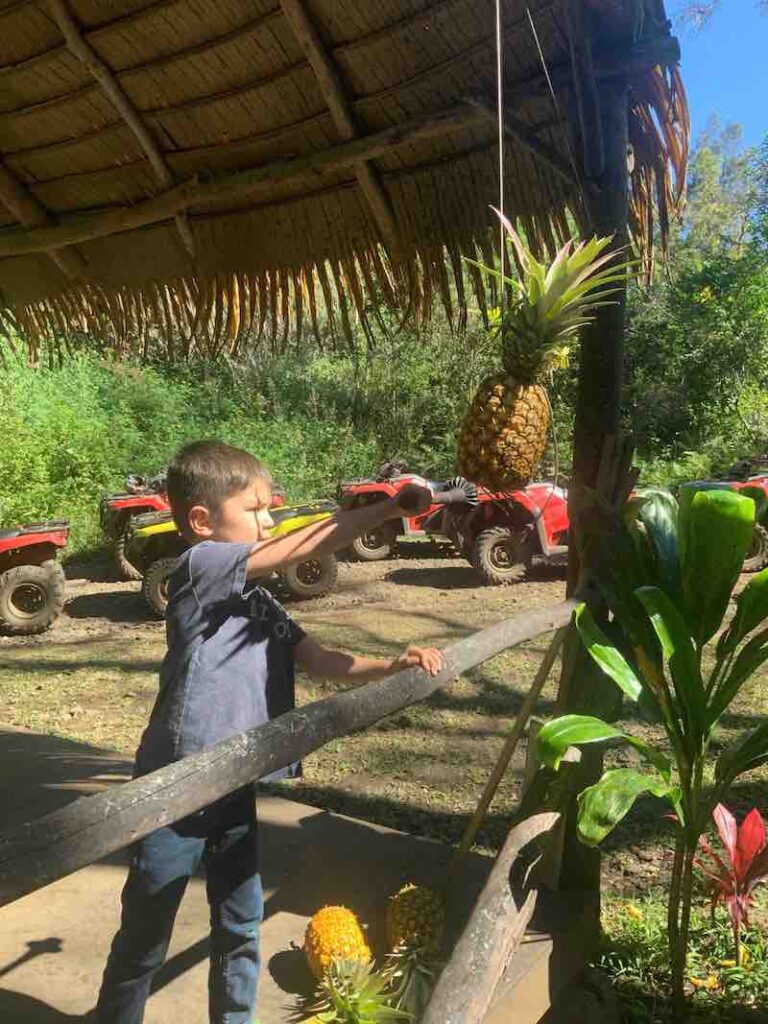 Then, they sliced up the pineapple so we could all taste it. It was super sweet and juicy!
Hawaii
The final village on this Big Island ATV tour was Hawaii! We got to see a traditional Hawaiian hale (house) where Hawaiians used to sleep.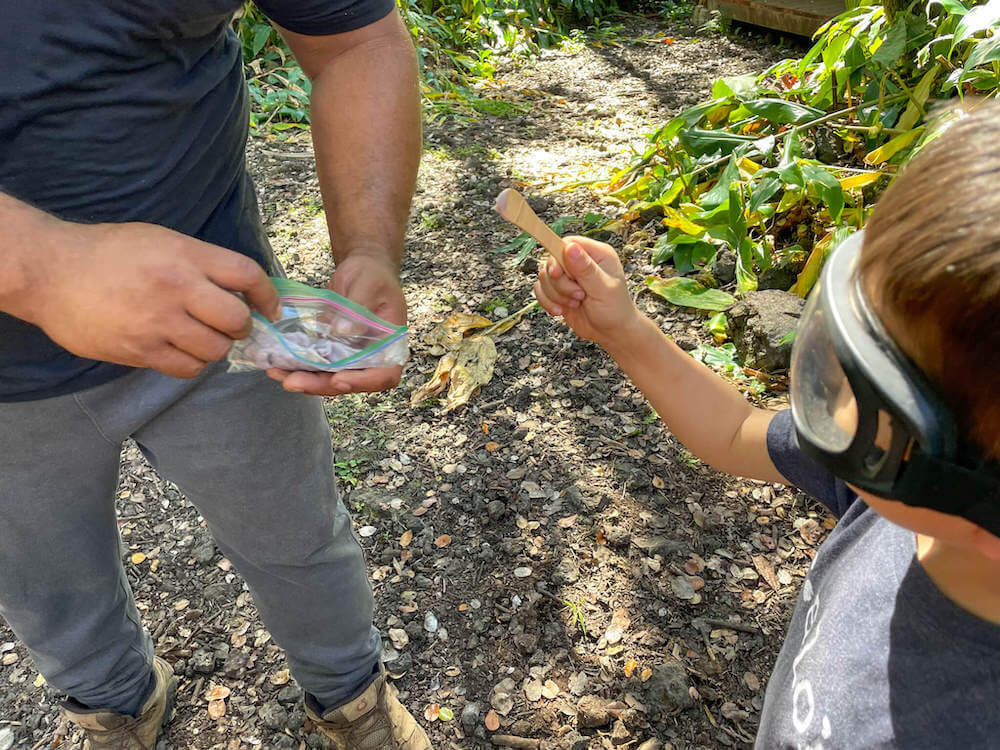 Then, we had the opportunity to try poi. This poi was much tastier than poi I've had at most luaus. Apparently, it's because luaus water down the poi making it a bit runnier.
That was the end of the tour and we headed back to the farm entrance. Check the latest rates and more information.
Big Island ATV Tour Tips for Families
What to Wear
If you are riding an ATV on the Big Island, you will definitely get dirty. Closed-toe shoes are required. We wore sneakers, but I did see someone wearing water shoes.
They also highly recommend long pants. My son and I wore jeans. I was worried we'd be too hot, but the ride takes you up into the jungle and it's actually a bit cooler up there.
An optional item to wear is a baseball cap. You can fit one under your helmet and it will help keep the sun out of your eyes if you are wearing the goggles.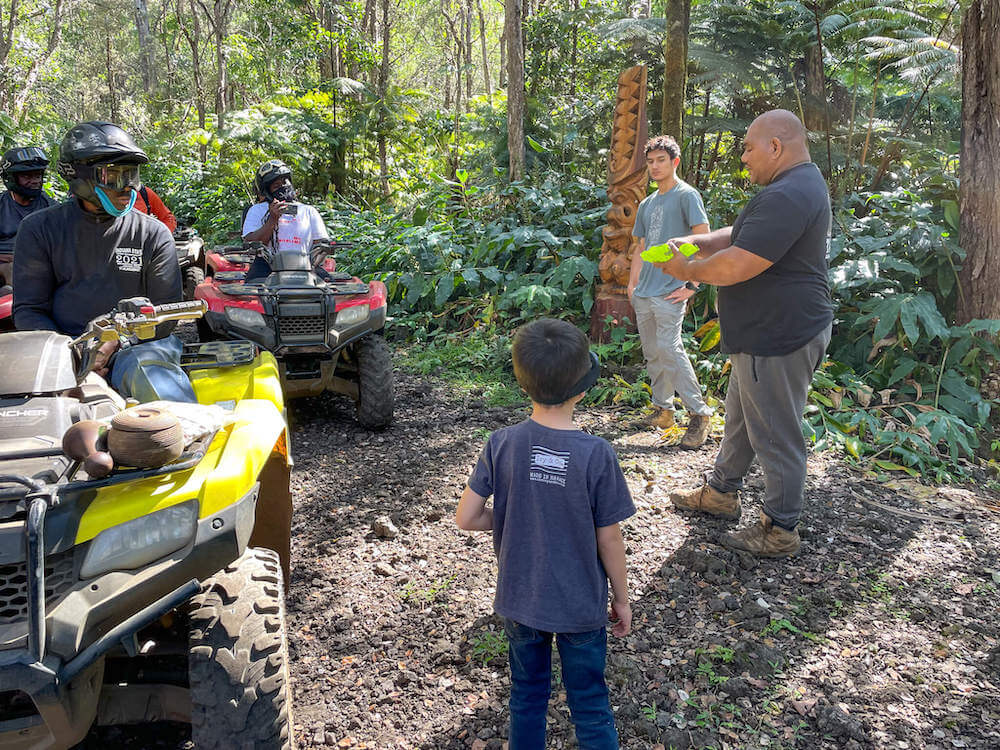 What to Bring
If you tend to get bitten by bugs, you'll want to wear and bring bug spray. A few people on our tour got mosquito bites.
You might also want to bring a water bottle. There's a place in the ATV where you can store a water bottle while you're driving. Then, you can drink it at the stops. If you forget one, they also sell bottled drinks at the gift shop.
I also recommend bringing an extra change of clothes (or at least clean shorts) so you can take off your dusty clothes. They have a restroom where you can change.
It's also helpful to bring cash for tips. If you forget, you can ask for cash back at the gift shop.
Is the Photo Package Worth it?
If you are doing the Big Island ATV tour, you are NOT allowed to take photos while operating the ATV. That means no selfies or taking photos of other people riding their ATVs.
That's the main reason why the photo package is worth it. It's only $40 and you get access to all the photos of your tour. So, if you are doing this as a group, you can share the cost of the photo package.
The tour guide made sure to get photos of everyone on the tour riding their ATVs and at the different stops in the jungle.
I mainly bought the photo package because I knew I was going to be writing a post about it and I'm glad I did. Plus, the photos were ready within 10 minutes of the end of the tour.
How Much Does it Cost and Where is it Located?
Aloha Adventure Farm is located just 10 minutes from Kailua-Kona. It took us exactly 15 minutes to get there from the Royal Kona Resort on Ali'i Drive.
You'll get a bit of a scenic drive with great views of the ocean. Plus, there are lots of coffee farms along the way.
ATV Tour Cost
In order to drive an ATV, kids must be at least 16 years old. Otherwise, they can ride in the UTV and have a guide drive them. Kids must be at least 5 years old to ride in the UTV.
Adults: $189
Kids: $149
Polynesian Wood Carving Cost
If you'd like to try the wood carving class, you must be at least 8 years old.
Adults: $189
Kids: $149
They also have package deals available if you want to do both activities.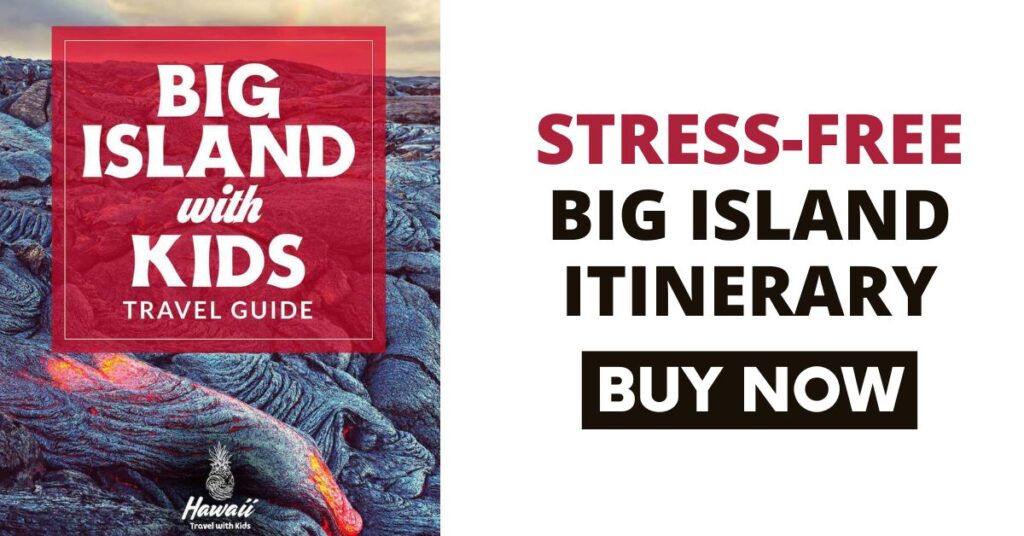 So, is the Aloha Adventure Farm ATV Tour Worth It?
This is definitely one of the coolest things to do on the Big Island with kids! This tour seriously blew me away and I couldn't wait to write this post in order to share it with other families.
It's the perfect mix of adventure and cultural experiences. Plus, your kids can ride in the UTV while parents ride the ATVs. Talk about a Big Island activity for the entire family!
We don't often repeat activities on our trips to Hawaii, but we'll definitely be doing this Big Island Hawaii tour again! Check the latest rates and information.