Want to attend a luau on the Big Island but are having a hard time deciding? Find out 7 of the most exciting Big Island luaus for families with kids of all ages, keep scrolling for all the info!
This post about the best Big Island luaus contains affiliate links which means if you purchase something from one of my affiliate links, I may earn a small commission that goes back into maintaining this blog.
Traveling to the Big Island should be on every tourists' list.
Aside from being the largest of the Hawaiian islands, it is also home to the most active Hawaiian volcano, Kilauea. 
Besides checking out Hawaii Volcanoes National Park (which is a MUST), tourists can enjoy a lot of other activities on the island. 
That said, it's no wonder that culture and festivity thrive on the island. Specifically, luaus on the island have become a way to socialize and meet new people.
However, it's always a challenge to figure out which luaus are best for your travel. Some luaus are best for couples while some are great for families with kids.
We've put together a list of all the great luaus on the Big Island to help you figure out which ones are ideal for your stay.
For luaus outside the Big Island, you can visit our luau guides for Oahu, Kauai, and Maui.
Get all your Hawaii luau questions answered HERE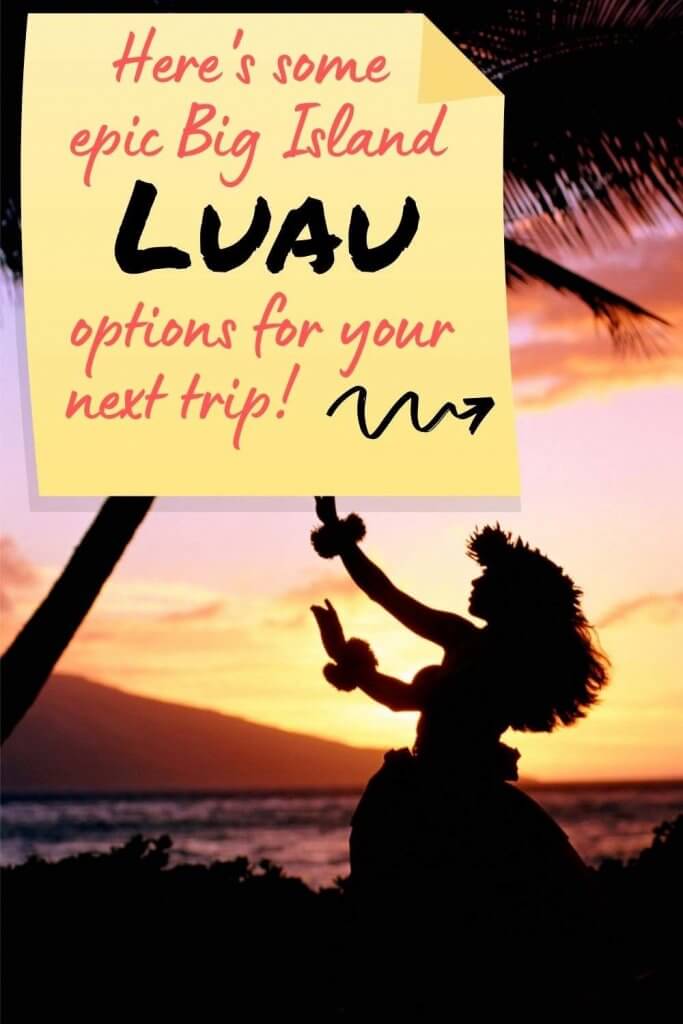 How to Choose the Best Big Island Luau for Your Trip
Deciding which luau is best for your trip to Hawaii can be a challenge.
For families traveling together, luaus with open bars might not necessarily sit right. They tend to attract a rowdier crowd and they don't usually have as many hands-on kids activities as other luaus.
On the other hand, couples traveling together look forward to meeting new people and partying. The luaus with open bars often provide more bang for your buck, so it can be a good deal.
It all depends on what you're really looking for.
When choosing the right luau for your trip, it's important to consider each travel companion's preference.
Families with young kids and grandparents might prefer luaus that end earlier while young couples might like to party into the night.
Regardless, the Big Island has a variety of luaus great for any type of traveler. 
Finding a Luau in Kona
Kona is a sunny town that stretches almost two-thirds of the west side of the island of Hawai'i. Coffee farms and historical landmarks line along this expansive area.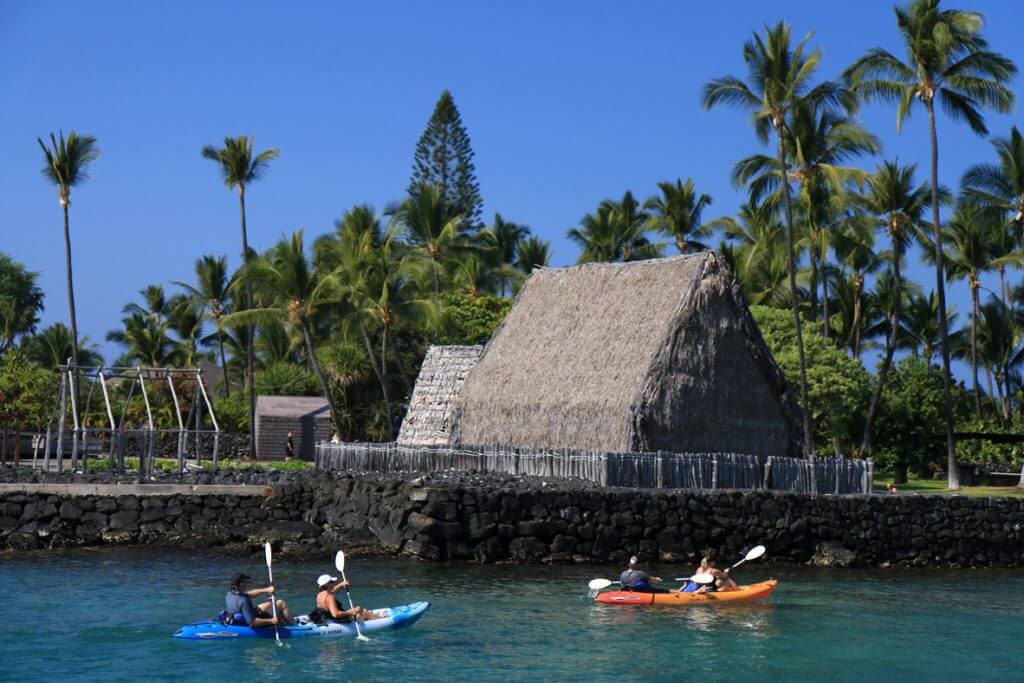 In addition, the town itself is known for nightlife, shops, and restaurants. A walking tour of the place will already let you know of its rich history and stories.
That said, it's no question that Kona seems to be home to most of the luaus on the island. So, chances are this is where you'll find the best luau on Big Island for your family.
Looking for more things to do in Kona? Check out my full Kona Travel Guide!
The Voyagers of the Pacific Luau is held at the Royal Kona Resort in downtown Kona. Many people say the Royal Kona Resort luau is the best luau on the Big Island.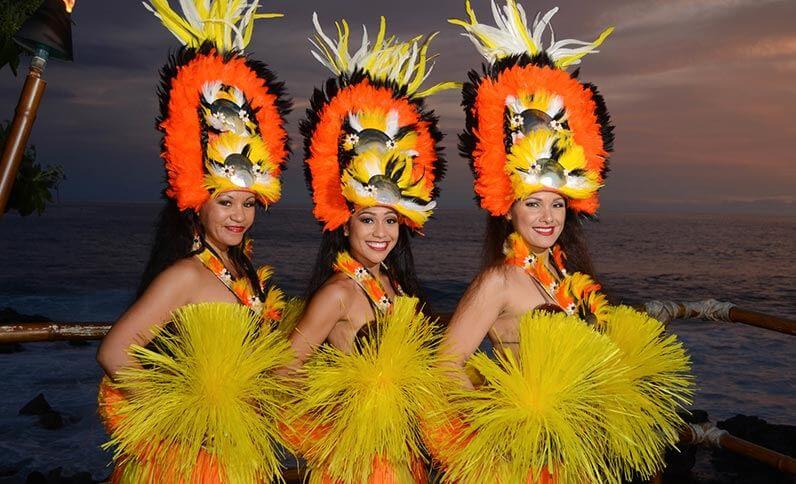 This Royal Kona luau is the most affordable luau we've come across, which makes it perfect for tourists looking for more bang for their buck.
Similar to most luaus on the island, the luau is set along the oceanfront overlooking Kailua Bay. 
Before the start of the festivities, classes like lei making, crafts and hula lessons keep guests occupied. This is one of the reasons people say it's the best luau in Kona Hawaii.
Then, the iconic Imu Ceremony happens where the unearthing and presenting of the roasted pig happens.
After which, the guests can enjoy an all-you-can-eat buffet filled with a variety of Polynesian dishes and treats like the Pineapple upside down cake and coconut cake.
Mai Tais, wine, beer, and other refreshments are also available. 
After the hearty feast, the show begins.
Drums beat to the sensational hula dancers' steps as they tell the tales of Hawaii's rich culture through music, song and dance. Lastly, the Samoan fire knife dance closes the show.
The Luau occurs every Monday, Tuesday, Wednesday and Friday and usually costs around $99, excluding taxes. 
You'll definitely want to book this Kailua Kona luau for your trip to the Big Island! Check out the latest prices and more details.
RESERVE NOW
Second on our list from Kona is the Island Breeze Luau, which is one of the more popular luaus on the island.
While it might not be the cheapest option, Island Breeze luau is popular because of the quality, food, and location of the show. 
The show is held on the grounds of Kamehameha's Kona Beach Hotel, right next to Ahu'ena Heiau, King Kamehameha's former estate.
Children can enjoy hula lessons and getting Hawaiian tattoos (temporary of course) prior to the show.
Aside from this, the show includes an arrival of the "royal court" by an outrigger canoe, providing visitors with a backdrop of paddlers, boaters, and the Hualalai volcano. 
It's definitely a fun, authentic luau on the Big Island.
Before the show, the traditional unearthing of the pig happens and the 22-dish dinner buffet is served. Aside from the delicious Polynesian delicacies and dishes served, the luau also includes an open bar.
After dinner, the show begins with the arrival of King Kamehameha by an outrigger canoe while performers offer an oli. 
After, guests are brought on a journey across the Pacific Ocean from Fiji to Aotearoa (New Zealand) through dances, chants, stories and tales from Hawaii, Tonga, and Samoa.
The Luau is open on Tuesdays, Thursdays, and Sundays and usually costs around $141, excluding taxes. Check out the latest prices and more details.
RESERVE NOW
Next on our list of Kona Hawaii Luaus is Haleo Luau at Sheraton Kona. This Luau celebrates the history of Keauhou and those who came from the area.
If the Island Breeze Luau tells the tale of the arrival and journey of Kamehameha, Haleo Luau tells the tale of Kamehameha's birth. 
The luau begins with a shell lei and dinner. The dinner includes a wide variety of Polynesian dishes that include Island-Style Kalua Pork, Waipio Valley Poi, Lomi Lomi Salmon, Huli Huli Chicken, Keahou Macaroni Salad, Hawaiian Style Ahi Poke w Onions, among others.
Polynesian desserts and delicacies like the Pineapple Upside-down cake, Haupia, and of course, Kona Coffee cap off the night. 
After dinner, the show begins with a journey back in time when King Kamehameha was born. Another story told through dances and music is the battle of Kuamo'o that took place in northern Kona.
Lastly, the Polynesian Fire Dancers twirl to the beat of the drums while guests enjoy hula, music and songs of the Big Island. 
This Luau is scheduled every Monday and Friday and costs roughly $109-136, depending on chosen amenities. Check out the latest prices and more details.
RESERVE NOW
Sunset Luau at the Waikoloa Beach Marriott Resort & Spa is one of the popular luaus among the adults because of its high quality menu and full open bar.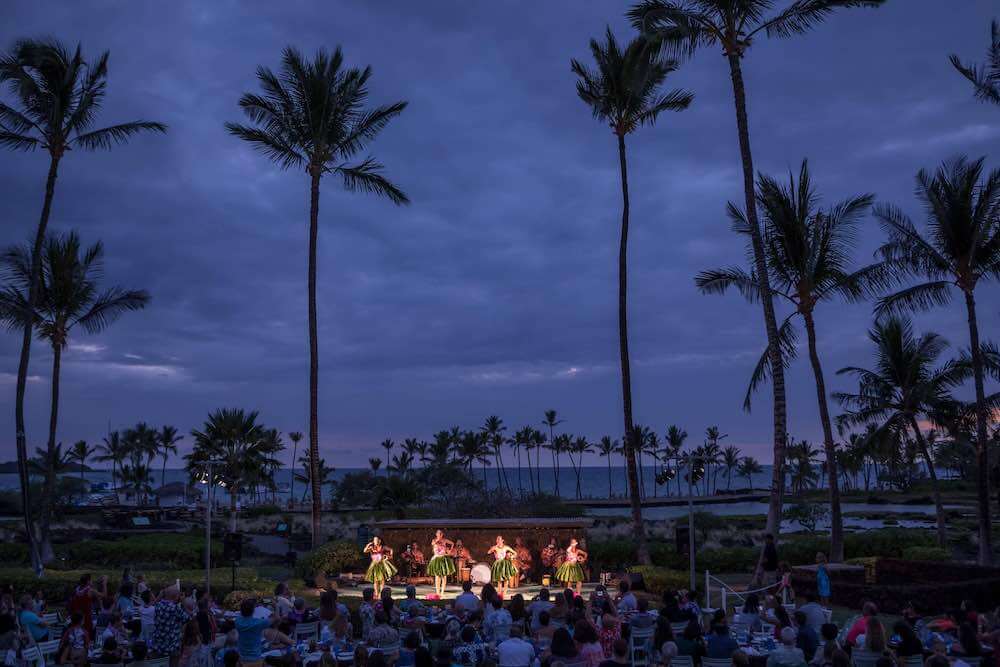 The Sunset Luau overlooks the ancient fishponds of 'Anaeho'omalu Bay'. The sun sets over the bay while torches are lit.
The show begins with a Hawaiian chant to welcome guests. Then, guests witness the unearthing of the kalua pig. 
After dinner, guests take a musical journey through Polynesia with the dances of Hawaii, Tahiti, New Zealand and Samoa. Similar to other luaus on the island, the show ends with a spectacular Samoan Fire Knife Dance. 
The Sunset Luau happens every Monday & Wednesday. A show usually costs $117, excluding taxes.
RESERVE NOW
Luaus on the Kohala Coast
The Kohala Coast is where guests can find some of the islands' best resorts. That said, it's no wonder that a lot of luaus happen in this part of the island. 
Driving past the rugged lava fields of the coast will immediately tell you of the coast's amazing history. We've listed a couple of luaus on this part of the island, too! 
One of the best places to stay on the Big Island is the gorgeous Fairmont Orchid Resort. This is their on-site luau.
There's a lei greeting, hosted cocktail bar, traditional Hawaiian games, incredible all-you-can-eat buffet, and a fantastic show.
The whole thing lasts about 3 hours.
It's only available on Saturdays, so you'll want to book well in advance to secure your spot. Check latest rates and more information.
RESERVE NOW
If you're up for a fool-proof way to enjoy an evening, visit Mauna Kea's Luau. Mauna Kea Beach Hotel in the Kohala Coast holds this luau every Tuesday and Friday. 
Every guest will feel festive and local because of the luau's use of traditional wooden plates and aloha attires. Guests enjoy the soothing sounds of the water with the soulful guitars while they enjoy their buffet dinner. 
The buffet dinner serves traditional imu-roasted kalua pig, island fish, laulau, lomi salmon, sashimi, and piles of Hawaiian fruit. Also, guests are treated to a beautiful show that has stood the test of time. 
Mauna Kea's luau started in 1960 for Newsweek Magazine and has stayed since. Kids and adults alike can celebrate the beauty and culture of The Big Island through delicious dishes, dancing to the "Hukilau", and the magnificent fire dance. 
Tickets cost around $117, excluding taxes. One notable difference that this luau has from the others on the list is that it doesn't offer an open bar. 
RESERVE NOW
The Legends of Hawaii Luau happens at the Hilton Waikoloa Village Resort. Being that it happens at a Hilton resort, this luau guarantees world-class performers and great food. 
Aside from the great show, guests can also learn about 'Kapa Staming' and Coconut Husking at the local artisan market held before the event starts.
While most of the luaus listed take place on an outdoor setting, the Legends of Hawaii Luau happens on an amphitheater. 
After the local artisan market, guests can begin the dinner buffet.
At exactly 7:00, the Hilton Waikoloa luau show starts with professional dancers dancing to the beat of the energetic drums. The Polynesian folk music play while the Hula dancers and fire performers tell the story of the Hawaiian Islands.
While this luau is quite expensive, it promises professional performances, great food and culture.
If you're one for comfort and a more luxe show experience, this luau is for you. At $140 per ticket, it's definitely more on the expensive side.
This luau happens every Tuesday, Friday and Sunday. Check latest rates and more information.
RESERVE NOW
What to Expect at Luaus
Luaus have dated as far back as 1819 when King Kamehameha II removed the religious requirement that women ate meals separately.
Today, luaus celebrate culture, gathering, food, and history. 
Attending a Hawaiian luau is one of the most popular things to do on the Big Island.
Frequently Asked Questions about a Big Island Luau:
WHAT DO YOU EAT AT A LUAU?
At most traditional Hawaiian luaus, you'll find the following items:
Kalua Pork
This is the most well-known Hawaiian luau food. It's a whole pig that's been roasted underground in an imu.
The pork is so tender that it falls right off the bone and shreds. Very flavorful!
You can try it at home with my Instant Pot Kalua Pork Recipe!
Poi
So, at whatever luau you choose, they will probably make some sort of joke about poi tasting like wallpaper paste. That's just to scare you away!
Poi is mashed up taro root that is fermented. It helps bring out the flavor of fish and meat, so be sure to combine them and use it more like a condiment!
Chicken Long Rice
If you have a picky eater in your family, chances are they will like Chicken Long Rice!
It's long noodles with bits of chicken sprinkled in. It tastes a little like chicken soup, without the soup.
Huli Huli Chicken
If you like barbecue chicken with an island twist, you'll love Huli Huli Chicken!
You'll also see roadside stands selling Huli Huli Chicken or at fundraisers around Oahu.
Try my Oven Baked Huli Huli Chicken Recipe!
Lau Lau
This is a super traditional Hawaiian food, but not all luau menus have it. It's usually pork or fish wrapped up in ti leaves and steamed.
Lomi Lomi Salmon
This is very similar to ceviche, where it's chopped up raw fish mixed diced tomatoes and onions. 
Macaroni Salad
Yes, it's just what it sounds like. Basically macaroni noodles with a lot of mayonnaise and usually some shredded carrots.
This is another option for picky eaters. Personally, I love mixing in a bit of Huli Huli Chicken when I eat it. So tasty!
Haupia
These little white squares are like a creamy coconut jello. They are cold and make a refreshing palate cleanser! Plus kids usually enjoy eating it!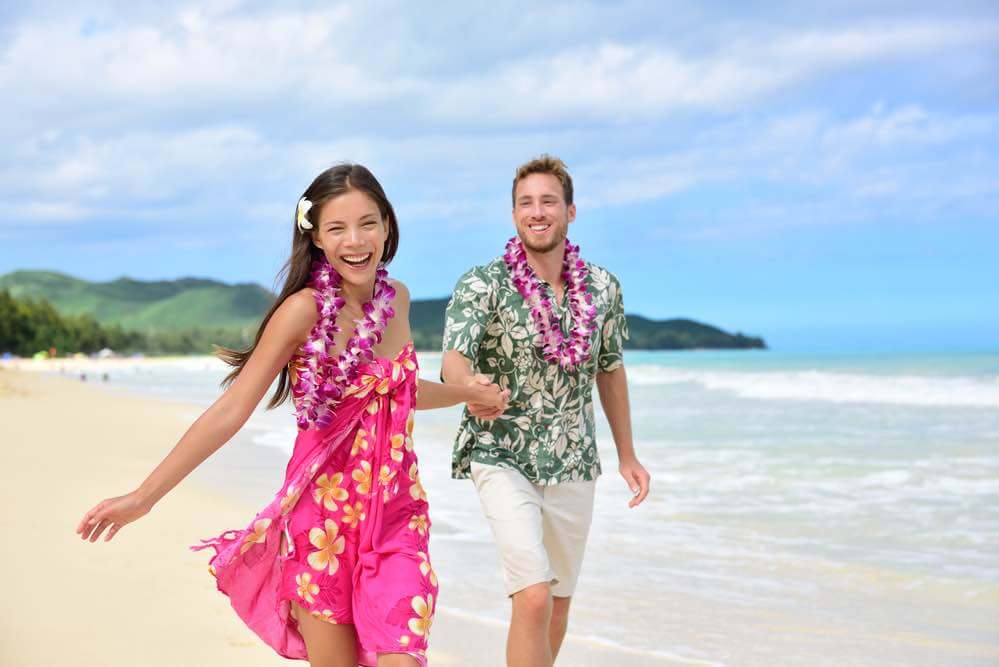 WHAT TO WEAR TO A  LUAU?
I know when people are packing for their trip to the Big Island, they always ask about what to wear to a Big Island Hawaii luau. So, here are my top picks:
Luau Dresses
Most luau will give you either a shell lei or a purple orchid lei as you arrive.
If you think you'll be taking a lot of photos, you'll want to keep in mind so the lei will stand out against your dress. 
For fun, tropical dresses, my top picks are this one and this one. Putting on a Hawaiian dress always makes me feel happy and like I'm on vacation! Check out the latest prices and more details.
But, you don't need to buy a new dress! Look in your closet for something brightly colored or a white dress always looks nice.
For shoes, I tend to always wear sandals. You probably won't want to risk heels, especially if the luau is on grass or near the beach.
Aloha Shirts
Men often get a shell lei, purple orchid lei, or sometimes they get a black kukui nut lei.
While men can wear any type of shirt, a Hawaiian shirt is always more memorable! If you want to order ahead of time, this one and this one are fun picks! Check out the latest prices and more details.
Men can easily pair Aloha Shirts with khaki pants or shorts. Or linen pants or slacks of any kind.
Hawaiian Clothes for Kids
And don't forget about your kids! While they can wear anything they like, it's so much cuter if they wear Hawaiian print!
I love matching Aloha shirt and shorts sets like this for boys and adorable Hawaiian dresses like this for girls.
Found the best Big Island Luau for your trip?
It's normal to find that some luaus differ from others. It's important to pick the beset luau in Big Island that you think will best fit you and your companion's personalities and interests. 
Most of Hawaii's luaus are fascinating to watch but true local experience is one that is rare.
We hope that our little list helped you decide which Big Island Luaus to add to your list! 
Overall, luaus are there to celebrate culture around the islands of Hawaii.