Are you looking for the best luaus on Oahu that offer something special? Keep scrolling for my honest review of the Disney Aulani Luau on Oahu.
This Disney Aulani Luau review was written by Hawaii travel expert Marcie Cheung and contains affiliate links which means if you purchase something from one of my affiliate links, I may earn a small commission that goes back into maintaining this blog.
Do you want to know if the Disney Aulani luau is worth it?
We recently had the opportunity to experience a Hawaiian luau at the Disney Aulani Resort. The Ka Wa'a Luau was an amazing show, but we were surprised by how much we paid for our tickets.
Keep scrolling to read our honest review of this luau and whether or not it's worth your money.
If you're looking for a fun, family-friendly activity in Oahu and love everything Disney, then I highly recommend checking out this show! It's definitely one of my favorite things that we did while visiting Oahu with kids.
However, be prepared to pay $160 per person (for adults) and $90 per child (ages 3-11) for general seating and $189 for adults, and $114 for kids for preferred seating. This Aulani resort luau cost might seem high compared to other luaus on Oahu, but keep reading, and I'll explain what you get for that price.
Scroll down for my honest Disney Aulani Luau review and things to know before you go to this luau in Oahu, Hawaii.
Want to skip all the planning and just access my detailed Oahu Itinerary complete with daily schedules, kid-friendly activities, and travel hacks? Click the button below.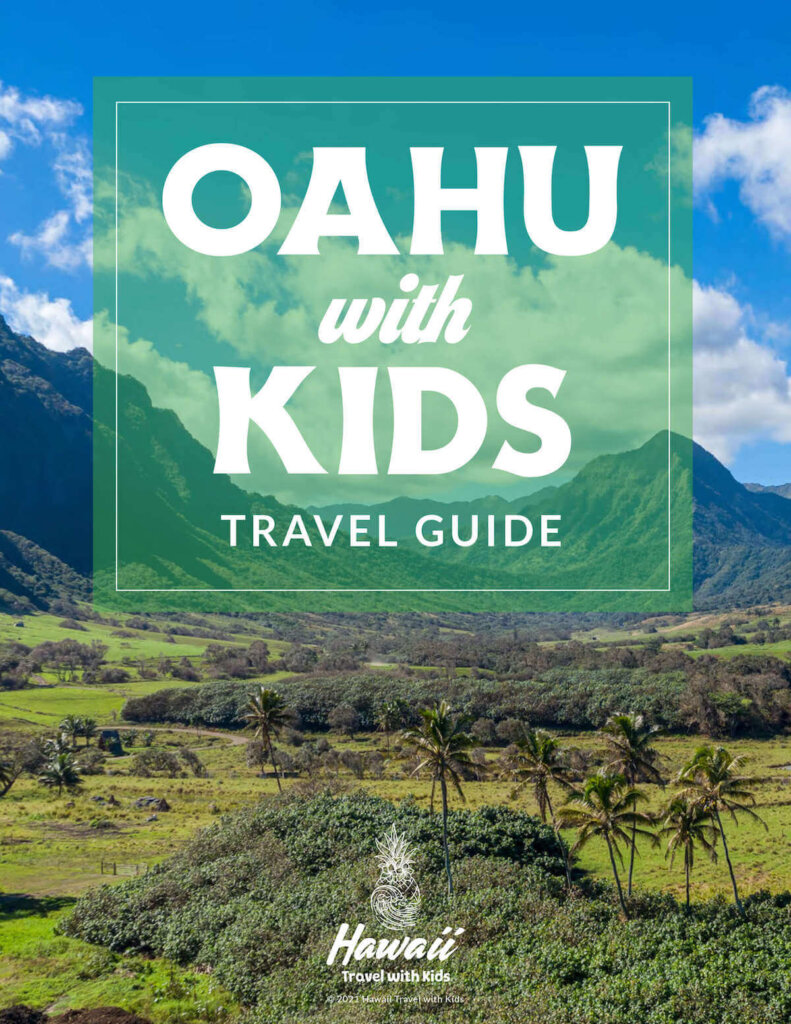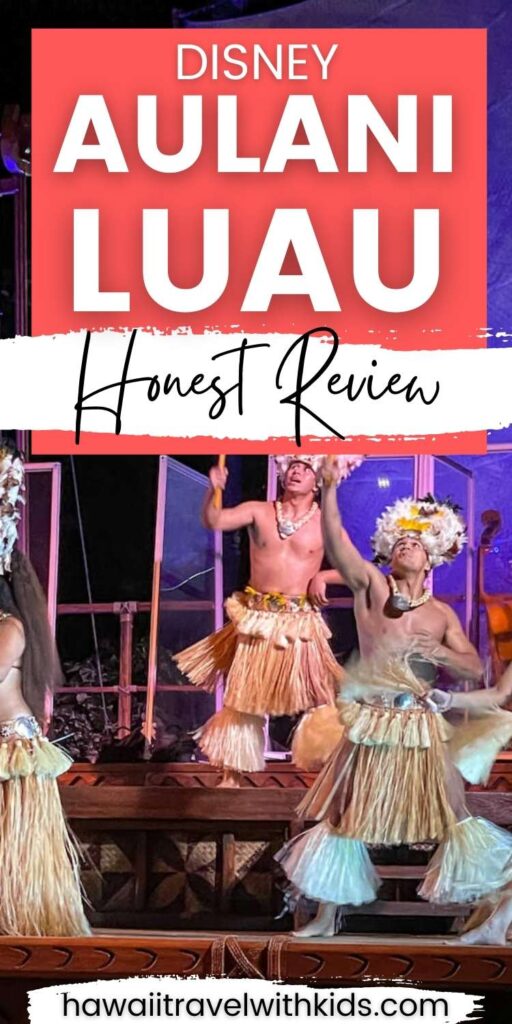 What is a Luau and What Can You Expect at One?
Before we dive into this Oahu luau review, I figured it might be helpful to explain a bit about Hawaiian luaus.
A luau is an evening event that features Hawaiian food, music, and hula dancing. It usually lasts a few hours and can include some hands-on activities, demonstrations, and audience participation.
Many luaus in Hawaii also incorporate dances from other Polynesian islands, like Samoa, Tahiti, and New Zealand.
Guests who attend a Hawaiian luau usually dress up in Aloha shirts and dresses (or at least something dressy casual).
And luaus are fun for anyone traveling with family, going on a honeymoon or babymoon, couples, or even solo travelers.
Click here for my full breakdown of what to expect at a luau in Hawaii.
Where is Disney Aulani Resort?
Aulani, a Disney Resort & Spa, is located in Ko Olina on the island of Oahu. It's about 25 minutes from the Honolulu Airport (or an hour with traffic). The address is 92-1185 Ali'inui Dr, Kapolei, HI 96707.
This Disney Aulani luau takes place at the Halawai Lawn at Aulani Resort. You'll get complimentary valet parking with your Aulani Luau admission.
What to Expect at the Ka Wa'a Luau at Aulani
You'll definitely need to make your Aulani Luau reservations before your trip. It's one of the most popular things to do at Aulani Resort, so it books up quickly. We booked our luau as soon as our booking window opened up.
Arrival
When you arrive at Disney's Aulani Resort, you'll head through the lobby and go down to level 1. From there, you'll head out to the pool area and follow the signs for the Ka Wa'a Luau.
There are two lines: one for preferred seating and one for general seating. These are in two different locations, so be sure to read the signs and make sure you're in the correct one.
You'll give your name to the cast member, and they will mark you off and have you stand in a different line to meet up with a host.
Welcome + Photo Opp
Once you meet up with your host, they will get your drink order. They have a bunch of pre-poured cocktails for grown-ups who'd like a tropical alcoholic drink and a yummy vanilla pineapple mocktail for everyone else.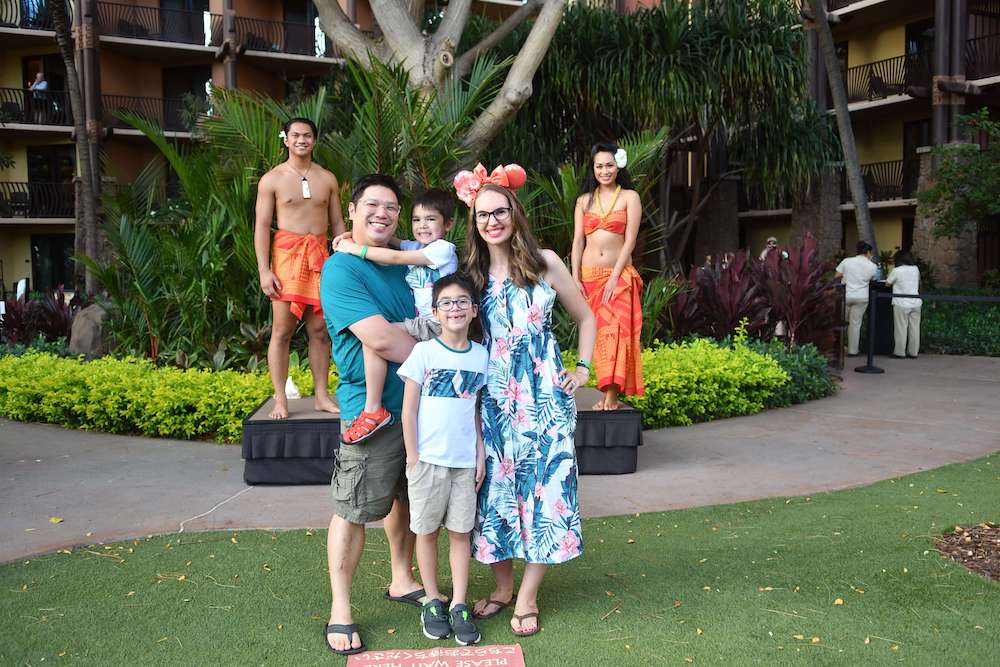 Then, your host will grab your drinks while your group can take a photo with a couple of the luau performers. When we were there, there were two performers on a stage, and they invited our family to stand in front of the stage for a photo with a Disney PhotoPass photographer.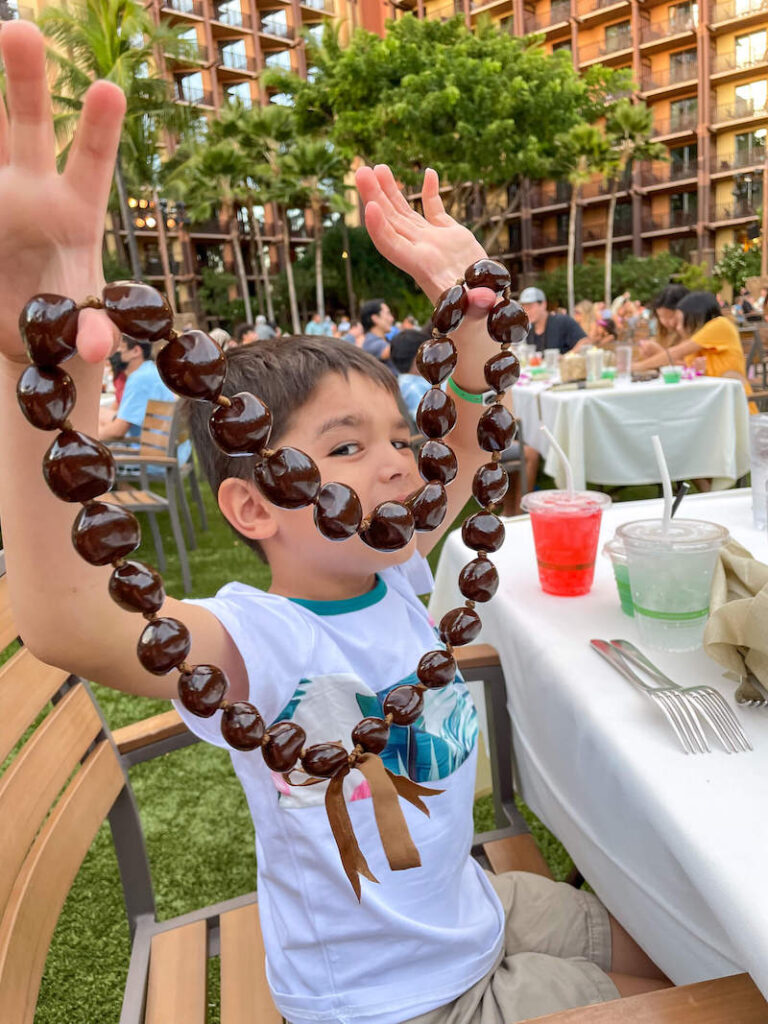 Next, our host showed us to our assigned table and gave us all our drinks. Since we were in preferred seating, we each got a brown kukui nut lei.
If you need an activity to keep your kids busy, print this Moana I Spy game!
Food/Drinks
After we were seated, we were introduced to two cast members who were in charge of our food and drinks for the rest of the evening. They also had live Hawaiian music playing on the stage for everyone to enjoy.
They have a full bar available, and you can order drinks from the cast members assigned to your table. My kids enjoyed Shirley Temples, and I enjoyed a mai tai.
In November 2021, the Aulani Disney luau had bento boxes instead of a luau buffet dinner.
The kid's bento boxes included macaroni and cheese, kalua pork, chicken tenders/nuggets with pineapple BBQ sauce, steamed veggies, a small container of poi, and a fruit cup with a cute Mickey Mouse marshmallow. The kids loved it!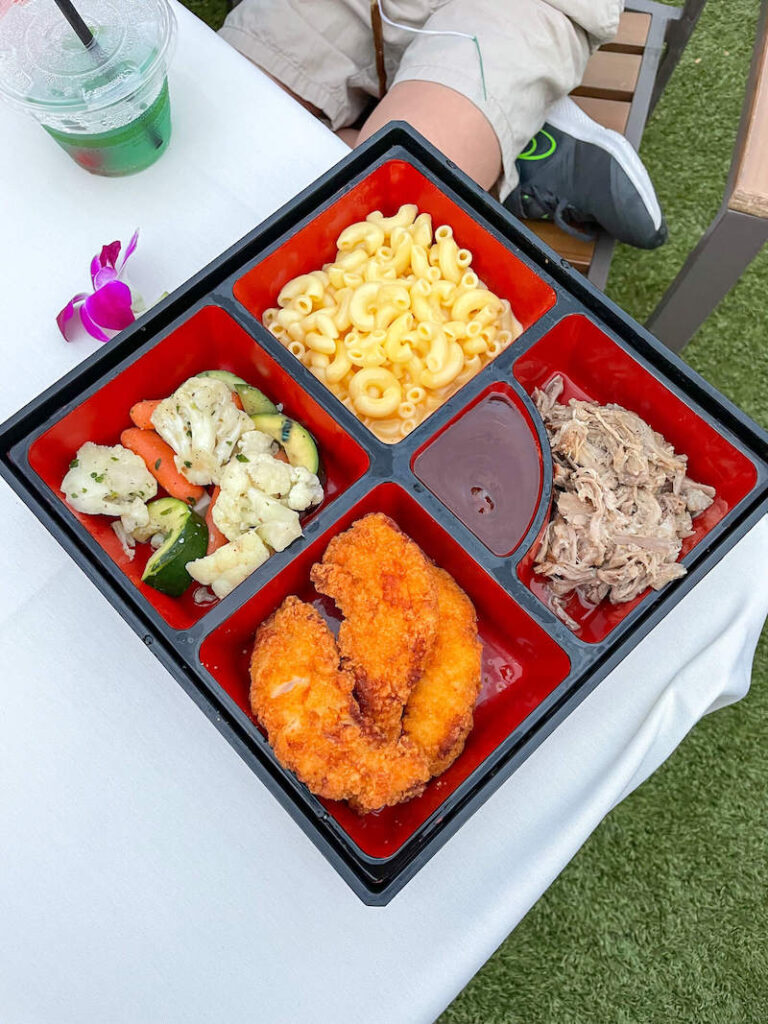 For adults, they offered a 2-course bento box. The first bento box was considered the "salad" course. It came with a generous scoop of macaroni salad, a small green salad, fresh fruit, poke, lomi lomi salmon, and poi.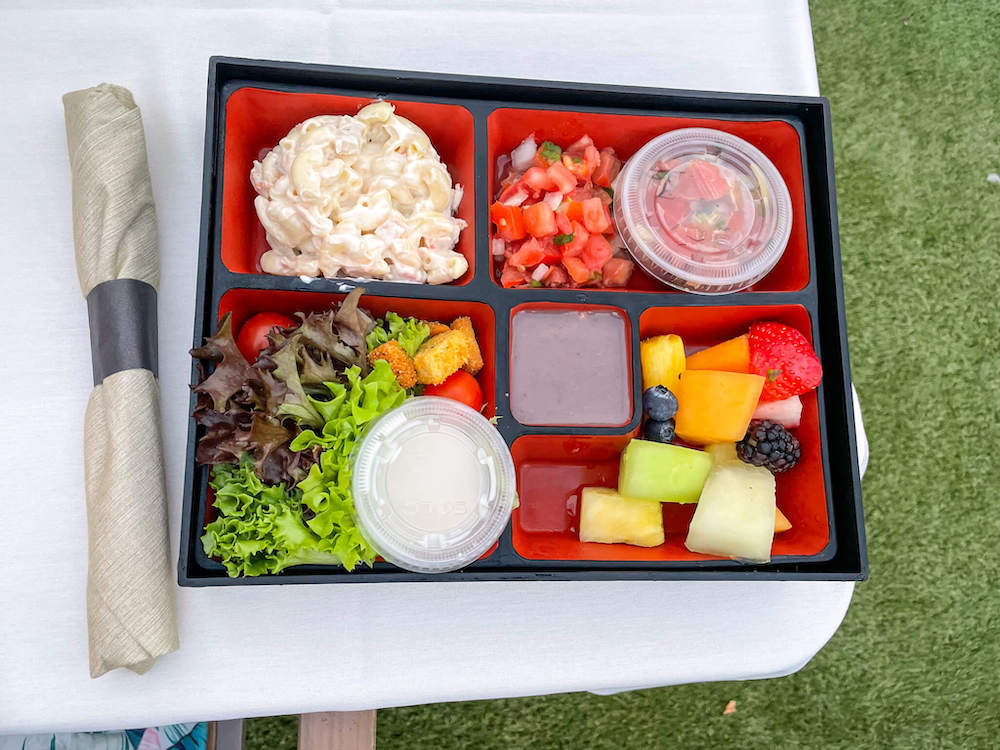 The second bento box had Hawaiian teriyaki chicken, teriyaki beef, fish, kalua pork, steamed veggies, purple mashed potatoes, and white sticky rice. Yes, there was a hidden Mickey!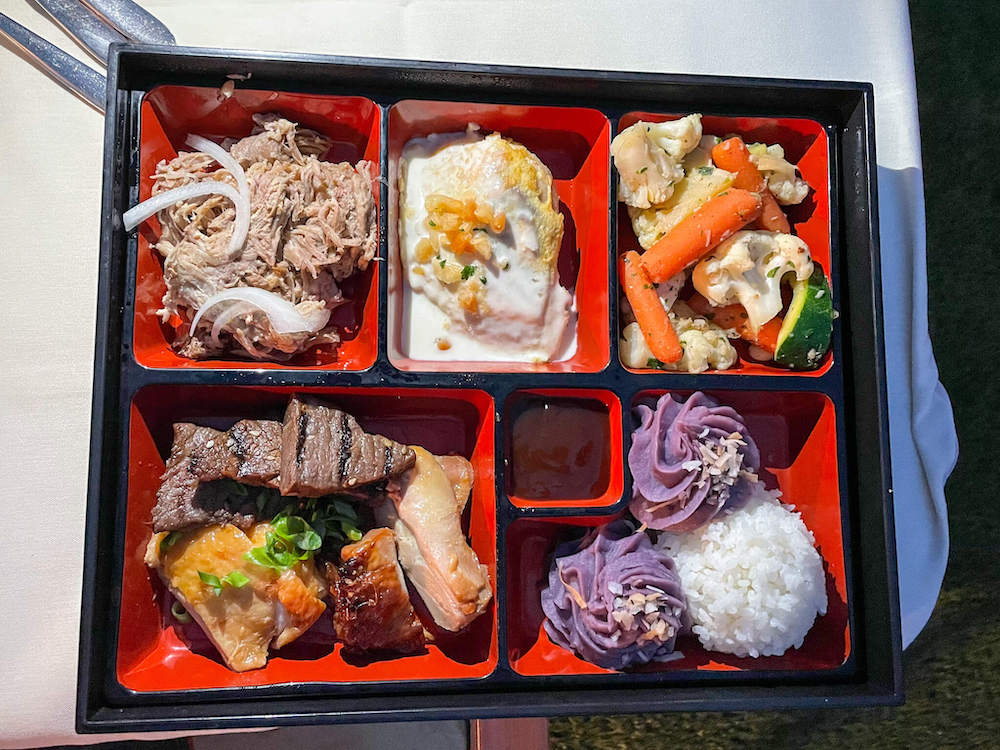 If you like to eat poi with your meat items and are really nice to your server, they will bring you a nice extra helping of poi!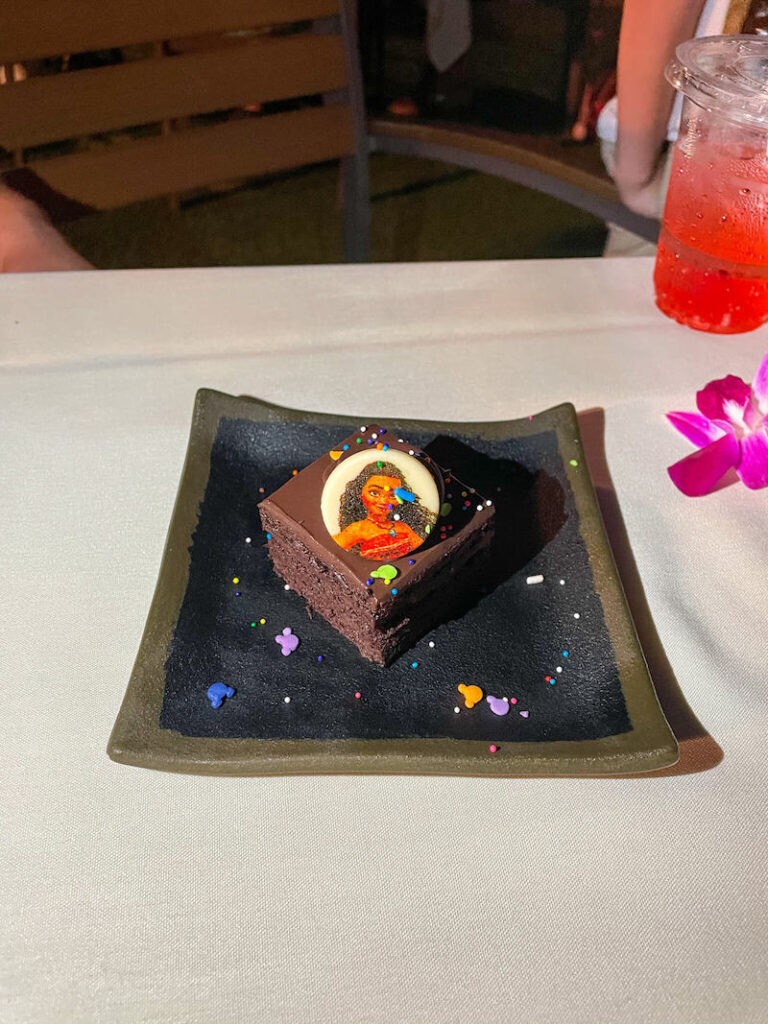 For dessert, kids get a "Moana surprise," which is a chocolate cake with a white chocolate disc with an image of Moana on it. Adults get a dessert trio with guava cake, haupia, and a brownie. They offer coffee for the dessert portion.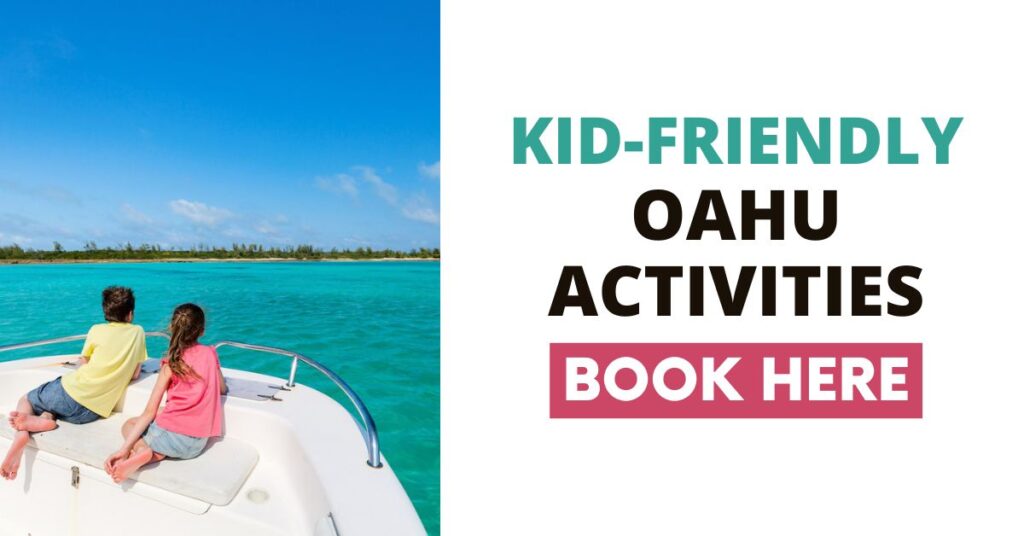 Pre Show Activities: Lei Making Activity
During dinner, a few performers get on stage and show how to string a fresh flower lei. Conveniently, there is a box on the table with needles and string as well as fresh purple orchids. It's enough for people to string a kupe'e (bracelet).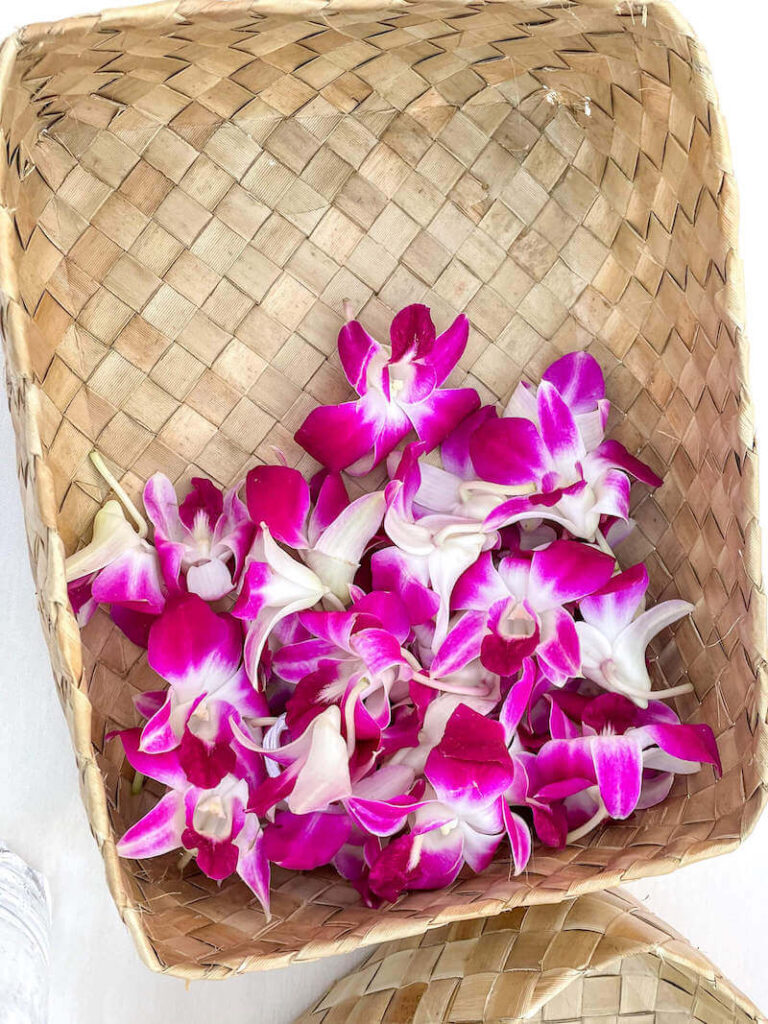 This was the only activity offered in November 2021. I know that they usually have a lot more activities for families, but we appreciated that this was available and right at our table.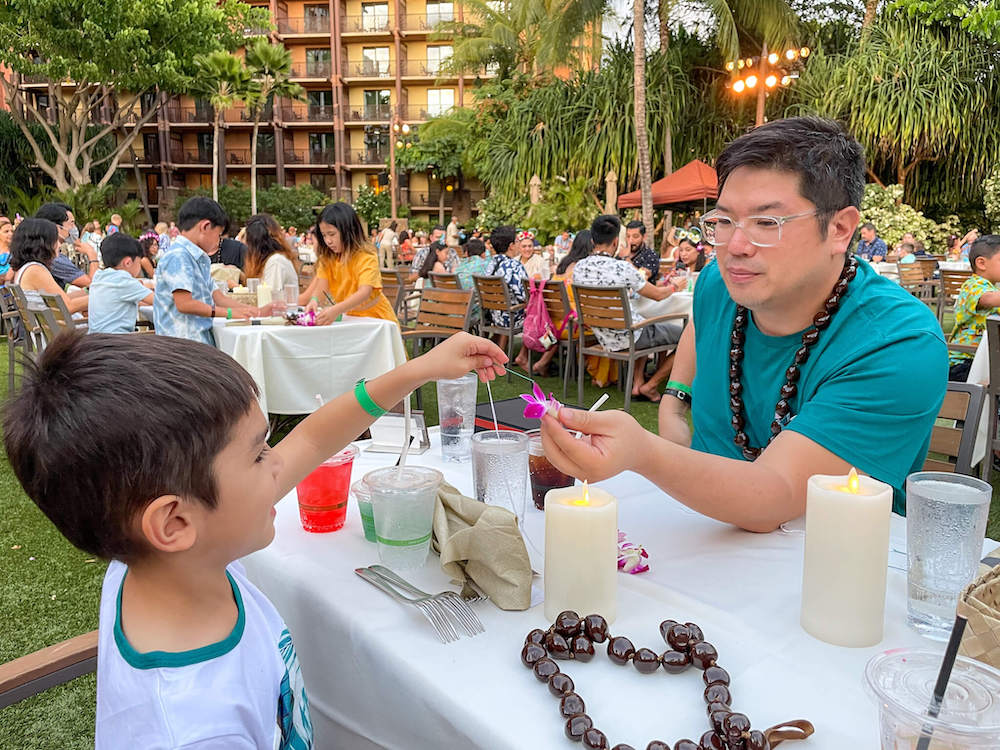 It would have been awesome if they also had coloring sheets or something else to keep kids occupied while sitting and waiting for food or waiting for the show to start, though.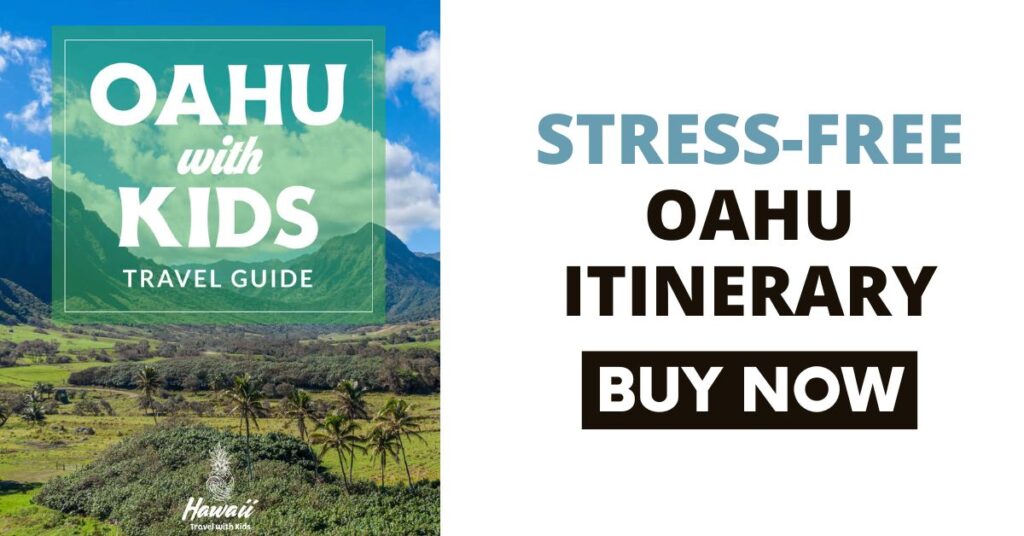 Luau Entertainment
There were a few dances that happened during dinner that took place on mini-stages set up in the main aisle. These were a great way to give a taste of what was to come later in the evening. And the emcee came up on stage and introduced everything.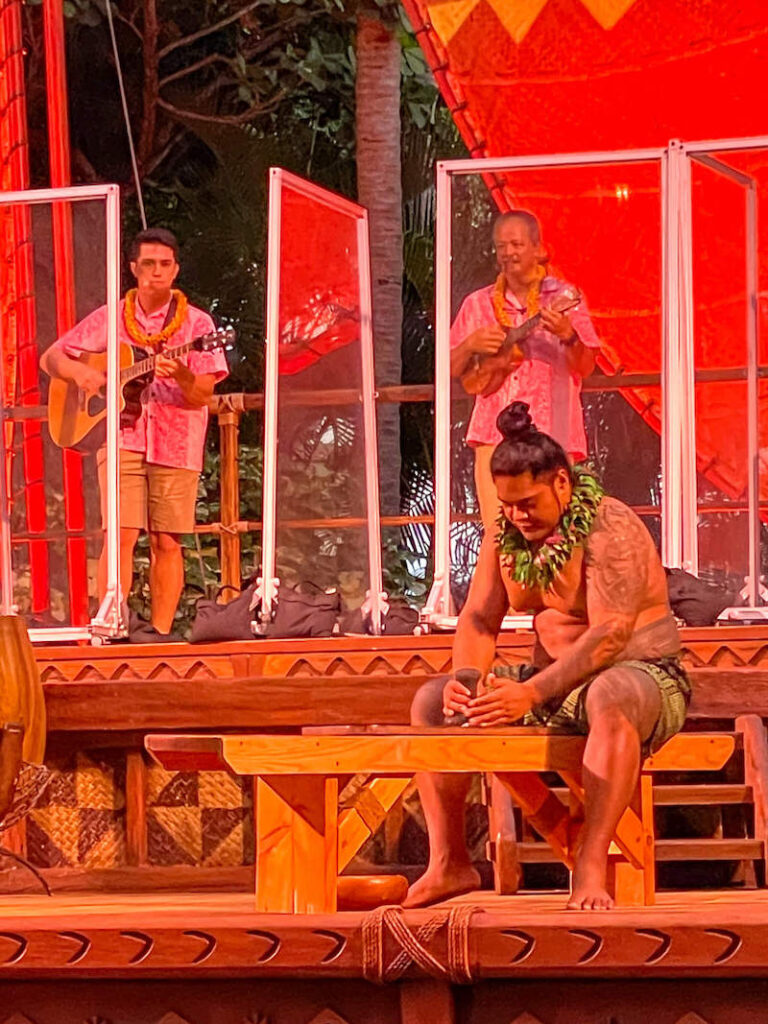 They also did a cool taro-pounding demonstration so people could see how they make poi. I haven't seen that done at a luau before. And they showed what a full-size taro plant looks like.
I won't go into every single dance, but I'll list off some of the highlights of this Oahu luau below.
Learning the Aulani Hula with Mickey and Minnie
This was one of my favorite parts of the luau at Aulani Resort! I love audience participation, and this was all about learning the official "Aulani hula," which was super cute. After we learned it, two special guests came out: Mickey and Minnie!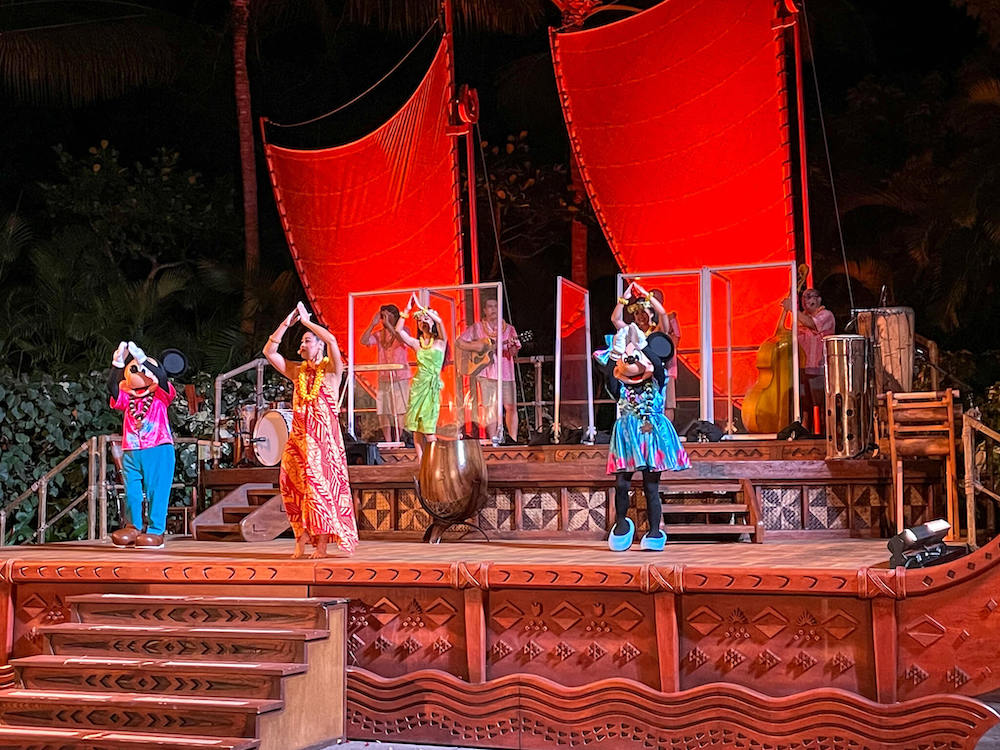 I mean, how often are you going to see Mickey and Minnie Mouse dancing hula together in Hawaii?!?
This alone makes it the best luau in Hawaii for Disney lovers. It was seriously cool, and it was a great way to remind everyone that it was a Disney luau!
Tahitian Dancing
Usually, luaus in Hawaii start off with Tahitian dancing because the Tahitians were the first people to settle in Hawaii. It sort of pays respect to the culture that came before.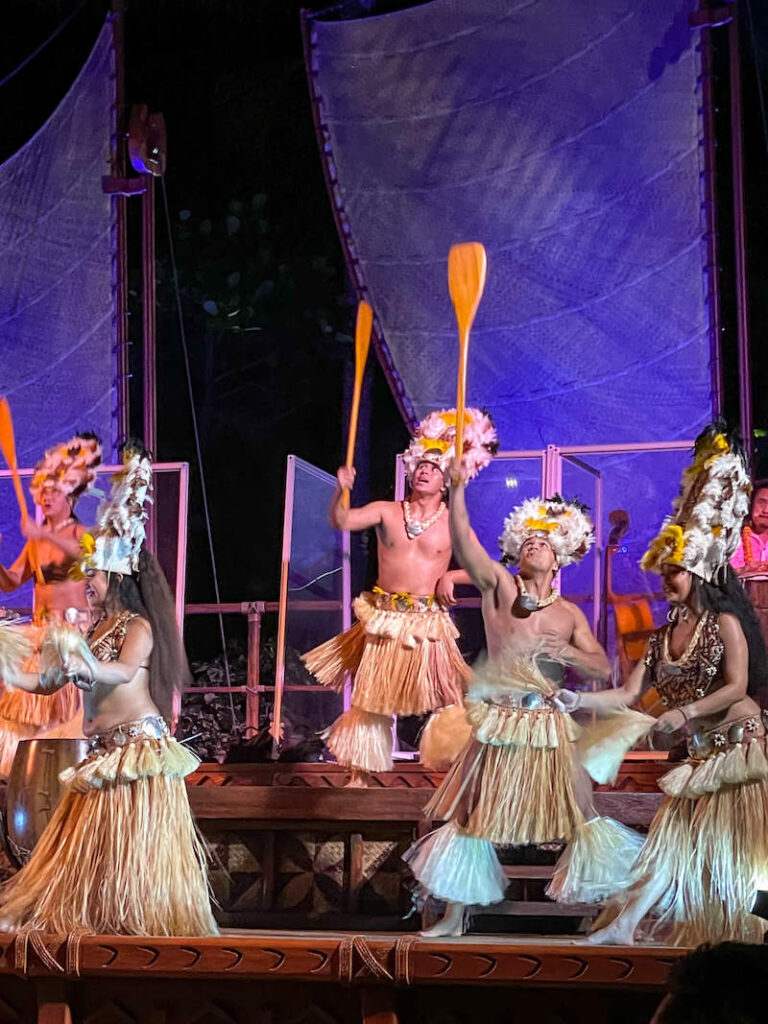 This Tahitian performance was super fun and exciting to watch. There were both men and women performing, and it was full of energy!
Battling
One of the most unusual performances I've ever seen at a luau on Oahu, Hawaii, is ancient style hula (kahiko) which also included a choreographed battle scene.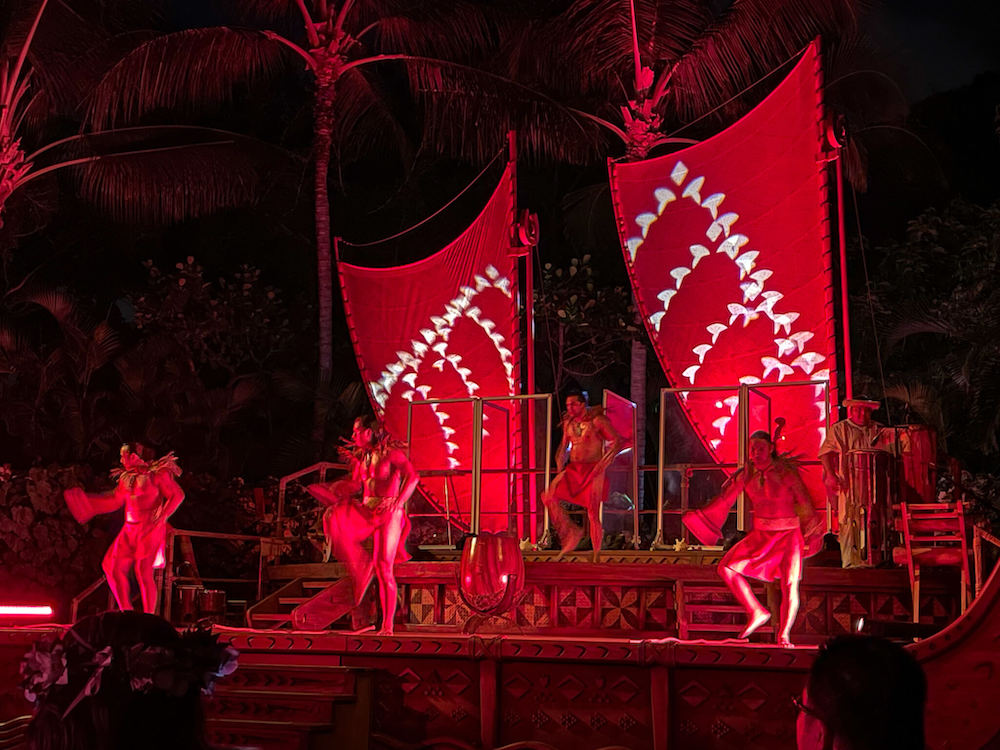 The performers danced with super long sticks. Then, they paired off and did really cool fight scenes to fully tell the stories of these warriors. It was super cool!
Story of Maui Capturing the Sun
One of the most popular Polynesian myths involved the demigod Maui. Yes, most people know him from Disney's Moana, but he really was a Polynesian superhero long before the movie came out.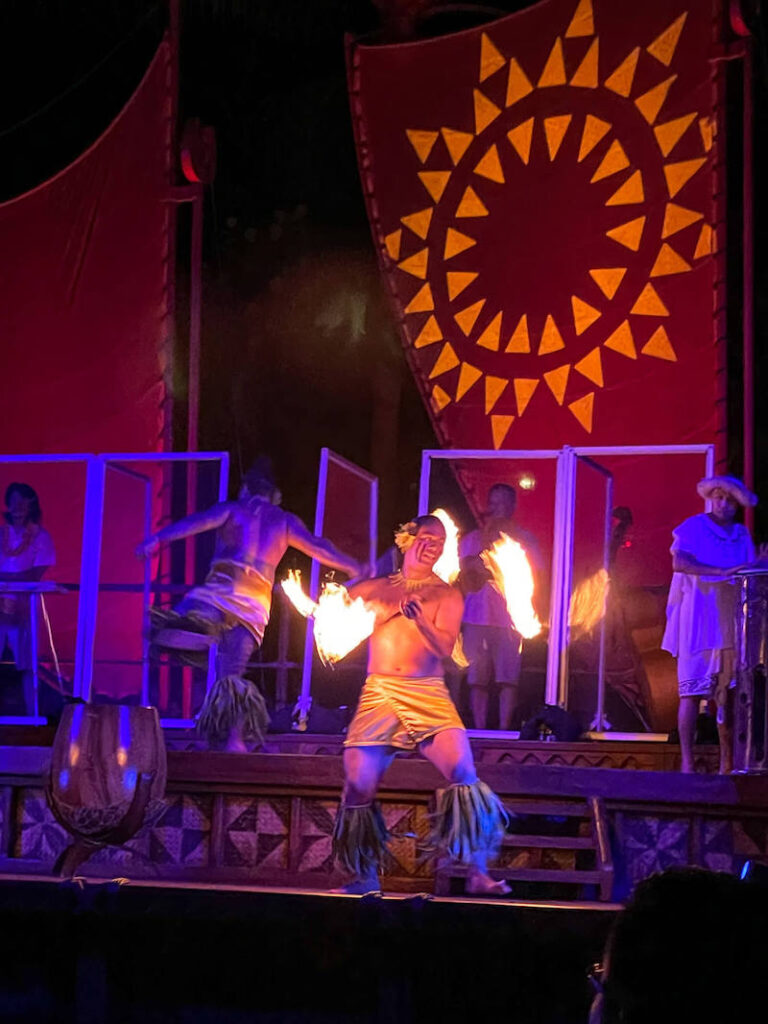 They depicted the story of how Maui's mom struggled to make kapa cloth because it needed to dry in the sun, and the sun kept moving too quickly for her to work. So, Maui took a big lasso and fought with the sun in order for everyone to enjoy long days of sunshine.
They used fire knives to represent the sun, which was mesmerizing to watch.
Farewell
At the end of the luau, they thanked everyone for coming and told people to wait at their tables until a cast member dismissed them.
Why We Chose Oahu's Ka Wa'a Luau
My family loves attending luaus when we travel to Hawaii. We usually do at least one per trip because it's something everyone enjoys.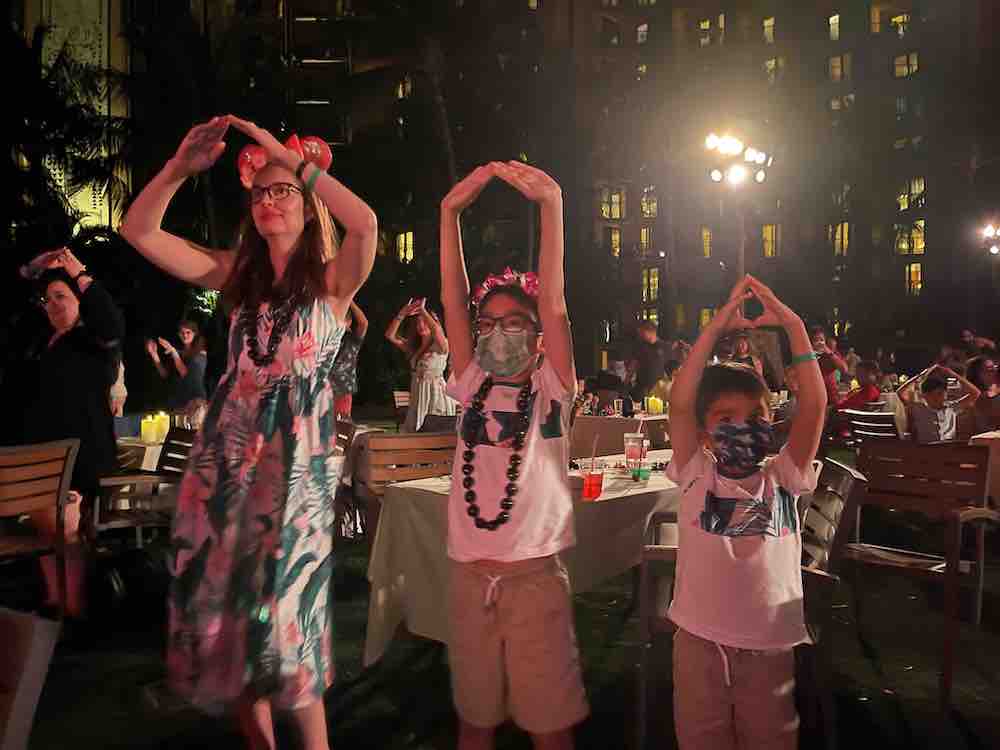 Aulani's luau has been on our bucket list for years. We didn't have an opportunity to do it on our last trip and figured our kids (ages 7yo and 5yo) were the perfect ages to attend this year.
Another main reason we booked the Ka Wa'a Luau is that we were already staying at Aulani. We figured it would be super convenient to just walk to/from the luau from our hotel room.
I had read lots of general Oahu luau reviews and Disney Aulani luau reviews, and it seemed like most people had a great time. We knew that things would be different due to the pandemic, so we lowered our expectations a bit.
How Does the Aulani Resort Luau Compare to Other Oahu Luaus?
This is definitely a theatrical luau. Disney always does a great job making sure everything they do has a story behind it. The same is true for the Aulani Disney luau. It's all about the actual location of the luau (which is in Ewa, Oahu) and the stories of voyagers.
Our family goes to a LOT of luaus, and I'll say I was definitely entertained, and I learned a lot about the Ewa side of Oahu.
The focus of this luau was definitely on having fun. There were lots of dances with humorous expressions or storylines.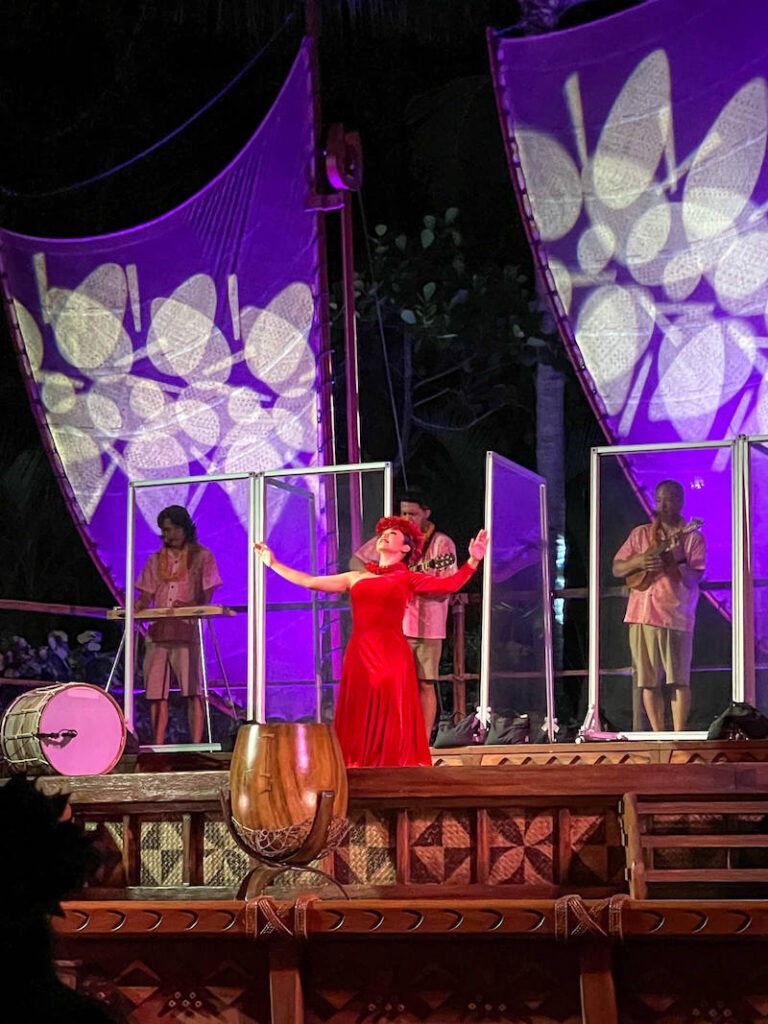 I really liked how Disney Aulani Resort kept the performances going with an overall storyline about Hawaiian history and culture. They did a fantastic job of acting out a famous Polynesian story about how the demigod Maui captured the sun. It's one of the best luaus in Oahu for stories.
They had a big container where they would bring out an item that represented something significant, like a piece of kapa cloth from a canoe or a warrior's weapon. Each time they brought something out, there was the Disney "magical" sound that went along with it.
Then at the end of the luau, the performers methodically returned each of the items back to the container. This is something very unique to the Ka Wa'a Luau at Aulani Resort.
Is Preferred Seating Worth the Extra Money?
Absolutely! We sat in preferred seating, and we were in the 2nd row of tables. The tables were staggered, so we had an awesome view of the stage.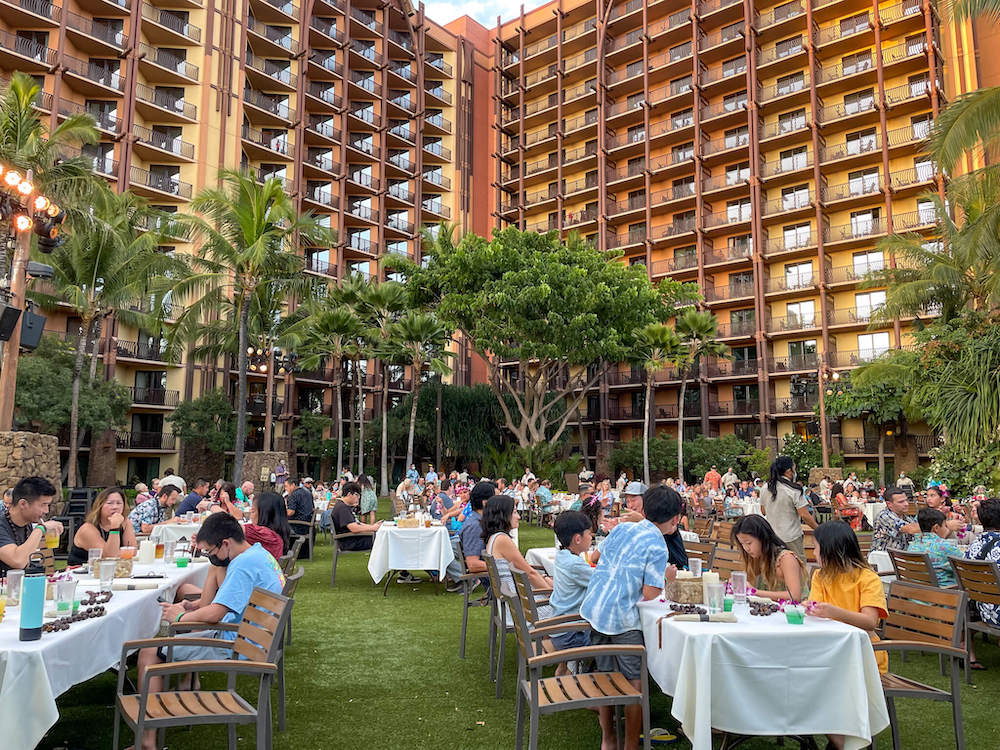 I looked back to see what the general seating was like, and it would have been really hard to see most of what was happening on the stage.
They do have mini stages set up down the main aisle where performers hop up and dance so people in the back have a closer look. But, there are a lot of theatrical things that happen on the main stage.
If you're already spending a lot of money to go to the luau at Disney Aulani, you might as well pay a little higher Aulani luau prices to ensure that your family can see everything on the stage with preferred seating. They definitely are much better seats than general seating.
Disney Aulani Luau FAQs
Do you need to stay at Disney Aulani to attend their luau?
No. One of the cool things about the Disney Aulani Luau is that you don't have to be a Disney Resort guest to attend. It's a fun way to get a taste of the Aulani experience without paying for a hotel room. You can also enjoy the Aulani character breakfast without being a guest.
Are there any other luaus near Aulani Resort?
If you can't find tickets to Disney Aulani during your stay, you might check Paradise Cove Luau. It's also located in Ko Olina, and your family can walk there. There's also the Fia Fia luau at the Marriott. Otherwise, you'll need transportation to go to any other Oahu luau.
What should I wear to this Disney luau?
It's fun to wear any sort of Hawaiian outfit to luaus in Hawaii. However, at the Disney Aulani luau, you can also throw in Minnie Ears, clothing from the Aulani gift shops, or even dress as Moana! You might even like these cute Disney Aulani t-shirts too.
How long is Disney Aulani Luau?
Disney's Aulani Luau is around 3 hours long and takes you through an exhilarating and enchanting journey through Hawaiian history, where you will learn about the first ancient explorers.
How often does Aulani do the luau?
The show does not happen every night. It is usually every two to three nights. Be sure to check the Aulani website to learn when they will be performing next!
What time does the luau start at Aulani?
The doors open around 5:00 PM for early check in for preferred seating and 5:10 PM for general seating. In the summer months, it opens at 5:30 and 5:40 PM.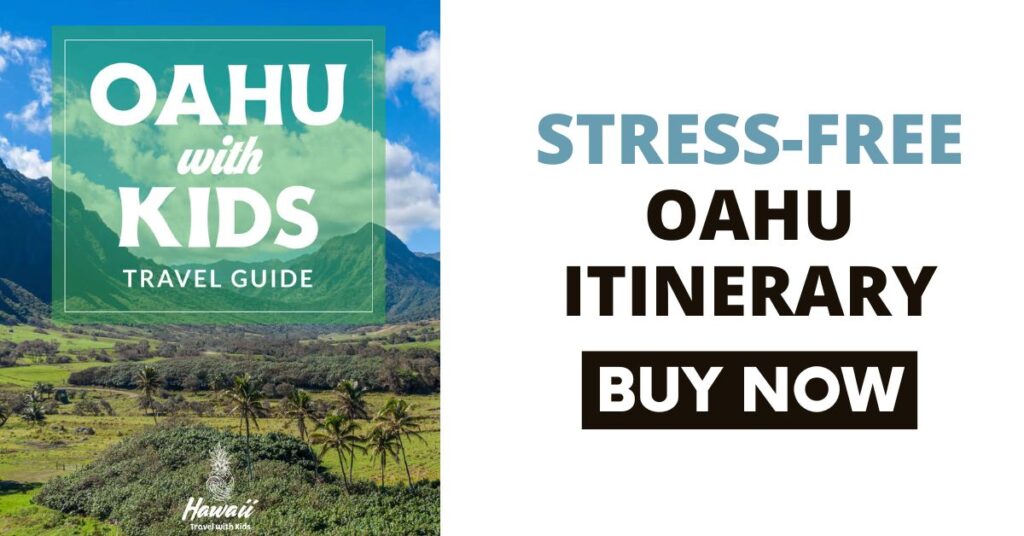 So, Is Ka Wa'a Luau the Best Luau on Oahu?
If you are already staying at Disney's Aulani Resort, it doesn't get much easier for families with little kids than the Ka Wa'a Luau. It's literally downstairs, and you don't have to worry about driving or even walking a long distance.
The theatrical storytelling is pretty engaging for kids, and it's a great way to introduce them to Hawaiian culture.
In November 2021, it was a fairly small group of guests, however, it definitely feels set up to be a much larger luau. Those have a different feel than more intimate, smaller luaus like Toa Luau or Experience Nutridge.
What's nice about larger luaus is that they can usually easily accommodate dietary restrictions. And Disney Aulani is definitely set up to host kids, so they understand what families need in order to have a fun experience.
There are so many options that I would consider the "best Oahu luaus" that it really depends on what your family is looking for. Our family had a great luau experience at Aulani Resort.
If you want to learn about Hawaiian history and discover its deep cultural roots, you will love Disney's Aulani luau along the shores of Ko Olina.