Are you looking for the best luaus in Waikiki for families? Keep scrolling for my honest review of the Diamond Head Luau on Oahu.
This Diamond Head Luau review was written by Hawaii travel expert Marcie Cheung and contains affiliate links which means if you purchase something from one of my affiliate links, I may earn a small commission that goes back into maintaining this blog.
My family LOVES going to Hawaiian luaus. I was actually a professional hula dancer for 20 years so I admit that it takes a lot to impress me.
I've been keeping my eye on the Diamond Head Luau ever since I heard about it earlier this year. It's one of the newest luaus in Waikiki.
So, on my recent trip to Oahu, I figured I better check it out for myself so I could report back to you!
Want to skip all the planning and just access my detailed Oahu Itinerary complete with daily schedules, kid-friendly activities, and travel hacks? Click the button below.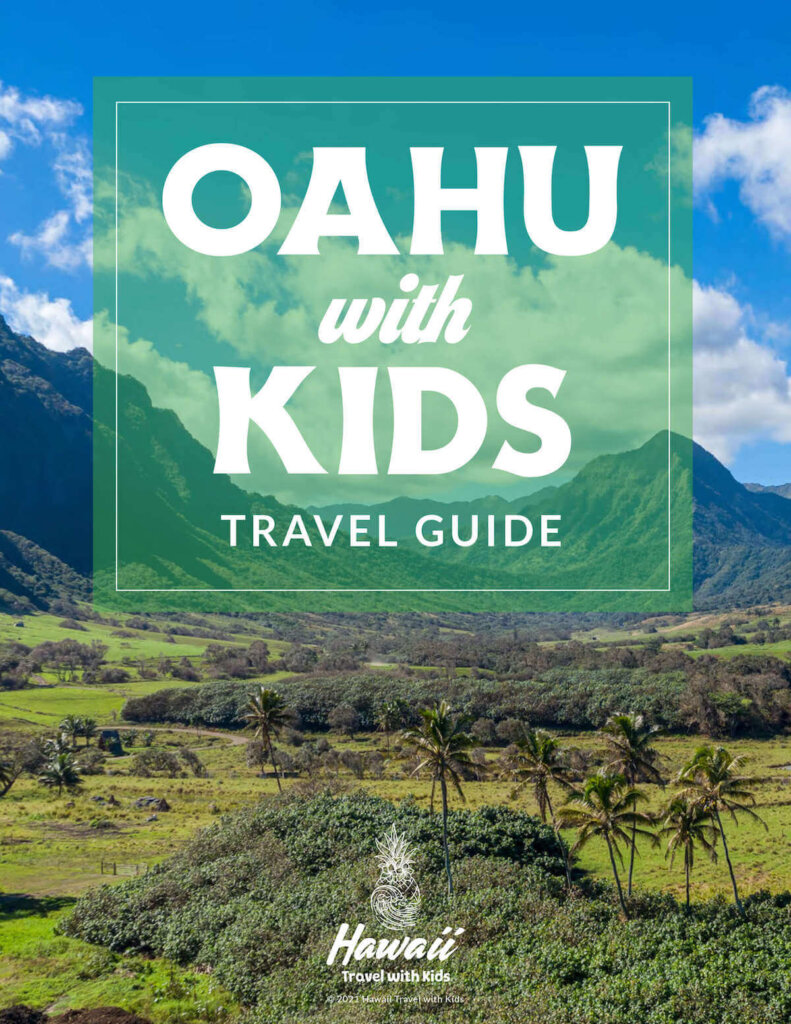 What is a Luau and What Can You Expect at One?
Before we dive into this Oahu luau review, I figured it might be helpful to explain a bit about Hawaiian luaus.
A luau is an evening event that features Hawaiian food, music, and hula dancing. It usually lasts a few hours and can include some hands-on activities, demonstrations, and audience participation.
But they aren't all the same. The Diamond Head Luau is located at the Waikiki Aquarium and it offers free entry to explore before the luau. Check the latest rates and availability.
Where is the Diamond Head Luau on Oahu?
The Diamond Head Luau is located at the Waikiki Aquarium on the Diamond Head side of Waikiki. The address is 2777 Kalākaua Ave, Honolulu, HI 96815.
There is free parking at the Honolulu Zoo or you can find street parking. They also offer paid transportation from Waikiki hotels.
We stayed at Hyatt Place Waikiki Beach and it was just a 15-minute walk from our hotel to the Diamond Head Luau.
What to Expect at the Diamond Head Luau
Arrival
They encourage people to arrive between 4:45 p.m. and 5:15 p.m. to check in. We arrived right at 4:45 p.m. so I could take photos.
At check-in, they gave us wristbands with our table number on them and an envelope with food and drink tickets to be used throughout the night.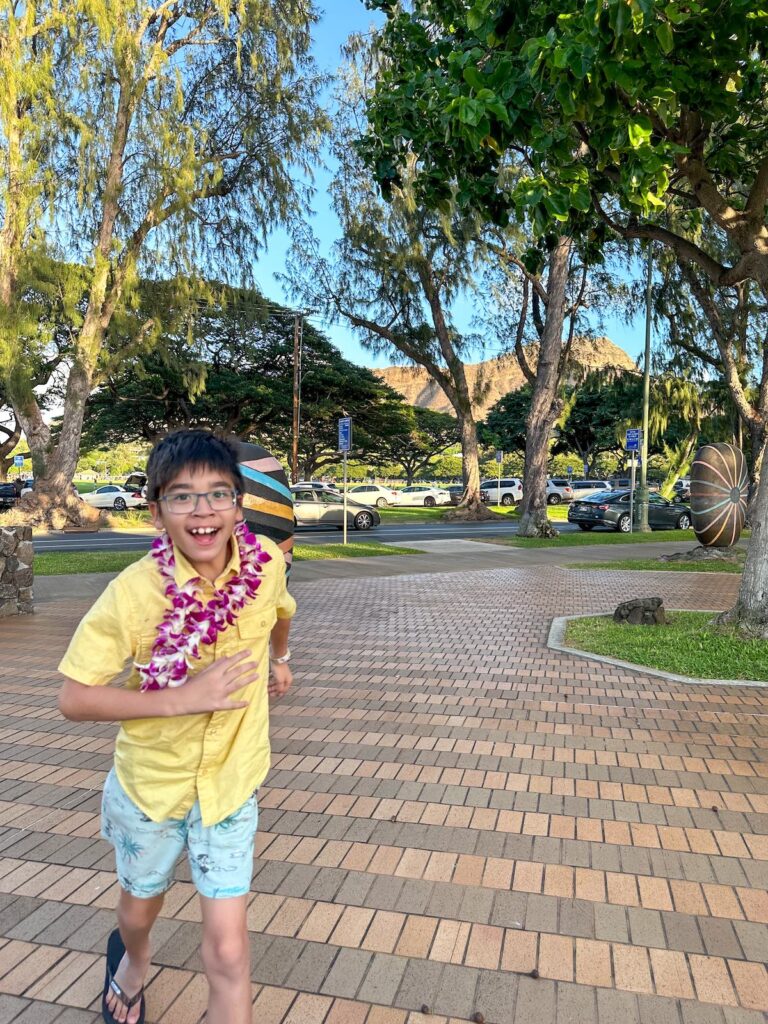 It was actually really quick to check in (there weren't the LONG lines we've experienced at other luaus) so we had a lot of time to wait in the Waikiki Aquarium parking lot until they let us in at 5:30 p.m.
Since there isn't anything to do until the doors open, I recommend waiting until closer to 5:15 p.m. before arriving.
Welcome + Photo Opp
As soon as we checked in, we were ushered over to get a fresh orchid lei and take photos with a few of the performers. These photos were on sale during the luau.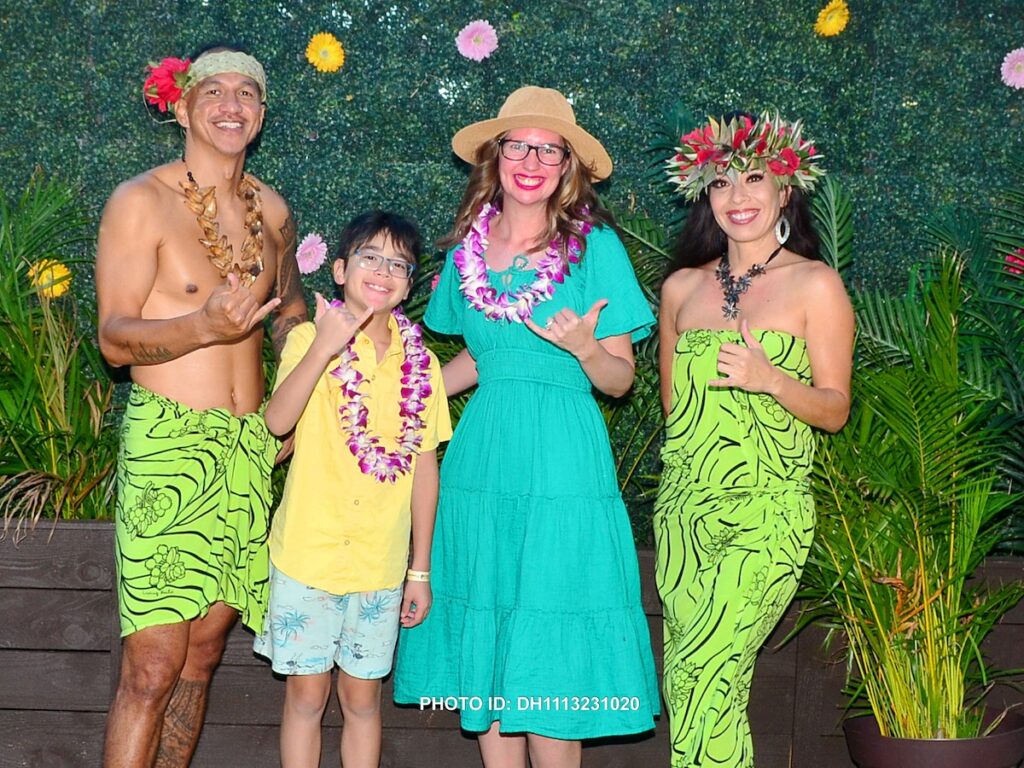 Once the doors opened, we were all offered complimentary mai tais or fruit juice. These didn't use any drink tickets.
Someone guided us to our table where we set down our drinks and stuff and headed to the activities.
Pre-Show Activities
There were a few amazing pre-show activities. The first one we did was stringing a fresh flower lei bracelet.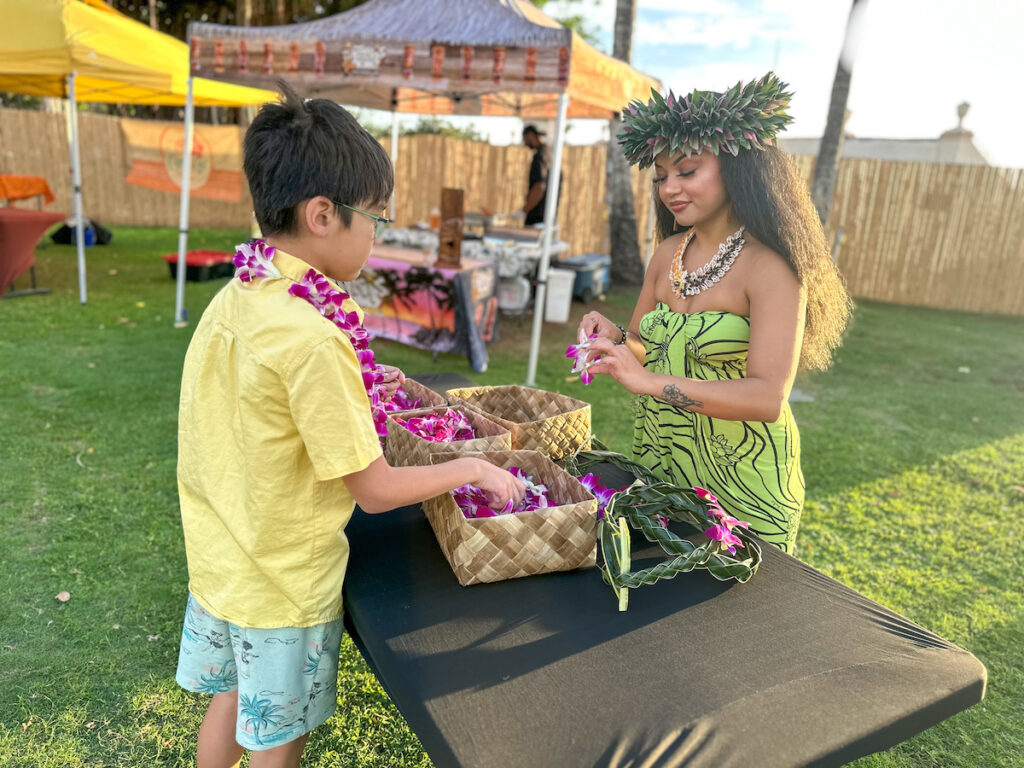 They had lei needles and asked us to put 10 flowers on before the helper would add a string and tie it around our wrists.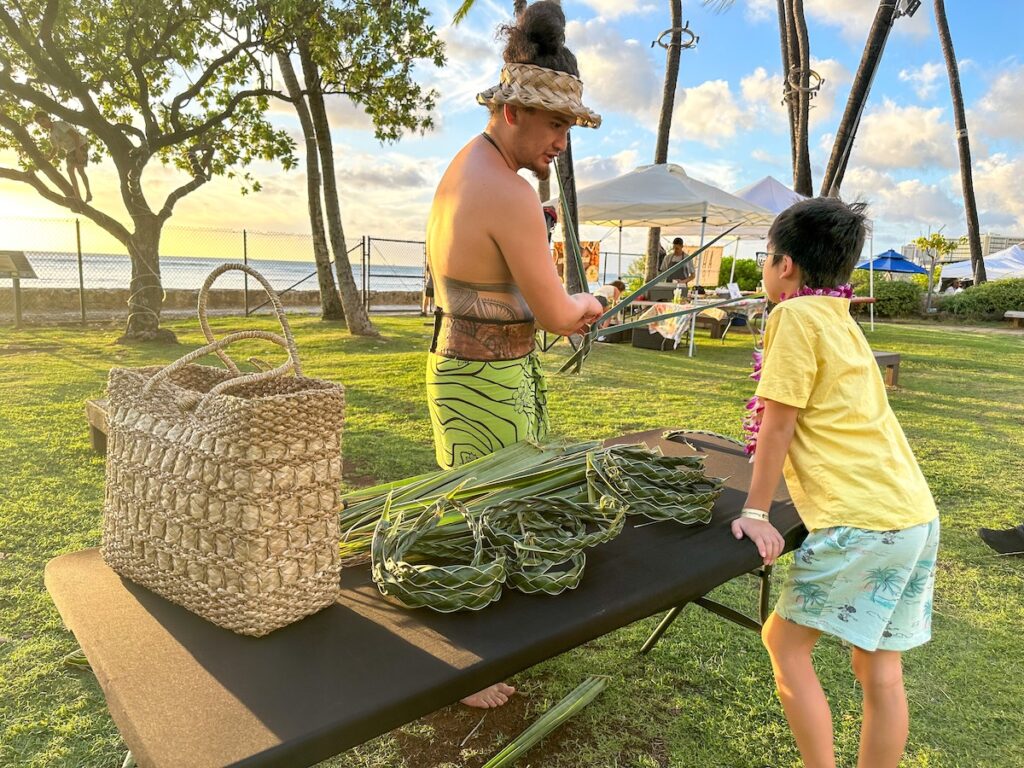 The next station was making a coconut frond headband. My son was REALLY into this activity and wanted to make several of them. The helper was super sweet to my son and patiently taught him the best techniques.
The final station was about hula implements. We didn't have a chance to head over there but thankfully the helper came over to our table to tell us about the ipu (gourd drum). And we got to watch her demonstrate hula when we grabbed food.
Food/Drinks
The food and drink booths were only open for 1 hour (5:30 p.m. – 6:30 p.m.) so we grabbed items from a few booths before sitting down at our table.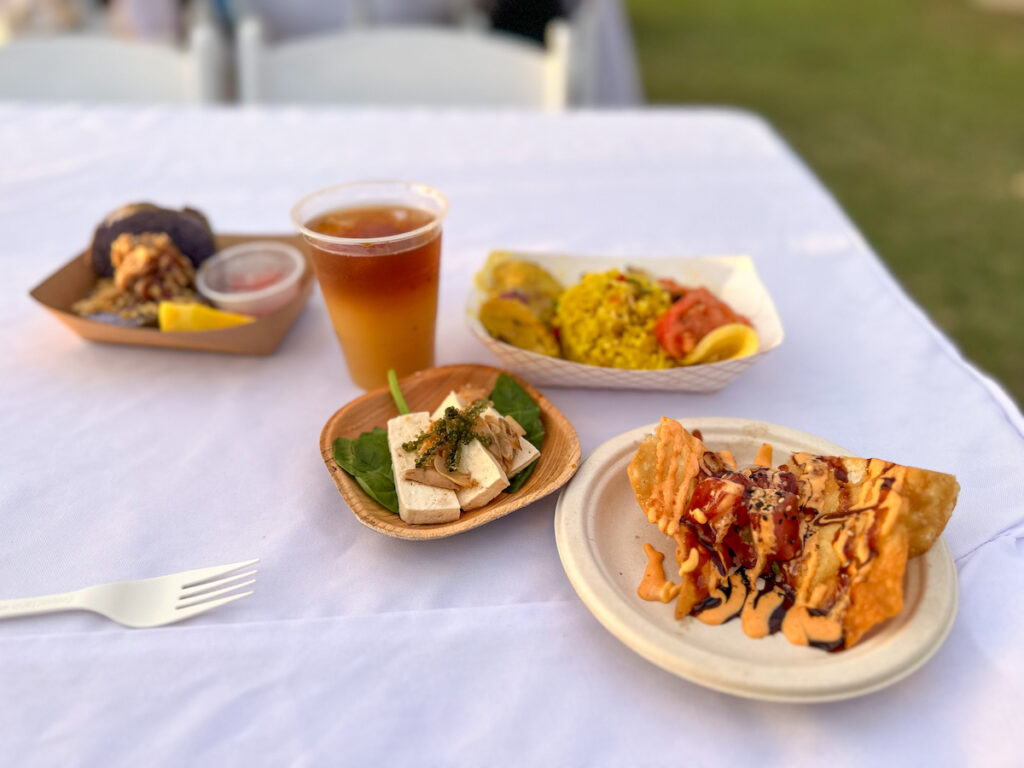 It's all done like a food festival. Each booth required a different colored ticket and there were 8 stations to choose from. Each station offered one signature dish that was plated and ready to go.
We ended up grabbing food from 6 of them. A lot of people did it "family style" where they grabbed a couple of items from each booth and shared them so everyone could get a taste.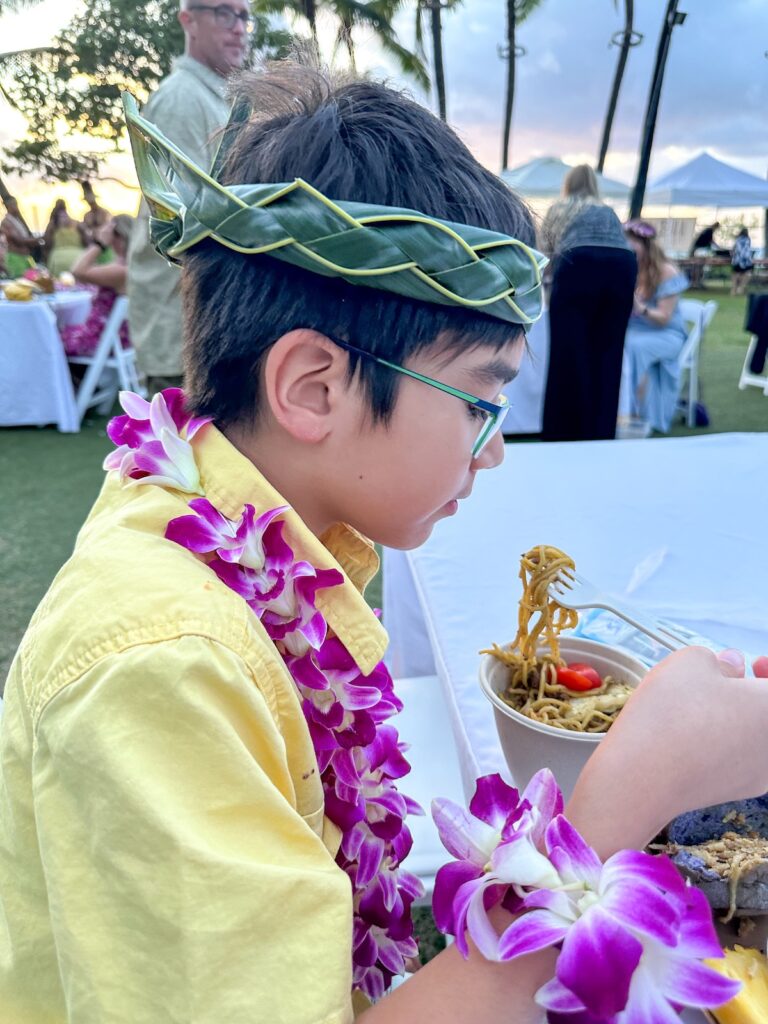 My son liked the noodles the best. I really enjoyed the poke nachos and the fish. But I was glad that I could try so many unique items not found at typical luaus.
Audience Participation
Before the show really started, they asked some people to go on stage. They selected my son and myself along with about 5-6 others.
They taught us some basic hula moves and we danced on stage in front of everyone. It was easy to follow and super fun!
Luau Entertainment
We thought the show itself was FANTASTIC!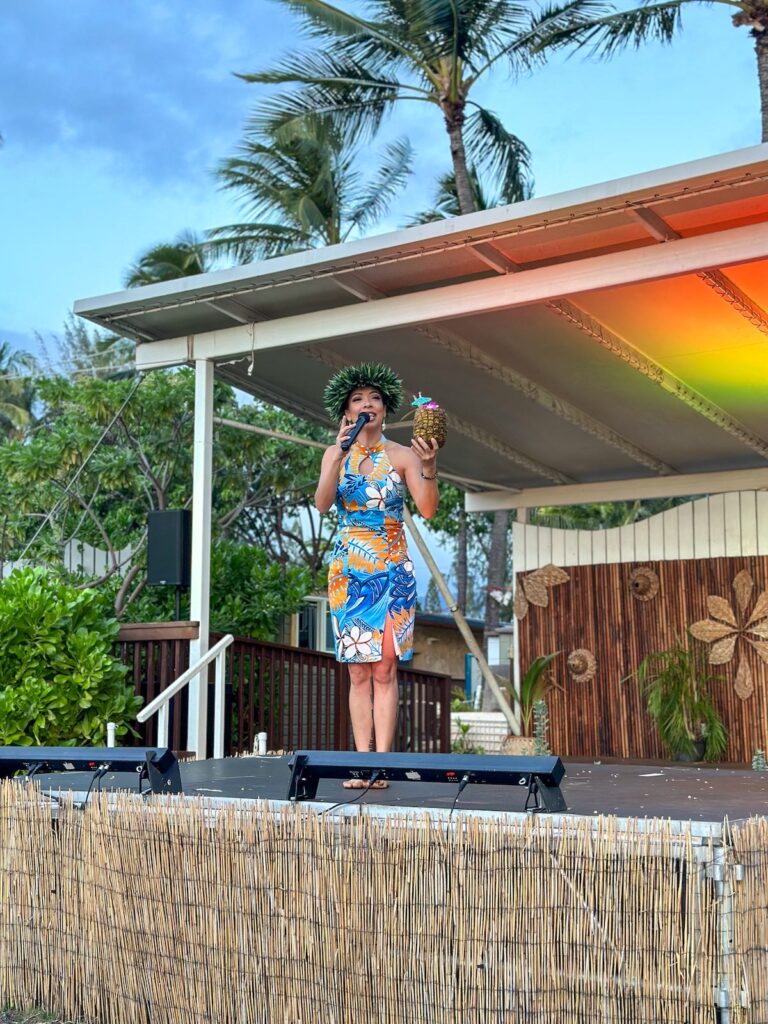 The luau theme was coconut trees from around Polynesia. Our emcee talked about the first coconut tree planted on Oahu, the legend of Maui and Hina planting the first coconut tree in Tahiti, and other coconut tree legends in Hawaii.
Hula Dancing
The hula portion kicked off with fire, which is always fun! The dancers had lit torches and coconuts.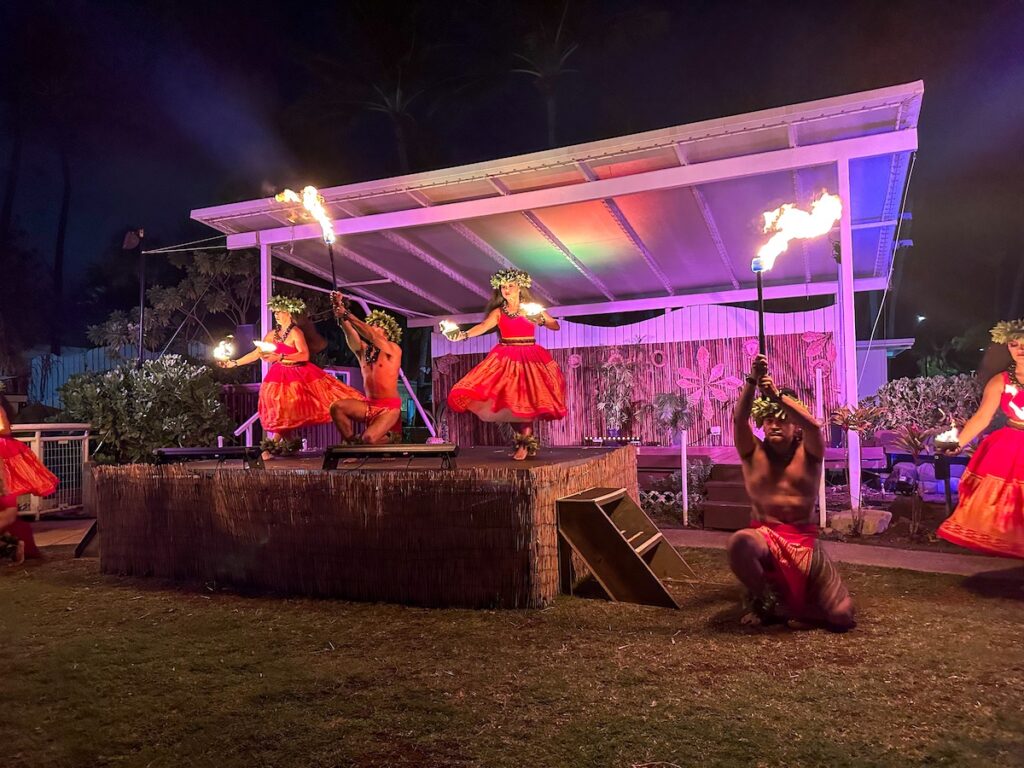 Since the theme of the luau was coconuts, I shouldn't have been so surprised when they started tossing coconuts during a hula dance!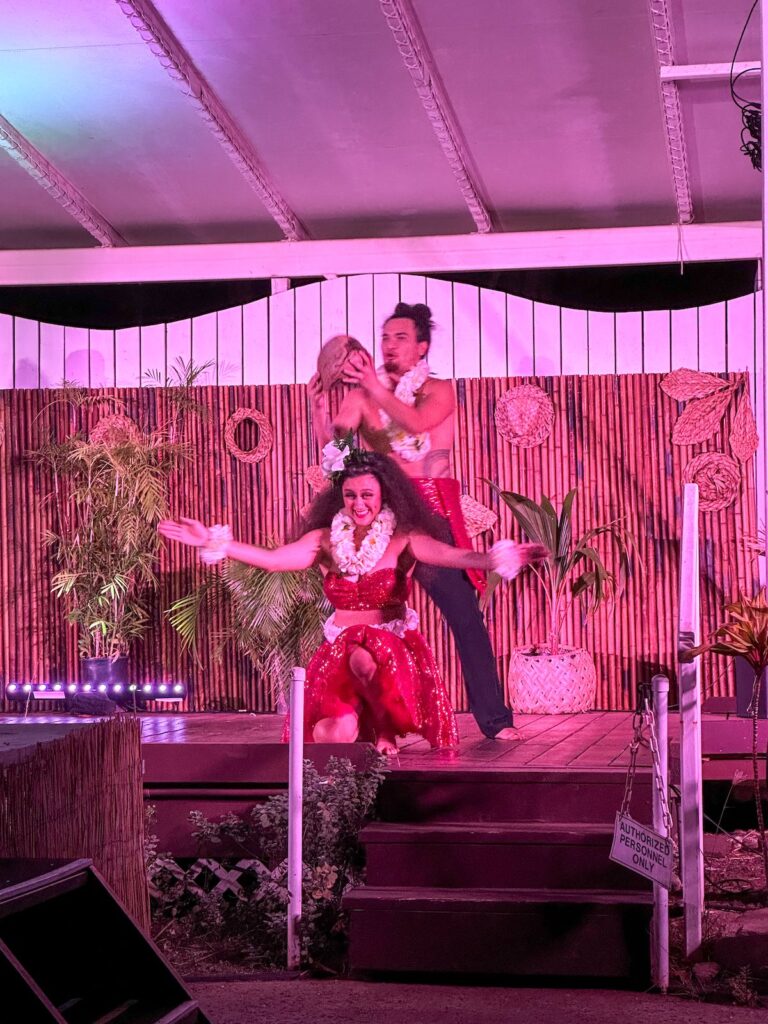 I really loved the costumes and the playful energy between the dancers!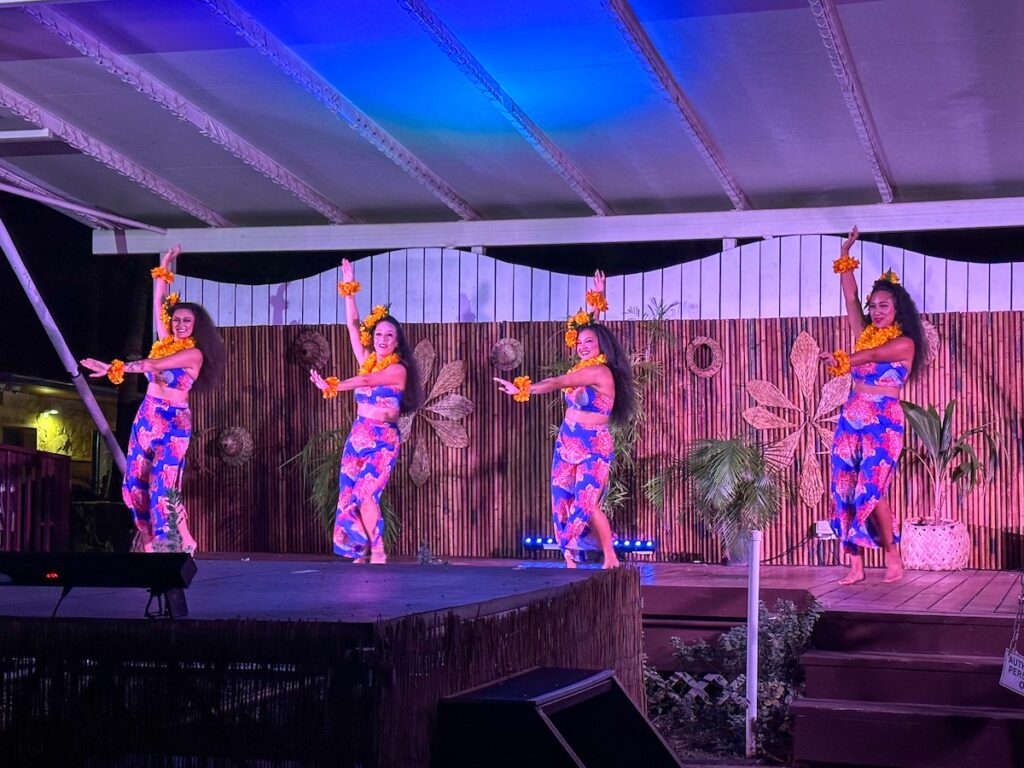 This is just a small sampling of the amazing hula dances we got to see during the show.
Tahitian Dancing
There was also a big Tahitian portion of the show, which is always a big hit with the audience!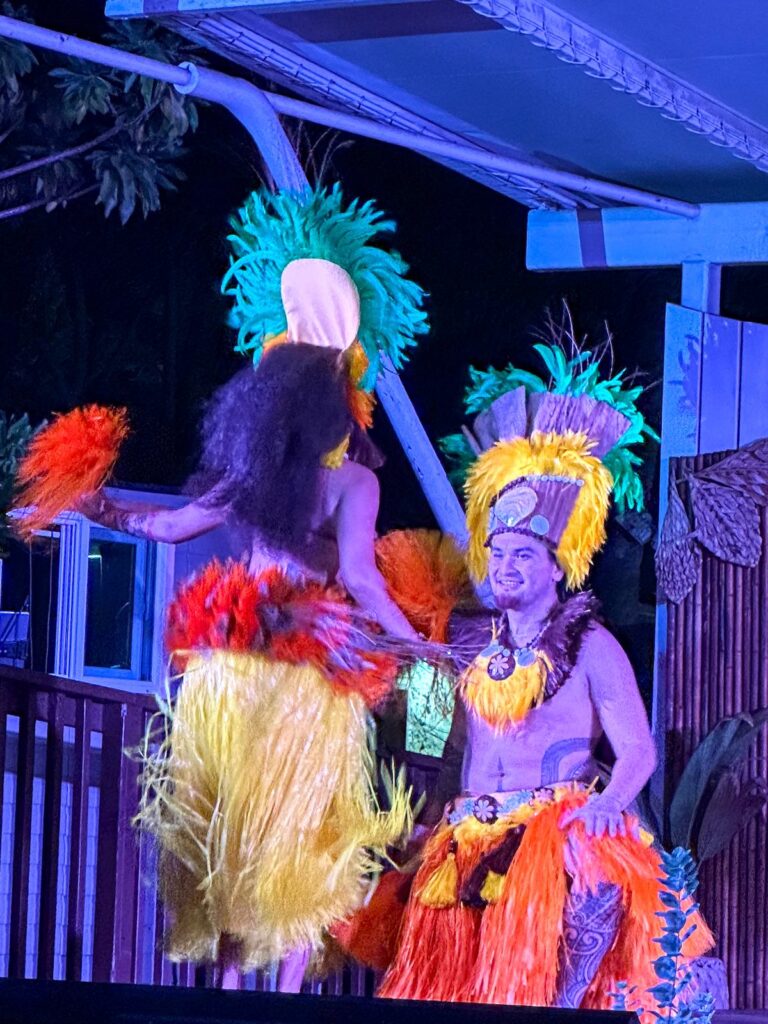 The dancing was really, really impressive! I couldn't believe how long they were able to shake their hips!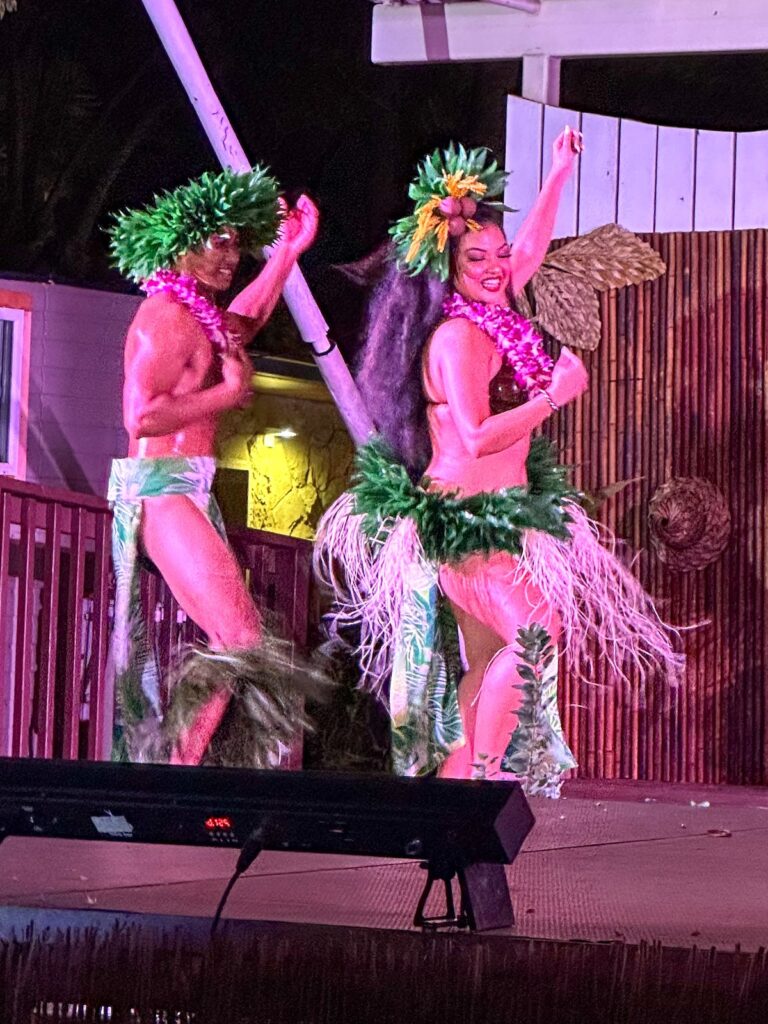 The Tahitian section was completely engaging and the live drumming really enhanced the entire performance.
They even did another audience participation where everyone stood near their tables and did Tahitian dancing!
Samoan Dancing
As someone who has attended a LOT of luaus in Hawaii, I'm always thankful when luaus showcase Samoan dancing in addition to the popular fire knife dancing.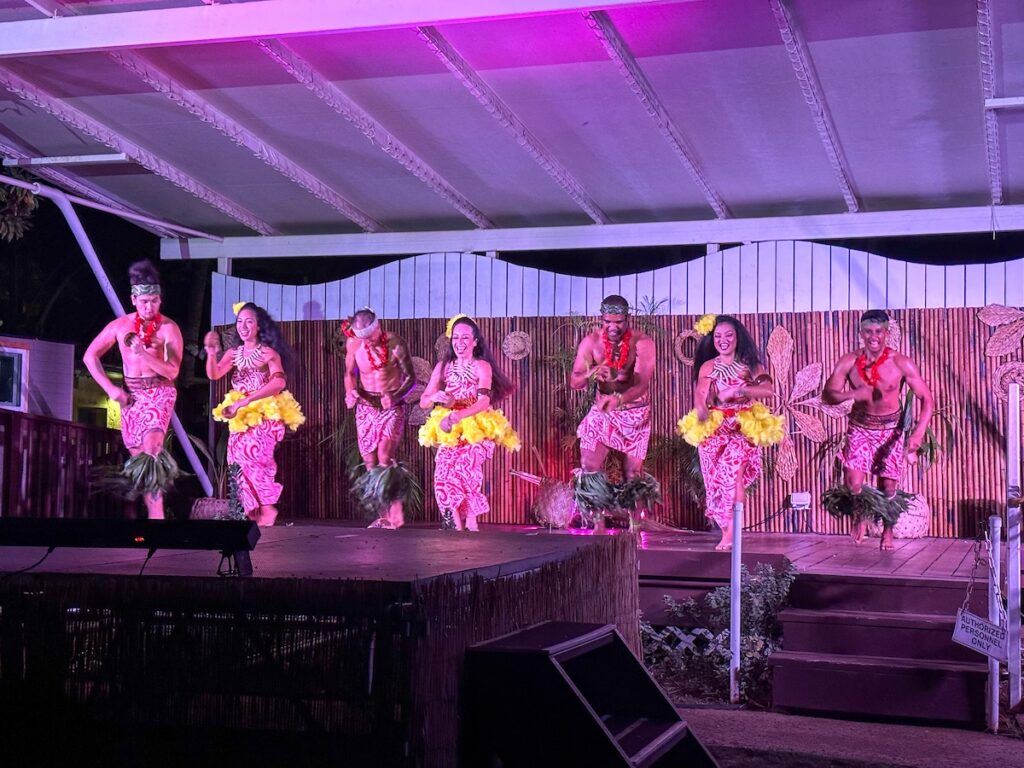 Of course, the audience went wild when the famous Samoan fire knife dancing started.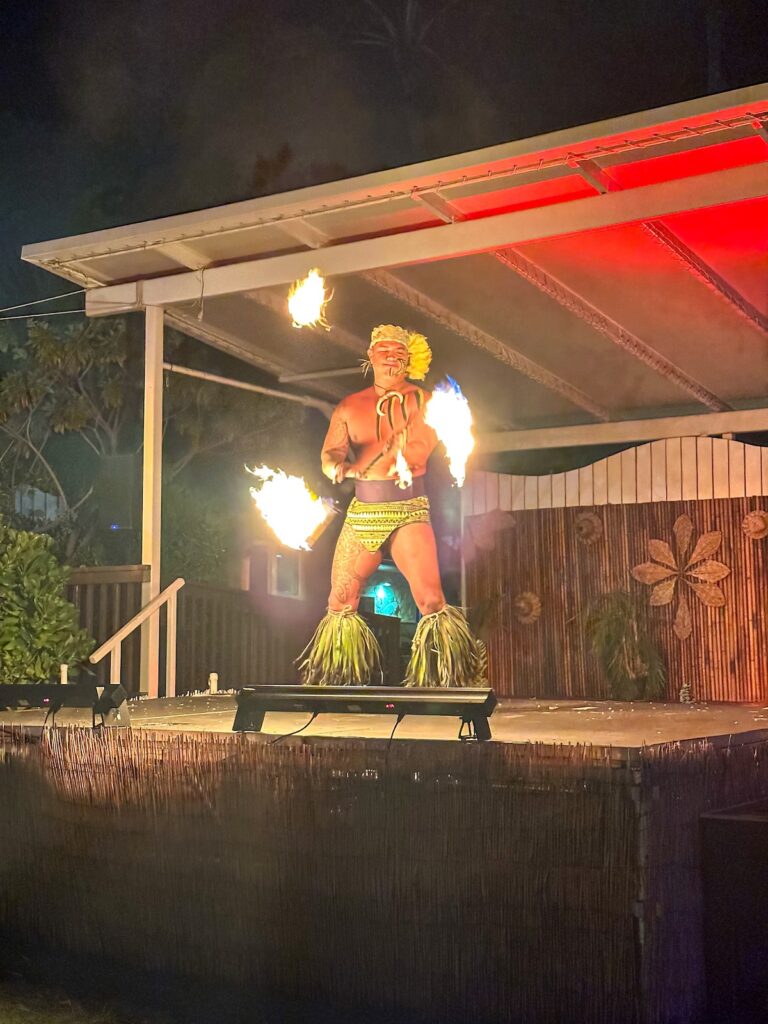 The entire show was fantastic and it was non-stop entertainment.
Why We Chose Oahu's Diamond Head Luau
My family loves attending luaus when we travel to Hawaii. We usually do at least one per trip because it's something everyone enjoys.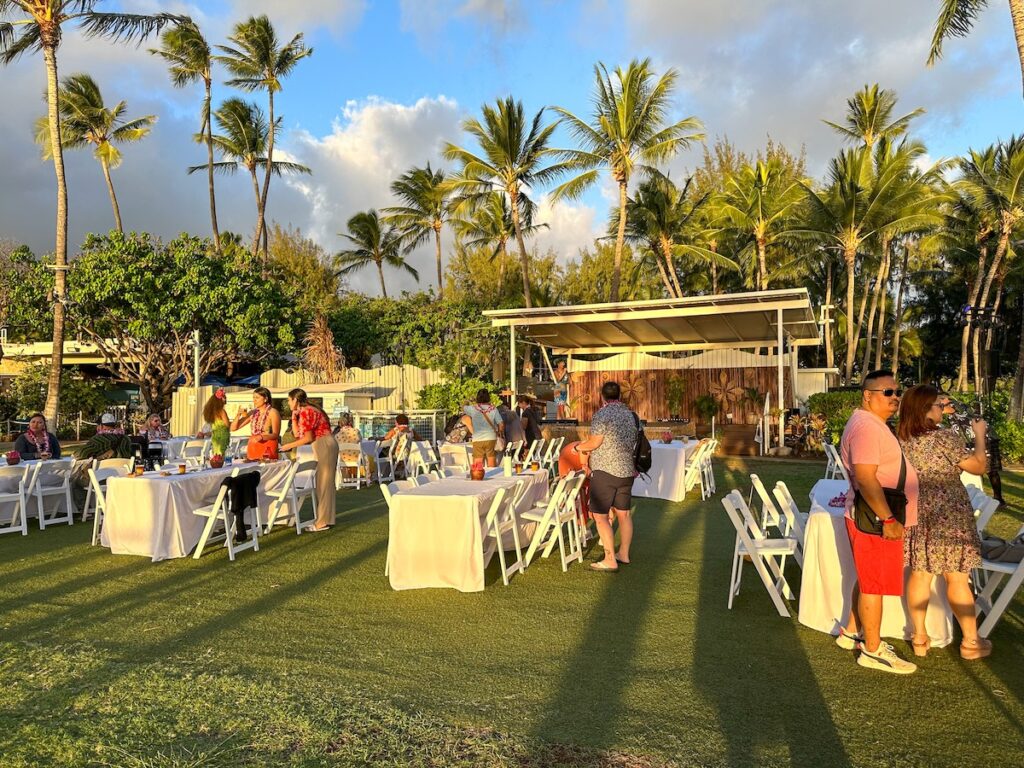 But, we like to check out luaus in Hawaii that offer something special or unique.
When we heard that this Oahu luau was located at the Waikiki Aquarium, we knew we wanted to experience it for ourselves. What a cool, kid-friendly venue!
How Does the Diamond Head Luau Compare to Other Oahu Luaus?
One of the biggest ways that Diamond Head Luau is different than other luaus on Oahu is the food booth concept. It's not really a buffet and the food is a higher quality than you'll find at other luaus in Waikiki.
I really appreciated that the luau show was shorter than some others. Our luau ended at 7:45 p.m. which was perfect for my son, who was really tired at this point.
Your Diamond Head Luau ticket also comes with free entry into the Waikiki Aquarium, which is a cool touch. Unfortunately, you can't use it before the luau as you need your paper luau ticket to enter the aquarium.
Is Preferred Seating Worth the Extra Money?
Yes, the preferred seating is just a little bit more money and it guarantees you a front-row table. I think it's totally worth it.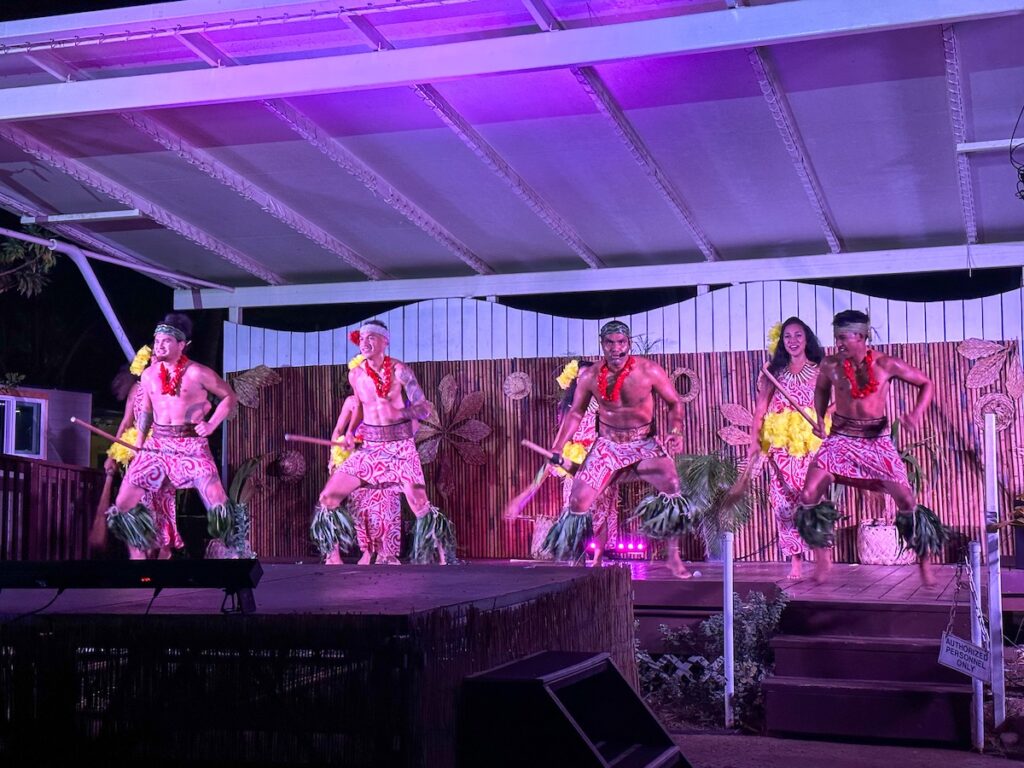 Waikiki Luau FAQs
What exactly is a luau?
A luau is a traditional Hawaiian party or feast that typically includes entertainment like hula dancing, Polynesian music, and Hawaiian foods.
What kind of food is served at a luau?
Traditional luau foods often include kalua pig (roasted pork), poi (taro paste), lomi lomi salmon, poke, and tropical fruits, along with modern options.
Are luaus suitable for children?
Yes, most luaus are family-friendly with entertainment and food that appeal to all ages.
What should I wear to a luau?
Casual resort or tropical wear is recommended. Women often wear sundresses or aloha wear, and men wear aloha shirts or casual shirts and slacks.
How long does a luau last?
Luaus typically last about 2 to 3 hours, including dinner and the show. The Diamond Head Luau lasts about 2.5 hours.
Do I need to book tickets in advance?
Yes, I recommend booking in advance, especially during peak tourist seasons, as luaus are a popular attraction.
Are vegetarian or special dietary options available?
Most luaus (including Diamond Head Luau) can accommodate dietary needs with prior notice, including vegetarian and gluten-free options.
Is there audience participation in a luau?
Yes, many luaus encourage audience participation in certain activities or dances.
What's the difference between various luaus in Waikiki?
Each luau has its unique theme, menu, and style of entertainment. Some focus more on cultural authenticity, while others are more modern and tourist-focused.
Can I learn to hula dance at a luau?
Yes, many luaus offer brief hula lessons as part of the entertainment.
Is transportation provided to and from the luau?
This depends on the luau package. Some include transportation from major hotels, while others require you to arrange your own transportation.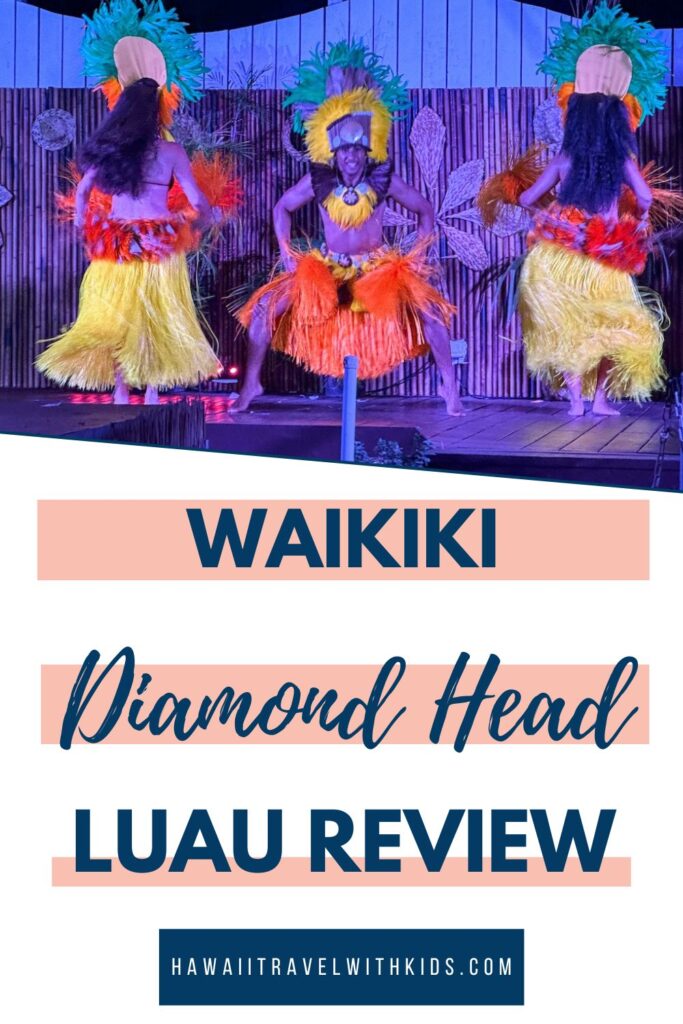 So, Is Diamond Head Luau the Best Luau on Oahu?
My son and I thought this was definitely one of the best luaus in Waikiki. It had a small, intimate feel while still providing an outstanding show highlighting Polynesian culture in a fun and respectful way.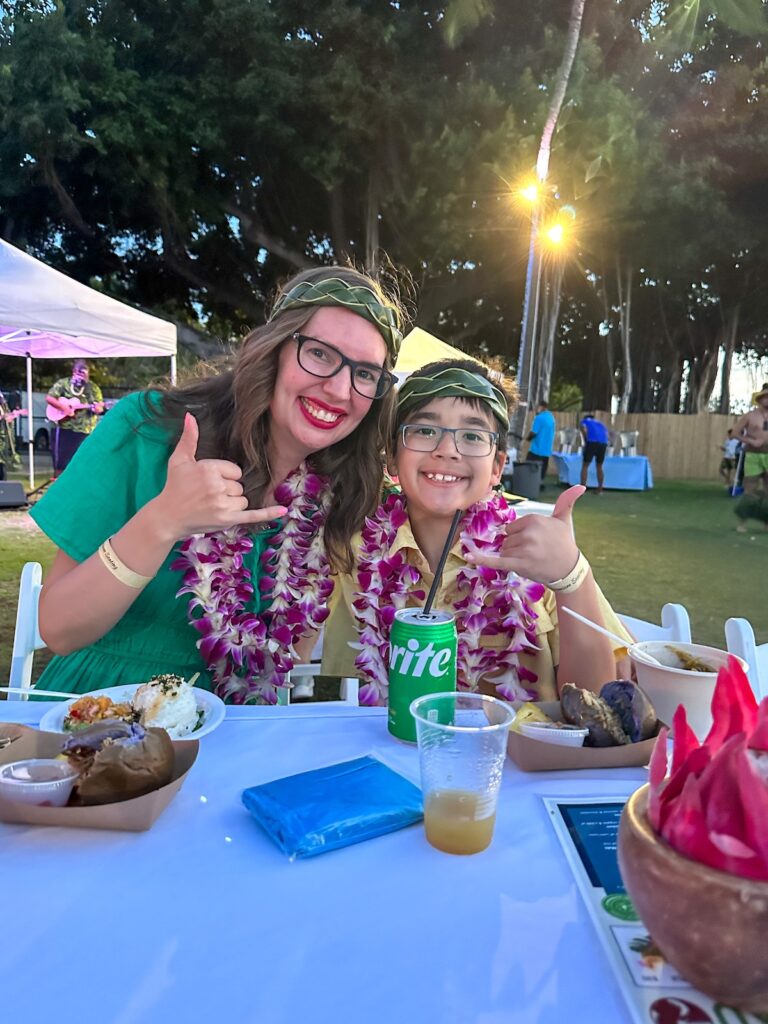 My son LOVED the hands-on activities and getting to use his tickets to "buy" whatever food or drinks he wanted.
We also loved being able to walk to it from our hotel and not deal with traffic or parking.
I highly recommend this Waikiki luau for your next Oahu family vacation.