Are you looking for the best luaus in Ko Olina Oahu? Keep scrolling for this honest Paradise Cove luau review in Ko Olina.
This Ko Olina Paradise Cove Luau review was written by Hawaii travel expert Marcie Cheung and contains affiliate links which means if you purchase something from one of my affiliate links, I may earn a small commission that goes back into maintaining this blog.
Are you trying to decide which luau in Ko Olina you want to book for your next Oahu vacation?
We recently attended the Paradise Cove Luau and wanted to share our honest review with you.
From the menu to the entertainment, we'll tell you everything you need to know about this popular luau on Oahu.
If you're looking for an amazing luau experience that will keep your little ones entertained, look no further than Paradise Cove.
With pre-show activities, delicious food and exciting performances, your family is sure to have a blast at this luau!
Keep scrolling to find out what we liked and what we didn't like about the Paradise Cove luau on Oahu.
Don't want to scroll? Get your Paradise Cove luau tickets HERE
Don't have time to read a bunch of Hawaii blog posts and reviews? Here are some of our top picks for visiting Oahu.
Popular Oahu Tours/Activities
Favorite Oahu Resorts/Hotels
Want to Rent a Car in Hawaii?
One of the best places to rent a car in Hawaii is Discount Hawaii Car Rental because they get the best rates from top national companies like Alamo, Dollar, Thrifty, Avis, Enterprise, Budget, and Payless.
Want to skip all the planning and just access my detailed Oahu Itinerary complete with daily schedules, kid-friendly activities, and travel hacks? Click the button below.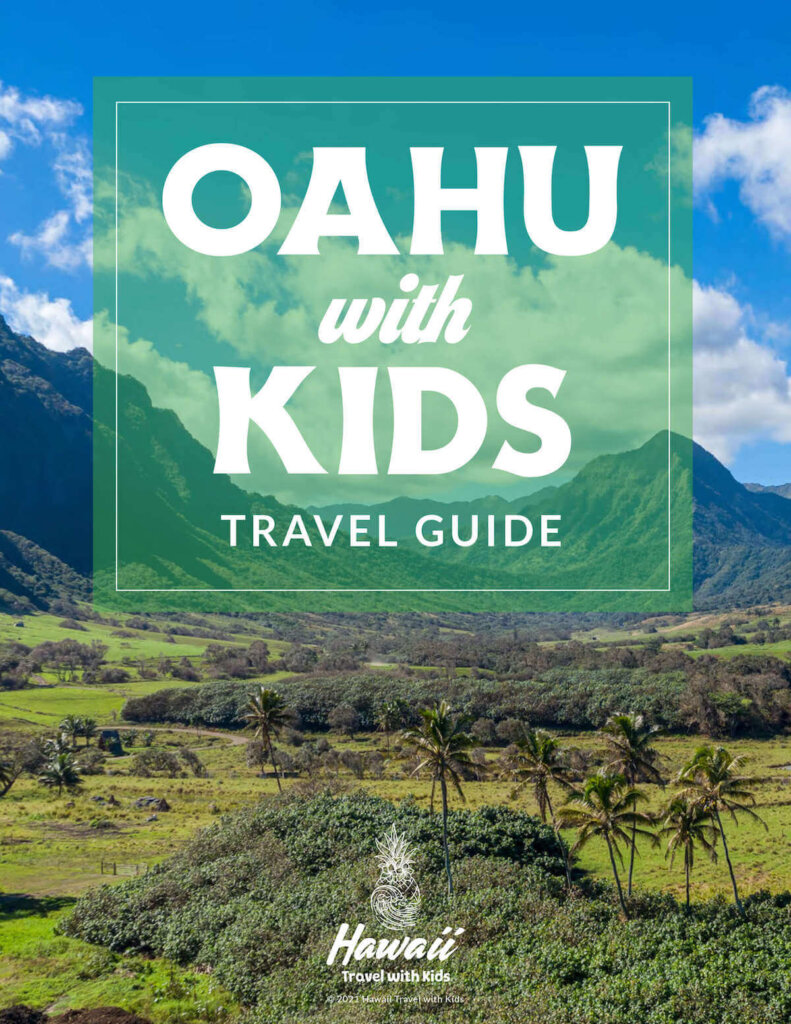 Luau on Oahu FAQs
Are there a lot of luaus in Oahu?
Yes! Out of all of the Hawaiian Islands, Oahu has quite a variety of luau experiences for all types of visitors. There are about 15 luaus in Oahu to choose from and they are located across the island.
How do I know if my luau is one of the best luaus in Oahu?
If you're looking for an authentic Hawaiian luau in Oahu, you'll want to see what types of pre-show activities they offer, their menu, and the types of performances. But really, the best Oahu luau is the one where you'll have a good time. This might be choosing one closest to your hotel/resort, finding one with an open bar, picking one with an impressive fire knife show, or one that's geared for families.
What are the Paradise Cove luau seating options?
When you book your Paradise Cove luau tickets, there are a few options. You can do the Paradise Cove Luau Royal Box which has elevated seated but it's in the back. There's also the Paradise Cove Luau Deluxe Package which is the front row seating and comes with extra perks. Or you can do general admission. All the seating options are at long, communal tables so you'll be sitting with strangers.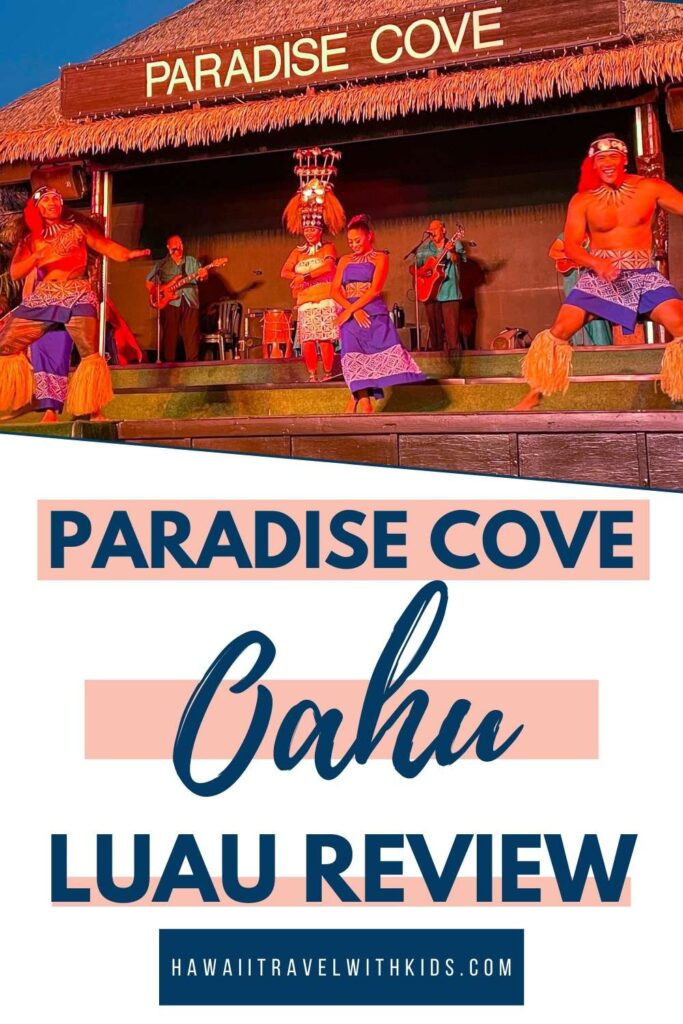 What is a Hawaiian Luau and What Should You Expect?
A traditional Hawaiian luau is a community event that consists of Hawaiian food and entertainment.
A commercial luau in Hawaii will typically have a bar, live Hawaiian music, either a buffet or plated dinner, and hula dancing (or other Polynesian dancing).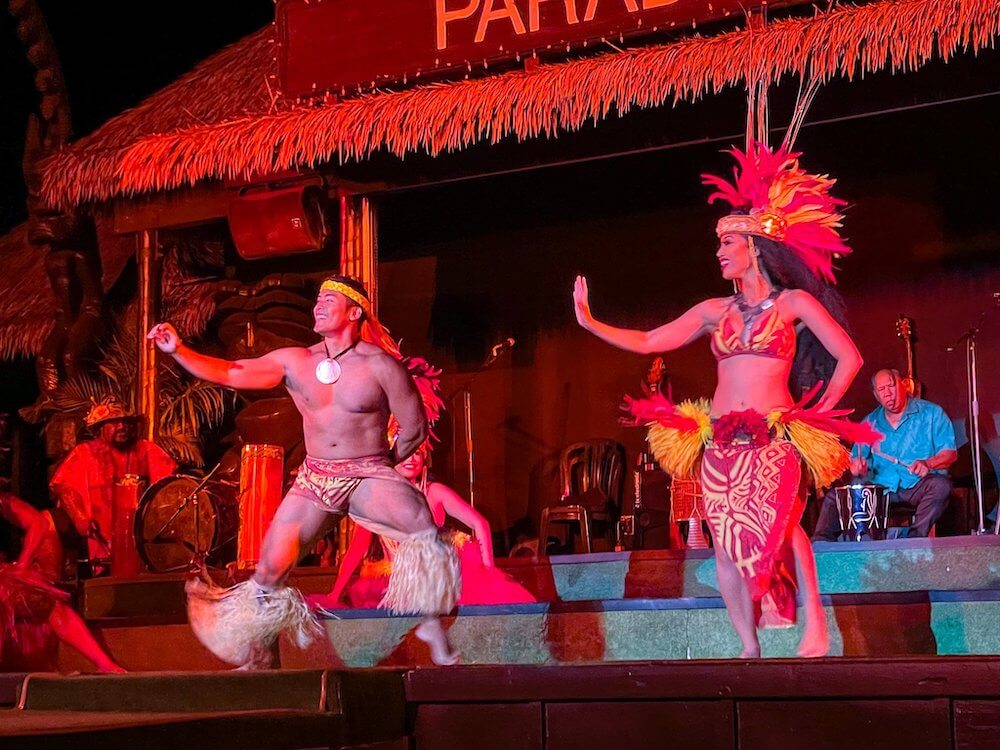 If you are attending a luau, expect it to last about 2.5-3 hours. Most of the time the drinks are complimentary (or they will give you drink tickets).
There are often souvenir photos, as well. I've got a whole post about what to expect at a Hawaiian luau including Oahu luau prices.
There are NO free luaus in Hawaii. You can see free hula shows at shopping centers, but that is NOT a luau.
Where is Paradise Cove Luau?
The Paradise Cove Luau is located in the Ko Olina Resort area on the Southwest side of Oahu. The address is 92-1089 Aliinui Dr, Kapolei, HI 96707.
The luau at Paradise Cove is really close to the Disney Aulani Resort, the Four Seasons Ko Olina, and the Ko Olina Marriott.
Check Paradise Cove luau prices HERE.
What to Expect at the Paradise Cove Luau
Arrival
There is plenty of parking in the lot just past the Paradise Cove Luau entrance. The first set of Paradise Cove luau parking spots is reserved for buses, but the back lot is for guests.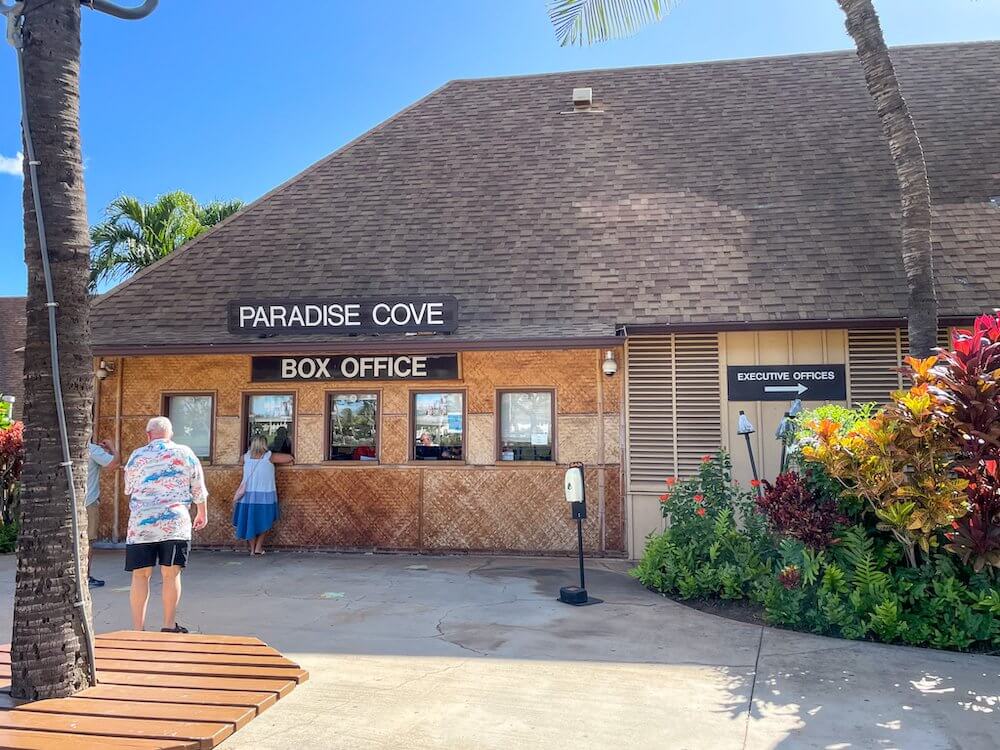 You can also reserve tickets that include bus transportation from your hotel/resort. This is an additional cost but can be a great option if you don't want to drive or didn't rent a car on Oahu.
Our email confirmation told us to arrive by 4 pm, but they actually didn't let anyone inside until 4:30 pm. We bought the Deluxe Package which had its own check-in area.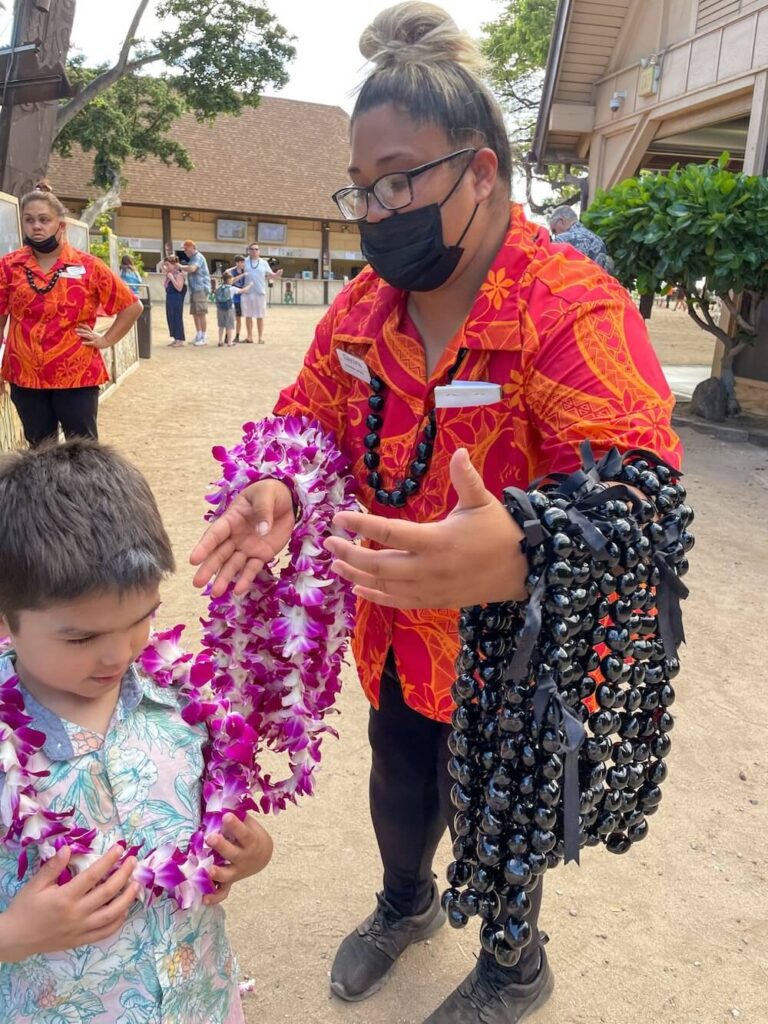 When they did let us in, we were greeted with a fresh orchid lei or kukui nut lei, drink tickets (for the welcome drink), and a gold sticker to wear at all times. General guests receive shell lei and a silver sticker.
We also got gift cards to use at the bar and/or the gift shop. My card had $20-something and my son's card had $16.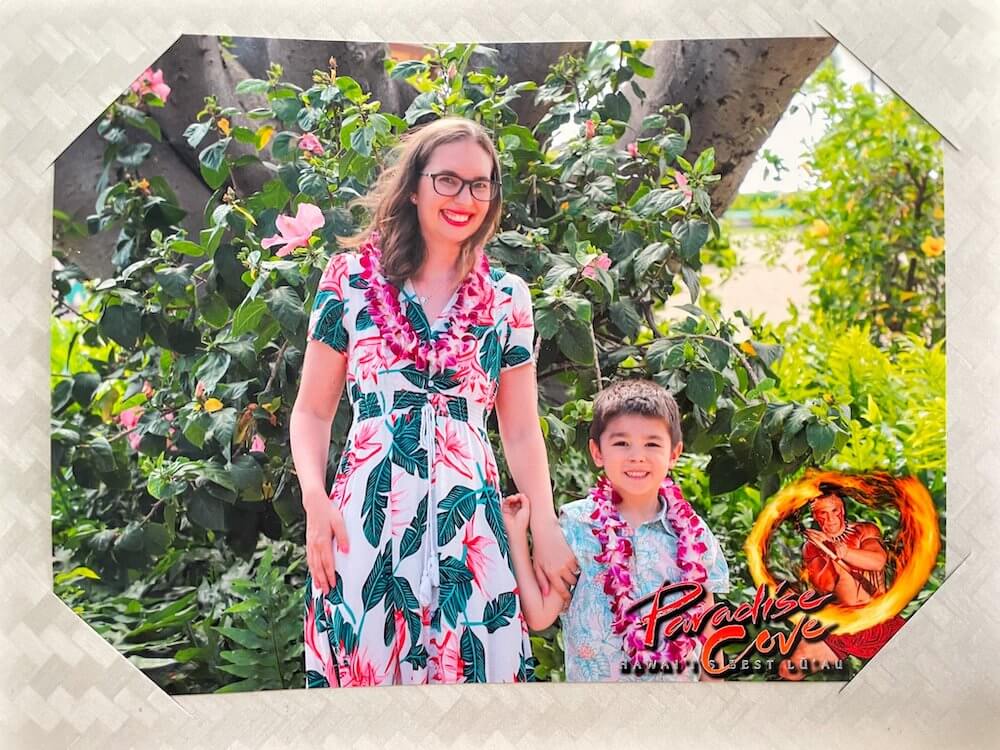 They took a photo of us and then sent us into the drink line to use up our tickets. I had the adult beverage and my son had the fruit punch.
Then, a staff member walked us to our table.
Pre-Show Activities
I've been hearing about Paradise Cove Luau for years and I always hear that they have really cool luau activities for kids.
Paradise Cove Canoe Ride
The first thing my son wanted to do was the canoe ride around the lagoon. I have to admit, this was really cool and I haven't seen this at another luau.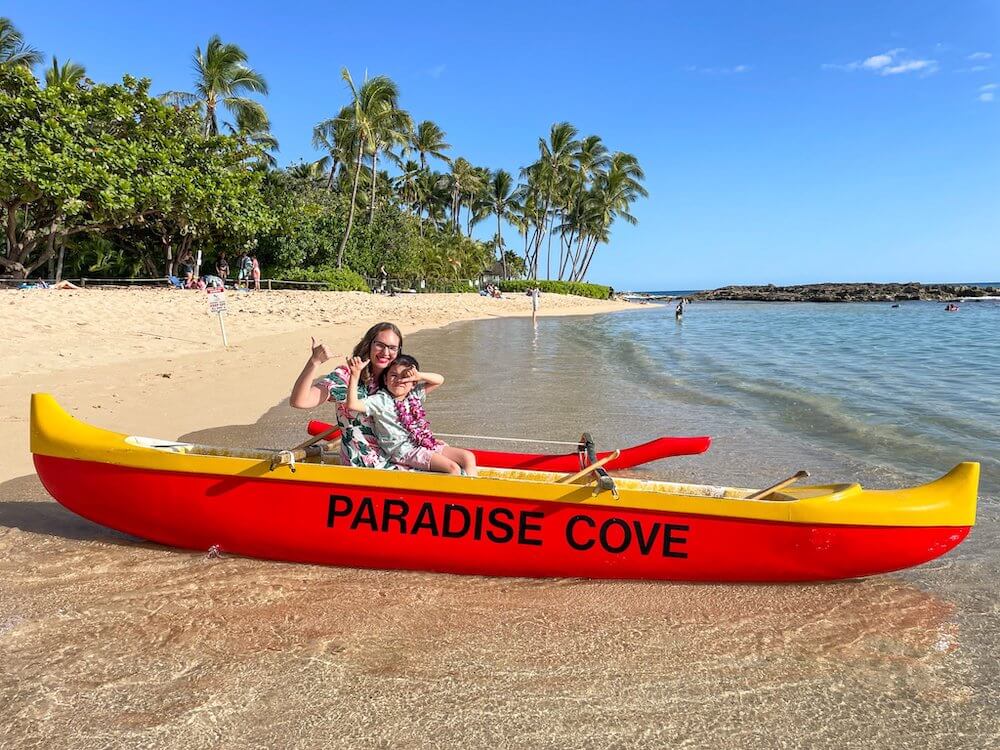 We ended up chatting with our guide the whole time and it was a blast. I highly recommend doing this activity!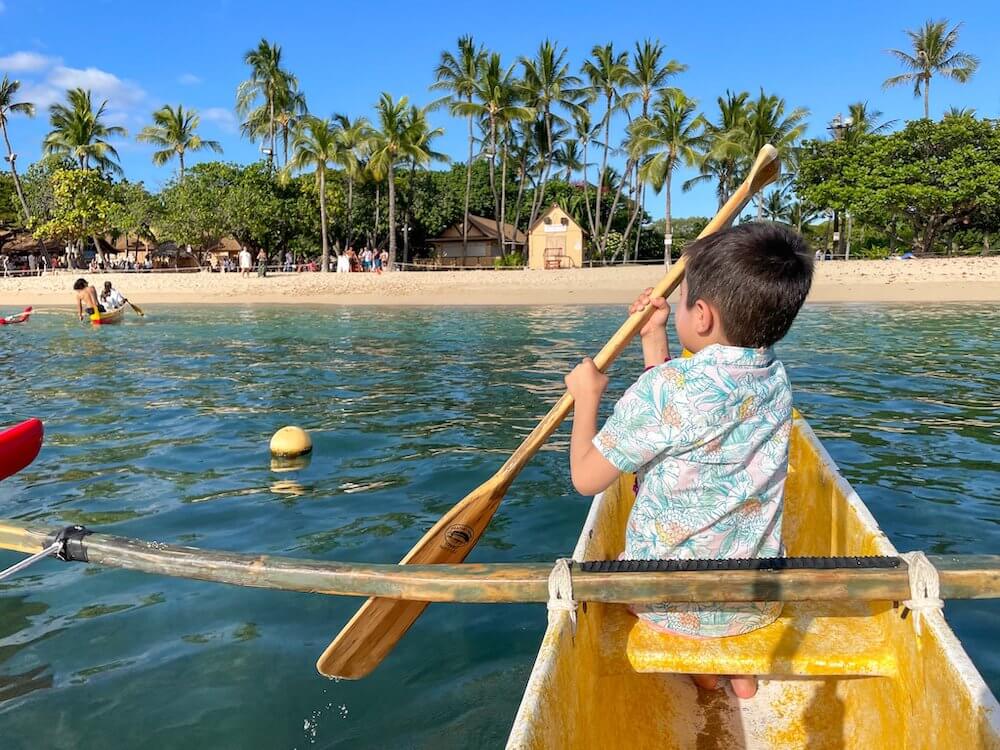 Parrot Photos
Next, we did photos with parrots. This is a paid activity, but my son really wanted to do it and I figured this was probably his best opportunity.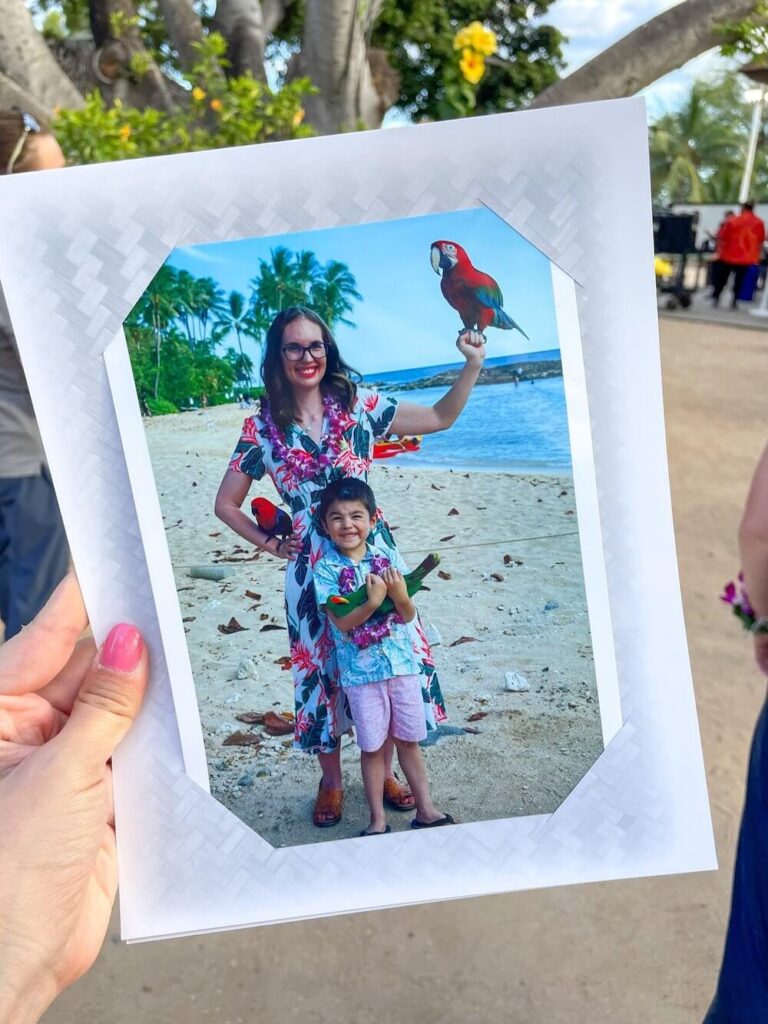 They placed the parrots on us and we just had to post for the photo. They let me hop out and just took some of my son with the parrots. He loved every minute!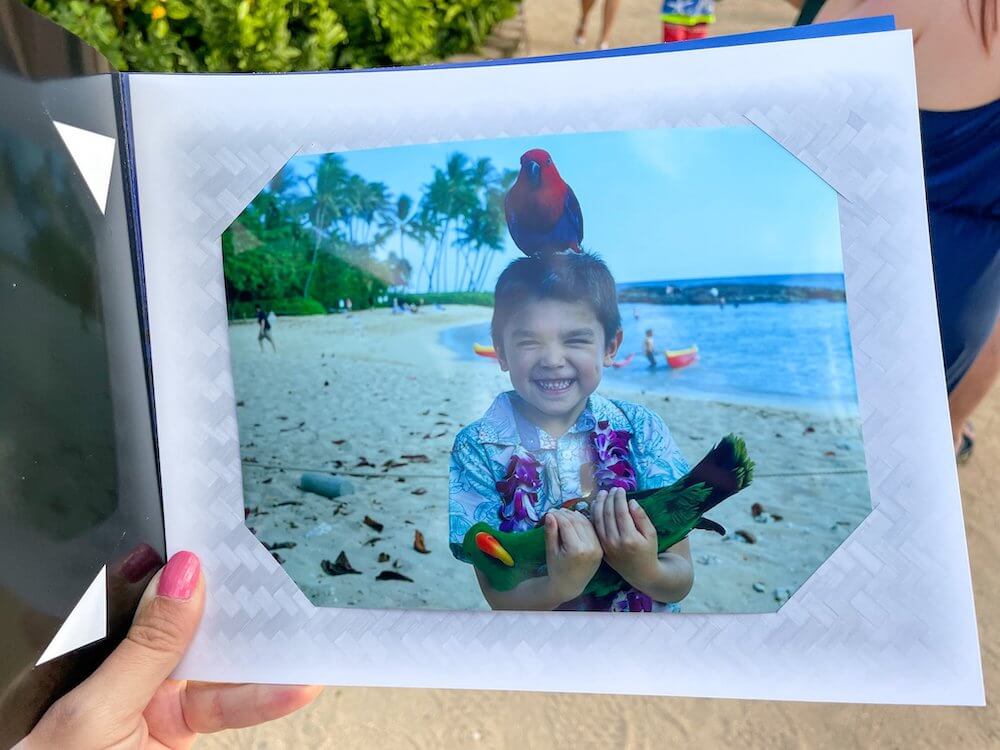 You cannot take your own photos or video during this experience because they want you to purchase their photos. They have a few package options for printed photos. You need to purchase 5 photos if you want digital copies.
Hawaiian Lawn Games
They had spear throwing and a bowling-type game available. They do this at the Experience Nutridge Luau, but this one was a bit "flashier" in the presentation.
The lines were pretty long and we didn't have a good chance to do this.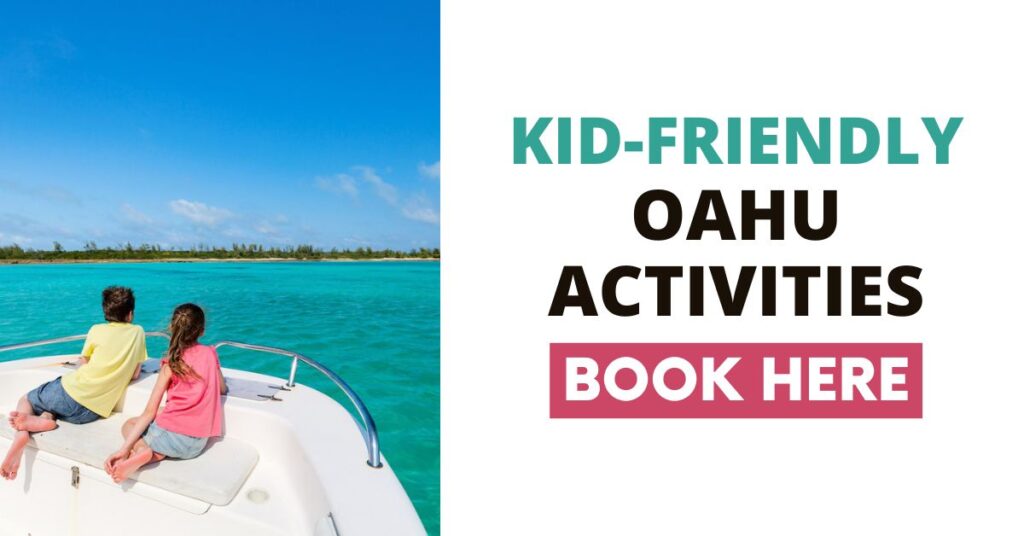 Lei Making
There was a table set up where people could string together kupe'e (flower bracelets).
Since we were already wearing orchid leis and we've done lei making before, we skipped this. But, it's a great opportunity for people who haven't made a lei before.
Hawaiian Names
There was also a booth where you could find out what your name is in Hawaiian and then buy jewelry.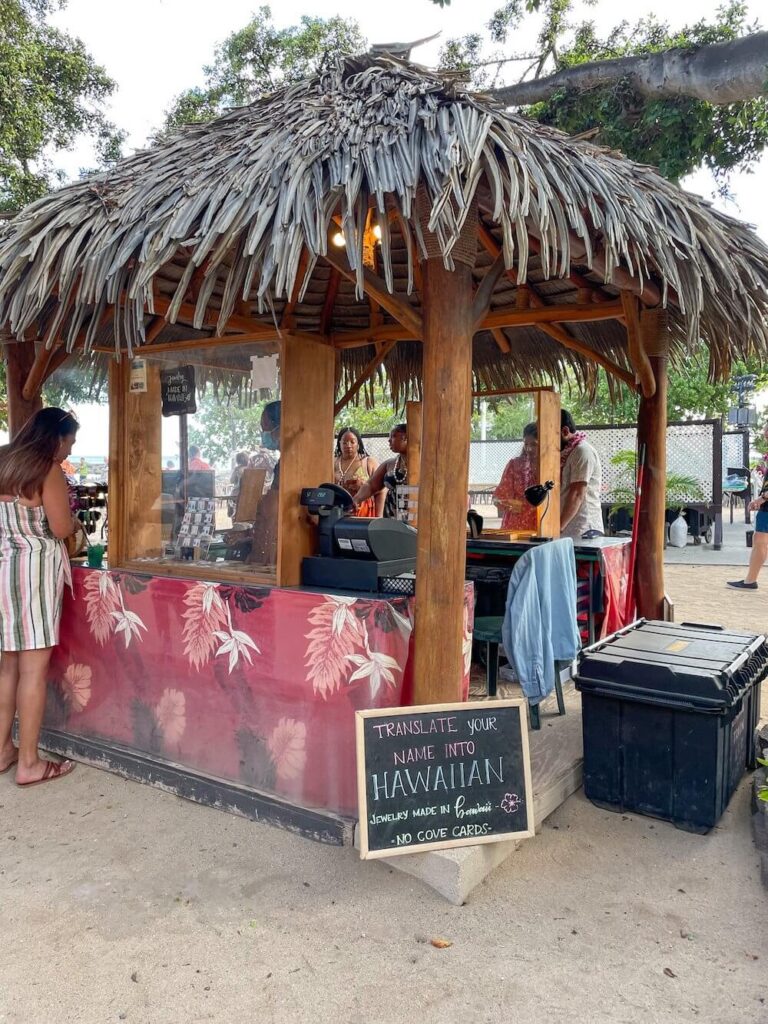 We had already looked up the Hawaiian spellings of our names on Google earlier, so we skipped this.
Polynesian Fashion Show and Hula Lessons
There was a short presentation where they showed guests how to tie a pareo/sarong and then taught some easy hula motions.
We were standing in the bar line the entire time so we missed out.
Sunset Photo
While we already did a photo when we entered, we saw that they also had photographers set up near the beach to do sunset photos.
These have an extra charge and can be purchased on your way out.
Paradise Cove Gift Shop
Since we had those gift cards and I knew we wouldn't spend all the money on drinks, we headed to the gift shop.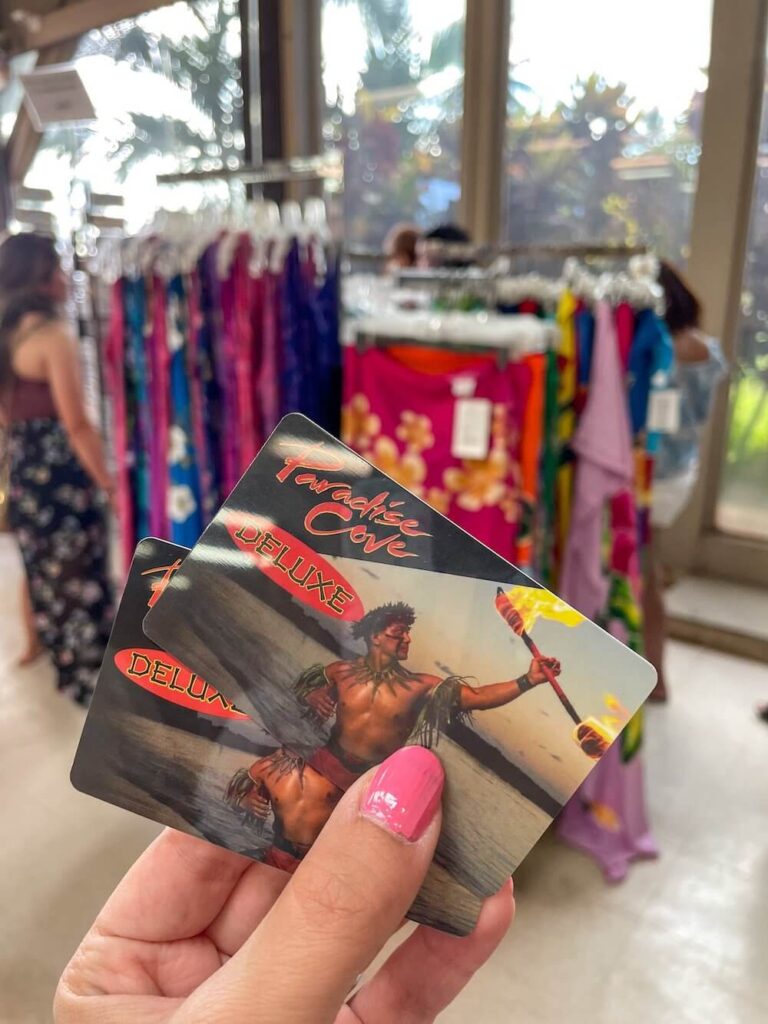 It was super crowded and I spent 20 minutes just waiting in line to pay. But, they had a great variety of kid-friendly souvenirs.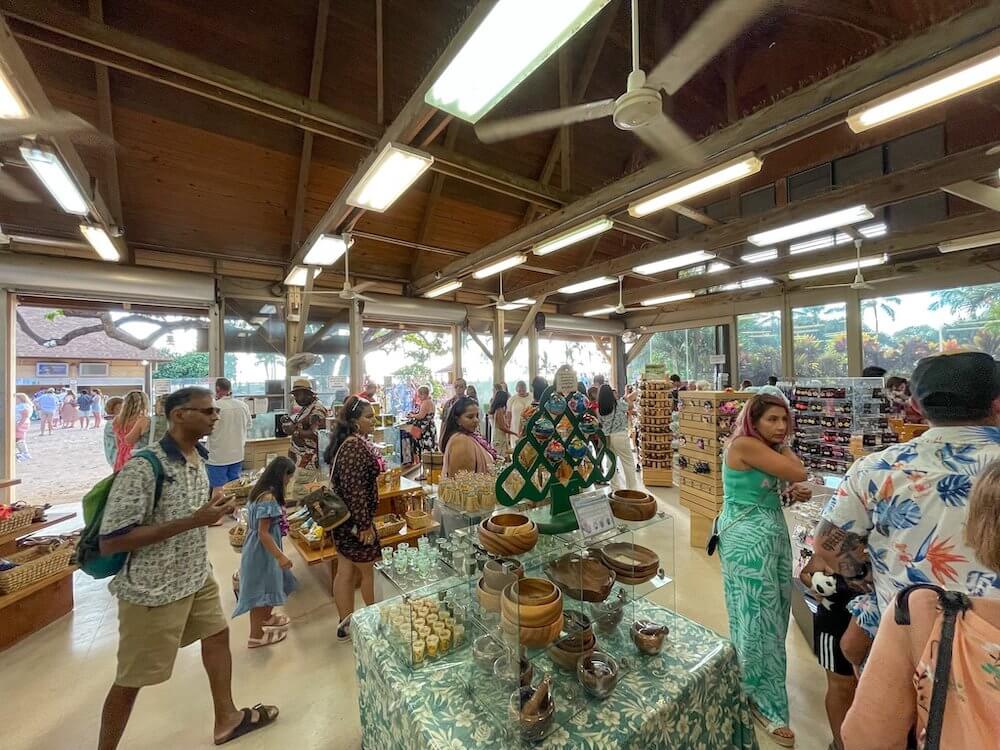 I really liked that they had activities to buy that kids could do at the table during the luau as well as toys to keep them occupied.
Imu Ceremony/Hula Show
Right before dinner, they invited everyone over to a separate stage area where they pulled out the pig (I think because I didn't actually see that).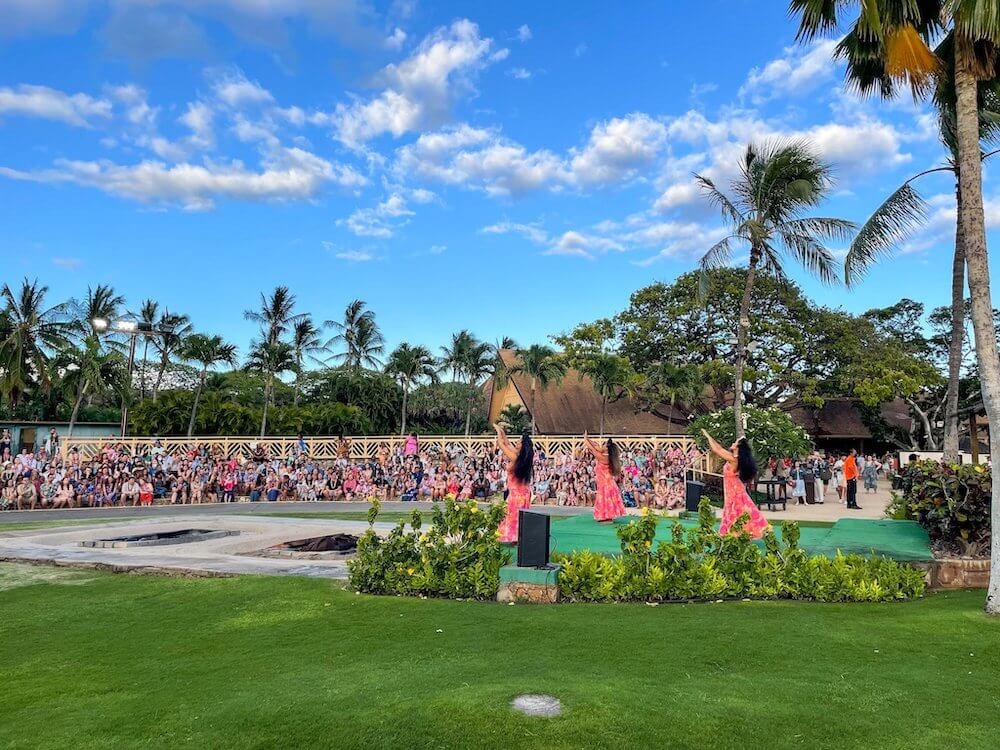 After that, they performed some hula dances with live musicians. The show was actually quite nice.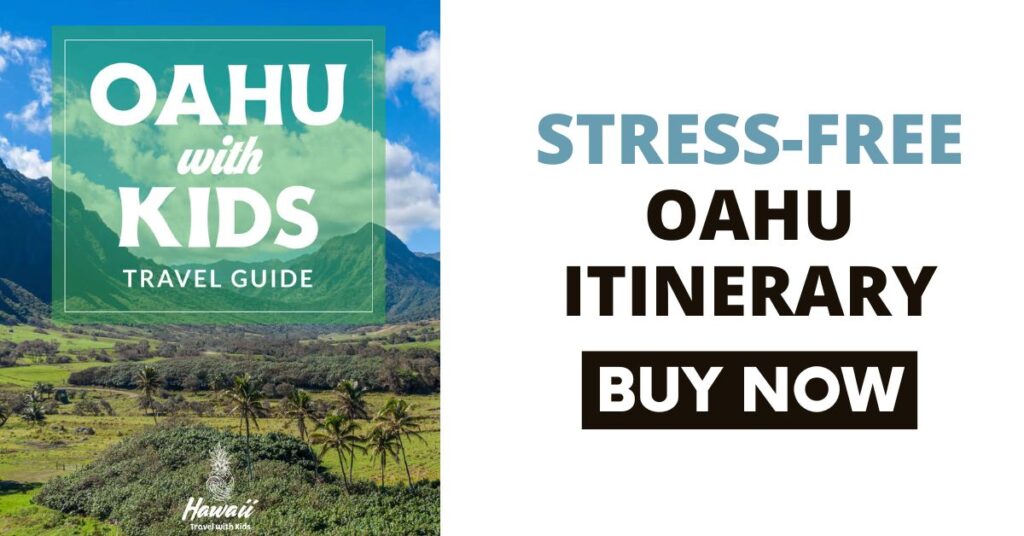 Paradise Cove Luau Bar Options
There is a massive bar at the Paradise Cove Luau. They have 4 signature tropical cocktails and then a variety of liquor options. They also have soft drinks, juice and fruit punch.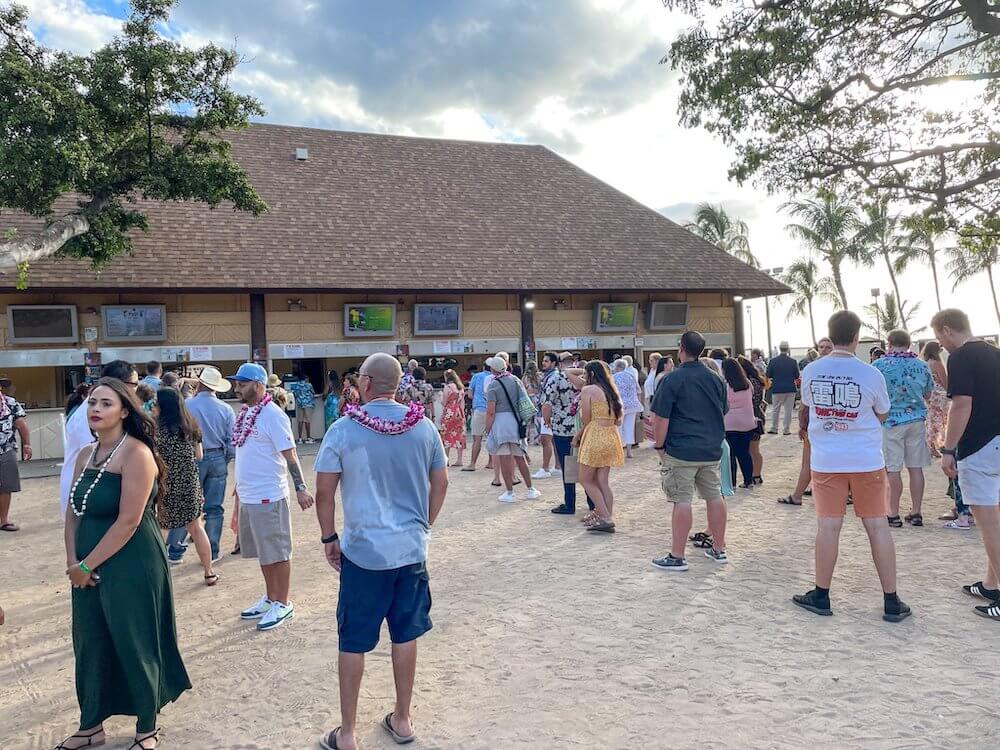 Apparently, if you have the deluxe package, you don't need to wait in line. You can either walk right up or have your server grab a drink for you.
Water Station
There's also a water station away from the bar area. There was never a line and it was an easy way to stay hydrated while walking around.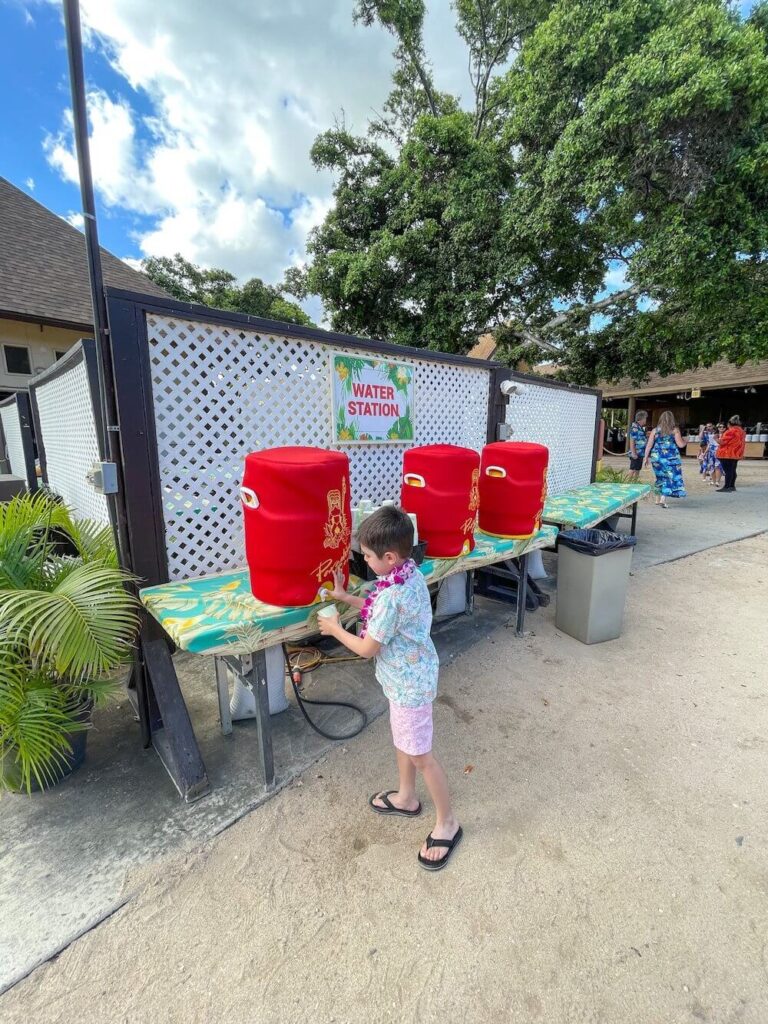 Paradise Cove Luau Menu
Since we opted for the Deluxe Package, we had a server who brought us a salad course, main course, and dessert course. She also took our drink orders.
But, general admission tickets get you the same menu. It's just that you'll have to go through the buffet line and get your own food/drinks.
Oahu luau food can be hit/miss, so I was excited to try it. Here's what we had for each course: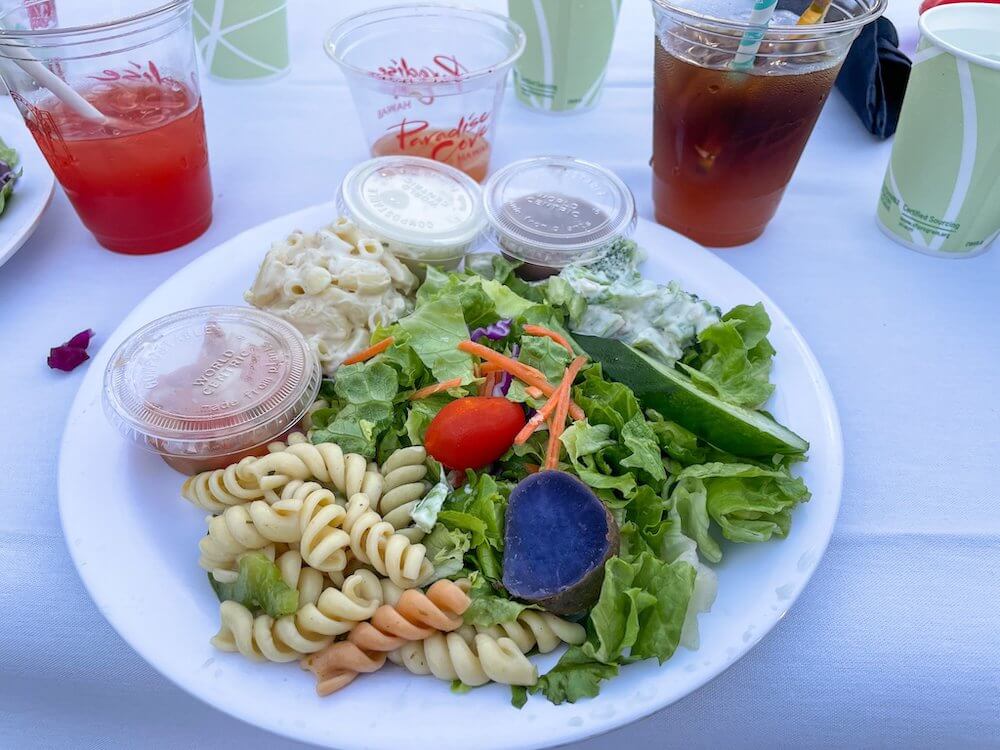 Salad Course
Green salad
Pasta salad
Purple potato
Poi
Macaroni salad
Broccoli Surimi salad (so yummy)
Lomi lomi salmon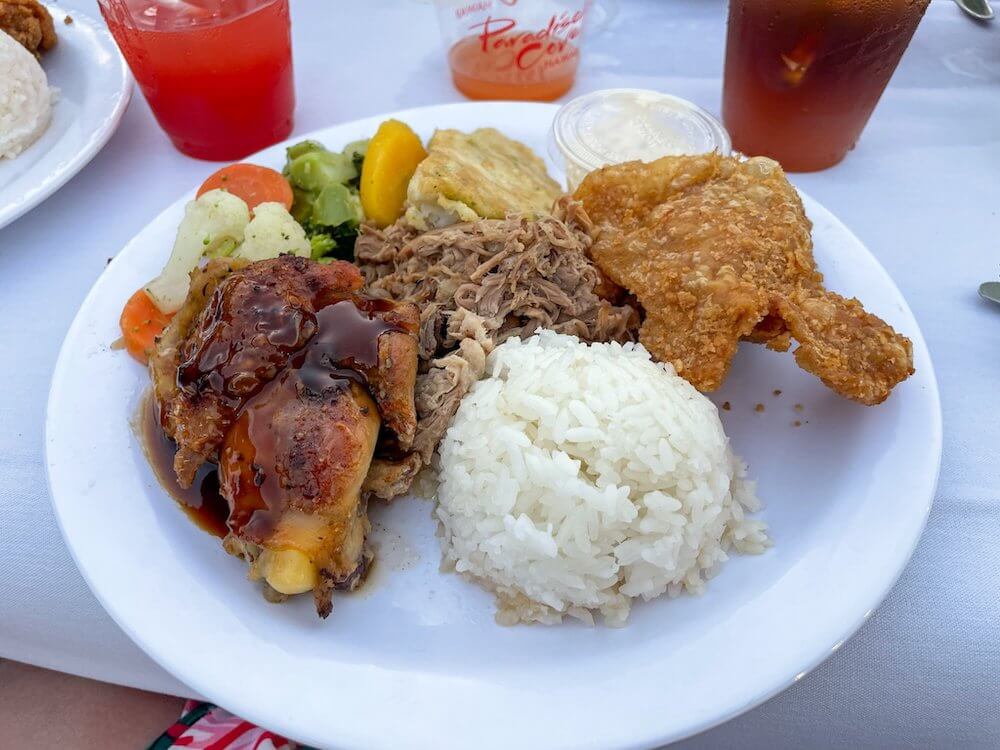 Entree Course
Kalua pork
Huli chicken
Fried fish (delicious)
Beer battered fish
Steamed vegetables
Rice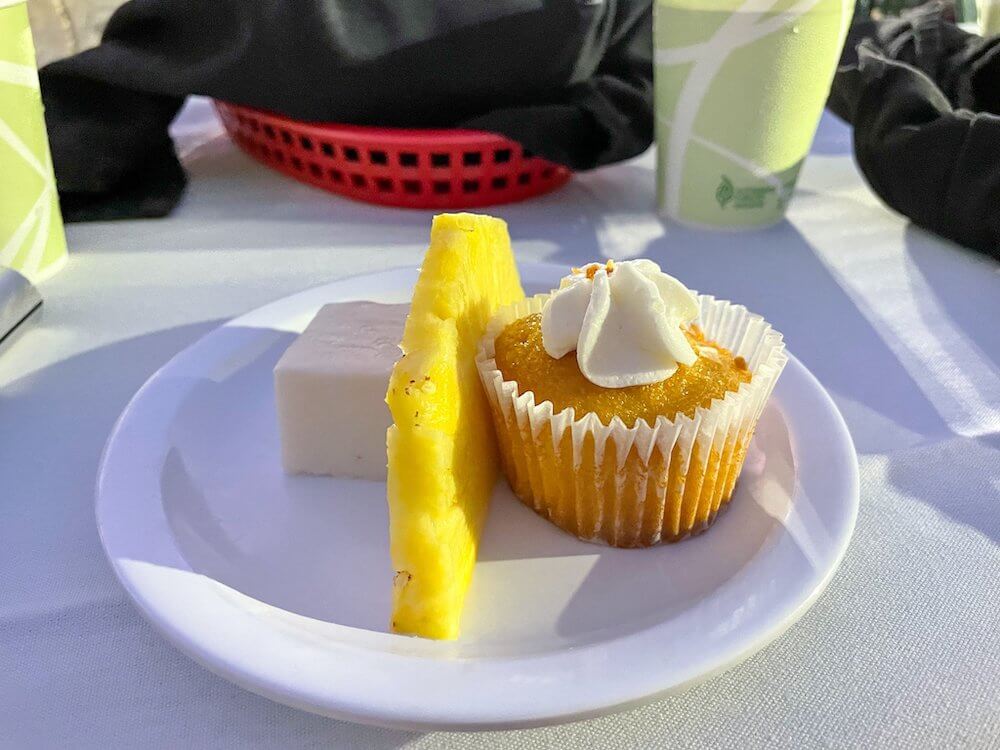 Dessert Course
Haupia
Pineapple slice
Cupcake
Overall, I thought the Paradise Cove luau food was pretty standard. It wasn't outstanding, but it was fairly tasty and there was plenty of it.
Paradise Cove Oahu Luau Show
The show started around 7:00 pm and ended at 8:45pm. They covered a lot of Polynesian islands and the emcee came out between numbers to schmooze the crowd (usually with a costume change).
This is definitely one of the longer luau shows on Oahu.
Maori Dancing from New Zealand
This luau on Oahu started off with Maori dancing, which is sort of unusual. Most luaus start off with Tahiti because that's the motherland for Hawaiians.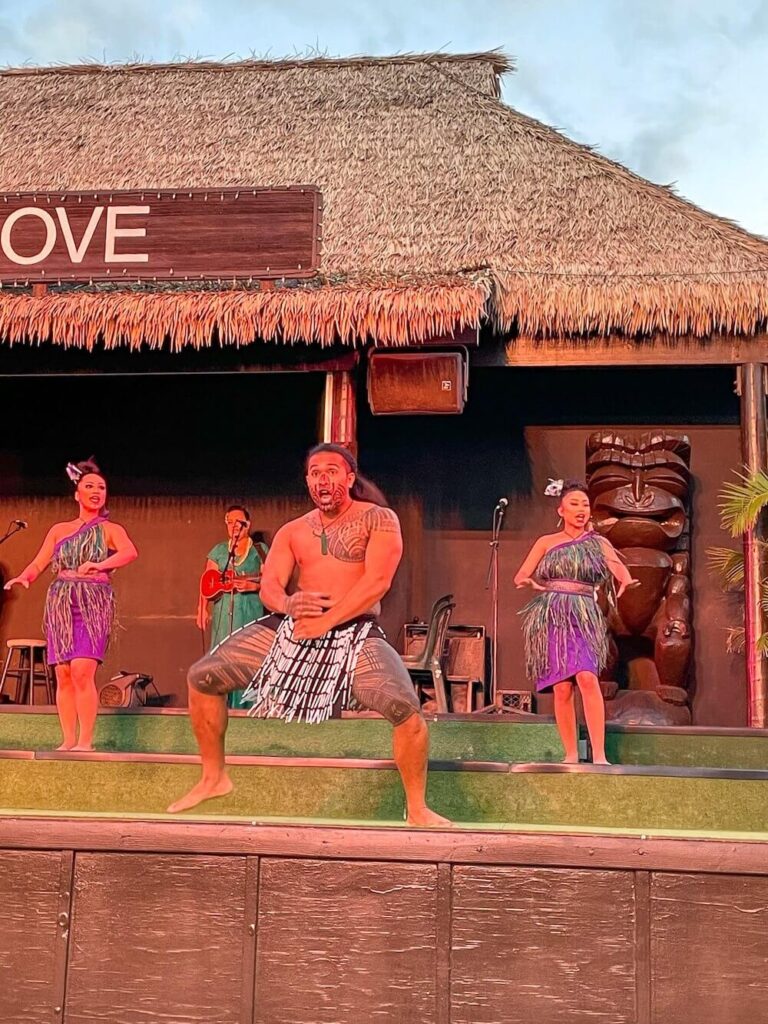 Both men and women danced a few numbers. It included poi ball dancing for the women and the famous Haka dance for the men.
Fijian Dancing
Next up was Fijian dancing. At Paradise Cove, they started off with a lady doing a more modern solo dance.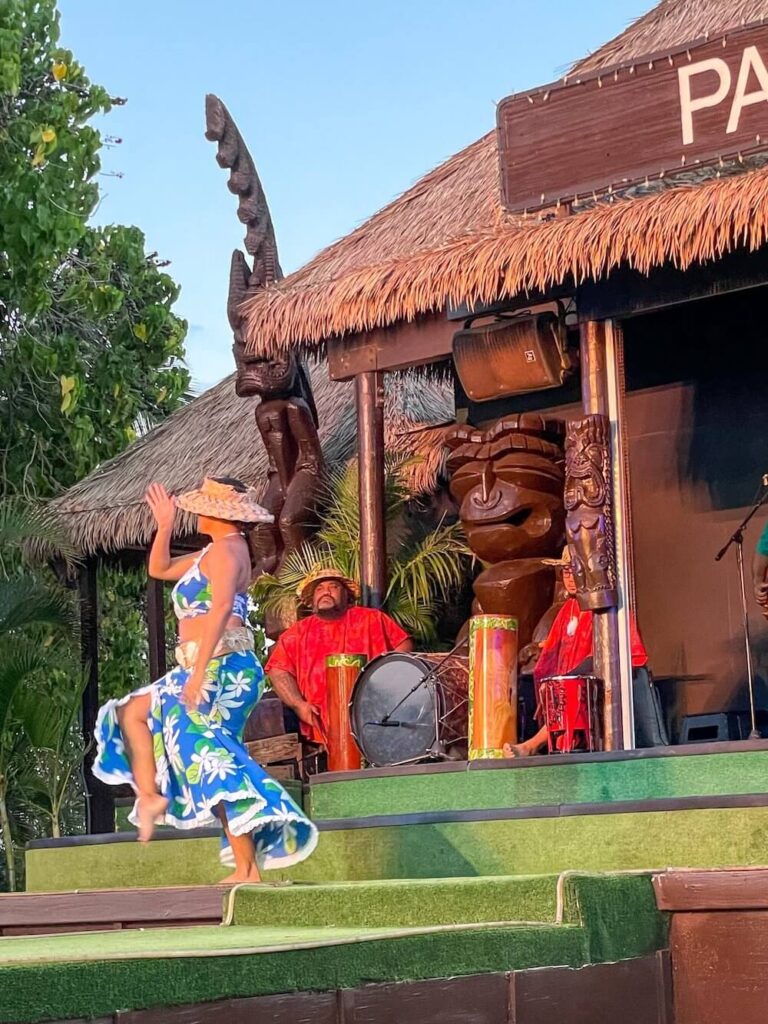 Then, the ladies came out to dance and then the men did some intense dancing with spears.
Samoan Dancing
Then, they headed to Samoa for some energetic dancing from the men and women.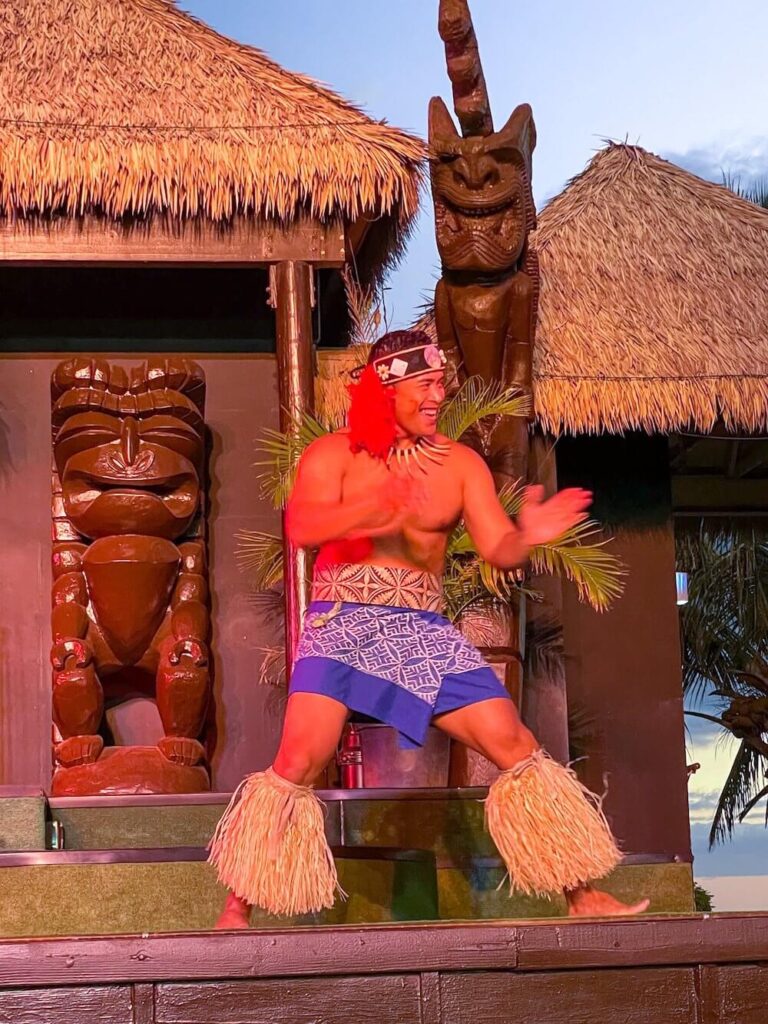 They even brought out a Samoan "princess" to do a solo dance.
Hawaiian Hula Dancing
After a little break, it was time for Hawaiian hula dancing. They started off with the ancient Kahiko style of hula. This involved dancing with hula implements.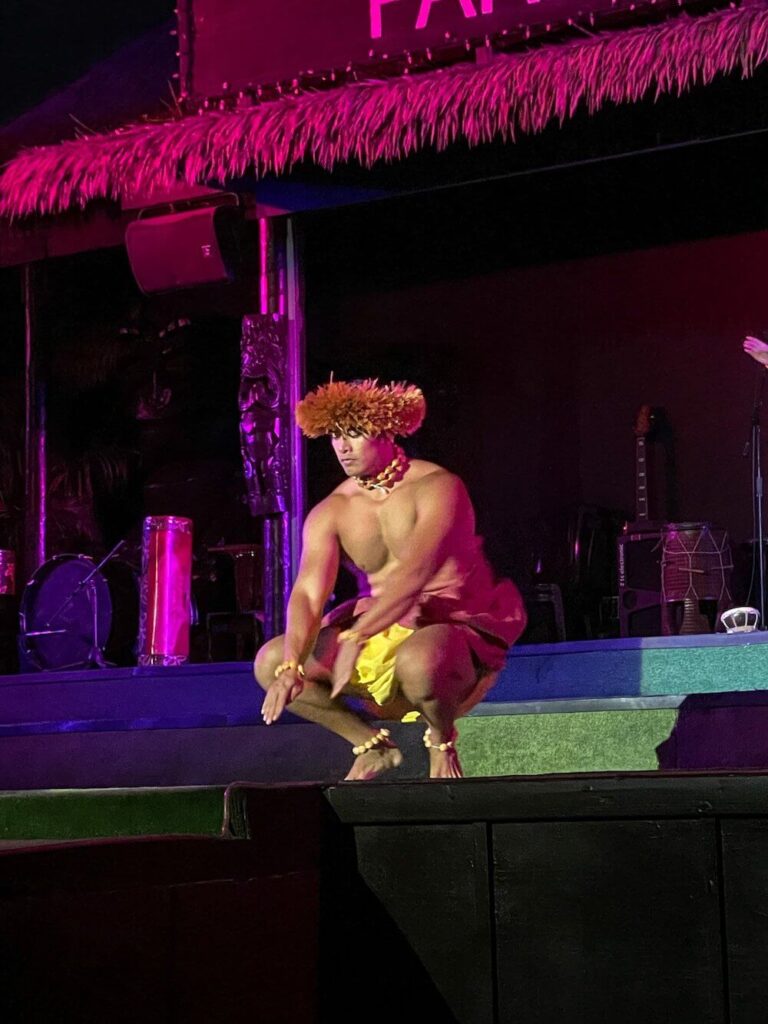 Then, they moved on to the Hollywood Hula style with cellophane skirts and hapa-haole songs.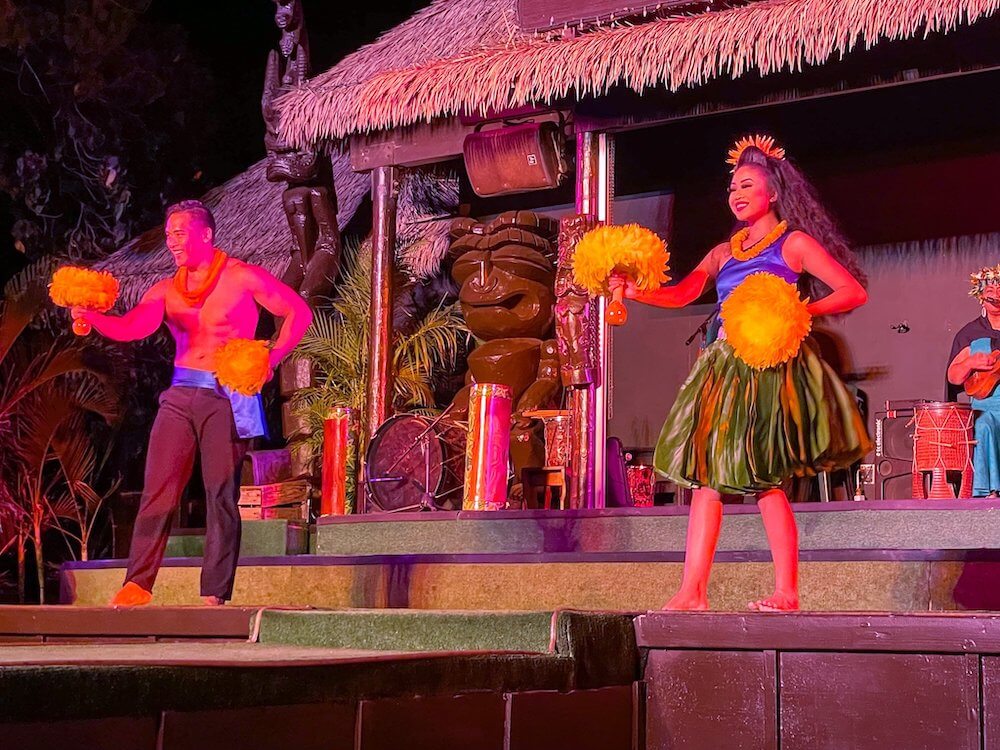 There were more hula dances with both men and women and then a solo to Silhouette Hula and more hula implements.
The hula section was by far the longest.
Samoan Fire Knife Dancing
One of the big finales at this luau (and most luaus) was the fire knife dancing. The dancer was really talented and entertaining.
Tahitian Dancing (again)
And then they brought out the Tahitian dancing.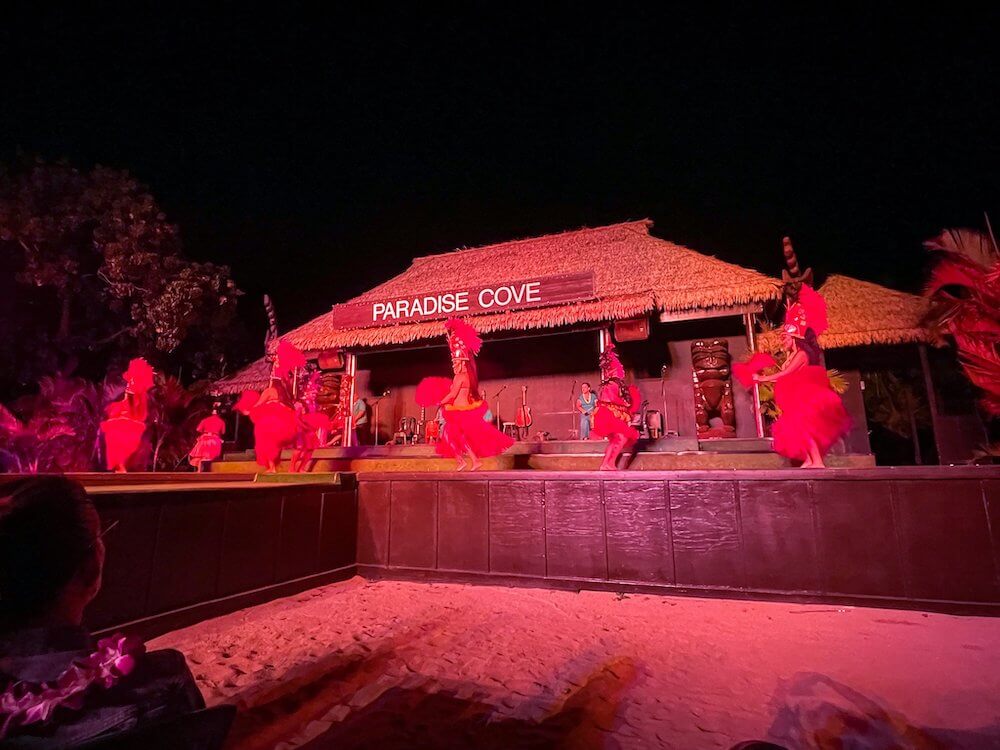 This time it was with the grass skirts and the famous hip shaking dances that people always associate with Hawaii thanks to movies and TV shows.
Farewell
The Paradise Cove Luau in Oahu ended right at 8:45 pm and we all sort of got herded out the exit.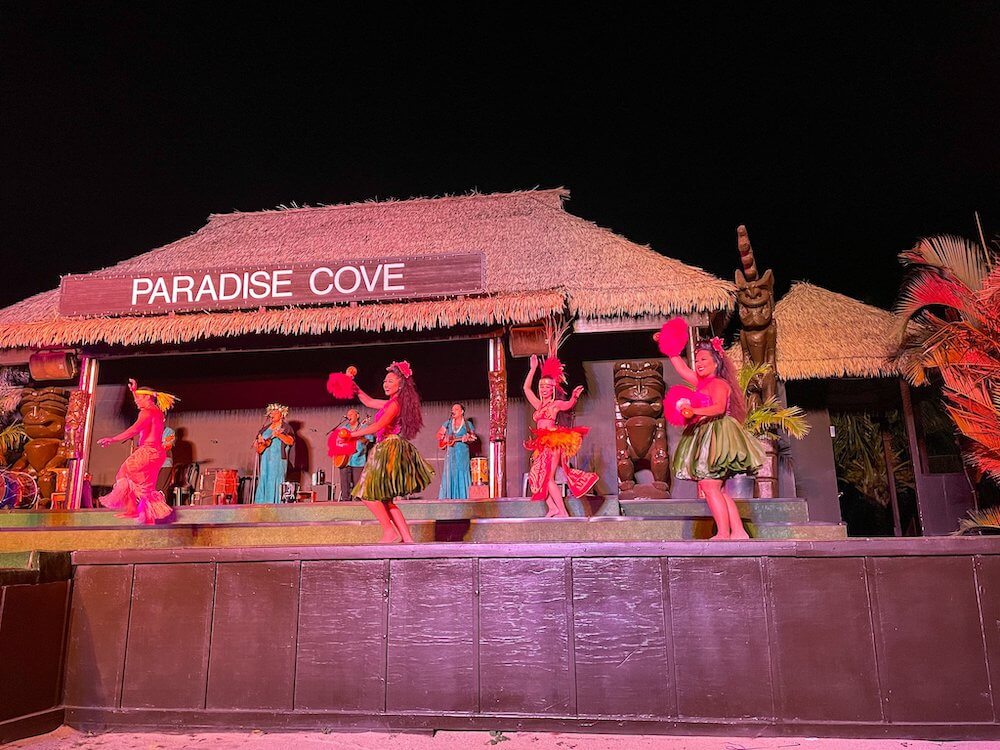 People loaded onto buses or walked over to the parking lot. We ended up waiting 45 minutes in the parking lot because they let all the buses leave first.
Why I Went to This Oahu Luau
One of the most frequent questions I see on Facebook or from reader emails is asking about which Ko Olina luau to go to. I'd read a lot of Paradise Cove luau reviews online and it made me curious.
We went to the Ka Wa'a Aulani luau back in November so I figured it would be a good idea to check out Paradise Cove while the Aulani luau was still fresh in my mind.
These are the two main luaus in Ko Olina (the third one being the Fia Fia luau at the Marriott).
Is Ko Olina Paradise Cove the Best Luau in Oahu Hawaii for Families?
I think Paradise Cove is great for people who have never done a luau and want something with lots of hands-on activities.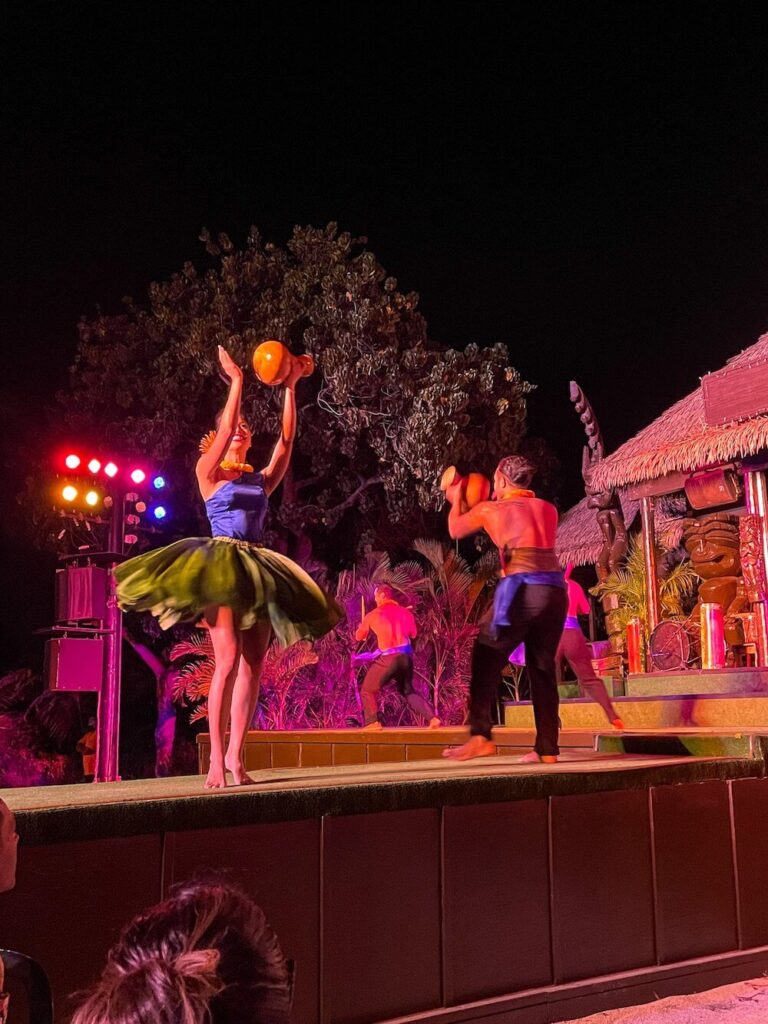 The location is awesome for people staying in Ko Olina. It's walkable from most of the resorts there.
I do have to mention that it's a HUGE luau with hundreds of people and it's very noticable, especially during the pre-show activities. But that also means that people won't really notice a crying baby or a toddler tantrum.
How Does Paradise Cove Compare to Other Hawaii Luaus?
There are a lot of different types of luaus in Hawaii. This is definitely one of the larger, commercialized ones.
I sort of felt like cattle being herded from one area to another. And there were a LOT of lines. We stood in long lines for each activity, to get drinks, to go shopping, etc.
The gift shop set-up alone was sort of intense. There were a lot of families trying to spend their gift card money on little trinkets that were probably not even made in Hawaii.
I also didn't like having to pay extra for the parrot photos or sunset photos. It seemed like those should be included, especially for the Deluxe Package.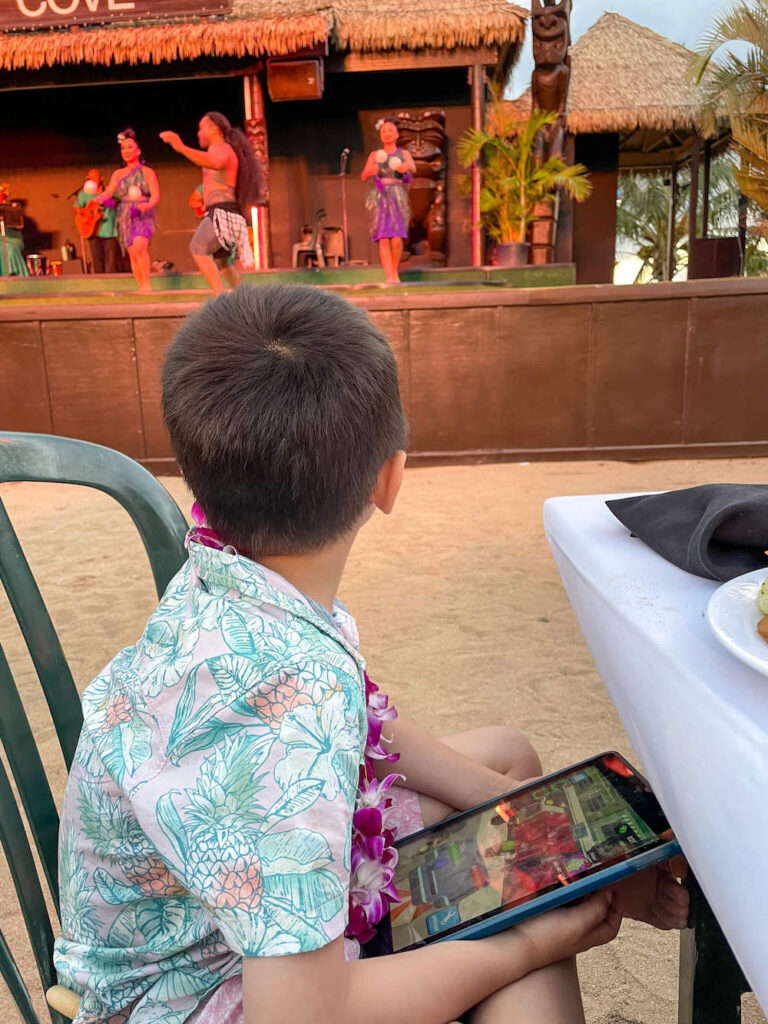 The whole experience felt really long, too. We got there at 4pm and we were pretty tired before dinner even started. I actually had to bring out the iPad for my 5yo because he was getting tired of waiting for the show to start.
The parking situation was also a bit nuts. It felt like we were leaving a concert or sporting event where all the cars were gridlocked.
But, we go to a LOT of luaus. The average person who has never been or has only been once or twice might not have the same feelings that we did.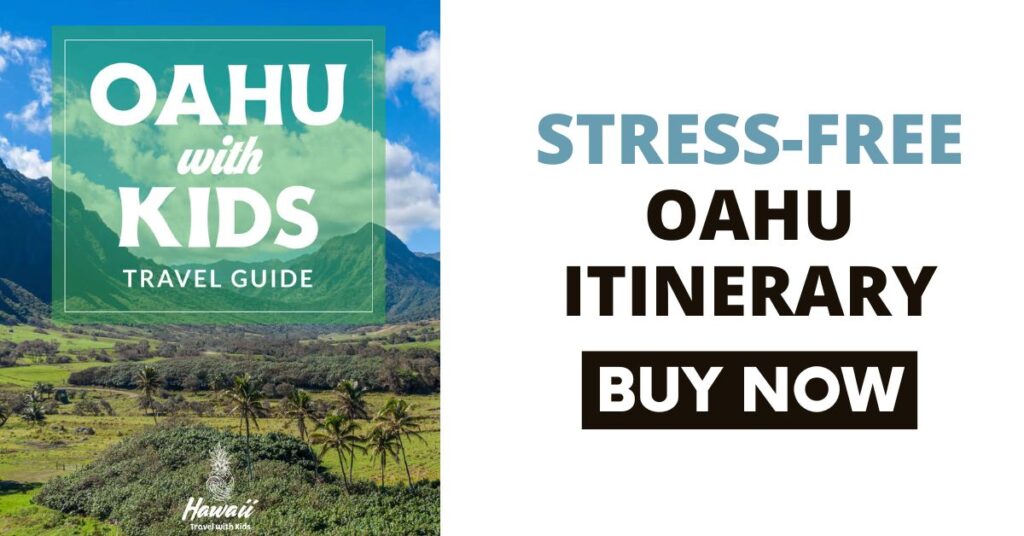 So, Would I Recommend Paradise Cove Luau on Oahu?
If you are staying in Ko Olina (or want a luau near Ko Olina), I'd definitely recommend Paradise Cove (especally if you can walk to it). It's easy to get to, they have tons of activities, the food is decent, and the show is pretty good.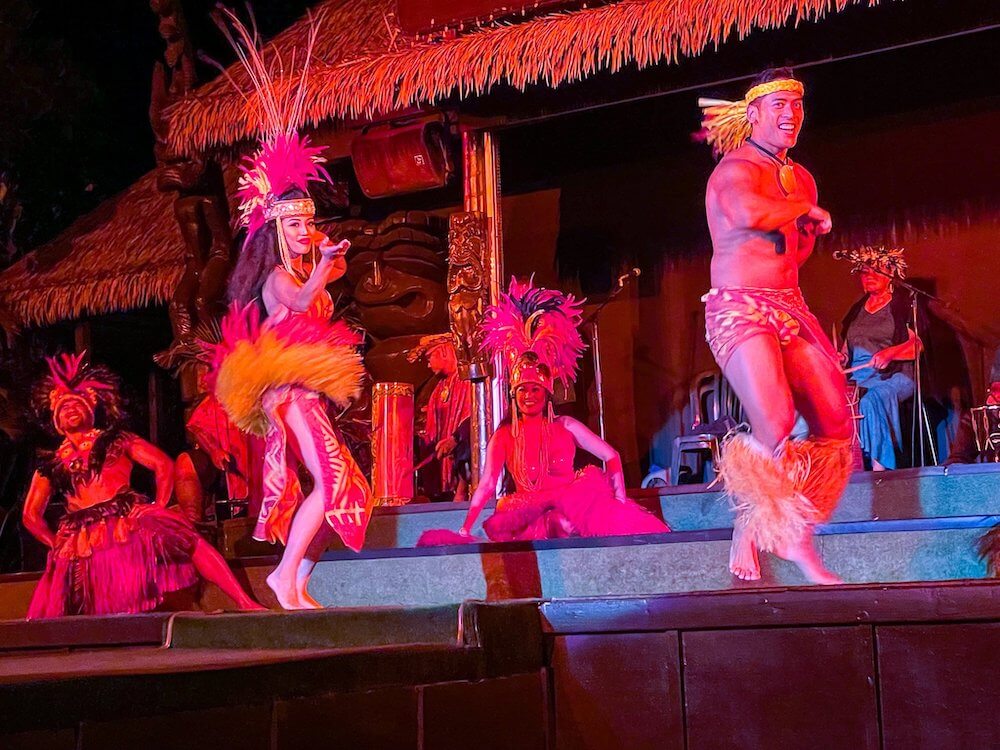 We thought the canoe ride around the lagoon was really fun and something we hadn't done before. And it was awesome to do photos with the parrots!
At the end of the day, we had a really fun time and it all felt very organized.
But, if you'd like something a bit smaller and more "authentic", I'd recommend Toa Luau up in North Shore.