Are you planning an Oahu vacation and want to know whether you should rent a car or book an Oahu circle island tour? Keep scrolling to read an honest review of the Hawaii Bucket List Tour on Oahu.
This review of the Hawaii Bucket List Oahu Circle Island Tour was written by Hawaii travel expert Marcie Cheung and contains affiliate links which means if you purchase something from one of my affiliate links, I may earn a small commission that goes back into maintaining this blog.
Planning a trip to Oahu and want to see the entire island in one day?
I've been visiting Oahu for more than 20 years and I was blown away by how much we saw on this Oahu island tour.
Hawaii Bucket List offers an amazing circle island tour that will show you all of Oahu. You'll see iconic landmarks, stunning beaches, and lush valleys – all in one day!
This is a great way to see as much of the island as possible in a short amount of time.
What sets it apart from other circle island tours on Oahu is that YOU choose where you want to go and what you want to do. You're literally checking things off your personal bucket list.
Our tour guide was knowledgeable and entertaining, and we would highly recommend this tour to anyone visiting Oahu.
Keep scrolling to read our full Oahu circle island tour review!
Don't have time to read a bunch of Hawaii blog posts and reviews? Here are some of our top picks for visiting Oahu.
Popular Oahu Tours/Activities
Favorite Oahu Resorts/Hotels
Want to Rent a Car in Hawaii?
One of the best places to rent a car in Hawaii is Discount Hawaii Car Rental because they get the best rates from top national companies like Alamo, Dollar, Thrifty, Avis, Enterprise, Budget, and Payless.
Want to skip all the planning and just access my detailed Oahu Itinerary complete with daily schedules, kid-friendly activities, and travel hacks? Click the button below.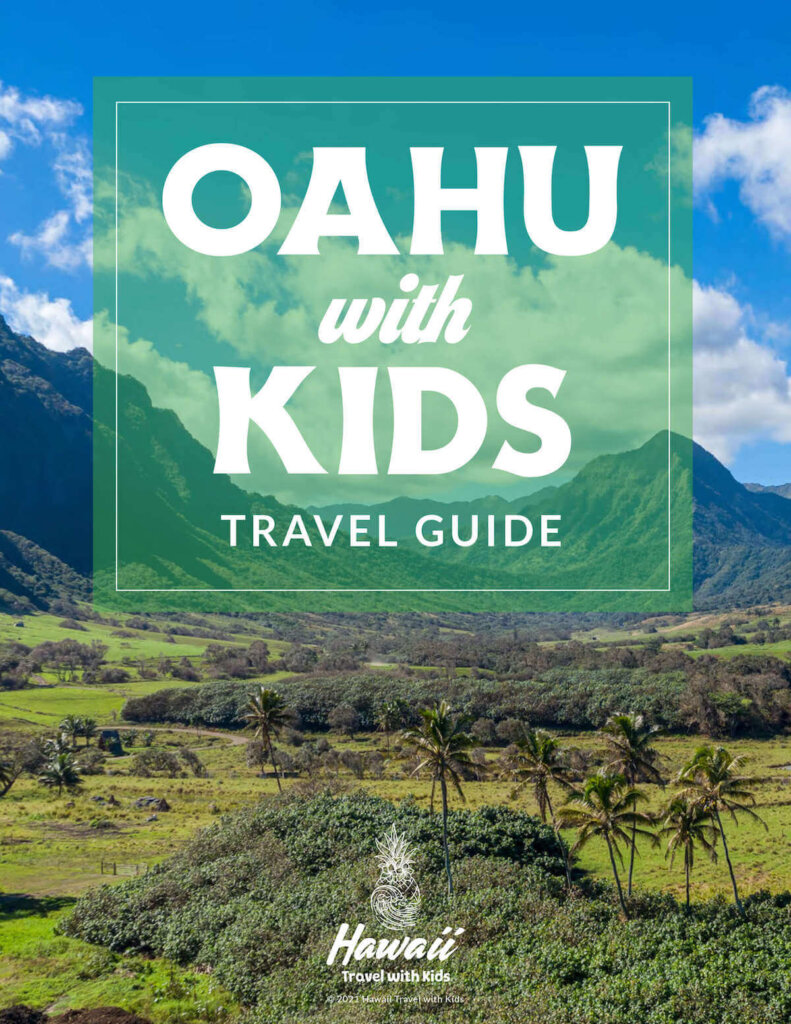 Oahu Circle Island Tour FAQs
What is a circle island tour?
A circle island tour is a driving tour that goes around the island of Oahu and offers several stops along the way. Typically, Oahu island tours start in Waikiki and focus on the North and East shores of the island and they can last 5-8 hours.
How many miles is it to drive around Oahu?
If you hop in your car and want to drive around the island of Oahu, it will be about 96 miles. Keep in mind that the highest speed limit is 55mph and most of the time you'll be driving well under that due to traffic or lower speed limits on certain roads.
How long does it take to circle Oahu?
It really depends on how many stops you make. If you want to stay in the car and just look out the window, you can do this in about 3 hours (depending on traffic). However, most people spend 6-8 hours driving around Oahu so they can stop at scenic lookouts, check out attractions, take photos, and eat lots of yummy food.
Does a grand circle island tour of Oahu include Pearl Harbor?
Pearl Harbor is at least a half-day excursion, if not a full day. That's why you won't find it featured on many Oahu island circle tours. If it is listed as a stop, chances are it's just to see the USS Arizona Memorial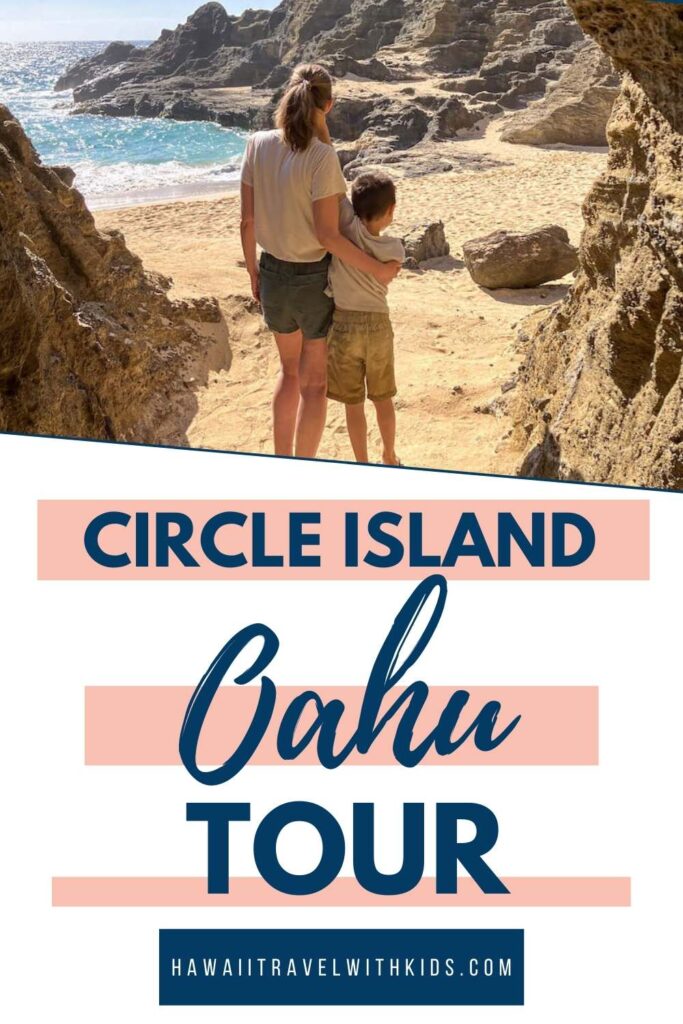 Overview of the Hawaii Bucket List Circle Island Tour of Oahu
The Hawaii Bucket List circle island tour of Oahu doesn't really have a set itinerary. You tell the guide what's on your Hawaii bucket list and they will figure out where to stop to check off a few items.
I did this tour with my 5-year-old son and we were the only people on the tour, which was awesome!
We got picked up at 7:45 am and we were back at the hotel by 4 pm. The timing can vary a bit depending on traffic and where your hotel is.
Our Oahu Circle Island Tour Itinerary
Halona Blowhole and Lava Tube
An Oahu Pier (basically just for photos)
Leonard's Malasada Truck
Tropical Farms Macadamia Nut Outlet
Photos on a Palm Tree
Photos on a Beach Swing
Food Trucks for Lunch
Laniakea Beach (aka where the turtles hang out)
Photos at Haleiwa Sign
Shave Ice at Aloha General Store
Of course, in between stops we chatted about Oahu and saw some breathtaking views of the island.
I asked our tour guide about what other visitors do on their tours and he said sometimes they ask to do the Byodo-In Temple, Dole Plantation, or somewhere else specific.
Why We Chose This Oahu Day Tour
I've been wanting to try an Oahu circle island tour for years, especially since I launched this site. There are tons of Oahu tour companies and a lot of them offer very similar routes.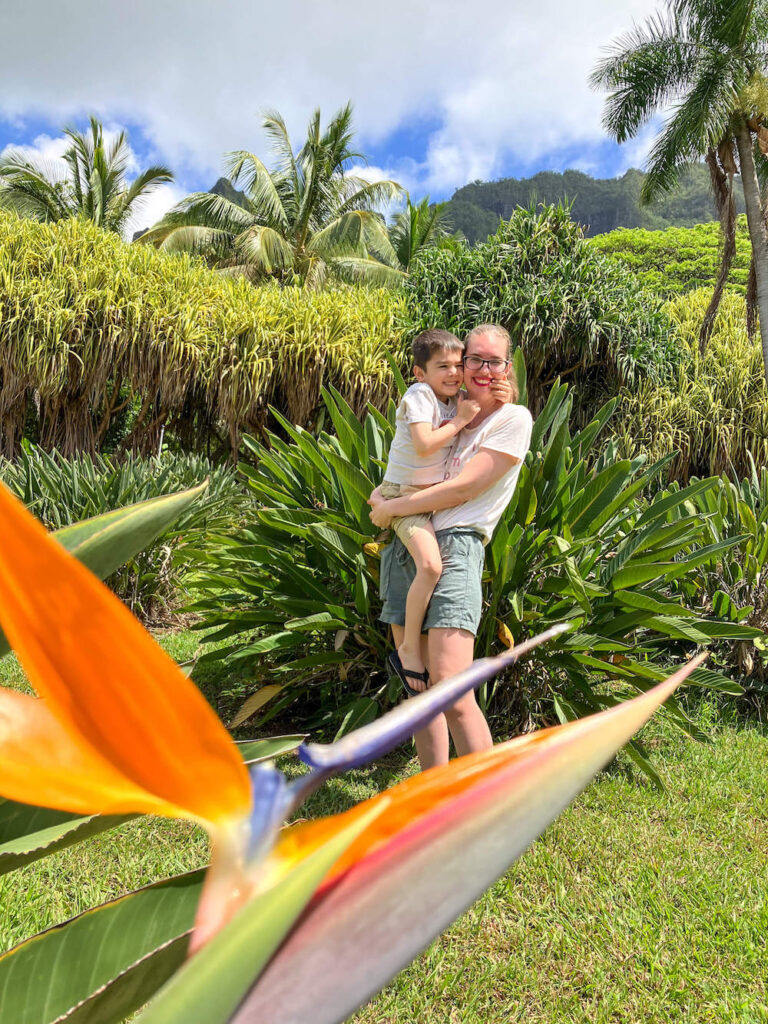 Hawaii Bucket List Tour stood out because they are a newer company that features Native Hawaiian tour guides who are passionate about helping visitors check items off their Hawaii bucket list in a responsible and respectful way.
And I was really intrigued by the concept of the bucket list adventure. It's sort of like a choose-your-own-adventure with no set itinerary.
Since we visit Oahu a lot, it seemed like a great way to skip some of the attractions we've already done and see what we've missed on past trips. And I was totally right!
What to Know about this Oahu Circle Island Tour Before You Go:
Hotel Pickup
We stayed at the Queen Kapiolani Hotel right on the edge of Waikiki near the Honolulu Zoo.
The Hawaii Bucket List Tour van was able to drive right up to the curb to pick us up. It was easy to identify that it was the right van because the name was printed clearly on it.
We did have a random guy also get on the van thinking it was a different tour company but our tour guide kindly let him know he was in the wrong van.
The van itself has a few rows of seats and can hold 11 guests, I believe. So this is definitely a small group Oahu circle tour.
Carseats
I chose to bring our Bubble Bum inflatable booster with us. It's easy to install and I knew it would fit my 5-year-old well.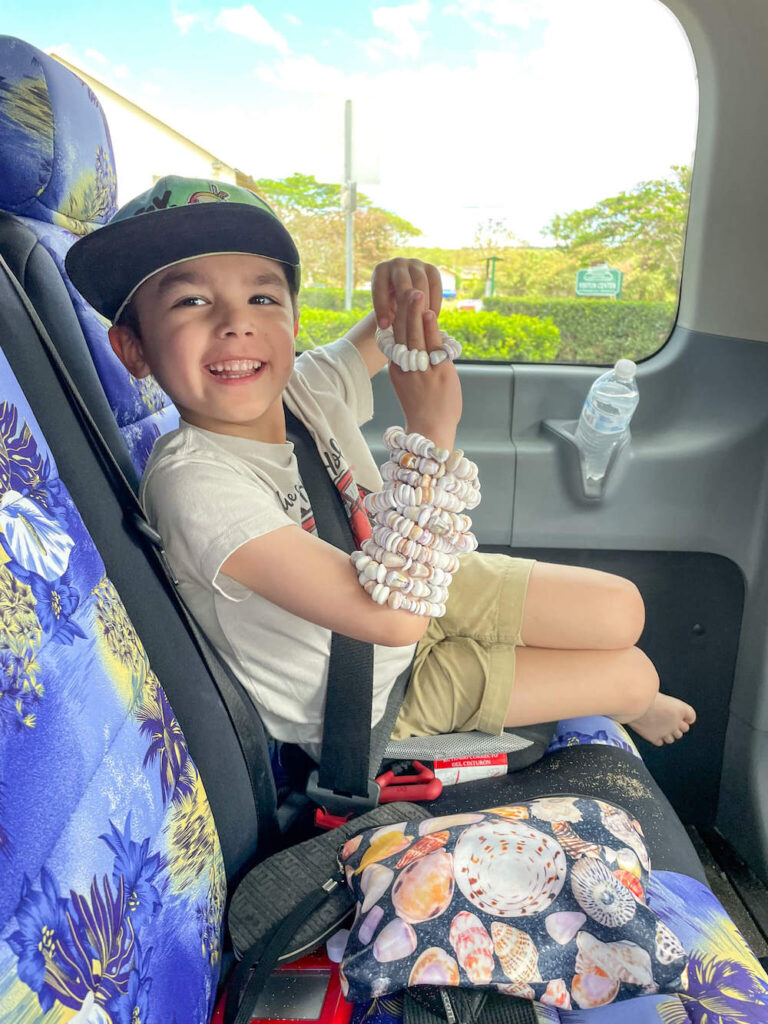 But, Hawaii Bucket List can also provide car seats. I'd check with them ahead of time so they know how old your kiddo is so they can verify they have the right size car seat.
Restroom Breaks
Anytime I travel with my kids, I'm always on the lookout for restrooms in case we have an emergency.
Our guide Lion was really great about pointing out all the restrooms at each stop as well as giving us a heads up if it might be a while until the next restroom.
We thought there were plenty of restroom breaks and never felt like we had to "hold it" very long.
Our Highlights of this Oahu Tour and What You Should Look Out For
Oahu Lava Tube
I've been visiting Oahu for years and years but I'd never been inside a lava tube on Oahu!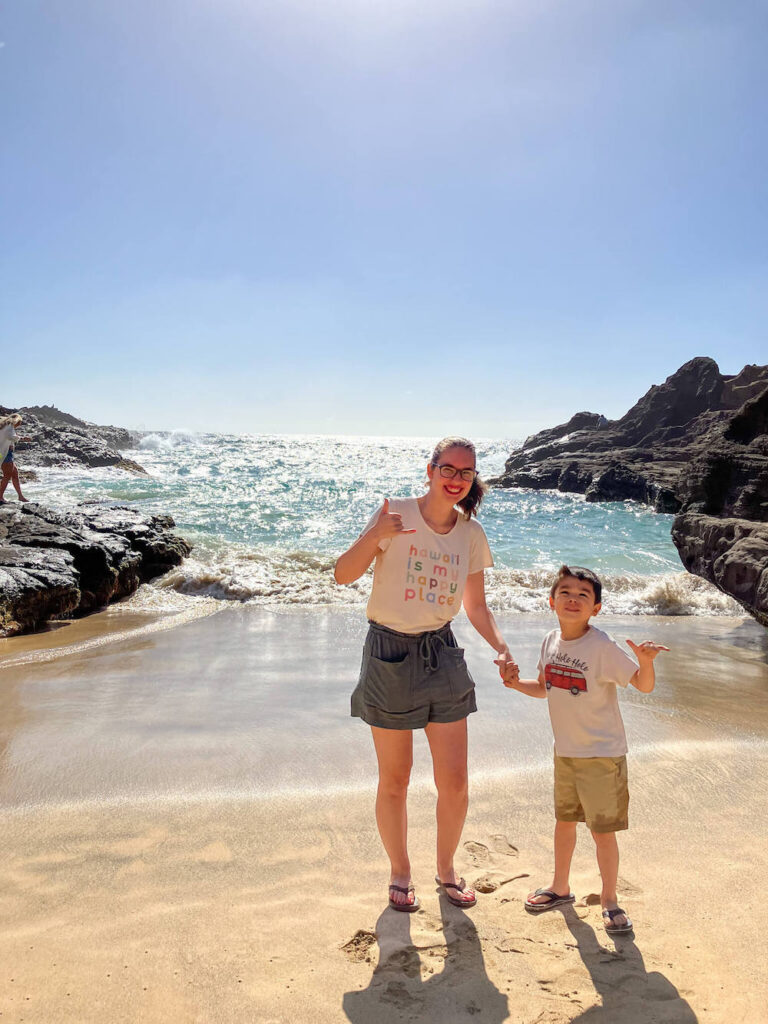 Lion knew exactly how to climb down the rocks to get to the right spot and how to covertly take our photos in between other groups looking for their Insta-worthy shots.
Of course, he also knew where to take the best photos and how to get the perfect angles.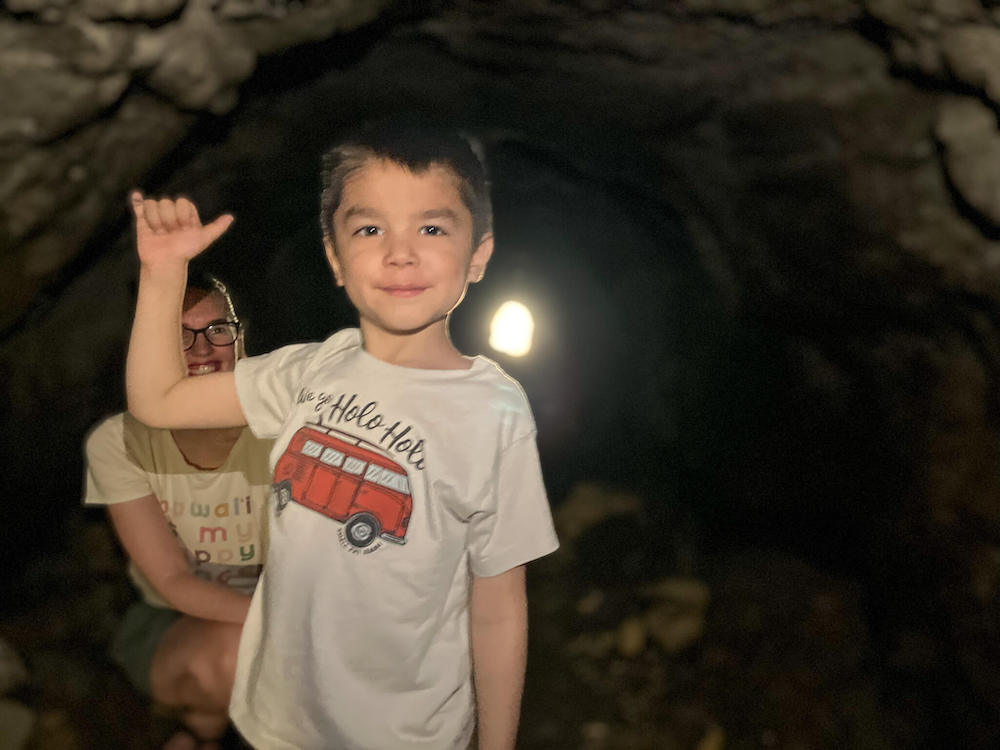 He also knew exactly how far we could safely walk inside the lava tube.
Leonard's Malasadas
If you've ever been to Waikiki before, I'm sure you've heard of Leonard's Bakery. It's just outside of Waikiki and there's usually a huge line that wraps around the bakery. It's nuts!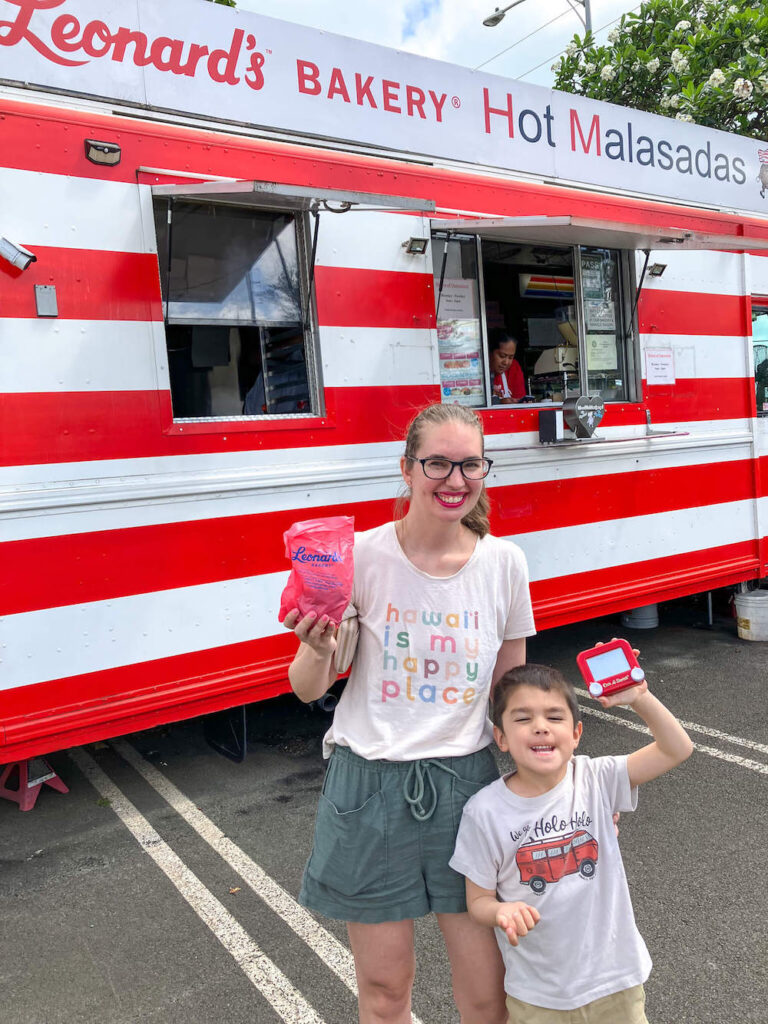 We stopped at one of their food trucks in Kaneohe and we were the only people there. That means we were eating our tasty, freshly made malasadas about 2 minutes after we ordered.
North Shore Food Trucks
When lunchtime came around, Lion brought us to one of the largest food truck areas on Oahu.
There were food trucks featuring all kinds of different cuisines.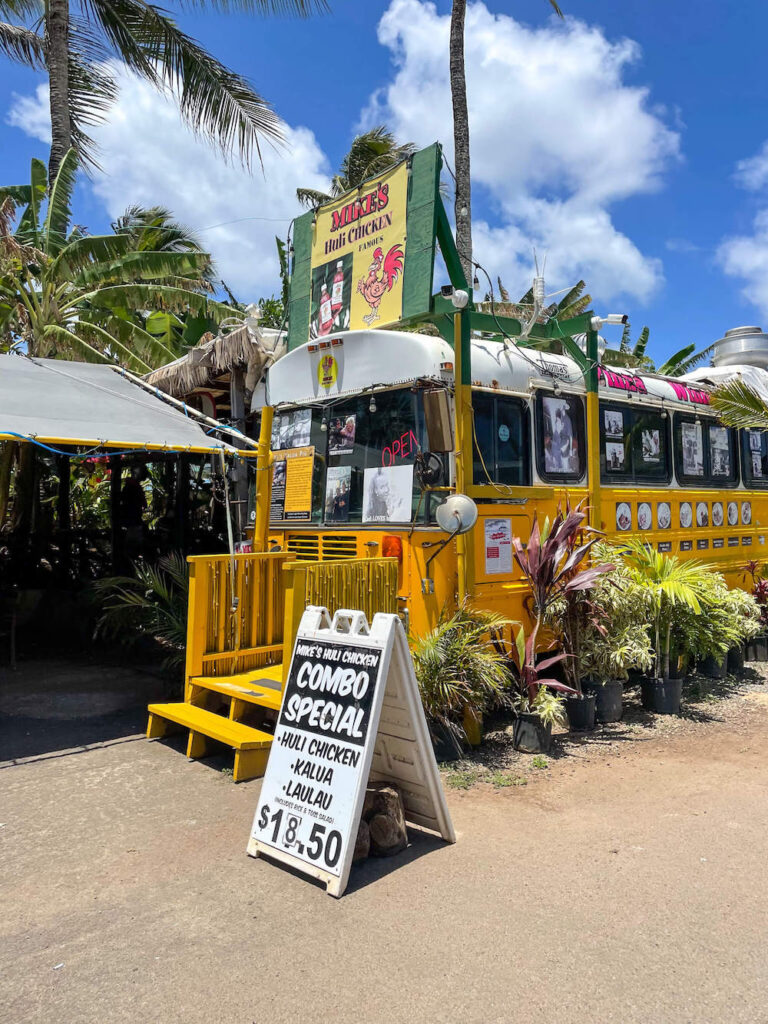 While we could have stopped here on our own, Lion let us know which food trucks serve the food quickly and which ones take a really, really, long time.
This was the type of insider info I needed when traveling with my son. We've definitely eaten at some food trucks in the past that took an hour to get our food.
Because of his local tip, we found a place with tasty food that was served within 5 minutes!
Laniakea Beach (Turtle Beach)
Many people visiting Oahu want to see Hawaiian sea turtles but aren't sure where to go.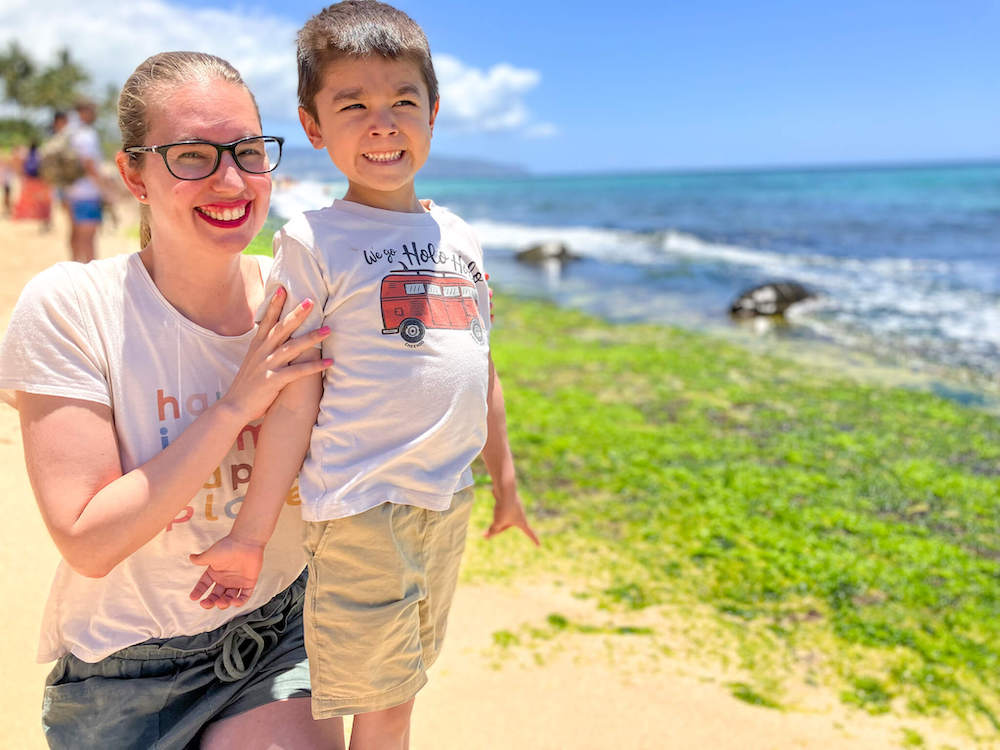 Laniakea Beach is one of the best places to see turtles on Oahu, but the parking situation is crazy. Traffic is always bad on this stretch of highway and there's either hard-to-find street parking or a busy lot.
Our guide Lion dropped us off and told us to head over to the turtles and he'd find parking and meet us over there.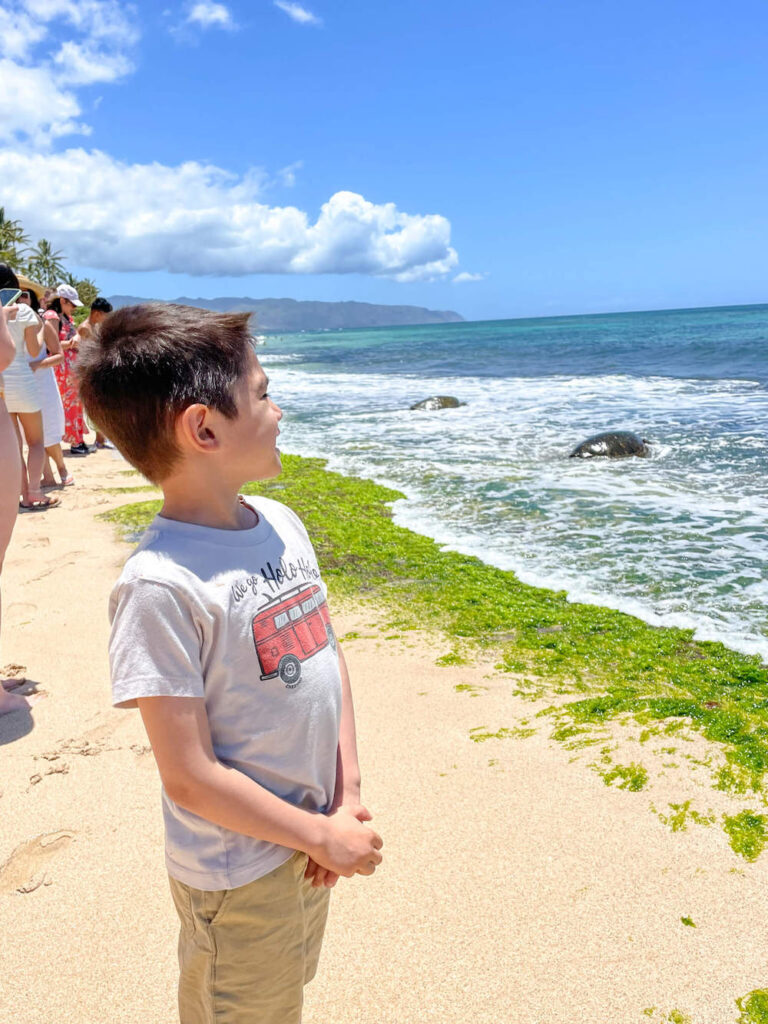 My son and I were blown away by how many sea turtles we saw just relaxing on the beach or swimming in the water. I'm not sure I've ever seen that many turtles in one spot before. It was magical!
And as we were leaving, my son's flip flop got washed out by a wave and our guide Lion jumped into the water to save it!
Oahu Instagrammable Spots
But I think the biggest highlight for me personally was having our tour guide Lion airdrop me almost 100 really awesome photos that I know I wouldn't have gotten on my own.
He captured amazing pictures of my son as well as the two of us on our special mom/son adventure.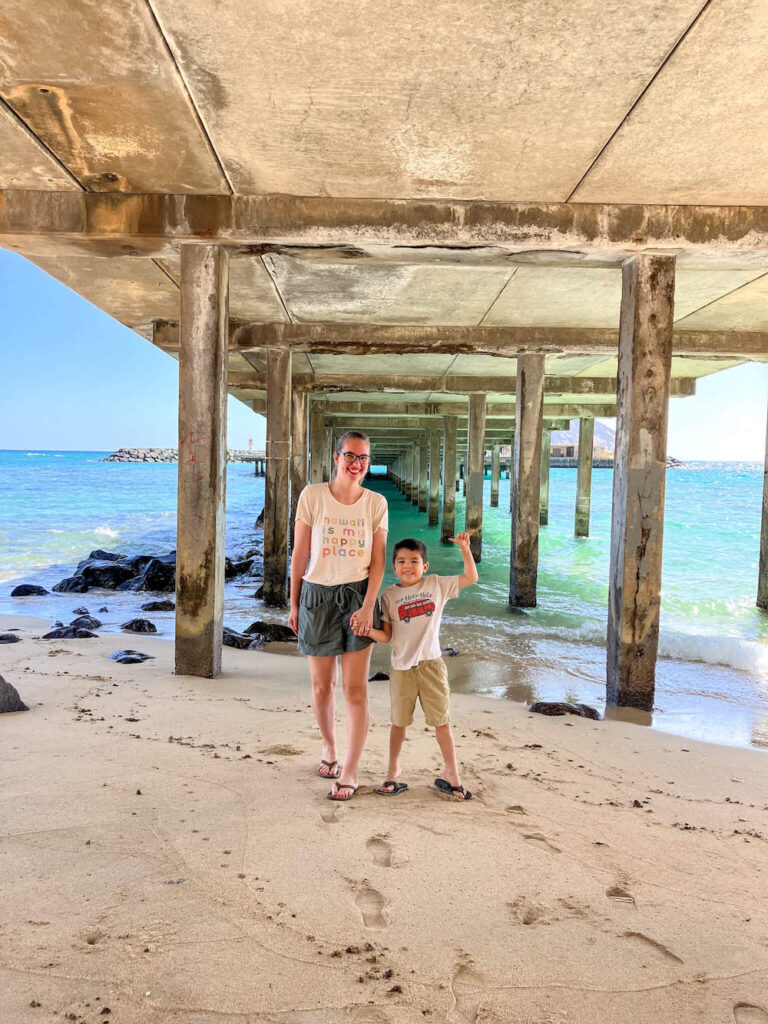 I'd seen photos on Instagram where people were posing under a pier, but I couldn't figure out where it was or how to get there. And I know I would have driven right by it without realizing it.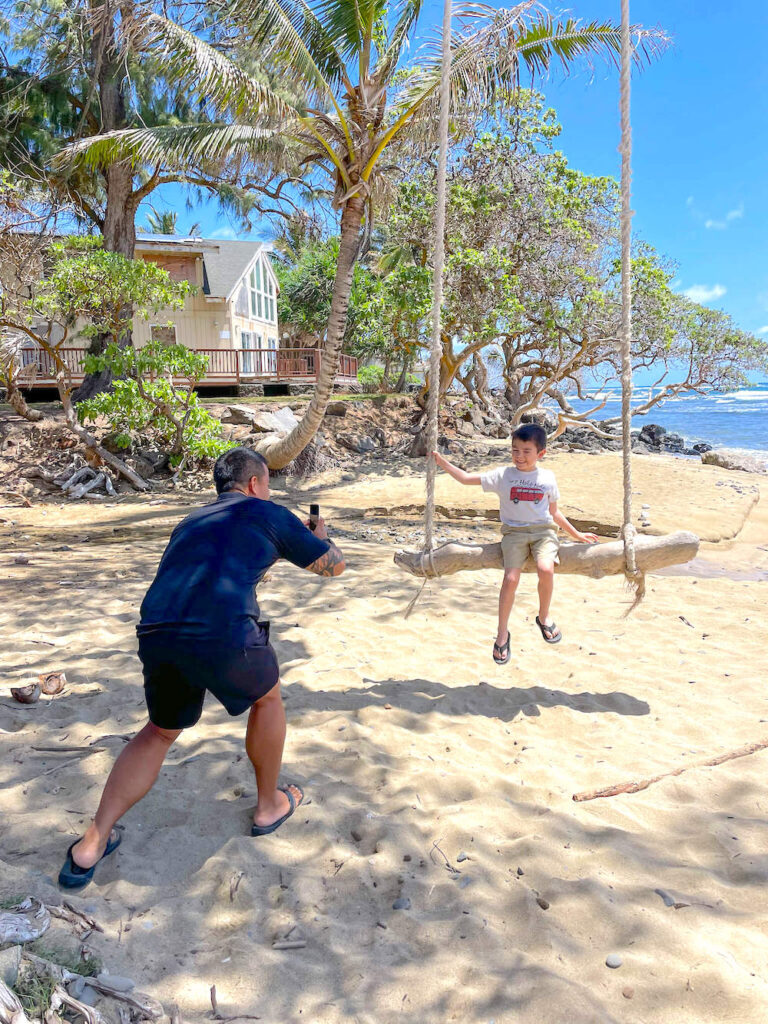 He also knew exactly where to go to find a beach swing that didn't have a million people waiting to take Instagram photos.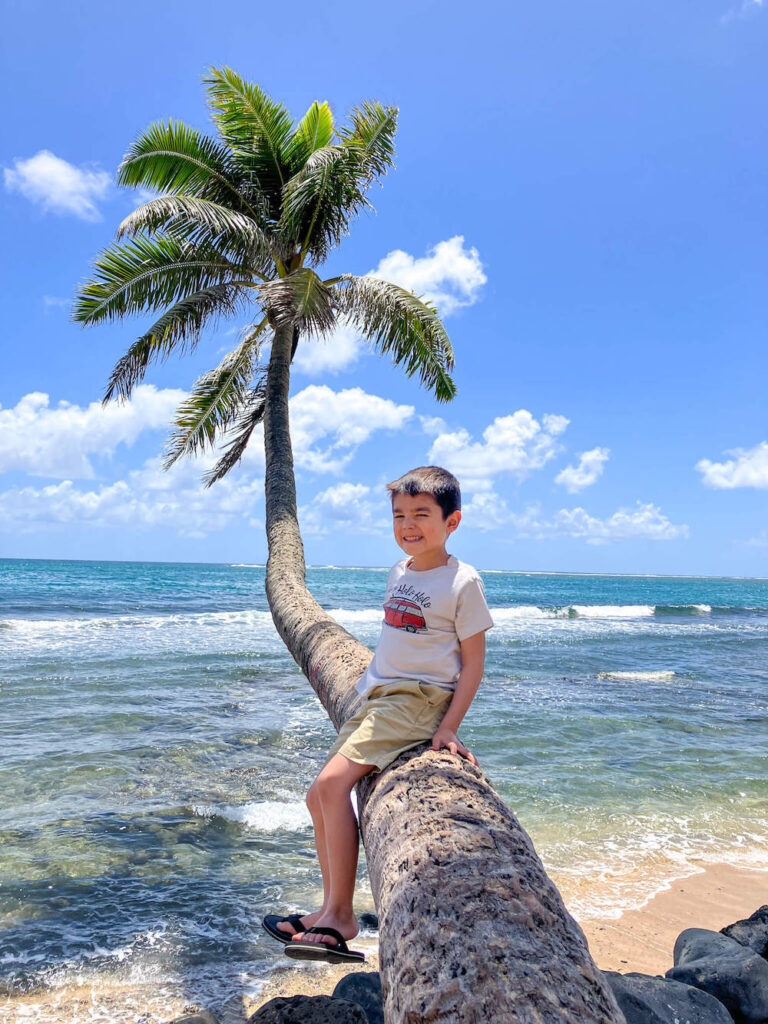 And he stopped at a really cool palm tree that jutted out over the beach. It's something that I wouldn't have noticed just driving by but it made such a cool Oahu photo spot!
Hawaii Bucket List Tour vs Driving Around Oahu Yourself
My family ALWAYS rents a car on Oahu, even when we stay in Waikiki. We love the freedom of going where ever we want whenever we want.
We haven't done a circle island tour of Oahu in the past because I figured they were just for people who didn't rent a car.
Boy was I wrong!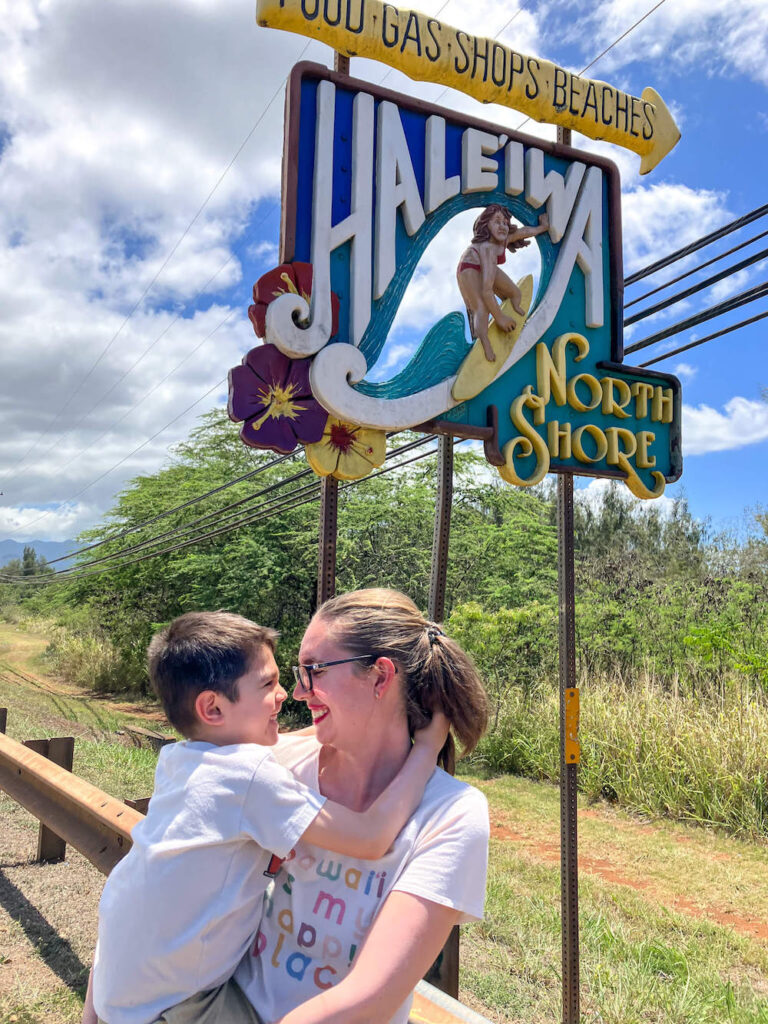 I've driven my family on many Oahu road trips and they have always been a bit stressful. I end up focusing so much on GPS that I can't take the time to look out the window and enjoy all the scenery!
And if something is closed or too crowded, it's hard to quickly come up with another plan. Don't even get me started on the crazy parking situation, especially on the North Shore.
Leave it to the Professionals
I underestimated how relaxed I could be hopping in the van and letting someone else handle the logistics.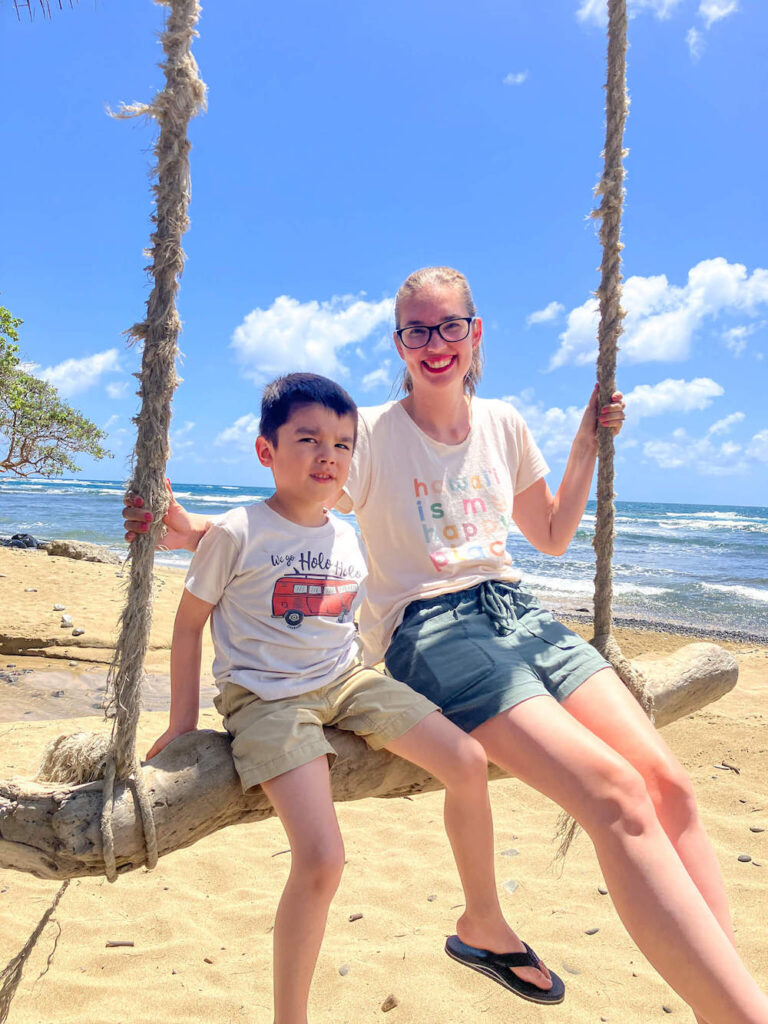 It was fun being able to let our guide Lion know the types of things we'd love to see and do and let him figure out how to make it happen.
And I'm still so thankful that he dropped us off at Laniakea Beach so we could spend more time with the turtles while he dealt with the insane parking lot.
Oahu Circle Island Tour Tips for Families
What to Wear
It really depends on what you want to do on your tour. We wore t-shirts, shorts, and flip flops.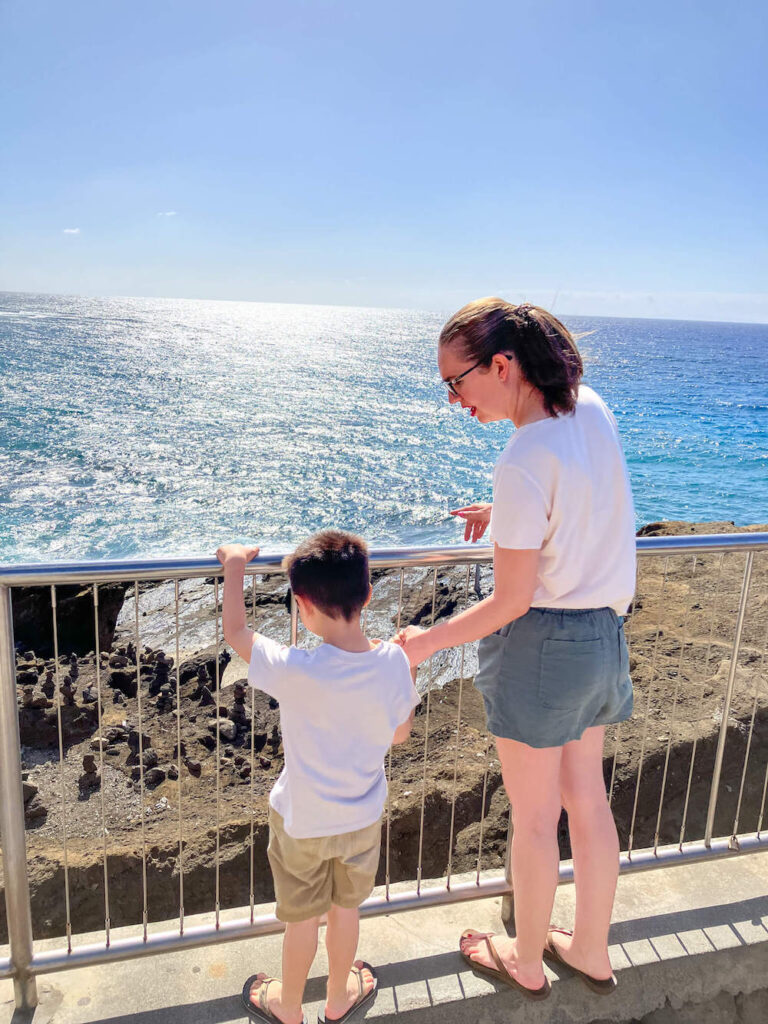 If you want to do more water-related things, you'll want to wear your swimsuit under your clothes. If you'll be doing a hike, wear sturdy shoes.
What to Bring
I brought along a beach bag with hats, sunglasses, sunscreen, and a water bottle.
I also made sure I had cash so I could tip our guide and in case we stopped anywhere that was cash only.
Almost everywhere we went on Oahu accepted cards, even food trucks.
How Much Does it Cost and Where is it Located?
This Oahu circle island tour by Hawaii Bucket List Tour is $179 for adults and $109 for kids.
They offer pick-up from Waikiki and they will travel all around Oahu for your tour.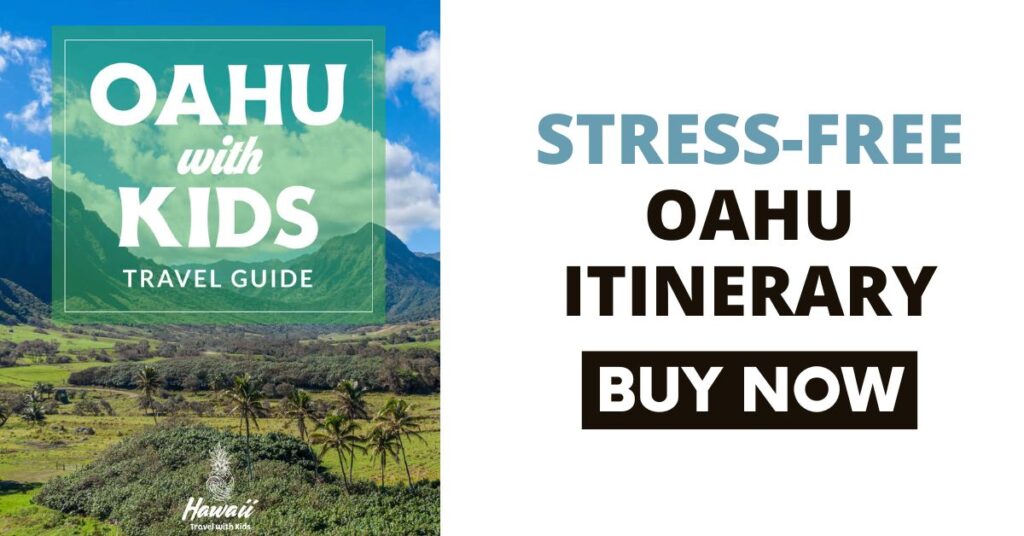 So, is this Hawaii Bucket List Tour Worth It?
I was seriously impressed with this circle island tour of Oahu. Having done many, many trips to Oahu with and without kids, I wasn't sure I was going to get much out of it.
It actually opened my eyes up to how many things I'd never seen or done on Oahu!
Plus, it was pretty amazing to not have to deal with traffic, navigating road construction, or parking.
If you want a stress-free way to see Oahu, I highly recommend this tour. Check availability for your travel dates.