Are you planning a trip to Oahu and want to see an amazing sunflower field in Hawaii? Keep scrolling to find out how to visit the Waimanalo Sunflower Farm on Oahu.
This guide to visiting Waimanalo Sunflower Farm on Oahu was written by Hawaii travel expert Marcie Cheung and contains affiliate links which means if you purchase something from one of my affiliate links, I may earn a small commission that goes back into maintaining this blog.
Want to take gorgeous pictures on a sunflower field in Hawaii?
Waimanalo Country Farms has one of the best Oahu sunflower fields. Stop by to grab some breathtaking pictures of your kids during your trip to Hawaii.
Here is your ultimate guide to the Waimanalo sunflower farm with kids. You'll learn all about this sunflower field on Oahu so that you can get some beautiful pictures with Oahu sunflowers.
Keep scrolling for all my top tips and tricks!
Don't have time to read a bunch of Hawaii blog posts and reviews? Here are some of our top picks for visiting Oahu.
Popular Oahu Tours/Activities
Favorite Oahu Resorts/Hotels
Want to Rent a Car in Hawaii?
One of the best places to rent a car in Hawaii is Discount Hawaii Car Rental because they get the best rates from top national companies like Alamo, Dollar, Thrifty, Avis, Enterprise, Budget, and Payless.
Want to skip all the planning and just access my detailed Oahu Itinerary complete with daily schedules, kid-friendly activities, and travel hacks? Click the button below.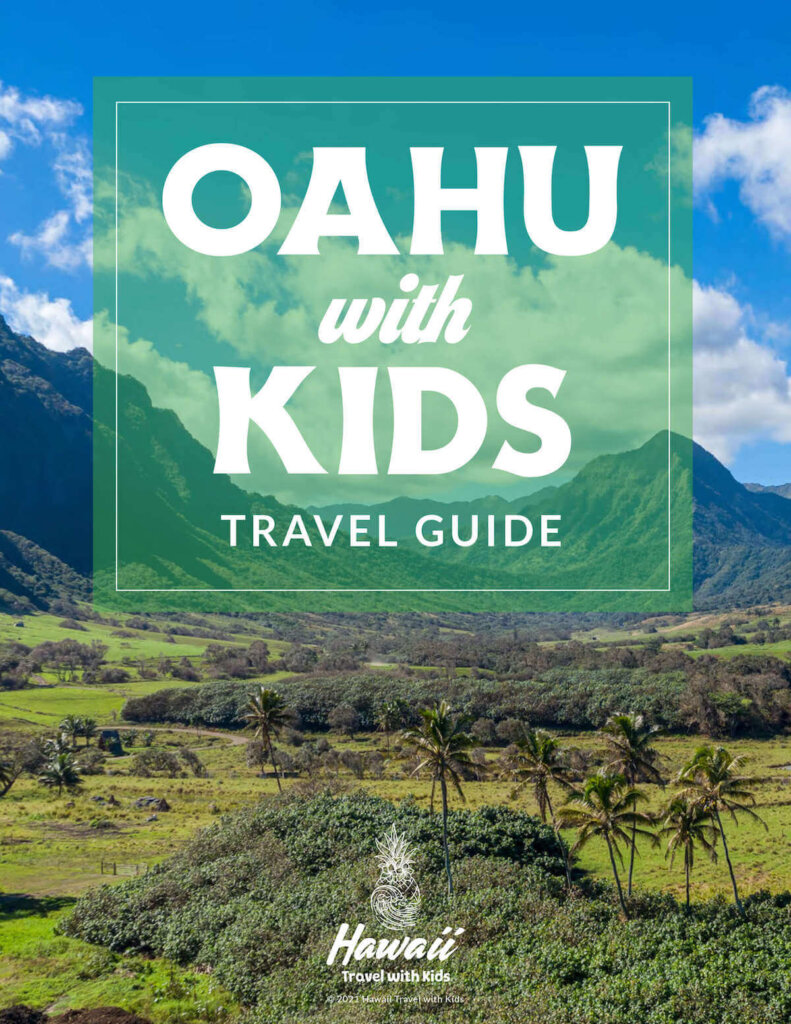 Oahu Sunflower Fields FAQs
When is sunflower season in Hawaii?
Typically sunflower season is from September through December. However, Hawaii has some good growing conditions, and you can even see the Waimanalo sunflowers during the spring and summer too! You'll have to check the farm to see when they are in bloom or follow their Instagram. 
Is Waimanalo Country Farms good for kids? 
The Waimanalo sunflower farm is one of the best ones to go with your kids when you visit. It has plenty of great children's activities that they will have a blast with when you visit.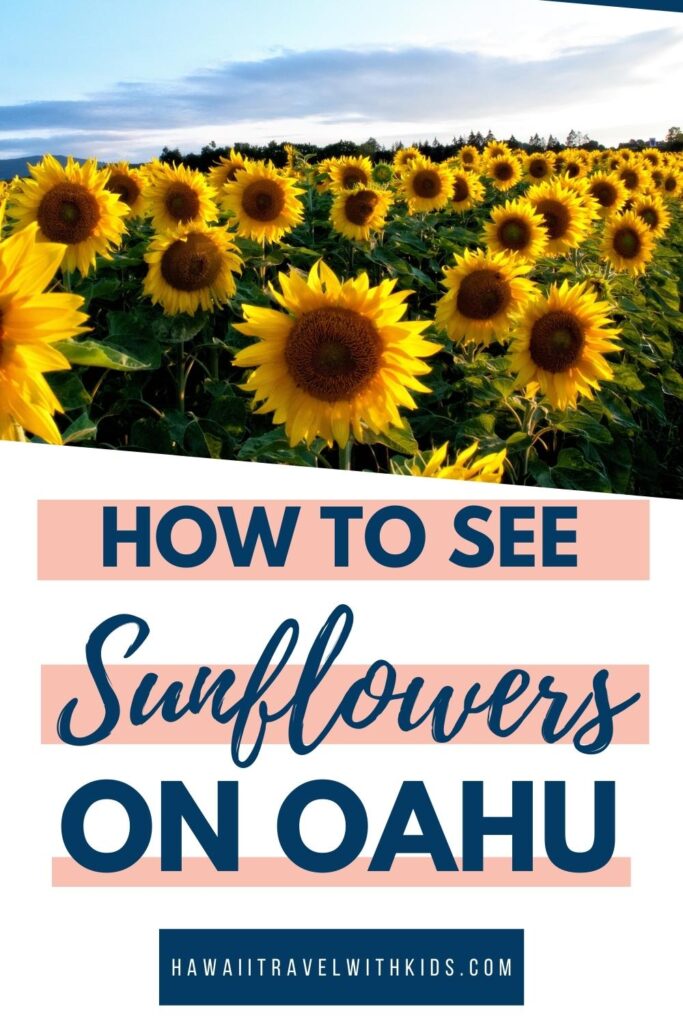 Guide to the Waimanalo Sunflower Farm
Here is your guide to get the most out of your trip to the Waimanalo sunflower field.
From when they are open to all the things you can do here with kids, you'll be more than ready to go during your trip!
Where is the Waimanalo Country Farm?
The Waimanalo Country Farms is located in Waimanalo, a city in Honolulu.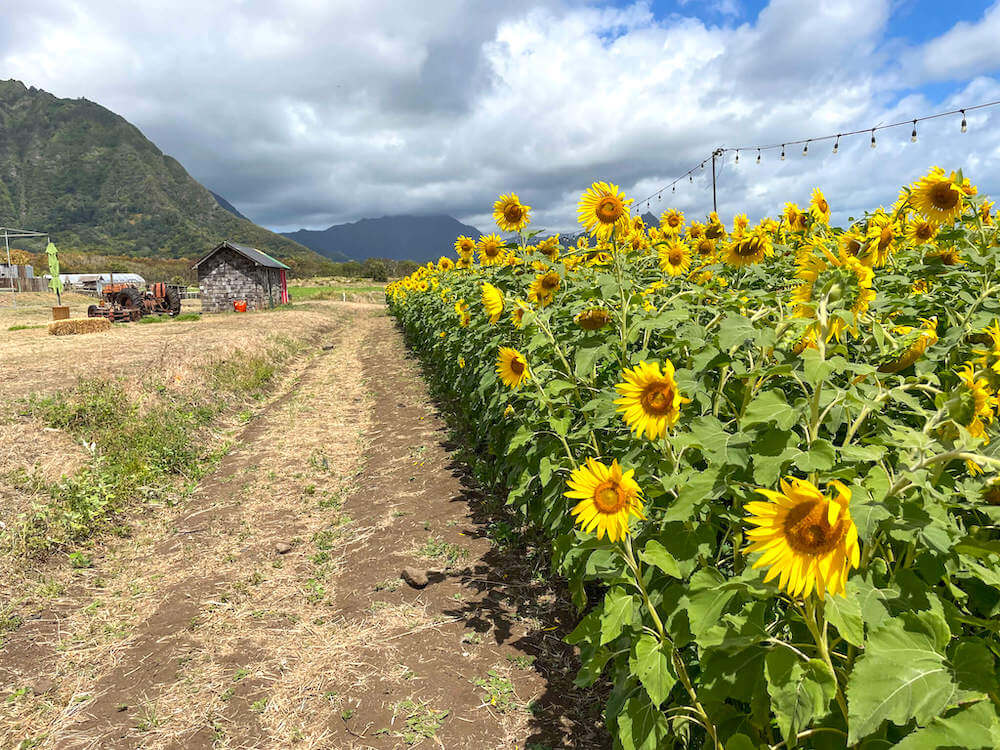 It is around 45 minutes away from the Honolulu Airport and Waikiki Beach, or 15 minutes from Kailua.
When is the Waimanalo Farms Open?
The Honolulu sunflower field is open at various times throughout the year. They don't have set official dates and times they are open. It mainly depends on when the sunflowers are in bloom.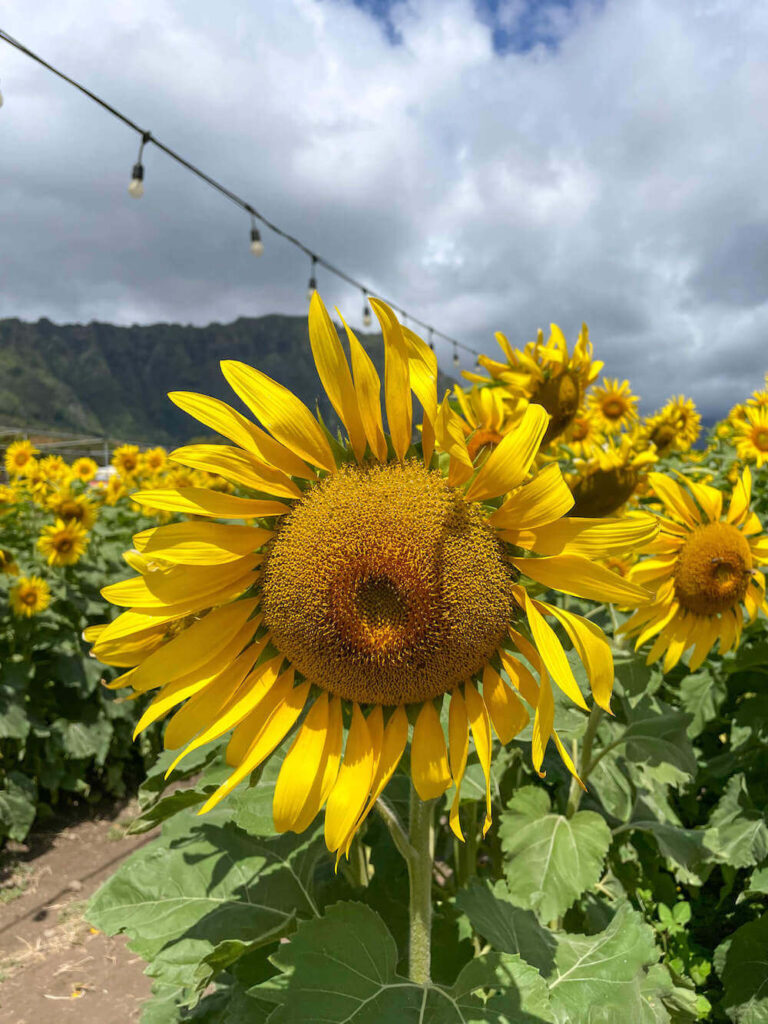 That being said, they usually try to have sunflowers in bloom a few times throughout the year, mainly in spring, summer, and fall. Fall is typically the most popular time for them with their pumpkin farm, so they usually tend to be open longer then.
How Much Does it Cost?
It usually costs $10 a person cash or $10.84 if you pay with a card. Sometimes during their special events, like the summer sunflower event, it only costs $5 per person.
Do I Need to Make a Reservation?
You do not need to make a reservation, but you can if you want. You will only need to have a reservation if you plan to have a photoshoot after hours.
Can You Take Professional Pictures at this Sunflower Field in Hawaii?
You cannot visit the sunflowers in Oahu without taking pictures there! You have a few options when it comes to photo shoots at this sunflower field in Hawaii.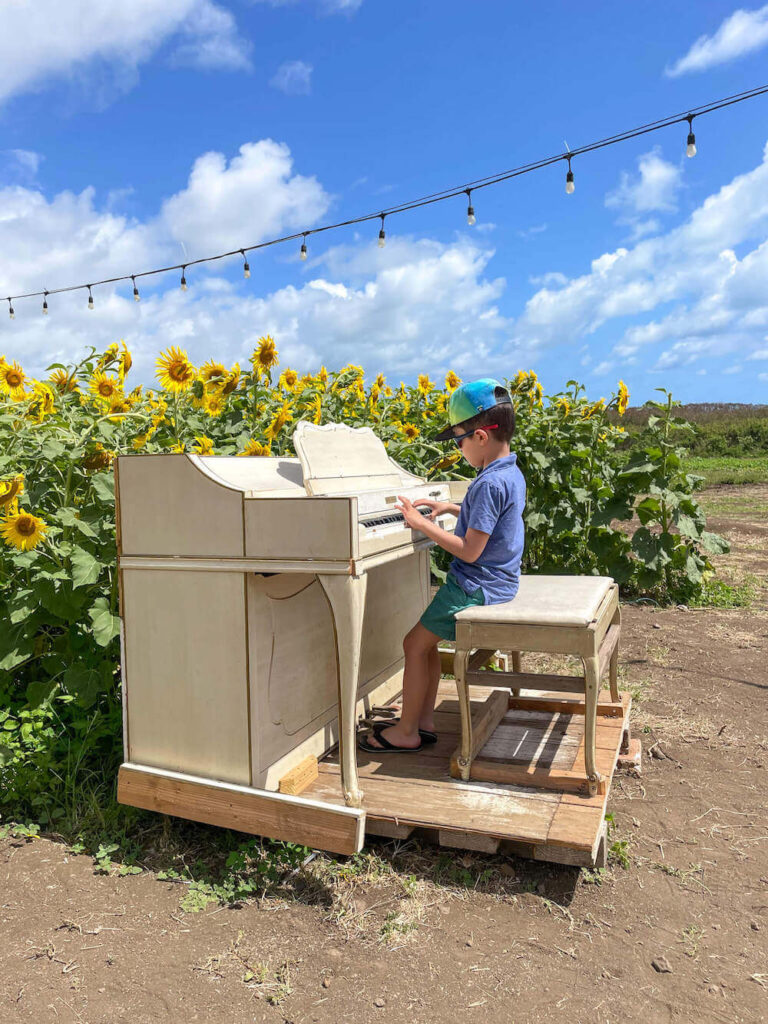 You can take your own pictures with your own camera or bring a photographer. That is very easy to do and can easily be done throughout the day. Even taking pictures on your phone will turn out gorgeous with all the sunflowers.
If you don't have your own photographer but still want professional pictures, they sometimes will have a photographer at the farm you can use for an additional fee.
What Can Kids Do at the Oahu Sunflower Field?
There are plenty of things for kids to do on the Oahu sunflower field! Here are a few fun kid activities at the Waimanalo Farm.
Farm Fun
Now that it is more open, they are back to having hayrides out to the sunflower fields! Your kids will love riding and experiencing a true farm hayride.
For the past few years, they had a drive-thru farm where you only got out in certain areas, but slowly things are finally getting back to normal!
Take Pictures
At the sunflower field, you will find tons of fun props that make for great pictures. There is usually a gorgeous blue Volkswagen bug, a cool macrame backdrop, and a bathtub in certain areas of the field.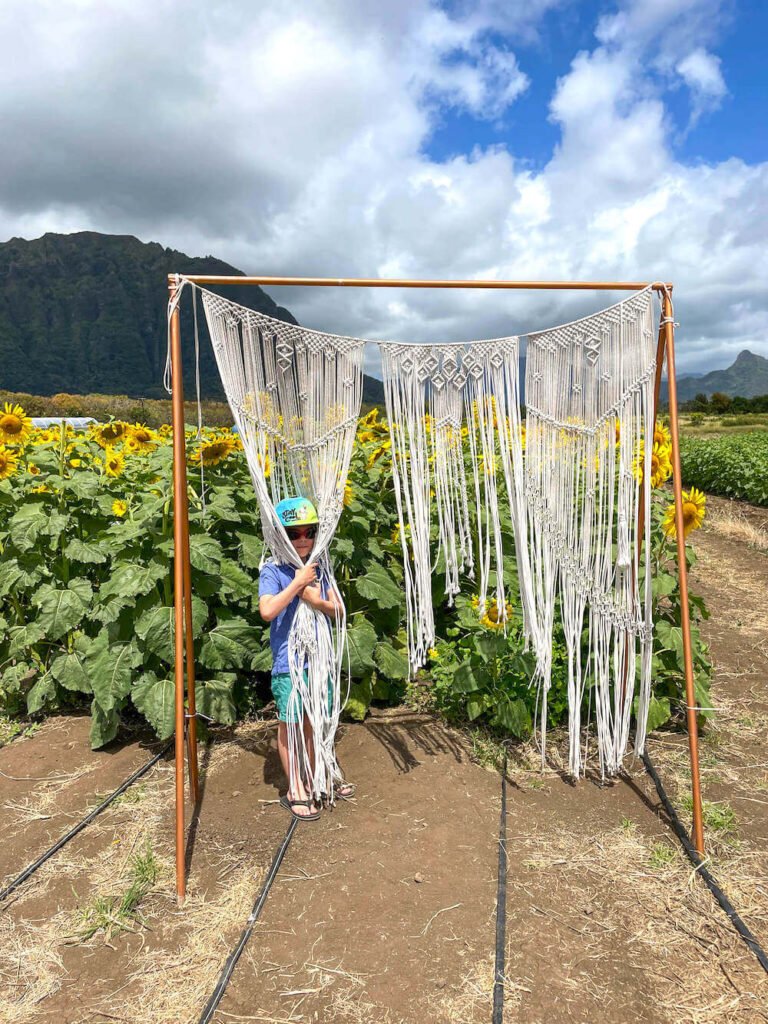 You'll also find a tractor that the kids will love climbing and playing on that makes for a great photo.
Petting Zoo
After you are done taking pictures, head over to the petting zoo. Here you can pet some of the animals and feed them too! There is a small stand where you can buy either hay or food pebbles to feed the animals.
You'll find goats, a donkey, cows, sheep, and sometimes even pigs to pet and feed. You'll have to help your younger kids so that the animals don't bite them. Usually, this is the favorite activity the kids like to do on the sunflower farm.
Pumpkin Patch
If you visit during October, there will also be a huge pumpkin patch to explore. This will be right before the sunflower field. Everyone can get one pumpkin to enjoy.
All along the pumpkin patch are more fun props for photos, and there is even a stand where you can buy additional gorges and smaller pumpkins for decorations too.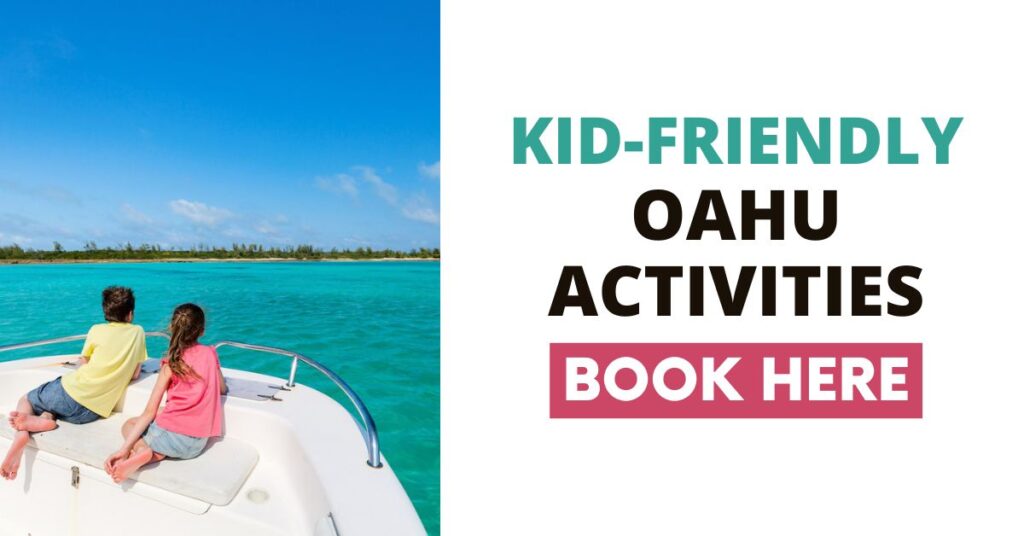 Is There Food at the Waimanalo Country Farm?
At the end of your farm visit, there is a nice farm stand where you can grab some food and delicious lemonade to drink.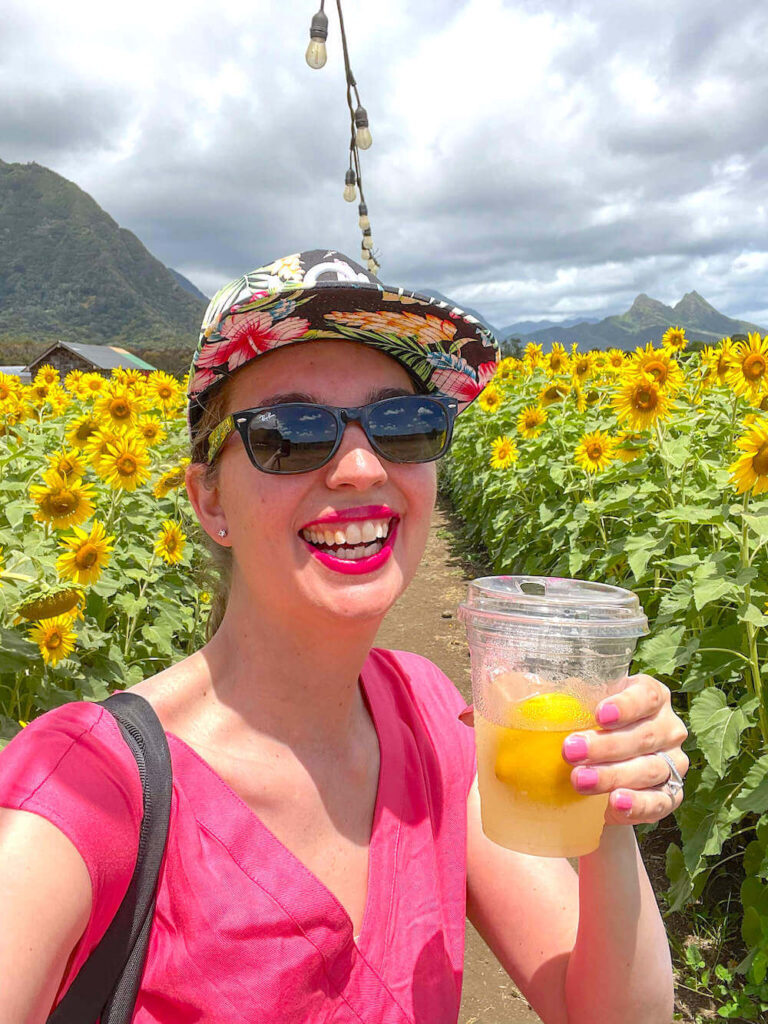 Be sure to try out the lemonade; it is amazing. They can be sort of large, so you might want to split it between the children.
Choose between mango, pineapple, li-hing, strawberry, or original lemonade. No matter which one you choose, your kids will love them!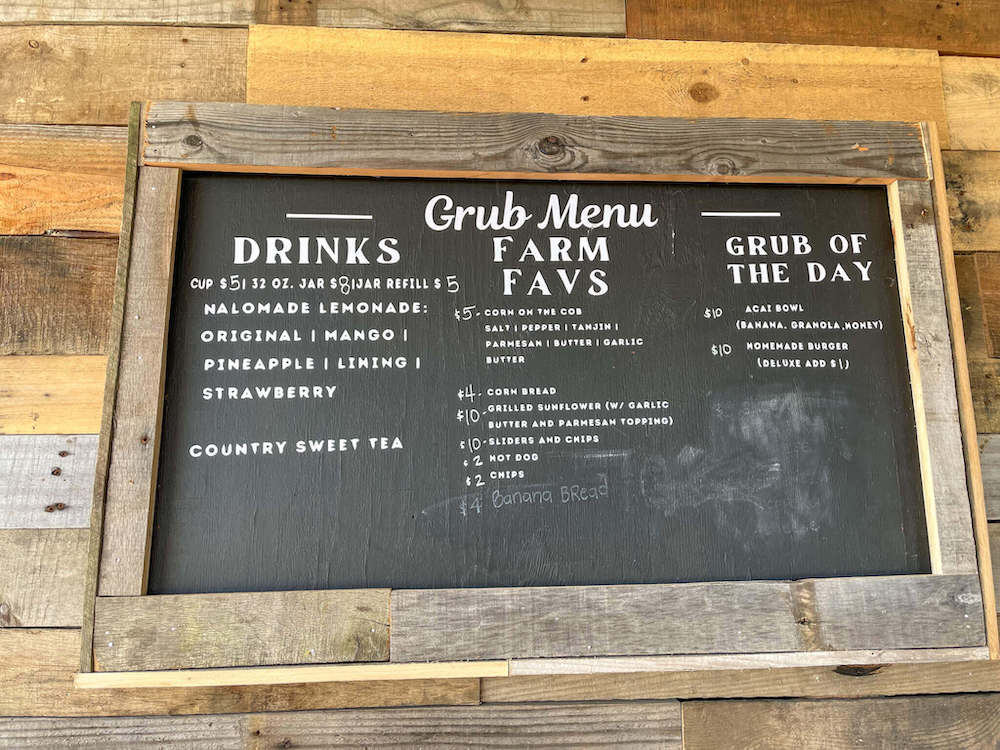 You can also buy some fresh produce right from the farm, and they also have a few meals too, including grilled sunflower heads, grilled corn on the cob, and a country boil with sausage, shrimp, potatoes, and corn.
Is the Waimanalo Sunflower Farm Worth It?
The Waimanalo sunflower farm is totally worth it. It is a budget-friendly activity that the entire family can enjoy. Your kids will love going on the farm and being with the animals. It is a great experience that you won't find anywhere else.
You will make some great memories and capture stunning pictures with the sunflower fields. With the mountain and the ocean backgrounds, you can capture all the amazing beauty of Hawaii all at this farm.
The sunflower fields are definitely an Instagram photo spot too!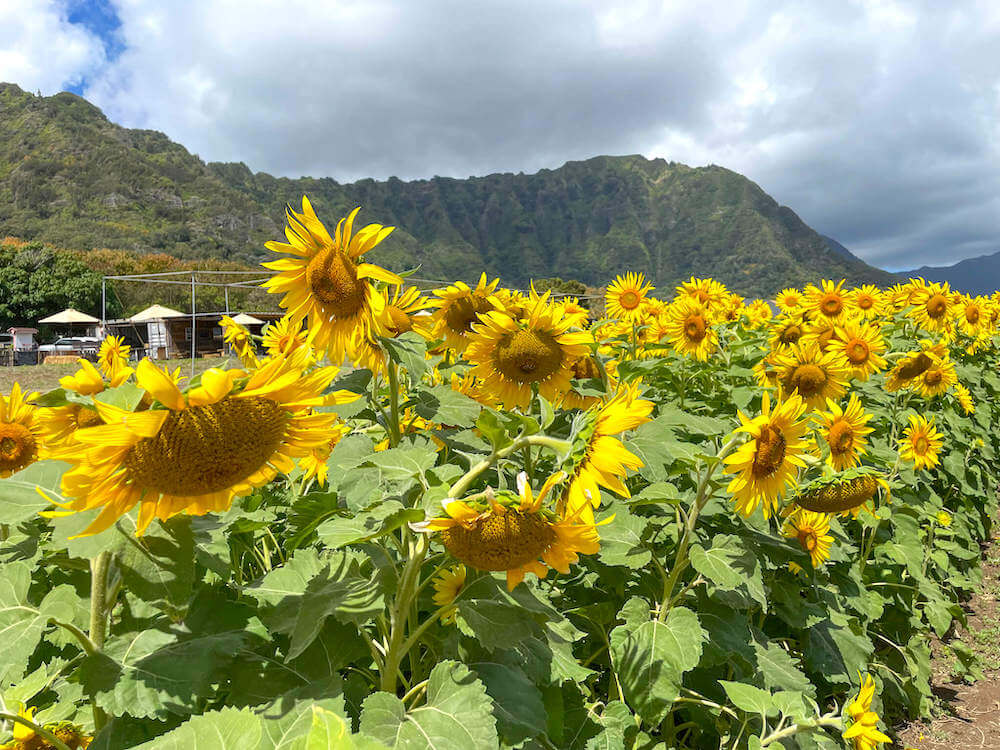 Going to the Waimanalo Farm is also worth it because you are supporting a local business. This farm is family owned and has been that way since it first started. Instead of supporting big tourist locations, head to this farm and support this amazing family!
Tips for Visiting the Sunflower Field in Oahu with Kids
Before heading to the sunflower field in Oahu, you'll want to make sure you have or do the following:
Bring reef-safe sunscreen, especially in the summertime. It gets hot, and there is no shade.
Wear a hat! This will help your kids not get sunburned or overheated.
Make sure you wear comfortable closed-toe shoes. The farm will be open, rain or shine, so things might be muddy. Wear shoes you don't mind getting dirty.
Bring your camera. You'll want to capture as many photos for memories as possible with the Oahu sunflowers.
Bring cash. There is an added fee if you pay with a card, and there are some things you have to buy with cash as well. It is always a good idea to keep some cash in your wallet just in case.
Going in the morning is best because there are usually fewer people and it is not as hot. It's the perfect time for your family photos!
This farm is not stroller-friendly, so if you have a small child, bring a baby carrier just in case or a sturdy wagon.
There are no pets allowed unless it is an ADA service animals.
You cannot bring outside food or drinks, but they have a stand where you can purchase some if you need them.
If you are visiting in October, they will also have a big pumpkin patch for the kids to enjoy as well!
When you are getting your pictures taken, be sure to get some with both the mountains and the ocean in the background. This farm is the perfect location to get clear views of both!
You cannot pick the sunflowers on the farm. However, they do have them available to buy at the stand at the end of the farm for only a couple of dollars if you want to take one with you.
They have some picnic tables to eat at, some with shade and some without. Or, you can always take your food to the closest beach after the farm as well.
There will be plenty of bees all over the sunflower field. Make sure to prepare your little one, especially if someone is allergic.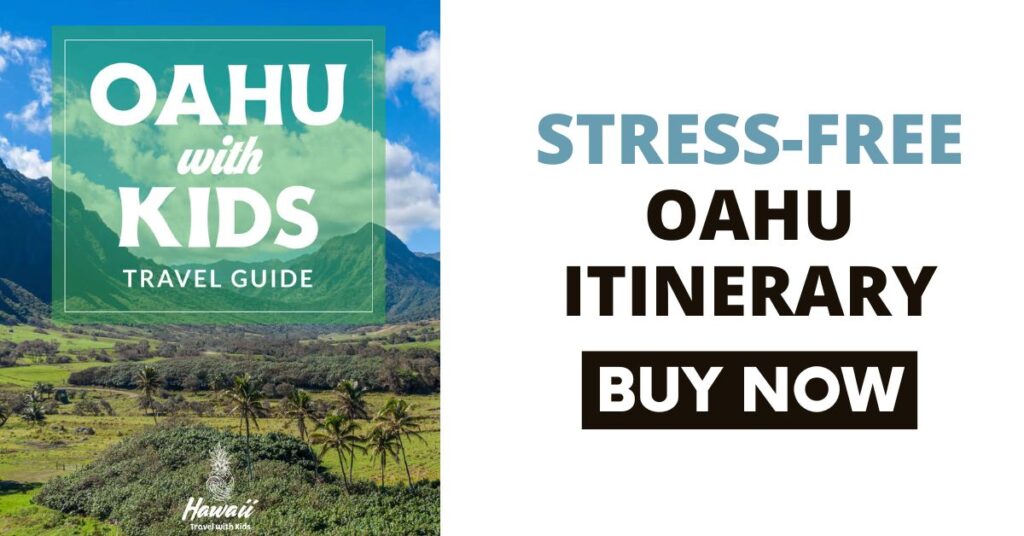 Oahu Sunflower Field Wrap Up
Visiting the Oahu sunflower fields is truly a unique experience that you'll love doing on your Hawaii family vacation. You'll be able to make so many great memories, have fun with your children, and get plenty of amazing pictures.
P.S. Join our Hawaii Travel with Kids Facebook group to get connected with other families planning a trip to Hawaii!