Are you planning a trip to Oahu in October? Find out the best pumpkin patches on Oahu worth visiting for some cute photos!
This post about the best pumpkin patches on Oahu was written by Hawaii travel expert Marcie Cheung and contains affiliate links which means if you purchase something from one of my affiliate links, I may earn a small commission that goes back into maintaining this blog.
Are you visiting Hawaii with your family in October?
The pumpkin patches on Oahu are unlike any other pumpkin patch farms you will find on the mainland.
Keep scrolling to find out more about these unique and different pumpkin patches perfect for a pumpkin patch photoshoot!
You won't want to miss out on this experience when you visit Hawaii in October.
Scroll down right now and click through our list of the best pumpkin patches in Oahu for a fun family outing!
Want to skip all the planning and just access my detailed Oahu Itinerary complete with daily schedules, kid-friendly activities, and travel hacks? Click the button below.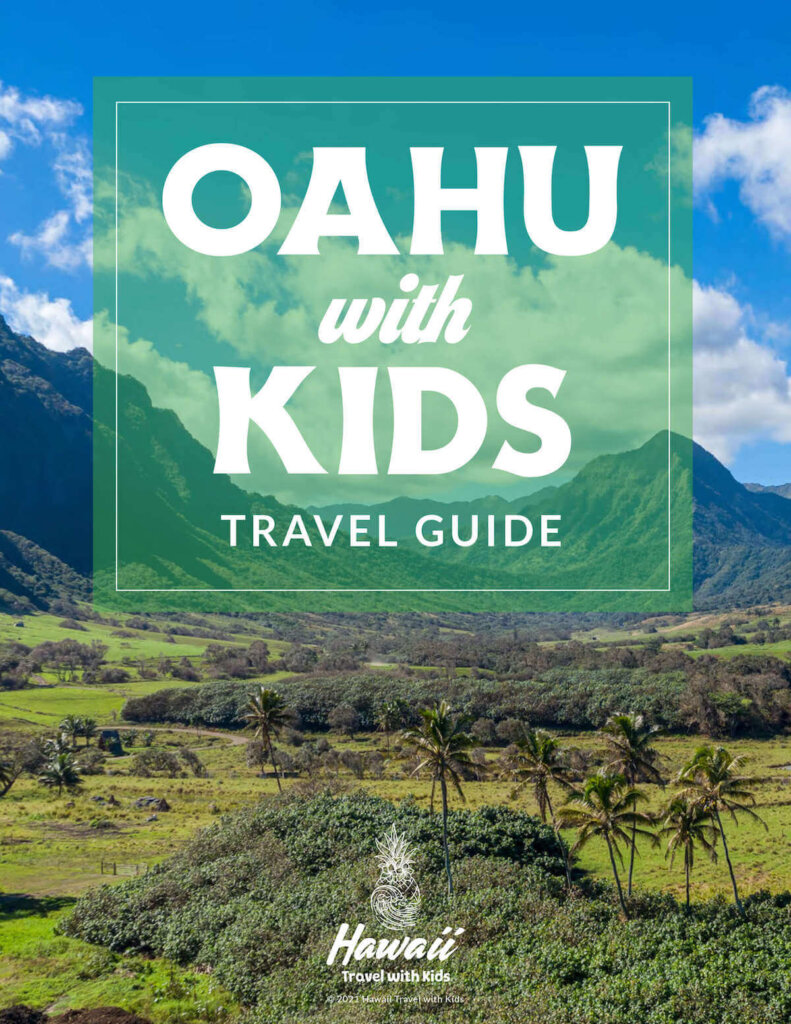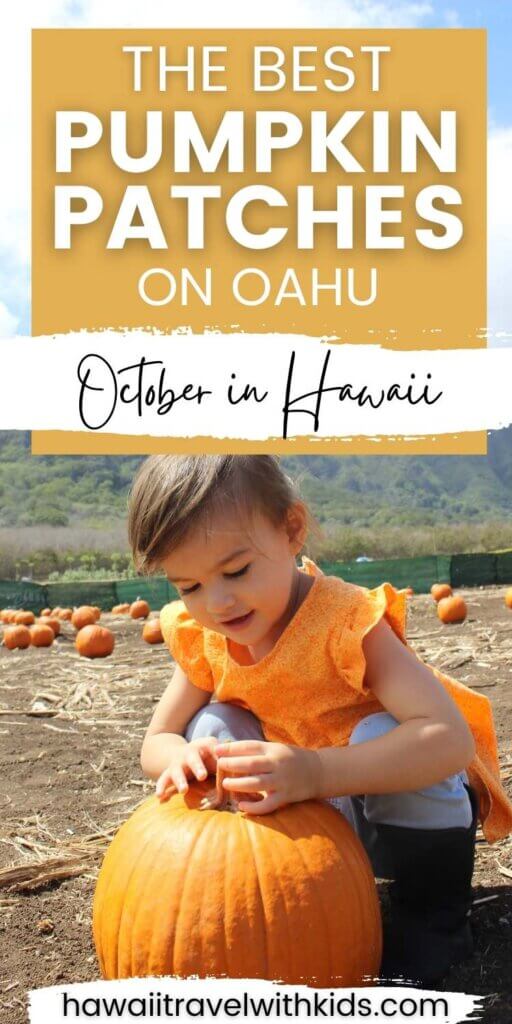 Are There Pumpkin Patches in Hawaii?
Yes! There are a few pumpkin patch farms on Oahu that you can enjoy during the fall. These pumpkin farms are not your traditional pumpkin patches like on the mainland, but they are still super fun and an experience you won't forget!
Kula Country Farms is a fun pumpkin patch that is on Maui, otherwise, you can enjoy Aloun Farms, Mari's Gardens, and Waimanalo Country Farms on Oahu.
What to Wear During Your Pumpkin Patch Visit
Wondering what to wear pumpkin picking in Hawaii?
A pumpkin patch in Oahu, Hawaii will differ from visiting one on the mainland. Because you will go during the daytime when it is still hot, you do not want to bundle up.
Shorts and T-shirts are great, along with flowy dresses. You don't want to bring a sweater even if it rains, as it will be too hot.
Since you're in Hawaii, it can be fun to go for a boho/hippie vibe if you're taking pumpkin patch Oahu photos. Wide-brimmed straw sun hats can look pretty chic.
Even though it is a farm, it is not muddy like normal farms. The mud is more like dust. You can wear your sandals or tennis shoes and be just fine; there is no need for boots. However, if it is raining, you'll want shoes you don't mind getting dirty.
Make sure to wear a hat and plenty of sunscreen, so you and your kids don't get burned!
Best Pumpkin Patches on Oahu
If you're looking for Hawaii pumpkin patches, Oahu has a few pumpkin patch farms on Oahu that are open for you to enjoy during October.
Waimanalo Country Farms
In Waimanalo, Hawaii, close to Honolulu, is a beautiful pumpkin patch. The Waimanalo pumpkin patch has some super fun things that your little ones will enjoy, along with, of course, a pumpkin patch. Here are some of the main features of this pumpkin patch!
Pumpkin Patch
There is a huge field full of pumpkins! Along the entire field are several different setups to capture beautiful memories.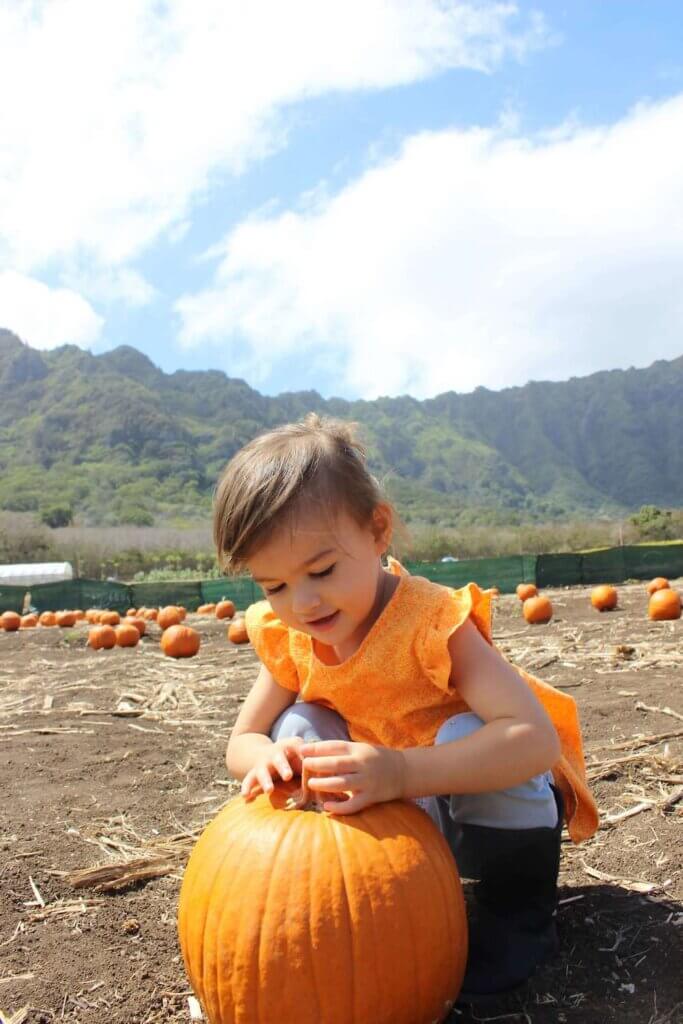 Let your children run to find the perfect pumpkin and watch as they carry it by themselves to the counter to pay for it. Enjoy some fun pumpkin picking during your allotted time. Pumpkins are an additional cost from the registration fee.
Sunflower Field
You'll see plenty of llamas and goats along the way to the sunflower field. This is the perfect time to see how a farm and garden grow in Hawaii.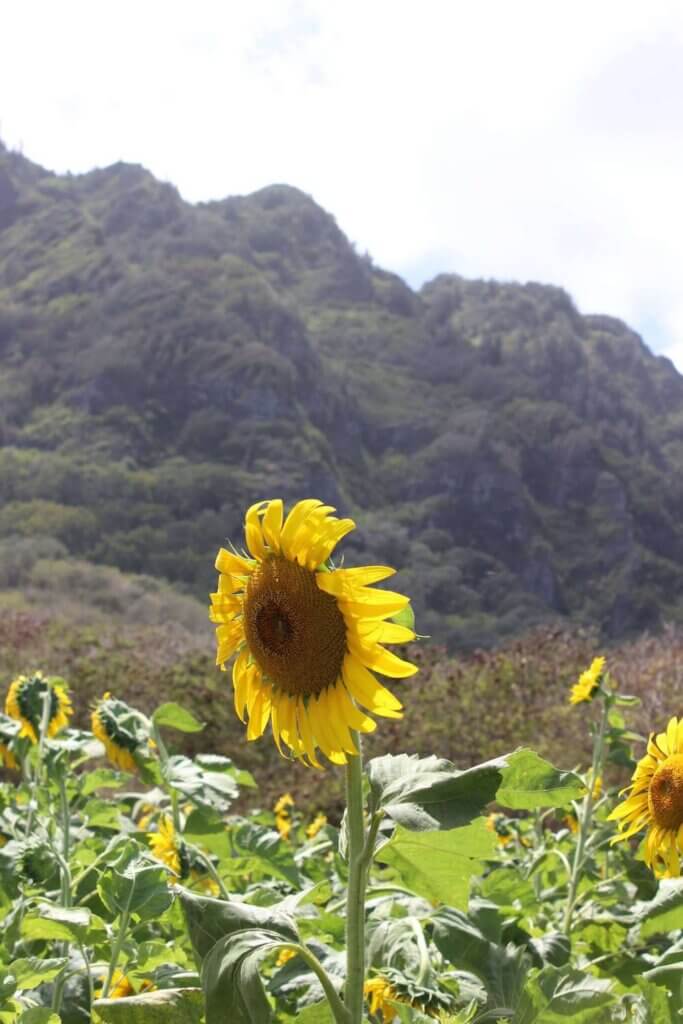 You'll learn and see the garden that grows many vegetables and fruits you can purchase from the farm stand at the end of your tour! This is one of the two main sunflower fields on Oahu and is a beautiful sight to see.
You can walk in between the sunflower fields and take stunning pictures right inside the sunflower farm! This is definitely something that doesn't happen on the mainland, making it one of the best pumpkin patches Oahu has to offer.
Animals
On the other side of the sunflower fields, there is a place where your little ones can feed the animals! You have the option to get some food pebbles and let the goats eat from your hand or scoop, or you can buy a bundle of hay!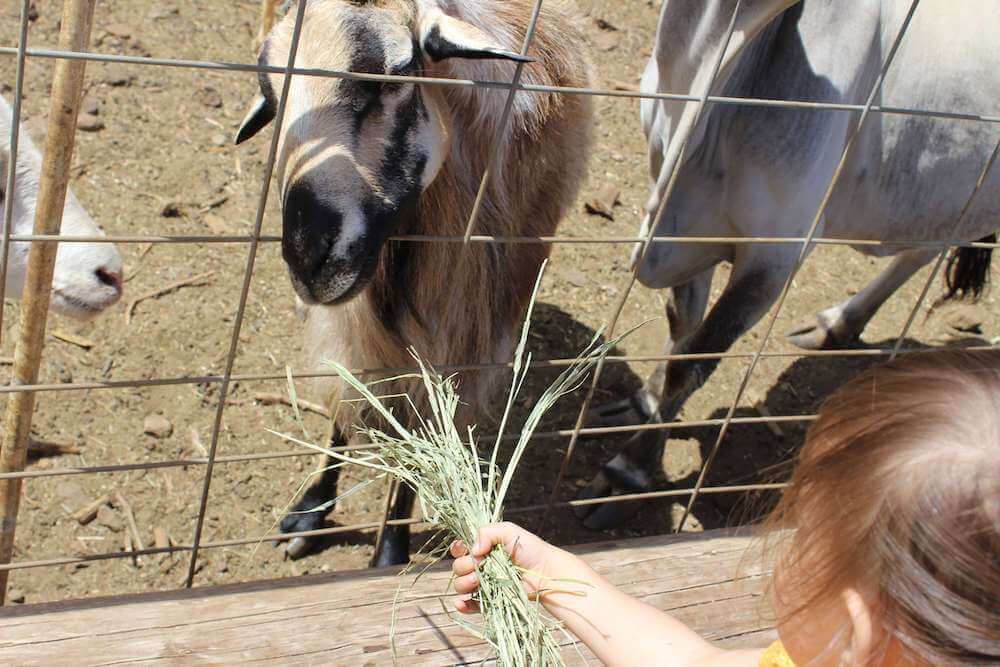 There are goats, cows, and sheep to feed at the petting zoo. Be careful because you don't want them to bite you! Feeding the baby goats was our favorite thing to do! We could spend our entire time here just feeding and watching the animals.
Photo Ops
There are many great places to capture beautiful photos to remember this trip! The sunflower farms are some of the best photo ops in Hawaii, for sure!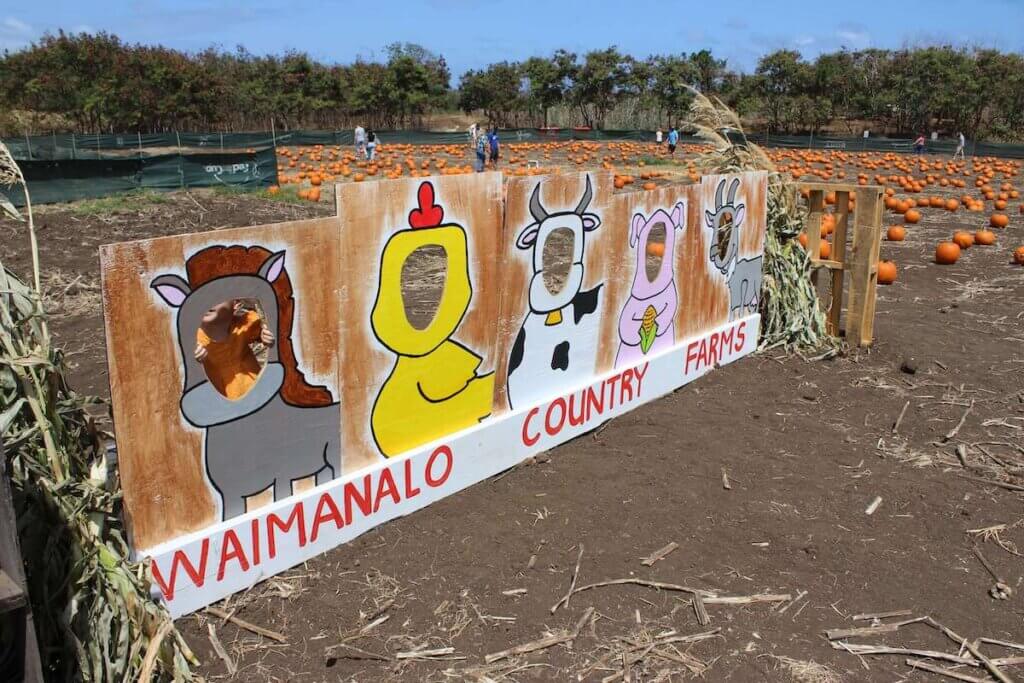 There are many different setups inside the pumpkin patch, including a tractor you can sit on, fun poke-your-head-out photo ops, and beautiful fall-colored backdrops. Bring a photographer or your own camera and try to hit as many of the photo spots as you can!
Farm Food
At the end of your tour, you have the opportunity to grab some delicious farm food while you are there.
They have a huge variety of lemonade, including:
Mango
Pineapple
Li-Hing
Strawberry
Original
This family farm offers the best lemonade I've ever tried! The mango and Li-Hing have been our favorites for sure!
You can also get some delicious corn that comes straight from this Oahu farm. Fresh fruits and seasonal produce are available unless they run out.
This pumpkin patch on Oahu is one of the best experiences if you are visiting Hawaii in October!
Aloun Farms Pumpkin Patch
Aloun Farms is another great pumpkin patch Oahu Hawaii has to visit. It is located in Kapolei and is a favorite Hawaii farm to visit for many different reasons.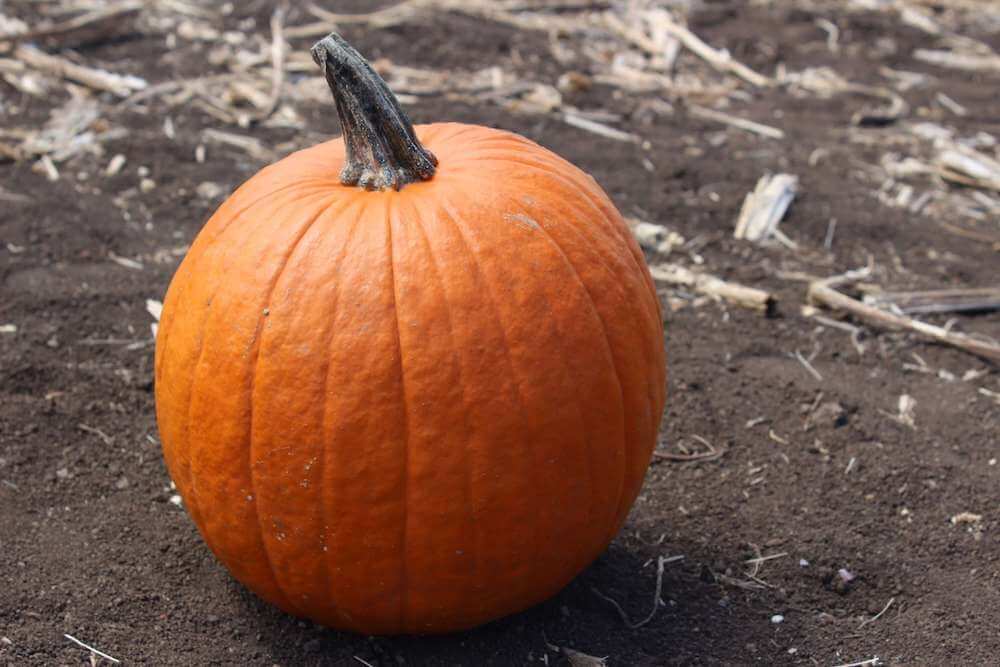 At this Kapolei pumpkin patch, you will find the Annual Great Kapolei Pumpkin Picking Festival. During this annual pumpkin festival, kids can enjoy petting the farm animals, go on tractor-pulled hay rides, food trucks, and so much more!
Aloun Farms is a great farm to support and grab some pumpkins from. They feature a variety of food and craft vendors, free hayrides, Keiki activities and rides, photo ops, a farmers market, and more!
The Pumpkin Festival is held during the last three weekends in October and costs $5 per person with kids 2 years and under free.
It is a unique farm where you can not only harvest your own pumpkins, you can also pick corn, string beans, and sunflowers. How fun!
Enjoy this pumpkin patch Kapolei Aloun Farms offers during the last couple of weeks in October. Make sure to bring cash just in case.
Mari's Gardens
If you are looking for a pumpkin patch near North Shore, the closest one will probably be Mari's Gardens in Mililani. This Hawaii pumpkin patch is a farm open all year long but offers a mini pumpkin patch experience during October.
They will have pumpkins set up all around, along with several photo stations with blow-up Halloween items.
It is free admission and no reservations are required! Typically, it is open Monday through Saturday 9 AM to 4 PM.
For a simple pumpkin patch Hawaii offers, try Mari's Gardens!
The Annual Great Pumpkin Festival
The Holy Nativity School in Oahu puts on the Great Pumpkin Festival. This is the 11th annual pumpkin festival this year.
Flick-Or-Treat Drive-In Movies
For two days in October, enjoy Halloween movies under the stars with your family members. Bring your costumes and some delicious food too!
Pumpkin Festival
During the pumpkin festival, you will see a variety of fun activities for families. Grab some shave ice, play the festival games, and go on a scavenger hunt. Younger kids can enjoy playing on the playground as well. There is also a mini pumpkin patch you can go pumpkin picking to get into the holiday spirit.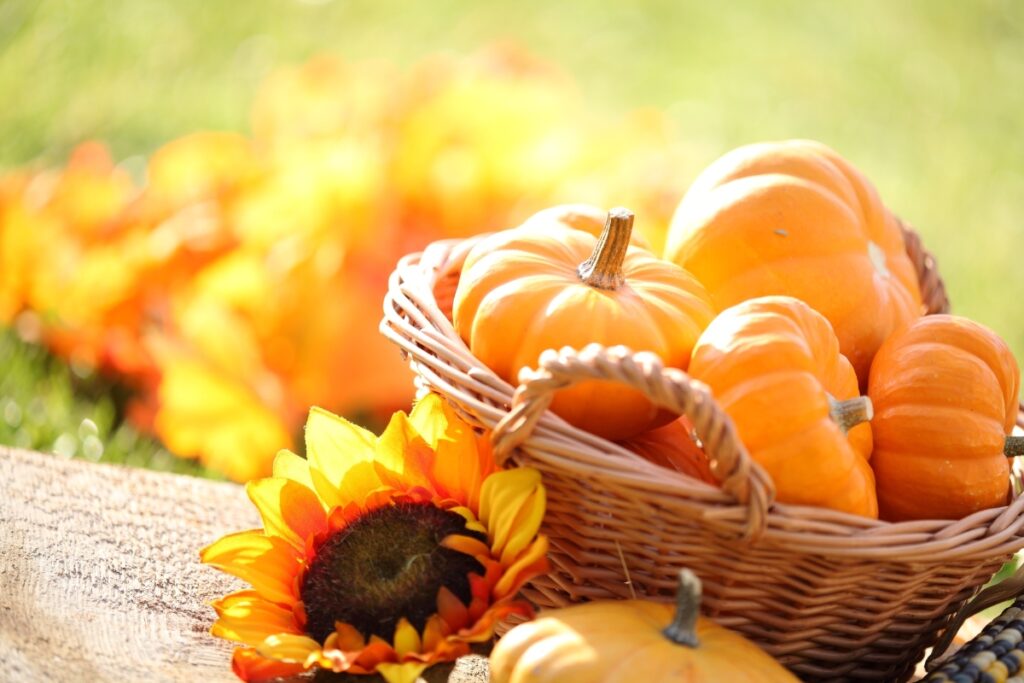 This Great Pumpkin Festival, put on by the Holy Nativity School, is for two days toward the end of October. Tickets are required, and there is a very limited capacity. The pumpkin festival is a fundraiser to help support the school and its students.
It is another one of the fun pumpkin patches in Hawaii with a fall festival to help support the local community!
Tips for Visiting Hawaii Pumpkin Farms
Because these farms are different from what you would normally expect, here are a few additional tips to get the best out of your experience:
Bring lots of water because it gets hot and tiring!
Put on sunscreen before you go; you don't want to get burned!
Bring a nice camera to capture awesome pictures of the beautiful landscape.
You might want to wear bug spray, too, so you don't get bit by bugs.
Bring a wagon if you plan to grab a couple of pumpkins or a really big one; you won't want to carry it for long!
Bring extra cash, as some things are cash only.
Hawaii During Fall FAQs
Is October a good time to go to Hawaii?
Absolutely! With most kids back in school, this is one of the least crowded times to visit Hawaii. You can also usually find great deals on hotels and airfare. Plus, the weather is less hot than summer, so it can be more pleasant for people who get overheated easily.
What is fall weather like in Hawaii?
Personally, I prefer the more moderate temperature of fall vs. the hot, muggy weather in summer. The temperatures are still in the upper 70s during the day, which is super pleasant. Nighttime can get down into the 60s, so it's a good idea to bring a light jacket or sweater if you are doing a luau or dining outside.
What should I pack for a Hawaii trip this fall?
Since Hawaii's temperature doesn't fluctuate too much throughout the year, you can pack mostly the same items year-round. However, there tends to be a bit more rain in the fall. So, it's helpful to have a light rain jacket and closed-toe shoes. It can also get a bit chilly at night, so a light sweater and a pair of pants are other good ideas.
Are there pumpkin patches in Hawaii?
On most islands, you will find some Hawaii pumpkin patches to enjoy. Many farms will grow pumpkins in Hawaii and many will let you pick them while others have them available for a fall harvest festival of some sort.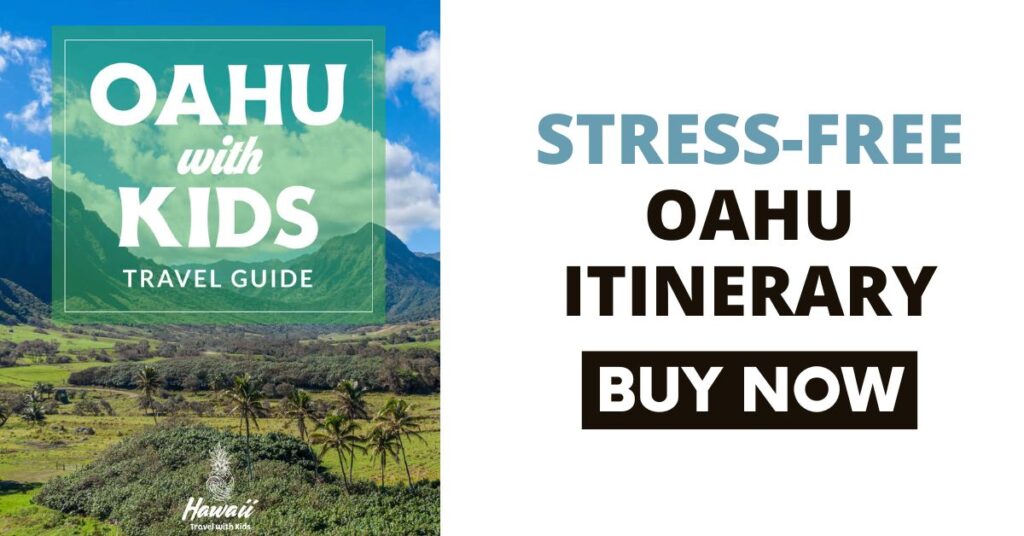 Oahu Pumpkin Patches Wrap-Up
We hope you've enjoyed this article and encourage that if you are visiting Oahu in October, be sure to visit a pumpkin patch on the island. These Oahu farms need all the support they can get!
Fall is a beautiful time to visit Oahu. Keep scrolling to check out some of our Hawaii Halloween content here on Hawaii Travel with Kids!