Did you know that Hawaii has the only royal palace in the United States? Scroll to learn about some of the best historical places in Hawaii that you should add to your Hawaii itinerary!
This post about historical places in Hawaii was written by Hawaii travel expert Marcie Cheung and contains affiliate links which means if you purchase something from one of my affiliate links, I may earn a small commission that goes back into maintaining this blog.
Hawaii may very well be the dreamiest location on Earth, with its vast rainforests, sandy beaches, and the most scrumptious seafood you've ever had in your life.
But Hawaii is more than a dreamy bucket list destination. The islands of Hawaii offer a unique cultural getaway with fascinating history the whole family can enjoy.
Sure, for many, Hawaii is all about turquoise waters, beautiful beaches, and outdoor activities, but there's so much more than that.
Scattered across the islands, you'll find historic landmarks, sites, museums, and nature preserves.
From Iolani Palace and the Kona Coffee Living History Farm to Bernice Pauahi Bishop Museum, here are my favorite historical landmarks in Hawaii to visit with the whole family.
These are especially great if you are worldschooling your kids during your trip to Hawaii!
Find out 50 fun facts about Hawaii for kids!
Want to skip all the planning and just access my detailed Hawaii Itineraries complete with daily schedules, kid-friendly activities, and travel hacks? Click the button below.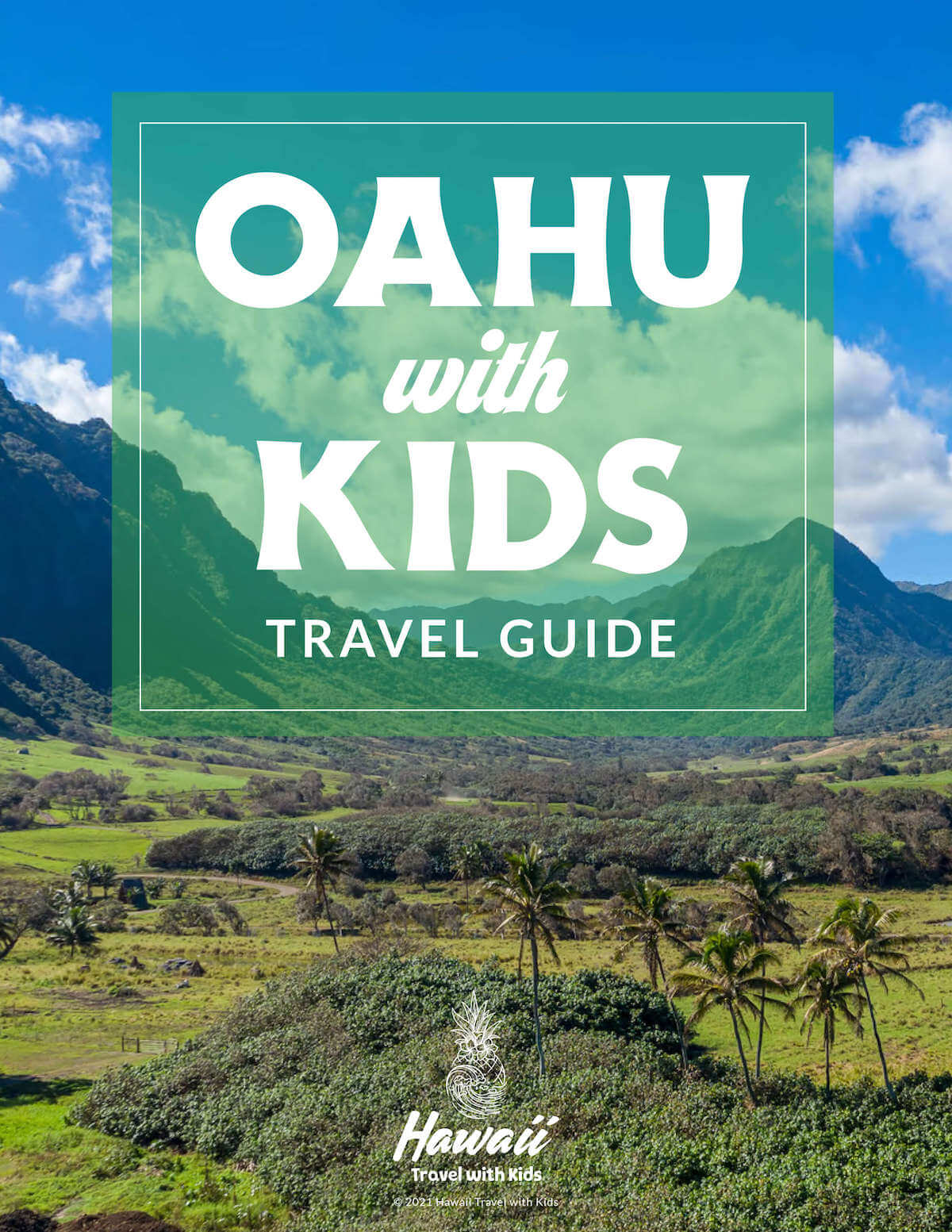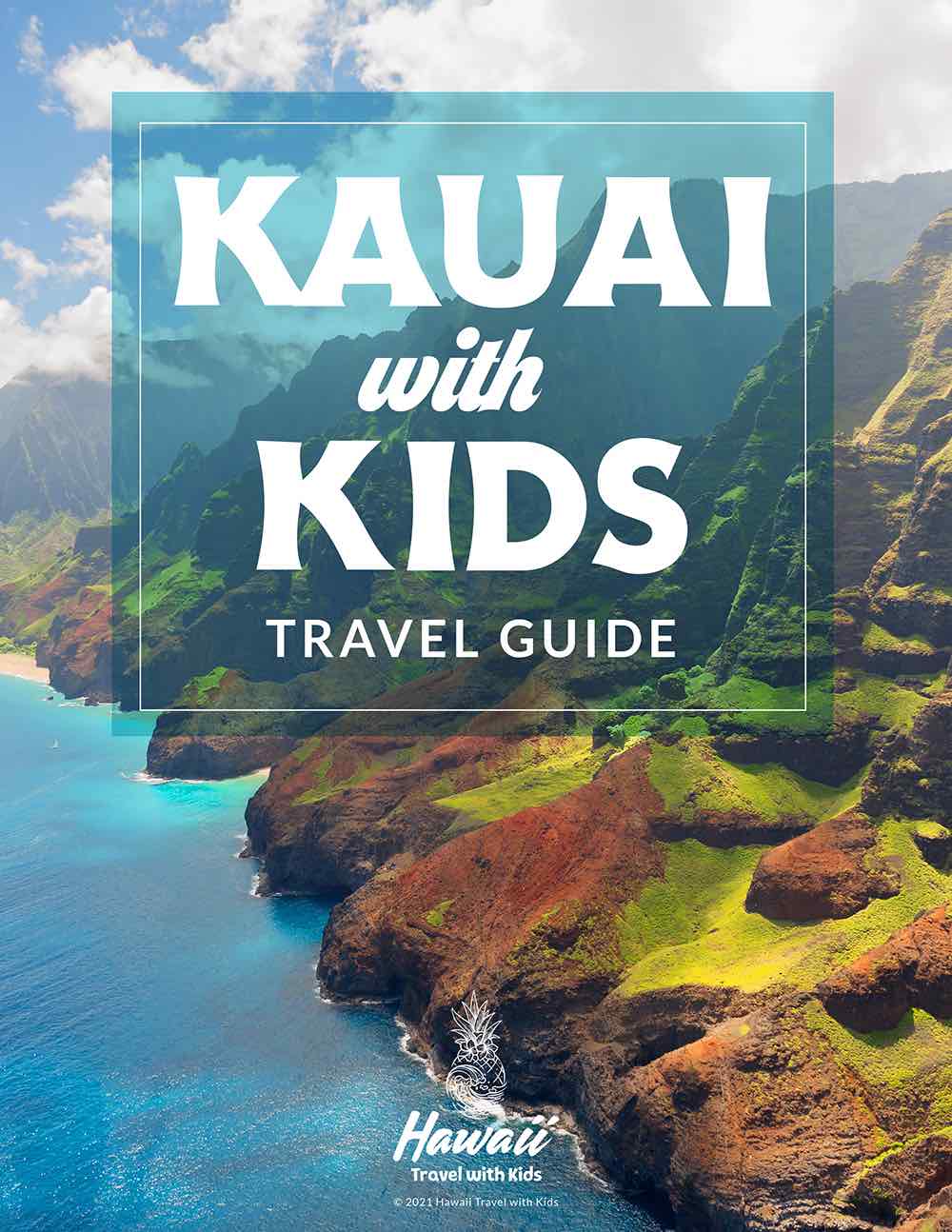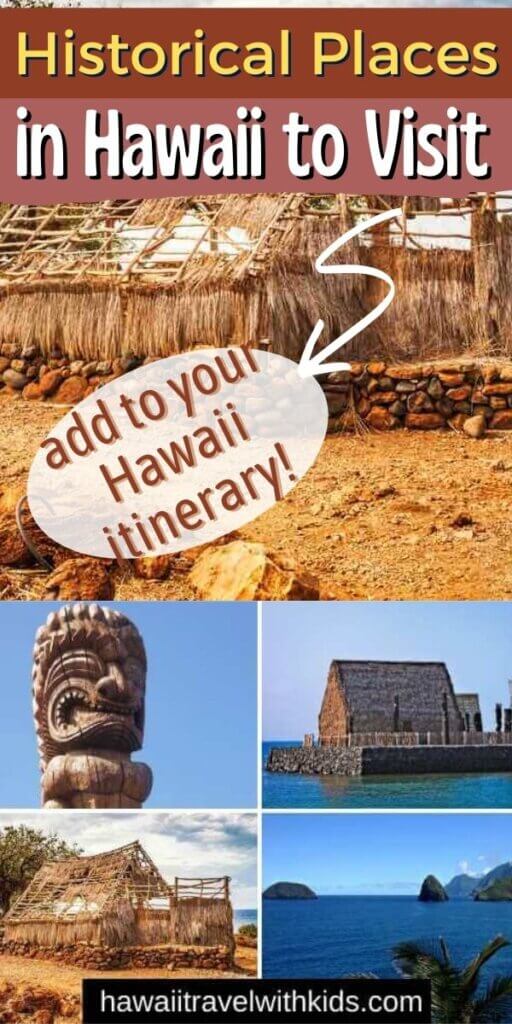 17 Incredible Historical Places in Hawaii
If you want to learn more about Hawaiian history during your vacation, these are some of the coolest historical places in Hawaii worth checking out!
The Hawaiian Islands wouldn't even exist if it weren't for volcanic activity. If you want to see what hot lava and active volcanoes look like in real life then head on over to Hawaii Volcanoes National Park on Hawaii Island, also known as the Big Island.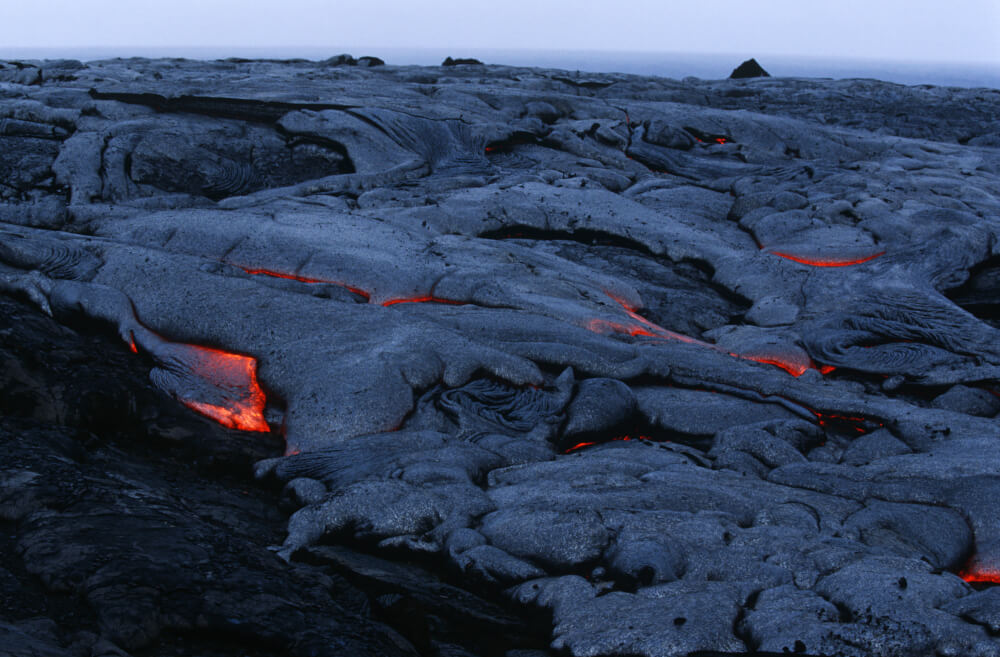 While you're there, you and the kids will get to hike through jaw-dropping lava fields, explore lava tubes, and watch in amazement as steam rises from the volcanic vents. You can even watch the magma boiling within the Halema'uma'u Crater.
And then visit the Jaggar Museum, where you can learn all about how this national park was formed and how it became one of the most famous Hawaii landmarks.
But here's a spoiler alert! Since 1983, over 500 acres of new land mass was created by an active shield volcano called Kilauea. In fact, the island continues to grow thanks to the spewing of lava.
So, spend the day exploring the park, and make sure to stick around at night to see the flaming hot glowing lava put on a spectacular show.
You can also take the family on a boat or helicopter tour that will get you close enough to the volcanic action while maintaining a safe distance. Check out the latest prices and more details.
Read my detailed guide to Hawaii Volcanoes National Park
An important part of Hawaii life is experiencing a luau (a celebration of music, food, and culture) along with friends and family.
So make sure to check out the Polynesian Cultural Center (PCC) on the North Shore in Laie, Hawaii to celebrate and learn more about the beautiful Hawaiian culture.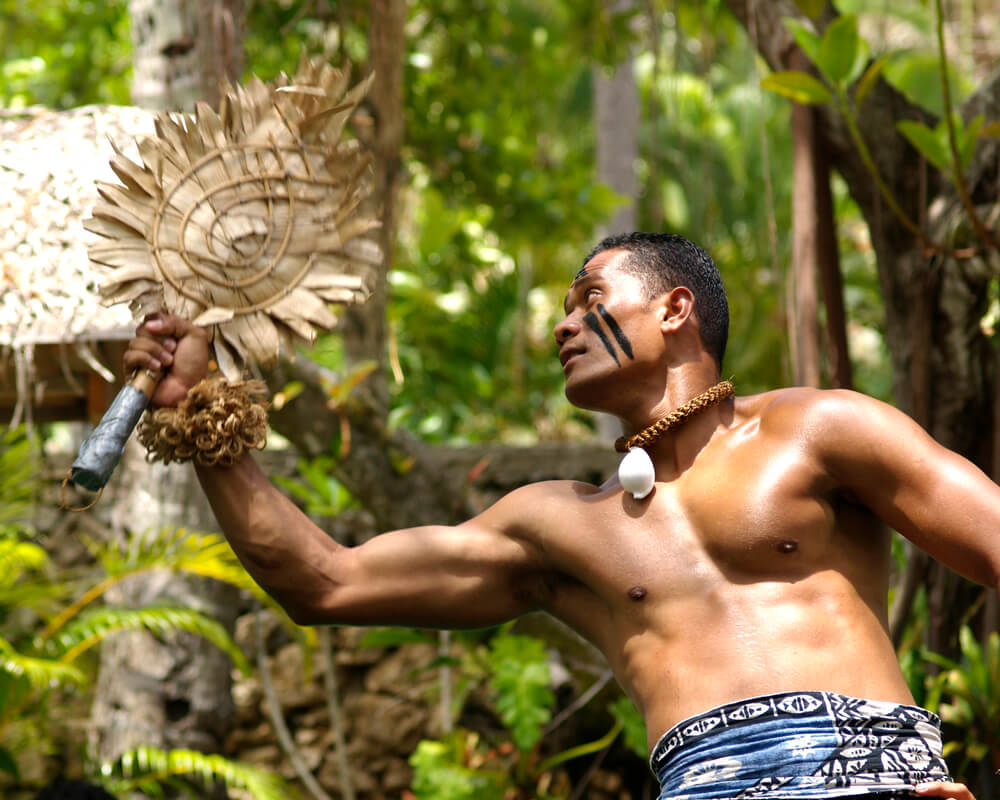 The PCC is a living museum and Polynesian theme park where you can spend the whole day exploring the rich heritage of the Pacific Islands and one of the best Oahu historical sites to visit.
Among their 42 acres of land, you'll find authentic villages where you'll get to mingle with the natives while enjoying majestic views. Actors will teach you and the kids all about the cultures in each village.
And in addition to experiencing a fire and dance performance, you'll also learn how to play the ukulele. Check out the latest prices and more details.
But that's not all! The star of the show is their authentic Polynesian luau feast, where you'll get to enjoy a vast array of delicious island food.
Luaus are the perfect introduction to Hawaiian culture. A luau is a traditional Hawaiian feast that includes tasty dishes like purple taro rolls, lomi lomi salmon, baked Mahi Mahi, guava cake, beef or chicken teriyaki, and kalua pork, and it is often accompanied by entertainment.
In most cases, a luau is used to celebrate a child's first birthday, a high school graduation, a wedding, or any special milestones.
Book discounted Polynesian Cultural Center tickets
Hana has successfully fought over development and preserved their Hawaiian culture. If you drive to Hana in Maui County, you'll see why people refer to it as The Land That Time Forgot.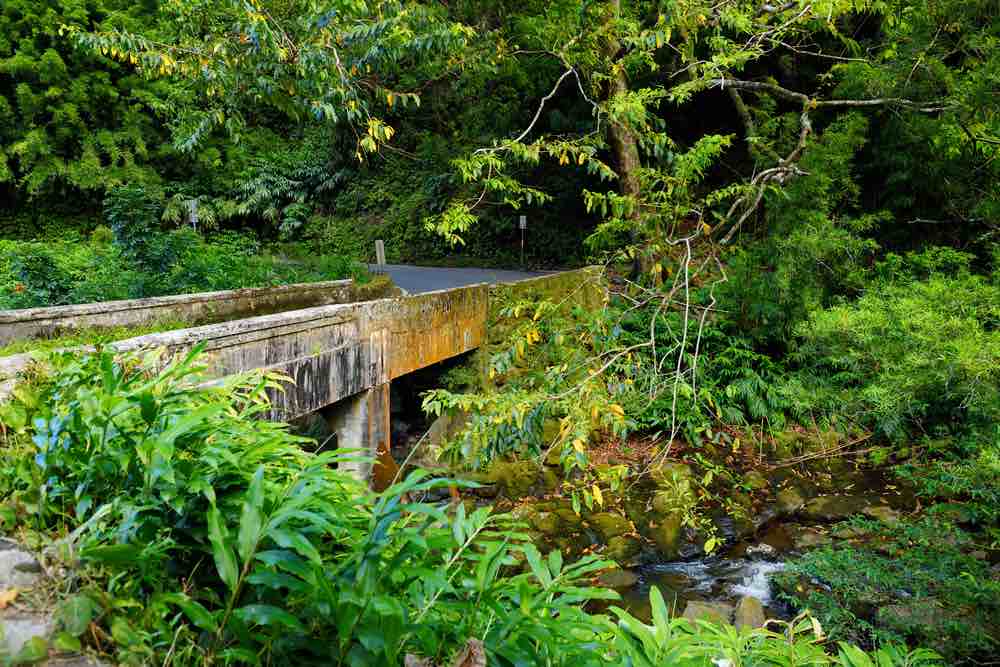 Rent a car or join a van tour to experience a 65-mile-long stretch that leads to the small town of Hana. Along the highway, you'll get to see lush rainforests, breathtaking beaches, and waterfalls.
But remember that it's not about reaching Hana. It's about the journey. So, take a moment to stop by the cultural sites along the way which were once used as battlegrounds or, in some cases, as places of worship, like an ancient Hawaiian temple.
The Hana Highway also offers a series of hiking trails that lead to natural pools and various vistas. And you'll even find a couple of stalls where you can buy coconuts, tasty treats, and freshly made leis along the way.
Throughout the trip, you will see many famous landmarks in Hawaii that are worth visiting, so be sure to allow plenty of time for your Road to Hana trip to capture as many Maui historical sites as possible.
Read my top Road to Hana tips
Visit the largest collection of Hawaiian culture and heritage artifacts at the Bishop Museum in Honolulu. Check out the latest prices and more details.
It was founded back in 1889 by Charles Reed Bishop to honor his late wife, Princess Bernice Pauahi Bishop, the last descendant of the royal Kamehameha dynasty. The museum is over 125 years old and contains over 24 million cultural and historical artifacts. It truly is one of the best Honolulu historical sites you'll find.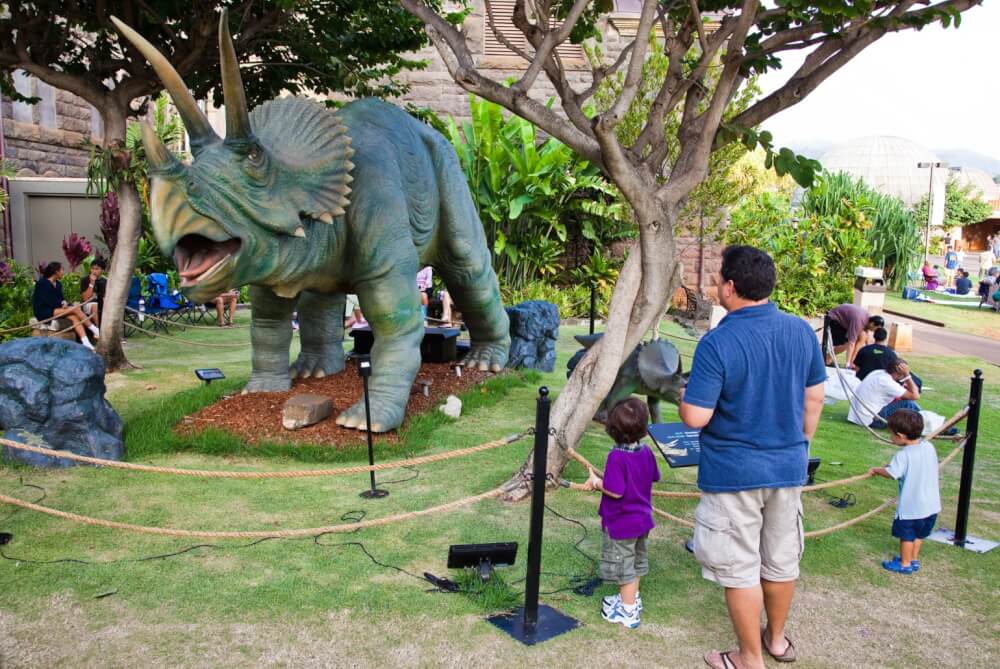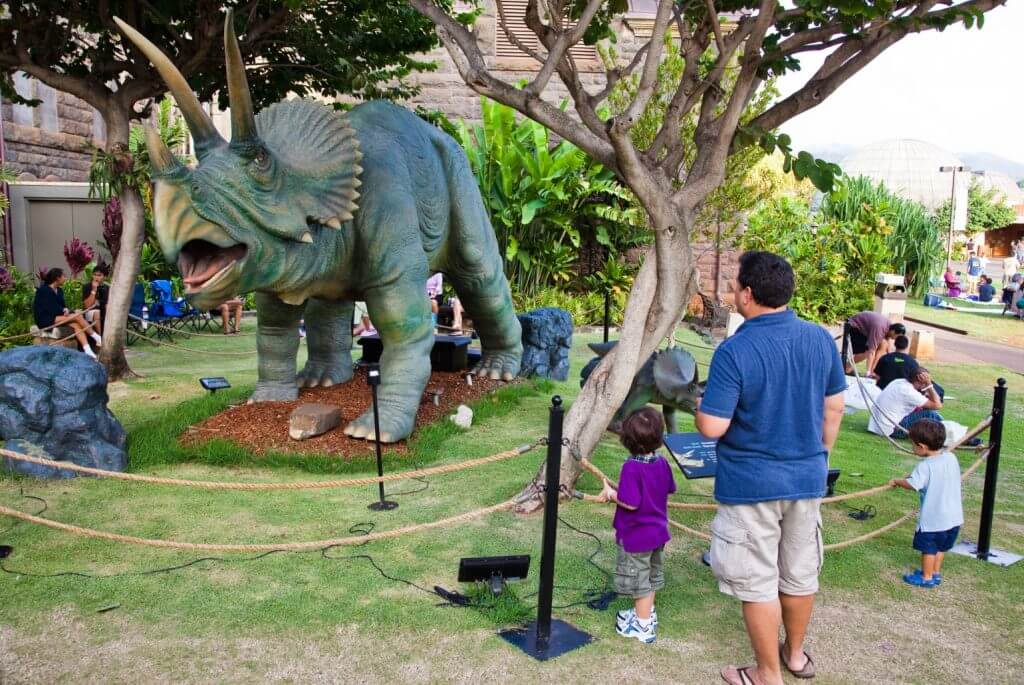 The museum offers daily tours as well as activities that will undoubtedly entertain the wannabe archaeologist in you. It's perfect for children ages 5 and up. Read our full guide to the Bishop Museum HERE.
So, prepare to embrace the history of Hawaii by exploring the botany, archaeology, zoology, and library areas, or take a cultural tour, watch a show, and listen to some of the island's ancient stories.
Buy discounted Bishop Museum tickets
In 1882, King Kalakaua built the Iolani Palace in Honolulu, Hawaii. And for years, the property was the second palace commissioned to be the official residence of the monarchy. It was home to the island's last reigning monarchs.
But today, it's considered a National Historic Landmark and one of Hawaii's most valued cultural sites. It's hands-down the most popular historical place in Hawaii and one of the best Honolulu landmarks you'll want to explore.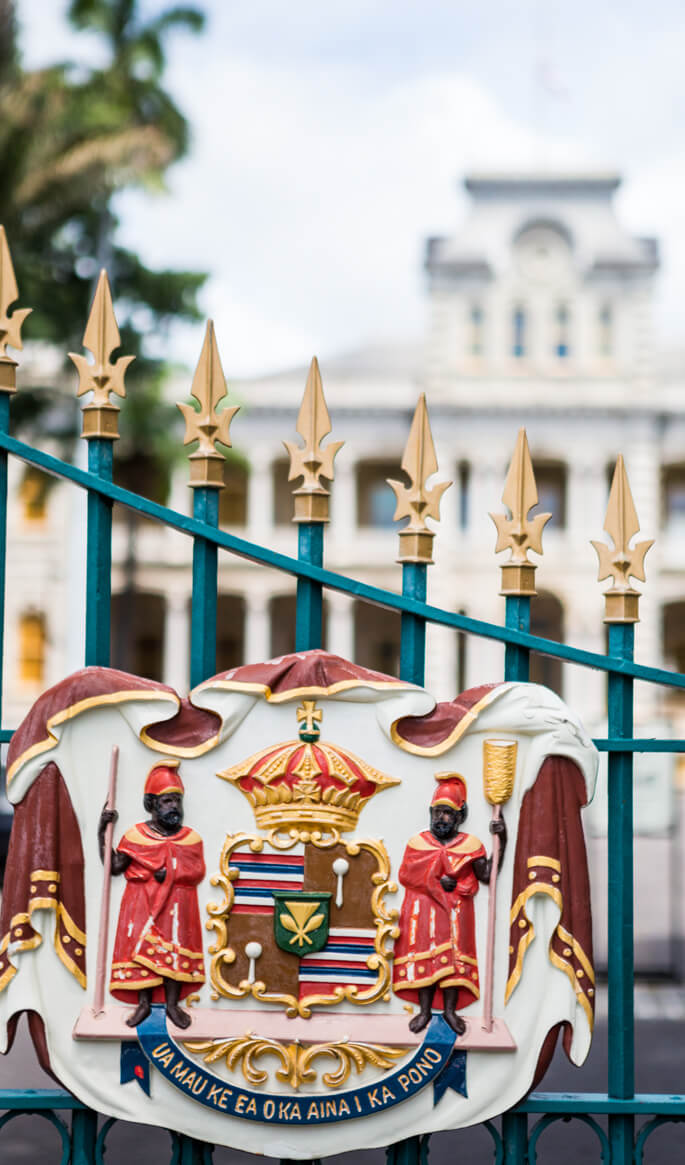 The palace is located outside the gold and black statue of King Kamehameha in downtown Honolulu. Once you go in, you'll get to explore the 10-room house, which includes the king's bedrooms, the music room, the imprisonment room, the kitchen area, and more.
You'll also have access to the basement galleries on the first and second floors, and there's even a gift shop on this Hawaii historical site.
Before you go, I highly recommend that you read Hawaii's Story by Hawaii's Queen, which was written by Queen Liliuokalani. It will give you a better picture of how the monarchy fell and how Hawaiian people were treated.
Also, be sure to check their schedule of events, as there are often cultural activities and performances. Read my full guide to Iolani Palace on Oahu.
You can't talk about World War II without focusing on Pearl Harbor, one of the most famous landmarks of Hawaii. The Japanese launched a surprise attack on Pearl Harbor on the morning of December 7, 1941. It killed 2,403 people and wounded 1,178 others.
This attack is what caused the United States to enter the war and has incredible national significance.
One of the most famous places to visit at Pearl Harbor is the USS Arizona Memorial. You can access this by boat, and there is a really moving presentation.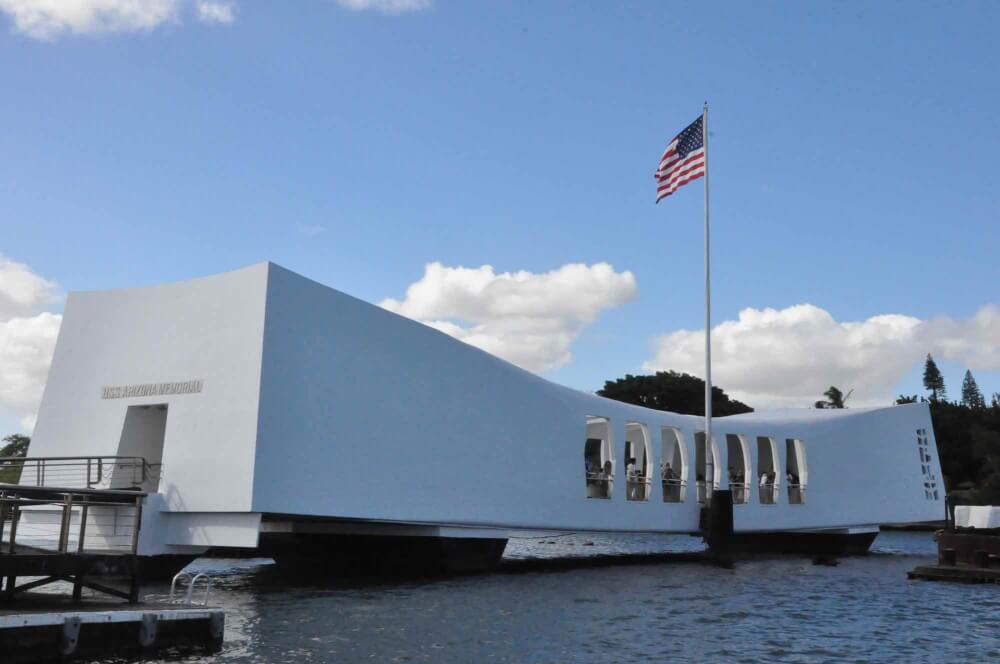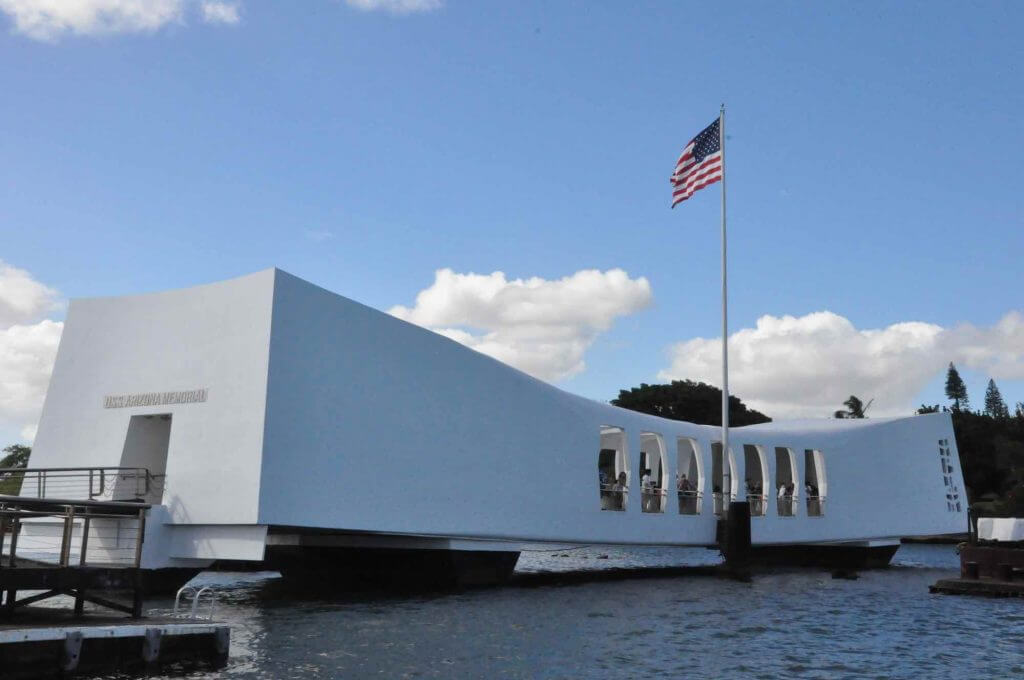 And in 1945, the USS Battleship Missouri was where Japan signed its unconditional surrender and peace treaty that ended World War II.
While the signing didn't happen in Hawaii, the USS Battleship Missouri is part of the Pearl Harbor memorial complex, and your family can hop on board and take a tour led by a historian.
It's also the home of the Pearl Harbor Aviation Museum, where you can see authentic World War II aircraft and learn the stories of how the war affected people in Hawaii. You can also explore the visitor center for free!
You can even see the bullet holes in the windows from the attack on Pearl Harbor. Plus, they have docents who can answer all your questions about Pearl Harbor. It's a fascinating museum and one of the many Hawaii national monuments definitely worth exploring!
Book your discounted all-day Pearl Harbor tour, or book a private Pearl Harbor tour.
Another one of the many Hawaii historical places, Ni'ihau is known as Hawaii's forbidden island, and there's a reason for that. This Hawaiian island has been inhabited by natives and the Robinson family's descendants.
The island is home to about 130 Hawaiian natives who speak traditional Hawaiian and practice the crafting of lei pūpū. No cars, police, stores, restaurants, or any other form of modern foundation are allowed here. Ni'ihau relies solely on solar power, too.
Besides the Robinson family descendants, only invited guests, government officials, and US Navy personnel are allowed on the island.
But don't worry. You and the family can still visit on a helicopter tour where you'll get a bird's eye view account of a side of Hawaii that remains untouched by the modern world. Or join this fun Ni'ihau boat tour.
If you want to learn more about European exploration in Hawaii, you have to head to Kealakekua Bay State Historical Park on the Big Island.
This is where Captain James Cook first arrived in 1779, making it the first extensive contact between Westerners and Hawaiians.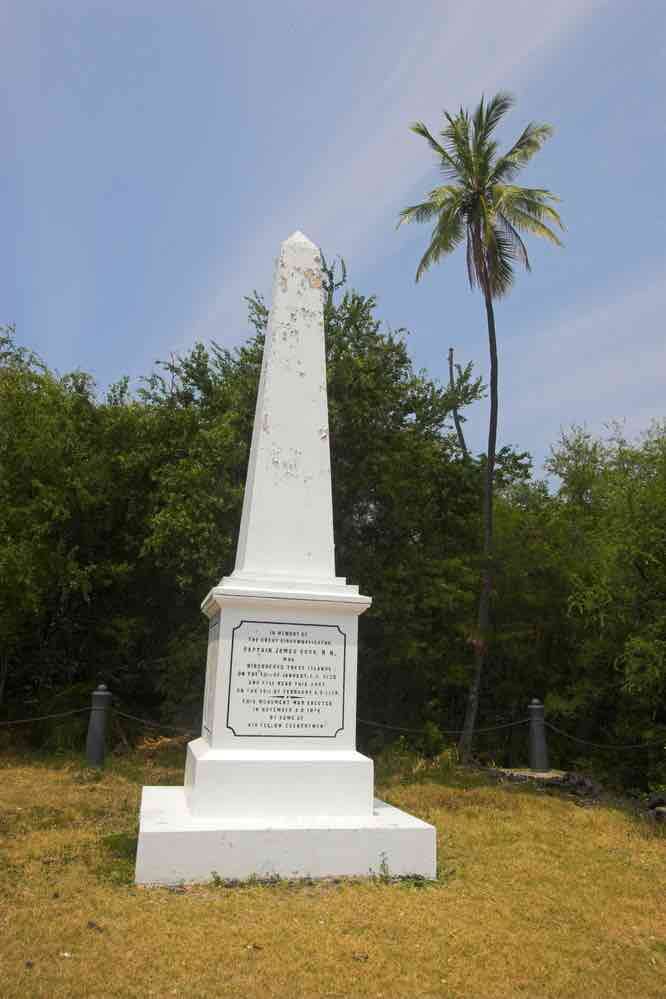 When Captain Cook came to Hawaii, he named it the "Sandwich Islands" in honor of the Earl of Sandwich.
Kealakekua Bay is also where Captain Cook was killed (just one year after he arrived) after a botched attempt to kidnap King Kalaniopuu (King of the Big Island.)
While you are there, take a look at Hikiau Heiau, a traditional religious site.
But, before you go to this famous landmark in Hawaii, I highly recommend you listen to Sarah Vowell's audiobook Unfamiliar Fishes to get a better backstory of European settlements and the first missionaries in Hawaii. She's hilarious, and it really brings history to life.
The Hanauma Bay Nature Preserve in Honolulu was formed inside the crater of a volcano on the island of Oahu and is another one of the many Hawaii historical sites you'll want to explore.
It's a perfect site for all marine wildlife enthusiasts because you get to see what Hawaii has to offer on land and under the sea.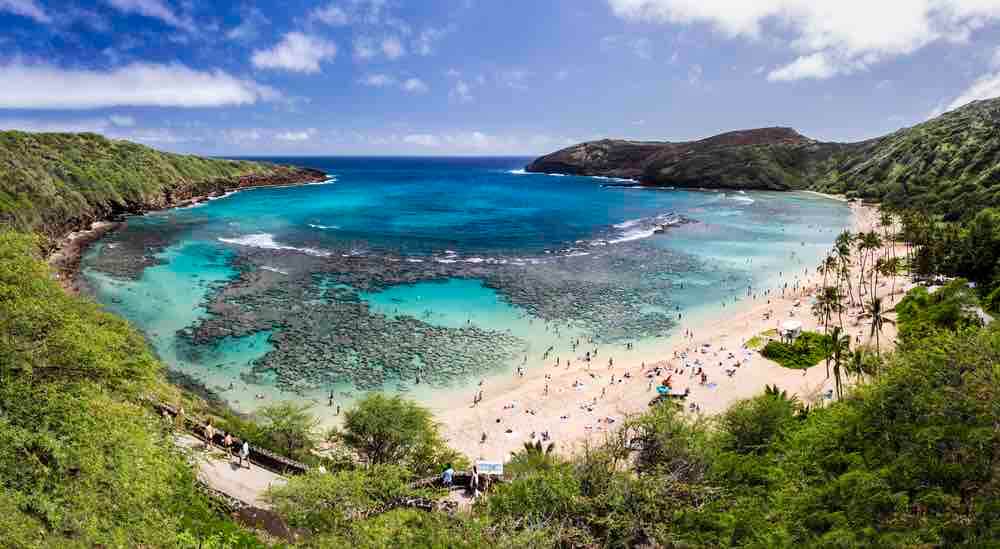 So, you can relax above water next to a palm tree, or you can strap on some snorkeling gear and take a closer look at the coral and the fish in the area.
Visitors will get some inside information at the Hanauma Bay Education Center about the various sea life and how to best go about conserving the island's natural wonders.
Kids will also learn about how pollution and damage have upset the balance of the reef's ecosystem and how restoration efforts have helped the bay to regenerate again.
This is another one of the Hawaii famous landmarks you will definitely want to visit.
And if you forgot to bring your snorkeling gear, then you're in luck. There are a couple of snorkeling rental stores nearby that provide lessons for you and the family. Check out the latest prices and more details.
Book discounted Hanauma Bay Snorkeling Lessons
Another famous historical place in Hawaii is Hanaiakamalama, more commonly known as Queen Emma Summer Palace.
This was where Queen Emma of Hawaii (wife of King Kamehameha IV, Hanaiakamalama) spent her summers from 1857-1885.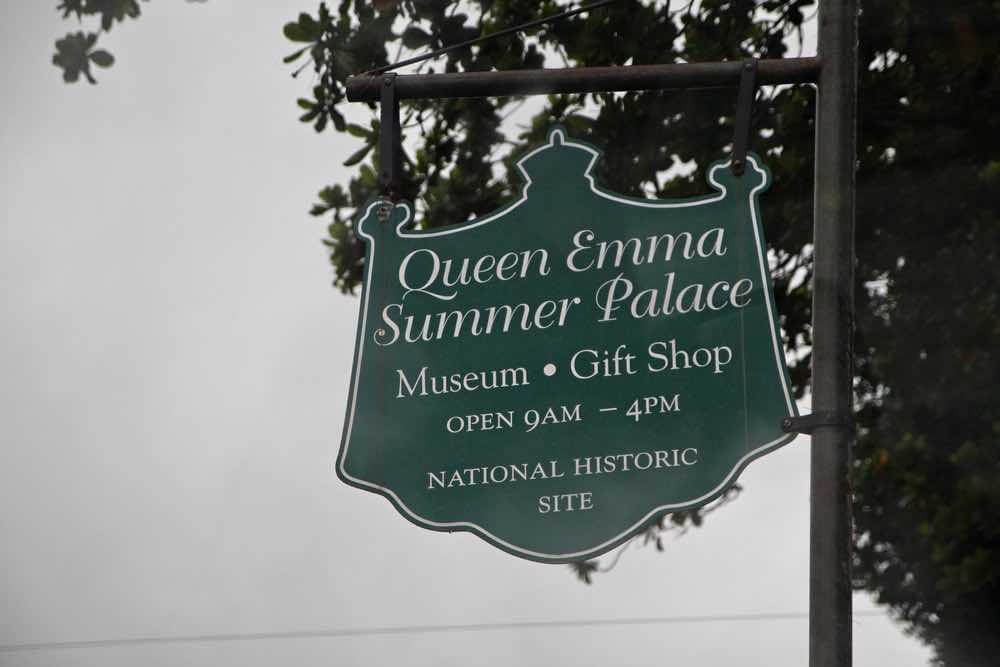 Today, it's a national landmark with a museum where you can learn more about Queen Emma and Hawaiian royalty.
The museum has lots of Queen Emma's personal belongings, furniture, and royal artifacts. And the grounds are simply stunning to walk around.
Be sure to join a guided tour led by a Hawaiian historian to get all your questions answered.
The Big Island has some of the top historical places in Hawaii that are preserved well enough for tourists to visit and learn about Hawaiian history and culture.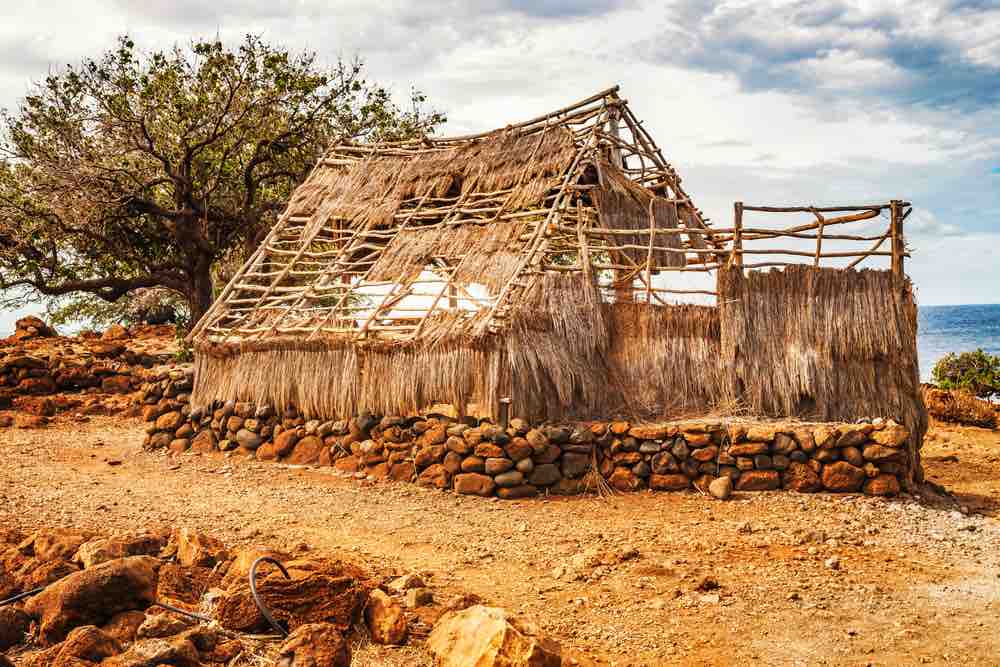 The ancient Hawaiians built temples for their gods using stones and mud. These are called heiau, and you'll find them all across Hawaii as sacred Hawaiian historical places.
King Kamehameha built the Puukohala Heiau as a tribute to the war god Kukailimoku. He hoped it would help him in his mission to conquer all of the Hawaiian islands.
It was in the 1700s, and Hawaii was in the middle of a bloody civil war between the Hawaiian islands.
It seemed to have done the trick, as he's famous for unifying the Hawaiian Kingdom soon after the heiau was completed.
If your family is interested in the history and traditions of coffee farming, then make sure to visit the Kona Coffee Living History Farm in Captain Cook, Hawaii.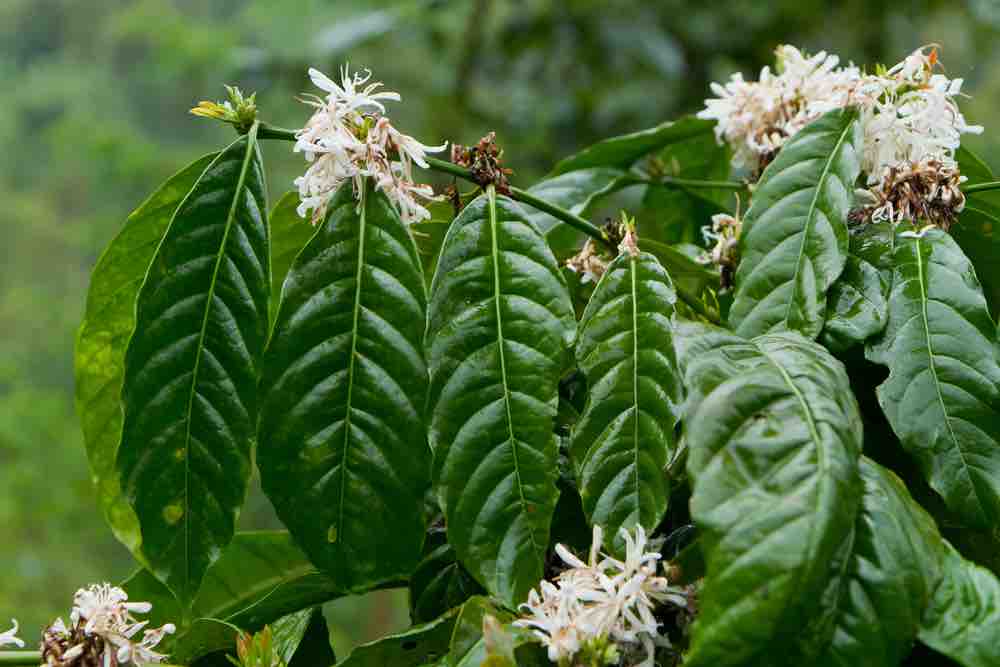 It's the only place of its kind in the country that's dedicated to the history of coffee farming and is truly one of the awesome Hawaii historical landmarks.
As a guest, you and your family will get to meet costumed interpreters that go about their daily tasks, which include farming chores like milling and drying coffee by using a kuriba, which is a mill, and a hoshidana, (a drying platform.)
You'll also be able to explore the 1920s coffee-producing plantation, tour the modern Kona coffee products, take a plantation tour at Hula Daddy, or visit a roasting facility tour at Mountain Thunder Plantation. Check out the best Kona coffee farms and tours available.
The Na Pali Coast State Wilderness Park is on the wild side of the island of Kauai, which only has access to certain beaches by foot or by boat and is one of the many hidden gems to explore.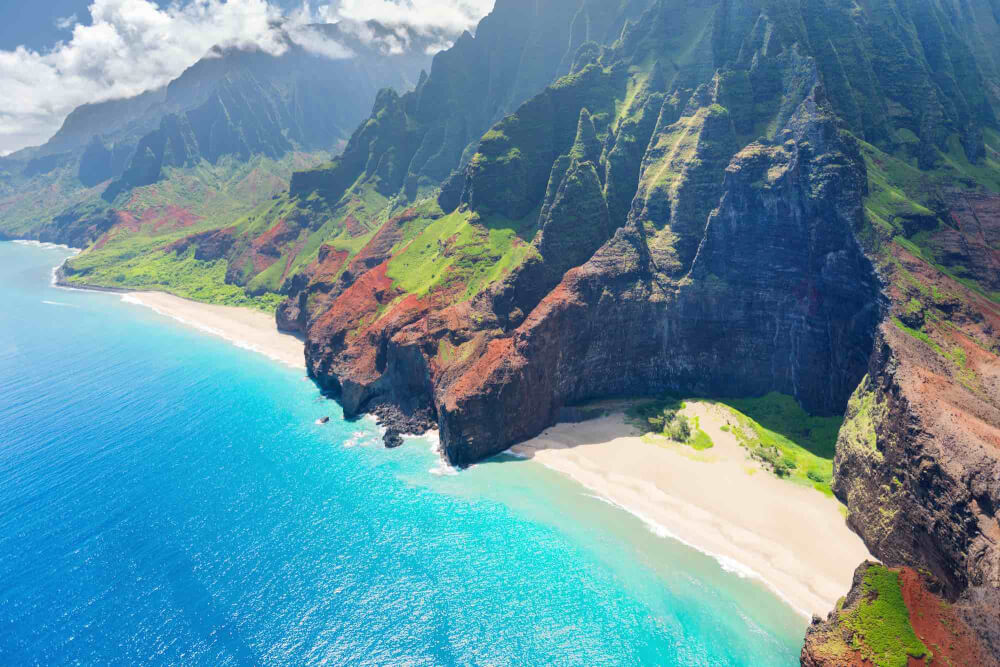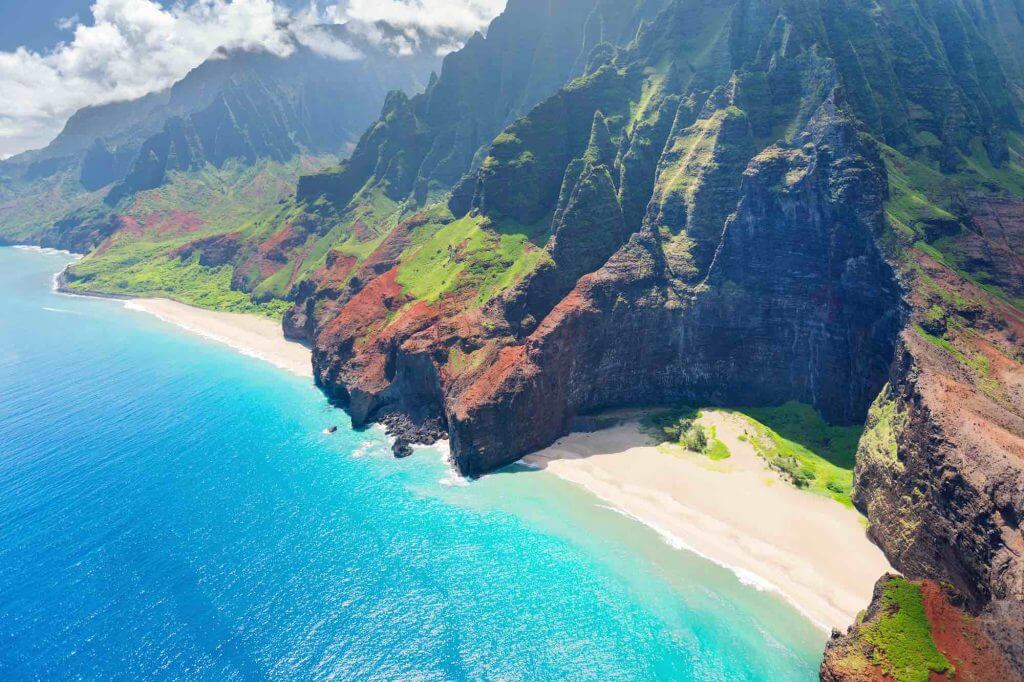 The coastline, rivers, waterfalls, rugged cliffs, and forest make this one of the most beautiful parks and Hawaiian landmarks to visit. And if you notice something familiar about the island, it's because the coastline with cliffs was used in the film "Jurassic Park."
You'll also find hundreds of waterfalls weeping from the mountain slopes of Mount Waialeale in the area appropriately nicknamed the "Wall of Tears."
But one of the best ways to take a look at the scenery with your family is to either go on a helicopter tour or go on a hike through the Kalalau Trail, which crosses five valleys. But fair warning—it takes a full day to cross this area one way.
An often forgotten Hawaii historic site for people outside of Hawaii is Kalaupapa National Historic Park on Molokai.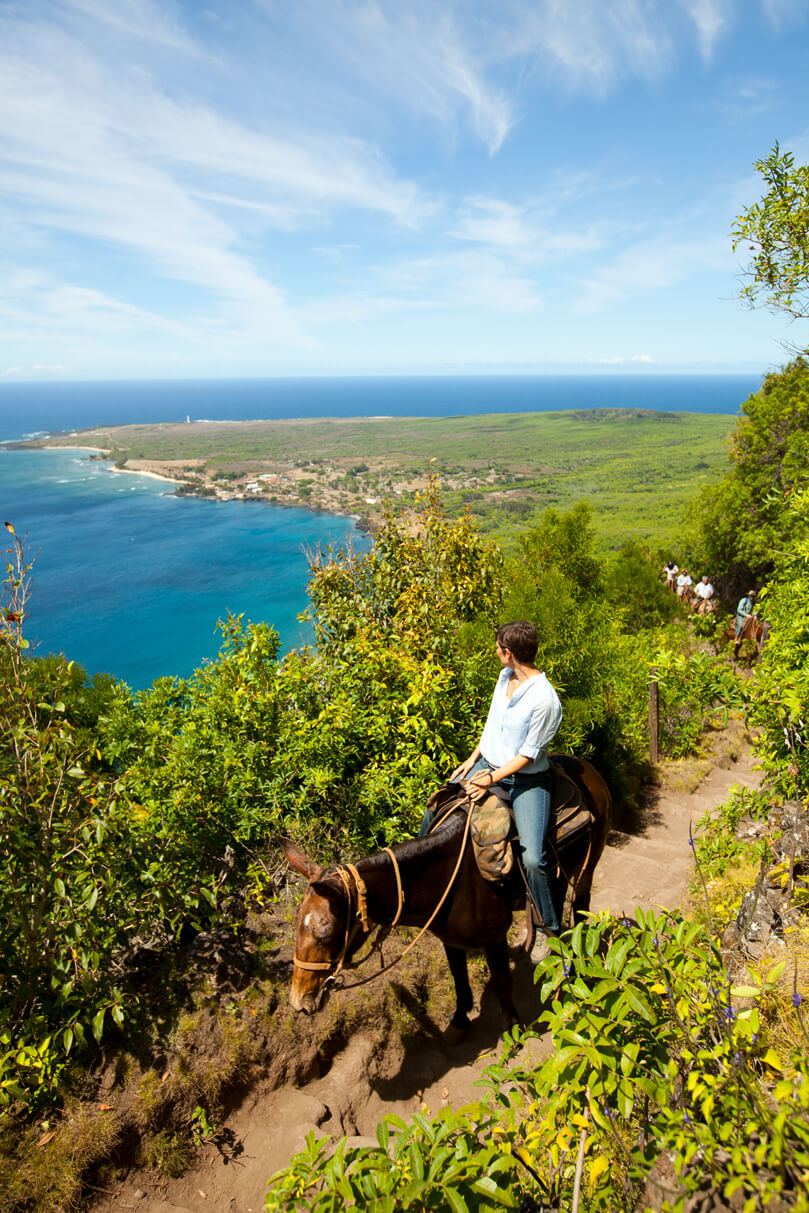 This Hawaii National Park is located in a remote area that used to be a fishing village. But that's not why it's famous.
During the 1800s, it became a leprosy colony for people who suffered from Hansen's Disease. Anyone with symptoms was exiled to Kalaupapa, where they remained for the rest of their lives.
Its location has the ocean on one side and enormous 1,600-foot cliffs on the other side. Poet Robert Louis Stevenson described it as a "prison fortified by nature."
In addition to the headstones in the cemetery, there are about 2,000 unmarked graves of people who died from this disease.
Today, Kalaupapa is open to visitors who want to learn more about this time in Hawaii's history. There are still people who live in this preserved settlement, and the only way to get there is by taking a guided mule tour for 2.9 miles down the world's tallest sea cliffs.
Before you go, I suggest you read the book Moloka'i. While it's historical fiction, the situations are based on real experiences and will take you on the emotional journey of a young girl who is sent there to live out her entire life.
It's really easy to plan a Maui to Moloka'i day trip to explore this fascinating island.
Another cool thing to do in Kona is to check out Kaloko-Honokohau National Park. This is the site of an ancient Hawaiian settlement and features heiaus, petroglyphs, fishponds, and house site platforms.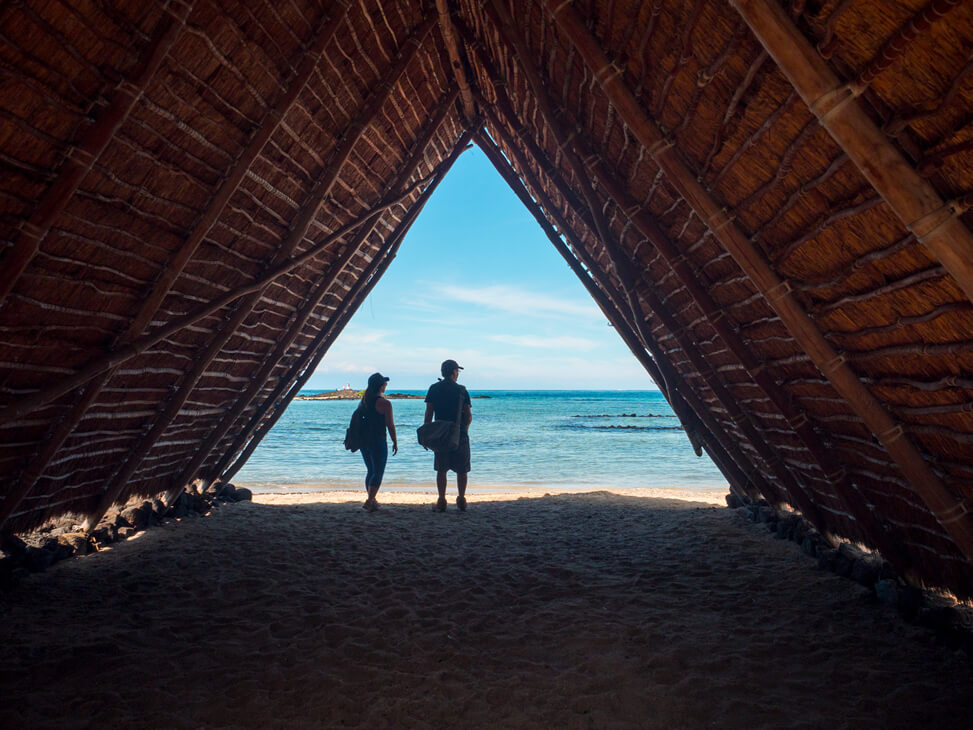 Your family will be able to walk through ancient Hawaiian homes. This is a good place to read your kids some Hawaiian myths or talk about ancient Hawaiian life.
While you are there, explore the 'Ai'opio Fishtrap. It's a pond with a stone wall that was built so young fish could enter from the sea when the tide was high, and then they'd be trapped as soon as the tide went out.
It's a great place to teach kids about Hawaiian fishing.
Another amazing historical place in Hawaii that's great for kids is Nu'uanu Pali Lookout on Oahu. It's one of the windiest places I've ever been and it's sure to be a memorable stop on a drive around Oahu.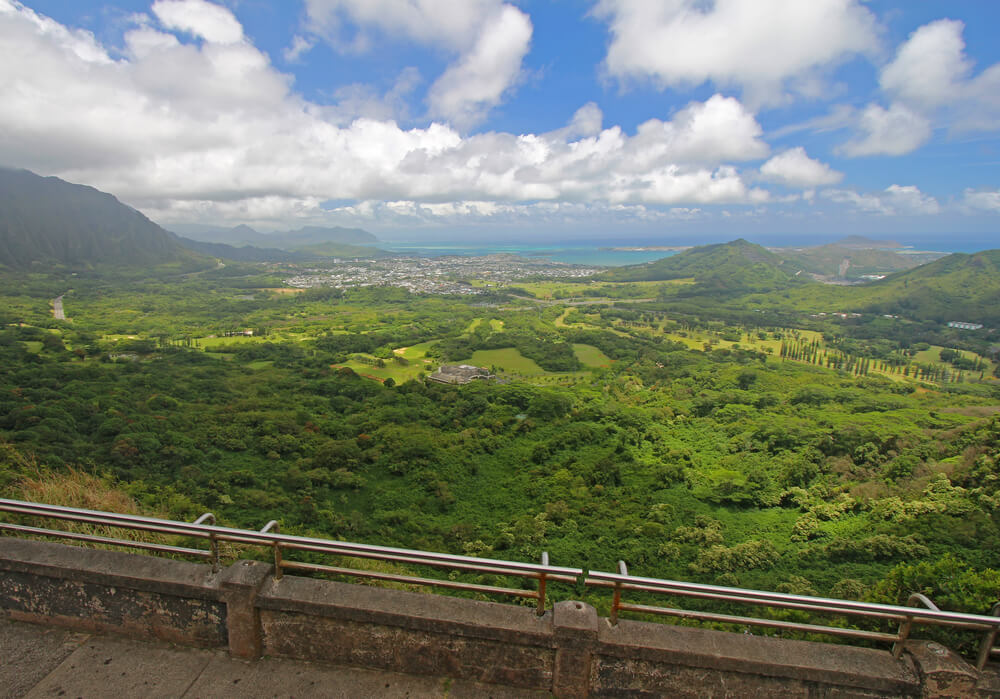 But, it's got an incredible story behind it.
As I mentioned before, Hawaii experienced a civil war in the late 1700s, and King Kamehameha was trying to conquer each island to create a unified Hawaiian kingdom.
Nuuanu Pali was the site of a pivotal battle that made that unification possible.
In 1795, King Kamehameha had already gained control of the Hawaiian islands to the East. So, his army of thousands of Hawaiian soldiers invaded Oahu.
The Battle of Nuuanu was a historic event where 800 warriors plummeted to their death off a 1,000-foot cliff. You can read all about it on the plaque located at this scenic viewpoint.
It is another one of the best historical sites in Honolulu Hawaii to see during your trip.
As I've mentioned before heiaus are some of the coolest historical places in Hawaii. They are on each Hawaiian island, but I suggest you check out the ones in Wailua on Kauai.
Here, there's an archeological site with four different heiaus or religious sites: Hikinaakala, Holoholoku, Malae, and Poliahu.
Hikinaakala Heiau was where Hawaiian celebrated sunrise with chants and prayers. You can sometimes still see some of the ancient petroglyphs on the boulders in the water near here.
Holoholoku Heiau is the oldest heiau or ancient temple on Kauai. Near here is the royal birthing stone where members of the royal family would go to deliver their babies.
Poliahu Heiau has a great view of Wailua Bay and the Wailua River Valley. Legend says it was built by the menehune, the mythical "little people" of Hawaii. There's also the Wailua Bellstone that was used to announce important events in ancient Hawaii.
Malae Heiau is the largest heiau on Kauai. This was also believed to be created by the menehune and could have been built before the 1200s.
Hawaii Historic Places FAQs
What historical events happened in Hawaii?
Hawaii has a very rich history that dates back centuries. A few recognizable events include Captain Cook arriving in Hawaii and being killed in 1779, King Kamehameha uniting all the islands under his rule in 1809, missionaries from New England arriving in 1820, the first sugar cane plantations opening in 1835, Hawaii's last king (King David Kalakaua) dying in 1891, Hawaii becoming a U.S. territory in 1898 after overthrowing Hawaii's last queen (Queen Liliuokalani), Hawaii starts developing pineapple plantations in 1900, Japan bombs Pearl Harbor in 1941 causing the U.S. to fight in WWII, Hawaii becoming a state in 1959, and learning about Hawaiian culture and history starts getting popular in the 1970s.
How many landmarks are in Hawaii?
There are 33 National Historic Landmarks in Hawaii. Many of them are related to WWII, but others are ancient Hawaiian sites, churches, and more. There are plenty of places that are important to Hawaiian history and culture that are not listed as a National Historic Landmark. See how many of these national monuments in Hawaii you can visit during your trip!
Does Hawaii have a flag?
Absolutely! Just like every state in the U.S., Hawaii has a state flag. This flag looks a lot like the British Flag, but it has 8 stripes to represent Hawaii's 8 largest islands. You'll see this flag all over Hawaii.
Which Hawaiian island has the most history?
Each of the Hawaiian islands is filled with history. Kauai is the oldest island, and you will find many famous Hawaiian landmarks there. Even though the Big Island is the youngest, there are so many incredible Big Island historical sites to see!
Are there any ancient ruins in Hawaii?
Many of the historical sites in Hawaii are ancient ruins. From The Kaniakapupu Ruins to the many heiau or sacred temples, you will find some pretty cool ruins worth seeing on all the islands.
Loving these historical places in Hawaii and looking for more Hawaii Travel Resources? Find out the best things to do on Oahu, Kauai, Maui, and the Big Island!
P.S. Join our Hawaii Travel with Kids Facebook group to get connected with other families planning a trip to Hawaii!