Are you planning a trip to Kauai and want to know the best places to eat? Keep scrolling to find out the best Kauai food trucks totally worth checking out!
This Kauai food trucks post contains affiliate links which means if you purchase something from one of my affiliate links, I may earn a small commission that goes back into maintaining this blog.
If you're looking for a food truck heaven, Kauai is your go-to place.
While the island is famous for its mountains, beaches, and beautiful waterfalls, the island has also become quite a food paradise.
With over 50 food trucks around the island, a Kauai food trip should definitely be on your list!
Let's take a look at some of the best food trucks on Kauai and find out what to order!
Want to skip all the planning and just access my detailed Kauai Itinerary complete with daily schedules, kid-friendly activities, and travel hacks? Click the button below.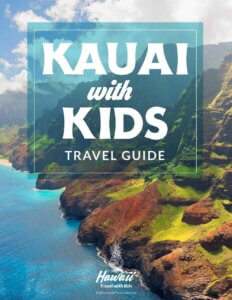 Kauai Food Trucks FAQs
What do locals eat in Hawaii?
One of the most popular things to order in Hawaii is Plate Lunch. This is a meat entree (like kalbi ribs, lau lau, mochiko chicken, etc) with a scoop of rice and a scoop of macaroni salad.
How expensive is food in Kauai?
Because most food is shipped to Hawaii, food costs can be quite high. If you plan on eating out at restaurants for every meal, you should budget anywhere from $40-$50 per person per day.
How can I eat cheap in Hawaii?
Hit up the local grocery store for snacks, drinks, and easy breakfast items. Then, plan on trying out Hawaii food trucks for tasty meals that are cheaper than brick-and-mortar restaurants.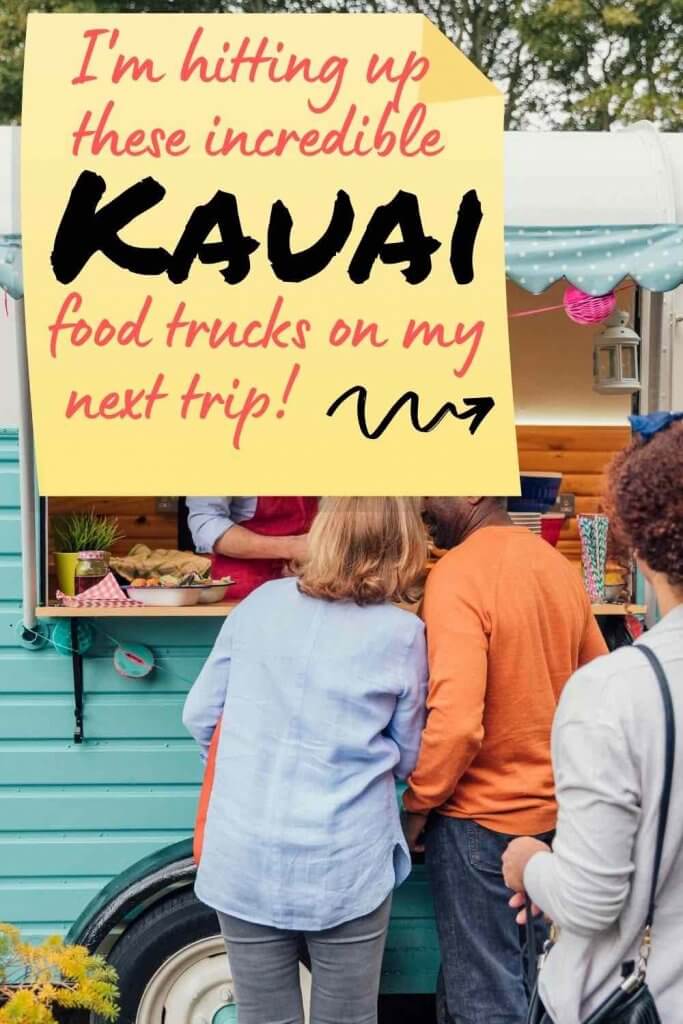 Food Trucks in the North Shore
Kauai's North Shore is home to some of the best white-sand beaches. In fact, tourists flock to the area for some of the best outdoor activities.
And what's a better way to end a day of outdoor fun? That's right, great eats!
Hanalei Taro & Juice Company prides itself on creating dishes made with local ingredients fresh from their family's farm. In fact, their chef and owner Brad Nakayama put taro into everything on the menu.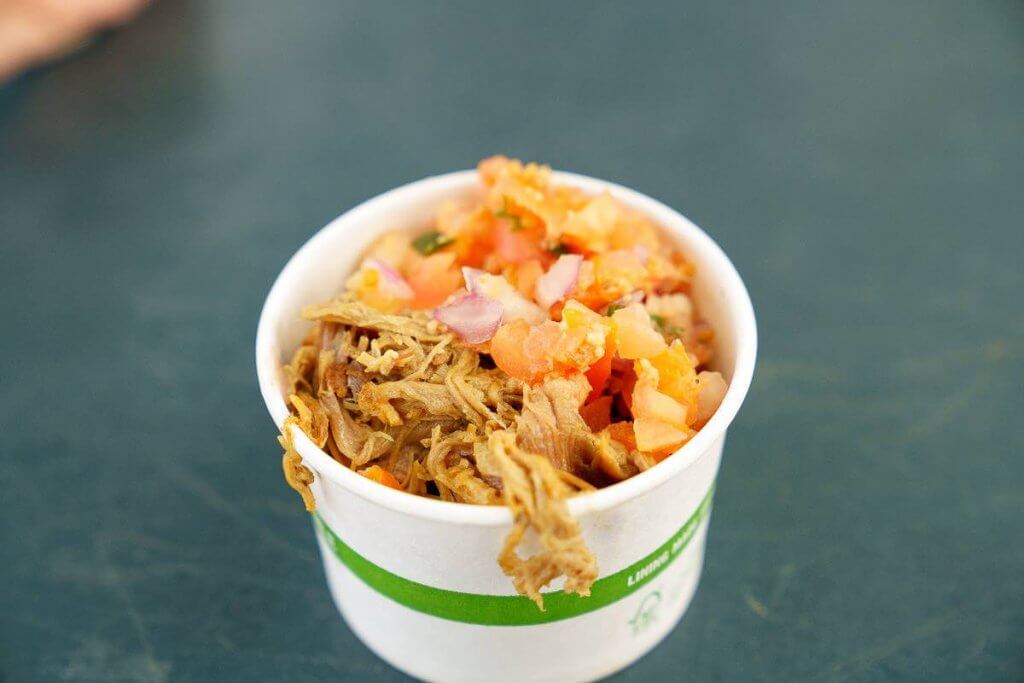 Customers come for their Taro Mochi Cake, Zesty Taro Hummus, Taro Veggie Burgers, Kulolo, and Taro Smoothies.
They advocate toward using local ingredients, produce, and products. The food truck is at 5-5070A Kuhio Highway in Hanalei and is open on weekends from 11 am to 2 pm.
One of the distinct things about Hanalei Taro & Juice Co. is that it has come from generations of family farming.
Also, the family-owned business' rice mill and Taro farm have been contributing to the community by providing free school tours & educational programs to children across the state of Hawaii for over 35 years.
As for the prices, Hanalei Taro & Juice Co. makes sure that dishes are worth the price. Prices range from $4.25 to $11.00.
The most expensive item on their menu is the "King Kalo" Mix Plate that includes Chicken or Pork Laulau and a Kalua Pig.
Another food truck to look out for is Trucking Delicious. The food truck offers local-style plate lunches with quite a gourmet flair. In fact, the food truck also offers catering services for various events.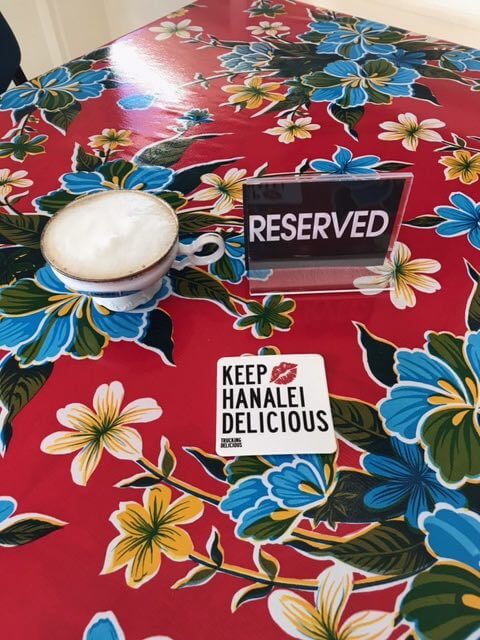 The food truck has been serving food at 5-5100 Kuhio Highway in Hanalei since 2014. It's been such a success that they actually just moved into a brick-and-mortar spot next to Tahiti Nut (one of our favorite places!)
It's no question that people visit the food truck for their Hawaiian Plate, Sweet & Spicy Coconut Shrimp, Kalua Pork and Cabbage, Poke Bowls, Kauai Garlic Shrimp, and their famous Dragon Fruit LimeAid.
According to their Yelp page, they are currently open for lunch on Tuesday and Thursday from 11:30 am- 3 pm. As for dinners, they're open Tuesday and Friday from 5 pm to 7:30 pm.
However, they do note that they sell out so they recommend pre-ordering at 482-4101.
Their price ranges from $13 to $17 per plate lunch. Each plate lunch comes with a cup of rice, a salad, and their main dish.
Another spot to visit is Aloha Juice Bar at 5-5190 Kuhio Highway in Hanalei.
If you're looking to find Instagrammable and absolutely refreshing açai bowls and drinks, Aloha Juice Bar is the spot for you.
The juice bar is perfect for grabbing a nice bowl and heading on over to the beach.
Aside from this, customers love to order some fresh fruit smoothies without sugar and dairy.
For $6.75, you can get a Medium-sized fresh Hawaii fruit smoothie made with a variety of bananas, mangoes, papayas, passion fruit, and strawberries.
Their smoothie prices range from $6.75 to $10.00.
Aside from the delicious smoothies and açai bowls, customers also love the dole whip.
Food Trucks on the East Side
The East Side is called the Royal Coconut Coast for the groves of coconut palms that grow in its resort areas. While resorts are usually what's looked forward to on the east side, there are still some great food trucks in the area.
Al Pastor Tacos is a Mexican food truck at 4-1602 Kuhio Highway in Kapaa. The food truck is one of the food trucks in the Kapaa Food Truck Court.
The food truck began with the husband and wife team, Paulino and Faun Hernandez serving up delicious Mexican dishes that have become a food truck court staple.
Customers love coming back for the garlic shrimp tacos and their ahi fish burritos.
As for the price range, it's fairly reasonable. Their à la carte menu ranges from $4.00 to $7.00 and includes fish tacos, shrimp tacos, steak tacos, chicken tacos, pastor tacos, and quesadillas.
As for their full menu, prices range from $7.50 to $11.00. They're open from 11 am to 5 pm every day except Mondays.
Wailua Shave Ice is, by its name, is an all-natural Hawaiian Style Shave Ice made with fresh local fruit.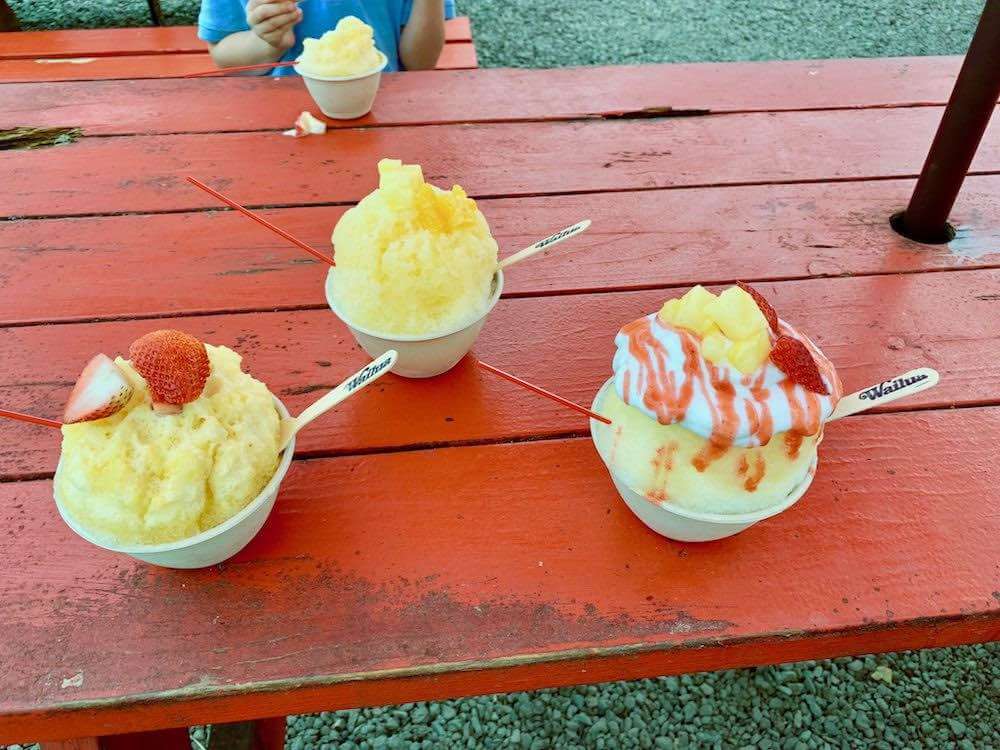 Local Kauai residents John Tamaoka and Brandon Baptise opened a healthier version of shave ice by replacing artificial dyes and high-fructose corn syrup with all-natural ingredients.
Customers visit the food truck at 4-831 Kuhio Highway, Kapa'a for their Shave Ice & Lilikoi cream, an island version of a creamsicle. The Lilikoi cream is made with fresh passion fruit, vanilla bean, and milk.
Another treat customers come for is the Lava Flow, a mound of ice soaked in pineapple juice and topped with strawberry puree and clouds of coconut foam.
As for price range, Wailua Shave Ice definitely gives a bang for the buck. Because of its single size, all treats cost only $6.50. Additional ice cream, snow cap, and Haupia foam can range from 50 cents to a dollar.
The truck's aesthetic, however, gives off more of a vintage camper vibe. Perfectly Instagrammable food, Instagrammable food truck, and memorable experiences await visitors!
If you're looking for a quick energizer on the east side of Kauai, Small Town Coffee over on 4-1543 Kuhio Highway in Kapaa is the food truck for you.
Since they have been serving Kauai's east side since 2004, the food truck's brews have stood the test of time.
In fact, customers can either start their day with a cup of their delicious latte and some delicious homemade pastries.
Another notable dish people order is Aunty M's Paradise Pies. They serve Meat Lover's Breakfast Pie, as well as Veggie Lover's Breakfast pie, making sure that everybody can get their slice of Paradise!
Small Town Coffee's price range is also very reasonable. Their small drinks cost $3.00 and larger sizes range from $4.00 to $5.00. They also offer cold brew, drip, pour-over, french press, and kevlar. They're open every day from 6 am to 4 pm.
Food Trucks in Central Kauai
Lihue is easily the most lively area in Kauai. Locals and tourists enjoy the island's government and commercial center, especially through the food trucks.
One of the best food trucks in Kauai is Kikuchi's, a brightly-colored truck serving steamed buns, wraps, sushi, and salads.
The food truck is at 3501 Rice St., in Lihue, and is open from Thursdays to Saturdays from 11 AM to 4 PM.
Customers visit the truck for their fusion food and fresh ahi wraps. Aside from this, people also order Ginger Fried Chicken, Pork Steamed Buns, and their Triple Pork sushi Wrap.
The food truck is Instagrammable and customers love to drop by for a snack or a meal.
Kikuchi's price range is also very reasonable. Customers can order sushi wraps from $9.50 to $12.50. Each order also includes french fries or a Kauai local salad.
As for the steamed buns, customers can order a variety for $9.25. Like the sushi wraps, Kikuchi's steamed bun sandwiches also come with either french fries or an organic Kauai local salad.
What used to be called Anatta's Thai Street Food at 4100 Rice Street is now Thai Street Food.
While they still sell the same authentic Thai favorites, the food truck changed its name a couple of years back.
For about $10.00 to $11.00, customers can get almost every Thai dish. Entrees range from Pad Thai, Green Curry, Red Curry, Yellow Curry, Green Papaya Salad, Spring Rolls Veggie, Fried Rice, Summer Rolls, Chicken BBQ, and Chicken Satay.
Also, the food truck offers combo plates that include any curry with a scoop of rice and the customer's choice of Pad Thai or Papaya Salad for only $13.00 to $15.00.
Talk about worth it!
The variety of dishes also seems to be the reason why so many locals and tourists love visiting the food truck.
According to their yelp page, Thai Food Truck is open daily from 10 AM to 8 PM.
Food Trucks in the South Shore and West Side
If you're staying in the southernmost part of Kauai, you're most likely into the natural attractions there. The beaches along the Poipu area are also well-known to be home to some great food spots.
In addition, the more traditional side of Kauai has some great food trucks, too.
The West Side is home to many local ingredients that food trucks turn into great dishes!
Kickshaws is a gourmet mobile food truck business at 3540 Koloa Road in Kalaheo.
People visit Kickshaws for their gourmet dishes with a twist. The food truck's cuisine is best described as science-forward food.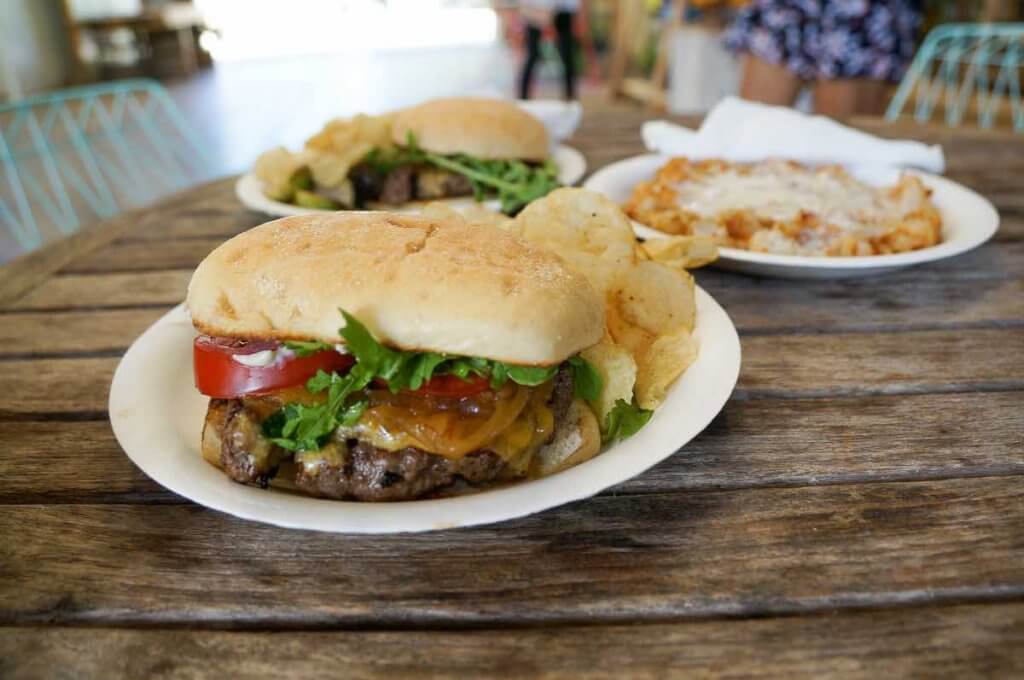 That said, it's no question that chef Chef Seth Peterson creates dishes that are unique with delectable flavor combinations.
Their 100% Awesome Burger is a 30-hour cured burger that has gotten to come back repeatedly. Aside from this, their Tuna Melt, Hot Totty tater tots, and vegetarian Bahn Mi sandwiches are also dishes that people look out for.
Because Chef Seth is a biology graduate, he makes sure to experiment with his dishes.
The food truck is open from Wednesdays to Saturdays from 11:00 AM to 3:00 PM. They change their menu weekly. However, menu staples are the 100% Awesome Burger, Ooey-Gooey Gourmet Grilled Cheese, Hot Totty, and Bahn Mi sandwiches.
While the words 'gourmet' and 'science-forward' might seem fancy, Kickshaws' price range is definitely within reason.
Dishes range from $9.00 to $14.00 while side dishes and drinks begin at $5.00.
Last but definitely not least on our list is Chalupa's, an authentic Mexican food truck in Old Koloa Town. Customers can find their delicious food at 3477 Weliweli Road in Koloa.
Tourists and locals alike come to the food truck for their fish tacos, burritos, quesadillas, and house specialties. While Chalupa's bestseller is easily their fish tacos, people also love their various seafood dishes.
The food truck's price range is very reasonable, too! Their burritos and taco menu only range from $8.45 to $10.00 and already come with some chips. And their quesadilla menu range from $8.00 to $14.00.
House specialties range in price from $12 to $13 and come with rice and beans.
Clients love the ambiance, the Instagrammable colorful food truck, and of course, the delicious food.
More Kauai Eats
While our quest for food trucks may seem over, our love for food definitely isn't!
We've also put together a couple of food guides for Kauai and the rest of the Hawaiian islands here.