Are you planning a trip to Kauai and want to know the best places to eat? Keep scrolling to find out the best Kauai food trucks totally worth checking out!
This Kauai food trucks post was written by Hawaii travel expert Marcie Cheung and contains affiliate links which means if you purchase something from one of my affiliate links, I may earn a small commission that goes back into maintaining this blog.
If you're looking for a food truck heaven, keep reading for a run-down of the best Kauai food trucks!
While the island is famous for its mountains, beaches, and beautiful waterfalls, Kauai has also become quite a food paradise.
With over 50 food trucks around the island, a Kauai food trip should definitely be on your list!
Let's take a look at some of the best food trucks on Kauai and find out what to order!
Don't have time to read a bunch of Hawaii blog posts and reviews? Here are some of our top picks for visiting Kauai.
Popular Kauai Tours/Activities
Favorite Kauai Resorts/Hotels
Grand Hyatt Kauai (this Poipu resort has a luxurious pool area, romantic restaurants, and a stunning ocean view)
Koloa Landing Resort (this is a luxury resort with an amazing pool area and truly spacious rooms)
Royal Sonesta Kauai (we LOVE the pool here because it's the largest one in Hawaii)
Want to Rent a Car in Hawaii?
One of the best places to rent a car in Hawaii is Discount Hawaii Car Rental because they get the best rates from top national companies like Alamo, Dollar, Thrifty, Avis, Enterprise, Budget, and Payless.
Want to skip all the planning and just access my detailed Kauai Itinerary complete with daily schedules, kid-friendly activities, and travel hacks? Click the button below.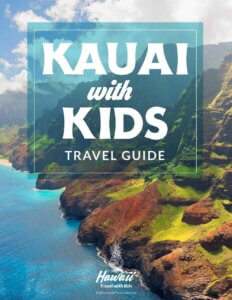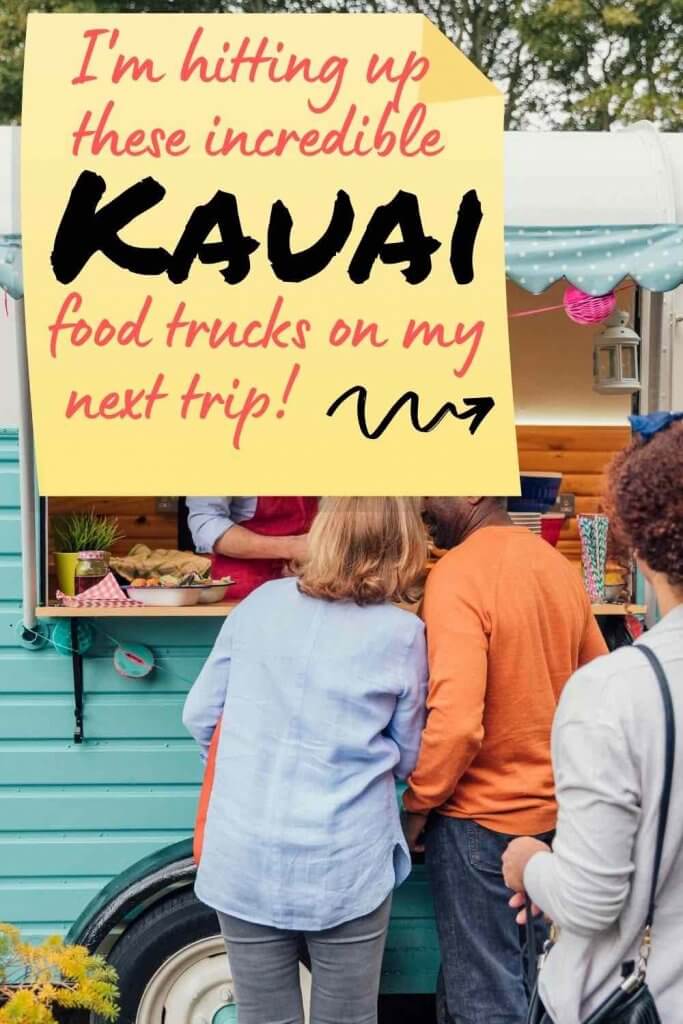 Food Trucks in the North Shore
Kauai's North Shore is home to some of the best white-sand beaches. In fact, tourists flock to the area for some of the best outdoor activities.
And what's a better way to end a day of outdoor fun? That's right, great eats!
Hanalei Taro & Juice Company prides itself on creating dishes made with local ingredients fresh from their family's farm. In fact, their chef and owner, Brad Nakayama, put taro into everything on the menu.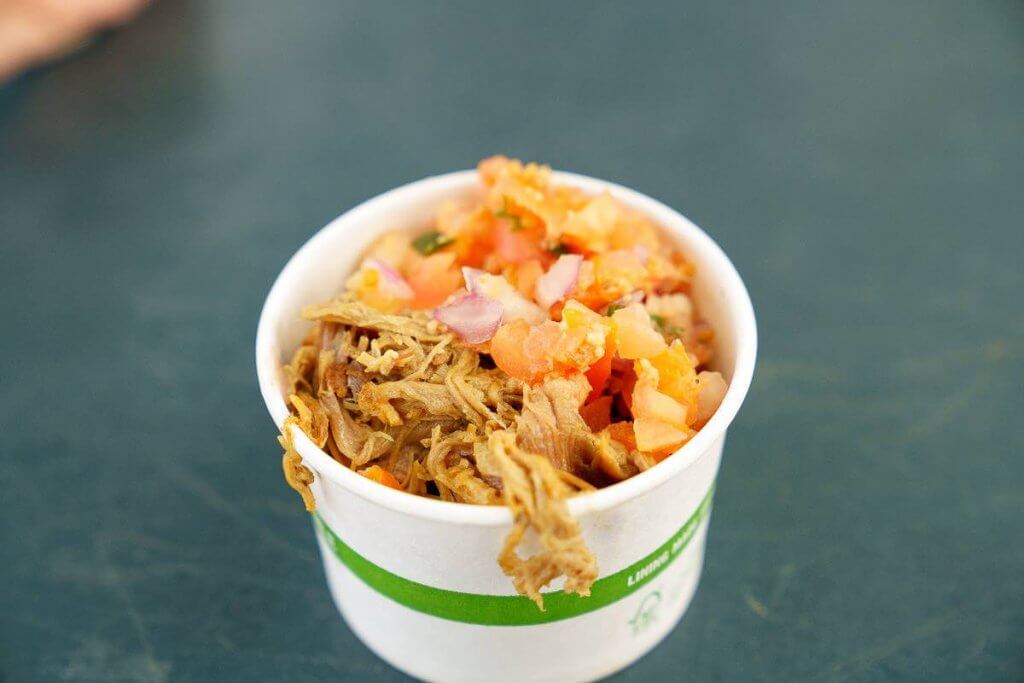 Customers come for their Taro Mochi Cake, Zesty Taro Hummus, Taro Veggie Burgers, Kulolo, and Taro Smoothies.
They're passionate about using local ingredients. The food truck is at 5-5070A Kuhio Highway in Hanalei and is open on Fridays and weekends from 1o AM to 4 PM.
One of the distinct things about Hanalei Taro & Juice Co. is that it has come from generations of family farming.
Also, the family-owned business has a rice mill and Taro farm that's a big part of their local community. For over 35 years, they've been offering free school tours and educational programs to children across the state of Hawaii.
This truly is one of the best Hanalei food trucks to visit during your visit to the North Shore of Kauai.
One of the best food trucks in Kauai is Trucking Delicious. They've been at 5-5100 Kuhio Highway in Hanalei since 2014 and offer local-style plate lunches with a gourmet flair.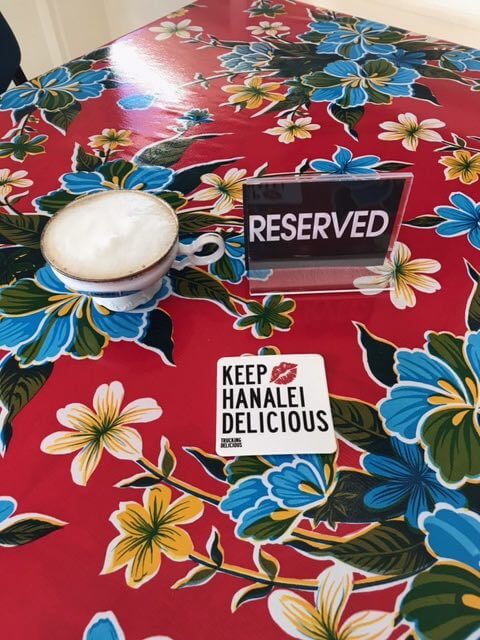 Some of their most popular plates are the Hawaiian Plate, the Sweet & Spicy Coconut Shrimp, and the Kalua Pork and Cabbage. Each plate lunch comes with a cup of rice, a salad, and their main dish.
They also offer other items, like poke bowls. And make sure to try their famous Dragon Fruit LimeAid. But if you go, they tend to sell out fast. So, they recommend pre-ordering at (808) 826-5551.
The Trucking Delicious food truck has been such a success that they actually just moved into a brick-and-mortar spot at 5-5144 Kuhio Highway next to Tahiti Nui (one of our favorite places!).
Stop by for breakfast or lunch from 7 AM to 1 PM.
Another one of the best food trucks in Hanalei to visit is Aloha Juice Bar at 5-5190 Kuhio Highway in Hanalei.
If you're looking for Instagrammable and refreshing açai bowls and drinks, Aloha Juice Bar is the spot for you.
Their fresh fruit smoothies without sugar and dairy are also super popular. Why not grab something cold at the Juice Bar and just head over to the beach!
Aside from the delicious smoothies and açai bowls, customers also love the dole whip.
And you'll love their Hawaii Fruit Smoothie. It's made with a variety of bananas, mangoes, papayas, passion fruit, and strawberries.
Food Trucks on the East Side
The East Side is called the Royal Coconut Coast for the groves of coconut palms that grow in its resort areas. While resorts are usually what's looked forward to on the east side, it's also a great place to find more of the best food trucks in Kauai.
Al Pastor Tacos is a Mexican food truck at 4-1602 Kuhio Highway in Kapaa. You'll find it inside the Kapaa Food Trucks Court, a lively and fun food truck scene.
The husband and wife team, Paulino and Faun Hernandez, started Al Pastor Tacos. Their delicious Mexican dishes have become a food truck court staple!
Their à la carte menu includes classics like fish, shrimp, steak, and chicken tacos. There are (of course) pastor tacos and quesadillas. And you must try the garlic shrimp tacos and their ahi fish burritos too!
They're open from 11 AM to 5 PM most days, with Tuesday and Thursday starting at 9 am.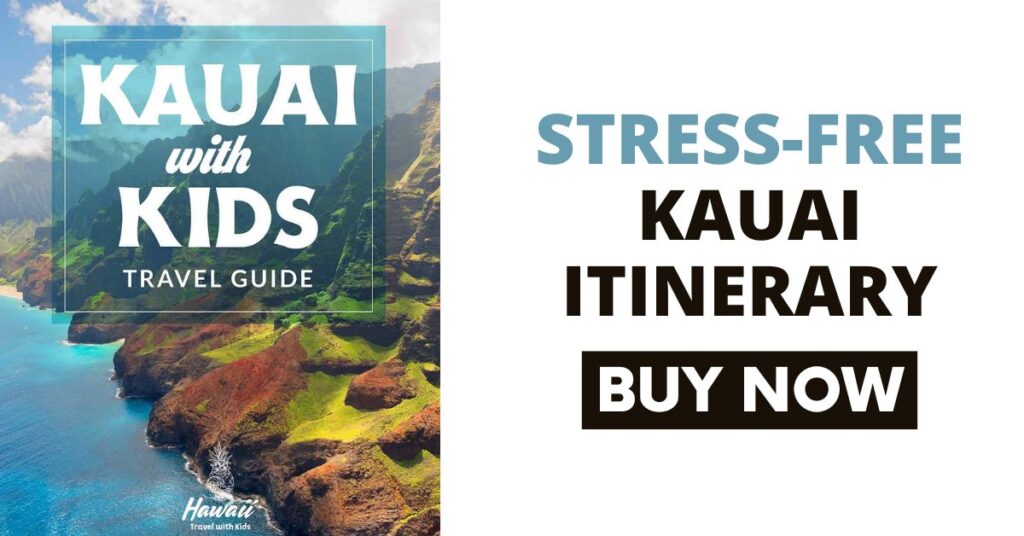 Wailua Shave Ice is an all-natural Hawaiian Style Shave Ice made with fresh local fruit and no artificial ingredients.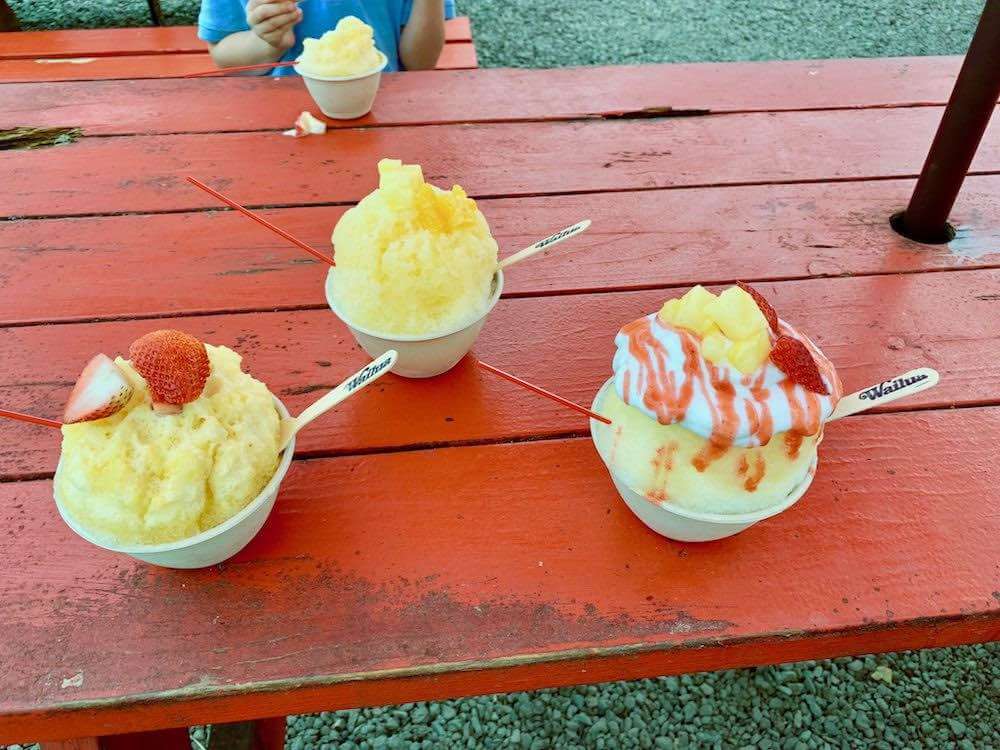 Kauai residents John Tamaoka and Brandon Baptise created Wailua Shave Ice with a vision of creating a healthier version of shave ice. They traded out artificial dyes and high-fructose corn syrup with all-natural ingredients.
You can visit the food truck at 04-831 Kuhio Highway. They are open every day from 12 PM to 8:30 PM. Try their Shave Ice & Lilikoi Cream, an island version of a creamsicle. The Lilikoi cream is deliciously made with fresh passion fruit, vanilla bean, and milk!
Another fun favorite is the Lava Flow. It's a pineapple shave ice topped with strawberry puree and clouds of coconut foam.
The truck's aesthetic gives off a vintage camper vibe. Come enjoy the perfectly Instagrammable food, Instagrammable food truck, and memorable experience!
If you're looking for a pick-me-up on the east side of Kauai, visit Small Town Coffee. It's at 4-1543 Kuhio Highway in Kapaa.
They've proven themselves to be one of the best Kauai food trucks, serving the east side since 2004.
Locals and visitors alike can start their day with Small Town's lattes and delicious homemade pastries.
The food truck also offers Aunty M's Paradise Pies. These are savory, hearty pies in flavors like Meat Lover's Breakfast Pie and Veggie Lover's Breakfast Pie.
Small Town Coffee offers cold brew, drip, pour-over, french press, and kevlar. They're open every day except Sunday from 6 AM to 12 PM.
For a unique food truck, try the Musubi Truck in Kauai. Here you will find musubis of all kinds, but that is not all. They also offer some of the best poke in Kauai too!
The Spam Musubi is by far the most popular, but be sure to also try their Da Bomb Musubi, AHI Katsu, or the Kauai Poke Bowl.
The Musubi Truck is located at 4548 Kukui St in Kapaa and is open 7 AM to 6 PM on weekdays and 10 AM to 5 PM on weekends.
Food Trucks in Central Kauai
Lihue is easily the liveliest area on Kauai. This residential area is another place to find top-notch food trucks offering many of the best cheap eats in Kauai.
What used to be called Anatta's Thai Street Food at 4100 Rice Street is now Thai Street Food. They made the change a few years back, but they still sell the same authentic Thai favorites, now in two places: Lihue and Kapaa!
Come here if you're craving Thai. They offer every Thai dish you can think of! You'll find Pad Thai, Green Curry, Red Curry, Yellow Curry, and Green Papaya Salad. Get Veggie Spring Rolls, Fried Rice, Summer Rolls, Chicken BBQ, and Chicken Satay.
Thai Street Food offers combo plates that include any curry with a scoop of rice and the customer's choice of Pad Thai or Papaya Salad.
They're open daily from 10 AM to 8 PM. If you are looking for some delicious Thai food, this is one of the best Lihue food trucks to visit!
Food Trucks in the South Shore and West Side
If you're staying in the southernmost part of Kauai, you'll probably be aware of the great beaches at Poipu. The area is also home to great restaurants and some of the best food trucks in Kauai.
The island's West Side has a rich heritage as a farm and plantation region. And it's a great place to find a variety of different food trucks that use all the yummy local ingredients produced there!
One of the most popular Poipu food trucks is Da Crack Mexican Grinds. This friendly truck offers all-natural delicious food options to enjoy. It is locally owned by Daniel Hurtado, who makes sure there are no MSG or any trans-fatty oils in any of their food.
While also using freshly caught fish and Hawaiian sea salt, here you will find some of the best tacos and Mexican food you'll find!
With this Kauai food truck, you get to create your own taco, bowl, or burrito, which means they even have some vegetarian options as well!
Da Crack Mexican Grinds is open daily from 11 AM to 8 PM and is located at 2827 Poipu Rd.
Kickshaws is a gourmet and one of the best Koloa food trucks located at 5371 Koloa Road in Koloa.
Chef Seth Peterson creates dishes that are unique with delectable flavor combinations. Kickshaw's food is best described as science-forward food.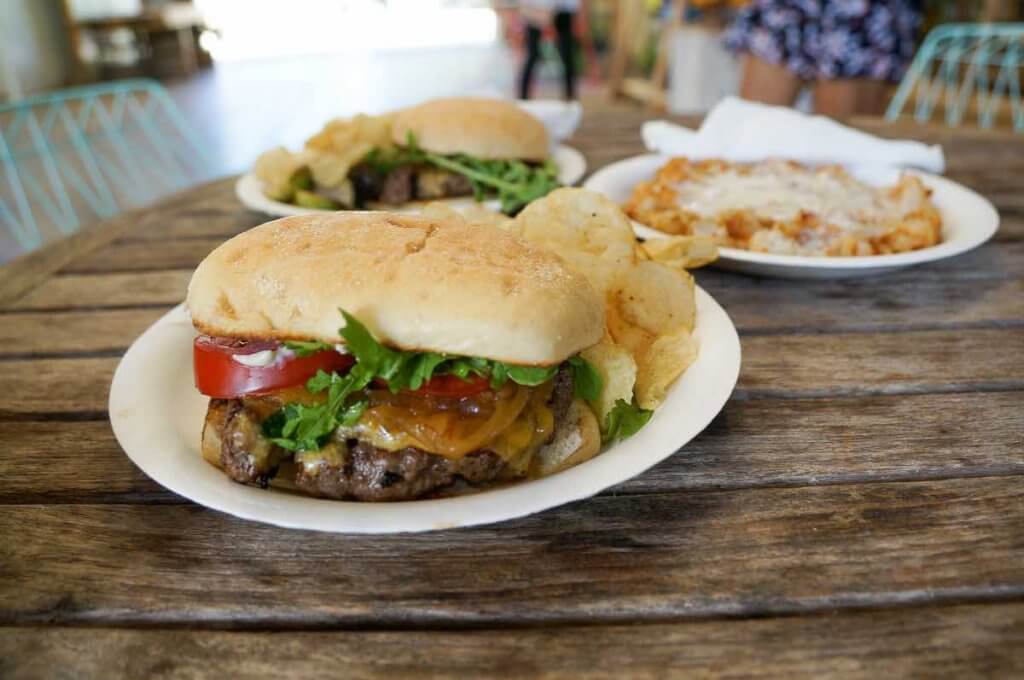 They're known for their 100% Awesome Burger, which is a 30-hour cured burger. I also recommend trying the Tuna Melt, the Hot Totty tater tots, or the vegetarian Bahn Mi sandwiches.
The food truck is open from Wednesdays to Saturdays from 11 AM to 3 PM.
They change their menu weekly, so you'll want to keep coming back! But you'll find menu staples, like the Ooey-Gooey Gourmet Grilled Cheese and the other items I mentioned.
There's also Chalupa's, an authentic Mexican food truck in Old Koloa Town. Try their delicious food at 3477 Weliweli Road in Koloa.
There's usually a line at this food truck and is another must-eat Kauai offers. While Chalupa's bestseller is easily their fish tacos, they offer several different Mexican seafood dishes.
Clients love the ambiance, the picture-perfect food truck (that looks great in Instagram photos), and of course, the excellent food.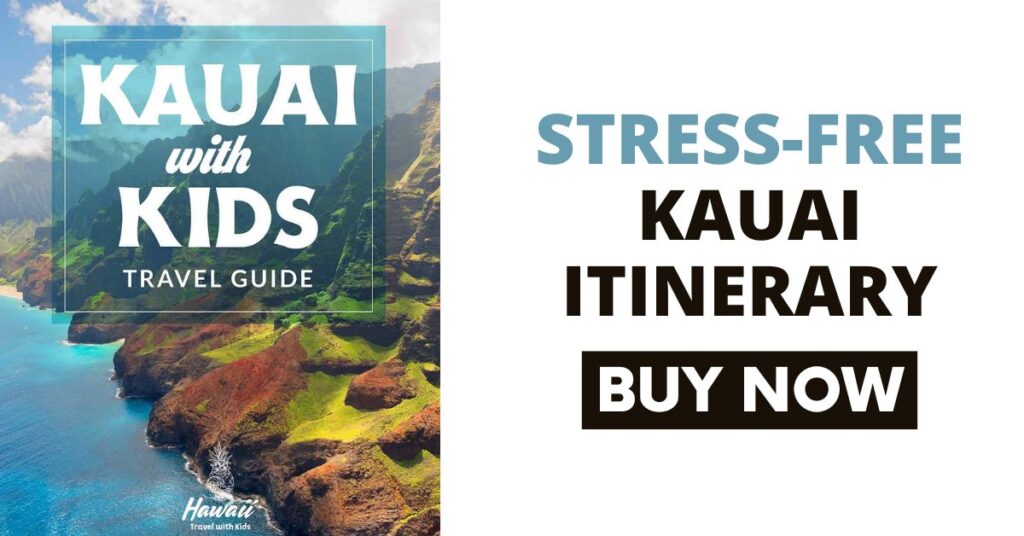 Kauai Food Trucks FAQs
What do locals eat in Hawaii?
One of the most popular things to order in Hawaii is a Plate Lunch. This is a meat entree (like kalbi ribs, lau lau, mochiko chicken, etc.) with a scoop of rice and a scoop of macaroni salad. Many Kauai local food trucks have plate lunches you can enjoy.
How expensive is food in Kauai?
Because most food is shipped to Hawaii, food costs can be quite high. If you plan on eating out at restaurants for every meal, you should budget around $40 to $50 per person per day.
How can I eat cheap in Hawaii?
Hit up the local grocery store for snacks, drinks, and easy breakfast items. Then, plan on trying out Hawaii food trucks for tasty meals that are cheaper than brick-and-mortar restaurants.
How many food trucks are on Kauai?
There are around 50 best food trucks Kauai has to offer at this time; however, that is constantly changing as new ones start and others retire. These make up some of the best Kauai cheap eats you will absolutely love!
More Kauai Eats
I've shared what I think are the best food trucks in Kauai, but you will find plenty of other food trucks to enjoy during your stay too. It's also just the beginning of what you'll find in Kauai's rich food scene!
I've also put together a couple of food guides for Kauai. Or read my food guides for the rest of the Hawaiian Islands here.