Wondering where to find the most beautiful places on Kauai? Check out these 11 best Kauai waterfalls that are absolutely stunning, keep scrolling down for all the info!
This best Kauai waterfalls post was originally written September 19, 2019 and was updated November 7, 2021 and contains affiliate links which means if you purchase something from one of my affiliate links, I may earn a small commission that goes back into maintaining this blog.
I've been visiting Kauai for the past 25 years. A lot has changed on the island. There's now a Costco and a Ross Dress for Less, lots of new hotels, and a ton of hipster vegan restaurants.
But, so much of Kauai is just as it was when I first visited as a child.
One of our favorite things to do on Kauai is check out the waterfalls.
The island of Kauai is known as the 'Garden Island.' We can't think of a better description for this beautiful Hawaiian island.
Kauai is the fourth largest of the Hawaiian islands, known for its jaw-dropping cascades, surrounded by lush green tropical rainforests.
Speaking of cascades, let's take a look at some of them.
Here are 11 of what we feel are the best Kauai waterfalls you will come across while visiting the island.
And not to worry, while you can certainly hike to most of these waterfalls by trail, several of them can be seen in the comfort of your own car.
Want to skip all the planning and just access my detailed Kauai Itinerary complete with daily schedules, kid-friendly activities, and travel hacks? Click the button below.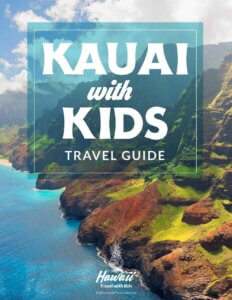 Kauai Waterfalls FAQs
Can you swim in Wailua Falls?
Yes, you can swim in Wailua Falls at your own risk. You'll need to hike down the short (but difficult) trail to the base of the waterfall and the water will be quite chilly.
Can you hike to Opaeka'a Falls?
Sort of. It's an extremely difficult hike and it's on private property, so it's at your own risk.
Do you have to hike to see Wailua Falls?
Nope, in fact there's a really easy lookout from the side of the road where you can get a great view of this Kauai waterfall. You can also hop on a Kauai helicopter tour!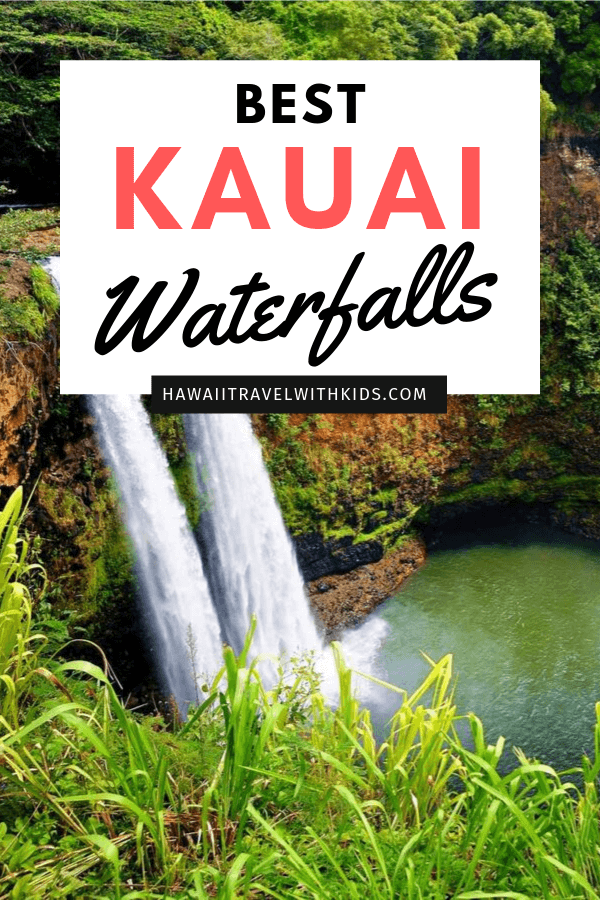 Top 11 Best Kauai Waterfalls
1. WAILUA FALLS
Wailua Falls is hands down, one of the most amazing waterfalls you will find on Kauai.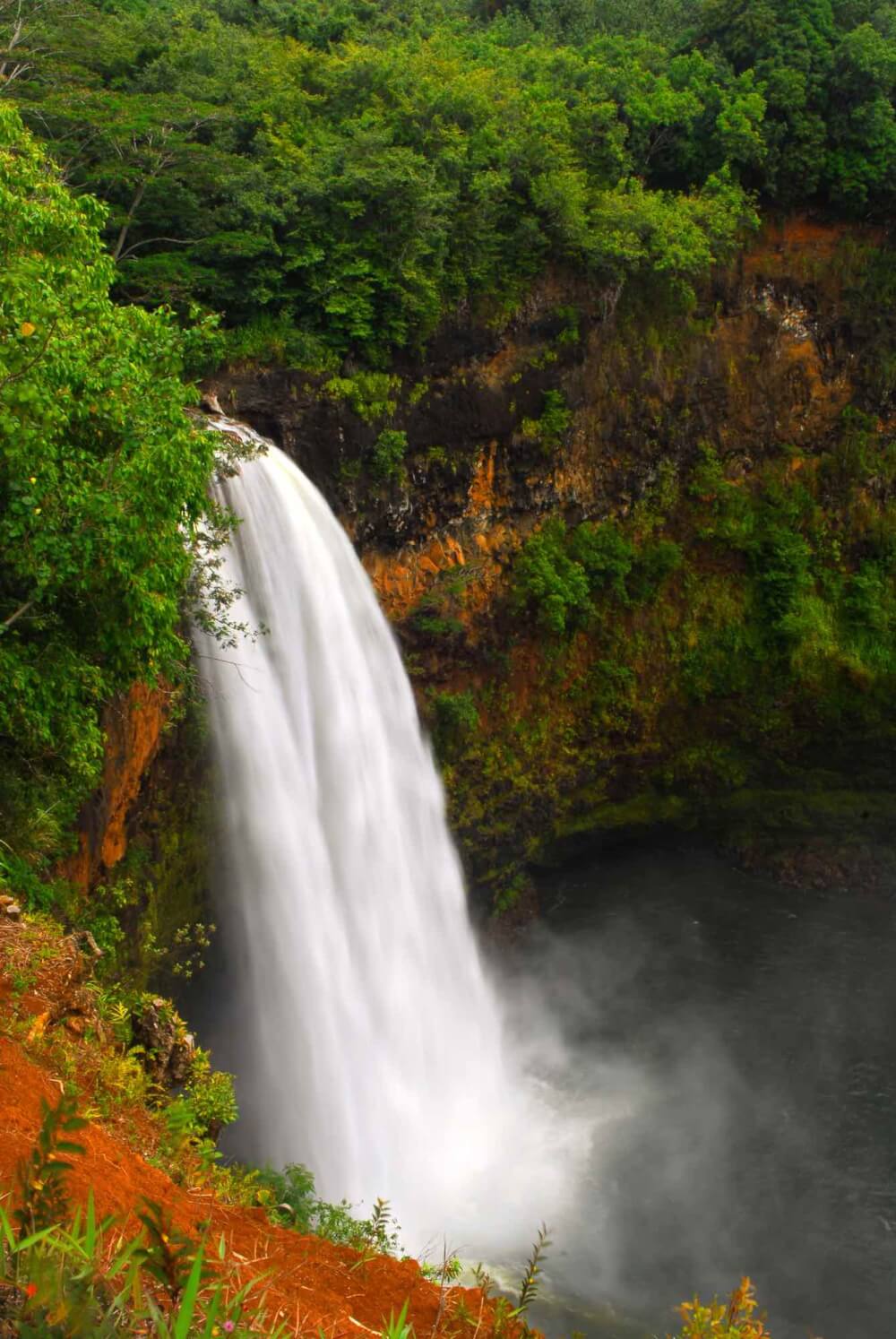 You will locate these falls close to the town of Lihue.
Many visitors have discovered that reaching the falls earlier in the morning, reveals a beautiful rainbow with mist flying all around.
This Kauai waterfall can be seen while sitting in your car. But let's be real, you want to feel the cool mist on your skin.
This is one of the most popular waterfalls on Kauai and it's famous for being in the opening credits for the original Fantasy Island TV show.
Visiting Wailua Falls is one of the best things to do on Kauai for under $10!
Get the Wailua Valley & Waterfalls Driving Tour App.
2. KIPU FALLS
Let's start out by saying, viewing the Kipu Falls safely and legally is not possible, as it rests on private land.
While the falls might be gorgeous, they have been proven to be extremely deadly.
The pool beneath the falls is believed to contain an overpowering whirlpool that has taken several lives over the last decade.
In order to reach this beauty, there are also several steep slippery slopes to overcome as well.
Your best bet is to see from the air on an airplane or helicopter tour.
Sign up for a Wings Over Kauai Air Tour.
3. ULUWEHI FALLS
On the lower Wailua River, is the breathtaking Uluwehi Falls.
Sometimes it's referred to as 'Secret Falls' because of how secluded and less-traveled this strenuous trail is.
If you feel like you have what it takes to reach them, you're looking at about a 50 minute kayak ride, and than a 30 minute hike through some thick rainforests with dangerous drops.
Book your Wailua River and Secret Falls Kayak and Hiking Tour.
4. WAIPO`O FALLS
It's going to be hard to miss the Waipo'o Falls, that lets down it's water into the canyon far below.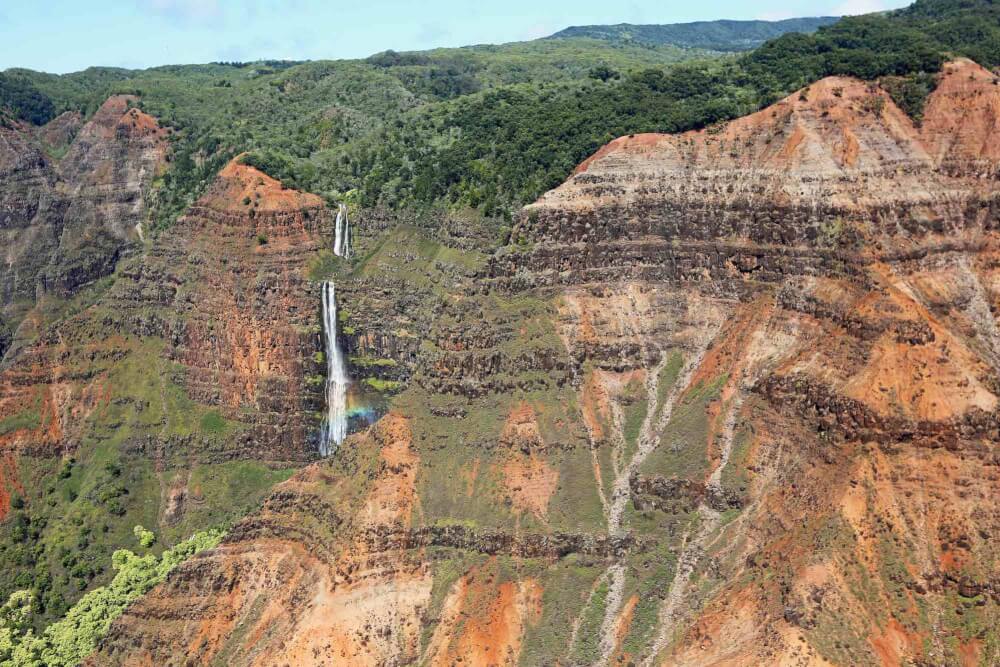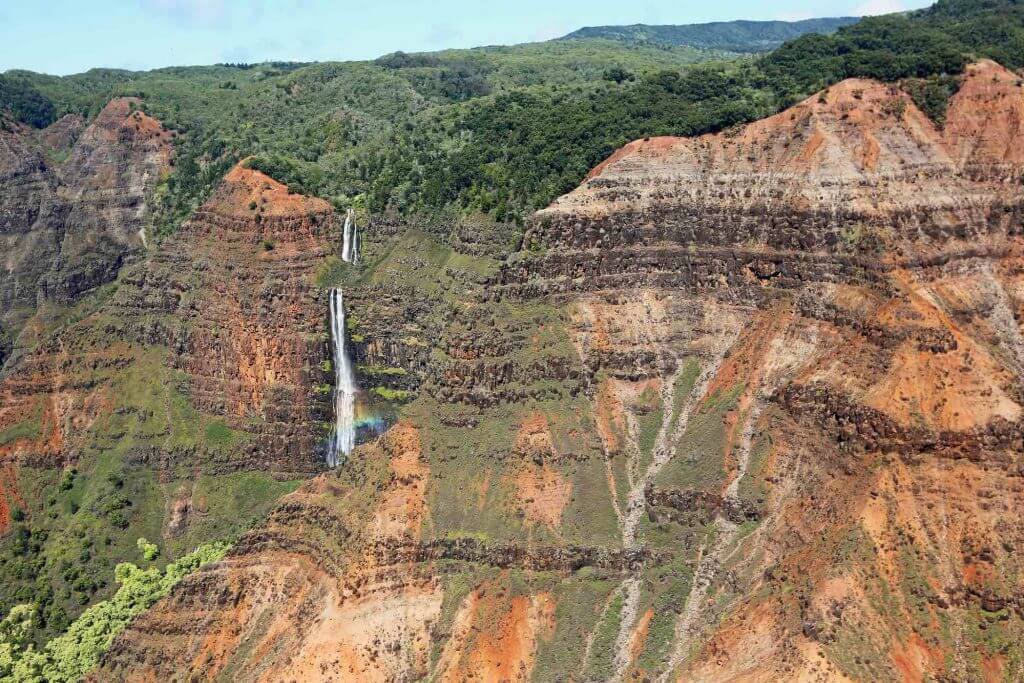 The good news, you can view this waterfall from highway 550, or set out on foot to reach it.
Look for the Canyon Trail, that is moderate in difficulty, and will reveal more stunning canyon views and the pools above the falls. This is a top Kauai waterfall hike.
Depending on when you visit, be advised that during the summer months, the falls drop a substantial less amount of water than in the spring.
Book a Waimea Canyon tour.
5. MOUNT WAIALEALE FALLS
Mount Waialeale Falls, a.k.a, the 'Wall of Tears' is another one of those waterfalls that you might never get the chance to see.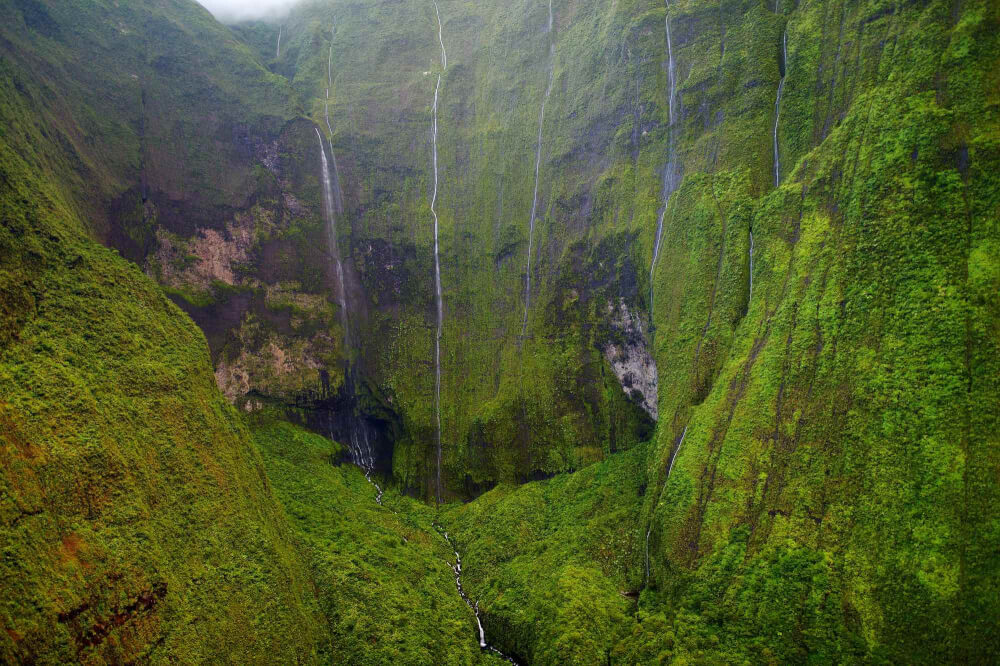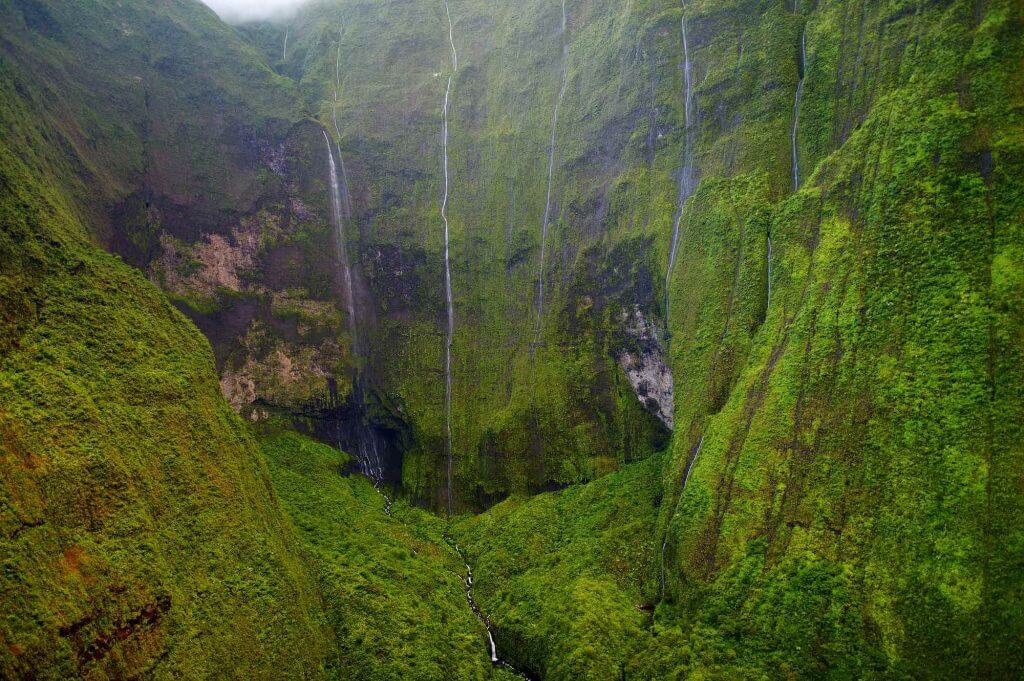 That's because there are no trails or accessible routes that are safe to get you there.
You might just have to enjoy this beauty, while admiring it on a postcard or magazine.
Although I will add, if you're determined to see it, opt for a helicopter ride. They will take you over the 3,000 foot tall cascades.
Book a Kauai helicopter tour.
6. KALIHIWAI FALLS
These crashing cascades are surrounded by lush green forests.
Kalihiwai Falls is located on the north-central coast of Kauai, and accessible by car.
You can also view this multi-tier falls by horseback riding or set out on foot.
You may also choose to hop on a guided tour that will teach you about the wildlife, plantlife, geology, and history of the surrounding area.
Toward the lower falls there are great places for swimming and exploring.
Book a private Kauai sightseeing tour.
7. HANAKAPIAI FALLS
Many visitors enjoy spending the day crashing along the Hanakapiai Beach after hiking this marvelous waterfall. This is one of the most popular Kauai waterfall hikes.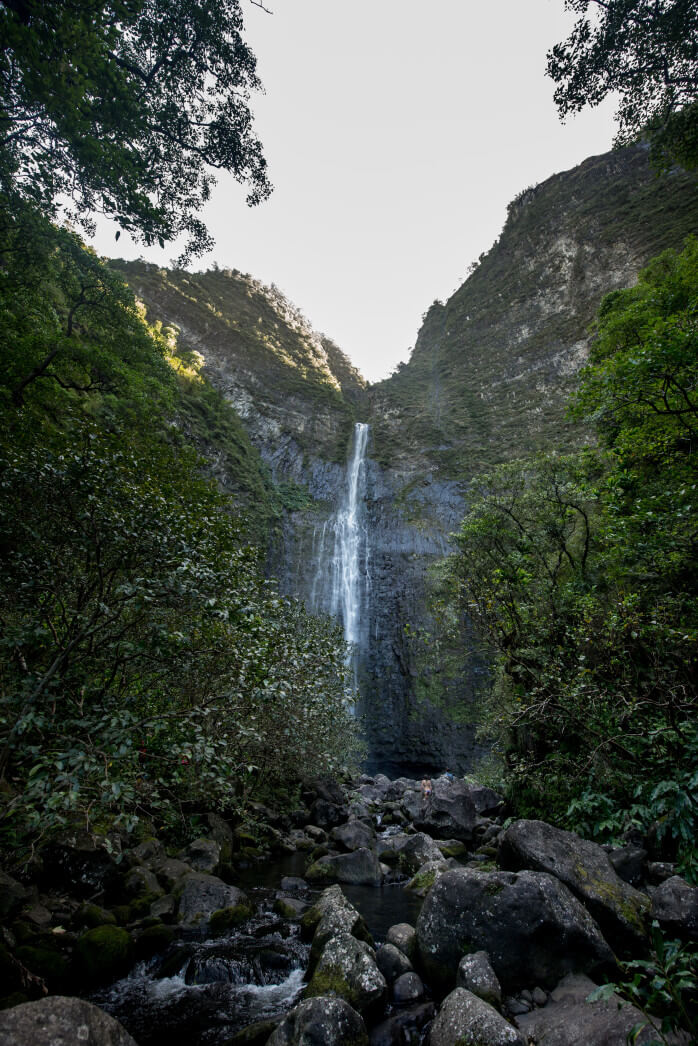 The hike to get to the Hanakapiai Falls is around a 4 mile round trip, moderate in difficulty.
You will travel along tropical forests and bamboo.
There are several spots that can be treacherous due to the wetness and slippery conditions. There's a pool below that many people enjoy swimming in.
8. HO`OPI`I FALLS
Along the eastern shores of Kauai Island, the Ho'opi'i Falls is certainly a hidden gem that's hard to find.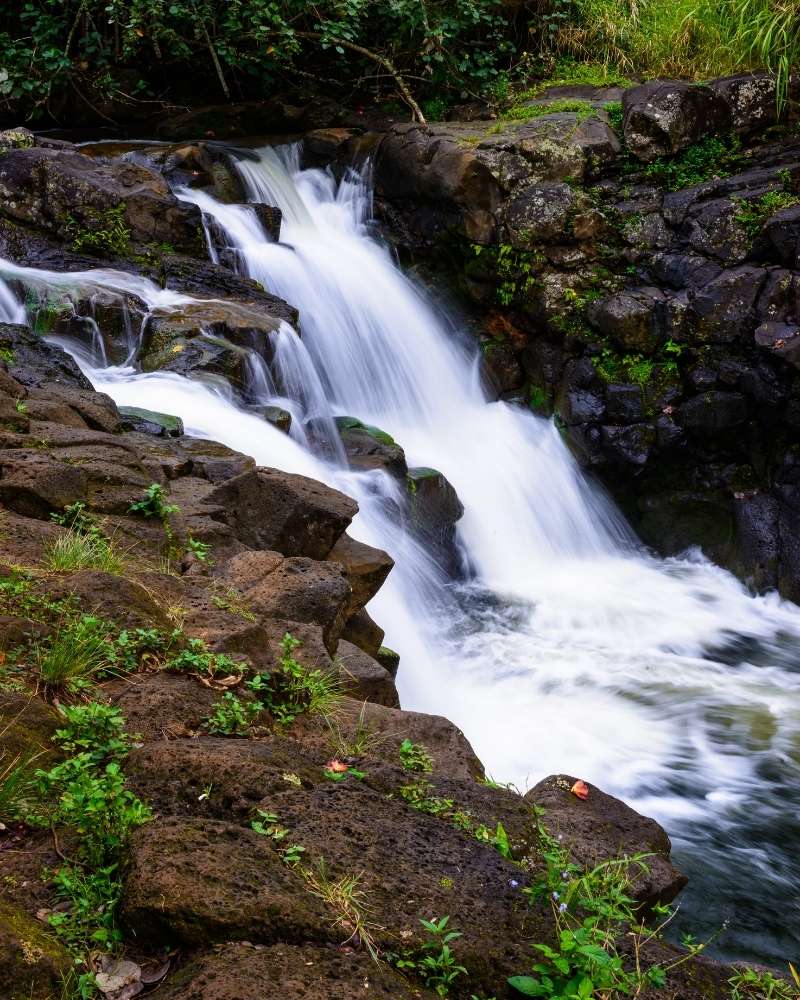 That's because it's located on an unmarked trail, leaving it remote from many tourists and visitors for a more intimate setting.
The trail itself is a moderate 2 mile hike, but can be difficult to track down. The 600 foot falls are two misty twin tiers, surrounded by forest overgrowth up above.
Join a Ho'opi'i Falls hiking tour.
9. HOOLEA FALLS
Although Hoolea Falls is not the most stunning waterfall you will witness in Kauai, it's located on prime real estate, close to a resort area and a world-class beach.
The waterfall has a steady stream that runs down a volcanic rock wall.
The falls are easy to access behind Kalalau Beach, where you will find the trailhead.
Also, don't be alarmed if you see more skin than you're accustomed to. This is common in the area with the locals.
10. HANAKOA FALLS
If you want to hike all the way to Hanakoa Falls, make sure you stop in at the government office in town to get a hiking permit.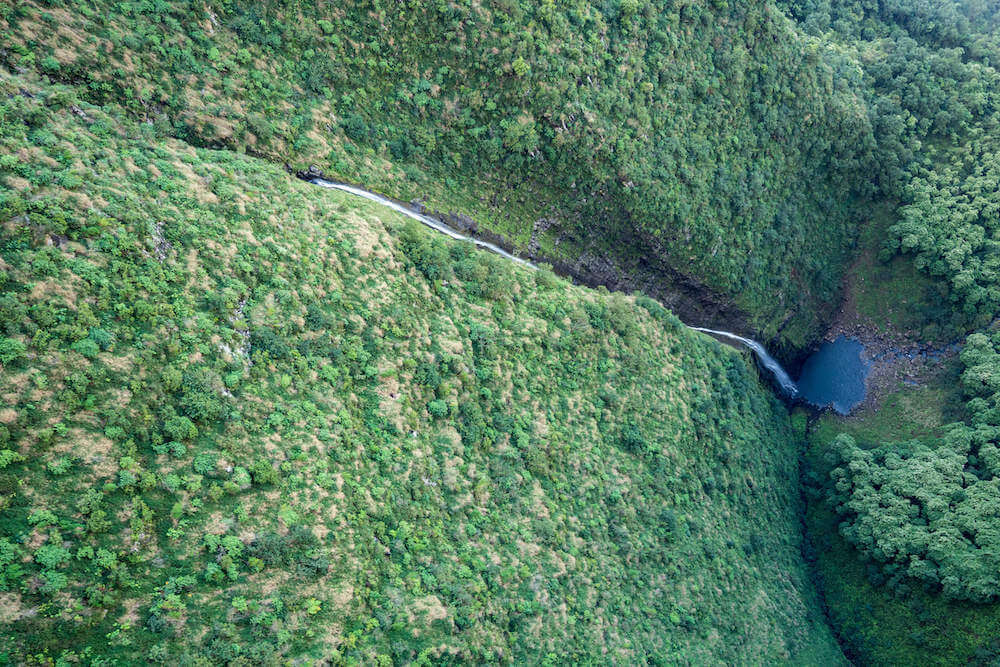 To reach this stunning masterpiece, take the Kalalau Trail where you will reach the falls about halfway along the hike.
The hike in itself is arguably one of the most beautiful hikes in America, covering 22 miles round trip.
The waterfall drops from a stunning 1,000 feet into a peaceful pool far below.
11. OPAEKAA FALLS
Another easy-access waterfall you can enjoy from the car, is the Opaekaa Falls.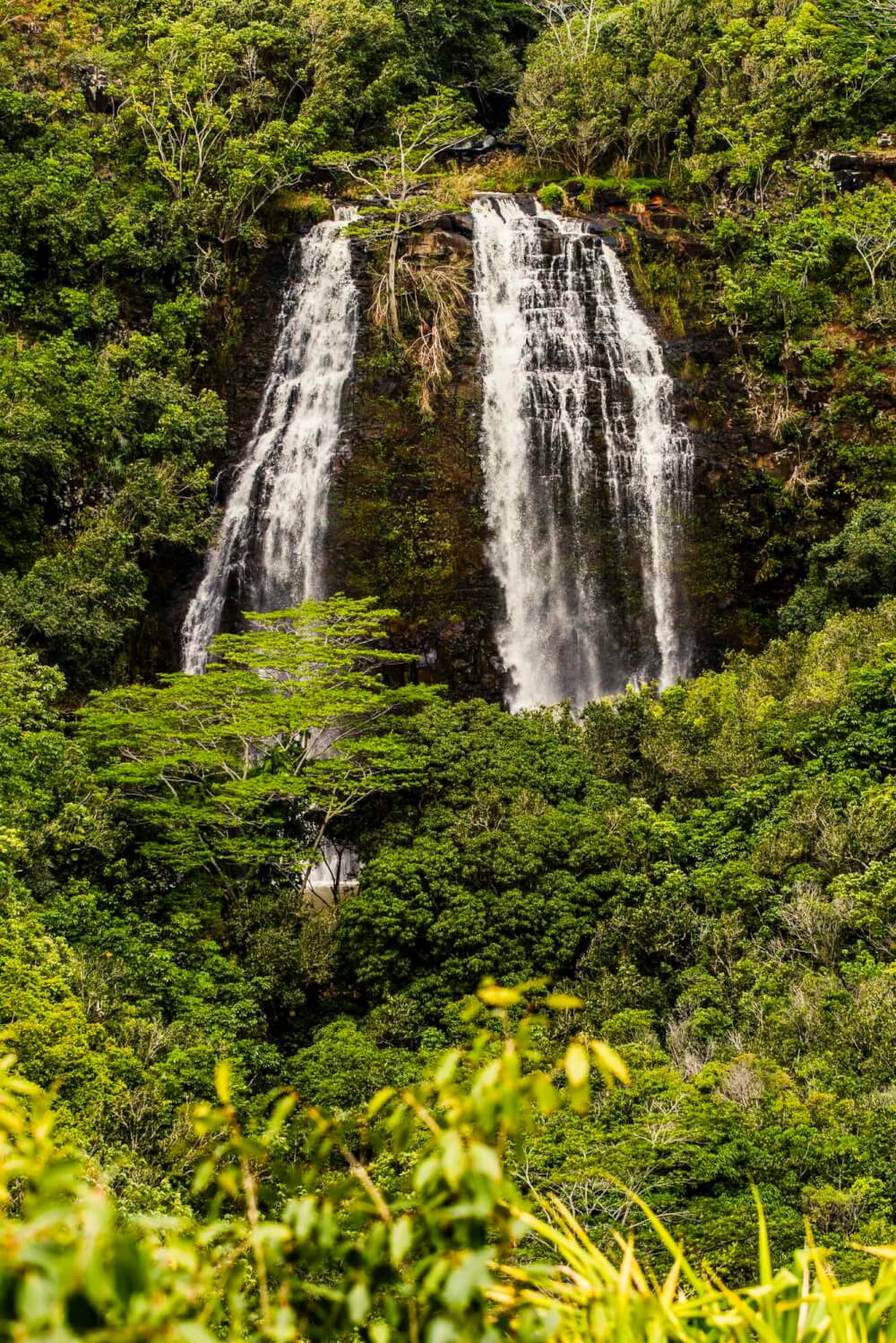 While you can see them from the parking lot, you can also view them from an even better vantage point, 30 minutes along the hike.
On the way back, make sure you pack a few sandwiches and snacks for a picnic close to the parking lot.
While this two tier waterfall only drops 150 feet, it's still one of the best waterfalls in all of Kauai.
Join a private Kauai kayaking and adventure tour featuring Opaekaa Falls.
Best Waterfalls in Kauai Wrap Up
These are 11 of some of the best Kauai waterfalls you will find. Of course, there are plenty more waterfalls on Kauai worth seeing during your trip!
So as you're planning your Kauai itinerary, be sure to include a few of these gorgeous Kauai falls!
Love this post about the best waterfalls in Kauai and are looking for more Hawaii waterfalls? Check out our posts about waterfalls on Maui, Oahu, and the Big Island!