There's a reason why people visit Hawaii from all over the world. Not only are there amazing activities and attractions, but there are also stunning natural wonders. Keep scrolling to find out the prettiest Hawaii waterfalls you'll definitely want to check out!
This post on the best Hawaii waterfalls was written by Hawaii travel expert Marcie Cheung and contains affiliate links which means if you purchase something from one of my affiliate links, I may earn a small commission that goes back into maintaining this blog.
I remember my first trip to Hawaii. I was 10 years old, and my family was visiting my grandma on Kauai. She took us to Wailua Falls, and I was in awe of how many gallons of water were cascading down the mountain.
That trip, we saw so many of Kauai's gorgeous waterfalls, and those first impressions have always stayed with me.
Each island is packed with majestic waterfalls in Hawaii and they are always worth a look. Whether you want to pull over from the highway to see a waterfall from a scenic lookout or want to go hiking to see a secret Hawaii waterfalls, the possibilities are endless!
I've asked some of my travel blogger friends to share their top picks for pretty Hawaii waterfalls that everyone should add to their Hawaii itinerary!
Let's dive in!
Want to skip all the planning and just access my detailed Hawaii Itineraries complete with daily schedules, kid-friendly activities, and travel hacks? Click the button below.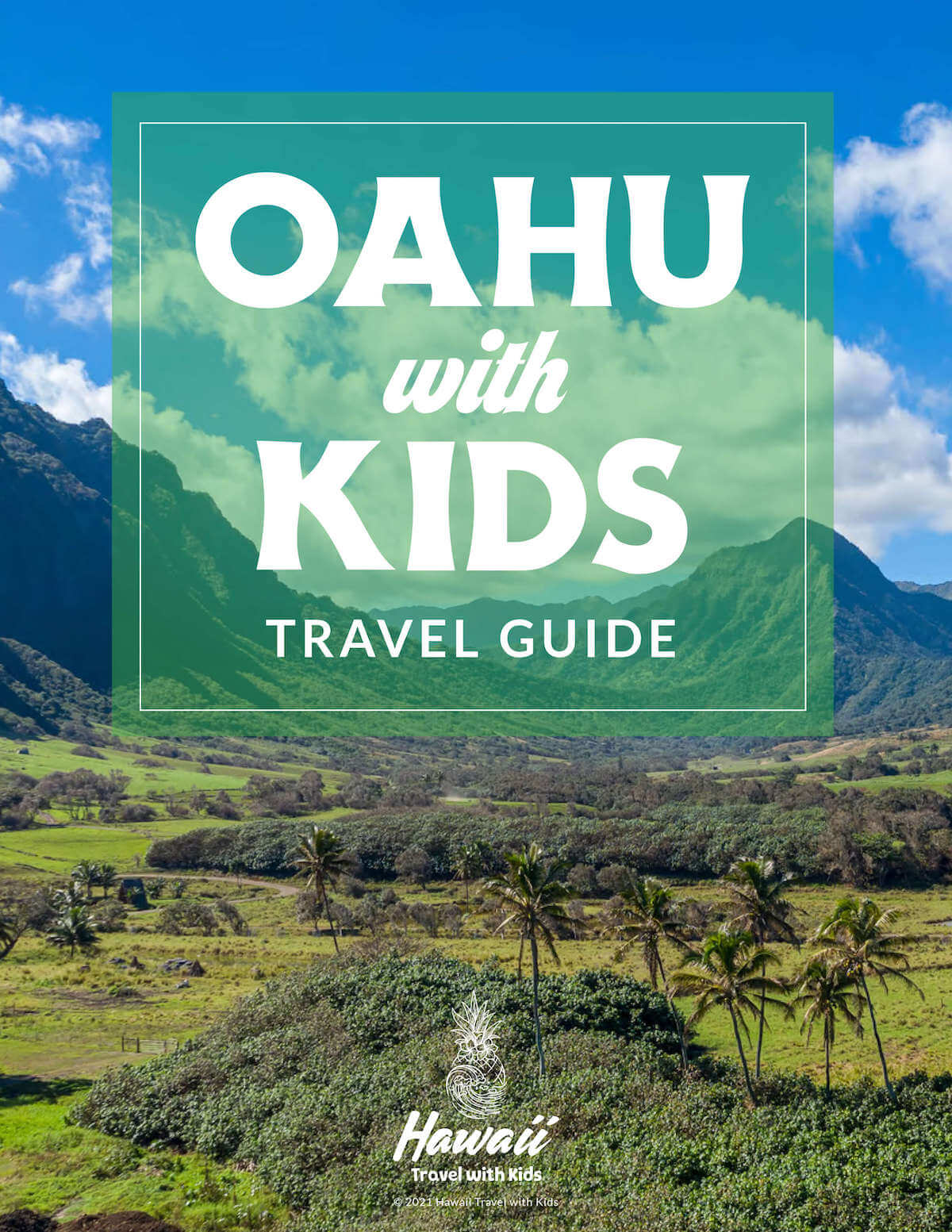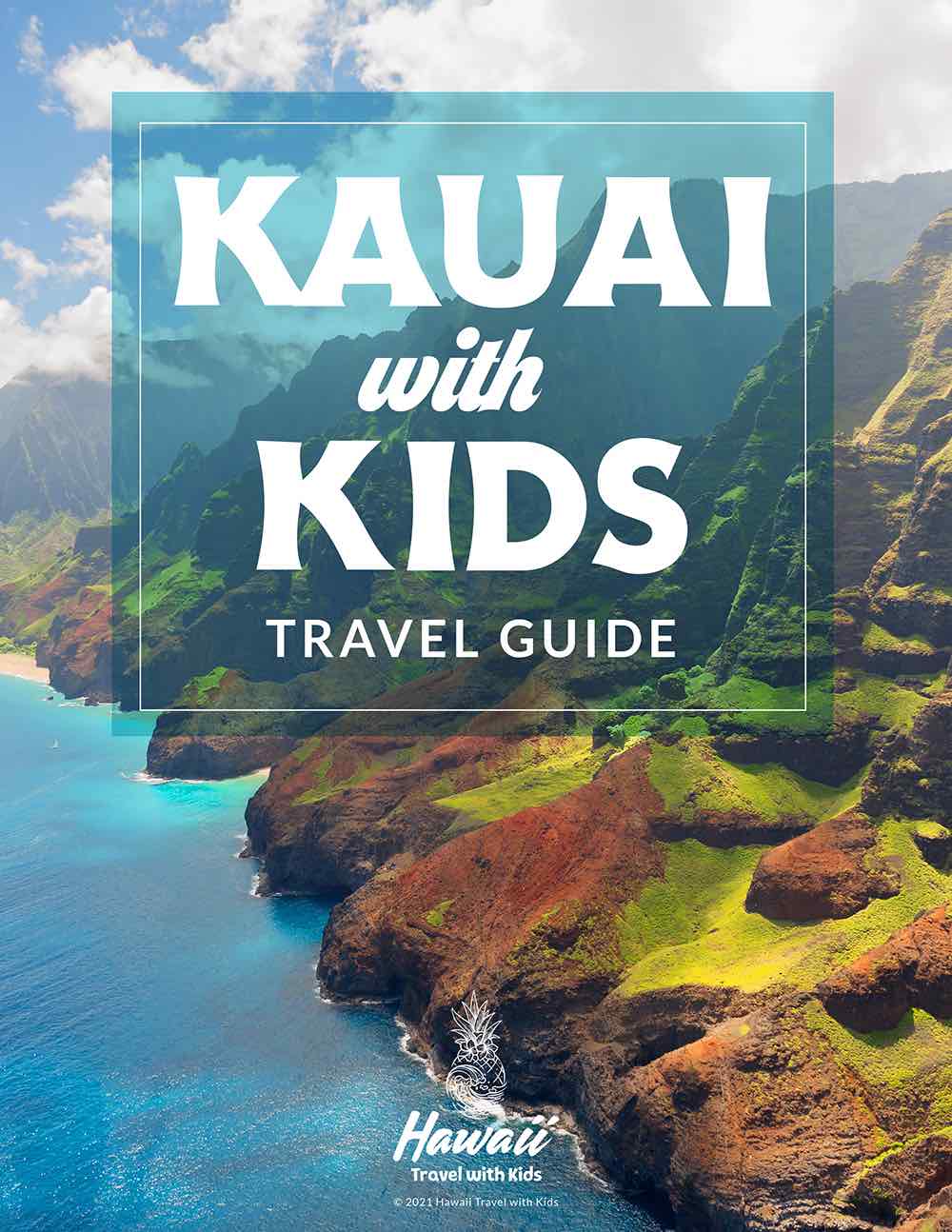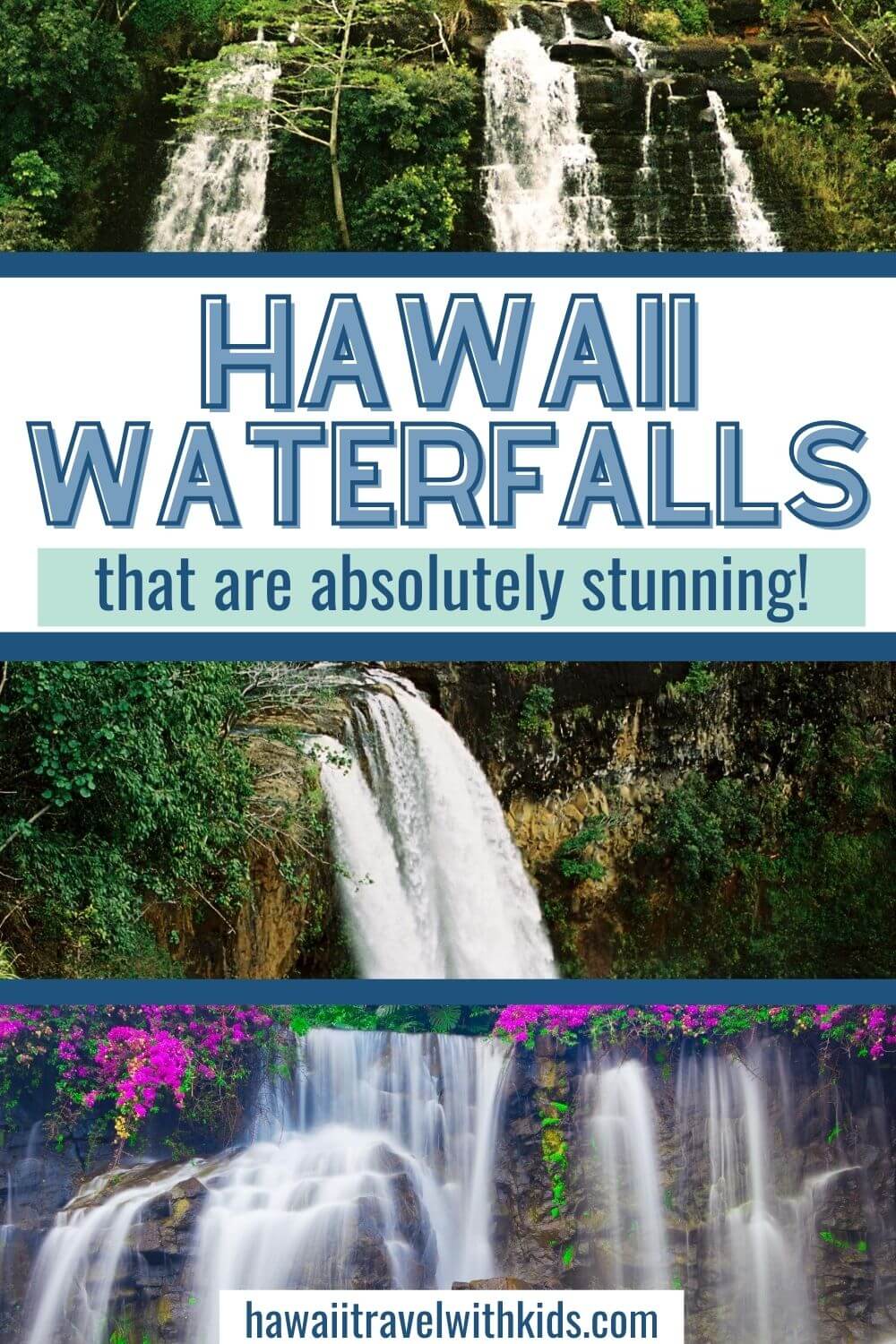 Top 10 Best Hawaii Waterfalls to Visit
Here are some of the best waterfalls in Hawaii! Most of these have a trail leading to the waterfall, while others are best seen with a helicopter ride or other fun waterfall tours.
Prettiest Hawaii Waterfalls on Oahu
Here are a few of the waterfalls on Oahu with swimming holes and hikes to enjoy.
Lulumahu Falls
If you are looking for a hike to add to your Oahu itinerary that lets you walk directly to the base of a waterfall, Lulumahu Falls is one of the best and most memorable hikes on the island.
The trailhead is right off the Pali Highway, although it can be hard to find because it is unmarked.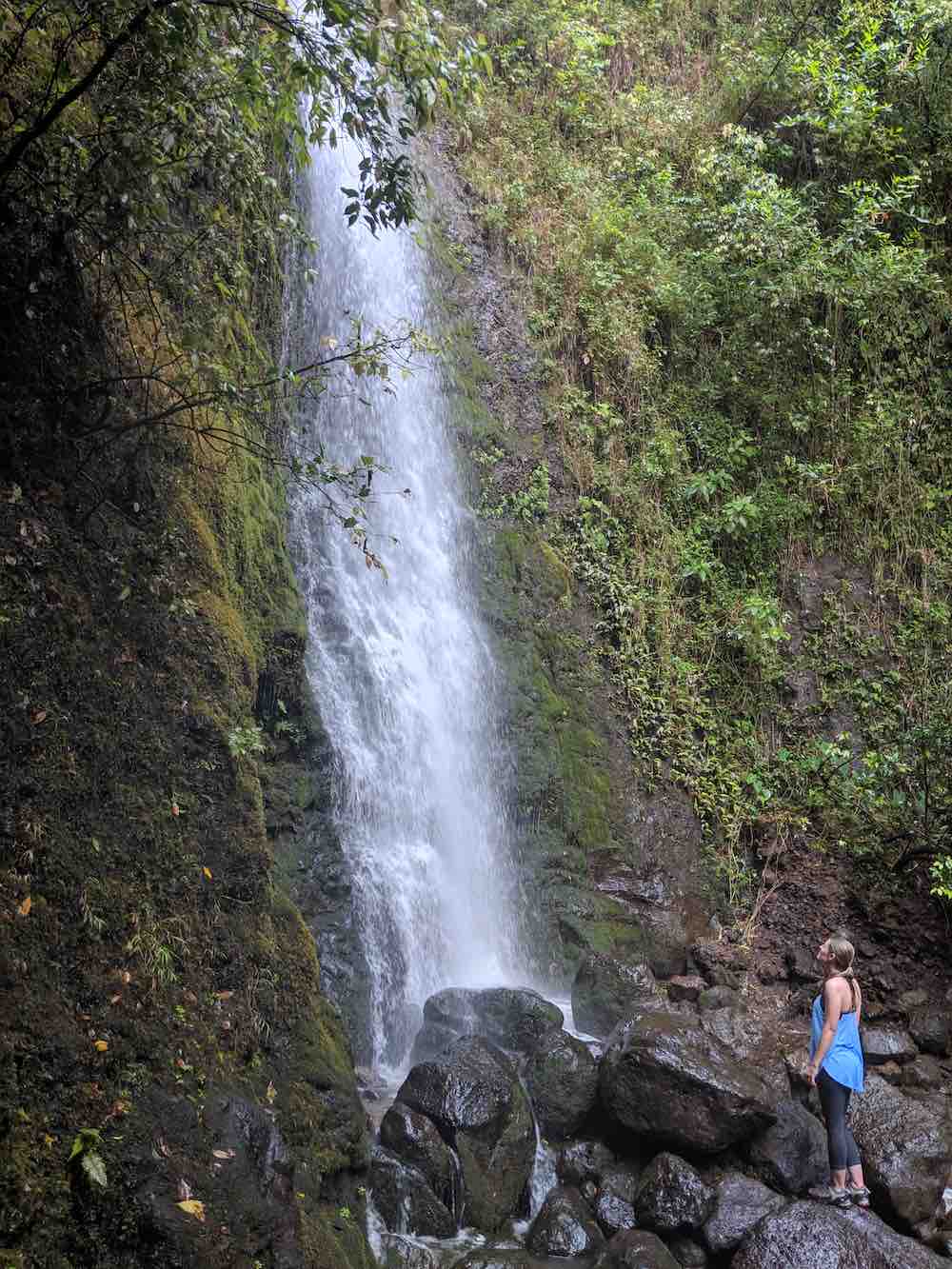 The beginning of this Honolulu waterfall hike is fairly easy and takes you through a beautiful bamboo forest. It becomes moderately more challenging the deeper into the jungle you get. You will want to wear a good pair of hiking shoes and plan to get muddy.
The hike to the waterfall takes roughly 2 hours and zig zags back and forth across the Lulumahu Stream.
As with the trailhead, the trail itself is not well marked, making it easy to get lost along the way. Make sure to download a trail map app on your phone to keep you on the right path.
Getting lost can be part of the adventure, though, as there are multiple paths to follow to the waterfall, all created by other hikers who went off the original trail, as well.
Like most jungle hikes, mosquitoes can be an issue while hiking to Lulumahu Falls, so you'll want to spray yourself down with bug spray before beginning your hike.
The hike can be exhausting because you'll have to scramble over boulders or downed trees and hop across rocks in the river, but standing beneath the 50-foot waterfall at the end is well worth the challenge!
Melissa Smuzynski of Parenthood and Passports
Waimea Falls
Waimea Valley is a gorgeous park and botanical garden on Oahu's North Shore that is home to Waimea Falls, one of the best waterfalls in Oahu.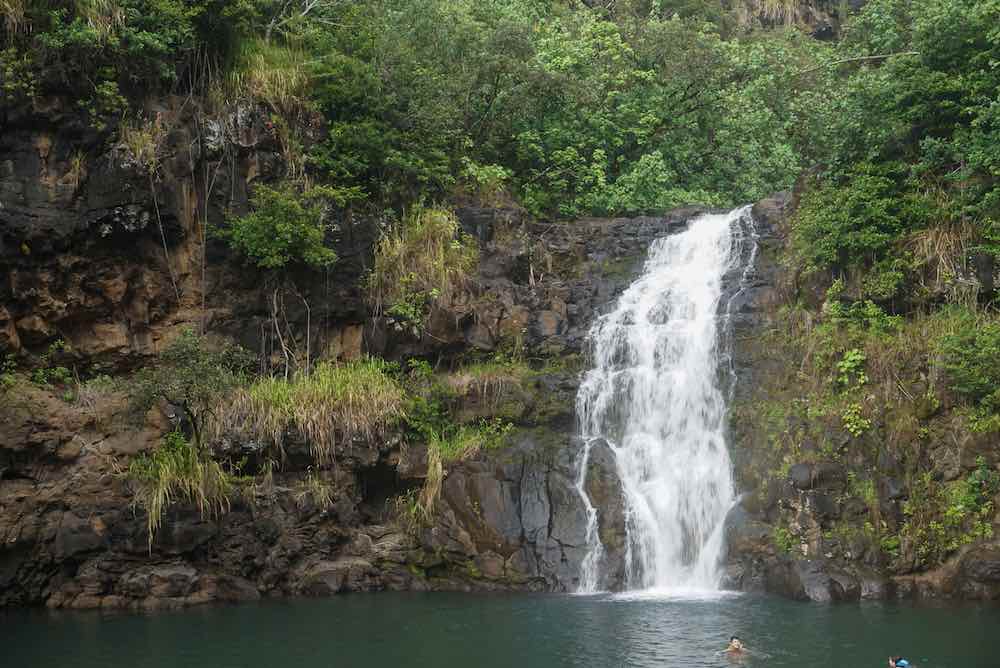 The Waimea Canyon waterfall can be reached by taking a leisurely one-mile hike through Waimea Valley Park. The gorgeous views along this walk make the Waimea Valley Trail one of the best hikes in Oahu.
Along the way, you can admire the beautiful flora and fauna before arriving at the park's centerpiece: the waterfall.
One of the best parts about visiting Waimea Falls is that you can take a refreshing swim in the pool surrounding the fall!
Life jackets are required to swim (they're included with your ticket to the park), and water shoes are highly recommended as the pathway to enter the pool is rocky and slippery.
Make sure to bring a towel along if you plan on swimming! Check out this full guide to visiting Waimea Valley.
Admission to Waimea Valley is $25 for adults and $14 for children 4-12 years old.
If you'd prefer not to go on the hike, no worries – you can still visit the falls! There is a shuttle bus option for just $14 round-trip – you can also buy one-way tickets.
The park is also home to other attractions, including a North Shore luau, which can be visited for an extra cost.
Sydney Richardson of A World in Reach
Love to hike? Check out these amazing Oahu waterfall hikes!
Manoa Falls
While the Maunawili Falls is still closed, Manoa Falls is open and another one of the prettiest waterfalls in Honolulu.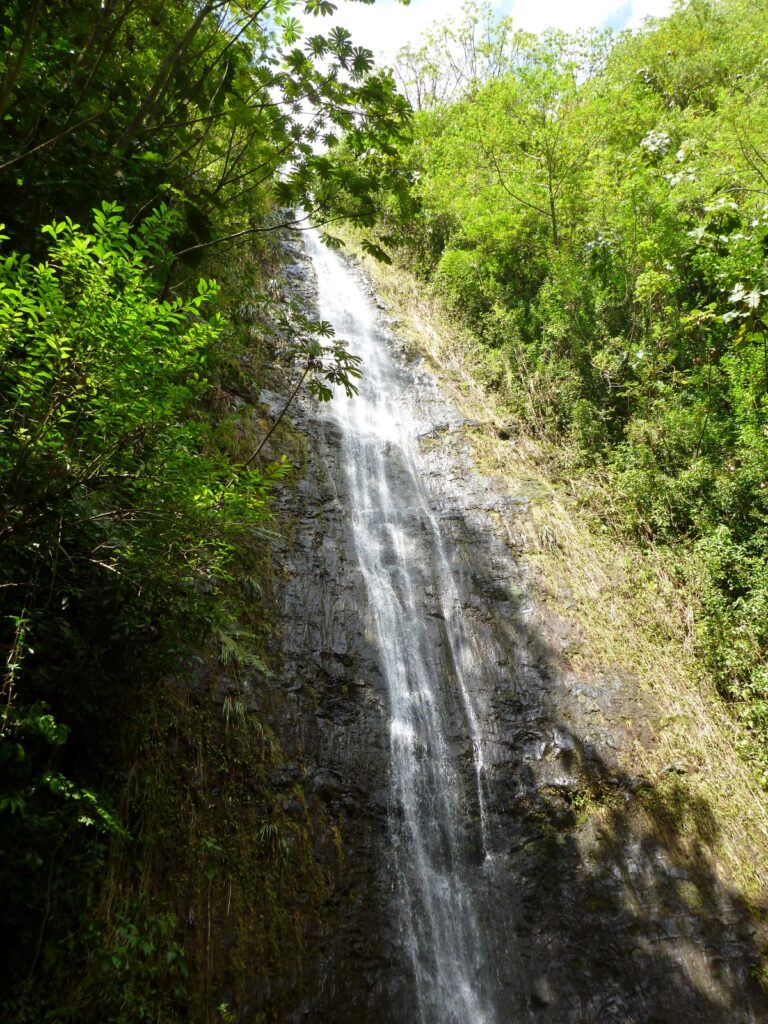 The Manoa waterfall hike is a popular waterfall near Waikiki. The waterfall stands at a height of 150 feet and is surrounded by lush vegetation, making it a beautiful sight to see.
The hike to Manoa Falls is approximately 1.6 miles round trip and is considered to be a bit of a challenge. The trail can be muddy and slippery at times, so it's important to wear appropriate footwear and bring water and insect repellent.
While there is a pool at the bottom, you cannot swim in it, unfortunately. However, the scenic backdrop and spectacular waterfall are quite worth it!
Read my complete Manoa Falls with kids review
Prettiest Hawaii Waterfalls on Kauai
These three Kauai waterfalls are some of the most beautiful waterfalls on the island!
Wailua Falls
There are plenty of awesome outdoor activities and attractions in Kauai– Hawaii's "Nature Island"– to keep adventure lovers busy for weeks.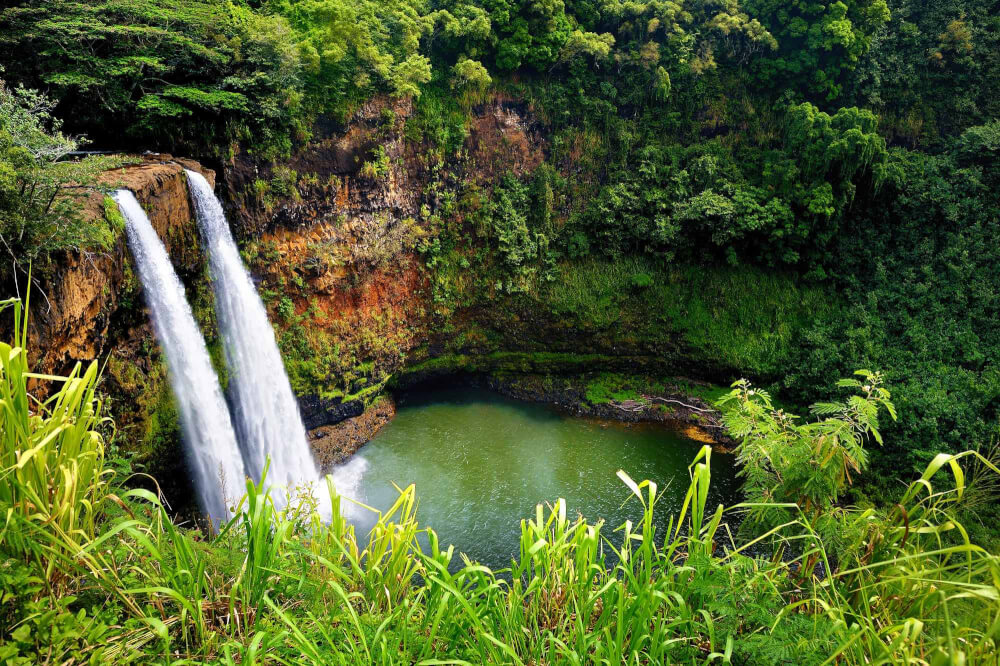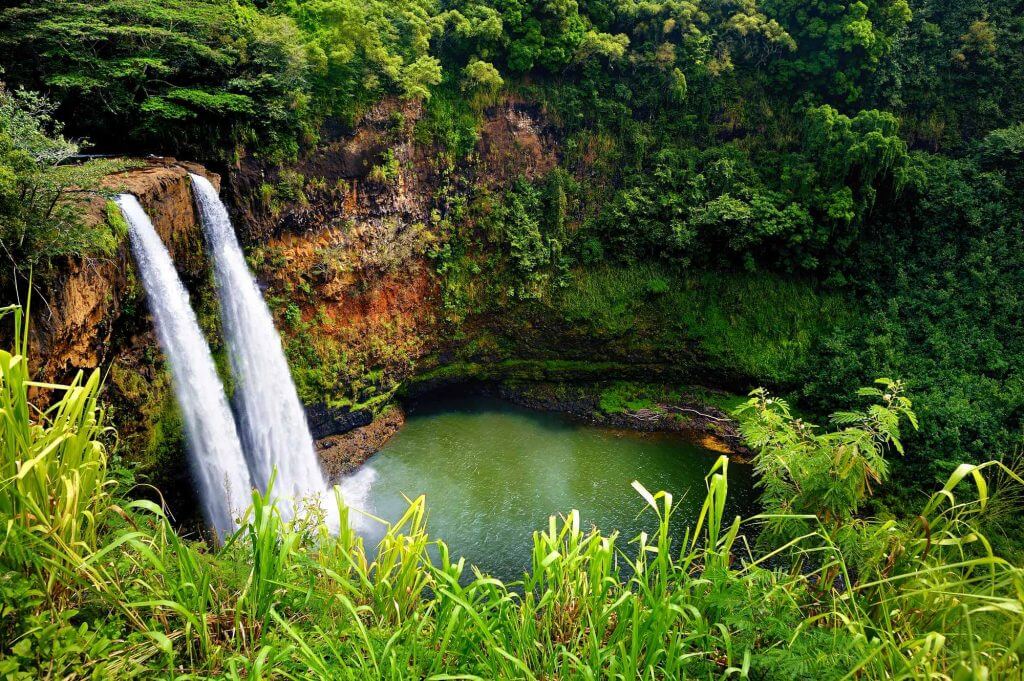 But we would definitely rank visiting Wailua Falls among the best things to do in Kauai, even if you've never seen the show that made them famous!
Located near the town of Lihue and the Smith Plantation (whose nightly luau is another one of our favorite tourist attractions in Kauai), Wailua Falls were prominently featured in the opening credits of the hit TV series Fantasy Island in the late '70s and early '80s.
To get there, simply head north from Lihue and follow Maalo Road in Hanamaulu uphill for about 3 miles. Note that the small parking lot for the viewing area can get very crowded at midday, so get there early if you want to avoid the crowds.
Morning is also the best time for photographing the waterfall: When the rising sun hits the water just right, you can often see a stunning rainbow emanating from the mist.
It's especially beautiful when it has rained up in the mountains of Kauai during wet season, and the dual streaming rapids rush over the 80-foot drop to the shimmering pool below.
While people used to do this Kauai waterfall hike, it's now illegal and dangerous. Please don't attempt it.
Instead, get to the viewing area early, bring a tripod to get good shots of the waterfall, and perhaps bring a picnic to spend an hour or two savoring the spectacular sights at one of the best waterfalls in Kauai!
Bret Love & Mary Gabbett of Green Global Travel
Uluwehi Falls
Uluwehi Falls in Kauai is otherwise known as the "Secret Falls" and are found deep in the rainforest of the Wailua River area of Kauai.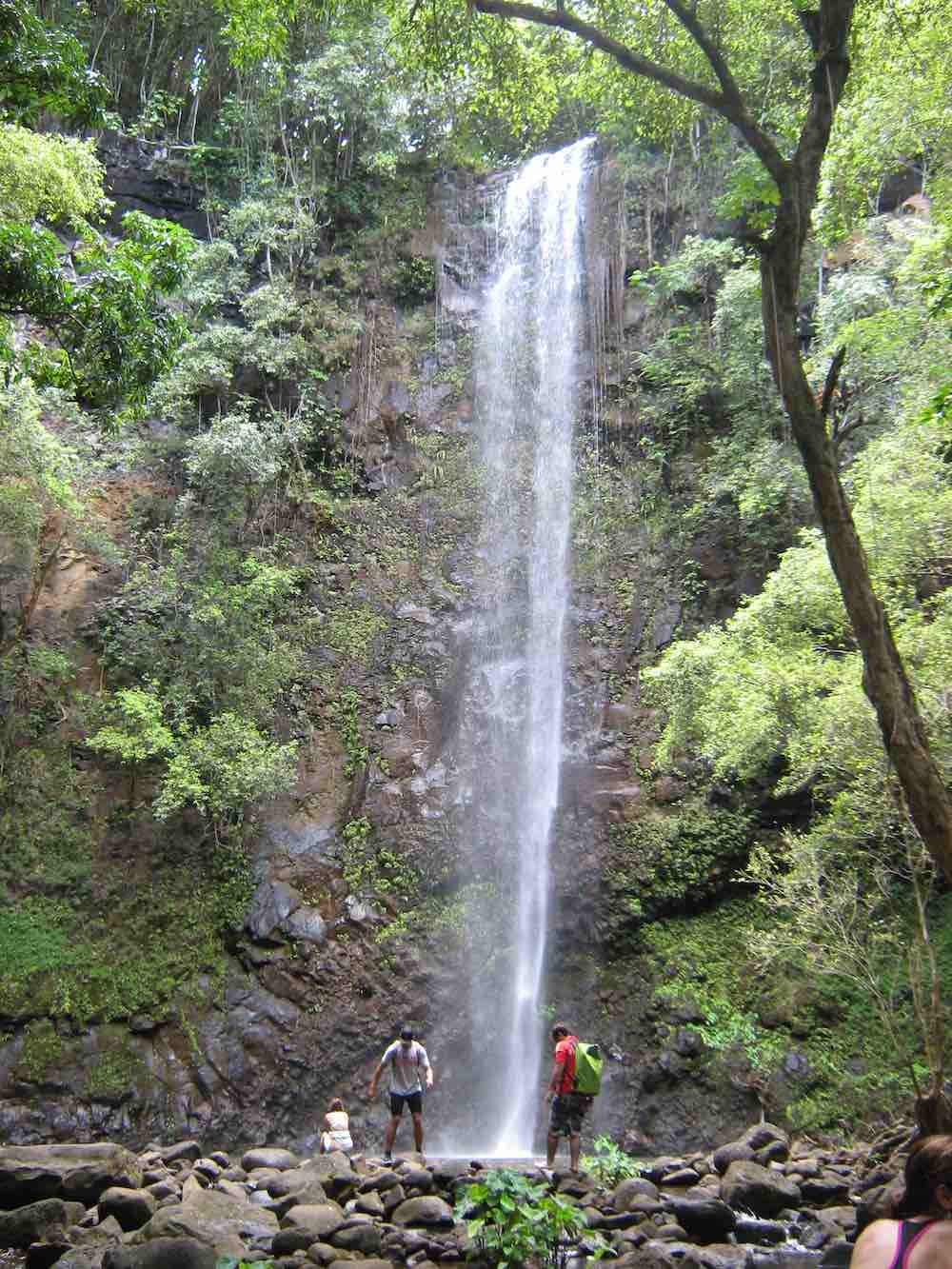 Getting to Uluwehi Falls is an adventure in itself, with the only way there being by kayak and hiking.
The area is part of sacred lands in Kauai, so it is recommended to join one of the Wailua River kayaking tours who will provide you with all the kayaking gear and an interesting tour as part of the experience.
A guide is also handy for understanding the weather and current conditions, as the river on the return paddle can be quite challenging on some days.
The journey starts with a gentle and scenic paddle for approximately 45 minutes to take you from the mouth of the Wailua River to the start of a hidden walking trail.
The hiking trail is relatively flat and easy but can be quite slippery, so make sure you are wearing sturdy footwear.
You will snake your way along the river bank and then cross at one point, holding onto a rope guide to get through the soft rapids – all part of the fun!
After a 20-minute hike where an experienced guide will be able to show you the historic ruins of past civilizations along the way, you will reach Uluwehi Falls.
Uluwehi is a gorgeous high falling waterfall plummeting into a perfect swimming hole. This is a fun, kid-friendly Kauai adventure!
It's a great spot to take a dip and feel the spray of the falls plummeting down on you before you make your return journey home and another one of the best Kauai waterfalls to visit.
For this fantastic half-day adventure, all you need to pack are some swimmers, sunscreen, snacks, and some sturdy walking shoes.
Karen Buffier from Big Adventures for Little Feet
Find out all the best waterfalls on Kauai!
Manawaiopuna Falls
Jurassic Park fans will love and know this waterfall from the movies! Also known as Jurassic Park Falls, this is another one of the favorite waterfalls on Kauai.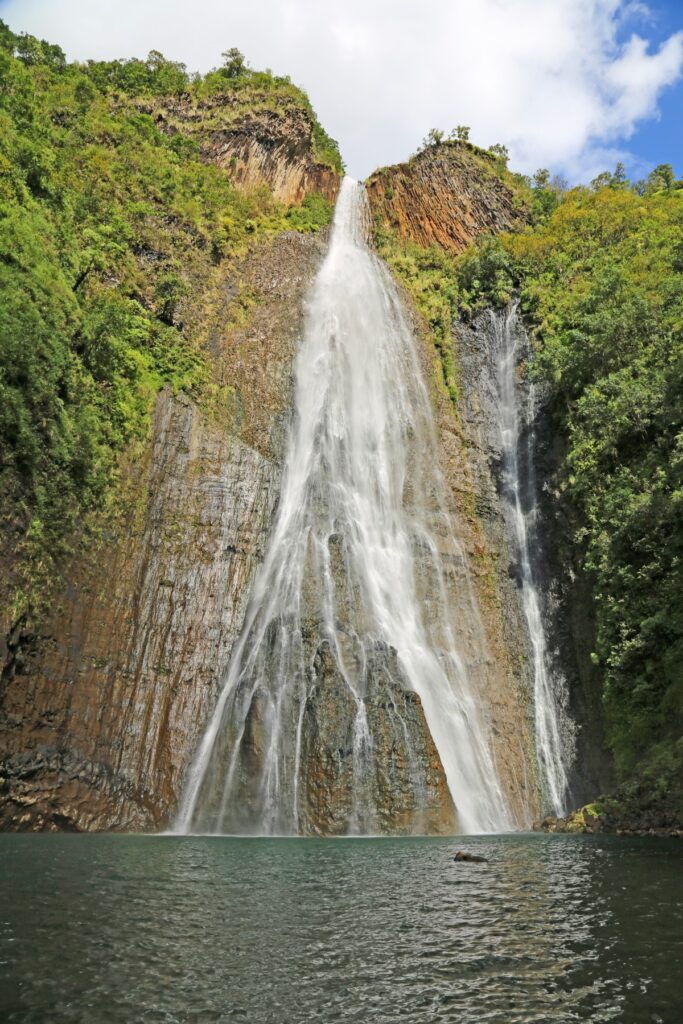 Manawaiopuna Falls is not accessible by foot and can only be viewed by going on a few different helicopter tours.
You'll get an aerial view of Jurassic Falls and the surrounding landscape, which includes the Hanapepe Valley and the Na Pali Coast.
Manawaiopuna Falls is approximately 400 feet and is one of Hawaii's waterfalls worth seeing on a helicopter tour in Kauai.
Prettiest Hawaii Waterfalls on Maui
While Maui has plenty of other waterfalls, these two beautiful waterfalls are worth checking out.
Waimoku Falls
Hawaii is known for its waterfalls, but one of the prettiest waterfalls can be found on the island of Maui inside the Kipahulu entrance of Haleakala National Park. This is easily one of the best waterfalls in Maui.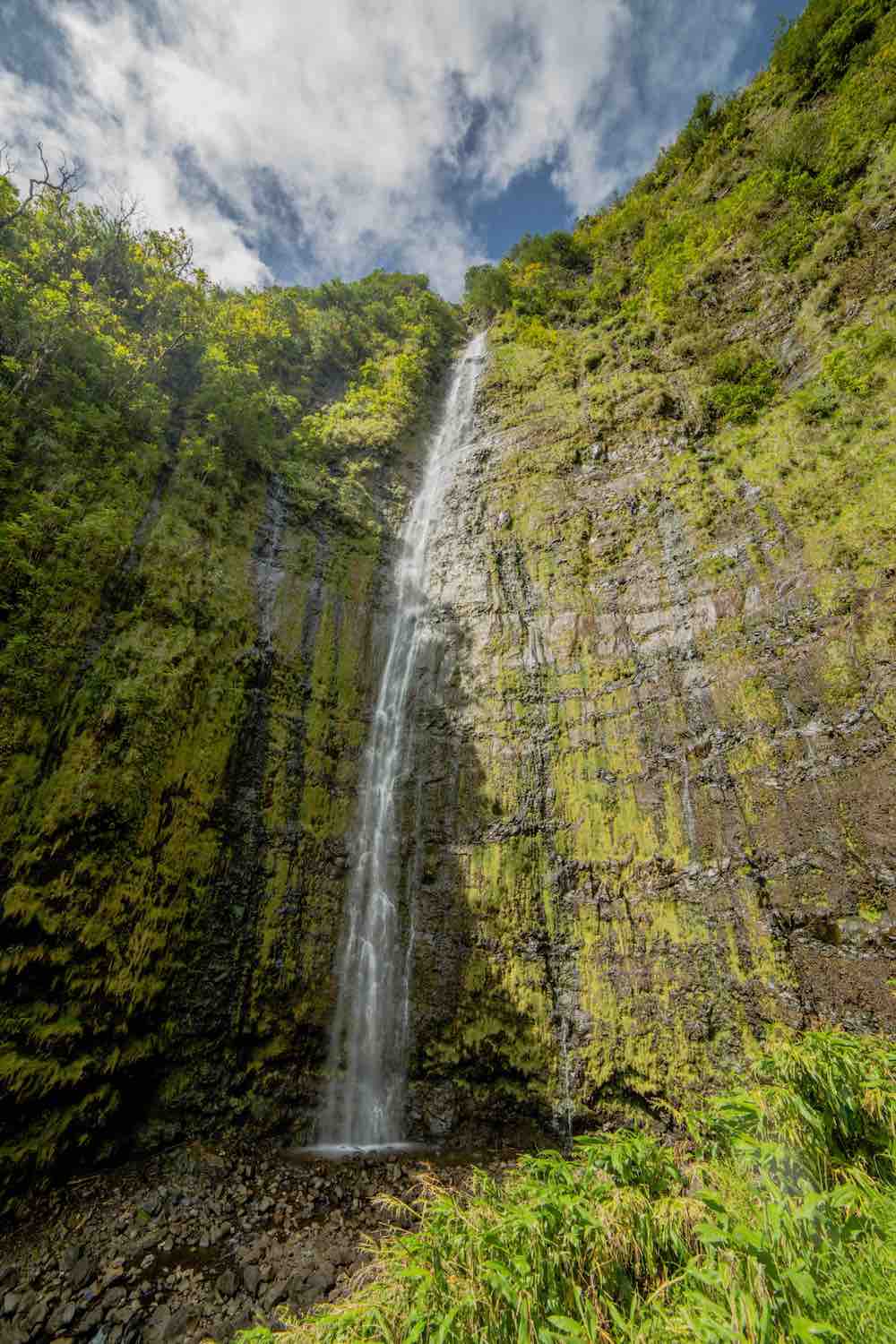 The Kipahulu District is a remote area in East Maui, and getting there is half the adventure. There is only one road that takes you to this entrance of the Park, and that is the scenic road to Hana.
Inside Haleakala National Park is the Pipiwai Trail, one of Maui's best hikes. The moderate 4-mile out-and-back trail takes you past ancient banyan trees, through a majestic bamboo forest, and ends at the iconic Waimoku Falls.
Waimoku Maui Falls is a 400-foot waterfall that you see pictured on the cover of many of Maui's guidebooks and is one of the tallest waterfalls on Maui. This isn't one that you can swim under, though.
The enormous waterfall cascades down a steep lava rock wall into a boulder-strewn pool. Exercise caution when approaching the falls; even a pebble falling could seriously injure someone.
Make sure you wear proper footwear. The first mile of the trail to the falls is a rooty, dirt path, and if it has rained recently, it has the potential to get muddy.
The walk through the bamboo forest is arguably more magical than the falls itself, making the 4-mile journey more than worth it. It is by far one of the best hiking in Maui waterfalls experiences I've had!
Jess of I'm Jess Traveling
Twin Falls
Another one of Maui Hawaii's waterfalls, Twin Falls, is quite beautiful and flows year-round and is one of the best waterfalls in Maui that you can swim in!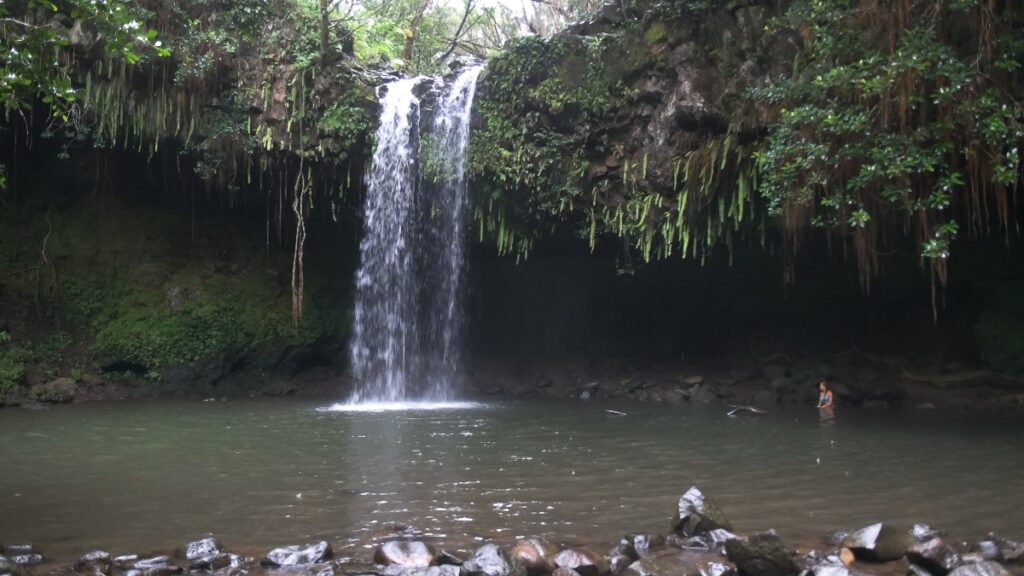 Twin Falls is a popular waterfall and natural attraction located on the Hana Highway in Maui, Hawaii. It is named "Twin Falls" because there are two waterfalls in close proximity to each other, creating a beautiful and unique sight.
The hike to Twin Falls is considered to be relatively easy and is about a 1-mile round trip. However, the trail can be muddy and slippery, so it's important to wear appropriate footwear. But you can also see the lower falls right from the parking lot!
This is one of the many Maui waterfalls you can swim in, making it a very popular destination.
Check out more waterfalls in Maui, including West Maui waterfalls only accessible by helicopter tours!
Prettiest Hawaii Waterfalls on the Big Island
Here are two of the best waterfalls found on the Big Island. While we didn't mention any of the waterfalls in Kona, Hawaii, there are plenty of waterfalls near Kona worth checking out!
Akaka Falls
Akaka Falls State Park is approximately 11 miles north of Hilo on the Hamakua Coast and is one of the best Hawaii Big Island waterfalls.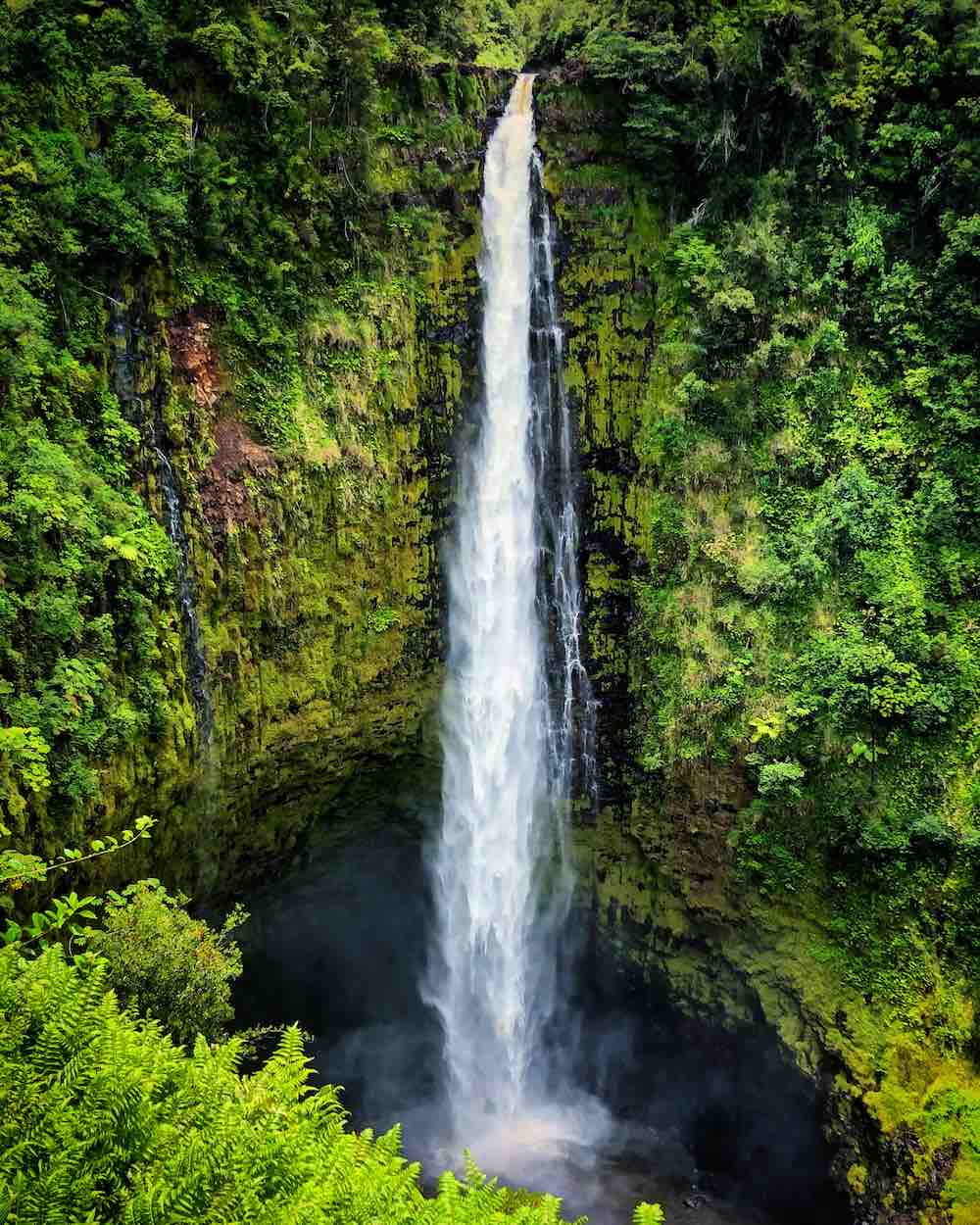 Located at the end of Akaka Falls Road (Highway 220), this lush section of rainforest includes one of the most recognizable waterfalls in all of Hawaii, Akaka Falls.
The magnificent 422-foot-tall falls can be viewed from several points along the .4-mile loop trail. The short hike is suitable for most family members.
However, there are several sets of stairs, so those with mobility issues or parents with strollers may have difficulty completing the entire loop.
For more information about navigating Akaka Falls and other accessible Big Island activities, check out Sickgirltravels.com.
The loop takes about thirty minutes to complete. To avoid the stairs completely, make a left at the entrance, which will leave you immediately in front of the best view of the falls.
Keep in mind while the trail is paved, the frequent rain and mist can leave the ground quite slippery. Make sure to wear appropriate footwear.
While the views inside the park are gorgeous, one of the most interesting things about Akaka Falls may be something you can't see.
The less than three-inch-long goby fish (o'opu alamao'o) make their way from their home in the Pacific to spawn in the stream above Akaka Falls.
These fish are able to use a sucker on their underside to climb the rocks behind the falls and make it to the top. Their eggs are then washed back out to the ocean to hatch.
So, as you stare out at these majestic falls, just remember the thousands of tiny rock-climbing fish ascending the cliff beneath.
Admission is $5 per car or $1 per person for walk-ins. Entrance is free to Hawaiian residents. The parking area is open from 8:30 am to 6 pm.
Jenn Lloyd of Sick Girl Travels
Rainbow Falls
One of the most popular attractions to visit on the Big Island is located right in Hilo at Rainbow Falls. An easy to get to waterfall with a very short walk to the observation viewpoints.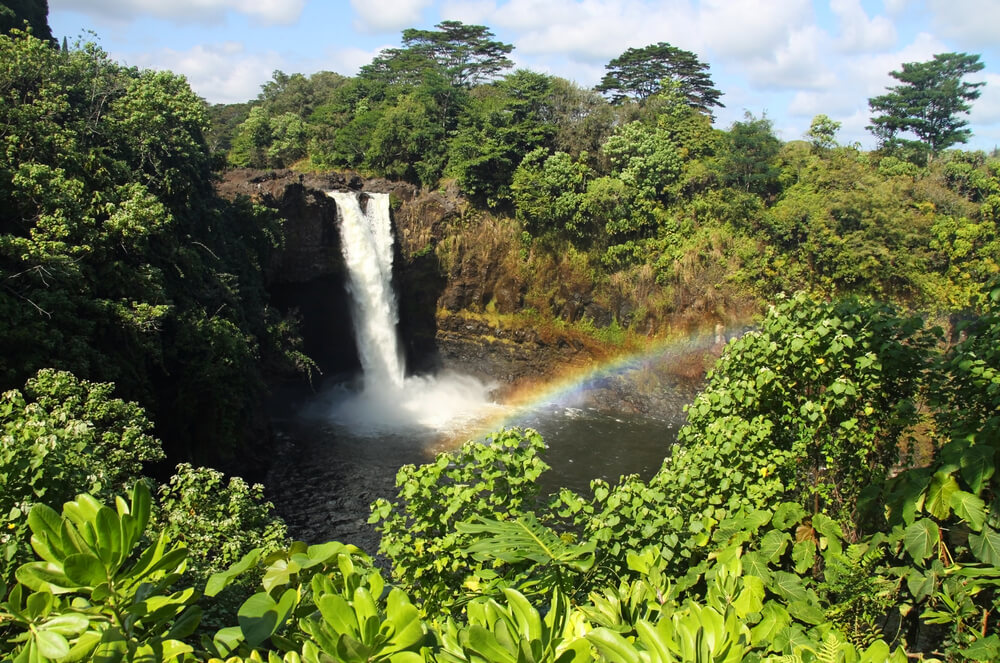 Rainbow Falls is striking, and yes, you can actually see rainbows in the water sprays around the base of the waters below.
The falls are quite active and spectacular on rainy days when all the waters around the mountain areas flow down the various streams and rivers into Hilo and down into Rainbow falls.
A fun short walk to do just to the left of the falls are paved steps that you can climb to the top of the falls and view the fabulous areas below.
If you follow the trail further, you'll get into a forested area with one of the largest banyan trees located right in the middle of this forest area, which feels surreal and otherworldly. Rainbow Falls is quite spectacular and an easy to get to attraction just in Hilo.
If you are visiting the rest of the island, check out my post on a family-friendly visit to the Big Island here for more inspiration on fun places around the island to explore and enjoy when you visit.
Rainbow Falls, Hawaii, is by far one of the best waterfalls Big Island has to offer!
Noel Morata of This Hawaii Life
See all the amazing Big Island waterfalls worth checking out!
Hawaiian Waterfalls FAQs
How many waterfalls does Hawaii have?
Hawaii has more than 100 waterfalls throughout the islands. Some are famous and are easy to get to, while others are hidden away and only accessible by hiking or taking a helicopter ride.
What is the tallest waterfall in Hawaii?
Located on Molokai, Olo'upena Falls is Hawaii's tallest waterfall. It plummets almost 3,000 feet, and it's seriously stunning.
Is it safe to swim in Hawaii waterfalls?
Sometimes. Many waterfalls are totally safe to swim in the base, but it's illegal to swim at some waterfalls in Hawaii. It's important to check before you go or keep a lookout for signs.
Which Hawaii island has the best waterfalls?
The Big Island and Kauai have some of the best waterfalls you'll definitely want to visit on the Hawaiian islands. However, all the islands have stunning waterfalls to enjoy.
What is the prettiest waterfall in Hawaii?
All the waterfalls are beautiful, but some of the prettiest waterfalls in Hawaii include Waipo Falls, Rainbow Falls, and Manoa Falls.
Prettiest Hawaii Waterfalls Wrap Up
Choose to add any of these Hawaii waterfalls to your itinerary so you can see some of Hawaii's natural beauty. Any of these waterfalls are great places to enjoy being in nature and are so stunning; you have to see as many as you can!