Planning a trip to Kauai? You won't want to miss these 7 must-see Kauai beaches. Scroll to check them out!
This Kauai beaches post contains affiliate links which means if you purchase something from one of my affiliate links, I may earn a small commission that goes back into maintaining this blog.
It's time. You've been planning for months, maybe even years, and now you're finally here. It's Kauai time!
Kauai is the most beautiful island in the Hawaiian archipelago and one of the most beautiful places on Earth. There are so many beaches on Kauai to visit! But we've narrowed it down to 7 must see Kauai beaches that will take your breath away!
If you're planning your first trip to Kauai, or just want to revisit some of the most gorgeous beaches on Earth, then this blog post is for you!
Don't have time to read a bunch of Hawaii blog posts and reviews? Here are some of our top picks for visiting Kauai.
Popular Kauai Tours/Activities
Favorite Kauai Resorts/Hotels
Grand Hyatt Kauai (this Poipu resort has a luxurious pool area, romantic restaurants, and a stunning ocean view)
Koloa Landing Resort (this is a luxury resort with an amazing pool area and truly spacious rooms)
Royal Sonesta Kauai (we LOVE the pool here because it's the largest one in Hawaii)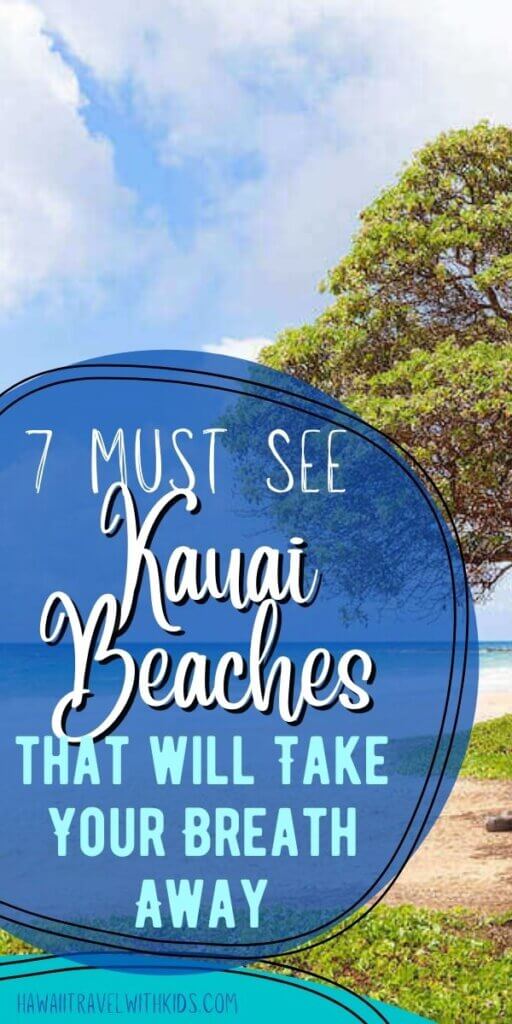 Want to skip all the planning and just access my detailed Kauai Itinerary complete with daily schedules, kid-friendly activities, and travel hacks? Click the button below.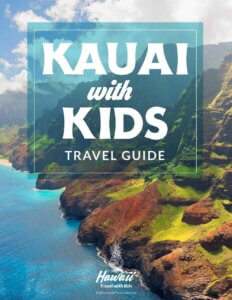 Kauai Travel FAQs
What are the best things to do on Kauai?
Honestly, there are WAY too many things to mention. In fact, I have a list of 101 things to do on Kauai and I'm probably still missing a few things! Some of the top Kauai activities include taking a snorkeling boat ride up the Na Pali Coast, visiting Waimea Canyon, going ziplining, hiking one of the many trails, kayaking the Wailua River, and enjoying some incredible food.
What side of Kauai has the best beaches?
In general, the North Shore has the prettiest beaches (like Hanalei Bay and Lumahai Beach), the South Shore has some of the safest beaches for swimming (like Salt Ponds and Poipu Beach), and the East Shore has a mix of swimmable beaches (like Lydgate and Kalapaki Beach).
What are the best beaches in Kauai for snorkeling?
If you're new to snorkeling, head to Poipu Beach for easy beach snorkeling. But, if you are a strong swimmer, head to Tunnels Beach for some of the best snorkeling on Kauai. Another option is to do a Kauai boat tour where you can snorkel near the Na Pali Coast. Take a look at some of the best Kauai snorkeling tours.

7 Amazing Kauai Beaches You Have to See to Believe
Do you want to see some gorgeous Kauai beaches? You're in luck! These are just a few of the beautiful beaches in Kauai worth a peek!
1. Polihale State Park
One of the favorite hangout spots among locals is Polihale State Park, who often go there to chill at the weekend.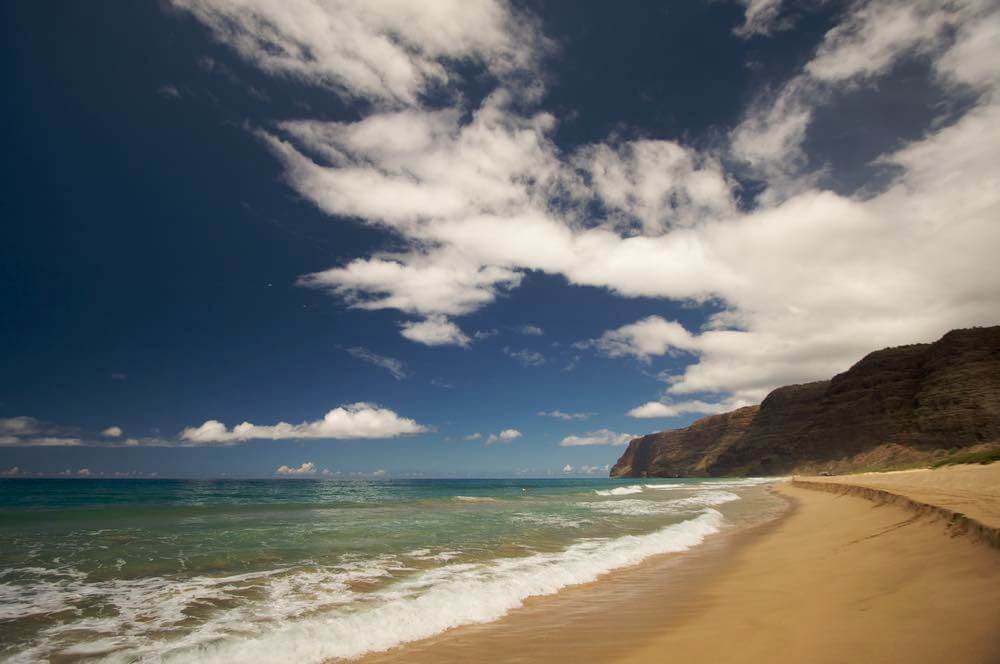 Located at the end of Highway 50, which is on the south side of Kauai, the sandy beach is very quiet, lacking the noise that comes with a fully serviced beach.
Visitors are often seen bringing their own camping chairs and little umbrellas. That's so they can sit in to watch the waves. Surfing is usually left to the professionals who can brave it. There's also a calmer section of the water is dedicated to swimming and snorkeling.
2. Salt Pond Beach Park
Salt Pond Beach Park is one of the best beaches for families to visit in Kauai. With beautiful white sands and calm, easy water, Salt Pond gives parents the chance to relax as their children find plenty to do as the day flies by.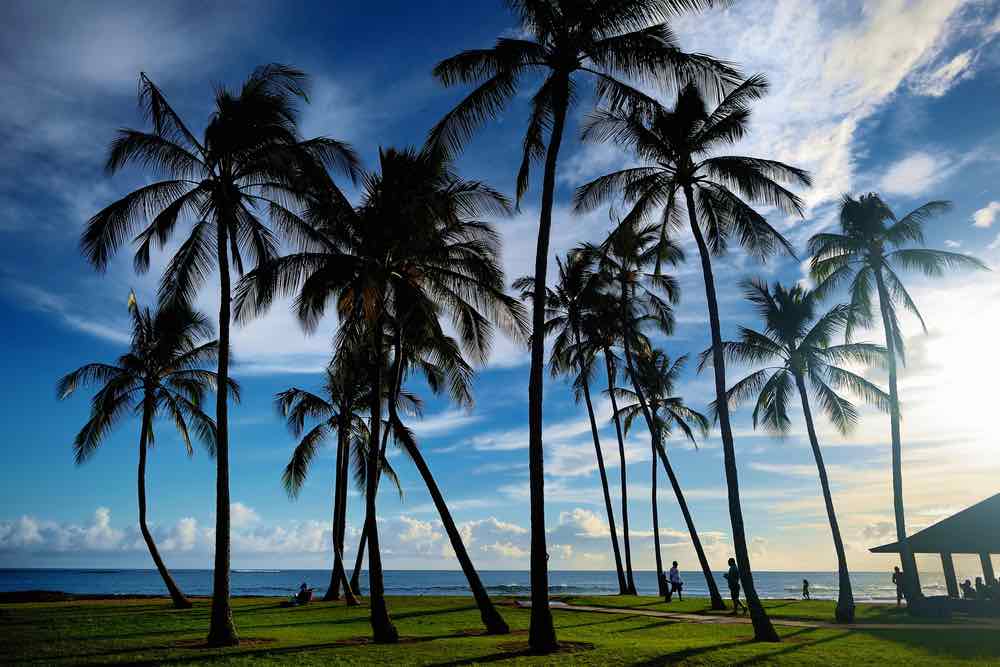 Not only do lifeguards watch the waters, but there are also reefs which keep the pond calm all year round. Thanks to the reef, there are lots of colorful reef fish, starfish, moray eels, and black sea cucumber around to swim with when you go snorkeling.
The Kauai sunset here is also breathtaking to watch. And if you want to watch the sunrise on this beach, there are convenient facilities where you can spend the night.
3. Anini Beach
Not as popular as Salt Pond, Anini Beach is a quiet beach with soft sand. It's framed perfectly by calm water and a feeling of tranquility. The water is crystal clear and harbors a wide range of sea creatures from fish to sea turtles.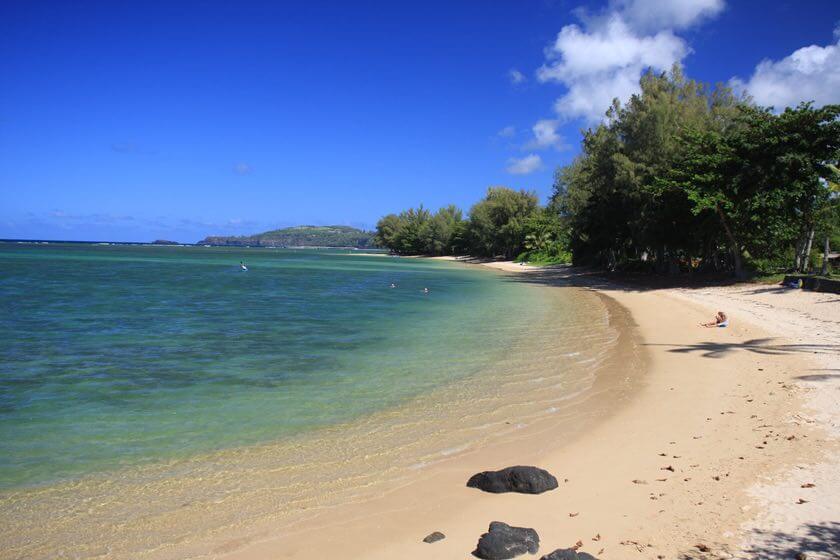 Quite mild, even children can come out into the water and splash around. The beach area is divided into two; a well-catered side with more modern conveniences and a remote section which is quiet and undisturbed. This is the section of the beach where most of the snorkeling takes place.
4. Ke'e Beach
Properly pronounced as "Keh-AY", Ke'e Beach is located at the furthest end of Kauai's north shore. The beach is characterized by comfy sands and calm waters. Additionally, there's reef protection that makes it easy for visitors to go swimming and snorkeling in the water.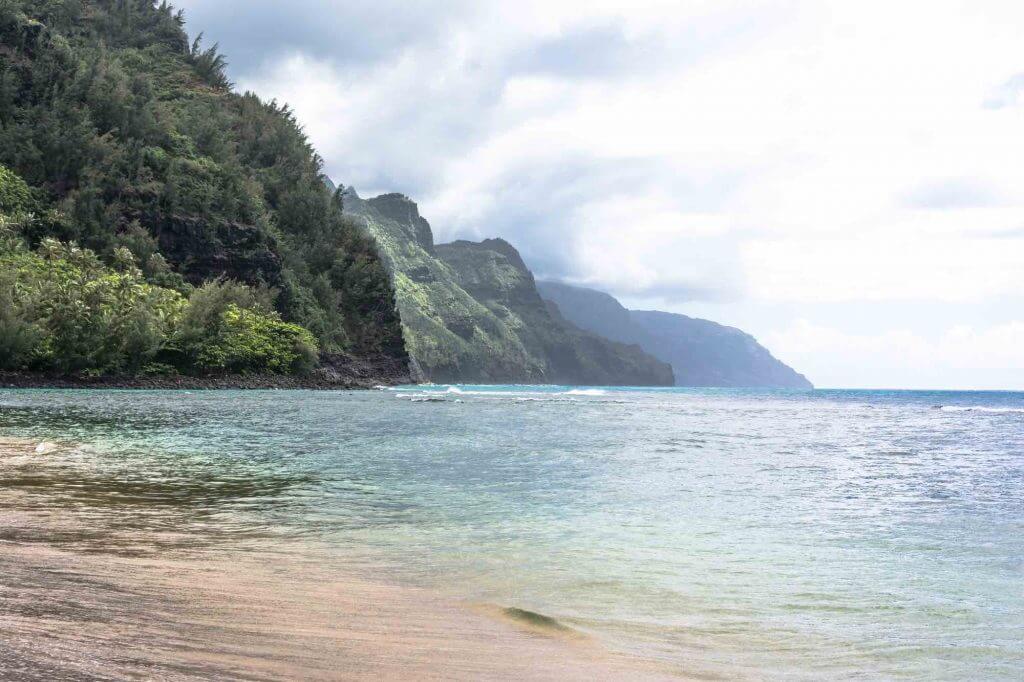 The views from this beach at sunset are amazing. In the summertime, the water is so calm that the setting sun looks like it is taking a dive into a swimming pool.
This beach also forms the beginning of the Kalalau hiking trail, which extends towards Kalalau Beach and Hanakapiai Beach.
5. Kealia Beach
Located on the Coconut Coast, which is on the east side of Kauai, Kealia Beach stretches out for half a mile with its white sands that curve around Highway 56.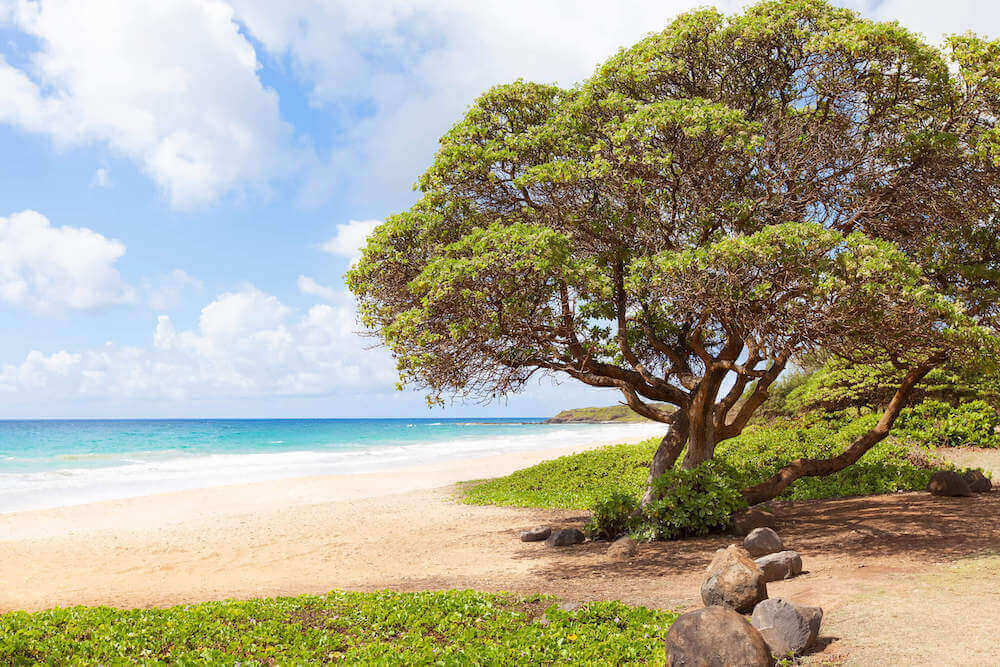 Thanks to its sand bar bottom, this beach is quite popular among surfers, during the winter months. During the summer months, however, the waters are less wavy and Kealia Beach becomes a great spot to go swimming. Some people even choose to go bodyboarding, taking advantage of the ultra-low waves.
The beach also has amenities like active lifeguards, parking space, restrooms, functional showers, picnic tables, and more.
6. Lumahai Beach
On the North Shore, Lumahai Beach is situated at the spot where the Lumahai River flows into the Pacific Ocean.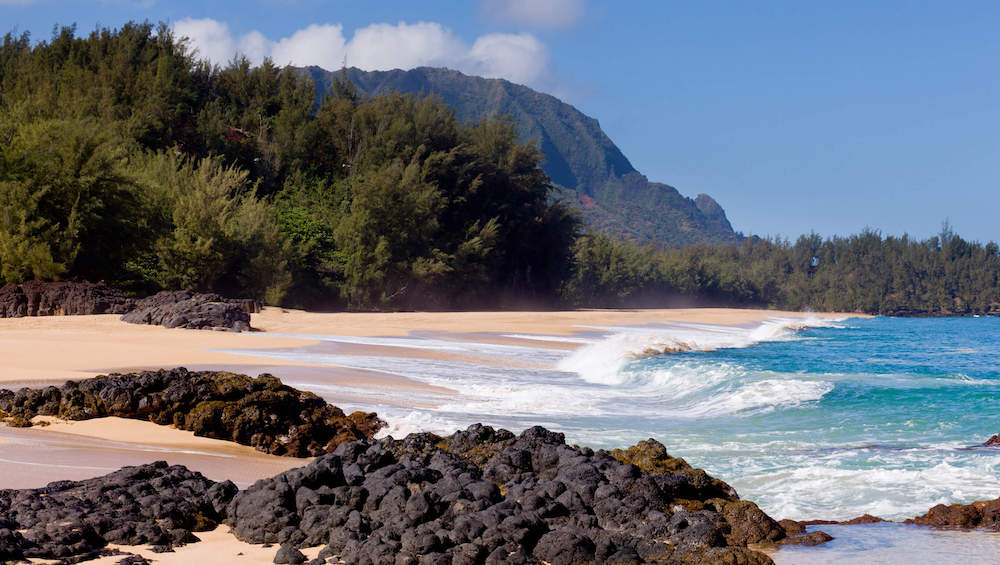 Once featured in a classic romantic movie, "South Pacific", that came out in the late 1950s, the beach is a popular spot among romantic couples – many of whom get married there.
Although the sands are a popular hangout and relaxation spot, even for non-couples, the waters are famously rough and rarely considered safe for swimming. The eastern portion of the beach, however, is known as the Kahalahala end. This portion of the beach has a naturally occurring rock barricade which makes it calm and safer to swim in.
7. Kekaha Beach Park
Finally, Kekaha Beach Park can be found on the western end of Kekaha town as one comes down the Kaumualiʻi Highway.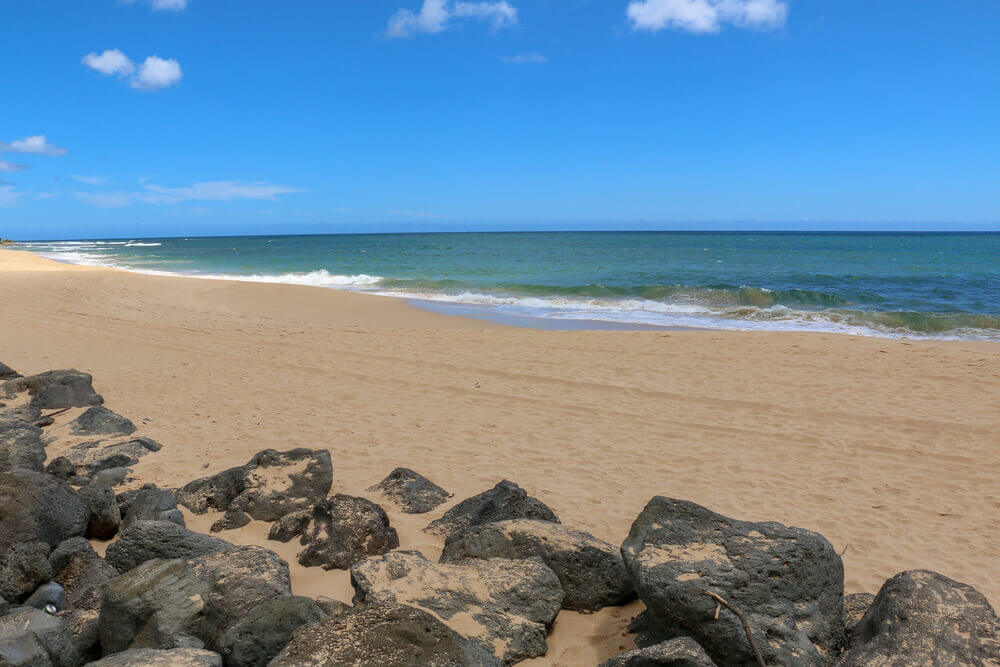 The beach is very popular and attracts a lot of different lovers of sand and surf like swimmers, surfers, fishermen, and bodyboarders.
Of the lot, surfers have the most fun at this beach park; with high waves that only pro surfers dare to manage during the winter periods.
Wrap Up
I hope this list of 7 must-see Kauai beaches has helped you find your perfect beach destination on the island. The best beaches on Kauai are as diverse and beautiful as they come, so it's important to do a bit of research before planning your trip!
Whether you want to dip in an ocean that is crystal clear or explore an area with ancient petroglyphs, there is something for everyone here.
And if you have never been before, it would be wise to spend time planning when and where each beach can be found. The amenities may make one more desirable than another based on your preferences so that your Kauai vacation isn't spent driving from place to place trying to find the perfect spot!