Are you looking for where to stay in Kona with kids? Keep scrolling for my honest Courtyard King Kamehameha's Kona Beach Hotel review so you can decide if it's one of the best hotels on the Big Island for families.
This Courtyard King Kamehameha's Kona Beach Hotel review was written by Hawaii travel expert Marcie Cheung and contains affiliate links which means if you purchase something from one of my affiliate links, I may earn a small commission that goes back into maintaining this blog.
Have you ever walked through a hotel and thought, "THIS is where I want to stay on my next trip here?"
That's what ran through my head last year when I visited Kona with my son. I realized how convenient the Courtyard by Marriott King Kamehameha's Kona Beach Hotel was for tons of kid-friendly activities and restaurants.
So, when I booked my next trip to Kona, I made sure to add a few days to fully check out this hotel. It did NOT disappoint!
Keep scrolling for my honest review of the Courtyard by Marriott King Kamehameha's Kona Beach Hotel!
Don't have time to read a bunch of Hawaii blog posts and reviews? Here are some of our top picks for visiting the Big Island with kids.
Best Kid-Friendly Big Island Tours/Activities
Best Kid-Friendly Big Island Resorts
Save Money with Points
My favorite credit card for travel is Chase Sapphire because it offers the best value on flights and hotels. Check out the latest sign-up bonus deal.
Want to Rent a Car in Hawaii?
One of the best places to rent a car in Hawaii is Discount Hawaii Car Rental because they get the best rates from top national companies like Alamo, Dollar, Thrifty, Avis, Enterprise, Budget, and Payless.
Want to skip all the planning and just access my detailed Big Island Itinerary complete with daily schedules, kid-friendly activities, and travel hacks? Click the button below.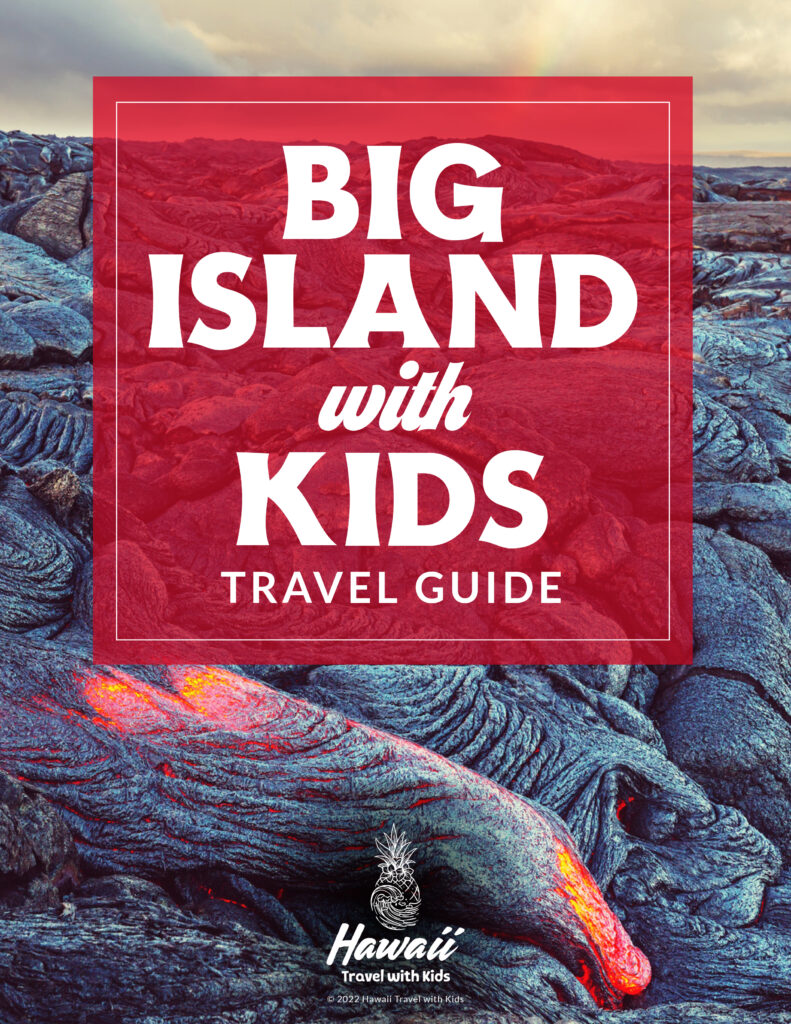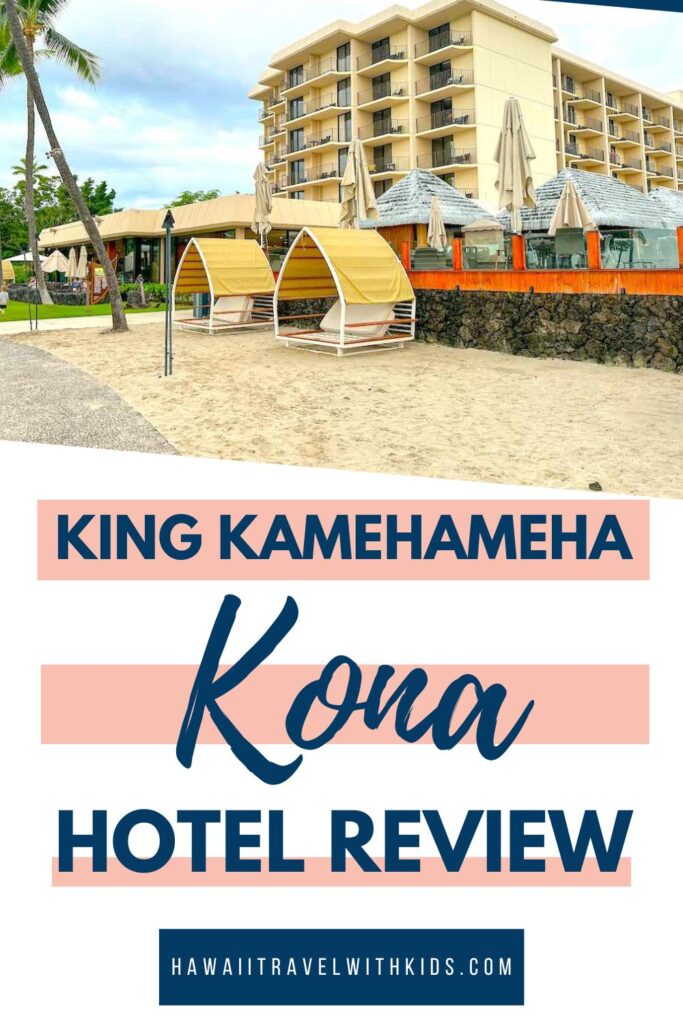 Where is the Courtyard King Kamehameha's Kona Beach Hotel in Kona?
The Courtyard King Kamehameha's Kona Beach Hotel is located on the Southwest side of the Big Island, right off the famous Ali'i Drive. It's about 20-30 minutes from the Kona Airport (without traffic). The address is 75-5660 Palani Rd, Kailua-Kona, HI 96740.
You'll need to either book your own taxi or shuttle from the airport or rent a car.
Because of its location and amenities, we think the Courtyard King Kamehameha's Kona Beach Hotel is one of the best areas to stay on the Big Island for families looking for activities and walkability to restaurants.
Does the Courtyard King Kamehameha's Kona Beach Hotel have an airport shuttle?
No they do not have an airport shuttle. You'll need to find your own transportation.
Honest Courtyard King Kamehameha's Kona Beach Hotel Review
I've had the Kona Beach Hotel on my radar for several years. On our last trip to Kona, we stayed nearby and after I walked around the property, I knew it was where I wanted to stay next time.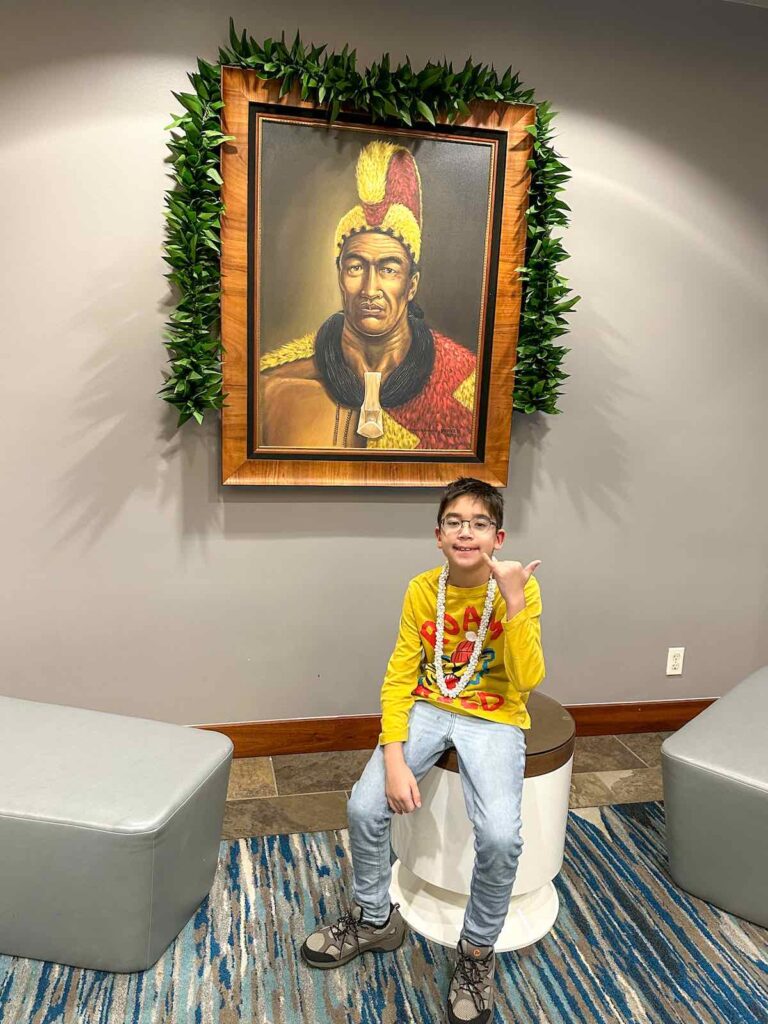 I love that it's just steps from a kid-friendly lagoon and both the Atlantis Submarine and the glass bottom boat.
Plus, it's an easy stroll to tons of restaurants, shops, cafes, and more. Check the latest rates and availability.
Save Money with Points
Here are the best credit card offers for families who travel and want to use points to pay for airfare and hotels in Hawaii.
What was our room like?
Our room was pretty much a standard double queen bed hotel room.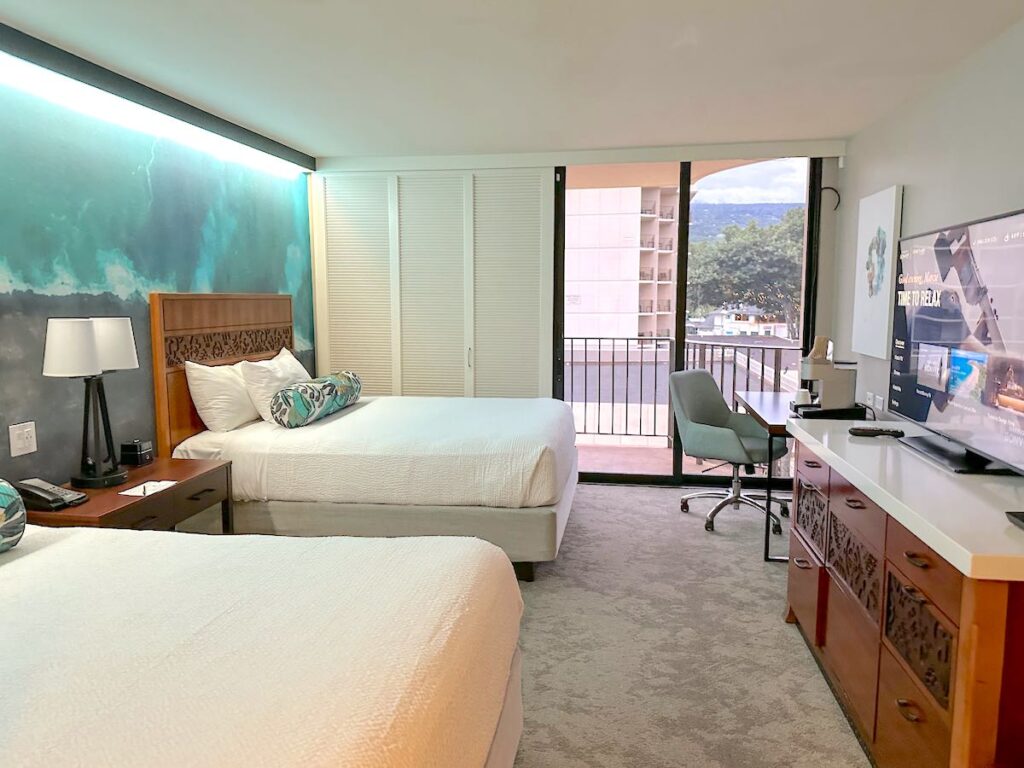 The bathroom was pretty typical. The only unique feature was that it had two sliding doors to close instead of just one.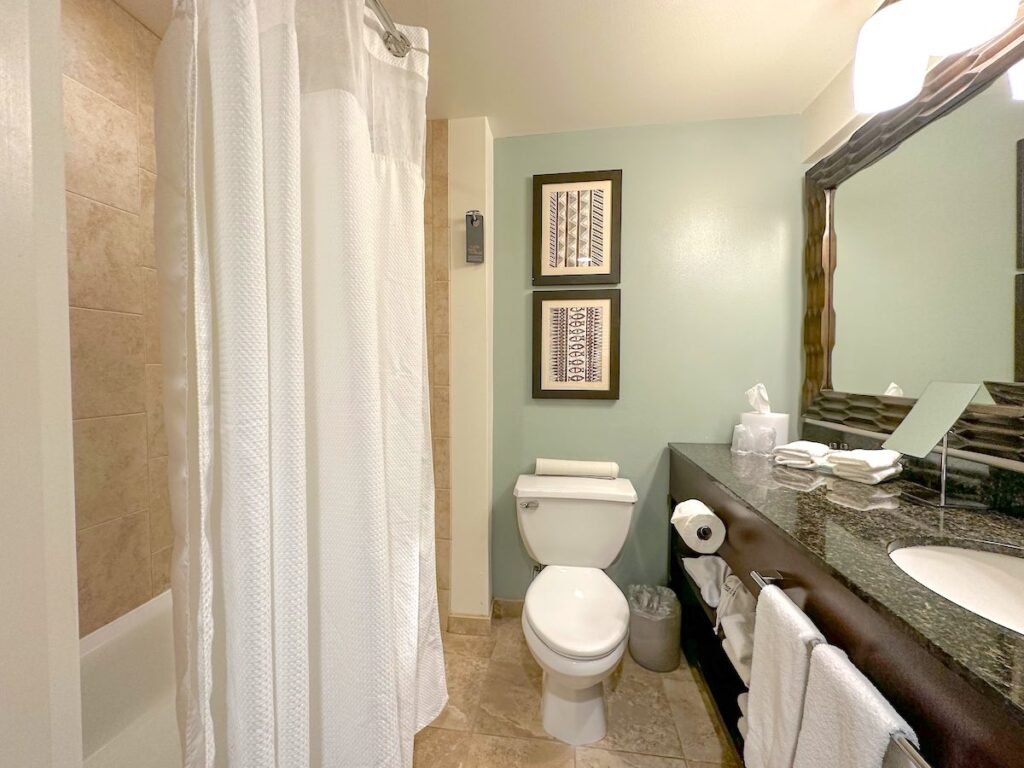 We really liked that the light switch for the lamps near the beds had a dimmer switch. This was perfect for early mornings when we just needed enough light to find stuff without getting blinded.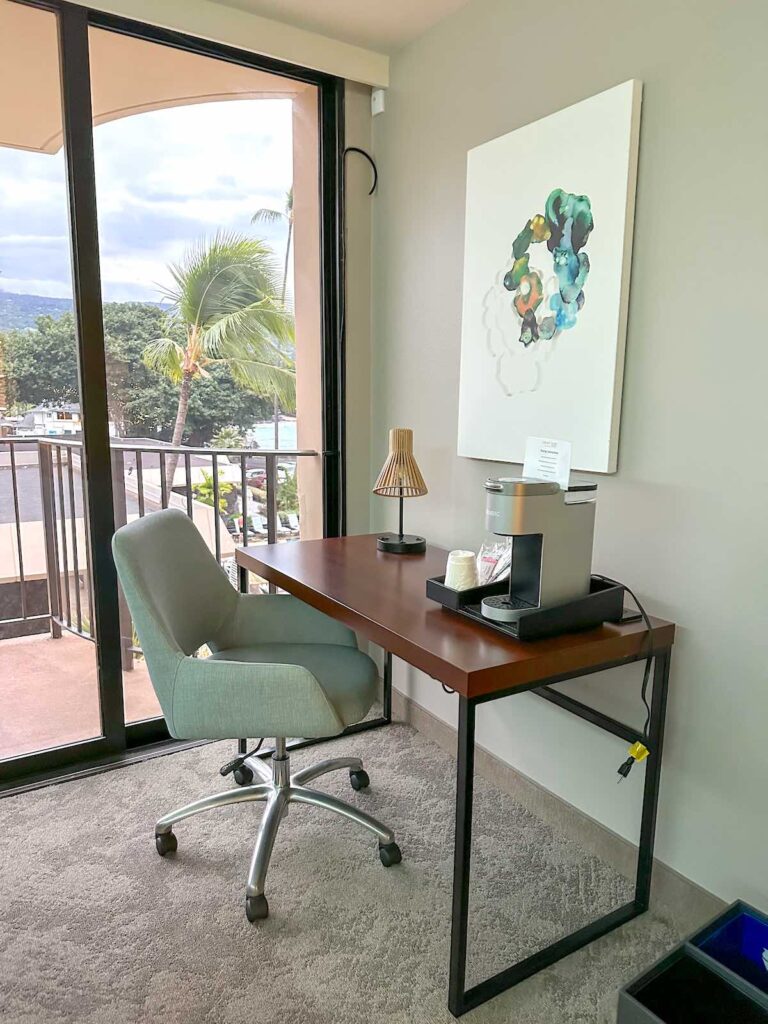 There was a very small desk with a coffee maker and lamp. My son ate a few meals there but it quickly got covered with shopping bags and snacks.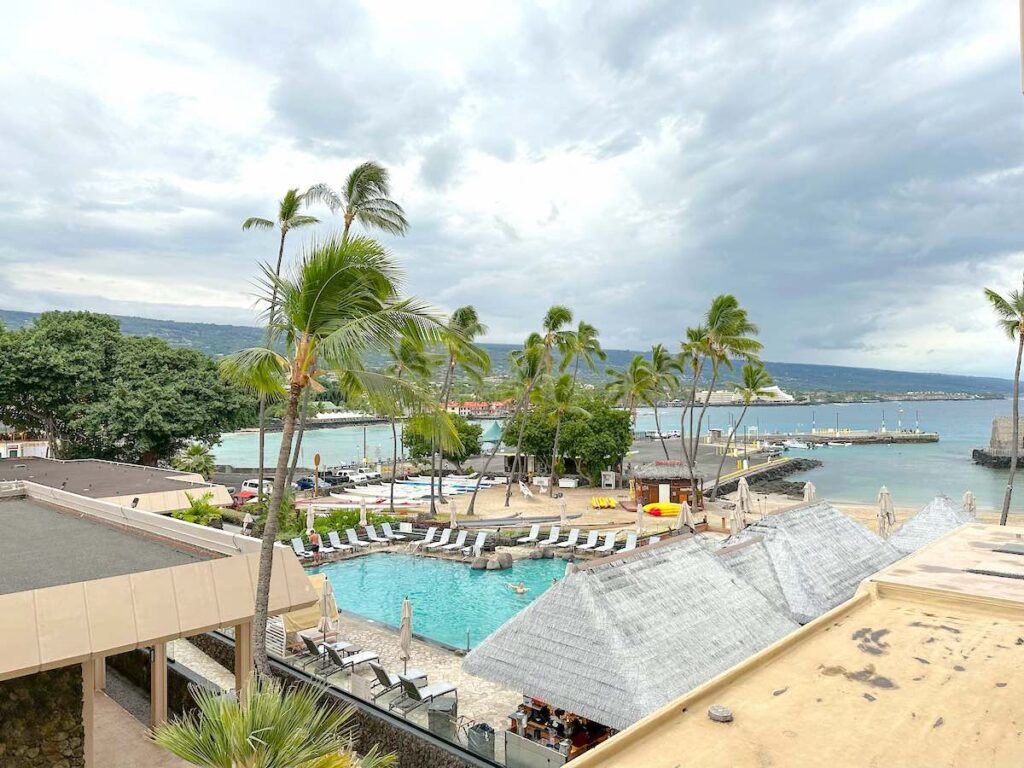 We had a partial ocean view that also overlooked the swimming pool area as well as the lagoon.
Even though there was live music at the poolside bar, we really didn't hear it in our room. In fact, my son really enjoyed sitting on the lanai at night to listen to the ocean and soak in some quiet.
They have a lot of different room configurations and views. Check room availability.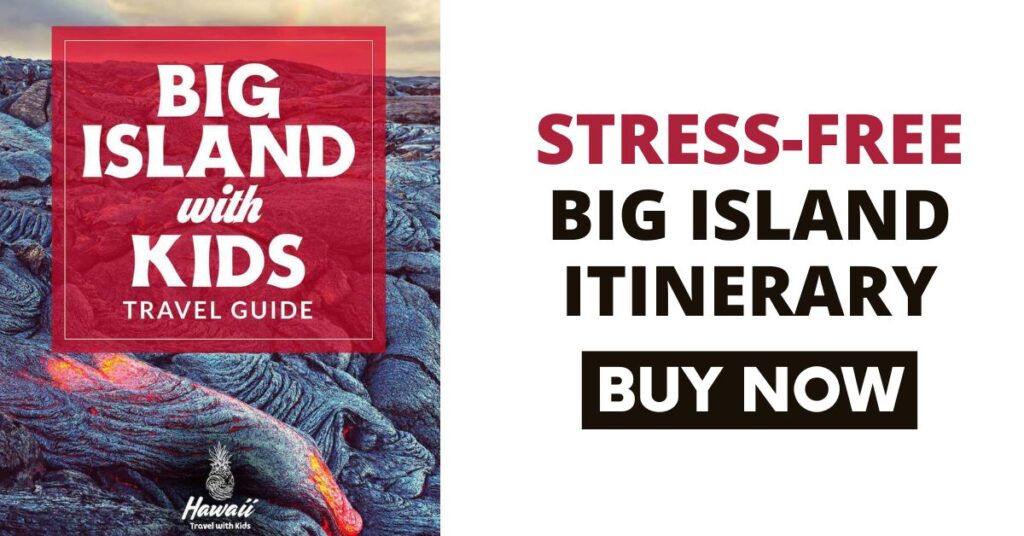 What did we think of the dining options?
Menehune Coffee
This is located right in the lobby and it's a true gem. They have locations all over Kona so we were really lucky that we only needed to go downstairs.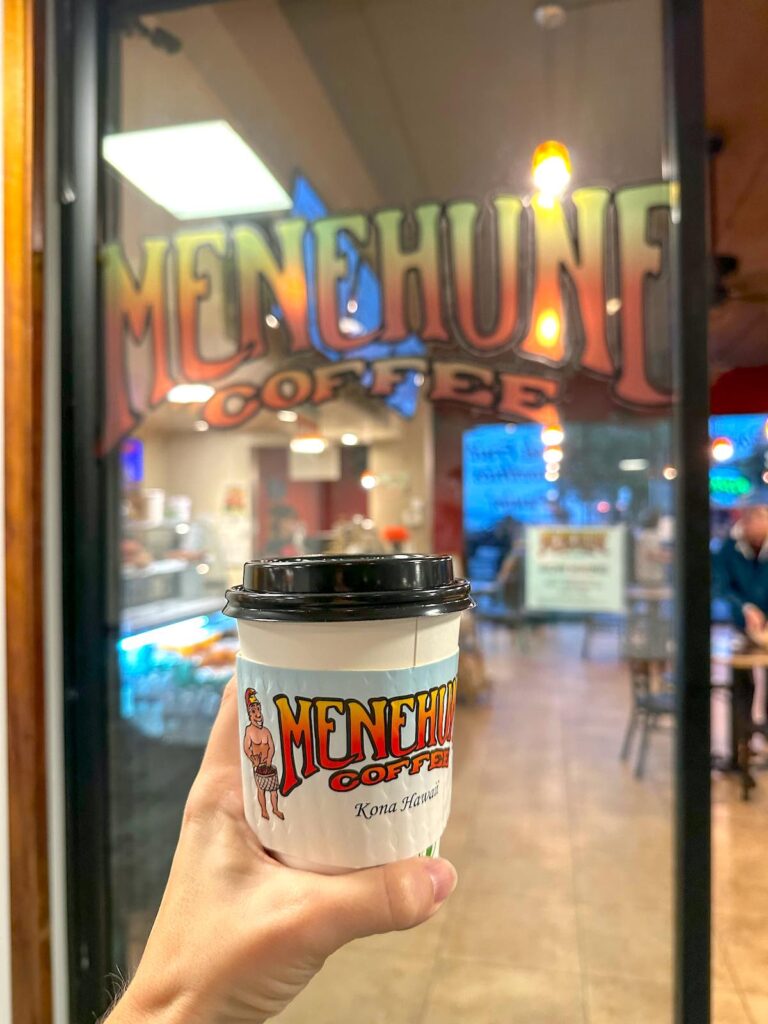 I recommend getting the Big Island latte. It has just the right amount of coconut and macadamia nut syrup to give it a nice flavor without being overpowering.
My son really enjoyed getting breakfast bagels here. They have a nice variety of smoothies.
Ululani Shave Ice
Honestly, this is a big reason why we booked this Kona hotel! It's one of our favorite shave ice spots on Maui and it's conveniently located near the pool.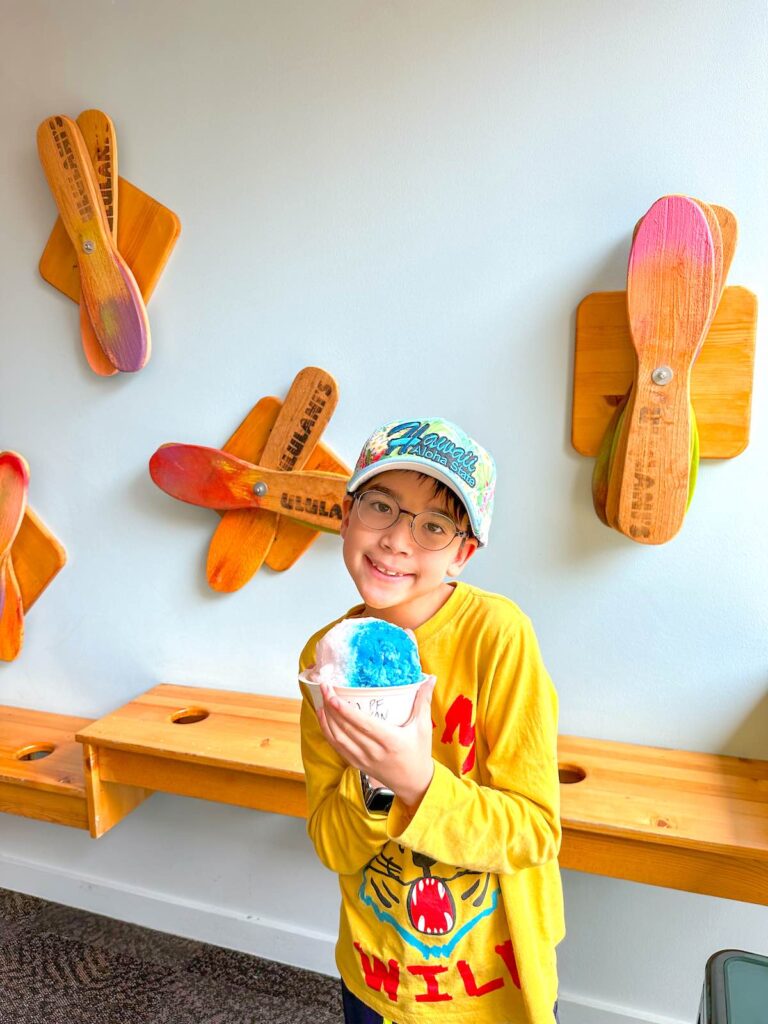 Of course, we had to get this on our first full day, as soon as it opened. It did not disappoint!
Full disclosure: We ended up having it every single day of our stay…maybe more than once a day!
Billfish
This restaurant was actually closed for most of our stay. They were renovating the kitchen so we weren't able to try the food until the last day.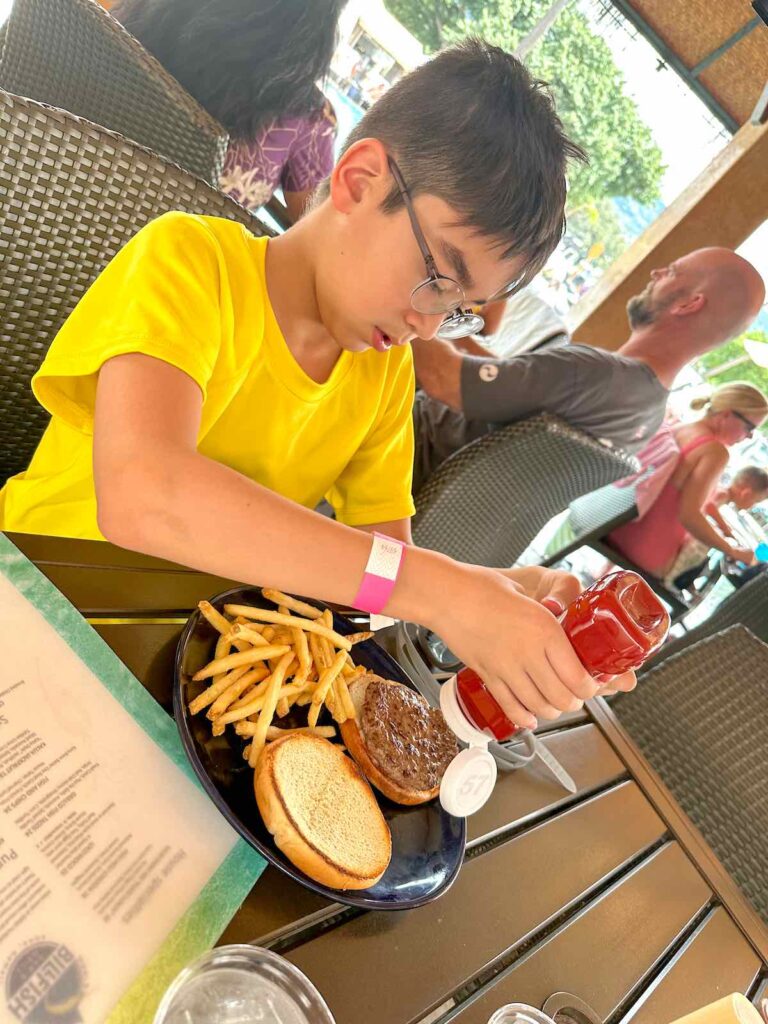 To be honest, the food was just okay. It tasted like hotel food that you could get anywhere.
I had the huli huli chicken and the whole thing was pretty bland. But my son loved his plain hamburger with ketchup.
Honus by the Sea
This is the main restaurant at the Kona Beach Hotel. They usually have grab-and-go dinner options as well as a dinner buffet.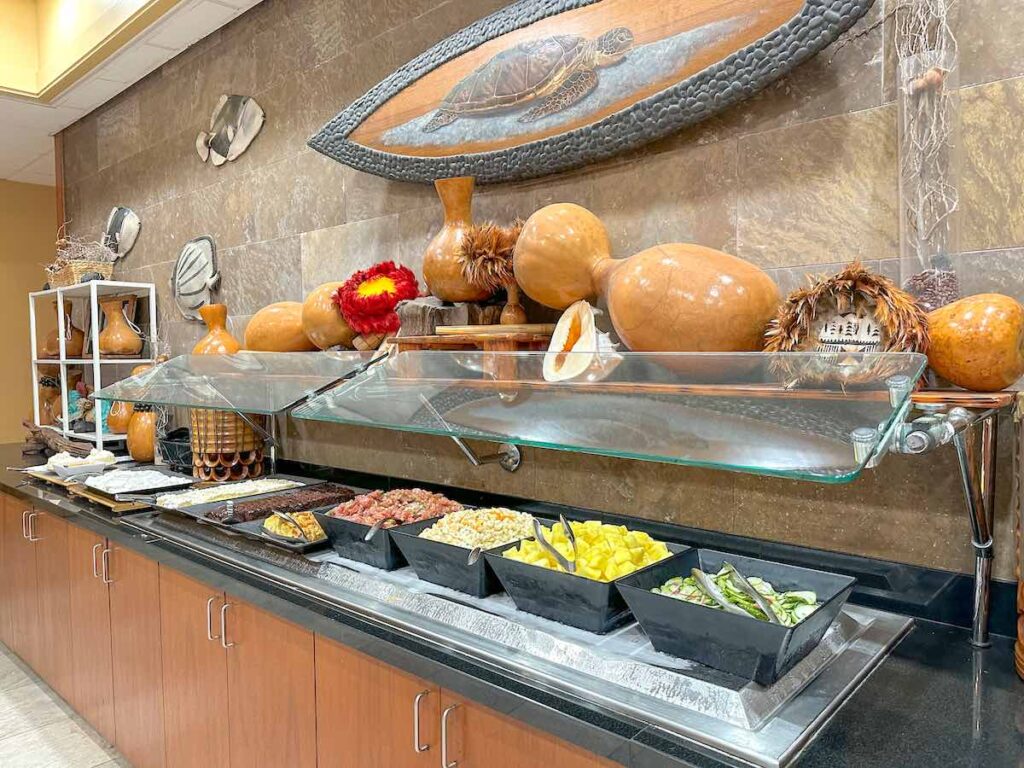 We ate here on the first night. They had to close their grab-and-go due to the weather, but they did let us do the buffet and take the food items back to our room.
They also have a full breakfast available. We opted to eat elsewhere but I appreciated knowing it was there.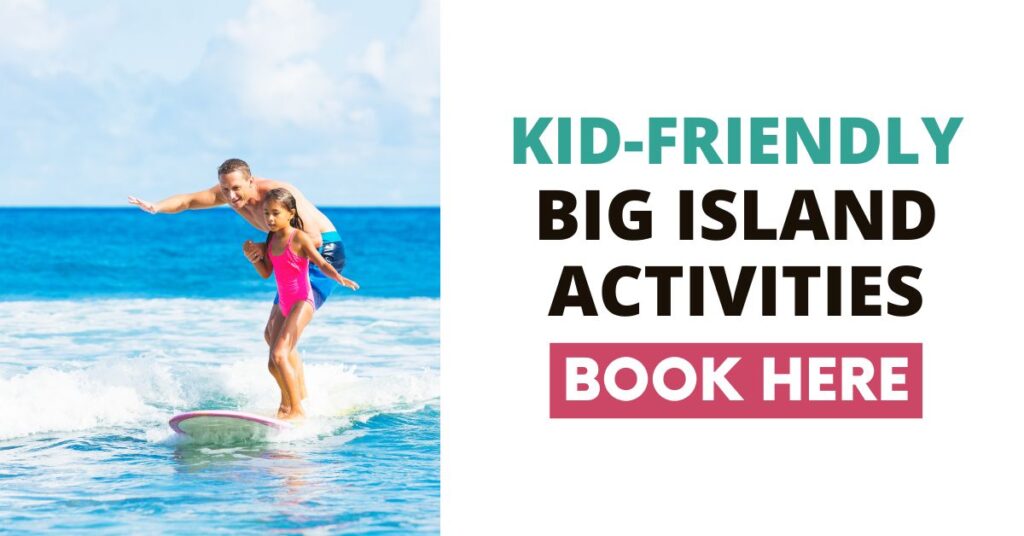 Marriott King Kamehameha's Kona Beach Hotel Pool Area
Pool
The pool is a very basic pool with a small hot tub. It's surrounded by lounge chairs and cabanas.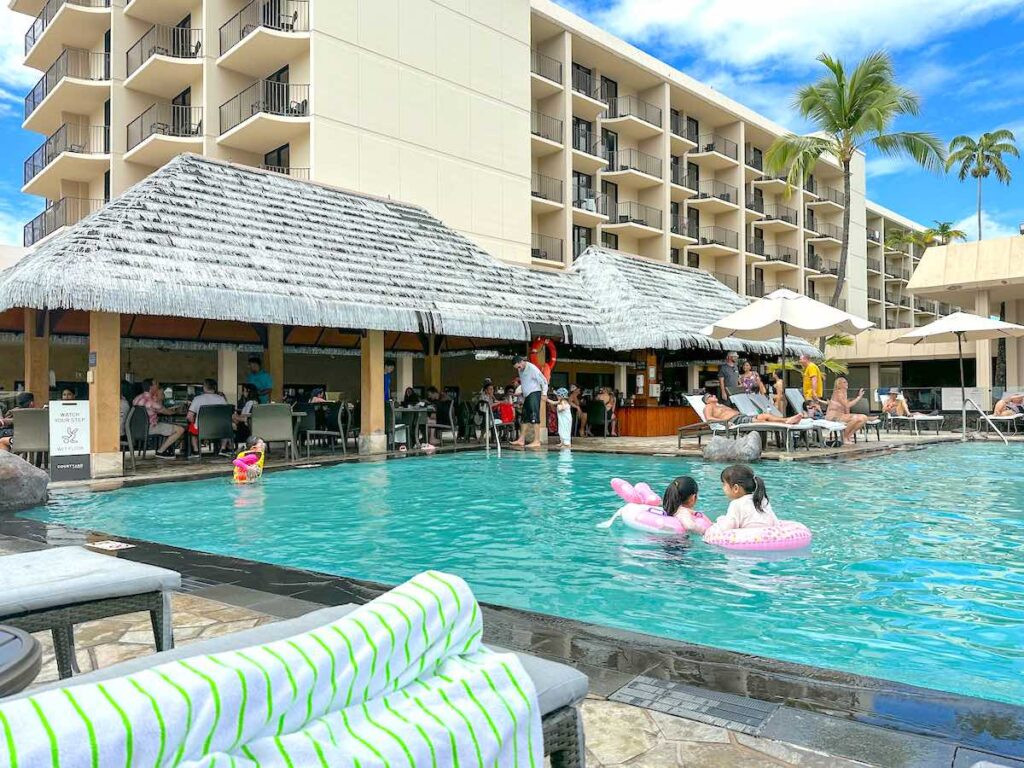 At check-in, you'll get a wristband that "allows" you to use the pool.
The cool thing is that the pool is right next to Billfish so you can easily grab a drink or snacks while your kids play in the pool.
Lagoon
One of the main perks of staying here is that there's a really calm lagoon just steps from the hotel.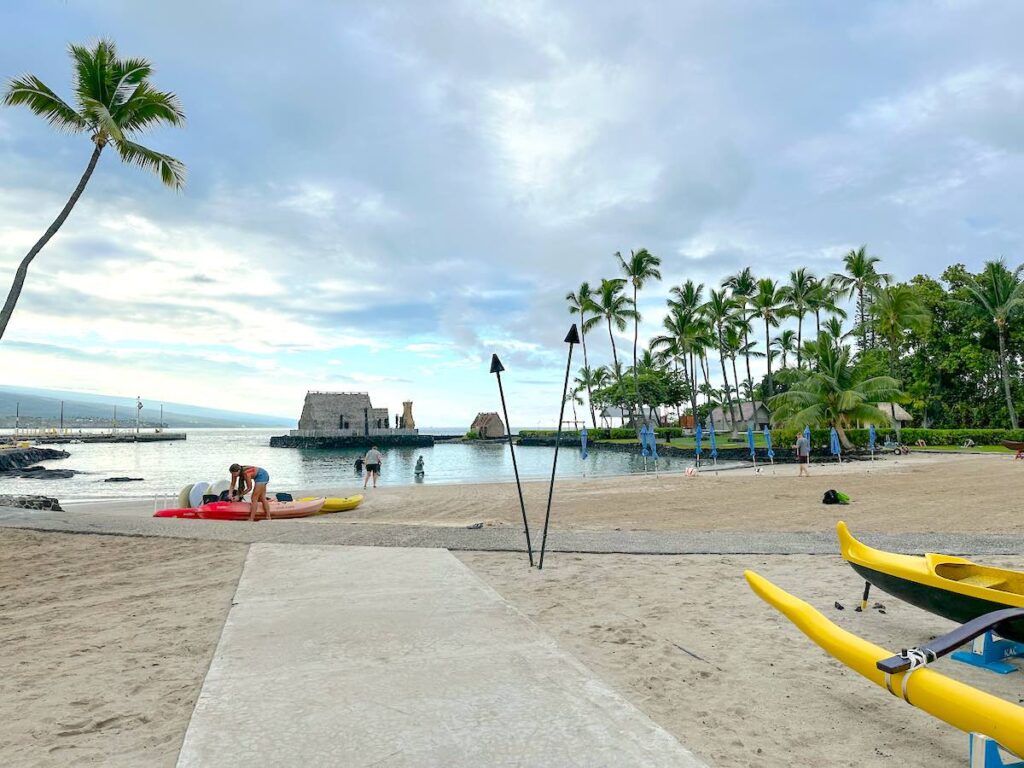 It's not a private beach, but it's super convenient for hotel guests.
If you're visiting with babies, toddlers, or preschoolers, this is definitely something to think about when looking for a kid-friendly Kona hotel.
Cabanas
They have poolside cabanas as well as lagoon cabanas available to rent.
I tried to reserve one via email before our trip but no one got back to me. In hindsight, it was a total blessing because it rained during our entire trip and we wouldn't have used it.
Other features/amenities
Atlantis Submarine
We did the Kona Atlantis Submarine on our last trip to Kona, so we didn't do it again on this trip.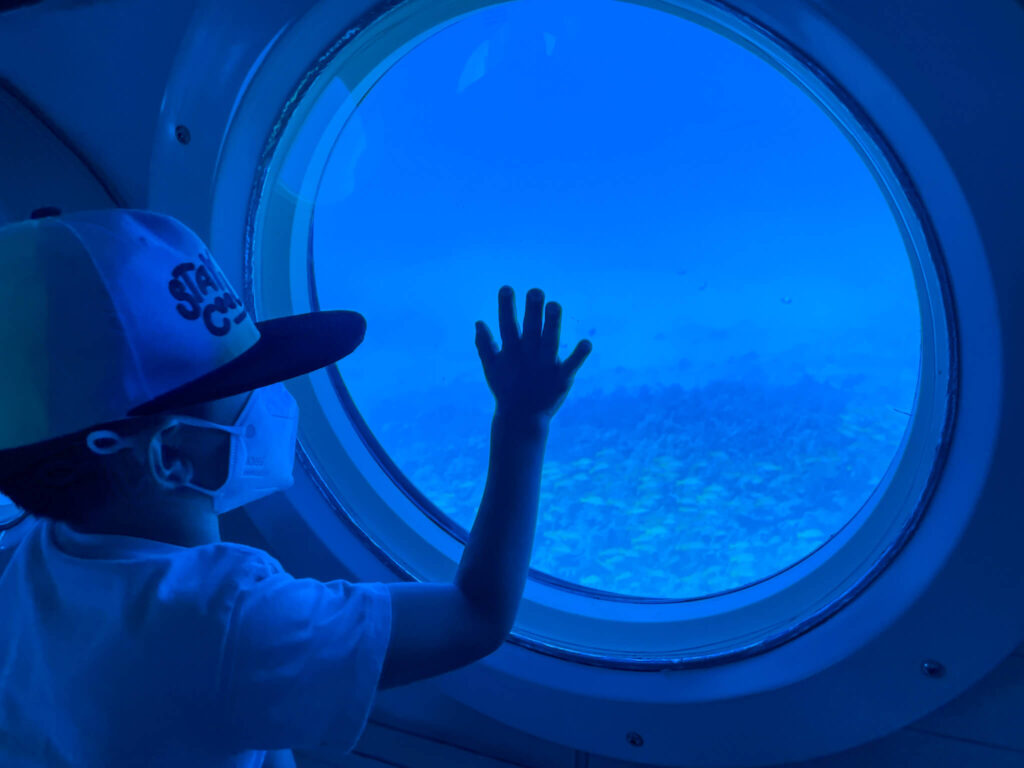 But, it's our favorite Atlantis Submarine tour in Hawaii! We've done all three and this one was by far the most interesting!
Kona Glassbottom Boat
On this trip, we did the Kona Glassbottom boat tour. We went during a light storm and the water was pretty choppy.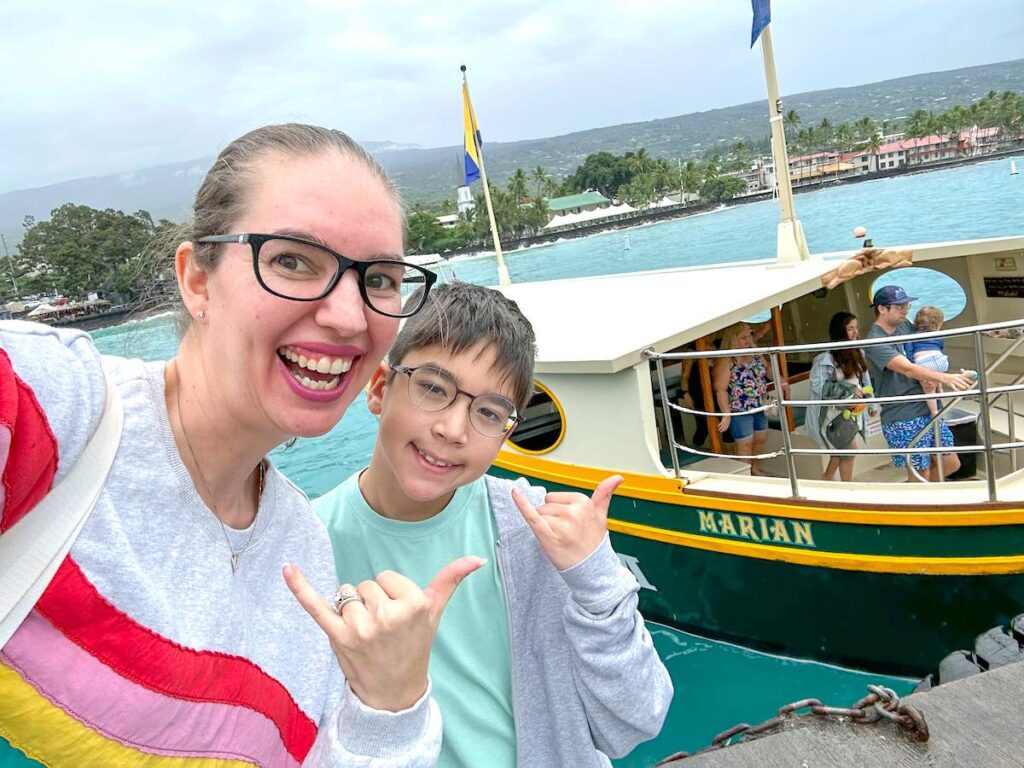 However, we got to see some tropical fish and learn a lot about the historical significance of the area.
ABC Store
If you've ever been to Hawaii, you know how convenient the ABC Store is. I mean, they have EVERYTHING.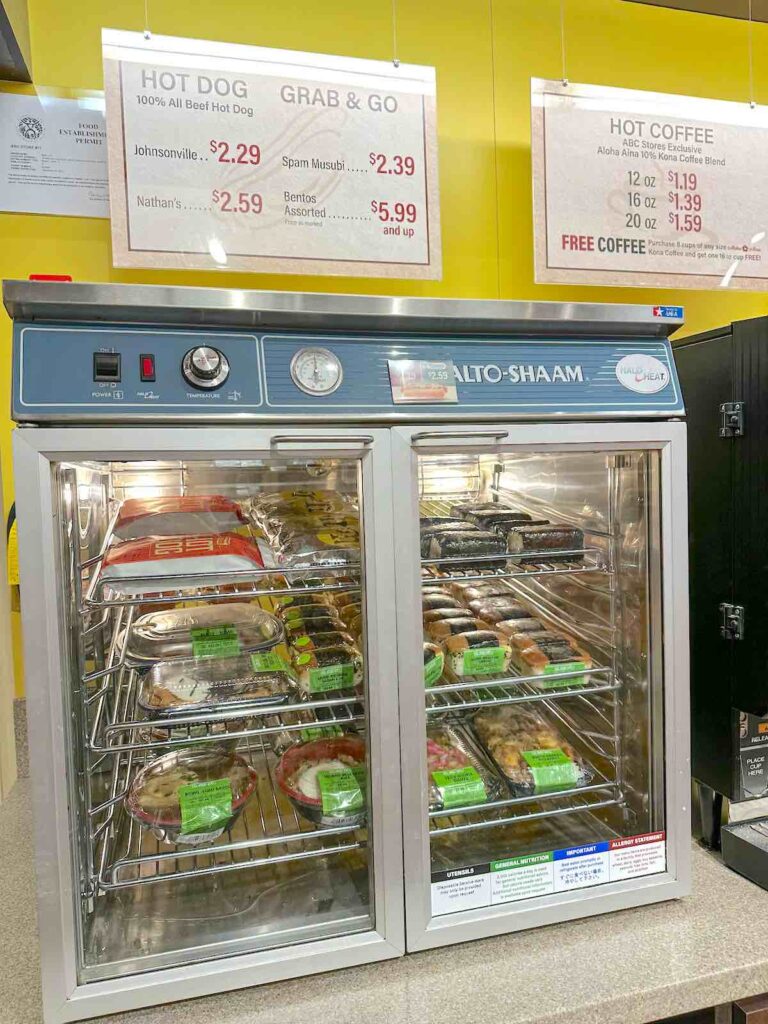 This store is located right on the property and it's a great place to grab drinks, snacks, easy breakfast items, pool toys, beach items, charging cables, clothing, etc.
Island Breeze Luau
Another reason why we booked this hotel in Kona is that we wanted to check out the Island Breeze Luau.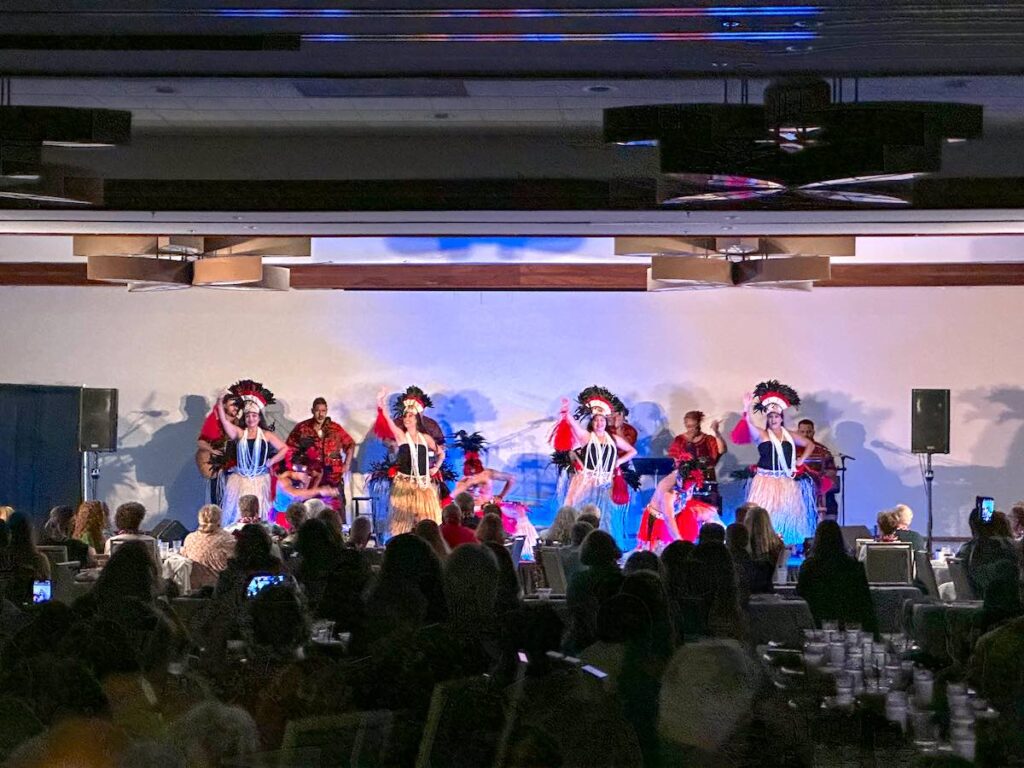 Unfortunately, there were a lot of snafus when we went and it was NOT a great luau experience for us. It was an hour late and they moved it inside the ballroom. I recommend doing the Royal Kona Luau instead.
However, I have heard from friends that they have had a better time when it was outside. It's usually held next to a Hawaiian historic place, which I'll talk about below.
Hawaiian Heiau
Another really cool thing about this hotel in Kona is that it's also home to a Hawaiian Heiau. It's considered the final resting place of King Kamehameha the Great.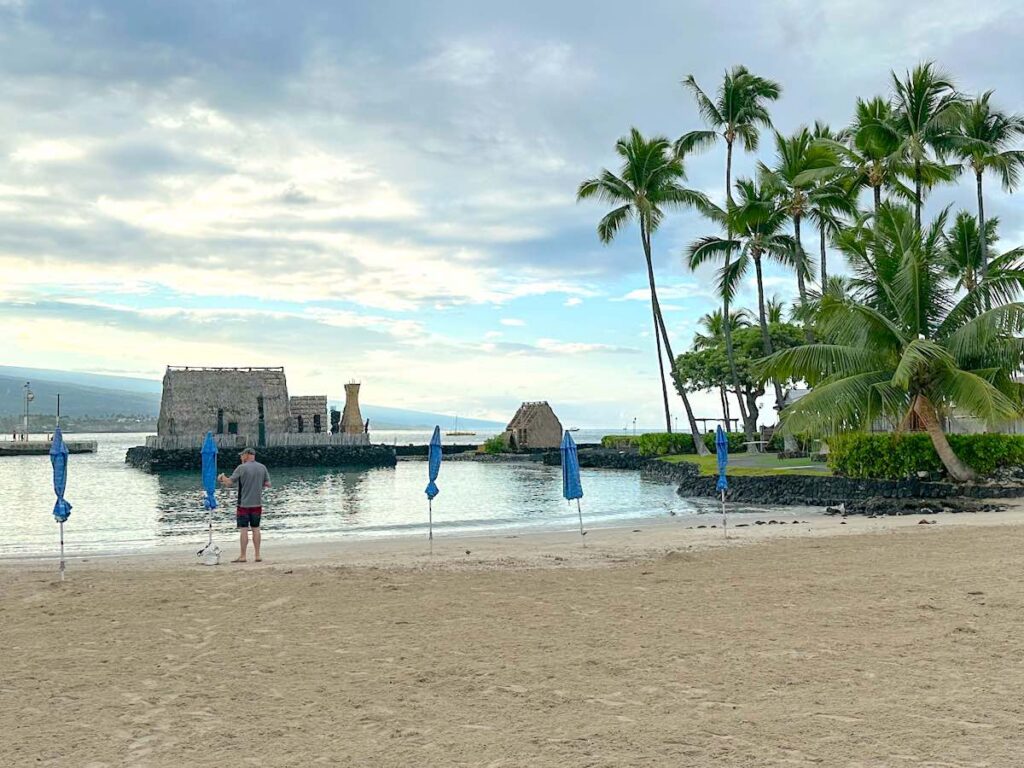 You can check out a replica of his home and see some cool tiki statues.
The hotel offers a historical tour that sounds really cool and worth checking out if you like history and culture.
Artwork
Normally I don't mention hotel artwork, but this Kona hotel really showcases amazing Hawaiian artwork.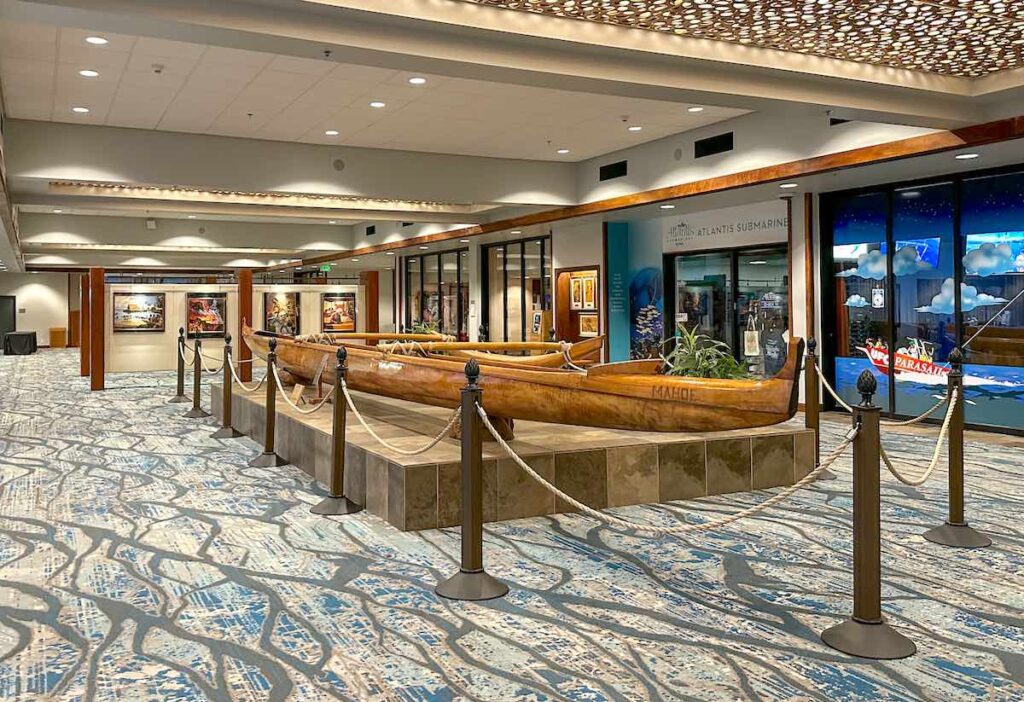 I highly suggest walking in the hallway near the pool area to check out the huge display of Herb Kane's work.
Hawaiian Cultural Activities
There's also an area where you can peruse a cute gift shop and sign up for Hawaiian cultural activities like lei making, hula dancing, makahiki games, etc.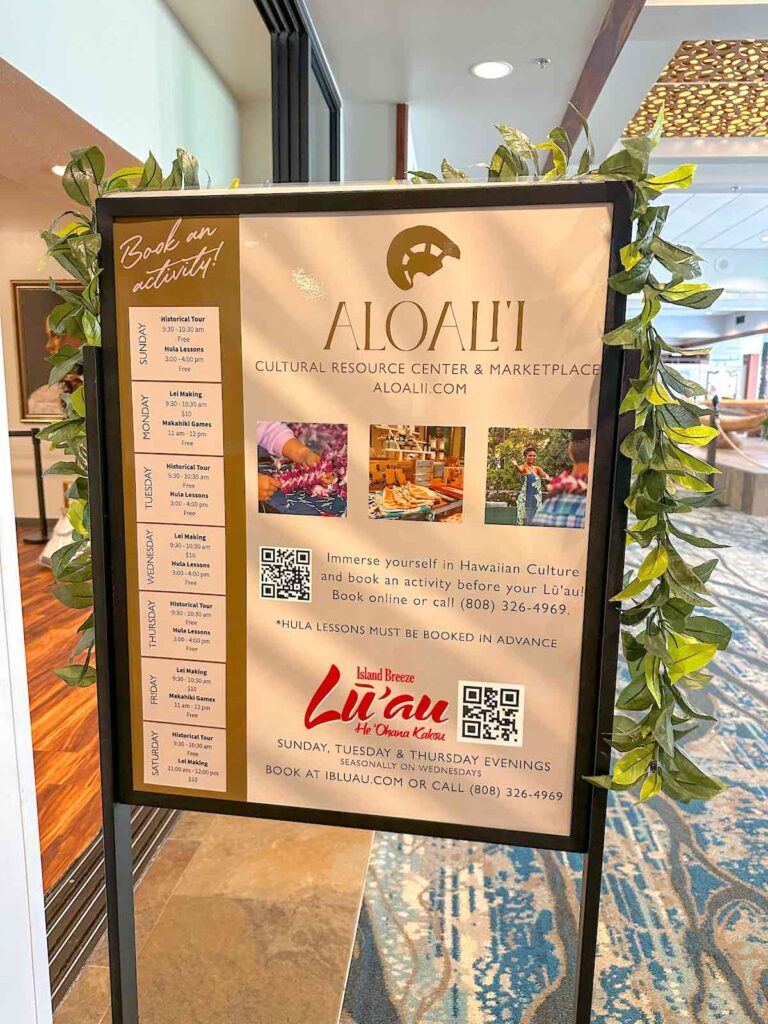 The timings of the programs didn't work for our schedule, so we didn't get a chance to participate. But, I love that it was an option.
Shops
Besides the ABC Store, there are several shops to find unique Hawaii souvenirs, grab a new swimsuit, or get kid items.
Spa
We didn't have a chance to use the spa, but it was conveniently located near the pool area and would be a great option.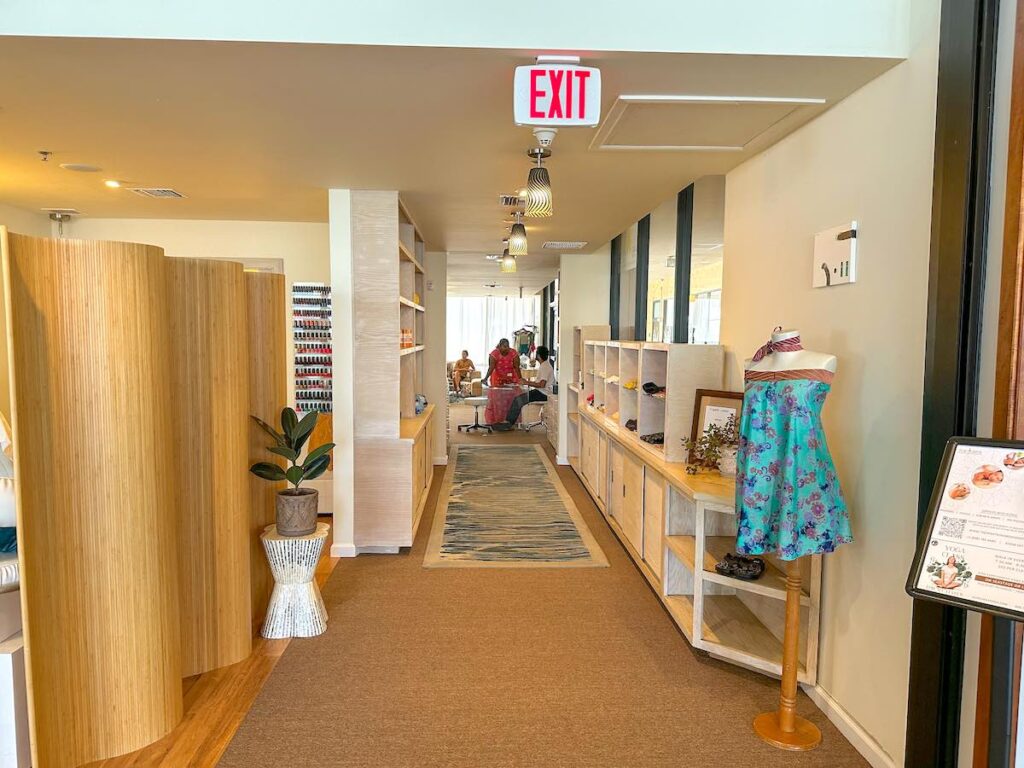 They offered services like massages, facials, scrubs, nails, waxing, and a bunch of spa packages. Plus, they host a daily yoga class.
Kona Beach Hotel Parking
They have a massive parking lot just behind the hotel. It's usually $25/night to park but sometimes you can get a discounted rate when you stay here.
They will give you a handy key card that you'll swipe as you enter and exit the parking lot.
Are there any things we didn't like?
When we visited in February 2023, they only offered housekeeping once a week. They did come and take our trash, give us bottled water, and tidy the beds each day.
We really weren't impressed with the food quality. But there are TONS of places to eat just steps away from the hotel.
And our luau experience was pretty bad. It sounded like there was a lot of miscommunication between the luau production company and the hotel staff.
Things Families Should Know About the King Kamehameha's Kona Beach Hotel
This is a great Kona hotel for families who are less into pools and more into beach time. The pool is pretty standard but the lagoon is super kid-friendly.
It's at the end of the famous Ali'i Drive strip that's filled with shops and restaurants. There are paved sidewalks so you can bring a stroller.
It's also just a 5-minute drive to Target and Walmart, in case you need to grab something you forgot to pack. There's also the Hawaii Keiki Museum (indoor play area) right by Target.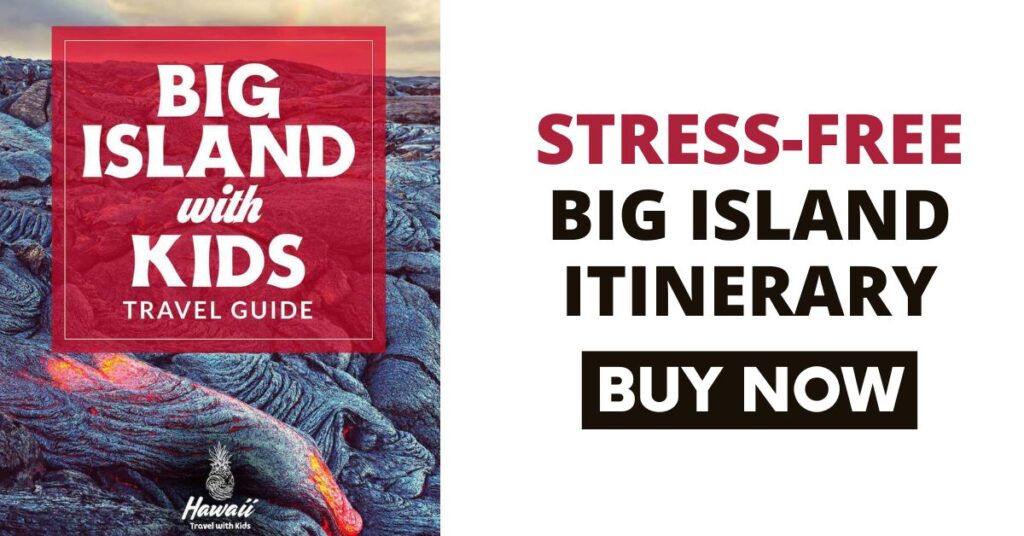 Courtyard King Kamehameha's Kona Beach Hotel FAQs
What are the amenities offered by the hotel?
This hotel offers an outdoor swimming pool, fitness center, spa services, and on-site restaurants and bars.
How close is the hotel to Kona International Airport?
The Marriott King Kamehameha is about 20-30 minutes from the airport, depending on traffic.
Does the hotel offer shuttle service to and from the airport?
No, there is no shuttle service between the airport and the King Kamehameha Beach Hotel. You'll need to rent a car or arrange your own transportation.
What is the check-in and check-out time at the hotel?
Guests can check in at 3 p.m. in the lobby. Check-out time is 11 a.m. The process is really easy.
Is the hotel located on the beach?
Yes, this hotel is right on Kamakahonu Beach (aka King Kam beach) which is a calm lagoon.
Are there any restaurants or bars located in the hotel?
Yes, there are a few places to eat at the Kona King Kamehameha hotel. Honu's by the Sea is the main restaurant with sit-down options. There's also Billfish, which is the poolside bar and grill. For a cool treat, head to Ululani's Shave Ice.
Would We Recommend the King Kamehameha's Kona Beach Hotel for Families?
YES! It's really hard to beat this location! It's super easy to walk around town and it's also easy to drive to/from most Kona attractions.
We love that the Atlantis Submarine and the Glassbottom Boat Tour (plus snorkeling tours) are located right on the pier.
We think the Courtyard by Marriott King Kamehameha's Kona Beach Hotel is one of the best places to stay in Kona for families. Check the latest rates and availability.
P.S. Join our Hawaii Travel with Kids Facebook group to get connected with other families planning a trip to Hawaii!