Are you looking for the best things to do on the Big Island with kids? Keep scrolling to read my honest review of the Kona Glass Bottom Boat tour to see if it's right for your family.
This Kona Glass Bottom Tour Review contains affiliate links which means if you purchase something from one of my affiliate links, I may earn a small commission that goes back into maintaining this blog.
Looking for the best Kona boat tour for families with young kids?
We've been there and we want to help you make the most of your time on the Big Island. That's why we're writing this post about our favorite Kona boat tour. Spoiler alert – it involves a glass bottom boat!
You don't want to spend all day on a boat tour with kids, so our suggestion is short and sweet. Plus, kids will love seeing marine life without even getting wet!
Keep reading to see our full Kona Glass Bottom Boat Tour review to see if it's right for your family.
Don't have time to read a bunch of Hawaii blog posts and reviews? Here are some of our top picks for visiting the Big Island with kids.
Best Kid-Friendly Big Island Tours/Activities
Best Kid-Friendly Big Island Resorts
Save Money with Points
My favorite credit card for travel is Chase Sapphire because it offers the best value on flights and hotels. Check out the latest sign-up bonus deal.
Want to Rent a Car in Hawaii?
One of the best places to rent a car in Hawaii is Discount Hawaii Car Rental because they get the best rates from top national companies like Alamo, Dollar, Thrifty, Avis, Enterprise, Budget, and Payless.
Want to skip all the planning and just access my detailed Big Island Itinerary complete with daily schedules, kid-friendly activities, and travel hacks? Click the button below.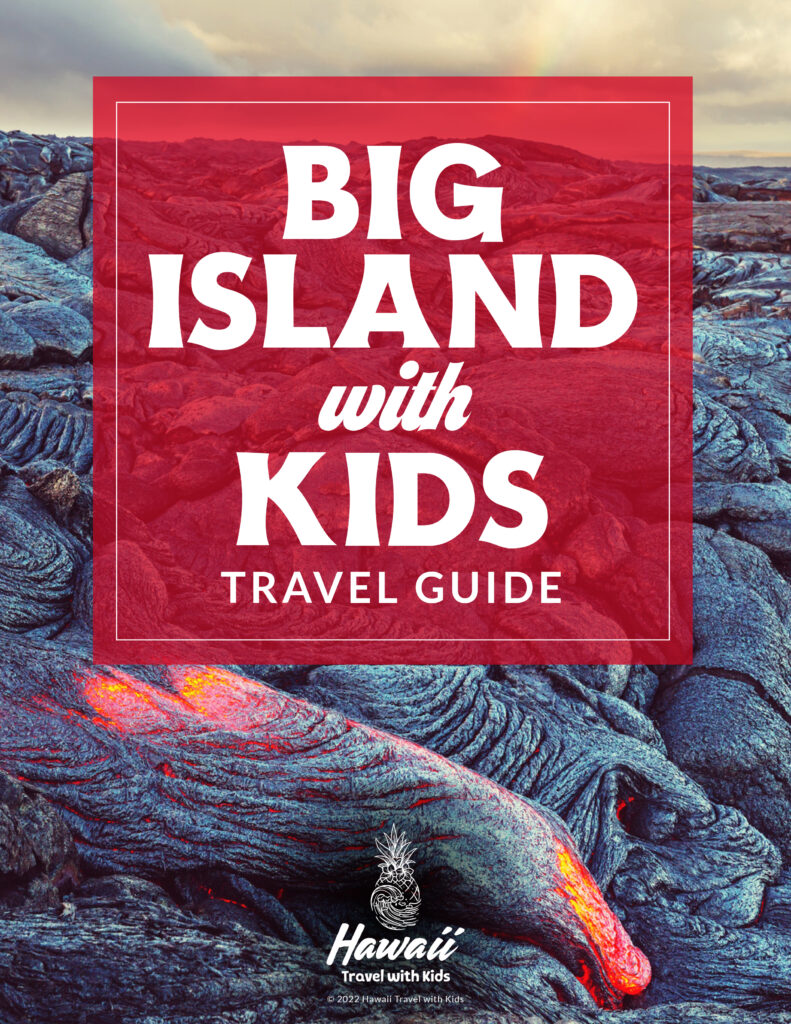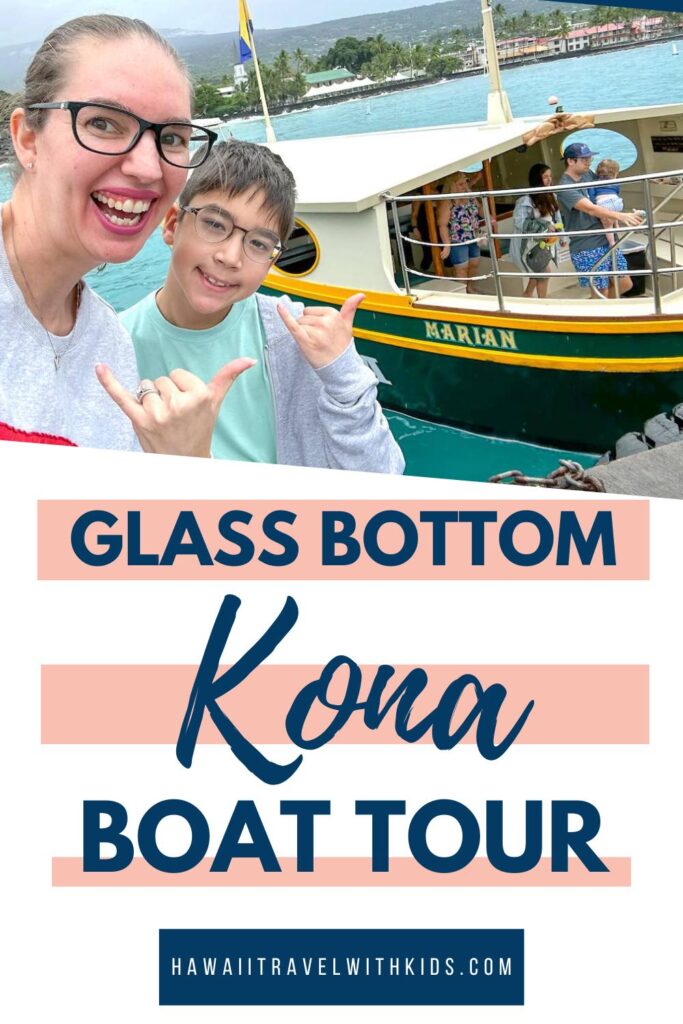 Brief History of the Kona Glass Bottom Boat Tour
The Kona Glass Bottom Boat Tour is one of the top things to do in Kona with kids.
The boat is called the "Marian" and it was built in the 1990s by the founder Captain Ralph and Jeannie Jewel.
The Kona Glass Bottom Boat Tour uses a fleet of specially designed boats that feature large, clear viewing panels in the hull and comfortable seating for passengers.
Over the years, the tour has become a beloved Kona coast attraction, drawing visitors from around the world who are eager to experience the natural beauty of Hawaii's underwater world in a unique and unforgettable way.
What to Know about the Kona Glass Bottom Boat Tour Before You Go:
Arrival
We were already staying at the Courtyard by Marriott King Kamehameha's Kona Beach Hotel, so it was a short walk out to the pier.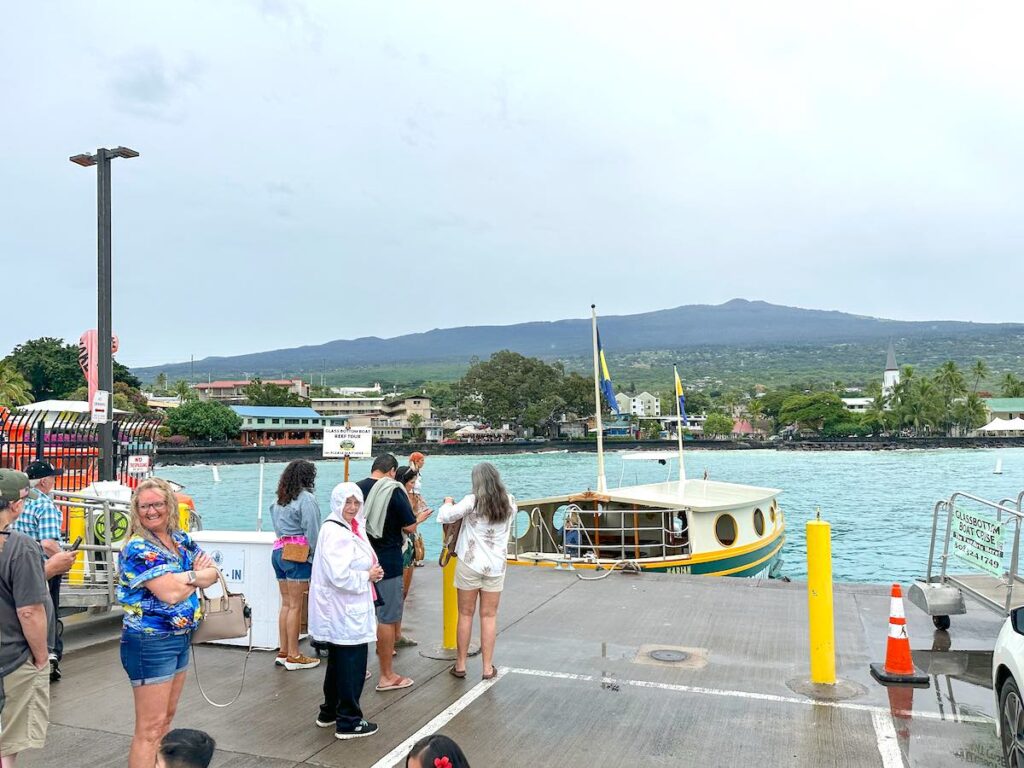 We stood in line for a couple of minutes before boarding the boat.
We happened to go during a mild storm so it was a bit rainy and the boat was rocking a LOT when we entered.
Our tour guide offered everyone ginger chews and ginger ale, which helped immensely.
Kona Glass Bottom Boat Ride
The boat ride itself is about 45 minutes long. It goes around the bay near the Courtyard by Marriott King Kamehameha's Kona Beach Hotel.
Our captain moved pretty quickly and got us to several different spots that are popular fish-feeding grounds. This means we got to see a TON of tropical fish.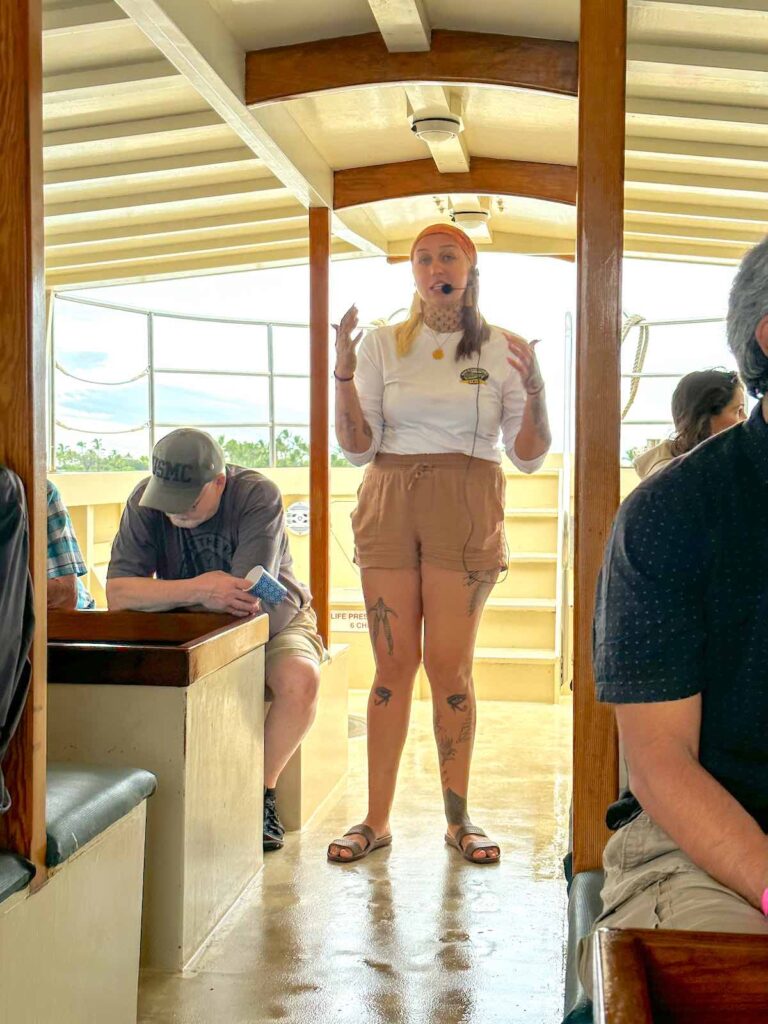 During this Kona glassbottom boat ride, our tour guide told us a bit about Hawaiian history and cultural traditions.
She also told us fun facts like where boogie boarding was invented. Hint: you can see the beach from the boat!
At the end of the Kona boat tour, we docked back at the marina and climbed off the boat. Check the latest rates and availability.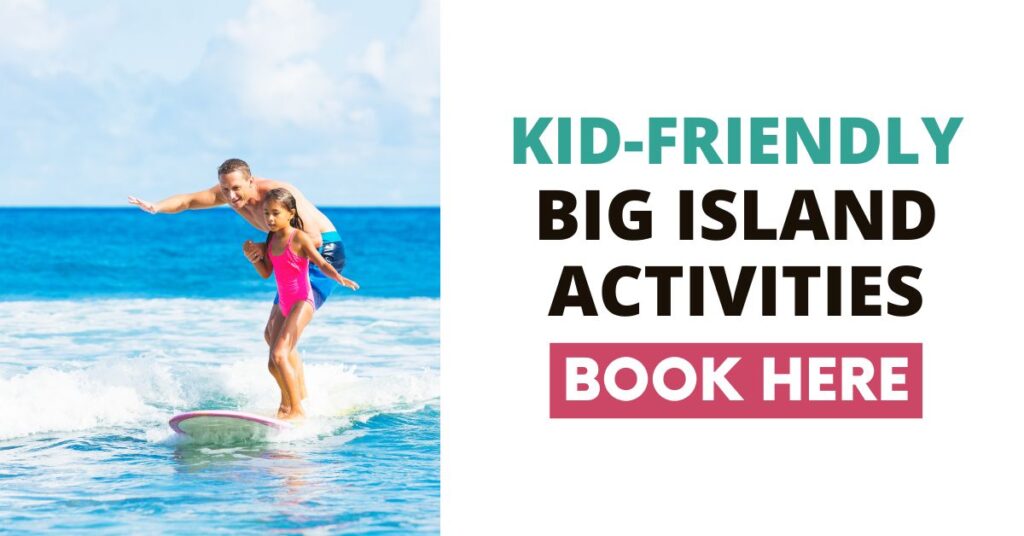 The Highlight of this Kona Tour and What You Should Look Out For
I mean, seeing tropical fish in a coral reef without going snorkeling is pretty amazing. My 9-year-old kept geeking out over spotting fish and repeatedly said it was a cool tour.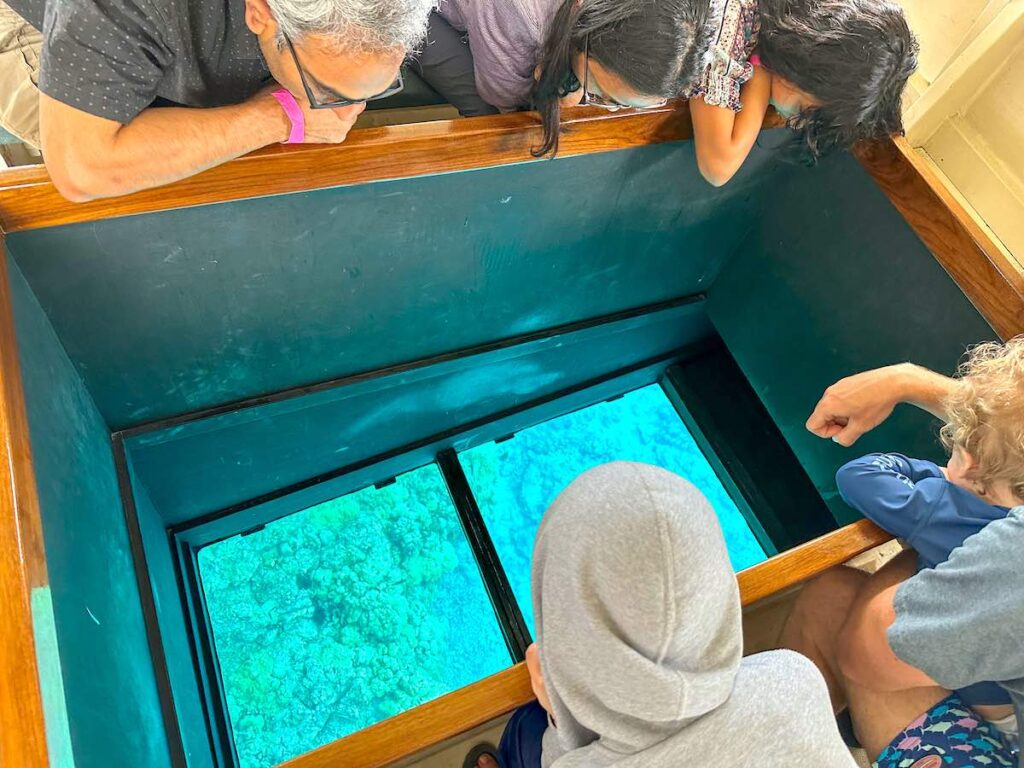 The large windows are perfect for getting a great look at the ocean floor and identifying all types of Hawaiian fish.
The waters off the Kona coast are teeming with hundreds of species of tropical fish, including angelfish, triggerfish, and butterflyfish.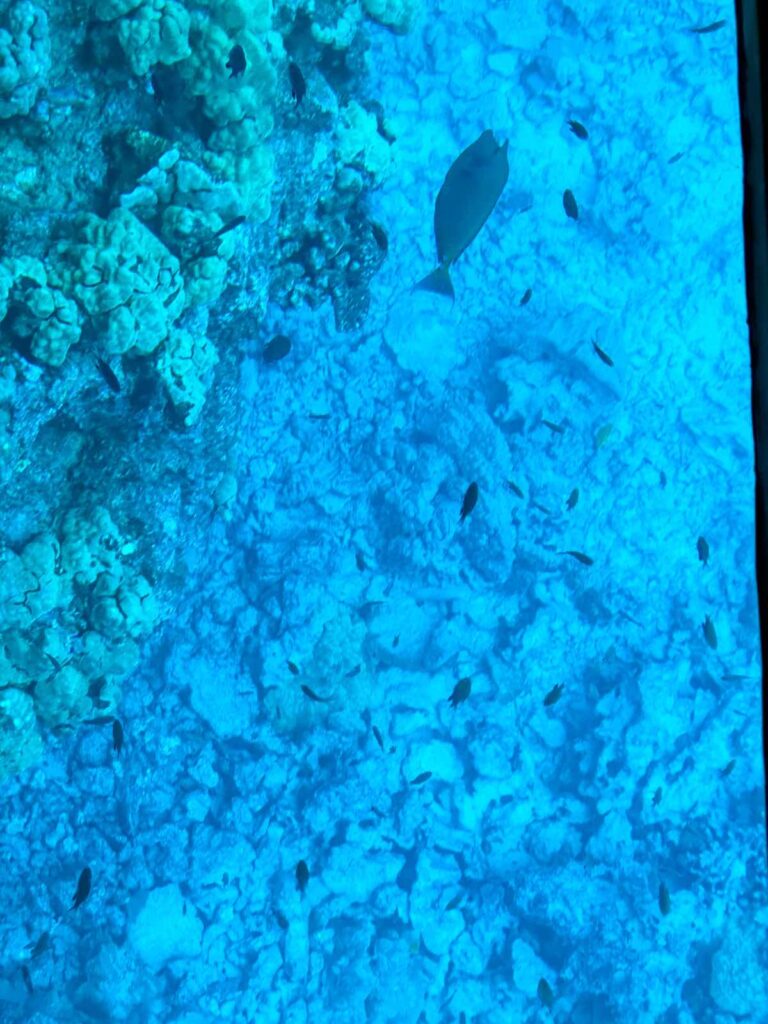 Green sea turtles are a common sight on the Kona Glass Bottom Boat Tour, and passengers often have the opportunity to see them up close as they swim along the ocean floor.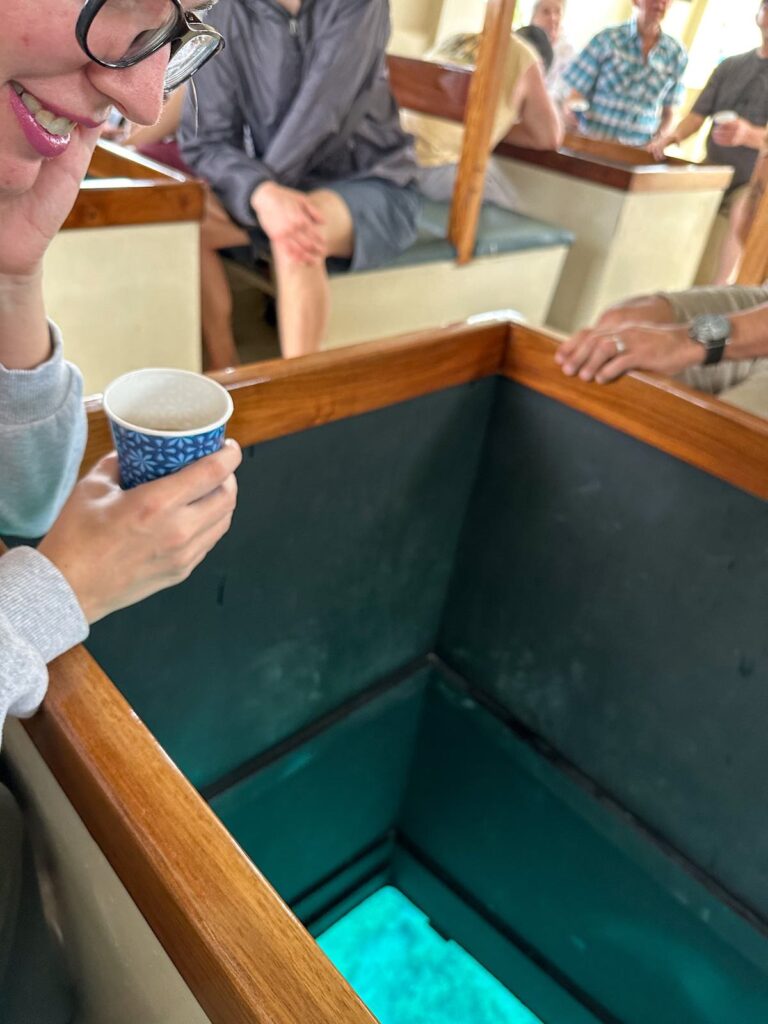 Insider tip: I suggest looking out the window when the boat is moving quickly to get to each stop. There isn't much to see during that time and it can exacerbate seasickness.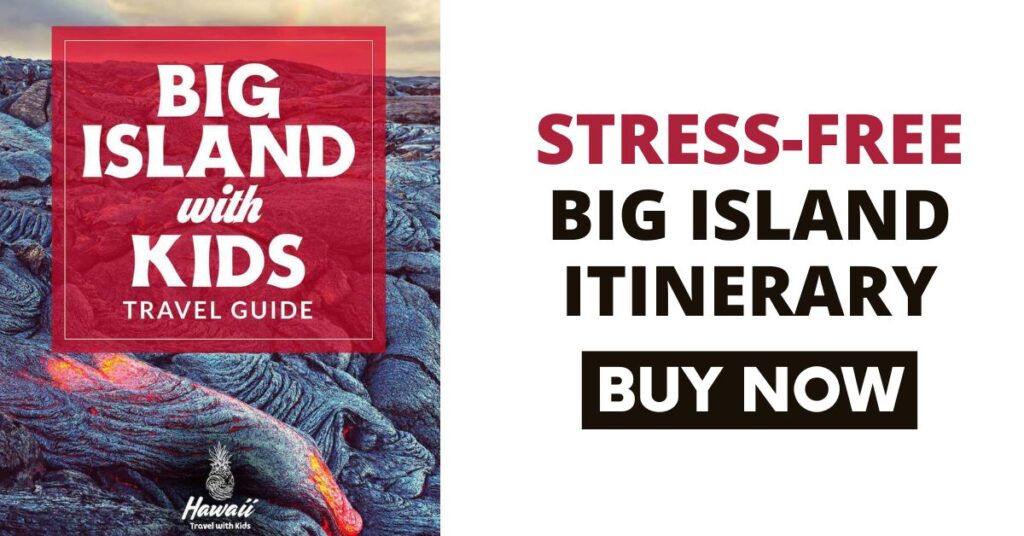 Tips for Families
If you're planning to do the Kona Glass Bottom Boat Tour, here are some tips to help make the most of your experience:
Dress Comfortably
The tour is conducted in an open-air boat, so it's important to dress appropriately for the weather. Sunscreen, hats, and sunglasses are also recommended.
We went in February and wore long pants, closed-toe shoes, and sweatshirts and we were comfortable.
Arrive Early
The Kona Glass Bottom Boat Tour is a popular attraction, especially during peak tourist season, so it's a good idea to arrive early to avoid long lines and ensure a good seat.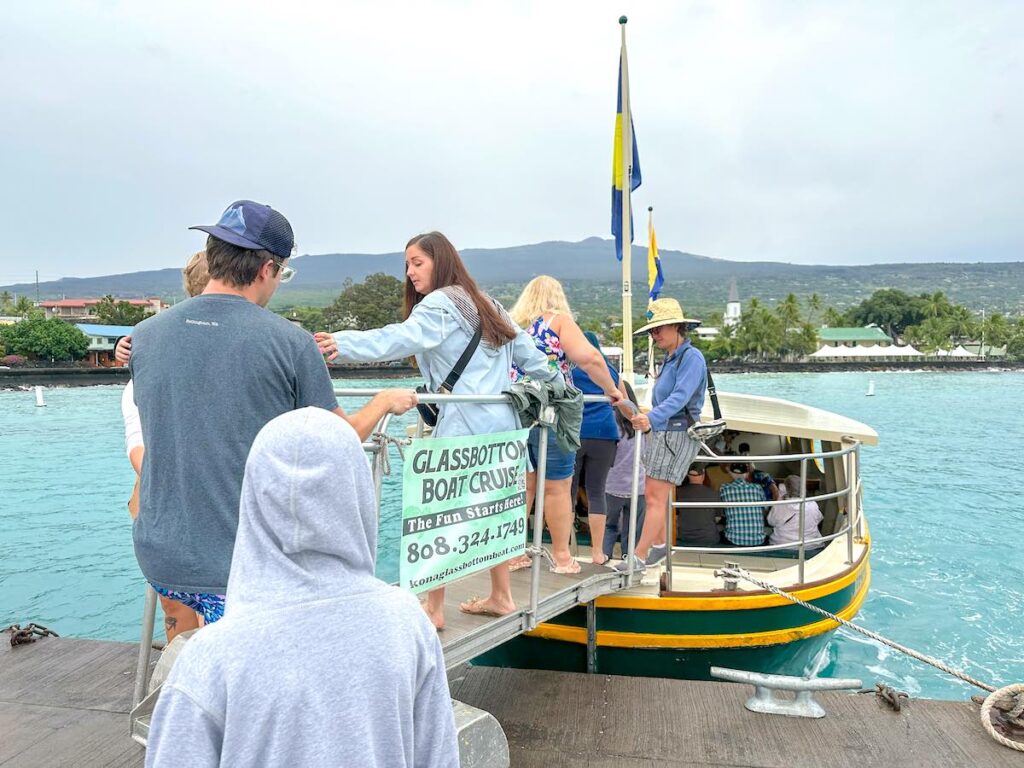 We were some of the last people to board and we ended up having to squeeze in with 2 other families. Had we gotten in line earlier, we might have had more room.
Bring a Camera
The marine life you'll see on the tour is truly spectacular, so make sure to bring a camera or smartphone to capture some amazing photos.
You might even want to bring a portable battery charger if you think you'll be taking lots of video (which I did).
Listen to the Guide
The tour guides are knowledgeable and experienced, and they'll provide valuable insights into the marine life and history of the area. Be sure to listen to their commentary and ask questions if you have them.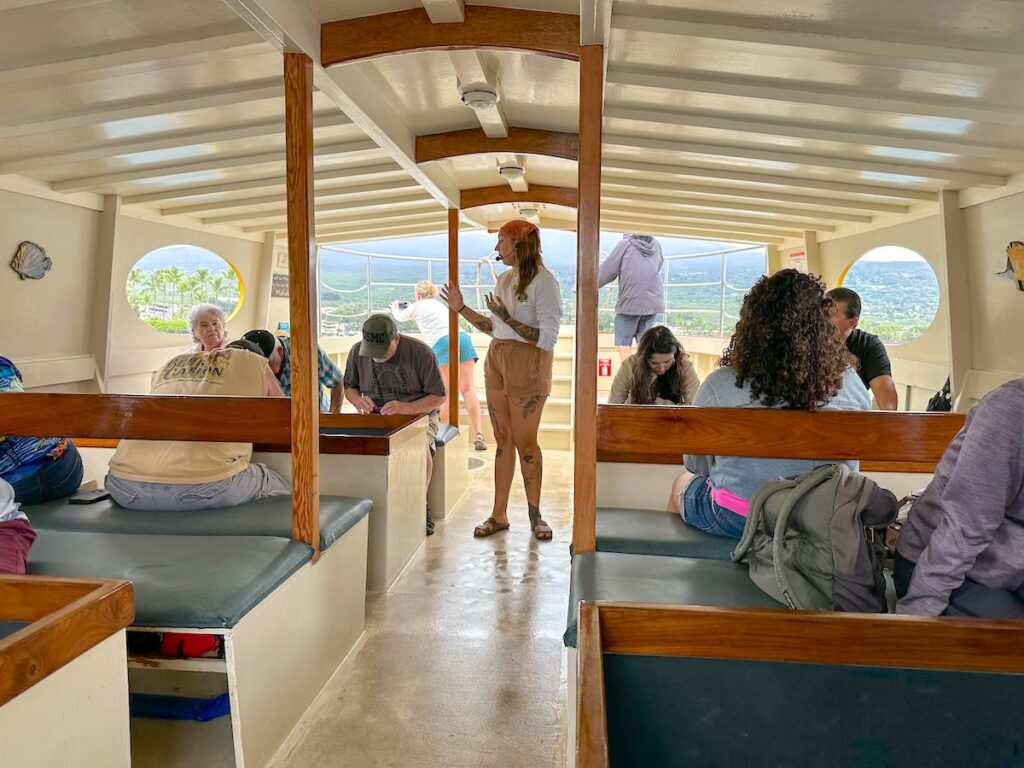 If your family has gone snorkeling on the Big Island, you can also ask them to help you identify any sea life you saw.
Be Prepared for a Little Bit of Motion Sickness
If you're prone to motion sickness, be sure to take appropriate measures such as taking medication or sitting in the middle of the boat to minimize any discomfort.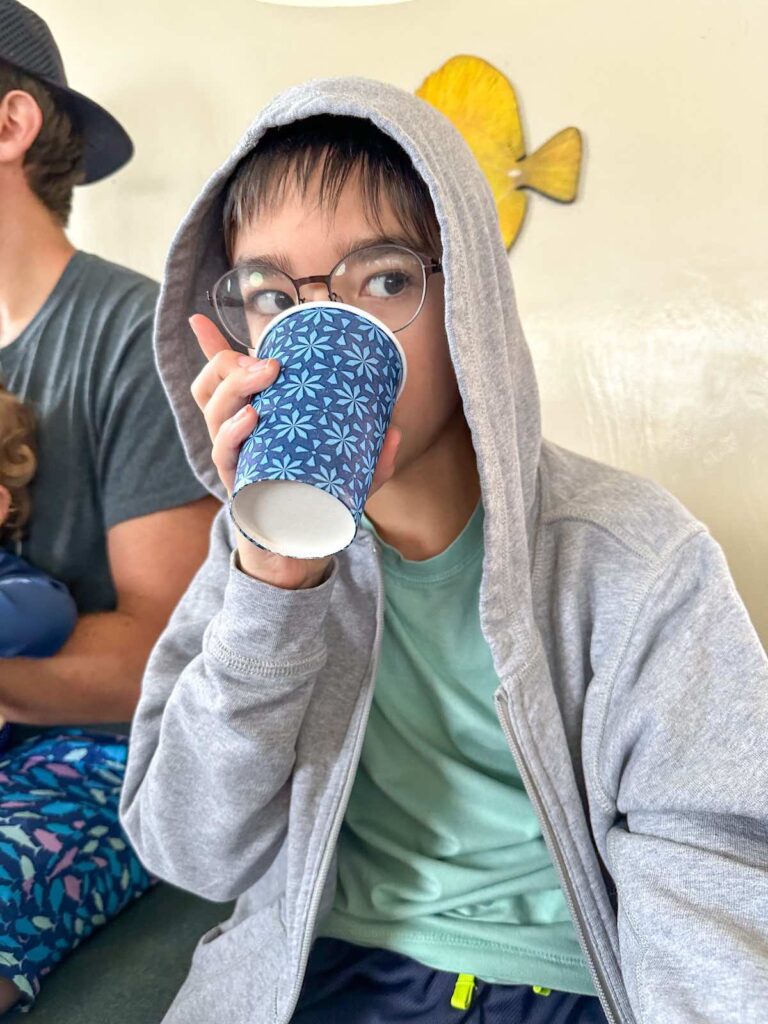 We went during a mild storm and the boat was ROCKING. Many of us had to look out the window so we didn't get sick.
By following these tips, you'll be sure to have a memorable and enjoyable Kona Glass Bottom Boat Tour experience.
How Much Does it Cost and Where is it Located?
The Kona Glass Bottom Boat tour is located at the pier in front of the Courtyard by Marriott King Kamehameha's Kona Beach Hotel in Kailua-Kona.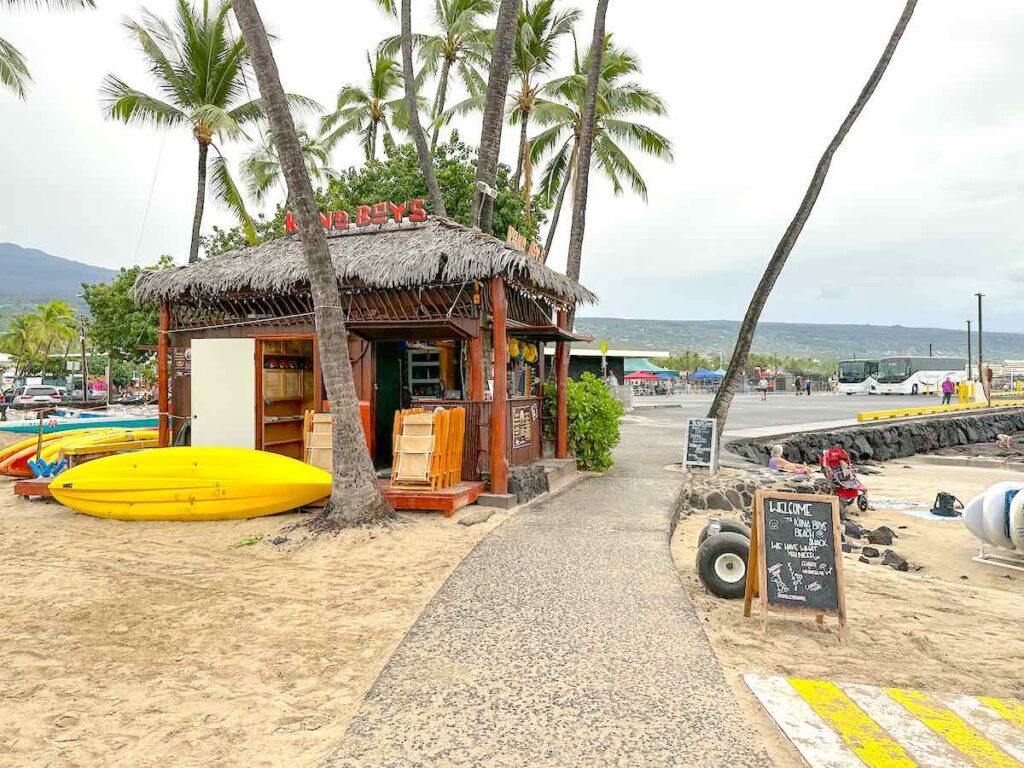 It's $58 for adults (anyone 12 years or older), $28 for kids ages 3-12, and $5 for lap children ages 0-2 years old. It's one of the most affordable Kona boat tours for families.
You can get your Kona Glass Bottom Boat tickets here.
Like with any Hawaii boat tour, don't forget to tip!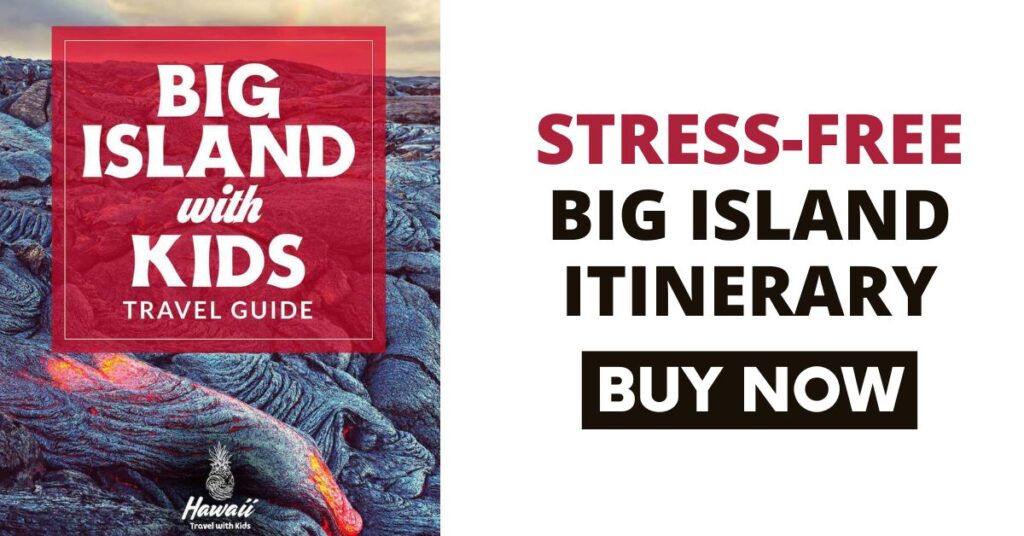 Kona Boat Tours FAQs
Where should you park?
You can park at the Courtyard by Marriott King Kamehameha's Kona Beach Hotel. Your parking will be validated if you eat on the property. I highly recommend a stop at Ululani's Shave Ice!
Where do the tours depart?
The tours depart right at the end of the pier. Just look for the sign that says Kona Glass Bottom Boat and you'll know you're in the right spot!
Can I bring babies and toddlers?
Yes, people of all ages can do this Kona boat ride. The boat is very safe for children.
Will I get seasick?
Typically, people don't get seasick on this Kona boat ride, however, it's always a possibility. What's good about this tour is that it's only 45 minutes long, so you won't have to suffer too long.
Is there a restroom on board?
Yes, the Kona Glass Bottom Boat Tour does have a restroom on board.
Is this tour wheelchair-accessible?
No, it's not wheelchair accessible. There are steps involved. However, people who need canes or walkers are usually okay with taking this tour.
So, is the Kona Glass Bottom Boat Ride Worth It?
If you tend to get seasick, I'd definitely recommend the Atlantis Submarine over the glassbottom boat ride. You'll be looking straight ahead instead of down, which helps with nausea.
However, if you're usually okay with boats, this is a really interesting tour! We appreciated that it was less than an hour long and we got to see all kinds of tropical fish without getting wet!