Are you looking for things to do in Kona with kids? Keep scrolling to find out where to swim with dolphins on the Big Island and why it's a top thing to do on the Big Island with kids, teens, and even adults.
This post about where to swim with dolphins on the Big Island was written by Hawaii travel expert Marcie Cheung and contains affiliate links which means if you purchase something from one of my affiliate links, I may earn a small commission that goes back into maintaining this blog.
Are you looking for a unique adventure to do on the Big Island with your family?
Our family recently did a dolphin experience through Dolphin Quest at the Hilton Waikoloa Village in Kona. It was incredible!
In this post, I'll share our swim with dolphins Waikoloa experience with a 5-year-old and give you tips to plan the ultimate Kona dolphin swim.
You can read about our amazing day in Hawaii swimming with dolphins below! And if you're planning a trip to Hawaii soon, be sure to check out my other posts on things to do in Kona or where we stayed while visiting the Big Island. We hope it helps inspire your next Hawaiian getaway!
Keep scrolling to learn more about swimming with the dolphins in Kona!
Don't have time to read a bunch of Hawaii blog posts and reviews? Here are some of our top picks for visiting the Big Island.
Popular Big Island Tours/Activities
Favorite Big Island Resorts/Hotels
Want to Rent a Car in Hawaii?
One of the best places to rent a car in Hawaii is Discount Hawaii Car Rental because they get the best rates from top national companies like Alamo, Dollar, Thrifty, Avis, Enterprise, Budget, and Payless.
Want to skip all the planning and just access my detailed Big Island Itinerary complete with daily schedules, kid-friendly activities, and travel hacks? Click the button below.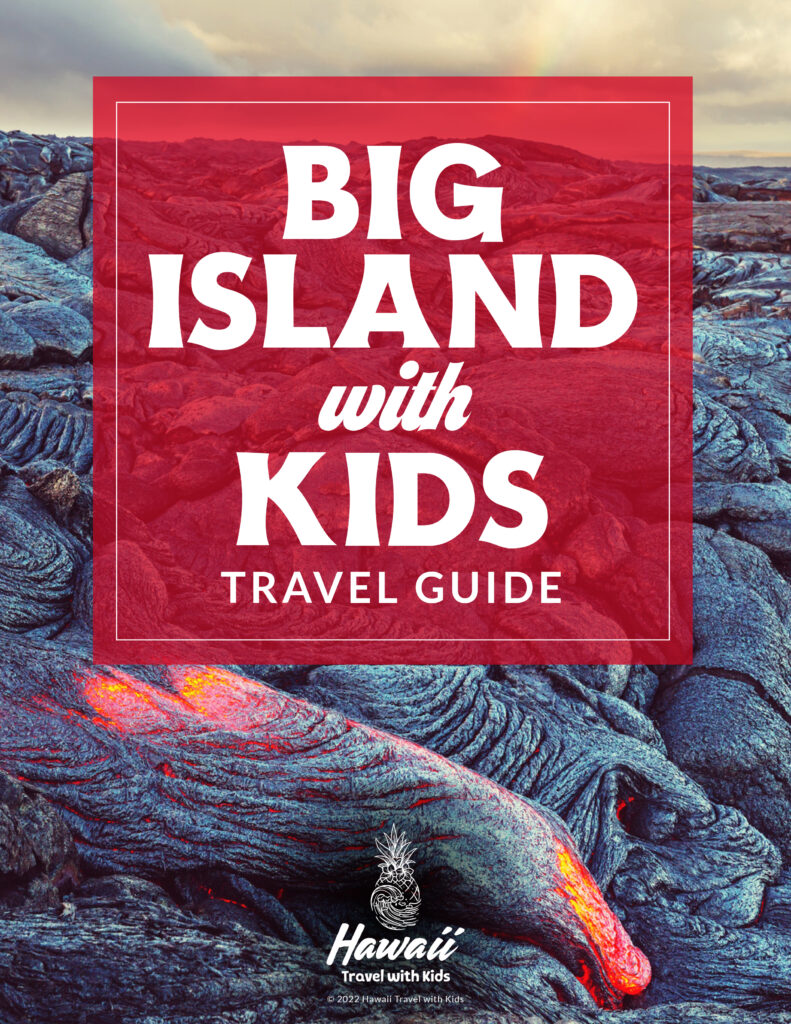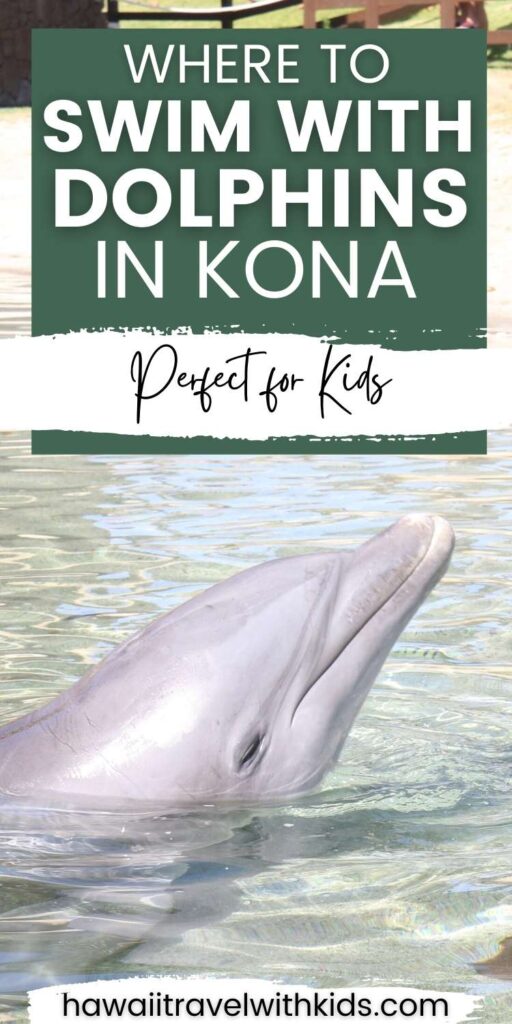 What is Dolphin Quest?
Dolphin Quest is an organization that offers hands-on experiences with dolphins in Hawaii (Oahu and the Big Island) as well as Bermuda. The company is owned by marine animal veterinarians who put dolphin health as a priority. Dolphin experts are with you as you enjoy your dolphin experience Big Island Dolphin Quest offers.
All of their programs are pretty intimate (usually only 5-6 people), and instead of keeping a rigid format, they keep it pretty organic.
On their website, they say, "At Dolphin Quest, we believe that a dolphin encounter should be the beginning of a love affair with one of the earth's most amazing creatures."
Plus, a portion of all proceeds goes towards marine conservation, education, and research. They truly want to take care of the marine life and the spinner dolphins.
The Dolphin Quest Big Island is located at the Hilton Waikoloa Village.
It is just one of the few places to swim with dolphins Kona Hawaii has to offer along the Kona Coast.
Where is the Hilton Waikoloa Village Resort?
The Hilton Waikoloa Village Resort is located about 40 minutes north of Kona in Waikoloa Village. It took us 45 minutes to drive there from the Royal Kona Resort on Ali'i Drive.
It's a total resort community with other hotels and condos nearby, plus a few shopping centers, restaurants, and even a movie theater. You can read my honest Hilton Waikoloa Village review HERE.
The Hilton Waikoloa Village Dolphin Quest is a little tricky to find. Once you park at the Hilton Waikoloa Village, you'll have to walk through the resort and around the pool area to find Dolphin Quest. They recommend allowing 30 minutes to do this.
Why Did We Choose Dolphin Quest Hawaii?
Over the summer, my oldest son swam with dolphins on Oahu through Dolphin Quest with his cousins. He had a blast, and my husband (who also did it) kept remarking on how well-run the program was.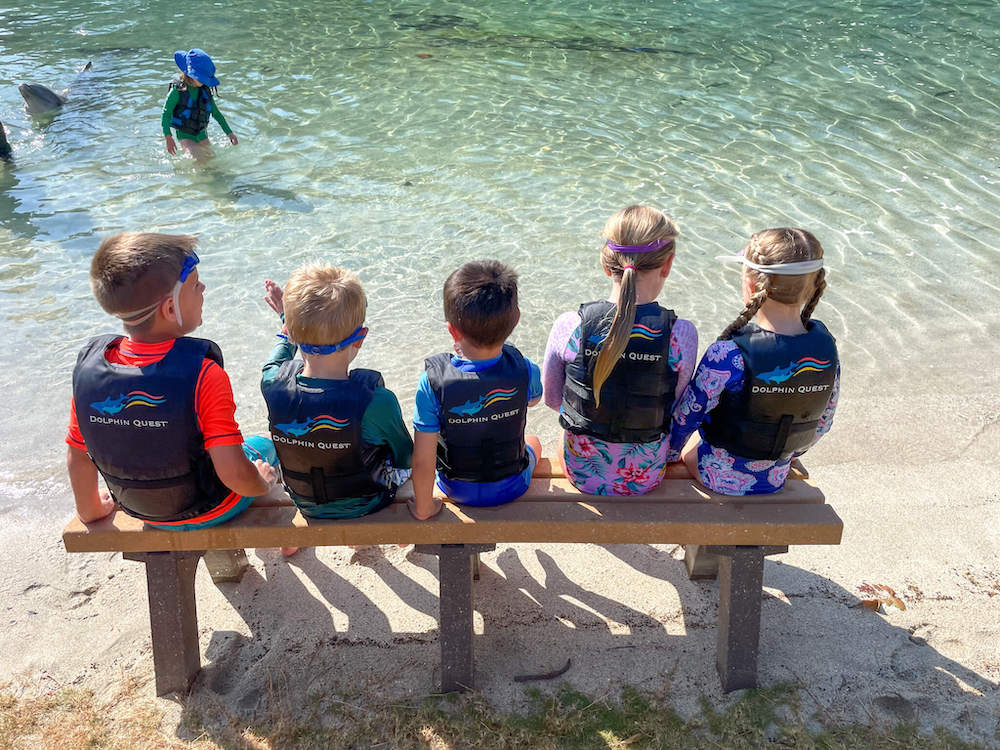 So, when I realized there was a Dolphin Quest on the Big Island, I figured it would be perfect for my 5-year-old. I knew swimming with dolphins Kona, Hawaii would be an incredible experience for him.
I love that he was able to do the Kids Quest option, which is for kids ages 5-9 who are comfortable going into the water on their own. I'm not a water person, so it was great to sit on the side and just watch.
Honest Kona Dolphin Quest Review
I want to start off by saying that it really depends on the kid whether or not they have a good and unforgettable experience.
My 5-year-old changed his mind the morning of our tour and decided he didn't want to swim with dolphins. After a long discussion, he agreed to try it for 10 seconds. It was a major struggle, and it caused us to run late, and we were both frazzled by the time we got there.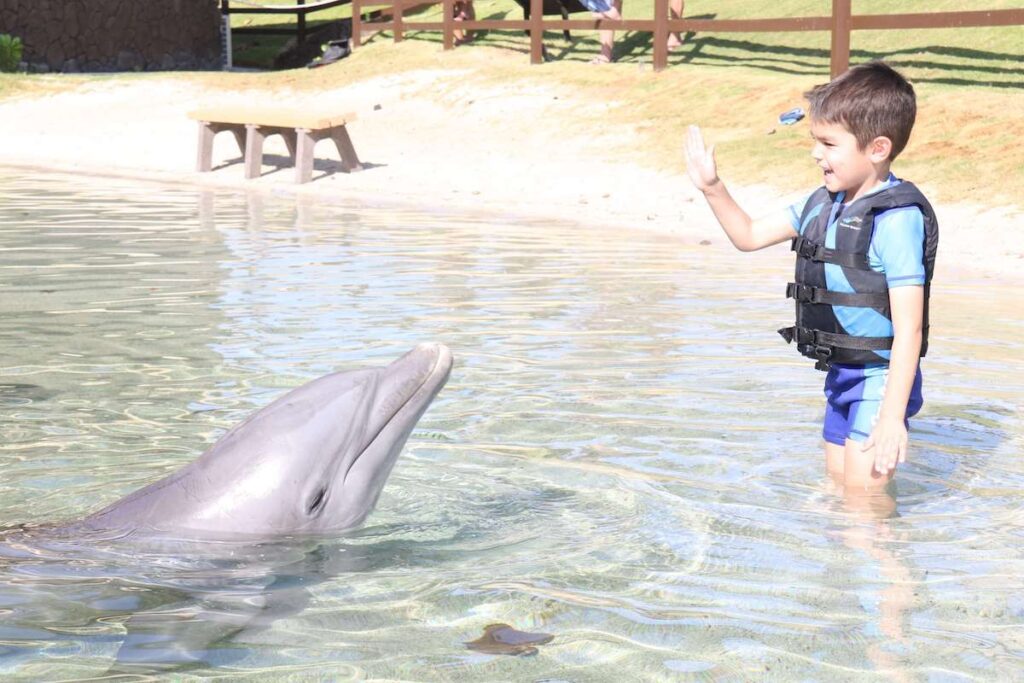 However, he totally rallied and ended up being in the water the entire time. He sometimes went closer to the shore or played in the sand instead of doing the dolphin activity, but he still got a lot of interaction with the dolphins.
I only tell you this anecdote in case you find yourself in a similar situation. Sometimes kids initially think it will be fun and then totally get nervous on the day.
My son was in a group of about 7-8 kids, which was a nice number and a small group. They had 1 trainer and 1 dedicated photographer. And they got to interact with several dolphins.
The trainer showed them how to move their hands to get the dolphins to respond. And they learned that dolphins have belly buttons and they used to have hair.
These are the things my son talked to me about the entire drive back to the hotel from the swim with dolphins Big Island experience.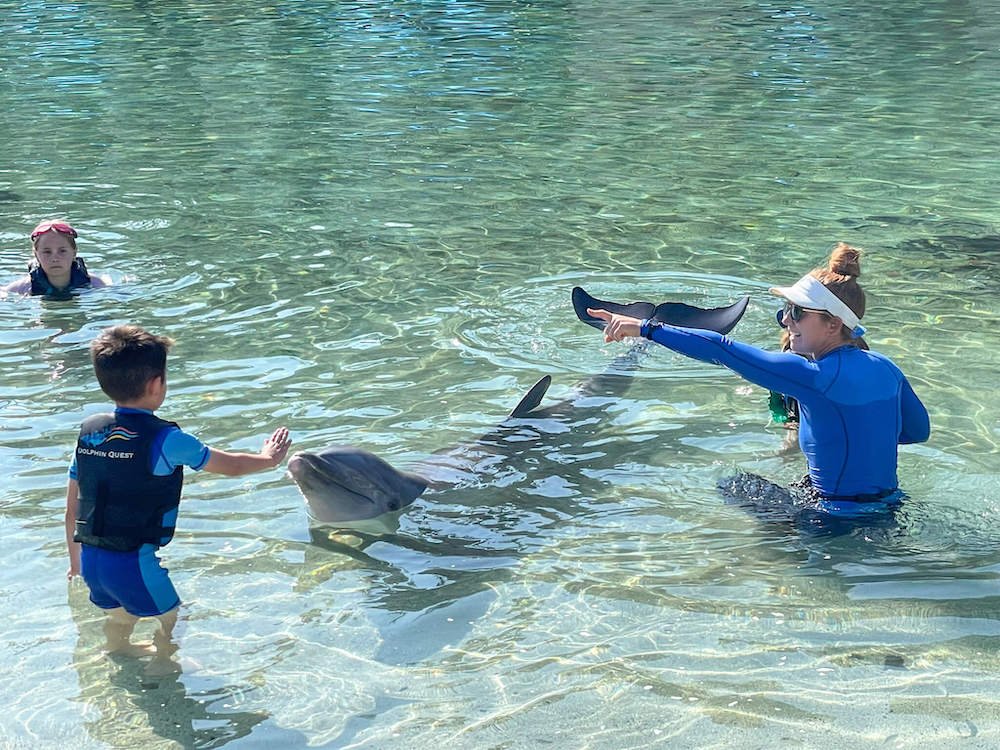 Dolphin Quest Hawaii also had lots of photo opportunities for individual kids and groups. So, if you want a photo of your kid with a dolphin, this is a great option.
Throughout the session, he kept walking over to me and giving me thumbs-up signs, and told the trainer that it was "amazing." So, even though he didn't participate in everything, he got what he wanted out of the experience.
During our session, there was also a session for toddlers and parents, as well as a family session going on. Every group was spaced out.
I loved the hands-on experiences this dolphin tour Kona offered. It is the best Hawaii swim with the dolphins experience for kids and families along the Kona Coast!
Book a Family Photo Shoot
Whenever we travel to Hawaii, we almost always book a family photo shoot with Flytographer. They are super easy, affordable, AND it guarantees that I'll be in some photos. You can get $25 off if you book through this link or use the code HAWAIITRAVEL.
Tips for Swimming with Dolphins in Kona at Dolphin Quest
If you are doing the swimming with dolphins Hawaii Big Island Dolphin Quest, here are a few tips to have an amazing time with this intimate experience.
What to Wear
It's easiest to arrive wearing a swimsuit. They do have restrooms there, but it's just one stall, and it's probably more gracious to leave it for kids who need to pee. See our favorite UV swimsuits HERE.
You'll also want to wear flip-flops or sandals. Shoes come off near the beach, or you can leave them with other family members.
What to Bring
You'll need to bring your own towel for this Dolphin Quest Hawaii Big Island experience. I brought a little Turkish towel and that was perfect for what we needed. I ended up wrapping my son's wet swimsuit in it. But you could also use a wet/dry bag or a separate bag.
Is the Photo Package Worth It?
Yes. It's easy to go into sticker shock when you see the prices of the photos from the Hilton Waikoloa swim with dolphins encounter (2 digital photos is $55). However, this is already a pricey activity, so you might as well throw a little more money for these once-in-a-lifetime photos.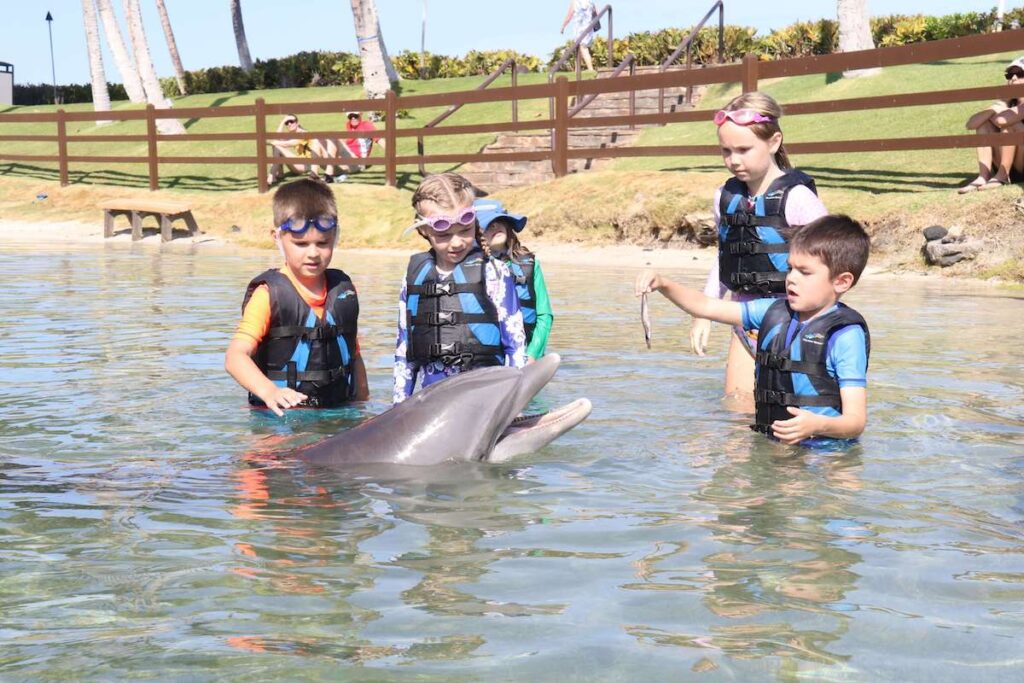 Even if you are a photographer yourself, you simply can't get these shots standing on the sidelines.
When you are done with the Big Island dolphin experience, you'll head to the gift shop to check out the photos. It ended up taking about 30 minutes for our photos to show up, so you might pop over to the coffee bar or something if it seems like there's a long wait.
Once you see your photos, you can choose how many you'd like to purchase. You can buy all of them for $155. This is what we did for the Waikiki Dolphin Quest because it covered our entire group of 7 people.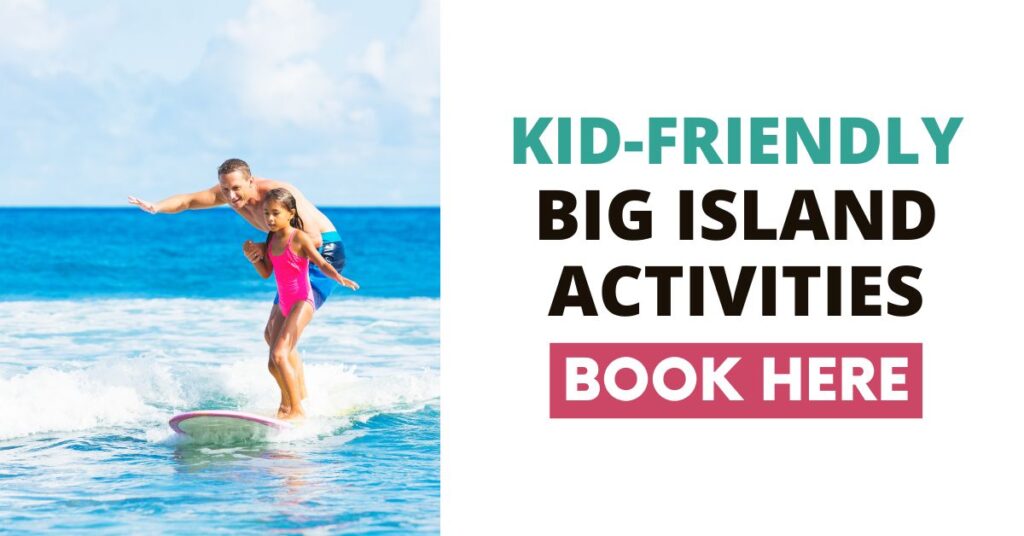 How to Book Dolphin Quest on the Big Island
We booked this swimming with dolphins Big Island Hawaii Dolphin Quest through Hawaii Activities because it was the cheapest rate I could find. You can check rates and availability for this Hawaii swim with dolphins experience HERE.
They actually offer a few options. We did the Dolphin Adventure, which gave us a 35 minutes with the dolphins. Kids ages 5 and up can participate in this one. Get more info about the Dolphin Adventures Kona HERE.
There's also the Dolphin Encounter, which gives you 25 minutes with the dolphins, and it's slightly cheaper. This is also for kids ages 5 and up. Get more info about the Dolphin Encounter HERE.
You can also do a Private Dolphin Swim for up to 3 people. Get more info about the Private Dolphin Swim HERE.
And you can always check the Dolphin Quest website to see any new programs they are offering.
The Hilton Waikoloa Village swim with dolphins adventure is such a fun experience! Click below for your Hilton Waikoloa Dolphin Quest discount.
Swimming with Dolphins in Kona FAQs
Is it OK to swim with dolphins in Hawaii?
Yes you can swim with the dolphins in Hawaii, but you cannot be within 50 feet of the friendly dolphins. It is better to go on a Hawaii dolphin encounter to ensure you keep these magnificent creatures safe and protected.
Where can you swim with dolphins in Hawaii Big Island?
If you're looking for a dolphin experience on the Big Island, Dolphin Quest is your best option. The laws in Hawaii recently changed (in September 2021), and boats need to keep at least 50 yards away from spinner dolphins. So, if you want to swim with dolphins Hawaii Big Island, it is best to go on a dolphin tour, like the Dolphin Quest Hilton Waikoloa Village dolphin encounters.
Do you need to stay at the Hilton Hawaiian Village to do Dolphin Quest?
Nope! We stayed at a different Kona hotel and had no problem doing Dolphin Quest on the Big Island. Their programs are open to tourists and residents no matter where they are staying.
How far in advance do you need to book Dolphin Quest?
You'll definitely want to have a reservation. If you know you 100% want to do it (maybe it's on your Hawaii bucket list), then book it as soon as you've booked your trip. Otherwise, you can usually wait until a month before your trip. However, you'll want to book sooner if you are traveling during Hawaii's high season to see these magnificent creatures before the Dolphin Quest Hawaii gets sold out.
What island can you swim with dolphins in Hawaii?
You can go dolphin swimming in Hawaii's Big Island, Oahu, and Maui. These offer dolphin tours that offer an amazing experience for a fun-filled day where you have a dolphin guarantee.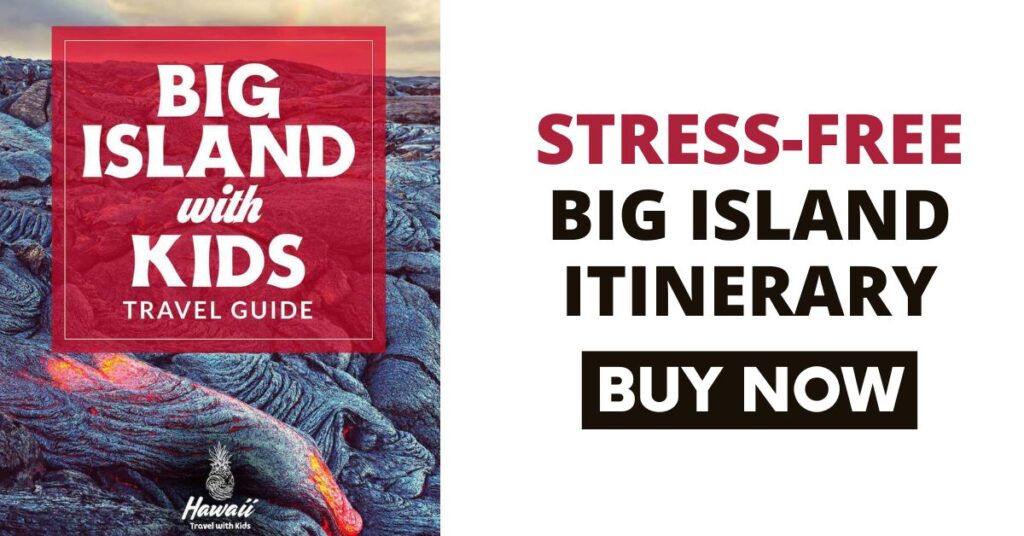 Swimming with Dolphins on the Big Island Wrap Up
Now you know where to swim with dolphins in Hawaii's Big Island!
If you want to go swimming with dolphins in Hawaii, Dolphin Quest is the most popular option. They have locations at the Kahala Hotel in Waikiki, Oahu, and the Hilton Waikoloa Village near Kona, Big Island.
The Big Island dolphin swim is sure to be a highlight of your Big Island vacation with kids.