Are you looking for the best Road to Hana stops that are worth it? Keep scrolling for an honest review of the Twin Falls Maui waterfall tour.
This Twin Falls Maui waterfall tour review contains affiliate links which means if you purchase something from one of my affiliate links, I may earn a small commission that goes back into maintaining this blog.
Guest post by Keri of Bon Voyage with Kids
If you are headed to Maui, the Road To Hana stops will be one of the highlights of your trip!
The Road to Hana is a winding, 54-mile highway that takes you through the rural east side of the island. There are dozens of stops and attractions along the way, including waterfalls, swimming, spectacular views, black-sand beaches, and opportunity for hikes. 
But one Road To Hana stop that is definitely worth noting is the Twin Falls Maui waterfall, which is one of the first Road To Hana stops. It's actually one of the top things to do on the Road to Hana.
Though it is a must-see if you are driving the Road To Hana, you can even access this stop and enjoy a kid-friendly family experience without committing to a day of driving the Road To Hana. 
Keep scrolling to find out what you need to know about Road to Hana Twin Falls stop.
Don't have time to read a bunch of Hawaii blog posts and reviews? Here are some of our top picks for visiting Maui.
Popular Maui Tours/Activities
Favorite Maui Resorts/Hotels
Andaz Maui (this is a luxury resort with the best luau on Maui)
Honua Kai Resort & Spa (this is one of our personal favorites because there are tons of pools and there are condo options)
Want to Rent a Car in Hawaii?
One of the best places to rent a car in Hawaii is Discount Hawaii Car Rental because they get the best rates from top national companies like Alamo, Dollar, Thrifty, Avis, Enterprise, Budget, and Payless.
Want to skip all the planning and just access my detailed Maui Itinerary complete with daily schedules, kid-friendly activities, and travel hacks? Click the button below.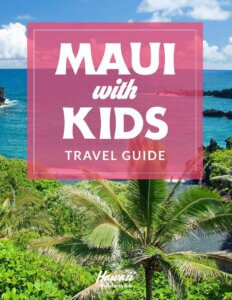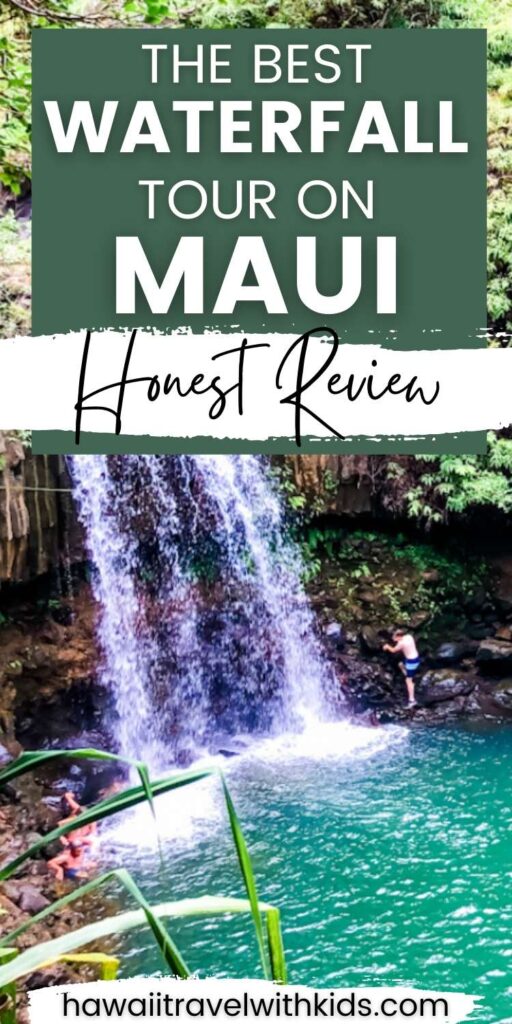 Twin Falls Trail Maui Info
If you are planning on just going on the Twin Falls hike Maui during your drive on Hana Hwy, here is everything you need to know.
Twin Falls Maui hike distance
There are a few Twin Falls Maui waterfall trails to see all the waterfalls.
One of the trails is a little under 2 miles. This will take you to all the falls in the area. If you just want to see the lower falls, it is very easy to get to and is about .25 miles.
Twin Falls hiking is pretty easy and kid-friendly, especially to get to the first waterfall.
The upper falls is also called Caveman Falls Maui. It is quite beautiful too, so if you have time, try to head up there.
Twin Falls Maui parking
Recently, they added a parking fee which is now $10. There is a big parking lot, but when it gets crowded, you might have trouble with the limited parking available.
If the parking lot is full, you CANNOT park on private property close by and walk over. You must wait until something clears up.
Twin Falls Maui hours
Twin Falls on Maui is open from 7 AM to 5 PM daily.
Twin Falls Waterfall Maui farm stand
After you hiked Twin Falls, make sure to visit the Twin Falls Farm Stand: the Wailele Farm. You can get smoothies, coffee, ice cream, snacks, and so much more! It is a great fruit stand to enjoy before heading back on the road.
About Hike Maui's Twin Falls Waterfall Tour On Maui
Maui's Twin Falls is one of the very first stops on the Road To Hana. It is located on mile marker 2, not long after you pass the Jaws General Store. It's one of the best waterfalls in Maui.
Because it is right at the beginning of the Road To Hana, you don't need to complete the whole road trip to enjoy it (though you should at some point on your trip.)
And while you can visit Maui's Twin Falls on your own, which is the first waterfall from the parking lot open to the public, you can actually explore this area a bit more on a half-day family excursion.
If you have been dreaming about jumping into and swimming under some of Maui's epic waterfalls, the Twin Falls waterfall tour with Hike Maui is your chance!
Your family can enjoy a family-friendly hike to Twin Falls on Maui with exclusive access to a few more waterfalls on a family-friendly hike with Hike Maui. It's definitely one of the best hikes in Maui, with waterfalls.
Our family did this excursion this past summer, and it was just a wonderful way to experience Maui's waterfalls and unique rainforest rather than just seeing it. You can check the latest rates and tour availability HERE.
Hike Maui's Twin Falls Maui waterfall tour includes a three or so modest guided hike perfect for kids. It includes walks through a rainforest, private access to several waterfalls, and the chance to jump into some waterfalls during the day.
Plus, you will learn a lot about Maui's agriculture and ecosystem. And did I mention lunch is included?
Here's why you should consider the Twin Falls Maui Waterfall Tour with Hike Maui.
Why We Chose Hike Maui's Twin Falls Maui Waterfall Tour
Our family loves active experiences, and Maui is one of the best places to do this as a family.
While we have enjoyed the Road To Hana several times, we wanted to try a hike on our recent trip to really experience one of the most special parts of the island of Maui – its waterfalls.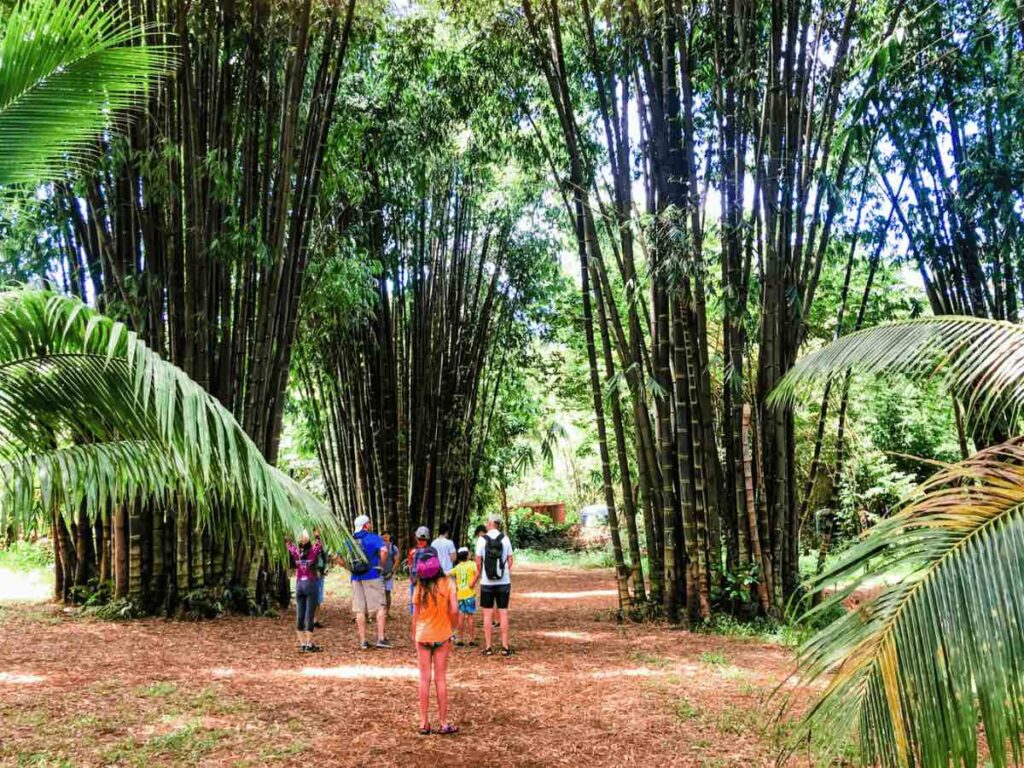 Jumping into the natural pools is a special experience. But we wanted to do this with a guide, as the Road To Hana is known for a rapidly changing landscape. In fact, waterfalls, in particular, can change quickly and unexpectedly. So we were more comfortable doing this with an expert guide.
Hike Maui offered the perfect option – a modest hike suitable for children ages 6 and up and with the chance to swim under waterfalls. The added jumping was my kids' favorite part.
We also got to enjoy hiking through the rainforest, learning about the area and agriculture, and were even taken to a bamboo forest. With Hike Maui, we had exclusive access to areas the general public can't go to if they are stopping when driving the Road To Hana.
Plus, lunch and transportation from Kahului airport were included.
Having a guide who showed us where to jump safely was also very important. It's another reason using a guide like Hike Maui is better than doing this on your own.
Hike Maui's Twin Falls waterfall tour was one of the most unique things we have done visiting Maui and one of our favorite family activities.
What to Know about this Maui Waterfall Tour Before You Go:
Arrival/Tickets
To book the Hike Maui Twin Falls waterfall tour, you need to make a reservation online. Tickets are around $165 dollars per person, which includes the guided excursion, transportation to and from the pick-up/drop-off point, and lunch. 
We met Hike Maui in a parking lot near Kahului airport, which is where we left our car and where we returned at the end of the excursion. So you do not need to worry about driving to mile marker 2 on the Road To Hana.
The whole experience is around five hours, including transportation. Find out more information about this Maui waterfall tour.
The Highlight of this Road to Hana Waterfall Tour and What You Should Look Out For
The highlight of this Twin Falls Maui hike tour is definitely the rock jumping and swimming in the waterfall pools. For thrill-seekers, some of the rock-jumping was a good 10 feet.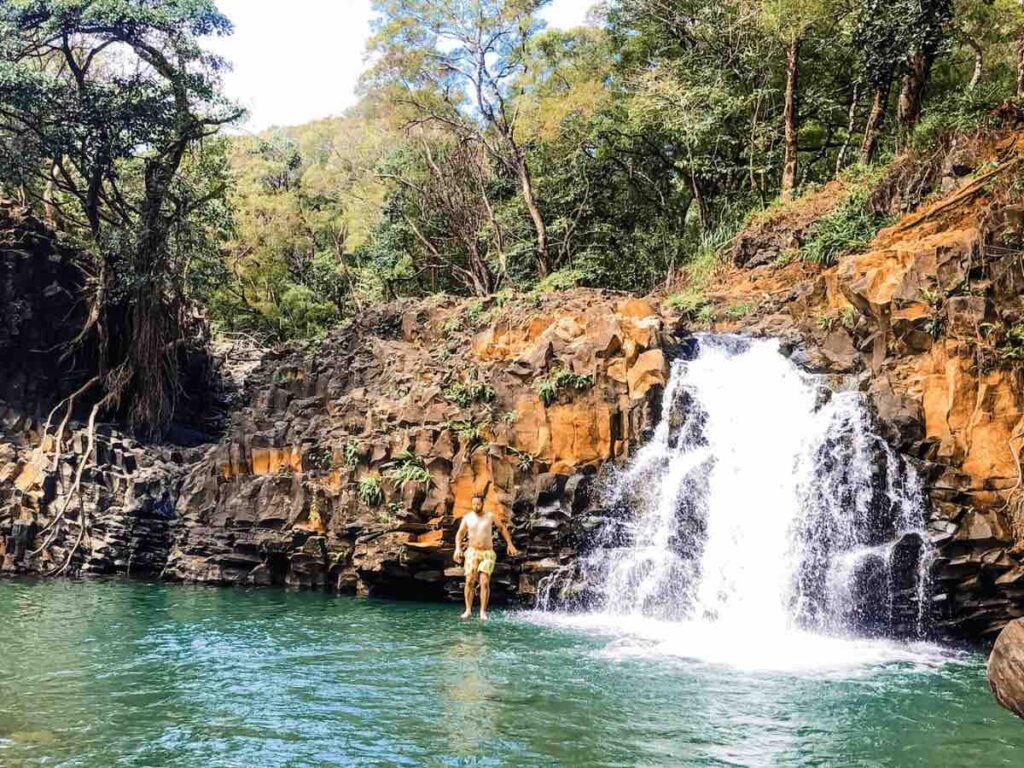 hough you could certainly choose a lower rock if you prefer less height. In fact, my son and some of the younger kids on the excursion chose a much shorter jump.
My husband and kids loved it, but I enjoyed a casual swim in the pools.
We also really loved the bamboo forest at the end, as well as our guide giving us some taste tests of berries growing along the way. It was a unique and educational journey as we learned about Maui's rainforest and ecosystem.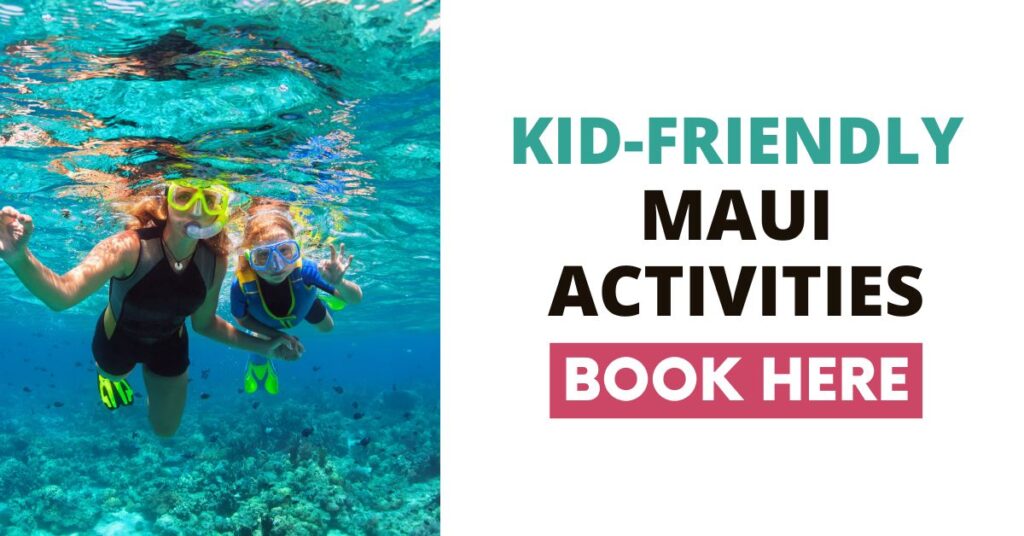 Honest Twin Falls Maui Tour Review
While Maui is known for epic beaches, luaus, and beautiful sunsets, getting to explore the upcountry and the unique and varied landscape of the island is one of our family's favorite things to do.
It is an island with so much more than just hotels and pools.
Exploring the Road To Hana is definitely one of the ways to appreciate the spectacular beauty of this island.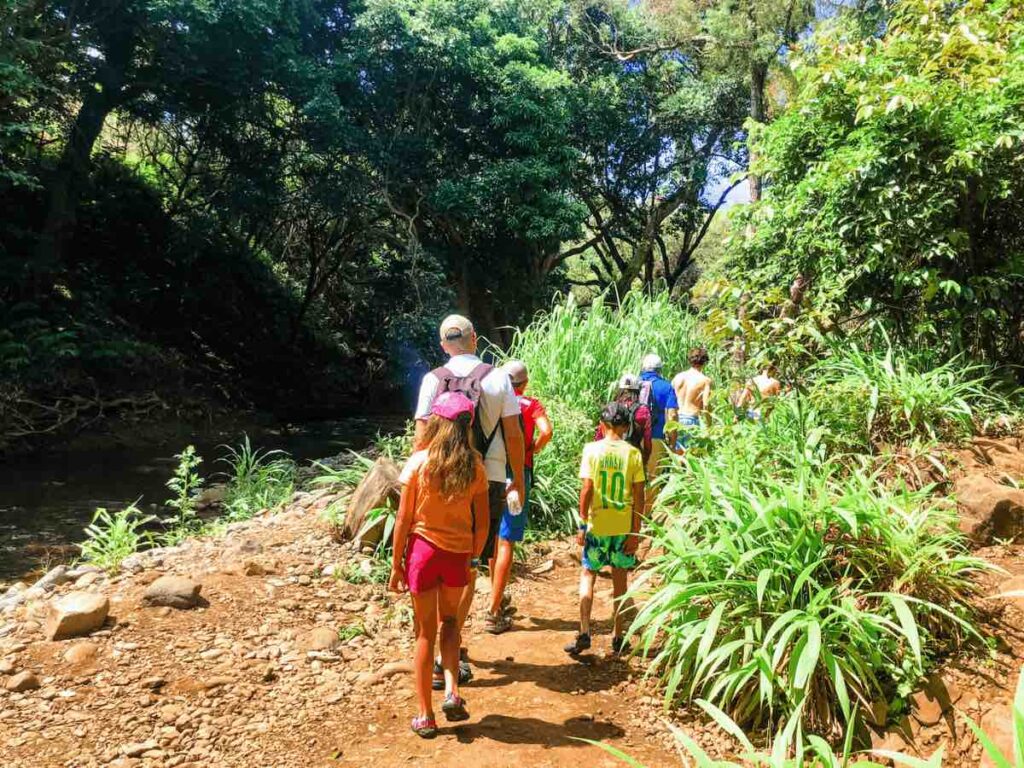 And while visiting the Road To Hana is well worth doing and one of the best things to do in Maui, it can be hard to really experience the rainforest, waterfalls, and all that it has to offer due to wanting to visit all of the marquis stops.
What I liked about Hike Maui's Twin Falls waterfall tour is that it allowed us to enjoy a modest, three to four-mile hike through the rainforest. We were able to not just see spectacular waterfalls but to experience them.
My kids loved the thrill of jumping off the rocks into the pools below. But I loved swimming in the crystal clear natural water and enjoying the incredible beauty of the area around us.
It was also an educational experience for the kids, as we learned about Maui's ecosystem, the rainforest, and even what is growing on the island. And it was a great way to experience the stop rather than just see it.
This was also an easy half-day excursion for our family, which was perfect for kids. Not all hikes are family-friendly, but this one was perfect. And our knowledgeable guide was fantastic and very friendly.
Maui Waterfall Tour Tips for Families
What to Wear
Families should definitely wear a swimsuit under their clothing and bring closed-toe water shoes. Good shoes are really important for walking on rocks, so do not bring flip-flops. See our favorite SPF bathing suits HERE.
What to Bring
In addition to your water shoes, swimsuit, sunglasses, sunscreen, hat, bug spray, and camera, you may also want to bring a water bottle (though Hike Maui provides water and lunch and a backpack to carry it in.)
But I also recommend a towel and a dry change of clothes. Our family also brought a dry set of clothes and changed in the porta potties before driving home.
If kids need any swimming device (like a life jacket), you may want to bring that as well. Most of the waterfalls are deep in the center, so kids won't be able to touch the bottom. These were not provided by Hike Maui.
Additional Tips
I recommend bringing bug spray, as the forest was a bit buggy, and extra water. If your kids can't swim, do bring a life jacket or swim support, as the waterfall pools are deep. And you may want to bring hand sanitizer to clean your hands before lunch.
Just remember that whatever you bring, you have to carry, so bring what you need and leave home what you don't.
Also, note that this experience is around five hours in total. So be sure to plan accordingly with any dining or luau reservations you may have that day. Depending on where you are staying, the drop-off point near Kahului airport could be a 30 to 45-minute drive.
Twin Falls Maui Trail FAQs
What are the best Road to Hana stops for families?
Some of the best stops on Road to Hana with kids include the Garden of Eden, Maui Twin Falls trail, the Halfway to Hana farm stand, and the black sand beach.
What are the best Maui waterfalls along the Road to Hana?
There are lots of beautiful waterfalls on Maui, and most are found along the famous Road to Hana scenic highway. A few of these Maui waterfalls include Twin Falls, Pua'a Ka'a Falls, Punalau Falls, and Wailua Falls.
Which Maui waterfall hikes are worth it?
One of the best things to do on Maui is go hiking, and there are so many waterfall hikes on Maui! Our favorite is Twin Falls on the Road to Hana because it's not too intense, and it has a great payoff. Some of the best waterfall hikes in Maui include Twin Falls, Wailua Falls, Punalau Falls, and so many more!
Can you swim in Twin Falls Maui?
Yes! When visiting Twin Falls, you will probably want to go swimming, and you definitely can. After a serious rainfall, it might close due to flash floods, but other than that, you should swim at the lower falls.
How long does it take to hike Twin Falls in Maui?
The Twin Falls Maui hike difficulty is moderate and should take around an hour to complete. This can all depend on when you arrive, how long you stay, and if you hike to the upper falls and to each of the multiple waterfalls or just the main trail.
Is Twin Falls in Maui worth visiting?
We love the Twin Falls Maui waterfalls and think they are worth a stop along your Hana Highway journey. There is a large dirt parking lot, so you can just go and see the lower falls quickly and then head out or stay longer to hike more of the falls. It is a fairly easy hike to enjoy.
What is the Twin Falls Maui mile marker?
The Twin Falls Road to Hana mile marke is number 2 just past Paia. It is the first of the many Hana waterfalls you will see along the Hana Highway.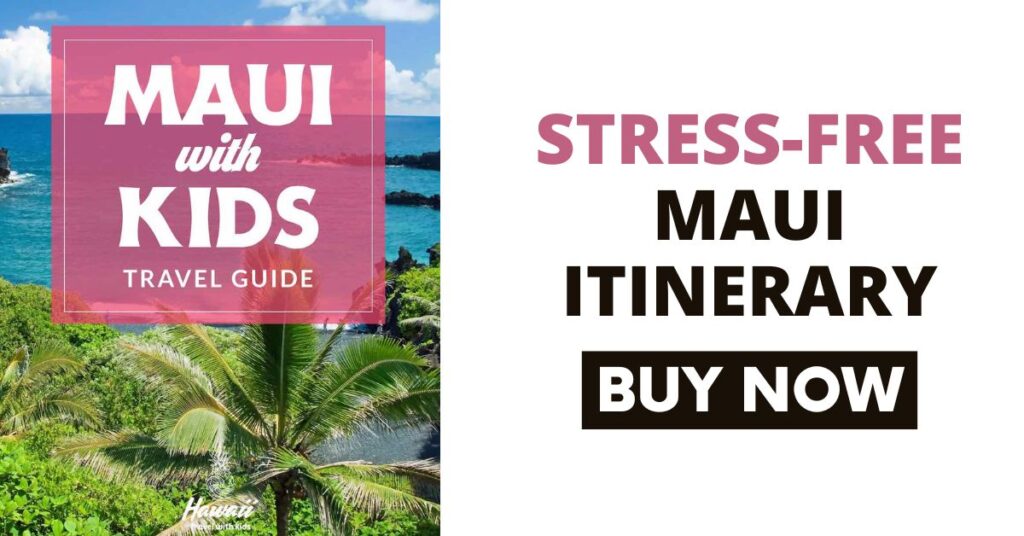 So, is the Twin Falls Tour on Maui Worth It?
In my opinion, the Hike Maui Twin Falls waterfall tour was definitely worth it. We appreciated having access to waterfalls that most visitors don't, as this made for a less crowded experience. It's one of the best stops on the Road to Hana.
Having an expert guide who not only taught us about the rainforest and led us through was definitely worth it, as he also made sure we knew where it was safe to jump and swim.
Because the Road To Hana conditions can change rapidly, having experts with you helps to make sure you are visiting when the conditions are optimal. And it made sure we were doing an excursion suitable for our kids' ages.
In my opinion, the Hike Maui Twin Falls waterfall tour is one of the best family adventures on Maui.
About Keri
Keri is a mom of three kids and a family travel blogger at Bon Voyage With Kids. Based in New England, she has lived abroad three times, has traveled to nearly 30 countries, worked for Walt Disney World Resort and for an educational travel company, and travels regularly with her kids. Her family visits Hawaii every summer, with Maui being their favorite island. She inspires families to enjoy the journey of traveling with kids, and to experience destinations, not just visit them. She also loves finding ways to inspire learning about world cultures and countries when not traveling.