Are you planning a trip to the Big Island and want to know the top food spots? Find out where to eat on the Big Island with kids for families who love tasty food!
This post about where to eat on the Big Island with kids may contain affiliate links, which means if you click on the link and purchase the item, I will receive an affiliate commission at no extra cost to you. All opinions remain my own.
Hawaii is a prime vacation spot for families across the world, especially in the USA. This tropical paradise has much to offer, from the majestic Pacific Ocean and golden beaches to the range of different activities to partake in.
However, what really steals the show is Hawaii's varied and unique cuisine!
You'll find no end to the number of regional delicacies waiting to be experimented with. From friendly cafés to special kids' menus, there's quite a lot to explore.
We've compiled a guide with some of the best eats on the Big Island to make your family getaway a raging success.
So get your itinerary out and read on to find out just where to eat on the Big Island with kids!
Don't have time to read a bunch of Hawaii blog posts and reviews? Here are some of our top picks for visiting the Big Island with kids.
Best Kid-Friendly Big Island Tours/Activities
Best Kid-Friendly Big Island Resorts
Save Money with Points
My favorite credit card for travel is Chase Sapphire because it offers the best value on flights and hotels. Check out the latest sign-up bonus deal.
Want to Rent a Car in Hawaii?
One of the best places to rent a car in Hawaii is Discount Hawaii Car Rental because they get the best rates from top national companies like Alamo, Dollar, Thrifty, Avis, Enterprise, Budget, and Payless.
Want to skip all the planning and just access my detailed Big Island Itinerary complete with daily schedules, kid-friendly activities, and travel hacks? Click the button below.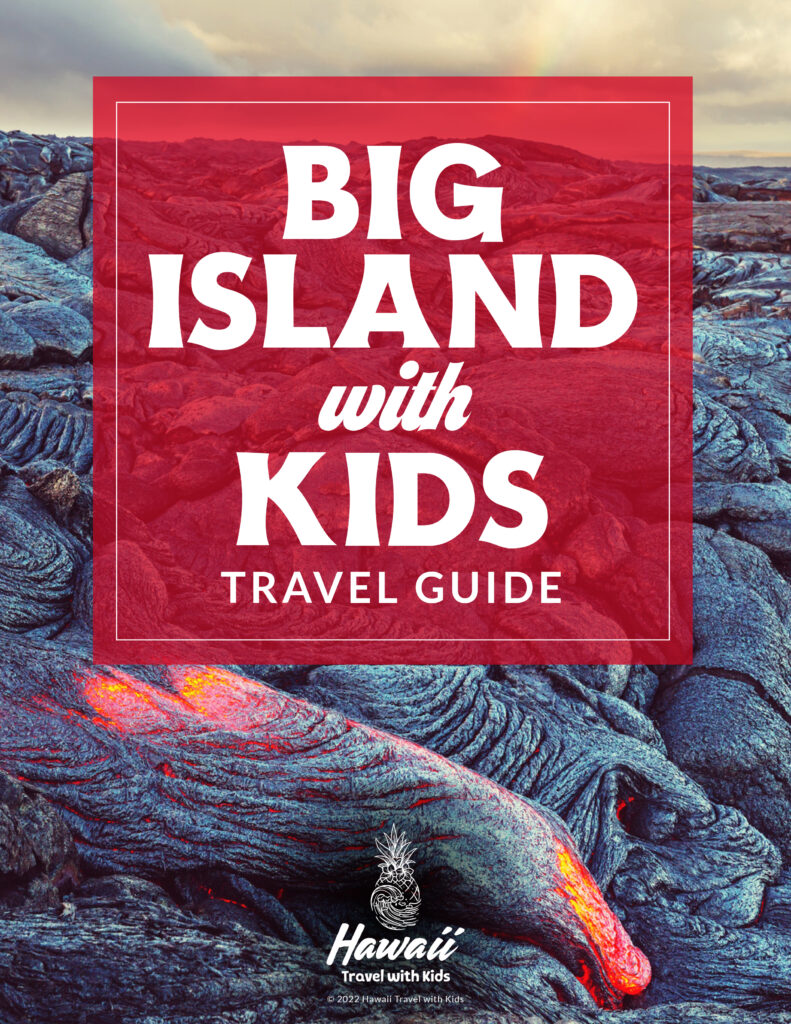 Restaurants on the Big Island FAQs
What food is the Big Island known for?
While you can find a lot of Hawaiian food on the Big Island, they are most famous for being the home of Loco Moco. Cafe 100 in Hilo is the place that started this food craze and it's definitely worth a stop.
Is there a downtown on the Big Island?
Most people would consider Ali'i Drive to be "downtown Kona" because it's a pedestrian-friendly strip with tons of shops, restaurants, and bars. If you want to walk around and find somewhere to eat, Ali'i Drive is a great place to start.
Are there restaurants on the Big Island with outdoor seating?
Yes! In fact, almost all restaurants on the Big Island offer some sort of outdoor seating or they have take-out available where you can bring it to a beach or a park to enjoy your meal.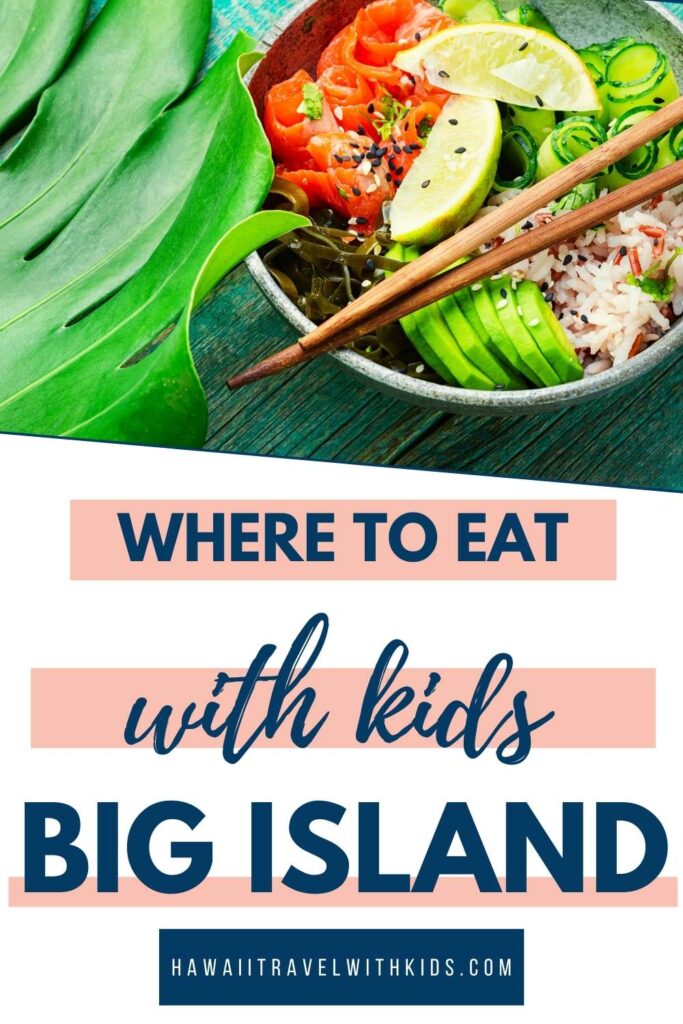 Dining in Big Island: a Guide for Families
Dining on the Big Island is a lively yet intimate experience. It's the best way to spend time with the family while also opening up your palate to local dishes. Take in the beauty of Hawaii and its rich flavors with just the right amount of aloha.
Sample local delicacies that are all the rave – adorable mochi, vibrant seafood, and greasy burgers.
With a mix of cultures and cuisines like American, Polynesian, and European, trying the food on the Big Island will be a journey to remember. Your kids will have a ball as you learn about new cultures and cuisines together.
Best Restaurants on the Big Island for Kids
Best Big Island Bakeries
Punalu'u Bake Shop
Punalu'u Bake Shop is the southernmost bakery in the USA!
Sweet aromas and freshly brewed Ka'u coffee make this a relaxing place to visit with the family. Buy their famous sweet bread, which is equally popular among kama'aina (locals) and visitors alike.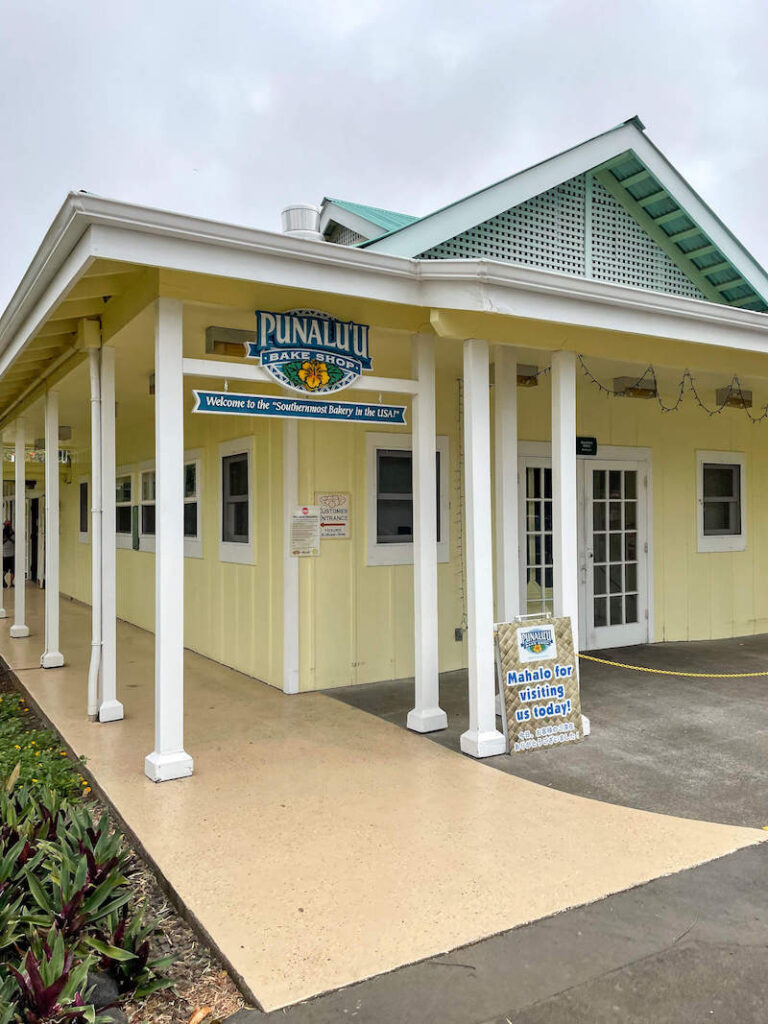 Your kids will enjoy their outdoor area with a hearty local lunch or fresh sandwich and ice cream.
One of the best restaurants on the Big Island, their malasadas (fried doughnuts) and pastries are treats you'll absolutely love!
Tin Shack Bakery
Aptly named to match the rustic vibe and shack-like aesthetic, the Tin Shack Bakery offers a variety of sweet and savory pastries, eggs benedict, bagel sandwiches, and more. Definitely give their Pesto Okinawan a try, a breakfast item made with sourdough English muffins.
With delightful breakfast options, you'll be spoiled for choice and the kids will adore it!
Best Big Island Breakfast Spots
Hawaiian Style Café
Hawaiian Style Café is a gourmet yet local dining experience that you must set aside the time to indulge in during your trip.
One of the best cheap eats on the Big Island, it has everything from Kalua Pork Hash and their world-famous massive pancakes, to local fish specials, beer, and wine at affordable prices.
They also have an all-day-long breakfast menu so that the kids can savor fresh toast and loco moco while the grown-ups try special steaks and pasta.
Ken's House of Pancakes
Ken's is a top restaurant on the Big Island. Open from 6 a.m., you can start your day with a range of breakfast options such as pancakes, omelets, burgers, fries, and milkshakes.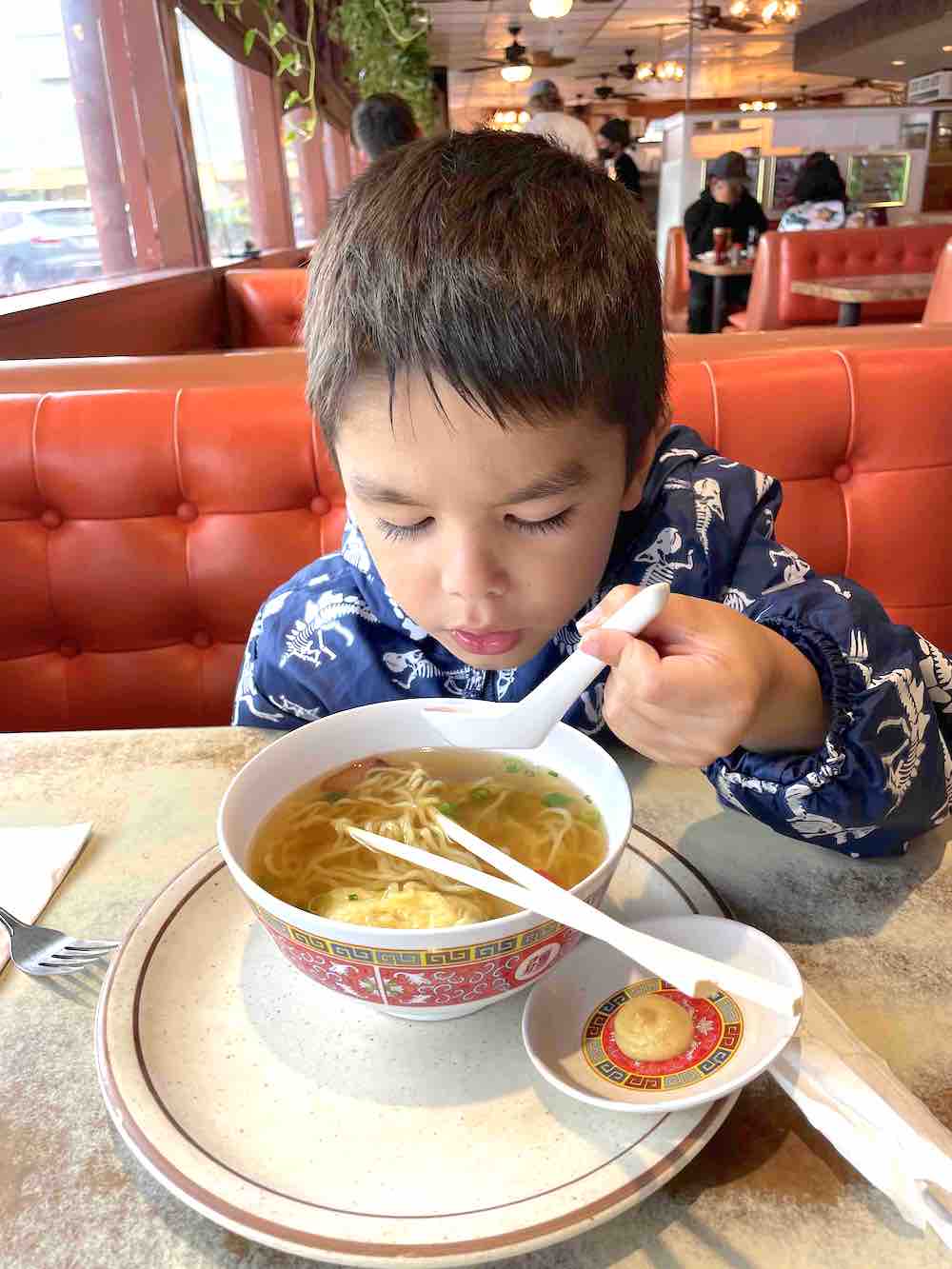 Treat yourself to their hot pineapple upside-down cake and explore the numerous ice creams and desserts on the menu. They also offer delicious specialty sandwiches and entrées for later in the day. From keiki (child) to kupuna (grandparent), this place has got the entire family covered!
The Coffee Shack
This family-owned restaurant overlooks the scenic Kona coast and Kealakekua Bay. It's a beloved local haunt and a great spot to add to your list of where to eat on the Big Island.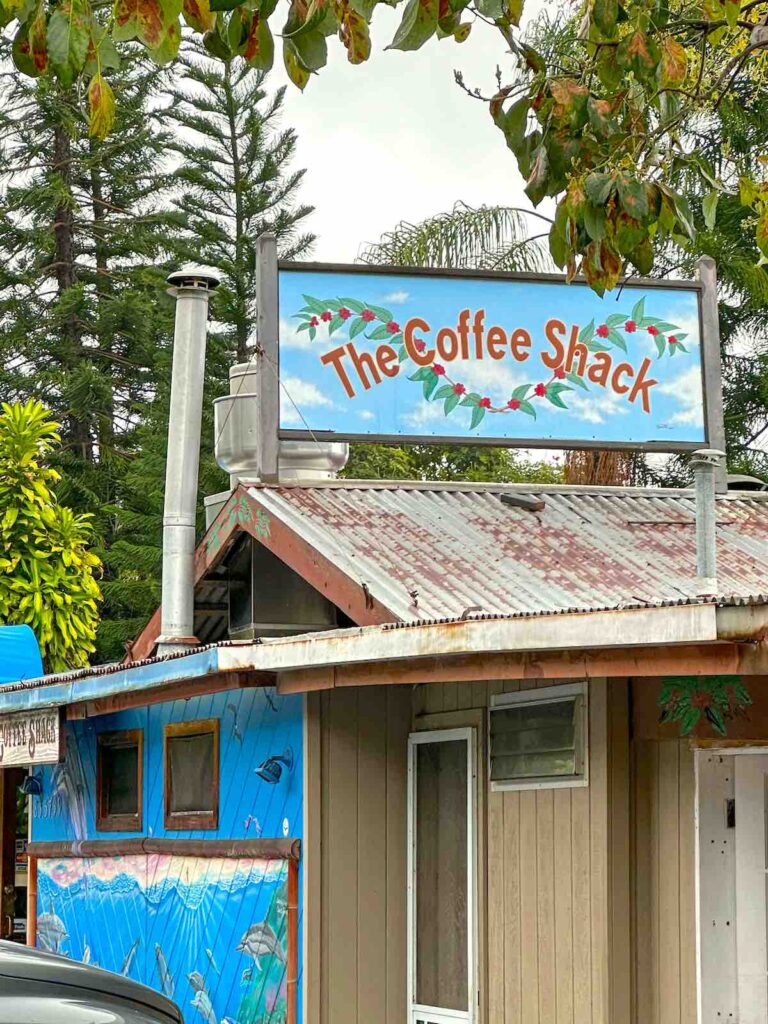 They serve 100% Kona coffee and you'll even be able to see 85-year-old coffee trees perched on the mountainside! Try their homemade bread and pastries, while you take in the beautiful view.
Don't leave without sampling their other breakfast options like the Lilikoi Cheesecake and Kona Lime Pie.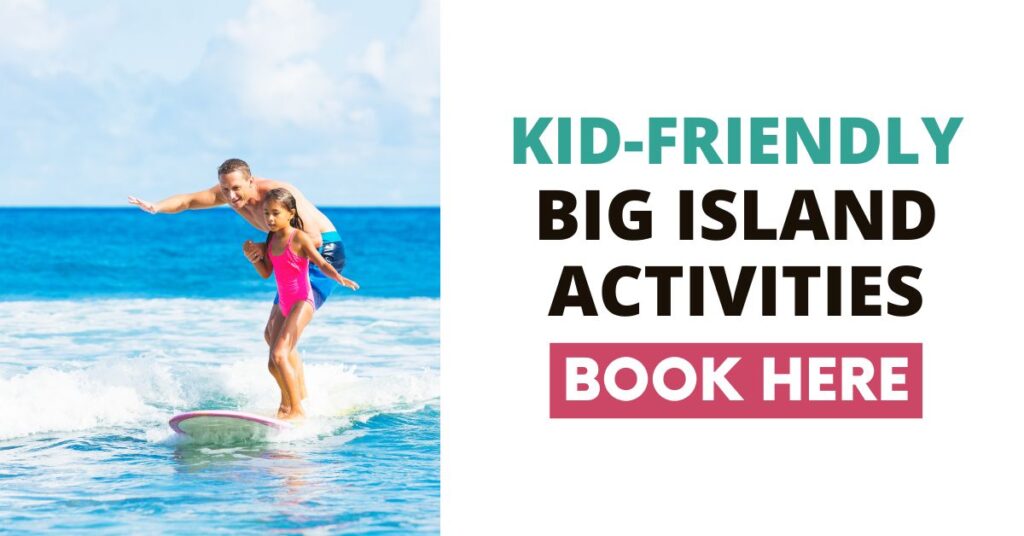 Best Big Island Food Trucks
Manuela Malasada
Manuela Malasada food trucks offer a delectable Big Island specialty, the Portuguese fried doughnut or malasada. This soft fried dough with a coating of powdered sugar is worth all the hype.
You can choose from a variety of fillings, both savory and sweet, but one local favorite that everyone must try is malasada filled with haupia (coconut).
These food trucks are one of the top places to eat on the Big Island, and your kids will love every bite!
TukTuk Thai Food
If you're looking for authentic flavors and a filling meal on the go, then this is just the place to visit. TukTuk Thai Food Truck prioritizes quality and quantity.
At reasonable prices, you'll find heavenly Thai food served in generous portions. Some must-haves on their menu are the pad thai, avocado curry, and fried spring rolls.
Wash it all down with a refreshing glass of Thai iced tea and laze around in the park near where it's located. Your kids will be glad for the playground and you for the chance to relax!
Best Local Food in Big Island
Tex Drive In
Tex Drive In is a popular tourist attraction that features an open-air patio and a view of the Pacific Ocean. The menu here has been serving precious Hawaiian local food and other delicacies since the 1960s.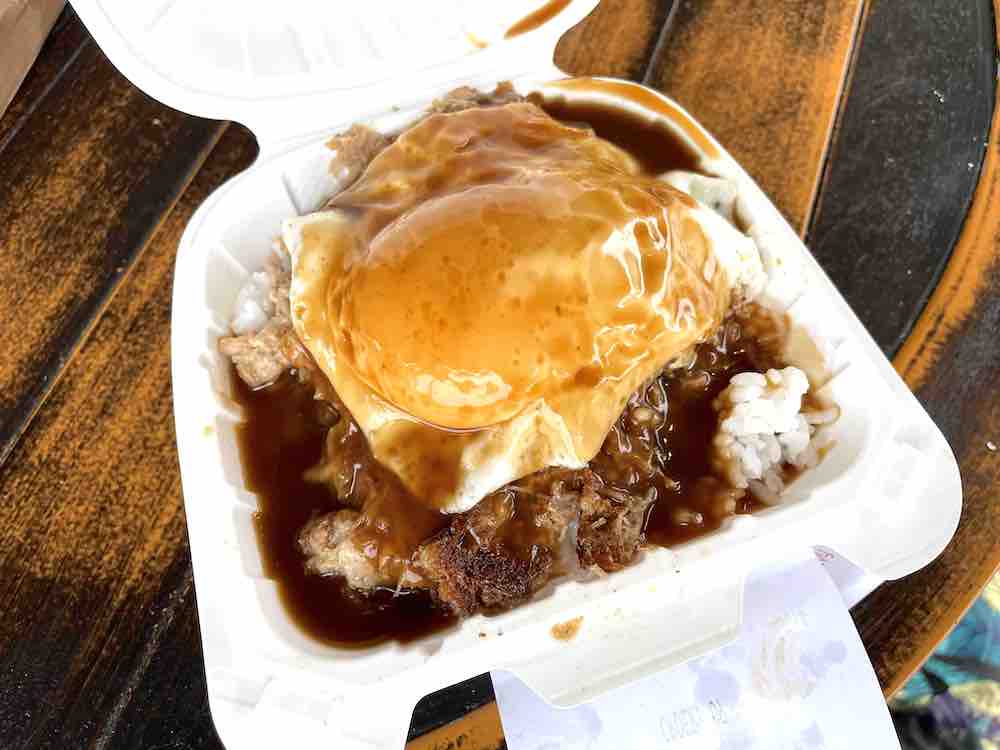 Take the family here to enjoy a wholesome meal of flavorful Hawaiian plates, locos, and hot malasadas. They also have keiki pancakes for your little ones and a fantastic aloha breakfast waiting to be polished off.
So when you are mapping out where to eat on the Big Island, do add this local haunt to your list
Broke da Mouth Grindz
"Broke da mouth" is the Hawaiian Pidgin way of complimenting the chef to describe food that is so good, you don't talk at all. And that's exactly how this place will leave you feeling!
This eatery prides itself on incredible Filipino and Hawaiian food and is a Kona beloved. You have to try their pork adobo, garlic shrimp, kimchi fried rice, and Hawaiian lau lau.
The garlic furikake chicken and musubi rolls are the other Big Island eats that you can get here that are inexpensive and simply divine!
Kaaloa Super J's
Kaaloa Super J's is a small family-run business that offers some of the best local food on the Big Island.
The lau lau, lomi salmon (tomato salsa with salmon), and Kalua pig and cabbage are absolutely mind-blowing, which is why it makes sense that they're always in demand. You can choose to sit inside or eat on the picnic benches outside.
If you're craving authentic Hawaiian food, this is just the place to visit for the ultimate taste of Hawaii!
Kid-Friendly Big Island Restaurants
Huggo's on the Rocks
Laid-back and refreshing, Huggo's on the Rocks boasts a casual atmosphere where your family can create endless memories.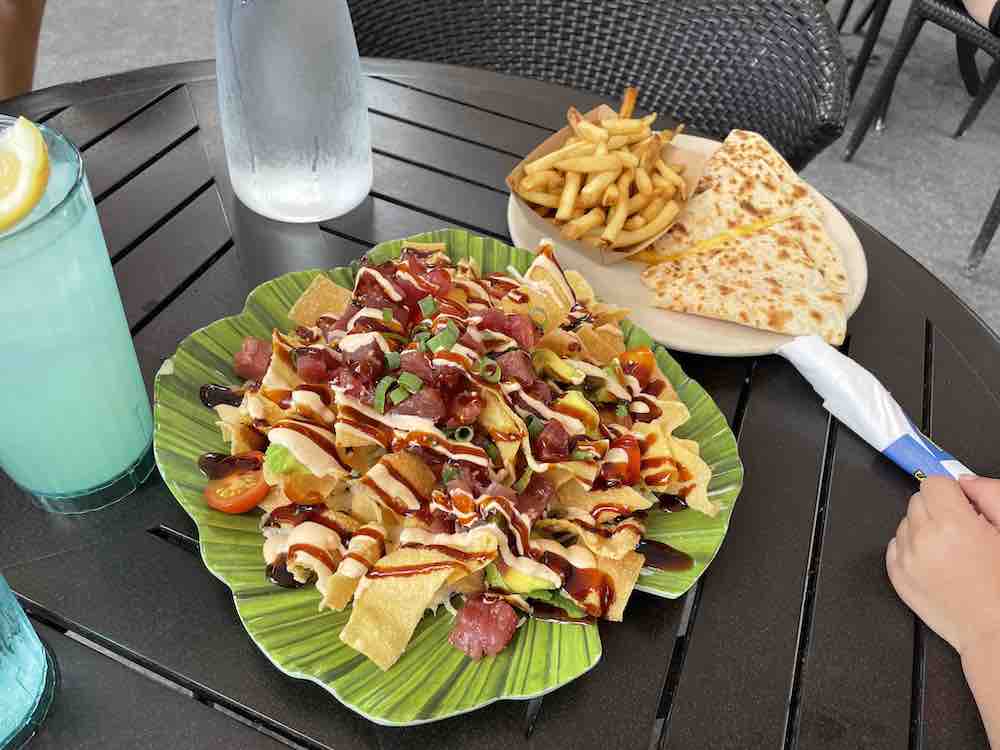 Try their Mauna Kea Ice Cream Pie and poke bowls. There's also a range of pupus (appetizers) to choose from and a fun happy hour for the adults. Enjoy spectacular sunsets, vibrant seafood, and elaborate desserts for the kids at this award-winning restaurant.
Lava Lava Beach Club
Lava Lava Beach Club is an extension of the Huggo's enterprise that succeeds at creating a similar lively feel for its visitors. Their ahi poke, fish and chips, and sandwiches are light lunch items that you can have with a stunning view of the Anaeho'omalu Bay.
Dessert here calls for creamy chocolate chip cookie sandwiches, seasonal ice creams, and sorbets that your kids are going to love. With the sand, the ocean, and good food all in one place, this is a must-visit when in Hawaii.
Famous Restaurants in Big Island
Cafe 100
Legend has it that Cafe 100 is the original home of the Hawaiian loco moco! It's a dish made of rice under a juicy patty, layered with gravy, and topped with a sunny-side-up.
Their ono specials change by the day and their pupu platters are loaded with mouthwatering shrimp, chicken, sausages, and wontons. From heavy breakfasts that are perfect for a day out vacationing to a renowned list of loco moco, Cafe 100 has it all.
A favorite among the many famous restaurants on the Big Island, it's certain that you'll want to keep coming back for more!
Best Big Island Dessert Spots
Two Ladies Kitchen
When on the Big Island, you can't miss out on the world-famous mochi, and Two Ladies Kitchen is just the place to try it! Hand-mashed sweet azuki beans and handmade Japanese glutinous rice-cake paste is a trademark of this place.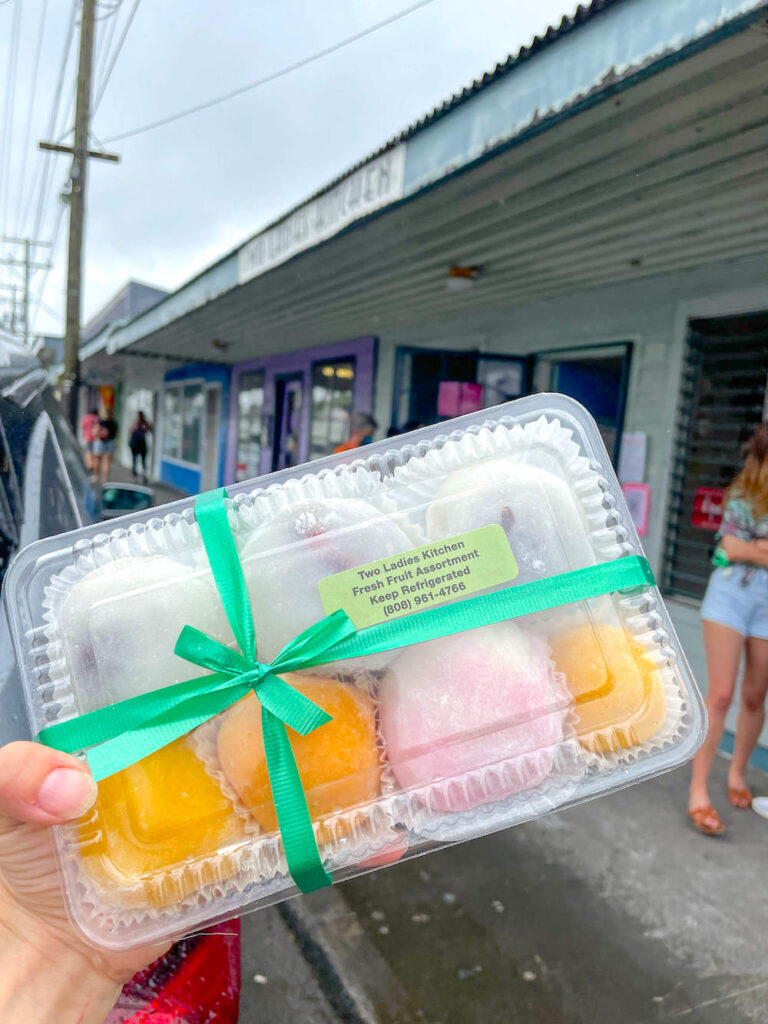 Their strawberry mochi is a bestseller and you'll almost always have to pre-order as they sell out within minutes. Bustling with activity, you can see the entire process of making the mochi as you wait in line to get yours.
And that's not all, their manju (a sweet Japanese pasty) is another item that is equally in demand and a must-try.
It's a Hawaiian treat for the whole family, and one of the cutest ones out there, at that!
Makani's Magical Pineapple Shack
Featuring a burst of colors in extraordinary desserts, Makani's Magical Pineapple Shack is a delight for kids and adults alike!
From purple ube and dragon fruit soft serve to hot molten doughnuts stuffed with ice creams of different shades, it's every kid's fantasy. Let your kids pick and choose what they like, while you sample their gigantic dessert bowls.
When it comes to sweet treats, this is one of the best places to eat on the Big Island and will ensure a memorable experience for you and the kids.
Where to Eat in Kona
Big Kahuna Beach Grill
Looking for scrumptious burgers and a fully loaded breakfast? Big Kahuna Beach Grill is just the place!
Juicy smash burgers, a beautiful oceanfront view, and Kona coffee with free refills make it your ideal beach vacation rolled into one. With happy hours and live music every day, it's one of the top restaurants on the Big Island that you won't want to miss!
The Fish Hopper Seafood & Steaks
Locally caught seafood and a Hawaiian farm-to-table approach create the perfect culinary feel at The Fish Hopper Seafood & Steaks, Kona.
The food here is reputed for being of the finest quality and sourced in an environmentally responsible way. The crab-stuffed prawn risotto and lemongrass shrimp scampi are a must from the kamaaina menu.
As for the kids, the French toast and pancake breakfast from the keiki menu is a sure success!
Where to Eat in Hilo
Pineapples Island Fresh Cuisine
An open-air, island-inspired restaurant in Hilo, Pineapples Island Fresh Cuisine is a brilliant display of local seafood, fruits, and vegetables. The ambiance is intimate at this family-owned restaurant, and the food is melt-in-your-mouth delicious!
You have to try their classic burgers, wraps, and the Hilo local plate with BBQ Kalua pork, as well as the fish and chips which are top tourist picks. The variety of pasta with baguettes are simple yet tasty options to keep the kids satisfied.
The restaurant is also highchair accessible and has vegan and gluten-free options available.
Cafe Pesto
Cafe Pesto is an award-winning establishment with world-class pizzas, seafood, and wholesome breakfasts. The café exudes a vintage charm, and its food is an ode to fusion Hawaiian cuisine.
Highchair accessible and situated on the waterfront, there's plenty to keep your kids entertained while you enjoy your meal. From seafood medleys to the humble loco moco, from hibachi chicken to grilled island fish, you'll be bowled over by the number of choices they offer!
Where to Eat in Volcano Hawaii
Cafe Ono
Set in an old Hawaiian Garden Estate, Cafe Ono is organic and ecologically inspired. You'll find the best of locally grown foods, with a range of vegetarian, vegan, and gluten-free options.
Try their special entrées, vegan panini, organic garden salad, vegan macaroons, and carrot cake for a quick rejuvenating treat.
Ōhelo Cafe
Ōhelo Cafe is the place for a culinary night out and makes dining on the Big Island a unique experience.
Located minutes away from the Hawai'i Volcanoes National Park, you're sure to have one of the best dinners on the Big Island here. We highly recommend their shrimp risotto and seafood pasta.
The little ones can also choose from a wide range of wood-fired pizzas and delectable desserts that will delight their taste buds.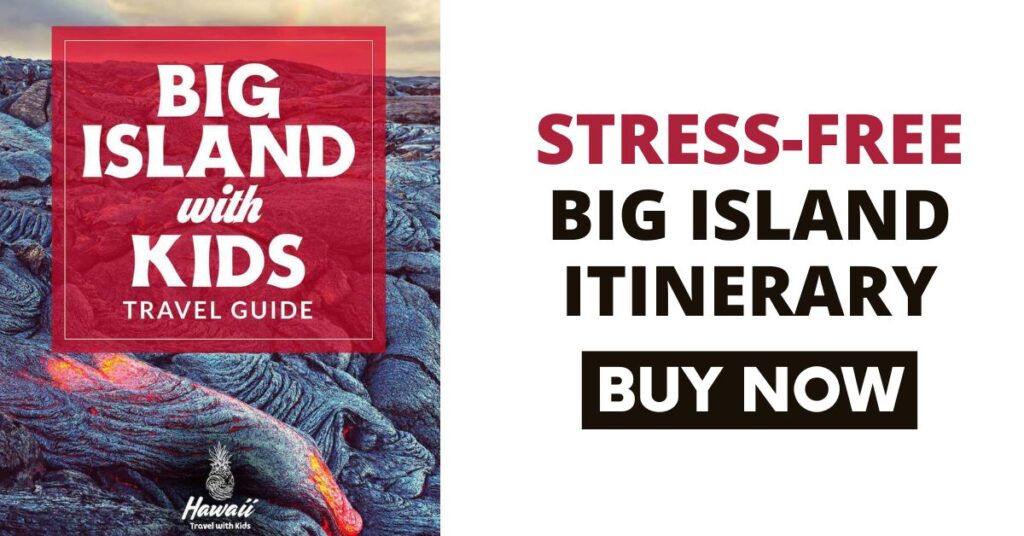 Best Restaurants on the Big Island Hawaii Wrap Up
The Big Island is a storehouse of surprises with countless opportunities for fun, food, and family time. Be it cooling off in the ocean with the kids, or spending quality time together outdoors, there's something for everyone.
Now that you know exactly where to eat on the Big Island, your Hawaiian adventure is bursting with endless culinary possibilities!
P.S. Join our Hawaii Travel with Kids Facebook group to get connected with other families planning a trip to Hawaii!