Are you dreaming of a Hawaiian vacation and wondering where do celebrities stay in Hawaii? Keep scrolling to find out 6 swanky Hawaii resorts that always attract famous people!
This post about where celebrities stay in Hawaii contains affiliate links which means if you purchase something from one of my affiliate links, I may earn a small commission that goes back into maintaining this blog.
Let's be honest! All of us could use a break from the hustle and bustle of everyday life. Celebrities are no different than us, and Hawaii is the perfect place to relax!
So where do celebrities stay in Hawaii to take it easy? There are tons of spectacular hotels and resorts across the Hawaiian Islands that are beloved by celebrities from all over the world.
Rich and famous people need to disconnect from the world, just like us. Plus, some of them are trying to get away from the constant media attention and scandals that come with being a Hollywood star.
Here's a list of hotels celebrities choose to stay in Hawaii where you can shamelessly catch a glimpse of your favorite star.
And hey! As much as I'd love to pretend that I'd keep my cool around Oprah, I can't really know how I'd react if I casually ran into her at breakfast!
Want to skip all the planning and just access my detailed Hawaii Itineraries complete with daily schedules, kid-friendly activities, and travel hacks? Click the button below.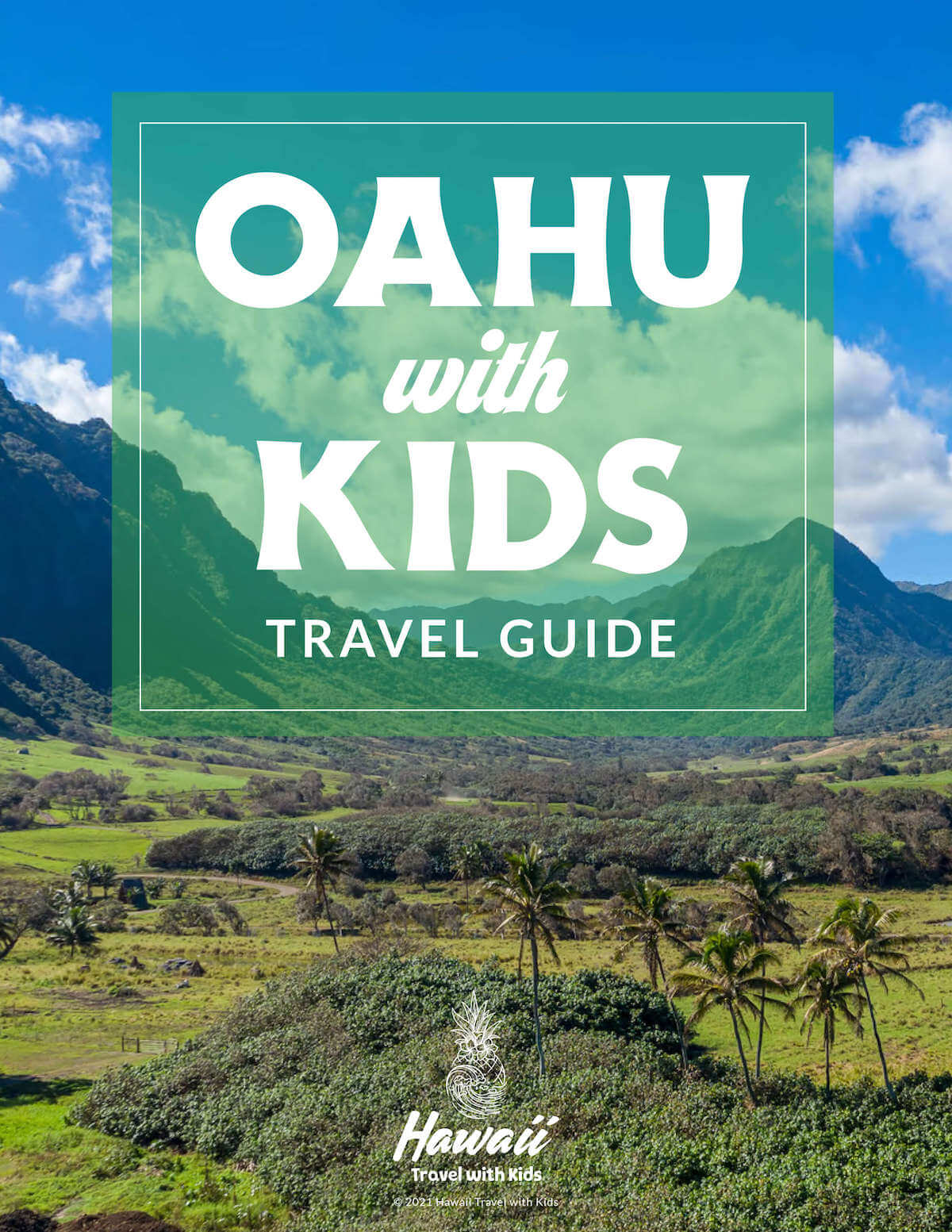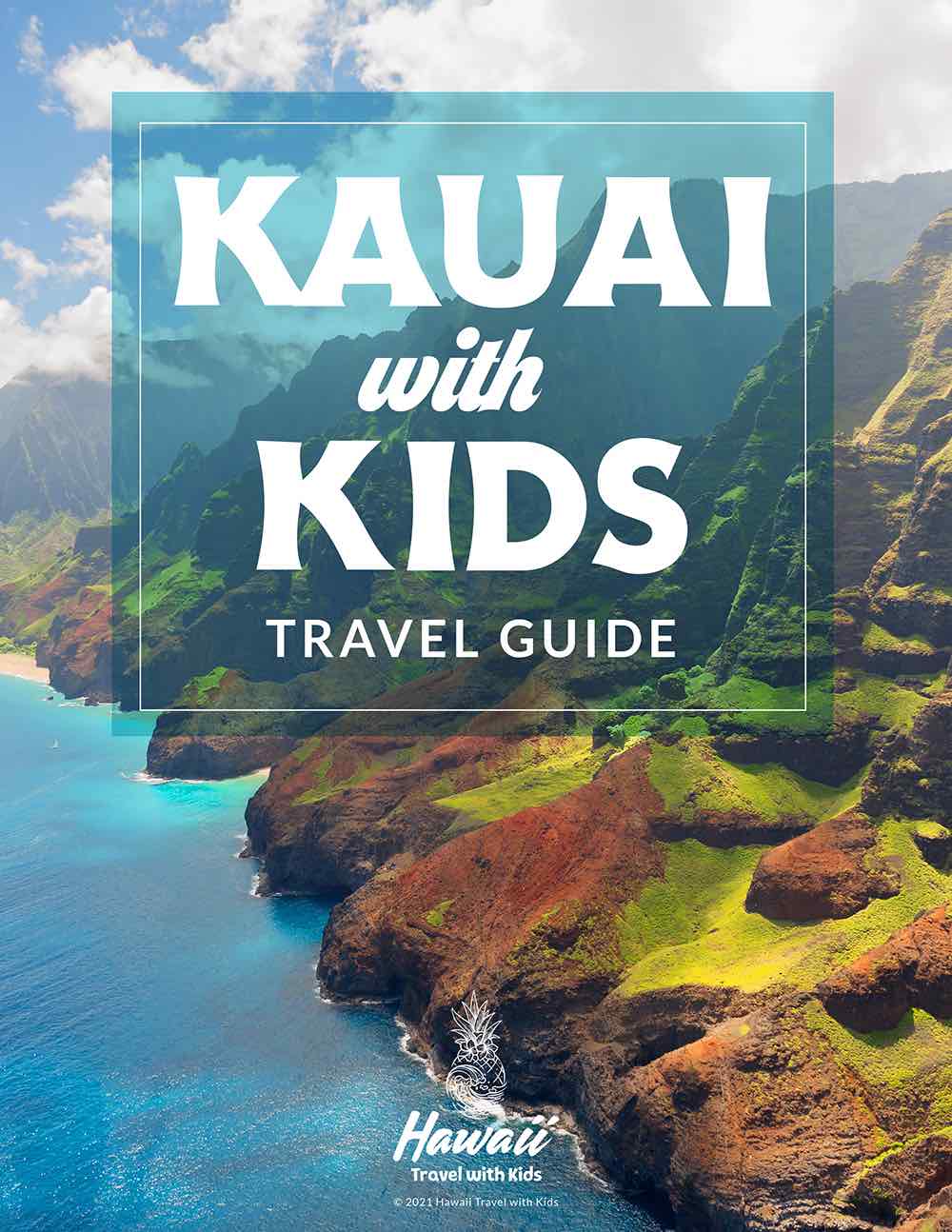 FAQ about Celebrities in Hawaii
What celebrities live in Hawaii?
There are a surprising number of celebrities who live in Hawaii either part-time or full-time. Julia Roberts, Oprah, Emma Stone, Bette Midler, Woody Harrelson, Owen Wilson, Pierce Brosnan, and Steven Tyler are just some of the celebrities who own homes in Hawaii. Also, Jack Johnson lives in North Shore Oahu.
Who are some famous people from Hawaii?
There are TONS of celebrities from Hawaii (either born or raised.) Jason Momoa, President Barack Obama, Bruno Mars, Nicole Scherzinger, Auli'i Cravalho, and Michelle Wie are just some of the notable people from Hawaii.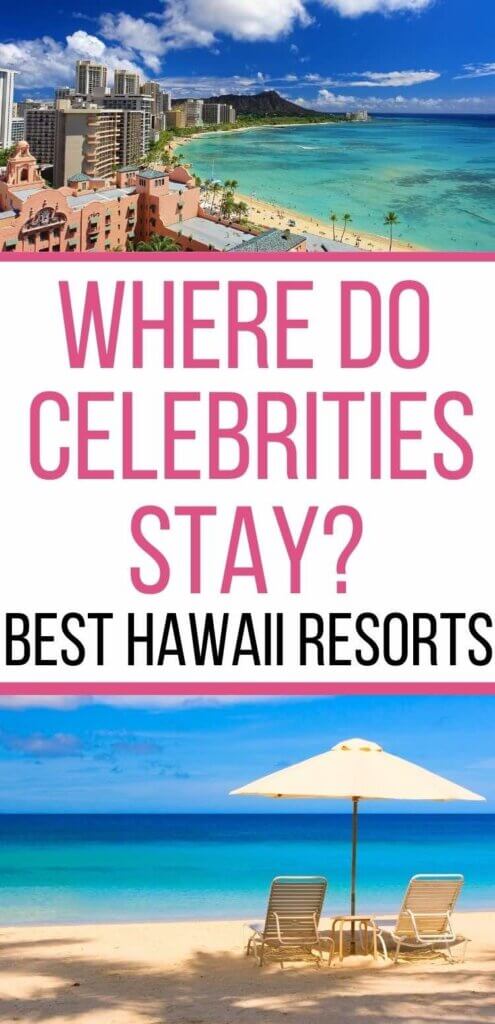 Swanky Hawaii Resorts That Attract Celebs
Whether you're planning a trip to Hawaii or just dreaming about one, these are the best Hawaii luxury hotels that attract celebrities!
You can live life to the fullest like talk show host Ellen DeGeneres and actors Justin Long and Hayden Panettiere! Just book a stay at the spectacular Royal Hawaiian Resort.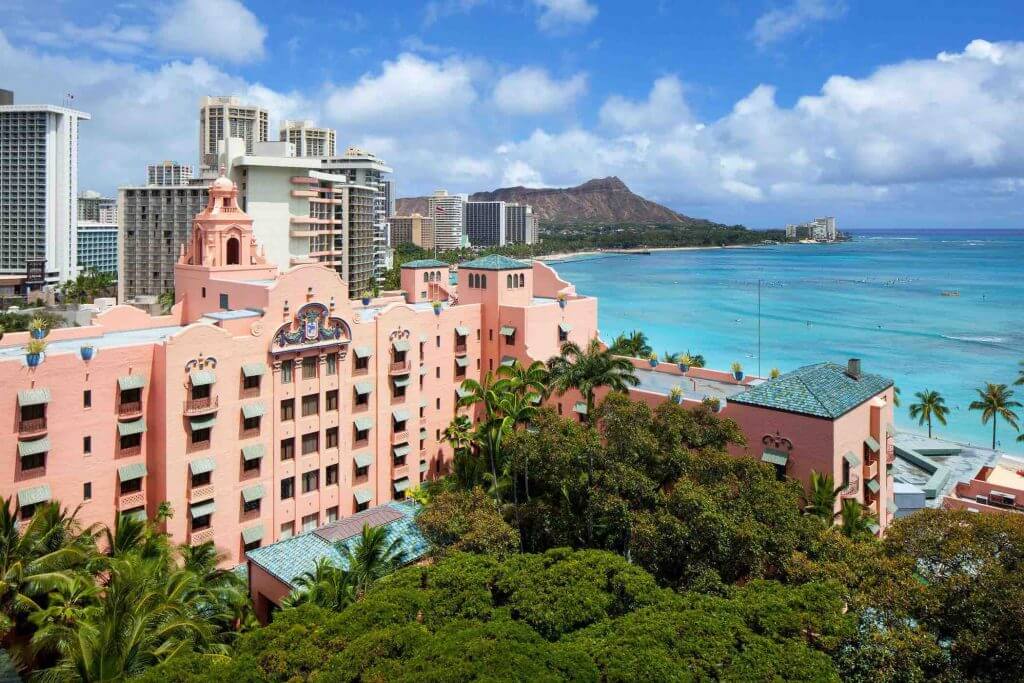 Located in the heart of Waikiki, this fairytale hotel offers private cabanas, beach and water activities, and contemporary Hawaiian cuisine. Plus, you'll find plenty of cultural tours that to keep you entertained from sunrise to sunset.
If you're a big Hollywood fan, you're in for quite a treat! This hotel was sort of like a second home to Marilyn Monroe and Elizabeth Taylor. The aviator and pioneer, Amelia Earhart, stayed here too!
The Royal Hawaiian Resort was also used to film Adam Sandler's 2002 movie, Punch Drunk Love.
So, you never know who you'll run into while you're enjoying a Swedish massage at the spa or lounging around by the pool. Check latest rates and availability.
Save Money with Points
Here are the best credit card offers for families who travel and want to use points to pay for airfare and hotels in Hawaii.
You've never experienced anything quite like The Modern Honolulu. This 5-star hotel is where celebrities get the full royal treatment. Think P. Diddy, Jack Black, and Victoria's Secret models!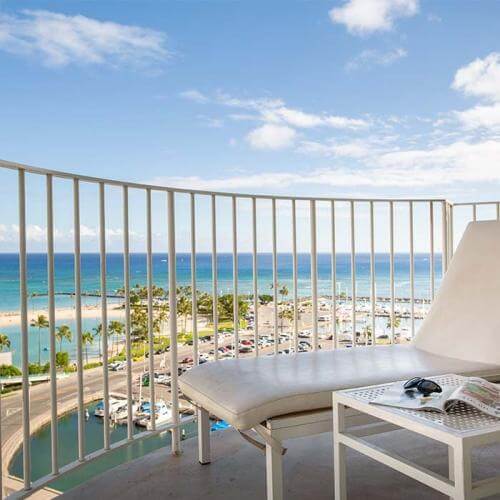 Located on the waterfront, this hotel offers some incredible ocean views. They're a true testament to Hawaii's unbelievable beauty.
It's no surprise so many celebs choose to stay in this lavish sanctuary. You'll enjoy world-class cuisine, a relaxing spa where guests watch the stress melt away, and sleek, calming interiors.
And the Modern Honolulu's location is just perfect. It's only steps away from Ala Moana Boulevard.
If you're down for a stroll, the Royal Hawaiian Center and Ala Moana shopping centers are just a few minutes away!
Guests can also head to Duke Kahanamoku Beach, which is only 7 minutes away. Here, lots you can try out scuba diving and kayaking lessons and tours. Check latest rates and availability.
While this lavish hotel is not directly located on the beach, it is only a five-minute walk to Wailea Beach. Guests can swim, go snorkeling, or sunbathe on the shimmering sandy beaches.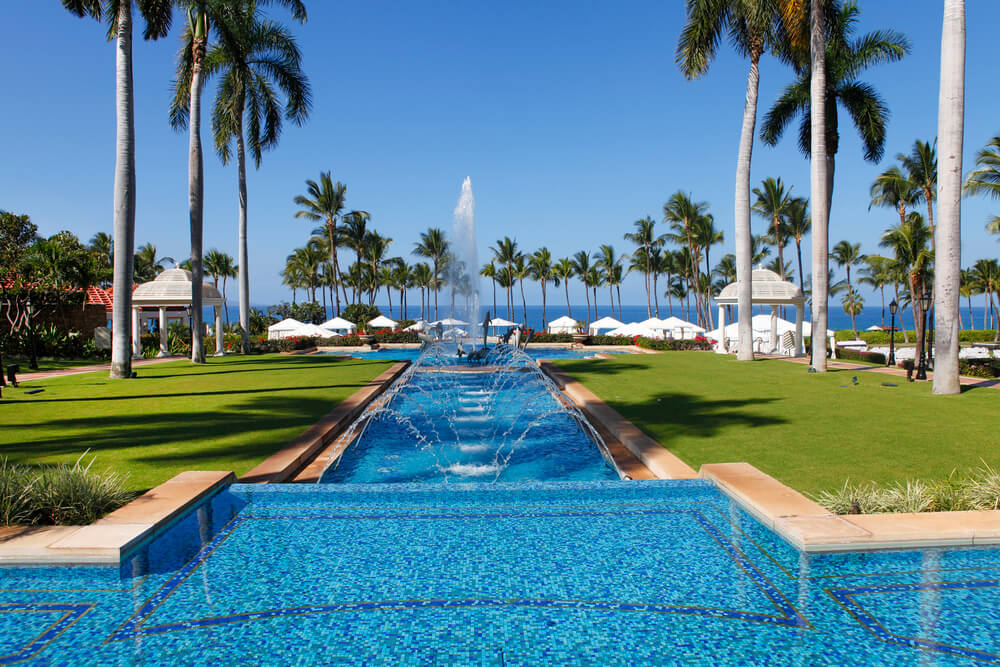 The Wailea Beach Resort offers impressive oceanfront views from the balconies and patios where you can take in the most stunning sights. And no matter where you are in this resort, you'll always be surrounded by the beautiful Pacific Ocean.
That's the thing about the Wailea Beach Resort. You don't have to head to the beach to enjoy the water. You can refresh in any of the hotel's 5 pools, offering the longest waterslide in all of Hawaii.
It's no surprise that with the striking sights and cozy amenities, this hotel has become a top pick for celebrities. This is where Lindsay Lohan hung out in 2009 after her breakup from her ex-partner, Samantha Ronson! Check latest rates and availability.
Where do celebrities stay in Hawaii for the ultimate royal treatment? Check out the Four Seasons.
Synonymous with luxury, this hotel is the top pick for celebrities like Oprah, Paris Hilton, John Stamos, and Arnold Schwarzenegger.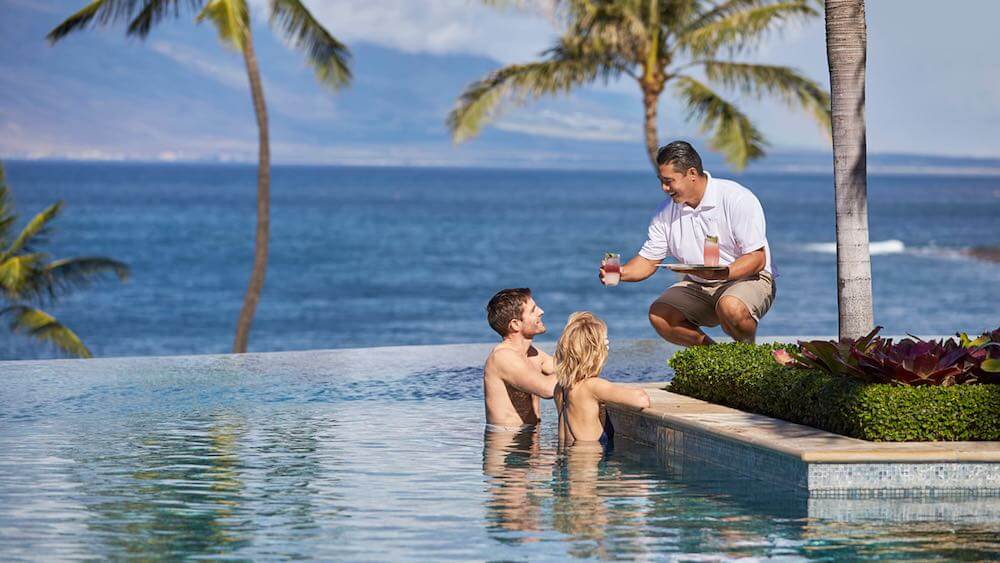 From the moment you arrive, you'll enjoy striking views of the Pacific Ocean and shimmering golden sand from Wailea Beach.
Aside from 2 family-friendly pools, there is also an adults-only oasis pool, and even the chance to enjoy a poolside massage. On a slow afternoon, take a stroll through the resort's lavish fountains and sculpted gardens.
You can let the hotel staff personalize a custom-made bucket list full of unique experiences. Try activities like stand-up paddleboarding, whale watching, or flying on a helicopter to an organic fruit farm. Check latest rates and more information.
In 2012, Ashley Tisdale tweeted about her wonderful stay at the Ritz Carlton, where she unsurprisingly had a fabulous time.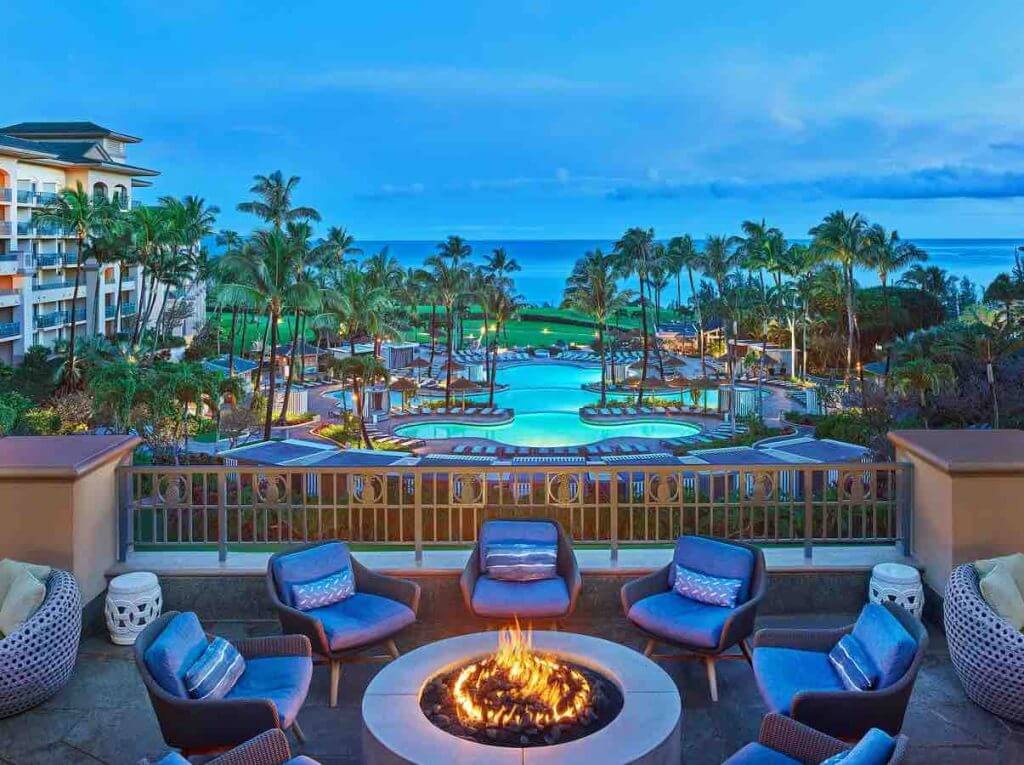 But who wouldn't have had a blast? The dreamy 5-star hotel is about as luxurious as it gets!
the amenities at the Ritz-Carlton Kapalua are fit for a queen. And within arm's reach there are tons of hiking trails, natural sanctuaries, and stunning beaches.
Tisdale is obviously not the only celebrity who has booked a stay here. But, the Ritz Carlton has done their best to keep their list of famous guests under wraps!
This makes the Ritz Carlton one of the best getaway resorts in Maui to spot celebrities while you relax by the pool.
Grab a cold beer in front of the ocean at Burger Shack, or delight your palate with the most innovative island cuisine at The Banyan Tree. Check latest rates and availability.
Public AND guest room pools? Rooms with ocean views? Oceanfront trails? Boutique shops full of one-of-a-kind items right inside the resort?
These are just some of the incredible amenities you'll find at the vibrant Turtle Bay Resort.
If you're looking for an unforgettable adventure, there are plenty of excursions available that will satisfy your thirst for some fun and excitement.
You can go kayaking with sea turtles and pedal through the lush forests of Hawaii. Snorkel alongside sea turtles and coral reefs or ride a horse through the most stunning oceanfront views!
Now, if you're a fan of celebrity watching like most folks, you may just spot some cool reality stars. The cast of "The Hills" are known to kick around the Turtle Bay Resort. They even filmed an episode here.
And if you're familiar with the movie Forgetting Sarah Marshall starring Mila Kunis and Jason Segal then you'll probably recognize this hotel too. Many of the scenes were filmed here!
The resort and the town of Kahuku where it's located have undoubtedly made a big impression on these celebs. So, if you're booking a stay here, get ready to run into big-name stars. Check latest rates and more information.
Wrap Up
These are just some of the places that attract the rich and famous from around the world! You really never know who you'll spot during your Hawaiian vacation, either at your resort or sightseeing in the islands.