Planning a trip to Hawaii with kids? Check out the 11 best Hawaii hotels with water slides that will keep your whole family entertained and happy. Keep scrolling for all the info!
This list of Hawaii hotels with water slides was written by Hawaii travel expert Marcie Cheung and contains affiliate links which means if you purchase something from one of my affiliate links, I may earn a small commission that goes back into maintaining this blog.
Are you planning a trip to Hawaii and wondering which hotels and resorts have the best water slides and other kid-friendly amenities?
Scroll to find out the best Hawaiian hotels and resorts with water slides and other family-friendly aquatic activities and features.
Ready to discover the best Hawaiian resorts with water slides?
This is the vacation you've been looking forward to since you started to browse around online.
And even though you're taking your family on a trip to one of the most beautiful places in the world, we all know kids don't call it a vacation if it doesn't involve water slides.
So today, I'm taking you for a deep dive into family-friendly aquatic adventures to keep in mind when you're booking a place to stay.
And by aquatic adventures, I'm talking water slides. Long ones, short ones, ones for your fearless kids, and ones for your little fishes.
Mom, I know bringing kids on vacation sometimes still doesn't feel like a vacation, but choosing an incredible Hawaiian hotel or resort with water slides, gives your one more opportunity to sit back and relax while the kids entertain themselves splishing and splashing the day away.
Want to skip all the planning and just access my detailed Hawaii Itineraries complete with daily schedules, kid-friendly activities, and travel hacks? Click the button below.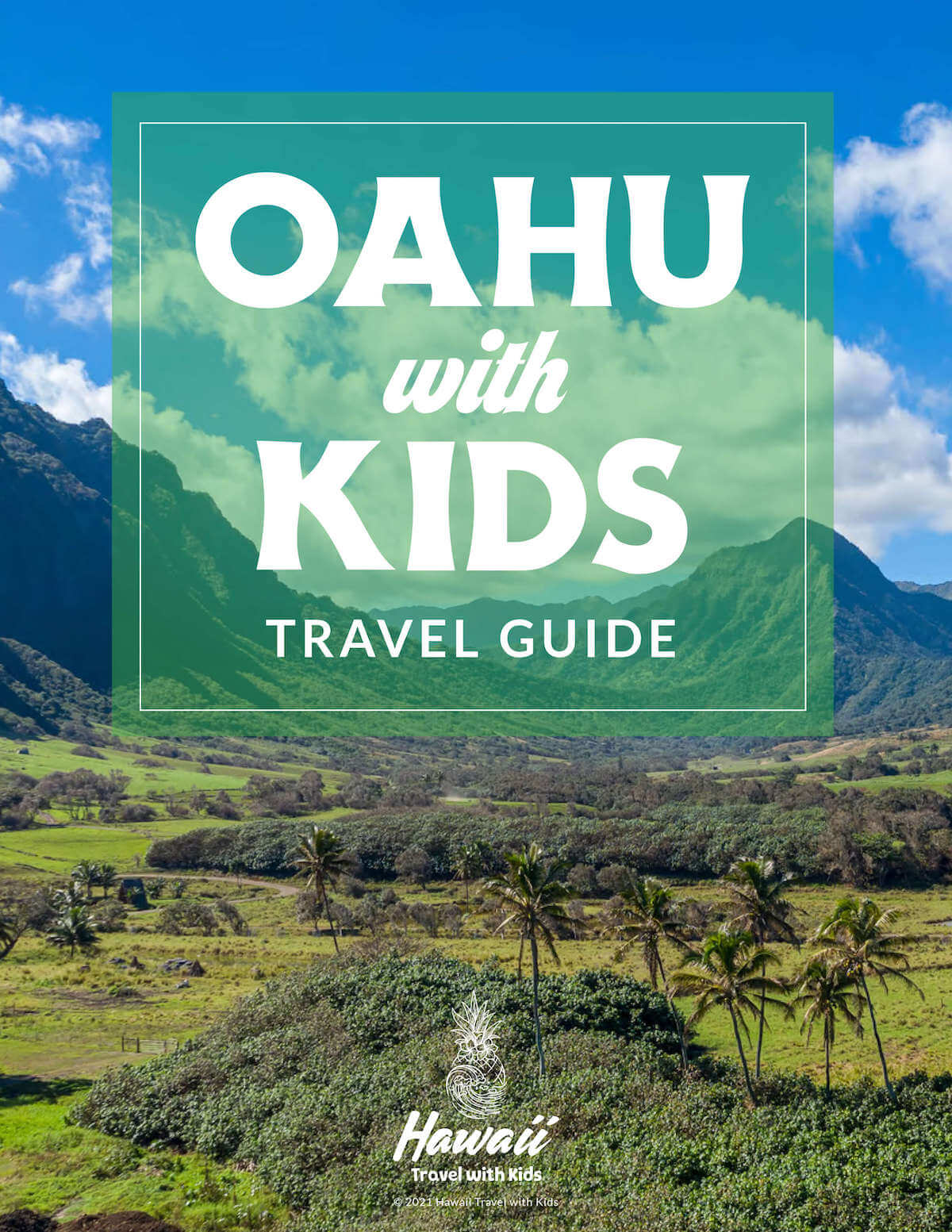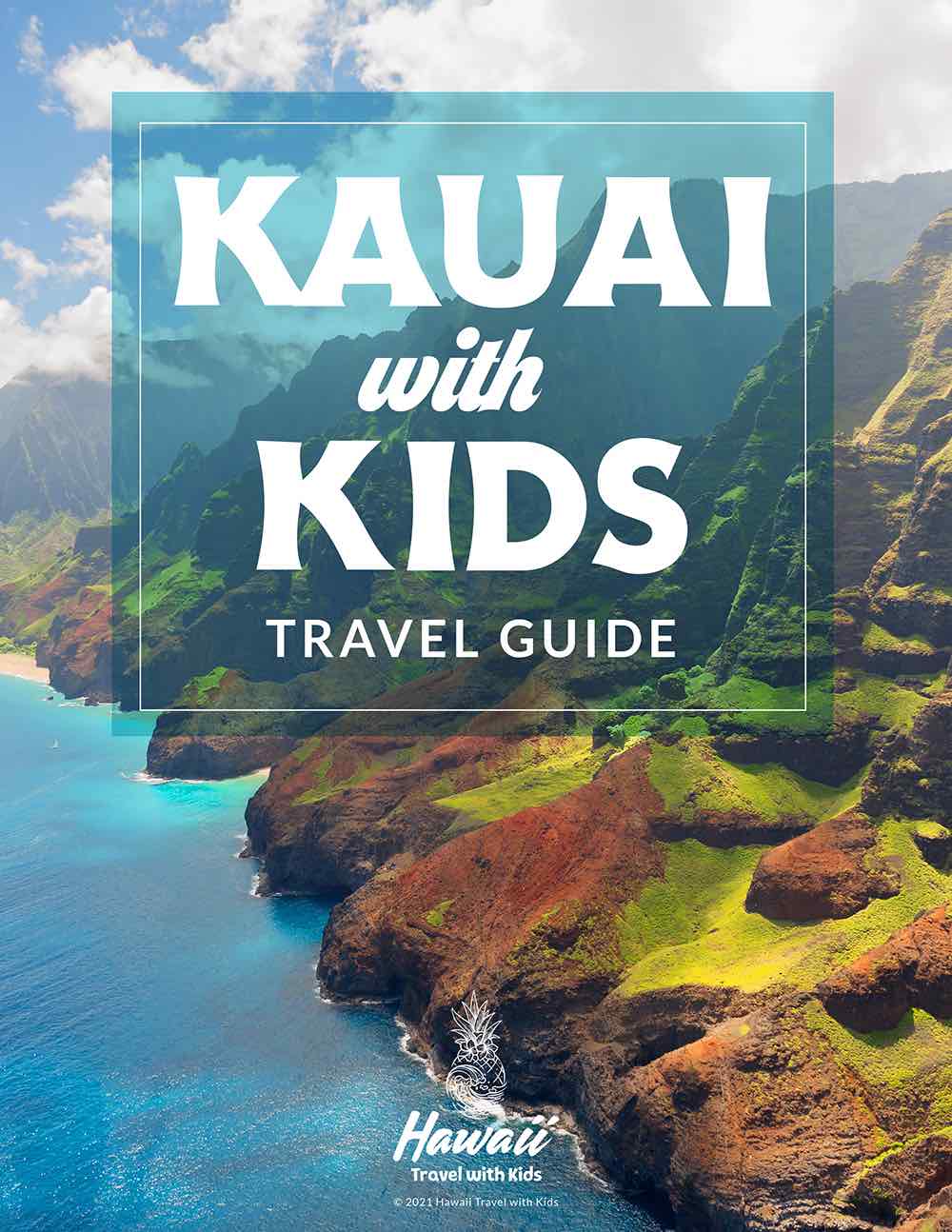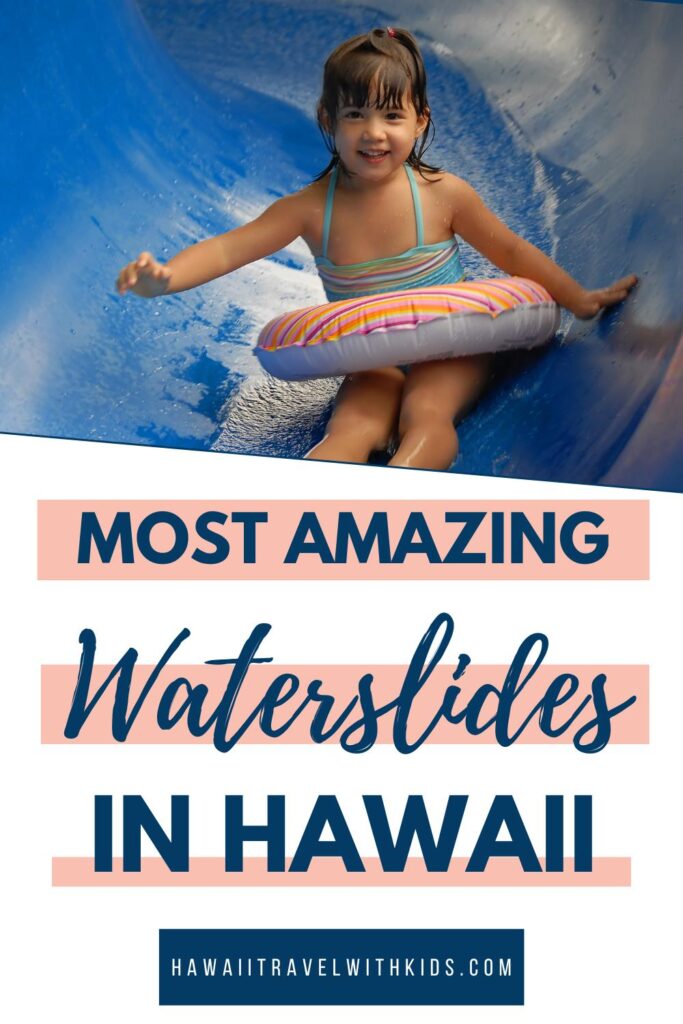 How to Choose Incredible Hawaiian Hotel with Water Slides
When you're browsing around for Hawaiian resorts with water slides, there are a few things to keep top of mind:
Is there a specific pool(s) available just for kids?
Are there age or height limits for the water slides?
What are the hours of operation?
Are towels available at the pool, or do you need to bring your own?
Yes, there is plenty to do and explore on your Hawaiian adventure. But sometimes, even though your kids want to keep going, you'll need to take a break.
Enter incredible hotels and resorts that have low-energy, built-in entertainment like water slides, waterfalls, lazy rivers, and other fun activities that will keep them in the water and out of your hair.
While rounding up the best resorts in Hawaii with water slides, I took all of these questions into account to help you plan with ease and less stress.
Don't worry, I found plenty of Hawaii hotels with water slides to keep your kiddos entertained for hours.
So, no matter where you're staying on your trip, you can be sure there's a perfect option for you.
From the Big Island and Maui to Kauai and Oahu, there is fun for the whole family at these incredible Hawaii resorts with water parks.
Save Money with Points
Here are the best credit card offers for families who travel and want to use points to pay for airfare and hotels in Hawaii.
Hawaii Resorts with Water Parks on the Big Island
The Big Island is where you'll find tons of outdoor activities, including exploring Hawaii Volcanoes National Park. There is no doubt that at some point, mom and the family will need some downtime (even if that means taking the kids to the pool).
Make sure to enjoy the family-fun-filled options that Hawaii offers at its hotels and resorts even when you aren't on the go.
1. Hilton Waikoloa Village
Let's start off by introducing the largest pool on the island, Kona Pool. The Hilton Waikoloa Village's water slide (in the Kona pool) is 175 feet long!
They also have a rope bridge and sandy beach for your kids to keep them occupied the entire time they want to stay.
Don't forget, there's also the Kohala Pool which interconnects other pools and has smaller slides as well for even the littlest member of your family. Plus this is the best place to swim with dolphins on the Big Island.
With four different types of cabanas to book, there is something for every group to use for an afternoon by the pool. Check the latest rates and availability.
2. Four Seasons Hualalai
This luxurious resort has fun for the entire family. With seven outdoor pools, including a children's pool, everyone will find their favorite place to relax, refresh, and swim the day away.
Following through with their commitment to fun for 'Kids of all Seasons', there is a complimentary kid's program for little ones (aged 5-12) to keep them entertained and give parents a moment to enjoy themselves.
This feature runs from 8 am to 5 pm daily. Check the latest rates and availability.
Save Money with Points
Here are the best credit card offers for families who travel and want to use points to pay for airfare and hotels in Hawaii.
Hotels in Maui, Hawaii with Water Slides
Maui is the second-largest Hawaiian island. The beaches are amazing, and the whale watching is wonderful.
Even when you're taking a break from all the incredible exploring the island has to offer, your kids will have an absolute blast splashing the day away at these Maui resorts with water slides.
3. Grand Wailea Maui
Not only will your kids love the Grand Wailea Maui water slides, but your family will certainly enjoy the nine different pools this resort has to offer.
While there are many Maui resorts with water slides, the Grand Wailea features a family fun, fantastic ride on the lava tube slide.
This water slide is over 200 feet long and goes up to 22 miles an hour! Make sure your kiddo is at least 48" tall to enjoy this experience. Check the latest rates and availability.
4. Wailea Beach Resort
Did you know that Wailea Beach Resort's water slide is the longest in Hawaii? Yes, we're talking about 325 feet of fun!
While there are 3 pools at this resort, one is for grown-ups only. The other 2 are for everyone, but the NALU Adventure Pool is where the family fun really is best!
This pool has family-size cabanas, splash zones, and four different water slides for everyone to enjoy. Check the latest rates and availability.
5. Hyatt Regency Maui
This hotel offers six different pool spaces that are family-friendly. The Hyatt Regency Maui water slide is 40 feet long.
And while there isn't a lazy river, with waterfalls and plenty of places to float and play.
Speaking of all the water fun, on certain days, magical mermaid experiences are available as well! Check the latest rates and availability.
6. Westin Maui
The Kawaiola Aquatic Playground at Westin Maui is home to three pools. One of which is dedicated to family fun and is also connected to the other two.
With waterfalls and the *Westin Maui's water slide, which runs 270 feet, your kids will have a blast getting to splish and splash. Check the latest rates and availability.
Save Money with Points
Here are the best credit card offers for families who travel and want to use points to pay for airfare and hotels in Hawaii.
Kauai Resorts with Water Slides
The island of Kauai is best known for its white sand beaches and picturesque scenery.
Whether you're hoping to lay low with the kids for a few hours or need to take a break at your resort from all your other sightseeing adventures, these Kauai resorts with water slides are exactly what you're looking for.
7. Grand Hyatt Kauai
Nothing compares to a poolside experience at Grand Hyatt Kauai. Their pool-filled water playground includes multiple pools, as well as, a lava rock-lined lazy river.
Of course, the Grand Hyatt Kauai's water slide will be the kid's favorite excursion to go down again and again.
You can relax on a lounge chair shaded by umbrellas or rent out your own cabana. Check the latest rates and availability.
8. Koloa Landing Resort
Koloa Landing Resort is home to an incredible 350,000-gallon pool–and that's only one of the places your family can enjoy the water.
This pool and the Family Lagoon pool are heated and contain children-friendly spots for your little ones to splash around in. And don't forget the magic of the waterfalls they can swim through.
While there are waterslides here, they're only for kiddos 48" or taller. Check the latest rates and availability.
Oahu Resorts with Water Slides
Home to many Honolulu resorts with water slides, Oahu has many fun options to make sure your kids get the chance to swim to their hearts' content.
While there are plenty of choices for places to stay on Oahu with waterslides, if you're looking for lots of fun resort-included aquatic activities, you will love these places to stay.
9. Sheraton Waikiki
This Honolulu hotel with a water slide promises a very fun ride! Self-described as the ultimate pool adventure, their family-friendly Helumoa Playground pool has a great water slide that's 15 feet high and 70 feet long.
To top it off, there's also an interactive fountain area for the kids once they tire of rising the slide. The pools are open for 12 hours, so no matter if they want to hit the water in the morning or the evening, your little fishes can get to swimming.
And don't worry if you forget the towels. They can be picked up poolside at the pool hut. Check the latest rates and availability.
10. Turtle Bay Resort
With four different pools, there's plenty of space for your kids to play in the water at Turtle Bay Resort.
The Keiki pool is home to two water slides that are perfect for your little swimmer. With umbrella-covered lounge chairs, it will be easy for you to keep track of everyone's belongings and kick back to watch your kiddos splash.
If you prefer more privacy, pool cabanas with lots of space and TVs are available on the main pool deck. Check the latest rates and availability.
11. Aulani Resort
Brought to you by Disney, come enjoy the Aulani Resort. There are many aquatic activities for your family to enjoy, a few of which include Keiki Cove Splash Zone, Menehune Bridge, and Waikolohe Pool and stream.
Did you know Waikolohe is Hawaiian for mischievous water? With an 8,200 square-foot pool and vertical tunnel body slide, there is no doubt it lives up to its name.
For your even smaller, little ones, spend some time on Menehune Bride. Here, kiddos under 48" will enjoy two water slides, interactive water activities, and a climbing play structure. Check out our full Disney Aulani review.
Coolest Hawaii Resorts with Water Slides Wrap Up
And there you have it! These are our favorite swimming pools in Hawaii with water slides and other fun activities.
I highly recommend booking a stay at one of the ones I mentioned, even for just a few nights!
Looking for more Hawaii family resorts? Check out our favorite kid-friendly resorts on Oahu, Maui, Kauai, and the Big Island!