Are you starting to plan a trip to Hawaii in 2023 and don't know where to start? Find out the best island in Hawaii for kids in this breakdown of Maui, Oahu, Kauai, and the Big Island of Hawaii!
This post about the best island in Hawaii for kids may contain affiliate links, which means if you click on the link and purchase the item, I will receive an affiliate commission at no extra cost to you. All opinions remain my own.
Are you planning a family trip to Hawaii? If you're having a hard time deciding which is the best island in Hawaii for kids, I've got you covered.
I've visited Hawaii more than 40 times and frequently visit every single one of the major islands. It's one of my family's favorite vacation spots!
Below, you'll find an easy-to-read guide that will help make it easy to choose between these four amazing islands.
In it, I breakdown Maui, Oahu, Kauai, and the Big Island so you can decide which is the best Hawaiian island for your next trip to Hawaii.
If you're taking a family vacation to Hawaii soon, be sure not to miss this post. It's packed full of information that will make planning much easier!
Want to skip all the planning and just access my detailed Hawaii Itineraries complete with daily schedules, kid-friendly activities, and travel hacks? Click the button below.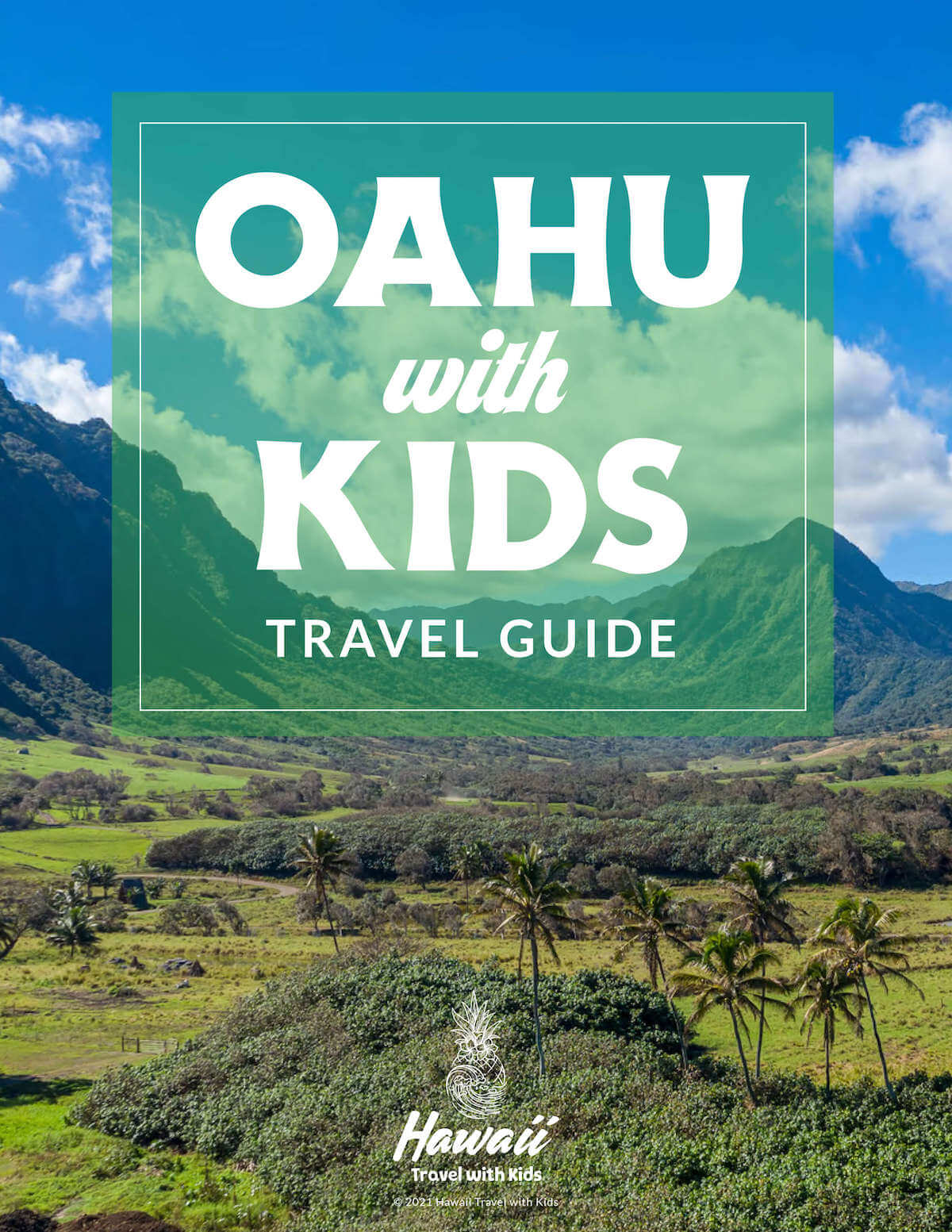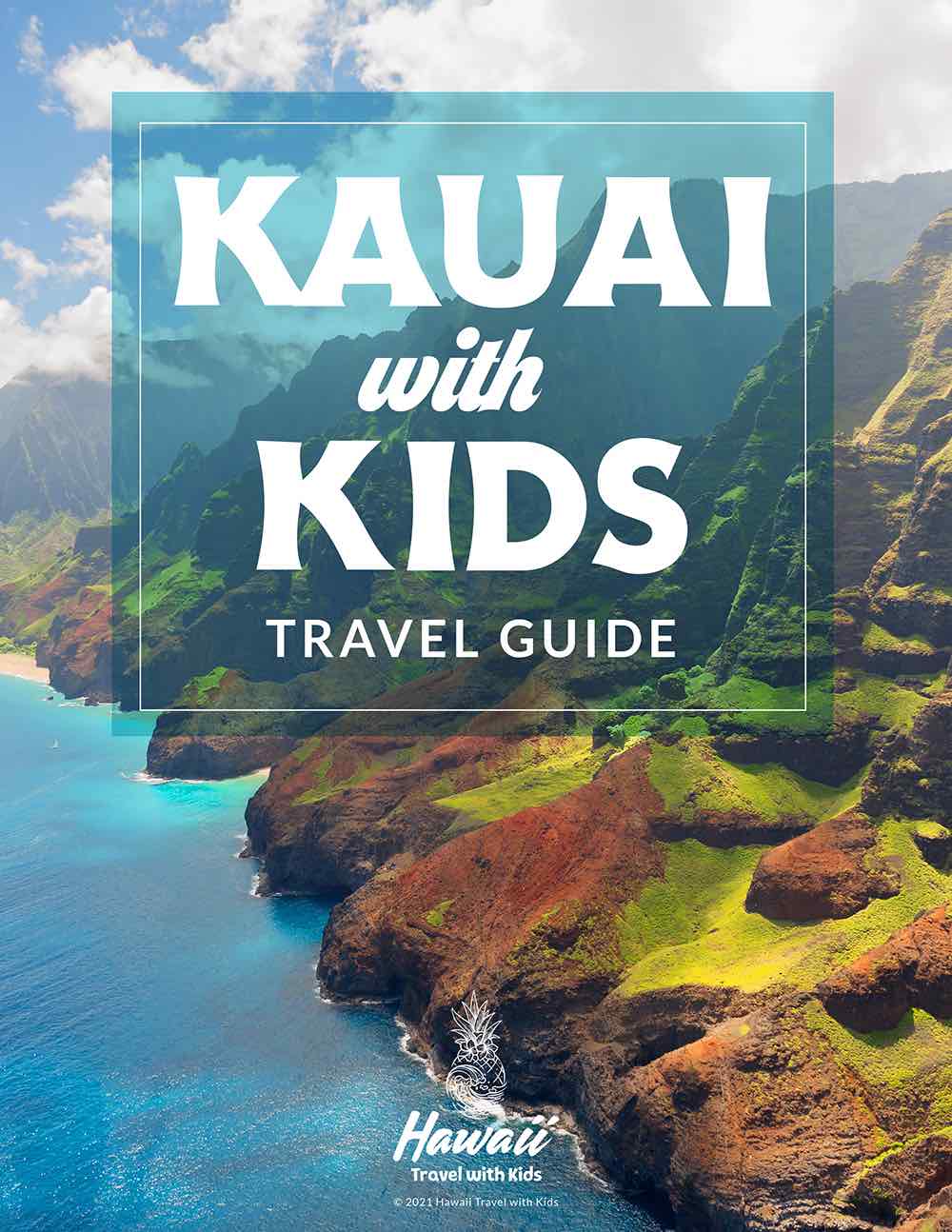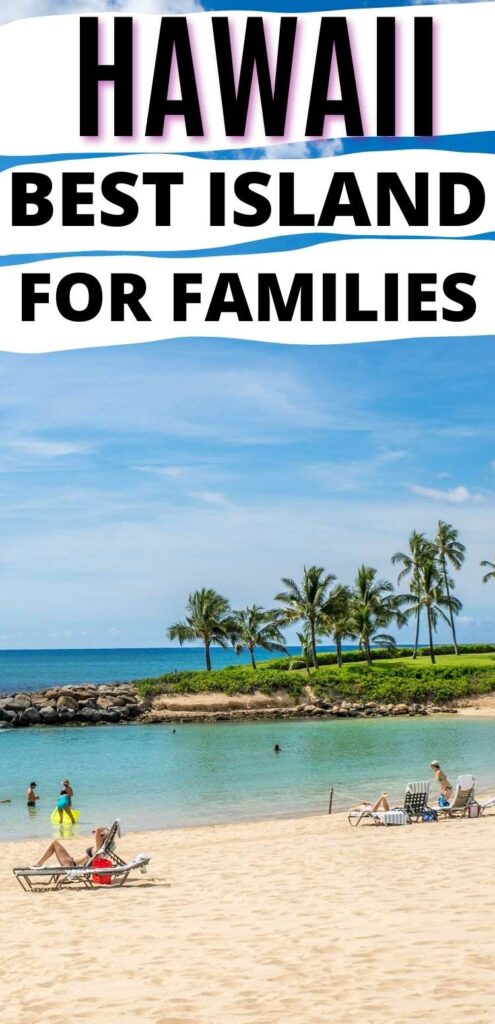 How to Find the Best Island for Kids in Hawaii
Before I break down the different islands, I want to get this out of the way: On ALL of the main Hawaiian Islands, there are wonderful kid-friendly beaches.
They might have easy hiking trails or resorts nearby that offer amazing pools to cool off in! And at these beaches you'll be able to explore farmers markets, go to luaus, and get beautiful photos.
Now, besides beaches, there are a lot of things to do on all four main Hawaiian Islands. But each one has its own unique personality that makes it the best islandi Hawaii for kids.
Oahu with Kids
Top Oahu Attractions for Families
The most famous Oahu attraction is Pearl Harbor, where Japan attached the United States during World War II. The USS Arizona Memorial is the most popular place to visit, but there's also the Pearl Harbor Aviation Museum (it's incredible), the USS Battleship Missouri, and the USS Bowfin Submarine.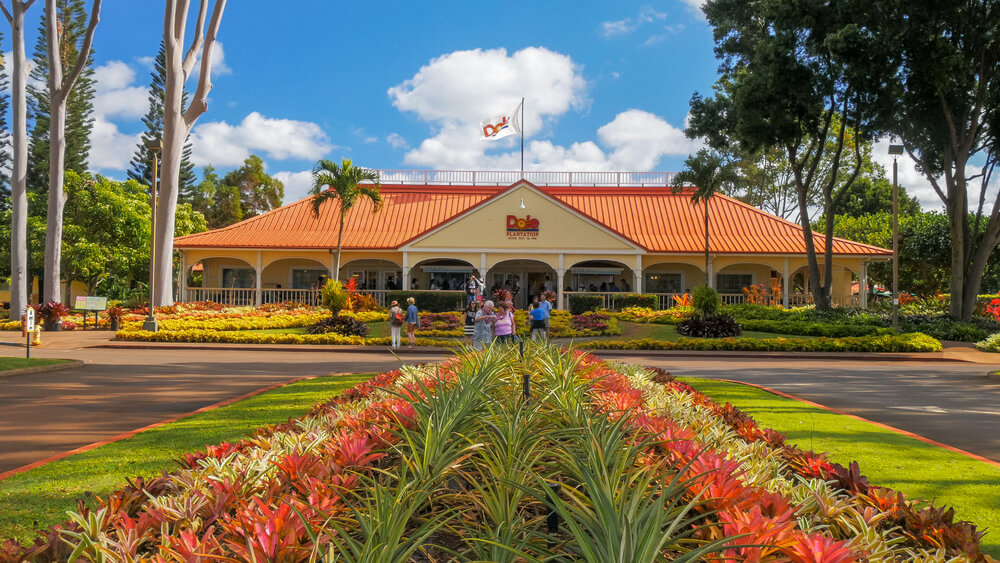 Another thing to do on Oahu for families is visit Dole Plantation, which is technically a free attraction. You'll probably want to pay to ride the cute little train, run around the pineapple maze, and taste some delicious Dole Whip.
And you'll definitely want to stop at the Polynesian Cultural Centeron the North Shore. They have Polynesian villages where guests can see presentations and participate in hands-on activities. You'll learn about the cultures of the main Polynesian islands through fun things like trying food samples.
Things to do on Oahu with Kids
One of the most popular things to do in Oahu with kids is swimming with dolphins. You can do this through Dolphin Quest at the Kahala Resort & Hotel near Honolulu or at Sea Life Park (best for toddlers and preschoolers).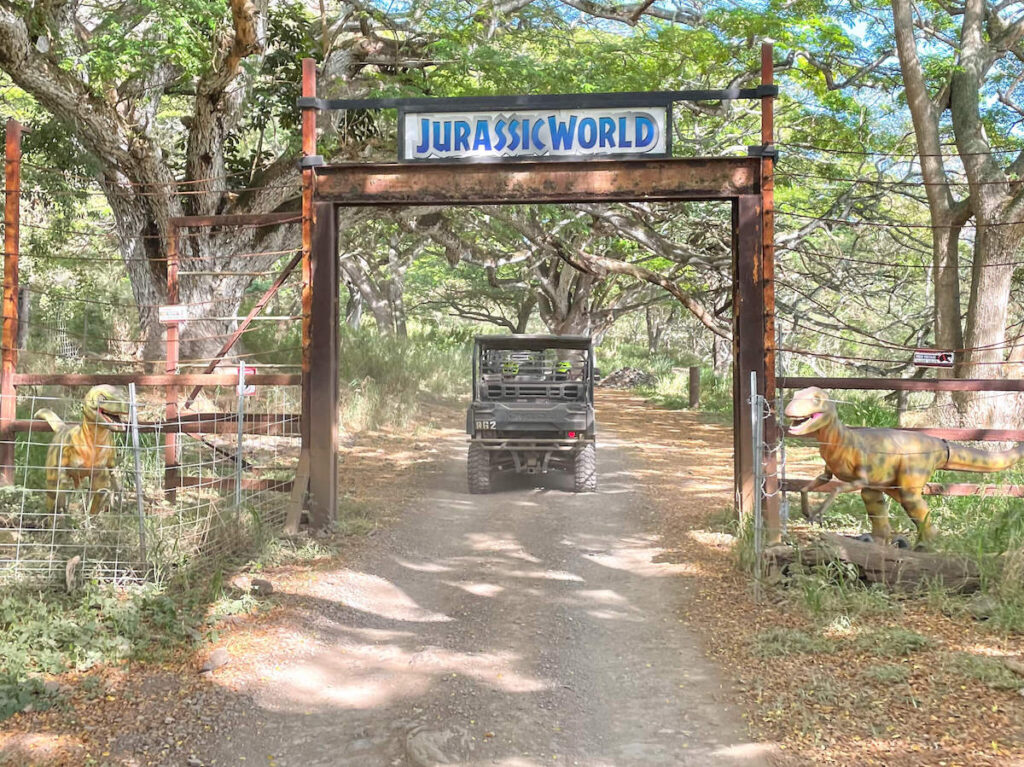 Adventurous families should check out Kualoa Ranch. It's a popular TV/movie filming site. I highly recommend the ATV tour. You visit Jurassic Park film sites and enjoy the most beautiful views of Oahu. On the ranch, there's also horseback riding, ziplining, a movie tour and even a secret island!
If you're going to do a luau in Hawaii, I think Oahu is the place to do it. The most authentic luaus on Oahu are Toa Luau in North Shore and Experience Nutridge Luau in Honolulu. Both of these are small, intimate events you can't find anywhere else in Hawaii.
Check out my list of 101 things to do on Oahu with kids.
Kid-Friendly Oahu Resorts and Hotels
Our absolute favorite place to stay on Oahu with kids is Aulani, a Disney Resort & Spa. It's the only place in Hawaii where you can meet Disney characters dressed up in their Aloha shirts and dresses. It's fun to even just spend 2-3 nights here. Read our full review HERE.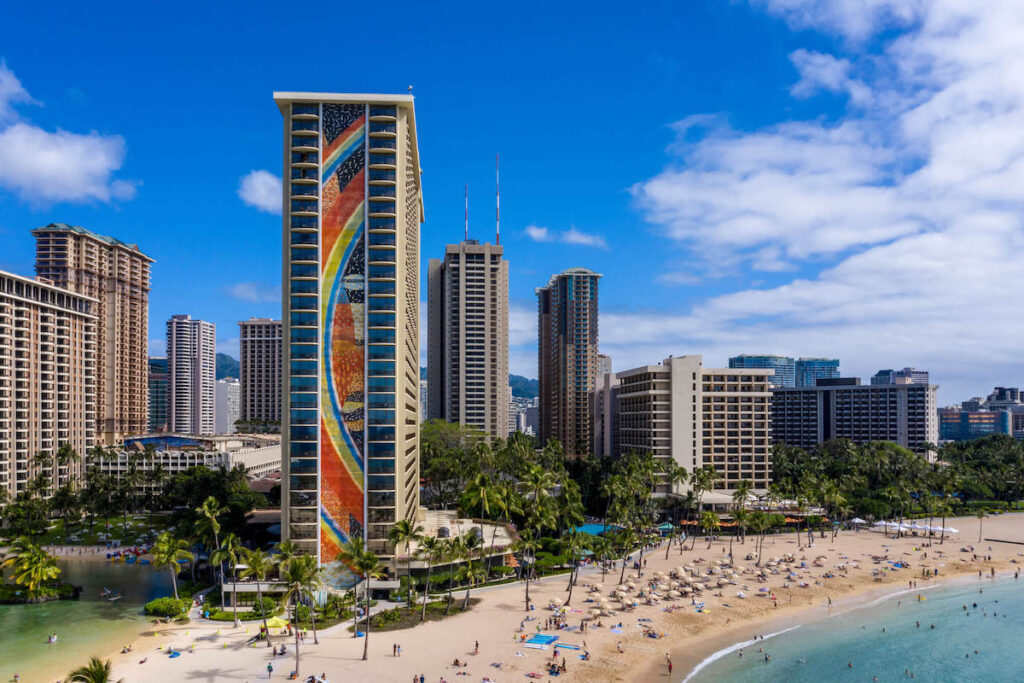 Our top place to stay in Waikiki for families is the Hilton Hawaiian Village in Waikiki. They have amazing pools with water slides and a saltwater lagoon where you can rent water trikes. There's also a full shopping center with restaurants right on the property. It's one of the best Hawaiian hotels for kids. Read our full review HERE.
If you don't like the hustle and bustle of Waikiki, head up to Turtle Bay Resort in North Shore Oahu. It was renovated in 2021 and they have lots of kids programming and spaces to just relax. It's also where they filmed Forgetting Sarah Marshall!
Want help planning your Oahu vacation? Get my Oahu with Kids guidebook HERE!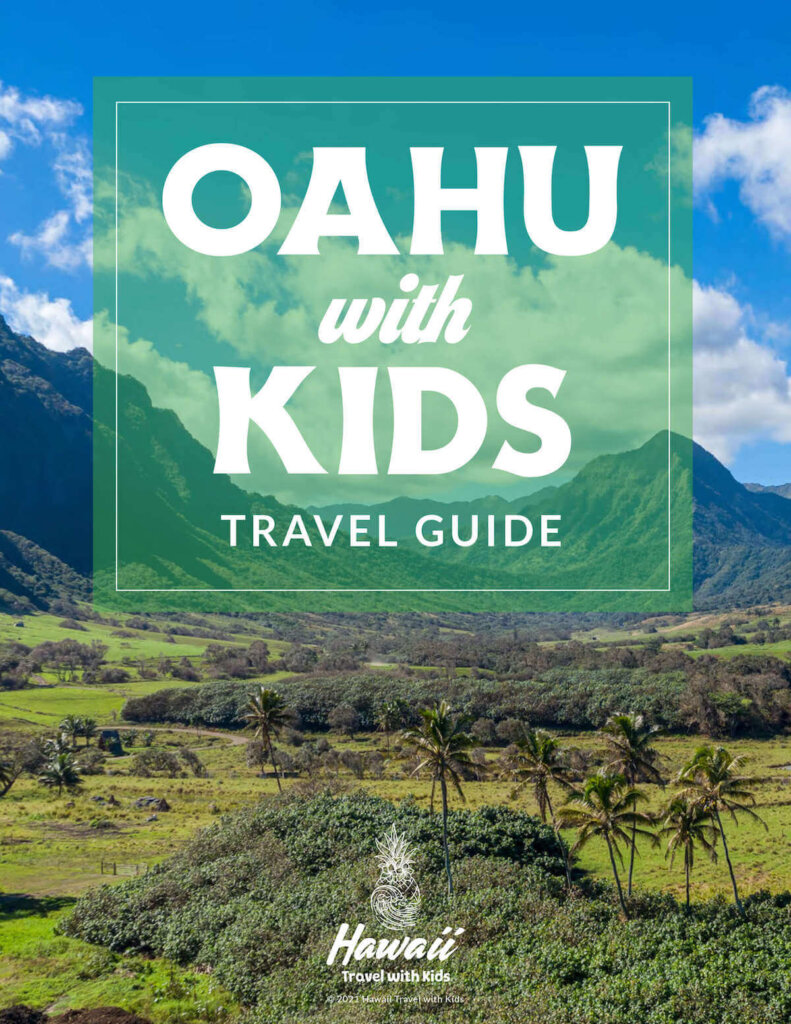 Maui with Kids
Top Maui Attractions for Families
The Maui Ocean Center is one of the best tourist attractions in Maui for toddlers and preschoolers. It's a Maui aquarium that has touch tanks, indoor/outdoor exhibits, and an immersive tunnel where tropical fish swim all around you. Plus, they offer awesome cultural programs throughout the day.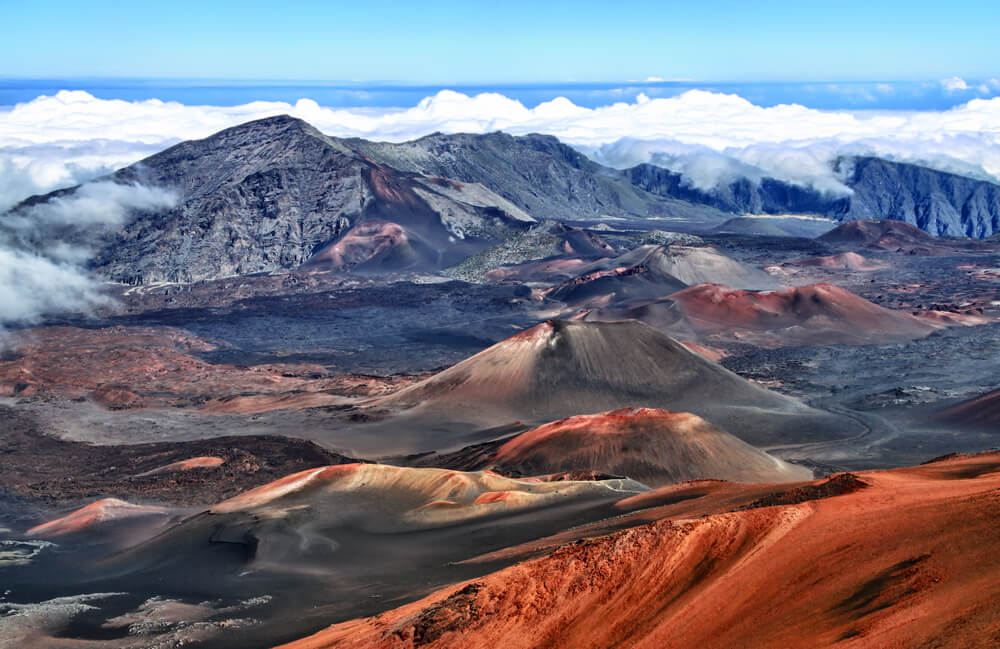 When it comes to national parks in Hawaii, one of the most unusual is Haleakala National Park. It's mostly known for its epic sunrises, but there are some great hiking trails and a nice visitor's center. But kids will mainly want to pretend they are on Mars as they walk around.
One of the most unique places on Maui for families is the Surfing Goat Dairy. This is a little farm in Upcountry Maui where you can play with goats or sign up for a tour to help take care of them. They also have goat cheese tasting and they even sell goat cheese truffles!
Things to do on Maui with Kids
One of the top things to do on Maui is to drive the Road to Hana. This windy road is all about the cool stops along the way. The best stops for families include hiking to Twin Falls, exploring the Garden of Eden, and stopping for banana bread. You can also see a black sand beach.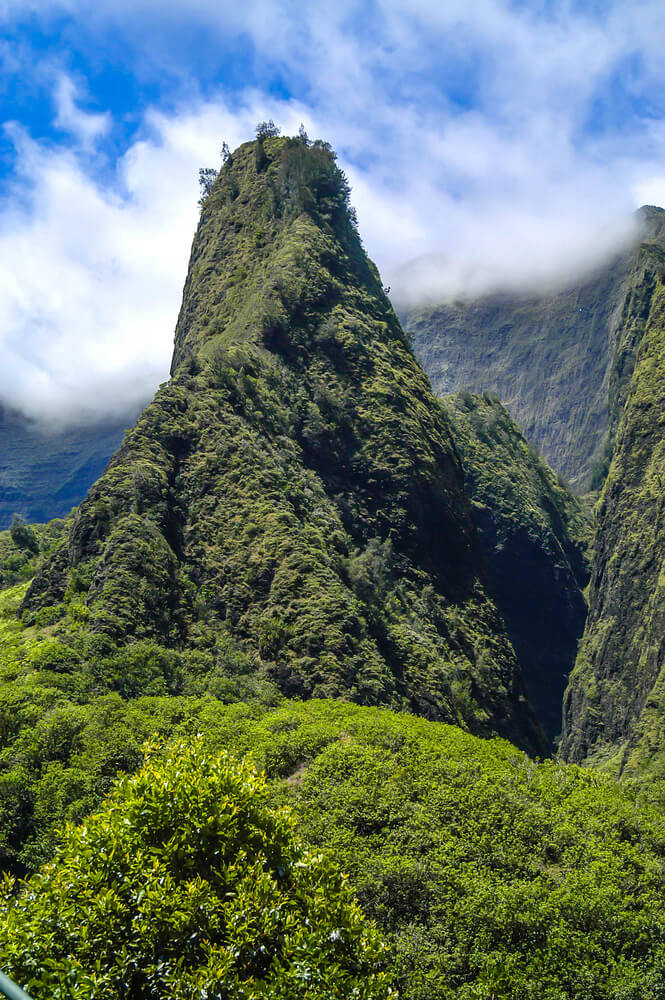 There's also an easy hiking trail at I'ao Valley State Park in Maui that's perfect for families. It's 0.7 miles long, and the path is paved with some stairs. My son was able to hike it himself as a toddler. It has some sweeping views and it's super close to the airport.
Another popular thing to do on Maui with kids is going snorkeling at Molokini Crater. You'll need to take a snorkeling boat tour to get here, but it's totally worth it. You'll have a good chance at seeing Hawaiian green sea turtles and some of the boats even have water slides on board!
Check out my list of 101 things to do on Maui with kids.
Kid-Friendly Maui Resorts and Hotels
While Maui is home to plenty of family-friendly resorts, I'll focus on just 3 that come to mind. We always love staying at the Honua Kai Resort. They have both condos and hotel rooms and an awesome pool area with water slides and cabanas. And you can eat at Duke's Maui, located on the property.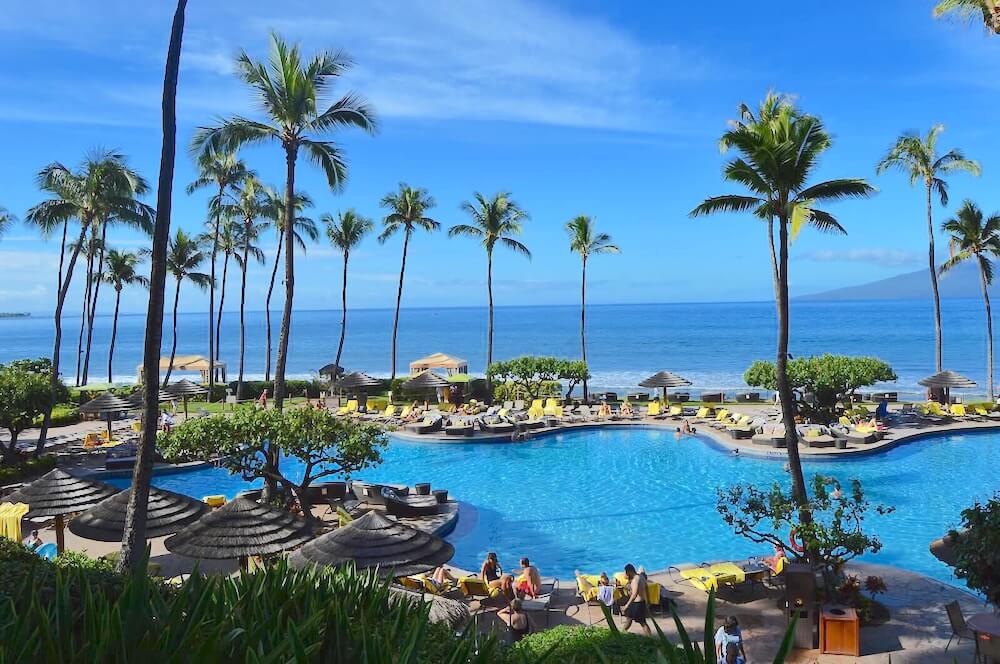 The Hyatt Regency Maui is another great option for families. They definitely have the best Maui pools for kids (including a kids play area). There are tasty on-site restaurants, and even Ululani's Shave Ice (the best shave ice on Maui).
Finally, one of the best Maui resorts for kids is the Grand Wailea Resort. It has an incredible pool area with 4 waterslides, a lazy river, and whitewater rapids. There's even a kids pool with a man-made volcano with a water elevator. Plus, they have lots of kids programming.
Want help planning your Maui vacation? Get my Maui with Kids guidebook HERE!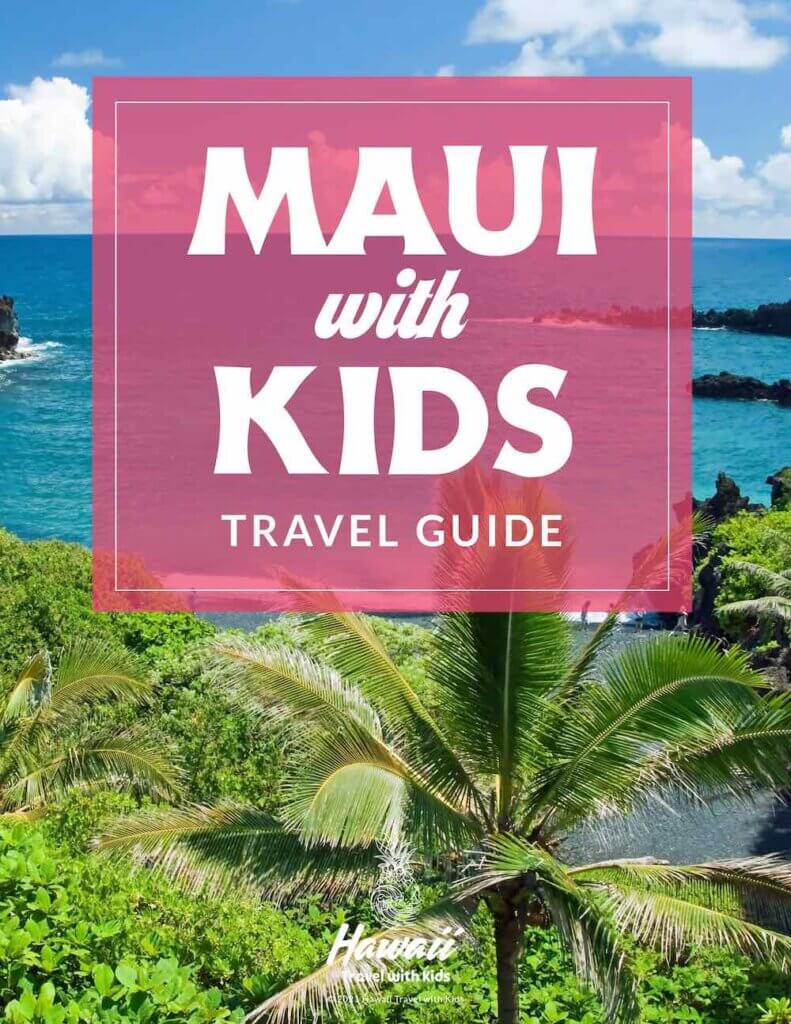 Kauai with Kids
Top Kauai Attractions for Families
The most famous natural Kauai attraction is Waimea Canyon, nicknamed the "Grand Canyon of the Pacific." Here you'll find cool photo spots, scenic lookouts and hikes for all levels. I also suggest heading up to Kokee State Park just up the road for a completely different experience.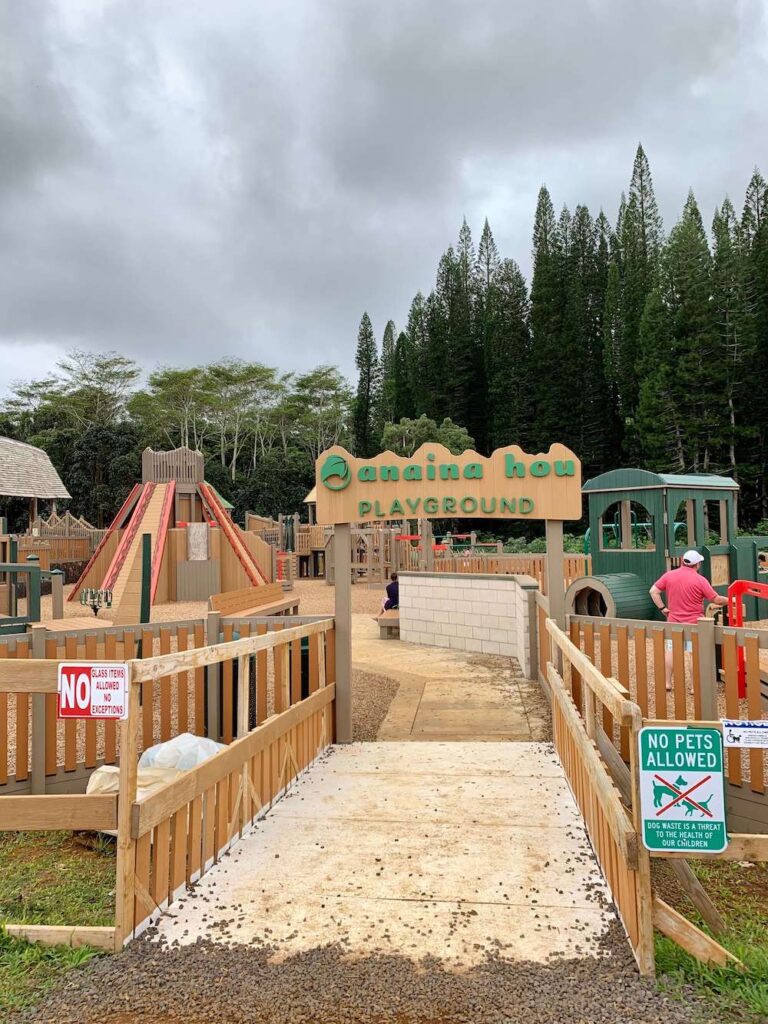 In Kilauea, there's the Anaina Hou Community Park that has an incredible playground and mini golf. There's also skateboard park and a kid-friendly Kauai hiking trail. It's a great stop on your drive up the North Shore.
One of the most underrated places on Kauai is the little town of Hanapepe (home to Lilo & Stitch). My kids love running across the Hanapepe Swinging Bridge. The entire town is easily walkable and they have cute shops and restaurants. It makes a great place to stop after checking out Waimea Canyon.
Things to do on Kauai with Kids
If you're looking for a kid-friendly adventure on Kauai, definitely check out mountain tubing down a sugar cane canal at Mt. Waialeale. It's sort of like a lazy river float, but you'll wear headlamps and go through old irrigation tunnels! This is geared for kids ages 5 and up.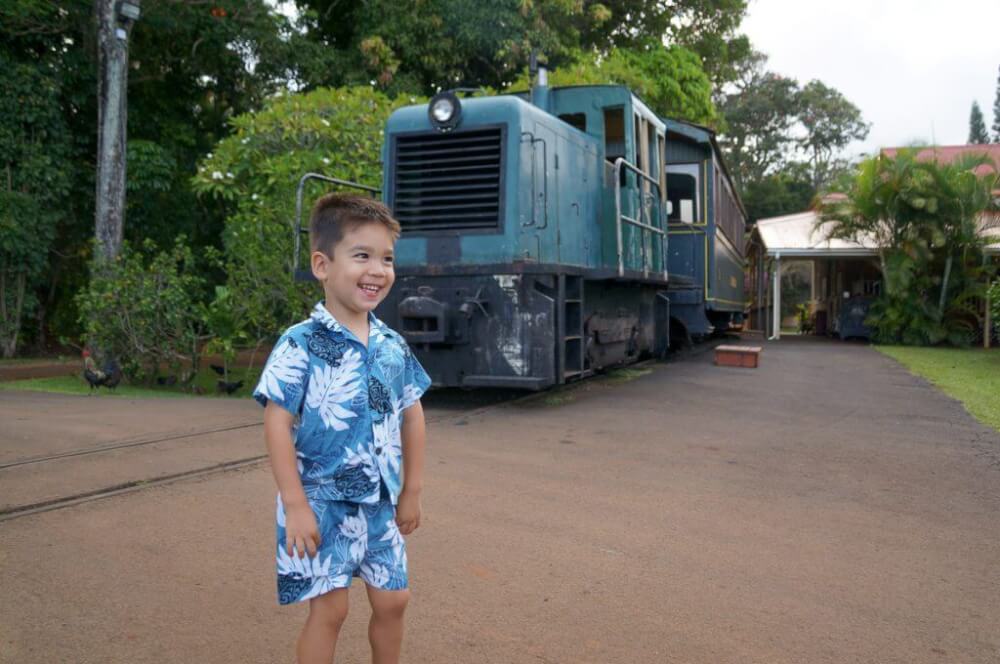 And families with toddlers and preschoolers will definitely want to do the Kilohana Plantation train ride. You'll do a historic train ride around the property and see animals, fruit trees, and other tropical plants. There's also a stop where you can get off and feed pigs and goats.
If you're looking for a unique Kauai luau, head to the Ahi Lele Fire Show on the North Shore. They make fire right before your eyes and use it to tell the stories of how Polynesians incorporated fire in their cultures. It's one of the coolest shows we've seen!
Check out my list of 101 things to do on Kauai with kids.
Kid-Friendly Kauai Resorts and Hotels
Our absolute favorite place to stay on Kauai with kids is the Grand Hyatt Kauai. It's in Poipu (on the South Shore) and they have an awesome pool area with a water slide. Plus you can easily drive to a few kid-friendly beaches, restaurants, and shops.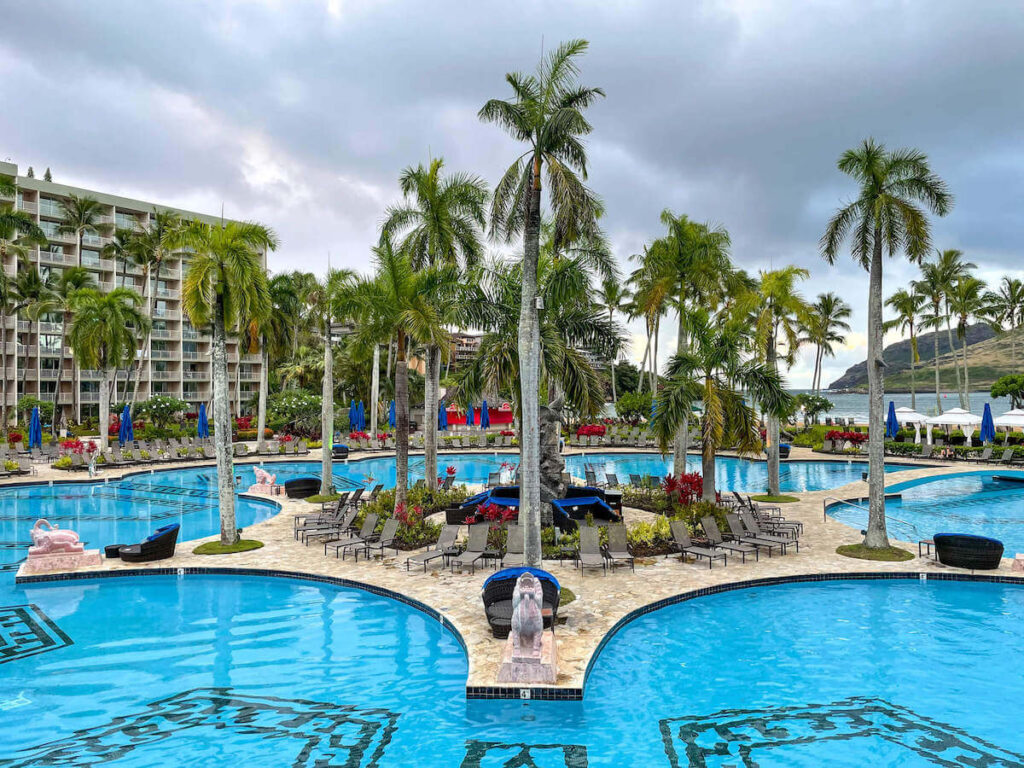 A close second favorite Kauai resort for families is the Royal Sonesta. It's centrally located in Lihue, so it's easy to drive anywhere on Kauai. And they have the largest one-level pool in Hawaii. Plus, it's right on Kalapaki Bay, one of the best Kauai beaches for kids.
Another laid-back Kauai kid friendly hotel is the Kauai Beach Resort. It's located in Lihue, not too far from the airport. It was actually named the Best Value Hotel on Kauai, so it's perfect for families looking to do Hawaii on a budget!
Want help planning your Kauai vacation? Get my Kauai with Kids guidebook HERE!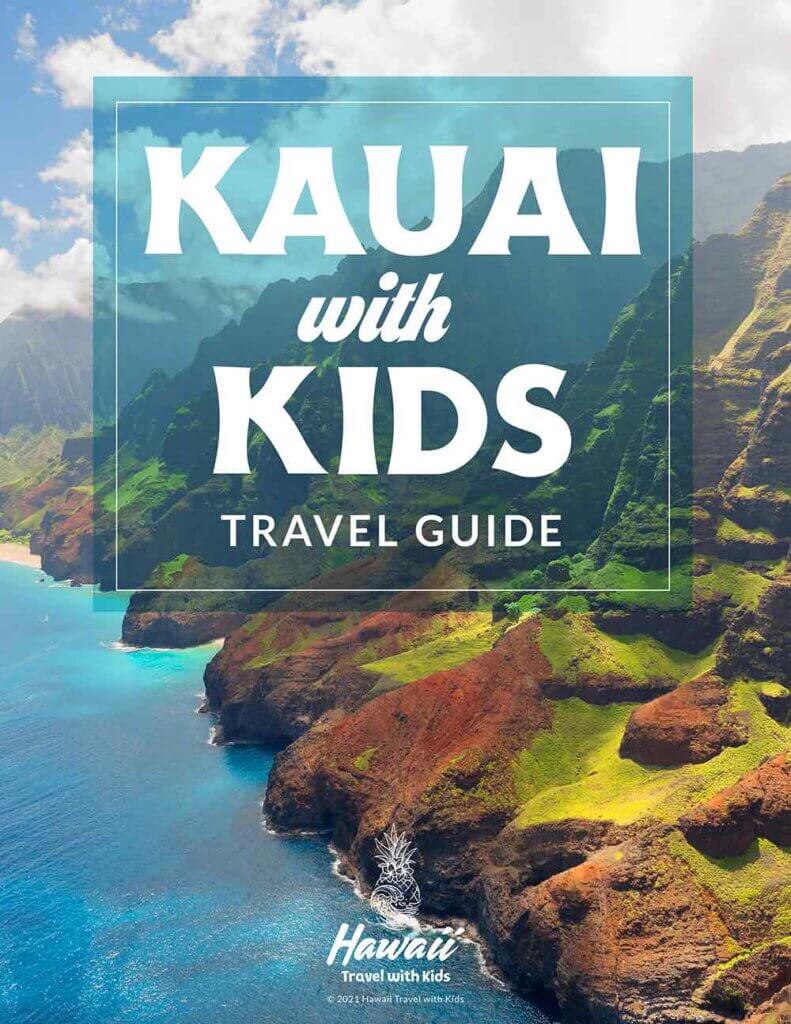 Big Island with Kids
Top Big Island Attractions for Families
One of the main reasons people visit the Big Island is to spend time at Hawaii Volcanoes National Park. That's because it's the best place to see lava in Hawaii, as long as one of the volcanoes is erupting. There are also hiking trails, a visitor's center, and even a hotel where you can see the lava glow from your room!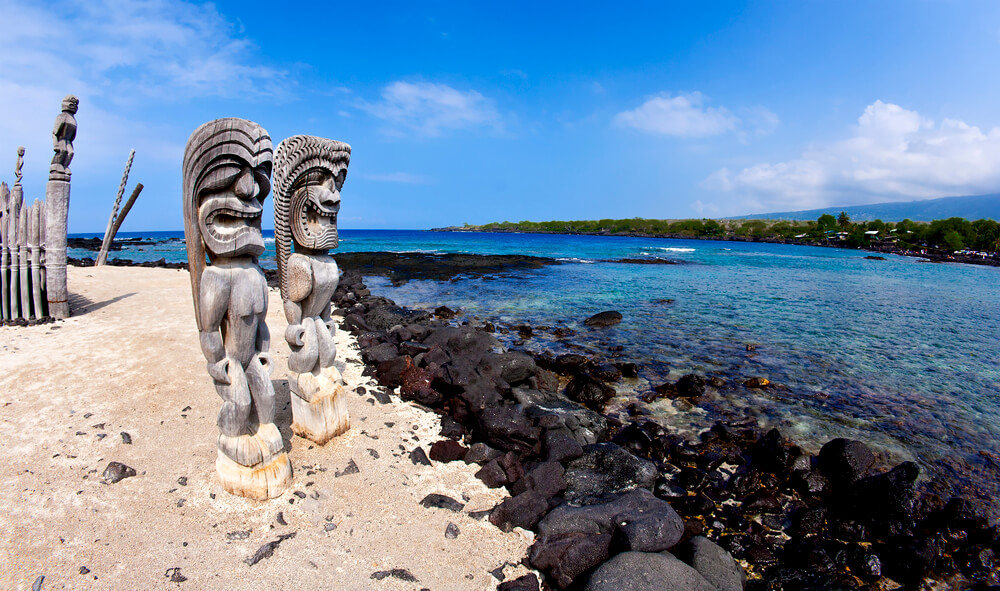 Another cool place to visit with kids on the Big Island is Pu'uhonua o Honaunau National Historical Park, just south of Kona. It's a cultural park where you can learn a lot about Ancient Hawaii through replica buildings and tiki statues. It's perfect for families.
Our favorite kid-friendly hike on the Big Island is Akaka Falls State Park. It's a loop trail that is completely paved. You'll get an awesome view of Akaka Falls. You'll go over some bridges and see really beautiful Hawaiian plants and flowers.
Things to do on the Big Island with Kids
One of the best things to do with kids on the Big Island is go horseback riding in Waipio Valley. This secluded valley is a true slice of Old Hawaii and it's absolutely stunning. Plus, you'll get a great view of Hi'ilawe Falls and learn a bit about Hawaiian culture.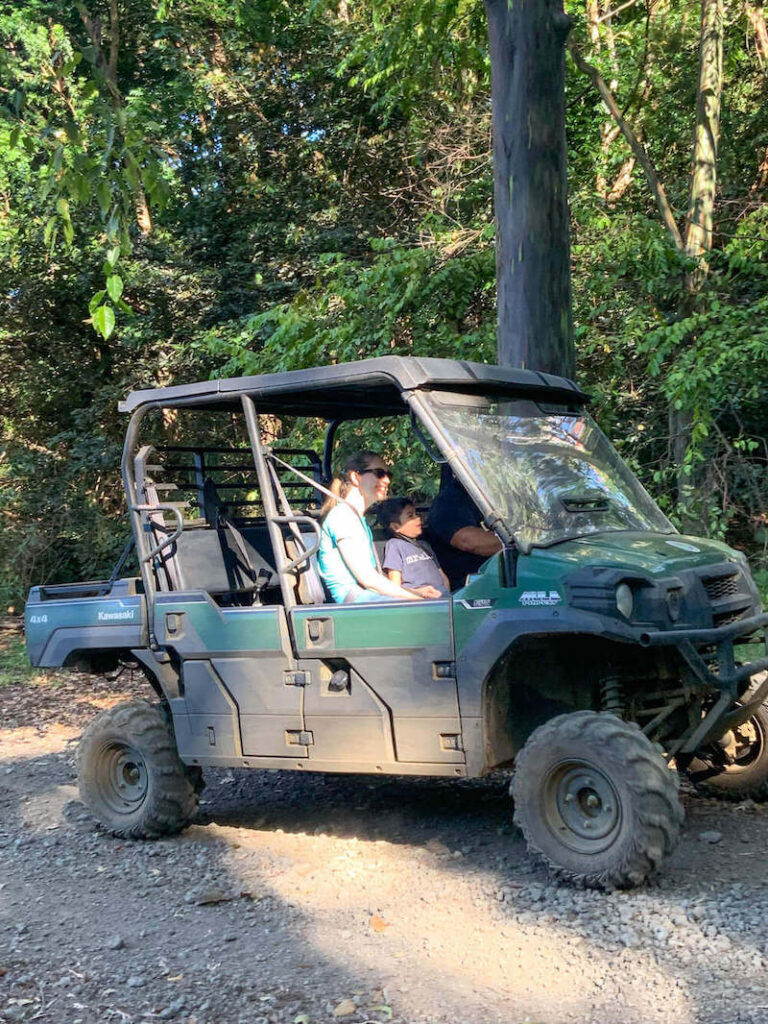 My favorite Kona activity is the cultural ATV ride with Aloha Adventure Farm. Kids ages 5-15 can hop in a UTV and people ages 16 and older can ride their own ATV. You'll stop at little villages where you'll see cultural presentations and participate in hands-on activities. They even have Polynesian wood carving for kids ages 8 and older.
One of the most unique things to do in Kona is going night swimming with manta rays. There are a bunch of different snorkeling and diving tours. If your kids can stay up late, this is a must-do activity. You really can't do this on any other island. Check out our full Big Island Manta Ray tour review.
Check out my list of 101 things to do on the Big Island with kids.
Kid-Friendly Big Island Resorts and Hotels
The most famous Big Island resort for families is the Hilton Waikoloa Village. It's a massive resort that has a monorail and boats that will take you to different parts of the resort. They have an amazing pool area and you can even swim with dolphins with Dolphin Quest. Plus, there are tons of restaurants and shops nearby.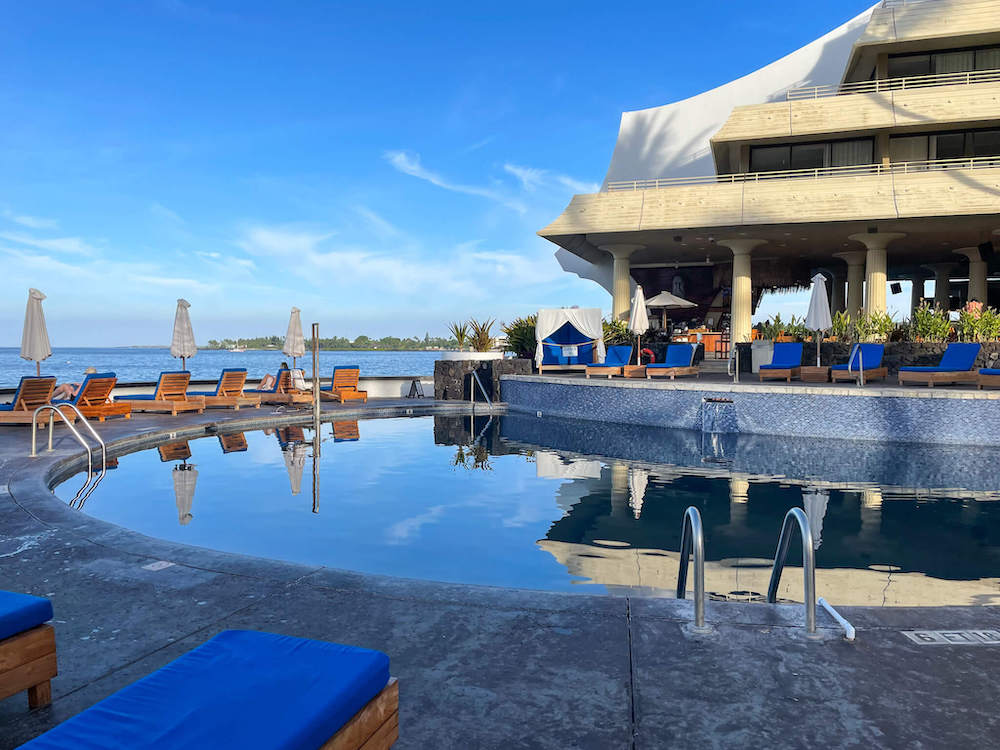 If you're looking for a budget-friendly Kona hotel, we like the Royal Kona Resort. It's right on Ali'i Drive, so you can walk to tons of restaurants, shops, and attractions. They have a great on-site luau and a private lagoon. Plus, they have a laundry room, which this mama appreciates!
One of the most unique places to stay on the Big Island is the Volcano House. It's located inside Hawaii Volcanoes National Park and it's really affordable. They have an on-site restaurant, coffee bar, gift shops, and it's across the street from the visitor's center.
Want help planning your Big Island vacation? Get my Big Island with Kids guidebook HERE!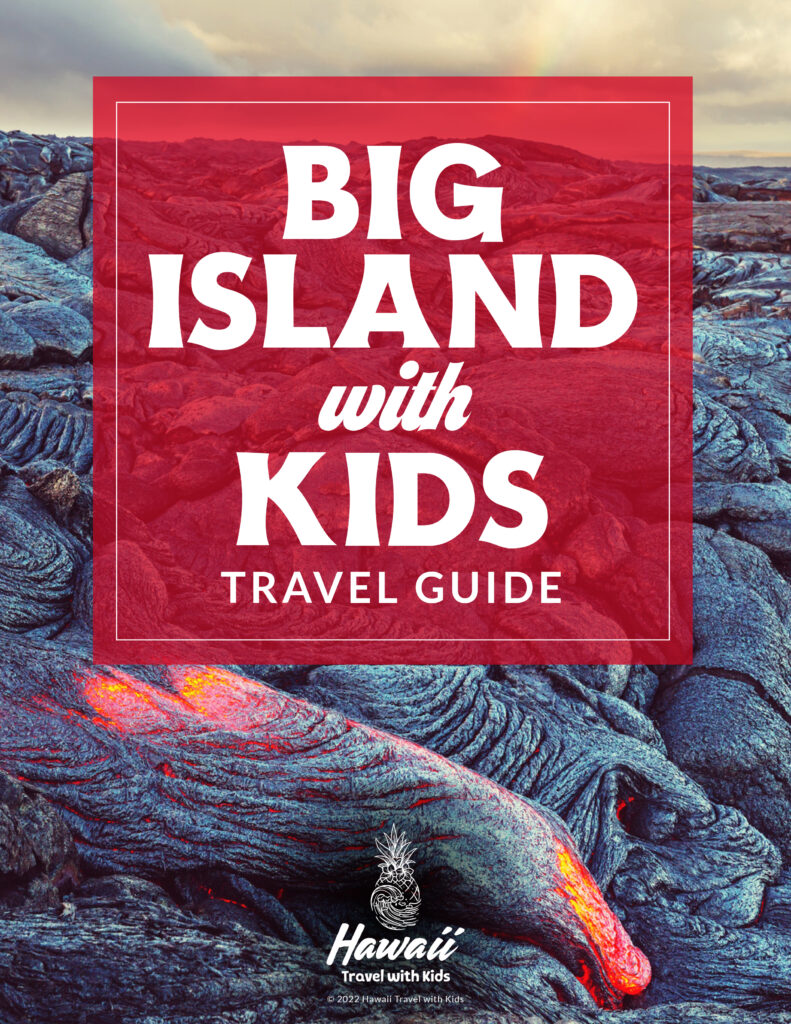 Best Hawaii Island for Families Breakdown
Now that you have an overview of the main four Hawaiian islands for families, you might have found 2 or 3 that sound like good options for your next trip to Hawaii. But how will you choose?
Thankfully, I've written some comparison posts specifically to help families choose between 2 islands in Hawaii.
And if you decide that you really want to visit more than 1 island, you'll want to look into island hopping in Hawaii. This is where you take an inter-island flight to one or more islands. I usually suggest 5-7 days per island.
Things to do in Hawaii with Kids FAQs
What are the best things to do in Hawaii for kids?
There are lots of kid-friendly Hawaii activities for kids of all ages. Some of the most popular activities are submarine rides, swimming with dolphins, and learning to surf. Then there are classics, like snorkeling, hiking, and just relaxing at the resort pool or the beach.
Is it worth visiting Hawaii with toddlers?
Absolutely! I suggest not over-scheduling and leaving room for naps and "down time" to avoid meltdowns. There are tons of fun things to do in Hawaii with toddlers like playing at the beach and checking out the zoo. When my boys were little, we loved going on riding trains and visiting farmers markets. Plus, you'll probably want to spend time playing at your resort pool.
What is the best Hawaiian resort for kids?
Every island has a few amazing kid-friendly resorts. If I had to pick just one, it would be the Disney Aulani Resort on Oahu. They have an incredible pool area, and you can even snorkel with tropical fish! They have extensive kids programming, a complimentary kids club, beach access, and their own luau.
So, What's the Best Hawaii Island for Kids?
The best Hawaiian Island with kids really depends on your family and what you'd like to do in Hawaii.
Oahu is perfect for families who want to do some sightseeing, go shopping, join tours, and do a few fun activities. Maui is awesome for families looking for a luxurious resort vacation with day trips and snorkeling.
The Big Island and Kauai and great for families who love outdoor adventures and a slower pace of life.
I hope this helps you decide which Hawaiian island is best for families! Keep scrolling for more Hawaii travel resources.
P.S. Join our Hawaii Travel with Kids Facebook group to get connected with other families planning a trip to Hawaii!