Heading to Maui with kids? Keep scrolling to find out the best Road to Hana stops that are totally worth it for your next Maui family vacation!
This list of the best Road to Hana stops for families was written by Hawaii travel expert Marcie Cheung and contains affiliate links which means if you purchase something from one of my affiliate links, I may earn a small commission that goes back into maintaining this blog.
If you are planning a trip to Maui for the first time, you probably are doing tons of research to figure out the best things to do in Maui with kids.
One of the most famous Maui attractions is the Road to Hana. It's a 64-mile road jam-packed with stunning views at every corner, hair-raising spins, short detours that lead to one magnificent natural attraction or another, and an open road that never disappoints.
The Road to Hana is an epic Maui day trip you will love taking with your family.
Because there are so many stops on the Road to Hana, you'll have to pick and choose which ones are worth it.
This article acts as a guide for the family-friendly Maui attractions you should not miss along the Road to Hana with kids.
Be sure to check out my top Road to Hana tips!
Don't have time to read a bunch of Hawaii blog posts and reviews? Here are some of our top picks for visiting Maui with kids.
Best Kid-Friendly Maui Tours/Activities
Best Kid-Friendly Maui Resorts
Hyatt Regency Maui (this has the BEST pool area and on-site shave ice stand)
Honua Kai Resort & Spa (this is one of our personal favorites because there are tons of pools and there are condo options)
Fairmont Kea Lani (this is a swanky resort with incredible kids' programming and an awesome pool area)
Want to Rent a Car in Hawaii?
One of the best places to rent a car in Hawaii is Discount Hawaii Car Rental because they get the best rates from top national companies like Alamo, Dollar, Thrifty, Avis, Enterprise, Budget, and Payless.
Want to skip all the planning and just access my detailed Maui Itinerary complete with daily schedules, kid-friendly activities, and travel hacks? Click the button below.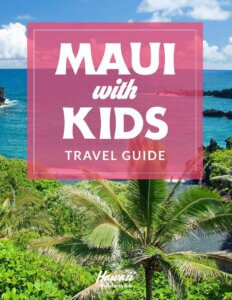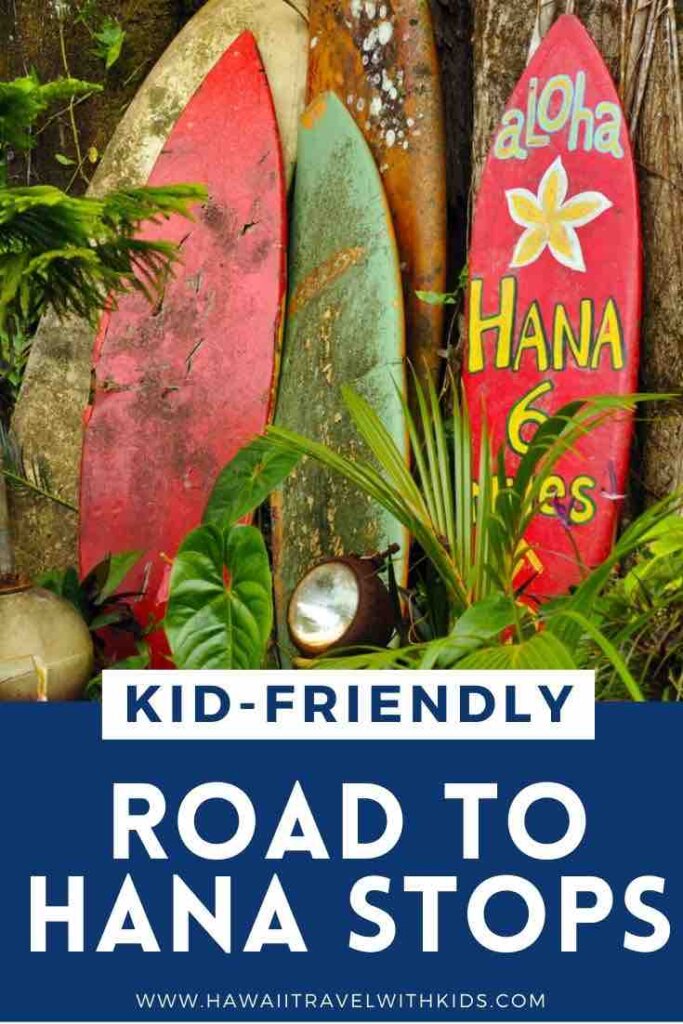 Best Road to Hana Stops for Kids
Before we get into the best kid-friendly stops on the Road to Hana, I want to make sure you understand that this is a full-day adventure.
You'll need to start early in the morning, and you'll be pretty wiped by the end.
But you can totally just do the first half of the Road to Hana if you aren't sure your family has the stamina for a full-day trip on Maui.
In fact, I think the first half is the prettiest. And there are plenty of cool stops to do with kids.
Here are some of the places along the Road to Hana where to stop if you are traveling with your children.
Paia Town
This is the last Maui town where you can get all the supplies you need before you get onto the Road to Hana.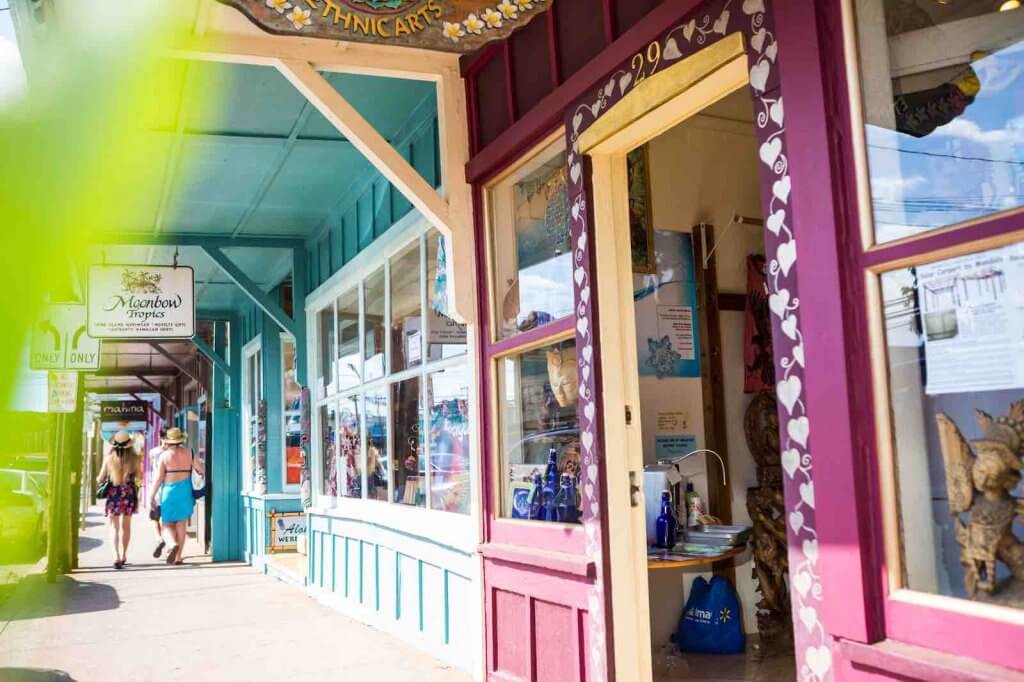 Make sure you fill up your gas tank because you might not have another chance to do so. Although the distance you will drive is not long, you may have detours along the way or might deal with traffic.
Paia is actually a super cute boho/hippie town on the North Shore of Maui, and it's adorable. There is not much to see in Paia, but you can sit at a cafe to enjoy a local beverage or meal or pick up snacks for the trip.
Ho'okipa Beach and Lookout
Just past the town of Ku'au, you will come across Ho'okipa Beach Park. If you love surfing, this will be a natural Hana road stop.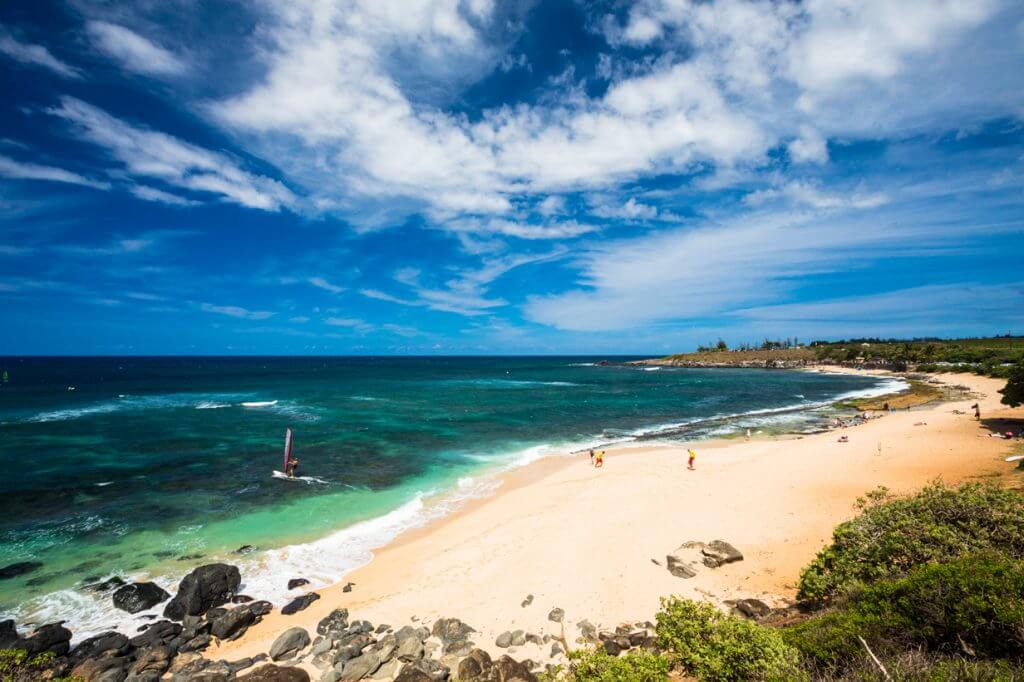 At the Ho'okipa lookout, you can spend time with your family, lounging by the beach on picnic tables, and observing surfers take on massive waves.
Take a walk along the beach, and you might come across turtles sunbathing close to the sea.
Twin Falls
Just past marker 2, there is a beautiful attraction that may be worthy of your attention.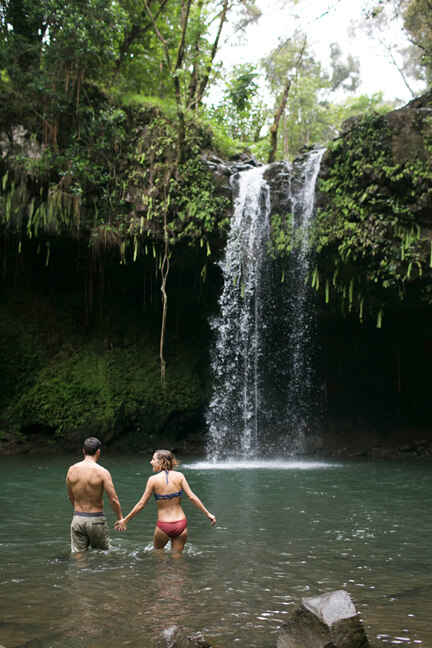 Twin Falls may not be the tallest waterfall in Hawaii, but taking a dip inside the pool will surely be refreshing, especially if the day is hot.
From the parking area, it's an easy quarter-mile Maui waterfall hike that is perfect for kids. There's actually a really cool Maui waterfall tour that's perfect for families!
This is just one of the many Road to Hana waterfall stops, but Twin Falls is a great one for your kids to enjoy with you!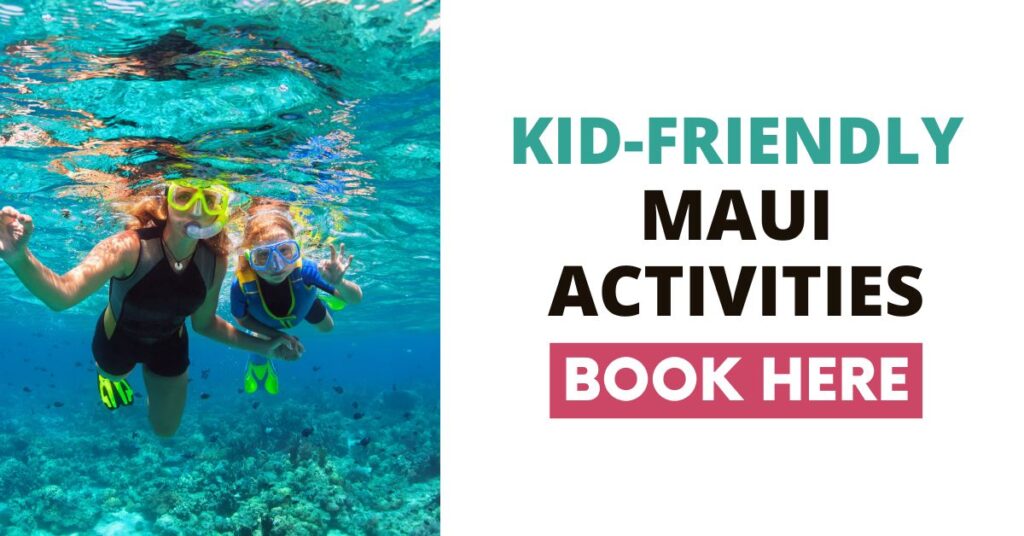 Waikamoi Ridge Trail
This is a moderate and short (1.5 miles) trail ideal for beginner hikers. This Maui trail takes you through lush vegetation, bamboo forests, and flowers.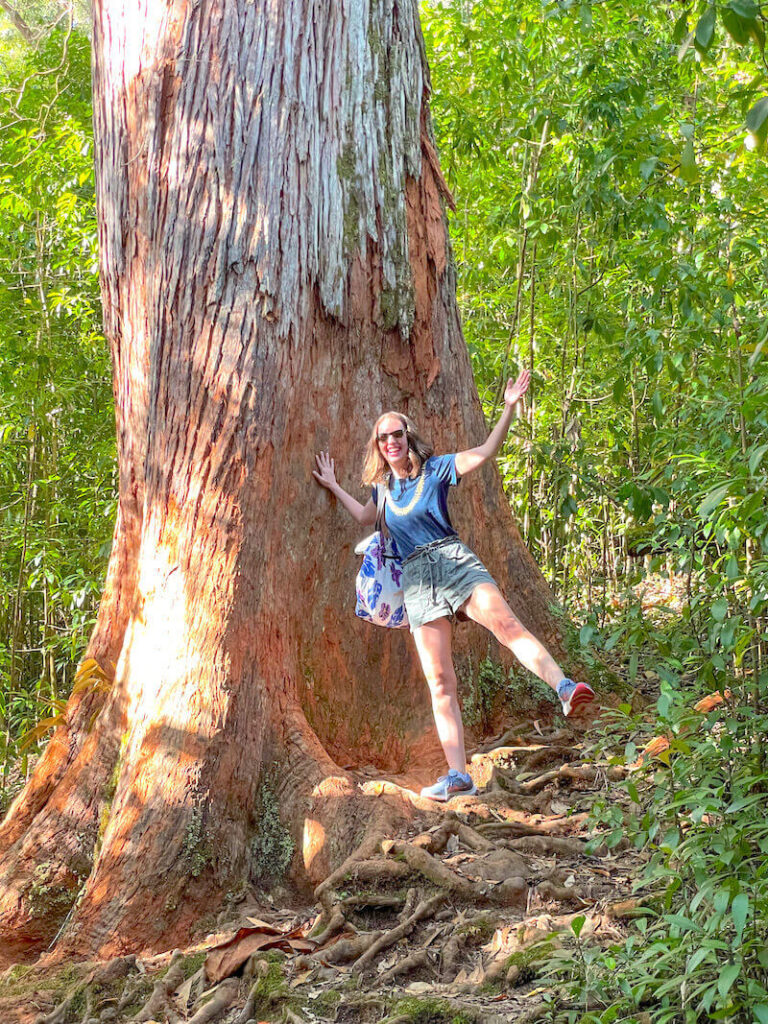 Be sure to carry your camera, as every turn is scenic.
It is a quiet and calm place, and the only voices you will hear in the forest are the voices of birds chirping as they cheer you along.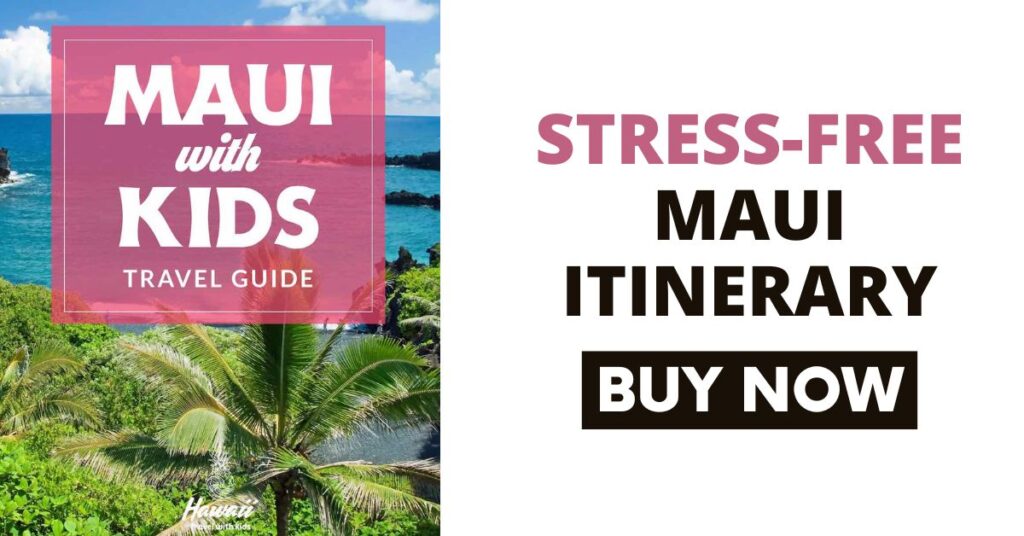 Garden of Eden
The Garden of Eden lives up to its name and is one of our favorite stops along the Road to Hana with kids.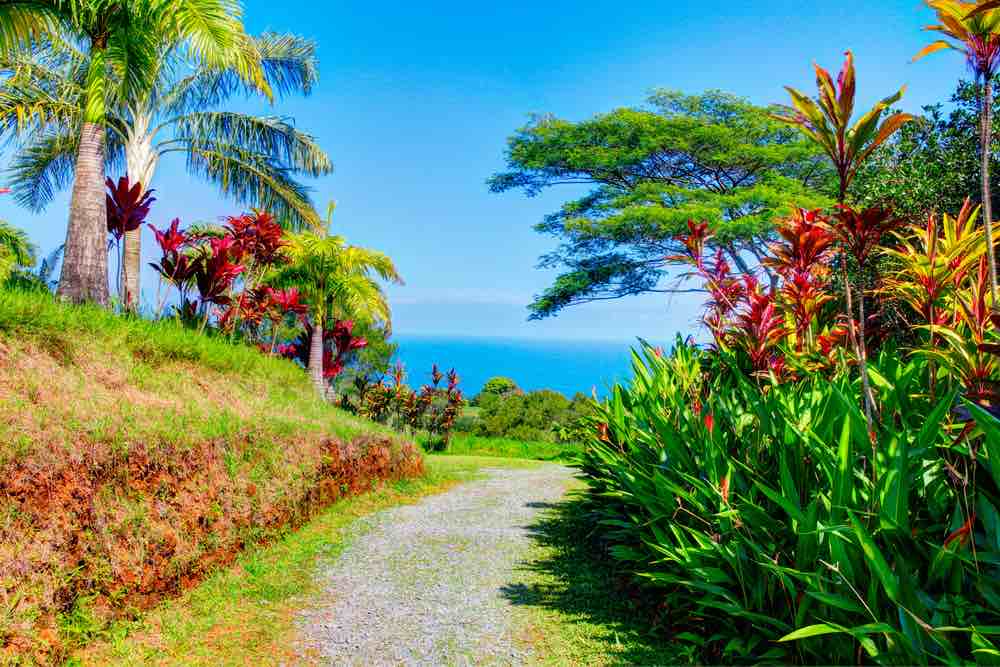 It is a gorgeous arboretum that has been well-maintained for a long time. There are beautiful plants all around and well-manicured walking trails. The flowers bring this place to life. The lush gardens make a great spot for a picnic.
Deep inside the arboretum, you may see Puuhokamoa Falls. Read my full guide to the Garden of Eden Arboretum.
Puaa Kaa State Wayside Park
For a super easy waterfall hike for your kiddos, check out the Pua'a Ka'a Falls. This park has a big parking lot, so you won't have to worry about parking, which isn't always the case on the Hana Highway.
This waterfall isn't very crowded, and you can even go swimming at this waterfall!
Read my full guide to seeing the Pua'a Ka'a Falls with your kids.
Ke'anae Arboretum and Peninsula
Further down the road, you will come across the Ke'anae Point and Peninsula. It is a popular spot for photography because of its strategic location. The cliffs offer great outlooks to take stunning photos.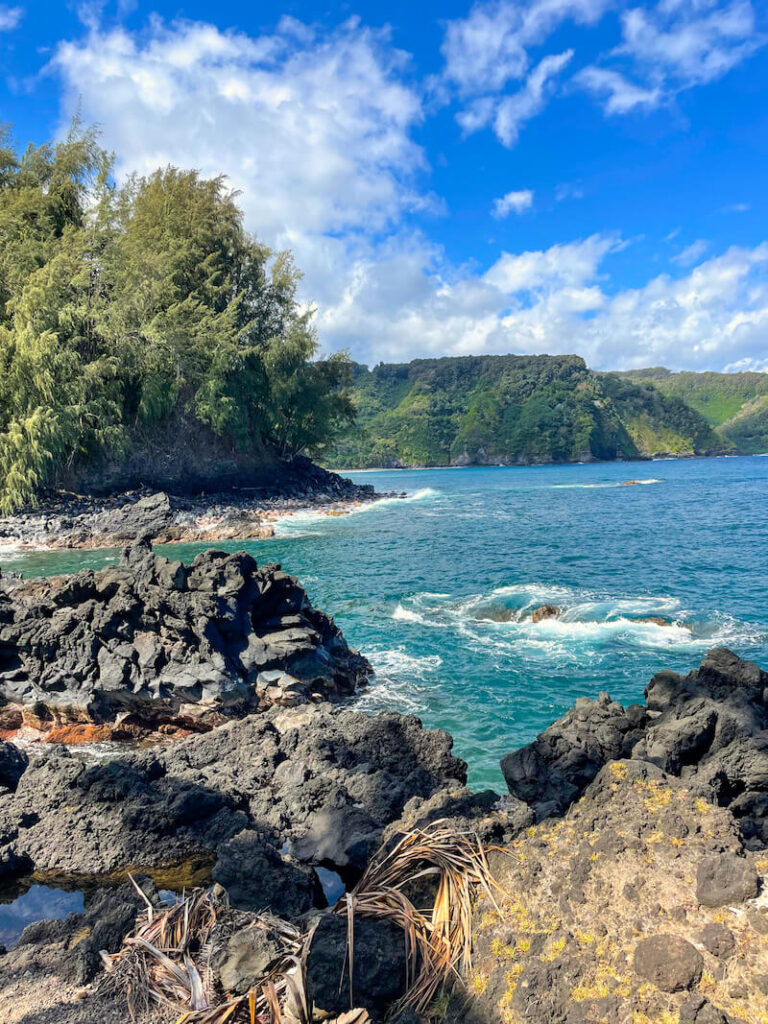 You can also stop briefly at the Ke'anae Stone Church to learn about the only building that was left standing when the village was hit by a tsunami in 1946.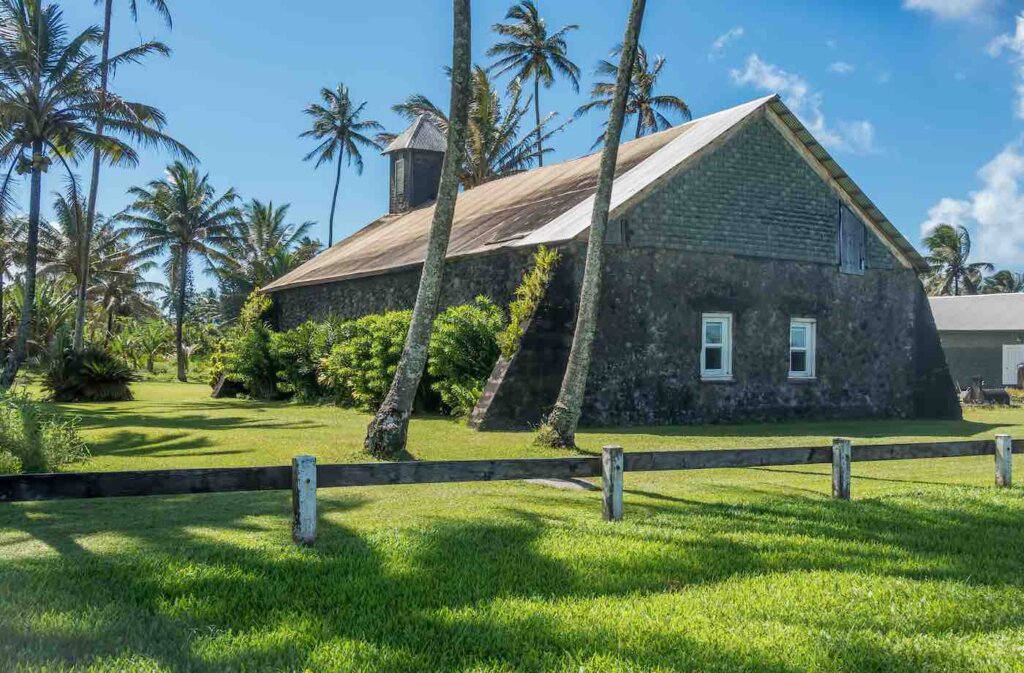 On the other side of the road, you may decide to pop into the Ke'anae Arboretum if you had skipped the Garden of Eden.
Here at the Ke'anae Arboretum, you will find the Painted Forest. At this exciting stop, your family can enjoy a walk through the forest to see some stunning rainbow eucalyptus trees.
These rainbow eucalyptus trees look like someone painted them and are a cool red, green, and purple! They are some of the cool things to see on Road to Hana trip.
Upper Waikani, Upper Hanawi and Makapipi Falls
From Ke'anae to Hana town, you experience three Maui waterfalls along the way.
Although these are not large falls, they are worth a mention because they are some of the more popular Road to Hana waterfalls.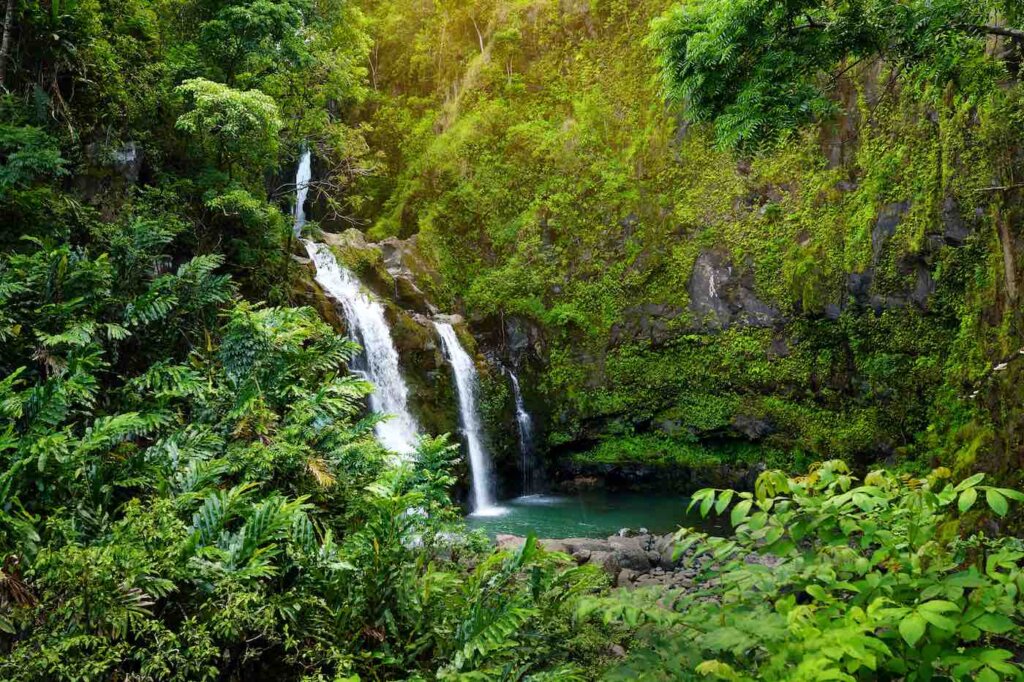 Upper Waikani Falls (aka Three Bears) is a trio of large waterfalls. It's a popular Maui swimming hole, and it's simply gorgeous.
And the Makapipi Falls is kind of unique because the viewpoint from the bridge is actually at the top of the waterfall. So, you'll be looking down at the waterfall.
These are definitely the best waterfalls Road to Hana has to offer, so be sure to stop here! They are just past mile marker 19 on your road trip.
Ching's Pond
Although lesser known, this is one of the hidden things to see on the Road to Hana. Ching's Pond, also known as Blue Sapphire Pools, has a fun bridge and little pond area you can enjoy with your kids.
This is more of a local place to see, not a tourist attraction, which is always fun to observe! You can play in the water, as long as there hasn't been any flooding.
Halfway to Hana Stand
While there are several fruit stands along the Road to Hana, I think kids get a kick out of going to the Halfway to Hana stand simply because it marks the halfway point.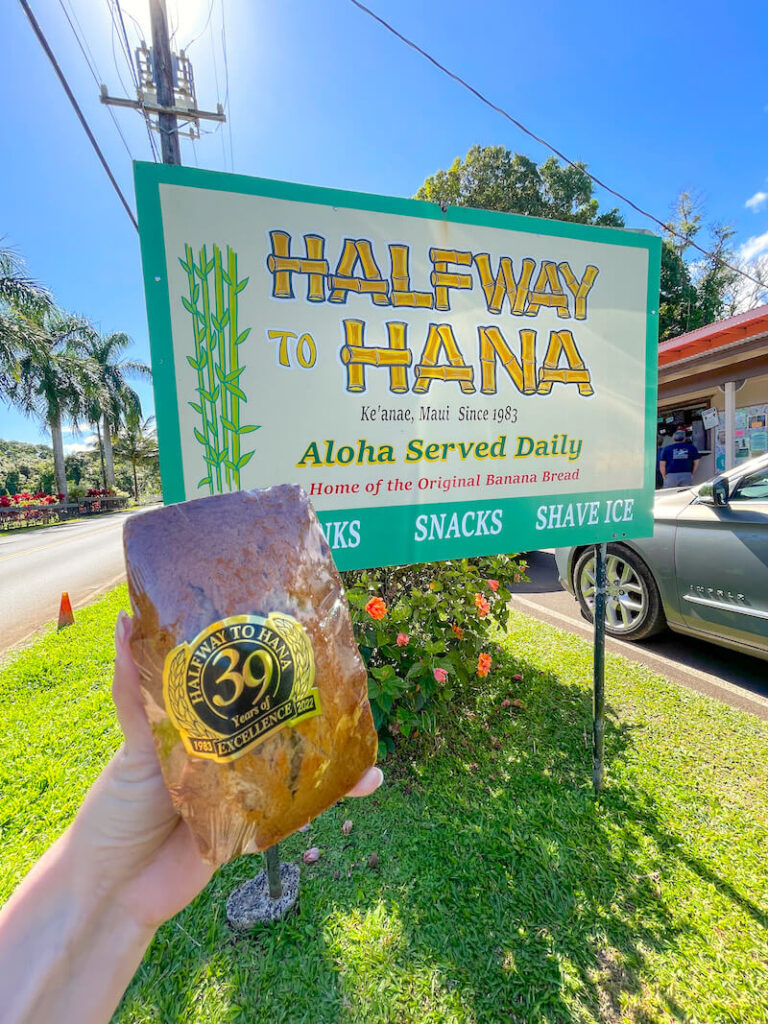 We like to get out and stretch our legs here while grabbing drinks and snacks. And we always pick up a loaf of their famous banana bread.
There are even some signs that make good photo ops.
This is also a good place to turn around if your family is tired.
Hana Lava Tube
Your kids will love to see this Hana lava tube! You can go on a self-guided tour every day where you can go inside the lava tube and explore.
Make sure to wear sturdy shoes. Your entrance to the lava tube gets you a high-powered flashlight to help you make your way through the lava tube.
This is another one of the top things to do on the Road to Hana your kids will love!
Kahanu Garden
Kahanu Garden is part of the beautiful national tropical botanical gardens on Maui and is at Mile Marker 31. Here you can learn about the history of Maui and see Pi'ilanihale Heiau, or the sacred Hawaiian temple.
Also, you can see the ancient Hawaiian lifestyle and how they grow taro, sweet potatoes, and more.
Wai'anapanapa State Park
This is a famous Hawaii State Park at Mile Marker 32. People stop here to experience freshwater caves, black sand at Pa'iloa Beach, and blowholes.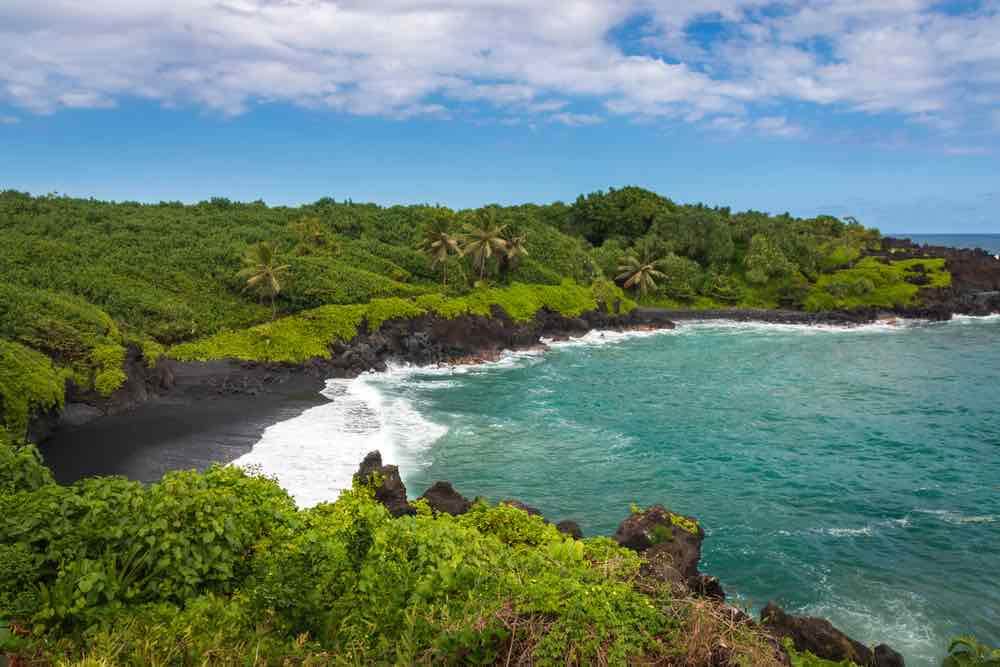 It's a 122-acre park ideal for hikers, rock climbers, and campers. Swimming, hiking, or camping is allowed, but only if you have a permit. Because of the jagged rocks and the black sand beach, swimming is restricted to certain sections of the park.
The drive from Hana Highway is bumpy, but once you get to the beach, the lava tubes, outcrops, and turquoise waters will pull you in. You will find plenty of parking spots in the parking lot.
This Maui black sand beach is special because the sand is produced by volcanic activity. Your family will definitely want to stop here to experience the famous black sand beach as it is one of the Road to Hana must-see stops.
Many locals view the beach as a sacred place, so please be respectful when you visit. Read my top tips for visiting Waianapanapa State Park.
Hana Farms Roadside Stand
One of the best Road to Hana food stops is the Hana Farms Roadside Stand. Here you will find local produce, homebaked goods, and other delicious snacks to enjoy during your Road to Hana drive.
This is right by Mile Marker 31, and offers some of the best banana bread along the Hana Highway.
Hana Town
The next stop would be Hana Town, at Mile Marker 34. Hana town is a small town, and not much happens here. There aren't that many things to do in Hana, but that's kind of the point.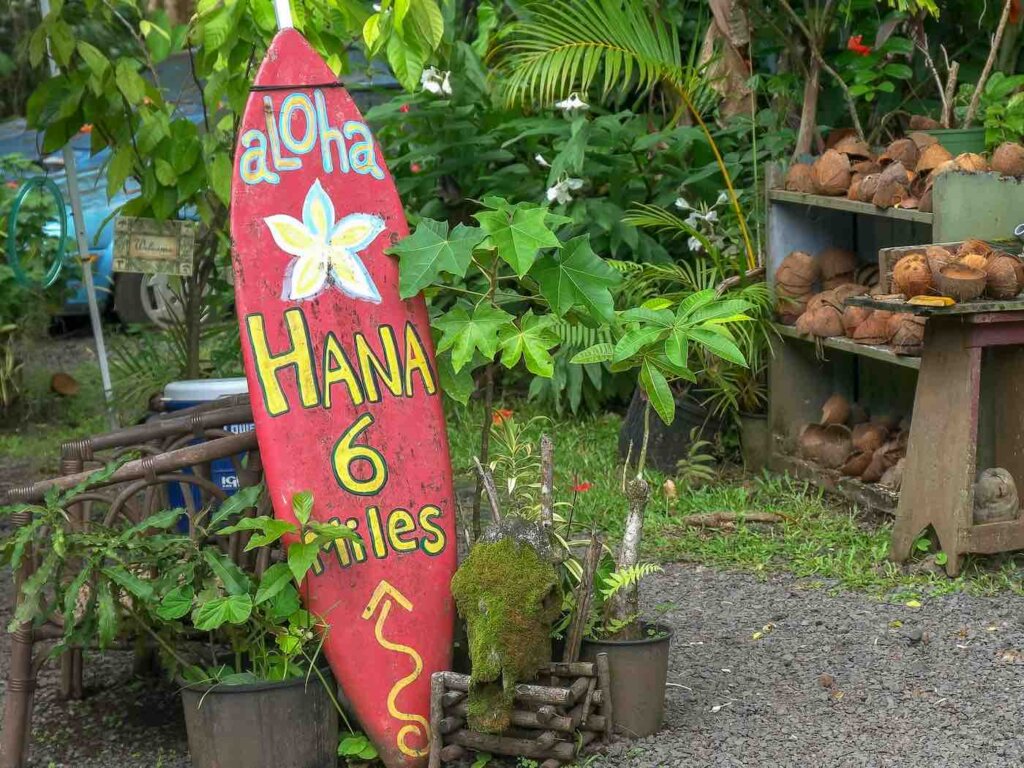 Despite the interest in the Road to Hana and the town itself, the locals have deliberately kept the town small to preserve their culture.
You may find local food and boarding but do not expect to find luxurious amenities.
Sure, there may be a few luxury hotels close by, such as the Hana-Maui Resort (formerly Travaasa Hana), for people looking for a luxurious experience. But mostly, it's a low-key town.
Koki and Hamoa Beaches
Both of these Maui beaches are close to each other, but Hamoa Beach is more popular.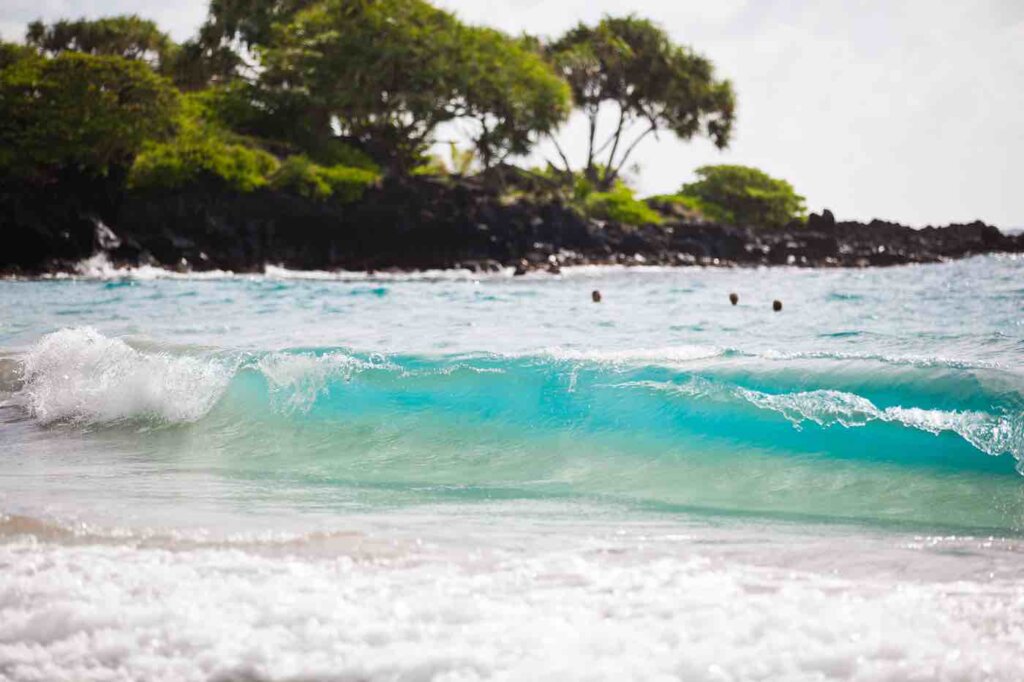 You will walk down a steep road from your parking area, but once you get to the beach, the views and feel of soft sands on your feet will be worth the trouble.
You are allowed to swim and sunbathe on the beach. Plus, they have great amenities, including showers and bathroom facilities.
This beach is also a popular surf break spot, something that attracts tourists from all over the U.S.
Other popular activities include swimming, surfing, snorkeling, sunbathing, and scuba diving.
Hamoa Beach is a gorgeous crescent-shaped beach with soft sand your kids will love. You will find Koki Beach to be a red sand beach on Maui! Koki Beach Park is a great one to enjoy surfing but not for swimming.
I think both Hamoa Beach and Koki Beach are both some of the best stops on the Road to Hana that you will love to get out and see.
Maui Huli Huli Chicken
Located at Mile Marker 49, you will love this delicious Huli Huli Chicken stop. It is one of the best food trucks along the Hana Hwy and is right close to Hamoa Beach.
This is actually a famous stop along your Hana Map that you will definitely want to stop at. Gordon Ramsey even came here and loved it!
Because it is close to the beach, you can enjoy nice ocean views while eating your chicken at their picnic tables.
Even though it is a bit past Hana, you will still want to try this food plate!
Haleakala National Park
While it is called the Road to Hana, some of the stops are on the road past Hana Town. Located at Mile Marker 41, you will find Haleakala National Park.
At Haleakala National Park, you can find just about anything, and it is definitely a place you want to visit!
Here you can find the famous Seven Sacred Pools, also known as the Pools of 'Ohe'o. While it might not be best to swim in the seven sacred pools anymore, you can still see these majestic beauties.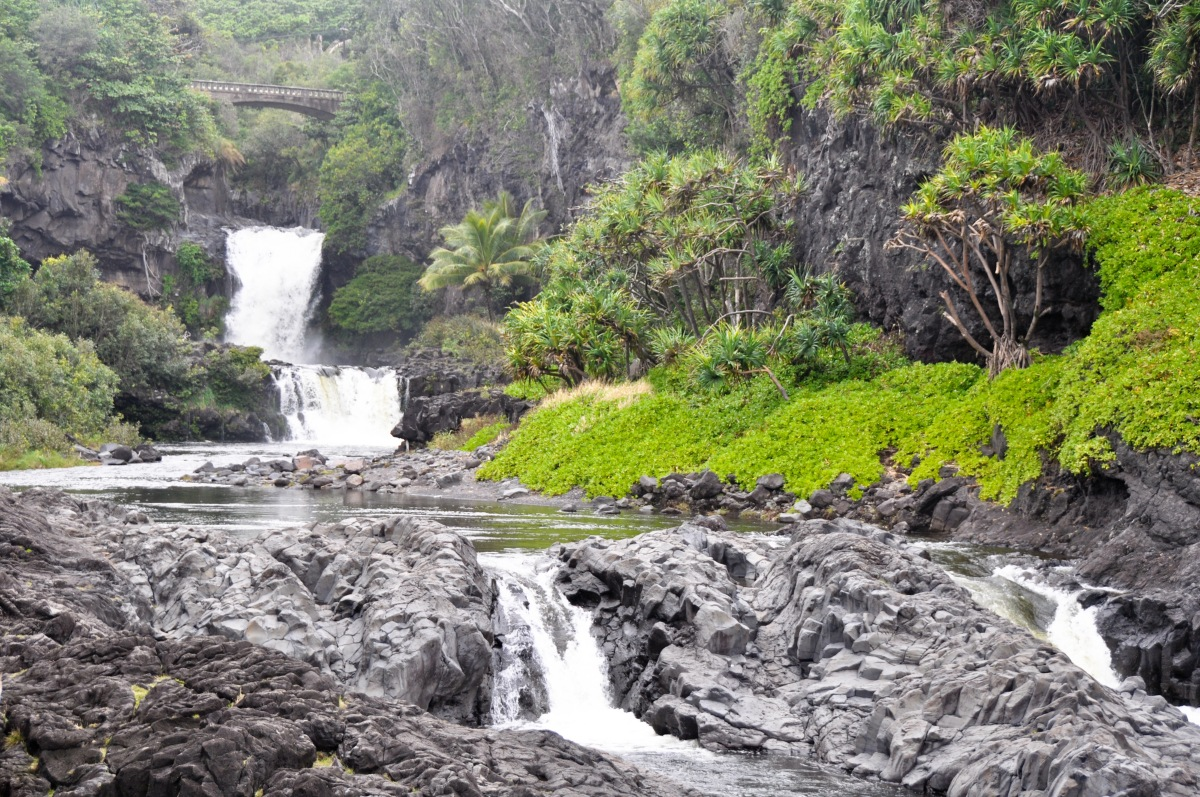 The Maui bamboo forest is also located at this park.
You can also enjoy hikes and observe the volcano. You will probably want more time to see all the Haleakala National Park has to offer, so maybe make it a day trip to visit or go on some Haleakala Tours.
Pipiwai Trail and Waimoku Falls
The Pipiwai Trail cuts through a dense forest that has diverse flora and fauna and ultimately ushers you to the base of another spectacular Maui waterfall.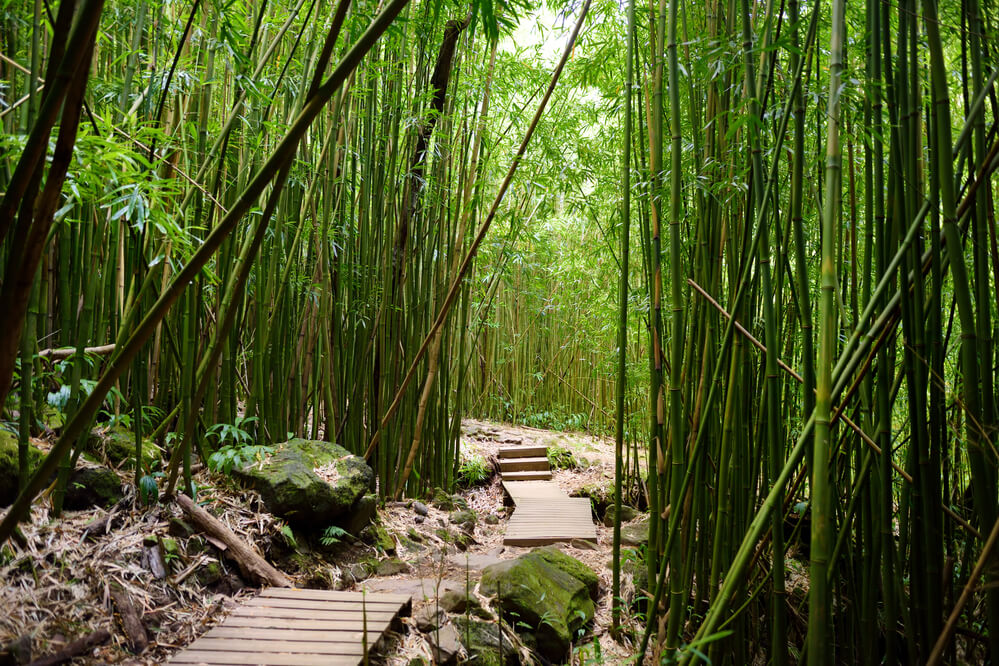 This is a 1.8-mile trail that takes you through several pools and small waterfalls, past dense bamboo vegetation, and direct to the base of the Waimoku Falls.
Waimoku Falls is a 400 feet tall waterfall that looks like a long curtain of water cascading down a jugged cliff inside the Haleakala National Park.
The trail is moderate and safe for all levels of hikers, so it's great for families with kids.
Even before you have gone deeper into the Haleakala National Park, you can see the Makahihu waterfall that plunges about 200 feet below. You may decide to explore this fall or head straight to Waimoku Falls.
Wailua Falls
If you want to see another waterfall, check out Wailua Falls. It is at Mile Marker 45, and the nice thing is that you don't even have to get out of your car to see it!
It is just a short walk until you get to Wailua Falls. The nice thing about this stop on the Hana Highway is that there is plenty of parking, and you will even find local vendors too to stock up on snacks.
Things to Know BEFORE You Drive the Road to Hana
It would be almost impossible to explore all the attractions on the Road to Hana in just one day. There's just so much to see and so much to do. The key is to be well prepared.
This quick guide might come in handy when preparing for a trip along the Road to Hana with kids.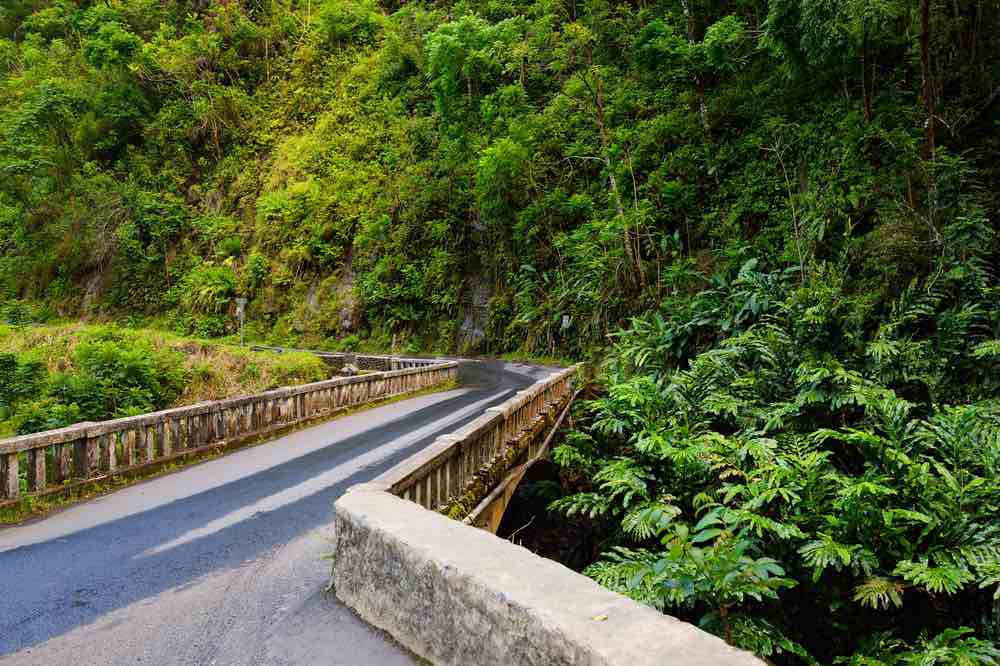 Should you take a Road to Hana private tour or drive yourself?
The Road to Hana has a lot of curves and bends, which makes it both incredible and potentially terrifying. If you do not want to keep thinking about the next hair-raising bend, join a Road to Hana tour. Check out the latest prices and more details.
Booking a Road to Hana private tour is a great way to be able to have your whole party look out the window while deciding which stops you'd like to make.
If you are driving yourself, be on the lookout for these sharp corners and one-lane bridges. It is easy to get pulled in by the stunning scenery along the way.
If you are going to rent a car in Maui, find a car that gets good gas mileage. Remember that you may not find re-filling stations after Paia. And gas in Paia is more expensive than in other places on the island.
Worrying about getting stuck in the middle of nowhere because your vehicle might run out of fuel can dampen the experience you anticipate having.
Do You Need a Road to Hana App?
If this is your first time driving the Road to Hana, it can be super helpful to download a Road to Hana guide so you know which Road to Hana stops to skip.
The Shaka Guide is a super popular Road to Hana app for people who want to drive themselves but also get the benefit of hearing about the places they are driving past.
And it's a lot cheaper than booking a tour for families. Find the best prices here.
What to Bring on the Road to Hana
This drive to Hana will be just like the normal road trips you are used to. So, carry everything you would normally pack when going on a road trip.
I suggest bringing lunch, snack bars, drinking water, and beverages to keep you hydrated.
Be on the lookout for rain showers. Occasionally, rain showers come without warning, and they can wreak havoc on the Road to Hana. Always check weather conditions before you go.
Bug spray will also be useful if you are hiking in the jungle. Check out the latest prices and more details.
If you are planning on camping in Hana, carry camping gear and essentials. You may rent out camping tents at some campgrounds, but they are offered on a first-come-first-served basis.
Some parks and Hana road stops (such as Garden of Eden) charge entry and camping fees.
And be sure to carry some cash with you. Many local vendors just take cash, and it's better to be prepared.
What to Wear on the Road to Hana
Since the Road to Hana drive has so many cool stops, what you wear really depends on the activities you're planning to do.
If you're just doing the drive and sightseeing, I suggest wearing something comfortable for the car ride (I love maxi dresses and sandals.)
For those who plan on swimming or doing a Maui waterfall hike, you can wear your swimsuit under your clothes or pack it separately.
If you will be doing a Road to Hana hike, wear breathable clothing and bring comfortable shoes. I don't recommend hiking in flip-flops.
Leave Early and Be Prepared
Driving the Road to Hana is a popular thing to do in Maui, so chances are that you will find other people hoping to enjoy the same experiences and adventure.
That's part of the reason it helps to leave early, if possible. But you really do want an early start in order to fit in more stops.
Before your trip, do a little research and come up with your Road to Hana itinerary. That way, you can keep on track and make sure to fit in the stops that you really want to make.
Be on the lookout for bad drivers. The road will have a lot of tourists and Road to Hana first-timers who may be distracted while driving.
However, there are also locals who drive on the Hana Highway as their daily routine. Please be courteous and let them pass you.
While you may be tempted to stop at every bridge, make sure you aren't blocking traffic or being unsafe.
And please don't risk your safety in order to get the perfect Instagram shot. It's not worth it.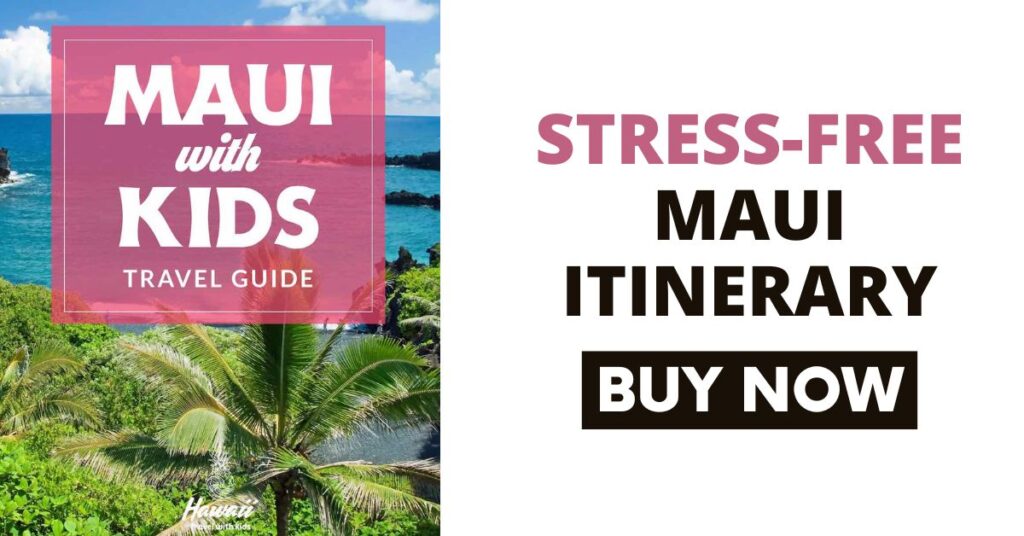 Road to Hana FAQs
What is the Road to Hana?
The Road to Hana is located in Maui and connects Maui to Hana and beyond. On a map of Maui, you can find it listed as Hwy 36. It's a really cool scenic drive from North Shore Maui to East Shore Maui with hairpin turns, one-lane bridges, and some of the prettiest Maui waterfalls. It's one of the best things to do on Maui.
How long does the Road to Hana take?
If you drive without making any stops, you can get to Hana in about 2-4 hours, depending on the traffic. It's only 52 miles, but you won't be able to drive very fast most of the time. But, the whole point of driving to Hana is to stop at the Road to Hana mile markers along the way. For the average tourist who makes a few stops along the way, the Road to Hana drive time is usually a 13-hour day trip from Lahaina or Kihei to Hana and back.
Where does the Road to Hana start?
The Road to Hana officially starts in the hippie town of Paia, located in North Shore Maui. It's the last "big" town before hitting the road. You can pick up something to eat or drink here and be sure to fill up your gas tank.
What's the best day to drive Road to Hana?
The most important thing is to check the weather before you drive the Road to Hana. Don't go on a rainy day or the day after it has rained a lot, as the drive will be dangerous and some of the stops might be closed. If you have good weather for your whole trip, I'd suggest driving it mid-way through your trip. That way, you can use it as a break from the sun. And you won't want to drive it any day you have evening plans. You'll need the entire day.
How many stops are in Road to Hana?
You will find over 40 Hana highway stops along the way. However, you probably won't get to do all of them unless you take multiple days to hit all the Road to Hana stops in order.
When is the best time to start Road to Hana?
Because the Road to Hana time usually takes an entire day, the best time to start your Road to Hana trips is early in the morning. If you are planning on doing the Road to Hana loop, you will want to start as early as you possibly can with your kids.
What stop is halfway on Road to Hana?
After mile marker 17, you should see the Halfway to Hana sign! It is located just past Keanae, Maui.
What is the first stop on Road to Hana?
One of the most common first stops on your route to Hana is at Twin Falls. It is not very far out and is one of the best stops Road to Hana has to offer.
Should I do Road to Hana in two days?
If you can, I would absolutely try to do the Road to Hana route in two days. That gives you plenty of time to see all the top stops on Road to Hana for both your out and back drive.
Are rental cars allowed on the Road to Hana?
Most Maui car rental companies will let you take your rental car on the Road to Hana for a self-guided tour. If you plan to rent a car, always double-check with your car company just to make sure!
Is the Road to Hana dangerous?
The Hana highway can be dangerous, especially after it rains. You do not want to go on the Hana Hwy if it is raining during your trip or even the day after your trip. There are some pretty sharp turns that can make the Road to Hana dangerous during the rain.
Is it better to do Road to Hana on weekends or weekdays?
There is a lot more traffic on the Hana highway during the weekend, so I think it is better to see all the Road to Hana must stops on a weekday. There won't be as many cars parked at each of the best places to stop on the Road to Hana, and the drive won't take as long.
Should I drive the Road to Hana or take a tour?
There are many Road to Hana bus tours that are great if you don't want to drive and just want to relax. But, with the Hana tours, you don't have much control over where to stop on the Road to Hana. However, there are some Road to Hana apps that help you along a self-guided tour that will allow you to have full control over what you want to do and see during your Hana trip.
Best Stops on Road to Hana Wrap-Up
There are so many fun things to do in Maui, and the Road to Hana is definitely at the top of the list!
Now that you know what to see on the Road to Hana, Head to any of these Road to Hana stops and enjoy this day trip with your family.
And once you drive it, you'll realize that the Road to Hana is a must-do in Maui! You might even consider spending the night in Hana!