Are you looking for where to stay in Poipu Kauai with kids? Keep scrolling for my honest Koloa Landing Resort review so you can decide if it's one of the best hotels on Kauai for families.
This Koloa Landing Resort review contains affiliate links which means if you purchase something from one of my affiliate links, I may earn a small commission that goes back into maintaining this blog.
Are you looking for a Kauai resort with an amazing pool?
USA Today has voted Koloa Landing Resort on Kauai as the best pool in the United States.
With its zero-entry pool, water slides, waterfalls, infinity pool, and heated whirlpool spas, this resort is perfect for families looking to have some fun in the sun.
Our family recently stayed at Koloa Landing Resort and we absolutely loved it. The rooms were spacious and comfortable, and the pool was incredible. We highly recommend this resort if you're looking for a place to stay on Kauai.
Keep scrolling to read my honest Koloa Landing Resort review!
Want to skip all the planning and just access my detailed Kauai Itinerary complete with daily schedules, kid-friendly activities, and travel hacks? Click the button below.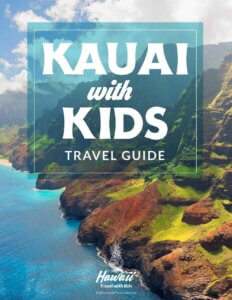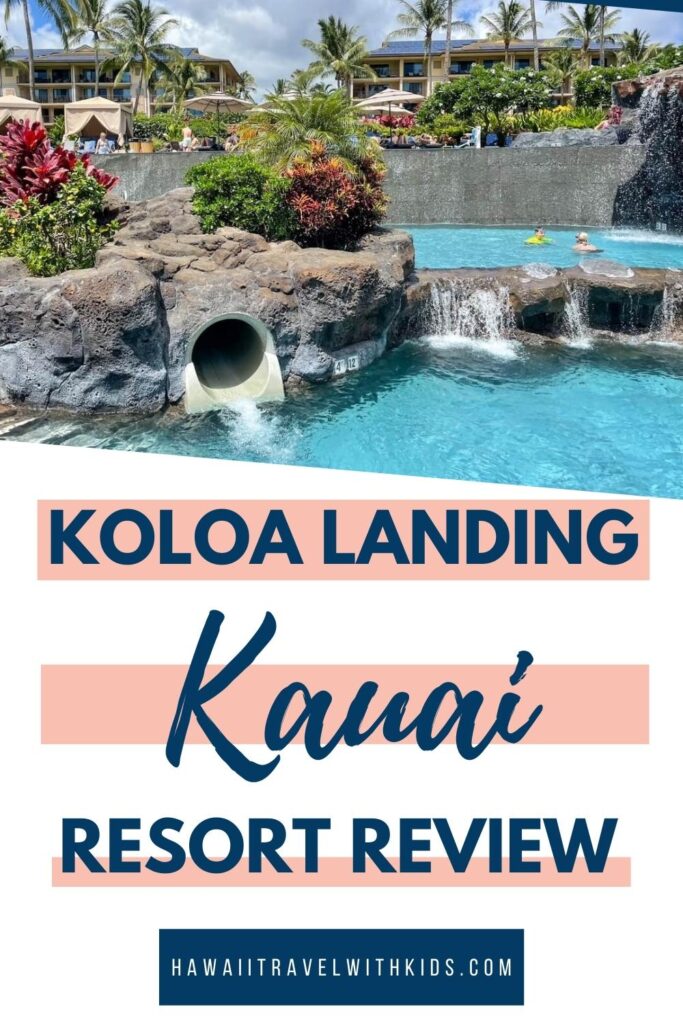 Where is the Koloa Landing Resort in Poipu?
The Koloa Landing Resort is located on the South side of Kauai, near Spouting Horn in Poipu. It's about 20-30 minutes from the Lihue Airport (without traffic). The address is 2641 Poipu Rd, Koloa, HI 96756.
You'll need to either book your own taxi or shuttle from the airport or rent a car.
Because of its location, we think the Koloa Landing Resort is one of the best areas to stay on Kauai for families looking for a full resort vacation.
Does the Koloa Landing Resort have an airport shuttle?
No, the Koloa Landing Resort does not have an airport shuttle. You'll need to arrange that on your own.
However, they do have a complimentary shuttle that will take you around the Poipu area, just not to the airport.
Save Money with Points
Here are the best credit card offers for families who travel and want to use points to pay for airfare and hotels in Hawaii.
Honest Koloa Landing Resort Review
I've had the Koloa Landing Resort on my radar for the past few years. I follow them on Instagram, and they always share the most amazing photos of their pool area.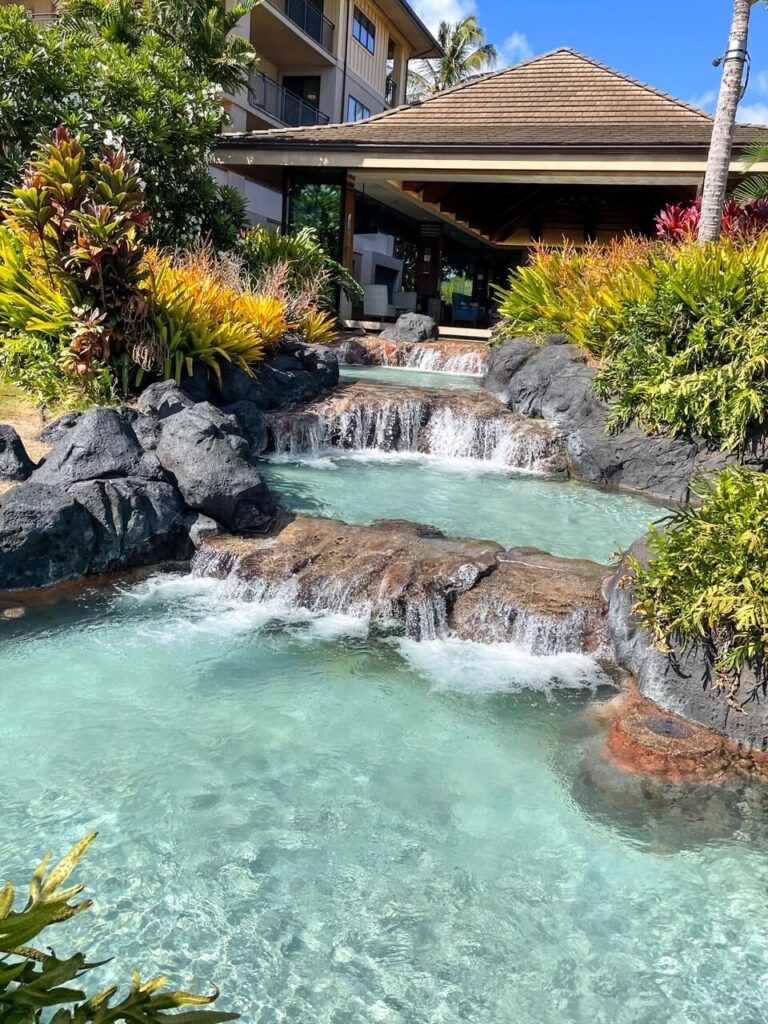 So, when I decided to take my 5-year-old and 8-year-old to Kauai for a summer vacation, I figured we'd spend a few nights at the Koloa Landing Resort specifically so I could review it for this site.
It was really adorable, but there were a few annoying things. Keep reading to find out what those were. Check the latest rates and availability.
What was our room like?
We had a really spacious room (Building 11 room 114) on the ground floor right behind the Holoholo Grill.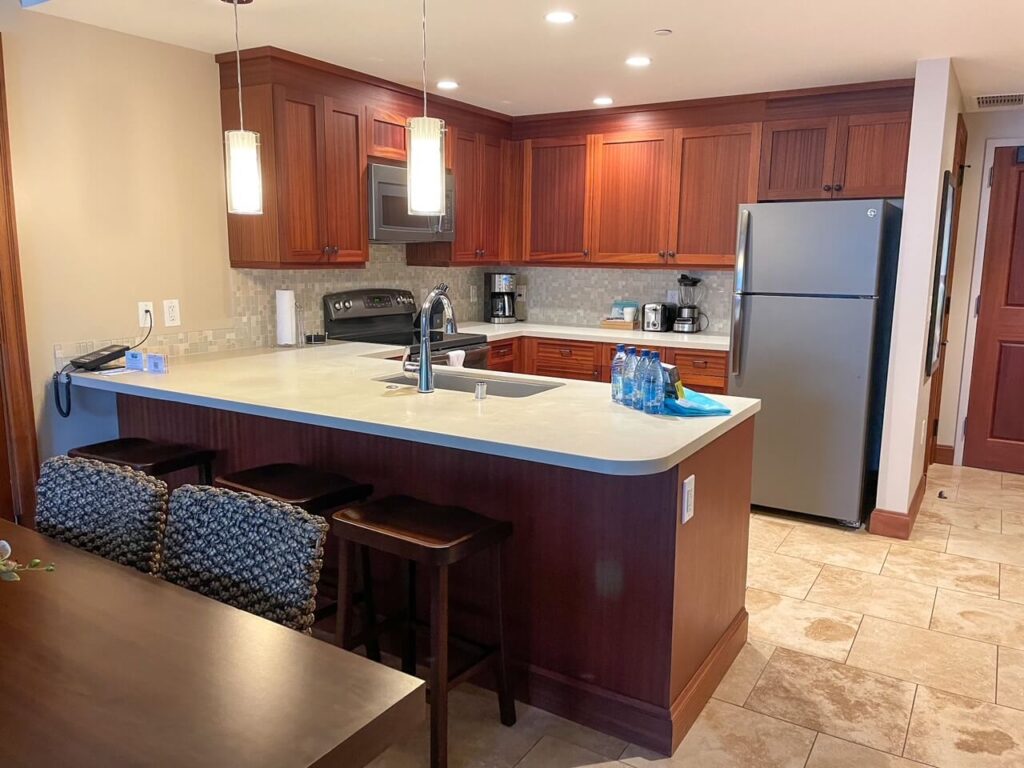 The kitchen was fantastic! We had a full fridge/freezer, stove/oven, microwave, blender, coffee machine, toaster, dishes, cutlery, etc.
And it was handy to have a full-size dining area for when we ate meals in the room.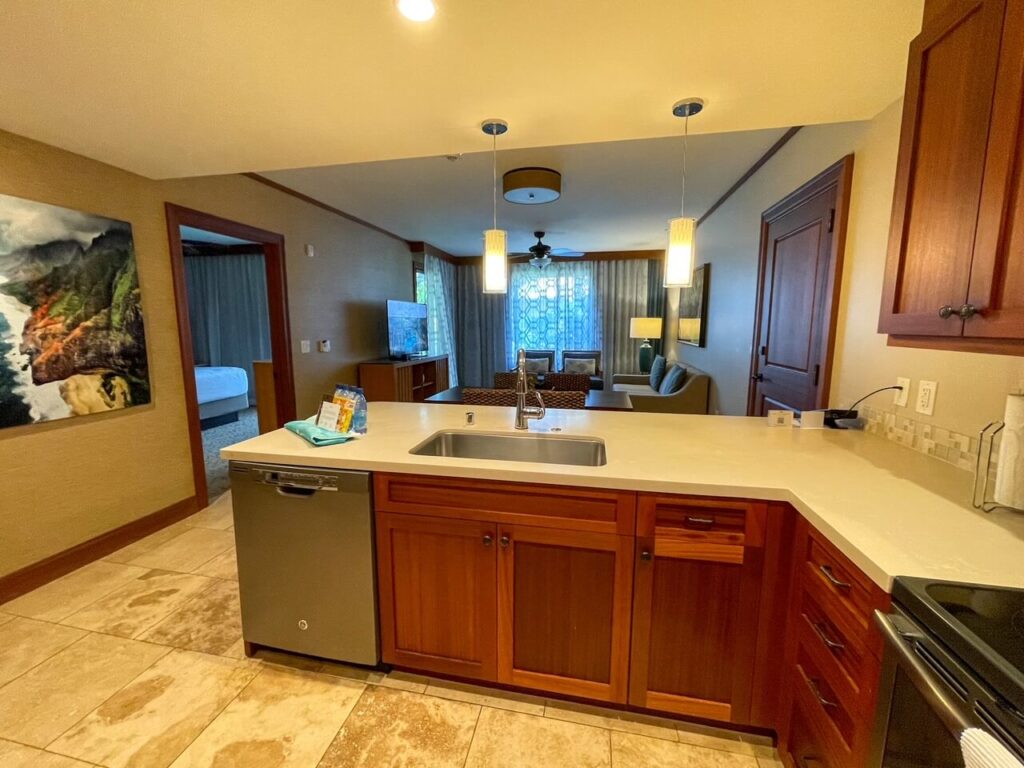 There was also a full living room area with seating, a TV, and a coffee table. The sofa folded out to a queen size bed that was actually more comfortable than it looked.
The TV also has streaming services that you can log into if you want to watch Netflix.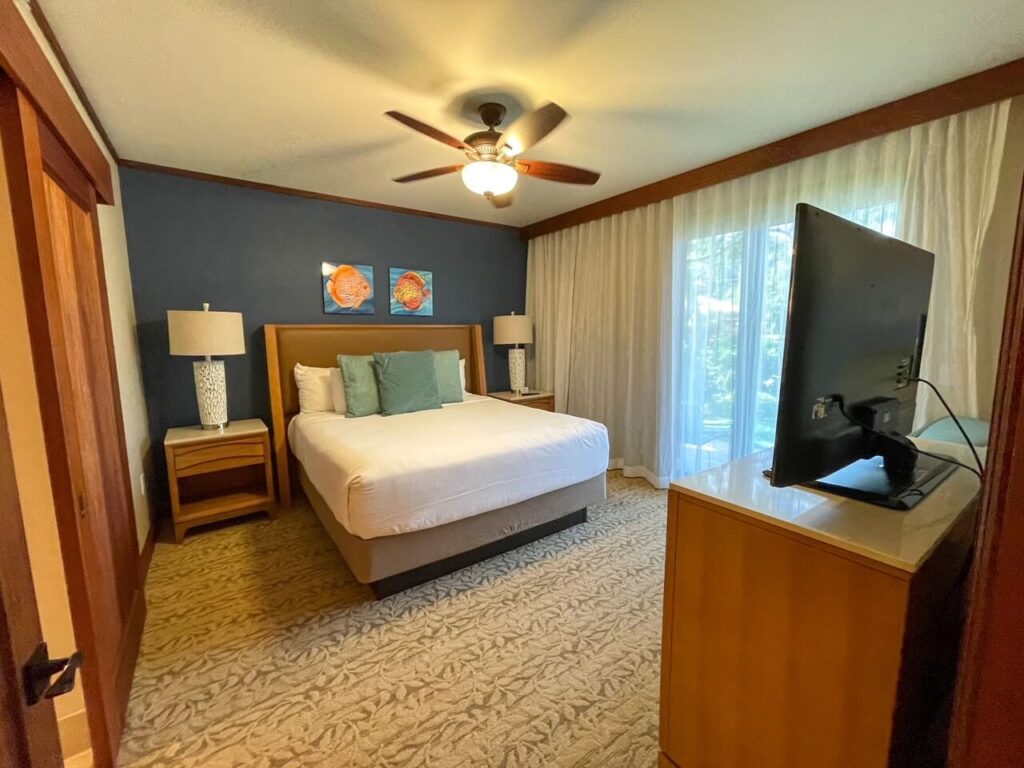 The master bedroom had a really comfortable bed and there was plenty of room to walk around, even with luggage on the floor. And there was a decent size dresser for those who actually unpack their suitcases.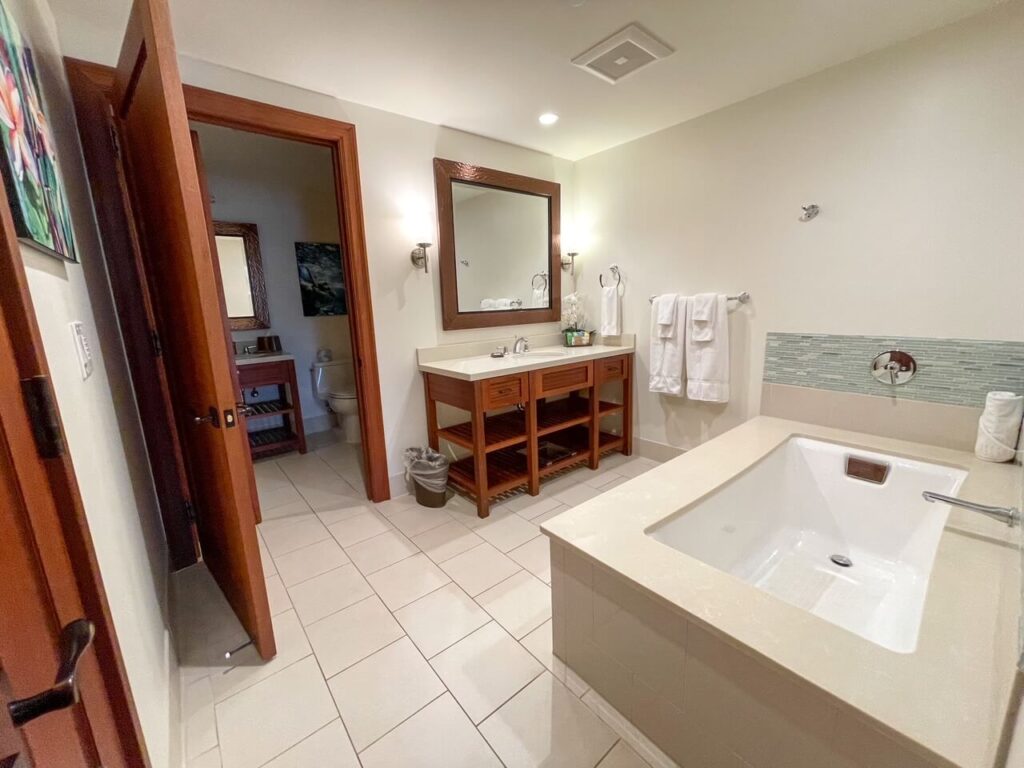 There are two separate bathroom areas in this room. The one right off the master bedroom has a large soaking tub, sink, and a closet with a luggage rack.
The bathtub came in handy with kids!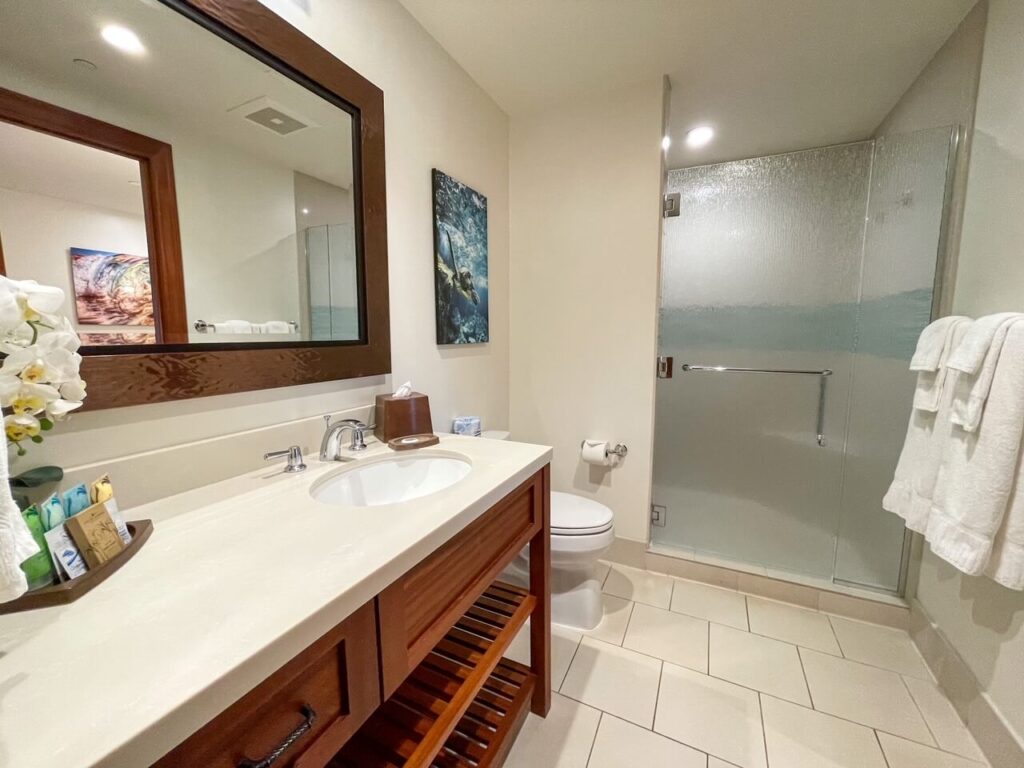 There's also another bathroom area with the toilet and a spacious shower stall. It's separated by both the kitchen area and the other bathroom area with doors.
I also want to mention that each bathroom area has toiletries like shampoo, conditioner, body wash, and lotion that smell nice and work well.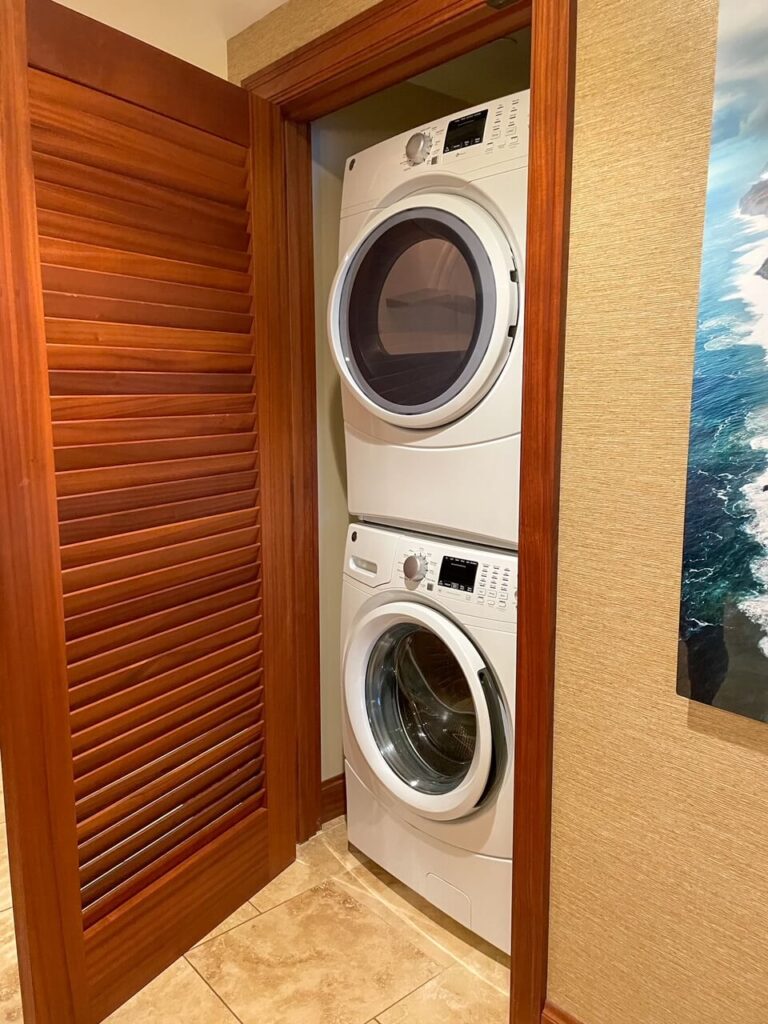 There's also a stacking washer/dryer that comes with laundry detergent. We used this several times and it was great to dry wet swimsuits on our departure day.
What did we think of the dining options?
The Koloa Landing Resort has a few on-site dining options. I'll briefly talk about where to eat at the Koloa Landing Resort below.
Gourmet Marketplace
This is a little market located right in the lobby where you can get specialty coffee drinks, easy breakfast items, pizza, sandwiches, and grab-and-go items.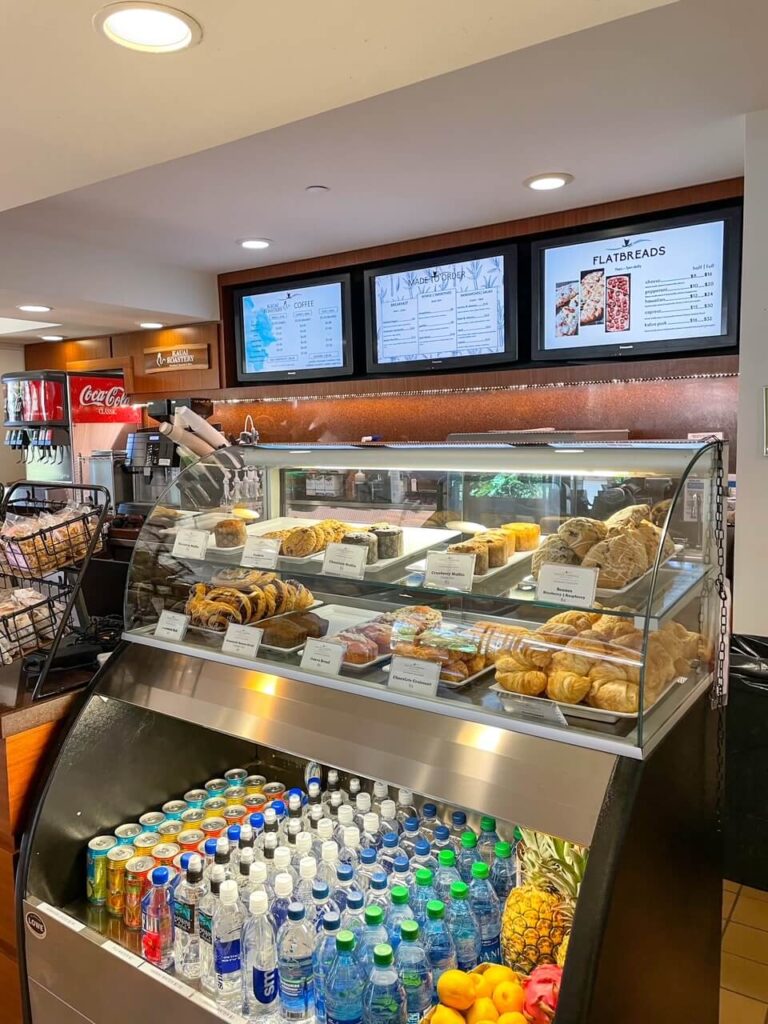 We stopped here every morning so I could get a latte and we grabbed lunch items here.
A few of our favorite things were the Kauai Juice Co kombucha, guava bread, and pre-made sandwiches.
Holoholo Grill
The only sit-down restaurant at Koloa Landing Resort is Holoholo Grill. They are open for breakfast, lunch, and dinner.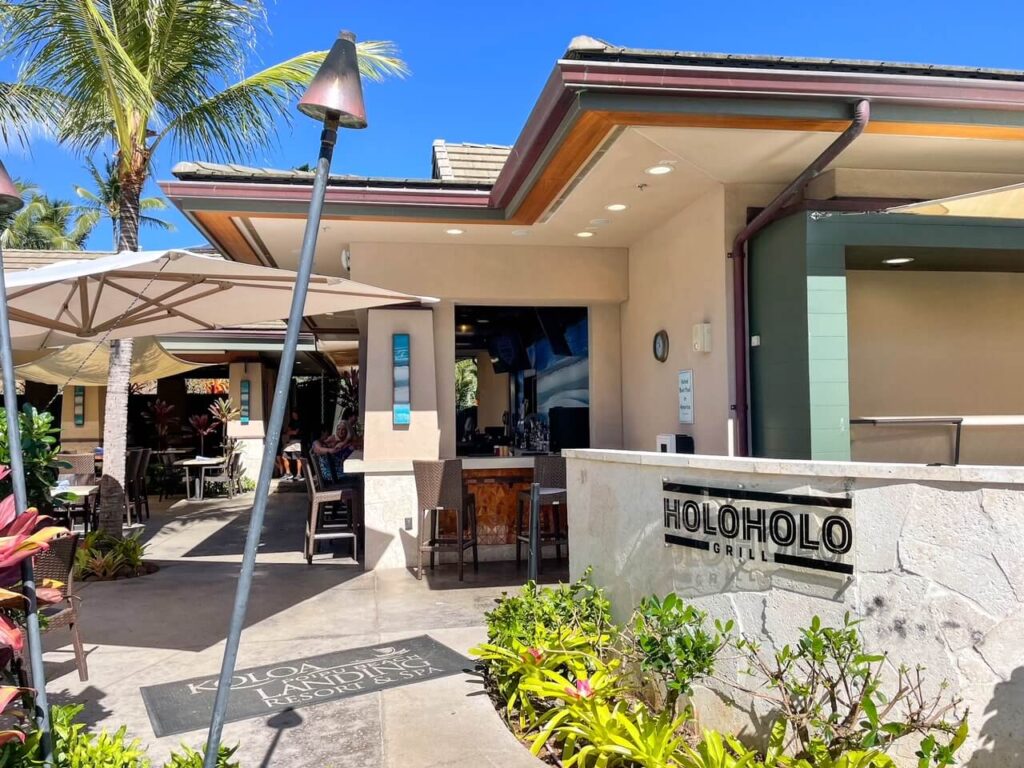 If you order food pool-side, this is where it comes from. And you can also order for pick-up or delivery if you're staying here.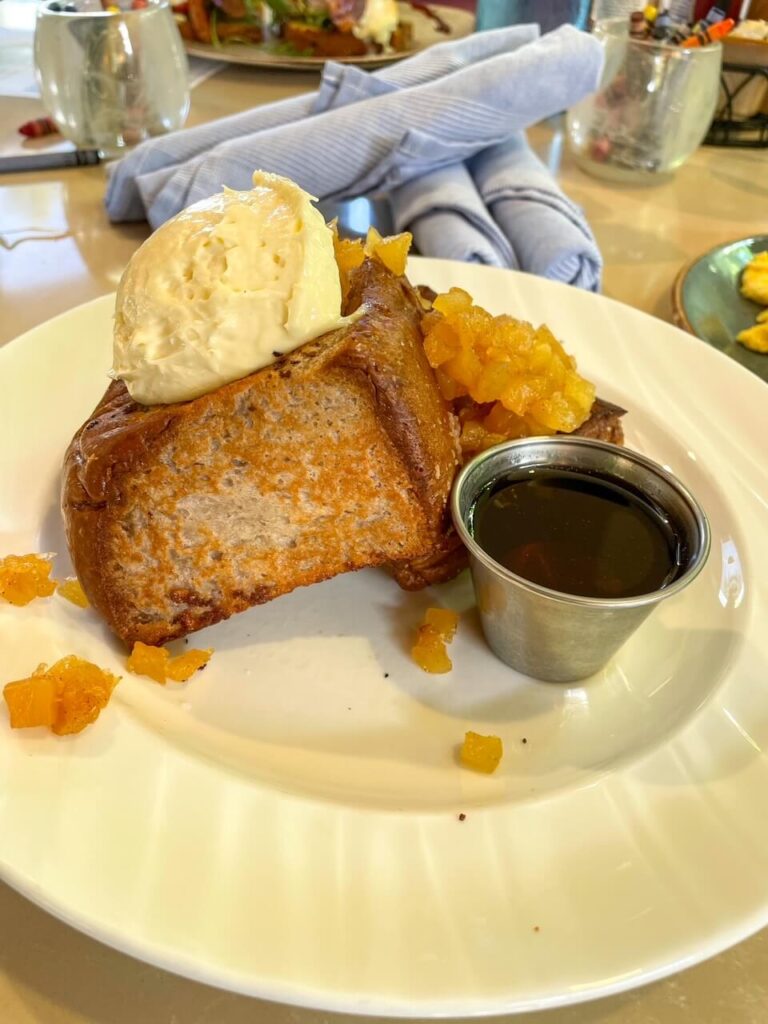 We loved their breakfast options (I'm still dreaming about their taro french toast) and their flatbread margarita pizza hit the spot!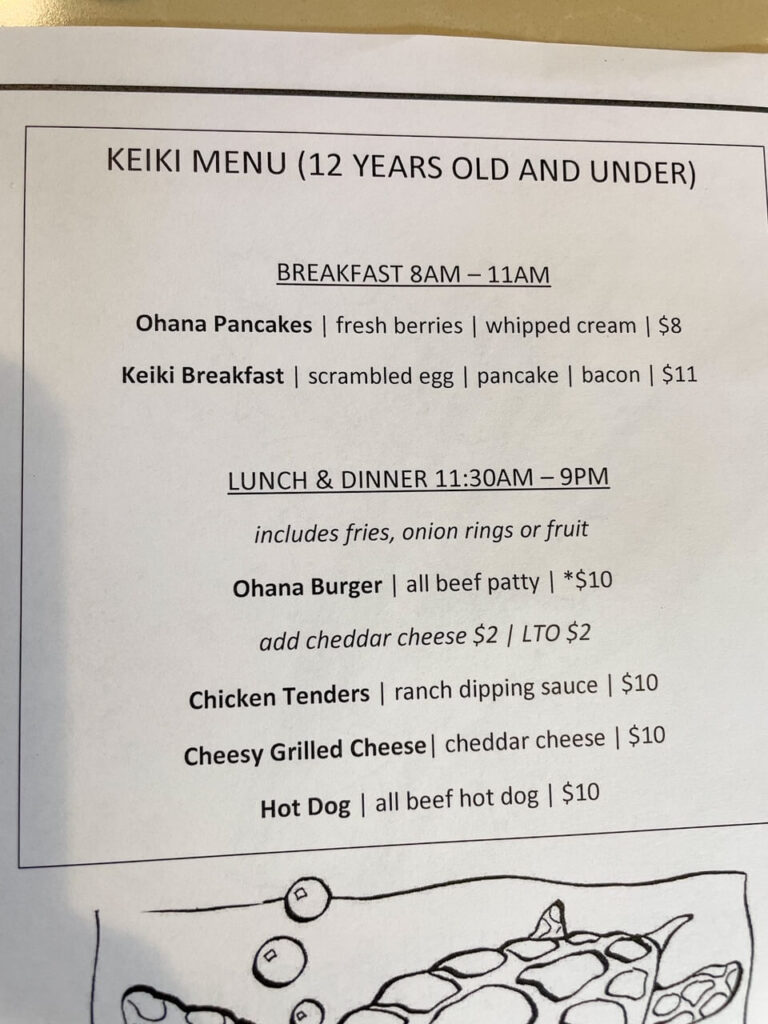 They had a pretty standard kids menu that was for dining in or as part of their take-out options.
Beach Hut
Right next to the pool is a little kiosk where you can rent beach/pool gear. But, it's also where you can get little snacks, shave ice, and ice cream cups.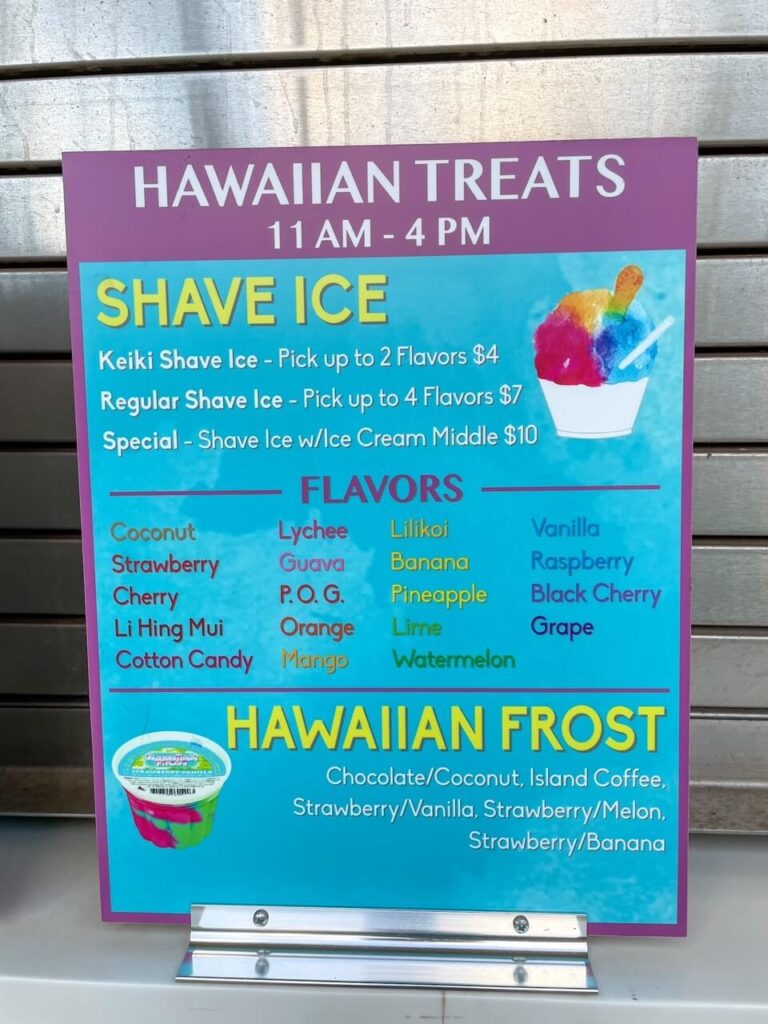 We got shave ice here everyday. They have keiki sizes (for kids), medium, and a special one with ice cream.
Koloa Landing Hotel Pool Area
Okay, the main reason you're going to want to book the Koloa Landing Resort is for their incredible pool area. Since they don't offer a day pass, it's the only way you can use their pool.
It's seriously amazing and my photos don't do it justice. It was voted Best Pool in America in 2020 and 2021 by USA Today's 10Best.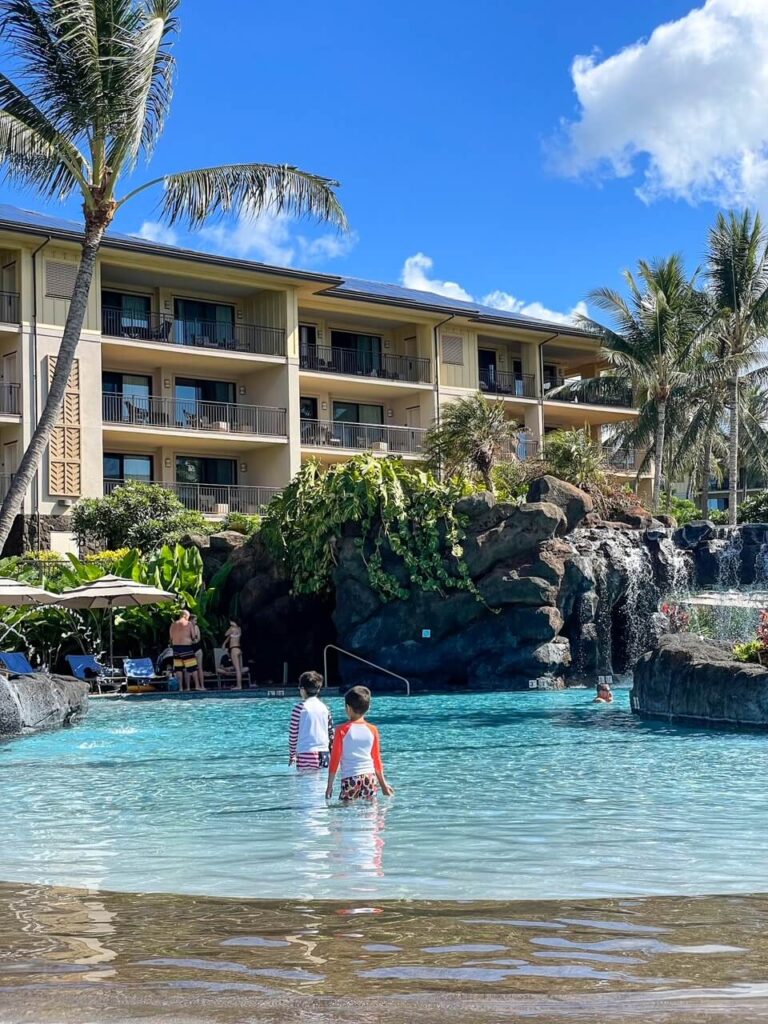 There's a zero entry pool that's perfect for little ones or people who want to sit in warm, shallow water. There are a few water features here.
Right next to the zero entry pool is a splash pad for babies and toddlers. It's pretty simple, but it's perfect for little ones.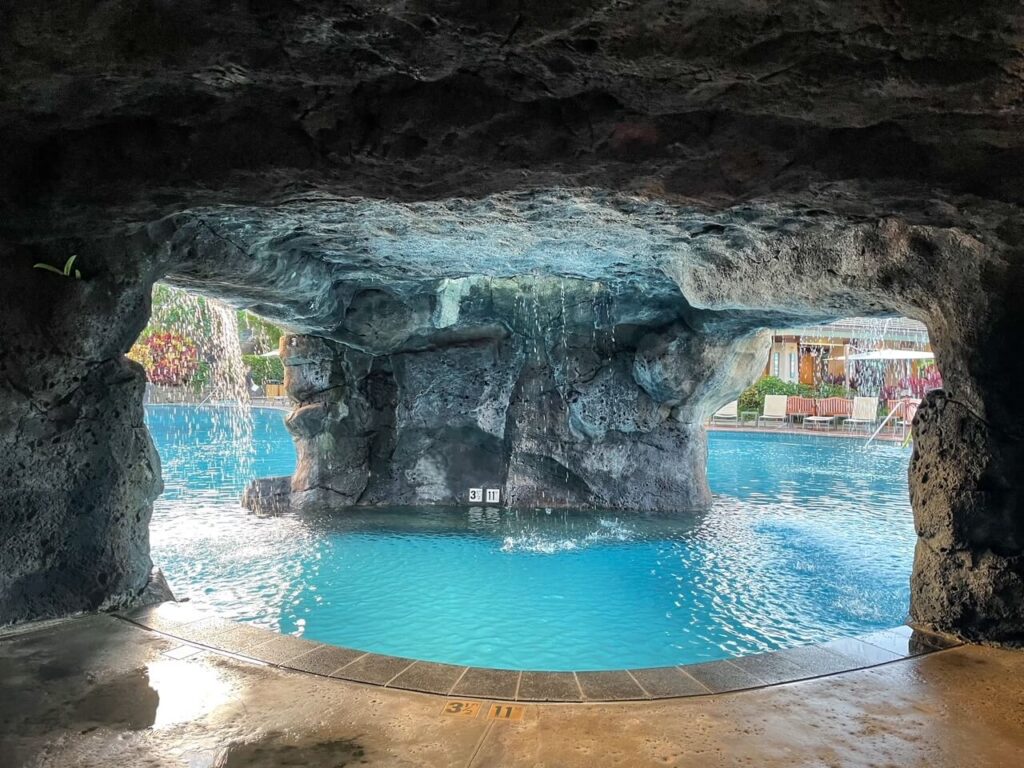 The main pool has several waterfalls that people can swim through. There's even a cave where people can hang out between the waterfalls.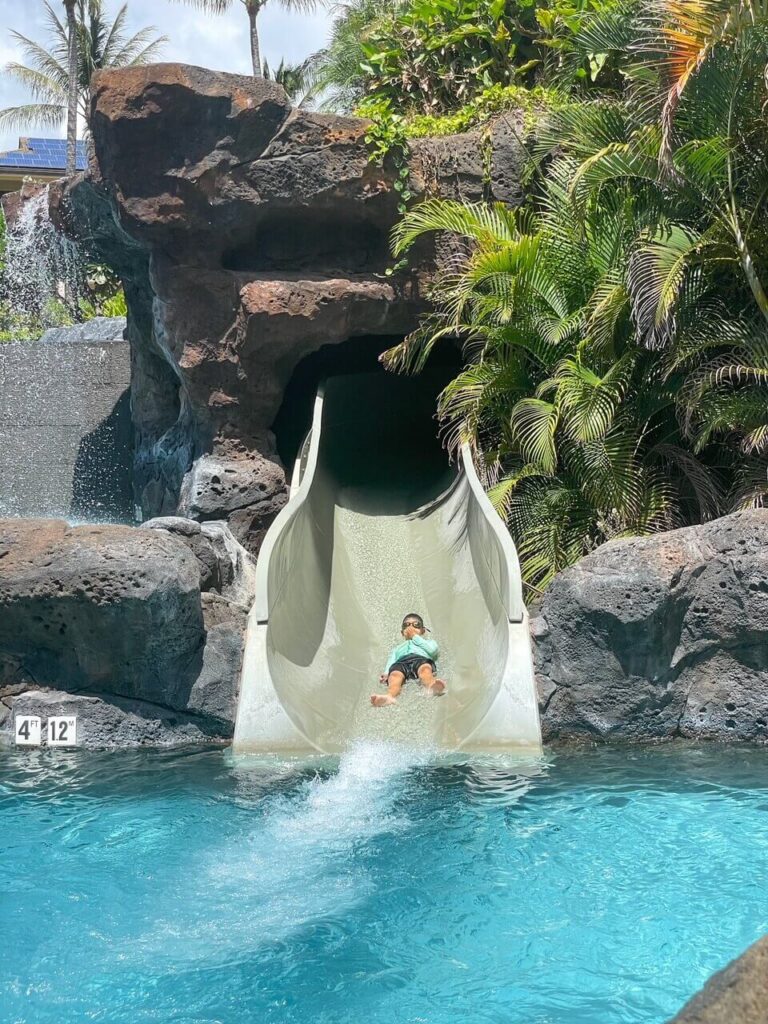 And kids will love checking out the two waterslides! There's a short one for all ages as well as a bigger one for kids who are at least 48 inches tall.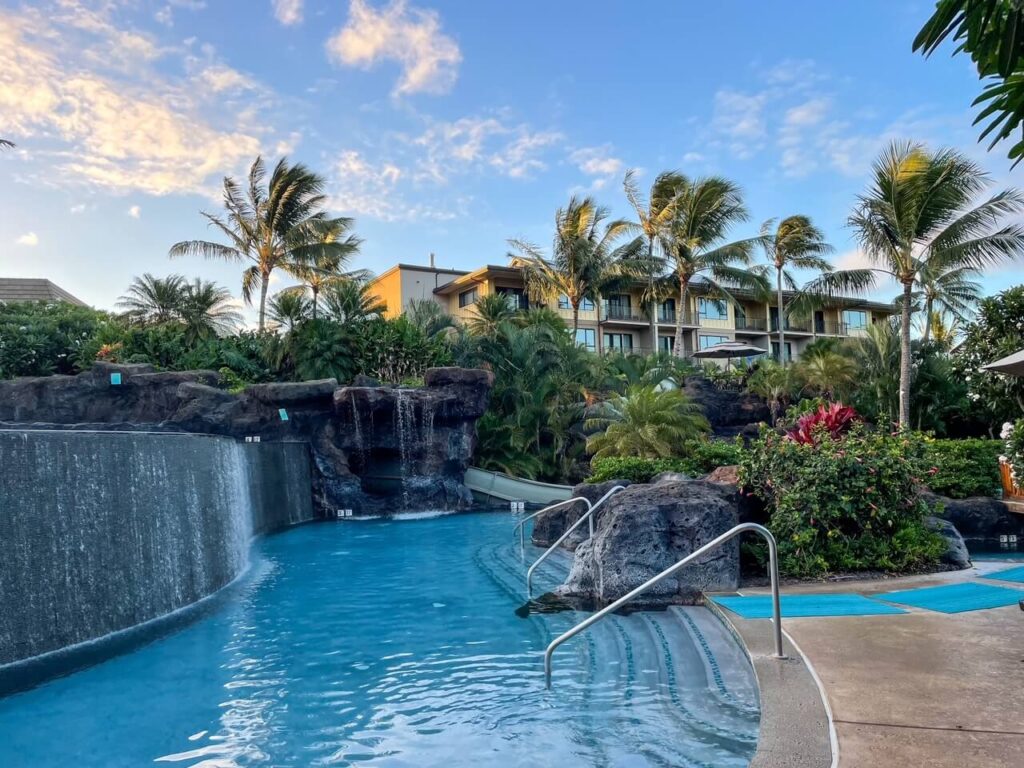 At the very top of the pool area is an infinity pool that overlooks the entire resort and the ocean.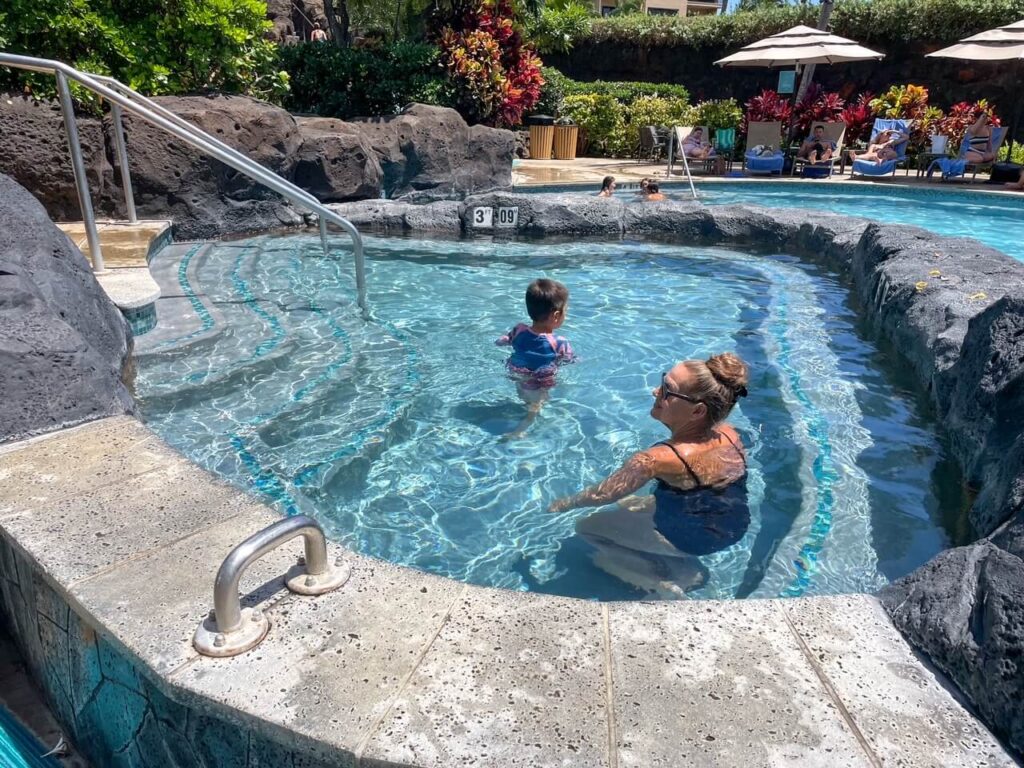 There are also a few jetted hot tubs surrounding the pool. The temperature was perfect!
For those who really want to splurge, you might look into getting a cabana for a pool day. If you aren't sure, find out more about renting a cabana in Hawaii.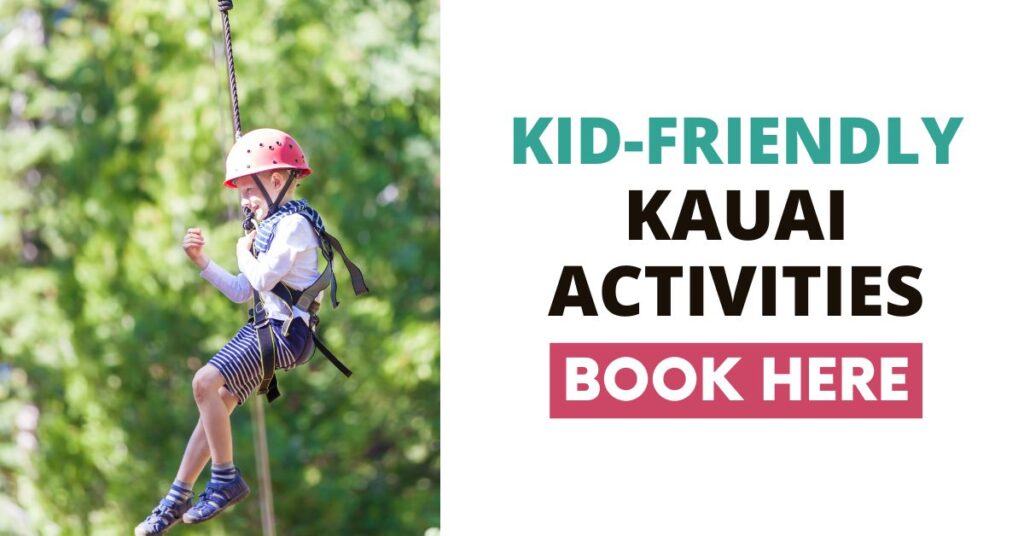 Other features/amenities
Spa
While we didn't have a chance to experience the Spa at Koloa Landing this trip, I wanted to mention that they have one.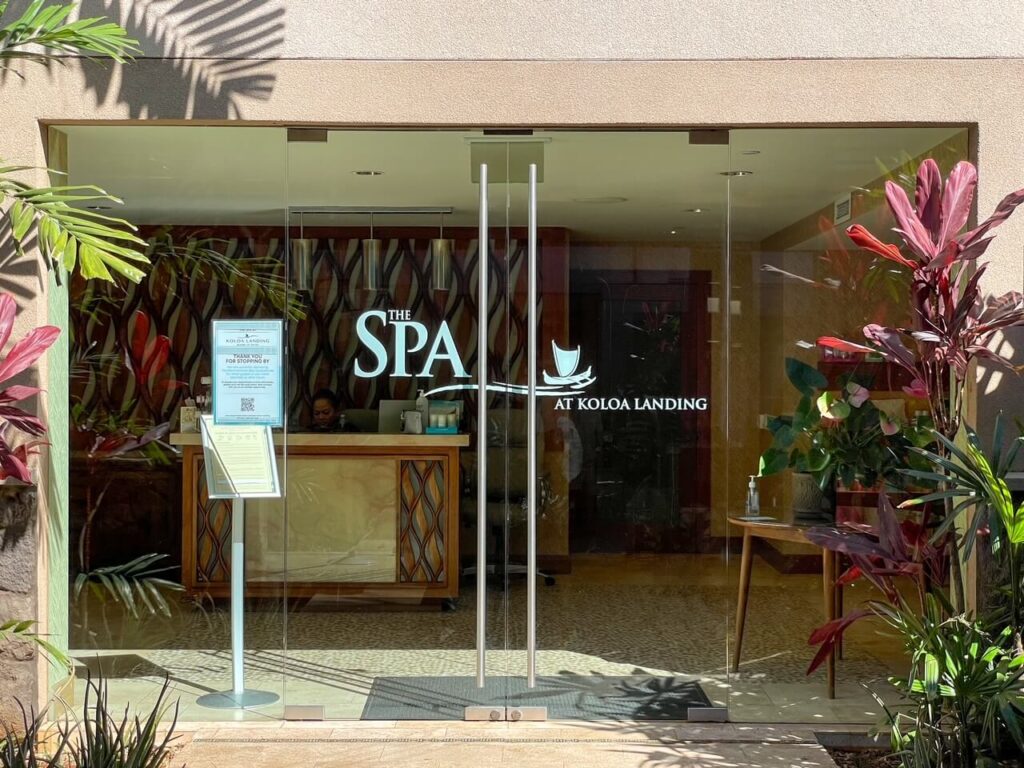 They offer a bunch of services like massage, facials, scalp treatments, and body wraps. And there are several spa packages.
They even have couple's treatment rooms with a private lanai and a Japanese soaking tub.
Fitness Center
I also saw signs for their fitness center. I don't work out on vacation (or at home, honestly) but thought I'd mention that they have one. It's open 24 hours a day, which is great for people with jetlag.
Volleyball Court, Putting Green, and Soccer Field
There are also a few other spots that athletic people might want to know about. They have a volleyball court, putting green, and a soccer field on property.
Beach Access
There are two places where guests can access the beach right in front of the property.
But, I'll be frank and let you know that it's not awesome for families or people who want to swim in calm water.
Your best bet is to walk a bit further down toward the Sheraton Kauai or drive to Poipu Beach Park.
Historic Sites
Something that I found interesting was that there's an old lava tube on the property.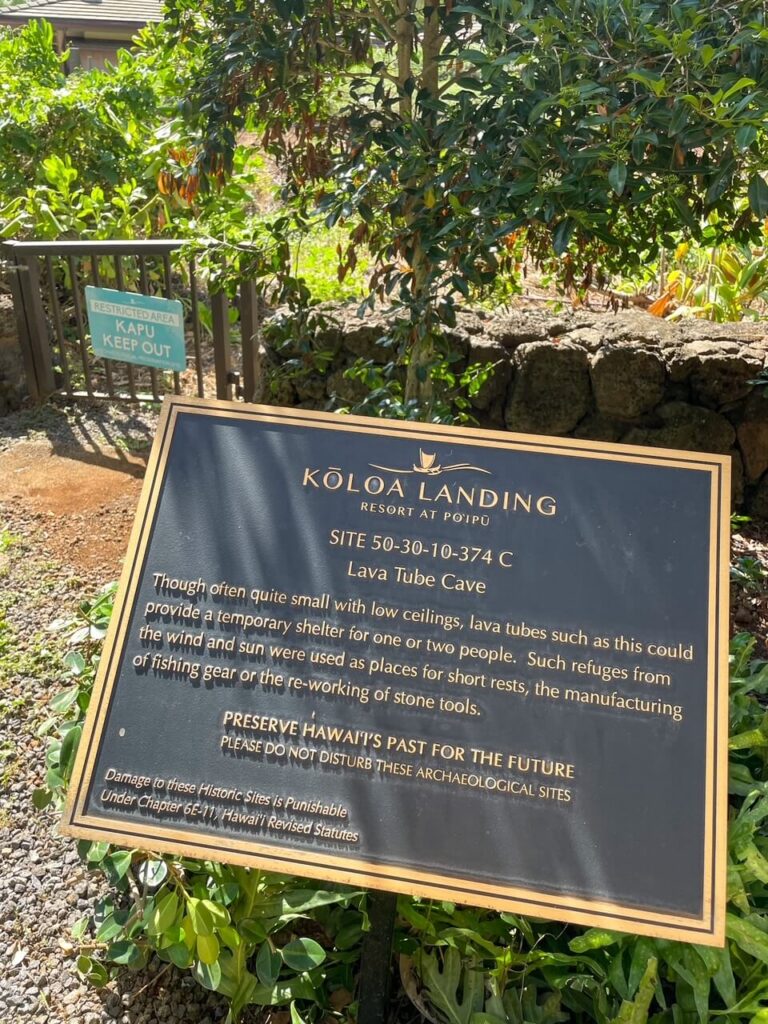 There's signage so you can read about it, but it's not something you can walk around or explore.
There's also a spot near the parking lot that shows an old train track/road that was used during sugar plantation days.
Koloa Landing Resort Parking
If you're renting a car on Kauai, you'll be happy to know that there is plenty of parking around the resort. We parked in a lot right next to our building.
I really appreciated NOT having to valet park since I like the freedom to come/go as I please.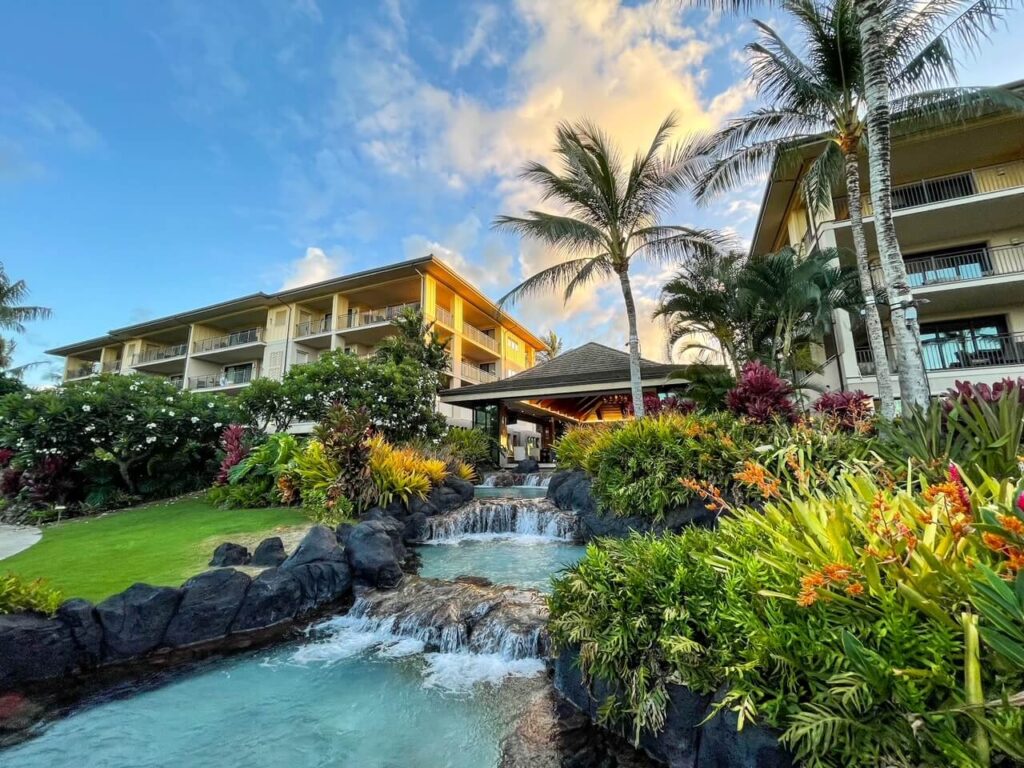 Are there any things we didn't like?
While we were super impressed with the hotel as a whole, there were a few minor things that we didn't like.
We dropped our bags off early in the morning before our room was ready so we could head up to Waimea Canyon without worrying about a car full of luggage.
But, it took hours to get our luggage after we checked in. The first time we asked, all the bell services folks were busy but someone took down our information.
After 4 hours, we walked back up to the lobby to ask about the status of our luggage and they were still really busy. But, they delivered within 30 minutes. The staffing issues are real.
Something else that was annoying was that I ordered a smoothie at the marketplace, but it was actually a milkshake made with ice cream milk. I just thought it was really misleading.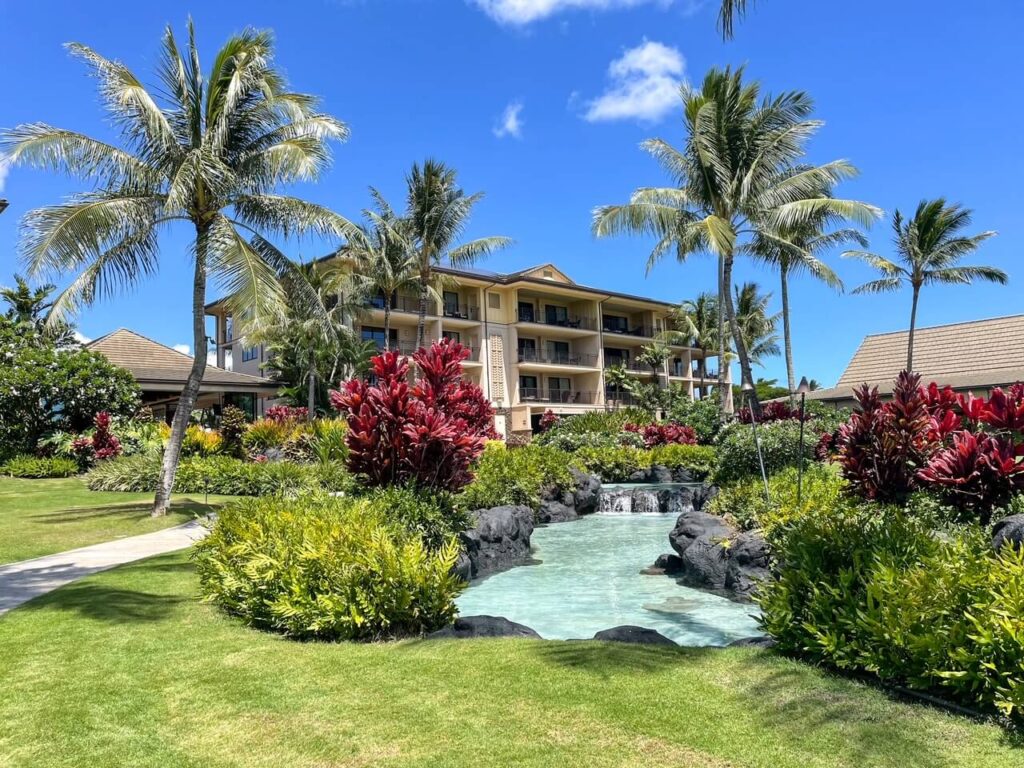 Things Families Should Know About the Koloa Landing Resort
No Roll-Away Beds
While every Villa comes with a queen sized sofa sleeper in the living room, they do not offer roll-away beds.
You Can Pre-Order Groceries
If you'd like to arrive with a stocked kitchen, you can fill out an online form prior your stay and the concierge will have your groceries delievered.
Cribs and High Chairs
Koloa Landing Resort has both cribs & highchairs available free of charge. I suggest noting it on your reservation as they only have a limited number available.
Early Check In
You can either drop your bags off early to explore Kauai, or you're welcome to use their pool area while you wait for your room to be ready.
Late check outs are sometimes available but you'll have to pay a fee.
You Can Rent Beach Gear
If you don't want to lug beach equipment from home or have to buy stuff when you land at the airport, head over to their activity hut to rent beach gear.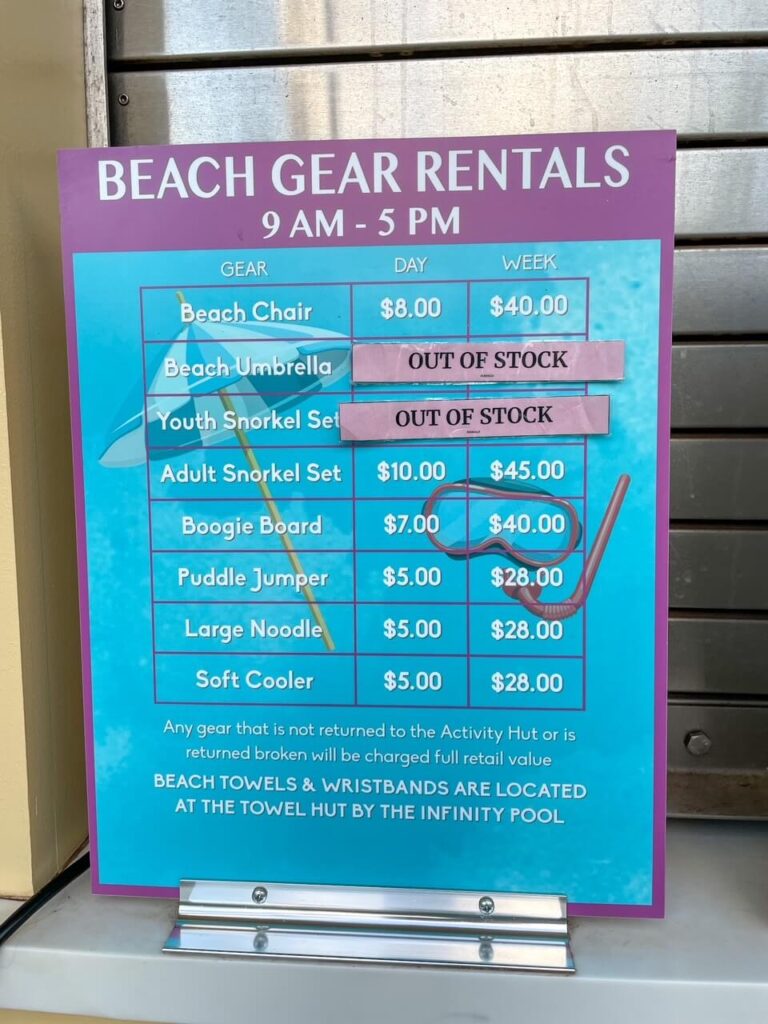 We noticed that the snorkel gear and beach umbrellas were back in stock the day after I took this photo. And we were there during the busiest week on Kauai, so I was impressed the rest of the stuff was available.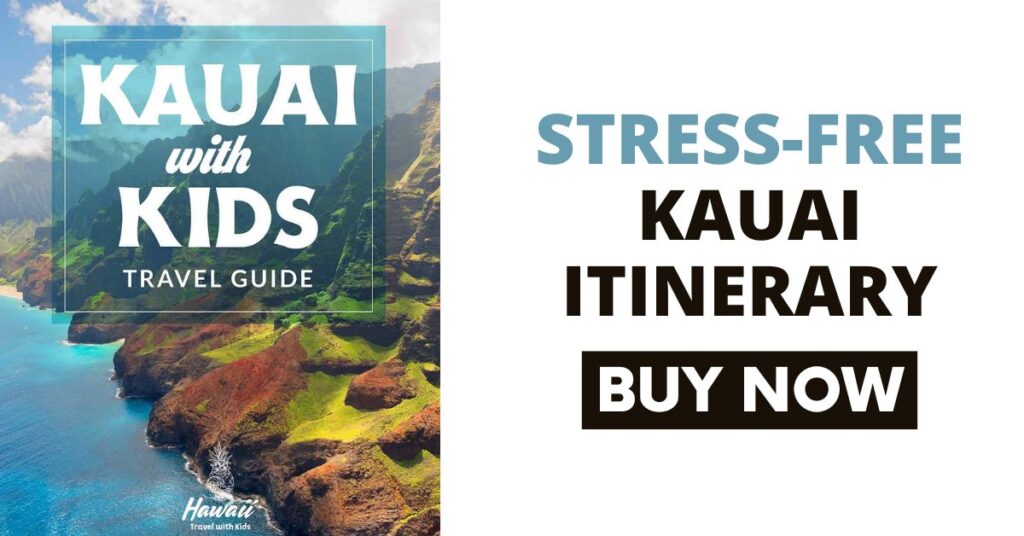 Where to Stay on Kauai with Kids FAQs
Is it better to stay in North or South Kauai with kids?
If you're looking for a lot of kid-friendly Kauai resort options, definitely check out the South Shore. You'll find tons of Poipu resorts for families with on-site dining, luaus, and incredible pools.
What is the prettiest part of Kauai?
While the whole island has beautiful parts, it's hard to beach the lushness of the North Shore near Hanalei or Haena. It's definitely worth at least one day trip to check out.
Should you stay in a condo or hotel on Kauai with kids?
Think about what your needs are before you start looking. Many hotels offer full kitchens and laundry if you get a suite. It's worth price-checking as well as considering the other resort amenities.
Would We Recommend the Koloa Landing Resort for Families?
Absolutely without any hesitation. My kids kept telling me it was the best hotel in Hawaii and I'll definitely say it's in the top.
Not only is the pool area incredible, but the location makes it easy to hit up lots of restaurants, shops, and things to do in Poipu.
We're already talking about adding a few days here on our next trip to Kauai!
P.S. Join our Hawaii Travel with Kids Facebook group to get connected with other families planning a trip to Hawaii!