Are you looking for where to stay in Kauai with kids? Keep scrolling for my honest Hilton Garden Inn Kauai review so you can decide if it's one of the best hotels on Kauai for families.
This Hilton Garden Inn Kauai review was written by Hawaii travel expert Marcie Cheung and contains affiliate links which means if you purchase something from one of my affiliate links, I may earn a small commission that goes back into maintaining this blog.
Planning a trip to Kauai with the kids? Hilton Garden Inn has you covered!
This Kauai resort offers everything families need for a perfect vacation. It includes a pool, playground, and even an on-site tiki bar!
You'll love the convenience of this resort – it's close to all the best attractions on Kauai. And it's just steps away from Lydgate Beach Park, one of the best beaches on Kauai for kids.
Plus, there's plenty to do on-site so you can relax and enjoy your stay without having to leave the property.
Keep scrolling for my honest Hilton Garden Inn Kauai review!
Don't have time to read a bunch of Hawaii blog posts and reviews? Here are some of our top picks for visiting Kauai with kids.
Best Kid-Friendly Kauai Tours/Activities
Best Kid-Friendly Kauai Resorts
Grand Hyatt Kauai (this is a personal favorite for my kids because of the water slide and saltwater lagoon)
Royal Sonesta Kauai (my kids LOVE the pool here because it's the largest one in Hawaii)
Hilton Garden Inn (we like renting the cottages here because you can walk to a massive playground)
Want to Rent a Car in Hawaii?
One of the best places to rent a car in Hawaii is Discount Hawaii Car Rental because they get the best rates from top national companies like Alamo, Dollar, Thrifty, Avis, Enterprise, Budget, and Payless.
Want to skip all the planning and just access my detailed Kauai Itinerary complete with daily schedules, kid-friendly activities, and travel hacks? Click the button below.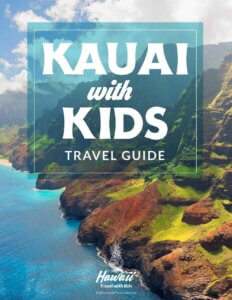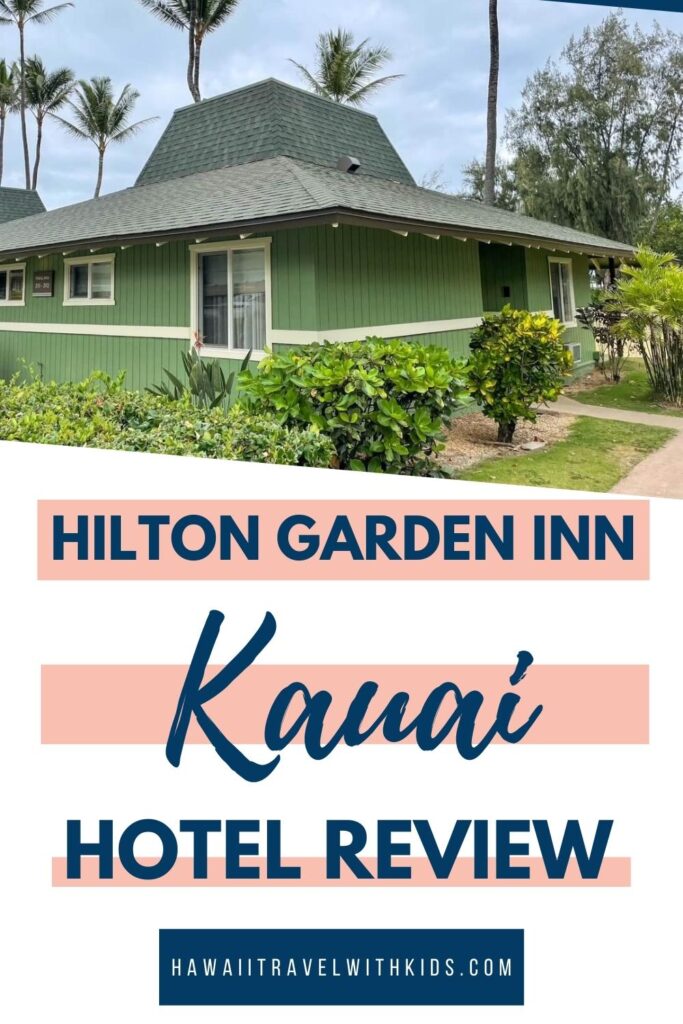 Where is the Hilton Garden Inn Kauai?
The Hilton Garden Inn is located in the Wailua area of the east side of Kauai. It's about 15 minutes from the Lihue airport. The address is: 3-5920 Kuhio Hwy, Kapaʻa, HI 96746.
You'll need to either book your own taxi or shuttle from the airport or rent a car.
Because of its location, we think the Hilton Garden Inn Kauai is one of the best areas to stay on Kauai for families looking to get out and explore the island.
Does the Hilton Garden Inn Kauai have an airport shuttle?
No, the Hilton Garden Inn Kauai does not have an airport shuttle. You'll need to arrange that on your own.
Save Money with Points
Here are the best credit card offers for families who travel and want to use points to pay for airfare and hotels in Hawaii.
Honest Hilton Garden Inn Kauai Review
I've been wanting to stay at the Hilton Garden Inn Kauai for the past few years. But what really sealed the deal was when I heard about their on-site fire show! Don't worry, I'll get to that later in this review!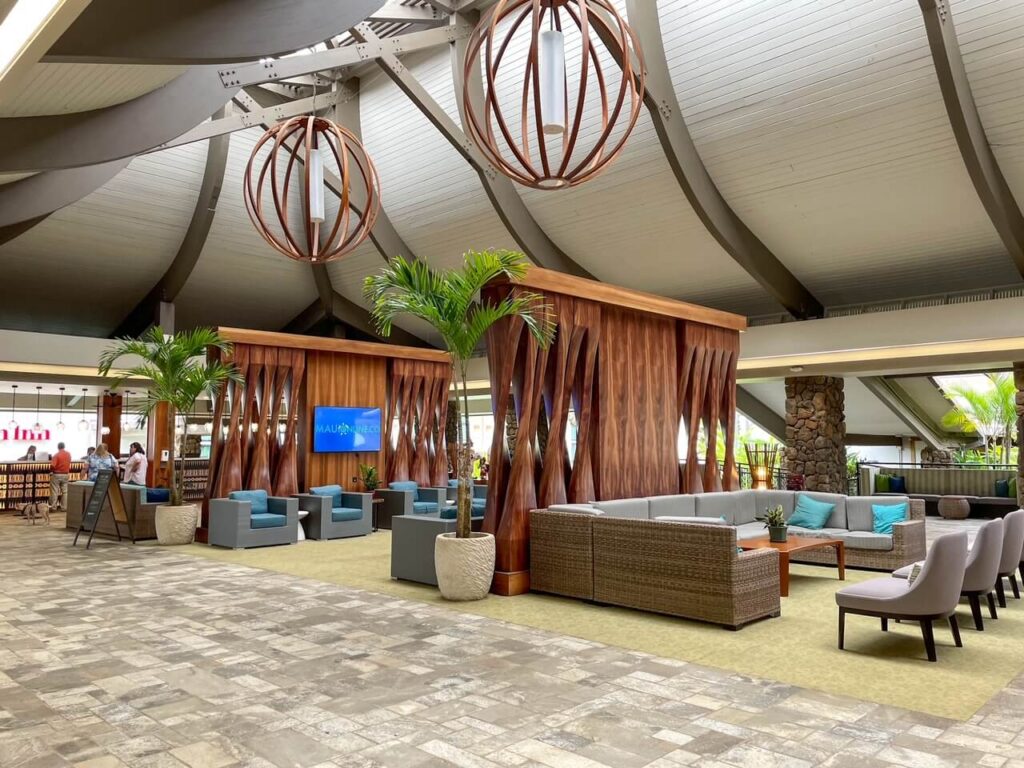 We love how easy it is to explore Kauai from the east shore and our kids always enjoy Lydgate Beach Park, which is just steps away.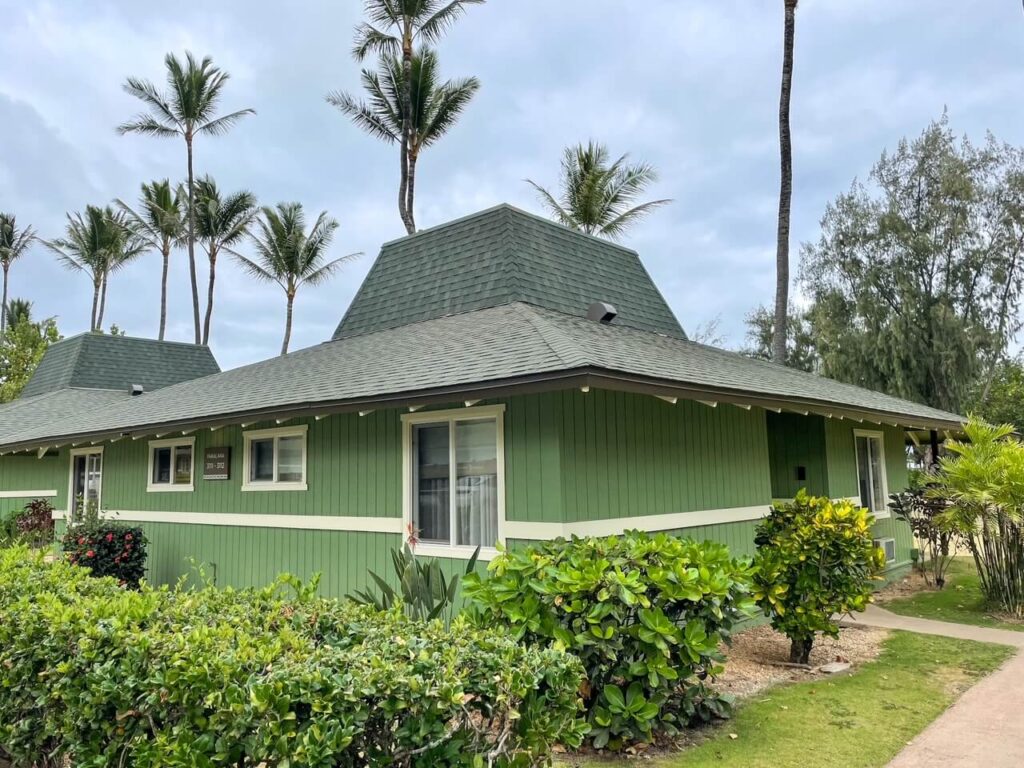 We stayed in one of their cottages by the playground. It was really convenient, but there were a few annoying things. Keep reading to find out what those were. Check the latest rates and availability.
What was our room like?
We booked one of their suites, which they call their cottages and they are located between the hotel and the playground. Our room was literally just steps away from the playground which was amazing!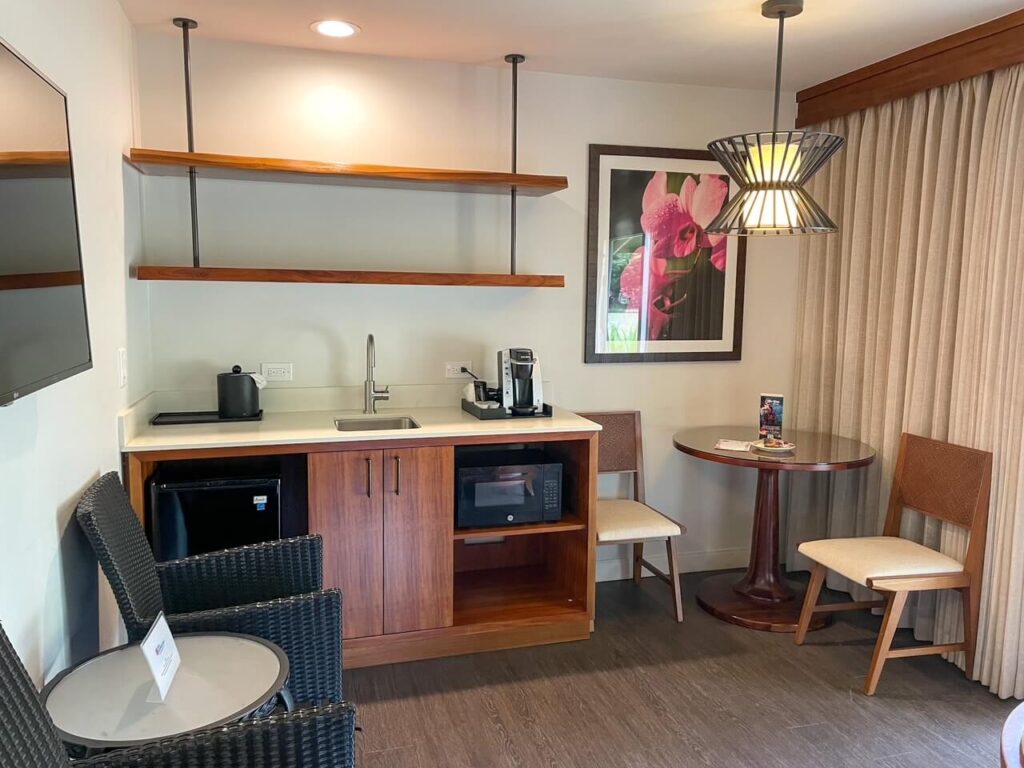 The kitchenette was really handy. There was a sink, a Keurig, a microwave, and a minifridge. And tons of shelving to store snacks, drinks, and other items. And there was a small table that we used for quick breakfasts.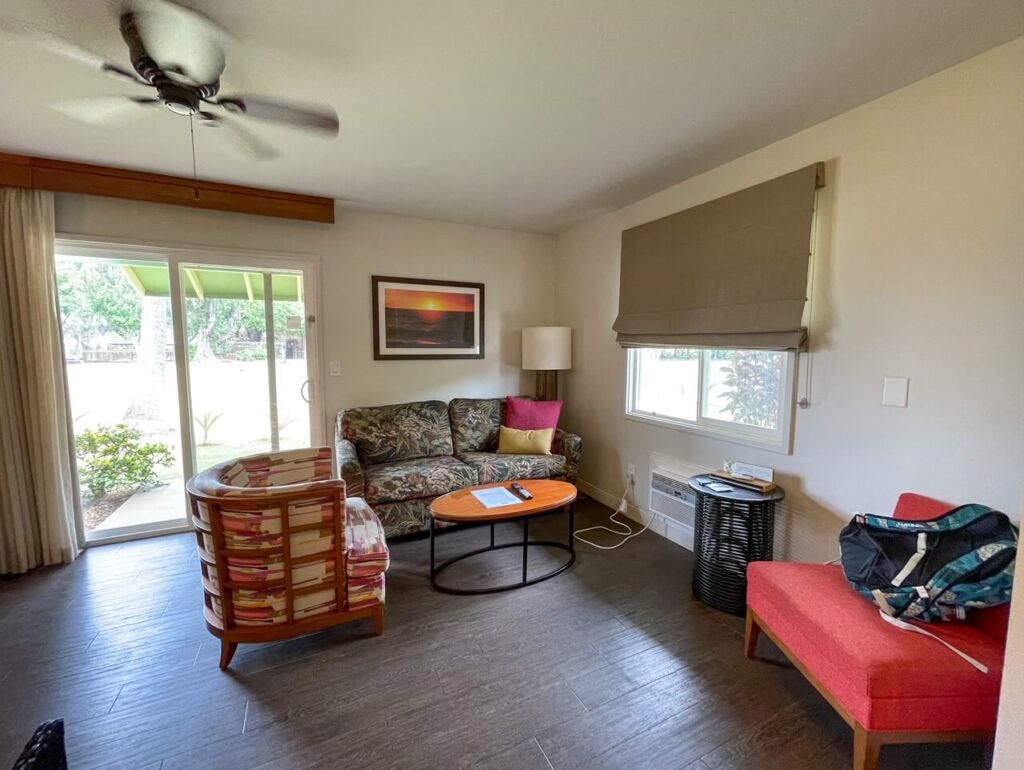 There was also a nice living room area. I think the couch folded out to a sofa bed. We ended up not using it.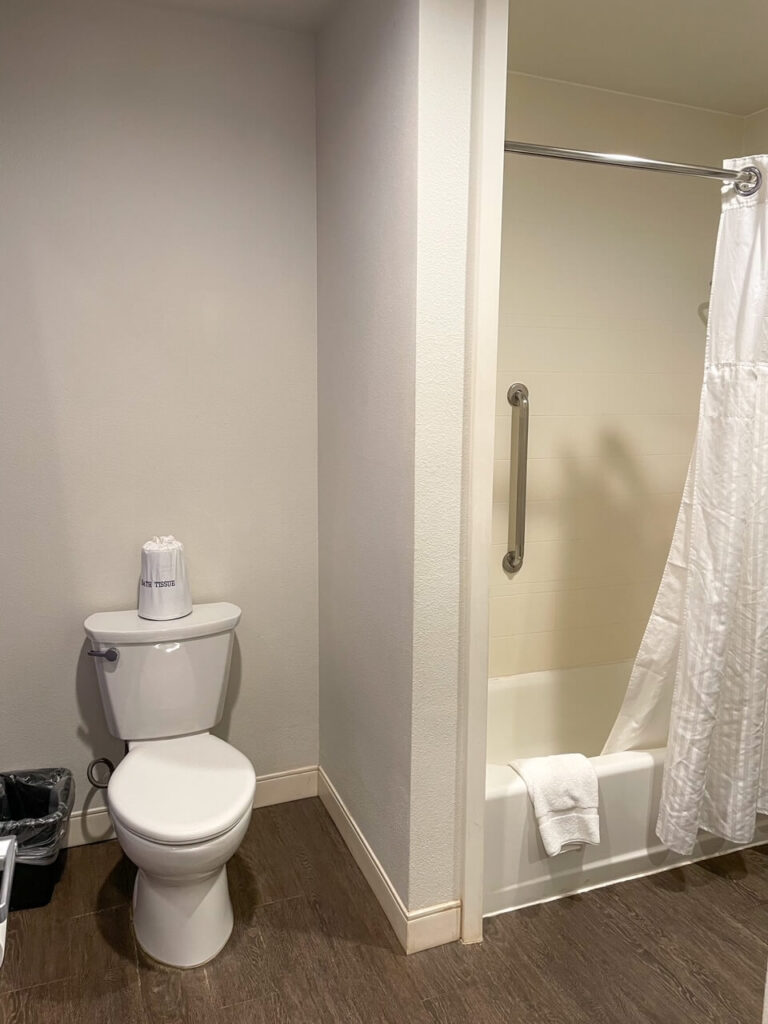 The bathroom was also really spacious. We liked that the shower also had a regular bathtub. And there were plenty of hotel shampoos, conditioners, body washes, and lotions to go around.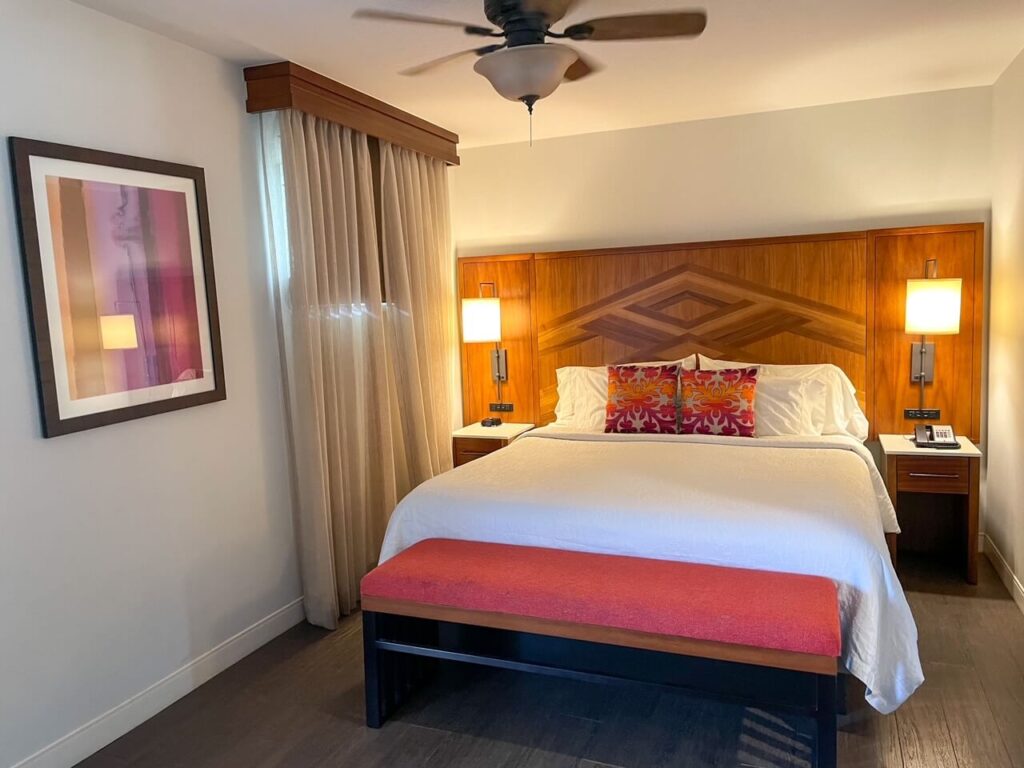 The bedroom was pretty standard. There was a large dresser as well as a closet. It was nice to have a door to separate the bedroom from the rest of the unit for a little privacy.
And there was a small porch through the sliding glass doors in the back. Our porch didn't have any chairs, so I moved the kitchen chair in and out to use it outside.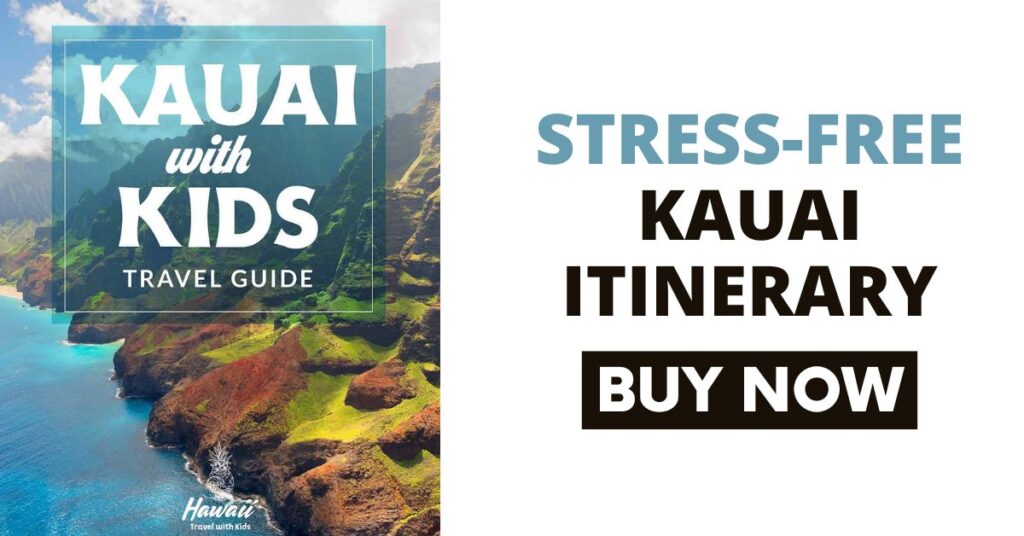 What did we think of the dining options?
The Hilton Garden Inn Kauai has a couple of dining options available. I'll briefly talk about where to eat at the Hilton Garden Inn.
The Garden Grille
This is their breakfast restaurant. I wish I could review the food, but we waited for 30 minutes for someone to take our order, and no one came.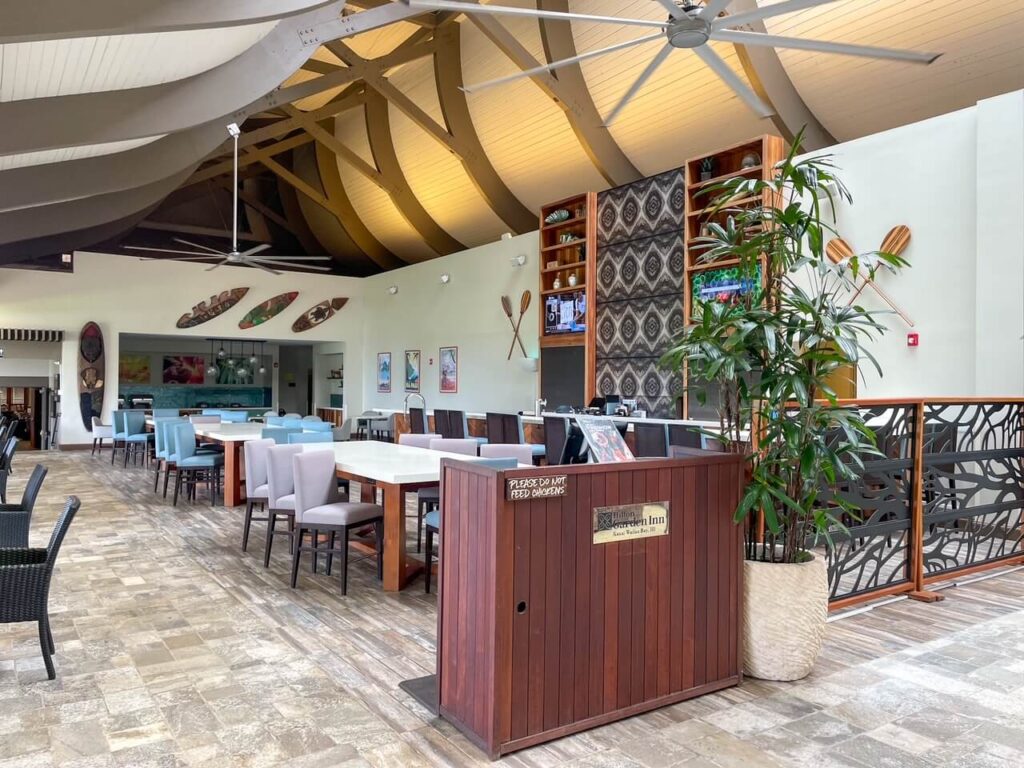 My son even knocked over his glass of ice water all over the table and still, no one acknowledged us. So at that point, we just left.
We had a long time to peruse their menu and it all seemed fairly typical.
Mamahune's
We ate here twice and each time was delightful! It's a super cute tiki bar set up near the pool area. But, there's also lawn seating that overlooks the beach area.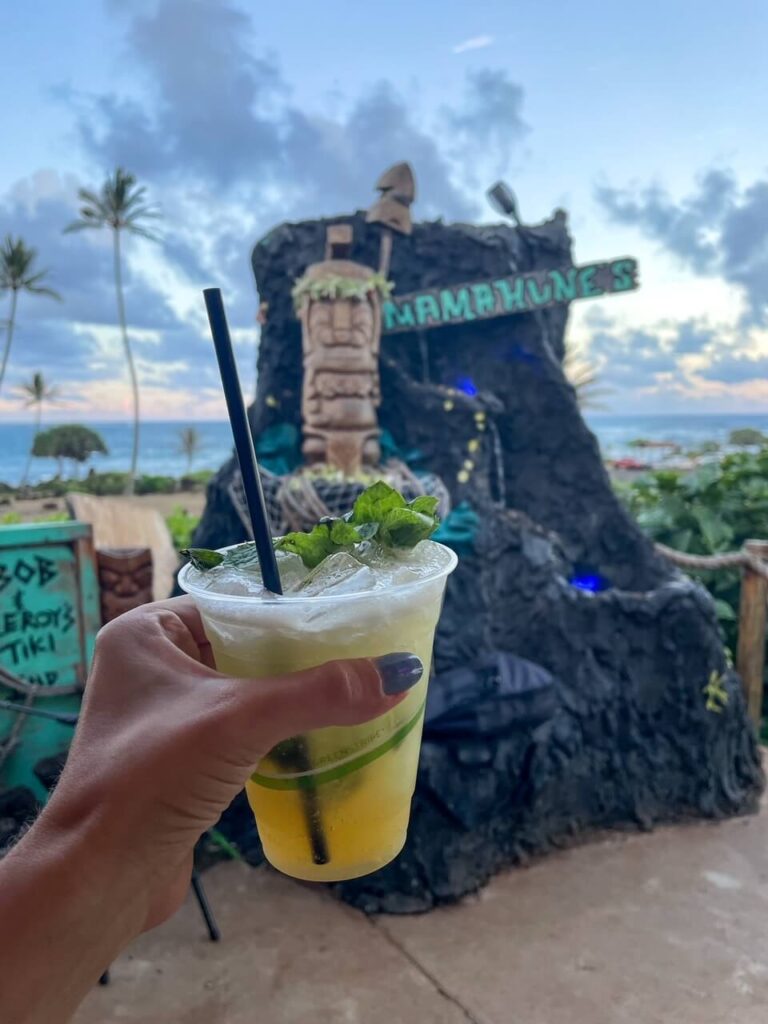 The food was all really tasty and the drinks were incredible! We'll definitely be back because it was a cool vibe and super kid-friendly.
Hilton Garden Inn Kauai Hotel Pool Areas
So, there are actually two pools at the Hilton Garden Inn. I didn't realize that on the first day, so I brought my 8-year-old to the small pool closest to the cottages.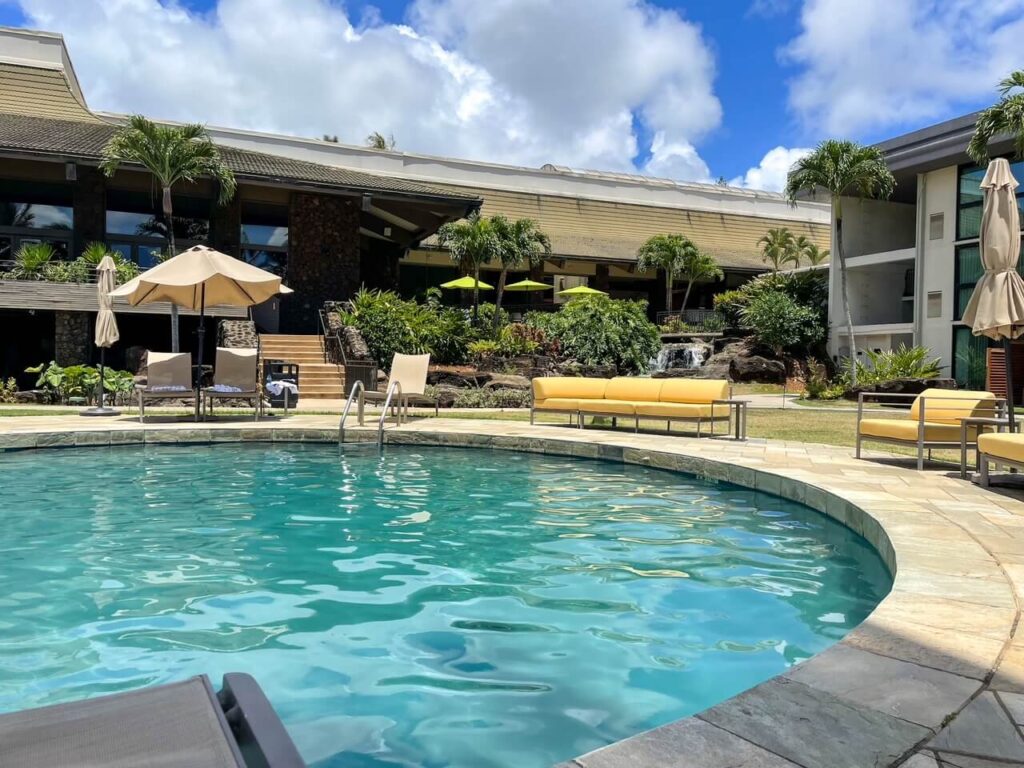 I'm not sure if this was an adults-only pool, but it was pretty quiet and I made sure my son wasn't doing anything crazy, just in case. But, I didn't see any signs.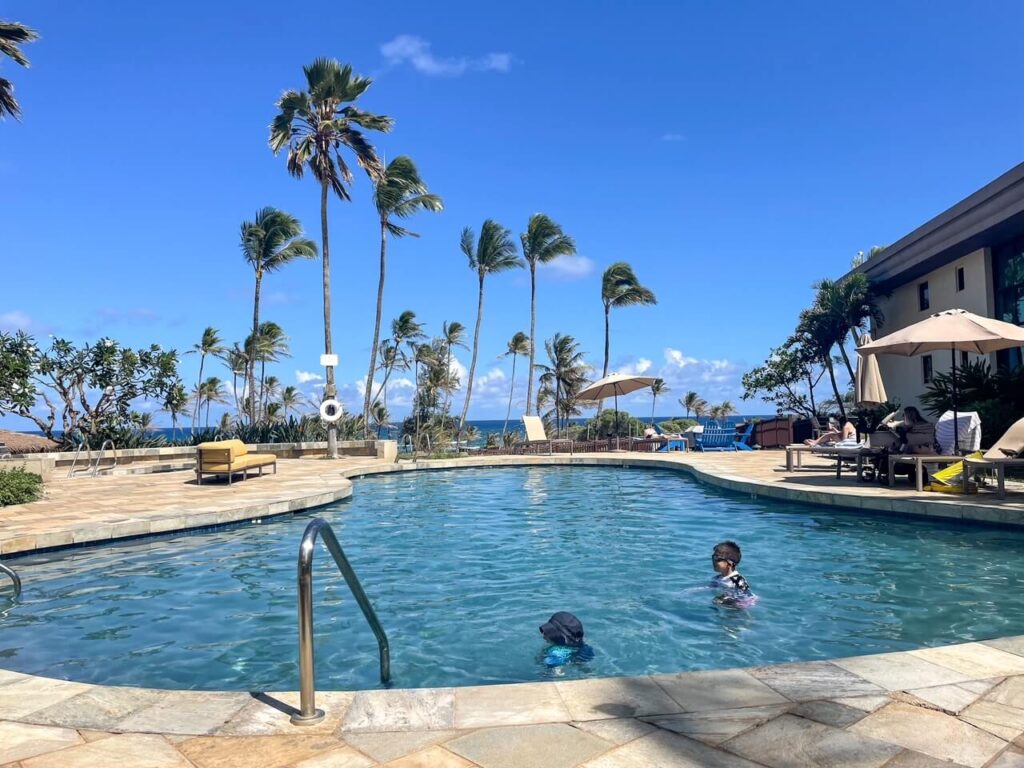 The next day, I discovered the main pool area. It's shaped sort of like a blob and we thought it was just the right size. It's definitely not a fancy pool but my kids both had a blast!
There are lots of pool chairs and tables available and it's just steps away from Mamahune's in case you want to grab lunch or drinks for the pool.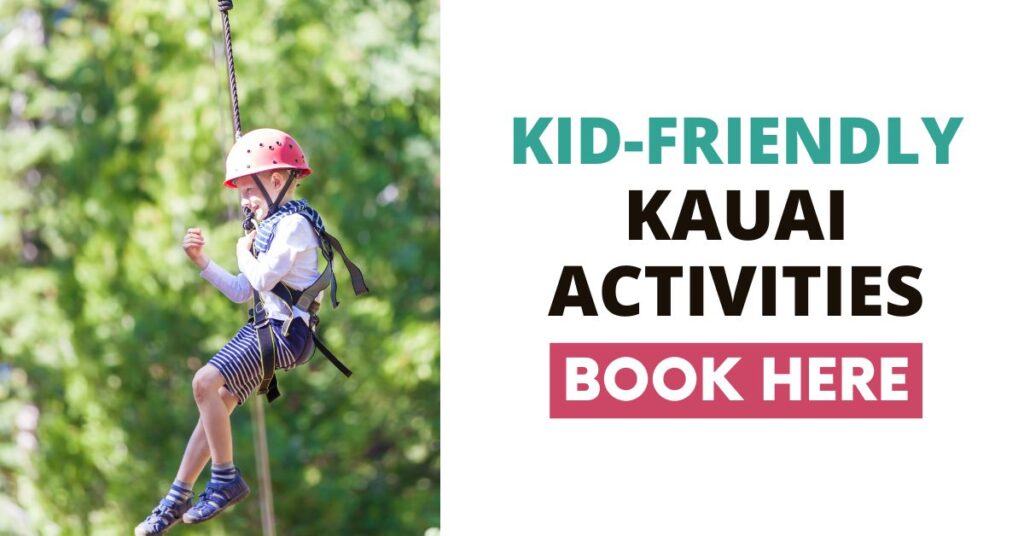 Other features/amenities
Ahi Uila Fire Show
Like I said earlier, the main reason we booked the Hilton Garden Inn Kauai was because we knew we wanted to attend the Ahi Uila Fire Show. It was SO convenient to just walk there from our room.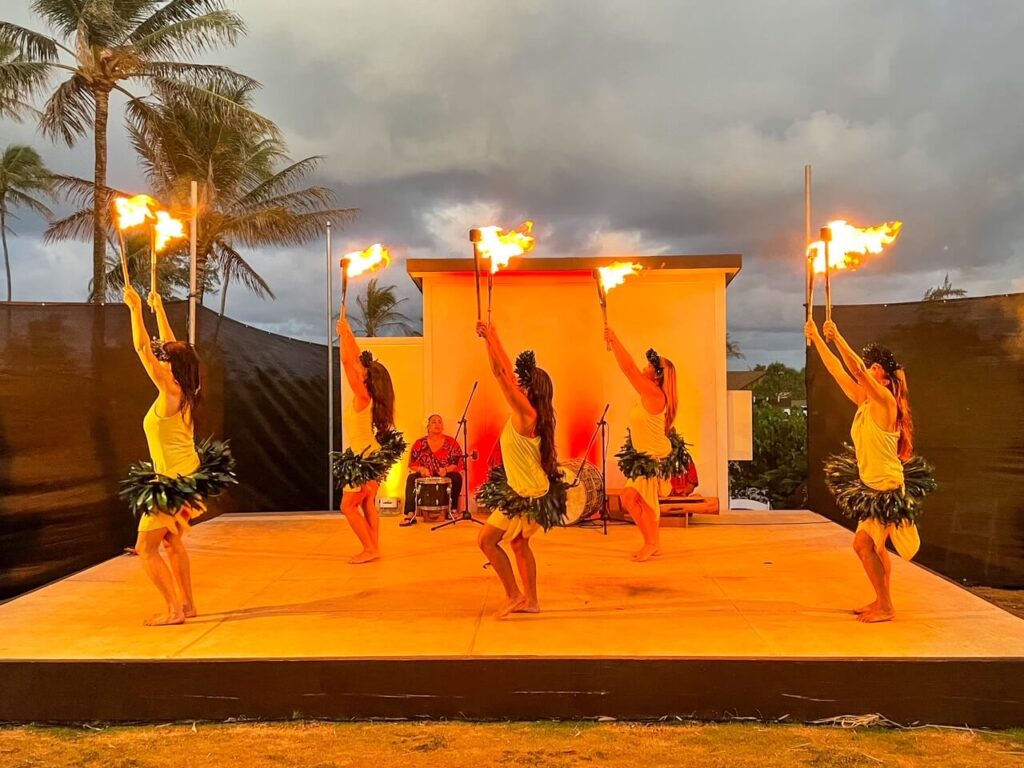 The show was fantastic and our whole family enjoyed it! The food was great and the dancing was spectacular. Oh, and the pre-show entertainment was award-winning musician Keli'i Kaneali'i!
Fitness Center
While I didn't check out the fitness center for myself, I know they have one and it's open 24 hours.
Wailua Bay Creator's Fair
On the fourth Sunday of every month, 20-30 local vendors come to the Hilton Garden Inn Kauai for the Wailua Bay Creator's Fair.
It takes place in the parking lot and it can be a great place to find cool Kauai souvenirs or products.
Kamalani Playground
While this isn't technically on hotel property, it's really easy to walk to. There are actually two playgrounds here and they are great for kids of all ages.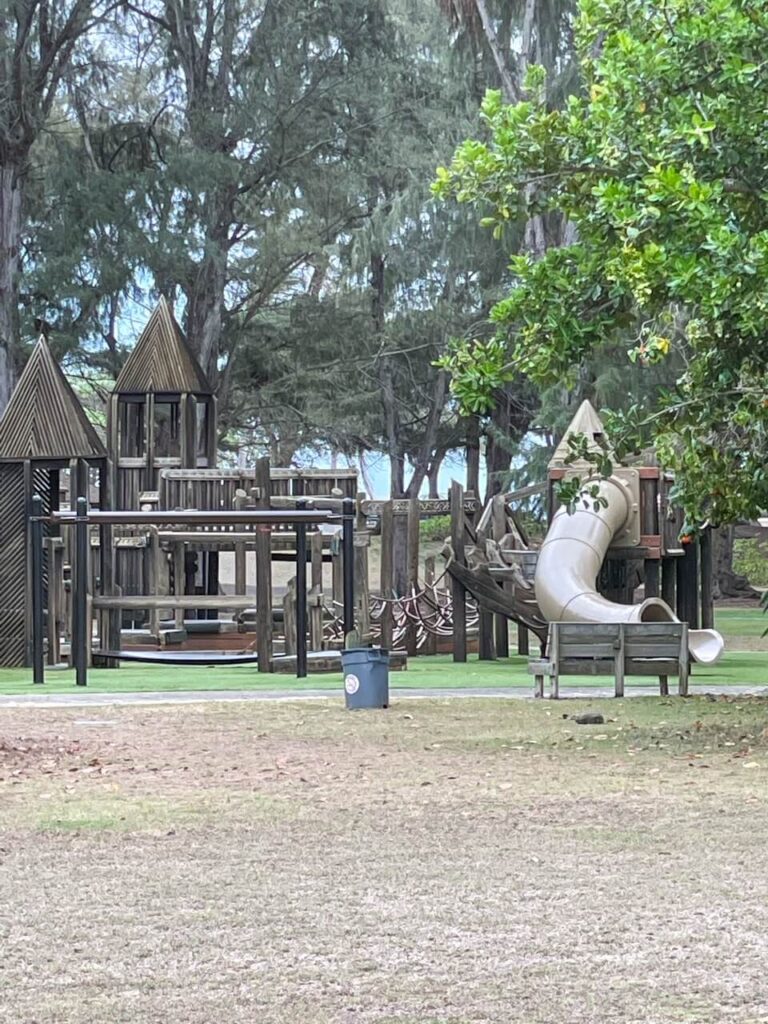 There's even a newer, accessible playground that recently opened.
These playgrounds are perfect for early mornings or burning off energy after dinner.
Lydgate Beach Park
Another perk of this location is that it's just across the parking lot from Lydgate Beach Park.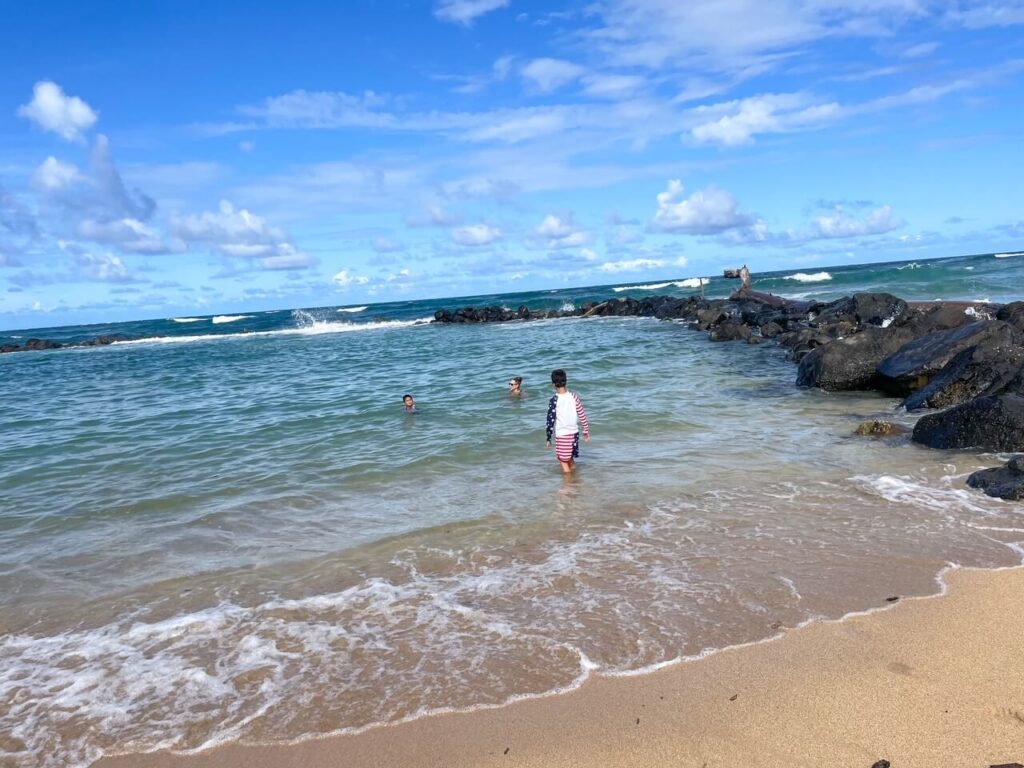 This Kauai beach has a protected cove where families can snorkel and see a lot of cool tropical fish without dealing with strong waves.
You can also walk around and look for petroglyphs in the rocks.
Hilton Garden Inn Kauai Parking
There is plenty of free parking at the Hilton Garden Inn Kauai. They have a main lot for hotel guests.
There's also a separate parking lot for people renting the cottages. We had a spot right in front of our cottage, which was super convenient.
Are there any things we didn't like?
As I mentioned earlier, I was really surprised that no one acknowledged us at the hotel restaurant after they brought us to the table. We couldn't get anyone's attention and it was a frustrating experience.
I also couldn't find a place on the property that sold "fancy" coffee like lattes or anything. So that added a stop each morning.
We also had a miscommunication and didn't get our sheets cleaned during the week we were there (when they really needed to be changed).
Things Families Should Know About the Hilton Garden Inn Kauai
On-Site Laundry
While there aren't laundry machines inside the rooms, they do have coin-operated machines available. You can also request dry cleaning.
Resort Fee
They do charge a $25/day resort fee. This fee covers self-parking, Wi-Fi, the fitness center, bottled water, Mai Tai coupons, and beach gear.
You can also take part in some of their hotel activities like their Hawaiian cultural sunrise ceremony, yoga classes, hula lessons, and lei-making classes.
No Valet Parking
You'll get a parking permit for your vehicle when you check in and you'll need to put it on your dashboard anytime you park on property. This parking is included in your resort fee.
They do not offer valet parking, just self-parking.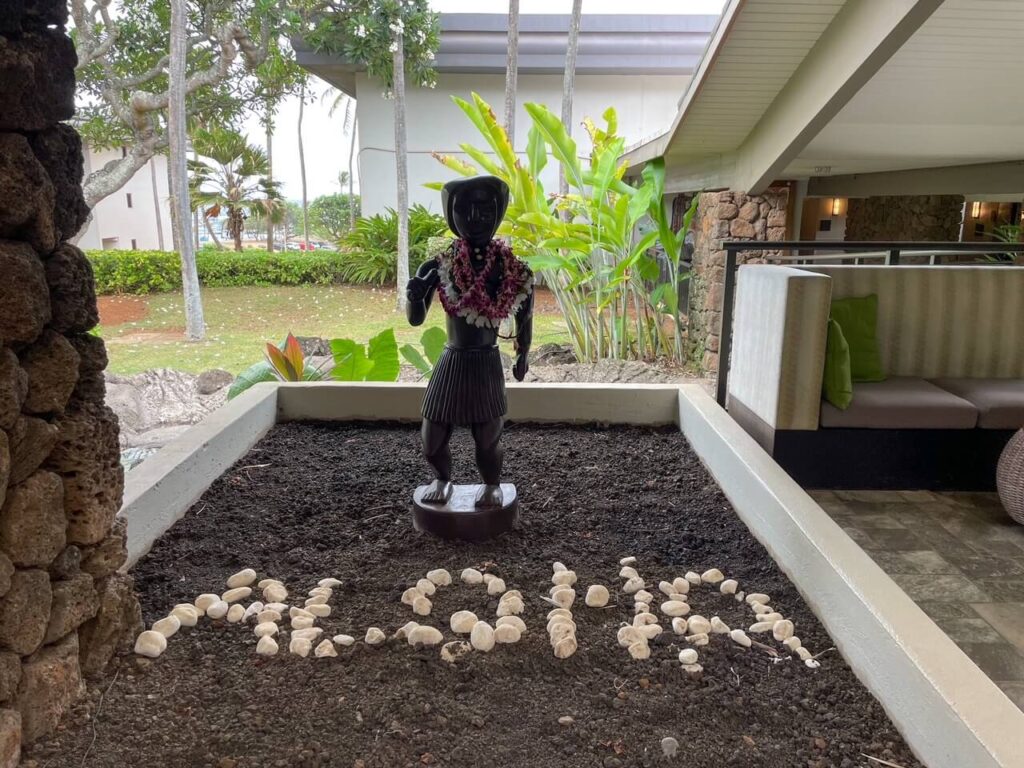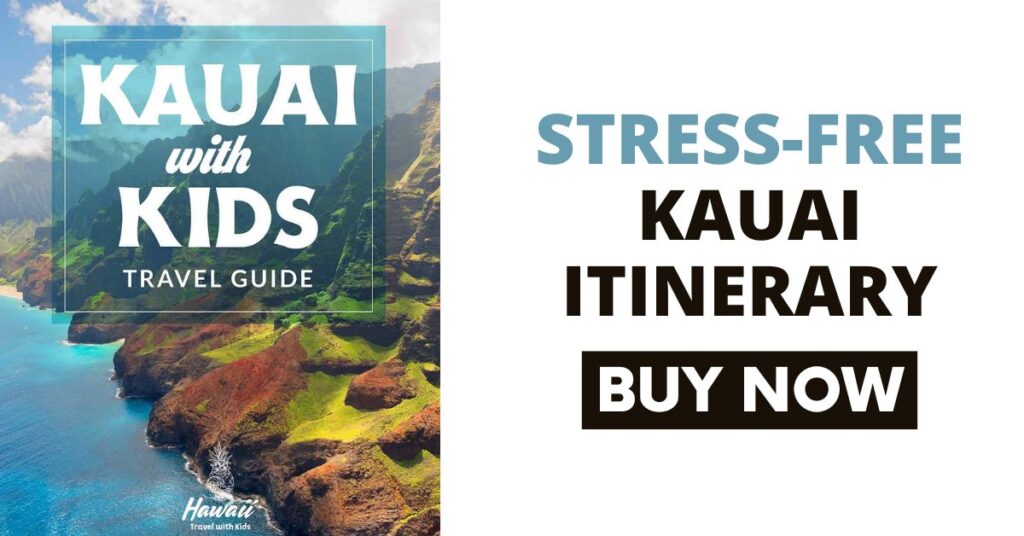 Kid-Friendly Kauai Resorts FAQs
What's the best side of Kauai to stay on?
Families will probably want to stay on either the east or south sides of Kauai. The east side is centrally located along the highway and it's convenient for exploring both the north shore and south shore. Kauai's south shore has more resort options.
Is it better to stay in a condo or hotel on Kauai?
There are many places to stay on Kauai whether you want a resort or a vacation rental. Many hotels also offer suites with full kitchens or laundry facilities, so I suggest shopping around to find one that fits your needs.
What are the best things to do on Kauai's east side?
If you're staying on Kauai's east shore, there are tons of fun things to do! A few options include Kilohana Plantation (for rum tasting and/or a train ride), mountain tubing down a sugar cane canal, or checking out waterfalls.
Would We Recommend the Hilton Garden Inn Kauai for Families?
Yep! If you're looking for a low-key place to stay on Kauai that has a convenient location and is just steps away from a kid-friendly beach and playground, this is it!
We loved the set-up of our cottage room and having parking right in front of it. And Mamahune's and the Ahi Uila Fire Show are added perks!
P.S. Join our Hawaii Travel with Kids Facebook group to get connected with other families planning a trip to Hawaii!