Planning a trip to Kauai with kids? Keep scrolling to find out the best Kauai beaches with the calmest water and softest sand!
This list of the best Kauai beaches for families contains affiliate links which means if you purchase something from one of my affiliate links, I may earn a small commission that goes back into maintaining this blog.
The island of Kauai has a special place in my heart as the first island I ever visited in Hawaii. Perhaps we have Kauai to thank for Hawaii Travel with Kids after all!
Known as the "Garden Island," Kauai is a great choice for families looking for relaxing areas that are slower than some of the bigger islands.
Previously, we picked out our favorite kid-friendly Kauai resorts, and today, we're exploring the best Kauai beaches for families.
When I visited Kauai as a kid, there were times where we were the only people at the beach. These days, the secret about Kauai being awesome is out and that means it is a bit more crowded.
Despite the extra tourists, Kauai still has some of my favorite beaches for kids.
Let's go!
Don't have time to read a bunch of Hawaii blog posts and reviews? Here are some of our top picks for visiting Kauai with kids.
Best Kid-Friendly Kauai Tours/Activities
Best Kid-Friendly Kauai Resorts
Grand Hyatt Kauai (this is a personal favorite for my kids because of the water slide and saltwater lagoon)
Royal Sonesta Kauai (my kids LOVE the pool here because it's the largest one in Hawaii)
Hilton Garden Inn (we like renting the cottages here because you can walk to a massive playground)
Want to skip all the planning and just access my detailed Kauai Itinerary complete with daily schedules, kid-friendly activities, and travel hacks? Click the button below.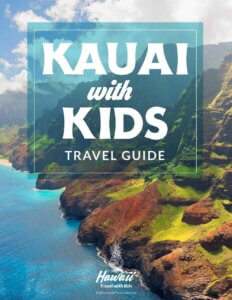 Kauai with Kids FAQs
Where's the best place to stay on Kauai with kids?
Kauai has several kid friendly resorts that are perfect for families. Our favorite is the Grand Hyatt Kauai down in Poipu. Not only is the location great, but they have awesome pool areas, on-site restaurants, and even their own luau.
What are the best areas of Kauai for families?
Most families choose to stay in the South Shore (Poipu/Koloa) because it's known as being the "sunny" side of the island year-round. Another option is the East Shore, which is the most affordable area and closest to the airport. There's also the North Shore, which is gorgeous, but has a bit more rain.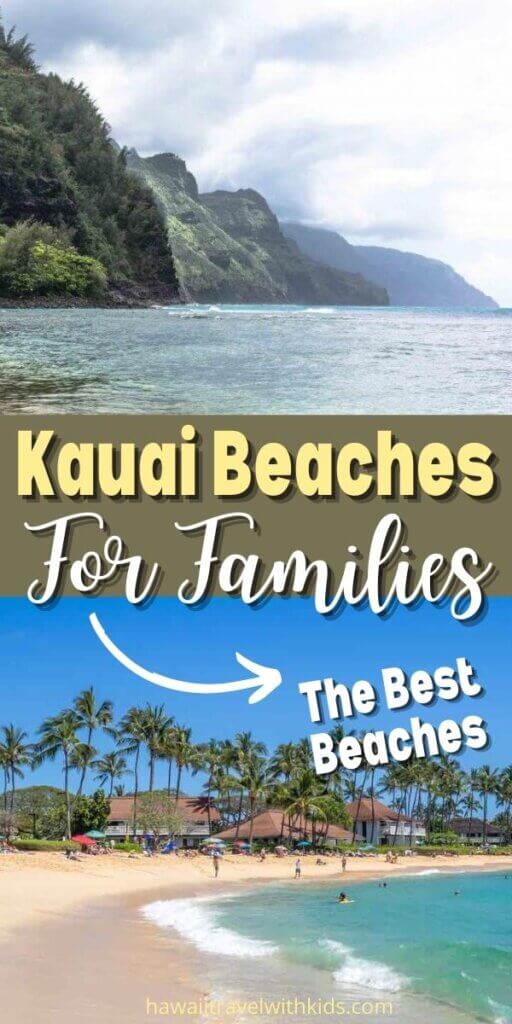 What are the Best Kauai Beaches for Kids?
If you're heading to Kauai with kids, you probably will be spending some time hanging out at the beach. These are some of our personal favorites!
Hanalei Bay
The Hanalei Bay and beach pavilion is a popular choice for families seeking gentle water. Perfect for children, this is where you want to go to create pool-like ease on a Hawaiian beach!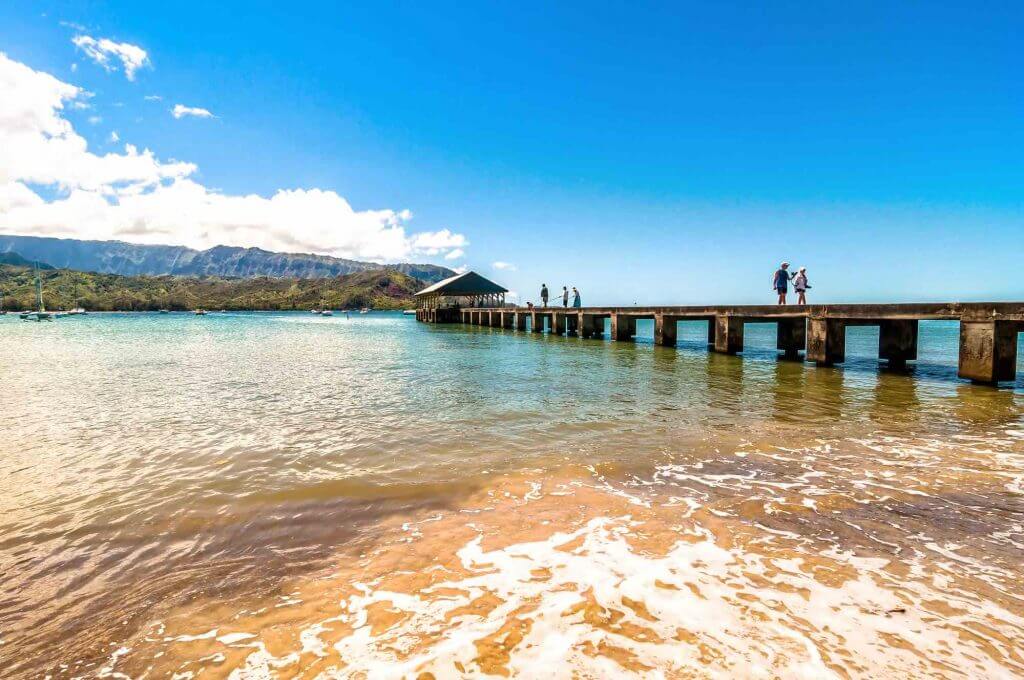 While safety should always be a priority when traveling with family and young kids, Hanalei Bay is a great choice for an easier parenting day.
This area also has bathroom facilities and showers. Best yet, there's also a grassy area for adults to picnic in and escape the hot sun when kids are still exercising their energy.
The entire Hanalei area is located on the North Shore of Kauai and is considered the largest bay on the island. It's actually one of the top Kauai attractions and is a popular photography spot.
Historically, the Hanalei Pier was used to load and offload sugar and other goods on trading ships. The pier is dated back to before 1892!
Since then, the bay has gone through many construction and restoration projects to bring it to the beautiful location it is today.
For those of us with a bit more activity in mind, water sports are also available here. Check latest rates and availability for this cool kayaking and snorkeling tour.
Salt Pond Beach
On the West side of Kauai sits Salt Pond Beach, which features a plethora of shallow pools for kids to explore. The beach is very popular for windsurfing, snorkeling, scuba divers, and more.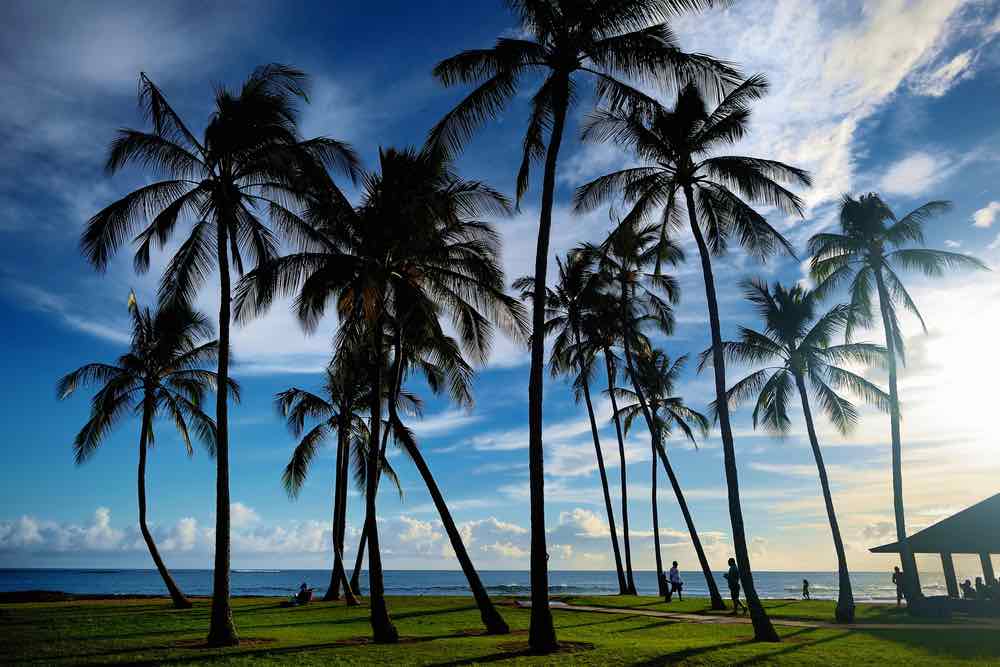 The beach is named for its rock salt that is created from the ocean's seawater evaporating in the shallow pools. In fact, the pools are man-made! This method of creating salt is traditional and intriguing to learn about on a hot summer's day.
Unsurprisingly, the creation of salt in this fashion depends heavily on the weather. Hot summer weather is ideal for the process while rain can dissolve the salt.
Today, the ponds at Salt Pond Beach are manned by Hui Hana Pa'akai, an organization with state permission to manufacture salt in this fashion.
You won't be able to purchase the salt as a commercial product, but experiencing part of the creation process can be mesmerizing.
Poipu Beach
Visiting the best beach in Kauai is almost synonymous with visiting Poipu Beach! Located on the South side of the island, Poipu Beach has been voted among the top 10 or even top beaches in the world.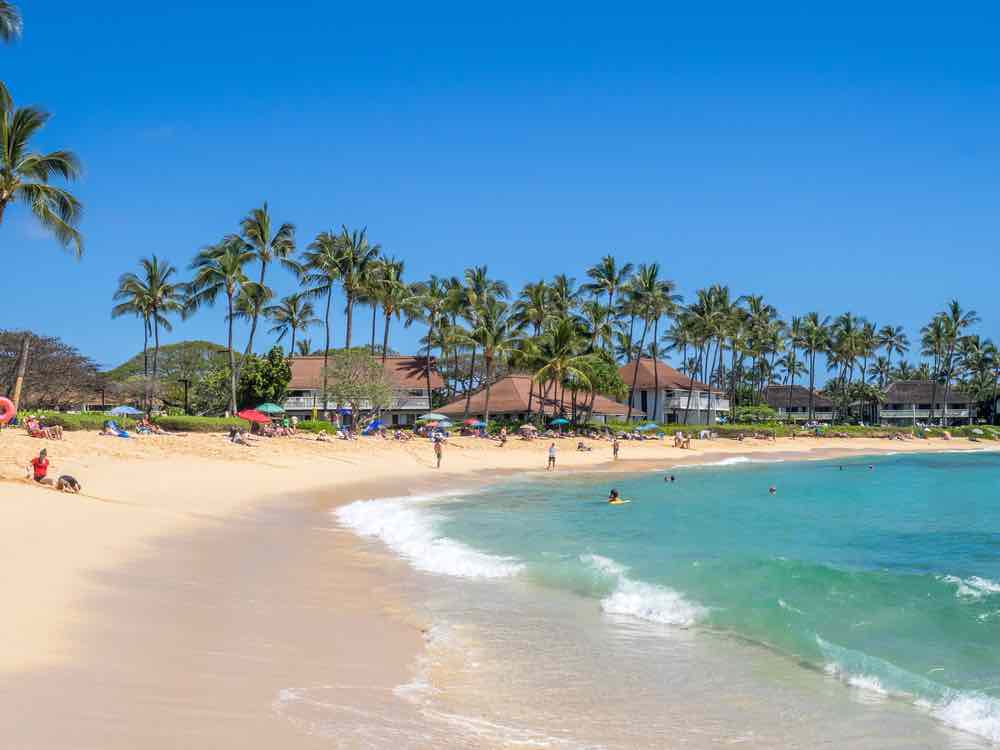 And for good reason! Almost any sport can be explored on this beach, including surfing, snorkeling, boogie-boarding, and more. Lifeguards are also on duty seven days a week.
With easy parking, equipment rentals, and even an outdoor playground, Poipu Beach has something for almost everything if you have time to explore the whole area.
In fact, there are tons of things to do in Poipu for families.
One of the most unique parts of Poipu Beach is its overall shape. Its sand forms a crescent, and sandbars are abundant. If you're lucky, you might even spot an endangered Hawaiian monk seal!
While you and your family may get excited about spotting the seals or even humpback whales which sometimes appear in the distance, remember that endangered animals should be kept at a distance and left alone as much as possible.
Look, don't touch, and no flash photography for those cuties!
Lydgate Beach
I grew up playing a lot at Lydgate Beach Park in Wailua because it has two lagoons with protected waters, which makes it great for younger kids or those who aren't strong swimmers.
It's a great option for families that want to teach their kids how to snorkel. Not only is the water calm, but there are great opportunities to see tropical fish.
There's a nice walking path and Kamalani Playground. This wooden play structure has given my boys many hours of fun!
Lydgate Beach also has facilities and tons of parking.
Plus, it's not too far from the airport, so it's a great place to get those last wiggles out before heading home. They have several playgrounds, including a new play structure that was built in May 2022!
Anini Beach
Back on the North Shore of Kauai is Anini Beach, featuring a long reef that prevents extremely large waves. Anini Beach is often visited in the morning before quick winds can harm the calm atmosphere.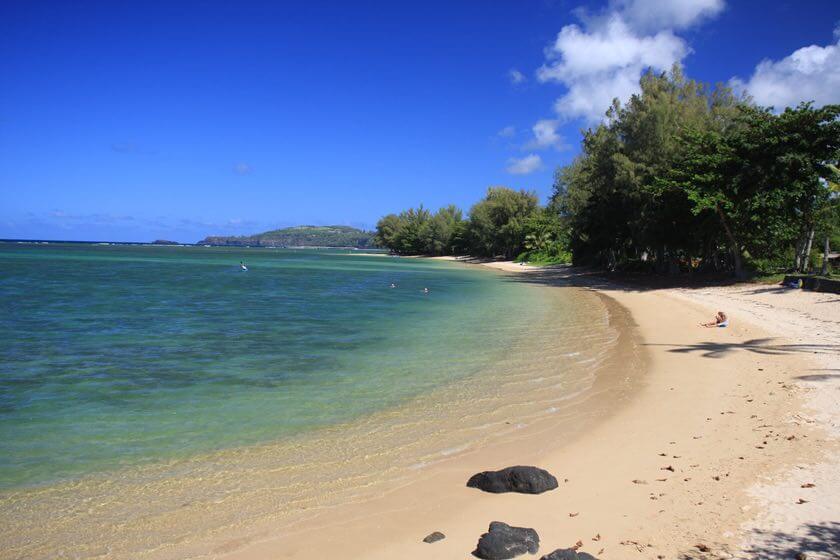 Waters are shallow and clear here, with plenty of tidepools and even sea turtles to spot (but not play with). This beach is not lifeguarded, so stay alert and make sure to recheck the strength of the water before letting your children roam.
The destination is also a popular choice for camping, with a lot of pavilions and multiple campsites.
It is also slightly less popular than Hanalei and Poipu Beach, so if you're looking for something a little more chill after visiting those locations, look here!
Deeper waters in Anini Beach can remain clear and lively with fish and marine life, but stay close to shore and don't go beyond the reef as it protects from strong waves year-round.
Ke'e Beach
Wrapping up our best beaches list for the day is Ke'e Beach, which offers show-stopping views of the Na Pali Coast. The beach is a popular snorkeling spot, and also features a long trail right on that Na Pali Coast.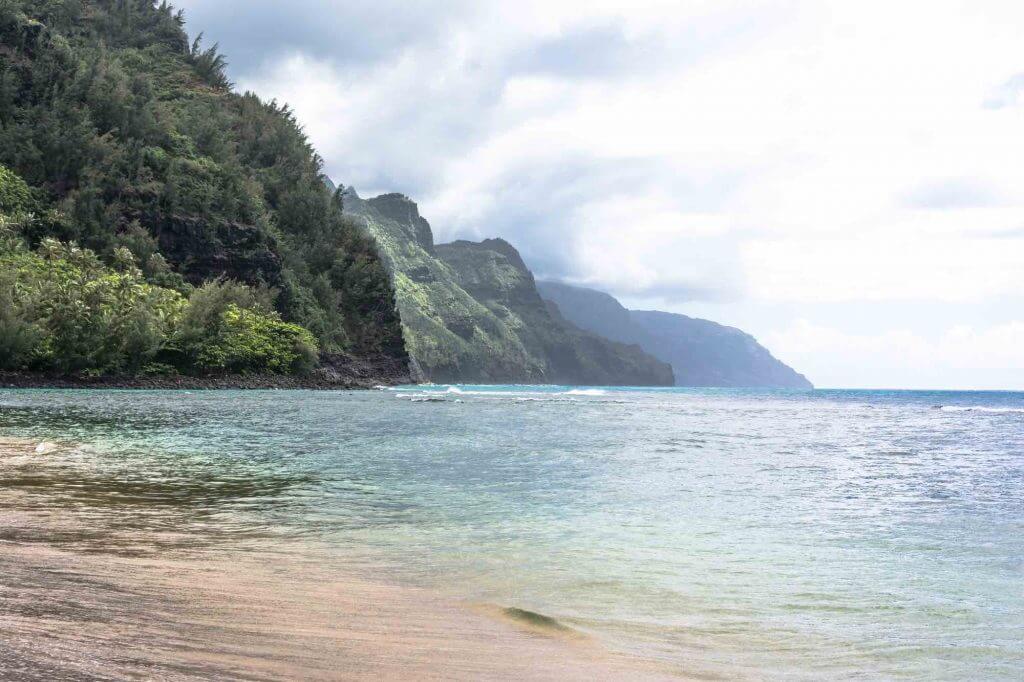 However, you'll probably want to wait for summer to snorkel as winter weather isn't conducive to enough room for snorkeling.
Ke'e beach is also known as a lagoon and is located where two coasts collide. Both the trail and beach areas offer picture-perfect views and are a must-visit for a combination beach area.
Reef fish are abundant, and even chickens can be found along with the land and lagoon areas. Awesome!
Choosing the Best Kauai Beaches for Families
It's cliche, but it's hard to choose incorrectly when it comes to beaches in Kauai.
The island has a ton of outdoor activities ready for your family including ziplining, kayaking, paddling, hiking, and more.
Explore Hanalei Bay for the classic Kauai experience and a good dose of history. The Salt Pond Beach can offer other traditional insight in a more tangible way in the shallow pools.
Poipu Beach can offer rare animal sightings, while Anini Beach is less crowded for your relaxation. Ke'e Beach is a great final spot for hiking and activities.
Ready to start planning your Kauai trip today?
Take a look at our Ultimate Kauai Packing List for Families. I promise it's jam-packed with necessities for your time there as well as with tips for the long flight ahead.
Who says the traveling part of travel can't be fun, too?