Are you planning a Kauai vacation and want to know where to see the best sunset in Kauai? Keep scrolling for the best Kauai sunset spots!
This post about the best Kauai sunset was written by Hawaii travel expert Marcie Cheung and contains affiliate links which means if you purchase something from one of my affiliate links, I may earn a small commission that goes back into maintaining this blog.
Is there anything more romantic than witnessing Hawaii sunsets with someone you love?
And if you're hoping to experience Hawaii's best sunset, Kauai is the island to do it!
With a little planning, you can make sure to hit up at least one Kauai sunset spot on your next vacation to Kauai.
Whether you'd like to marvel from one of the beaches of Kauai or while enjoying cocktails, I've got all the top places to see sunset in Kauai.
Read my top tips for your first trip to Kauai!
Don't have time to read a bunch of Hawaii blog posts and reviews? Here are some of our top picks for visiting Kauai.
Popular Kauai Tours/Activities
Favorite Kauai Resorts/Hotels
Grand Hyatt Kauai (this Poipu resort has a luxurious pool area, romantic restaurants, and a stunning ocean view)
Koloa Landing Resort (this is a luxury resort with an amazing pool area and truly spacious rooms)
Royal Sonesta Kauai (we LOVE the pool here because it's the largest one in Hawaii)
Want to Rent a Car in Hawaii?
One of the best places to rent a car in Hawaii is Discount Hawaii Car Rental because they get the best rates from top national companies like Alamo, Dollar, Thrifty, Avis, Enterprise, Budget, and Payless.
Want to skip all the planning and just access my detailed Kauai Itinerary complete with daily schedules, kid-friendly activities, and travel hacks? Click the button below.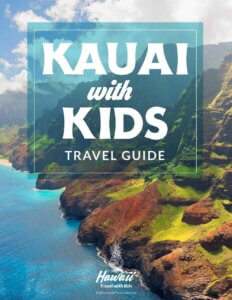 Kauai Sunset FAQs
Which Hawaiian Island has the best sunsets?
To be honest, you'll find epic Hawaii sunsets on any of the islands. I'm pretty partial to Kauai only because it tends to be less crowded than Maui or Oahu.
Where can I see the sunset in Kauai?
Kauai sunsets are visible on the South Shore in the winter and the North Shore in the summer.
What is the best Kauai sunset beach?
While there are tons of great Kauai beaches to watch sunset, my top pick is Polihale Beach on the West Shore.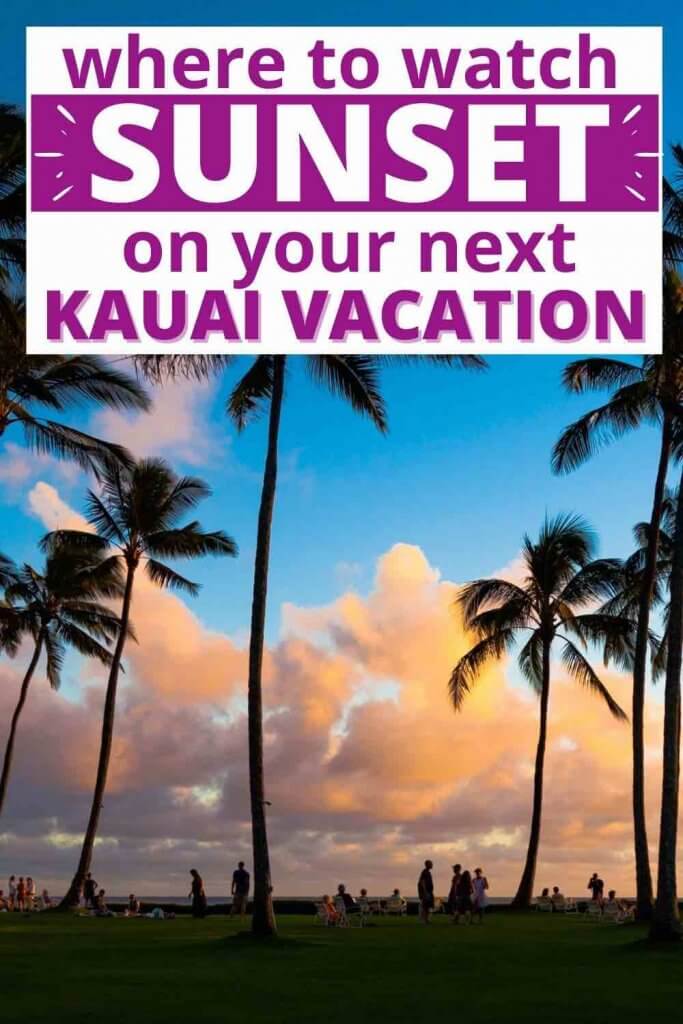 Kauai Sunset Time
One of the biggest questions you probably have is "What time does the sunset in Kauai?"
If you're trying to add Kauai sunsets to your vacation itinerary, it's helpful to know the sunset time on Kauai.
The tricky thing is that the Kauai sunset time changes throughout the year. To help you figure it out, I've included the sunset time on Kauai for each month.
What time is sunset in Kauai?
| | |
| --- | --- |
| January | 6:06pm-6:26pm |
| February | 6:27pm-6:41pm |
| March | 6:42pm-6:53pm |
| April | 6:53pm-7:04pm |
| May | 7:04pm-7:17pm |
| June | 7:18pm-7:25pm |
| July | 7:18pm-7:25pm |
| August | 6:54pm-7:17pm |
| September | 6:25pm-6:53pm |
| October | 6:01pm-6:24pm |
| November | 5:53pm-6:00pm |
| December | 5:53pm-6:06pm |
Best Beaches in Kauai to See a Sunset
Now that you know the sunset time in Kauai, the next step is to figure out where to go.
Kauai has some awesome beaches to watch the sunset and these are my top picks:
Polihale Beach
I think Polihale Beach is the best Kauai beach to see the sunset. It's less crowded than Poipu Beach because it's less convenient to get to.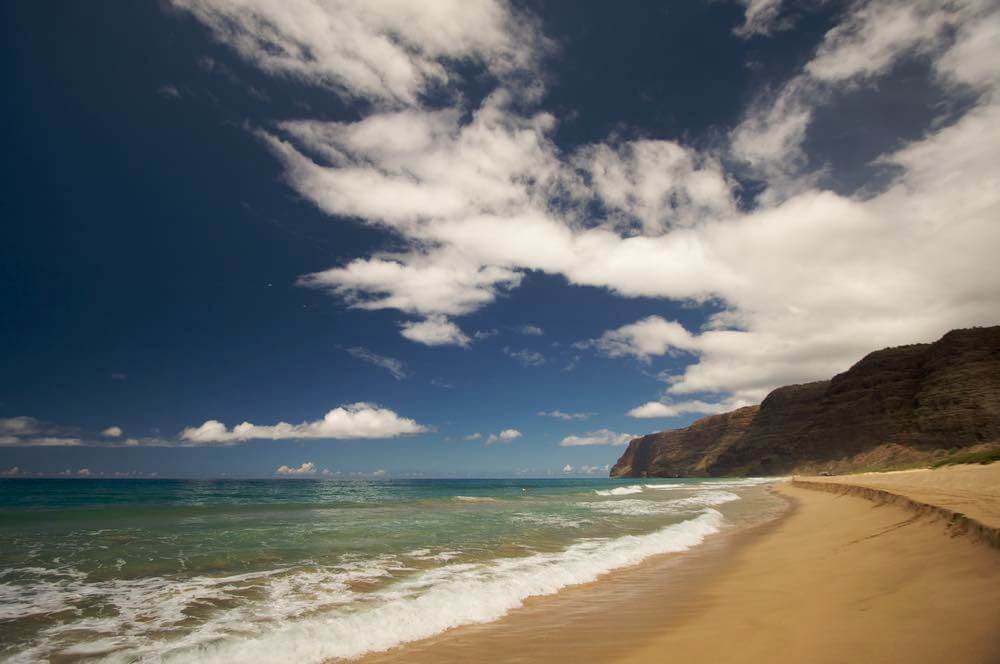 If you have little kids, this is also a practical option because they will probably fall asleep in the car (it's kind of a long drive) so it's a fun date night!
I do want to point out that Polihale gets closed from time to time for repairs to the road or facilities. So, be sure to check before you drive out there.
Poipu Beach Park
It's super easy to enjoy a Poipu Beach sunset at many resorts that face the ocean.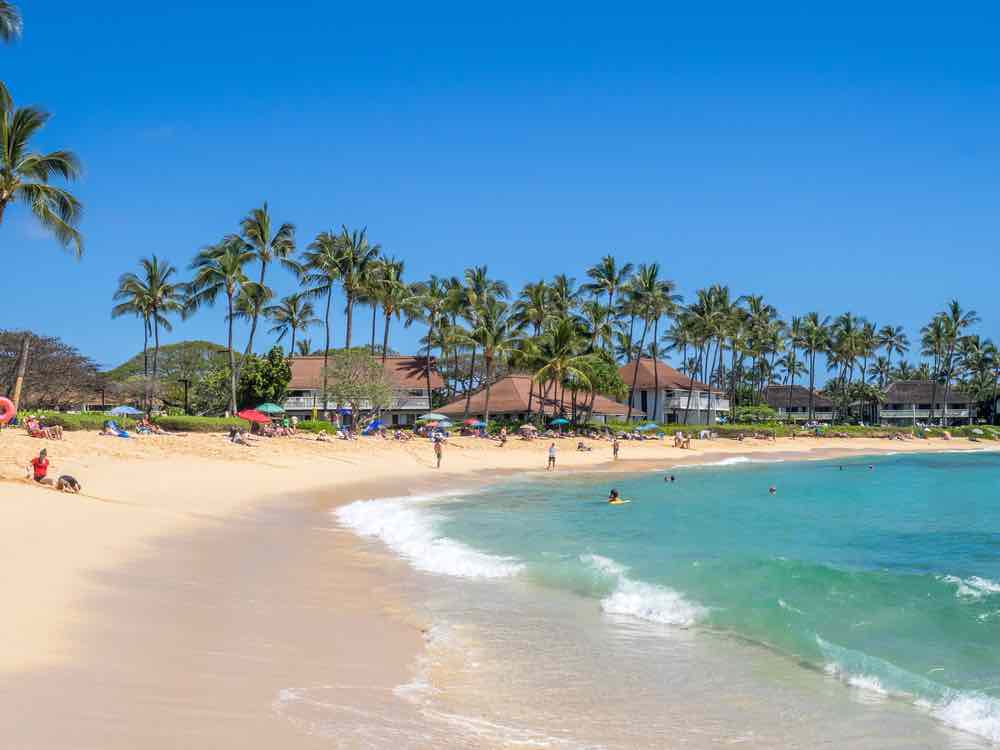 But, you can also just head straight for Poipu Beach Park and find a cozy spot. Because there's so much close parking, it's really easy to do this with kids.
And there are also lots of Poipu restaurants you can hit up before or after sunset.
Shipwreck Beach
Another popular South Shore beach is Shipwreck Beach. The sunset here is just as beautiful as Poipu Beach Park, but it's a bit less crowded.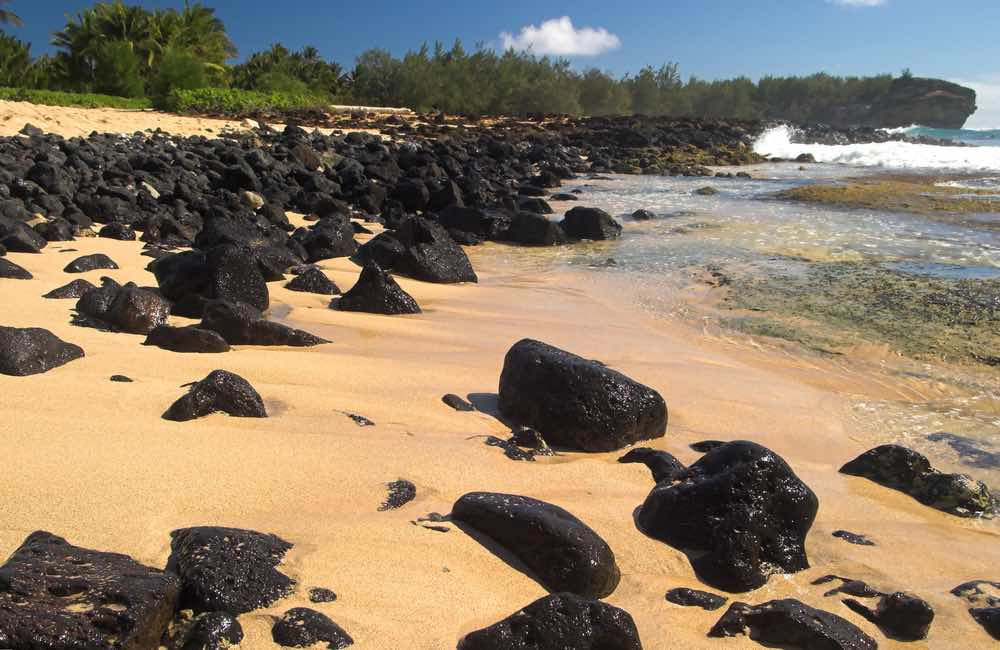 While Shipwreck Beach, fronting the Grand Hyatt Kauai, faces a bit too far East to see the sun setting over the water, it sets over the mountains and the sky still gets pretty colors.
Book a Family Photo Shoot
Whenever we travel to Hawaii, we almost always book a family photo shoot with Flytographer. They are super easy, affordable, AND it guarantees that I'll be in some photos. You can get $25 off if you book through this link or use the code HAWAIITRAVEL.
Salt Pond State Park
While Salt Pond is one of my favorite beaches of Kauai during the day, it's also a pretty cool spot at dusk.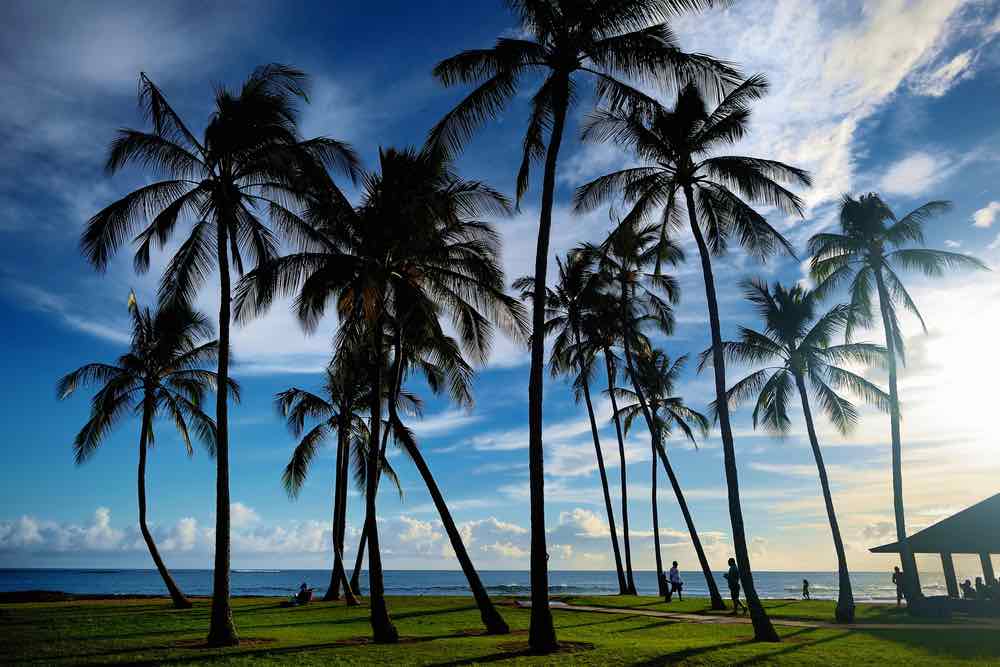 They have a bunch of picnic shelters, so it's perfect for grabbing food to go and having a little Kauai picnic as you watch the sunset.
It's also one of the places you can go camping on Kauai, so you can make a whole night out of it!
Kekaha Beach
If you are looking for a more intimate Kauai beach for sunset, head to Kekaha Beach on the West Shore.
This is the longest white sand beach in Hawaii and you are sure to find a spot without anyone else. You just park along the street, so it's easy to find one.
Plus, you'll be able to see Niihau in the distance.
And since this is the dry side of the island, it's almost guaranteed not to rain on you.
Hanalei Bay
I know a lot of people are curious about Hanalei Bay sunset spots if they are staying on the North Shore.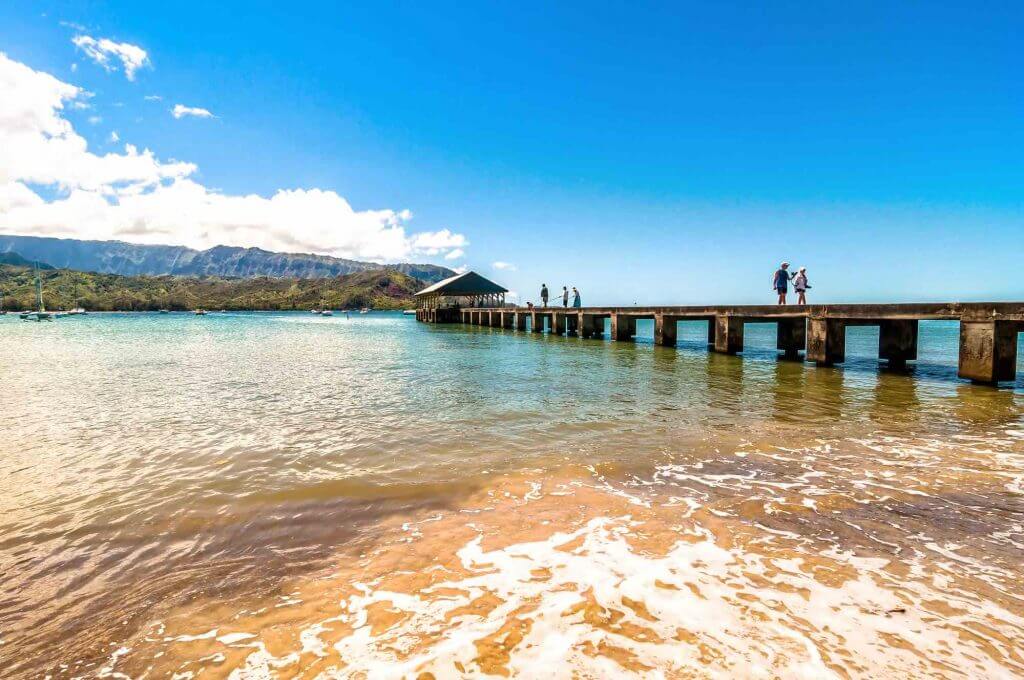 The tricky thing is that since the sun sets in the West, the view from the North Shore isn't as spectacular as it is from the West Shore.
But, that doesn't mean you can't still see a Hanalei sunset.
In fact, if you're heading to Kauai in summer, the North Shore gets some great sunsets!
Ke'e Beach
Again, if you're heading to Kauai in summer, this is a great North Shore Kauai spot to see the sunset and even go for a dip in the calm water.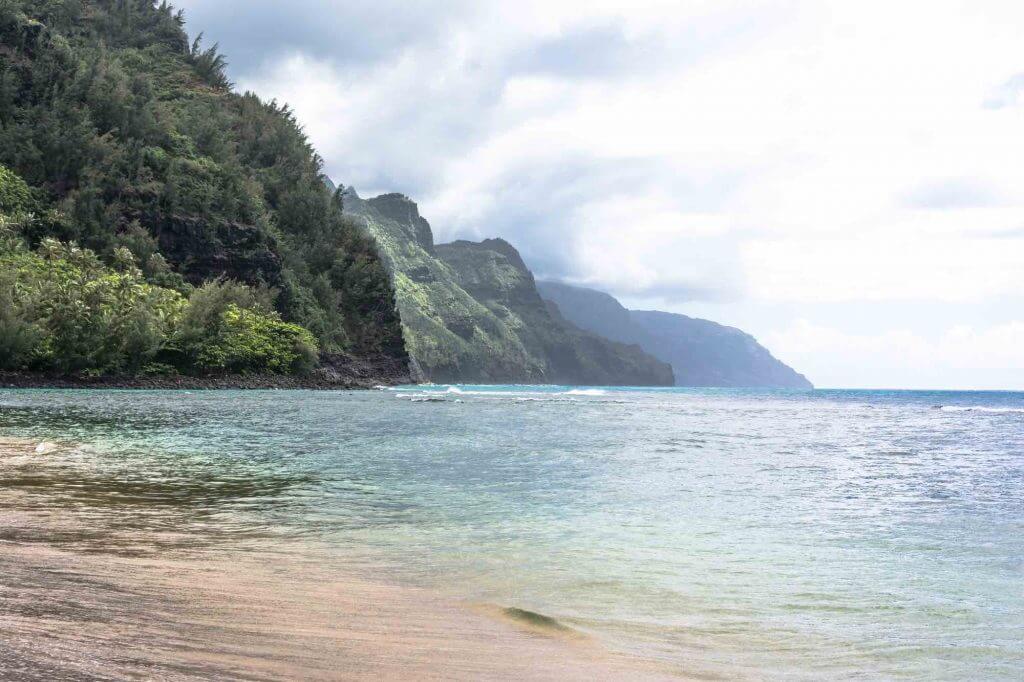 To get there, you basically drive up along the North Shore until the road ends. It's right at the start of the Na Pali coast.
One thing to note is that there are only 100 parking spots here. If you are going in peak season, you'll want to take the Kauai North Shore Shuttle.
Tunnels Beach
If you are looking for a super romantic Kauai beach to watch sunset, Tunnels Beach on the North Shore is the place to go.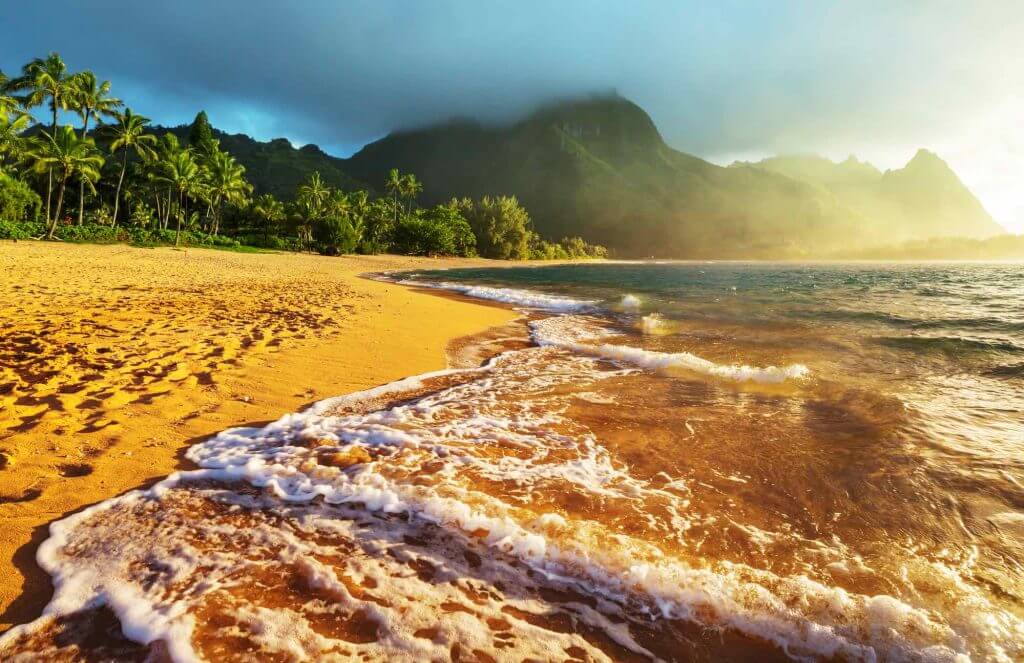 You have a good shot at being one of the only people there because the closest parking is about a mile away.
This would be a great spot if you are on a Kauai honeymoon or going just with adults. It's not a great option with kids.
This is also one of the top places to snorkel on Kauai.
Kauai Attractions with Awesome Sunset Views
If you're already done a Kauai beach sunset and want to try something else, there are a few other places to check out sunset on Kauai.
Spouting Horn Blowhole
One of the most popular things to do in Poipu is visit the Spouting Horn blowhole. Basically, you wait to see the waves crash through the rocks, which shoots water up into the air.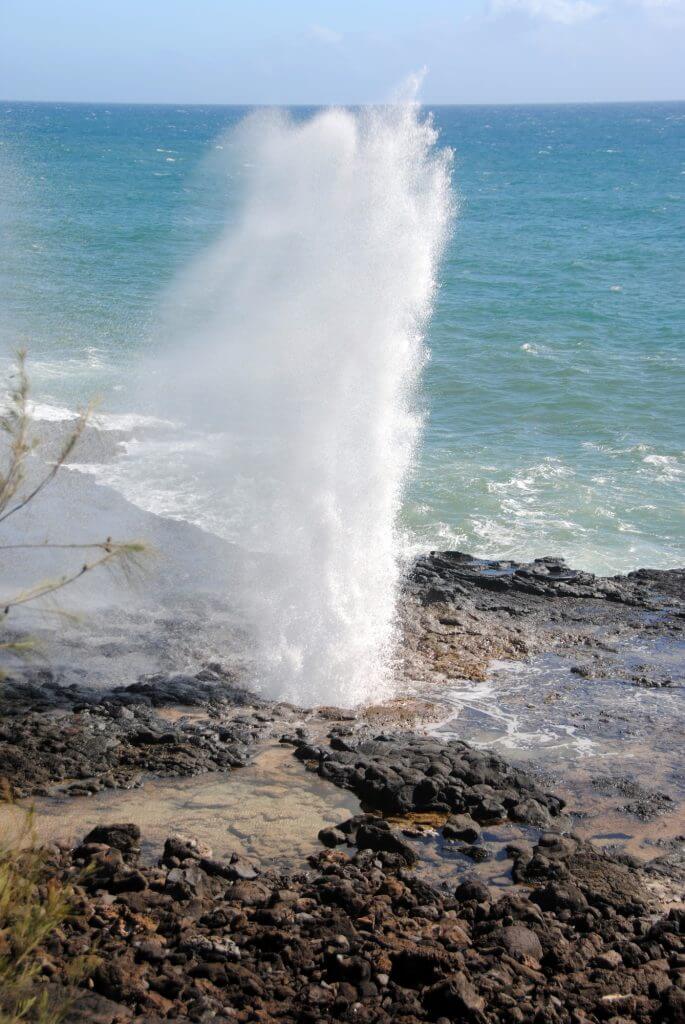 Check the tide schedule before you go if you want to also see Spouting Horn in all its glory. Otherwise, you'll still enjoy a spectacular sunset regardless.
Visiting Spouting Horn is one of the best things to do on Kauai under $10!
Kalalau Lookout
Another really cool place to watch the sunset is from the Kalalau Lookout. That's because it's the highest point on the island that you can drive to.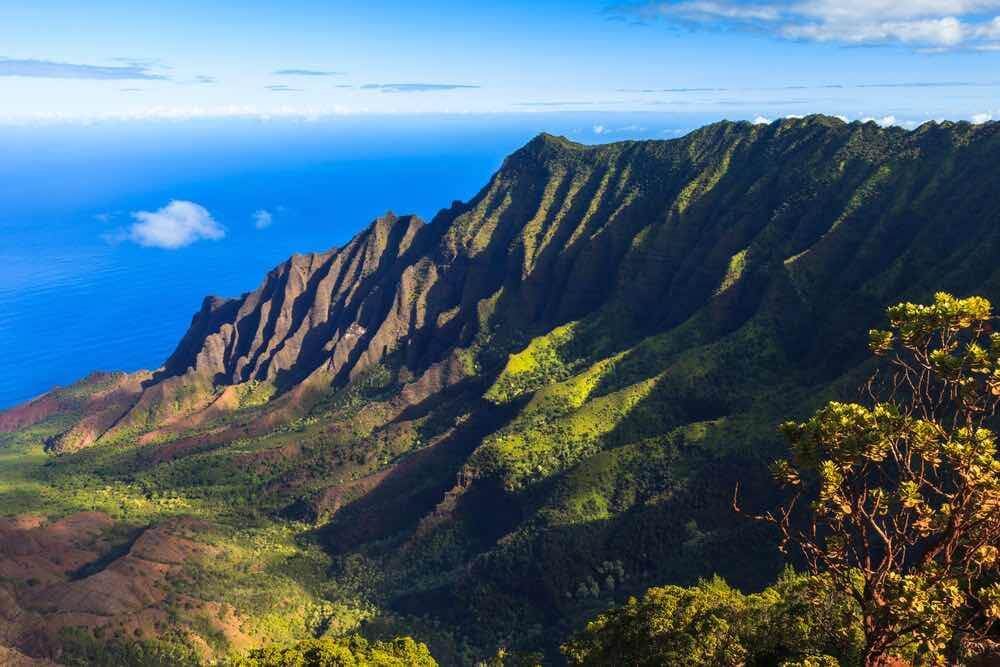 The Kalalau Valley is definitely one of the most beautiful places on Kauai and watching sunset here takes it to the next level.
To get there, you'll drive up to Waimea Canyon and go until the road pretty much ends.
Waimea Pier
If you want less of a drive, you can head to Waimea Pier for a picturesque sunset spot.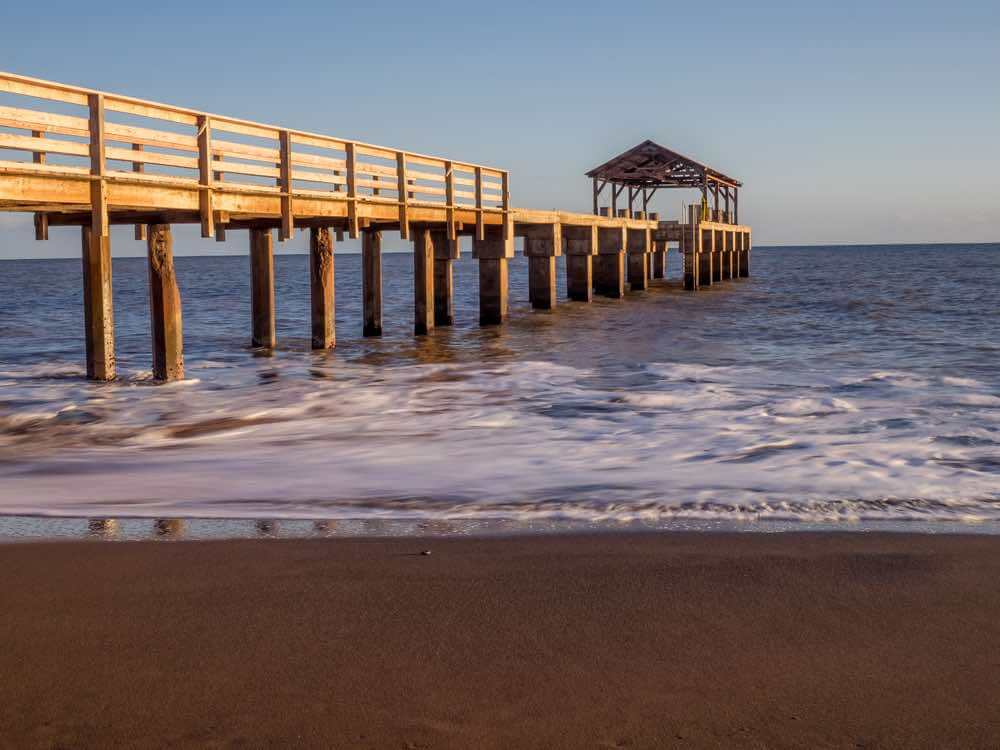 There are usually very few people here, so it's perfect for people wanting to do a sunset photoshoot.
I also think it would make for a cute place on Kauai to propose!
There's a parking lot and restroom here and so many restaurants nearby.
Port Allen
Another place to see sunset on Kauai's South Shore is Port Allen.
This is where a lot of Kauai sunset boat tours depart (see below) but it's also nice just to walk around at take in the views.
Best Kauai Restaurants to See the Sunset
If you're staying on the North Shore, the St. Regis Hotel was famous for its postcard-perfect sunset views. It's currently under construction to become 1 Hotel Hanalei Bay in early 2022 and I'm sure it will be just as spectacular.
In the meantime, these are my top picks for Kauai sunset restaurants.
Beach House Kauai Restaurant
Located in Poipu, the Beach House is by far the most popular restaurant on Kauai to watch the sunset.
It's right on the beach and has giant windows so you'll be able to see the stunning Poipu sunset from almost any table.
This is also where you'll find the best Mai Tai in Hawaii. It's the same one they serve at Monkeypod Kitchen and it's famous for the honey lilikoi foam!
Tidepools at the Grand Hyatt Kauai
Another popular Kauai restaurant to watch sunset is Tidepools. While it's convenient for anyone staying at the gorgeous Grand Hyatt Kauai, it's open to anyone.
The location is pretty cool. It's a set of open air bungalows that sit on the water right next to a little waterfall.
And the food is outstanding. In fact, it's been Zagat rated as one of the best restaurants on Kauai.
RumFire Kauai
This is another Poipu restaurant known for having great sunset views. It's located at the Sheraton Kauai Resort and you'll get sweeping 180-degree views of the ocean anywhere you dine.
Plus it's a great spot to taste a bunch of different rums, including ones made in Hawaii!
Duke's Kauai
While it may seem strange to have an East Shore restaurant on this list, sunset here really is pretty.
Duke's is located at the Royal Sonesta Kaua'i Resort Lihue (formerly Kauai Marriott) right on Kalapaki Bay with epic views of the mountains and water.
You'll still get to see all the dancing colors in the sky, but just not the actual sunset.
Best Sunset Cruise in Kauai
Any of these sunset boat tours are pretty much guaranteed a great sunset!
Enjoy a tasty buffet dinner and drinks (including Mai Tais) on this awesome Kauai dinner cruise aboard the fastest catamaran in Kauai. Check out the latest prices and more details.
This is a great Kauai sunset dinner cruise for people who want a more intimate setting while still getting yummy food and drinks. There's a max of 49 people on board. Check out the latest prices and more details.
This is a great option if you want to learn more about Hawaiian history and culture as you look out for Hawaiian sea life.
While this is a sunset boat ride, they serve more of a lunch. Check out the latest prices and more details.
If you want to maximize your time on Kauai, book this Kauai snorkel cruise that takes place at sunset! Super romantic! Check out the latest prices and more details.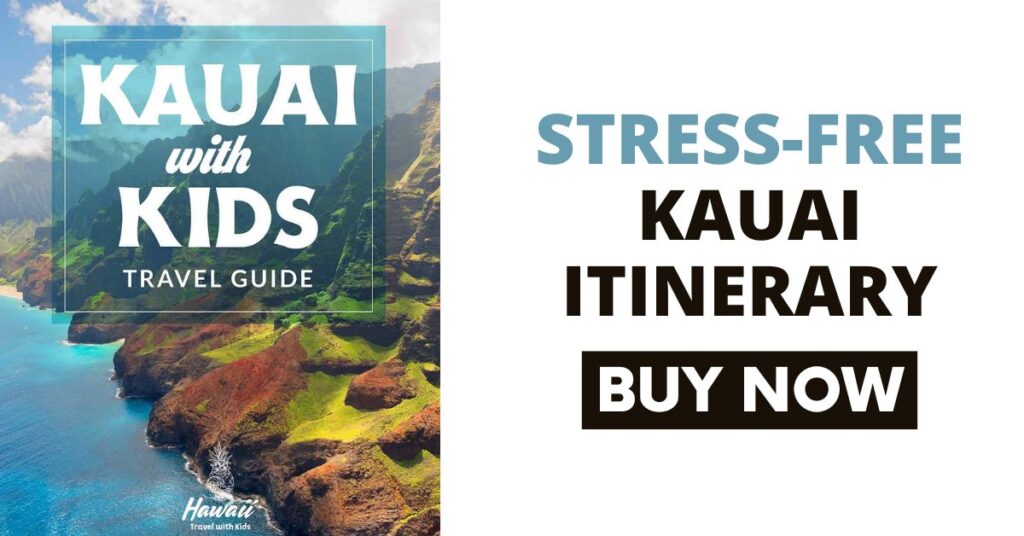 Kauai Sunset Tours
This is a really cool tour of this 80-acre Kauai garden and it ends with an outdoor dinner on the lanai. Check out the latest prices and more details.
Green Hill Sunset on Kauai
Princeville Ranch is another beautiful spot to see sunset on Kauai. You can contact them about booking a sunset horseback ride (which is perfect for a Kauai proposal!)
Makai Golf Course
Whether or not you're a golfer, you can totally enjoy the Makai Golf Course up in Princeville.
They have a sunset golf cart tour that sounds awesome!