Are you heading to Maui on a budget? Camping on Maui is a great way to save money and still have an epic family vacation. Keep scrolling to find out the best Maui campgrounds, and where to go beach camping in Maui.
This post about Maui camping contains affiliate links which means if you purchase something from one of my affiliate links, I may earn a small commission that goes back into maintaining this blog.
Aloha. Welcome to our list of the best places to camp for families in Maui, Hawaii.
Maui has some of the most greatly diverse camping terrains in the world, with something for each family member to enjoy.
Experiencing the outdoors is what Hawaii is all about. Picture relaxing with your spouse on a beachside patio and gazing up to the stars.
Or running on the beach with the kids to see who is fastest.
Think about the simple joys in life like taking in the sunrise while drinking your morning cup of coffee or and falling asleep to the relaxing sounds of the waves crashing.
From secluded spots, to campsites, and state parks, here are some of the best places to camp for families in Maui.
Find out how much a Hawaii vacation costs!
Want to skip all the planning and just access my detailed Maui Itinerary complete with daily schedules, kid-friendly activities, and travel hacks? Click the button below.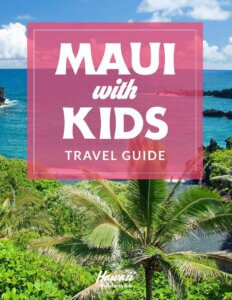 Maui Camping FAQs
Can you camp anywhere on Maui?
No, you'll need to make sure you have a camping permit, even on the beach. Your best bet is to find a Maui campground.
Is it legal to sleep in your car in Maui?
No, it's actually against the law to sleep in your car anywhere in Hawaii (unless you have a camping permit.) And you'll want to be extra careful if it's a rental car. It could be impounded and you'll be responsible for all the fees.
How much does it cost to camp in Hawaii?
If you are camping at most Hawaii State Parks, expect to pay $5 per night.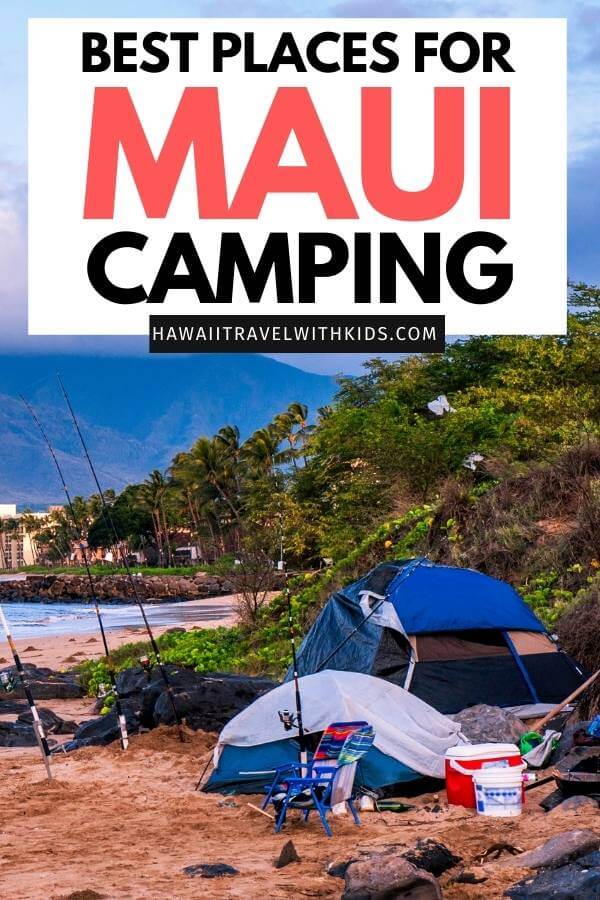 Camping on Maui: the Best Kid-Friendly Campgrounds
To experience respite and solitude from urban day life, the state-managed Waiʻānapanapa State Park is the best place to camp at.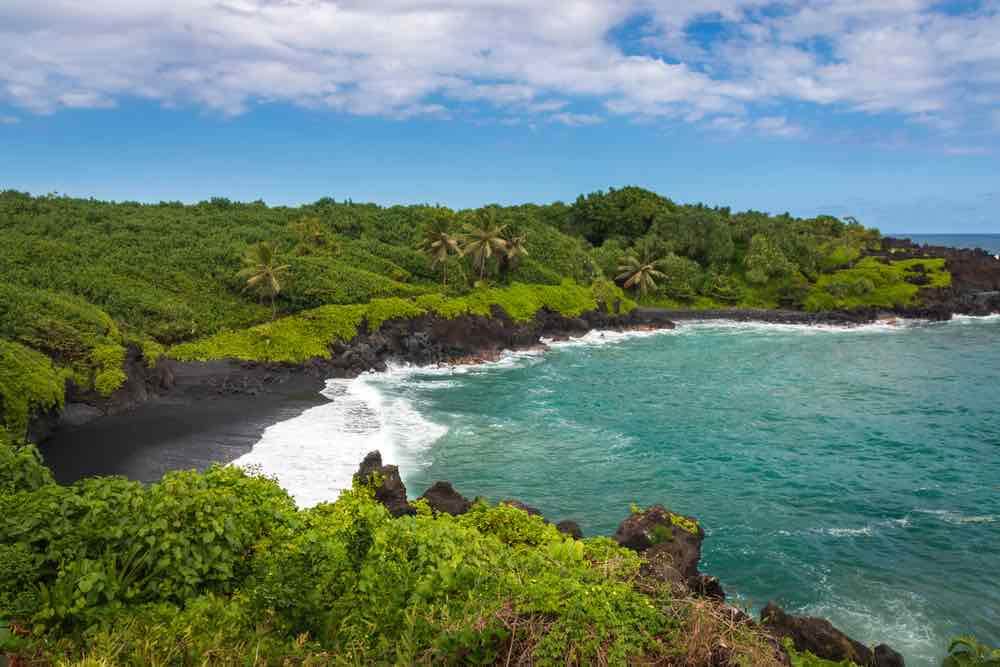 With its remote location, volcanic coastline, and abundance of wildlife, there's no shortage of things to do here for the whole family.
From shore fishing, to family hiking, to camping, to lodging, and picnicking, there's a bit of everything to experience. Read all my tips for this Maui black sand beach.
One of the best things to do at Waiʻanapanapa State Park is hiking along Hawaii's ancient coastal trail, leading you to the little town of Hana.
Here, there are excellent opportunities to view anchialine pools, seabird colonies, water tubes, the native hala forest, heiau (the ancient sacred spots.)
Plus, there are sea stacks, legendary freshwater caves, blowholes, the small black sand beach (which spreads over 122 acres), thousands of shrimp that turn the tide pools crimson, and natural stone arches.
Book your Wai'anapanapa State Park campsite
Haleakala National Park
There are great opportunities to experience glimpses of rare native birds and the bamboo forest. You can also get hands-on experience by hiking the volcanic landscape, and encountering Hawaiian culture.
The most famous thing to do at Haleakala National Park is to see the sunrise. People call it a religious experience.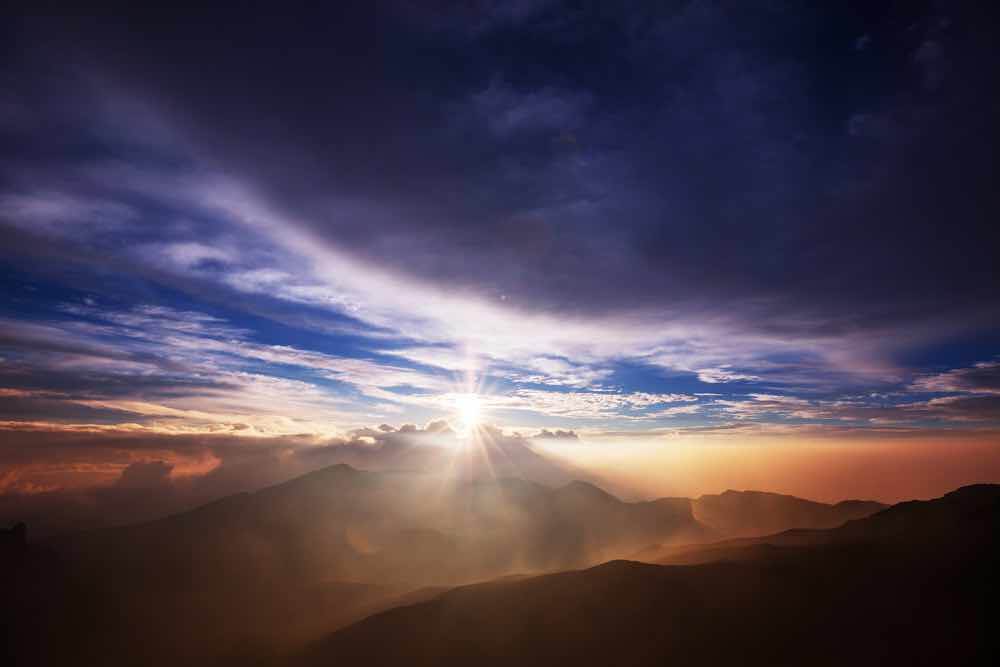 If you are camping at Haleakala, it's much easier to see the sunrise than spending the time driving over from Lahaina or Wailea.
While the crater is pretty dry and rocky (and resembles Mars), the surrounding vegetation is lush and vibrant, and there are overlooks that offer views of monk seals, humpback whales, sea turtles, and seabirds.
There is a variety of guided activities that are perfect for families, including cultural demonstrations, guided hikes, talks, vehicle tours, horseback riding, and volunteering programs.
Get all my Haleakala National Park tips!
Where Can You Go Camping at Haleakala?
Experience the easiest pre-dawn wakeup at Hosmer Grove Campground by sleeping close to the Haleakalā Summit.
Even though you're camping in Hawaii, it's not going to be all sun and surf here at Hosmer Grove Campground. It's both located at an elevation and in the cloud belt, so expect it to get windy and wet.
This is the best campground to serve you and your family as a base for exploration.
There are many benefits to this campground, including the fact that it's free, along with offering easy and quick access to the Haleakalā Summit. It's perfect for watching the sunrise!
There's also the magnificent scenery, the birding trail, and the experience of camping close to a volcano.
Book your Hosmer Grove Campsite
Kipahulu Campground is found farther down the mountain and offers easy and quick access to the ocean, campsites that line the coastal cliffs, and waterfalls.
You can stock up on water and food at one of the two general stores located at Hana, about ten miles away.
Kipahulu can support up to one hundred campers, whereas Hosmer Grove can support up to fifty. Both of these campgrounds are reserved in person.
When it comes to Kipahulu, picture laying under a tree in your tent, hammock, or sleeping bag, towards the cliff's edge, with ocean views and watching the sunrise over the Pacific without even having to get up!
It's a magical experience.
Book your Kipahulu Campsite
There are four different ways for you to have a camping experience at Camp Olowalu:
At one of the thirty-five campsites
In one of the twenty-one Tentalows
In your own vehicle
Or in one of the six cabins.
This is a great place to camp for families with the surrounding ocean, abundance of vegetation, the resurgence of native plantings and fruit trees, and the amazing climate of course!
There are both peaceful and invigorating activities to experience, like whale watching, kayaking, snorkeling, surfing, exploring the tropical beauty of Maui, hiking to the Olowalu Petroglyphs, and so much more!
Make your Camp Olowalu reservations
Kanaha Beach Park
The Kanaha Beach Park is a peaceful and beautiful coastal expanse between the Spreckelsville Beach and Kahului Bay.
Your breath will be taken away by the views of the West Maui Mountains and I'ao Valley.
Not only does the Kanahâ Beach Park have family vibes, but there's a wide variety of activities to try for the whole family including kite surfing, windsurfing, canoeing, mountain biking, camping, picnicking, fishing, helicopter tours, and beach volleyball, among other activities.
The headquarters of the Lae'ula O Kai Canoe Club is found at the beachfront pavilion.
The beach is accessed easily from Hana Highway 36, with ample parking available, and is within walking distance to the Kahului Airport.
Polipoli Spring State Recreation Area is one of the two state-managed parks that are found in Maui, the other being Waiʻanapanapa.
Despite this fact, both of these parks are completely different.
At Polipoli, you'll get to experience four different hiking trails with their own varied foliage, as well as cool fog banks.
Whereas, with Waiʻanapanapa, you'll get to experience the freshwater pools and warm black sand.
Polipoli doesn't even feel like Hawaii with its amazing sunshine, beaches, and ocean views. Instead, picture
upcountry tucked away in the magnificent forests and clouds.
This is the best place to camp for a family that hunts, as hunting for goats, wild boar, and birds is allowed in the
park. On that note, it's of utmost importance to wear bright colors for that very reason.
Other activities include hiking and picnicking. This park is definitely one for the books!
Book your Polipoli Spring State Park Campsite
One of the most diverse camping spots, and with plenty of perks, is the YMCA Camp Keanae. The camp is found along the Hana Highway.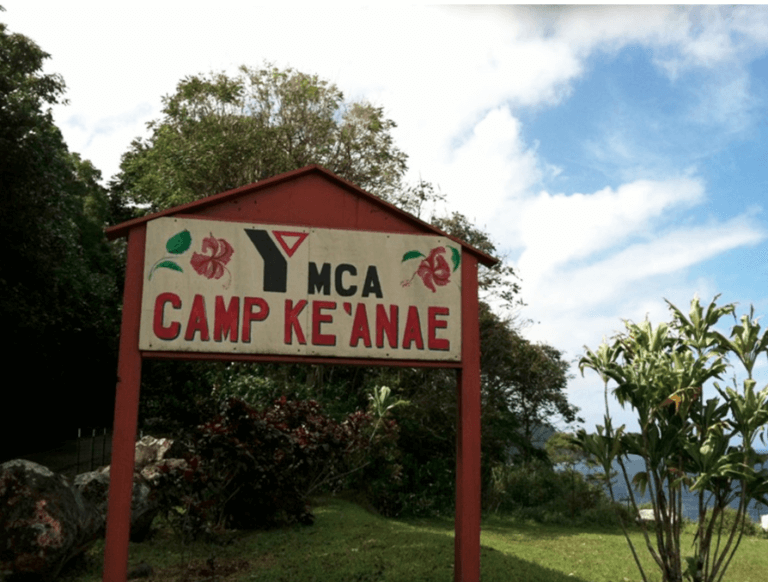 Some of the activities found nearby include natural swimming ponds, wading and swimming at Black Sand Beach,
and enjoying the beauty of the native and tropical trees and plants.
There's also hiking along the Piinau Stream, trying the locally made goods and exotic fruits along the Road to Hana, and strolling along Keanae Point's rocky shores.
But our favorite thing is experiencing the most breathtaking drive in the world along Hana Highway.
The Road to Hana is in a tropical rainforest and has countless waterfalls and vistas, not to mention its 59 bridges and 620 curves.
The camp has a fitness center, field cabins, cottages, and tent facilities.
Make your Camp Ke'anae Reservations
Papalaua Wayside Park is a small beachside park that's located about three miles down off the highway from the Camp Olowalu.
Camping is allowed each day of the week, except for Tuesdays and Wednesdays.
What Papalaua Wayside Park lacks in amenities is sure made up for in recreation- kayaking, swimming, hiking, picnicking, wading, surfing, snorkeling, and just being a few yards away from the beach.
This is also the cheapest place for families to camp at, and offers easy beach living on the southern shore right along the breathtaking coast.
If your family is low maintenance and okay with using porta potties for bathrooms, then this is definitely the place for you- it's unforgettable.
Find out more about Camping at Palalaua Wayside Park
Where to go Wilderness Camping on Maui
Paliku, Kapalaoa, and Holua are the best places to go wilderness camping. It's a different type of experience, but it's great in its own way.
Wilderness camping is spacious, so you need not worry about neighbors and you won't be confined. It's also a more affordable way to go camping.
Kids can also have the opportunity to just be that: kids.
They can truly experience the outdoors without you having to worry the whole time about them interrupting or bothering the other campers, as well as their safety, which of course, is always a priority.
But, in a quiet place like this, it is a whole lot safer as it's very remote.
It's also easy to spot wildlife as there won't be many people around, or things that scare the animals away, like loud music, car lights, loud conversations, and so on.
Campsite/tent camping permits are to be obtained between 8 am and 3 pm the day before your trip at the Headquarters Visitor Center.
Both Holua and Paliku have water and pit toilets available close by, however, the water is non-potable, so it has to
be treated or filtered prior to consumption. And if there is drought, all water has to be carried in.
There are cabins available, but they don't have electricity.
Paliku Campsite
Paliku lies at nearly six and a half thousand feet and is located at the east end of the Wilderness valley and is found at the base of a rainforest cliff.
You can reach Paliku's campsite after a nine-mile trek on the Sliding Sands Trail or a ten and a half mile trek on the Halemauʻu Trail.
You'll get to experience fascinating views of the interior part of the crater along the trails, not to mention the exceptional cinder cones and silver swords among this breathtaking Martian-like and Lunar-like landscape.
On clear days, you'll have clear visibility of the Big Island through the Kaupo Gap.
On foggy and cloudy days you'll experience views that are lush and cool, offering you an epic experience of Maui.
Kapalaoa Cabin
Kapalaoa has acres of daisies and primroses surrounding its cabin and the Keonehe`ehe`e Trail.
The Deschampsia autralis is the native blue-silver bunch grass that is making a quiet return.
Kapalaoa has natural beauty that is definitely worth experiencing and seeing.
Holua Campsite
Holua lies at nearly seven thousand feet by the shrubland that's near to the Ko`olau Gap.
Holua is found down the Halemau`u Trail, at a distance of nearly four miles, or at a distance of seven and a half miles from the Sliding Sands Trailhead.
Day hikes can be enjoyed here, and you'll be in awe by the shrubland that colonizes lava flows. There's even a short trek to a large lava tube close by!
Camp Maluhia
Camp Maluhia is a campground that's privately owned, and is open for use by the public.
It's the best place to do group camping, especially with family and even extended family. It's actually owned by the Boy Scouts of America.
Camp Maluhia spreads across over two hundred acres of land that's lusciously green, not to mention the many opportunities to adventure, do activities, and experience unbelievable views.
Another great thing about Camp Maluhia is that it's the only campground in Maui that has a swimming pool.
The kids will have an endless list of new hobbies to discover and new skills to learn, thanks to the recreational field, shooting range, and swimming pool.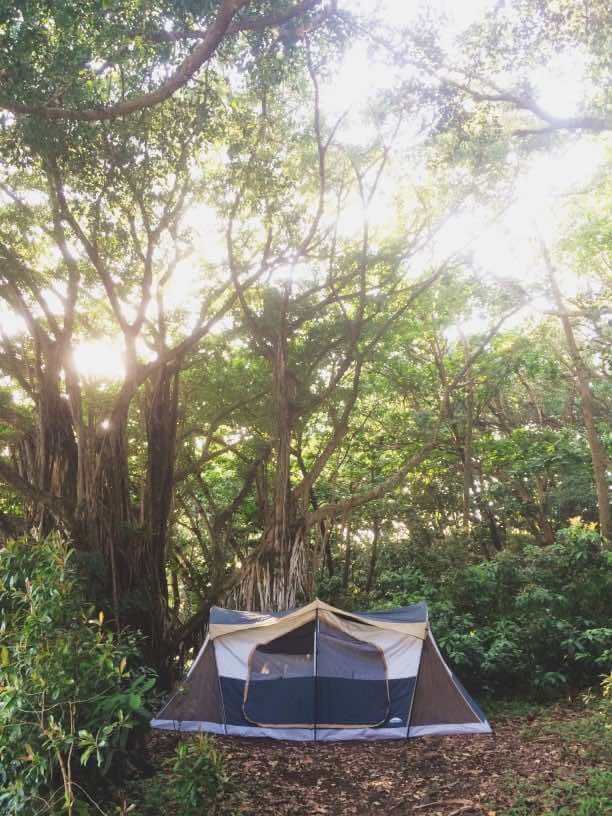 What to Pack to Go Camping on Maui
Backpack
Water
Water filter
Food
Rain gear
Flashlight
Map
First-aid kit
Survival kit
Medications
Hiking shoes
Warm jacket
Warm sleeping bag
Layered clothing
Sunglasses
Essential Tips for Camping on Maui
Have your route planned out before the time.
Tell someone where you and your family are heading and for how long.
Don't forget to stop at the visitor center.
Have a printed map with you.
Have the appropriate gear with you.
Make sure to wear hiking boots that are sturdy.
Have water and food with you at all times.
Make sure to be prepared for unpredictable weather.
When dressing, dress in layers and use clothing that is wool or synthetic.
Pack things in plastic bags in case it ends up raining.
Make sure that you treat your water before drinking it.
Be prepared if an emergency arises.
Keep in mind that through most of the backcountry there's no cellphone coverage (which is why there's Tip #4 and Tip #12!
Make sure to carry survival gear and a first aid kit.
P.S. Join our Hawaii Travel with Kids Facebook group to get connected with other families planning a trip to Hawaii!