Looking to go to Hawaii on a budget? Find out everything you need to know about camping in Hawaii to see if it's right for you. Scroll for all the Hawaii camping info!
This camping in Hawaii post contains affiliate links which means if you purchase something from one of my affiliate links, I may earn a small commission that goes back into maintaining this blog.
Hawaii is the place everyone wants to go on vacation. From the palm trees swaying in the breeze and the smell of pineapple in the air, what's not to love?
However, it is also costly to visit. That is why many people decide to camp out on the beach during their stay in Hawaii.
Yes, you can go camping in Hawaii. It's legal as long as you know what you are doing.
If you are adventurous and looking to visit Hawaii on a budget, it might be an option for you!
Planning on camping in Maui with kids? Read my full post about Maui camping here.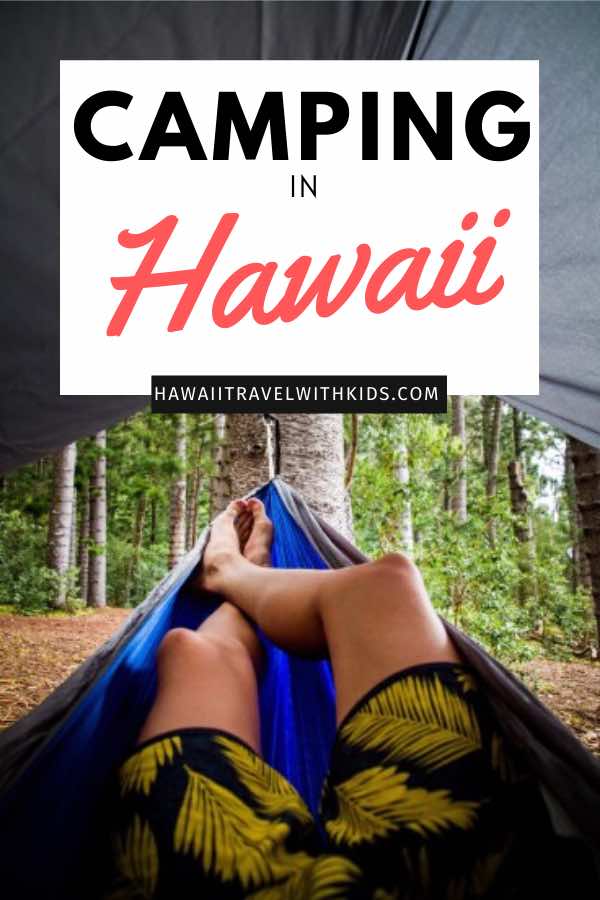 Camping in Hawaii FAQs
Which Hawaiian island is best for camping?
They all are pretty amazing for camping, so it really depends on what you'd like to do on your Hawaii camping trip. Maui has cool day trips like the Road to Hana and Haleakala Crater. Kauai has the majestic Waimea Canyon. Big Island has Hawaii Volcanoes National Park. And Oahu has so many incredible attractions.
Is it legal to sleep on the beach in Hawaii?
Napping on the beach is totally fine! But, if you are talking about sleeping overnight on the beach, you'll need to obtain a camping permit.
Is it legal to sleep in your car in Hawaii?
No. It's definitely illegal to sleep in your car in Hawaii (whether you own it or it's a rental car.) Plus, it's just not safe.
What you Need to Know about Camping in Hawaii
When visiting Hawaii, many people don't want to spend tons of money on a hotel they rarely spend their time.
Because you are always out and about while exploring Hawaii, it doesn't make sense to waste all your money on a fancy hotel.
Camping is a great alternative that is super cheap.
Here are all the things you need to know about camping in Hawaii.
Camping vs. Hotel or Airbnb
Camping can be an excellent option for many tourists visiting Hawaii. It is considerably cheaper than a hotel and even an Airbnb or VRBO.
However, if you plan to stay over a week or longer, you might not want to camp.
Campgrounds are closed every Wednesday-Thursday in Hawaii. So if you decide to camp, it would be best to arrive on a Thursday and leave on a Wednesday.
If you don't, you will have to stay at a vacation rental home or hotel for those two days.
How Much Does Camping in Hawaii Cost?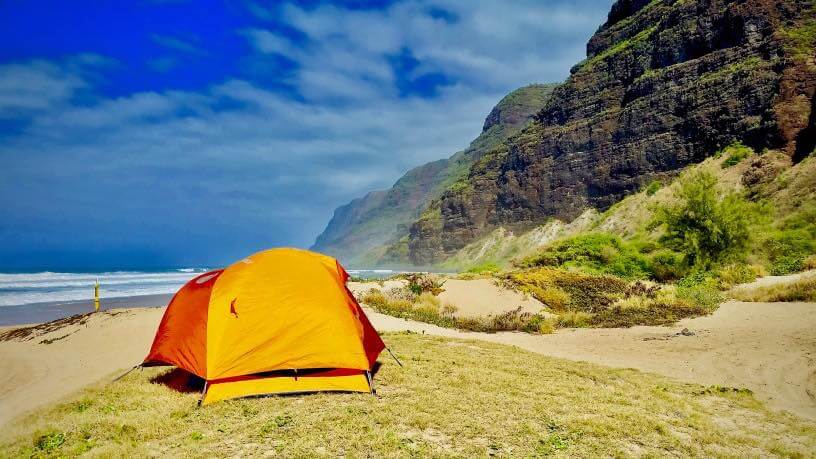 The cost typically depends on the campground, amongst other factors.
If you are a Hawaii resident, it will be a couple of dollars cheaper. Children under the age of two years old are free.
Mainly it is only a couple of dollars per person, which is great compared to spending hundreds at hotels.
The private campgrounds are a little more expensive, but still the cheapest option than staying in a hotel.
Can I Just Camp Out on Any Beach?
The short answer is no, you cannot go Hawaii beach camping without a bit of research.
While many think because they are public beaches, you can sleep and do whatever you want, there are still regulations.
Just like the homeless cannot sleep on specific beaches, neither can you camp out on any beach you wish to. You can only stay overnight on campgrounds.
Is it Safe to go Camping in Hawaii?
Camping can be safe, depending on where you camp, and if you adhere to the rules.
Many tourists are scared of the locals; however, there is no need to fear. They are friendly and won't bother you if you don't bother them.
Make sure to follow these simple rules to help keep you and others safe while camping in Hawaii:
Take more water than you think so you don't get dehydrated
Always camp with another person, never alone
Bring a cell phone
Don't drink water from untreated lake or stream
Always be prepared for rain, you never know when it will rain in Hawaii
Bring bug spray
Follow all posted signs
Is Camping in Hawaii Legal?
Yes, camping in Hawaii is legal if you follow the rules and regulations.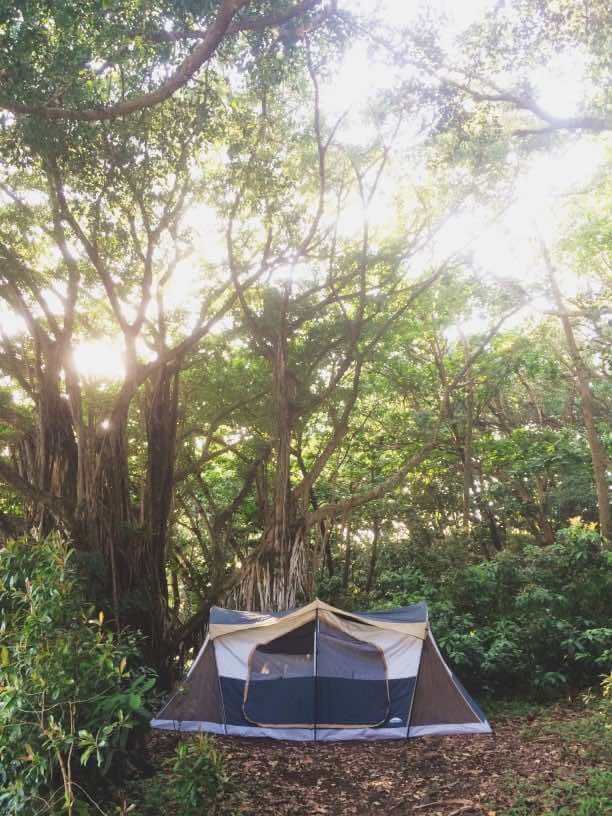 To legally camp, you must obtain a permit. No one will be handing out permits at the campground, so you will need to get one beforehand and have it printed out. You can go online and submit for one, or mail it in.
Again, this depends on the campground and what island you are on, but typically you need to reserve your permit in advance.
Because every island and even county have their own rules regarding permits, make sure you follow the guidelines for only that particular campground.
Sometimes no one will ask to see your permit; however, there are times when someone comes, often early in the morning, to check.
Make sure to always have your permit with you if you want to camp in Hawaii legally.
Where Can I Camp in Hawaii State Parks?
If you are looking for Hawaii state parks camping spots, there are plenty of Hawaii campgrounds to choose from:
Big Island Camping
Kauai Camping
Maui Camping
Molokai Camping
Oahu Camping
Campground Rules
Each campground will have its own rules you must follow. Some will lock the gate at a certain time, so you can't stay out too late, or you get locked out. Others have specific times where you can set up and check out.
At some, you cannot have a fire, while others you can.
Make sure to find out exactly what the rules are for the campground you will stay. This will help you to plan your days better and not get caught outside the gate and locked out for the night.
Hawaii Campground Amenities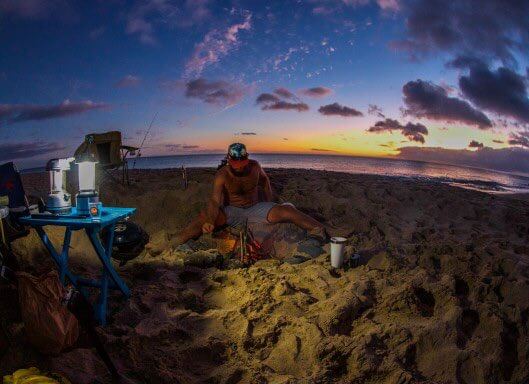 The downside to camping in Hawaii is that campgrounds have very little to no amenities. At most, you have a bathroom and sinks. Some you will even get cold showers. Some have picnic tables and places to wash your dishes.
Campgrounds typically do not have a grill or place to cook, so you will have to bring your own. It is basically just a place to rest your head for the night.
Hipcamp in Hawaii
If you don't want to camp at a Hawaii State Park, you have other options.
Hipcamp is a cool website where you can find unique camping spots all over the country. In Hawaii, you camp in an orchid farm, in a treehouse, on a coffee plantation, near a Hawaiian volcano, and so many other places. Check out the latest prices and more details.
What to Bring Camping in Hawaii
Another downside is that you will have to bring a lot more things than just some clothes. You will have to bring what you would normally take camping anywhere: tent, pillow, sleeping pad, and a sleeping bag or blanket.
Then besides the normal camping things, you will also want a waterproof jacket because the weather in Hawaii is always changing.
If you want to cook food yourself, then a stove, utensils, and food to eat.
However, many just stick to local places and food trucks for easy, cheaper meals.
If you plan to stay for a while, a clothesline will help keep your clothes dry. You will also want some type of lighting, either lanterns or flashlights.
Again, make sure to always have mosquito repellent on you as well.
Because it can be hard to bring all the camping materials with you, many people and places will let you rent out their equipment to help you out. This could be more expensive or cheaper, depending on your situation and what you need.
Camping in Hawaii is a fun adventure many tourists love to do. It is safe if you follow the rules and regulations. It will help you save money while still being able to explore the beautiful islands of Hawaii.
Consider following these guidelines to get the best camping experience in Hawaii.