Are you thinking about planning a trip to Oahu in August? Find out some of the best things to do in Oahu in August that are worth adding to your itinerary!
This list of things to do in Oahu in August contains affiliate links which means if you purchase something from one of my affiliate links, I may earn a small commission that goes back into maintaining this blog.
If you are planning a vacation to Oahu in August, you are making a wonderful choice. August is a fabulous time of year to enjoy a trip to one of Hawaii's most beautiful islands.
There are so many exciting events and activities taking place in Oahu during the month of August. You are sure to find something that everyone will enjoy participating in.
Visiting Oahu in August is a great way to spend a summer getaway. From the gorgeous weather to the exciting and unique attractions, you won't find it difficult to keep busy.
Start planning your vacation to Hawaii in August today. You won't regret it.
Don't have time to read a bunch of Hawaii blog posts and reviews? Here are some of our top picks for visiting Oahu.
Popular Oahu Tours/Activities
Favorite Oahu Resorts/Hotels
Want to Rent a Car in Hawaii?
One of the best places to rent a car in Hawaii is Discount Hawaii Car Rental because they get the best rates from top national companies like Alamo, Dollar, Thrifty, Avis, Enterprise, Budget, and Payless.
Want to skip all the planning and just access my detailed Oahu Itinerary complete with daily schedules, kid-friendly activities, and travel hacks? Click the button below.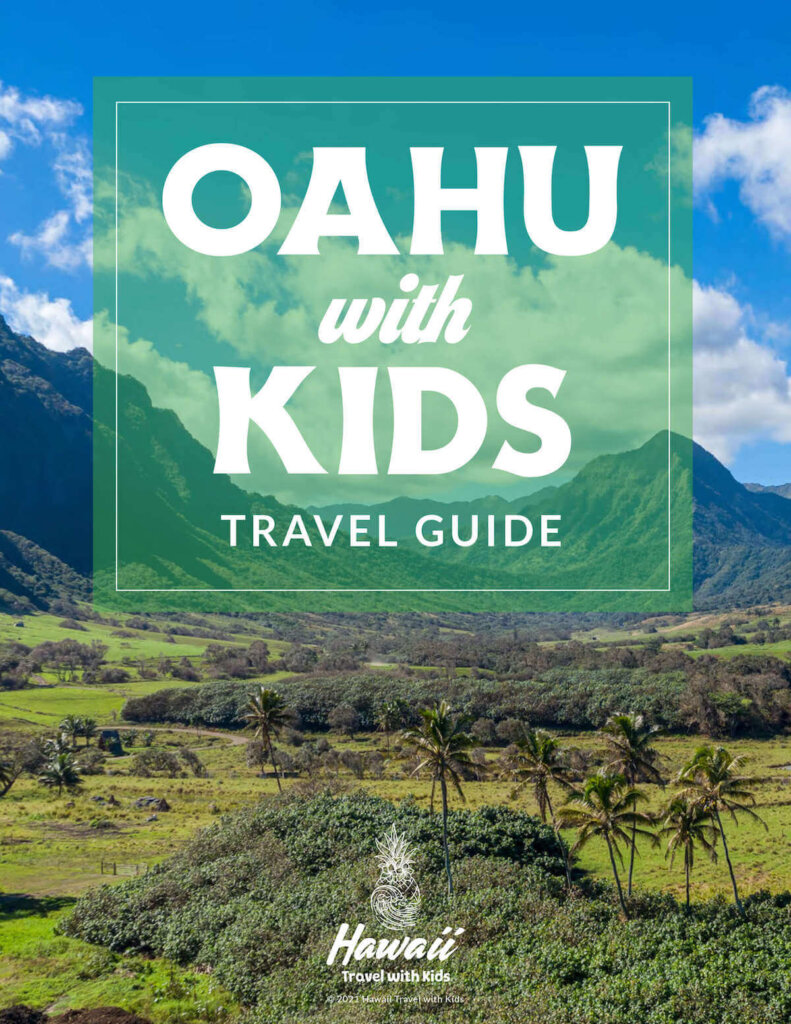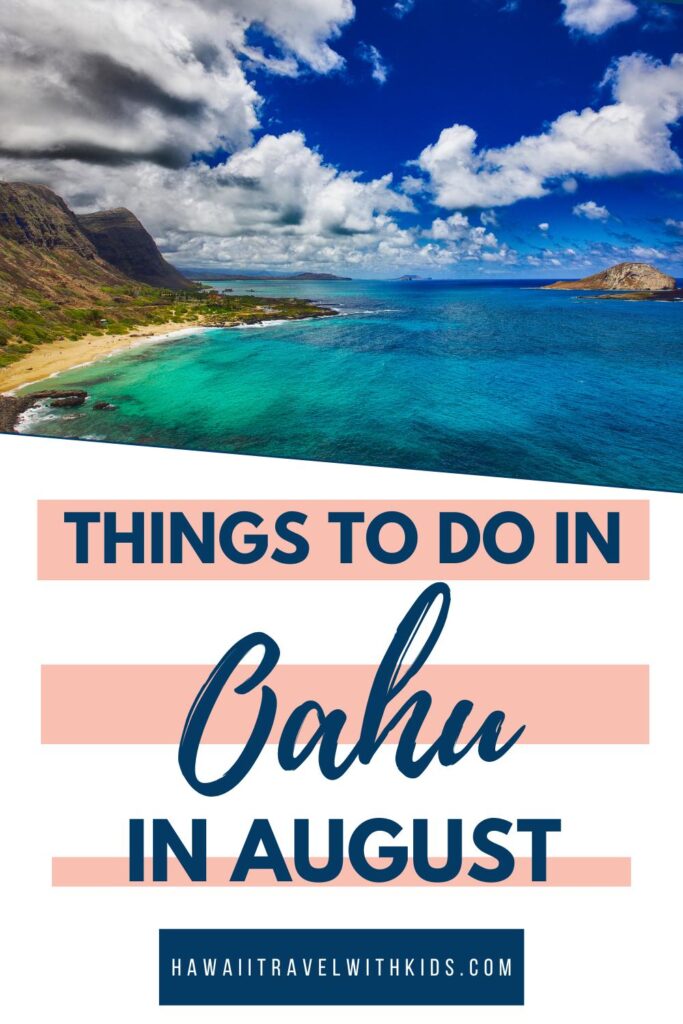 Oahu Hawaii Weather in August
The weather in Oahu, Hawaii, in August, is spectacular for fishing, beach days, and more. As summer is now in full swing, the temperature is the hottest of any other month. It rains very little in Oahu in August, so you are unlikely to need rain gear.
Temperature in Honolulu in August
Booking a getaway to Oahu in August is a great way to take advantage of fabulous August weather.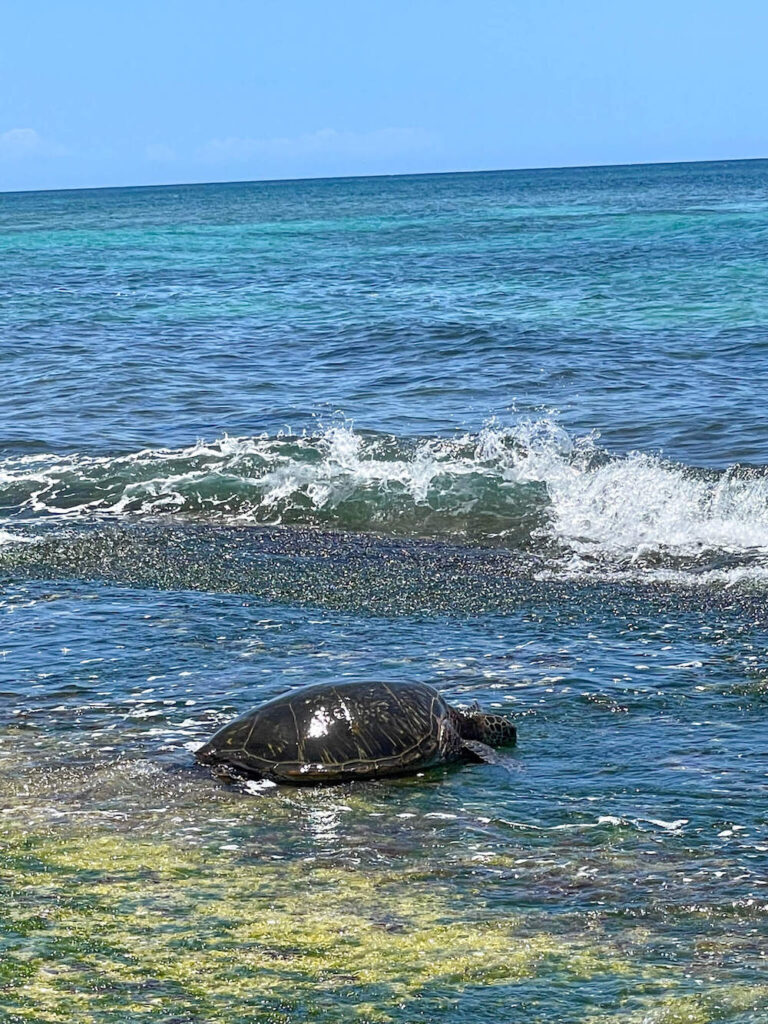 The average temperature on Oahu in August is 89 degrees Fahrenheit. At night and in the evening hours, the temperature is an average of 70 degrees Fahrenheit.
This is generally the same all across the island, including Honolulu and Waikiki.
Weather in Oahu in August
Plenty of sunshine and gorgeous ocean temperatures are part of the typical Oahu weather in August. With hot and humid days and warm evenings, you are sure to enjoy lots of time at the beach and several outdoor activities.
In August on Oahu, you can expect great summer swimming conditions, lots of sunshine, and several outdoor adventures. Visiting Oahu in August is sure to create wonderful memories.
For more information, check out What's Hawaii Summer Like?
Things to do on Oahu in August
There are so many fun and exciting events in Oahu in August. Whether you take in one of the amazing festivals or participate in their amazing events, you are sure to be pleased.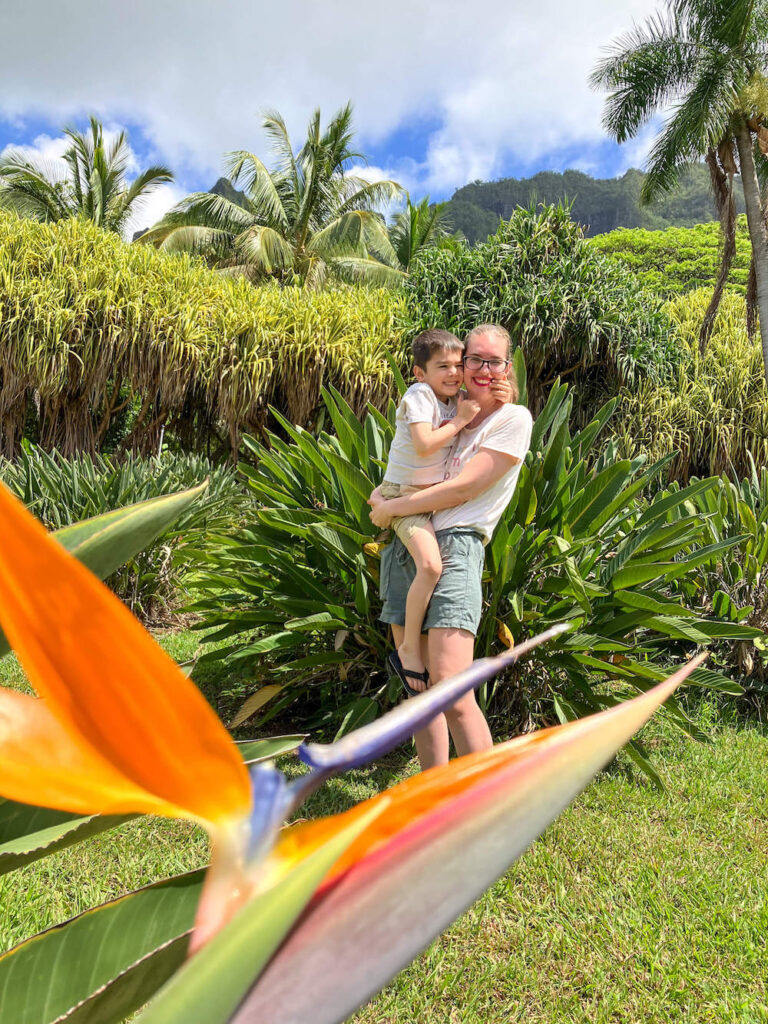 With the staggering amount of things to do, you are sure to remain busy and enjoy your vacation.
Moon Walk at Waimea Valley
Enjoy a delectable buffet dinner under the glowing Hawaiian moonlight. Waimea Valley is a stunningly gorgeous place, but it also has religious significance in Oahu.
The dinner buffet will be catered by Ke Nui Kitchen and features a wide variety of different food items. This is an experience you aren't going to want to miss.
Visit the Waimea Valley Website for information.
Duke's OceanFest
If you are into Ocean Sports, check out Duke's OceanFest in Waikiki. This festival takes place in celebration of Duke Kahanamoku. While this appears to be a surfing competition, it is actually so much more than that.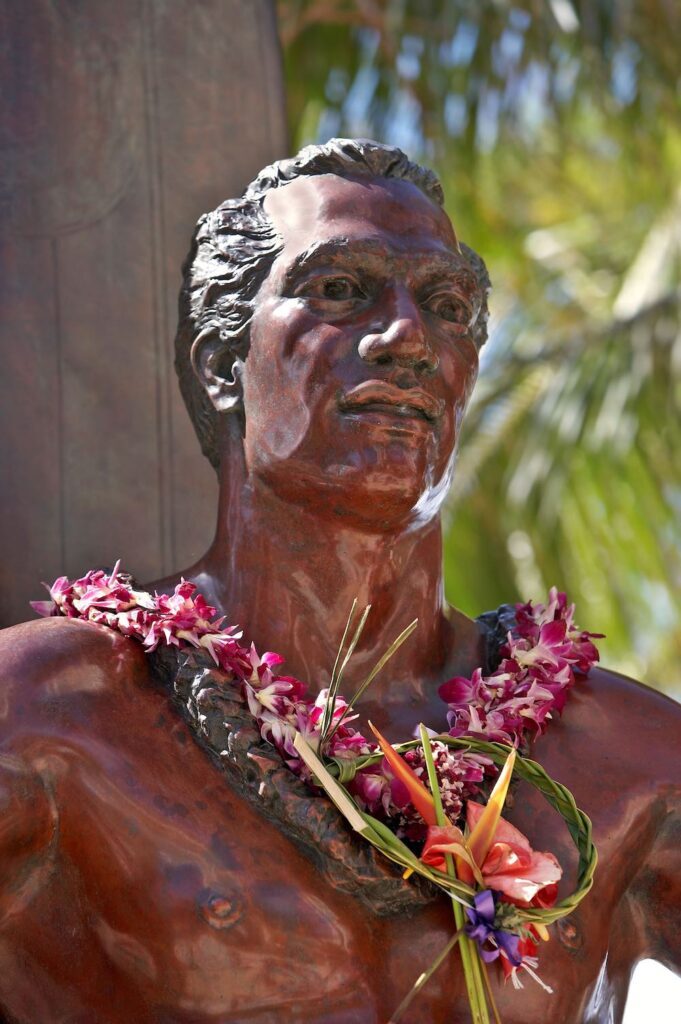 At Duke's OceanFest, you will find paddleboarding, polo, beach volleyball, and more. In fact, you may even catch a glimpse of some surfing dogs.
This is an exciting annual event for everyone to enjoy and lasts for more than a week at Waikiki Beach.
If you visit Hawaii in August, you will definitely love this Hawaii festival!
Check out Duke's OceanFest Website for information.
Book a Family Photo Shoot
Whenever we travel to Hawaii, we almost always book a family photo shoot with Flytographer. They are super easy, affordable, AND it guarantees that I'll be in some photos. You can get $25 off if you book through this link or use the code HAWAIITRAVEL.
Artfest
Taking place in Kapiolani Park, Artfest is a great way to celebrate, view and purchase Hawaii-based works of art. With over 75 local craftsmen and artists displaying their artwork, you are not going to want to miss this experience.
At Artfest, you can find clothing, ceramics, crafted jewelry, and more from different Hawaii vendors.
There will be live traditional Hawaiian music to enjoy as you browse and several food vendors.
I love all the souvenirs I get from each of the Hawaiian islands, and this Hawaii festival would have tons of unique things to grab!
Visit the Handcrafters and Artisans Alliance Website.
Annual Na Hula Festival
Take a trip to the Kapiolani Band Stand and watch some beautiful hula performances. This festival celebrates the art of hula dancing. This is a place for Hula instructors to showcase performances and their students.
The morning will start with a live music performance. The Na Hula Festival is a must-visit on Oahu in August.
Visiting Hawaii during one of these Hula festivals is so much fun!
Visit the City of Honolulu Website for more details.
Annual Hawaiian Slack Key Guitar Festival
The slack key guitar festival is a must-see if you are in Waikiki. This festival gathers together some of Hawaii's top performers. With group and solo performances, you are sure to enjoy this amazing musical display.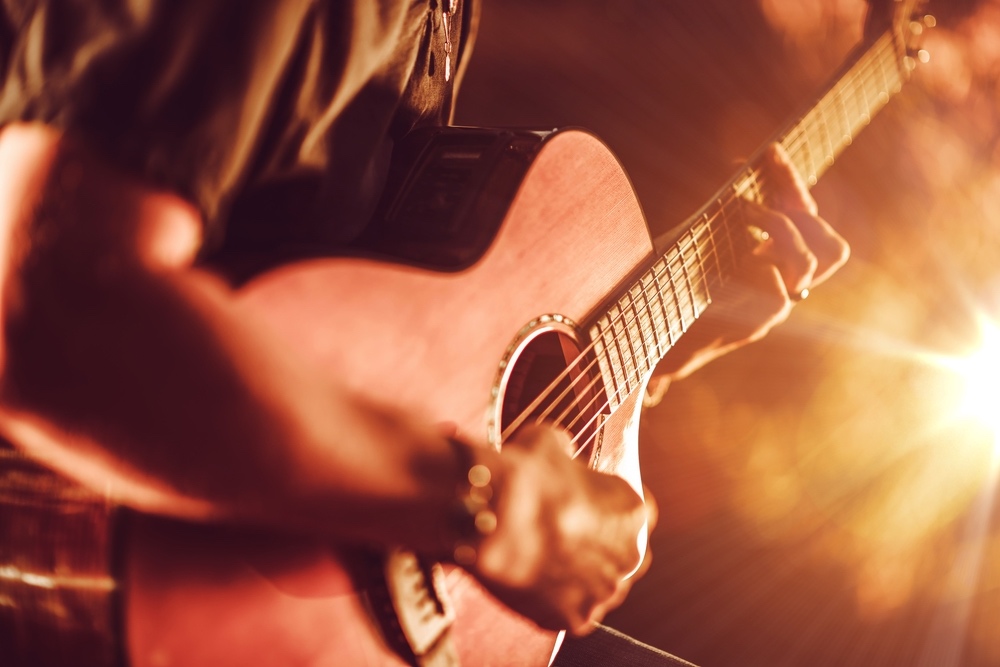 Alongside amazing entertainment, there are always free giveaways and some delicious food.
Check the Waikiki Aquarium Website for more.
Annual Korean Festival
This festival celebrates a day in Korean culture. This festival is a fantastic way to discover interesting facts about Korean culture through different foods, dance performances, music, works of art, performances, demonstrations, and more.
The Annual Korean Festival will have you munching on some delicious foods and enjoying cooking demonstrations and more.
Check the Korean Festival Website for details.
Visit Things to do in Waikiki with Kids to find more great family-friendly things to do with kids in Oahu.
Screen on the Green Waimea Valley
Enjoy free outdoor activities and movies at Haleʻiwa Farmers Market in July and August!
It's a fun free thing to do in Oahu that will be perfect when you visit Hawaii during the nice August weather.
Check out Waimea Valley's website for more information.
Made in Hawaii Festival
For more unique made-in-Hawaii products to grab while visiting Hawaii, check out the Made in Hawaii Festival.
You will find tons of items, including art pieces, clothes, toys, jewelry, plants, and so much more.
It's another one of the cool August events to check out during your visit to the Hawaiian islands.
Check out their website for more info.
Hawaii Shakespeare Festival
If you love Shakespeare, you will definitely enjoy this annual festival! It has been going on for around 14 years now, and you can go and enjoy some of Shakespeare's finest productions.
It usually is from mid-August to the end of August.
Check out the website for more information.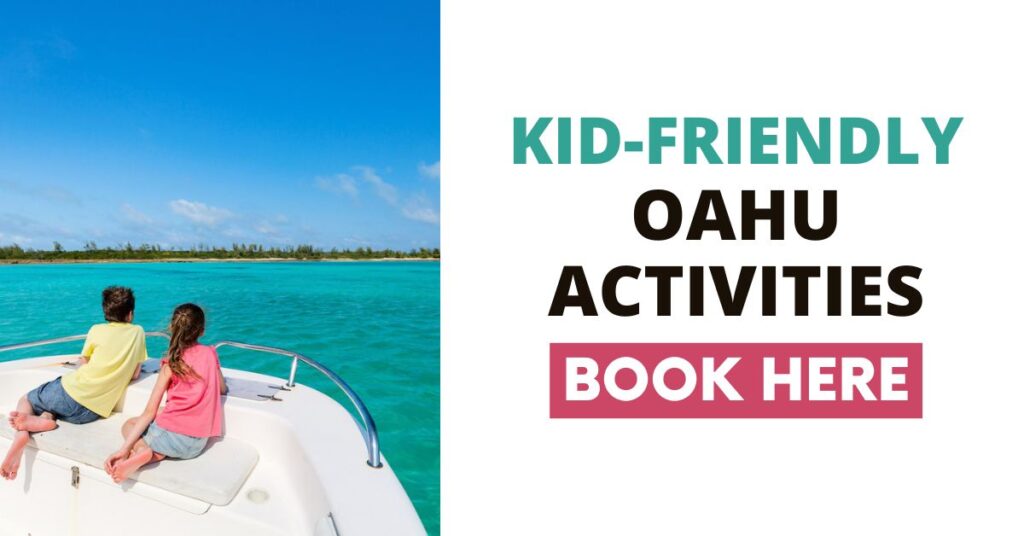 Top 10 Oahu Attractions in August
Visiting Oahu in August is sure to provide you with many opportunities to participate in some fantastic activities.
There are so many great attractions to choose from on the island. Whether you are looking for stunning beaches, fantastic hikes, or some great indoor activities, you are sure to find something for everyone.
Oahu has some great activities for all ages and skill levels. There are several chances to try something new or show off your skills with a favorite activity.
1. Fishing
A chartered fishing tour is a great way to get outdoors and enjoy the ocean. These charters are generally led by captains with several years of experience. They know exactly how to navigate the waters of Hawaii.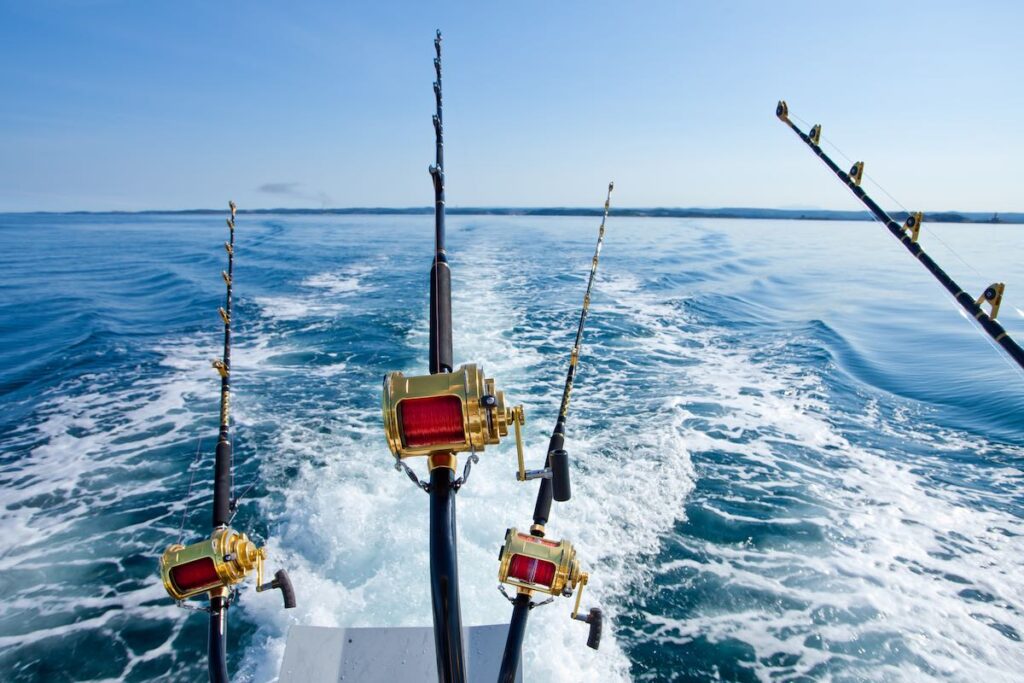 Whether you are new to fishing or a seasoned veteran, this is a must-experience item on your Oahu bucket list.
You can choose from half-day to full-day fishing experiences. In fact, if you have children, choose a shorter one so you can bring the entire crew.
If you don't want to deal with a boat, you can fish from the shoreline.
2. Manoa Falls
Take a hike through a gorgeous jungle environment to reach the gorgeous Manoa Falls. The Falls are generally easy to reach. Cross the boardwalks, navigate the natural paths and wooden steps, and you will reach Manoa Falls.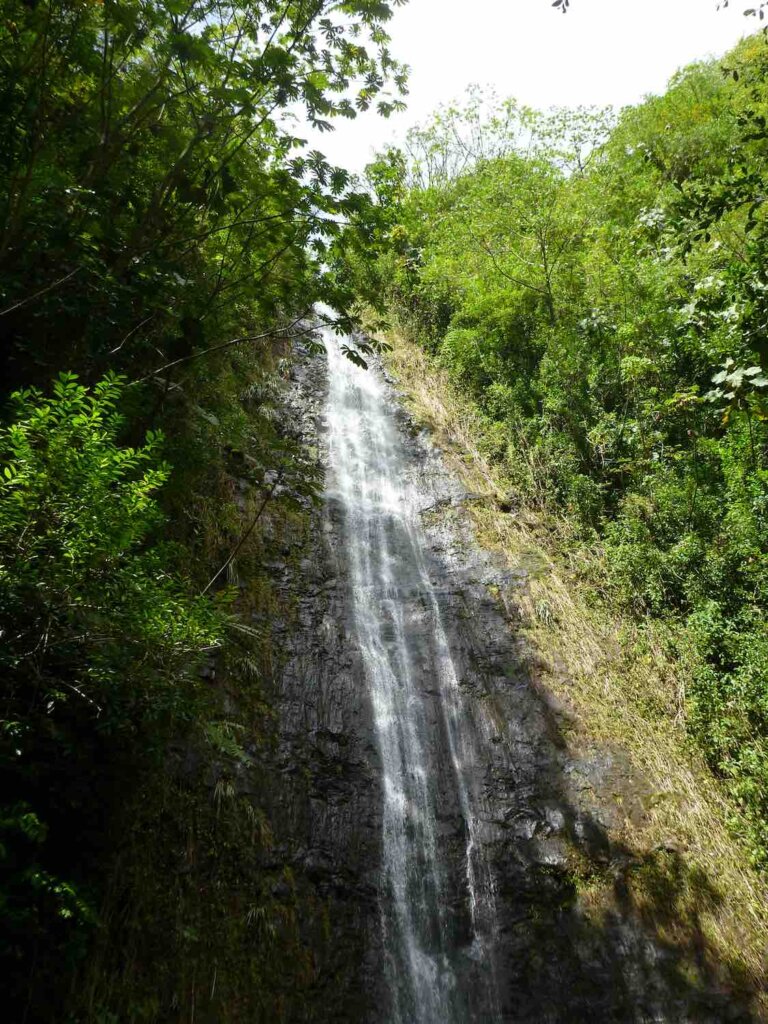 You are strongly discouraged from swimming in the pools below the waterfalls. This is because there are usually falling rocks from the mountainside, and this creates a rather dangerous swimming environment.
There are several picnic areas, and the views offered are worth the hike.
3. Koko Crater
While this hike is only 1.4 miles long, it is a difficult one to conquer. This is because it has an extreme incline. There are old railway ties you have to take in order to reach the top.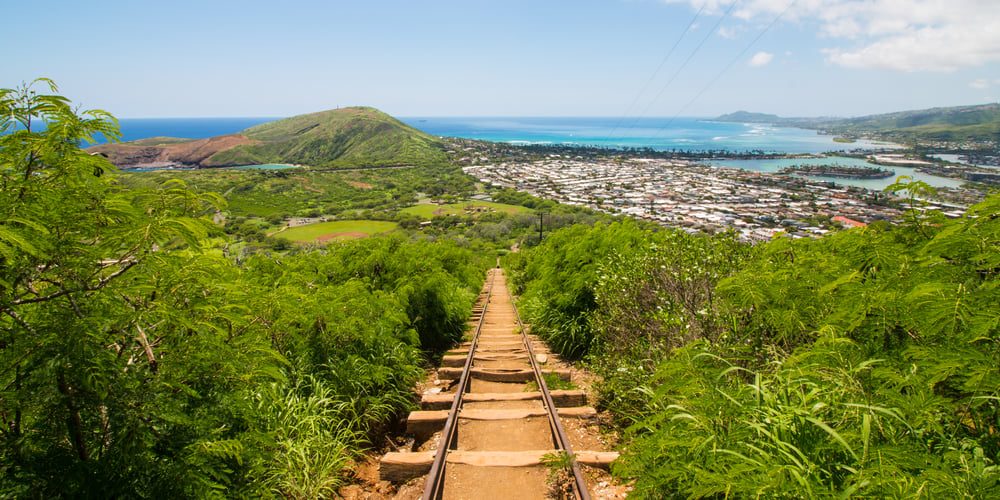 The views at the summit are 1208 feet above sea level, giving you stunning views and a fantastic vantage point.
There is a railway bridge halfway up the tracks. If you have a fear of heights, you may want to avoid this route and opt to go through the bushes instead.
While it's a difficult hike, it is absolutely worth all the effort once you reach the top. The views are simply stunning, and there is a cool breeze and places to relax before you head back down.
4. Kualoa Ranch
This iconic ranch is a great place to visit while you are in Oahu. You may be surprised to learn about the vast amount of movies that were filmed on the reserve. Take the movie tour and learn all about them.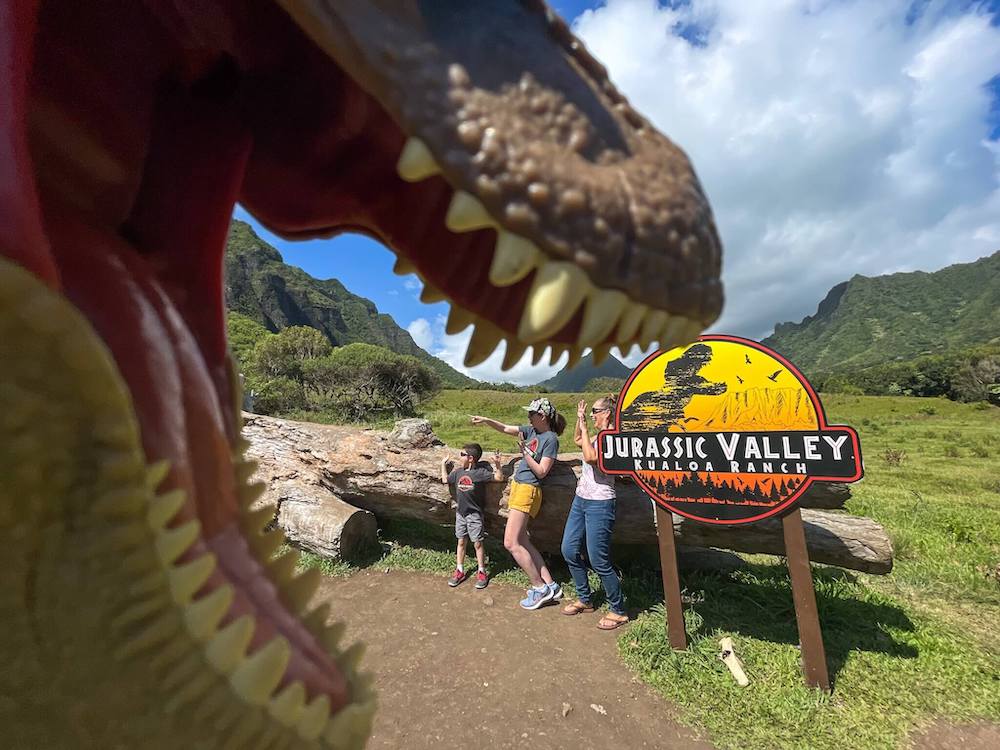 The Kualoa Ranch is a private nature reserve. It has more than 4,000 acres of amazing greenery. There are a wide variety of tours that you can choose from. You will learn about the culture, history, and adventure that the ranch has to offer.
You cannot visit Hawaii in August without coming here!
5. Honolulu Museum of Art
If you enjoy art, you aren't going to want to miss a visit to the Honolulu Museum of Art. Alongside cultural works from Hawaiian artists, you will find international exhibits and more.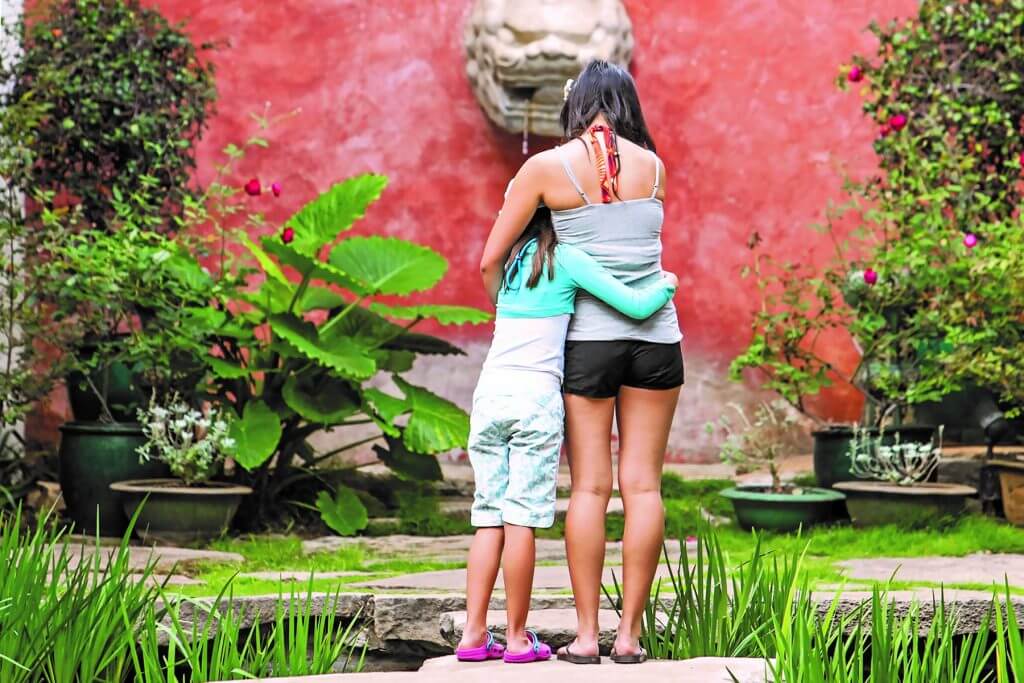 If you want to make your visit an interactive one, take a workshop or class. They are run by local teachers and offer a chance to create your own works of art.
6. Dolphin Watching
Oahu is home to adorable spinner dolphins. If you want to get up close and personal with some amazing creatures, you are going to want to book a dolphin-watching tour.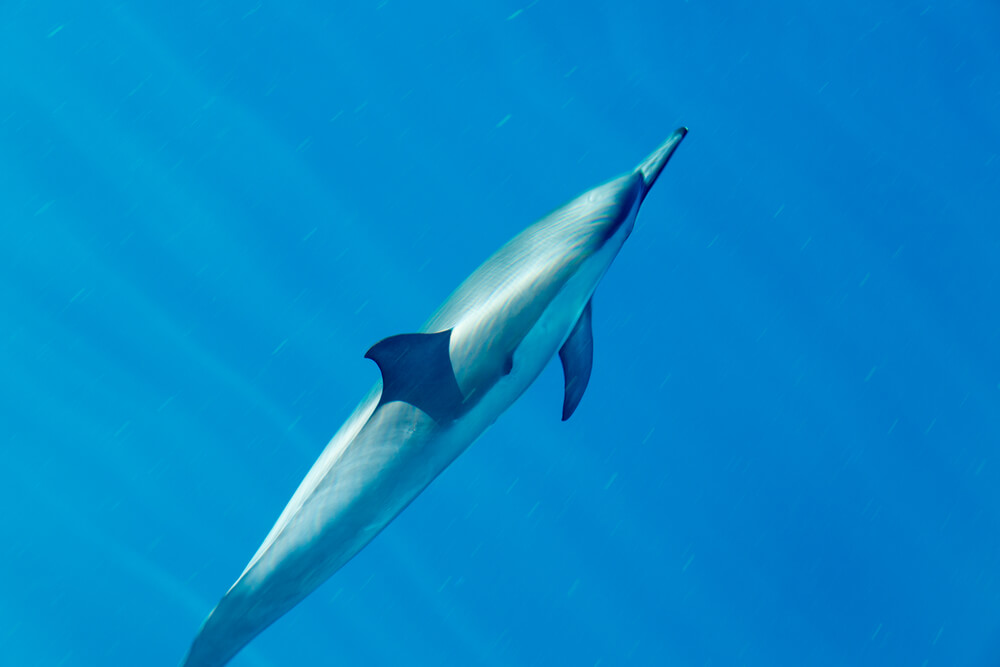 Half-day tours are available. These tours typically include snacks, two snorkeling stops, and transit to your locations.
You will be taken along the western region of Oahu, where you can get the best opportunity to view these gorgeous dolphins in their natural habitats.
If you want to spend more time with the dolphins, consider booking a day trip. This will give you extra time to enjoy the dolphins and a delicious lunch. Check out the latest rates and availability.
7. Horse Riding
There is no better way to enjoy the true beauty of the Hawaiian countryside than on horseback. You can book private horseback tours, group tours, and more.
If you are looking for a romantic experience, consider a sunset tour where you will ride the mountainside with your partner.
If you are a beginner, visit North Shore Stables, where you can get guided tours. This is also a great place to take your kids to visit with the animals. Check the latest rates and availability.
8. Diamond Head
You aren't going to want to miss this amazing experience. This is the most visited volcanic crater in all the Hawaiian Islands. The hike is less than a mile both up and down, so it doesn't take long to complete the walk.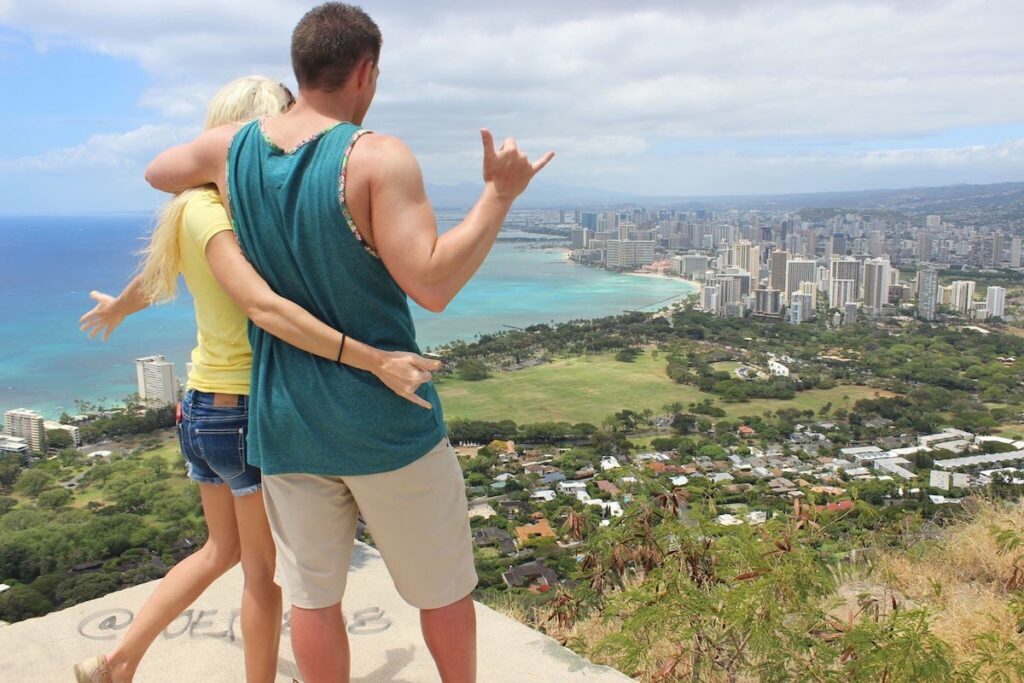 Once you arrive at the top of Diamond Head, you are sure to be amazed by the view. You will get a look at the volcanic crater and get a great bird's eye view of Waikiki. If you go in the morning, you can get a gorgeous view of the sunrise.
This is a must-do hike in Oahu when you visit Hawaii. Don't forget to bring your camera.
It is close to Waikiki Beach, so you can enjoy taking a swim when you are finished!
9. Hawaii Plantation Village
Take a step back in time to this charming village. It contains more than 25 restored buildings, a calming botanical garden, and more. Check out the infirmary, the plantation structure replicas, a bathhouse, and so much more.
A visit to this amazing village is a great way to learn about Hawaiian history and culture while in Oahu on the South Shore.
This is a great activity to do with your family, and you'll have a pleasant time during your August vacation. Kids will enjoy learning about the story of Hawaii's many cultures.
Visit the Hawaii Plantation Village website to learn more.
10. Attend a Luau
In Hawaii, the term luau refers to a traditional celebration that involves song, food, fire performances, and dance. Traveling to the Hawaii island of Oahu is a great time to experience an authentic luau performance.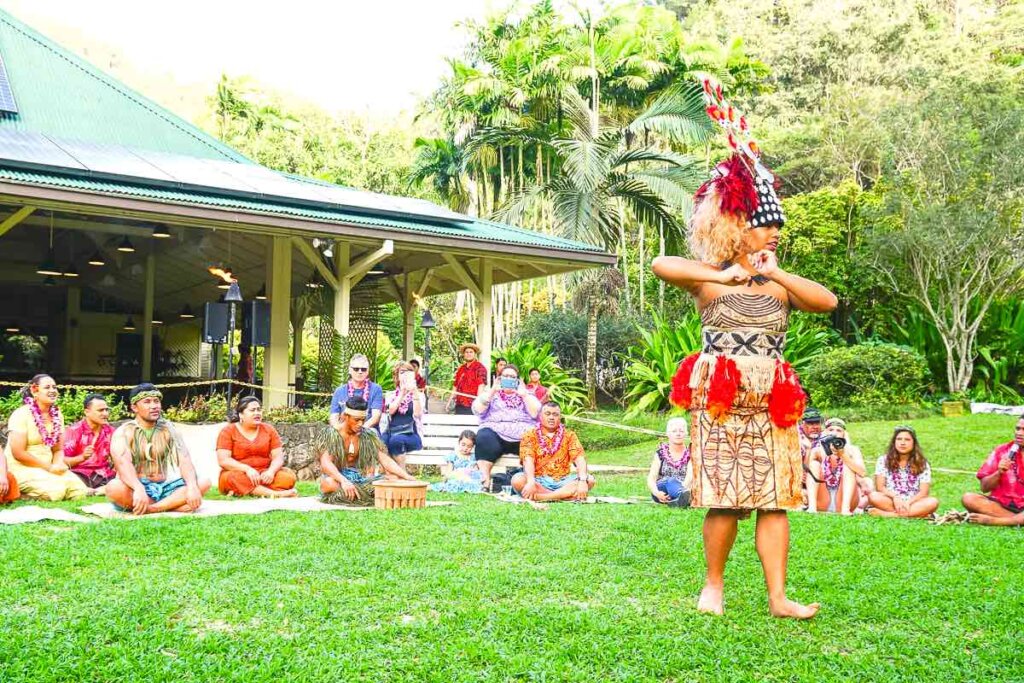 There are multiple chances to catch a luau show in Oahu. They usually run for about two to four hours but can also be combined with full-day excursions.
A luau is a must-experience show while visiting Oahu, Hawaii, in August.
Oahu Hawaii in August FAQs
Is August a good time to visit Oahu?
August weather in Oahu is why it is the perfect time to visit Hawaii! During the summer months, you can enjoy warm temperatures that average 89 degrees Fahrenheit.
Is August too hot for Hawaii?
While some avoid visiting Hawaii during the summer due to crowded beaches and warm weather, but it is not too hot to enjoy! Temperatures are in the high 80s, and you can easily spend the entire day enjoying water sports and being outside!
Is it better to go to Hawaii in August or September?
August or September are both great times to visit Hawaii. August Hawaii hotel rates are higher since it is the peak season for visitors. September is usually cheaper and fewer tourists around on this Hawaii island.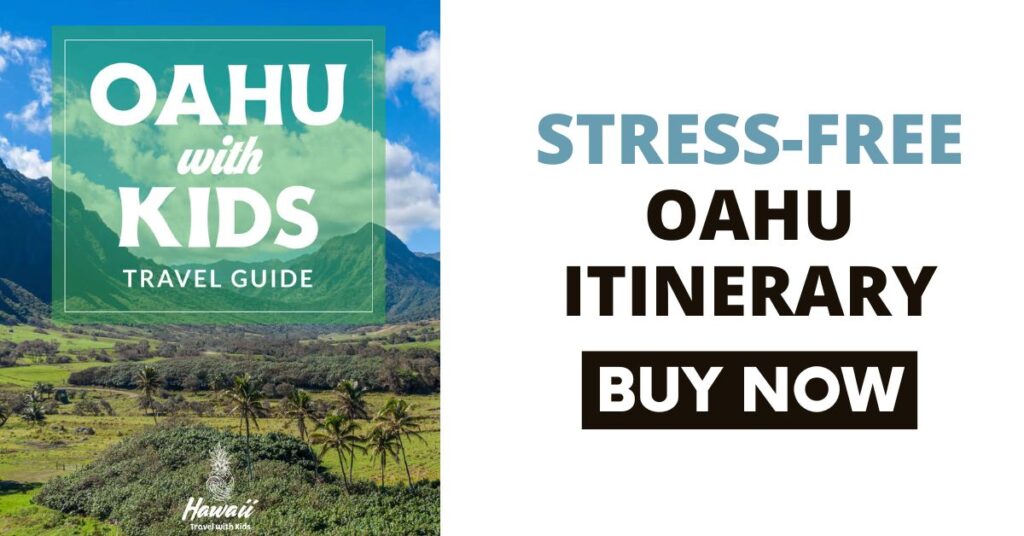 Oahu Hawaii in August Wrap Up
Traveling to Oahu, Hawaii, in August is a fantastic way to enjoy a summer vacation. There is a lot to do in Oahu, Hawaii. From spectacular events and festivals to a variety of attractions, there is something on this gorgeous Hawaiian island for everyone.
Whether you are traveling with your family and friends, or creating a romantic escape for yourself and your partner, Oahu is a great choice. Enjoy visiting Hawaii this month!