Are you looking for the best luaus in Oahu, Hawaii? Keep scrolling to read my Toa Luau review for one of the coolest North Shore Oahu luaus!
This Toa Luau Oahu review was written by Hawaii travel expert Marcie Cheung and contains affiliate links which means if you purchase something from one of my affiliate links, I may earn a small commission that goes back into maintaining this blog.
Are you planning a trip to Oahu and looking for a family-friendly luau to attend? Have you been to other luaus on the island and just want something a little more authentic or different?
Toa Luau at Waimea Valley is Oahu's latest luau experience. It's a family-run North Shore luau that began in October 2017. If you're visiting Hawaii for the first time, Toa Lua is a must-do in Oahu.
And I can honestly say that I'm a fairly good judge of which Oahu luaus are actually worth it.
For the past 25 years, I have been a professional hula dancer. I have also had the chance to learn other Polynesian dances through the Pacific Islanders Club and Hawaii Club at Washington State University.
To say that I have a lot of respect for Polynesian culture would be an understatement.
When I take my kids to Hawaii, we always incorporate Hawaiian culture into our trip. From hands-on cultural activities to theatrical luau shows, there's always an educational component to our Hawaiian vacation.
Therefore for our first trip to Oahu as a family, I had been on the search for a kid-friendly luau that was more authentic than touristy. We were looking for fun things to do in North Shore, Oahu.
Toa Luau has been the ideal match for my family, including my 4-year-old and 17-month-old. In fact, I think it might be the best luau in Hawaii.
Keep scrolling to read my honest Toa Luau in Oahu review or purchase discount luau tickets here.
Don't have time to read a bunch of Hawaii blog posts and reviews? Here are some of our top picks for visiting Oahu.
Popular Oahu Tours/Activities
Favorite Oahu Resorts/Hotels
Want to Rent a Car in Hawaii?
One of the best places to rent a car in Hawaii is Discount Hawaii Car Rental because they get the best rates from top national companies like Alamo, Dollar, Thrifty, Avis, Enterprise, Budget, and Payless.
Want to skip all the planning and just access my detailed Oahu Itinerary complete with daily schedules, kid-friendly activities, and travel hacks? Click the button below.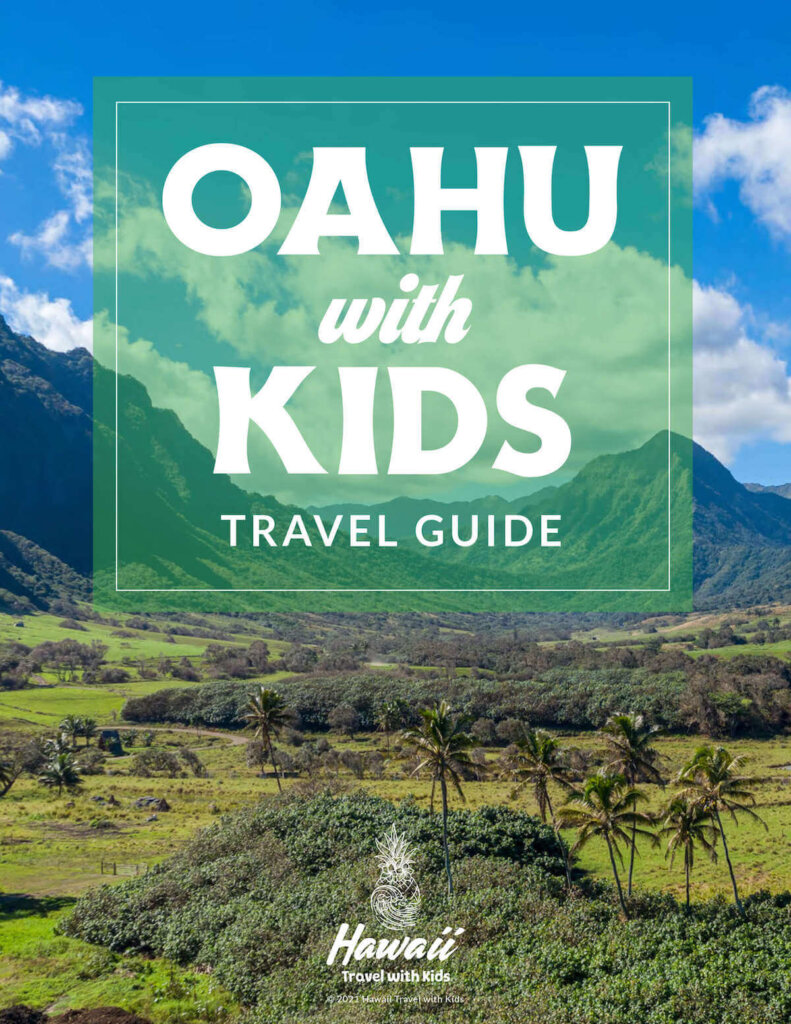 Oahu Luau FAQs
Are luaus kid friendly?
Absolutely! Almost all luaus have some sort of craft or hands-on activity that you can do before the show. Plus, there's a variety of food items (yes, even for picky eaters) and most kids are mesmerized by the Samoan fire knife dancing. There are also usually cheaper rates for kids and babies and toddlers are often free.
What should I wear to a luau?
Most people wear something with an Aloha print on it (like an Aloha shirt or Hawaiian dress.) But, you can also do something dressy casual like a blouse or button-down shirt with pants. Dress like you're going to a nice dinner.
What type of food do they serve at a luau?
While the actual menu varies from luau to luau, most offer some sort of traditional Hawaiian food like kalua pork, lomi lomi salmon, and poi in addition to teriyaki chicken, green salad, macaroni salad, rolls, and dessert.
What to Expect at Toa Luau on Oahu
INCLUSION OF OTHER POLYNESIAN CULTURES
If you have been to Hawaii before, you'll realize that Hawaii is composed of so many different cultures, not just Hawaiian.
People come from all around Asia and the Pacific Islands and that has made Hawaii exactly what it has become today.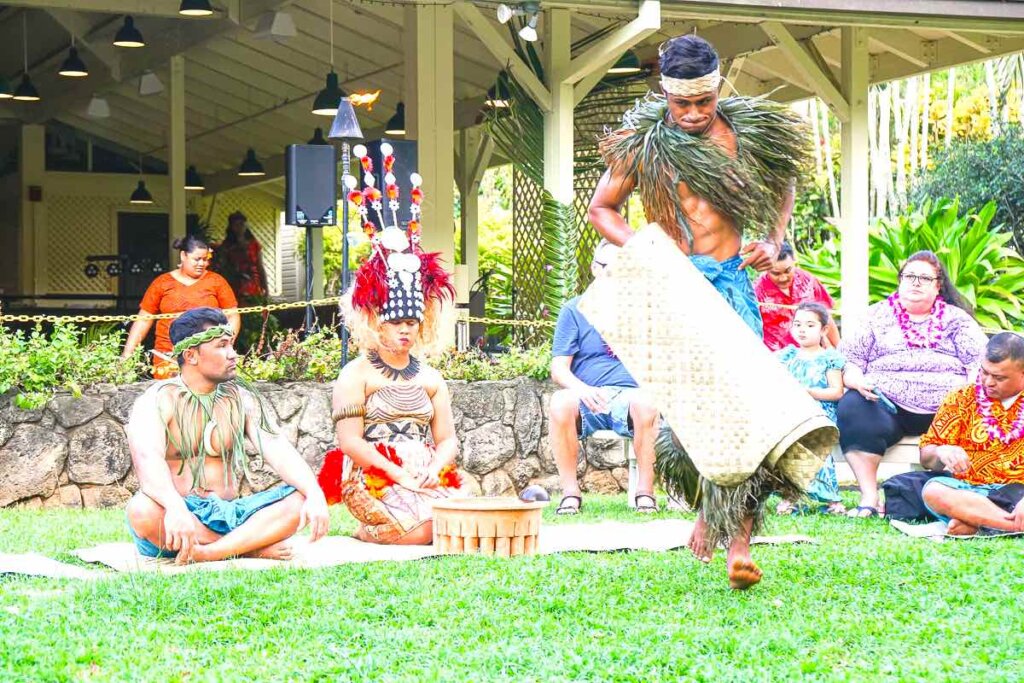 Typically, Hawaiian luaus on Oahu will start off with hula dancing, then do some flashy Tahitian dances and finish off with the Samoan fire knife dance. That's all people get to see.
However, Toa Luau is produced by a Samoan family and they include a lot of their own culture into this North Shore luau.
In addition, they have dancers from all over Polynesia who perform traditional dances from their home islands.
Throughout Toa Luau, we got to see dances from Samoa, Hawaii, Tahiti, Tonga, and New Zealand. Check current rates and availability.
HANDS-ON LUAU ACTIVITIES
Throughout the first hour, Toa Luau delivers hands-on crafts and activities. One of them was weaving leaves into crowns that people wore on their heads throughout the evening.
We didn't arrive early enough to participate (the traffic from Waikiki was brutal), and my preschooler was super disappointed. The next time, we'll make certain that we get there on time!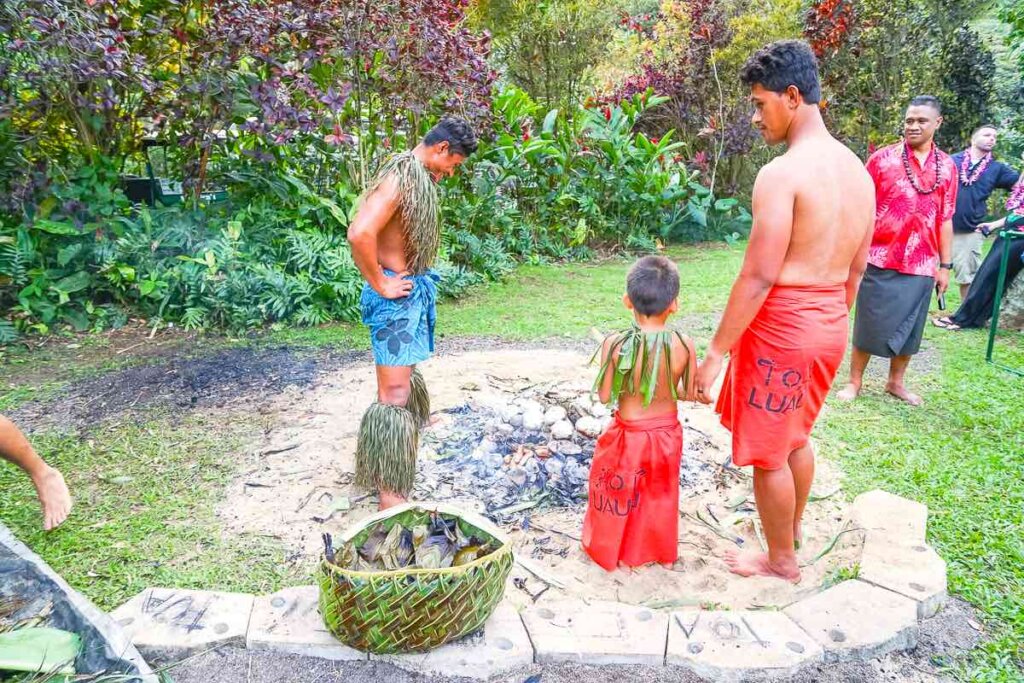 At other luaus, performers typically uncover a pig that has been cooking in an underground Hawaiian oven called an Imu.
But as Toa Luau includes a Samoan-focus, food is cooked in their above-ground oven called an Umu.
They wrapped up green bananas, palusami (taro leaves mixed with coconut milk), and taro roots and put them on hot rocks.
They then covered the food with big leaves and let it cook for about one hour.
KAVA CEREMONY
We were then invited to sit on the grass where we participated in a traditional Kava ceremony. All of us sat in a big circle on mats and chairs. Kava is a traditional Polynesian drink made from a root that has a numbing effect.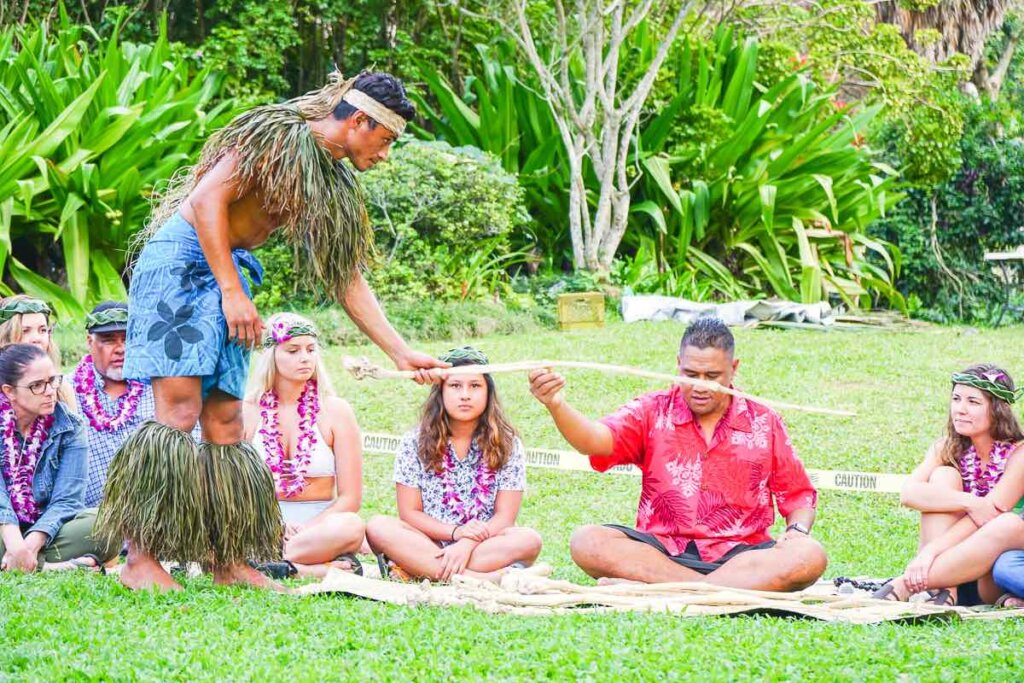 They explained that Samoan chiefs would drink this during negotiations and when they disagreed, they would drink more!
I've also heard that Polynesian warriors would drink Kava before battle so that they could fight through the pain.
The service was performed in the Samoan language and it was briefly translated so guests understood what was going on.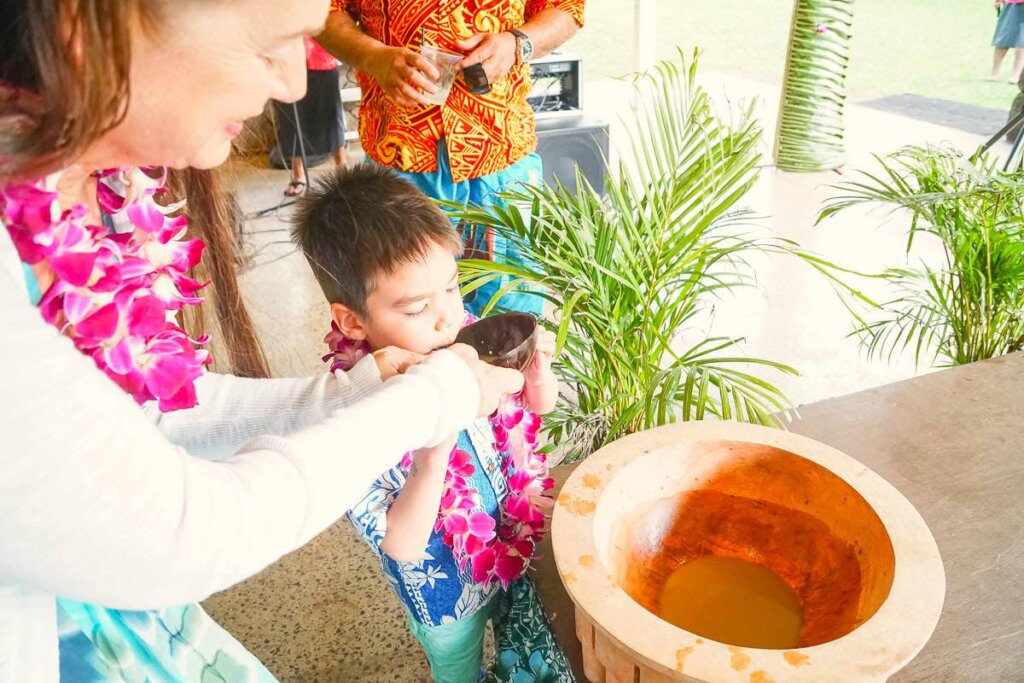 After the ceremony, guests were invited to try Kava before heading in to find their table. My mom tried it and said it tasted like "dirty water" and she felt the numbing consequences immediately.
My 4-year-old also took a sip and gave it a thumbs up!
CULTURAL DEMONSTRATIONS
We also were treated to an authentic dance usually performed by a Samoan princess. Traditionally, this was a big deal since princesses were usually kept away from common villagers.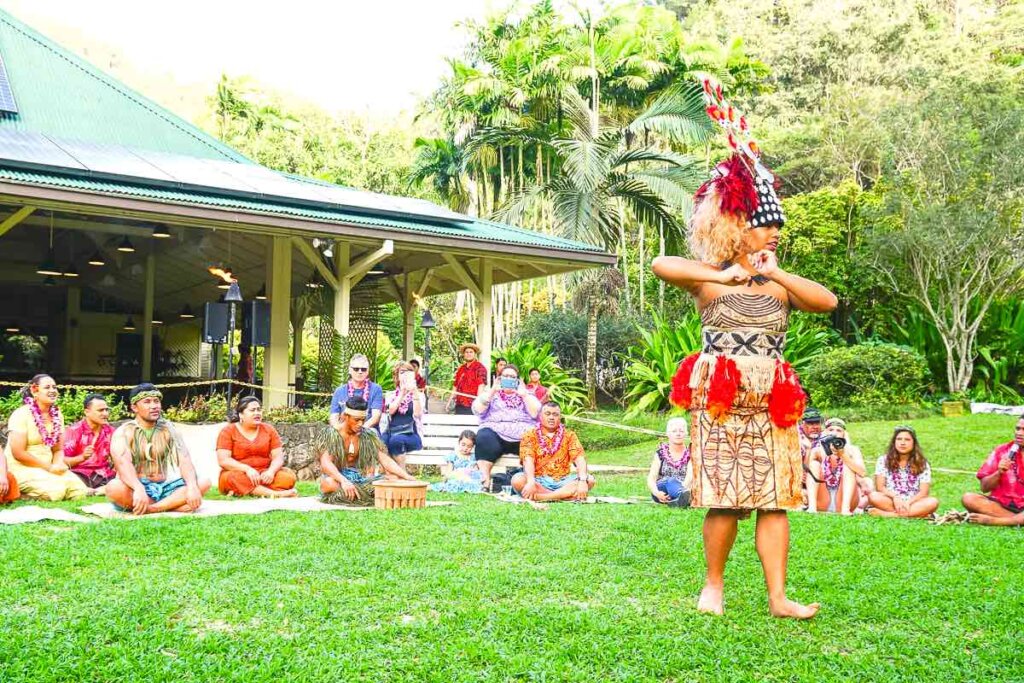 My kids loved being able to watch her dance and were even more impressed with her massive headdress.
Apparently, in the old days, the headdress was created from the hair of chiefs once they died in hopes that their knowledge would be passed to another generation of chiefs.
During dinner, the guests were invited back out to the Umu to check out the food being cooked. They invited kids to use tongs made of the spine of a leaf to help pull out the dishes.
Next time, we'll let our kids participate. I thought my 4 year old might be too young, but he probably could have handled it. He was completely fascinated!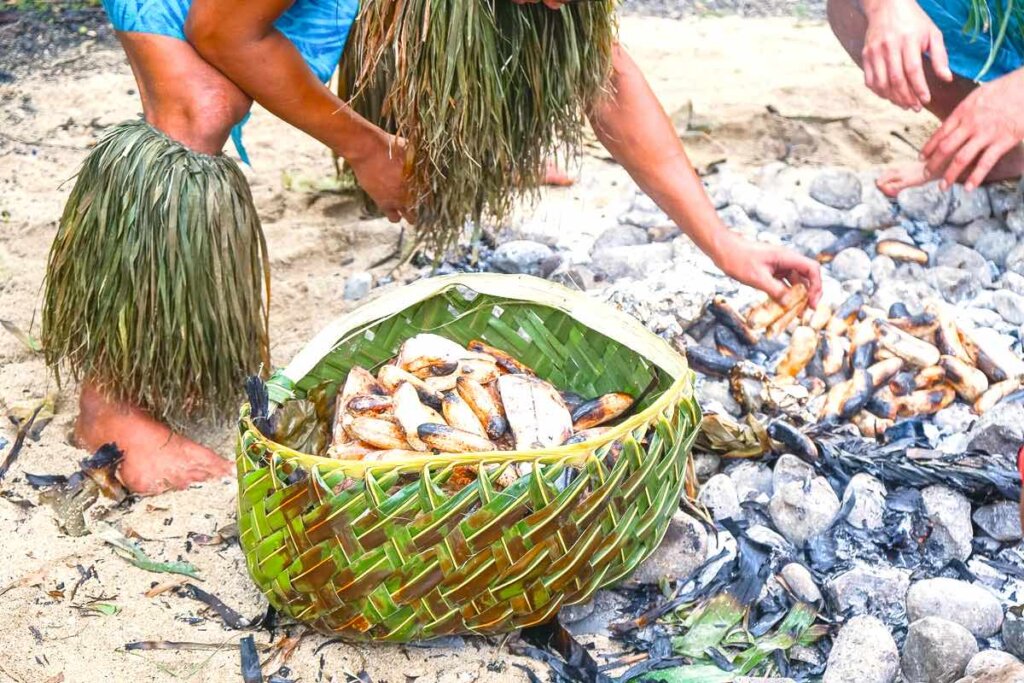 As we headed back to our table following the Umu demonstration, we saw a lady standing at a table weaving leaves. My son and I went to find out what she had been creating.
Turns out, she had been quickly weaving bowls to sere the Samoan food to each table. And sure enough, she put the food on our table just a few minutes later in those same bowls!
SAMOAN FOOD
The buffet dinner consisted of macaroni salad, green salad, furikake sticky white rice, lomi lomi salmon, teriyaki chicken, and kalua pork.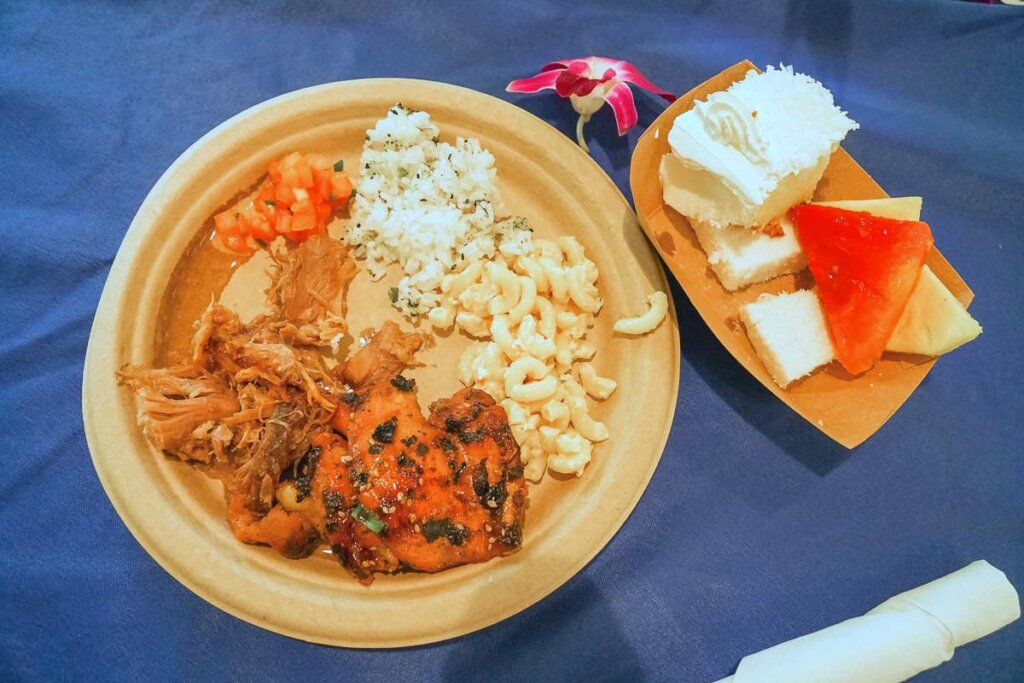 This luau menu was a bit smaller than other Oahu luaus we've attended. The dessert buffet comprised of haupia, a variety of fresh fruit, and a tasty cake.
What actually sets Toa Luau apart is that their inclusion of authentic Samoan food. My mom and my children devoured the palusami, which is taro leaves cooked in coconut milk.
The emcee called it that their version of spinach. We would have easily eaten an entire plate of it!
The roasted taro was great but tasted even better with a bit of palusami mixed in. My family was not a fan of the green banana, but I am happy we had the opportunity to taste it.
INTIMATE NORTH SHORE LUAU
When I've attended luaus before, I usually feel as if I am being herded into a crowd of 300 people. In a crowd that large, it's often difficult to see the show or have a good time.
And you usually are seated alongside strangers at a long table.
Toa Luau is totally different. There were 16 round tables. Our table only had my family of four, which was fantastic!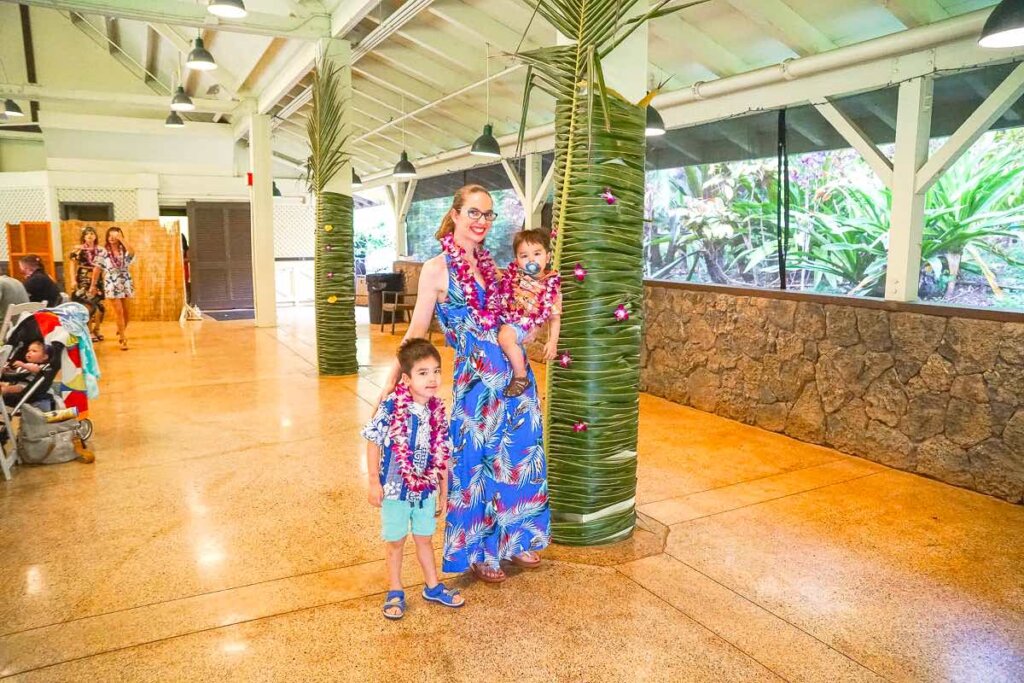 There is a main floor and an upper deck scattered with tables. Each table has a wonderful view of the stage.
Plus, there is space for kids to run around on the grass behind the stage or on the top deck. My 17-month-old only learned to walk a few weeks before and was eager to explore every inch of the upper deck.
That was nice because I got a fantastic view of the show while we walked around!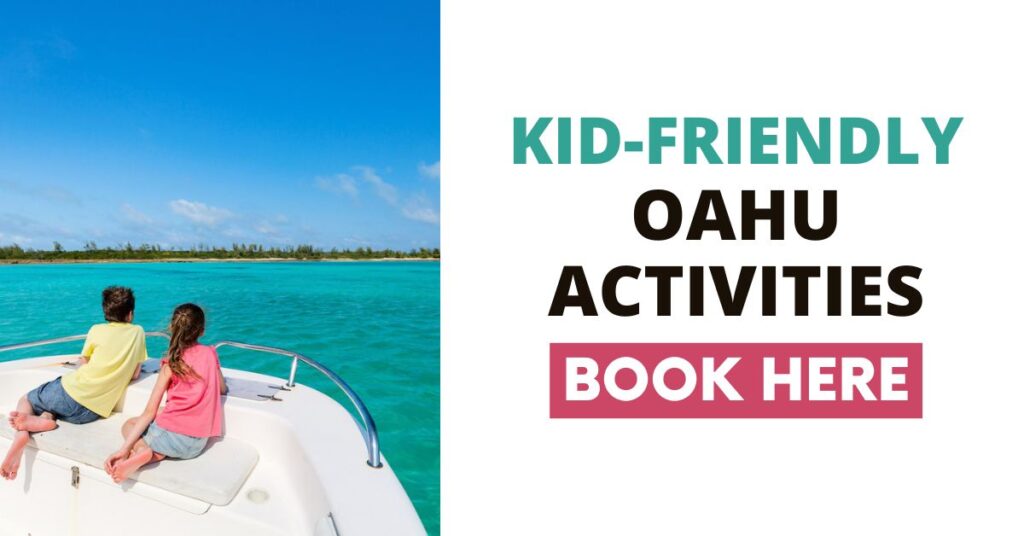 AUDIENCE PARTICIPATION
Rather than bringing people on stage to learn the Hukilau (a common beginner hula) or shake their booty to Tahitian drumming, this Waimea Valley luau teaches guys the Haka.
If you watch football (or rugby) you'd immediately recognize the Haka. It's a traditional Maori dance from New Zealand which has recently been a cultural phenomenon since sports clubs perform it before big games.
I adored the way they presented it! They brought men up on stage and showed them the hand motions. To help them remember, they said a few funny phrases and asked the audience to replicate some of these.
Everyone caught on easily and if you were to watch the dancing without sound, it seemed like they understood how to dance a genuine Haka!
Why Toa Luau is a Kid Friendly Oahu Luau
THERE ARE KIDS HELPING AT THE LUAU
When we first checked in, a young girl presented us with fresh orchid leis. Typically, my 17-month-old doesn't like to wear leis, but he simply beamed as she put on around his neck.
And he actually wore it during the luau!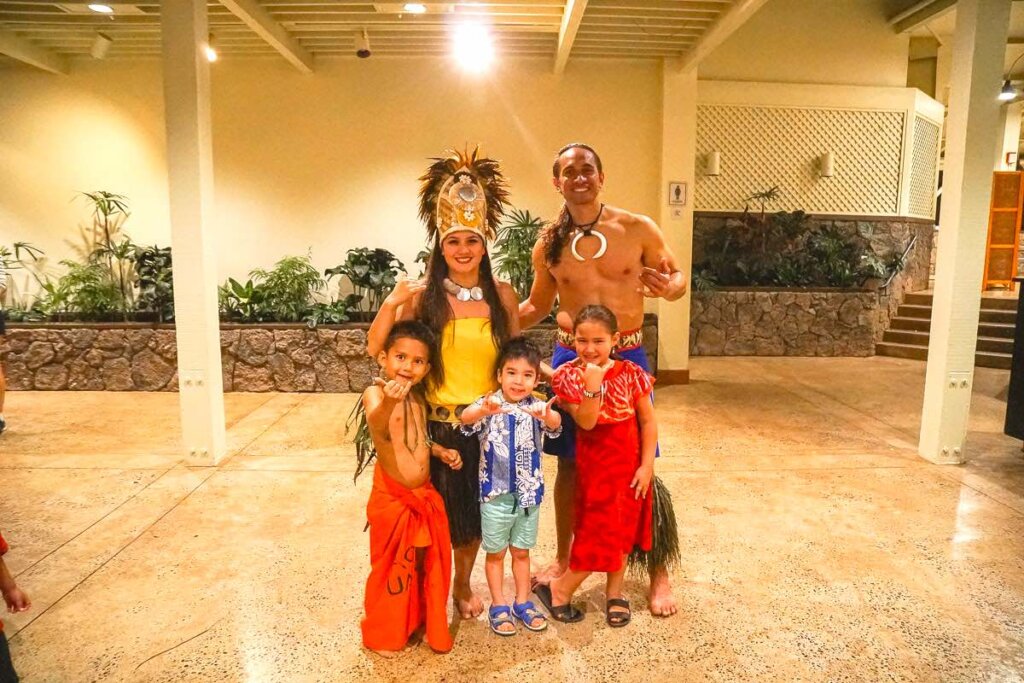 My 4-year-old also thought it was really cool to see another kid helping in the kitchen. I appreciated my children seeing other kids helping with their loved ones' business. It's definitely a fun thing to do in Oahu!
KIDS UNDER 5 ARE FREE
Another thing I love about Toa Luau is that children under the age of 5 are free. That makes it a cheap family activity in Hawaii.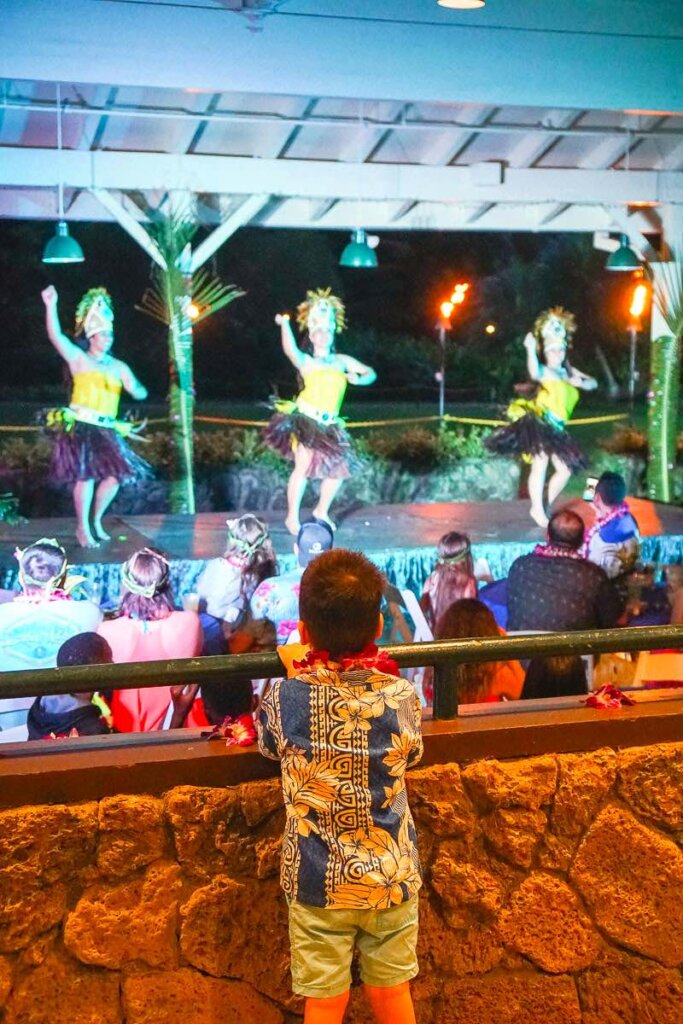 Additionally, I think because kids under 5 are free, more families choose this particular North Shore luau. Meaning, your kids are going to be around other children.
THEY CAN PARTICIPATE
My kids really like to participate! They want to be a part of whatever we have happening. It was really cool that not only could they see the demonstrations, but they were encouraged to join in on the fun!
HIGH CHAIRS ARE AVAILABLE
Since I have a 17-month-old youthful toddler, I adored that high chairs were available. I simply asked one of their team members and he immediately brought one to our table.
IT'S STROLLER-FRIENDLY
I didn't anticipate the Toa Luau to be stroller-friendly, so we left our stroller in the rental car. However, I saw a couple of families use them during the evening and I thought it was brilliant.
This is ideal for younger infants who may fall asleep or would prefer to eat in their stroller.
I ended up placing my baby at my Tula baby carrier near the end of the show so he could fall asleep.
IT ENDS AT 7:30PM
One of my most significant deterrents from booking a luau in the past is that lots of them finish at 9:30 pm or 10:00 pm.
That is just too late for my little kids, particularly when factoring in the time change. That's why Toa Luau instantly caught my attention.
During October-February, the whole thing is done by 7:30 pm. March-September, it's done by 8:30 pm, which is still considerably sooner than other luaus.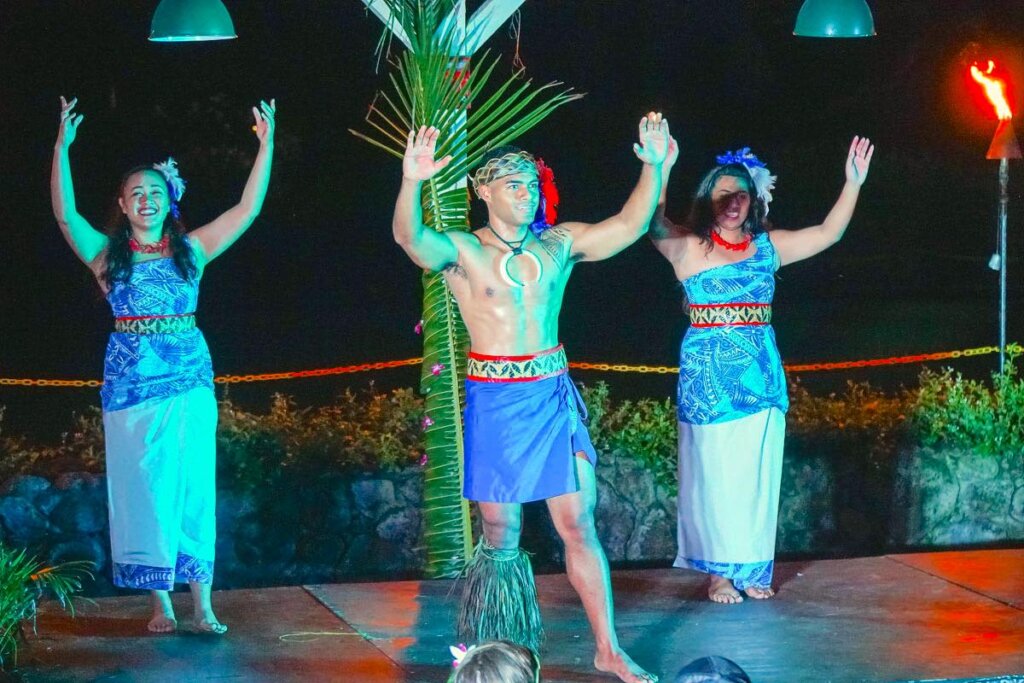 What You Want to Know About Toa Luau Oahu:
TRAFFIC
It took us 1 hour and 45 minutes to get to Waimea Valley from Waikiki on a Tuesday afternoon. There was an accident on one of those highways.
Therefore, if you are coming from Waikiki or even Honolulu (or anyplace besides the North Shore) I advise checking traffic conditions well before you leave. It only took an hour to return to Waikiki.
LOCATION
Toa Luau rents a place at Waimea Valley, which is situated across the street from the famous surfing area Sunset Beach. There are so many things to do in North Shore, Oahu.
Waimea Valley itself is a spot featuring cultural demonstrations and exhibits. Besides, you can swim in a waterfall! Your luau ticket also supplies same-day entrance to Waimea Valley.
If you would like to make a day of it, then head to Waimea Valley several hours before the Toa Luau begins. There are changing rooms situated at the falls so you can get out of wet swimsuits and in your Aloha wear for the show. Read our full guide to visiting Waimea Valley.
Or, if you are staying on the North Shore, you can go home to clean up and return in time for the Toa Luau.
PARKING/CHECK-IN
The Waimea Valley Visitors Center has lots of parking. When we arrived at 5 pm, there were plenty of spots available there. Part of the reason is that that's when Waimea Valley closes.
If you arrive earlier and the parking lot is completely full, there is an overflow parking lot.
When you arrive, head to the Waimea Valley Visitors Center and walk to the very back. There, you will find signage for Toa Luau.
There will be someone at a stand to check you in and give you a fresh flower lei. This is also when you'll get your table number and beverage tickets.
HOW TO ORDER TICKETS
If this looks like something that your family would enjoy on their next trip to Oahu, get Toa Luau discount tickets.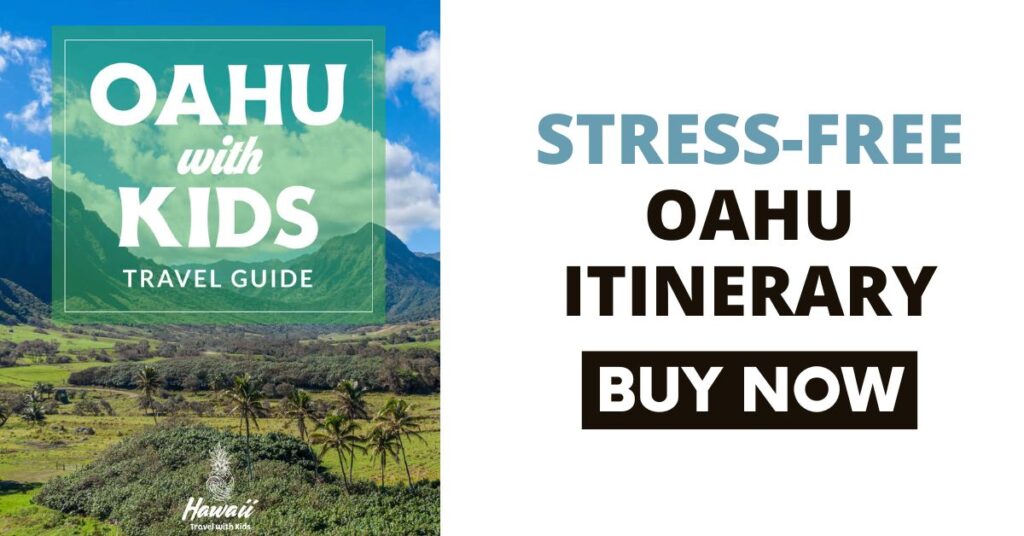 Toa Luau Oahu Wrap Up
Toa Luau is definitely the best luau in Oahu North Shore. It's small, intimate, and a really unique experience on Oahu. Plus, you can make it a full-day adventure by exploring Waimea Falls!
There's a reason why so many Toa Luau reviews are full of glowing compliments!
Toa Luau supplied me with tickets for review purposes. All comments are my own. We seriously loved this luau on Oahu!