Are you looking for things to do in Oahu? Keep scrolling to find out where you can learn to make a haku lei and learn about Hawaiian flowers from a Hawaiian haku lei making expert.
This post about a haku lei workshop on Oahu was written by Hawaii travel expert Marcie Cheung and contains affiliate links which means if you purchase something from one of my affiliate links, I may earn a small commission that goes back into maintaining this blog.
Are you looking for a fun and unique thing to do on Oahu?
You can learn how to make a Hawaiian haku lei from a lei-making expert! This Hawaiian haku workshop is located right across the street from the Polynesian Cultural Center.
You'll get to learn a lot about Hawaiian flowers, the significance of the Hawaiian lei, and why it's such an important part of Hawaiian culture. Keep scrolling to learn how you can sign up for this lei workshop on Oahu.
The workshop is taught by an expert in all things leis. She even grows the flowers in her backyard (or she grabs them from her mom's home)!
If you'd like to do a cultural activity in Hawaii, this is the thing to do!
Don't have time to read a bunch of Hawaii blog posts and reviews? Here are some of our top picks for visiting Oahu.
Popular Oahu Tours/Activities
Favorite Oahu Resorts/Hotels
Want to Rent a Car in Hawaii?
One of the best places to rent a car in Hawaii is Discount Hawaii Car Rental because they get the best rates from top national companies like Alamo, Dollar, Thrifty, Avis, Enterprise, Budget, and Payless.
Want to skip all the planning and just access my detailed Oahu Itinerary complete with daily schedules, kid-friendly activities, and travel hacks? Click the button below.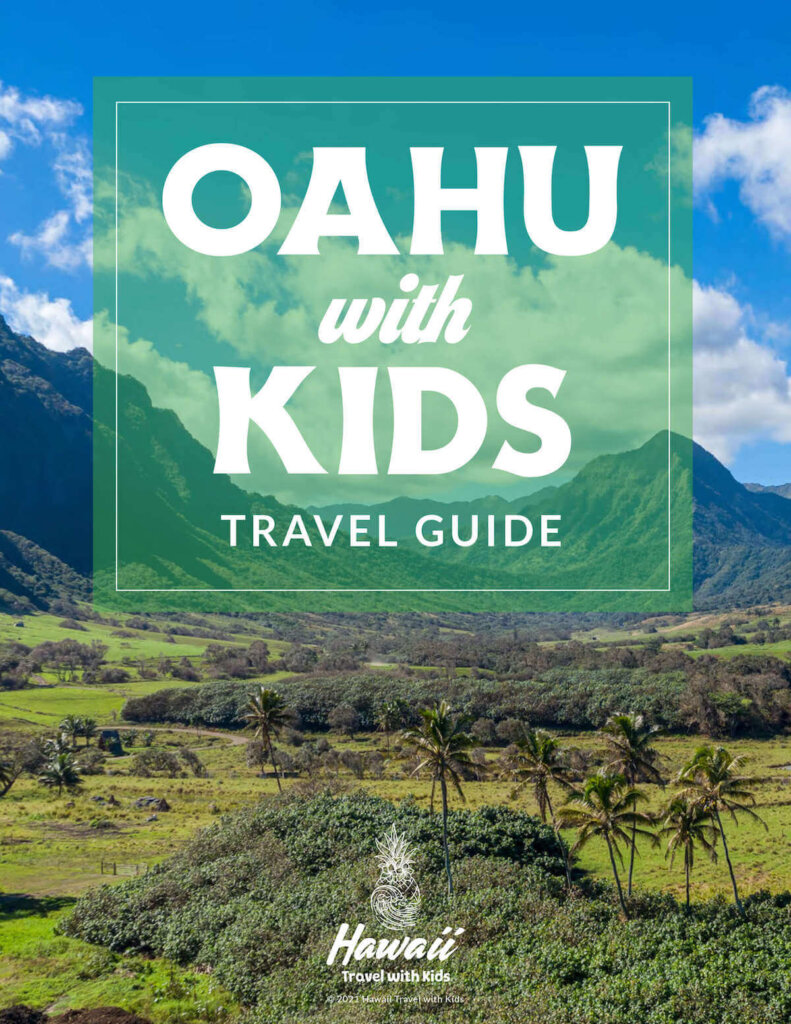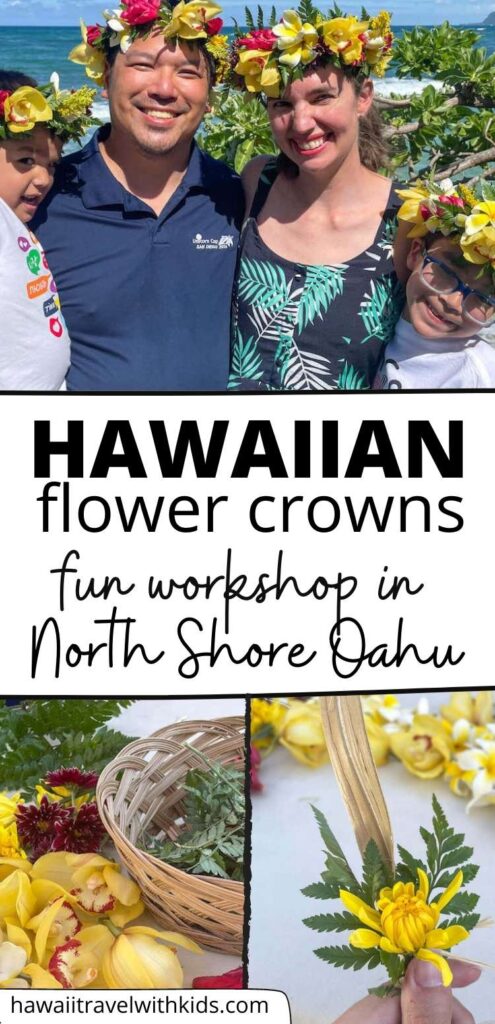 What is a Haku Lei?
I'm going to start off by saying that a haku lei is a style of the popular Hawaiian flower crowns you'll see popping up all over Instagram.
These are technically all considered lei po'o because they are leis that you wear on your head. However, the term "haku" refers to the way you fasten the flowers and leaves to the headband.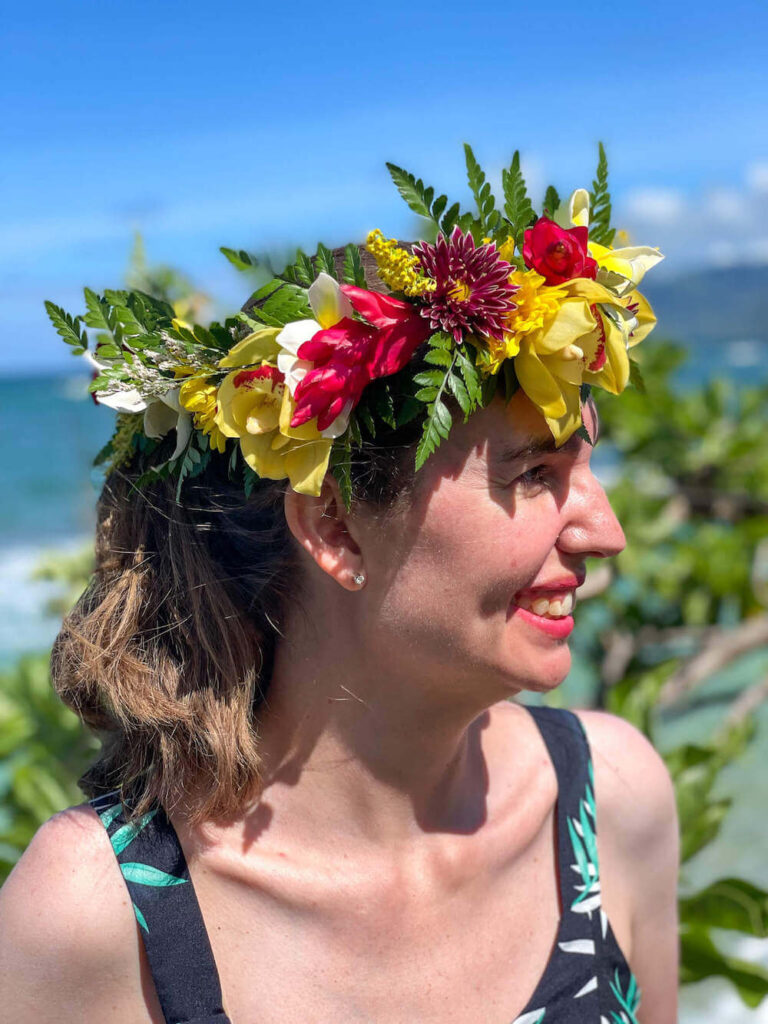 If you're looking to learn how to make a Hawaiian head lei online, you should search for the terms "Hawaiian flower crown," "Lei Po'o," and "Haku Lei" because different things will pop up.
How to Make a Haku Lei
This is a really simple haku lei tutorial. The first thing you need to do is prep all your flowers and leaves. You'll want to make sure flowers have a bit of stem so they are easier to include in your haku lei.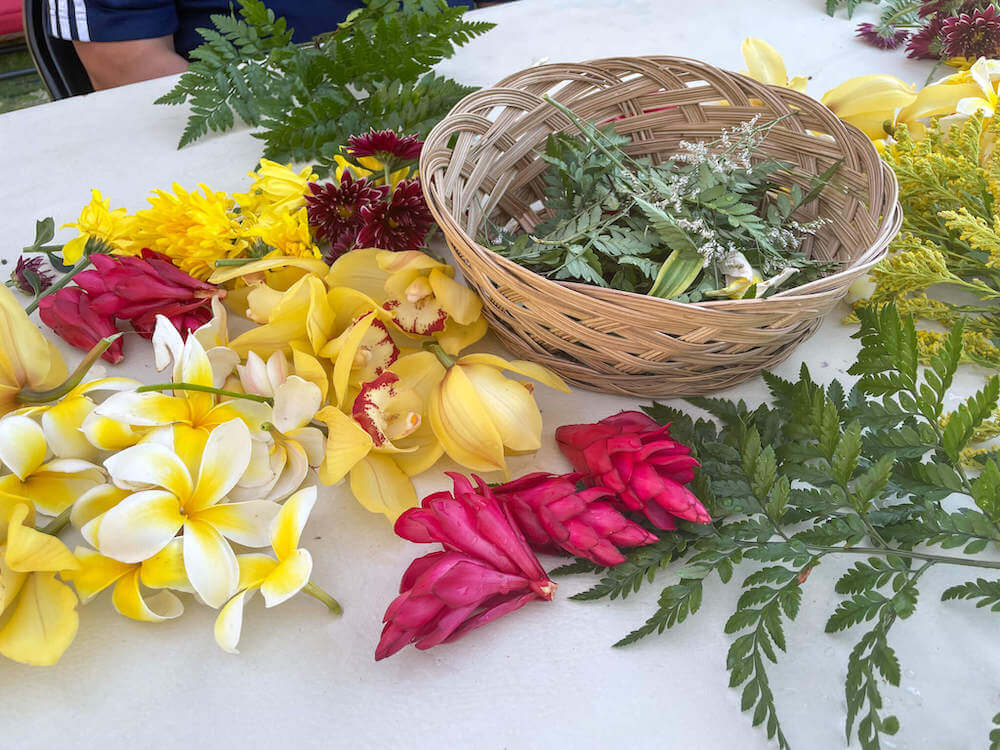 For the leaves, you'll want to cut them into smaller sections so they won't droop in your face when you put your haku on. Ok, then you're ready to start making your lei.
Basically, you'll start with either a long piece of ribbon, braided raffia, or some other sort of headband material. Place this vertically on a table.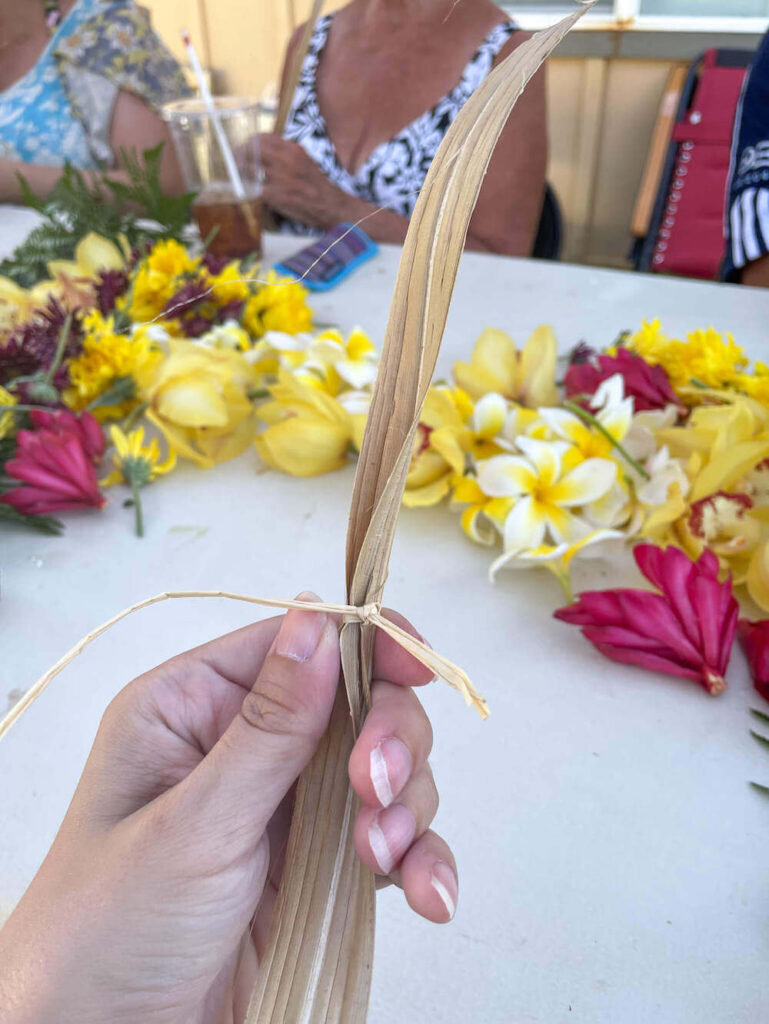 Next, you'll place a piece of fern or a leaf on your headband and layer on a flower or two. It helps to sort of angle them either to the right or left to make a full haku head lei.
Then, you'll take a piece of raffia and tightly wrap your mini bouquet a couple of times to secure it to your headband. Make sure to do your wrapping really tight around your strand of raffia.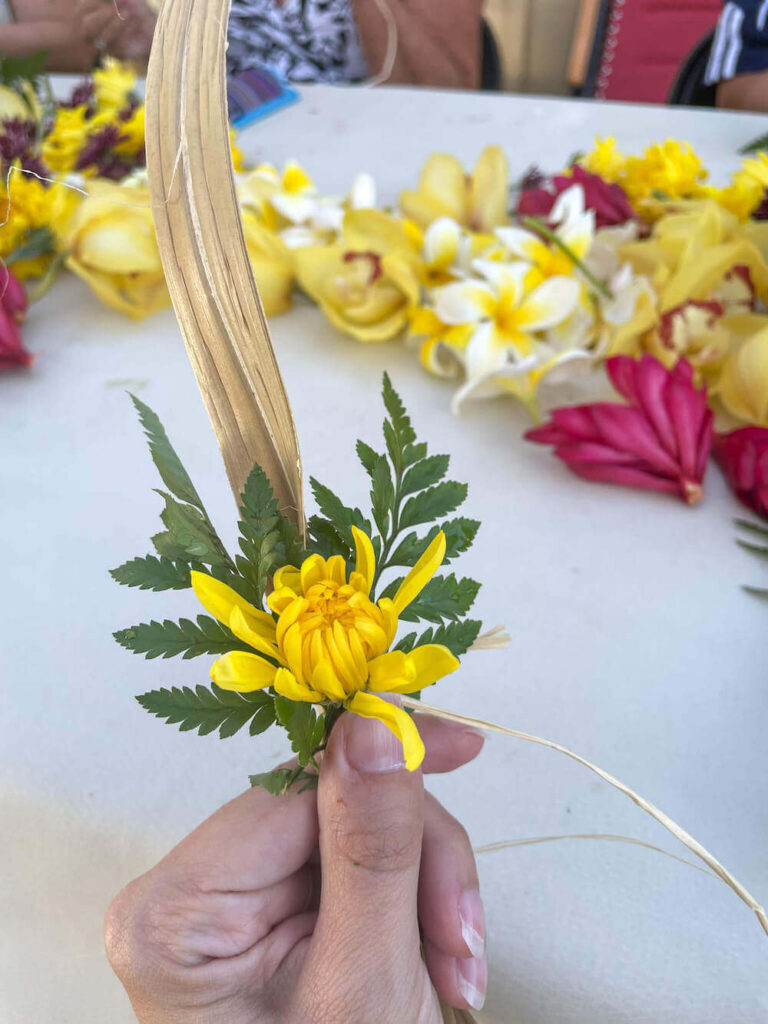 That's your first set. You'll keep making little sets like this for the rest of your Hawaiian flower headband. It's important to keep pushing your bouquets up to be flush with the previous bouquet. That keeps your haku nice and full and helps avoid gaps.
Then you simply repeat the process to create a pattern with the greens and flowers.
Every once in a while, hold it up around your head to measure and see whether or not it's the right size.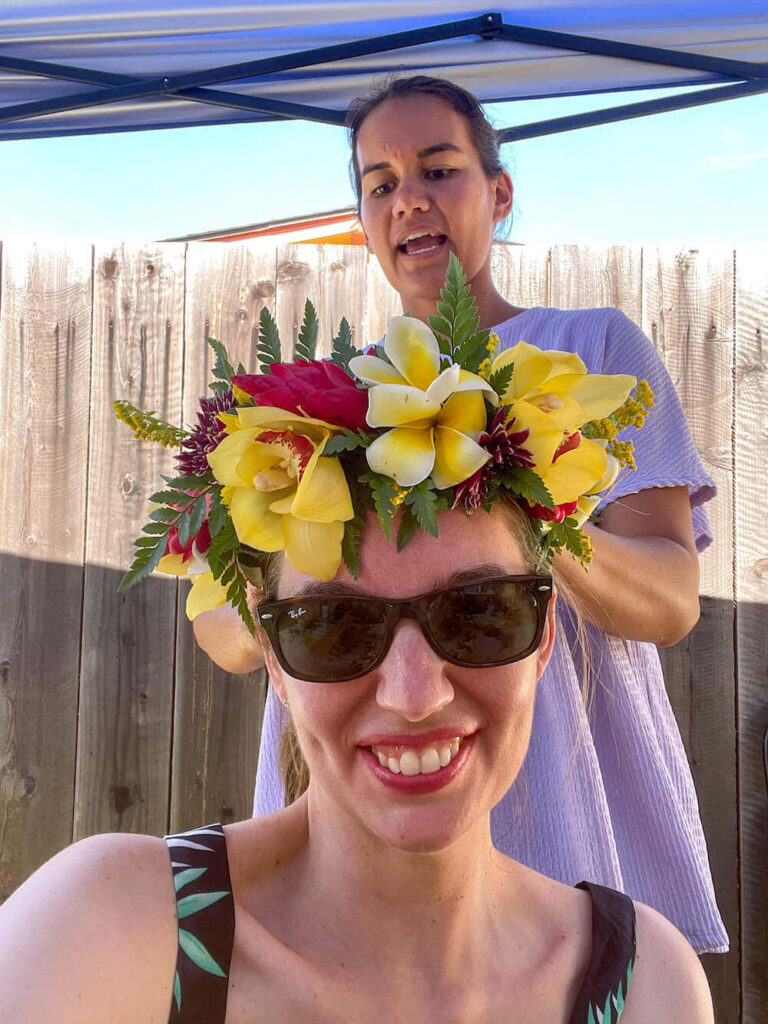 When it's your desired length, fully wrap your last bouquet and tie a knot. Finally, wrap your haku around your head and tie it tightly.
It is a bit time-consuming, but it is also so much fun to make your own Hawaiian haku lei, so it's totally worth it!
Try to switch up your hands so one hand doesn't get too sore.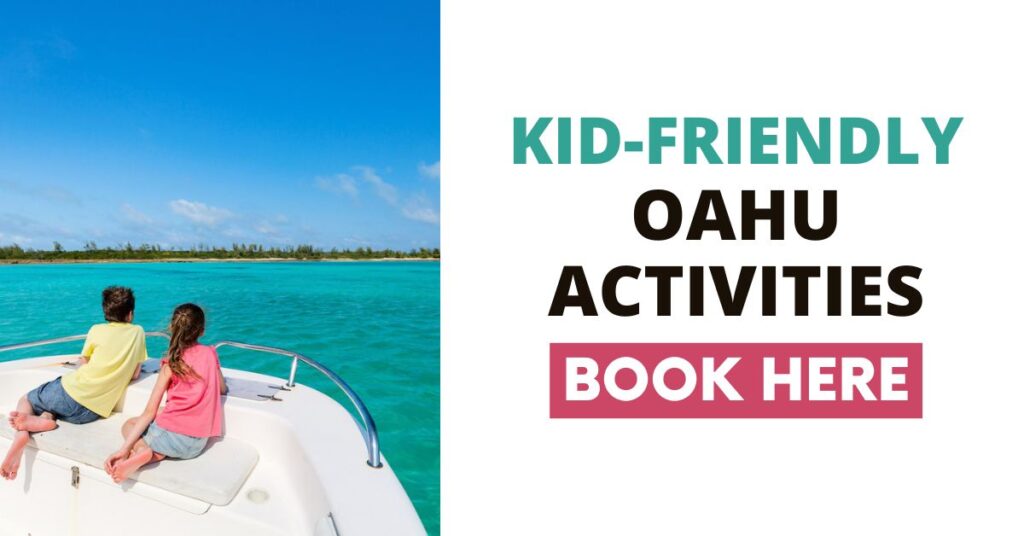 How to store your haku flower crown
Usually, people store their haku leis in the refrigerator so they will last longer. You'll want to untie it and lay it flat.
If you want to wear your lei crown on and off throughout the day, you can always keep it in a cooler in your rental car. Then, just put it on for photos or activities and return it to the cooler.
How to dispose of your haku lei
It's disrespectful to throw your haku lei in the garbage. If it still looks nice, you can give it to someone else. If it's seen better days, you can either dry it out and hang it somewhere or give it back to nature.
Some people suggest placing them on statues (which you'll see a lot in Hawaii), but other people say it can erode the metal of the statues.
Hawaiian Lei Making Workshop Review
I've actually been making haku leis for hula performances since I was a teenager. But I hadn't made one in about 7 years, and I was curious how other people made them.
And my kids seemed interested in learning how to make a lei po'o, so I figured this might be a fun experience. Plus, I really wanted to support a small local business run by a local mom.
Location
This Hawaii haku lei-making workshop is located at a private home in North Shore Oahu. It's actually right across the street from the Polynesian Cultural Center. That's where you'll park, and they walk across the street.
Workshop
When we arrived, there were a few Rubbermaid tables set up under a canopy tent. The tables were covered with a variety of tropical flowers and greenery. It was our family and then a group of three ladies, so it was nice and intimate.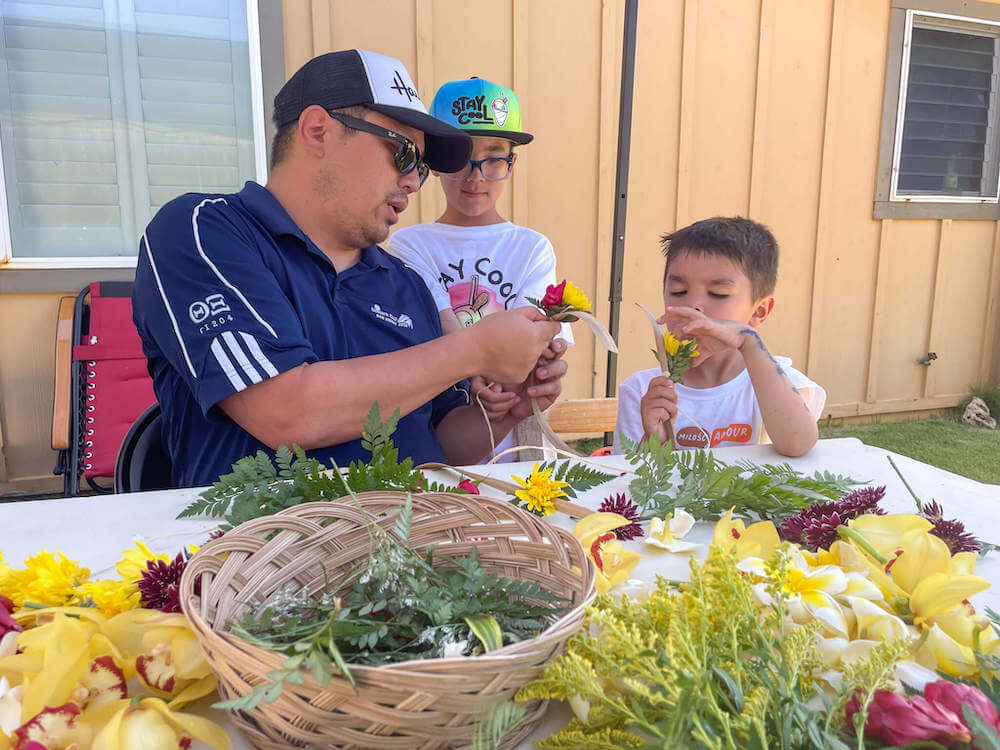 Our host talked a bit about her experience making leis and growing flowers with her mom. Then she explained how each of us would make our own lei and told us how many flowers we could use.
There were a few special flowers, a variety of other tropical flowers, and lots of greenery and other fillers.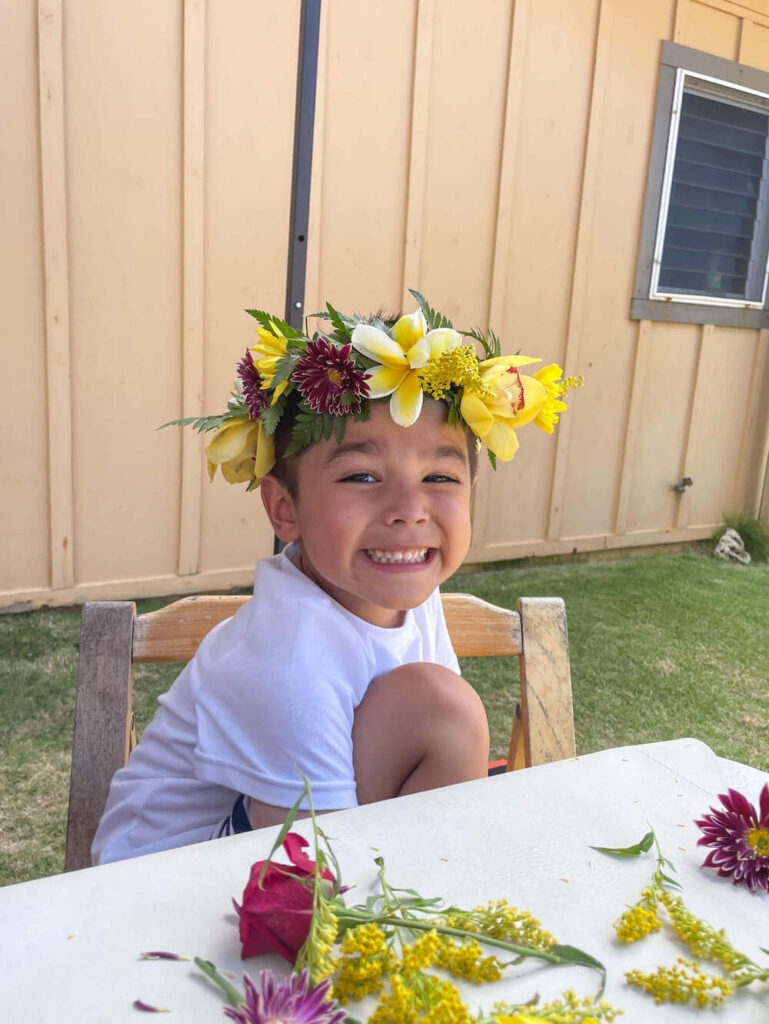 She demonstrated her technique of how to get the flowers nice and tight so they would stay on the band. And she offered her "ninja" services in case any of us needed to fix our leis at any point.
Because we had two young kids with us (ages 4yo and 7yo), my husband and I tried to make our leis quickly so we could assist them. Kiana was great at helping them out while we were working on ours.
I loved all the materials that were provided and loved being creative while making my flower crown.
Photos
After you have completed your fresh haku lei, you'll head down to a small beach area that only has private access to the residents who live there. You'll get to do a mini photoshoot there.
A few shots from our mini photoshoot! Photo credit: Kiana
We were there during high tide, so we took photos on the little grassy area with the ocean in the background. But, my friend did it at the beach, and her photos were gorgeous!
How to sign up for this Hawaiian Haku lei workshop
You can sign up for this Hawaiian lei-making workshop through Airbnb Experiences. It's a great place to find local tours and experiences from regular people who love sharing their knowledge with visitors to Hawaii.
Hawaiian Haku Lei FAQs
What is a lei po'o?
A lei po'o is a lei that you wear on your head. Some of them are just like smaller versions of leis you'd wear around your neck. These just consist of flowers that are strung together. There are also more structured lei po'o that are made using the haku technique, where flowers are secured to a headband which is then tied around the head.
What are some Hawaiian flowers used to make Hawaiian headpieces?
What's super cool about Hawaiian flower head leis is that the flower combinations are practically endless. I've seen them with anthurium, roses, orchids, ginger, carnations, and just about any flower you can think of. And there are some really cool ones just made of greenery.
What's the most popular Hawaiian lei flower?
Most fresh leis in Hawaii that you'll find at Luaus or hotels are purple orchid leis. These are really durable flowers that last a long time. Some of our orchid leis have lasted up to 5 days when we've kept them in the fridge. Plumeria leis are also popular, but they tend to turn brown pretty quickly.
What is the difference between lei Po'o and Haku lei?
Lei po'o means head lei, and a haku lei is the same exact thing. These terms are typically used interchangeably, and the technique to make them are about the same.
How long can a Haku lei last?
This all depends on what flowers you use, but if you keep them in the fridge, they can last up to 5 days.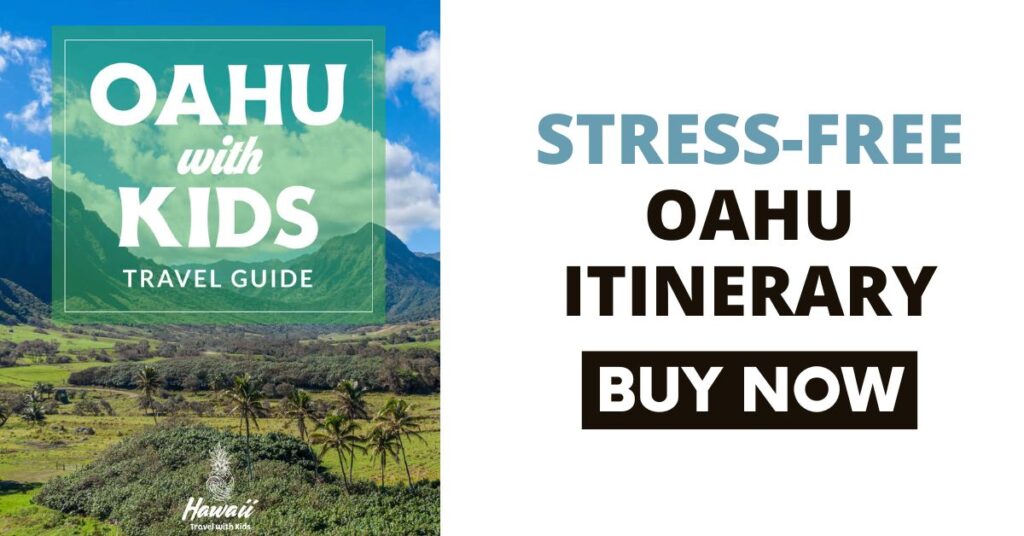 Hawaiian Flower Crown Workshop Wrap Up
This is one of the most unique things to do on Oahu for families! If you've always wanted to make your own Hawaiian haku lei, this workshop in North Shore Oahu will give you all the tools and knowledge you need.
You'll get everything from gorgeous tropical flowers to expert instruction. Plus, they take photos of each participant wearing their newly-made flower crown—how cool is that? Sign up now before space fills up because once it does, there are no more spots available!
Looking for more cultural things to do on Oahu? Read our reviews of Toa Luau and Experience Nutridge Luau on Oahu.