Are you planning a Hawaii babymoon and are trying to figure out what to wear in Hawaii with your growing belly? Keep scrolling to find out the best outfits to wear in Hawaii while pregnant.
This post about the best outfits to wear in Hawaii while pregnant contains affiliate links which means if you purchase something from one of my affiliate links, I may earn a small commission that goes back into maintaining this blog
Are you pregnant and going to Hawaii?
When you are pregnant, it can be hard to pack for Hawaii. It is even harder when you don't know what clothes will work best for your vacation. From Hawaiian sundresses to maternity swimsuits, here is a guide on the best clothes to pack for Hawaii while you are pregnant!
Not only will these outfits make you feel great, but they will look amazing as well!
You won't have any trouble finding cute outfits that fit your growing bump with this list of our favorite maternity vacation wear ideas.
We've got everything from comfy maxi dresses and flowy tops perfect for hot weather in paradise, all the way up to stylish cover-ups and chic resort wear that will make you feel like a million bucks (even if your bank account says otherwise).
With these styles at your fingertips, packing for Hawaii while expecting has never been easier!
Don't forget about accessories too – we've included some great options there as well. So whether you're looking forward to hitting the beach or exploring local shops in Waikiki we've got something perfect just waiting for you right here on this page.
Now go ahead and start packing so that trip of yours can get started ASAP!
Hawaii Babymoon FAQs
Is it worth visiting Hawaii pregnant?
Absolutely! As long as you aren't experiencing any pregnancy complications, Hawaii is a pretty easy babymoon destination. I've traveled to Hawaii with both my pregnancies and had a blast. It's about a 6-hour flight from the West Coast, which didn't feel to long to me, but it's worth mentioning in case you don't want to fly that long.
What's the best resort for a Maui babymoon?
There are actually several resorts that are perfect for a babymoon in Maui. The Hyatt Regency Maui and the Honua Kai Resort are great options in Kaanapali. For Wailea, you can splurge and do the Four Seasons (where they filmed White Lotus) or the Fairmont Kea Lani.
What's should I do for a Kauai babymoon?
There are so many fun options for a babymoon in Kauai. Personally, I recommend staying in either Poipu at the Grand Hyatt Kauai or in Lihue at the Royal Sonesta. Both these resorts are close to lots of shopping and restaurants. I'd also recommend attending the Ahi Lele fire show, walking around the Na Aina Kai Botanical Gardens, taking the Fern Grotto Boat Ride, and relaxing at Poipu beach.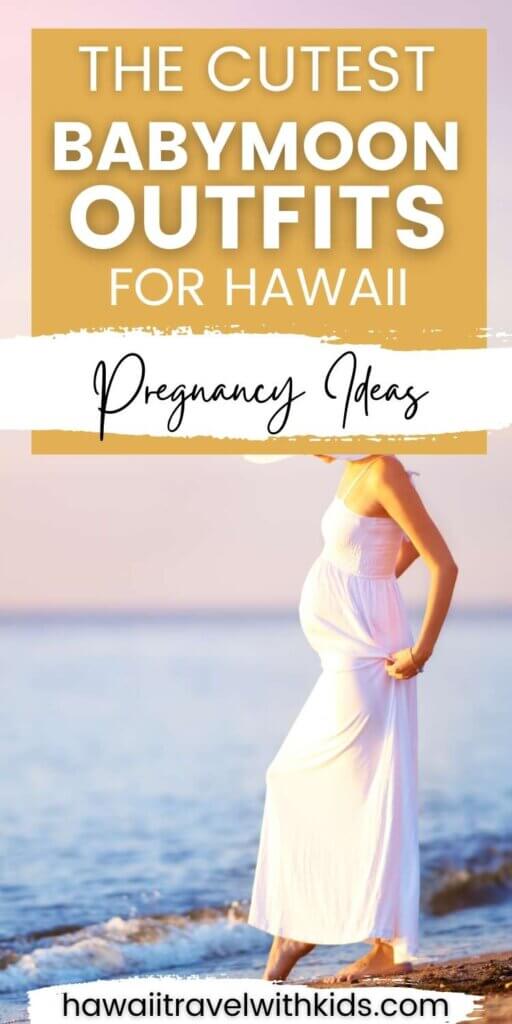 How to Dress in Hawaii While Pregnant
Depending on where you live, Hawaii's weather might be quite the shock. The humidity is the biggest battle for tourists.
The humidity in Hawaii can sometimes be close to 90% or higher. Especially if you normally live in a dry or cool place, you'll need all new clothes to wear in Hawaii.
Here are some of the best tips to help you dress comfortably in Hawaii!
Pack Light
When packing, the lighter the clothes, the better. You won't need many clothes on your trip. You might even be able to save on luggage when packing light!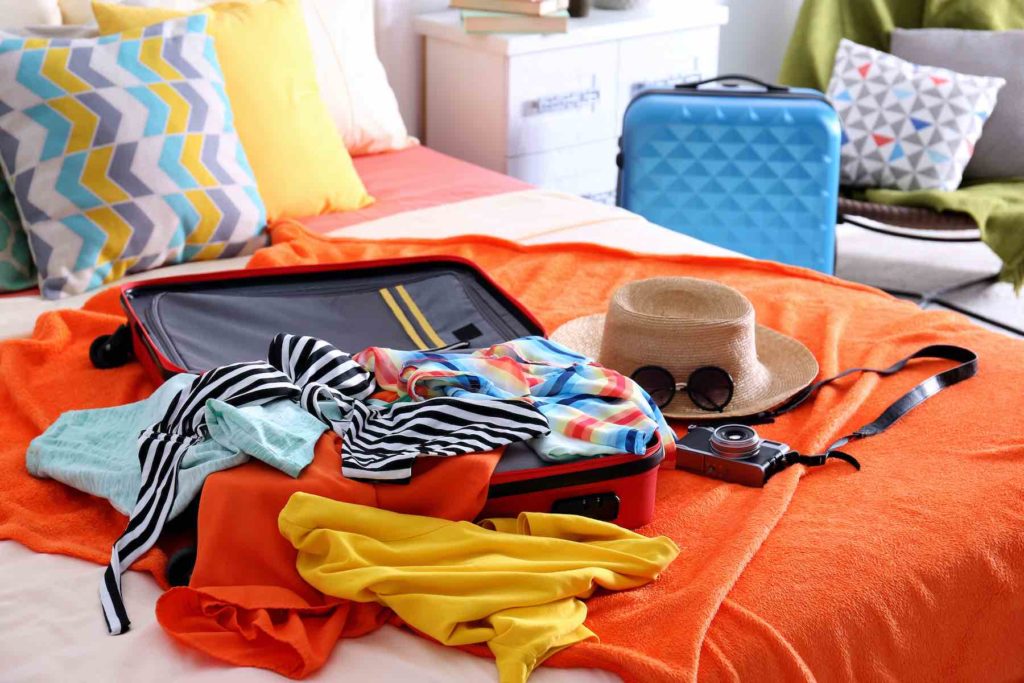 Do not bring jeans, as those are heavy and uncomfortable in the humidity. Plus, who likes to wear jeans when they are pregnant?
I suggest laying out all your maternity clothes and see which items you'll actually wear and which ones you should leave at home.
Flowy Clothes Work Best
The more airflow throughout your clothes, the more comfortable you will be. Try to find clothes that are not tight on you, so the wind can bring you some relief while you're hot.
Plus, loose clothes are much more comfortable with your cute belly bump!
I've also found that when I wear tight clothing while pregnant, it's much more noticeable when I sweat. So, flowy clothes are great for hiding that, too!
The Right Fabrics
Some fabrics are better than others for Hawaii. Lightweight fabrics are more breathable, and you'll definitely be more comfortable with cotton, rayon, or silk.
Natural fabrics are typically better than synthetics because they are more breathable. I'm a huge fan of bamboo clothing. Polyester can leave you more sweaty, itchy, and uncomfortable.
What to Wear in Hawaii on Your Babymoon
If you are having a Hawaii babymoon, you'll want to pack comfortable but also cute clothes. This may be the last time for a while that you can dress up with your husband without any kids!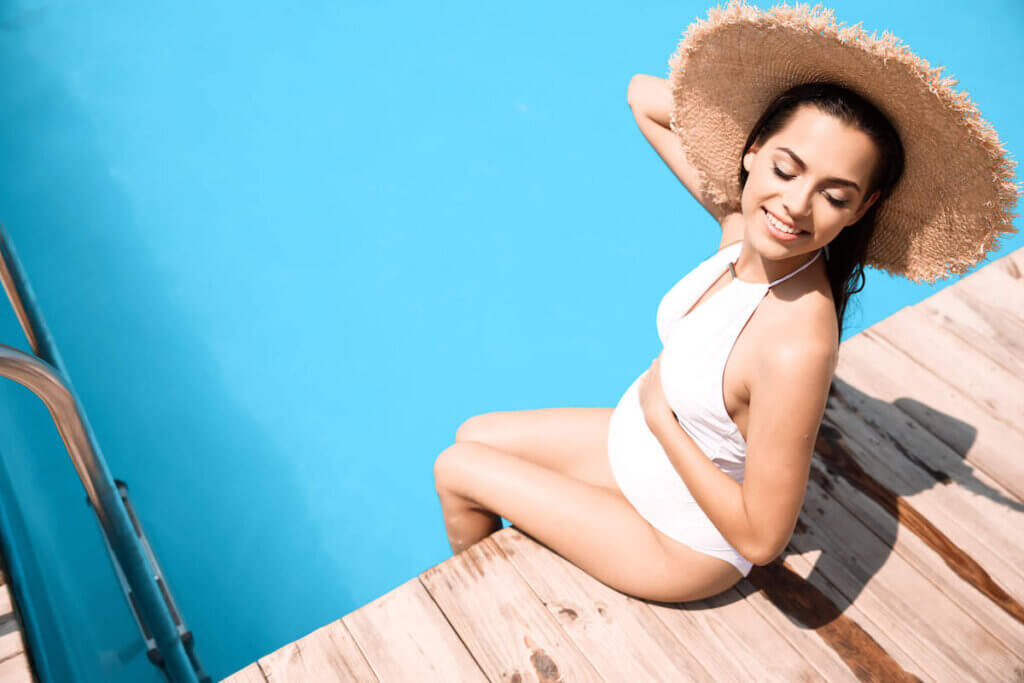 Whether you have an Oahu, Kauai, Big Island, or Maui babymoon, bring some loose dresses. Dresses are not only comfortable and light but will also add some style during your babymoon.
Maxi skirts are also a good choice for a babymoon outfit that will fit nicely with any baby bump. Make sure to also bring some good maternity shirts, skirts, and shorts. You don't have to dress up every day on your babymoon!
Don't forget some maternity swimsuits either! And make sure you try them on before your trip. You won't want to spend precious vacation time hunting around for maternity swimwear.
Best Outfits for Hawaii During Pregnancy
Now that you have some of the basics figured out, here are some of the best outfits to wear in Hawaii while you're pregnant. These Hawaii outfit ideas will help you enjoy your vacation to the islands to the fullest, even with a baby bump!
Flowy Dresses or Muʻumuʻu Dresses
Flowy dresses are some of my favorite things to wear while pregnant, but they are crucial in Hawaii. You don't want to be so hot while vacationing that your clothes stick to you.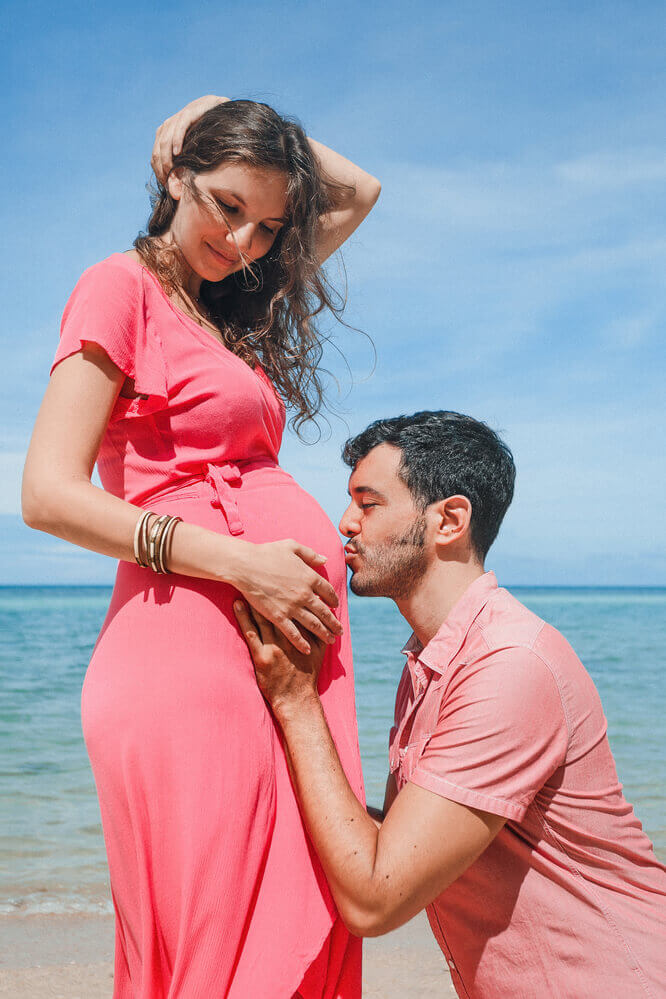 Flowy dresses will help you have airflow and keep you cooler. Plus, you can get some sun on your legs too! If you suddenly get a heatwave, you can always fan out your dress for extra breathability.
While in Hawaii, you might want to get a muʻumuʻu. These dresses are so comfortable to wear while pregnant. A muʻumuʻu is very loose, and most are made out of cotton. Plus, you can enjoy a fun Hawaiian pattern to wear when you're home too!
You can also find a muʻumuʻu online before your trip or you go shopping in Hawaii. These are one of the best dresses to wear in Hawaii.
Maxi Skirts or Dresses
Another staple of maternity vacation wear is maxi skirts. You cannot go wrong with maxi skirts or dresses! Make sure to wear rayon or cotton skirts for the most comfort.
These maternity skirts are easy to dress up with a nice top or you can dress them down by just wearing a swimsuit underneath.
If you find yourself too hot in a maxi skirt, simply tie it on the side to help keep you cooler.
Maternity Swimsuits and Cover-Ups
Of course, one of the many Hawaii vacation clothes is a swimsuit! Your normal swimsuit might not fit, depending on how far along you are. You can get some pretty cute one-piece swimsuits that are perfect for Hawaii.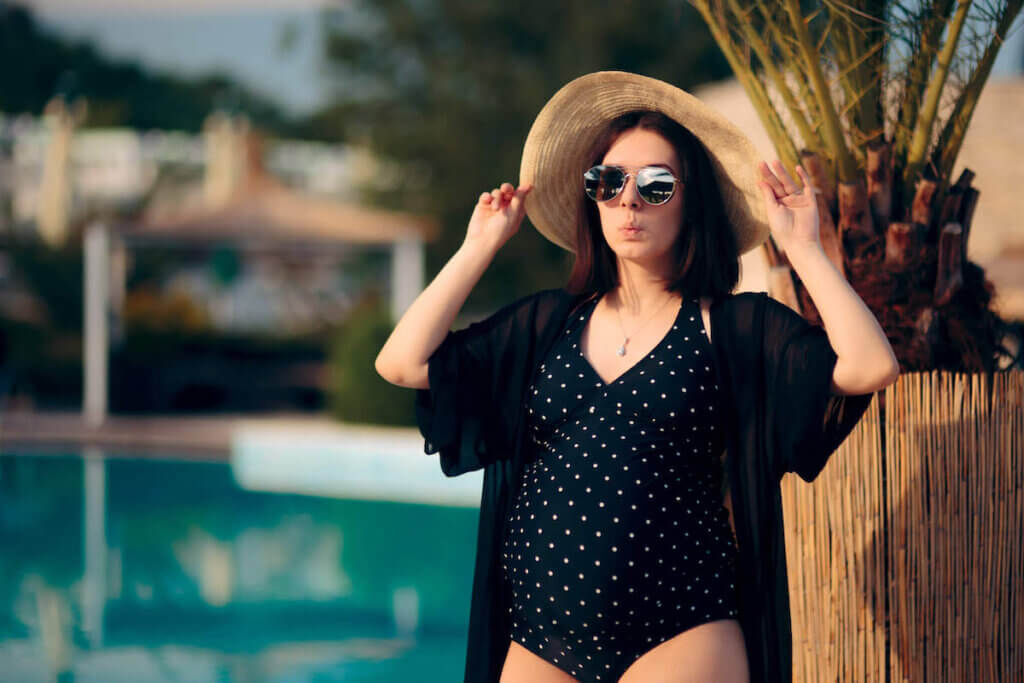 If you prefer, you can also find some tankinis with shorts if you feel more comfortable with those swimsuits too. You can find some cute maternity bikinis to show off your baby bump!
Note: you can wear regular bikinis while pregnant, but I recommend trying them on right before your trip as your body changes quickly during pregnancy.
Most swimsuit cover-ups are already loose enough to fit your baby bump, but you can also wear one of your loose dresses as a cover-up to save on room in your luggage! Another option is to pick up a sarong at the ABC Store in Hawaii to tie around yourself.
Shorts
While you won't want to wear jeans, you could wear jean shorts if you want to. However, when wearing maternity shorts in Hawaii, it is best to wear those that don't have an over the belly support, so you don't have too many layers and get overheated and sweaty.
Instead, wear some side panel maternity shorts or the ones with a stretchy waistband.
Shirts
Many maternity shirts are tighter with ruched sides. These might get too hot in Hawaii, depending on how comfortable you are with the heat and humidity. If you wear them, get either rayon or cotton maternity shirts to help with the heat.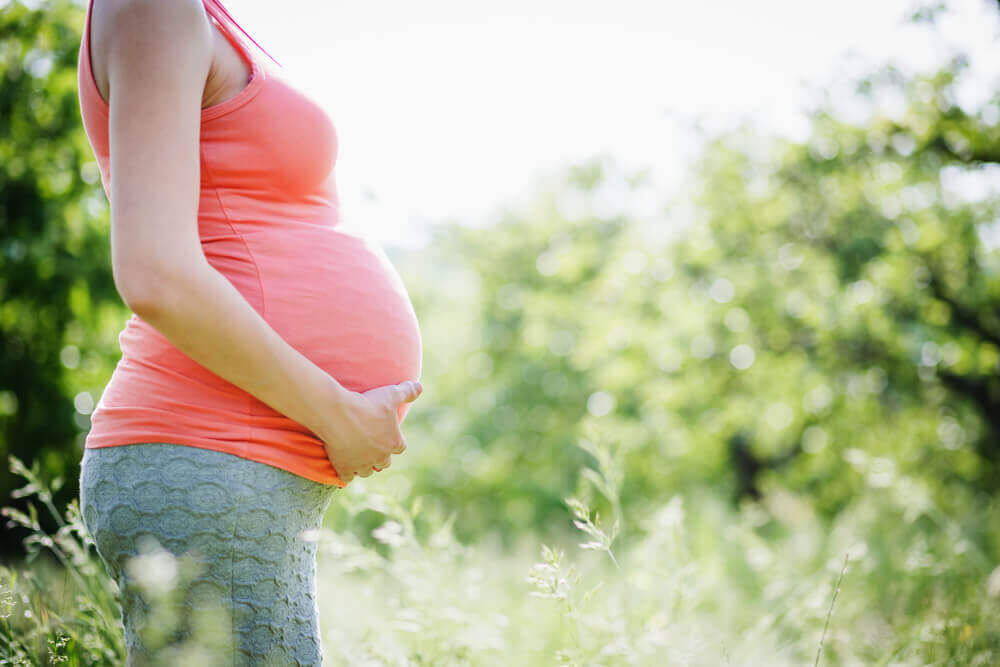 Otherwise, there are plenty of super cute maternity shirts that are loose and flowy. These will help you stay cooler and enjoy Hawaii with your baby bump. Maternity tank tops are also a great choice for Hawaii. Plus, many are made for breastfeeding too!
Slip-on Sandals
Depending on which stage in your pregnancy, you might have swollen feet and ankles. Having some nice slip-on sandals can help you explore the island of Hawaii while staying comfortable. Plus, you can get in and out of them super easily! No need to bend down to tie your shoes.
Not only is this important, but your feet can also swell on the plane ride over, so make sure your sandals aren't tight already and have room for growth.
You can get some Jandals on the island at most stores, or if you need more sturdy sandals, try some that have a cork footbed; many find these the most comfortable sandals. Sandals won't get damaged by the water or sand, which is another added benefit!
Hats
While you might want to soak in all the sun during your vacation, a hat will do you some good too. Being pregnant is exhausting, and if your body isn't used to all the sun and heat, you might experience some heat exhaustion, or worse, heatstroke.
You need to do your best to protect your body and your baby during your vacation. A hat can help protect your head, keep you cool, and help you avoid getting sunburnt.
Go for a simple cap hat that is breathable or a wider sun hat, whatever you are more comfortable with! Sometimes the wind does blow pretty strong in Hawaii, so make sure you have one that can stay secure on your head.
Maternity Belt
If you plan to walk around a lot to explore everything to do in Hawaii, you might want to pack a maternity belt.
A baby bump, no matter what size, will be heavy and a burden. To help you get the most out of your trip, a maternity belt will help ease your back pains during your vacation.
This can be extra helpful if you plan on doing any long walks or want to go hiking in Hawaii.
Pregnancy Photoshoot Outfit Ideas
What is more beautiful than a pregnancy photoshoot in Hawaii? This is the perfect time to show off your baby bump and have a beautiful background to enjoy in your pictures. Here are some great Hawaii-friendly photoshoot outfit ideas!
A split front open dress is the perfect photoshoot outfit for Hawaii! It will keep you cool but also show off your cute baby bump.
A simple maxi dress is another great photoshoot idea that will make you look stunning in front of any Hawaiian beach. Or, you can wear a flowy lace dress that will have you looking so elegant and beautiful.
Affordable Maternity Photos in Hawaii
If you're looking for an awesome Hawaii photographer, I highly recommend Flytographer. They have photographers on Oahu, Kauai, Maui, and the Big Island and they are pretty affordable.
Save $25 on your first Flytographer photoshoot!
Things to do in Hawaii While Pregnant
There are countless things to do in Hawaii while pregnant. You can often do exactly the same things you would do without a baby growing inside of you.
Here are a few things you can especially enjoy while pregnant in Hawaii:
Relax endlessly on the beach
Swim in the ocean to ease your back and muscles
Get a massage
Luaus
There are countless fun things to do in Hawaii, even if you are pregnant. Plus, all the above Hawaii vacation outfits work great for all these activities.
Maternity Clothes for Hawaii Checklist
In case this post was a little overwhelming, here are the products I recommend packing for your Haawii babymoon:
What to Wear for Your Babymoon in Hawaii Wrap Up
Whether you are planning a Hawaii babymoon or just want to have some fun in Hawaii while pregnant, these are the best pregnancy outfit ideas.
Grab some of these so you can enjoy your vacation, all in style and comfort.