Staying in Wailea Maui for your next Hawaiian vacation? Scroll to find out the best things to do in Wailea for families, couples, adventurers, and more!
This things to do in Wailea Maui post contains affiliate links which means if you purchase something from one of my affiliate links, I may earn a small commission that goes back into maintaining this blog.
Are you looking for a place to stay on your next trip to Maui?
Wailea is one of the most popular places to stay in all of Hawaii. It's located about 25 minutes from Kahului Airport and offers world-class golfing, amazing shopping, beautiful beaches, outdoor activities, and more!
I've come up with some of the most popular things to do in Wailea, Hawaii, for your next vacation. Be sure to add these fun activities to your itinerary!
You'll never run out of things to do here – there are so many great restaurants and bars that offer live music every night.
And if you're looking for something extra special while visiting this island paradise, be sure not to miss out on our exclusive luxury hotel recommendations! Wailea, HI, is located on the south shore and is one of the most popular places to stay on Maui for people looking for the ultimate resort vacation.
We have handpicked only the best hotels on Maui that will make your vacation unforgettable.
If you want an experience like no other while visiting Maui, then look no further than our list below! These are just a few examples of what we can help you find when planning your perfect Hawaiian getaway.
Our team has been working hard at finding even more unique experiences that we think will be perfect for families traveling with kids or couples who want something different during their visit.
Keep scrolling to find out some of the most popular things to do in Wailea, Hawaii, for your next Maui vacation.
Be sure to add these to your Maui itinerary!
Don't have time to read a bunch of Hawaii blog posts and reviews? Here are some of our top picks for visiting Maui.
Popular Maui Tours/Activities
Favorite Maui Resorts/Hotels
Andaz Maui (this is a luxury resort with the best luau on Maui)
Honua Kai Resort & Spa (this is one of our personal favorites because there are tons of pools and there are condo options)
Want to Rent a Car in Hawaii?
One of the best places to rent a car in Hawaii is Discount Hawaii Car Rental because they get the best rates from top national companies like Alamo, Dollar, Thrifty, Avis, Enterprise, Budget, and Payless.
Want to skip all the planning and just access my detailed Maui Itinerary complete with daily schedules, kid-friendly activities, and travel hacks? Click the button below.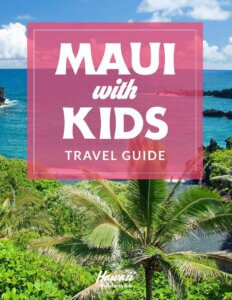 21 Amazing Things to do in Wailea Maui
1. Shops At Wailea
Because I love shopping, I had to start this list with one of the prettiest outdoor shopping malls in Maui. It tops my list of Wailea things to do.
Head to The Shops at Wailea for an amazing, high-end resort shopping experience. You'll find designer stores like Gucci, Louis Vuitton, and Prada. But, you'll also find Lululemon, Billabong, SoHa Living, Honolua Surf Company, and more.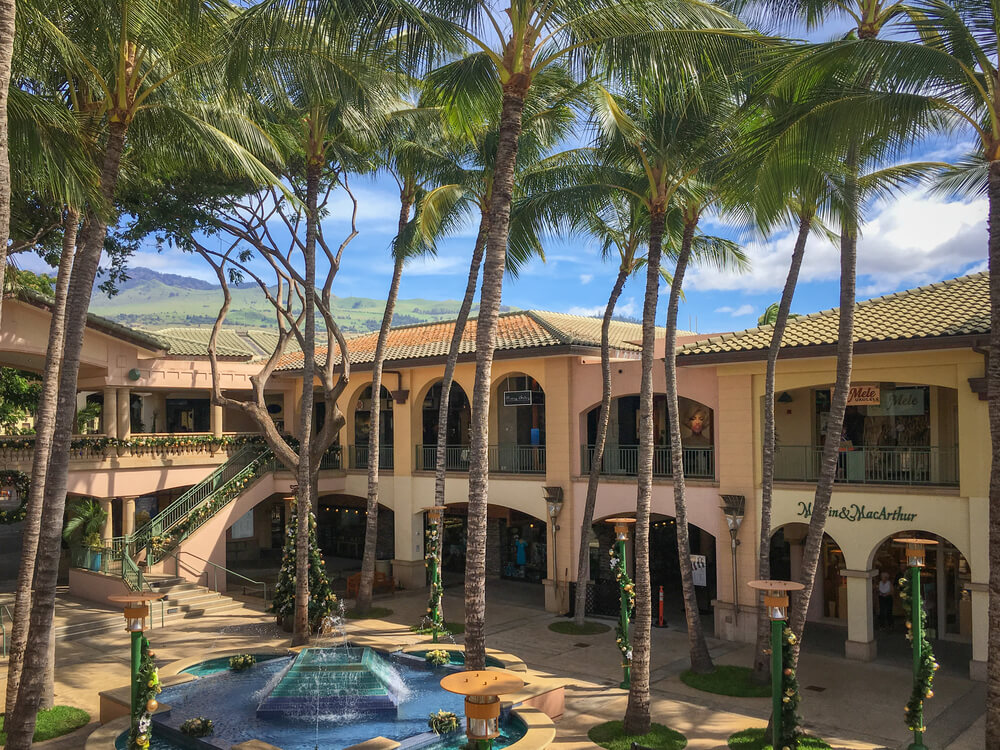 It's also one of the few places on Maui to find Honolulu Cookie Company (the place with the adorable pineapple-shaped cookies!) Plus, they have a Lappert's Ice Cream shop.
Shopping in Wailea Maui is so much fun!
2. Maui Kayaking Tours
There are so many great places to kayak on Maui, and Wailea makes the perfect jumping-off point. It's close to Turtle Town and Molokini Crater, and visitors love to kayak in the ocean.
Some popular Maui kayaking tours include this Makena Turtle Town Eco Adventure in Maui and this Makena-Wailea Explorer Trip in Maui. Check out the latest prices and more details.
It's one of the best Maui things to do for adventurous families and one of the top Hawaiian ocean sports worth enjoying in the Pacific Ocean.
3. The King's Trail (Hoapili Trail)
If you are looking to do some hiking near Wailea Maui, which is unusual, head to the Hoapili Trail. It's not your typical tropical hike with lush greenery. Instead, this South Maui hike is full of lava rock!
Maui's historic king's trail has actually been around for hundreds of years. It was built by King Pi'ilani and his son (hence the name "the King's Trail.")
What's cool about Hoapili Trail is that hikers can see the site of a Hawaiian village named Keone'ō'io and other ancient sites. It also has great views of the coast.
The entire trail is about 10 miles long, but many people just do part of the hike and come back. It's a great place for Wailea sightseeing.
Read more about hiking on Maui
4. Makena Beach State Park
For a gorgeous, white sandy beach that's almost 2/3 miles long, head to Makena Beach State Park. It's one of the largest beaches in Maui that hasn't been developed yet.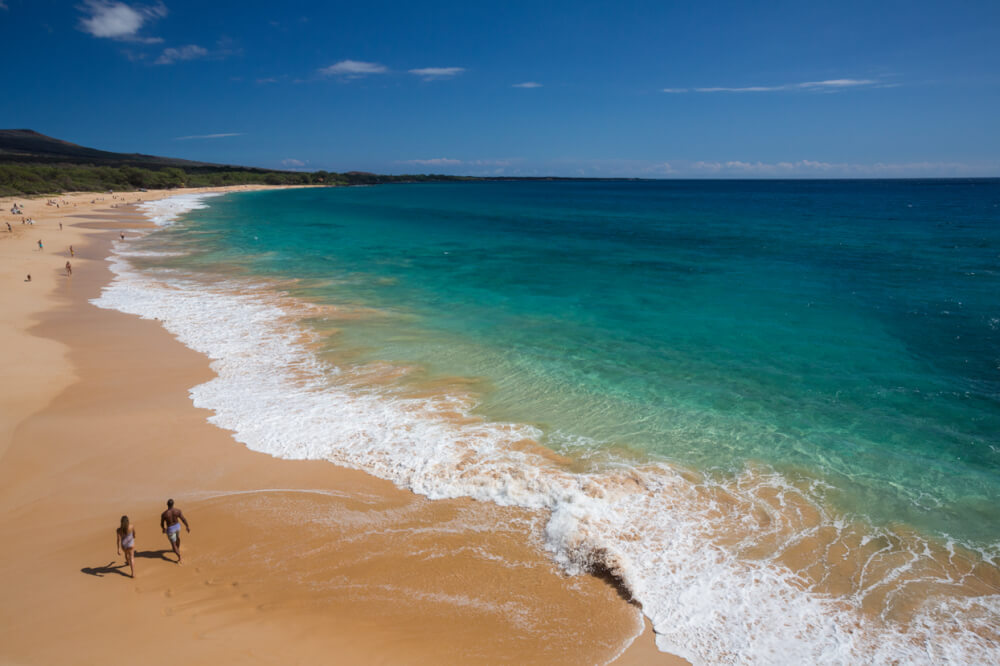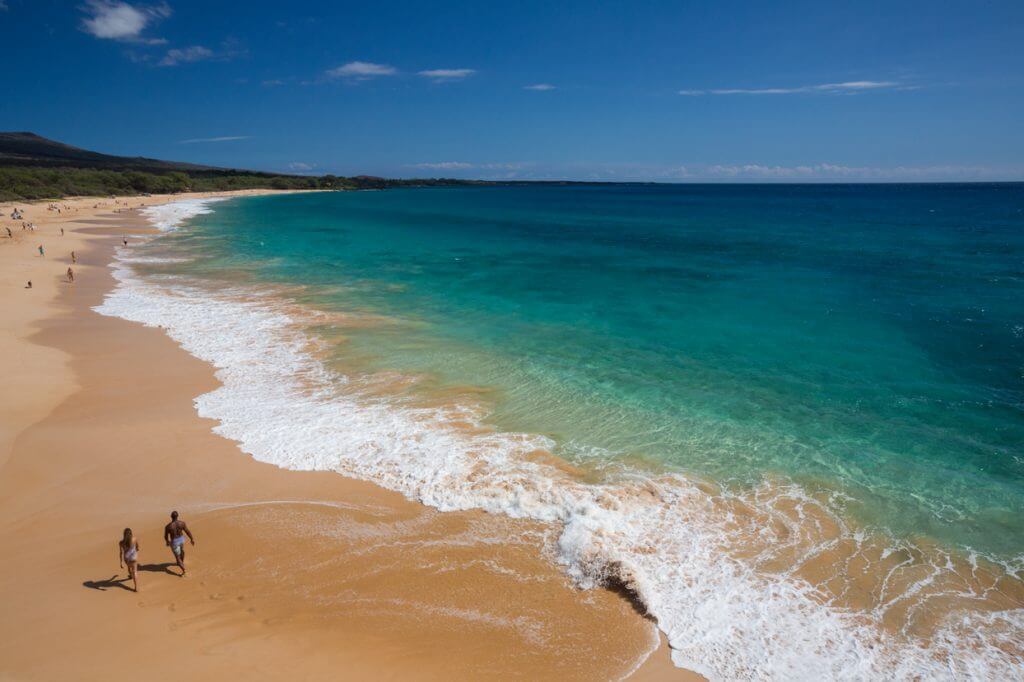 Actually, there are two beaches here: Big Beach and Little Beach. Oneloa Beach and Secret Beach are right next to it as well.
What's cool about Makena Beach is that it's protected from the wind, and you can see Molokini Crater and Kahoolawe Island.
Makena State Park is a famous beach on Maui's South Shore and is definitely one of the top things to do in Wailea!
5. Sea Scooter Snorkeling
Adventure seekers will love exploring Maui on this sea scooter snorkeling tour.
On these Wailea tours, you can snorkel faster and further with the use of the sea scooter, which means you can see more marine life and reefs (Wailea reef and more.)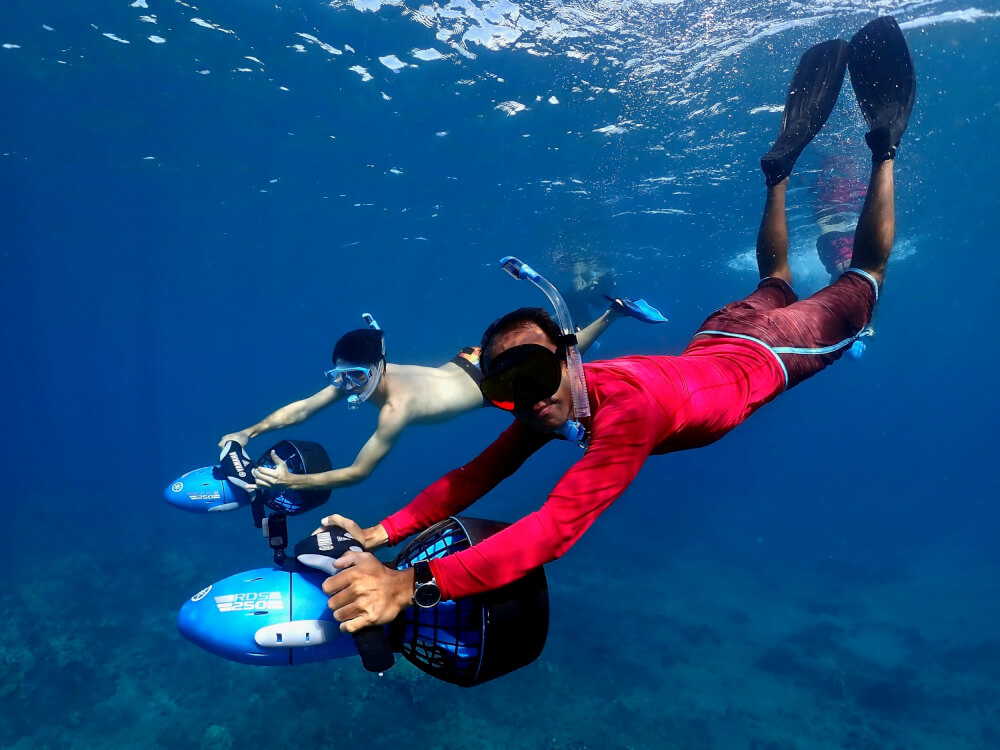 There's also a chance to swim with Hawaiian green sea turtles! Check out the latest prices and more details.
Whether you are an experienced snorkeler or you are trying it for the first time, there's a sea scooter snorkeling tour designed just for you.
It's definitely one of the most unique Wailea Maui activities.
Book your discounted Sea Scooter Snorkeling tour
6. Monkeypod Kitchen
For those traveling to Maui with kids, you'll want to set aside time to eat at Monkeypod Kitchen. They have locations in both Wailea and Ka'anapali (as well as near Disney's Aulani Resort on Oahu.)
They specialize in food that is locally grown and sustainable. It's a great place to try Maui beef, Kauai shrimp, and island fish. Plus, they have kalua pork pizza, fish tacos, burgers, poke, and basically something for everyone.
Parents of younger kids will be happy to know that they offer free noodles and cheese for kids under 3 years old. And they have a decent kids menu for older kiddos.
It's one of the tastiest Wailea restaurants and offers some of the best food in Wailea Maui.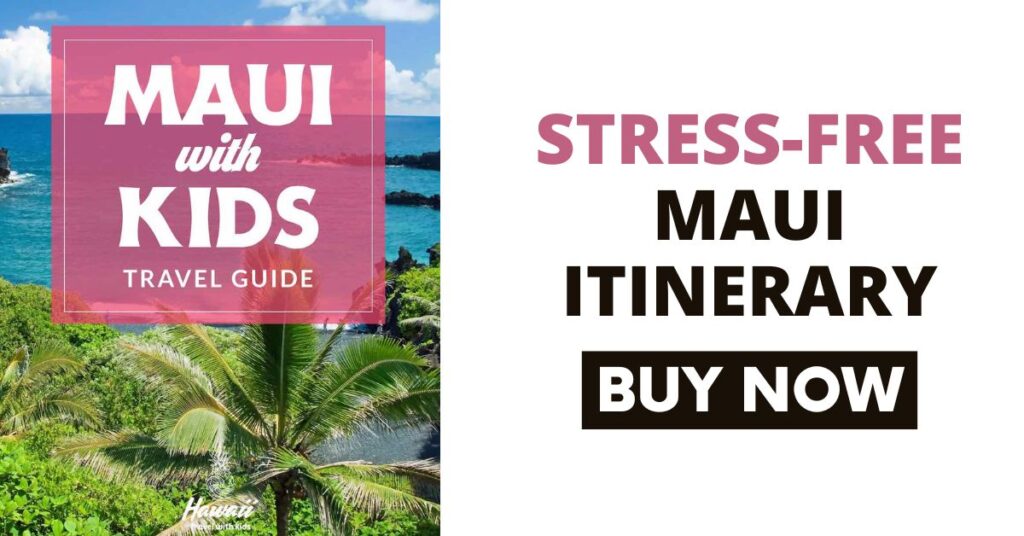 7. Dinner at the Four Seasons Maui
One of the most romantic places to eat in Wailea is the Four Seasons Maui.
While they have several different restaurants on their property, Ferraro's Bar e Ristorante is the only ocean-front dining in Wailea. Plus, it's Zagat-rated!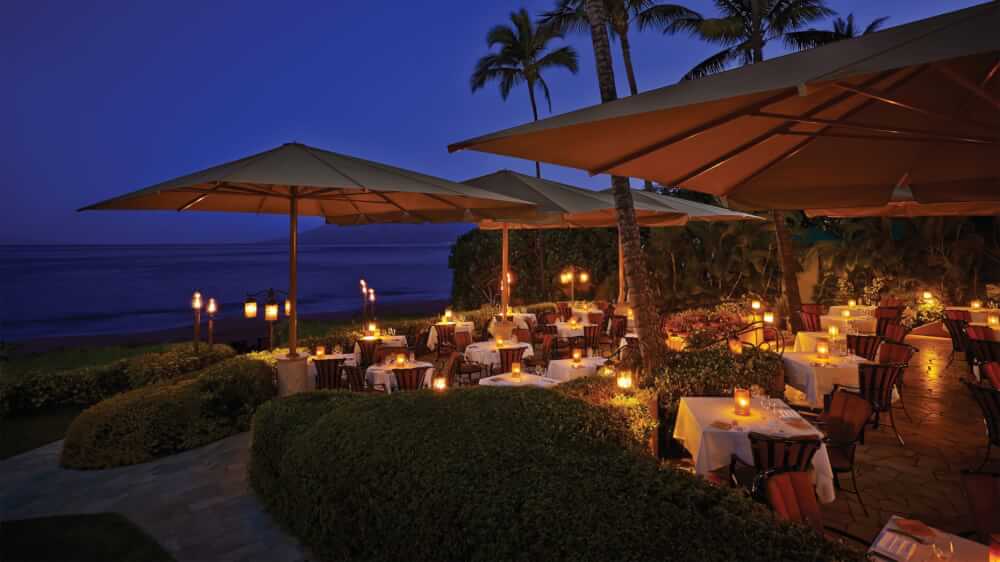 The cuisine is primarily Italian, but they incorporate authentic Hawaiian dishes like poke, ahi tuna, and Hawaiian seabass.
They even offer live music during dinner on Tuesdays-Saturdays. It will be a dinner to remember!
Any of these Maui restaurants are other top places to eat in Wailea Maui!
8. Polo Beach
In between the Fairmont Kea Lani Hotel and the Polo Beach Club, you'll find Polo Beach. It was originally called Dead Horse Beach (yikes!)
It's a really convenient beach if you are staying at the Fairmont Kea Lani, but it's also an easy beach to drive and park if you are doing a day trip in Wailea. They have showers, bathrooms, picnic tables, barbecues, and a small grassy park.
When the water is calm, Polo Beach is a great Maui snorkeling spot.
9. Golfing at Wailea Golf Club
If you're looking for the best golfing on Maui, the Wailea Golf Club should be at the top of your list.
This is where you'll find 3 top-rated Maui golf courses: Wailea Emerald, Wailea Gold Course, and Wailea Blue. They've been featured in both Golf Magazine and Golf Digest for the incredible amenities, breathtaking ocean views, and spirit of Aloha.
Wailea Gold is the former site of the Champions Skins Game and has been named one of the 100 best golf courses in America.
Wailea golf club golfing is another one of the great things to do near Wailea for avid golfers.
10. Visit Wailea Beach
Wailea Beach is an awesome resort beach located between the Grand Wailea and the Four Seasons. Because it's so close to these resorts, the beach gets crowded quickly.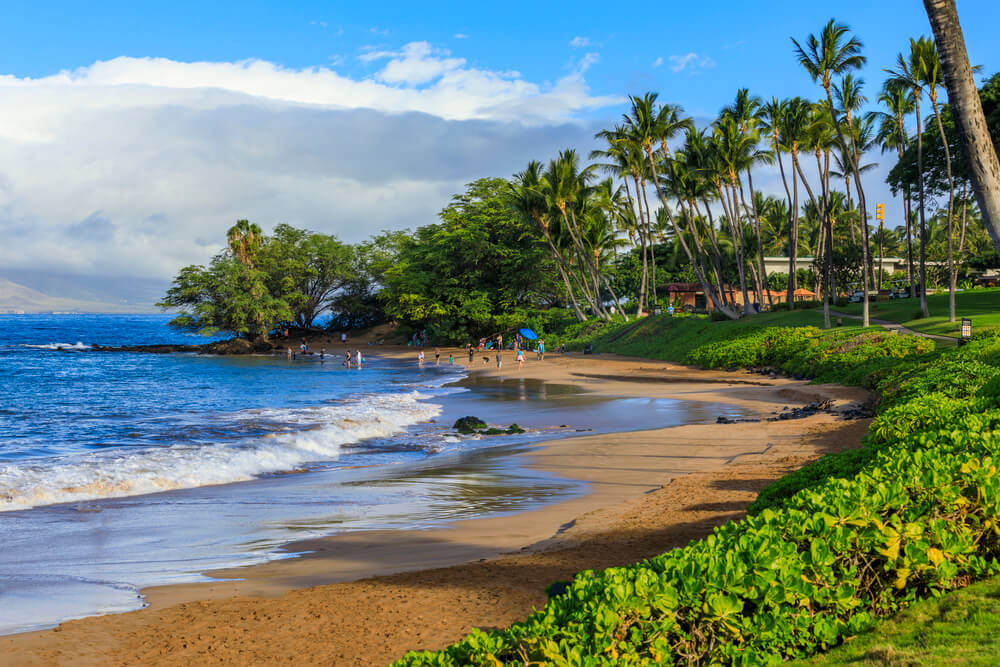 You can see Kahoolawe, Molokini Crater, and Lanai from the beach. And it's one of the best spots to see Maui whales in the winter.
It's a nice beach for snorkeling, boogie boarding, and body surfing. And they have a paved walkway (great for stroller walks), bathrooms, showers, and lots of free parking.
Wailea Beach offers some of the best things to do in Wailea with kids!
11. Day Trip to Molokini Crater
If you're hoping to do some snorkeling on Maui, Molokini Crater is one of the top Maui snorkeling spots.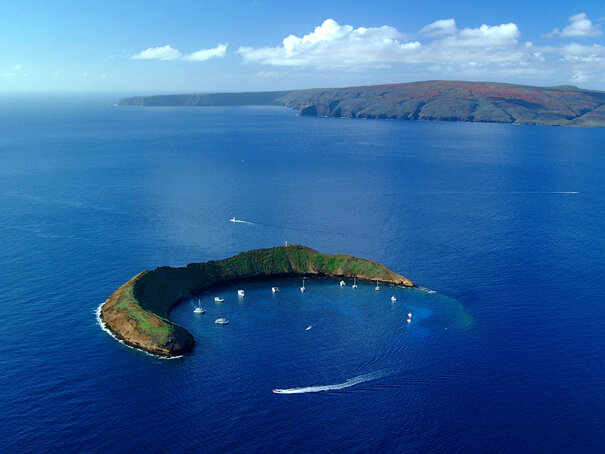 Molokini Crater is a crescent-shaped volcanic crater lying between Maui and Kahoolawe. It is a tiny uninhabited islet with an area of 23 acres, and you'll need to take a boat to get to it.
The protected waters of this island are a treasure trove of underwater creatures. Molokini is perfect for watching marine life like Moorish idols, parrotfish, black triggerfish, yellow tang, and moray eels. Plus, you might even see a whale shark!
It's no wonder it's one of the top Maui attractions. Snorkeling is a must do in Maui, and there is no place better than Molokini.
Read my full post on snorkeling at Molokini Crater
12. See the Dolphins at La Perouse
La Perouse Bay is one of the best places to see dolphins on Maui. The bay itself is protected from strong currents and is made up of smaller coves and tide pools.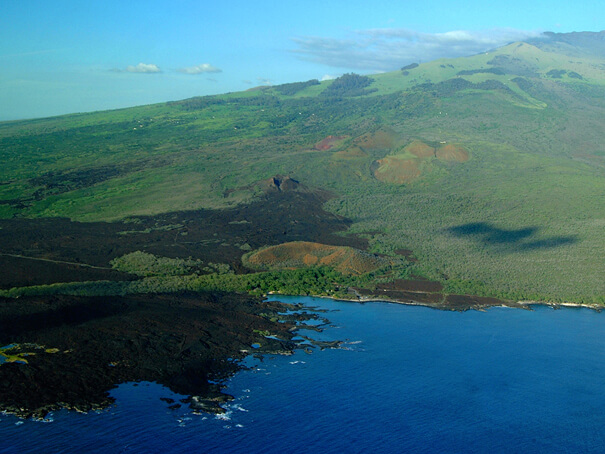 Spinner Dolphins like to hang out here, and there are several snorkeling tours each morning. These are some of the best things to see in Maui. Check out the latest prices and more details.
Just north of La Perouse is the Ahiki-Kinau Natural Area Reserve. It's a popular snorkeling and diving spot and features several Hawaiian cultural sites, including the start of the King's Trail.
Because fishing is prohibited at the reserve, visitors are able to see lots of endangered sea life, marine mammals, tropical fish, and coastal plants. It's also a great spot to see Hawaiian green sea turtles!
Book your La Perouse Bay Maui Snorkeling Tour
13. Wailea Tennis Club
For those who enjoy tennis, you'll want to set aside time to check out the award-winning Wailea Tennis Club.
The United States Tennis Association named it one of the country's most outstanding facilities, and Tennis Magazine has rated it one of the best tennis clubs in the United States for more than a decade.
They have 11 Sportsmaster courts, a full-service pro shop, equipment rental, and instructional programs. Plus, the Wailea Tennis Club also offers Pickleball, one of the fastest-growing racquet sports in the United States!
For those who love sports, this is one of the fun things to do in Wailea for you!
14. Stand Up Paddle Boarding
Speaking of the fastest-growing sports, Stand Up Paddleboarding (also called "SUP) is one of the most popular ocean activities in Hawaii.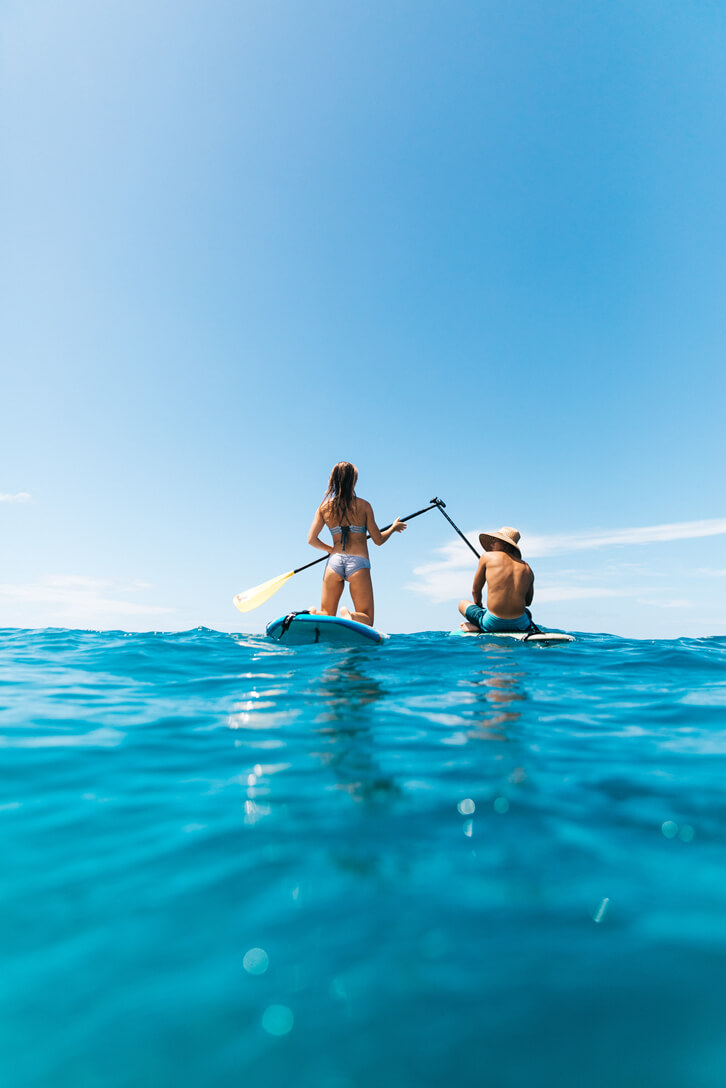 It's low impact and less intense than surfing. It's great for kids and grandparents alike.
You can rent your own SUP equipment, or you can join a tour. Tours are a great way to go if you are new to the sport and would like a skilled SUP instructor to help you get started. Check out the latest prices and more details.
Get your discount Stand Up Paddling tour tickets
SUP is probably one of the best things to do in Kihei and Wailea!
15. Feast at Mokapu Farm-to-Table Luau
If you want a luxury luau experience (read PRICEY), then the Feast at Mokapu at Andaz Maui at Wailea Resort is worth looking into. Check out the latest prices and more details.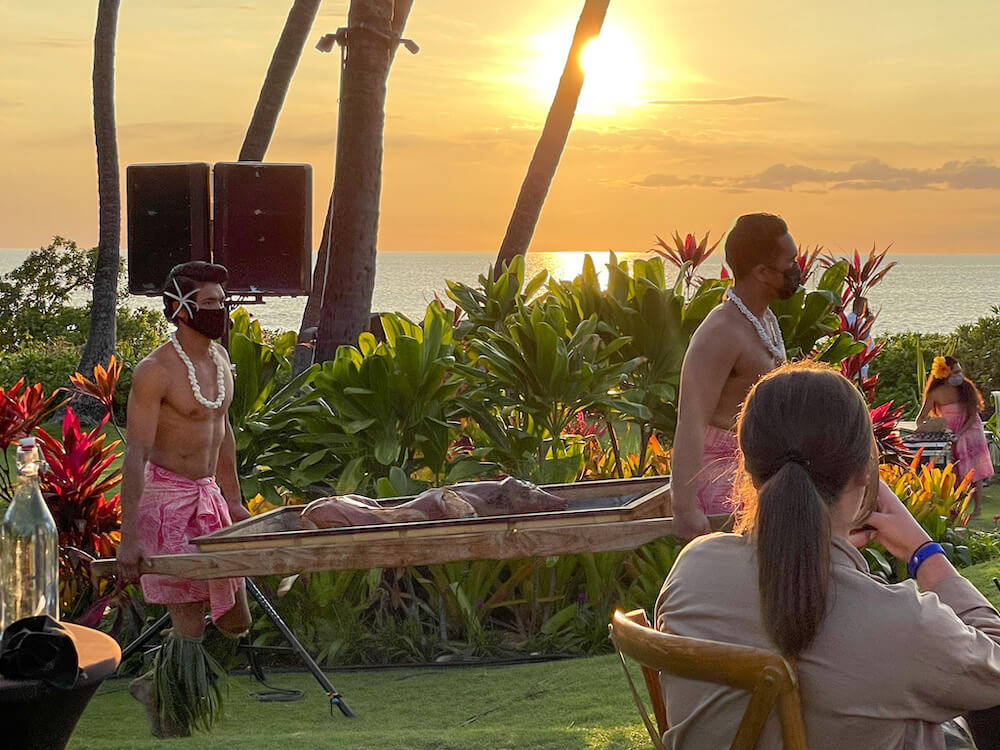 Set on a grassy lawn by the sandy shore of Mokapu Beach, the Feast at Mokapu takes you on a journey into Polynesian history. You'll learn about the arrival of Polynesians on Maui through stories, hula dancing, and fire dancers.
Adult tickets start at $200, and children's tickets start at $100. The focus of this luau is on the menu created by Executive Chef Isaac Bancaco. They even have handcrafted cocktails that are personalized to your liking.
This is definitely one of the activities in Wailea worth splurging on, especially to learn more about Hawaiian culture. It's quite interesting to learn about ancient Hawaii during this luau. You can read my full Feast at Mokapu luau review.
Get your discount Mokapu Farm-to-Table Luau tickets
16. Wailea Coastal Walkway
This is one of the most beautiful things to see in Wailea.
Maui is such a gorgeous place to take a romantic sunset walk (or an early morning stroller walk), and the Wailea Coastal Walkway is one of the best places to do that.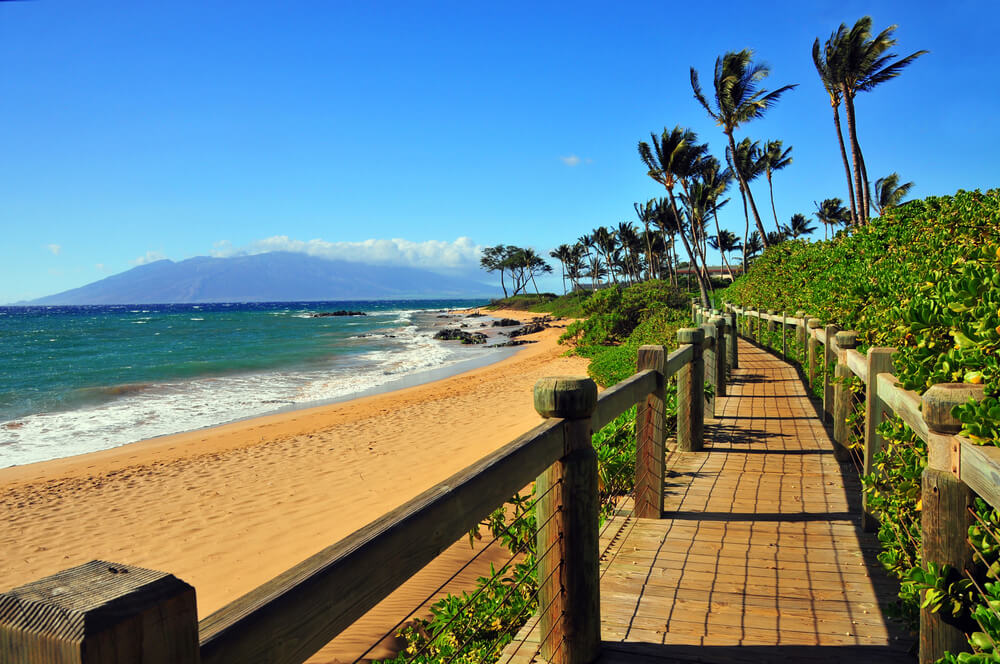 The paved pathway takes you past 5 stunning beaches, 8 world-class resorts, tons of beautiful palm trees, and in the winter, you can see humpback whales!
It's a great way to walk between resorts, take an after-dinner stroll, or do a bit of exercise. There are cute coffee shops, snack stands, and photo ops along the way.
Plus, the pathway is just 1.5 miles long, so totally doable for people of all abilities. It's one of the best things to do in South Maui for families.
17. Mandara Spa
For an extra dose of luxury on your Maui vacation, book a spa day at Mandara Spa at the Wailea Beach Resort.
The spa looks out on the ocean, where you can spot Molokini Crater and the island of Kahoolawe. They offer a relaxation area, steam room, facials, body treatments, massages (including Hawaiian lomi lomi massage), and more!
It's a great way to unwind after a long airplane ride!
Plus, they have couples suites for a romantic date idea as well as a full-service salon for hair, makeup, and nail services.
Try out the decompressing Maui massage while you are there!
18. Wailea Healing Center
If you'd rather enjoy an outdoor massage where you hear the ocean tide rolling in, head to Wailea Healing Center, where you can get a massage near a golf course.
Besides massage therapy, visitors can take a yoga class, relax with acupuncture, get chiropractic adjustments, and even try a belly dancing class at Wailea Healing Center.
They also offer mobile massage services where they will come to you.
19. Grand Luau at Honua'ula
If you are lucky enough to stay at the gorgeous Grand Wailea Hotel, you have an easy walk to the Grand Luau at Honua`ula. This is one of the best luaus in Wailea Maui!
This is definitely one of the best things to do in Maui. You can read our full Grand Wailea Luau review HERE.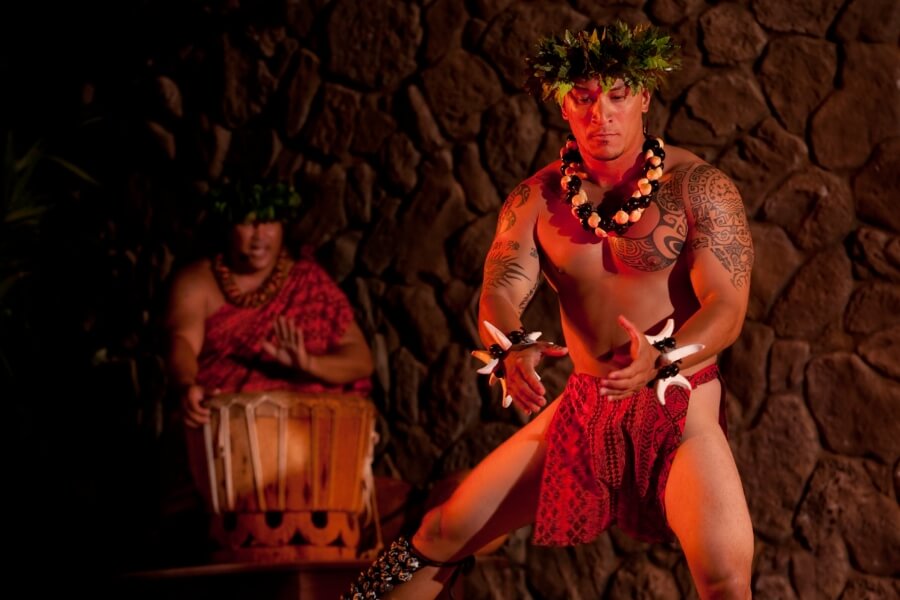 Guests can check in early to get wristbands and then hang out at the pool bar or the beach until luau doors actually open. This saves you precious time waiting in line so you can soak up more of your Hawaiian vacation.
What really sets this luau apart from the rest is that it focuses on Hawaiian stories and incorporates those stories into the performance. These stories involve mermaids, ancient gods/goddesses, voyagers, and more.
Because of that, the show features a mix of traditional dancing as well as unusual and impressive feats that will entertain families with kids of all ages!
They also have an extensive menu, including allergy-friendly dishes and vegetarian/vegan options.
Luaus are the top things to do in Wailea at night by far! Head to at least one during your trip to the Hawaiian islands.
Read more about the top 12 Maui Luaus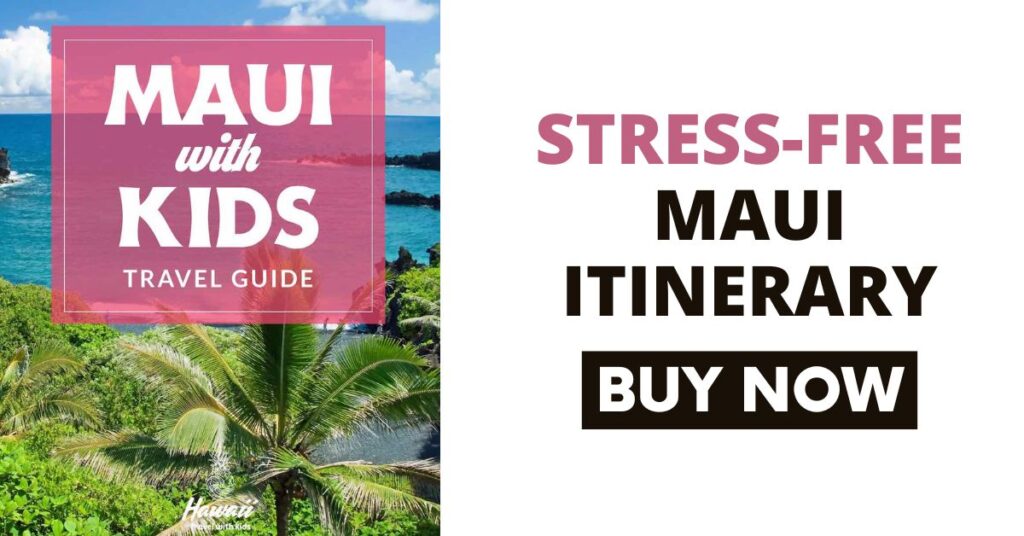 20. Scuba Diving At Keawakapu Beach
Another fun thing to do in Wailea, HI, is to go scuba diving! Keawakapu Beach is a great spot because it has a shallow reef where you can see beautiful tropical fish and Hawaiian sea turtles.
You can rent your own scuba equipment, or you can join a scuba diving tour on Maui with a PADI-certified instructor. Check out the latest prices and more details.
Book your discounted Scuba Diving tour
21. Maui Ocean Center
One of the best things to do near Wailea is to visit the Maui Ocean Center. It is about 25 minutes away from Wailea, but it is totally worth it! Your kids will love to explore this fascinating aquarium.
At the Maui Ocean Center, you will find a 3D whale-watching experience unlike anything else. You can also walk through a tunnel that shows you exactly what the ocean looks like.
You can easily spend the entire day here learning and having fun! Check out the latest prices and more details.
Best Wailea Maui Resorts
Now that you've seen some top Wailea attractions let me show you some awesome places to stay in Wailea Maui.
Whether you are heading to Maui on your honeymoon or with your family, the Grand Wailea Resort is the epitome of luxury. And it's one of the top Wailea resorts. Check out the latest prices and more details.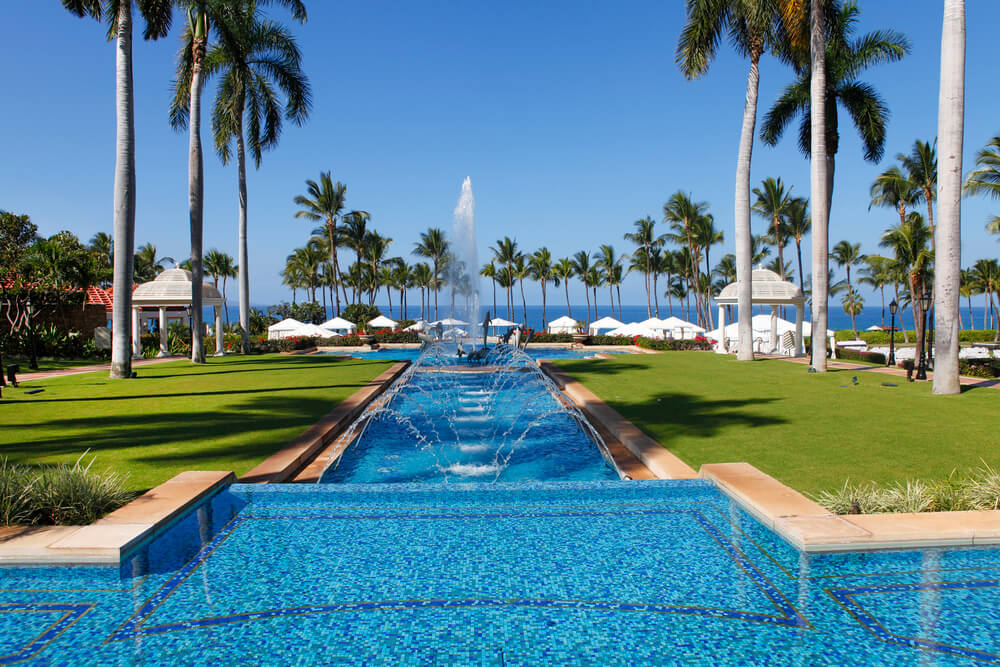 It's on 40 acres of tropical Hawaiian gardens and extends to Wailea Beach (which was voted one of the best beaches in America.)
They have fine dining and a world-class spa, and they recently renovated their rooms. It's definitely where you want to stay in Wailea, HI, if the budget isn't a concern.
What I love about Fairmont hotels is they are always gorgeous and have unsurpassed customer service. The Fairmont Kea Lani is no exception.
As Hawaii's only all-suite and villa luxury resort, the Fairmont Kea Lani is right on Wailea's Polo Beach and features a state-of-the-art spa, four amazing restaurants, and three swimming pools.
You can't go wrong with a Fairmont hotel for your Wailea vacation. Check out the latest prices and more details.
A more budget-friendly option for families is the Residence Inn by Marriott. It's actually the first one in Hawaii.
This hotel feels more like a condo, and its suites have fully equipped kitchens, so you can cook in your unit. They even have grocery shopping services available.
Another cool feature is their local area shuttle service. Check out the latest prices and more details.
Now that you know what to do in Wailea Maui, let's talk about the rest of the island. There are SO many amazing things to do in Maui, Hawaii.
If you're looking to do a day trip from Wailea, here are some popular options:
Haleakala Crater
One of the most talked-about experiences on Maui is seeing the sunrise at Haleakala Crater. People liken it to a spiritual awakening. Check out the latest prices and more details.
This national park on Maui is very barren and rocky. And it's very cold, so bundle up.
You can drive up yourself or take a guided tour. And some people even bike down Haleakala after sunrise.
Get all my Haleakala National Park tips!
Go Hiking
Another thing to do in Maui for families is go for a hike. From waterfall hikes to hidden beaches, there are so many places to explore on Maui.
A few top hikes are located in Haleakala National Park, off the Road to Hana, and 'Iao Valley (which is great for beginners.)
Read more about Maui hiking trails
Road to Hana
They sell t-shirts that say, "I survived the Road to Hana," and once you do it, you'll understand why!
This windy road offers some of the most breathtaking views of the North Shore of Maui. You can take a tour, get the audio guide app, or just wing it and have a wonderful time. Check out the latest prices and more details.
Read my full Road to Hana guide
See Waterfalls
You won't want to come to Maui and not see a waterfall. It's an iconic thing to see in Hawaii.
Some of the top Maui waterfalls include Twin Falls (on the Road to Hana), Honokohau Falls (the tallest waterfall in Maui), and Waimoku Falls.
Read more about Maui waterfalls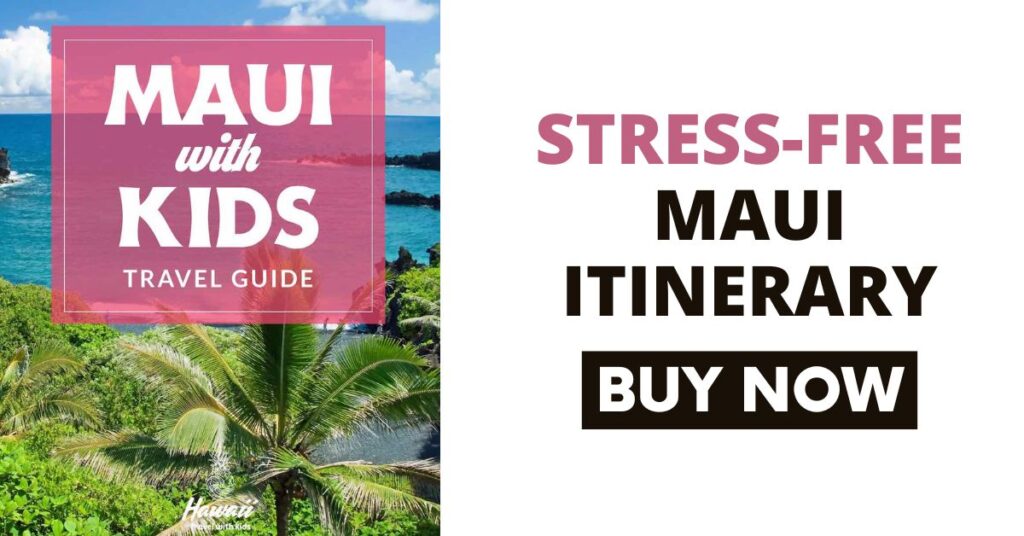 Wailea Maui Things To Do FAQs
Where is Wailea, Hawaii?
Wailea is located about 30 minutes South of Kahului on the island of Maui.
Is Wailea or Kaanapali better?
While they are both resort areas, Wailea is a bit more luxurious than Kaanapali. And Wailea is more centrally located on the island of Maui. But Kaanapali is right next to Lahaina, which has lots of Maui tourist attractions.
Is Lahaina or Wailea better?
It can be hard to choose Lahaina or Wailea in terms of the best resort towns. You will find more upscale resorts in Wailea Maui and high-class restaurants than in Lahaina. But Lahaina is more budget-friendly, and there are more resorts, restaurants, and attractions.
What is Wailea famous for?
There is amazing golf in Wailea, which is mainly what it is famous for. The Wailea Golf Club is a great place to go golfing in town. The beaches in Wailea Maui are also incredible. Wailea is also well known for being a resort town with great shopping and restaurants available.
Can you walk around Wailea?
Wailea beach walk is a great spot to go walking and enjoy all the gorgeous beaches, luxury resorts, and shops at Wailea to enjoy. The Wailea Oceanfront boardwalk trail is about 1 1/2 miles one way and is one of the free things to do in Wailea.
Things To Do in Wailea Maui Wrap-Up
South Maui is such a beautiful place to visit, filled with tons of things to do in Wailea. Whether you visit Wailea Beach, visit the shops at Wailea, relax at Wailea Healing Center, Turtle Town, Makena Beach, or go boogie boarding, you will love everything to do in this awesome city!