Planning a trip to Oahu and want to explore the Windward Coast town of Kailua? Scroll to find out the best things to do in Kailua Oahu, including unbelievable beaches, yummy places to eat, and top attractions.
This things to do in Kailua Hawaii post was written by Hawaii travel expert Marcie Cheung and contains affiliate links which means if you purchase something from one of my affiliate links, I may earn a small commission that goes back into maintaining this blog.
Are you looking for a great place to visit with your family or friends?
Kailua is a town on the windward side of Oahu. It's a great place to visit if you're looking for things to do! There are many beautiful beaches, restaurants, and shops that make Kailua an amazing place to spend time while on vacation in Oahu.
In this blog post, we'll give you all the information you need about places in Kailua that will help you have a fun-filled vacation!
You won't want to miss out on these awesome attractions when spending time in Kailua. We've got everything from beaches to boutiques – there's something here for everyone!
If you're planning a trip soon, check out our list of top 19 things to do in Kailua below! And don't forget your camera – it's going to be hard not taking pictures of all these gorgeous views. Trust us 🙂
Check out our list of top 19 Kailua things to do right now by scrolling down!
Don't have time to read a bunch of Hawaii blog posts and reviews? Here are some of our top picks for visiting Oahu.
Popular Oahu Tours/Activities
Favorite Oahu Resorts/Hotels
Want to Rent a Car in Hawaii?
One of the best places to rent a car in Hawaii is Discount Hawaii Car Rental because they get the best rates from top national companies like Alamo, Dollar, Thrifty, Avis, Enterprise, Budget, and Payless.
Want to skip all the planning and just access my detailed Oahu Itinerary complete with daily schedules, kid-friendly activities, and travel hacks? Click the button below.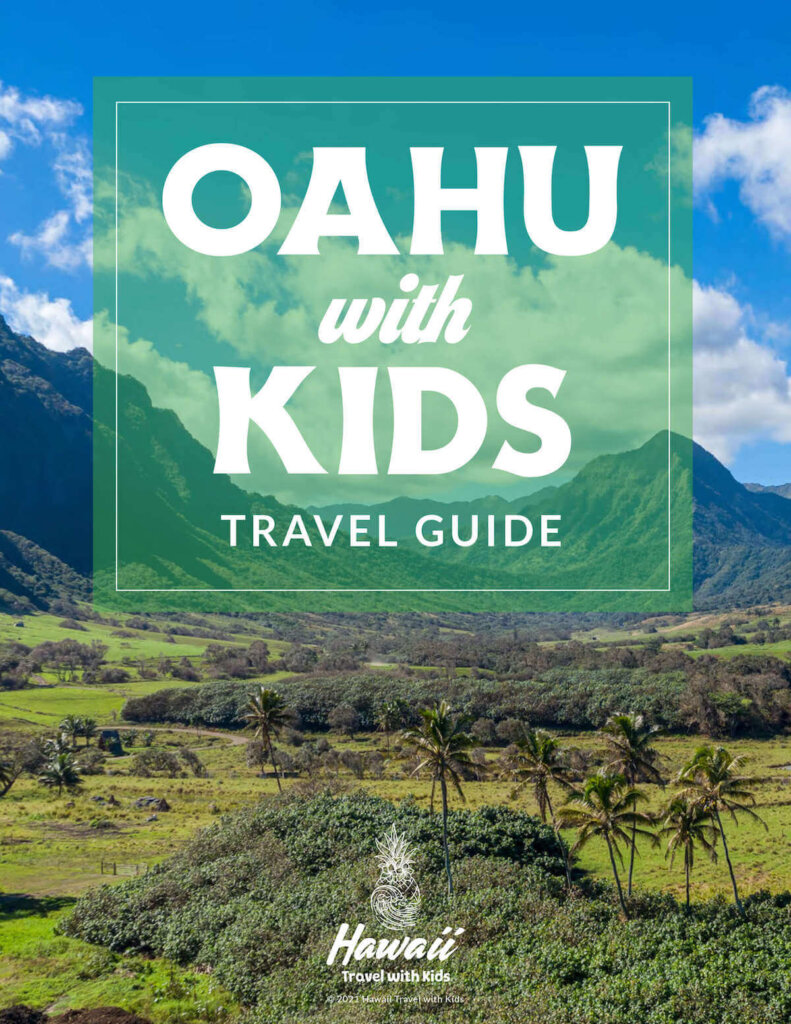 What is Kailua Oahu known for?
Kailua, Oahu, is the most well-known for its gorgeous sandy beaches and its historical connection to World War II. This area is known as the quieter side of Oahu. This allows visitors to enjoy the surf, sand, and nature in a pristine form.
It may be less popular than the more traversed tourist destinations, but this calmer, windy side of Oahu brings serenity and local culture that you and your family can fully appreciate without the crowds.
Beaches In Kailua
Lanikai Beach
Lanikai Beach is one of the most popular beaches in Kailua. It offers calm, blue waters for families, friends, and pets to play and visit. This beach does not have a reef system. So much of the underwater life live further out, and not much can be seen from the beach.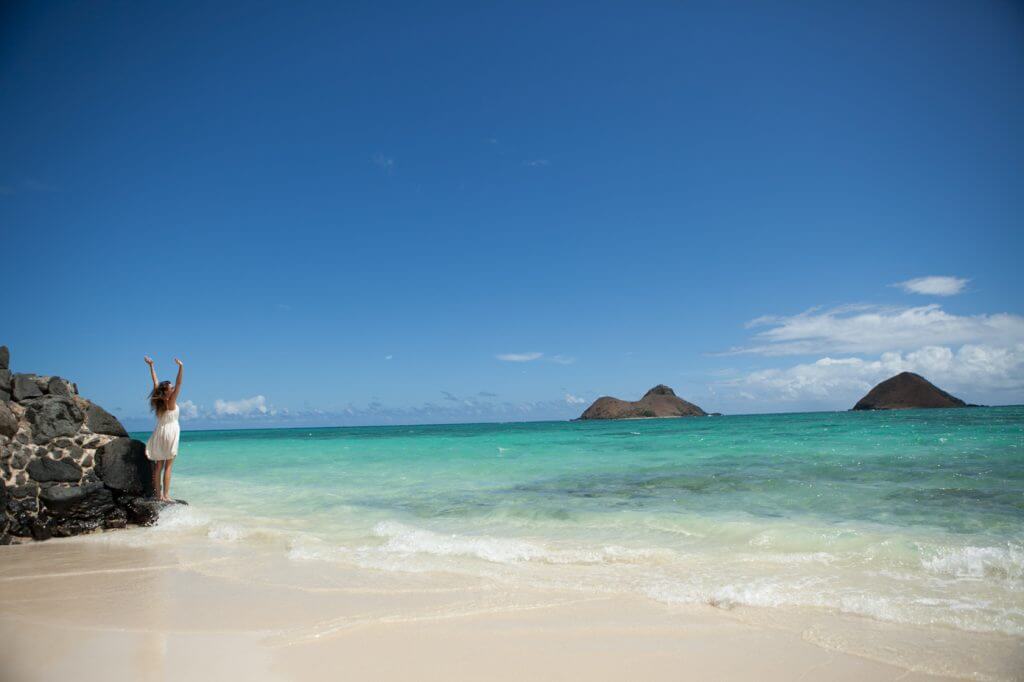 However, since this area usually has the calmest ocean waves, it is perfect for gentle kayaking, paddle boating, or cautious swimmers.
Near Lanikai Beach, there are plenty of beach equipment rentals, from kayaks to outriggers, and all the gear you will need to have a great time exploring. There are even hiking trails that take you past the Lanikai pillboxes, which are historical relics from World War II.
This is a great choice for families and those who are looking for some rest and relaxation next to soothing waves.
The Lanikai Beaches are definitely the best places to go in Kailua by far!
Kailua Beach Park
Kailua Beach Park is the other more popular beach in Kailua Town. It is known for its competitive canoeing and extravagant fireworks display for holidays such as the Fourth of July. This beach park contains all the usual amenities like picnic tables, BBQ pits, and showers to rinse off in, and there are plenty of Kailua Beach things to do for the entire family.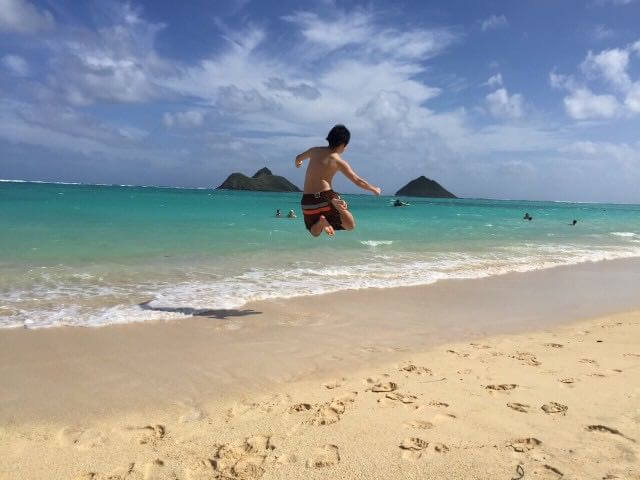 You can cook out and have a nice picnic with your family and then get out into the water with kite surfing and kayaking to enjoy the crystal-clear waters. This is a great destination for families looking to spend all day at the beach without having to leave for food. Just throw some hot dogs and charcoal in the cooler for a fun-filled day!
Kailua beach park is often picked over Lanikai only because of the added amenities, including picnic tables and lifeguards on duty. This beach is also 2 and a half miles long. That gives you much more space to spread out when the area gets crowded.
You will love all the Kailua beach activities you can enjoy at Kailua Beach Park.
Kalama Beach Park
Kalama Beach Park is another beach in Kailua Town Oahu for those who are looking for things to do in Kailua, HI and wish to have park amenities mixed in with their beach day. It is a popular choice for outdoor activities and sporting events.
At Kalama Beach, you'll find tennis, basketball courts, and an inline skating rink. So, if you want to participate in activities that aren't fully beach-related, Kalama Beach is the best choice!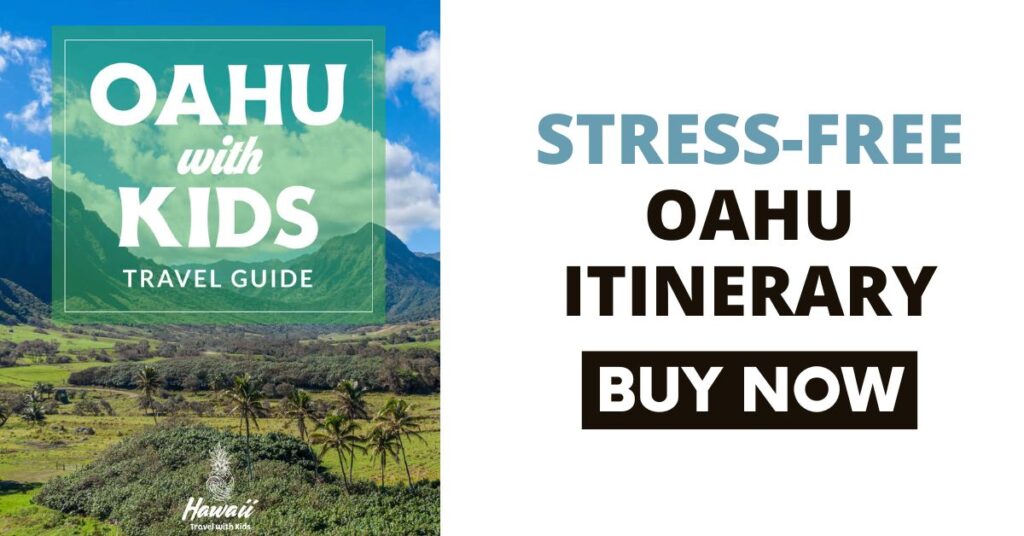 Best Places to Eat in Kailua
Uahi Island Grill
This island grill is a Japanese, American, and Hawaiian fusion. Uahi Grill offers a sophisticated mix of local food styles from the cultural history of the area and has a reasonable price range.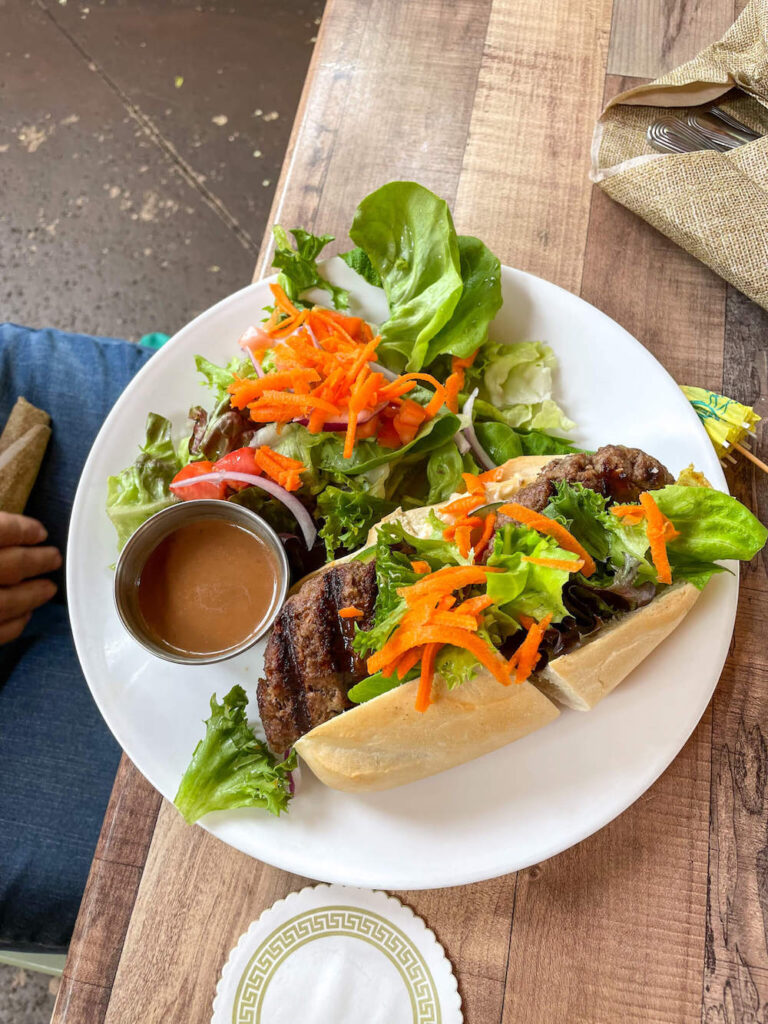 This restaurant also has vegan and vegetarian options to cover many dietary options.
If you're looking to eat some classic Hawaiian-style meals such as Kalua Pig and poke, then this grill has exactly what you're looking for and will offer you the best dinner in Kailua.
Some even say it offers the best poke in Kailua Town too!
Cinnamon's Restaurant
Cinnamon's in Kailua makes some of the best food in Kailua for breakfast/brunch! They are most famous for their guava chiffon pancakes. They are seriously amazing and worth a stop just to get these.
But, they also have all kinds of savory items. We love their different loco moco options. It is by far the best place to eat in Kailua for breakfast.
Over Easy Café
Over Easy Café is a highly-rated spot in Kailua that offers American and Hawaiian cuisine with a café style twist that serves breakfast, brunch, and lunch.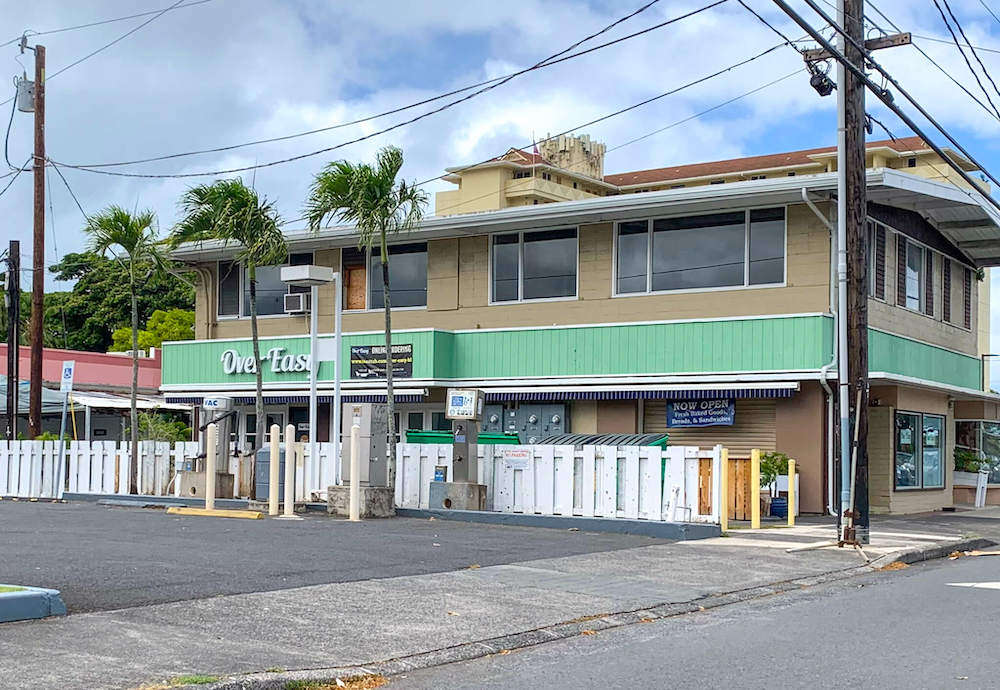 So, if you want a meal earlier in the day, you should definitely stop here! They also offer vegan and vegetarian options to cover many customer needs.
Kalapawai Cafe & Deli
While this café and deli is located in Hawaii, it has its own take on traditional American-style cuisine. The cultural aspect of Hawaii brings out the American dishes in a refreshing way for visitors.
This café offers coffee, desserts, and every kind of dinner option, from breakfast to late-night fair.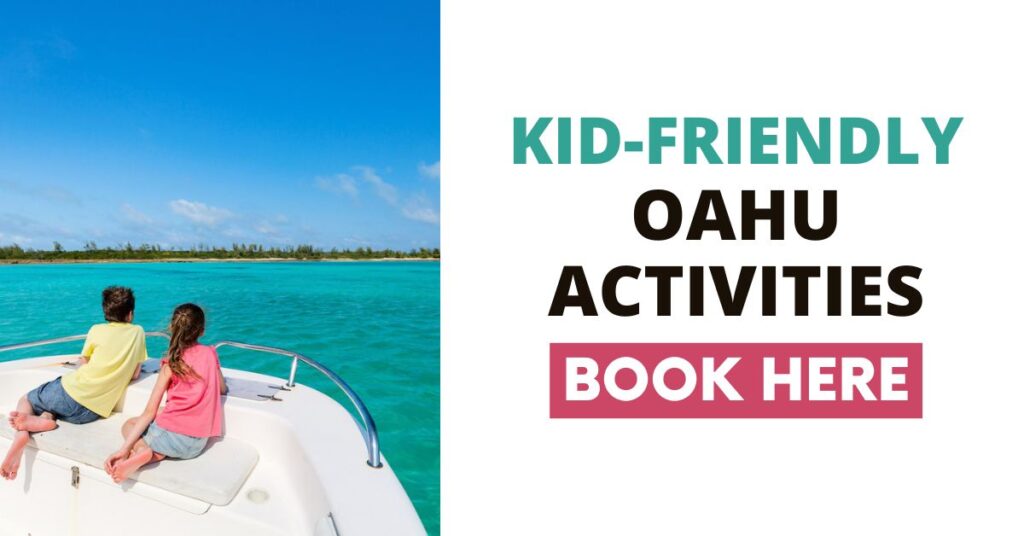 Unique Shops/Boutiques in Kailua
Manoa Chocolate
If you're looking for things to do and places to visit in Kailua, and want to witness the history of chocolate making in the Kailua area, then this authentic chocolate shop is a must-visit.
Manoa Chocolate promotes their authentic bean-to-bar process, which limits its outsourcing to make its craft chocolate bars. You can pick between many flavor combinations and learn about the local climate and cacao processes they implement for their decadent bars.
It has some of the best chocolate on all the Hawaiian islands and is another one of the fun things to do in Kailua.
Kalapawai Market
This market pays homage to local heritage and contains its own deli and café. It offers many different food options and is a popular hub for the local community. Shop local cookies, coffees, and explore many BBQ and picnic-style foods.
If you want to experience the hub for locals in the area, this is the place to do it.
Global Village
This locally owned boutique is the perfect spot in Kailua to buy clothing for your vacation styles. The owners are a family of locals who support sustainability, fair trade, and the local economy with their clothing lines.
If you want to support local businesses while promoting sustainability, this shop hits all the marks.
Book a Family Photo Shoot
Whenever we travel to Hawaii, we almost always book a family photo shoot with Flytographer. They are super easy, affordable, AND it guarantees that I'll be in some photos. You can get $25 off if you book through this link or use the code HAWAIITRAVEL.
Must-See Kailua attractions
Lanikai Pillbox Hike
As briefly mentioned above, this is a popular historical hiking attraction because it takes hikers past the pillbox bunkers that were used in World War II and is another one of the top things to do in Kailua.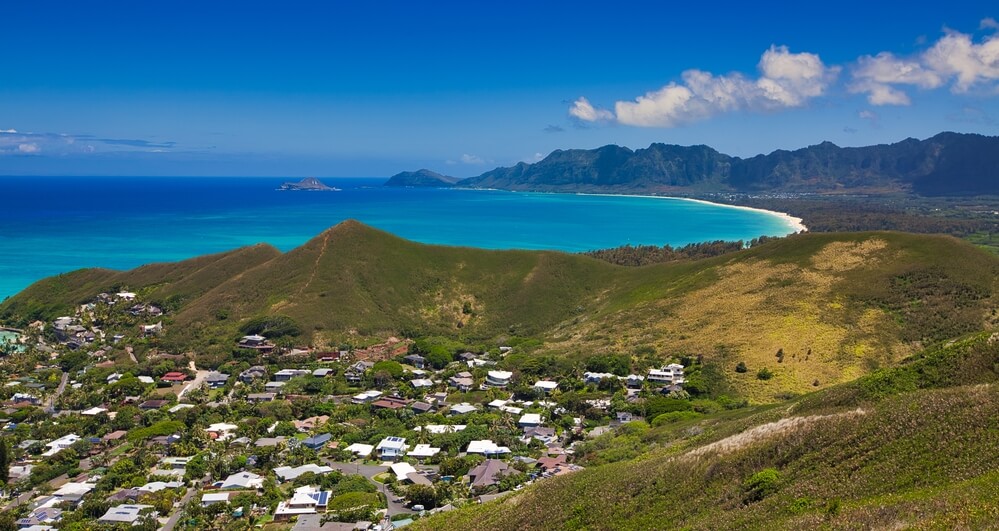 This hike is a little over 2 hours, but you get beautiful views of the beach and the tropical paradise surrounding you. Plus, you get to walk among the historical significance of war-worn bunkers that represent one of the world's most infamous wars. It's definitely one of the best hikes in Kailua.
Lanikai Brewing Company
If you're wanting a tour of local, island-sourced, and brewed beers, then Lanikai Brewing has a tasting room that highlights all of your favorite island flavors.
Mixing flavors native to the island and brewing their beers solely in Hawaii, Lanikai Brewing Company will be a nice place to visit to get tours of the tastes and brewing styles of the island-centric beers.
Chocolate Tour
We mentioned the Manoa Chocolate shop above as one of our unique shopping spots, but it also includes a very fun activity for family and friends!
You can tour the chocolate-making facilities, meet the chocolate makers, taste fresh cacao, drink chocolate teas, and even sample flavors of every bar from the shop! This is an affordable touring option that is a fan favorite for those with a sweet tooth and one of the best things to do in Kailua when it rains!
Things to do in Kailua at night
Wine Tasting
The Oeno Winery is located in Kailua and offers wine tasting for its various wines. They state that their wine is the most natural, made without sulfite preservatives and with degassing techniques that leave no chemical aftertaste.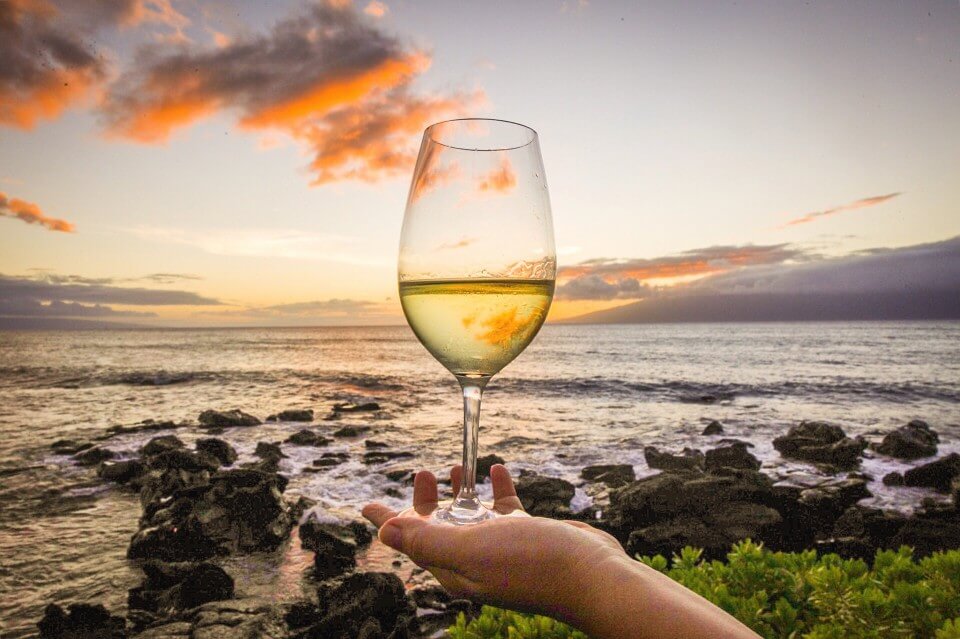 If you're looking for a classy night out, you can schedule an early evening tasting so you can enjoy these natural wines for yourself.
Skeleton Key
If you're looking for a bit of a spooky evening while on your tropical vacation, then Skeleton Key Hawaii is the haunted house of your choice. Located in Kailua, this haunted house features attractions with changing themes, the main attraction being a CarnEVIL-themed haunted house.
If you happen to visit in the off-season of scares, you can still find horror-themed escape rooms to satisfy your thrill-seeking!
Kailua Cinemas
You might be tired after a day of adventuring, and the perfect way to wind down with your loved ones at night while still experiencing some entertainment is to visit the local cinema.
Kailua Cinemas is open until 12 am, so it is perfect for a late-night activity if you want a relaxing night away from your vacation rental and is another one of the fun activities in Kailua.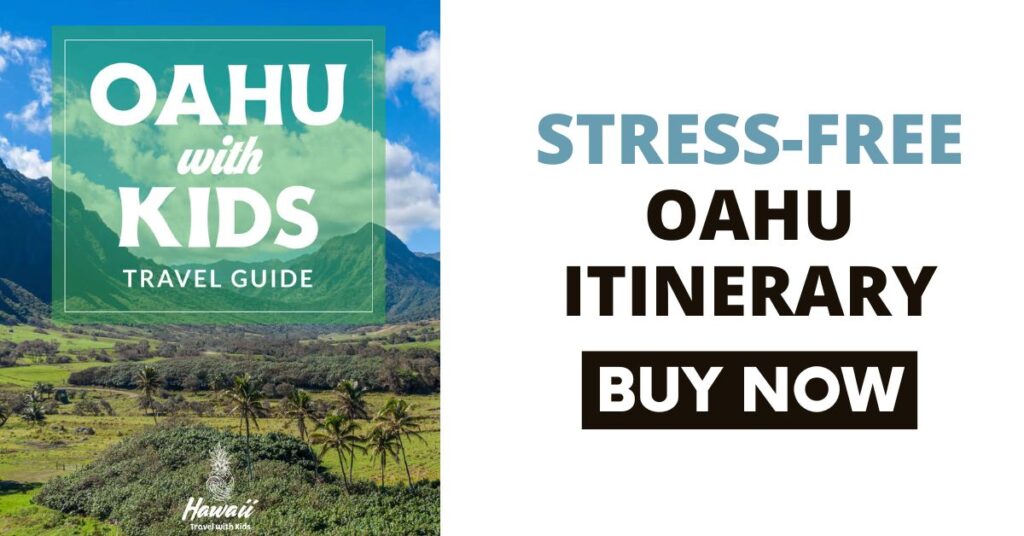 Things to do in Kailua with Kids
If you are looking for stuff to do in Kailua with your entire family, this list gives it all!
Maunawili Falls
A gorgeous hike in Kailua's jungle-like nature leads to a waterfall that will surely captivate you and your children.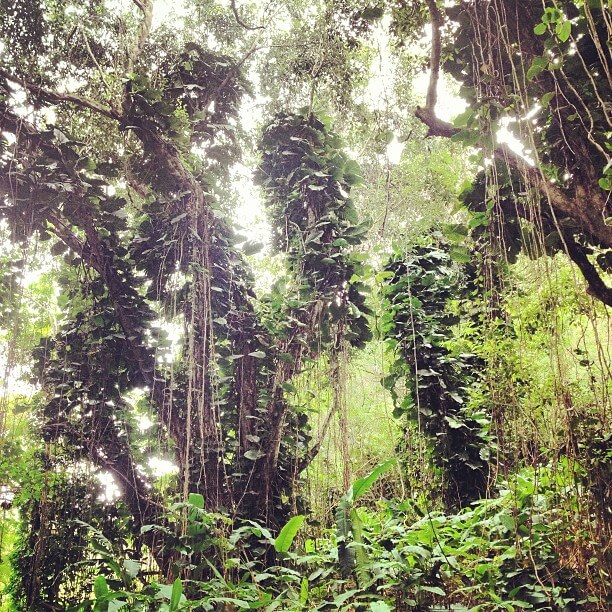 This is a great activity to get some energy out as a family while taking in the majesty of Kailua's natural wonders. You can even swim and play in the waterfall; it is well worth the trip.
Kailua Farmers Market
Kailua's Farmers Market is a great way to take in locally made products, produce, crafts, and to just enjoy the foods being offered. The Farmer's Market hosts many islanders stands, and there are so many choices, from savory to sweet, to enjoy with your family.
You will be supporting these local businesses while taking in the flavors and styles offered by those in the community. Check out all the best Oahu farmers markets HERE.
Hoomaluhia Botanical Garden
If you're looking for an outdoor activity that will be fun for everyone yet isn't the beach, then the Hoomaluhia Botanical Garden is a wonderful choice and one of the many things to do near Kailua. This garden contains many local florae, but also flora from other tropical regions around the world.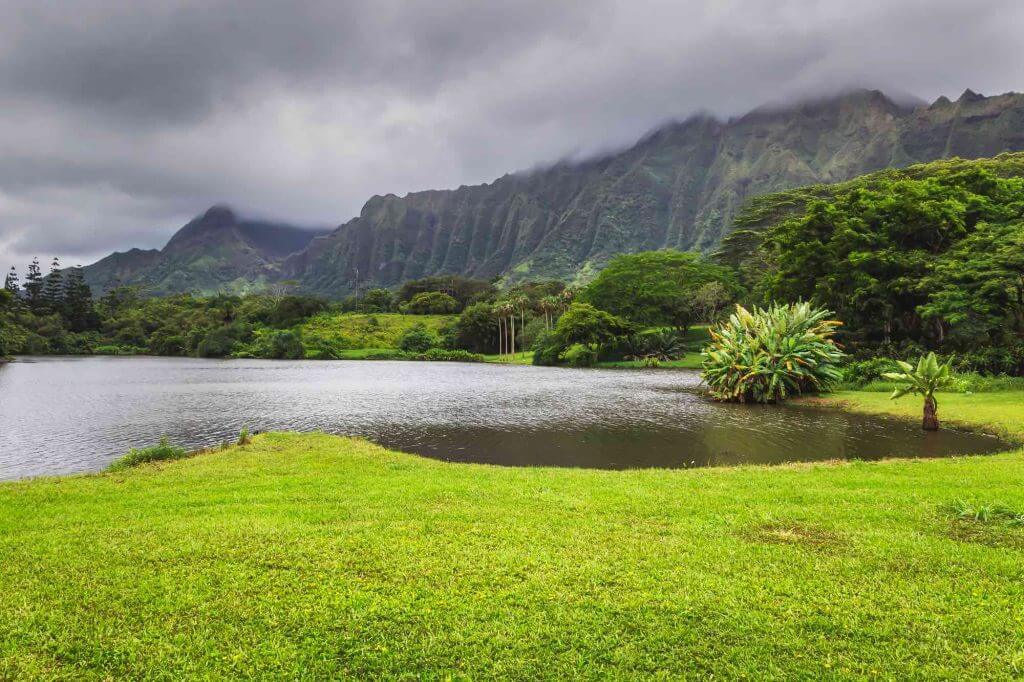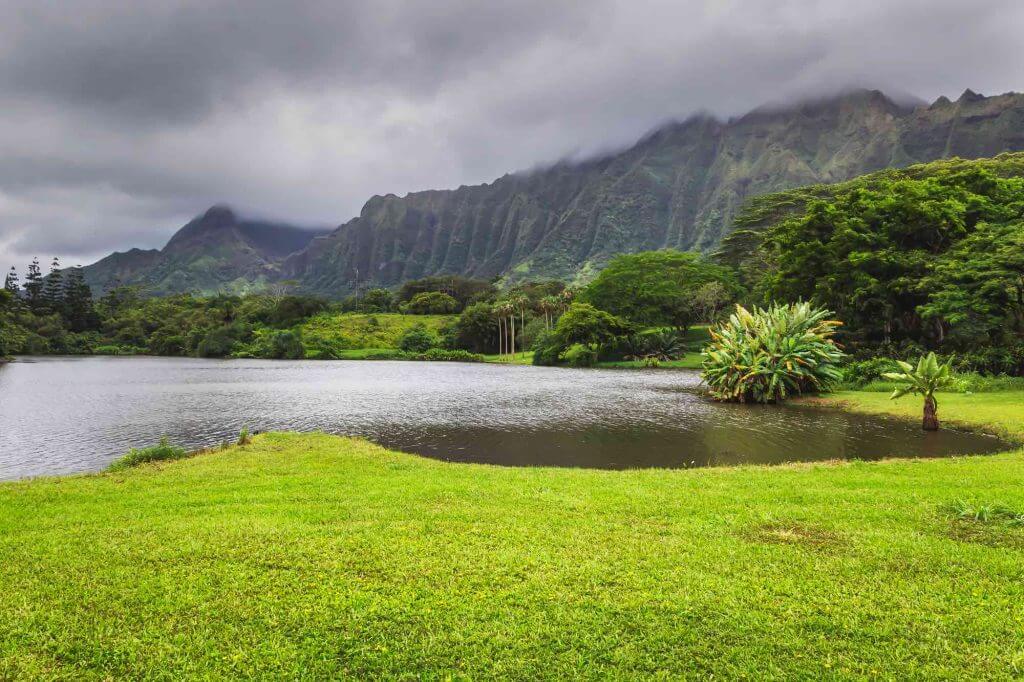 Not only is this a botanical garden, but it offers many other activities like camping, fishing, and painting. There is something for everyone at this location because it is set up more like a park.
You can sign up for various craft classes and even print a bird checklist if you are interested in bird watching for the native species in the area.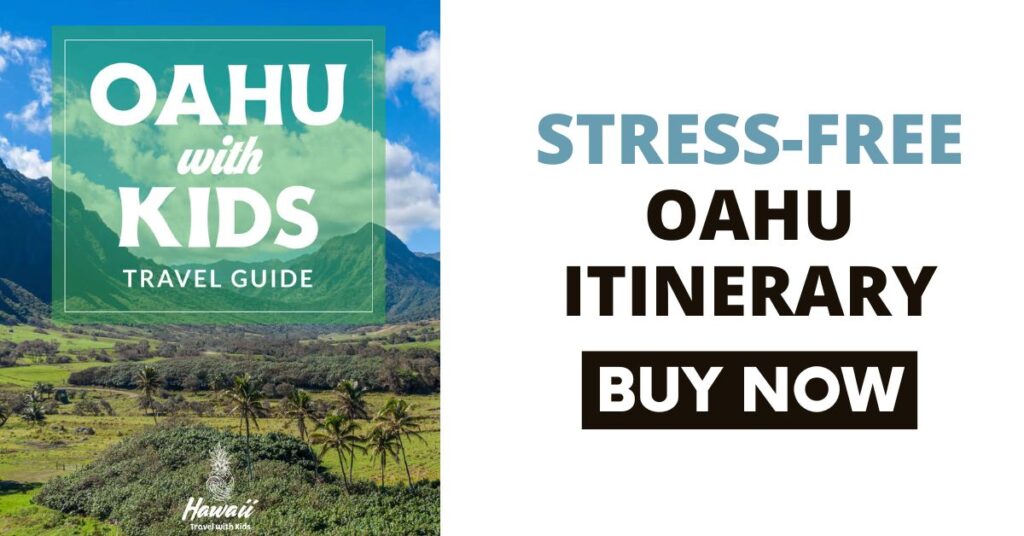 Things to do in Kailua FAQs
How do I get from Honolulu to Kailua?
Kailua is only about 12 miles from Honolulu, and it takes about 25 minutes to drive there, depending on traffic. The directions to Kailua are very simple. The easiest way to get to Kailua from Honolulu is via Highway 61 (aka Pali Highway).
What are the most popular Kailua tourist attractions?
Even though Kailua is primarily a residential area, there are some tourist attractions in Kailua. A few cool things to see in Kailua include the Ho'omaluhia Botanical Garden, Lanikai Beach, and Maunawili Falls.
Is there anything in downtown Kailua Oahu?
Yes! While it can be a "blink and you'll miss it" small town in Hawaii, there are actually a lot of cool shops and restaurants in this 3 block downtown Kailua area. I definitely suggested parking and walking around before continuing on to the beach.
Is Kailua Bay safe to swim in?
Kailua Beach has lifeguards and is generally a pretty say place to swim and enjoy the waters. You will find plenty of water Kailua beach adventures, including canoeing, kite surfing, and kayaking! It is a beautiful white sandy beach to visit in this residential neighborhood.
Is Kailua Hawaii expensive?
Living there might be more expensive, but it is generally the same price to go exploring over there. You can eat at a food truck over there or shop at the Kailua farmers market to help you save while visiting this windward side.
Kailua, Oahu, Offers So Many Fun Things To Do!
Kailua, Oahu may not be one of the bigger tourist destinations in Hawaii, but it still gives visitors an unforgettable trip! There are so many different activities to participate in. And you can appreciate the beauty and serenity of the sights a little more in the calmer area.
Another benefit of visiting a less-traveled area is the affordability of activities and accessibility to everything you wish to do! There are also fewer price battles for accommodations and hotels in Kailua.
So, if you want to go on a chocolate tour with your family, kayak on crystal clear waters, or even just have a nice relaxing beach day, there's an activity for every mood and member of your family in this Oahu town!