Here you'll find my best Big Island packing list for exploring Hilo, Kona, and everywhere in between with kids.
This Big Island packing list contains affiliate links which means if you purchase something from one of my affiliate links, I may earn a small commission that goes back into maintaining this blog.
Has anyone else noticed Murphey's law of traveling? Whatever that one thing you forget is, that's the thing you need the most.
And the more people you are traveling with, the better the chances are that something gets left behind.
As much as I love traveling to new places and having new experiences with my boys, packing and unpacking is probably my least favorite part of the process!
As we are looking at visiting the Big Island of Hawaii again, I am making mental notes on the essential items to bring.
We have been visiting and loving Hawaii since before the boys were around, so I feel like I have a good handle on what we might need for any of the other islands, but the Big Island is a wonderfully different experience!
In my attempt to plan for this trip, I have come up with a Big Island Packing List to keep in mind.
Here is what I have so far – feel free to steal any of my ideas! Keep scrolling to find out what to pack for a trip to Hawaii Big Island.
Check out my favorite family matching swimsuits HERE!
Don't have time to read a bunch of Hawaii blog posts and reviews? Here are some of our top picks for visiting the Big Island with kids.
Best Kid-Friendly Big Island Tours/Activities
Best Kid-Friendly Big Island Resorts
Save Money with Points
My favorite credit card for travel is Chase Sapphire because it offers the best value on flights and hotels. Check out the latest sign-up bonus deal.
Want to Rent a Car in Hawaii?
One of the best places to rent a car in Hawaii is Discount Hawaii Car Rental because they get the best rates from top national companies like Alamo, Dollar, Thrifty, Avis, Enterprise, Budget, and Payless.
Want to skip all the planning and just access my detailed Big Island Itinerary complete with daily schedules, kid-friendly activities, and travel hacks? Click the button below.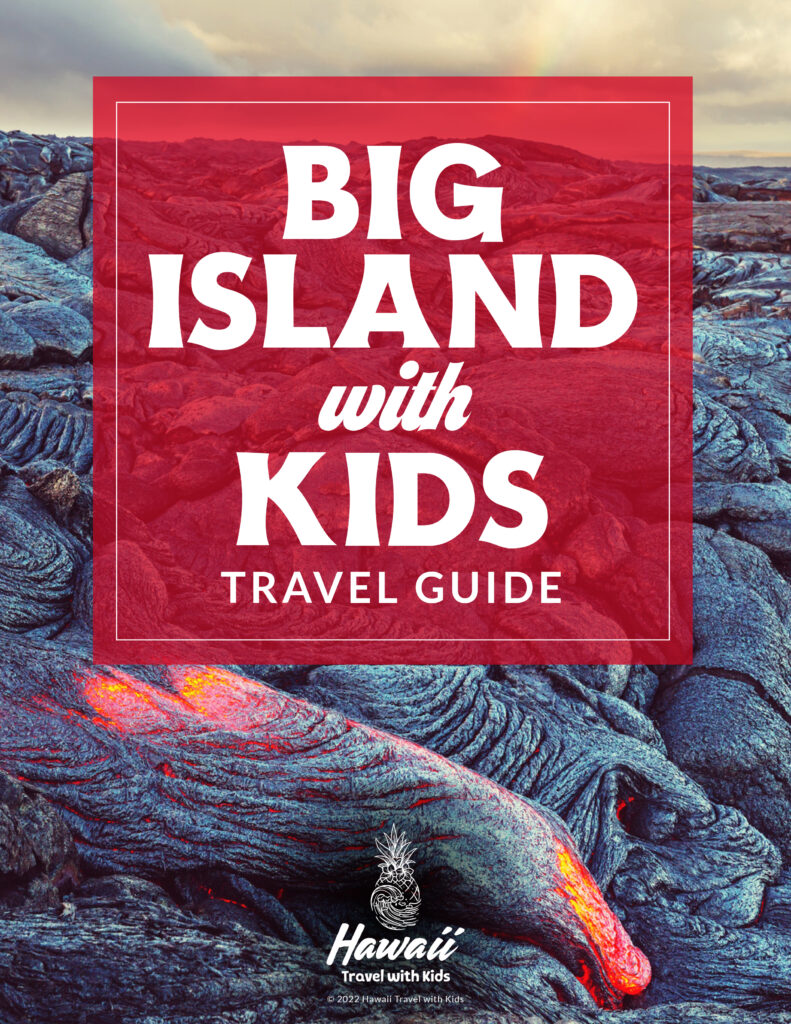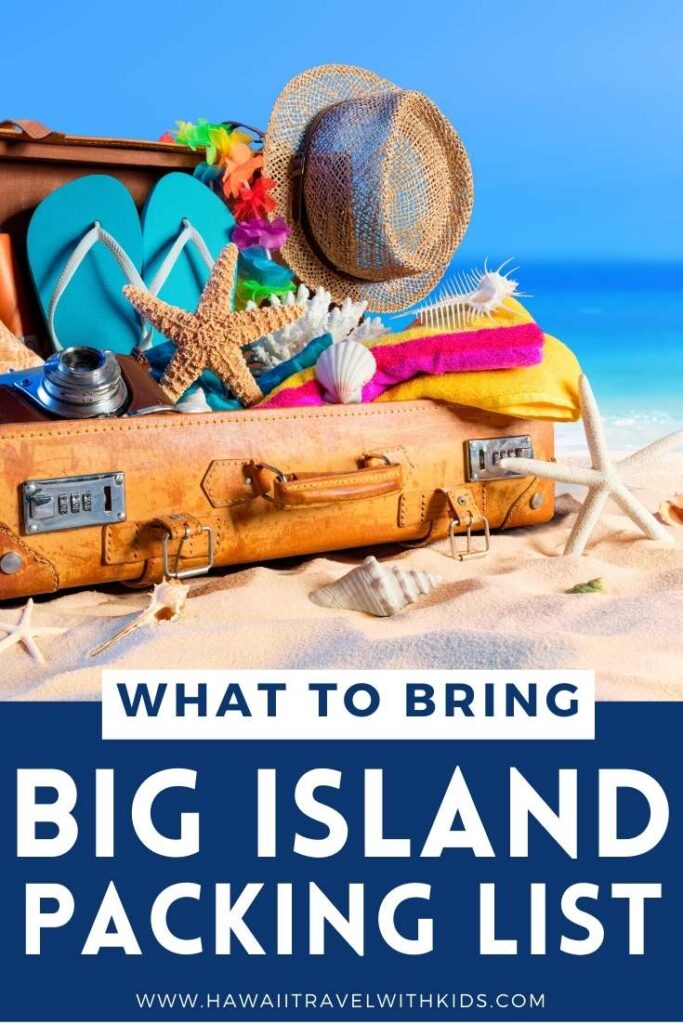 Packing List for Hawaii Island
These are all things you definitely want to put on your Hawaii packing checklist! From warm clothes to reef-safe sunscreen, this Hawaii packing list is just what you need to enjoy the Hawaiian island.
The majority of these items can also fit in your carry-on luggage too!
TRAVEL DOCUMENTS
Of course, you will need to bring your travel documents. If you are traveling with a baby, you will want to bring their birth certificate, just in case.
I usually keep my travel documents in the hidden zipper pocket of my bags, so I always remember where they are, they are super easy to get to, and are safer too in the hidden zipper pocket.
SUNSCREEN
Do I really need to say this? Especially if you're from the PNW, please protect your and your kiddo's skin!
Make sure you bring a reef-safe sunscreen when you visit Hawaii. Sun protection is one of the most crucial things to pack for Hawaii.
I love Babyganics spray sunscreen for both myself and my kids. It's a mineral reef-safe sunscreen that soaks in really well. It's more of a squirt bottle than a spray.
BUG SPRAY
Whatever time of year you travel, you will want to pack along some bug spray.
The Big Island is home to 10 of the 14 climate zones found around the world. At least 5 of those are very hospitable to mosquitoes.
Unless you enjoy feeling itchy the whole flight home, pack the bug spray! My husband and boys are super susceptible to bug bites, especially in Hawaii.
SUNGLASSES
You would be surprised how much the reflection of the sun on the water can hurt your eyes.
Even if you are not a regular sunglasses wearer (Seattle in March, anyone?), make sure you grab a pair like these before you hop on the plane! These are my top Hawaii essentials.
And don't forget about your kids. We've used these baby sunglasses and kid sunglasses on past trips to Hawaii.
WATER BOTTLE
Water bottles are other Hawaii essentials you will want on your packing list for your Hawaii vacation.
You don't want to use a bunch of plastic water bottles, so be sure to bring a water bottle for each member of your family. There are plenty of places all over the Hawaiian islands that will let you fill up your bottles.
CLOTHES
Wondering what to wear in Hawaii?
The Hawaiian islands are very warm, so you will want to bring some lightweight T-shirts, shorts, and other clothes to keep you cool.
Of course, you will want a few beach gear items like swimsuits, a sun hat, and mesh water shoes.
If this is your dream vacation, make sure to add some evening wear or resort wear along with your comfortable clothing so you can take beautiful pictures you will love hanging up on your wall.
Book a Family Photo Shoot
Whenever we travel to Hawaii, we almost always book a family photo shoot with Flytographer. They are super easy, affordable, AND it guarantees that I'll be in some photos. You can get $25 off if you book through this link or use the code HAWAIITRAVEL.
LOTS OF LAYERS
If you are wondering what clothes to pack for Hawaii vacation, you will definitely want the usual clothes, like swimsuits, shorts, dresses, and short sleeve shirts, and then a few warmer clothes too.
Mauna Kea is a dormant volcano on the Big Island that reaches up to 13,803 ft above sea level.
If this is an area you would like to visit (stargazing, ATV, or sunrise tours are all available!), you will definitely want some warmer clothes!
Bringing layers is a wonderful way to make sure you stay comfortable no matter what is on the agenda for the day.
A light jacket is never a bad idea, especially on the western side of the island, where it rains almost every afternoon.
Long pants and long-sleeved shirts could also be useful, especially if you plan on enjoying horseback rides or ziplining around the island.
Trust me; you do not want to ride down a zipline in a swimsuit!
LAUNDRY SUPPLIES
This might seem silly but take my advice here. You want to bring laundry supplies. There is nothing worse than wearing sweaty, gross clothes home on the plane.
And if you are visiting the Big Island with a potty-training toddler or kids who are prone to accidents, this is a MUST.
Bringing along a roll of quarters, a few laundry detergent sheets, and some dryer sheets will not only keep you smelling better, but you can pack less and stress less about laundry when you get back!
This is also especially handy if you are staying in a condo or Airbnb with a washer/dryer in the unit. These are things to take to Hawaii you might not think about.
BEACH BAG
This is another item to put on your Hawaii packing list. You will want a beach bag for all your beach items so you can enjoy your beach days with ease.
Check out these awesome beach bags for Hawaii.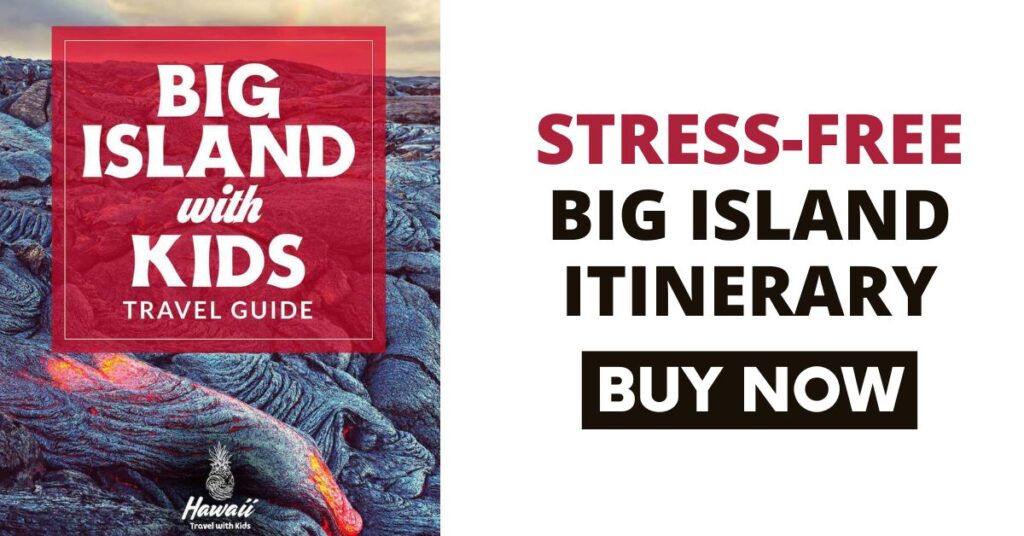 Optional Hawaii Packing List Items
Here are some optional things to pack for Hawaii trip. These items will be nice to have when visiting Hawaii but not entirely essential.
SPECIALTY SWIMMING STUFF
If you have a snorkel, a nice set of goggles/mask, or some flipper fins, bring them along!
Renting these items is possible, but you will have to pay by the hour or sign up for a guided tour to use them. With your own, you can head to the beach whenever you feel like a quick snorkel or swim!
Check THIS out if you're interested in picking up a snorkel set of your own! Snorkel gear is so nice to have, and if you already have your own snorkeling gear, you can save money and snorkel wherever you want instead of going on a boat tour.
We also like to pack Puddle Jumpers or life jackets for the kids to use in hotel swimming pools or at the beach.
WATER SHOES
The beaches on the Big Island are different than those on the other islands. The high volcanic activity in Hawai'i has created gorgeous black-sand beaches from lava flows over the years.
This also means that the beaches are much rockier than others you may have been to. And a lot of them have lava rock at the bottom of the water. Ouch!
Water shoes may be a life (and beach vacation) saver. I know they're not always the most fashionable of accessories, but THESE are pretty cute, as well as functional!
My kids also like to wear these water shoes when exploring tide pools. Water shoes are things to bring to Hawaii that might be a very good idea if you have them.
CAMERA
If you have a nice camera, bring it along!
The portrait mode on your iPhone might be wonderful, but it's no match for the pictures a high-end DSLR can take.
There will be so many memories you will want to capture, so if you have a nice camera, pack it!
If you have a waterproof phone case, then you can take gorgeous underwater photos that will be incredible. Or, you can get an affordable underwater camera like this one.
Underwater photos, especially while you are snorkeling, will be so much fun, especially for your kids, so add this to your Hawaii checklist too!
HIKING ACCESSORIES
One of the best things about the Big Island is the hiking opportunities. This Hawaiian island is full of great hiking adventures!
With the highest point in the state of Hawaii being on the Big Island, there are so many hiking trails and trips to take advantage of. Keeping that in mind, make sure you pack appropriately and bring things to wear hiking.
Hiking boots, liner socks, wool socks, and blister tape are all things that will help keep even the most active hiker happy! If you don't like hiking boots, you can always bring some hiking sandals or other types of hiking shoes.
Don't forget your binoculars, either! You never know when you might catch a glimpse of a Scarlet Honeycreeper (I'iwi) – one of the most recognizable birds on the islands!
Hiking gear is just some more things to think about when you want to know what to pack for a Hawaii vacation.
DRY BAG
Another optional thing to add to your packing list is a dry bag. These bags are so useful when you are at the beach and need to change out of your wet swimsuits but don't want to get everything all wet in your bag.
A waterproof dry bag is super helpful to have on hand, and they are very affordable too! It is one of the beach essentials for babies for your Hawaii packing list.
PORTABLE PHONE CHARGER
A portable phone charger is always a lifesaver for me. You will be taking tons of pictures and videos, and your phone's battery will wear down so quickly.
You will also probably use your GPS on your phone to get to all your Big Island adventures, so a portable phone charger definitely comes in handy.
MOTION SICKNESS HELP
If you plan to go on boat tours, you will want some motion sickness help, just in case.
You can find patches, bracelets, and medicine to help with motion sickness.
It is not a necessity, especially since you can get some at the grocery stores if you find out you need it. But if you know you already have a problem with going on boats, you might want to pack something to help.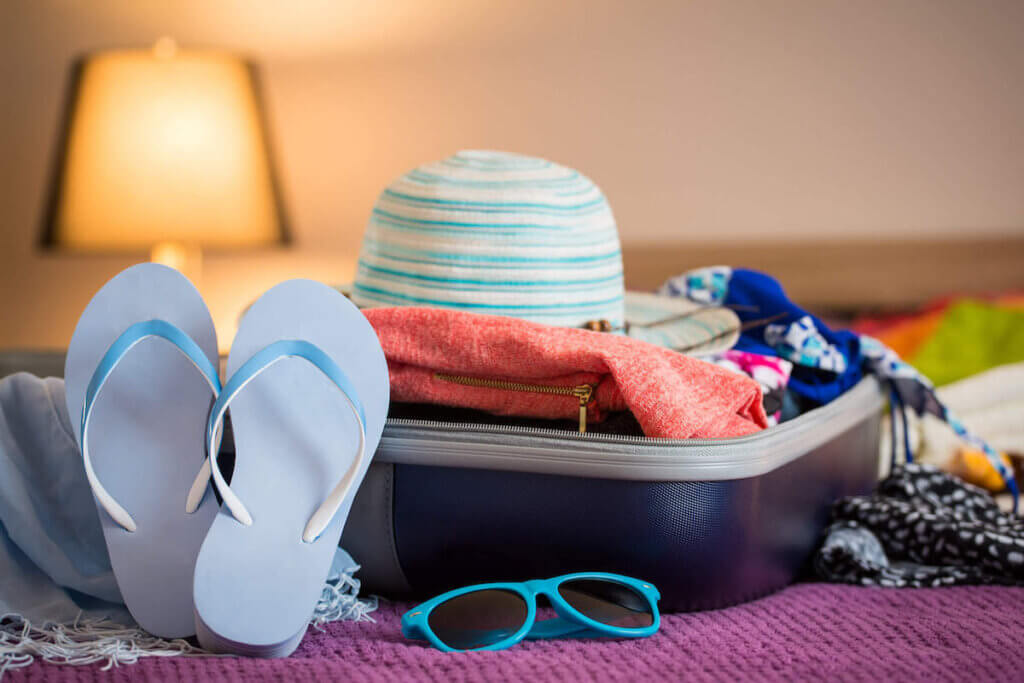 Just For Parents
MULTIPLE SHIRTS
So many ask what clothes to bring to Hawaii, and I think this is crucial for parents.
Please just trust me on this one – bring extra shirts in your carry-on.
If your baby is over one, just bring one extra for each adult. If they are under a year, bring two per person. It's never fun sitting in a spit-up-stained shirt!
THESE fold up nice and small and are soft enough to double as a blanket for the baby if need be!
BABY WEARING WRAP, SLING OR CARRIER
The long flights to get to Hawaii usually mean leaving early in the morning or getting in late in the evening.
Kiddos will get tired, you may get frustrated, and everyone will need a break.
A sling, wrap, or carrier will give you a chance to carry your kiddo without tying up your arms at the baggage carousel.
If your kids are anything like my boys, they are growing so fast that I'm not sure how much longer I will be able to carry them through an airport in my arms!
Tula toddler carriers work with kiddos up to 60 lbs, AND give me back my hands! Big wins for this traveling mama!
If you are traveling with kids, a baby carrier is another one of the top Hawaii essentials.
EXTRA DIAPERS AND WIPES
However many diapers and wipes you think you might need, plan for at least 50% more. This is something I always do when packing for a trip to Hawaii.
Wipes are so useful for everything from bottoms to airplane tray tables. Diapers on a plane tend to have a lower life expectancy for whatever reason – you will want plenty of extras!
Bonus tip – using diapers while you're there means more luggage space on the way back for souvenirs!
KIDDO'S FAVORITE LOVIE OR BLANKIE
When my boys were younger, they could NOT sleep without their binkies. And they were brand-specific. This means if we left them at home, none of us would sleep.
This is just your friendly reminder to not forget these!
If something happens and your favorite lovie or blankie does get forgotten, Amazon offers expedited shipping (starting as low as $11.99) to Hawaii, but your Prime membership is only free on standard shipping to the islands.
Worth it if you will be there long enough to get the desired sleep item, and mama needs sleep, though!
This is one of the random things to bring to Hawaii that you might forget, so make sure to add it to your packing list!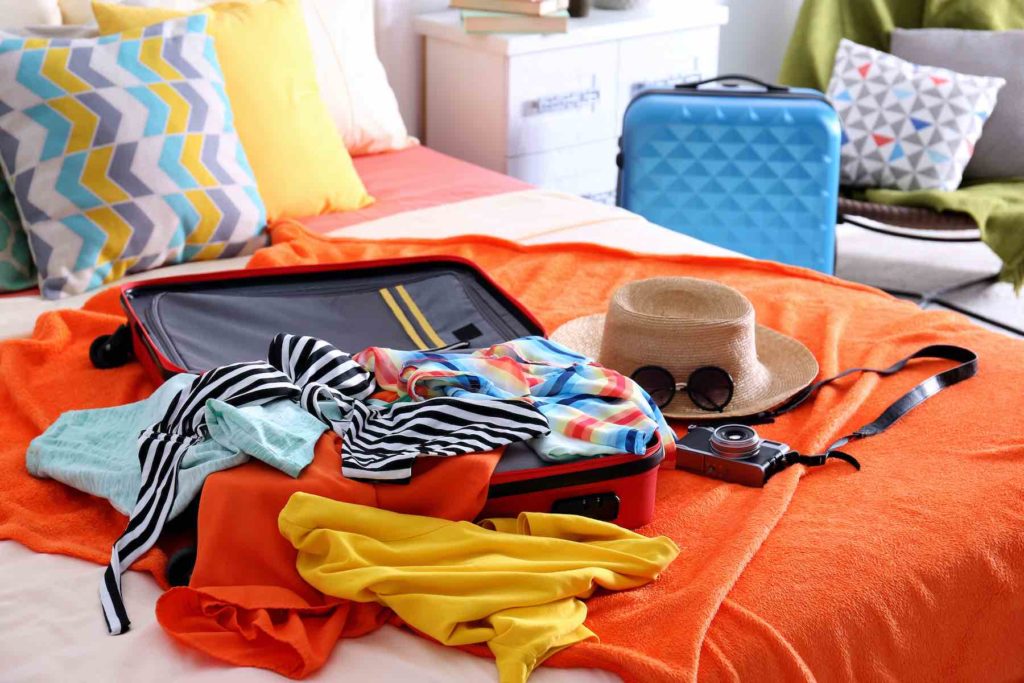 How to Pack for Hawaii
It may seem daunting to pack for Hawaii, but it doesn't have to be!
For your Hawaii vacation, you first need to make a packing list with all your Hawaii essentials.
I have found that packing cubes (like these) can really make a huge difference.
Try your best to only bring a carry-on luggage so you aren't stressed at the airport trying to keep all your luggage together. You can fit most things into a carry-on or two for a Hawaii vacation.
If you need to bring a checked bag, be sure to keep clothes, diapers, and other Hawaii essentials in your carry-on so you have some, just in case your bag gets lost.
If you have your Hawaii packing list, you can easily pack for Hawaii without all the stress and worry!
Things You Don't Need to Pack for Hawaii
Here are just a few things you don't have to pack for Hawaii. While it may seem like you need them, most often, you can get them from grocery stores on the island or will be provided by the resorts or places you are staying.
BEACH TOWEL
Most resorts or your hotel room will offer towels for you to use. Even condos and rentals on the Big Island will also have plenty of towels for you to enjoy.
If you want, you can bring a sand-resistant beach towel, but it is not necessary.
HIGH HEELS
You will not want to wear high heels during your Hawaii vacation. You can dress up with sandals or flip-flops instead!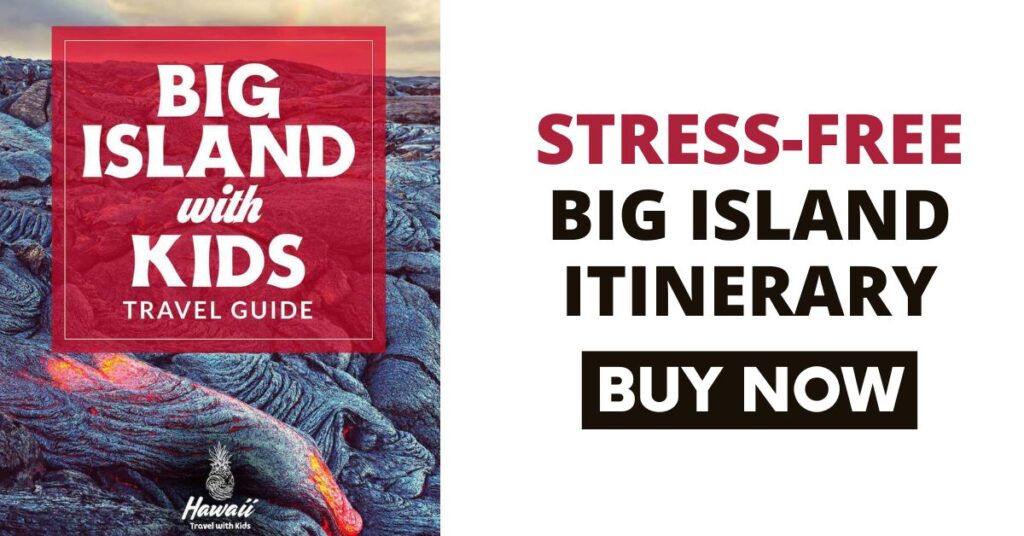 Packing for Hawaii List FAQs
What should I wear to Hawaii Volcanoes National Park?
The weather up at Hawaii Volcanoes National Park can be 10 degrees (or more) cooler than other places on the island. You'll definitely want to wear layers like long pants, sweatshirts, or jackets. And if you go in the winter months, it's smart to also bring a rain jacket and closed-toe shoes.
Do I need water shoes in Hawaii?
For most of the islands, I'd say you don't really need them. However, if you're heading to the Big Island, you'll definitely want them if you visit places with lava rocks. The lava rock is really sharp, and it can cut your feet. You'll also want to make sure kids have good-fitting water shoes to protect their feet as well.
What should I pack for 5 days in Hawaii?
If you're spending 5 days in Hawaii, you just need to pack the bare essentials. For clothing, a couple of pairs of shorts or sundresses, a few T-shirts, underwear, and sandals will cover most of your activities. If you are going on any adventures, you might need closed-toe shoes and long pants.
Do you need a jacket on the Big Island?
Yes, I would absolutely bring a light rain jacket, especially if you plan to visit Volcanoes National Park. The Big Island does have more rain than the other main Hawaiian Islands, so a rain jacket is a good idea!
What should I pack for a week on an island vacation?
For a Hawaii vacation, I would be sure to pack a few swimsuits, a beach bag, flip flops, hiking shoes, a sun hat, some sun shirts or dresses, sunscreen, and an evening wear outfit. You don't want to bring too many clothes but want to make sure you have enough for each day you will be staying.
Do you need bug spray in Hawaii?
For your beach vacation, bug spray is a must-pack for Hawaii! The hiking trails, Haleakala National Park, and a few other areas around the island are prone to tons of mosquitos.
What to Pack for Hawaii Big Island Wrap-Up
These are just SOME of the items I have been thinking about as I start making a mental list of Hawaii essentials for the Big Island.
I don't know about you, but it falls to Mama to make sure everyone in this family has what they need on vacation! These are travel essentials for Hawaii you definitely don't want to forget.
I hope this Hawaii Big Island Packing List helps you pack your way to your best vacation ever! You should know what to pack to Hawaii by now!
These Hawaii essentials are pretty much the same for all the Hawaiian islands, so whether you are visiting Maui, Oahu, or the Big Island, you now know how to pack for Hawaii!
You can use this Hawaii packing list time and time again and enjoy your vacation to the fullest.