If you're planning a trip to Hawaii, chances are you'll be heading to the beach, exploring waterfalls, or checking out tidepools. Scroll to find out the best water shoes for kids for your next Hawaiian vacation.
This post about the best water shoes for kids was written by Hawaii travel expert Marcie Cheung and contains affiliate links which means if you purchase something from one of my affiliate links, I may earn a small commission that goes back into maintaining this blog.
One of the best things about Hawaii is how much diverse activities there are in the islands. Kids and adults alike have their schedules busy with different trips to the beach, pool, museums and restaurants.
Our guides to the different activities alone will keep anyone busy for a good week or two!
If you're looking to see activities around Hilo, we've created a guide here. If it's tips and tricks around exploring Maui you're looking for, we've got you.
Now, if you're in a budget but still want to have a great time exploring Kauai, we totally got your back! Basically, anything and everything you want to learn about the Hawaiian islands is right here on our website.
Before we get to exploring, though, it's important that we have the proper attire for these outdoor activities. Traveling with kids is so much easier when they're comfortable. That being said, it's incredibly important that they don the perfect equipment for all the activities you're planning.
For this post, we're focusing on your little ones' little toes!
We've put together a list of footwear best for all types of activities for different aged kids. We've divided it into three categories: footwear for toddlers, kids aged 4-7, and kids aged 8-12.
It is important to note, however, that some of the shoes featured in this article have multiple sizes and can fit all three categories.
Let's get to it, then!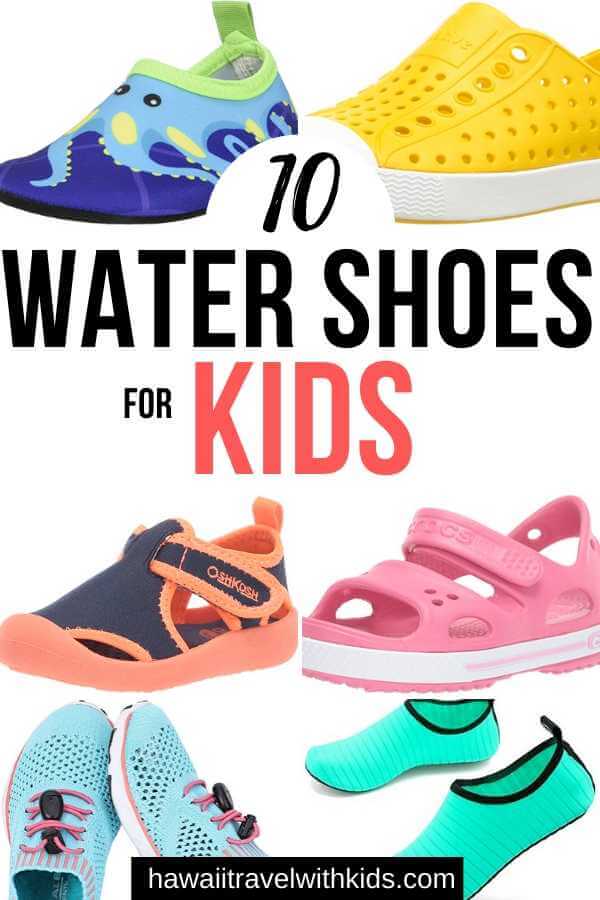 Kids Water Shoes FAQs
What's the difference between aqua socks and water shoes?
Aqua socks feel like thick socks and don't have a hard sole. You'll feel like you're walking in bare feet, but your feet will be protected. Water shoes have a hard sole and can be used for hiking or walking in wet conditions.
Do babies need water shoes?
If your baby is walking or standing, you might want to put a pair of water shoes on them to protect their tiny toes from rocks.
Are water shoes good for walking or hiking?
If you plan on doing a lot of hiking or walking in water shoes, make sure they have decent support for arches and ankles. And you'll want to dry them out in between activities.
Best Water Shoes for Toddlers
I think toddlers' footwear are the cutest ones. There's nothing cuter than tiny little shoes designed for active wear, right?
We've chosen three types of footwear for this category, taking into account their versatility, their build and of course, their cute designs!
The Crocband II is versatile as it is stylish. One of the best things about Crocs is how lightweight they are, making them one of the perfect shoes for travel. Check out the latest prices and more details.
The Velcro straps are perfect for all-day play and allow the shoes to stay on.
In addition, one of the best things about the Crocband II Sandals are how easy they are to clean.
The shoes are made of synthetic cushion and are perfect for different types of activities like walking on the beach, running on the playground or even just strolling around the mall.
Buy them on Amazon
The Bigib Toddler & Kids AquaShoes are the best shoes for the different beaches in Hawaii. Check out the latest prices and more details.
One thing that's probably most annoying about most water shoes are how they get soggy and, in turn, let bacteria thrive and eventually get stinky.
These aqua shoes were designed to address that problem.


The Bigib AquaShoes are made up of high quality material with a rubber sole. Aside from this, the shoes have an anti-slip technology, protecting your young ones along the way.
The Bigib Aquashoes are great for running, skipping, swimming and strolling along the beach.
Another good thing about these shoes is how versatile they are for both indoor and outdoor activities.
Buy them on Amazon
The OshKosh B'Gosh Kids Aquatic Water Shoes are machine-washable and made up of soft, synthetic material that perfectly hug your little tykes' feet. Check out the latest prices and more details.
In addition, these sandals are made of a rubber sole and come in 6 colors.
The sandals come with an adjustable strap for easy on-and-off action. Your toddlers' feet will be comfortable in these easy-to-clean, durable and flexible shoe.
They retail for about $12.00- $51.00, depending on the shoe size.
Buy them on Amazon
Best Water Shoes for Kids Ages 4-7
Kids aged four to seven are definitely the ones more involved in various activities.
These are the ages wherein children are curious and like to try things. As a result, the kids are more prone to accidents.
We chose the following footwear for their durability and versatility.
Native has successfully created footwear that actually lessen the user's carbon footprint. The company aims to make all of Native Shoes be 100% life cycle managed by the year 2023. Check out the latest prices and more details.


Another thing the company launched is their Remix Project, making sure that all of their shoes are well-accounted for.
Because of its composition, Native Shoes can be recycled into different materials such as seats, matting for playgrounds and insulation.
This pair of Unisex Jefferson Slip-on Sneakers are great for any activity from a simple walk around the block to running along the beach shores of Hawaii.
In addition, the durable rubber design makes it easier to clean and as mentioned above, easier to recycle.
The Jefferson Slip-on sneaker retails for $31.50-$70.00, depending on its size and comes in more than 45 colors.
Buy them on Amazon
Next on our list is the Vifuur Water Sports Barefoot AquaShoes. These quick-dry aqua shoes give the user a "barefoot" feel while still protecting their feet. Check out the latest prices and more details.


Isn't one of the more annoying things about being on the beach is the fact that you still have to wear aqua shoes?
Usually, these are hassling to pack, difficult to dry and uncomfortable to wear outside of the water.
However, Vifuur Water Sports Barefoot Aquashoes have addressed those very problems. The company promises convenience, comfort and protection.
The rubber outsole protect the user's feet from any sharp objects. The smooth neck design prevents any form of chafing.
And best of all, the breathable and smooth fabric composition makes it easier to wear.
In addition, Vifuur Water Sports Barefoot Aquashoes have provided versatility in the footwear. The shoes are perfect not only for swimming, but also in yoga, cycling, and even wakeboarding!
Buy them on Amazon
Another pair of shoes we're putting on the list is the Crocs Kids' Swiftwater Play Shoe K sneakers. This pair already looks grown-up in comparison to the Kids Crocband II. Check out the latest prices and more details.
The features, however, aren't at all different.
While the Crocband II's design is more stylish and kid-friendly, the Swiftwater Play Shoe looks rugged and ready-for-anything.
The shoe remains lightweight and is perfect for on-the-go traveling.
Its Croslite foam construction doesn't absorb water, making it easy to dry and faster to clean up.
The sneakers retail for $14.00-$34.00.
Buy them on Amazon
Best Water Shoes for Kids Ages 8-12
This final category features footwear that are appropriate for eight to twelve-year-olds in terms of design and durability.
All of the footwear chosen are the ones that are best for all types of activities.
Joinfree's Summer Water Shoes are not unlike the pair from Vifuur. Both shoes are lightweight, easy to dry, and best of all, versatile. Check out the latest prices and more details.
The Summer Water Shoes' uppers are made up of 92% polyester and 8% spandex, making them breathable and flexible.


Just like Vifuur, the Joinfree Kids' Summer Water Shoes' smooth neck prevents chafing.
The water shoe has an anti-slip rubber sole that is coupled with an ergonomically-molded, shock absorption technology that protects the wearer from being hurt by sharp objects.
The shoes are easy to slip on and allow for that "barefoot" feel, just like its Vifuur counterpart.
These kids water shoes retail for $5.99- $12.00 and come in more than 8 colors.
Buy them on Amazon
The next item on the list looks more complicated in design than the rest of the shoes. The shoes' mesh upper allows for water drainage and true breath-ability. Check out the latest prices and more details.


Likewise, its durable drain outsole allows for quick drying technology and protects the wearer from hot sand, rocks and other shore debris.
While the shoe looks more intimidating than the rest of the footwear on this list, it is clear that it has superior capabilities that are perfect for any big kid.
For example, the water shoes are equipped with a FluidFlow technology, allowing the wearer to easily drain their shoe without the risk of water-logging.
In addition, the shoe's sole is designed as such for proper traction during heavy-duty activities such as sailing or kayaking.
Buy them on Amazon
This shoe from Keen looks incredibly sporty. The design is perfect for growing and more active kids.
In comparison to most of the footwear on this list, the Keen Seacamp looks more robust and active. Check out the latest prices and more details.
The bungee lace system allows for easy and secure slip ons.
Keen's Kids' Seacamp II's sole protects the wearer's feet from toe to heel. In addition, the rubber sole allows for lightweight flexibility wherever and on-the-go. This mechanism will definitely allow kids to have all-day and anywhere play.
The shoe is machine-washable, retails for $15.00, and come in 21 different colors for your active little 8-year-olds.
The last item on this list is also from Keen and looks similar to the Seacamp II.
The Newport H2 Sandals are the perfect adventure sandals for your adventures on the shores of Hawaii. Check out the latest prices and more details.


Not unlike the Seacamp II, the H2 Newport Sandal looks robust and ready-for-anything. A leather upper might sound off for a water shoe but the Newport H2 Sandal has water-resistant leather.
The elastic cords and straps makes it easier for kids to slip on and off, the Cleansport NXT material allows for odor control and its mesh lining allows for faster drying time.
Overall, the Newport H2 Sandals are perfect for "big kids" because it looks more sophisticated than it is cute.
The Newport H2 Sandal retails for $47.00- $120.00 and comes in a myriad of colors, depending on its size.
The sandals are perfect for long walks in town, trekking, or even surfing.