If you're looking for a great indoor activity on Oahu, head to the Honolulu Museum of Art on Oahu. Scroll to read my interview with their Chief Communications Officer and get my top tips for exploring the museum with kids!
This Honolulu Museum of Art post contains affiliate links which means if you purchase something from one of my affiliate links, I may earn a small commission that goes back into maintaining this blog.
When a lot of families plan their Oahu vacation, they focus on amazing outdoor activities like hiking, snorkeling, kayaking, etc. I mean, Hawaii is an outdoor paradise!
However, Oahu also has a ton of cool indoor activities that are perfect for rainy days or to get a break from the sun.
The Honolulu Museum of Art is not to be missed.
I interviewed Kevin Imanaka, the Honolulu Museum of Art's Chief Communications Officer to find out exactly why families should include this Hawaii museum on their Oahu travel plans.
Be sure to check out the top 101 things to do on Oahu with kids!
Don't have time to read a bunch of Hawaii blog posts and reviews? Here are some of our top picks for visiting Oahu with kids.
Best Kid-Friendly Oahu Tours/Activities
Best Kid-Friendly Oahu Resorts
Want to Rent a Car in Hawaii?
One of the best places to rent a car in Hawaii is Discount Hawaii Car Rental because they get the best rates from top national companies like Alamo, Dollar, Thrifty, Avis, Enterprise, Budget, and Payless.
Want to skip all the planning and just access my detailed Oahu Itinerary complete with daily schedules, kid-friendly activities, and travel hacks? Click the button below.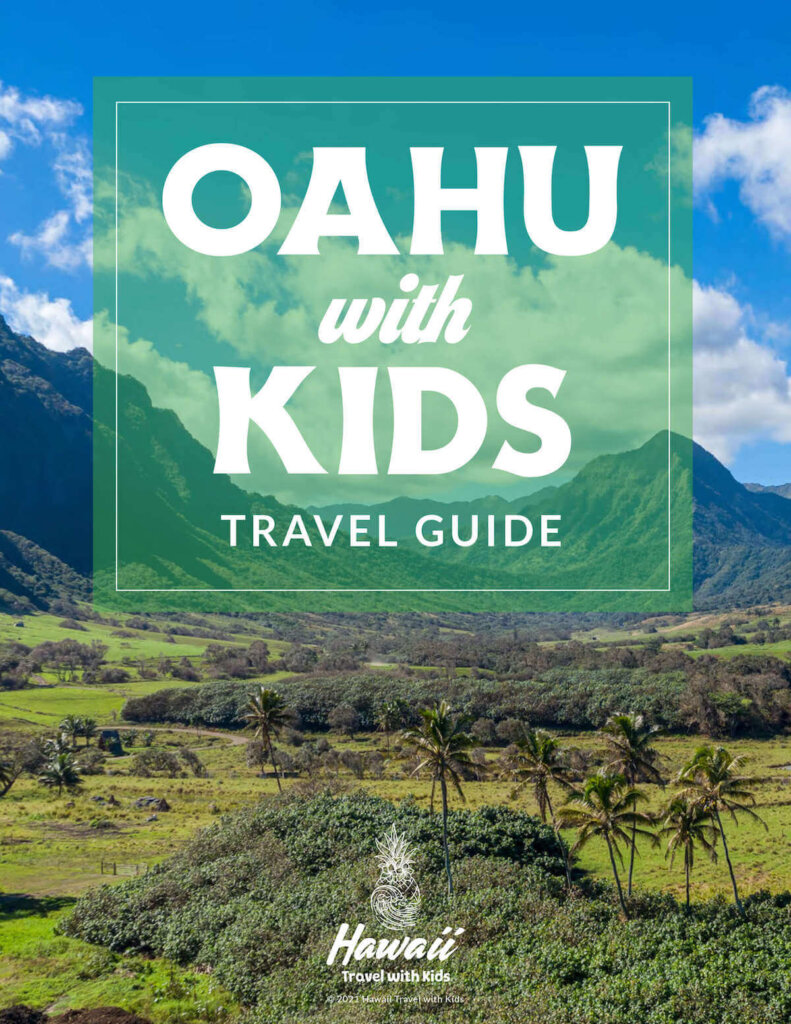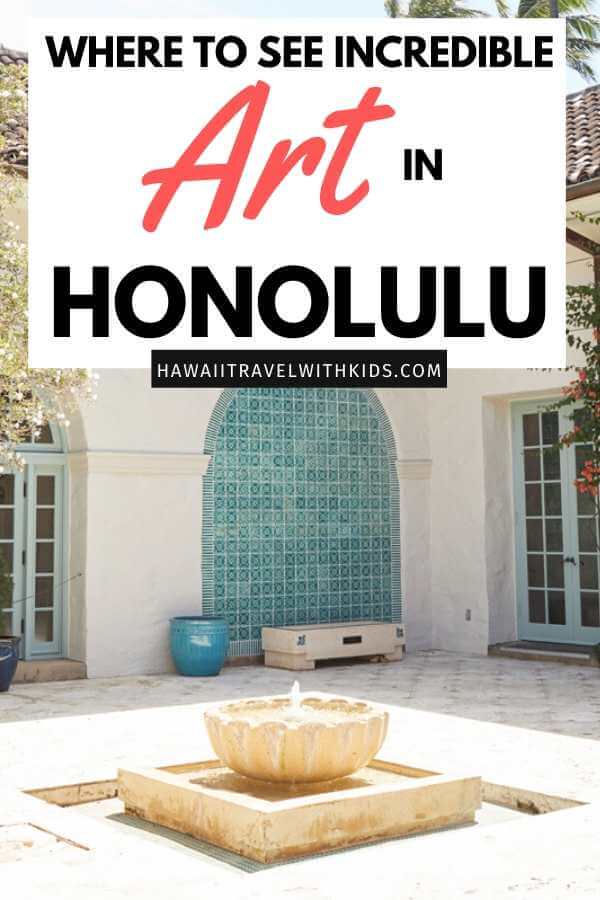 Honolulu Museum of Art Interview Questions + Answers
What is your Role at the Honolulu Museum of Art?
As Chief Communications Officer, I am a member of the Honolulu Museum of Art's senior management team, accountable for leading the museum's communications, marketing and branding initiatives.
I help to develop and refine HoMA's strategic planning and related communications efforts to reinforce its reputation as a welcoming, community-focused and forward-thinking institution.
Where is the Honolulu Museum of Art located?
We are located on the island of O'ahu, right in the heart of Honolulu at 900 South Beretania Street.
Where is the Best Parking at the Honolulu Museum of Art?
Our main public parking lot is located behind the Honolulu Museum of Art School, with entrances on Beretania Street and Young Street.
The cost is $5 for five hours, Tuesday through Saturday from 7 a.m. to 11 p.m., and on Sundays from 10 a.m. to 6 p.m.
Parking for visitors with disabilities is available at the museum's side entrance gates on Ward Avenue and Victoria Street. The five spaces are available on a first-come, first-served basis.
What is there to Do/See at the Honolulu Museum of Art for families?
From special exhibitions to new and inventive ways to display the museum's encyclopedic collection of artwork from around the world, HoMA is on par with the best museums in the world.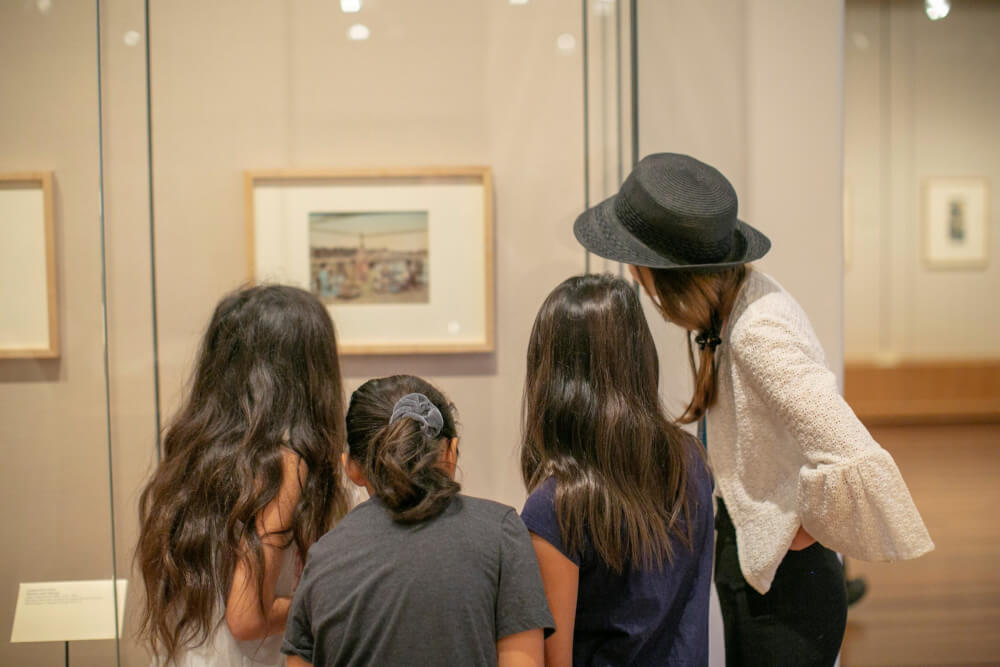 In addition, HoMA hosts the Doris Duke Theatre, Hawai'i's largest independent arthouse theatre, docent tours for art enthusiasts of all ages, educational programs and art classes for all levels of budding artists, gallery hunts for children, and special events like ARTafterDARK and Family Sunday which happen once a month throughout the year.
Are there any Books (children's or adult books) you would Recommend People Read Before Visiting the Honolulu Museum of Art?
The shop has a few children's books about museums, including Dr. Seuss's Horse Museum and Arnold's Extraordinary Art Museum.
Adults may want to brush up on some of the more popular, rare art housed in our galleries by getting a copy of the Honolulu Museum of Art selected art catalog.
When you're here, feel free to visit the Robert Allerton Art Library, an invaluable resource for members, art collectors, art students and anyone who has an interest in art (open Wednesdays 10 a.m. to 4 p.m. and by appointment at 532-8754).
How Much Time Should Families Set Aside to Explore the Honolulu Museum of Art?
Because of the expansive nature of our 50,000-piece collection and that fact that we continually rotate, you could spend almost all day just exploring our permanent collection alone.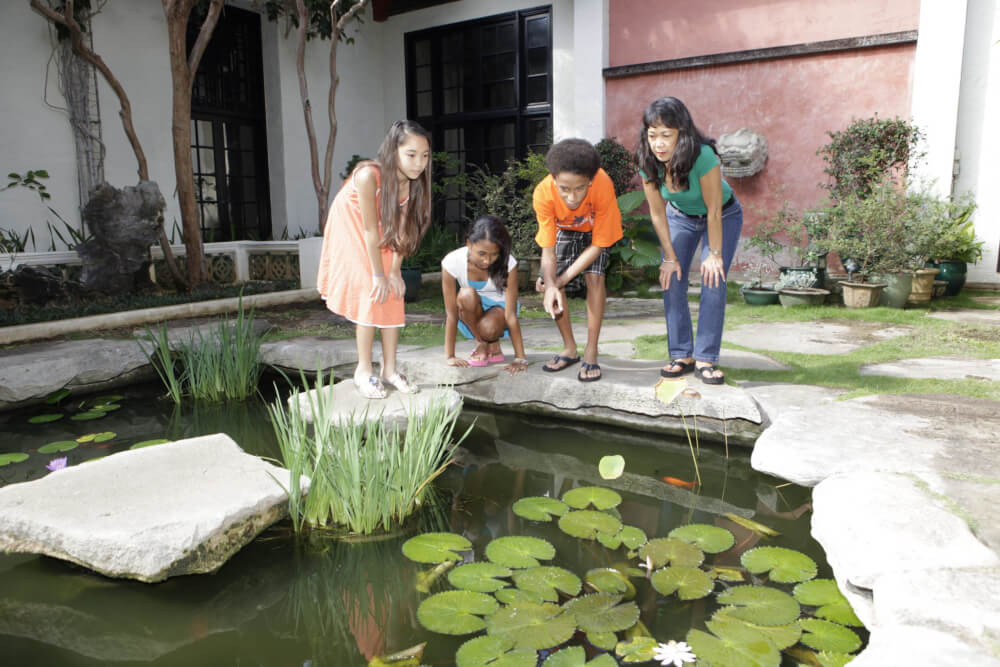 We also have special exhibitions, tours, programs, events and independent films happening every day.
And, when you're ready for a break, we have an award-winning open-air restaurant, a full-service coffee bar and a specialty shop stocked with thousands of art-related items from around the world.
So, while visiting HoMA could easily be an all-day affair, you can make your visit as short or as long as is ideal for your family.
Why is the Honolulu Museum of Art Important?
We play an important role in presenting and preserving art from around the world, and making it accessible for future generations.
The museum hosts free field trips to over 15,000 students annually, some of whom are experiencing an art museum for the very first time.
HoMA also works with schools and teachers to preserve and support art education in schools across the state, and ensure children from all backgrounds get to experience the transformative power of creativity.
We are committed to serving and being a part of this community as a place to learn, be inspired, and connect to the world.
Why should Tourists Visit the Honolulu Museum of Art on their Oahu vacation?
For over 90 years, the Honolulu Museum of Art has served as a very special gathering place for our community to celebrate the amazing things that can happen when art, history, culture and education all converge in one place.
As an encyclopedic museum hosting some of the most fascinating art on Earth, our collection holds more than 50,000 pieces from all corners of the globe, from ancient artifacts to contemporary works, and representing all major cultures of the world.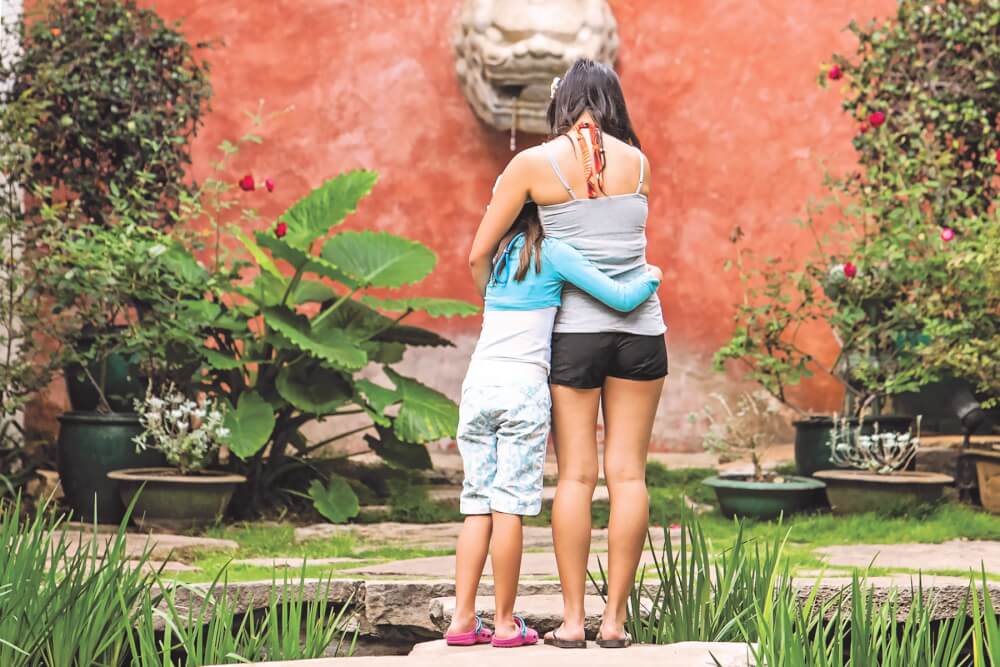 Whether you're exploring our expansive art collection and iconic grounds, getting lost in a thought-provoking special exhibition, reigniting your creative side through an art class, or snagging tickets for the latest independent film, you'll find that HoMA has something for everyone.
What do you want Visitors to Understand about Hawaiian Culture?
Hawai'i is uniquely influenced by Western, Eastern, and Polynesian cultures. That virtually assures a diversity of activities, attractions, food, and fun you can find nowhere else in the world.
Hawai'i's host culture and language, Hawaiian, is beautiful and strong, and prominently represented throughout the state.
A visitor to Hawai'i would be remiss not to learn as much as possible about the culture and traditions of native Hawaiian people as well as the stateʻs unique local culture, and to experience it through foods, language, activities, and of course art.
Is there Food Available at the Honolulu Museum of Art?
We have an amazing café that has served up great cuisine, thirst-quenching refreshments, and island-style hospitality to generations of Hawai'i's families for over 50 years, surrounded by lush gardens, a waterfall, and spectacular sculptures by Jun Kaneko.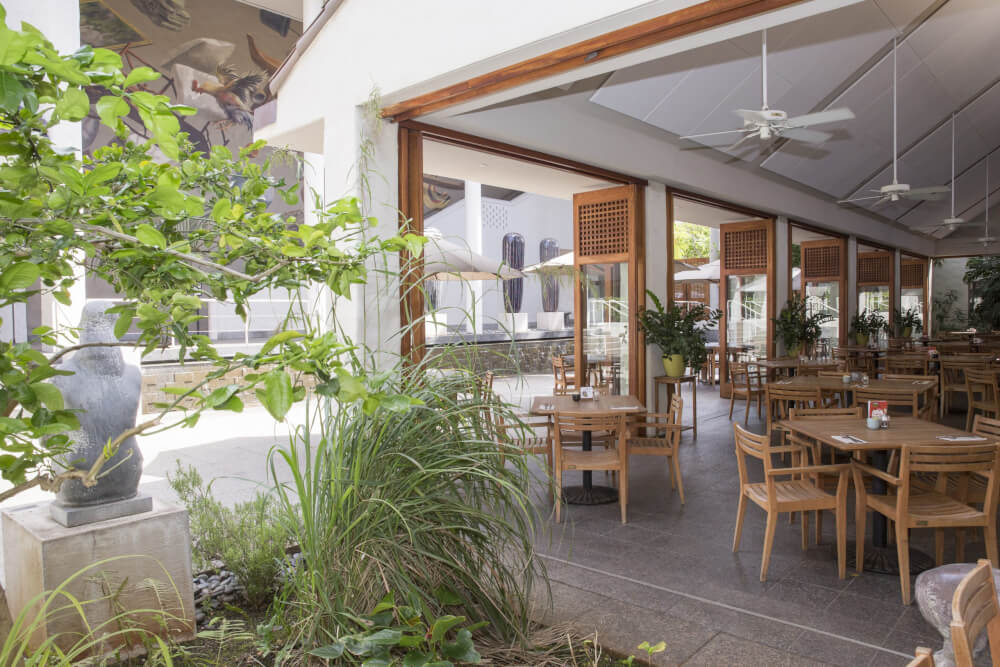 The café is also a designated ocean-friendly restaurant, dedicated to persevering the beauty of our islands. You can join us for lunch Tuesdays through Saturdays or brunch on Sundays.
What are your Upcoming Exhibits or Programs?
30 Americans February 22, 2020–June 21, 2020
This celebrated exhibition features works by 30 contemporary artists connected through their African-American cultural history, and includes some of the most recognized and influential figures in the art world from the past four decades.
Drawn entirely from the Rubell Museum in Miami, works in painting, sculpture, installation, photography, and video bring focus to timely, challenging, and thought-provoking issues.
Hokusai's Mount Fuji February 15, 2020–February 21, 2021
HoMA presents in-depth exploration of one of the most famous ukiyo-e series in the museum's collection: Thirty-six Views of Mount Fuji (c. 1830–1832) by Katsushika Hokusai.
Twenty-two masterpieces will be displayed one at a time for two-week intervals, offering viewers an opportunity to focus on the subtle, technical details of each print.
O Kalani April 11, 2020–August 9, 2020
Held in conjunction with the 13th Festival of Pacific Arts and Culture, O Kalani is a contemporary exhibition of works by premier Hawaiian artists Sean Kekamakupa'aikapono Ka'onohiokalani Lee Loy Browne and Imaikalani Kalahele.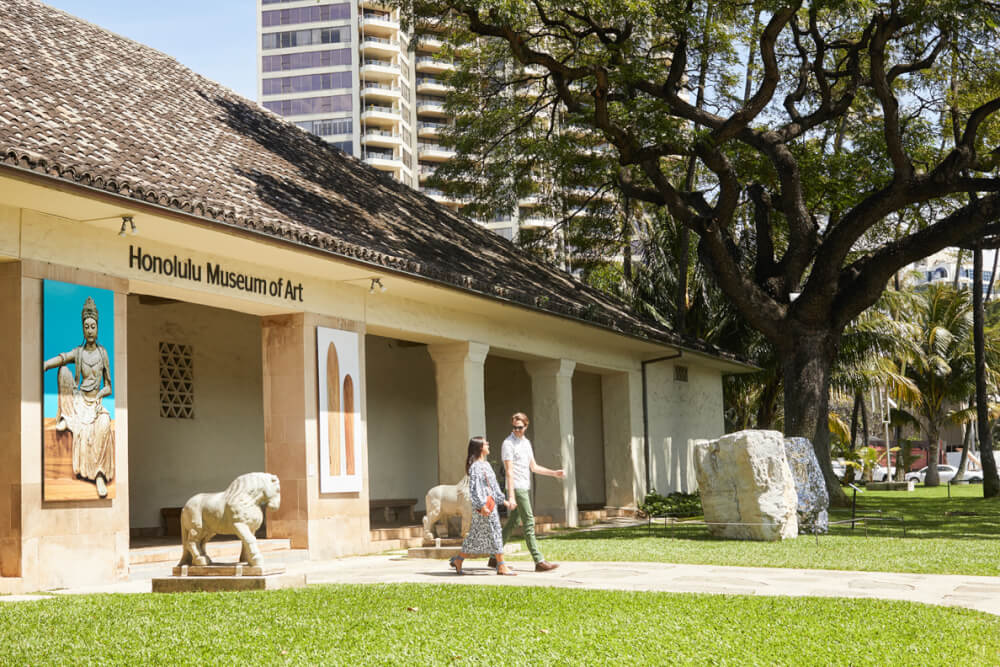 What to Know Before You Go to the Honolulu Museum of Art
Honolulu Museum of Art Hours
The Honolulu Museum of Art is open Tuesday-Sunday: 10am-4:30pm. The Museum is closed Mondays.

2020 closures: The museum is closed Wednesday Jan 1, Saturday Jul 4, Thursday Nov 26 and Friday Dec 25.
Museum Admission Fees
Adults: $20
Hawaii Residents: $10 with ID
Age 18 and Under: FREE
Entry to the Museum Shop, the café and the Robert Allerton Art Library is free.
Free Days at the Museum
If paying full price is out of your budget, take advantage of some of the Honolulu Museum of Art's free days:
Family Sunday: Third Sunday of the month from 10am-4:30pm
First Wednesday: The first Wednesday of every month is free for Hawaii residents (with ID)
July 31: Admission is free for Hawai'i residents (with ID) in honor of La Ho'iho'i Ea (Restoration Day)
Additionally the Honolulu Museum of Art is a participant is the Blue Star Museums program.
From Armed Forces Day—Saturday, May 18—until Labor Day—Monday, Sep 2—HoMA joins over 2,000 participating museums in the Blue Star Museums program by offering free admission and 10% off purchases in the Museum Shop to U.S. active-duty military personnel and their families (with ID).
Bags and Backpacks
Staff members will be inspecting all bags and you must check all backpacks, shopping bags, parcels, umbrellas, tripods, and any bags exceeding 16 inches in diameter in at the Visitor Information Centers.
Accessibility
All Honolulu Museum of Art galleries and facilities are wheelchair-accessible. You can bring your own or you can borrow one at the museum's entrance gates on Ward Avenue and Victoria Street at no charge.
If you have a specific question about the accessibility at the Honolulu Museum of Art, contact Kim Hutchison at 808-532-1831 or [email protected].
Taking Photos at the Honolulu Museum of Art
Wondering if you should bring your camera? You can take photos in most galleries, as long as you don't use a flash and it's for personal use. The galleries where photography is not allowed are clearly marked.
You can't bring a tripod and you can only take video in the courtyards and the grounds of the museum (not inside.)
Sketching
A fun way to get kids engaged with the art is to bring along sketchbooks and let them sketch their favorite works of art. Sketching is allowed in the galleries as long as you use pencil (so no ink or paint.) And your sketchbook can't be larger than 8.5″ x 11."
Just be mindful of the visitors around you and don't bring an easel or sit on the floor to sketch. If the galleries get super crowded, guards might ask you to stop sketching.
Bringing a Baby
Strollers are allowed everywhere at the Honolulu Museum of Art. Another option would be to wear your baby in a baby carrier.
Food and Drink
Outside food and drinks are not permitted in the museum, including in the courtyards and the Doris Duke Theatre. But, you can grab a bite or a drink at the Honolulu Museum of Art Cafe + Coffee Bar.
What Else to do Near the Honolulu Museum of Art
Hawaii State Art Museum
If you want to make a full day of enjoying art, continue on to the Hawaii State Art Museum.
This free art museum has some of the best contemporary art from across the state of Hawaii. Plus, they have a sculpture garden, a gallery shop, and a cafe.
Iolani Palace
Another great stop is Iolani Palace, the only royal palace in the United States.
Built in 1882 by King David Kalakaua, Iolani Palace was the home of Hawaii's last reigning monarchs until the overthrow of the monarchy in 1893.
They have fantastic guided and self-guided tours. Read how to do an Iolani Palace tour.
Thomas Square
If your kids need to get some wiggles out after spending time at the Honolulu Museum of Art, walk over to Thomas Square. It's located just a few steps from the museum and has a large grassy field.
Thomas Square is a historic landmark. This park is where the British handed back the Hawaiian Kingdom to King Kamehameha III after 5 months of occupation in 1843.