Trying to save money on your Kauai vacation? Don't miss these free things to do on Kauai with kids!
This free things to do in Kauai post contains affiliate links which means if you purchase something from one of my affiliate links, I may earn a small commission that goes back into maintaining this blog.
Don't Want to Scroll? Here Are the Top Free Things to do on Kauai
hide
What are you looking for when you book a vacation with your family?
I tend to be the kind of mom who wants something fun in the morning, and then a nice relaxing afternoon and evening.
I try really hard not to overschedule my boys. We have learned first-hand that over-tired children are not relaxing to be around.
We travel a lot, either for work or for my hubby's job, and sometimes the boys get to come with us.
On the rare occasion that we all get to go somewhere together just for fun, you will probably find us on Kauai.
That's because my mom lives in Kapaa, about 20 minutes from the Lihue airport.
From there, (with just the cost of a rental car) we have the whole Garden Island open to us!
Besides the cost of renting a car, there are so many things you can do on Kauai that don't cost a dime. And boy do we know what to do in Kauai with kids!
Bring your hiking boots, your snorkel, and a couple of swimsuits, and you will be set for days of free Hawaiian fun!
Get some ideas from my list of 21 Free Things to do in Kauai with kids.
Don't have time to read a bunch of Hawaii blog posts and reviews? Here are some of our top picks for visiting Kauai on a budget.
Best Budget-Friendly Kauai Tours/Activities
Best Budget-Friendly Kauai Hotels
Want to skip all the planning and just access my detailed Kauai Itinerary complete with daily schedules, kid-friendly activities, and travel hacks? Click the button below.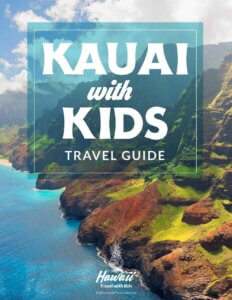 Check out 10 amazing things to do on Kauai for under $10!
Kauai with Kids FAQ
What should you not miss on Kauai?
Kauai has so many beautiful sights and attractions! Be sure to stop at the Waimea Canyon, see Hanalei Bay, enjoy some Kauai waterfalls, and go hiking!
Is Kauai or Maui better for families?
Both are solid family vacation destinations. Kauai has a slower pace with more outdoor adventures and artisan food options. Maui has more kid-friendly resorts and amenities.
Is 4 days enough on Kauai?
Many families choose to island hop in Hawaii and want to know how to allocate their time. I'd say 4 days is the minimum number to spend on Kauai if you plan on exploring the island.
Top 21 Free Things to do on Kauai with Kids
1. SPOUTING HORN
This water spout might not seem like much, but that's only if you haven't seen it in person!
Spouting Horn is formed from an old lava tube and the force of waves hitting the opening of the tube. The resulting spout can sometimes reach 50 feet high, and can create a gorgeous rainbow on sunny days.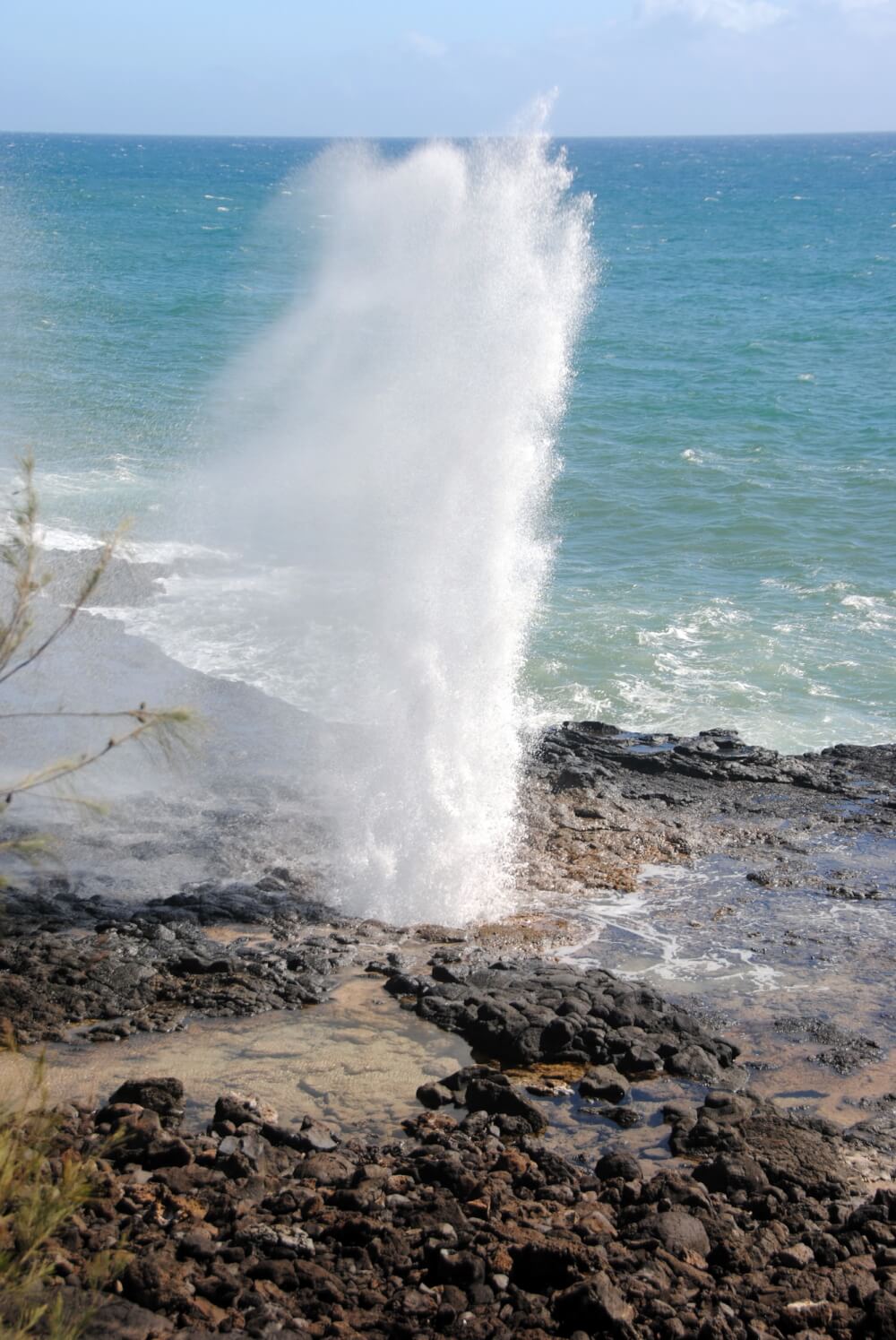 Located on the southern side of the island, Spouting Horn is about a 30-minute drive from the Lihue Airport.
If you do go, please pay attention to signs, the rocks around the spout are slick and can move.
Take your camera (and maybe a raincoat) along to capture the beauty from a safe distance!
Even though it sounds simple, kids think it's one of the most fun things to do in Kauai!
2. KAUAI COFFEE COMPANY
Even if you aren't a fan of the most-consumed drink in the world, you don't want to miss the biggest coffee farm in the US.
Kauai Coffee is headquartered on the southern coast of Kauai, and has free walking tours every day at 10 am, 12 pm, 2 pm, and 4 pm.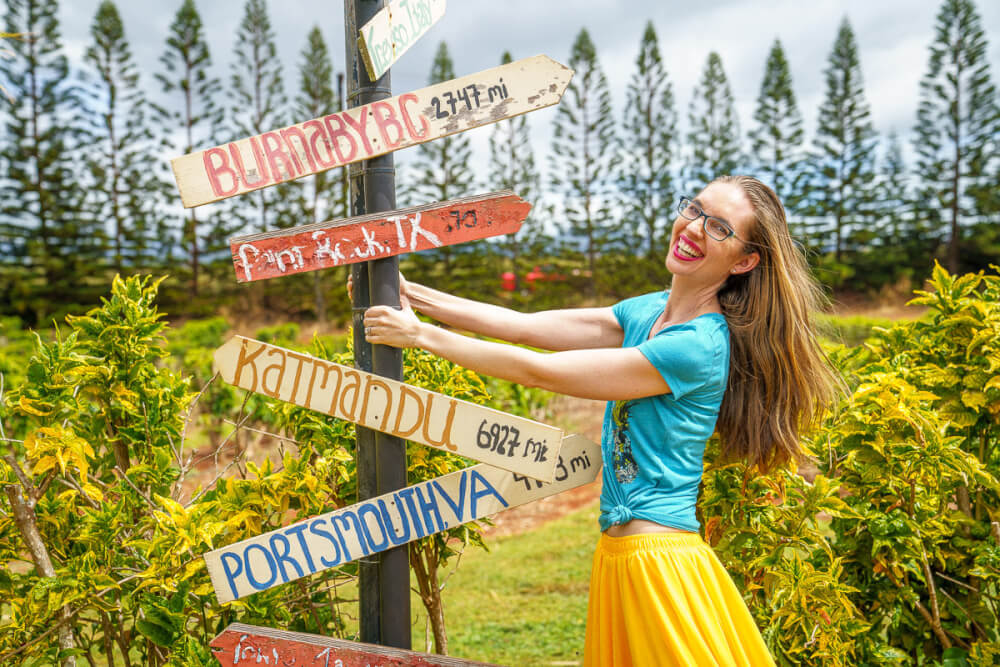 Upon arrival to the "Estate", you will be offered a free cup of Kauai Coffee.
Plan your visit and make sure you sign up for the scavenger hunt on Wednesday morning!
Every team that completes it will get a free bag of coffee, and it is a great way to get kids involved without actually giving them coffee! (My boys have enough energy already, thank you very much!)
3. HANAPEPE TOWN
A small town in the southern part of Kauai, Hanapepe Town has a lot going for it. And there are quite a few things to do in Hanapepe with kids.
I have written about the Hanapepe Swinging Bridge and Salt Pond Beach Park before, but only because it has been, and still is one of my favorite places on the island.
I loved it when I visited in Middle School, and I love it now with my boys.
The art walk and art night on Fridays from 5 pm to 9 pm are such a fun experience that I look forward to it every time we visit.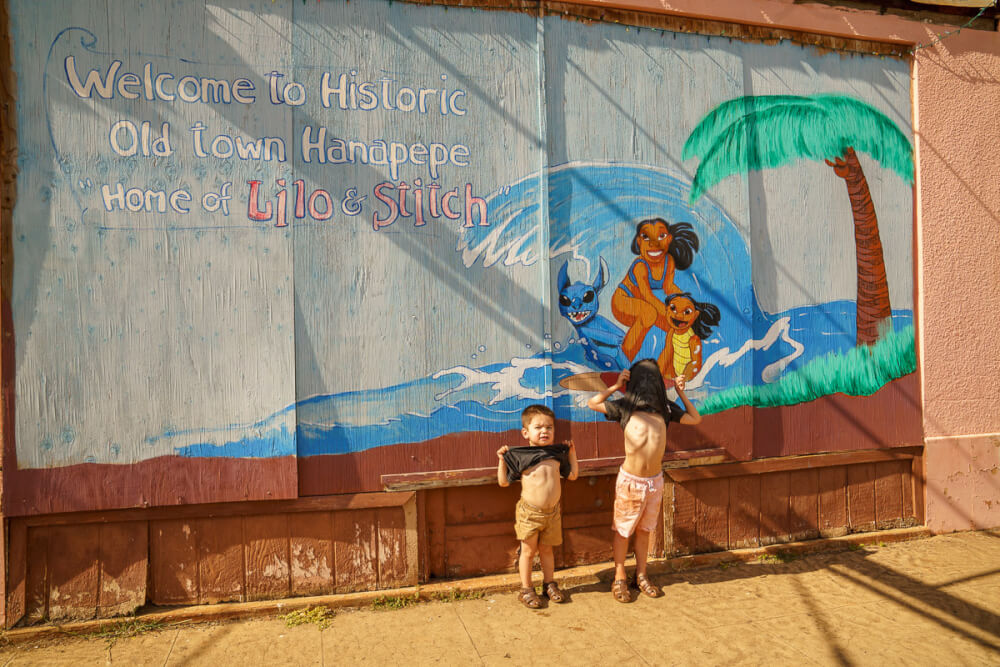 It's also the home of Disney's Lilo & Stitch and you can find little nods to that all over town!
If you are looking for a fun adventure, go hunting for treasure on "Glass Beach,", beach made up the remnants of junk glass tossed from the industrial factories nearby and tumbled smooth in the ocean.
After your searching, I'm sure you would be able to find a refreshing snack or beverage at one of Hanapepe's many adorable shops!
4. LYDGATE BEACH PARK
If you are looking for a beach with protected waters and a lifeguard, you have found it!
Lydgate Beach has two lagoons with gentle waters that are perfect for little ones – even toddlers.
The beach is lifeguard protected, and has a paved path nearby to talk a walk on.
Just a bit further down the path, you will find Kamalani Playground. This wooden play structure has given my boys many hours of fun!
Between the lagoons, the playground, and the sand, I often have a hard time pulling my boys away from Lydgate Beach!
5. KAUAI'S HINDU MONASTERY
If you have never experienced a Hindu Monastery, this site would be well worth a visit.
Located in Kapa'a, Kauai's Hindu Monastery is open from 9 am to noon for visitors to explore, meditate and learn.
The inner gate and temple are only open to those wishing to join in on the 9 am service.
Be sure to consult the Plan Your Visit Guide to learn more about times, available areas, and recommended dress.
6. WAILUA RIVER STATE PARK
Mount Wai'ale'ale has one of the highest rainfall amounts of anywhere on earth.
Due to the torrential downpours, there has been a lot of erosion on the sides of the mountain, and a lot of little rivers have found their way to cliffs.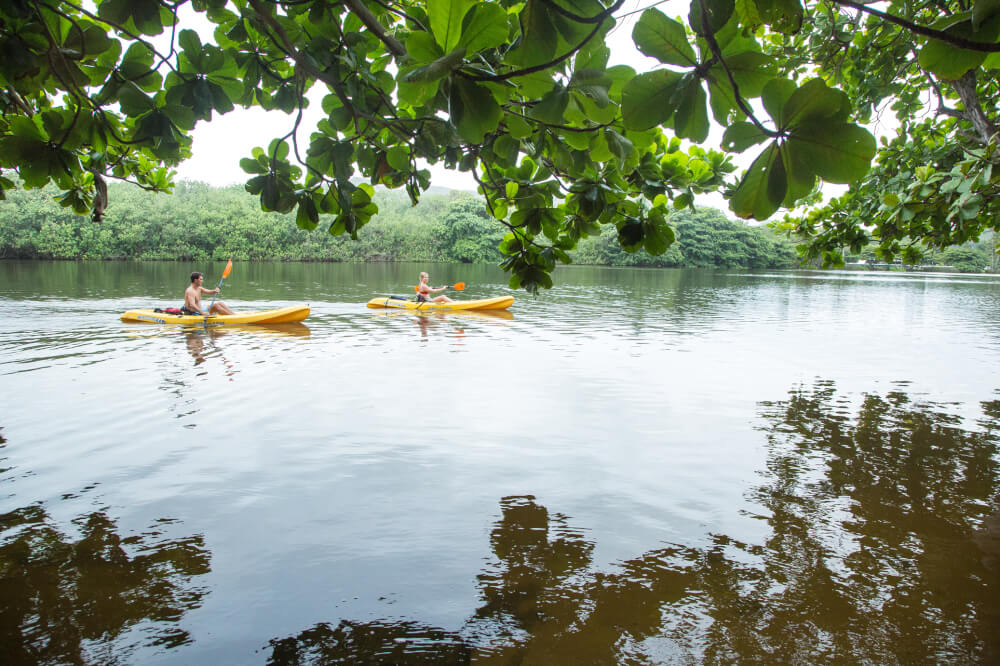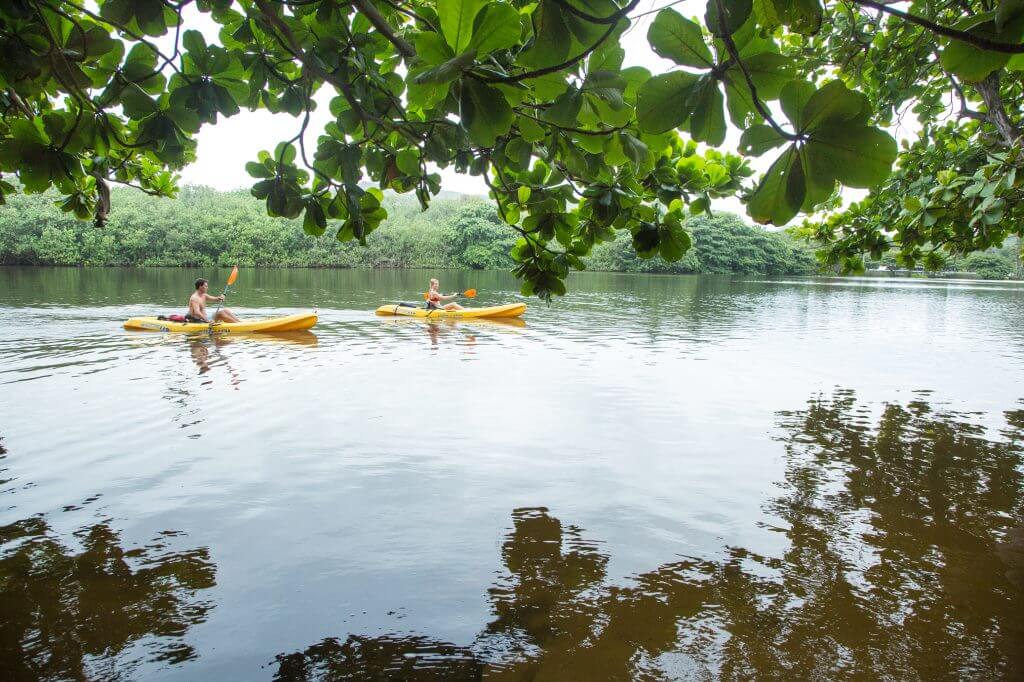 This has created a naturally beautiful phenomenon that is the Wailua River State Park. There are tons of things to do in Wailua River State Park with (and without) kids.
The river and valley are amazing enough, but make sure you don't miss Wailua and Opaeka'a falls!
7. HANALEI TOWN
You may have heard of the floods on Kauai in April of 2018. Well, there have been subsequent floods.
The northern and western parts of the island were the most affected, and are only just now starting to get back to normal.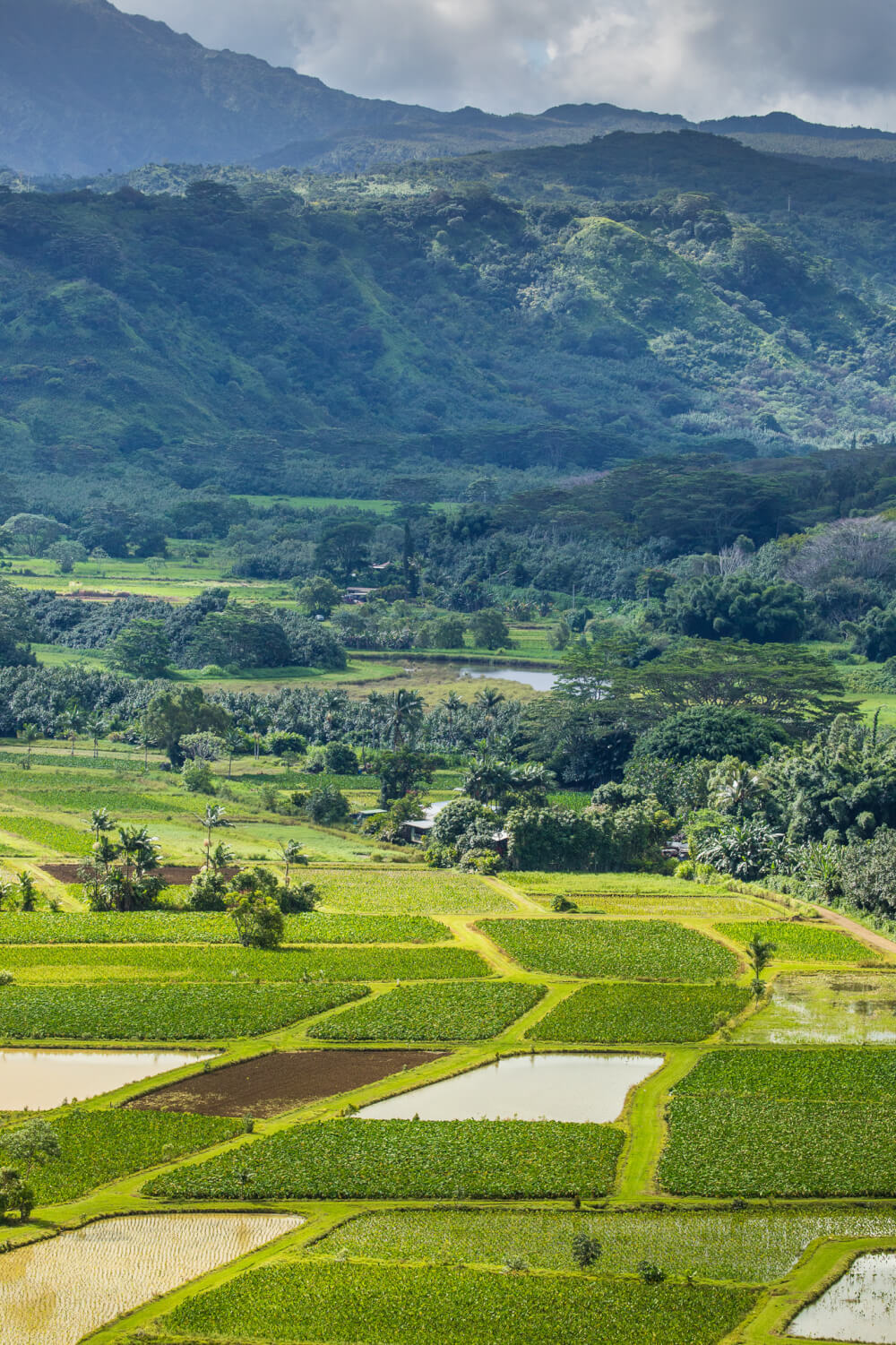 Hanalei Town was one of the areas worst hit, but is back up a running for the most part.
The view of the area's beaches and taro fields is as beautiful as ever, even as farmers and owners work to get back to full production.
Attractions (besides the beaches and taro fields) include the Waioli Mission House, Hanalei Pier, and Hanalei's one-lane bridge.
8. WAIMEA CANYON
Probably the most well-known of the attractions on Kauai is the "Grand Canyon of the Pacific", or Waimea Canyon.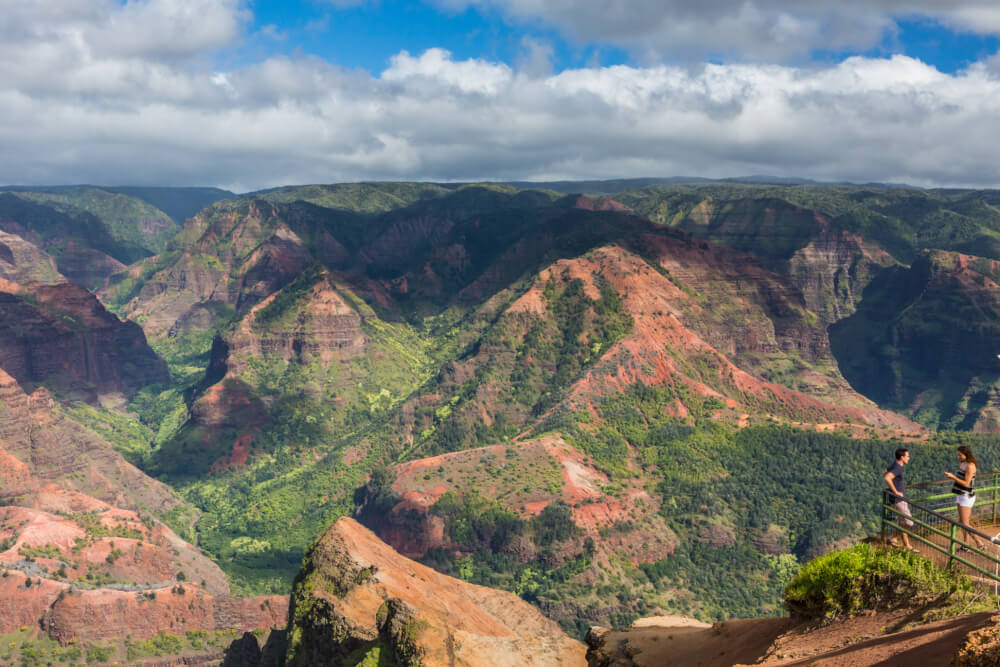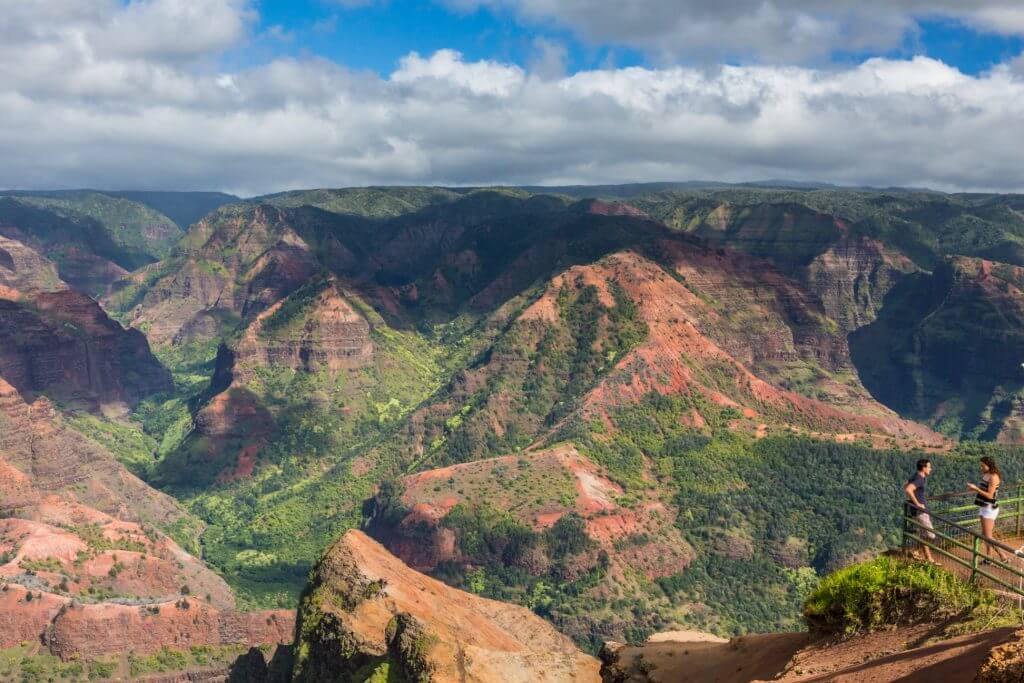 At 14 miles long, over a mile wide and 3600 feet deep, Waimea Canyon and the state park that surrounds it has some of the most beautiful views on the island, and maybe in the world!
The entry is free, but be prepared to pay $5 to park if you would like to go for a hike or get closer to the lookout points.
Waimea Canyon is definitely one of the top things to see in Kauai.
9. KILAUEA LIGHTHOUSE
No matter where you are, kids always seem fascinated by lighthouses!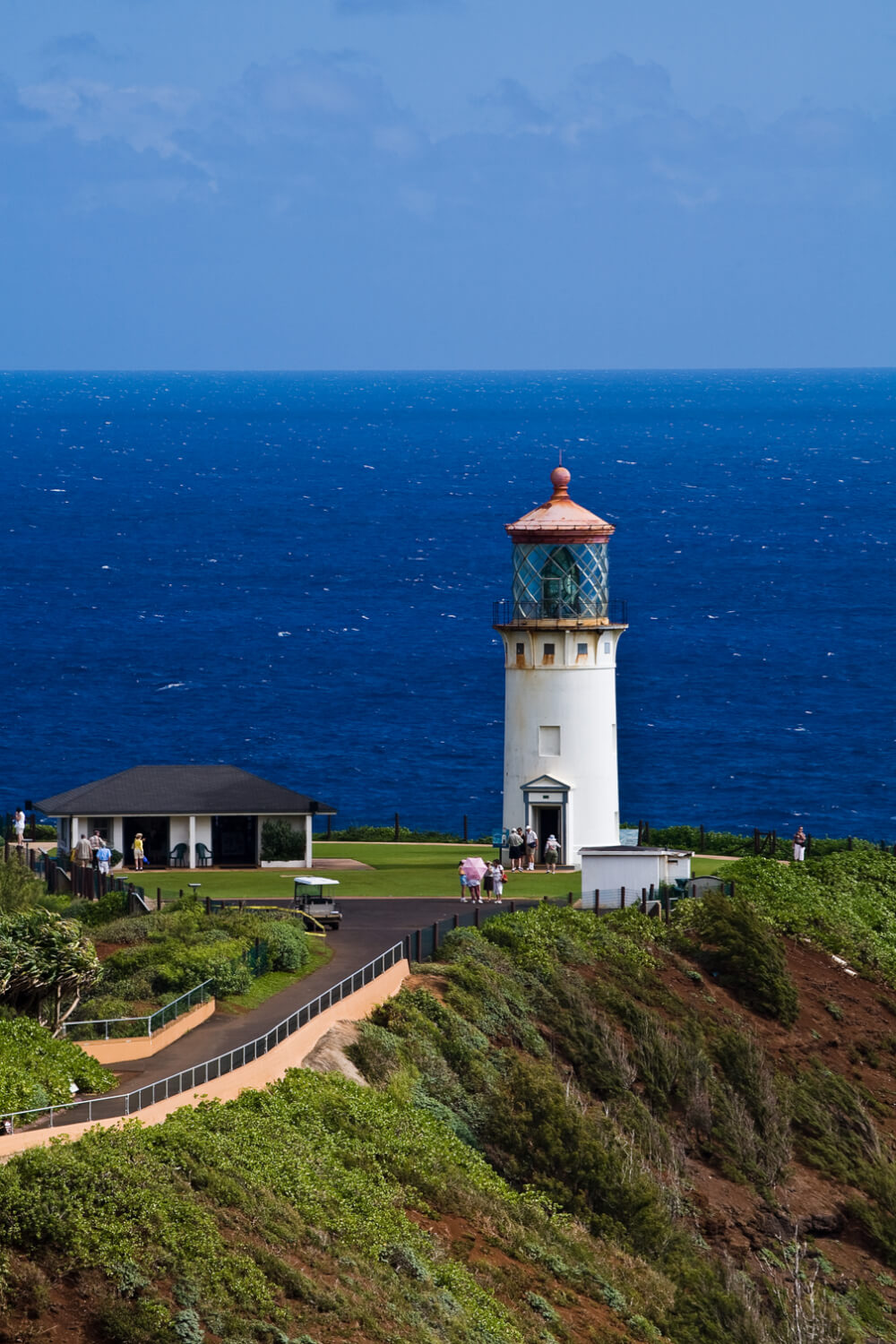 This one is more than 100 years old and it's definitely somewhere you'll want to stop, even to just snap a few photos of your kids with the lighthouse in the background.
And if you are into birding, it's THE place to go to see the red and blue-footed Boobies. It's worth it just for your kids to giggle over the name of the bird, trust me!
Now it's free to check out the lighthouse, but if you are really into nature, you might want to splurge and pay $5 to visit the Wildlife Refuge (kids under 16 are free!)
10. FREE HULA SHOWS
While I'm a huge fan of bringing kids to luaus on Kauai (my favorites include Smith Family Luau and Luau Kalamaku,) I know they can be pricey.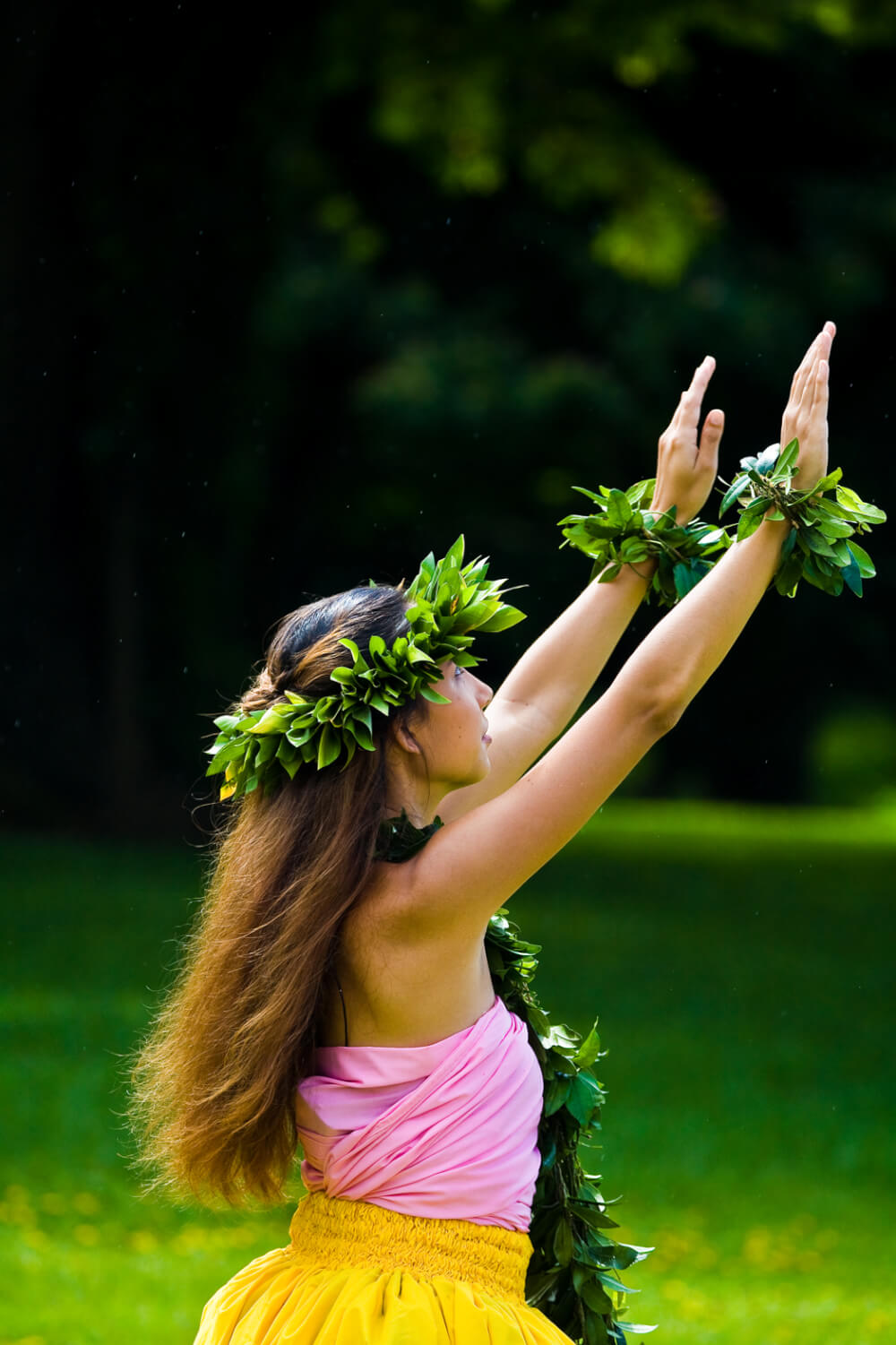 Luckily, there are ways you can see hula and Tahitian shows for free! Honestly, watching hula is one of the best things to do in Kauai with kids!
Coconut Marketplace
Every Wednesday at 5pm and Saturday at 1pm visitors can see free hula shows by the students of Halau Hula O Leilani at the Coconut Marketplace.
National Tropical Botanical Garden
Every Thursday at 2pm, the National Tropical Botanical Gardens has a free hula show with Halau Ka Le Mokihana O Leina'ala.
Poipu Shopping Village
Every Monday and Thursday at 5pm, the Poipu Shopping Village has free live entertainment.
It's a great way to see Tahitian dancing, fire knife dancers, and live music.
11. KAUAI CULINARY MARKET
If you are foodies (like our family) you'll want to set aside time to check out the Kauai Culinary Market at The Shops at Kukuiula.
Every Wednesday from 3:30pm – 6pm, guests can see live cooking demonstrations and take a look at locally grown food and treats.
12. E KANIKAPILA KAKOU
Each year, the Garden Island Arts Council presents 10 weeks of amazing Hawaiian musicians, artists, storytellers, and hula dancers who share Hawaiian culture.
There are even free ukulele and hula dance lessons.
Check the events calendar to see if E Kanikapila Kakou is happening during your trip to Kauai.
13. GROVE FARM TRAIN DAY
My boys LOVE train rides! We usually do the Kilohana Plantation Railway train ride, but we've been wanting to check out this free train ride!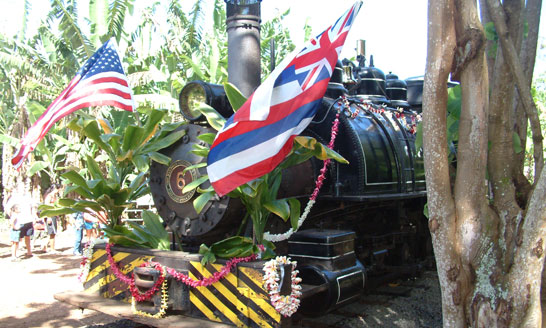 On the second Thursday of every month, head to Grove Farm and hop aboard one of their four vintage steam locomotives for a 45 minute train ride.
These trains are special because they used to haul sugar cane at this Kauai sugar plantation.
The sugar plantation has since closed, but it's still a big part of Kauai's history.
During the train ride, you'll hear stories about Hawaii's sugar plantations and why trains were so important.
It's a great way to sneak in a bit of education on this fun train adventure!
14. CHECK OUT SOME CAVES
One of the things I remember doing when I was younger was stopping by the wet and dry caves on our way to the "end of the road."
If you are heading up to Ha'ena State Park or Ke'e Beach all the way up North, you might as well stop off at these caves.
The Maniniholo Dry Cave is across from Ha'ena State Park.
If your kids are into mythical legends, there are two that explain how the cave ways created:
The first legend says the the cave used to be a tunnel the Menehune built to Waimea Canyon.
When the Polynesians tried to attack the Menehune, they used this secret tunnel to escape to the North Shore. Then, they collapsed the tunnel to trap the Polynesians inside, which formed the dry cave.
The second legend talks about how an evil spirit stole fish and a fisherman ordered his crew to dig into the hillside to capture him, which created the cave.
However, if your kids are more into science, you can tell them that the ocean used to be higher and the cave was formed from thousands of years of wave action eroding the cliff at its base.
Insider tip: Bring flashlights along for kids to explore the caves!
Then, there are the Ha'ena Caves, which are wet caves with deep, cold water. It's not sure easy to explore these caves, but they are still cool to look at.
15. FREE MOVIE SCREENINGS
While I haven't gotten to do this yet, my mom has taken my oldest to one of the outdoor movies on Kauai and it sounds like a blast!
On the last Saturday of every month (weather permitting) there's a free outdoor movie at the Coconut Marketplace.
Every few months, the National Tropical Botanical Garden has a free outdoor movie night with food trucks.
They also offer them throughout the year at Poipu Beach Park and the All Saints Episcopal Church. These are cool things to do in Kauai!
Note: While the movies are free, they usually sell food and drinks.
16. POIPU BEACH PARK
Speaking of Poipu Beach Park, it's one of my favorite Kauai beaches for kids!
Poipu is known as the "sunny side" of the island, so it's usually a safe bet that the weather will be nice enough to play at the beach.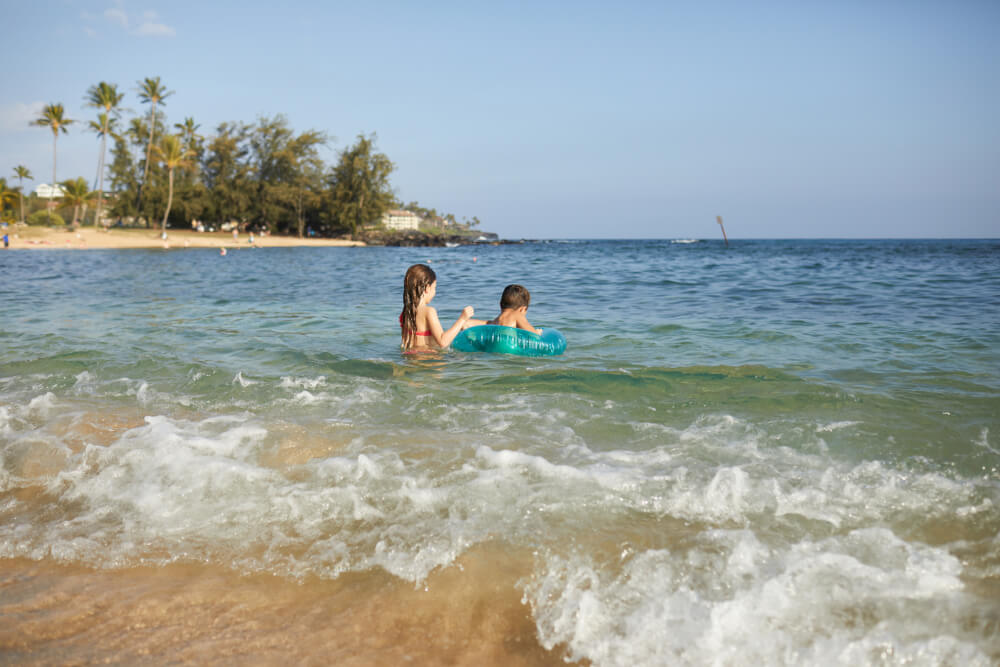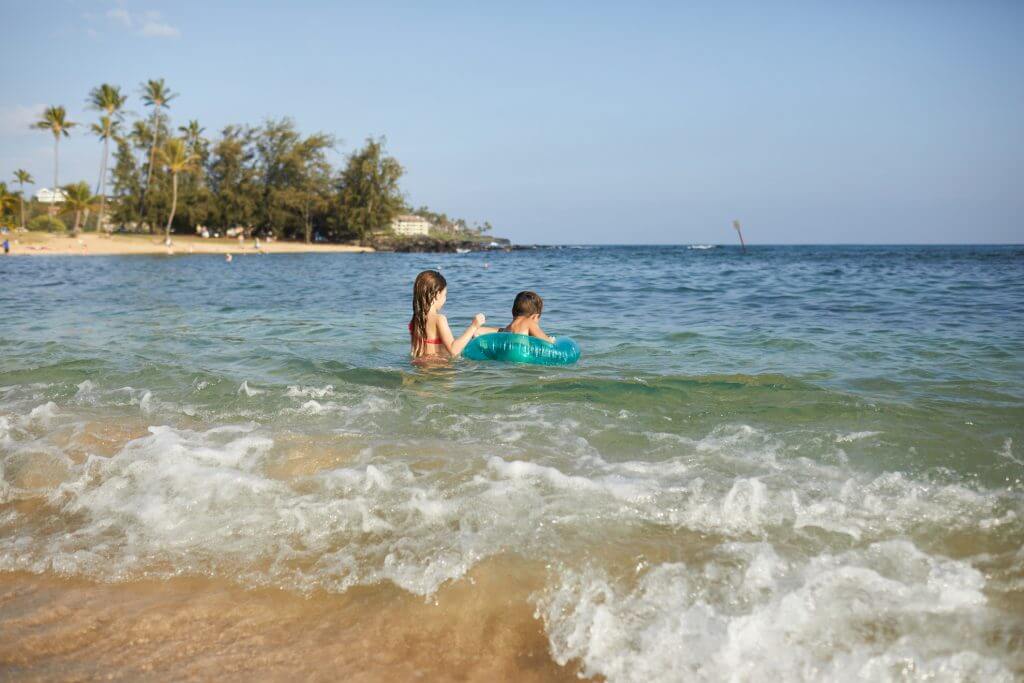 They recently installed a new playground structure that's a huge hit with the kids! And there are newly renovated restrooms nearby.
My kids really love swimming here. The water is shallow and super calm, which is great for babies and toddlers.
And I like that there are two lifeguard stands to help make the beach a bit safer for kids and adults.
We've seen several sea turtles and even a monkseal at Poipu beach!
Just hanging at this beach is probably the best thing to do in Kauai on a budget.
Find out more fun Kauai things to do in Poipu
17. FREE TODDLER TIME
If you are heading to Kauai with toddlers, you'll want to head to Kukui Grove Mall.
Toddler Tuesdays happen at 11:30am with character meet and greets and shows for kids on the center stage.
They also have an island themed toddler play area that is super cute!
18. ANAINA HOU COMMUNITY PARK
Out of all the playgrounds on Kauai, Anaina Hou Community Park is one of my favorites.
It's located on the North Shore in Kilauea and features play structures, a skateboard ramp, miniature golf and a hiking trail.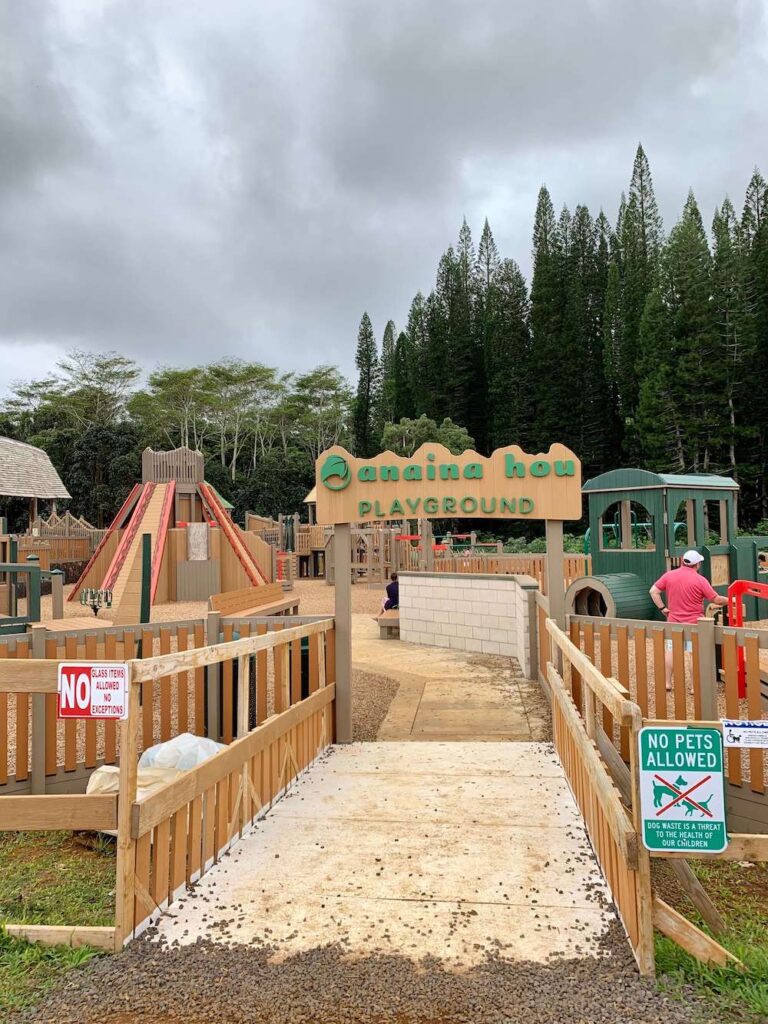 The new playground structure is partly built with reused milk jugs. How cool is that?
There are also restrooms, picnic tables, food options and a gift shop.
We like to pick up lunch and eat it here so the kids can run around and play. The playground area is HUGE and there's something for all ages.
It makes a nice stop when paired with a trip to Kilauea Lighthouse, too!
19. FREE SAMPLES AT KAUAI KOOKIE
I don't know what it is (ok, it's probably all the butter!) but Hawaiian cookies are just incredible!
One of my favorite brands is Kauai Kookie. They have their factory in Hanapepe/Eleele and they offer free samples of their cookies. It's probably my favorite thing to do in Kauai!
The best part is that they often have samples of new flavors they don't sell outside of their factory store!
Some of my favorites are Cornflake Crunch, Banzai (with seaweed), and their manju cookies.
20. SEE FARM ANIMALS
Believe it or not, Kauai actually has a lot of farms.
While you can see roosters everywhere on the island (I'm serious) you can also see traditional farm animals at specific farms.
One of the easiest is off the side of the road in Kilauea. You can park on the Mauka Side (mountain side) of the highway to see pigs, shetland ponies, and other 4 legged animals near Kilauea Farms between the 20-21 mile marker.
It's definitely one of the cutest things to do with kids in Kauai.
21. HISTORIC MENEHUNE DITCH AND WAIMEA SWINGING BRIDGE
My final free thing to do on Kauai is somewhere my brother and I used to go a lot growing up.
Head to Waimea Valley to check out the historic Menehune Ditch and the Waimea Swinging Bridge.
It really helps if you talk to your kids about the Menehune so they understand the significance. This is a fun Menehune book to read with your kids prior to your trip. Find the best prices here.
The Menehune Ditch has been on the list of the National Register of Historic Places since 1984.
Legend has it that the Menehune gathered stones from miles away to construct this irrigation ditch AND it only took them one night to build.
If your kids are interested in Menehune, it's super cool to see something they built in person. It's a great way to bring history alive!
Right across from the Menehune Ditch is the Waimea Swinging Bridge that crosses over the Waimea River.
It was rebuilt in 1996 after the original pedestrian bridge was destroyed during Hurricane Iniki. It's not a scary bridge, but it is fun to walk across!
No matter what you choose to do on Kauai, I hope you plan on it being relaxing and enjoyable.
Whenever we get time as a whole family, we like to make the most of it.
We find something fun to do in the morning, then something relaxing to do in the afternoon, and have a nice calm (attempt at) dinner before putting the boys to bed and enjoying the sounds of the ocean from our balcony.
Visits to state parks, bike rides, and visiting new towns are all wonderful morning activities, while we save the close-by beaches, shops, and attractions we can walk to for the afternoon.
Whatever the ideal vacation looks like for you, I know you will find something to match it on Kauai.
It might even be on my list of 21 Free Things to do on Kauai!
Which of these free things to do on Kauai makes your list of ideal vacation activities? Let me know in a comment below!
Loving these free things to do on Kauai? Click here now for more Kauai features to help plan your next vacation!!