Are you planning a trip to Oahu and are looking for nightlife? Keep scrolling to find out the best things to do on Oahu at night with (or without) kids.
This guide to things to do in Oahu at Night contains affiliate links which means if you purchase something from one of my affiliate links, I may earn a small commission that goes back into maintaining this blog.
Are you looking for cool things to do on Oahu?
It's no wonder Oahu is one of the most popular Hawaiian Islands. There are sandy beaches, turtles, surfing, and hiking. You can go shopping in Honolulu, tour Pearl Harbor, or jump on a trolley in Waikiki. There's something for everyone in the family!
But the fun doesn't end when the sun goes down. This tourist-friendly destination offers all kinds of after-dark activities. You might be looking for romantic date ideas or nightlife the whole family can enjoy.
Keep reading because I have plenty of suggestions for things to do in Oahu at night!
Don't have time to read a bunch of Hawaii blog posts and reviews? Here are some of our top picks for visiting Oahu.
Popular Oahu Tours/Activities
Favorite Oahu Resorts/Hotels
Want to Rent a Car in Hawaii?
One of the best places to rent a car in Hawaii is Discount Hawaii Car Rental because they get the best rates from top national companies like Alamo, Dollar, Thrifty, Avis, Enterprise, Budget, and Payless.
Want to skip all the planning and just access my detailed Oahu Itinerary complete with daily schedules, kid-friendly activities, and travel hacks? Click the button below.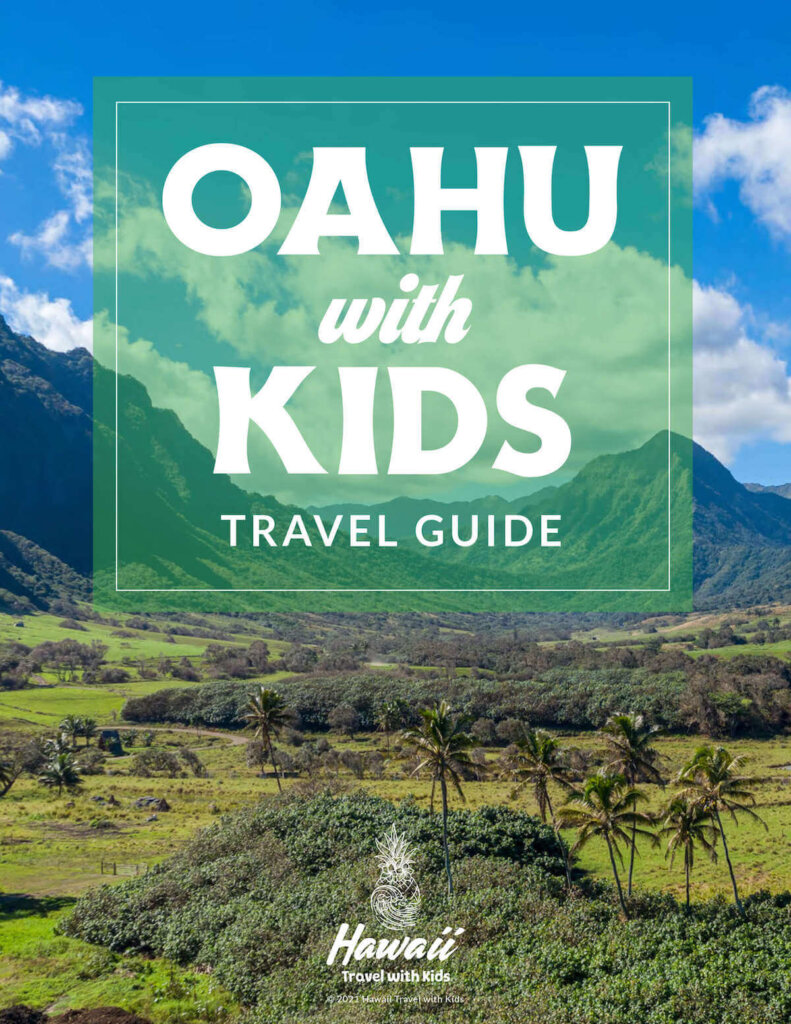 Nightlife in Oahu FAQ
Is Honolulu safe at night?
Some areas should be avoided at night, but when you're looking for things to do in Oahu, just use common sense to stay safe. Stay in well-lit, populated areas. Otherwise, Honolulu is like any other large city when it comes to safety at night!
Are night hikes allowed?
While state parks are closed after dark, you can certainly find trails all over the island for night hikes. Especially during full moons, this is a common ritual on the islands. However, I don't recommend hiking at night because limited visibility makes it unsafe. Only the most experienced hikers should attempt them.
Do parks and beaches close at night?
Most Oahu parks are closed between 10 PM and 5 AM, and that includes beach parks. This also includes parking lots where you may be looking to park. But beaches are open 24-hours a day. Just keep in mind that you swim at your own risk when lifeguards are not on duty.
Can you drink on the beaches and in the parks?
Unfortunately, when you're looking for places to go in Oahu at night, you'll have to leave the alcohol behind. No open containers are allowed in public spaces like beaches and parks. If you want to enjoy a drink with a view of the water at sunset, I suggest heading to a local spot like 53 By the Sea!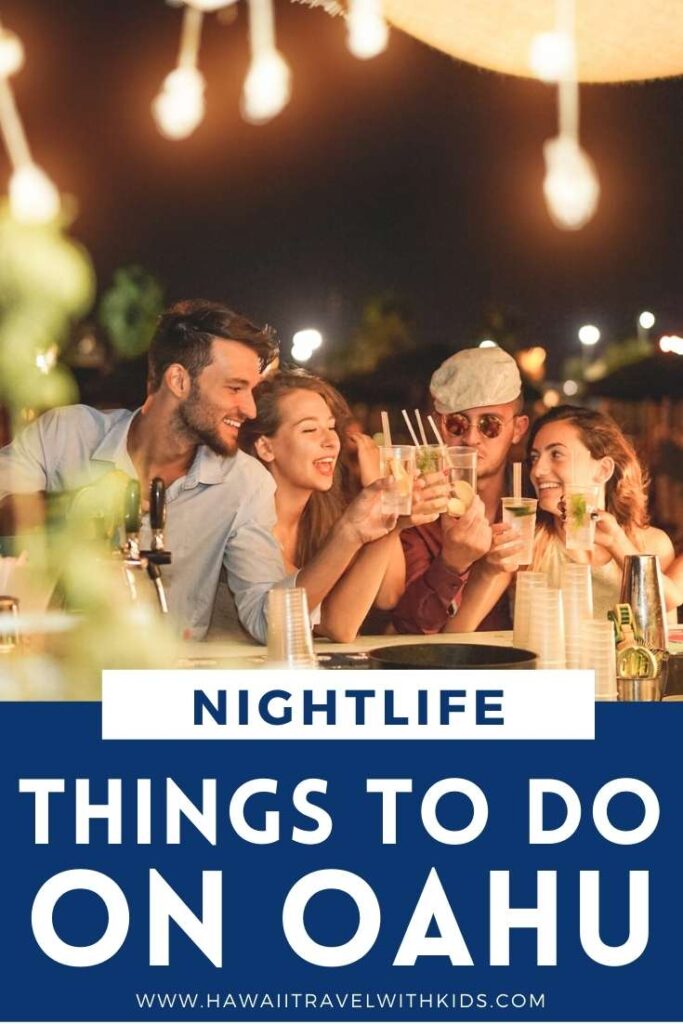 What to Do in Oahu at Night
Once you start looking for things to do in Oahu at night, you'll find that the sky's the limit. It all depends on what you're looking for and where you want to go!
The nightlife in Oahu is hopping with tiki bars, karaoke bars, dance clubs, and more. There's also every food choice from high-end New American spots to casual breweries.
If tourist attractions like luaus and cocktail cruises are more your style, I have plenty of ideas for you there. Below you'll also find things to do in Hawaii at night that are family-friendly. Some ideas on my list are expensive while some are free, like enjoying an unforgettable sunset off Sunset Beach in North Shore.
Honolulu, especially Waikiki, is where people usually stay when they vacation on the island. I'll share with you some of the most fun things to do in Honolulu at night, as well as other regions of Oahu. So, for more details, read on!
Night Activities Outside of Honolulu
Sample a Brewery in Kaneohe
Kaneohe is a residential area of Oahu that's much more laid back than Waikiki. While you won't find flashy resorts and big tourist attractions on Oahu's windward coast, you can find casual things to do here.
One of my favorite Kaneohe night activities is heading to Maui Brewing Company in Kailua. This small brewing company has delicious, locally sourced food. All the food pairs well with their wide range of beers on tap. Plus, they often have live music performances at night! They're open late on Friday and Saturdays.
Watch the Sunset at Sunset Beach in Pupukea
For more of a rural, country vibe, the North Shore is for you. When you're looking for things to do at night Oahu, this is also the best place for sunsets on the beach! North Shore beaches, like Sunset Beach, are more secluded than those on the south coast. They are also more directly positioned to the west, where the sun sets!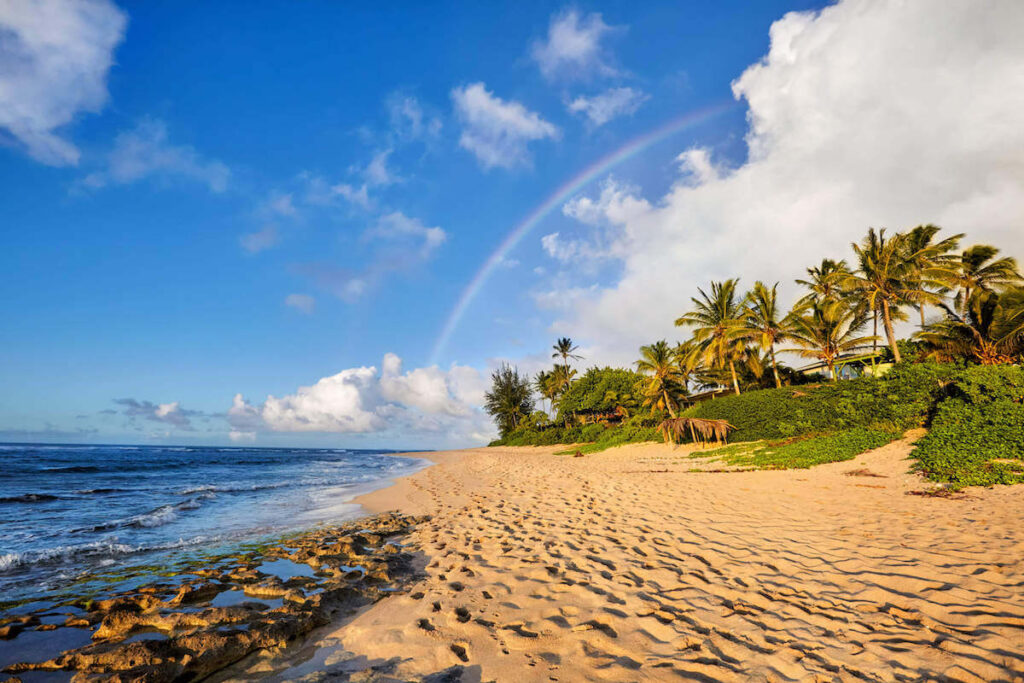 There are several beaches you can choose from on the North Shore, but keep in mind that some, like Kawela Beach, have parking lots that close at night. They will tow your car.
Head to Sunset Beach if you want to take your time with the family and not leave after dark. This beach has access to a free parking lot that doesn't close, as well as street parking.
Enjoy a Cocktail Cruise in Waianae
For the best sunset views and a romantic date, head to Waianae! Whether you're staying at the all-inclusive resorts on Oahu's west coast or just spending the day there, why not book a sunset cruise? Spend the evening sipping on cocktails with your favorite person while the stars come out.
Guests meet the 53-foot catamaran at the Waianae Boat Harbor for a 2-hour tour off the coast. Your first 2 drinks are complimentary, but the bar is open the whole time. Take pictures of the stunning coast or look out towards the water to enjoy the sunset.
Book a Family Photo Shoot
Whenever we travel to Hawaii, we almost always book a family photo shoot with Flytographer. They are super easy, affordable, AND it guarantees that I'll be in some photos. You can get $25 off if you book through this link or use the code HAWAIITRAVEL.
Honolulu Night Activities
Honolulu Nightlife
For the best things to do in Honolulu at night, consider a tiki bar or club. Honolulu is the place to find some of the best nightlife on the island. Check out La Mariana Sailing Club, Hawaii's oldest tiki that's been serving up drinks since 1951!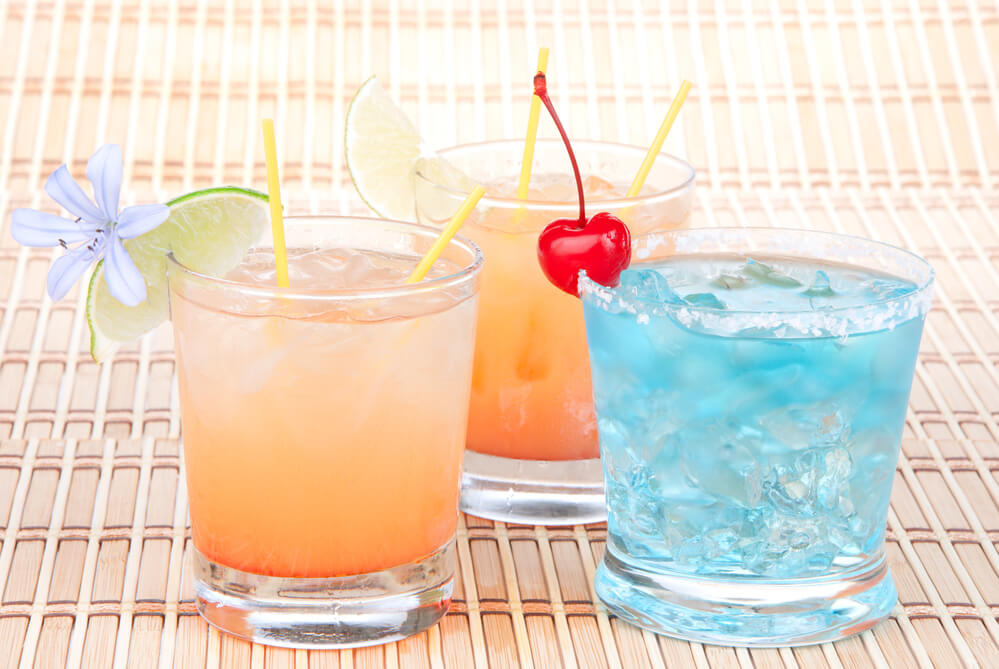 There are also dance clubs like The District. Hit the dance floor or book one of their private karaoke lounges. They also host live music performers and dance classes!
Eat the Streets
If you're in downtown Honolulu at night on the last Friday of the month, check out Eat the Streets. This is a large outdoor event in Kakaako Waterfront Park held from 4 to 9 PM where you can find almost 50 different food vendors and food trucks.
But Eat the Streets has more than just food. It's a great thing to do in Honolulu, Hawaii at night with the whole family. There's live music, craft vendors, and children's activities like balloon animals and face painting. Check their Instagram for the latest updates.
Experience a Night Dive
For experienced divers looking for things to do in Honolulu at night, consider a night dive! Enjoy this unique excursion with Reef Pirates Diving in east Honolulu. They take you to 2 different sites with snacks and drinks between dives. Try a new way to see the underwater world when nocturnal sea life comes out to play!
Go on a Ghost Tour
If you're looking for spooky Honolulu things to do at night, you can join a haunted tour. The group meets at King Kamehameha Statue in downtown Honolulu. You'll learn about the long indigenous history and many cultures of the island. There are many ghost stories and testimonies of seeing Queen Kapiolani in Honolulu!
You can purchase tickets for the 90-minute walking tour on the Honolulu Haunts website. Children and strollers are allowed to attend, but keep in mind that there is a fear factor to this tour.
Ride a Segway through Honolulu
If a walking tour sounds boring, take a sunset Segway tour of Ala Moana Beach Park and Magic Island! This 2-hour tour takes you to several key locations where you'll learn about the history of Honolulu.
Segways might be fun when you're looking for things to do at night in Honolulu, Hawaii with older children. Kids ages 10 and up can operate a Segway if accompanied by a capable adult. You meet at the tour's Kakaako Tour Center to choose your helmet and receive a Segway driving lesson beforehand.
Waikiki Things to Do at Night
Waikiki Nightlife
When you're looking for places to go in Waikiki at night after the kids are in bed, consider Tiki's Grill. Located in the Aston Hotel, this tiki bar and grill is beachside with live music every night starting at 4 PM.
If you prefer karaoke, Wang Chung's is one of the most popular Waikiki night activities. Located inside the Hyatt Regency, you can enjoy fun cocktails and kitschy Asian-themed décor.
Blue Note Hawaii
Blue Note is Oahu's only live performance venue. When you're looking for fun things to do in Waikiki at night, consider coming here for a music concert or comedy show!
Most nights during the week you'll find something going on here. From Air Supply and the Harlem Gospel Choir to Marlon Wayans, they've all been in the lineup!
Shop at Duke's Marketplace
Years ago, people loved shopping for souvenirs at the little shops at the International Marketplace in Waikiki. However, that turned into a high-end shopping mall.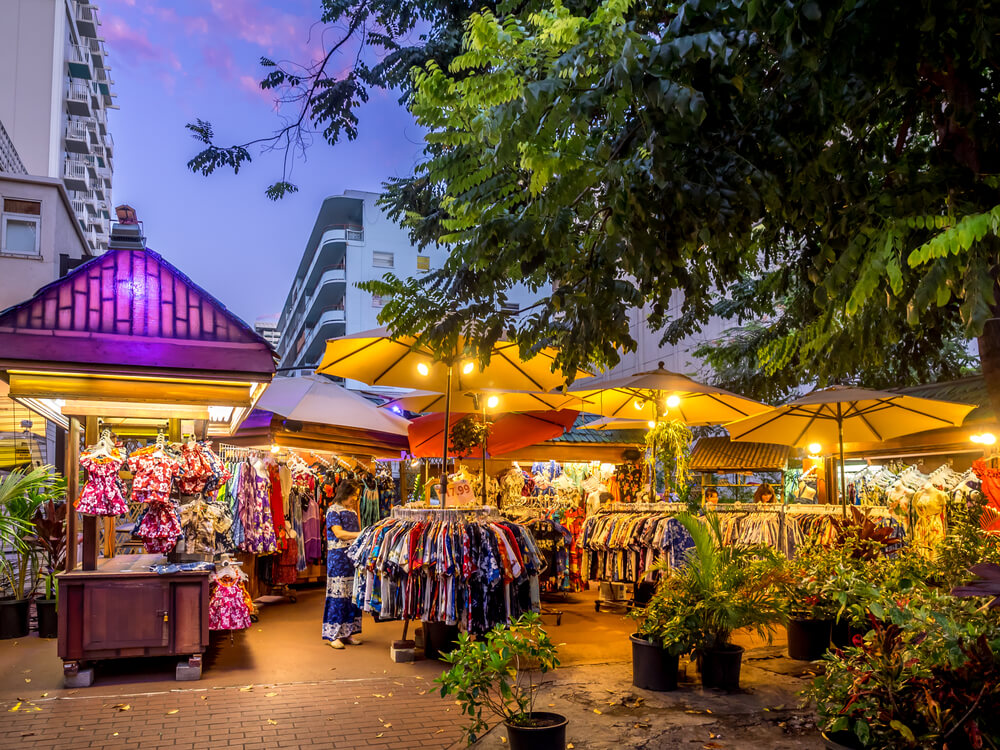 Thankfully, the little souvenir stands found a new home at Duke's Marketplace. It's a fun place to find Aloha shirts and other items to remember your time in Hawaii.
House Without a Key
Nowhere beats House without a Key if you're looking for romantic places to go in Honolulu at night.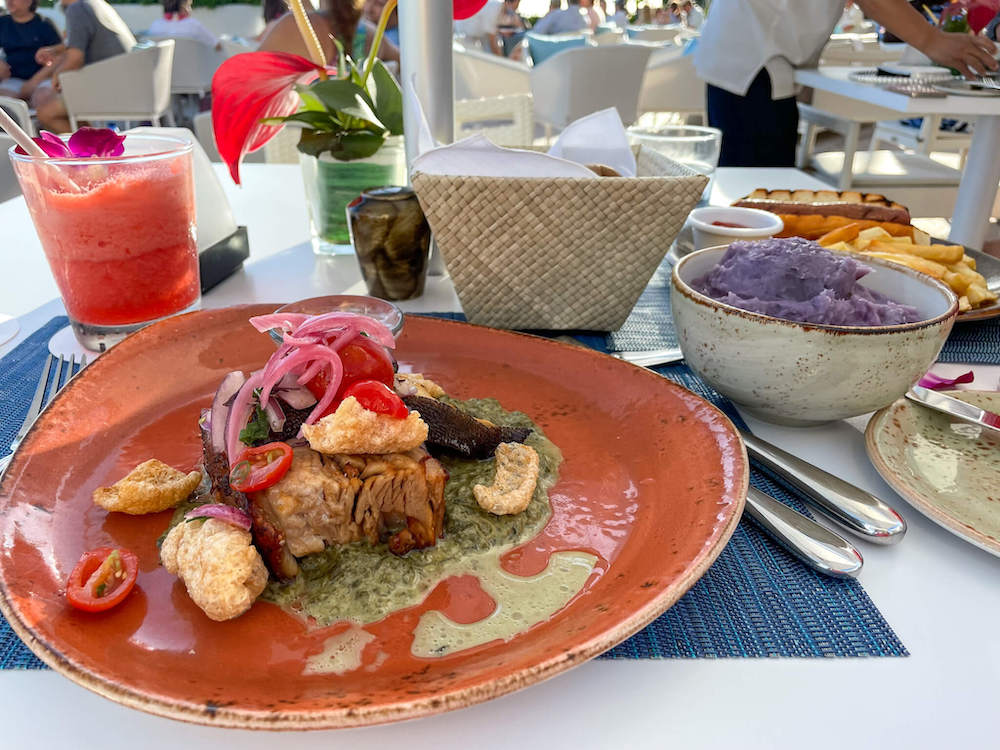 Sip of cocktails and enjoy appetizers while you enjoy live music and traditional Hawaiian dancing with sunset views of Diamond head.
Go on a Photo Tour
I think one of the best things to do in Waikiki at night is a full moon photo tour! This unique guided tour is a safe way to explore the island after dark.
Check Oahu Photography Tours' calendar for their bi-monthly tours that last about 4-hours. You'll walk to a few different locations and learn special techniques to capture pictures of the moon over the sand, rocks, and the water.
Attend a Luau
When it comes to family-friendly things to do in Oahu at night, a luau is a Hawaiian experience you need to have! I have a whole list of kid-friendly luaus on Oahu.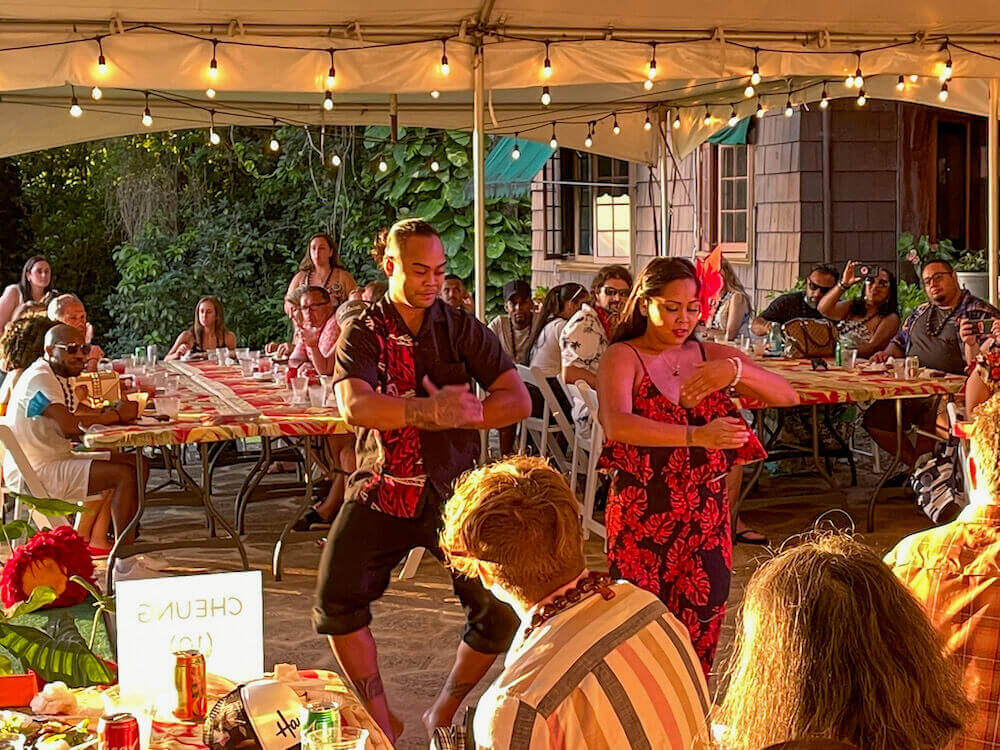 My two absolute favorite Oahu luaus are Toa Luau up in North Shore Oahu and Experience Nutridge Luau in Honolulu. Both of these are small, intimate events with tons of hands-on activities and lots of delicious food.
Honolulu Zoo at Night
One of the most popular Waikiki evening activities for families is the Honolulu Zoo Twilight Tour. Join a small group to tour the zoo, learning about nocturnal animals at the zoo that people usually don't see!
You'll also get to observe the end-of-the-day routine for animals who are settling down for the night. The tour takes about 2-hours.
Do Yoga at Sunset
If sunset yoga overlooking the water sounds heavenly to you, check out Sunset Yoga Waikiki. They're located at Kapiolani Beach Park, hosting group yoga sessions every day at sunset.
You can book a spot for you and your little yogi if they're 8 years and older. The Vinyasa flow session is about 75 minutes long and perfect for beginners.
Walk Waikiki at Night
One of the best things to do in Oahu at night for free is to walk through Waikiki. After the sun sets, Kalakaua Avenue stays well-lit and lively! It's only about a mile long from end to end. You can also walk down to Waikiki Beach and enjoy the calm sounds of the surf while you spend time with your family. Bedtime can wait!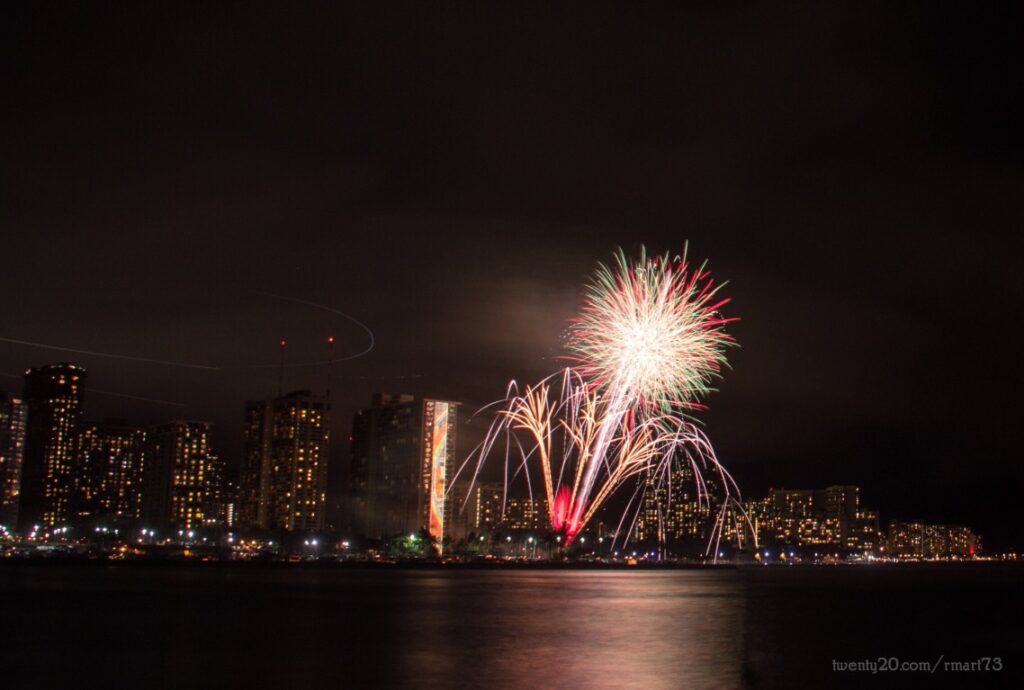 One of the most popular free things to do in Waikiki Beach at night is to watch the fireworks hosted by the Hilton Hawaiian Village. The Hilton sells tickets to watch from the hotel. You can also just walk to the beach in front of the hotel and it won't cost you a penny. The fireworks go off every Friday starting at 7:45 and last for about 10 minutes.
Go for a Nighttime Swim
One of the best free things to do in Honolulu at night is to go for a nighttime swim at your resort or hotel pool. Most resort pools stay open after dark for guests only. Hotel pools stay well-lit and are conveniently located near your rooms. A swim under the stars before bed is a great way to spend a night in Oahu.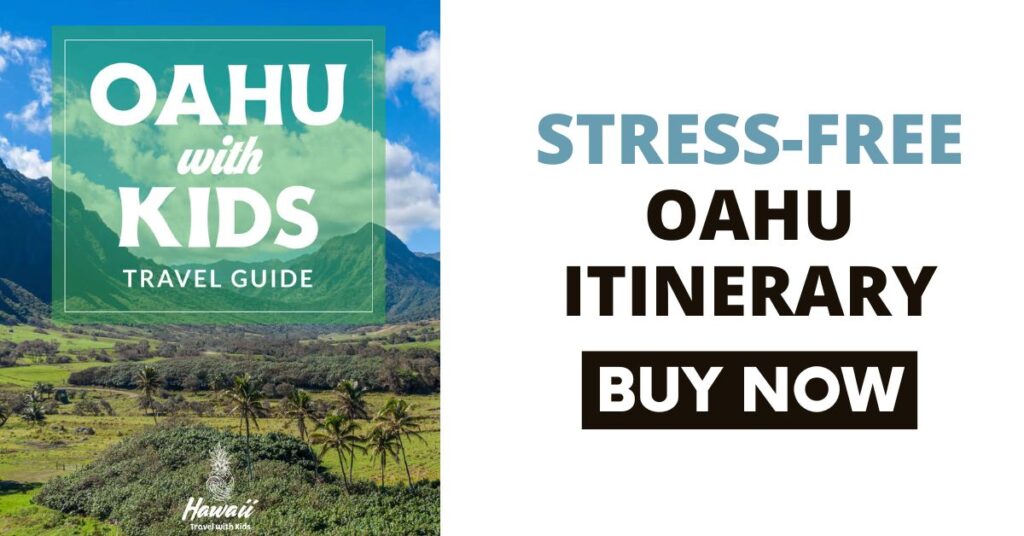 Enjoy Oahu After the Sun Sets
When it comes to finding things to do in Oahu at night, I've given you all kinds of options. Use a local babysitting service and go out on the town with your partner or let the kids stay up late on a nighttime adventure.
Whether you're into nightlife or an outdoor excursion after dark, you'll find it in Oahu.