Are you looking for where to stay in Waikiki with kids? Keep scrolling for my honest Hilton Hawaiian Village review so you can decide if it's one of the best hotels in Waikiki for families for your upcoming Oahu vacation.
This Hilton Hawaiian Village review contains affiliate links which means if you purchase something from one of my affiliate links, I may earn a small commission that goes back into maintaining this blog.
Are you looking for a great hotel in Waikiki for kids?
Hawaii Travel With Kids is here to help! We've got tons of great tips and advice on how to plan the best trip to Hawaii. Our family recently stayed at the Hilton Hawaiian Village, one of the top hotels in Oahu.
Keep scrolling to read our full review and find out why we loved it so much!
You'll love this hotel just as much as we did! It has everything you need for a family vacation including an amazing pool area, tons of shops and restaurants, an on-site luau, and tons of kid-friendly activities.
If you want to learn more about what makes this resort such a great place for families traveling together then keep reading below! We can tell you all about it because we were there ourselves not too long ago.
The staff was friendly and helpful from start to finish (they even helped us move to a better room in the Rainbow Tower a few hours after we checked in).
And they had plenty of things to keep our kids entertained throughout our stay like free movies under the stars and hula lessons in the garden.
There are also lots of fun activities right outside your door if you want something more adventurous like surfing lessons or snorkeling trips off Waikiki Beach.
This is definitely one spot where everyone will have a blast no matter their age.
Scroll down to read our honest Hilton Hawaiian Village review and see why we think it's one of the top beachfront hotels in Waikiki.
Don't have time to read a bunch of Hawaii blog posts and reviews? Here are some of our top picks for visiting Oahu with kids.
Best Kid-Friendly Oahu Tours/Activities
Best Kid-Friendly Oahu Resorts
Want to skip all the planning and just access my detailed Oahu Itinerary complete with daily schedules, kid-friendly activities, and travel hacks? Click the button below.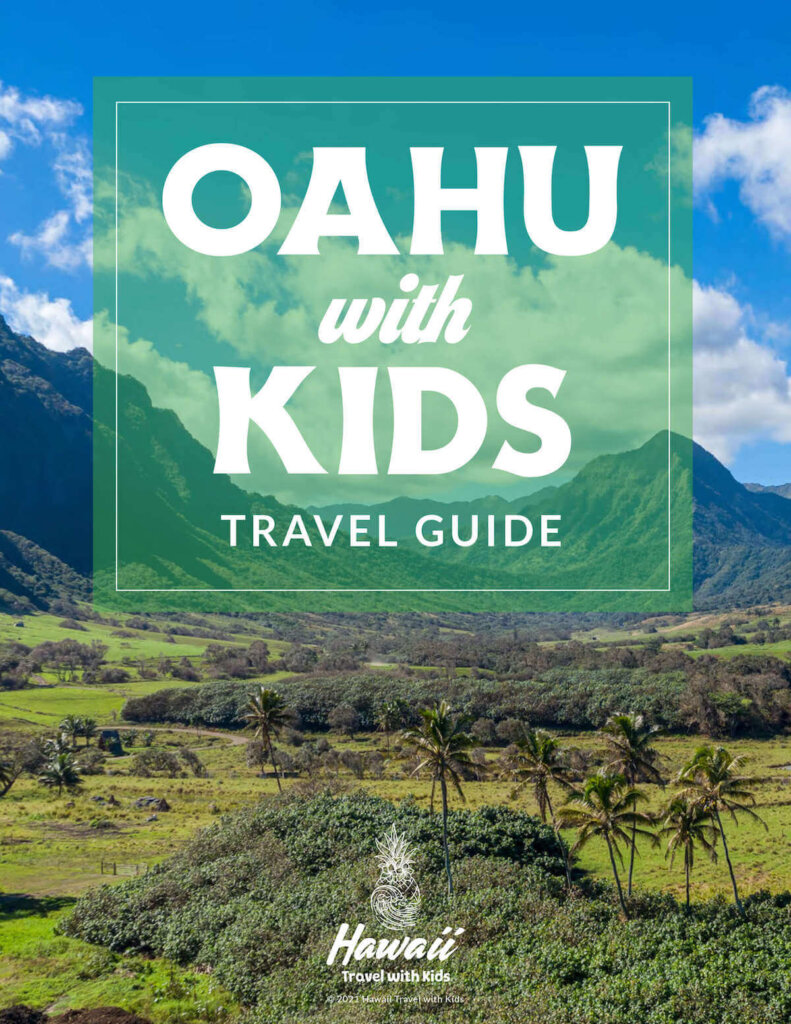 Best Waikiki Hotels FAQs
What's there to do at Hilton Hawaiian Village?
There are plenty of things to do at the Hilton Hawaiian Village on Oahu. They have a lot of restaurants and shops, an on-site luau, the Waikiki Atlantis Submarine, a private lagoon, water bikes, kayaks, hula lessons, and even Friday night fireworks!
Is Hilton Hawaiian Village all inclusive?
No, the Hilton Hawaiian Village is not an all inclusive resort. It's a resort in Waikiki where you'll need to pay for your own food and activities.
What time are the fireworks at Hilton Hawaiian Village?
The Hilton Hawaiian Village Friday night fireworks start at 7:45 p.m. It's a good idea to get a spot by the pool or the lawn by at least 7:30 p.m. as it can get crowded.
Does Hilton Hawaiian Village offer a Kamaaina discount?
YES! Sometimes it is a lower room rate, getting the resort fee waived, or a discount on activities. You'll want to check the website for their most current Hilton Hawaiian Village Kamaaina discounts.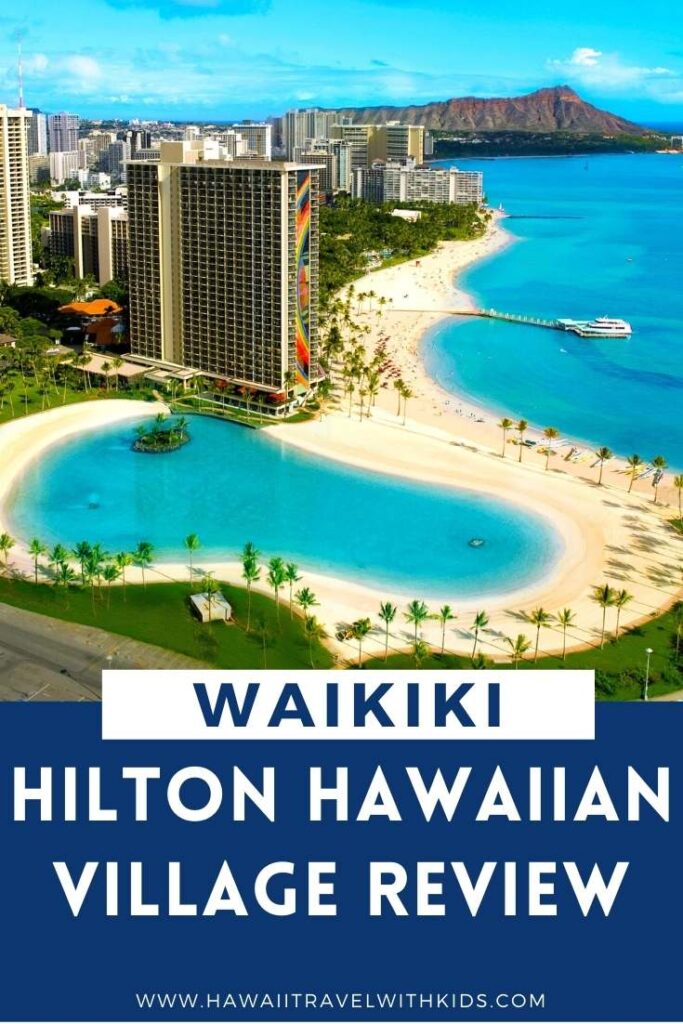 Where is the Hilton Hawaiian Village Resort?
The Hilton Hawaiian Village is located on the West end of Waikiki on the Island of Oahu. It's about 30 minutes from the Honolulu Airport (without traffic). The address is 2005 Kalia Road, Honolulu, Hawaii, 96815.
You'll need to either book your own taxi or shuttle from the airport or rent a car.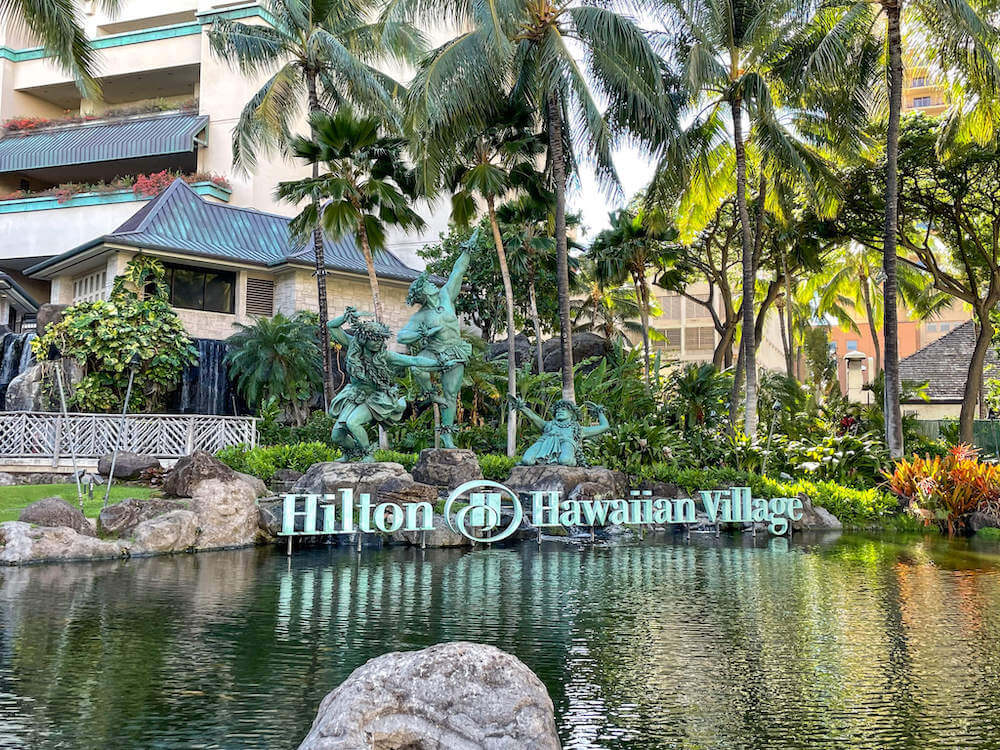 Because of its location, we think the Hilton Hawaiian Village is one of the best areas to stay on Oahu for families.
Does Hilton Hawaiian Village have an airport shuttle?
No, there isn't a Hilton Hawaiian Village airport shuttle. However, they have partnered with Charley's Taxi as well as SpeediShuttle for some discounted rates. You can read more about that HERE.
Honest Hilton Hawaiian Village Hotel Review
Before I dive into our review of the Hilton Hawaiian Village, I thought I should mention that when we first checked in, we had a room in the Diamond Head Tower. The set up felt a little funky to us (there was a large living room space in the entry way and then an almost closed off bedroom space next to the lanai.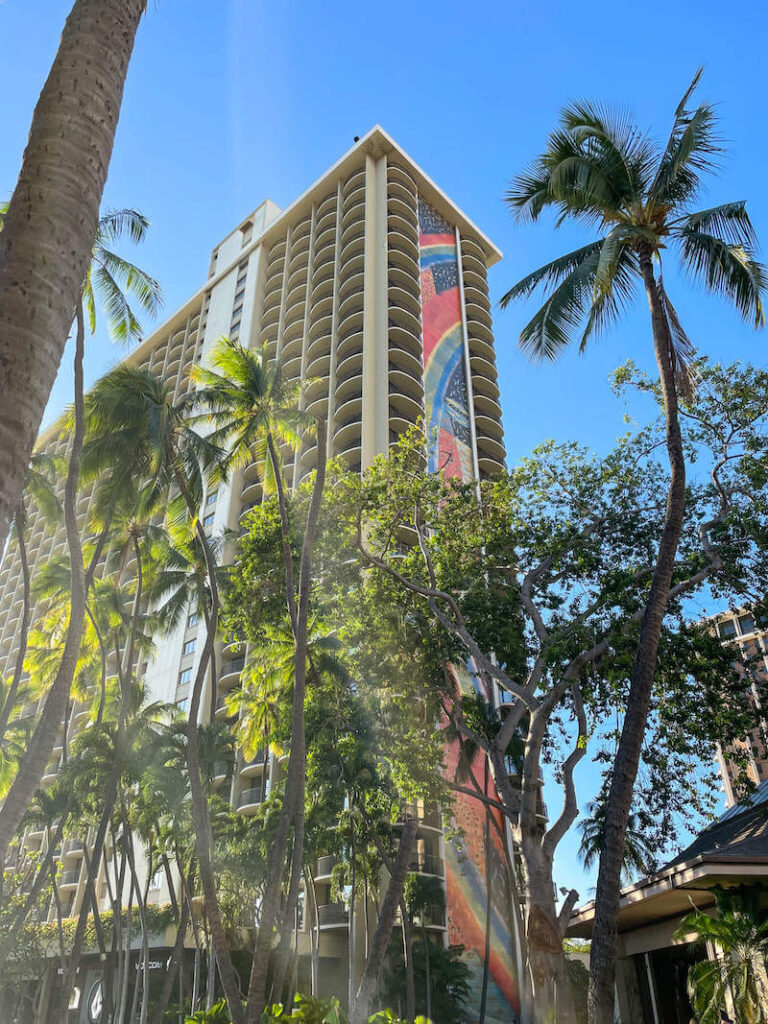 So, we stopped by the front desk and asked if we could upgrade to a room in the Rainbow Tower. It's known for being the best tower at the Hilton Hawaiian Village. Thankfully, they had a room available so we switched over and it was AMAZING!
What was our room like?
We really liked the room set up! In the entryway, we had a little nook that had a large closet, coffee stuff, and the mini fridge.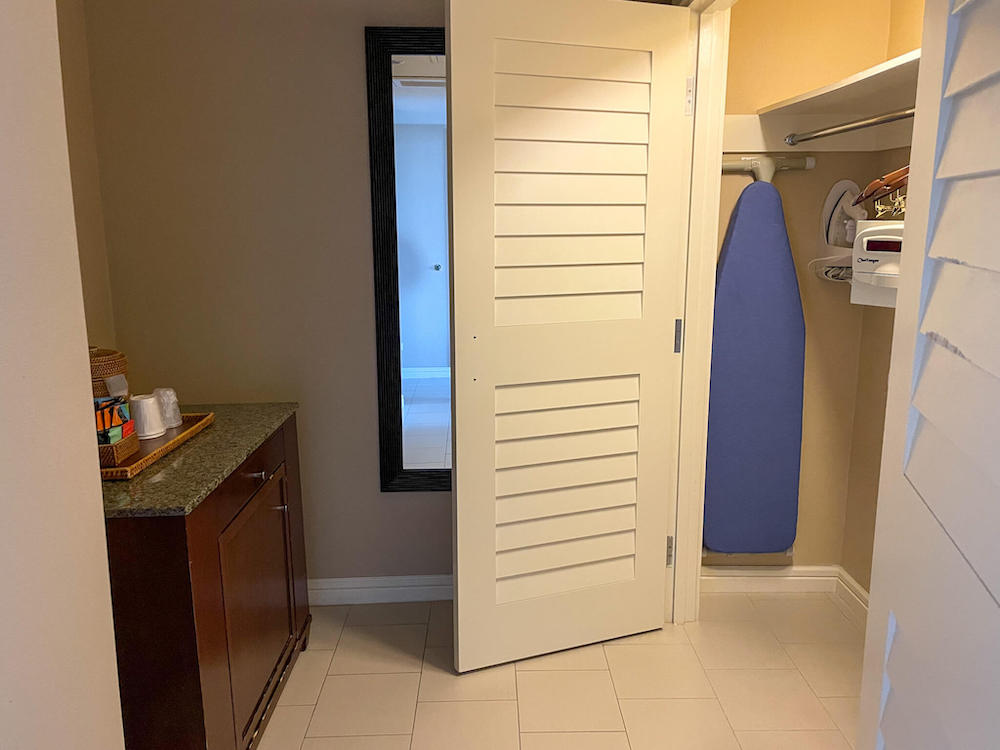 Then it opened up to the main room that had two full-size beds, a pull-out couch, a desk area and a little sitting area. Check out the latest rates and room set ups.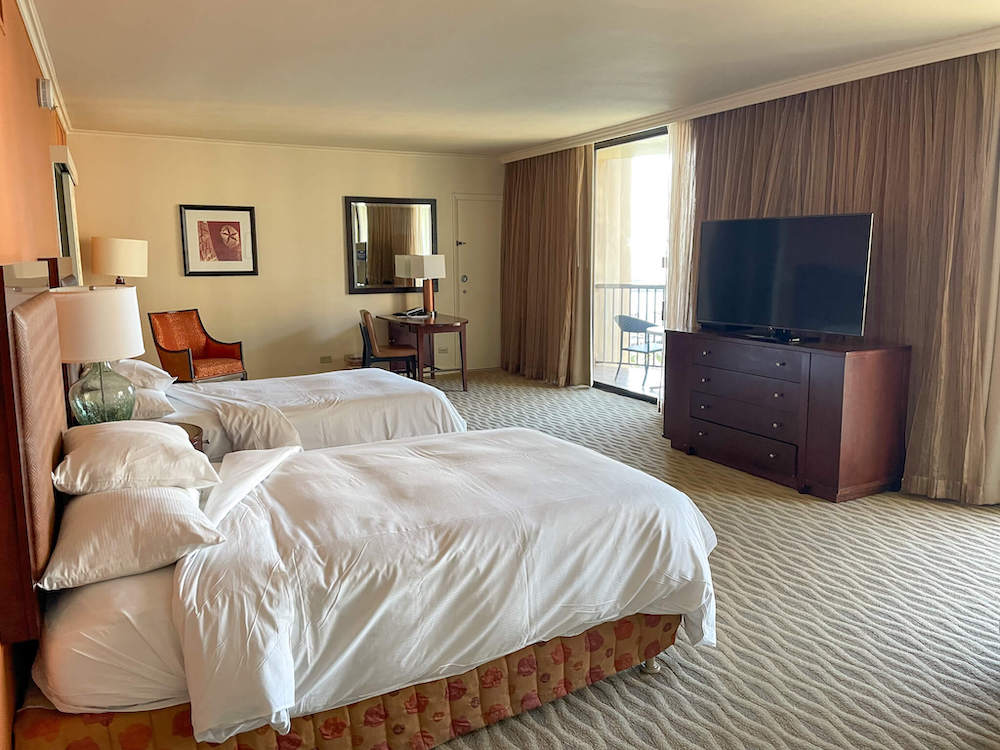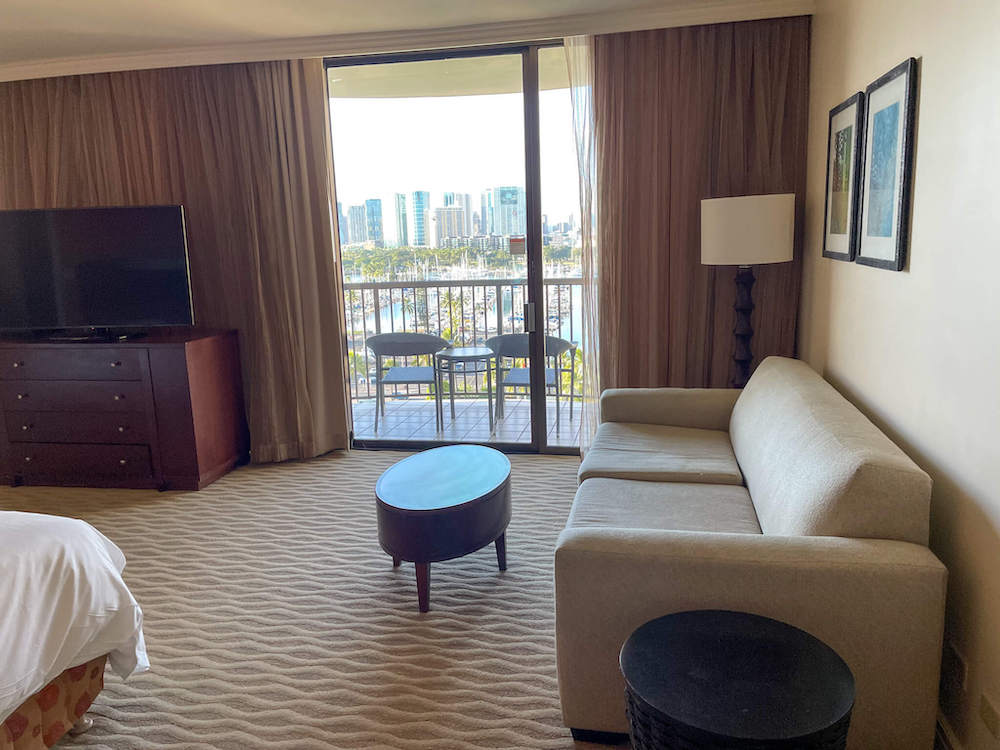 We also had a really spacious bathroom with a bathtub and a shower stall. And the toilet area was separate.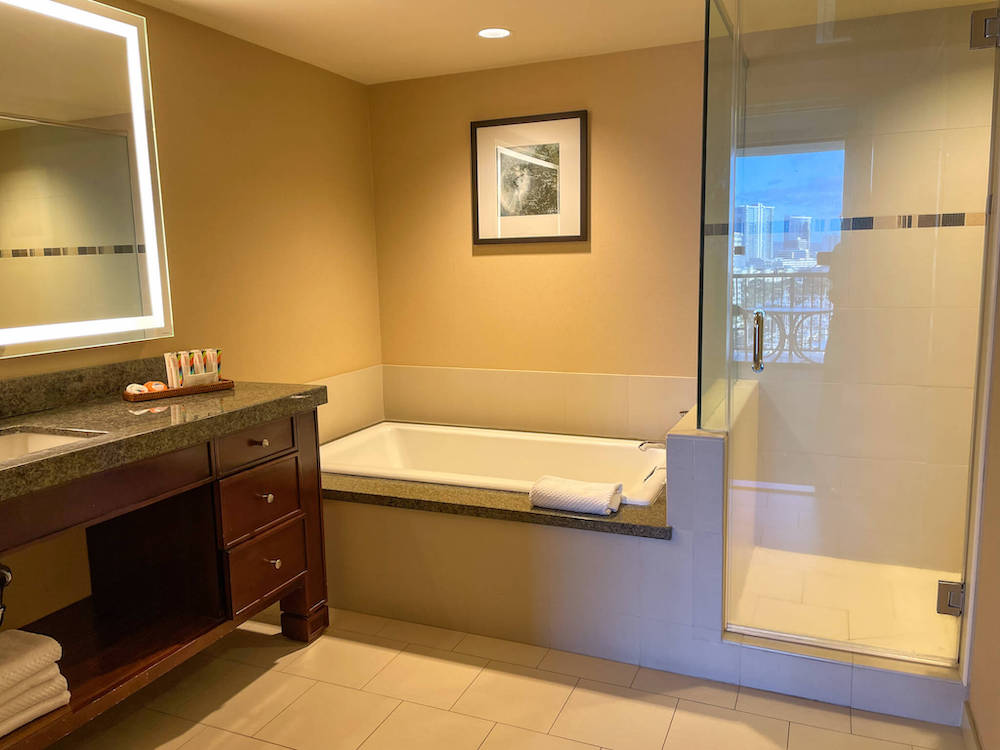 But I think our favorite part of our Hilton Hawaiian Village room was the lanai. In fact, we had two lanais!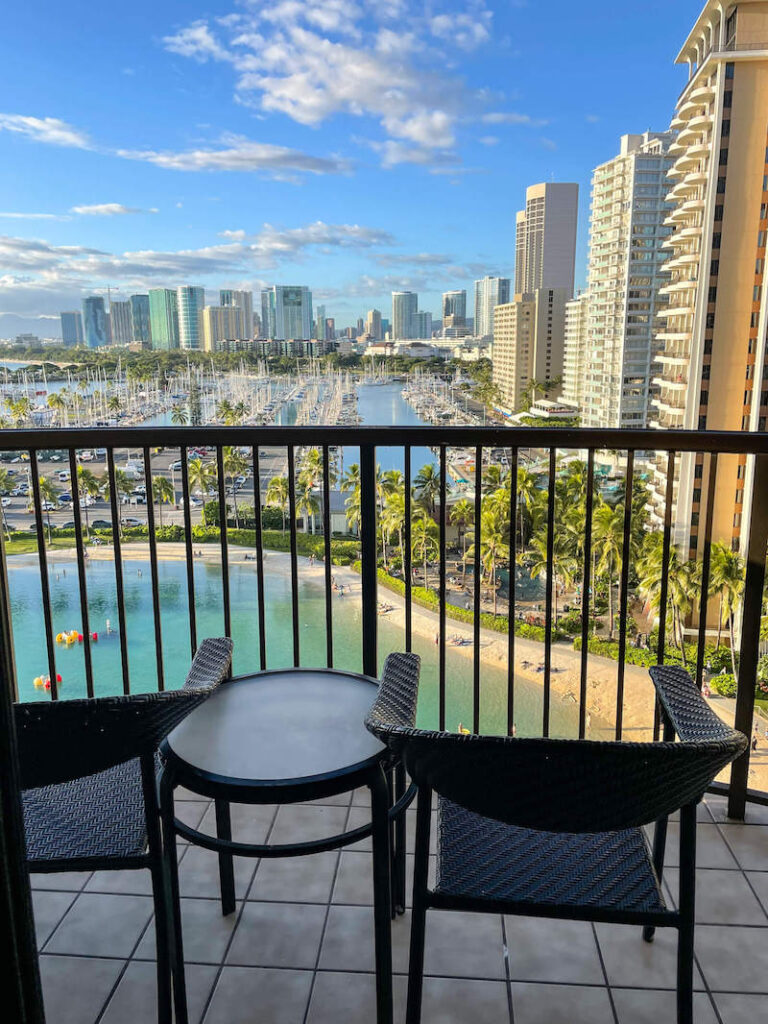 The view was incredible! We were on the 14th floor and could see the entire lagoon area, the beach, the marina, plus the lawn where they do the luau.
What did we think of the dining options?
The Hilton Hawaiian Village has an impressive array of restaurants. That's because there's a little shopping center on the property called the Rainbow Bazaar. I'll briefly talk about where to eat at the Hilton Hawaiian Village below.
Wiki Wiki Market
This is an easy grab and go place. My kids got hot dogs and shave ice here after playing hard in the lagoon area.
Starbucks
There are actually a few Starbucks located on property. This is obviously a popular spot and the lines can get really long in the morning. It's a great place to pick up Starbucks Hawaii souvenirs.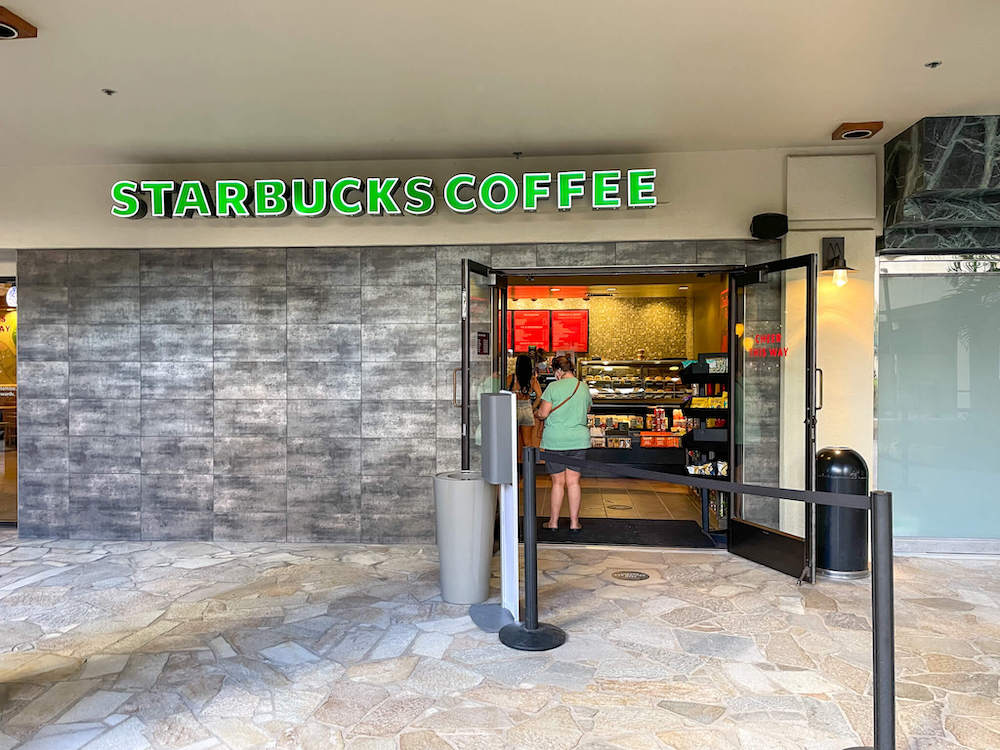 The photo above shows what it looks like in the afternoon. In the morning, it can take up to 30 minutes to get coffee. I ended up going there at 6am most mornings and still waited about 10 minutes.
Tropics Bar & Grill
We didn't have a chance to eat here but we walked past it several times. It's a Waikiki beachfront restaurant with a lot of American food and local favorites.
Aloha Bowls & Tea
This is a great place for bubble tea and fruit smoothies. We all ordered drinks here and they were super flavorful and hit the spot on a hot day.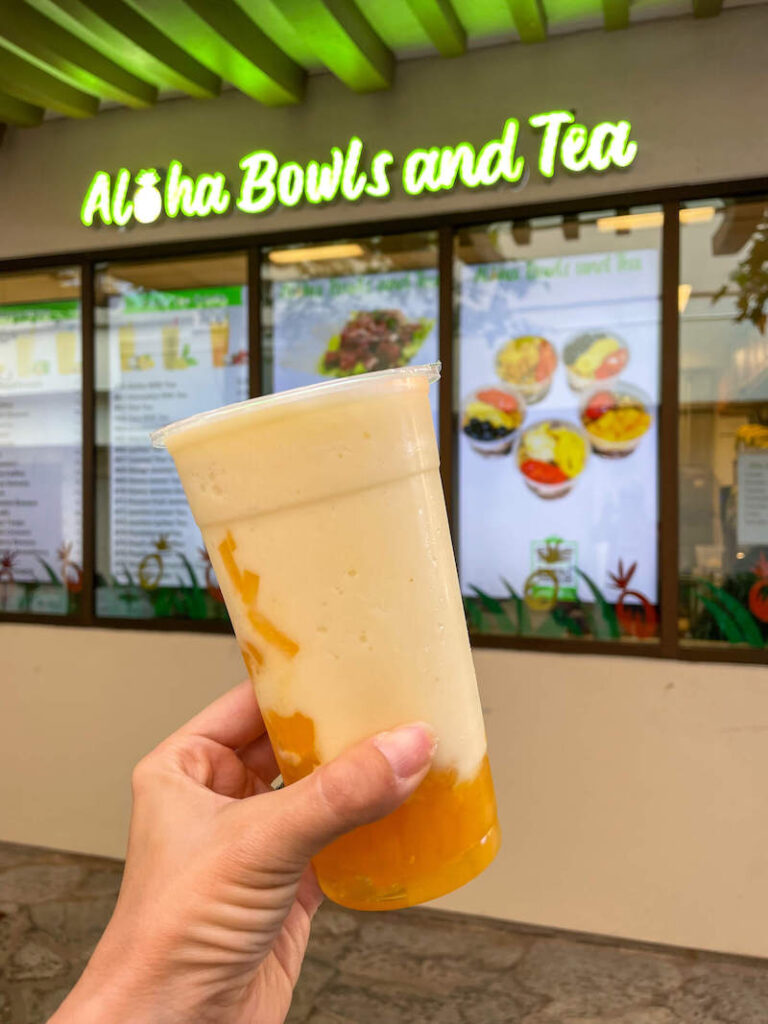 They also had other snack items to order. This is an easy place to feed kids while taking a break from the pool. It's a great place for cheap eats in Waikiki.
Hau Tree Bar & Cantina
This is a poolside bar near the main pool by the beach. It's great for enjoying lunch or drinks by the pool.
CJ's New York Style Delicatessen
If you're in the mood for a New York deli sandwich, this is a great place to stop. Plus, they have a really impressive kids menu with stuff they'll actually eat.
Blue Water Shrimp & Seafood
If you're looking for an easy place to get Hawaiian shrimp (without going to the North Shore), this is definitely worth a stop.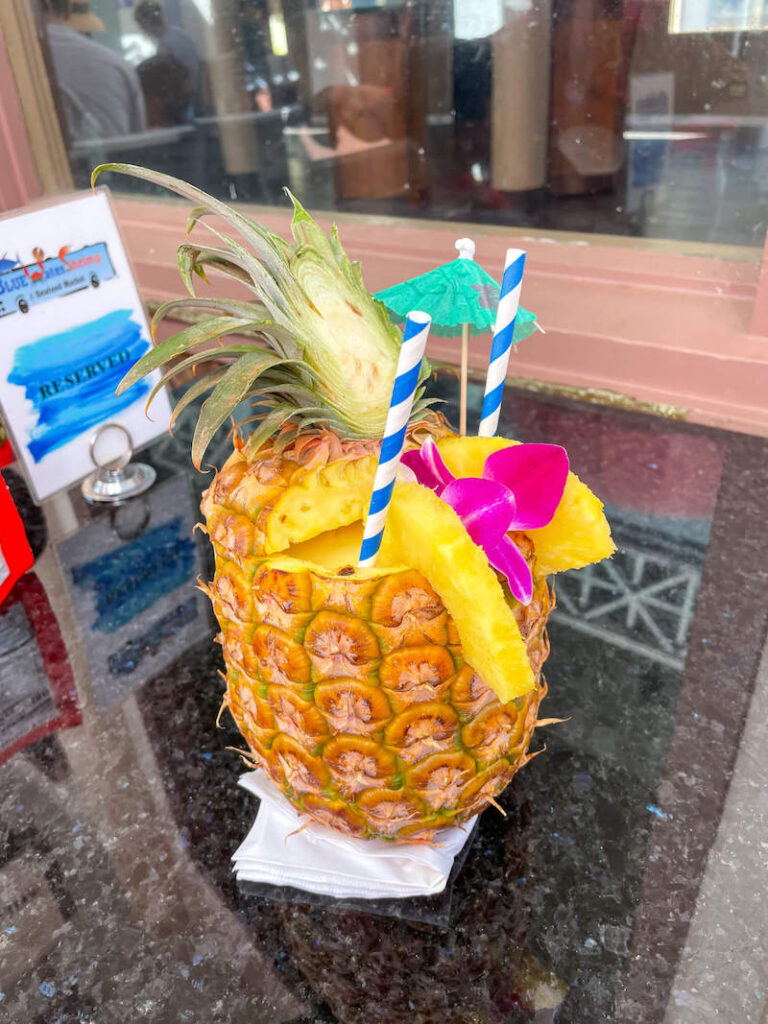 While the food here is pretty tasty, the real reason you'll want to stop by is for their pineapple smoothies in a real pineapple. They were $14 when we were there and they are a HIT with kids.
Fresco Italian
This is a slightly upscale Italian restaurant. It's a great choice if you're craving nice pasta dishes.
Hatsuhana
We actually ate here a few years ago when we stayed at the Ilikai, which is next door to the Hilton Hawaiian Village. The food is pretty tasty and we'd recommend it.
Rocky Japanese Steak Teppan Restaurant
One of the best places to eat in Waikiki with kids is the Rocky Japanese Steak Teppan Restaurant at the Rainbow Bazaar at the Hilton Hawaiian Village.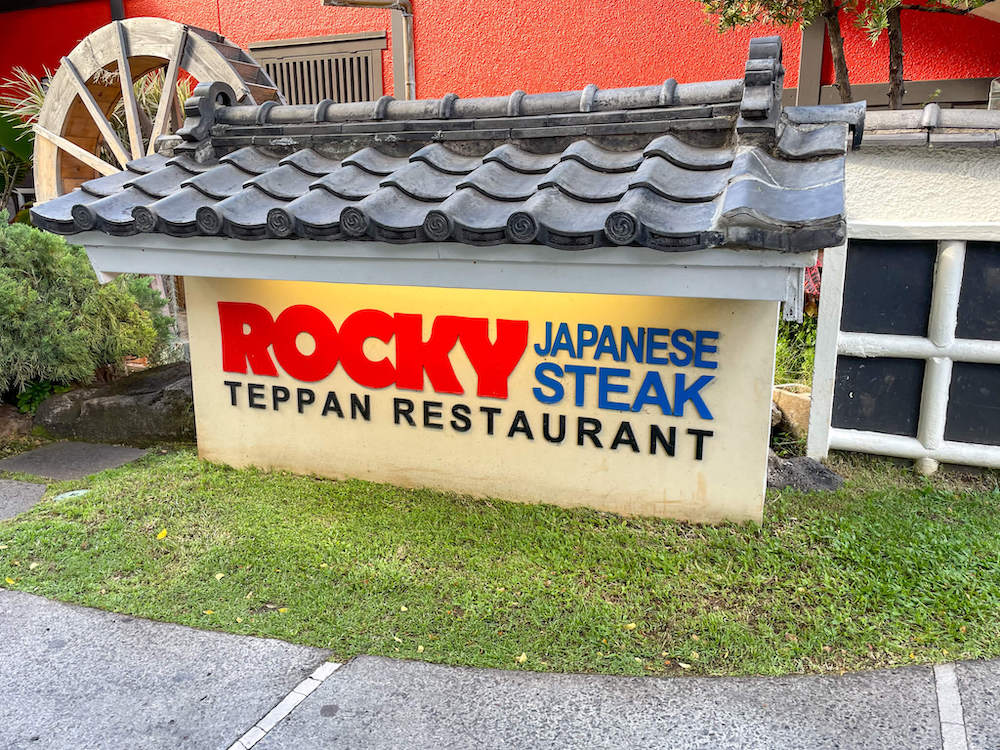 We ate here on our first night and it was a blast! It's the same owner as Benihana and it's a very similar show and food options. My kids were totally impressed and we all had fun.
Round Table Pizza
Sometimes you just need to grab pizza to make the whole family happy. This is a slam dunk. You can either eat there or take it back to your room.
DQ/Orange Julius
This is actually more like a snack shop where you can get hot dogs, smoothies, pretzels, ice cream, and more.
Lappert's Hawaii
If you want Hawaii ice cream, Lappert's is probably the most famous. I dare you to walk by and smell the deliciousness without stopping.
Island Deli
This is part of the ABC store chain and we grabbed a lot of food here! Their poke selection is pretty nice, they have tons of musubi, and we even grabbed hot loco moco a few times. They also have cold sandwiches, fruit, and other items.
Hilton Hawaiian Village Pool Area
There are actually six different pool areas at the Hilton Hawaiian Village. Some are easy to find and others are sort of hidden away. But, these are some of the best pools in Waikiki Hawaii. And they are all totally Instagrammable!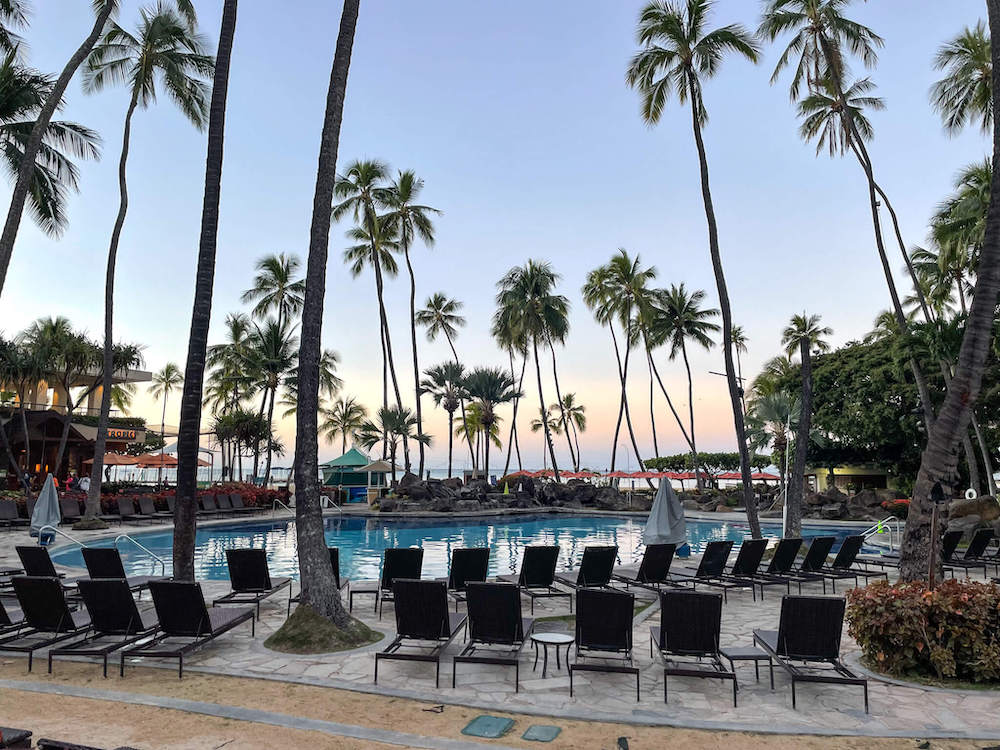 The main pool area is the Super Pool. This is a huge 10,000 square food pool that's practically on the beach. This is where the Hau Tree Cantina is located.
Right next to the Super Pool is the Keiki Pool. This is a kids pool that's pretty shallow. Unfortunately, you can't use any pool toys or floats in this pool (along with most pools at the resort).
If you're looking for a quieter pool, you'll want to check out the Tapa Pool, which is located near the lobby area between the Tapa Tower and Diamond Head Tower. There isn't a view here, but you can rent a cabana.
For people staying in the Ali'i Tower, you'll have access to the private Ali'i Pool. I didn't see this pool but I hear it has a nice sundeck.
Families will kids will definitely want to plan to hang out at the Paradise Pool. This is a 5,000 square food pool that has one of the only water slides in Waikiki.
Finally, there's an adult only pool on the 4th floor of the Kalia Tower. It's aptly named the Kalia Tower Pool.
Other features/amenities
Of course, the Hilton Hawaiian Village has a lot more than just restaurants and pools. I've listed a few more amenities to explain why this is the best hotel on Waikiki beach for families.
Beach/Lagoon
One of the things that makes the Hilton Hawaiian Village stand out from other Waikiki hotels is that it has a huge, private lagoon. Here, you can rent kayaks, water tricycles, and other water equipment for tons of of fun.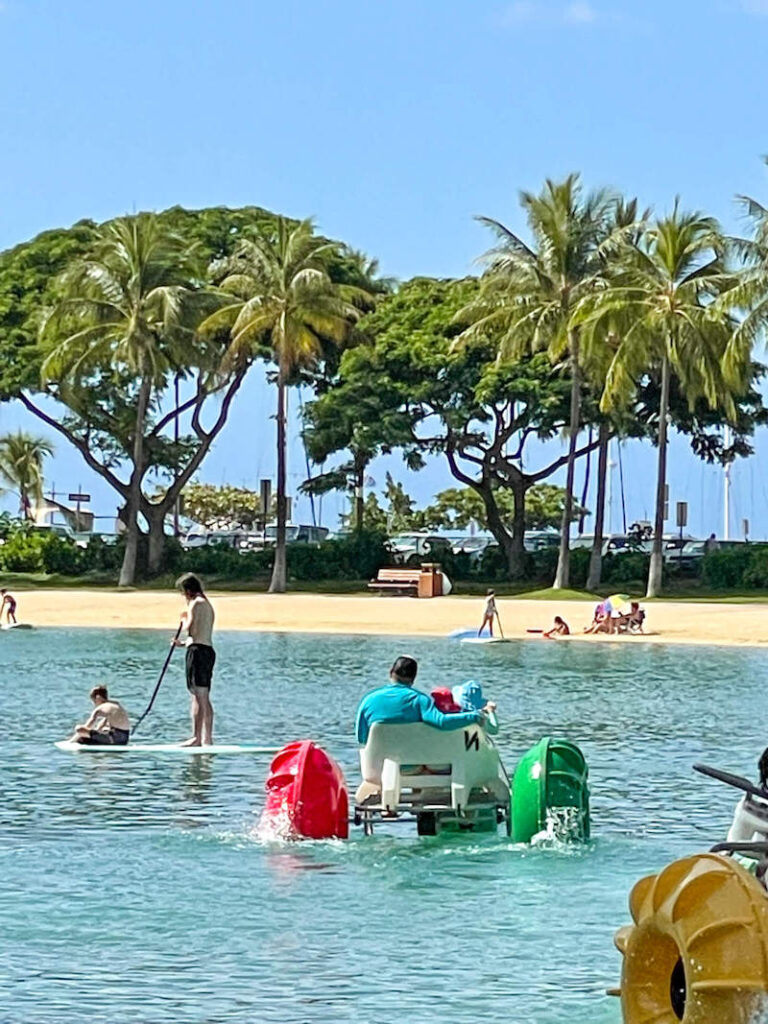 There's plenty of space to lay out towels (and there's a towel stand right there) or you can rent chairs.
If you got out a bit further, you can take advantage of the awesome beach location! This is why it's one of the best Waikiki beach hotels.
Mandara Spa
I didn't have an opportunity to check out the spa while I was there, but I went online to check out their spa menu. They offer things like facials and massages. Be prepared for steep prices.
Parking
If you're renting a car, you can either use their valet service or self-park in their parking garage.
How much is parking at Hilton Hawaiian Village?
Valet parking is $65/night for guests and self-parking is $55/night.
Waikiki Atlantis Submarine
One of the best things to do in Waikiki with kids is the Waikiki Atlantis Submarine. It departs right from the Hilton Hawaiian Village so it's really convenient for guests staying there.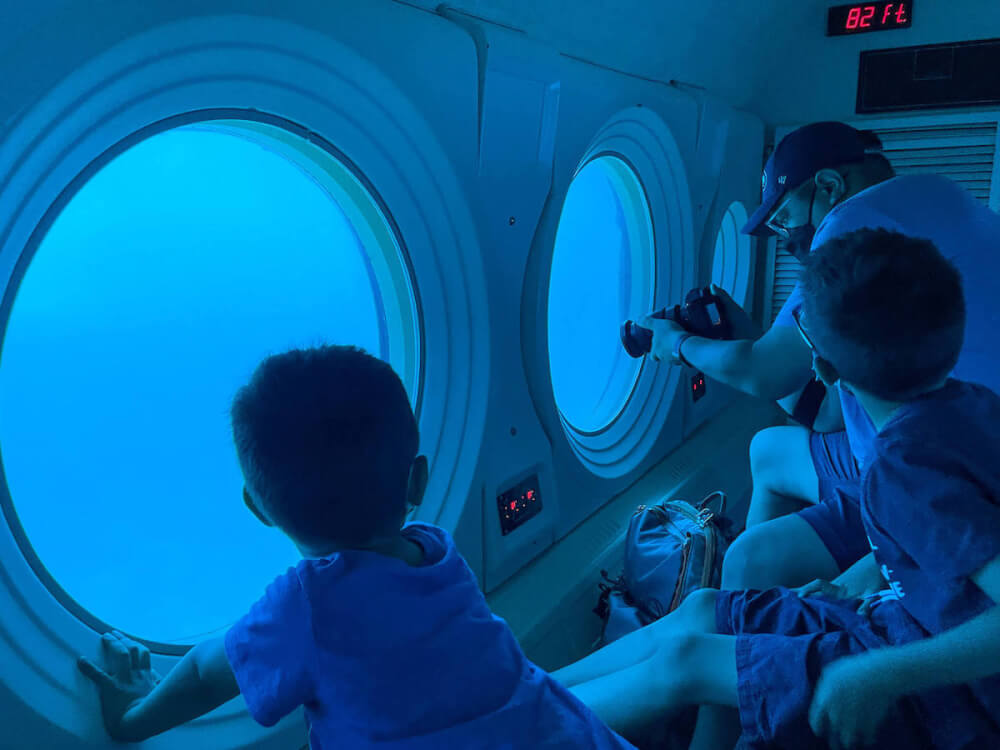 You'll get to take a 15-minute cruise along Waikiki before heading into a real submarine to see underwater creatures and other attractions. You can read my full Waikiki Atlantis Submarine review HERE.
Waikiki Starlight Luau
Another reason why the Hilton Hawaiian Village is one of the best hotels in Waikiki for families is that they have an on-site luau.
It's located right by the lagoon area, just steps away from the Rainbow Tower. The show ends earlier than other luaus, so it's a great option for families with little kids (or people suffering from jet lag).
We were actually able to see the luau grounds from our room in the Rainbow Tower but the stage is hidden away so people can't want from their lanai.
Shopping
Like I mentioned before, the Hilton Hawaiian Village is right next to the Rainbow Bazaar, which is an adorable shopping center.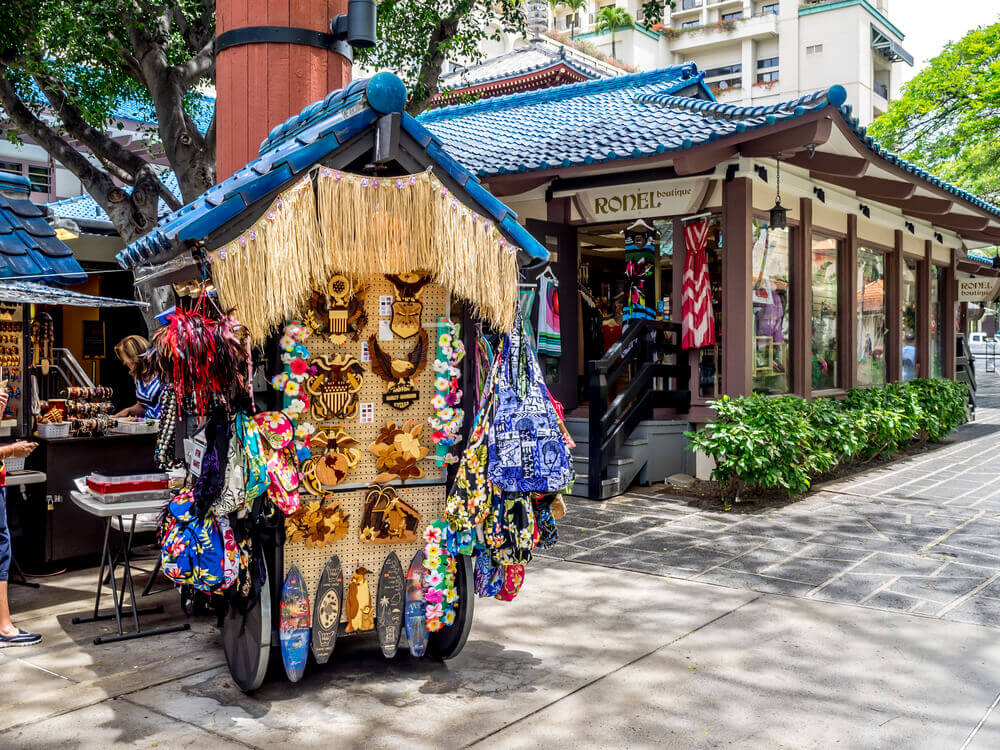 Some of our favorite places here include SoHa Living, Honolulu Cookie Company, Honolua Surf, and Tori Richard.
There are also other shops located throughout the resort like Olukai and Volcom. And there are lots of places for sundries and gift items. This is one of the best hotels in Honolulu for families who like to shop.
Waikiki Trolley
Another awesome thing to do in Waikiki if you don't rent a car is ride the Waikiki Trolley. They have a stop right at the Hilton Hawaiian Village and it's a great way to get around Waikiki with kids if you don't want to haul car seats around.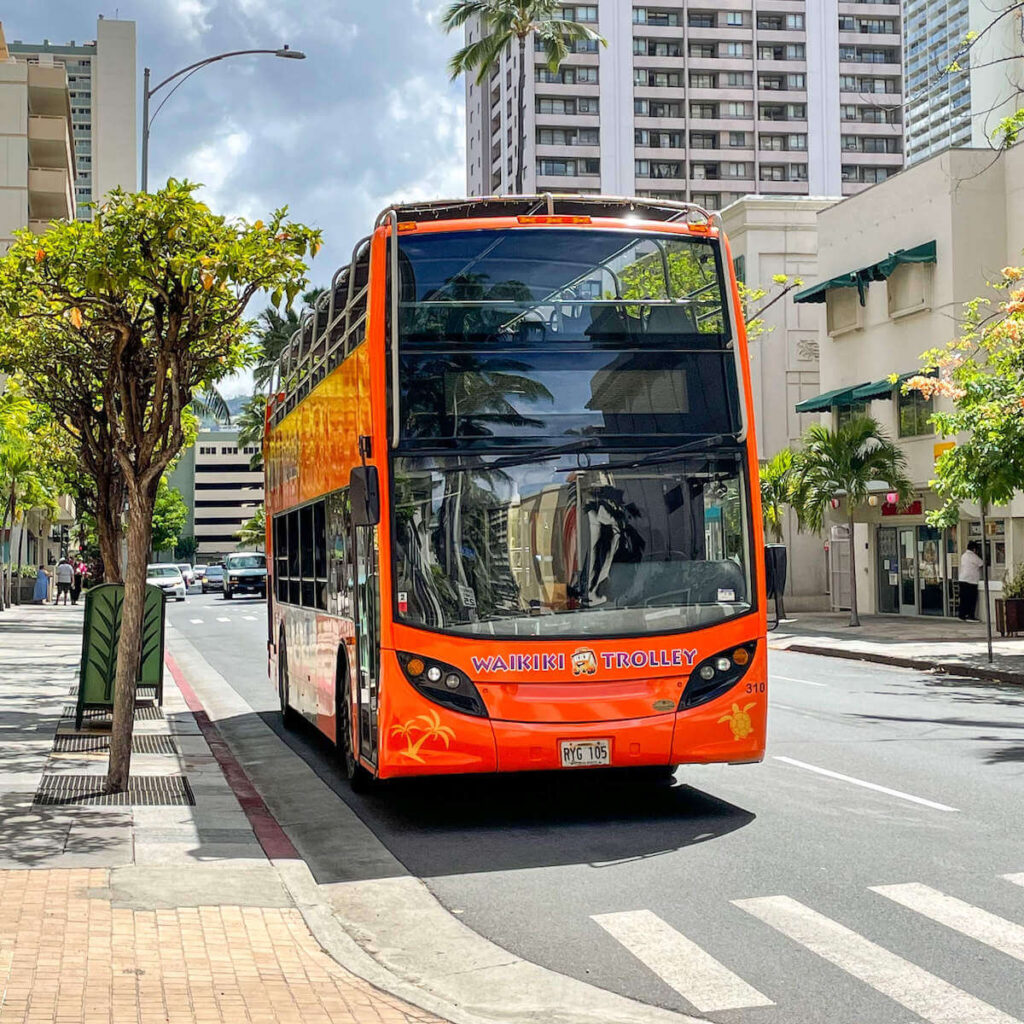 This is definitely one of the best Waikiki resorts if you aren't planning on renting a car. You can read my full Waikiki Trolley review HERE.
Are there any things we didn't like?
Honestly, I really have to get nit-picky to come up with things we didn't like.
The elevators fill up quickly so sometimes it took awhile for us to get downstairs from an upper floor. And when you're heading up, it's easy to mistype the floor you need which can result in extra stops.
The parking garage is also a decent walk from many of the towers. It's located behind the Rainbow Bazaar and requires taking the escalator or stairs to get there.
Would we recommend the Hilton Hawaiian Village?
Absolutely! In fact, as I'm writing this, I'm starting to look for deals so we can stay there again soon. Over the years, we've stayed in a lot of the best Waikiki hotels, but we were truly impressed with this kid friendly Waikiki resort.
This is one of the best Waikiki hotels on the beach and I'll definitely recommend this to my friends and family. It's the ultimate place to stay for a first trip to Hawaii, too!