Are you looking for the best Oahu resorts for teens? Keep scrolling for my honest Alohilani Resort Waikiki Beach review.
This Alohilani Resort Waikiki Beach review was written by Hawaii travel expert Marcie Cheung and contains affiliate links which means if you purchase something from one of my affiliate links, I may earn a small commission that goes back into maintaining this blog.
Are you planning a trip to Oahu with teens and looking for the best place to stay in Waikiki?
My family stayed at the Alohilani Resort in Waikiki this past summer for a multi-generational trip. It's right across the street from Waikiki Beach and just steps away from restaurants and shopping.
Keep scrolling for my honest review of this Waikiki Beach resort. You'll want to read all about our experience staying here because I'm going to share the things we loved and the things that bothered us.
If you're considering booking your next vacation here (or anywhere else in Waikiki), then keep reading this review of the Alohilani Resort. Then you can decide if it's one of the best holidays with teenagers.
Don't have time to read a bunch of Hawaii blog posts and reviews? Here are some of our top picks for visiting Oahu.
Popular Oahu Tours/Activities
Favorite Oahu Resorts/Hotels
Want to Rent a Car in Hawaii?
One of the best places to rent a car in Hawaii is Discount Hawaii Car Rental because they get the best rates from top national companies like Alamo, Dollar, Thrifty, Avis, Enterprise, Budget, and Payless.
Want to skip all the planning and just access my detailed Oahu Itinerary complete with daily schedules, kid-friendly activities, and travel hacks? Click the button below.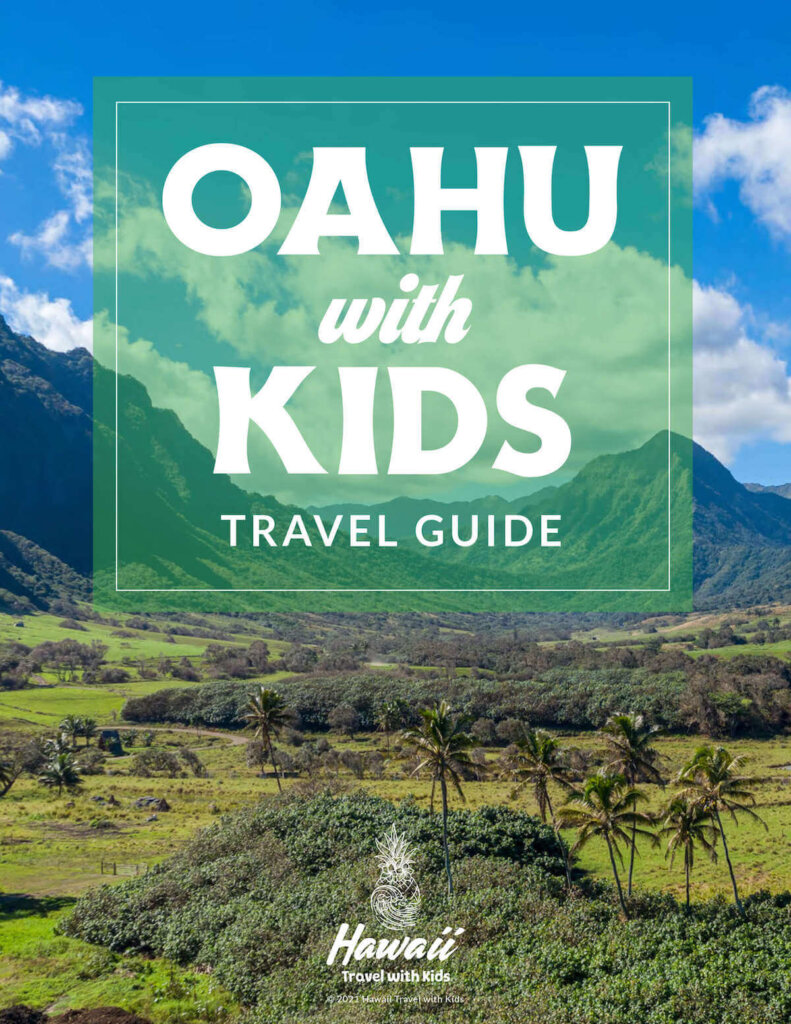 Where is the Alohilani Resort?
The Alohilani Resort is located directly across from the world-famous Kuhio Beach on the East end of the Waikiki Strip. That's the side closer to Diamond Head.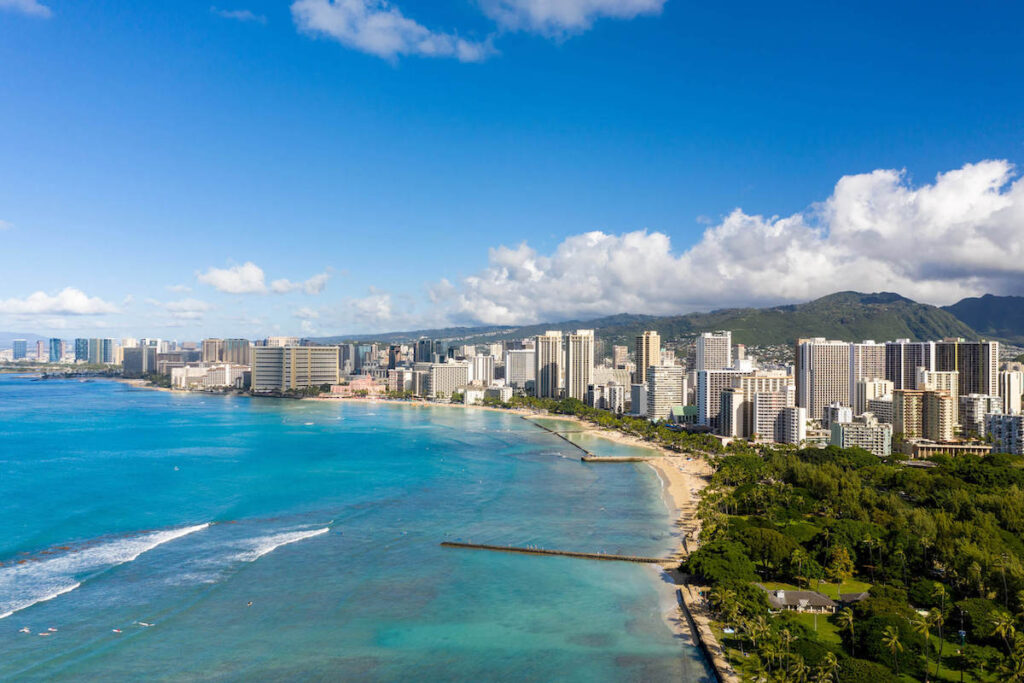 Even though it's almost on the edge of Waikiki, it's still steps away from tons of shops and restaurants. And it's just a short drive to Leonard's Bakery to get their world-famous malasadas!
Honest Alohilani Resort Waikiki Beach Review
We spent a week at the Alohilani Resort this past June. We traveled with 12 people, including our family with little kids, my teenage niece and nephews, and my in-laws and their friends. It was a true multi-gen trip.
I didn't realize it was a popular spot for graduation trips, and I was surprised at how many teens I saw throughout the hotel.
I wanted to point that out because I'm not sure if the Alohilani Resort always has such a party vibe or if it just seemed that way because of all the teens.
Also, since we were there in June 2020, we had limited maid service during our stay, and some other amenities weren't available.
Ok, let's dive in!
What was our room like?
Our room was very much a "standard" hotel room. We had 2 queen beds, a lanai, a bathroom, and a mini-fridge.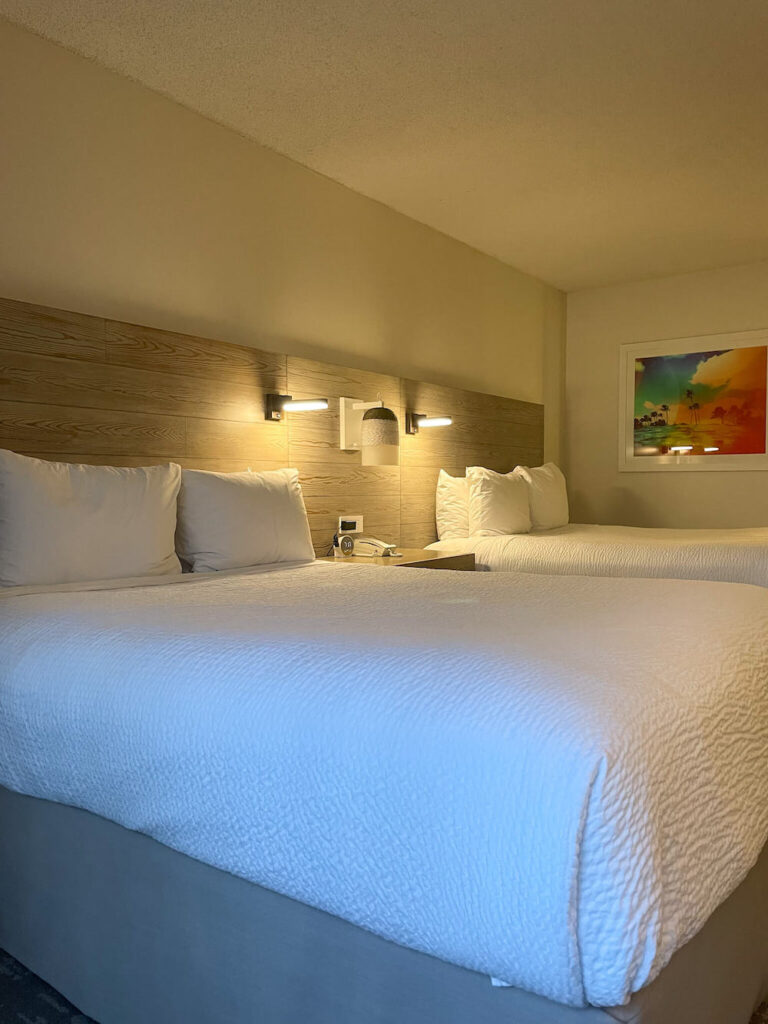 This standard room had a modern feel with minimal decorations. The bathroom was fairly spacious. It didn't have any stand-out room amenities, but we didn't have any issues with the room, either.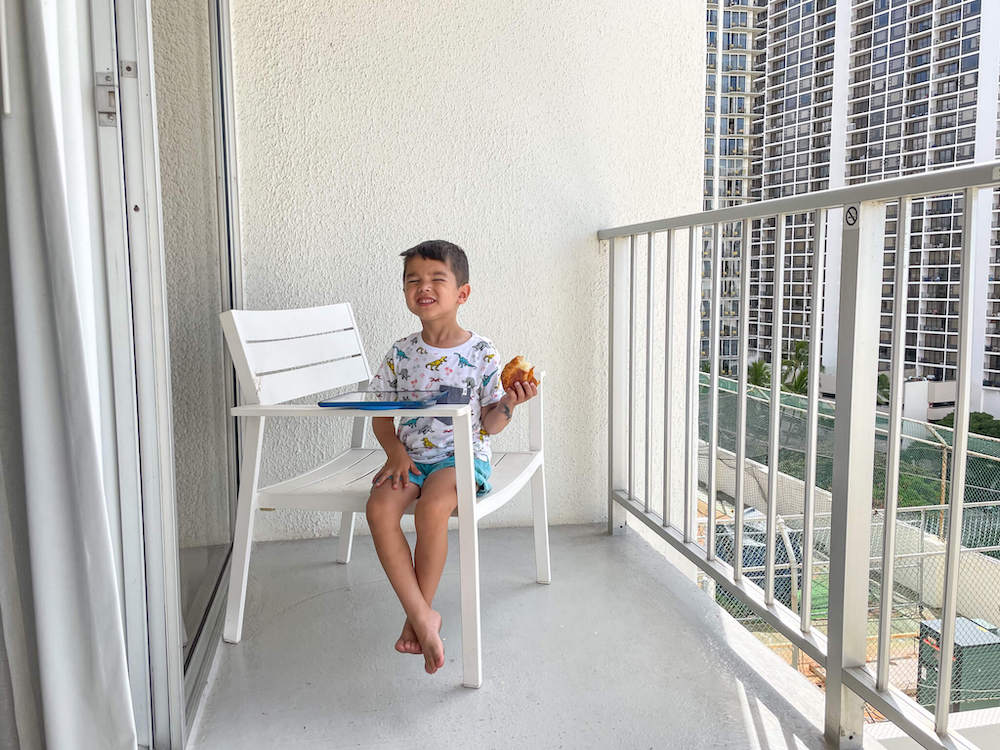 The lanai was nothing to write home about. It was really basic, with a couple of outdoor chairs and a little table. We've experienced similar lanais at other Waikiki hotels. It's very standard.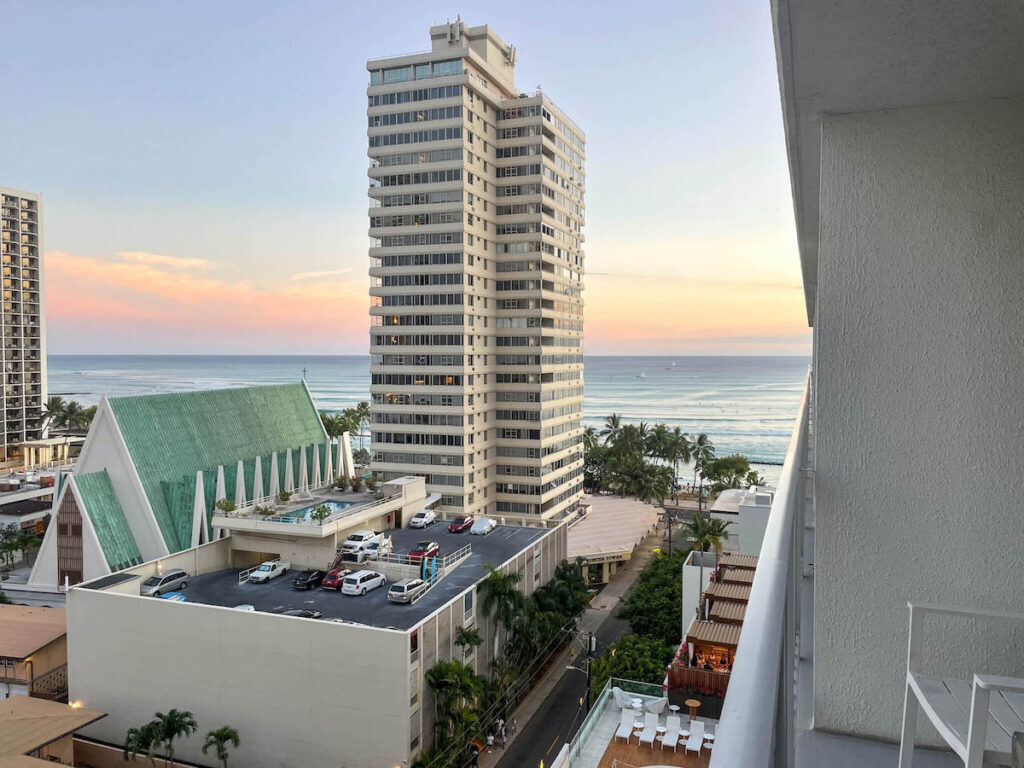 I think the best part about our room at the Alohilani Resort was the view! Our room was near the back side of the hotel, but we still got a partial ocean-view room. Plus, we could look down on the cabana area of the pool deck.
Check the latest rates and room types HERE.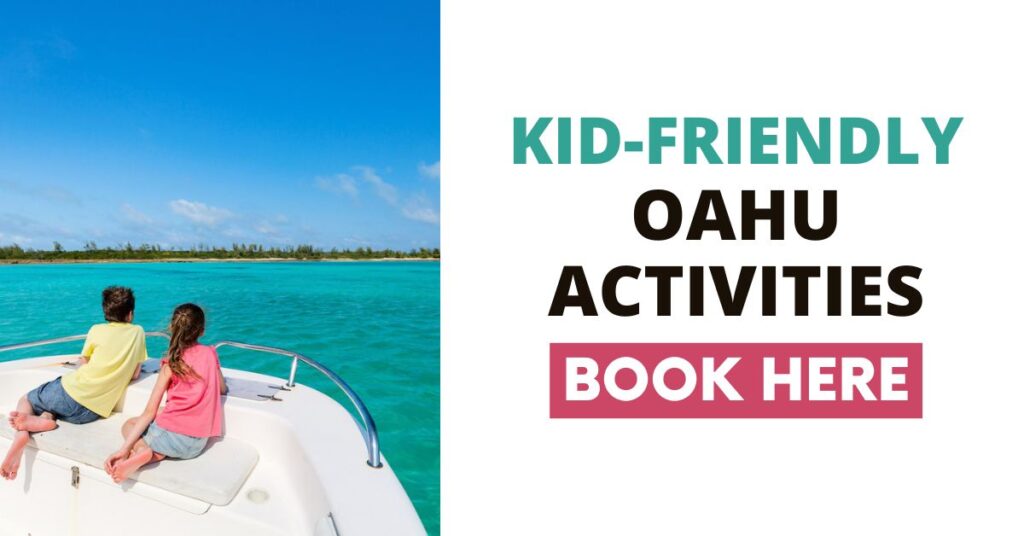 What did we think of the dining options?
I admit that we only tried a few places during our stay here. Our hotel room came with free vouchers for food that we gave to my in-laws. They ate at Morimoto Asia Waikiki and Momosan, and they weren't super impressed. But they aren't often impressed by food.
Our family hit up Kai Coffee every morning. They were set up in the lobby, but I heard that was specifically because of the pandemic in order to replace their normal hotel breakfast offerings.
Now they have a Makana Lani back open for breakfast, brunch, and evening buffets.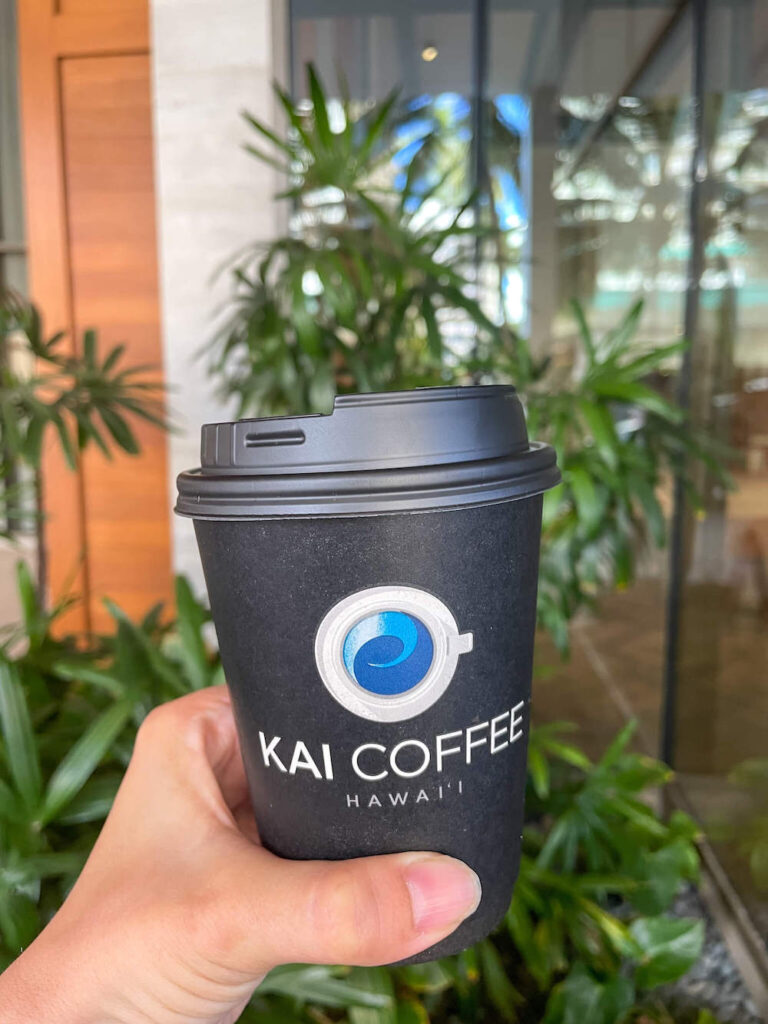 There's an official Kai Coffee cafe located just outside the hotel entrance. We loved it so much that we even bought their macadamia nut coffee syrup to take home with us. They also sell breakfast items.
We also ordered food from Swell Restaurant and Pool Bar. Their poke nachos were super tasty and hit the spot! We also liked their yam fries. We actually ordered a ton of food from the Swell Bar, and everyone seemed to enjoy it.
There are two ice cream spots just outside the hotel, too. We ended up at Haagan-Daaz quite a few evenings, but there's also Double Fat Ice Cream.
Additional places to eat/drink at Alohilani Resort Waikiki Beach include the Longboard Club, La Bettola, Luna's Tequila Bar, and Piccola Onda.
Save Money with Points
Here are the best credit card offers for families who travel and want to use points to pay for airfare and hotels in Hawaii.
Alohilani Resort pool area
I think the best way to describe the pool area is to imagine how a trendy, magazine-worthy pool party might look.
There was a DJ area, outdoor couches, a bar, a line of cabanas, a hot tub, and an infinity pool overlooking Waikiki Beach.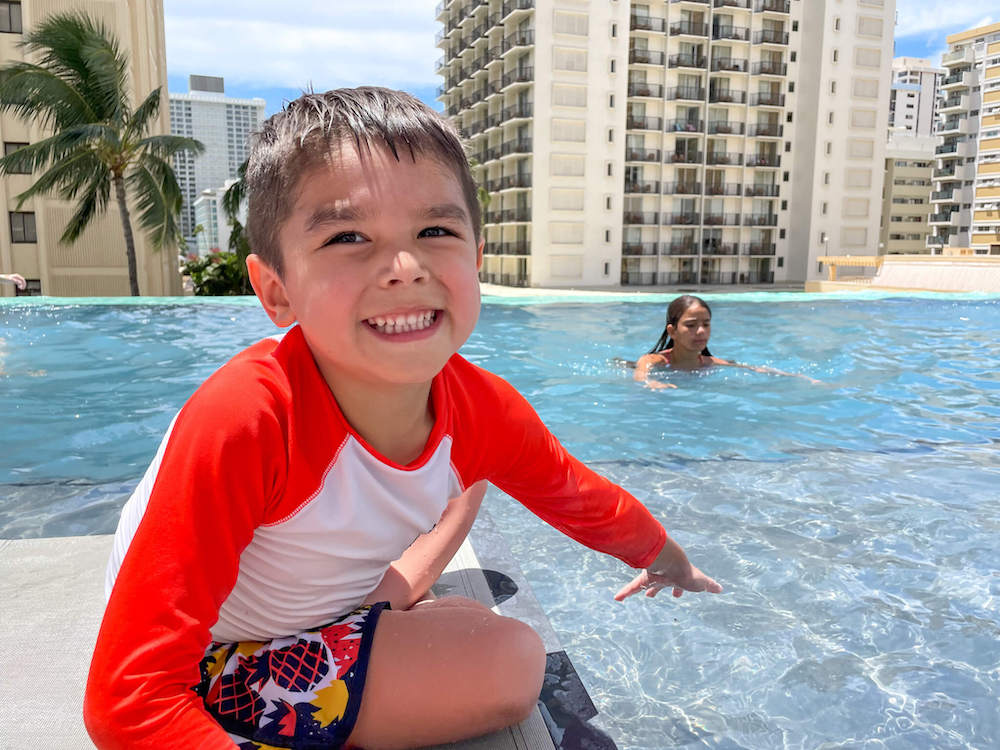 About half of the people in the pool at any given time were figuring out the best ways to pose with their drinks inside the infinity pool specifically to post on Instagram.
We were there with kids ranging from 4yo-16yo, and they spent a ton of time swimming in the pool. But, it was pretty crowded because the pool is a lot smaller than other Hawaii resort swimming pools.
Is it worth renting a cabana?
When we booked our cabana before our trip, we didn't realize how far away it was from the pool. We thought we could park the grandparents there while the kids played in the infinity pool. That was not the case.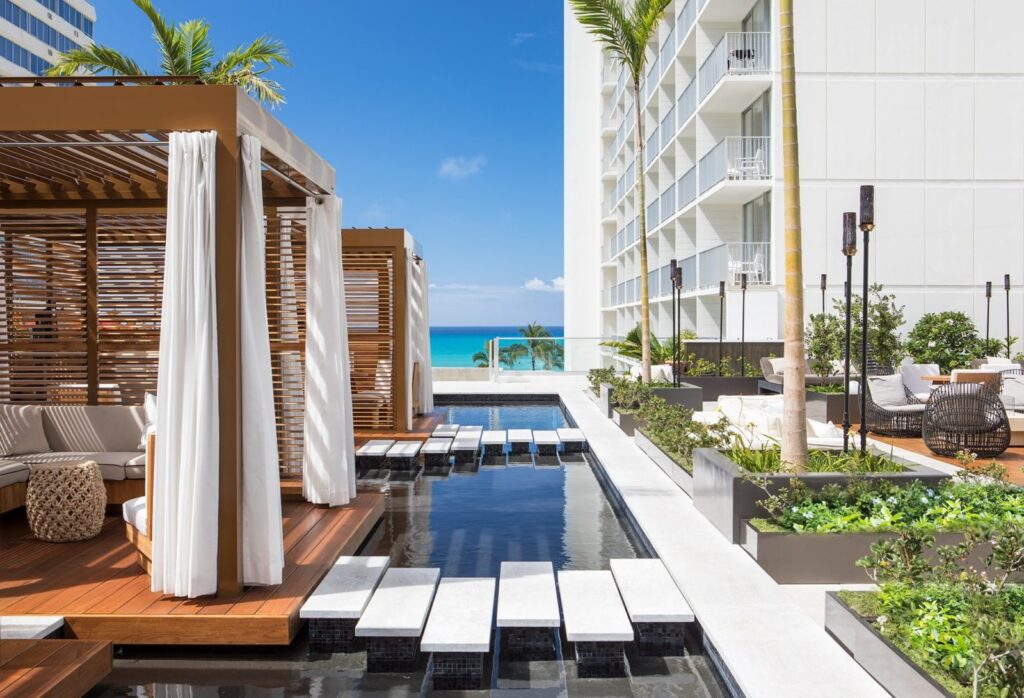 Instead, I suggest reserving the lounge chairs in the pool. I believe it was $100. While there isn't any shade, people can dip their feet in the water while being part of the action.
The cabana area was on the opposite side of the roof and felt more set up as a trendy social space than a family headquarters. However, if you were traveling with teens, it's a nice way for parents to get a break from their kids.
If you'd like to learn more, check out my full post about renting pool cabanas in Hawaii.
Other features/amenities
Waikiki Beach
I really can't emphasize just how much of a perk it is to be across the street from Waikiki Beach. Well, technically, it's Kuhio Beach, but it's all connected. Like, you literally just cross the road (and it's not even the busy section of Waikiki).
That means you don't have to lug your beach bag and inflatables through the streets of Waikiki to get to the beach. And it's easy to pop back up to the room if you forget something.
The Alohilani Resort Waikiki Beach truly is a great location with easy access to Waikiki Beach.
Aquarium in lobby
One of the coolest features of the Alohilani Resort is that there's a huge aquarium in the beautiful lobby. You can't miss it!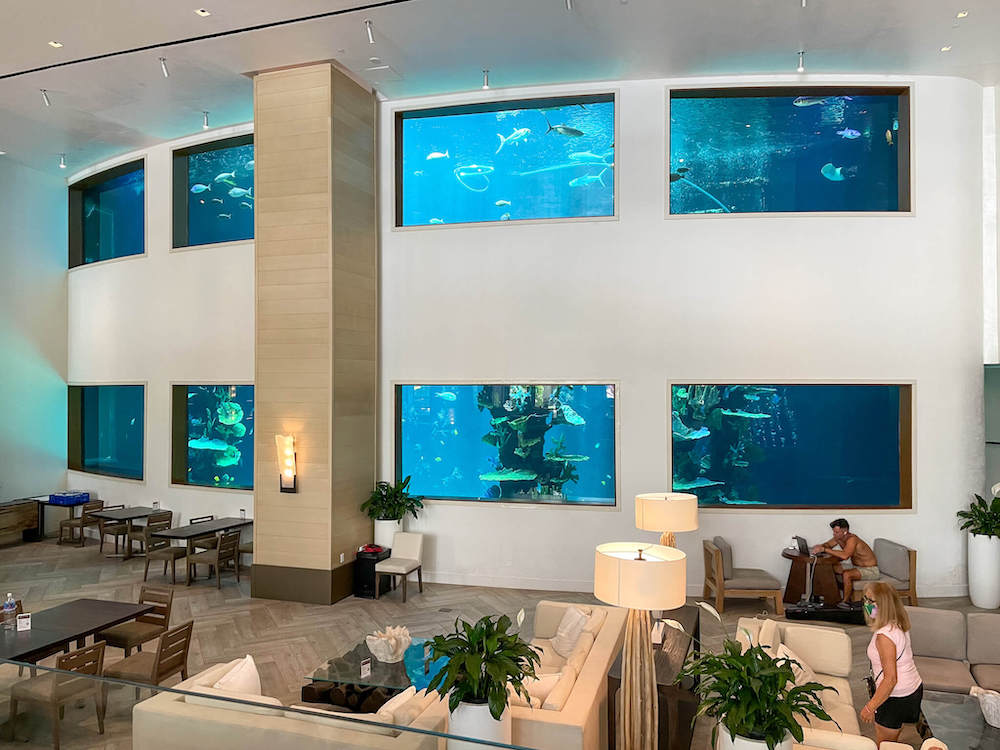 They even post times when you can watch them feed the fish. It's pretty awesome to see. The lobby itself is a great place to work, enjoy a drink or snack, or just soak in the A/C before heading out.
Shopping
There's an ABC store right on the main floor. You don't even have to leave the hotel. If you haven't heard of ABC stores, it's basically the best Hawaii gift shop ever, and they are on every street corner in Waikiki.
There are also a few other shops on the main level where you can buy swimsuits and other items.
And since the hotel is on the edge of the Waikiki strip, there are TONS of shops within walking distance, another reason why it is the perfect location!
Alohilani Resort Waikiki Beach Resort Fee
There is a resort fee that you pay daily per night that you stay.
Included with your resort fee, you will get the following:
Beach rentals, including Surfboards, Paddleboards, Beach Chairs, Umbrellas, Beach Toys, etc.
Bottled water
Hawaiian cultural classes (lei-making, hula lessons, and Hawaiian lessons)
Fitness center
Fitness classes
In-room coffee
2 free tickets for the Honolulu Museum of Art
Portable phone chargers
Free wifi
Tennis courts
And more!
Are there any things we didn't like?
We didn't like hearing all the music from the pool up in our hotel room. My father-in-law's room was on the poolside, maybe 10 stories up, and it was so loud he almost called the front desk. It is the worst room if you have little ones.
I think I didn't do enough research on the pool area because it was much smaller in person than I expected. During the summer, the pool was super packed. But I heard that it's not nearly as crowded the rest of the year.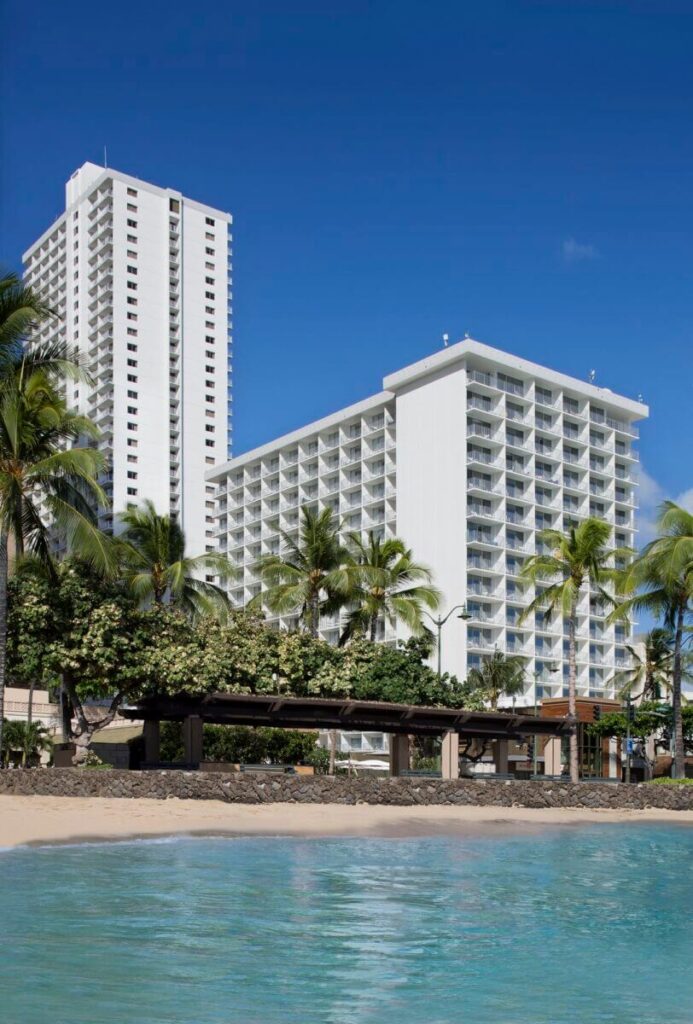 Why is the Alohilani Resort ideal for teens?
While I didn't think it was particularly amazing for families with younger kids, my teen niece and nephew had a blast!
They spent a ton of time in the pool area, and they liked the party vibe.
It was also in a great location for them to be able to walk out on their own to grab food and drinks or go shopping. They were able to be a lot more independent, especially since there were 3 of them sticking together.
It also was sort of close to a Waikiki Trolley stop. While they didn't end up using it, we figured it would be an easy way for them to get around Waikiki without a car. It's only $5 for the pink line that runs around Waikiki and Ala Moana Center (where they spent a LOT of time).
Where to Stay on Oahu FAQs
What are the best hotels in Waikiki for families?
Some of the top Waikiki hotels for families include the Hilton Hawaiian Village, the Sheraton Waikiki, the Grand Waikikian, the Waikiki Beach Marriott Resort & Spa, and the Hyatt Regency Resort & Spa.
Where is the best area to stay on Oahu for families?
The most popular areas for families on Oahu who want a resort vacation are either Waikiki or Ko Olina. There's the Turtle Bay Resort up in North Shore, too. For families looking to get away from Waikiki, Kailua is a nice place to find a vacation rental home.
Which part of Honolulu should I stay in?
Most tourists prefer staying in Waikiki. There are some hotels in Honolulu near the convention center that are geared for business travelers. The Waikiki strip is really long, so it helps to know what types of things you'd like to do there. The East side is near the Honolulu Zoo and is a quieter section of Waikiki. The West side is close to Ala Moana Center.
Is Club Access worth it at Alohilani Resort?
If you like wines and a breakfast-included option, then the Longboard Club is worth it at Alohilani Resort Waikiki Beach! It is great for adults but not really family-friendly with younger kids.
How far is Alohilani Resort Waikiki Beach from the airport?
It is 9 miles from the airport and doesn't take longer than 30 minutes to get there with traffic. There is no shuttle service, so hotel guests will want to rent a car.
What hotel did Alohilani use to be?
The Alohilani Resort Waikiki Beach used to be the Pacific Beach Hotel.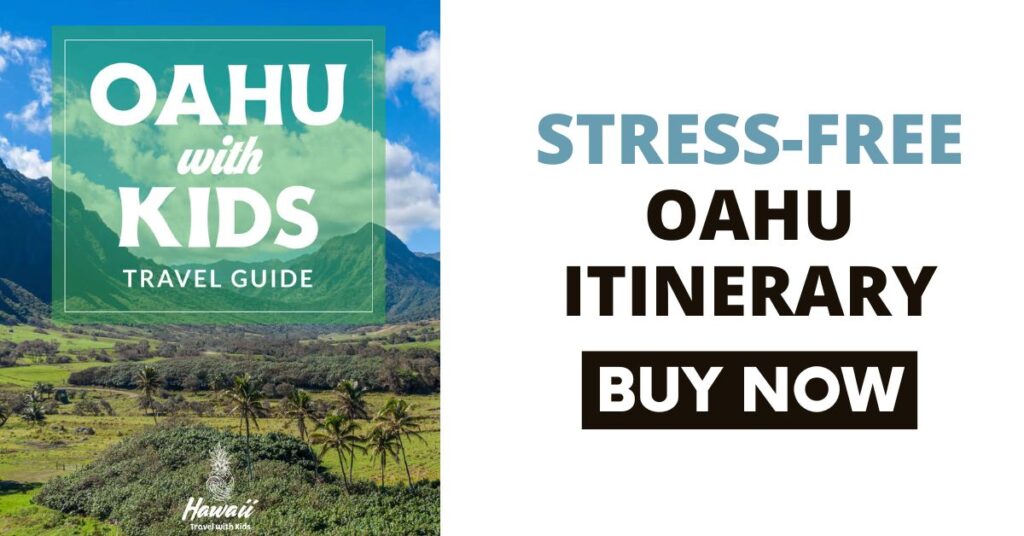 Would we recommend the Alohilani Resort?
I think the Alohilani Resort is an awesome place to stay on Oahu with teens or couples on a romantic getaway. The hotel is really pretty, it feels modern, and it's SO close to Waikiki Beach.
The location is also pretty amazing. It's fairly close to Diamond Head, and it's easy to hop on the freeway without dealing with too much Waikiki traffic.
However, I wouldn't call this a "family" resort. There really isn't much specifically for kids to do. So if you're heading to Oahu with younger kids, I don't see a big benefit to staying here.
If you want a modern, luxury property in a prime location, you will love this beautiful hotel!