Are you thinking about booking a trip to Oahu for a large family? Keep scrolling to find out the best Oahu vacation rentals for large groups.
This list of the best Oahu vacation rentals for large groups was written by Hawaii travel expert Marcie Cheung and contains affiliate links which means if you purchase something from one of my affiliate links, I may earn a small commission that goes back into maintaining this blog.
You might be looking for Oahu vacation rentals for large groups but you're not sure where to start. Take a deep breath and keep reading for my top picks!
Whether you're planning a family reunion on the island or just have a big family that needs a little extra room, I've got you covered.
I've traveled to the Hawaiian Islands for years with my family. I know it can be a little tricky to navigate vacation rentals long distances!
Below you can learn all the important things you'll need to know before your big crew head out on vacation.
Read about the best places to stay in Oahu and what to look out for in large rentals. I'll give you my favorite options for vacation rentals for large groups!
Don't have time to read a bunch of Hawaii blog posts and reviews? Here are some of our top picks for visiting Oahu.
Popular Oahu Tours/Activities
Favorite Oahu Resorts/Hotels
Want to Rent a Car in Hawaii?
One of the best places to rent a car in Hawaii is Discount Hawaii Car Rental because they get the best rates from top national companies like Alamo, Dollar, Thrifty, Avis, Enterprise, Budget, and Payless.
Want to skip all the planning and just access my detailed Oahu Itinerary complete with daily schedules, kid-friendly activities, and travel hacks? Click the button below.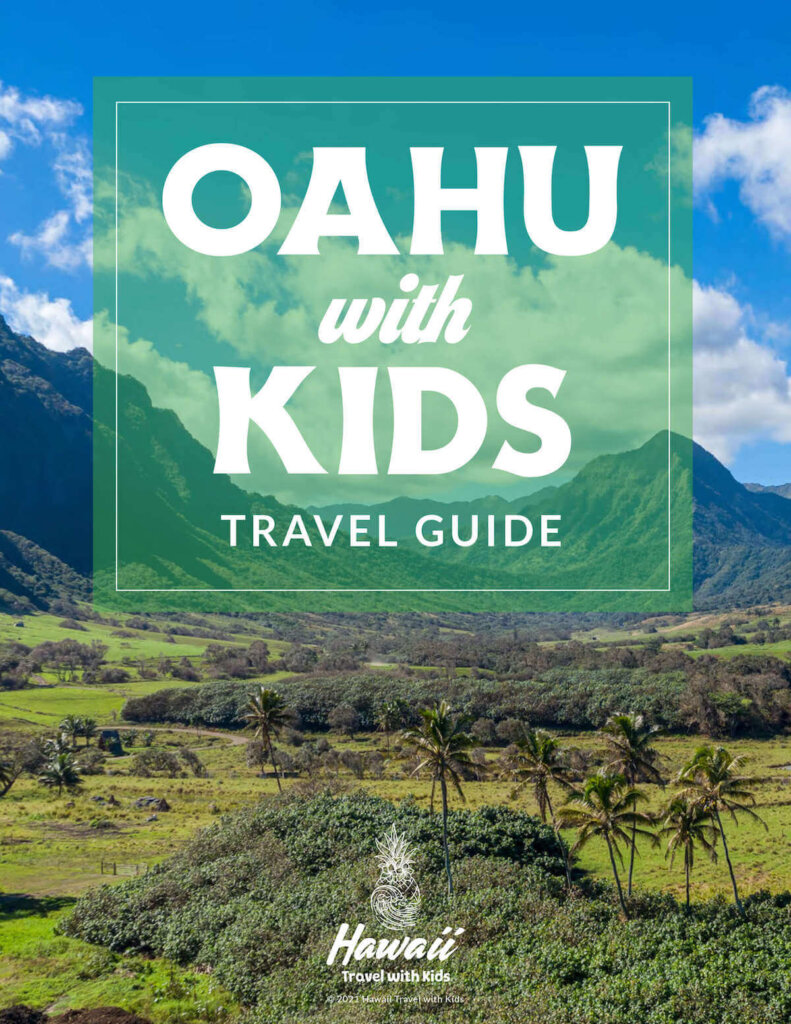 FAQ about Oahu Vacation Rentals
Are short-term rentals legal in Oahu?
Yes! Just know that "short-term" is defined as anything 30-days or less. And Oahu vacation rentals for large groups will be around the resort areas of the island. All rental homes are registered and will readily provide paperwork if you want to see it.
Which island has the most to do in Hawaii?
Each of the Hawaiian Islands offers a different experience! Oahu is ideal for large groups to enjoy tourist activities. Take guided tours and explore local attractions or check out beaches and hiking trails.
Is Oahu or Maui better?
Both Oahu and Maui are wonderful for a first-time visit to the Hawaiian Islands. The biggest difference is that Oahu has more urban tourist centers and established resort areas. Maui has more quiet, rugged areas for watersports, camping, hiking, and surf towns than Oahu. But both are very tourist-friendly.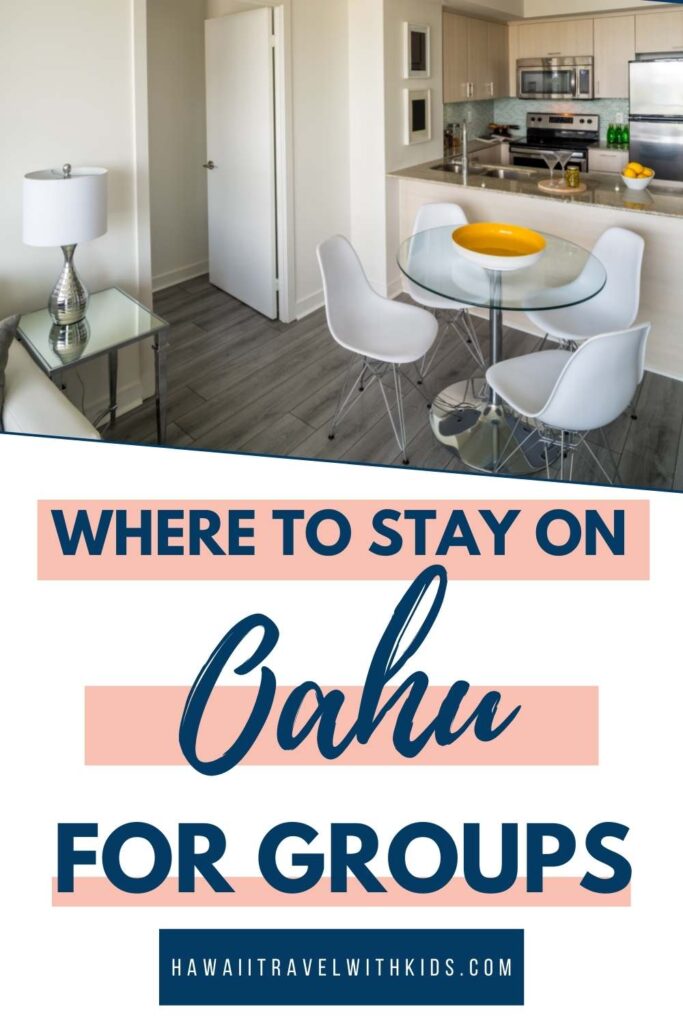 Where to Vacation in Oahu with a Large Group
When it comes to Oahu vacation rentals for large groups, there are key places in Oahu where you'll find them.
Keep reading for an overview of each area so you can make the best choice for your big family vacation!
Waikiki/Honolulu
Look in the Waikiki/Honolulu area for larger vacation rentals if you want to be near the classic Hawaii tourist attractions!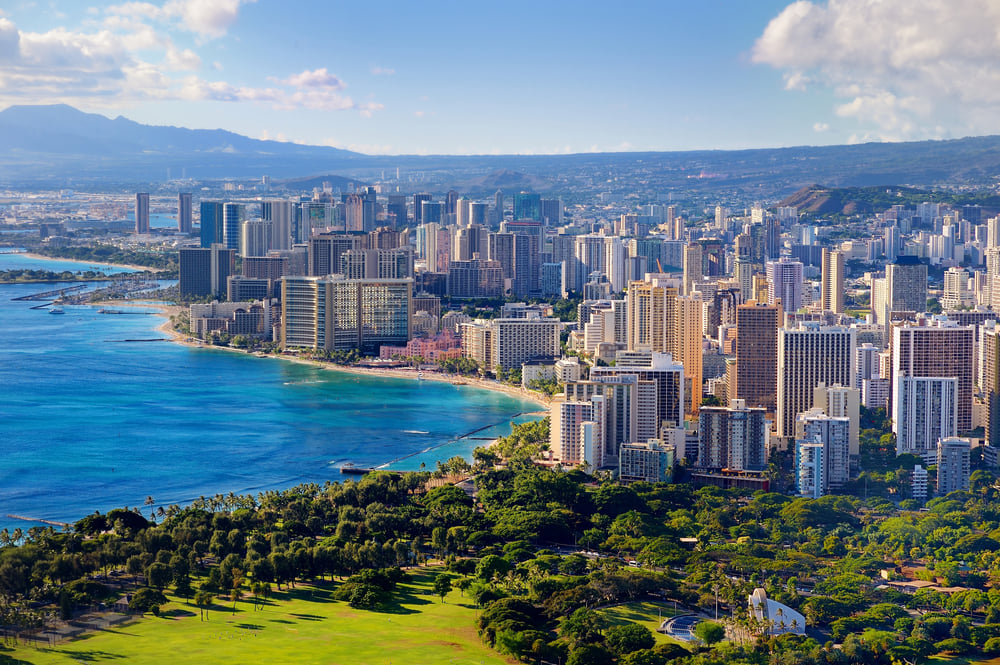 There are a variety of houses and condos in Honolulu and Waikiki for larger groups.
This is also where you want to be for the best shopping, tourist attractions, and classic sandy beaches. Waikiki has amazing restaurants, nightlife, and pedestrian paths. Plus, Waikiki is very family-friendly.
Save Money with Points
Here are the best credit card offers for families who travel and want to use points to pay for airfare and hotels in Hawaii.
Leeward Side
On the Leeward Side of Oahu is Ko Olina, the 642-acre luxury resort area. This is where the Aulani Disney Resort is, as well as a golf course and the Ko Olina lagoons.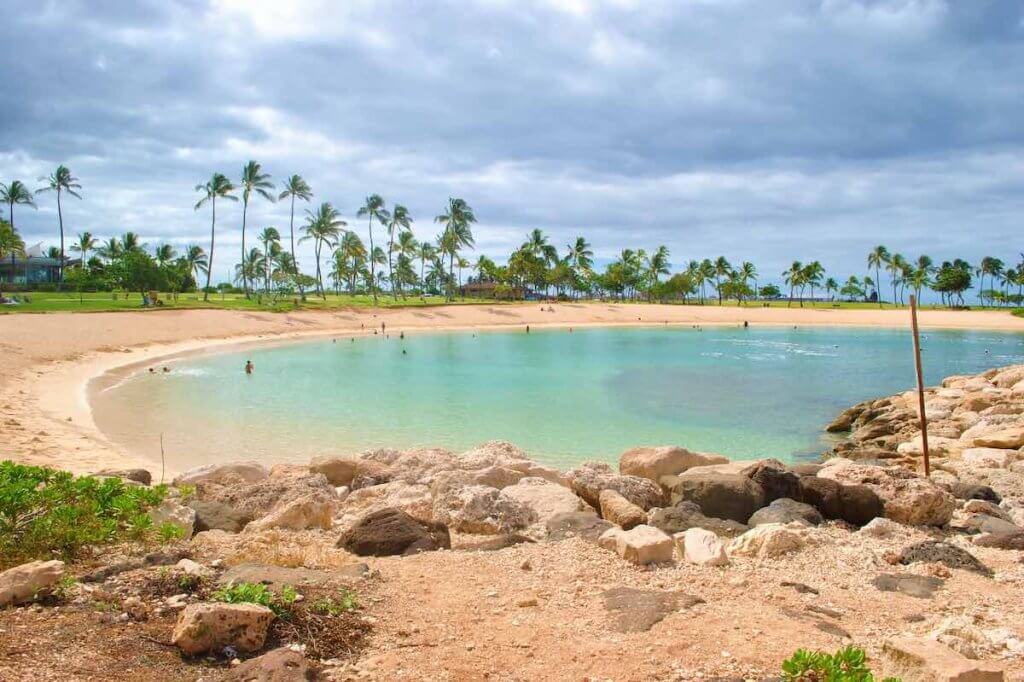 It's a stunning, manicured part of the island with all kinds of public amenities for visitors.
Most large condos and villas for rent are actually in Ko Olina itself. But sometimes you can find Oahu vacation rentals for large groups in the area surrounding the resort grounds.
North Shore
If your large group wants to take it easy and get away from it all, consider the area around Turtle Bay Resort.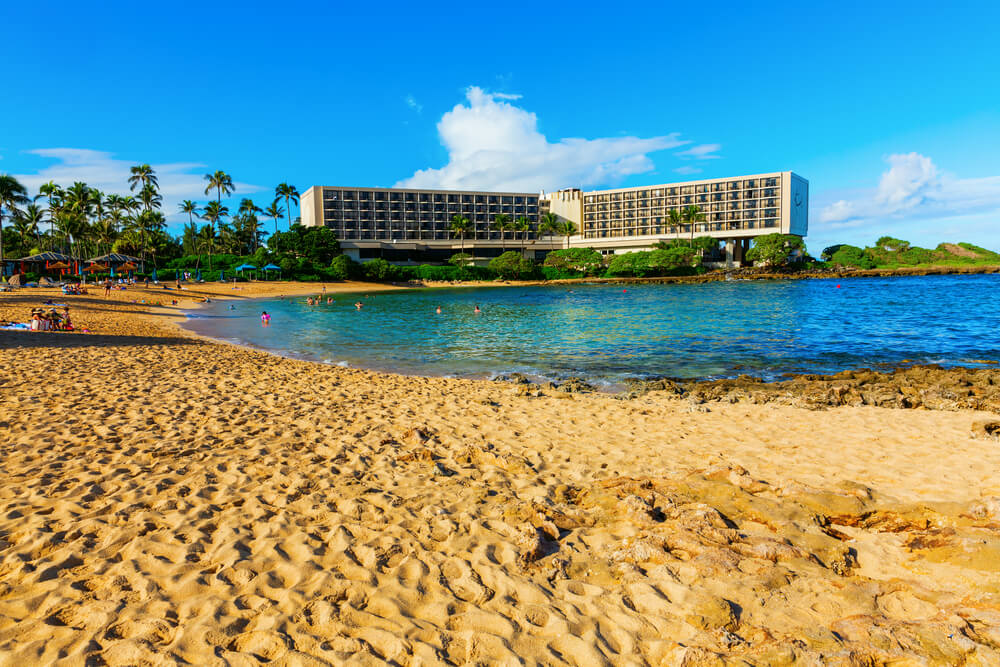 North Shore is more rugged and isolated than the rest of the island. You can book estates around the resorts, or find villa rentals inside the resort area.
This means the best of both worlds! Enjoy the amenities available to the public at the Turtle Bay Resort, as well as the amazing countryside and surf beaches that North Shore is famous for. Explore local towns or do some hiking.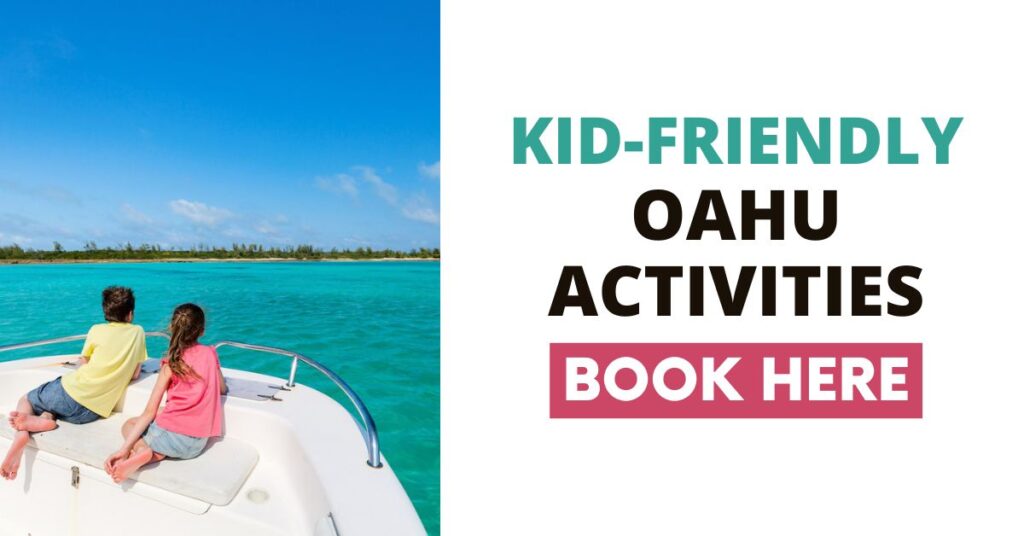 What to Look for in Vacation Homes for Large Groups
While you're thinking about where to find the best Oahu vacation rentals for large groups, there are a few things you'll want to keep in mind.
This is also the criteria that I used when gathering the amazing rentals that you can read about below.
Number of Guests Allowed
A larger Oahu villa or house is going to sleep more than 6 people. When looking for vacation rentals for larger groups, that was my minimum expectation, but most of the places I found average 12 to 14 people.
Keep in mind that short-term rentals are legally required to pair no more than 2 adults per room. So that means that the more people you have, the more bedrooms you should search for.
Type of Rental
Especially for larger groups of people, you're going to basically find large homes, spacious condos, or multilevel villas in Oahu, Hawaii. This means homes with at least 3 bedrooms in a variety of locations.
Condos will typically be inside resorts. Villas can be stand-alone or share at least 1 wall with another structure. They'll also be in a variety of areas.
Location
On my list, you'll find a few Oahu beach villas, as well as more inland places. But pretty much all of the places you can book short-term will have amazing ocean views and short walks to beaches and tourist attractions.
If you want Oahu villas on the beach, they're mostly inside resorts. That means they come with all the accommodations that the resort offers its guests!
The Best Vacation Rentals for Large Groups in Oahu
Waikiki/Honolulu
When it comes to Honolulu vacation rentals for large groups, you can't beat Hale Ohana!
This package deal includes 2 apartments just minutes north of Waikiki. Your group of 8 to 16 will be comfortable in this 7 bedroom, 6 bath set of apartments.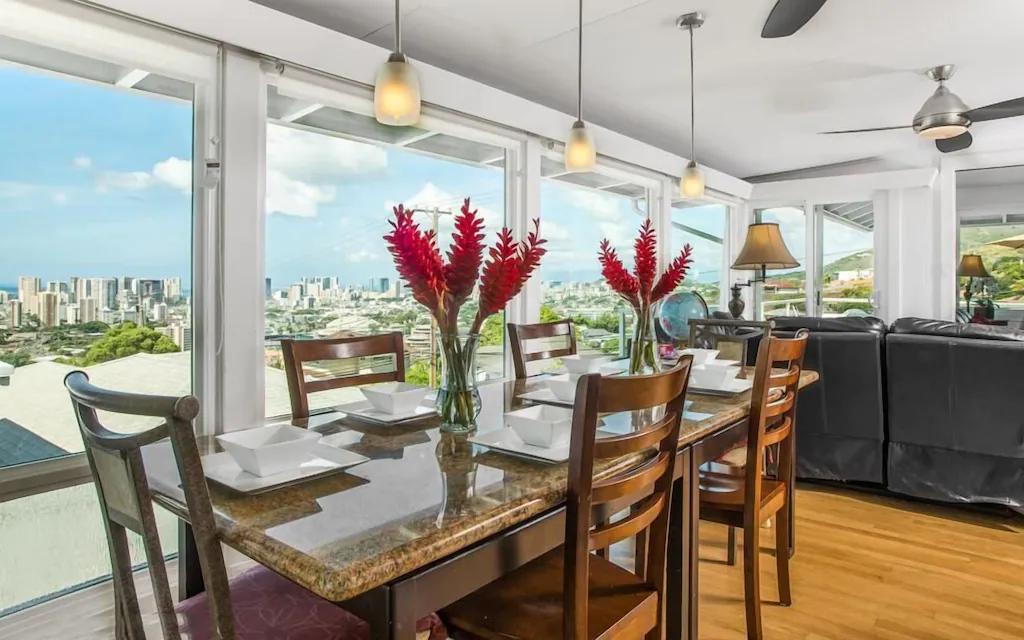 First, there's the Oceanview Waikiki apartment with 4 bedrooms and 3 baths. It also has a fully stocked kitchen, a dining room that seats 6, and a living room with panoramic views of Waikiki!
But for an even better view, there's the large deck with AstroTurf and outdoor seating! Check the latest rates and more information.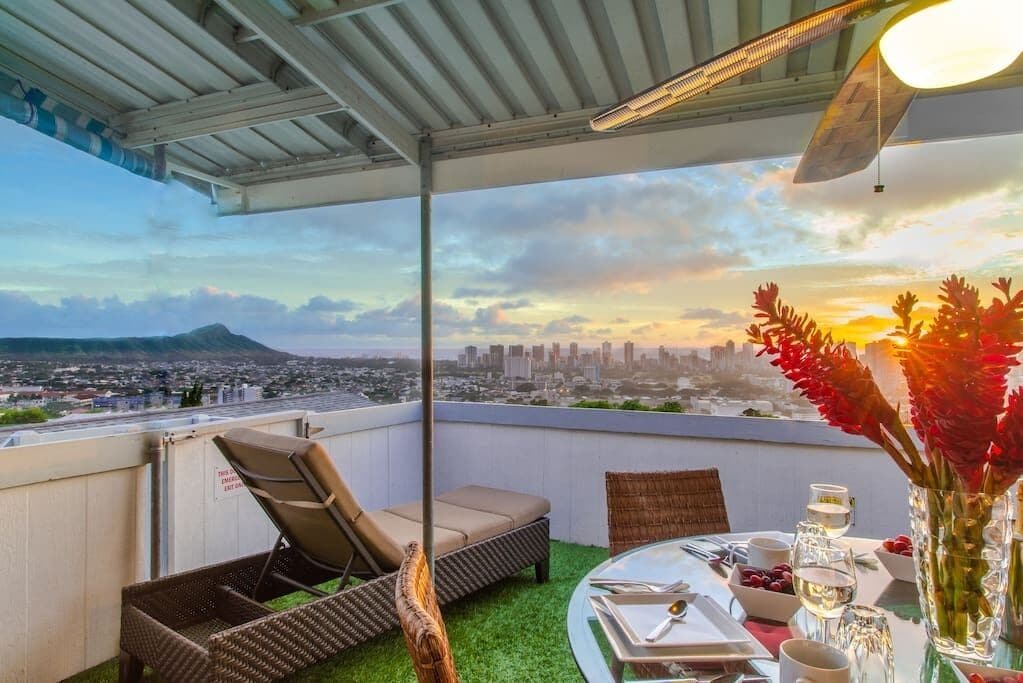 For scenic views overlooking other parts of Honolulu, there's the Oceanview Oahu apartment. It's a 2-level apartment featuring 3 bedrooms and 3 baths. Plus, both levels have kitchens!
And this is the place where your group will gather with a living room and spacious lanai. The lanai has a grill and outdoor dining for up to 16 people. Or your large group can relax in 2 large hot tubs on the private balcony!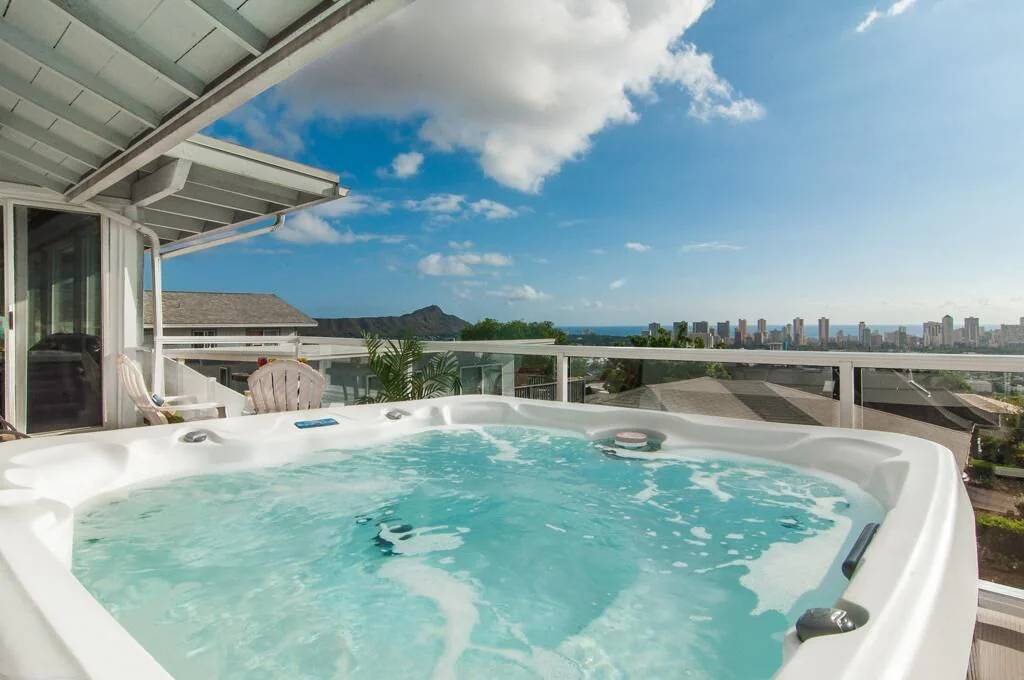 When you stay at these Waikiki apartments, you're minutes away from Waikiki Beach, restaurants, and nature preserves. There's a covered parking spot that comes with it.
Also, the neighborhood where Hale Ohana is located offers plenty of street parking for the 2 SUVs you'll have access to!
The family-friendly listing also offers a variety of children's gear, including a high chair, a travel crib, a baby monitor, and more.
Book a Family Photo Shoot
Whenever we travel to Hawaii, we almost always book a family photo shoot with Flytographer. They are super easy, affordable, AND it guarantees that I'll be in some photos. You can get $25 off if you book through this link or use the code HAWAIITRAVEL.
If you're looking for Honolulu villa rentals, check out this Koreatown home. You're within walking distance of the Ala Moana Shopping Center (the largest outdoor mall in the world). And it's just a mile from Waikiki Beach!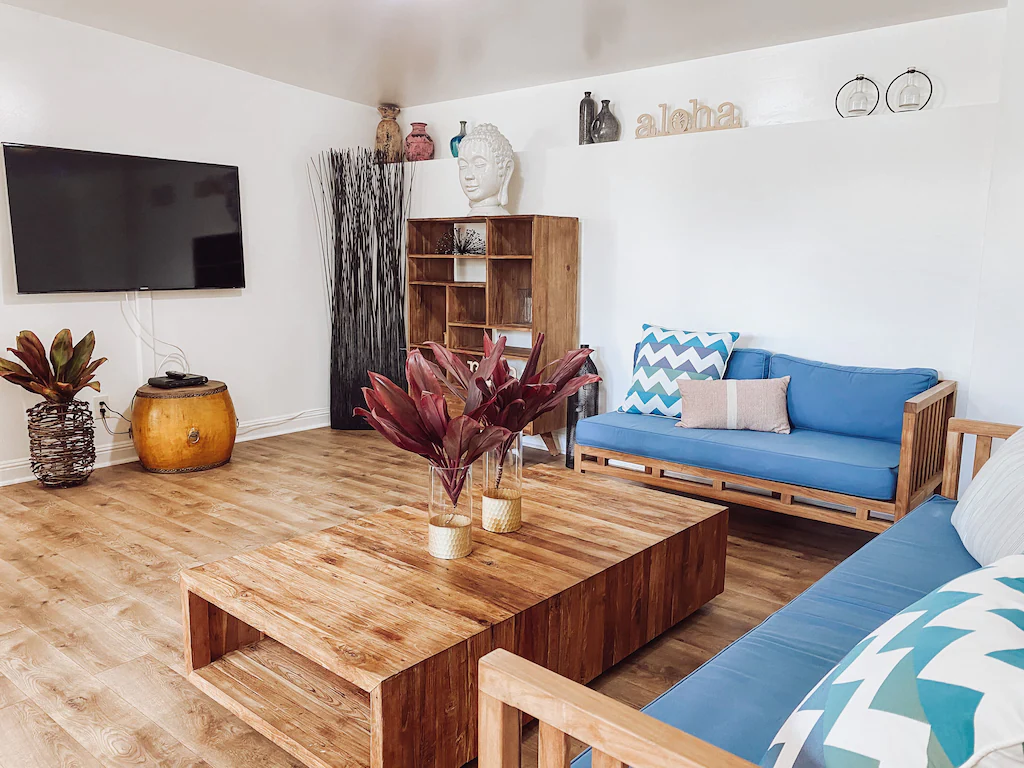 Serenity & Peace has 5 bedrooms and 2 bathrooms, with room for 10 to 18 people. Check the latest rates and more information.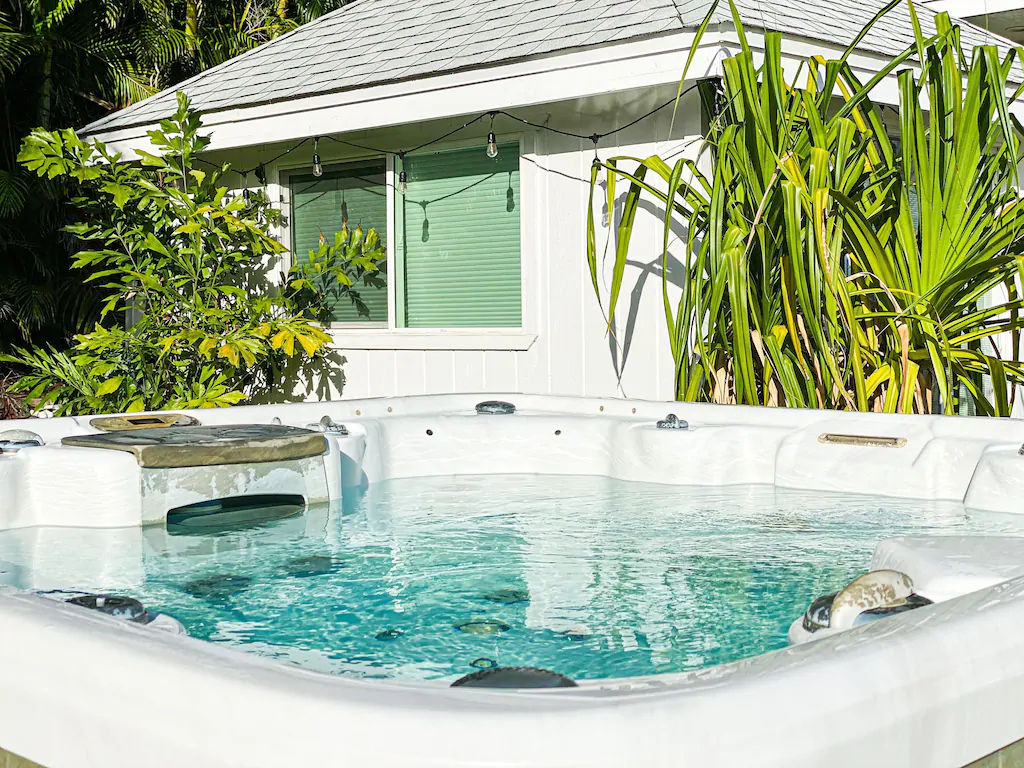 The beautifully decorated home is light and airy with lots of natural woods. Enjoy the spa whirlpool jacuzzi in the backyard or spread out with lots of outdoor seating.
While you won't find many Waikiki villas, high-rise condos like this one are the way to go! You'll be right off the Ala Wai Boulevard and Canal in central Waikiki with metropolitan views.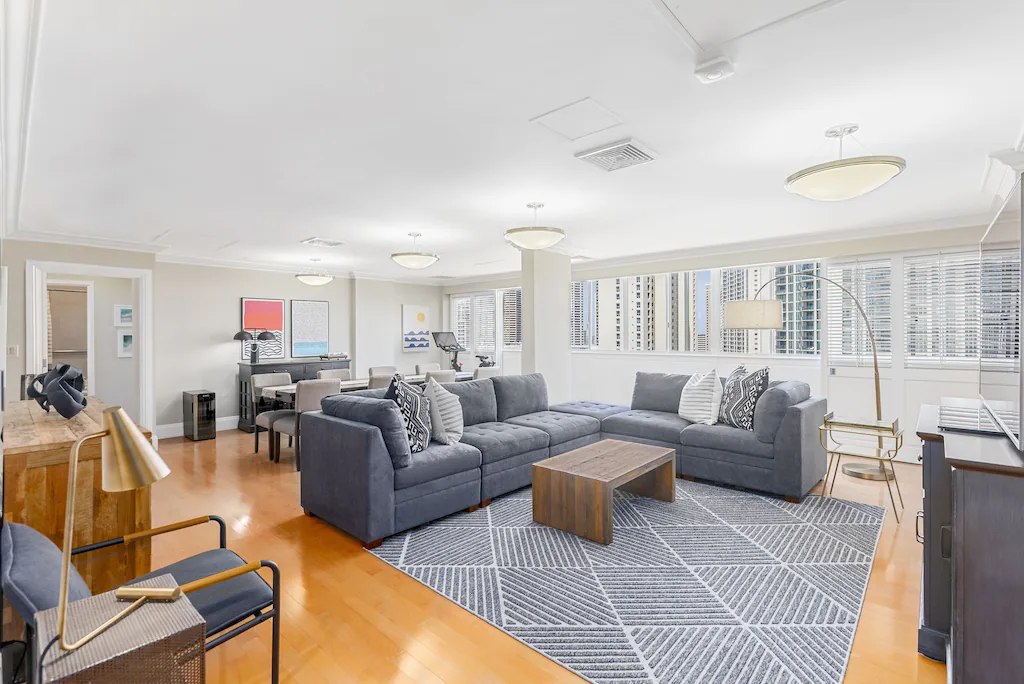 Enjoy being near tons of local shops, restaurants, and parks. Or walk down to Waikiki Beach.
Your group will be able to spread out in this air-conditioned 1,700-square-foot penthouse with a spacious living room. Check the latest rates and more information.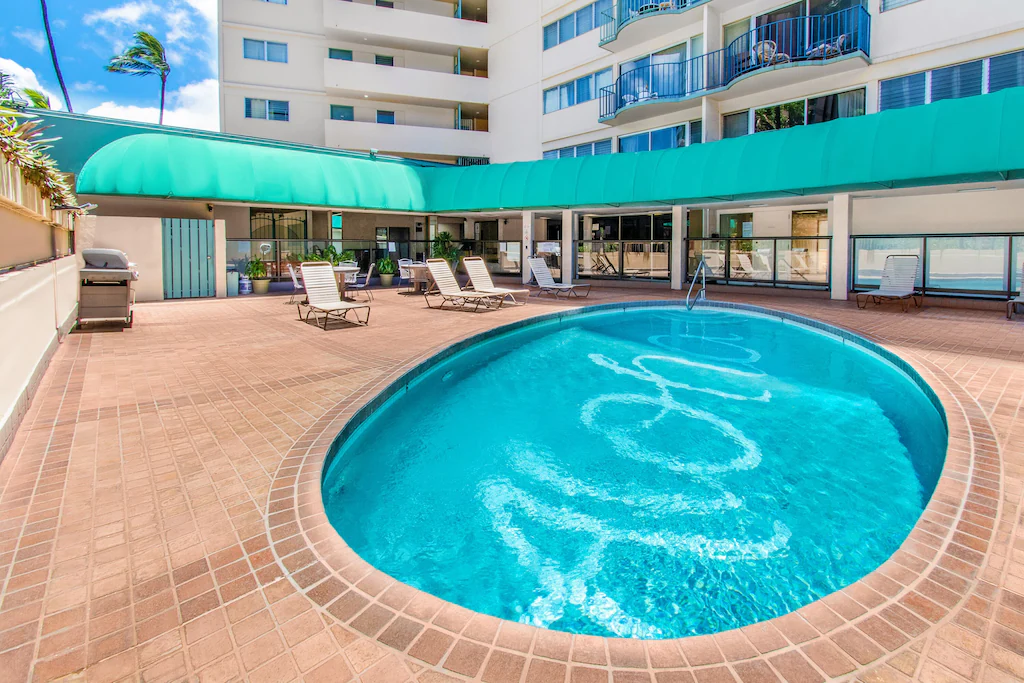 The tower features a fitness center, BBQs, sundecks, and an outdoor pool that you'll have access to as well. Or cook in the kitchen and gather around a dining room table that seats 8.
The home has 2 baths and 3 bedrooms with extra options like trundle beds and bunks that are perfect for growing families. You also get a travel crib and have fun extras like a Peloton and Vitamix blender!
Leeward Side
For stunning Oahu vacation rentals for large groups on the Leeward Side, head to the luxurious resort community of Ko Olina!
Your group of 10-14 will love this 2-villa listing at the Ko Olina Beach Villas Resort Oahu at Ko Olina.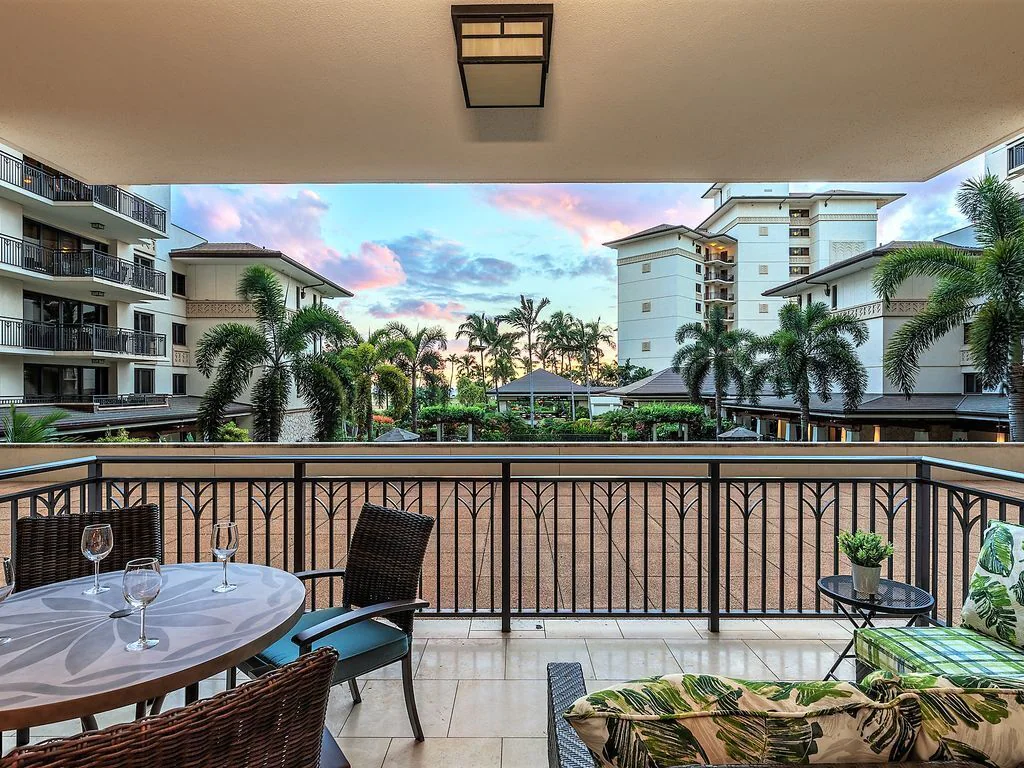 You can enjoy plenty of room in the 1,200- and 1,600-square foot villas with 2 and 3 bedrooms and 2 baths each that include tubs. They're adjacent with direct elevator access! Check the latest rates and more information.
The villas also come with concierge services, grocery delivery, a child's highchair, and tons of beach equipment.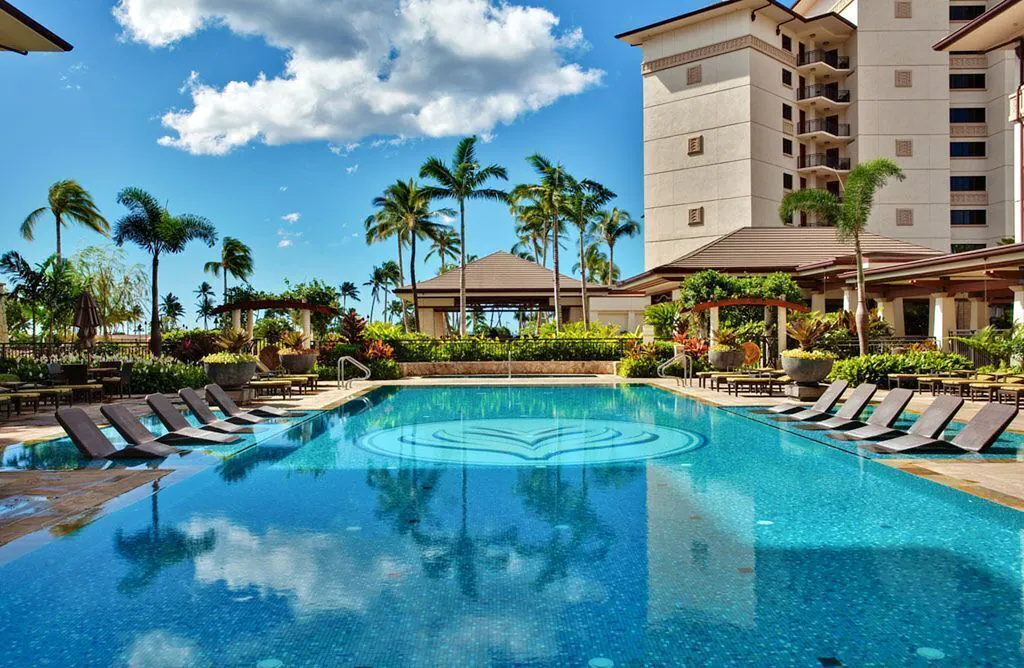 Hang out in the Beach Villas' outdoor pools, heated pools, whirlpools, or sun on the decks. Head to the community gym and sauna, or enjoy walking paths along Ko Olina's 4 beach lagoons.
A stay on Oahu's western coast offers luxurious sunset views from beachside resorts.
Your group of 8 can enjoy the private villa experience with access to all the amenities of the Marriot's Ko Olina Beach Club Resort!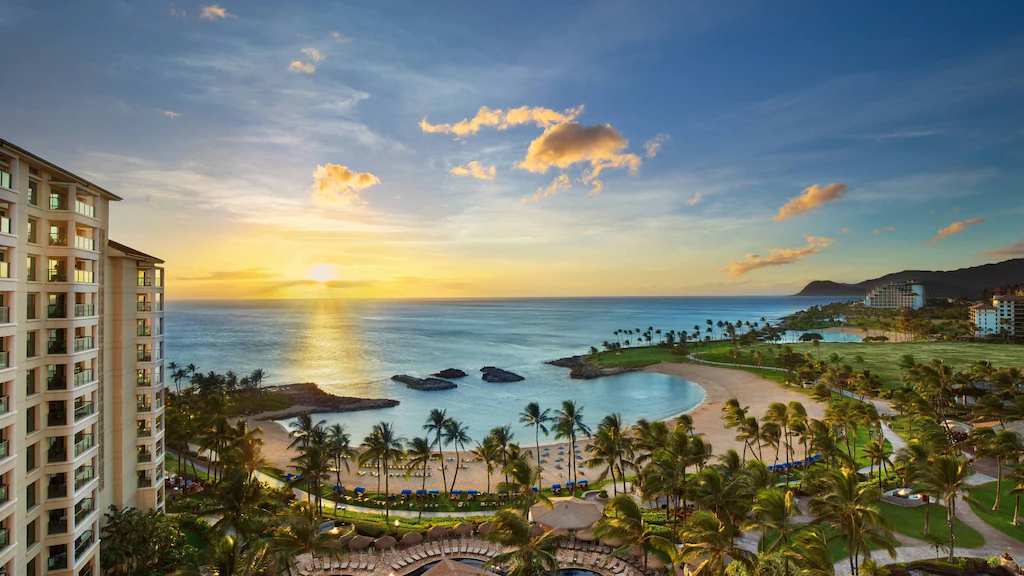 Relax with your family in the spacious, contemporary 3 bedroom, 3 bath villa with ocean views that overlook the resort. Check the latest rates and more information.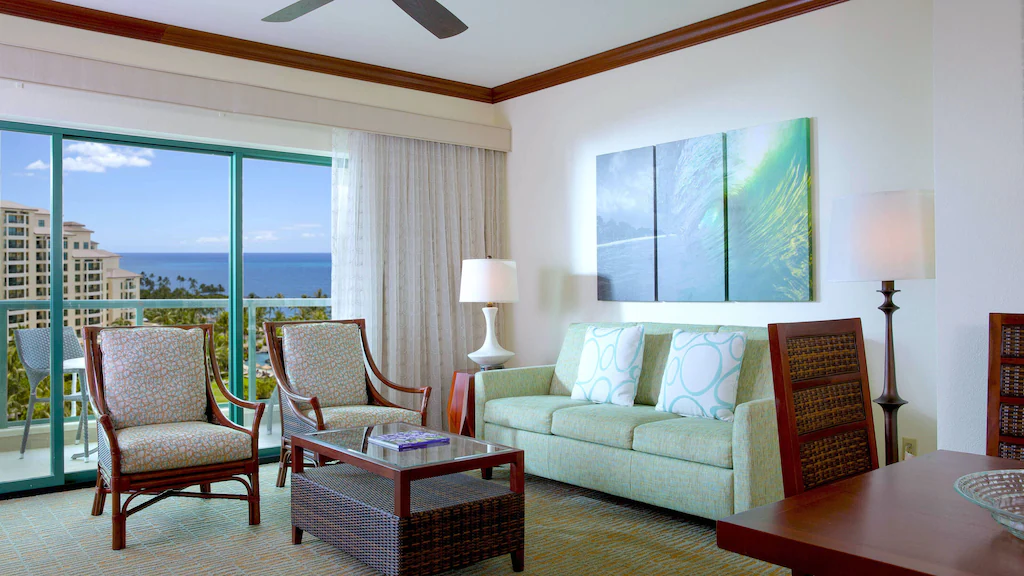 Or you can enjoy a gym, game room, as well as restaurants and indoor and outdoor dining areas.
There are all kinds of outdoor pools, Ko Olina's calm lagoon beaches, and fun mini golf all available to you. Or utilize concierge services and housekeeping.
North Shore
You can find Oahu vacation rentals for large groups around North Shore's Turtle Bay Beach Resort. The Ocean Villas there are privately owned.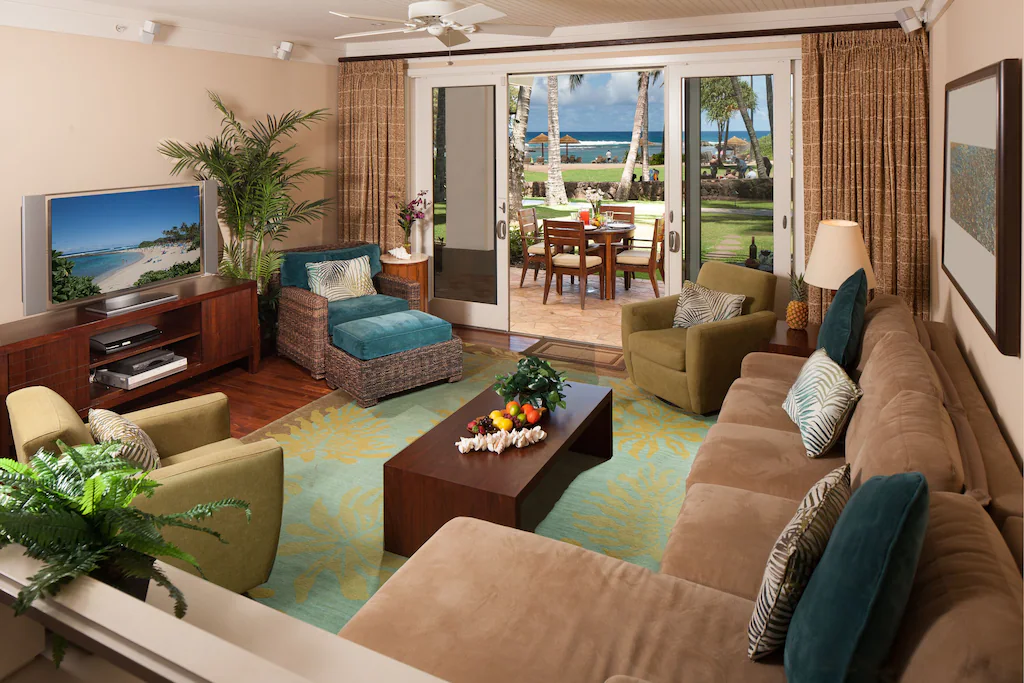 Your group of up to 10 can enjoy this ground-level 4 bedroom, 3 bath villa with views of the beachfront. Check the latest rates and more information.
The casual, cozy living room is off the dining room and spacious kitchen. There's an area to sit and eat on the lanai that offers scenic beach views.
The villa comes with great amenities for families with children, like tubs in every bathroom, a washer/dryer, and a highchair.
There are also sand and pool toys in the beach locker, besides tons of water sports gear and beach equipment!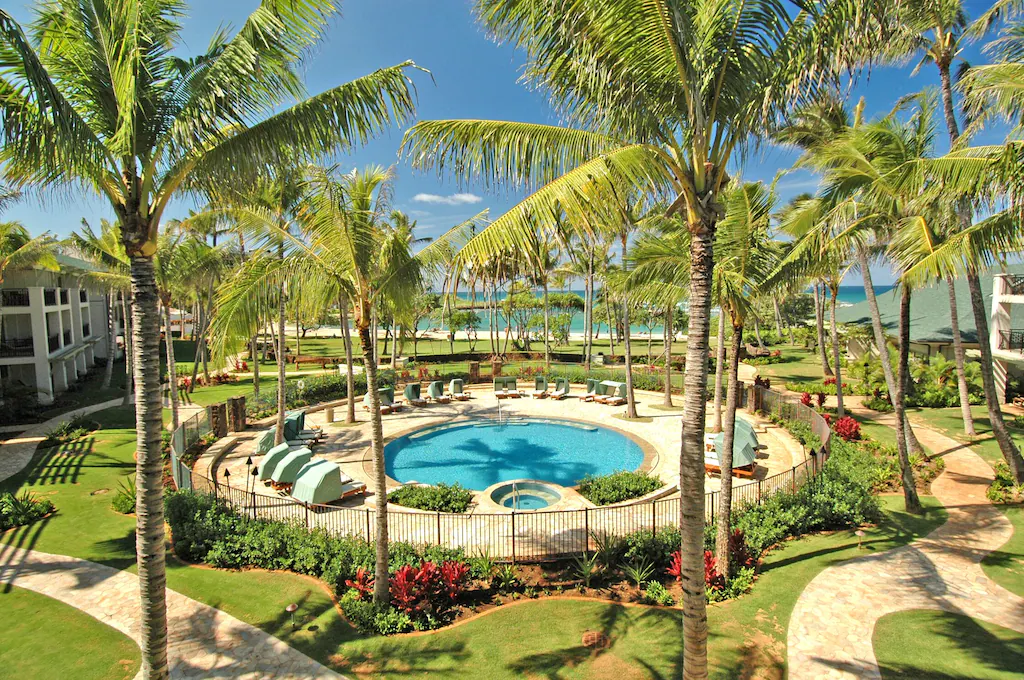 Located on the Turtle Bay Resort, you have free access to a few resort amenities like parking and luau shows. For a fee, you can also use the resort gym, attend fitness classes, and utilize resort pools and BBQ areas.
Ocean Villa has its own pool and jacuzzi for villa guests. Or head out on local hiking trails or rent a bicycle to ride along the coast!
For your family gathering, consider this 4 bedroom, 4 bath getaway. The 2-level plantation-style home sits on several acres across the street from quiet North Shore beaches.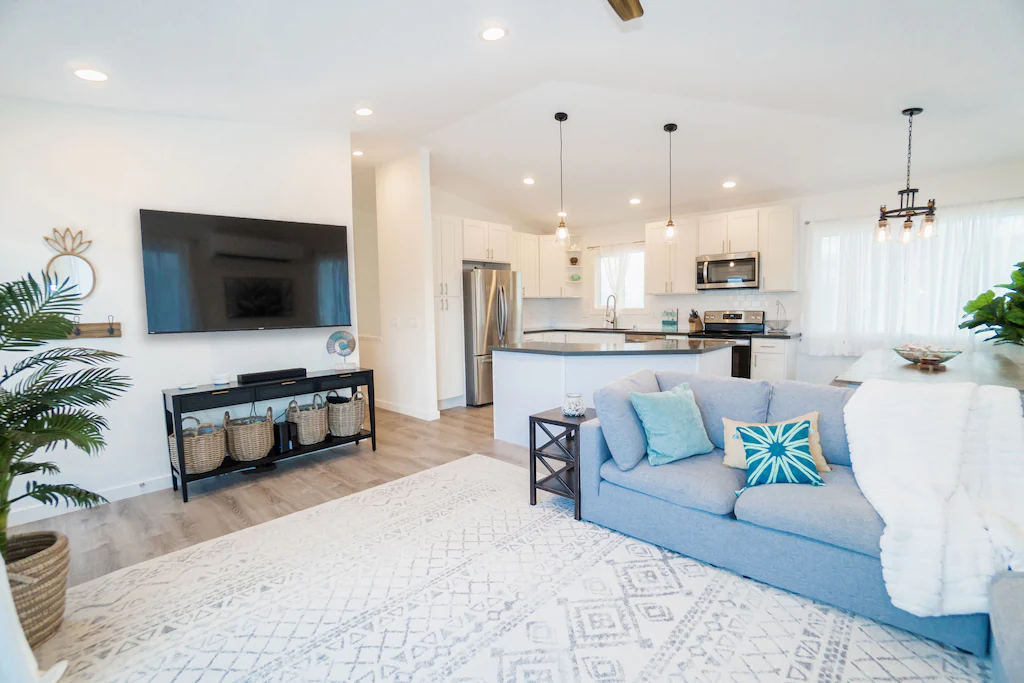 You're also within walking distance to the local town where you can shop, check out food trucks, or peruse fruit stands. Check the latest rates and more information.
Go for a luau at the nearby Turtle Bay Beach Resort or explore the miles of mountain and coastal hiking trails in the area.
When you want peace and quiet, head back to the ranch. Relax in the jacuzzi on the lanai and enjoy the sunset from the yard. You won't miss all those Oahu villas with private pools!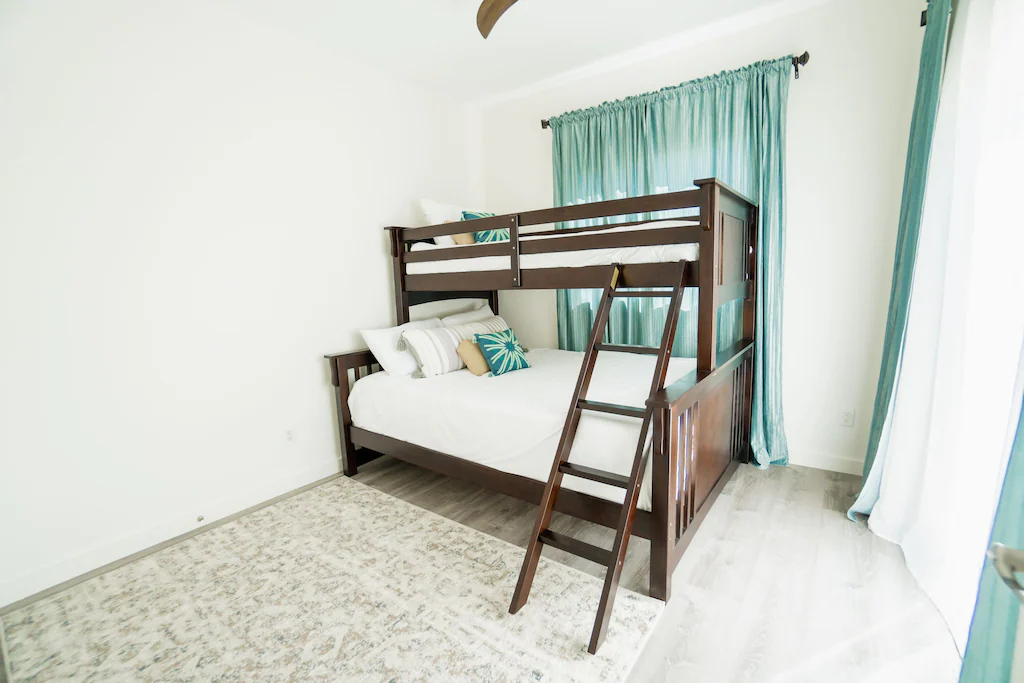 The multi-generational home offers spacious gathering spaces across 2 floors. It includes a travel crib and highchair, as well as children's toys and all kinds of beach gear.
Play basketball in the driveway or ping pong on the lanai. Or simply enjoy a glass of wine and take in the countryside in lawn chairs out back.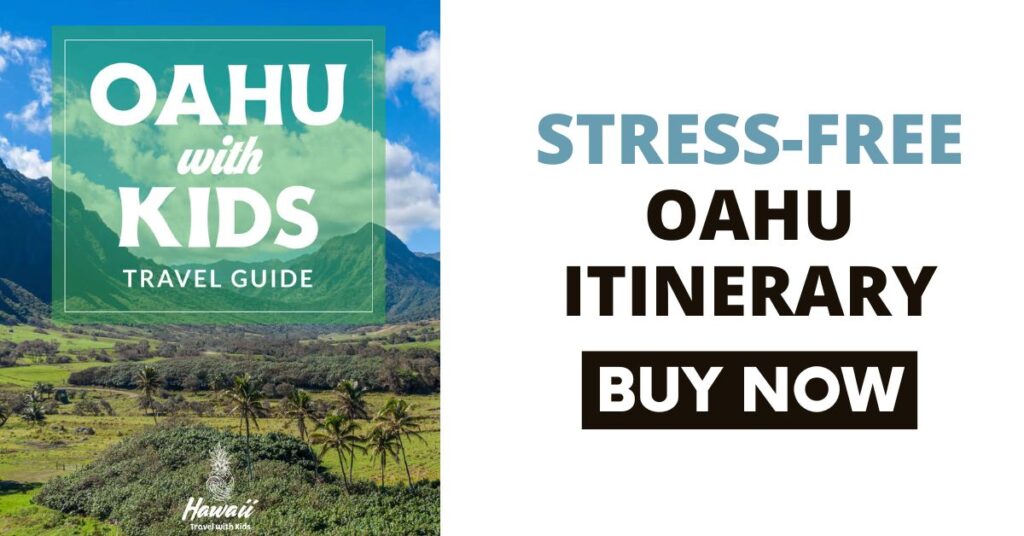 Final Thoughts Oahu Vacation Rentals for Big Families
Finding the right kind of Oahu vacation rentals for large groups depends on where you're looking and what kind of experience you want to have.
Waikiki is a great place to find multi-room condos and homes near big attractions. In Oahu's luxury Ko Olina Resort, there are creative options with sets of villas for larger groups of visitors! North Shore has villas and more spacious country homes near the resorts.
Private rentals in Oahu offer you space, autonomy, and all the comforts of home. Plus, you're not far from some of the most fun tourist attractions when you book Oahu vacation rentals for your large group!