Planning a trip to Oahu with kids? Keep scrolling to find out the best resorts in Oahu for families worth checking out.
This post about the best resorts in Oahu for families contains affiliate links which means if you purchase something from one of my affiliate links, I may earn a small commission that goes back into maintaining this blog.
The best part about traveling is experiencing the trip with those we love the most.
Here at Hawaii Travel with Kids, we have a bunch of resources organized by island to make your Hawaii trip easy, safe, and enjoyable.
Today, we're exploring the best resorts in Oahu for families looking for awesome accommodations perfect for kids and adults. These Oahu family resorts are totally worth booking for your next trip.
From kid-friendly amenities to wallet-friendly villas and space to create more affordable filler meals in a hotel kitchen, these resorts are amazing options for a truly remarkable vacation both on the beach and in the hotel.
Oahu is home to some of the best family resorts in Hawaii with epic pools, amazing kids clubs, and on-site amenities.
Come explore Oahu with us!
Don't have time to read a bunch of Hawaii blog posts and reviews? Here are some of our top picks for visiting Oahu with kids.
Best Kid-Friendly Oahu Tours/Activities
Best Kid-Friendly Oahu Resorts
Want to skip all the planning and just access my detailed Oahu Itinerary complete with daily schedules, kid-friendly activities, and travel hacks? Click the button below.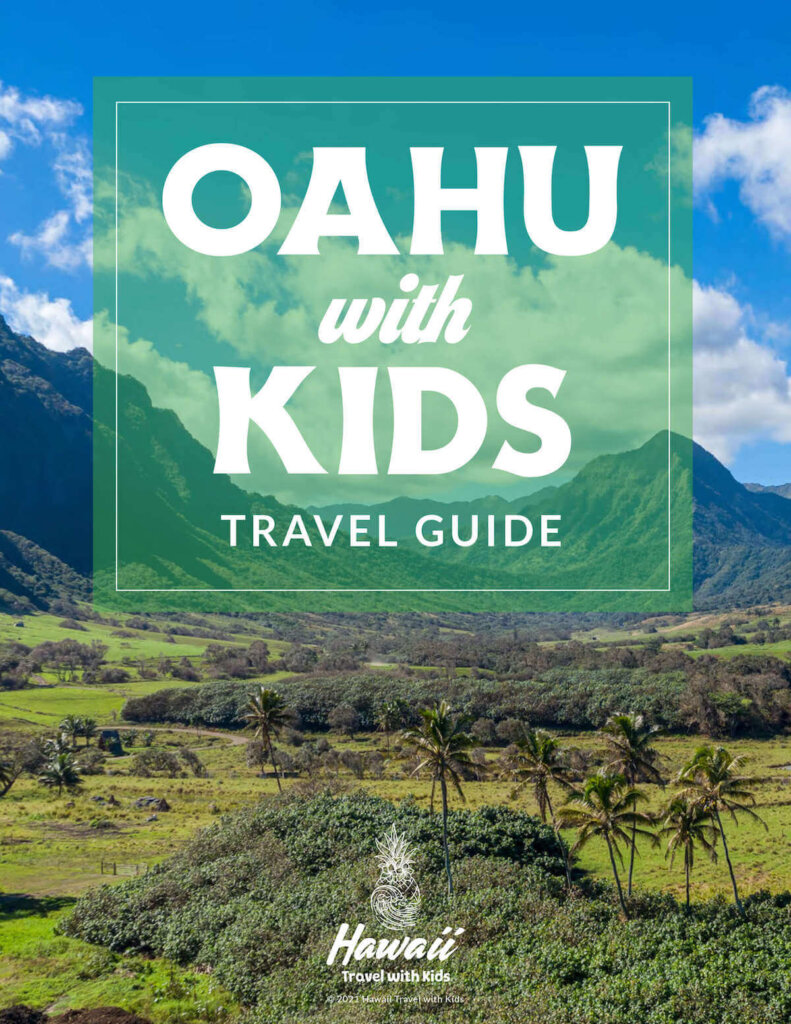 Oahu with Kids FAQs
What are the best family excursions on Oahu?
There are so many cool things to do on Oahu with kids. You can take a snorkeling boat tour, explore North Shore Oahu, spend the day at the Polynesian Cultural Center, take a circle island tour, and so much more.
What should I do on Oahu with kids?
There are tons of kid friendly Oahu activities. Kids can learn to surf or paddle board, take a submarine ride, go horseback riding, explore the Honolulu Zoo, visit Sea Life Park, take the Waikiki Trolley, go ziplining, or just relax at a beach or your hotel pool.
What's the best kid friendly luau on Oahu?
There are tons of awesome luaus on Oahu. Our favorite is Toa Luau up on the North Shore because they offer lots of hands on activities before the show and it's not crowded at all. Another option is Nutridge Luau near Waikiki that is also an intimate experience for families.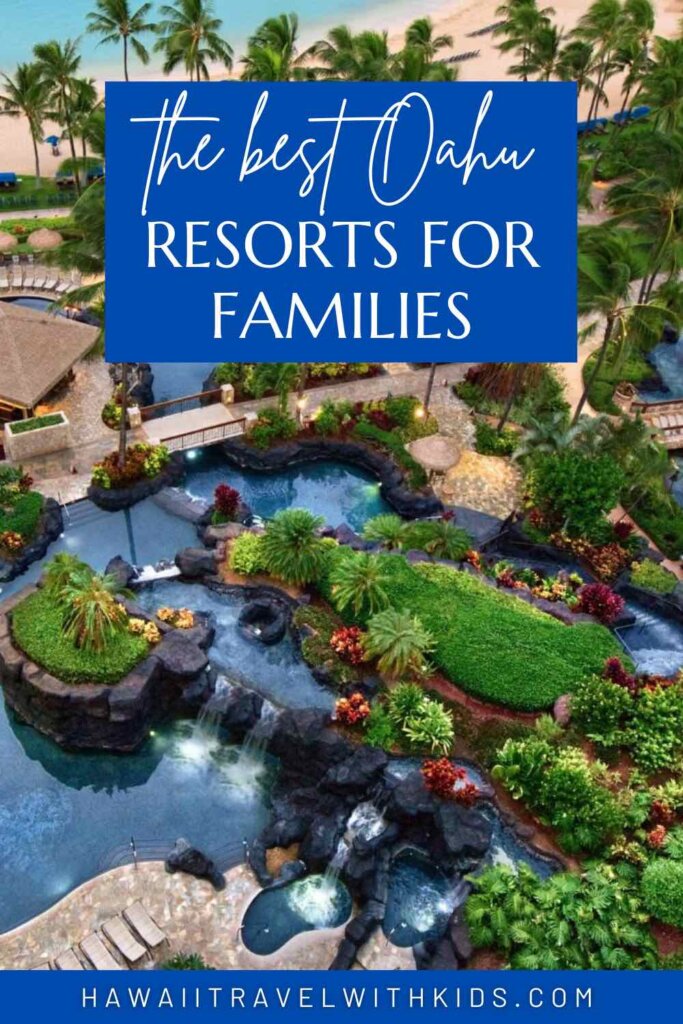 Best Oahu Resorts for Families
It can feel overwhelming to look at all the kid-friendly Oahu resort options. Here are some of our top picks!
One of the best family resorts in Hawaii is the Hilton Hawaiian Village. You might recognize it from Hawaii Five-0.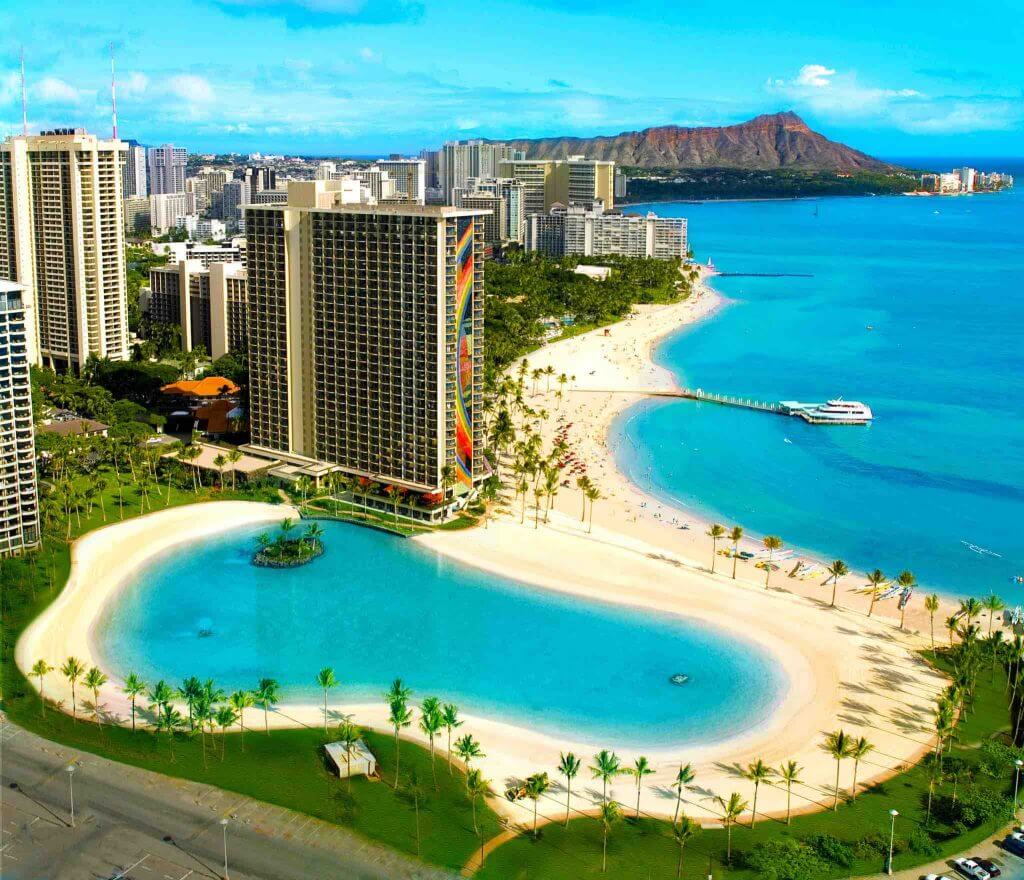 It's a massive resort in Waikiki that features a 10,000-square-foot Super Pool as well as a Paradise Pool and a large water slide. These are the best pools in Waikiki. Check the latest rates and availability.
It's definitely one of the best hotels in Waikiki for families who want a lot of on-site amenities like restaurants, shops, and even a luau.
The kid's club here is named Camp Penguin Kids Club and caters to children aged 5 to 12. Camp counselors lead activities at the club, and even chaperone off-site field trips to the Waikiki Aquarium and Honolulu Zoo.
Plus, every Friday night they host a free fireworks show right at the beach. The Hilton Hawaii Village is the best place to stay in Waikiki for families.
Another one of the best family hotels in Waikiki usually slips under the radar. The Alohilani Resort was renovated recently and they now have an aquarium in the lobby!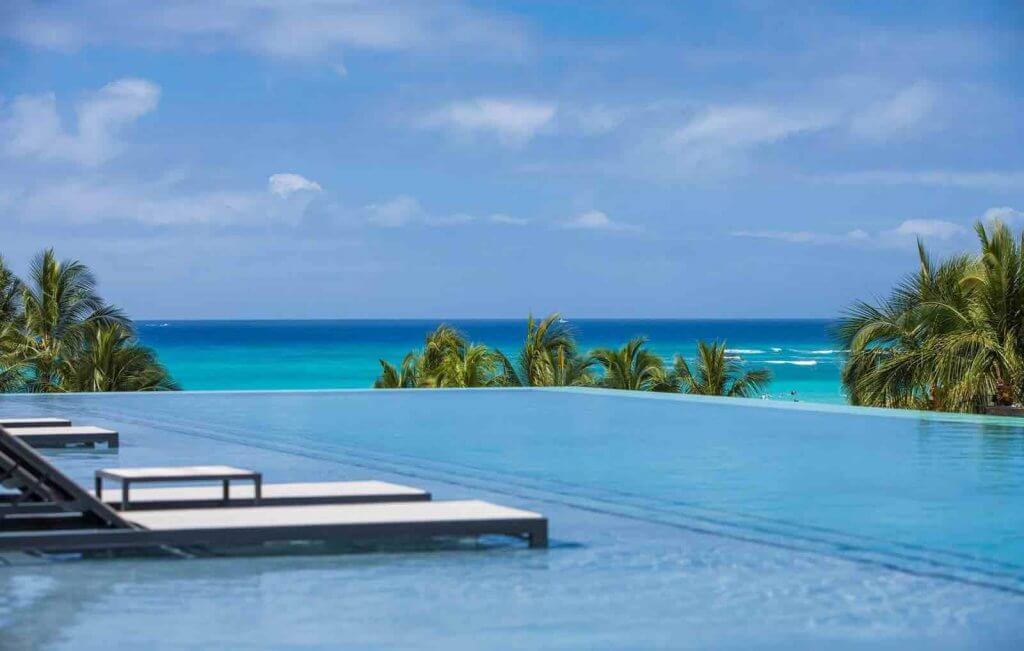 This Oahu resort has both standard rooms and family suites. Plus cribs are available. Check the latest rates and availability.
Like most family hotels in Honolulu, the Alohilani has an awesome pool area. It's an infinity pool with an attached hot tub. And they even have a kids pool for children 12 and younger.
For families looking for a Hawaii resort with a kids club, Alohilani has the Monkeypod Kids Club for kids ages 5-12. This feature makes it one of the best Oahu resorts for kids.
Plus, there's an upscale restaurant by Iron Chef Morimoto, a casual ramen place, a coffee shop, pool bar, and even ice cream.
The Sheraton resort located in Waikiki, Oahu is an extremely large resort with a total of 1,636 rooms on the premises.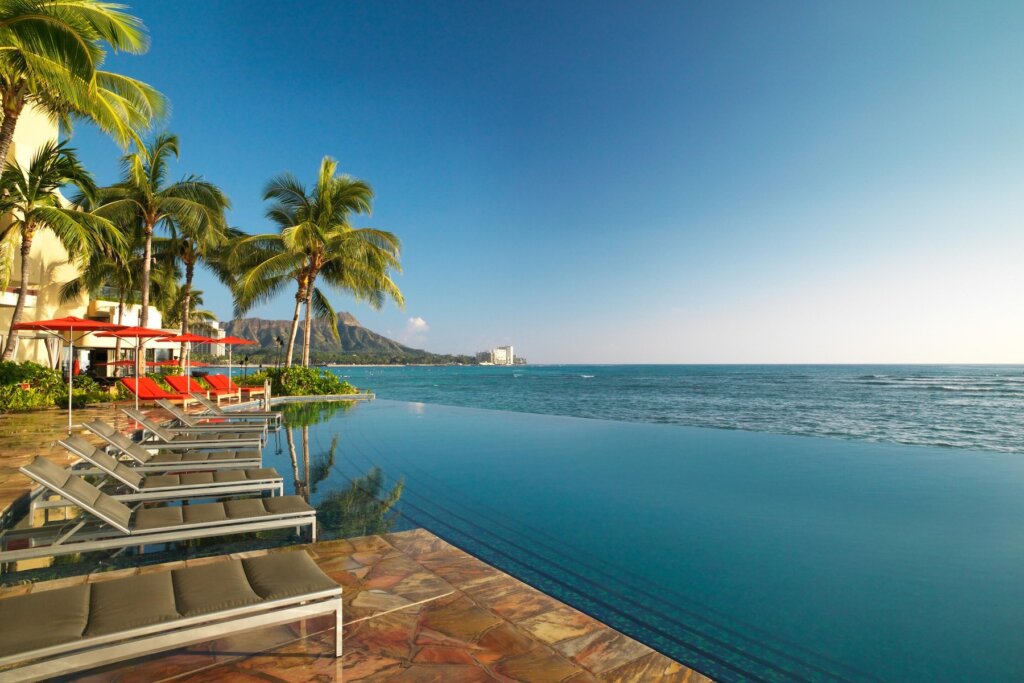 Waikiki Beach is located on the south shore of Honolulu and is a popular resort and large beach area. Check the latest rates and more information.
We've previously looked at the 5 Best Oahu Beaches for Kids, and Waikiki Beach is a top contender on that list for its water sport options and shallow sand.
The area features shopping, dining, entertainment, and more. Pair these with a top-class resort like the Sheraton, and you're bound to have everything you need for both a relaxing and exciting getaway.
This Oahu kid-friendly hotel is a popular spot due to the beautiful beaches and amenities. The Sheraton also has a kid's camp for younger children and a policy for kids aged 16 and younger to stay for free.
Looking for something in addition to the beach?
The resort is steps away from the beach sands, and three miles from the Diamond Head crater. The crater is a volcanic cone, shaped like a tuna's dorsal fin, and hosts the Diamond Head State Monument.
Visiting the Hawaii State Park is affordable at $1 per walk-in visitor and $5 per parked car.
The Royal Hawaiian Hotel is another fabulous choice for a stay by Waikiki beach.
The hotel offers luxurious stays and even specializes as a wedding or vow renewal venue. Staff at the hotel are also professional event planners and can make planning a special day a one-and-done easy hire.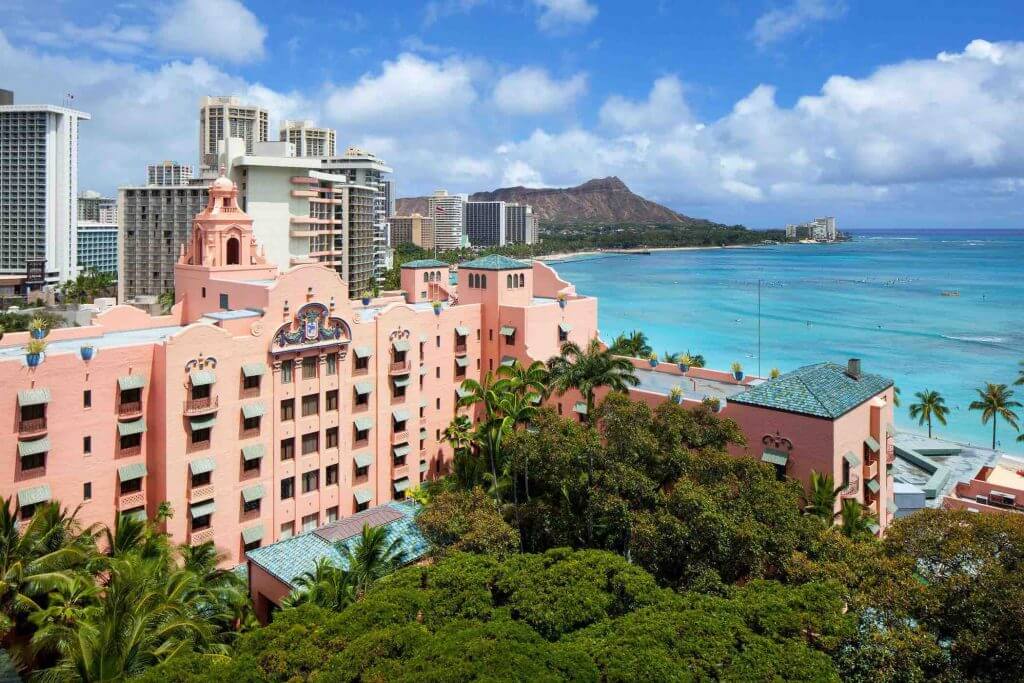 The Royal Hawaiian is centrally located in Waikiki. And it's so easy to walk to lots of restaurants, shops, and attractions. Check the latest rates and more information.
The hotel's spa, The Abhasa Spa, was named 2nd in Spas of America's Top 100 Spas of 2015. Packages offered include classic massages, traditional and tropical facials, body wraps, hair salon services, and more.
The spa is also the only spa in Oahu offering treatments in a tropical garden setting. What's better than pairing spa relaxation with the outside climate of Hawaii, right?
The Royal Hawaiian Hotel is a great option for a classy stay in Oahu paired with relaxation and traditional experiences.
Take the Royal Hawaiian History tour, learn how to make flower leis, and witness daily koi fish feeding all inside the resort.
Plus they have their own luau!
The Aulani Disney Resort & Spa is the only Disney resort in Hawaii and one of our favorite picks for Hawaii Family Resorts with the Best Kids Clubs. It's the best place to stay on Oahu if you love Disney!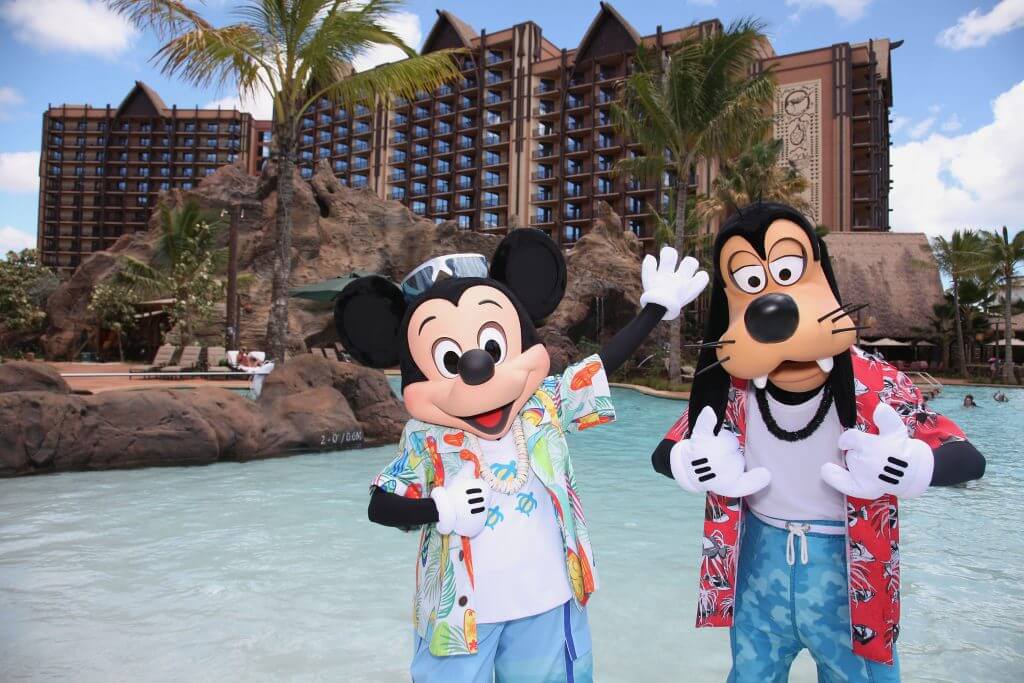 With kitchen amenities and villa floor plans, your stay at Aulani can feel like home. And you can even save money if you're down to cook a few meals in your room. Check the latest rates and more information.
But, it's hard to beat enjoying Breakfast with Mickey Mouse in Hawaii!
Alongside character meet and greets, the resort is known for its extensive array of pool areas.
Included with any stay at the spa are two water tubing adventures down Waikolohe Stream. One path takes you down extreme rapids and caverns, while the other is a lazy river ride.
The Ka Maka Grotto is an infinity-edge pool overlooking the Ko Olina beach. There's also the Menehune Bridge, the perfect water playground for young kids. The bridge features two slides and a play structure.
While all of these adventures are included with a booked stay at Aulani Disney Resort & Spa, you can also choose to reserve a private cabana in the Waikolohe Valley pool area.
Finally, Aulani has a 3,800-square-foot private snorkeling lagoon, named the Rainbow Reef. This is where you can swim with fish without natural rough ocean waves.
Aulani is definitely one of the most kid-friendly Hawaiian resorts.
Similarly located close to the Ko Olina Beach, Marriott's Ko Olina Beach Club resort is a beautiful villa resort option inside a gated community.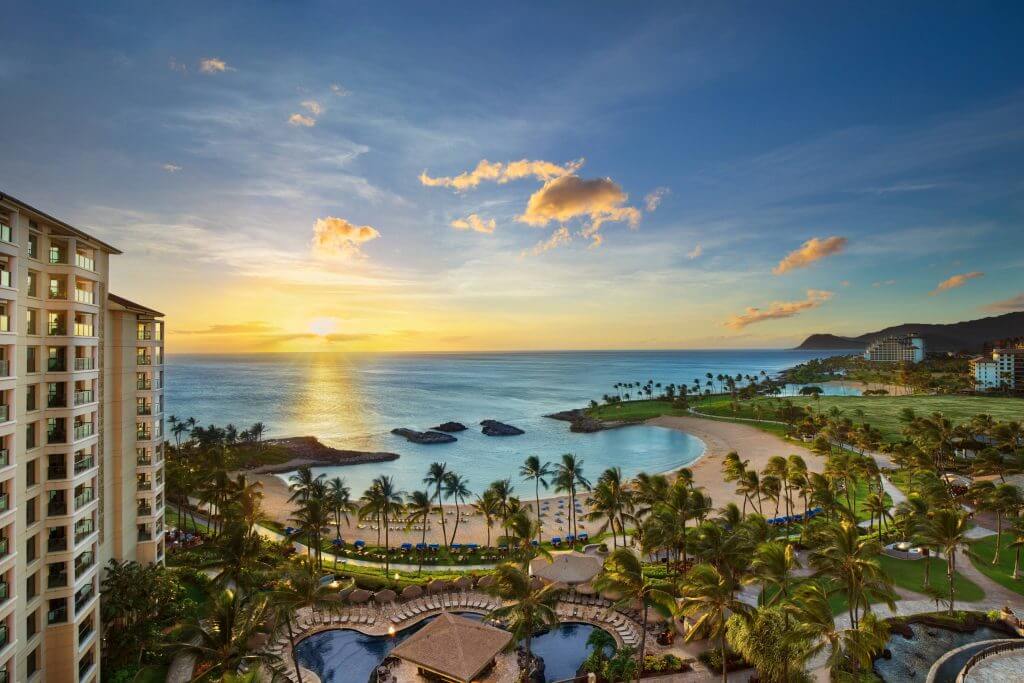 While the Marriott's pools are plenty exciting, they also feature a Reflection Quiet Pool explicitly for quiet relaxation. There's also a relaxing whirlpool spa. Check latest rates and more information.
The hotel spans 640 acres of land in a gated community, alongside crystal clear lagoon water. There are numerous complimentary activities at the hotel, including Aqua Bingo, the Ko Olina Oceanside Theatre, and Hawaiian Lei Making.
Mermaid Kariel and Friends events can make any young heart jump for joy with "swimming with a mermaid" activities and mermaid storytimes.
The club also offers exclusive access to the Ko Olina Golf Club, BBQ grills, and fitness classes. There's even a Keiki Club for kids ages 5-12.
If you're a member of the Marriott Vacation Club, you won't be disappointed by the luxuries and array of options at Marriott's Ko Olina Beach Club. This is one of the top kid friendly resorts in Oahu.
Turtle Bay Resort is one of the best hotels in Oahu for families looking to get away from the crowds of Waikiki.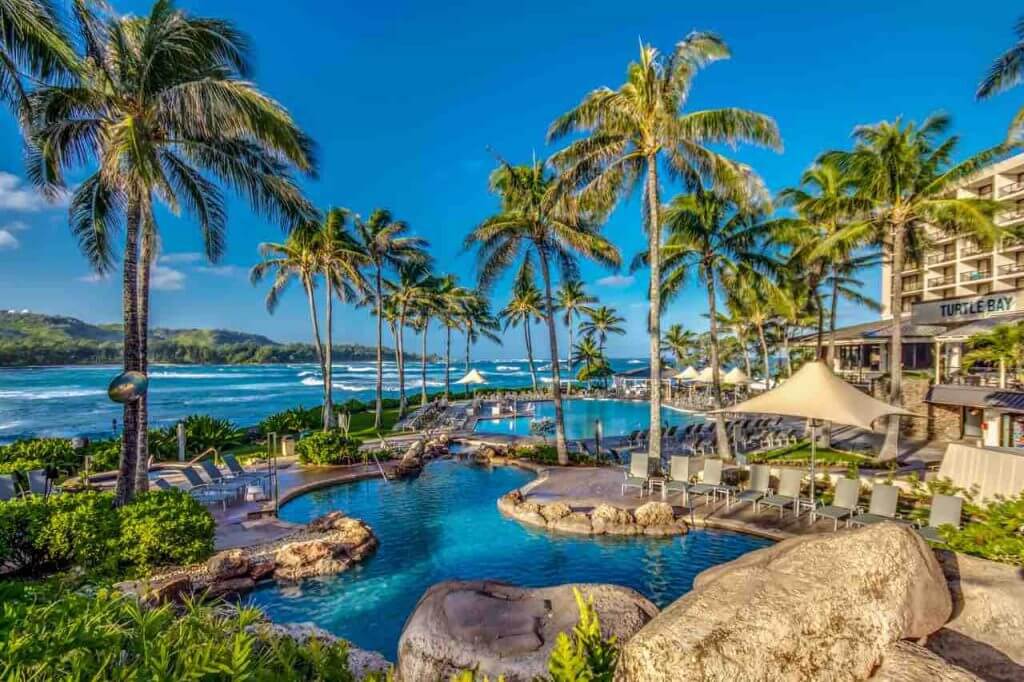 This North Shore Oahu hotel re-opened to the public in July 2021 with lots of updated amenities. Check the latest rates and availability.
If you're familiar with the movie Forgetting Sarah Marshall starring Mila Kunis and Jason Segal, then you'll probably recognize this hotel too, as many of the scenes were filmed here.
Turtle Bay offers some awesome family activities that are included in your resort fee, like ukulele and hula lessons. They also have a nice kids pool with a water slide, a main pool, a tennis court, and even snorkel gear.
This is definitely one of the best places to stay on Oahu's North Shore and one of the top kid-friendly hotels in Oahu.
Choosing an Oahu Resort for Your Family
Choosing the right Oahu resort for your family comes down to balancing a budget, proximity, and amenities.
Does your larger family require a Kids Club so that the adults can have a little bit of solo relaxing time at the spa?
Or do you plan to do very little at the hotel itself and instead spend most of your hours right on the beach?
While the Sheraton Waikiki is a fantastic option for a beachside stay and proximity to the Diamond Head crater. And the Royal Hawaiian Hotel may convince you to never leave the hotel at all!
The Aulani Disney Resort & Spa is hard to resist as Hawaii's only Disney resort. Yet Marriott's Ko Olina Beach Club is very accessible for Marriott Vacation Club members and has a plethora of free activities and relaxation areas.
These are amazing Oahu kid friendly resorts.
Oahu can get a reputation for being one of the more expensive islands to visit, but with thorough planning and scheduling far in advance, you can get ahead of others and afford a longer stay.
Hopefully you've discovered the best places to stay in Oahu for families in this post. If you're looking for an Oahu villa, check out these top-rated villas in Hawaii.
Ready to book your stay and explore even more of Oahu? Learn more about my Top 10 Cheap Things to do in Oahu. Every single thing on the list costs less than $10, so don't be afraid of your jam-packed yet affordable vacation.