Dreaming of a trip to Hawaii with kids? Find out our favorite Hawaii family resorts with the best kids clubs your family will love!
This list of the best Hawaii family resorts contains affiliate links which means if you purchase something from one of my affiliate links, I may earn a small commission that goes back into maintaining this blog.
Family is important, and travel is always more fun with loved ones in tow. It's no wonder that 95% of travelers say that finding someone where everyone will be entertained and happy is a top priority.
Additionally, 70% of families say that amenities for children are an important factor, and 60% of families stay in hotels where there may be more such amenities available.
When traveling to Hawaii, childcare accommodations can be more important than ever. This is especially true when you're traveling with babies and toddlers.
We all love some adventure when visiting Hawaii, from ocean waves to helicopter rides, and hot beaches.
But it can be a lot to handle when bringing kids along who may not know any better when encountering ocean reefs or wildlife.
Today, we're exploring the best Hawaii resorts with kids clubs. These resorts are family favorites for their programming that allows flexibility and de facto daycare that is fun and relieving for everyone involved.
Want to skip all the planning and just access my detailed Hawaii Itineraries complete with daily schedules, kid-friendly activities, and travel hacks? Click the button below.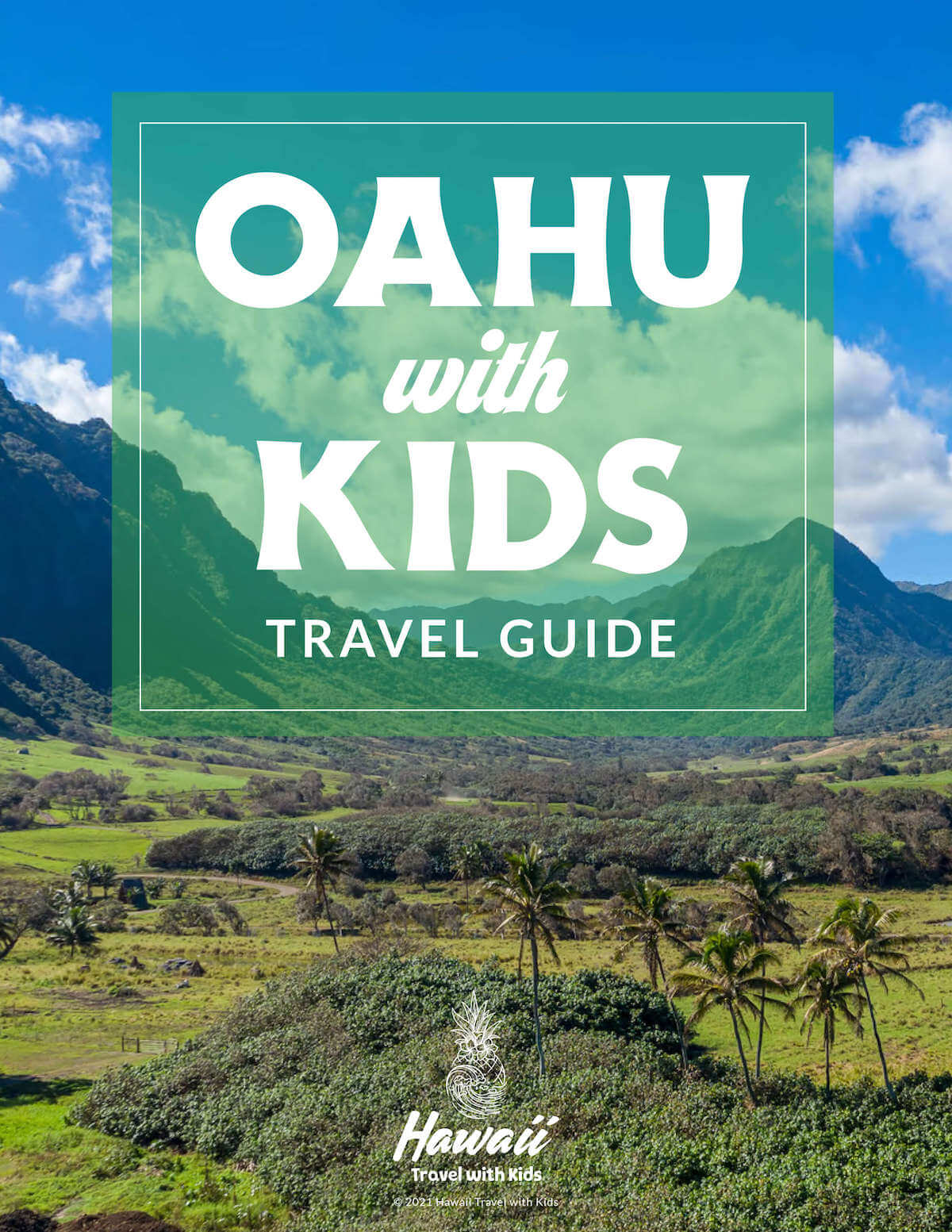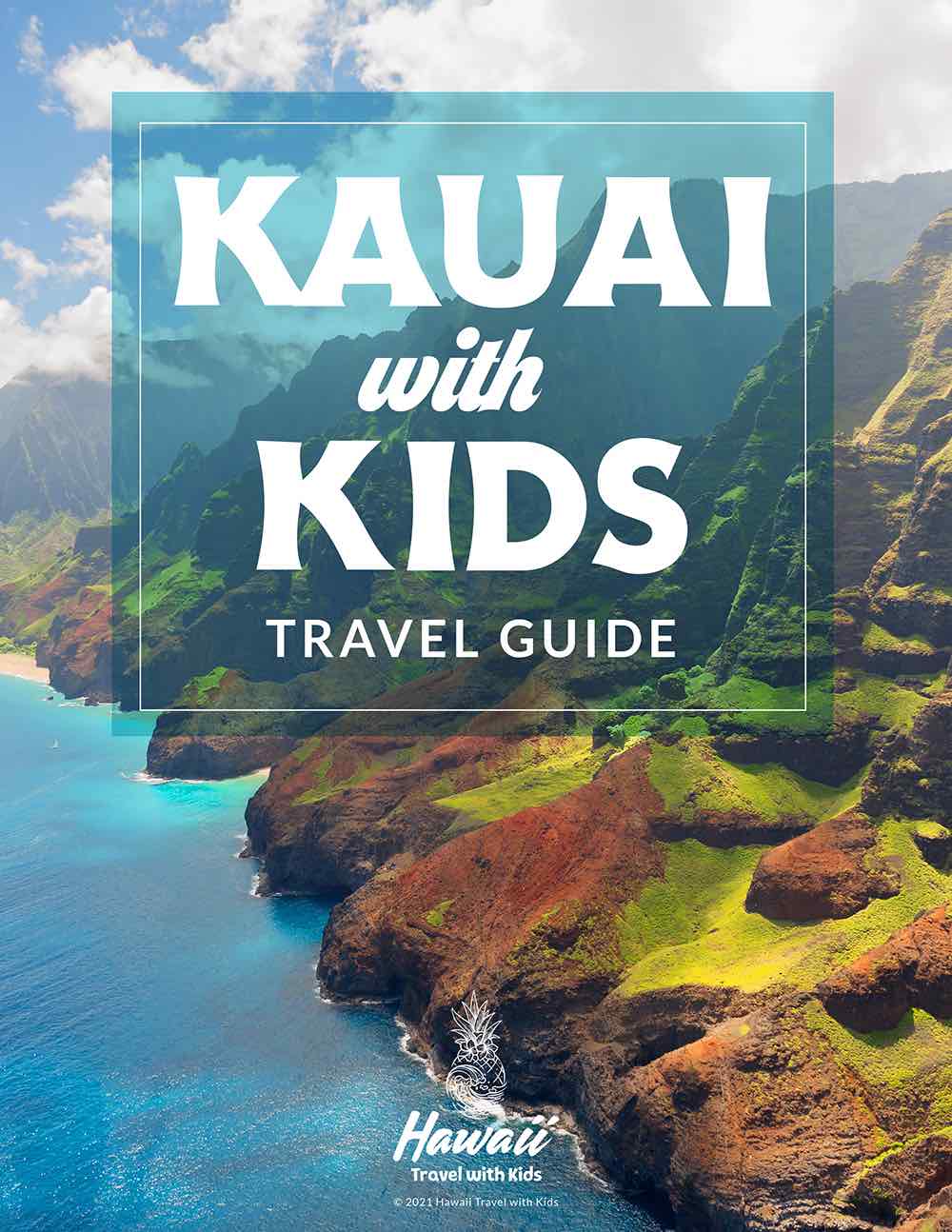 Hawaii Family Resort FAQs
Are there any all-inclusive hotels in Hawaii?
Not really. There are plenty of amazing resorts in Hawaii, but none include food options. However, most resorts in Hawaii offer room service as well as on-site restaurants where you can purchase your own meals.
What's the best Hawaiian island for families?
That really depends on what you'd like to do on your Hawaii vacation. I've got a pretty good comparison of Oahu vs Kauai as well as Maui vs Oahu. These articles break down kid-friendly attractions and activities families are most interested in doing.
What should I look for in a Hawaii resort for kids?
Personally, I always make sure there's a nice pool area (bonus points if there's a waterslide) as well as restaurants we can easily walk to. I also like resorts where I can get my morning latte or a quick grab and go breakfast. And having a kids club as well as scheduled kids activities throughout the day can be super helpful.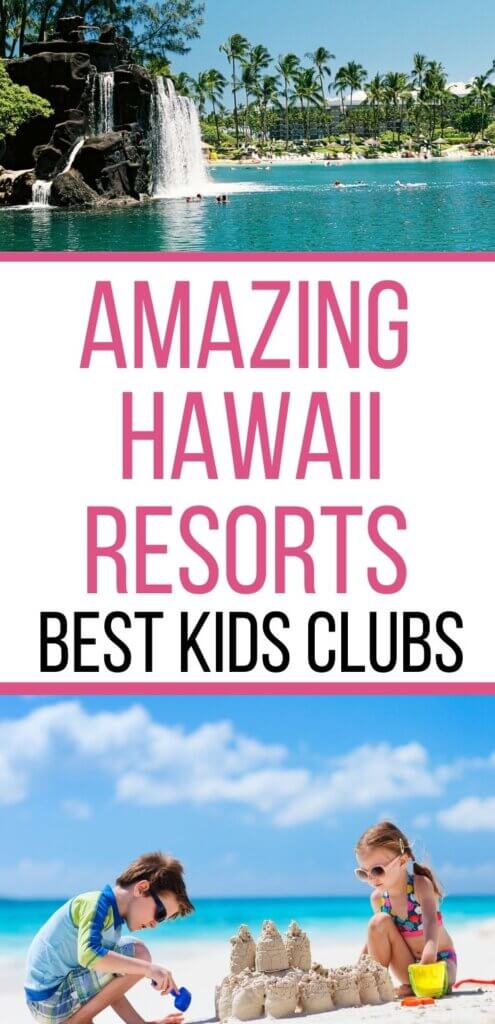 Traveling with the Family and Kids Clubs
So what exactly are kids clubs and why should you seek them out when traveling with your entire family?
Kids clubs are services offered at a variety of resorts and hotels that act as themed and interactive "daycare."
When it comes to Hawaii resorts, many kids clubs try to bring aspects of beautiful Hawaiian beaches and adventure indoors or in heavily curated semi-outdoor areas.
These are perfect for large families and planned rest during your vacation! After all, we all need a break to truly relax and recover.
Some kids clubs offer complimentary services if you are staying in their resort or hotel, while others require an additional fee. The best hotels for families in Hawaii will offer consistent supervision and interactive programming.
Okay, let's take a look at a few awesome family resorts in Hawaii with amazing kids clubs. These will ensure you have the best family Hawaiian vacation!
Incredible Hawaii Family Resorts Worth Visiting
Looking to visit Honolulu? The Hilton Hawaiian Village Beach Resort & Spa is located on Oahu and the Waikiki beachfront.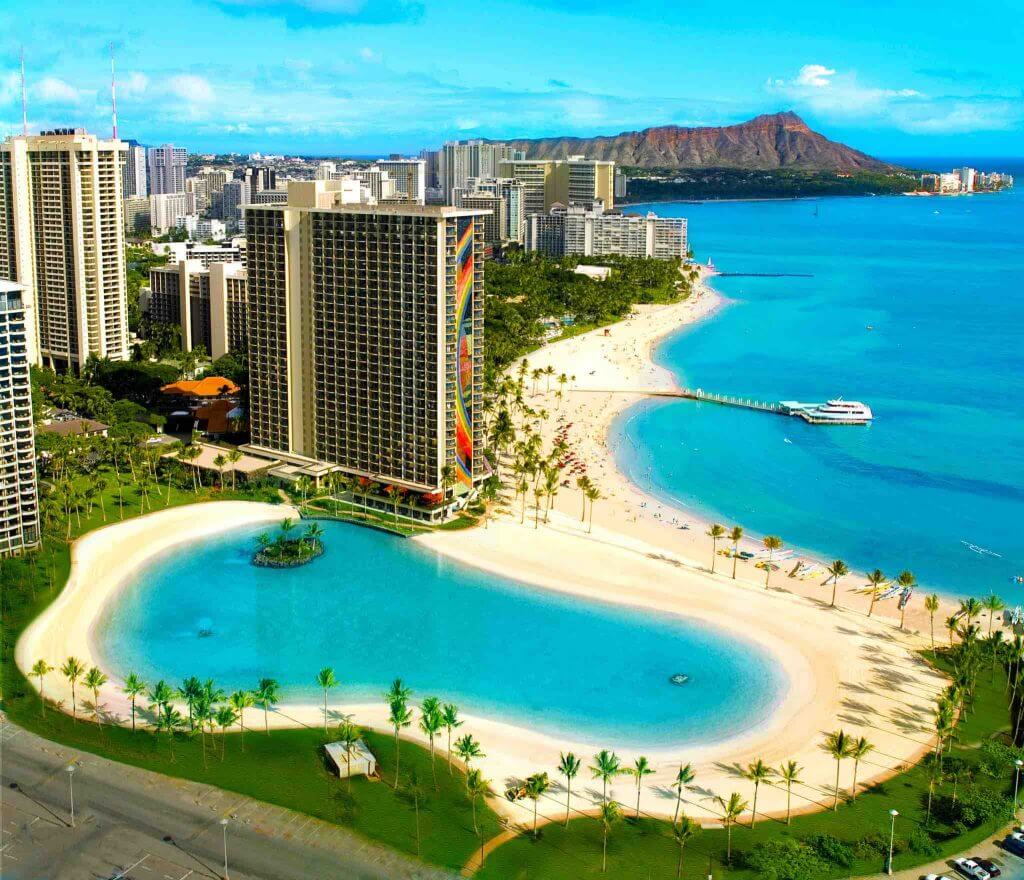 This is the largest resort destination across Waikiki beach! I believe that Waikiki beach is one of the best beaches on Oahu for kids.
The resort features a 10,000 square foot Super Pool as well as a Paradise Pool and a large water slide. Read my full Hilton Hawaiian Village review.
The kid's club here is named Camp Penguin Kids Club and caters to children aged 5 to 12. Camp counselors lead activities at the club, and even chaperone off-site field trips to the Waikiki Aquarium and Honolulu Zoo.
On-site activities include seashell hunting and volcano building, as well as themed days and provided lunch. Yum!
This is definitely one of the best Hawaii resorts for families staying on Oahu. Check the latest rates and get more information.
The Fairmont Orchid was voted the #1 Hotel on Hawaii Island in 2021 according to the U.S. News & World Report!
The hotel features a private lagoon and stand-up paddleboarding. They also offer various dining options, including the Hale Kai Restaurant which hosts both poolside and oceanfront service.
The Fairmont Orchid is well-kept but not as large as the most gigantic resort offerings. It is a beautiful destination full of pools and oceanfront activities. Read our full review.
But perhaps best yet, is the kids club at Fairmont Orchid. The kids club here is named Keiki Aloha and is available for children ages 5-12. Activities for the kiddos include volleyball, a cooking club, and "dive-in" movies.
Hikes and basket weaving are also possible activities for the kids, alongside exploring some close-by fishponds and caves.
This is definitely one of the best Big Island Hawaii resorts for kids. Check the latest rates and get more information.
The Grand Wailea in Maui is known as a luxury option for families, complete with standard rooms, suites, and even villas. Rooms have private balconies, and their swimming pool is expansive, to say the least!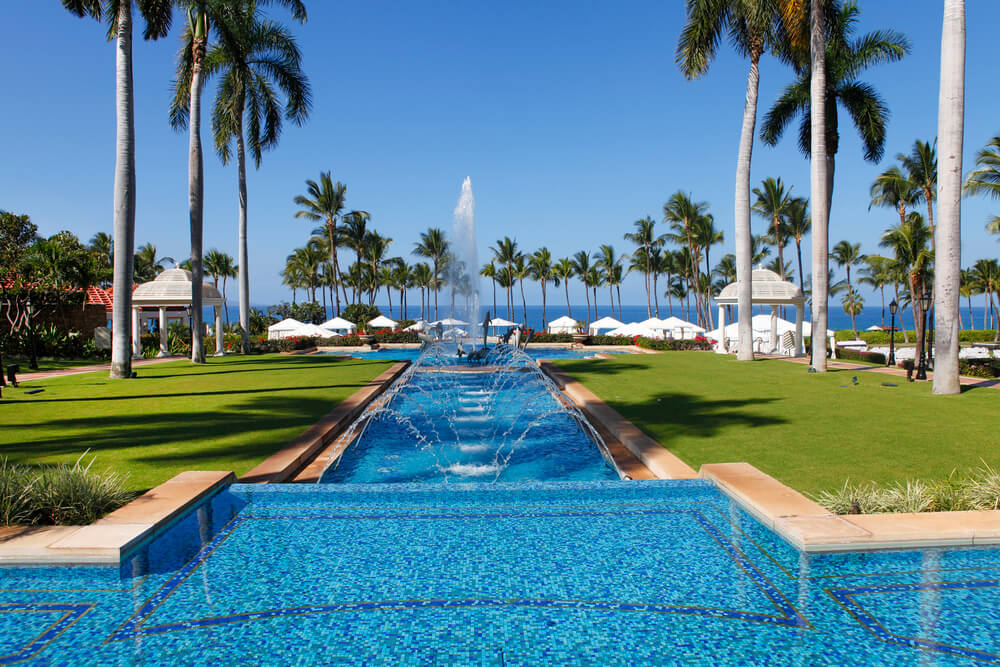 The greatest pull of the Grand Wailea is the Wailea Canyon Activity Pool, boasting 25,000 square feet of waterslides, caves, a lazy river, and rope swings.
A special "water elevator" offers a fun and accommodating way to reach the top of waterslides and is unique to the location.
The kids' club in the Grand Wailea is hosted at "The Rock," and named Camp Grande. This kid's club is not complimentary, with programs starting at $65. However, it is quite extensive in offerings with sessions in the morning, afternoon, and night.
So if you're dreaming of that romantic dinner date or more adventurous day outing without the kids, you're in luck!
The kid's camp features ping pong tables, a movie theater, and even a PlayStation room. There's even a small wading pool for smaller kids and special events like scavenger hunts and lei-making.
This is definitely one of the top Maui family resorts parents rave about. Check latest rates and availability.
This list of best Hawaii resorts with kids clubs could hardly be complete without a Disney entry, right? The Aulani Resort sits between the beaches of Ko Olina on Oahu and close-by mountains and ocean water.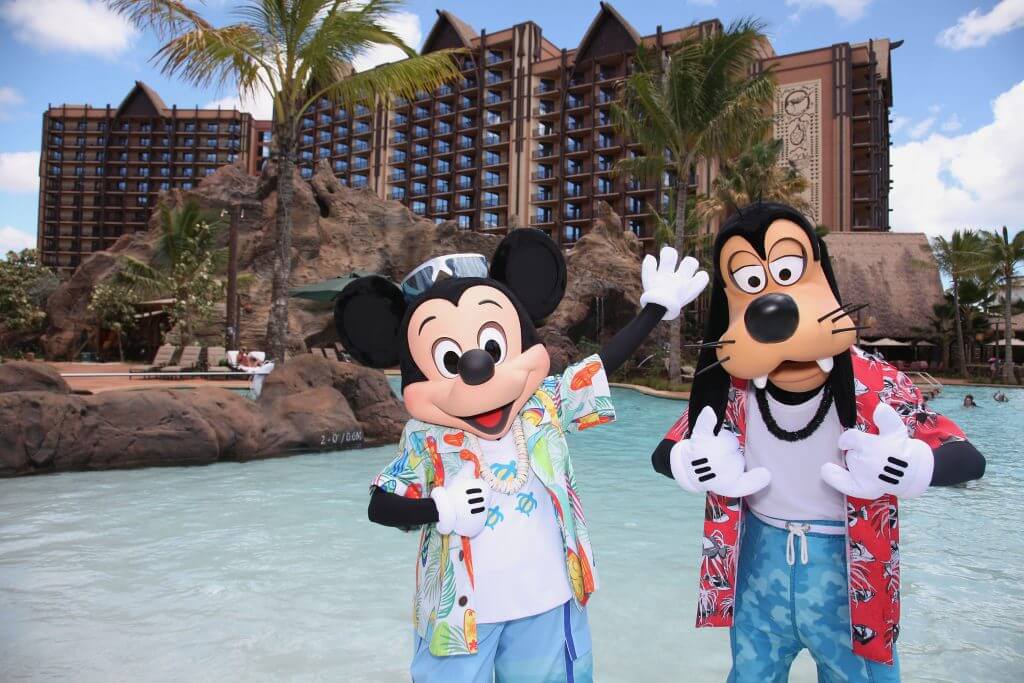 While you'll be far enough from the mass crowds of Waikiki, you'll be close enough to visit the most popular beaches at prime time when you want to.
Aulani Resort is a Disney Vacation Club property, and it does feature character meet and greets for Disney fans like us! This is part of the reason I say it's one of the best kid friendly resorts in Hawaii.
Additionally, depending on the hotel room style you choose, some come with full kitchens that can help cut down on large food budgets when traveling. But, you'll probably want to have Breakfast with Mickey Mouse!
Finally, the Aulani Resort boasts Aunty's Beach House as the resident kid's club. The best part about the club? Most of its activities are completely complimentary! I guess that's part of the Disney Vacation Club magic.
Children aged 5 to 12 are welcome, which is also helpful for younger parents. Activities range from an exploration of Hawaiian culture, art, and music alongside Disney-branded fun. Check latest rates and more information.
The Grand Hyatt Kauai is definitely one of best places to stay in Hawaii for families who want a low key Hawaiian vacation. Read my full Grand Hyatt Kauai review HERE.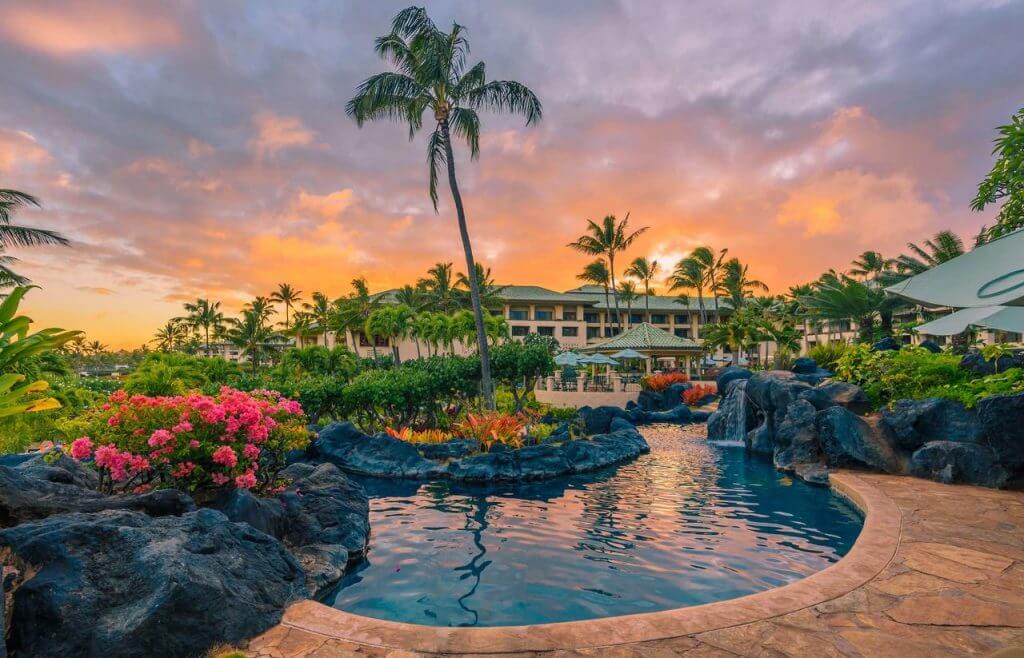 Here, they offer Camp Hyatt Kauai. This is a fun, active program exclusively for children ages 3 to 12. While the kids play, parents can head to their on-site spa to get pampered or go exploring Kauai.
Families can also play in their lazy river that winds through waterfalls and tucked away grottos. Kids of all ages will love their 150-foot water slide. And they have an adult-only pool.
Plus, the Grand Hyatt Kauai has a few restaurants, a coffee bar, kids programming throughout the day, and even an on-site luau.
These are just a few reasons why it's one of the best resorts in Kauai for families. Check latest rates and more information.
The Best Hawaii Resorts with Kids Clubs
When looking to travel to Hawaii with family, it's important to make sure that everyone coming along will be accounted for.
And while you can definitely have a successful vacation without kid's clubs, sometimes having at least an option for daycare is relieving to parents looking to close their eyes for just a second longer!
Here at Hawaii Travel with Kids, I write from my own perspective as a mom of two.
I've visited Hawaii over 35 times, and love to do so the most with my family by my side. Ready for even more options for places to stay in Hawaii? Give my post on Best Hawaii Hotels for Families a read for specific suggestions organized by islands.
P.S. Join our Hawaii Travel with Kids Facebook group to get connected with other families planning a trip to Hawaii!