Are you thinking about planning a trip to Oahu in October? Find out some of the best things to do in Oahu in October that are worth adding to your itinerary!
This list of things to do in Oahu in October was written by Hawaii travel expert Marcie Cheung and contains affiliate links which means if you purchase something from one of my affiliate links, I may earn a small commission that goes back into maintaining this blog
Oahu is a stunning location to visit in October. There are a wide variety of activities that you can participate in during your spectacular Hawaii vacation.
Taking a trip to Oahu in October presents lots of chances to enjoy some great weather and more. In fact, you can even celebrate Halloween on Oahu.
Oahu has many October events that will keep everyone happy. During the month of October, the crowds have lessened, making the beaches and events a lot less busy. Not to mention, the hotels will be less expensive as well.
When you visit Hawaii in October, here are all the fun things to do during this month!
Don't have time to read a bunch of Hawaii blog posts and reviews? Here are some of our top picks for visiting Oahu.
Popular Oahu Tours/Activities
Favorite Oahu Resorts/Hotels
Want to Rent a Car in Hawaii?
One of the best places to rent a car in Hawaii is Discount Hawaii Car Rental because they get the best rates from top national companies like Alamo, Dollar, Thrifty, Avis, Enterprise, Budget, and Payless.
Want to skip all the planning and just access my detailed Oahu Itinerary complete with daily schedules, kid-friendly activities, and travel hacks? Click the button below.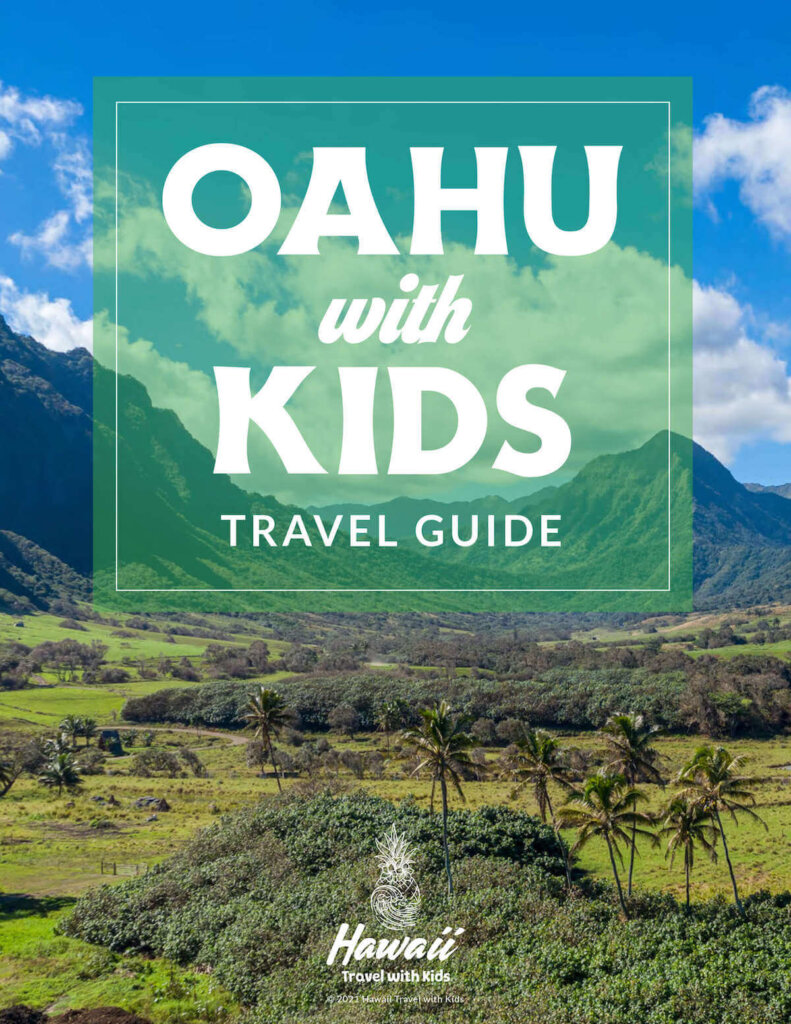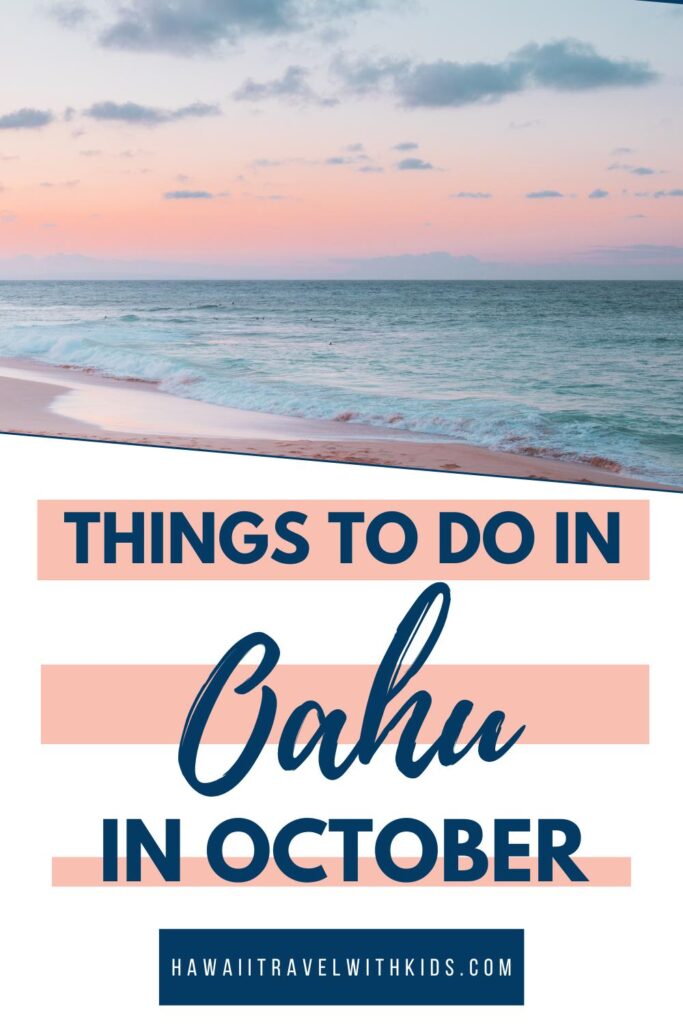 Weather in Oahu in October
October in Oahu is the final month of the drier seasons. In October you can take advantage of warm weather and clear skies, making it ideal for outdoor activities and more.
The temperatures in Oahu won't have dropped too noticeably in October. The weather in Hawaii in October is ideal for those looking to get away from the cooler fall weather in other areas of the world.
Temperature in Oahu in October
The Oahu weather in October does offer a small temperature drop, however, it's not very noticeable. Oahu remains warmer than other areas during the fall months, making it a pleasant escape.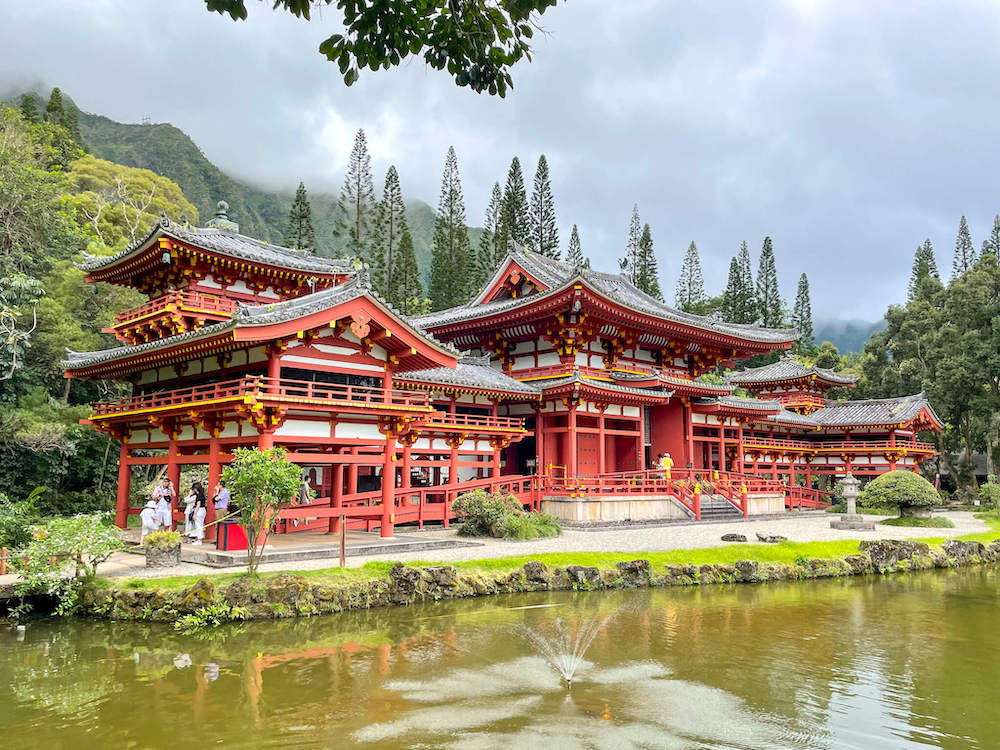 The average weather in Oahu in October offers temperatures of approximately 86 degrees Fahrenheit. This means it remains reasonably warm and fantastic for beach days.
The average low temperature in October in Oahu is 73 degrees Fahrenheit. If you do plan on visiting higher elevations, it is a good idea to bring along a light sweater.
The warmest ocean temperatures are around 80 degrees Fahrenheit.
Hawaii offers beautiful weather and the October weather in Oahu is perfect for a Hawaiian vacation.
Oahu Hawaii Weather in October
The weather in Honolulu Hawaii in October is nice and warm, with the evenings not getting overly cold.
There are about 11.5 hours of daylight on the island in October, and there is a likelihood of a few rain showers, however, it mostly rains at night. The Waikiki weather in October is comfortable, so not to worry.
For more information on Hawaii in October go to What it's Like to Visit Hawaii in the Fall.
Things to do in Oahu in October
If you are looking for Oahu October Events, you are in luck. There are so many things to do in Honolulu in October as well as Waikiki and the entire island.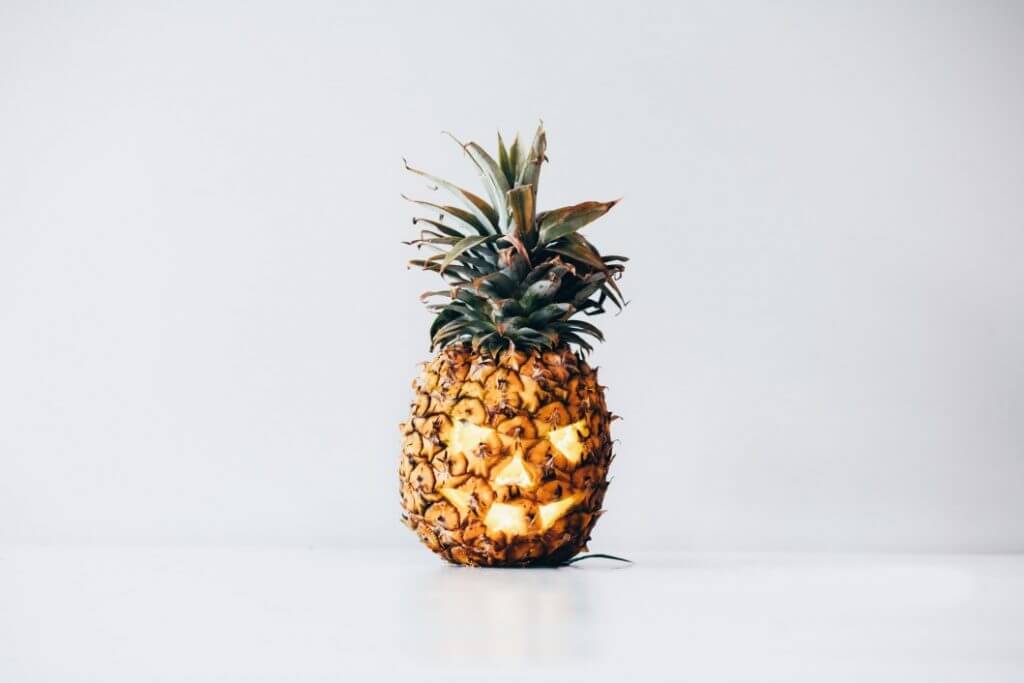 Spending October in Oahu offers several experiences, especially if you are spending Halloween on the Island.
Halloween on Oahu
Halloween is meant to be a spooky season. To celebrate all things frightening, fun, and Halloween, Oahu has several fun Halloween events and more.
Check out an Oahu Pumpkin Patch, an Oahu Haunted House, and more. Spending Halloween in Hawaii is a great way to enjoy the season of scary.
Hallowbaloo
This fabulous event transforms the Chinatown Arts District into a scary and exciting area. There are live music performances and an exciting craft beer festival that features over 25 exotic and premium drinks as well as fantastic street vendors.
There are so many fun events within Hallowbaloo. Check out scary movies that are being screened, costume contests, and more.
Visit the Hallowbaloo Website for more information.
Mysteries of Hawaii Ghost Tours
These amazing ghost tours take place throughout the entire year, but they are especially fun during the month of October. These tours are an exciting way to spend Halloween on Oahu.
There are several different tours that you can choose from. Whether you do the Waikiki Night Marchers Ghost Tour, The Ghosts of Old Honolulu Tour, or Honolulu's Haunted Crime Tour, you are sure to enjoy your experience.
Visit the Mysteries of Hawaii Website for more information.
Waimanalo Country Farms Fall Harvest Festival
This family-run farm offers a great Oahu Pumpkin Patch for everyone to enjoy. Visit the farm and go pumpkin picking just in time for Halloween.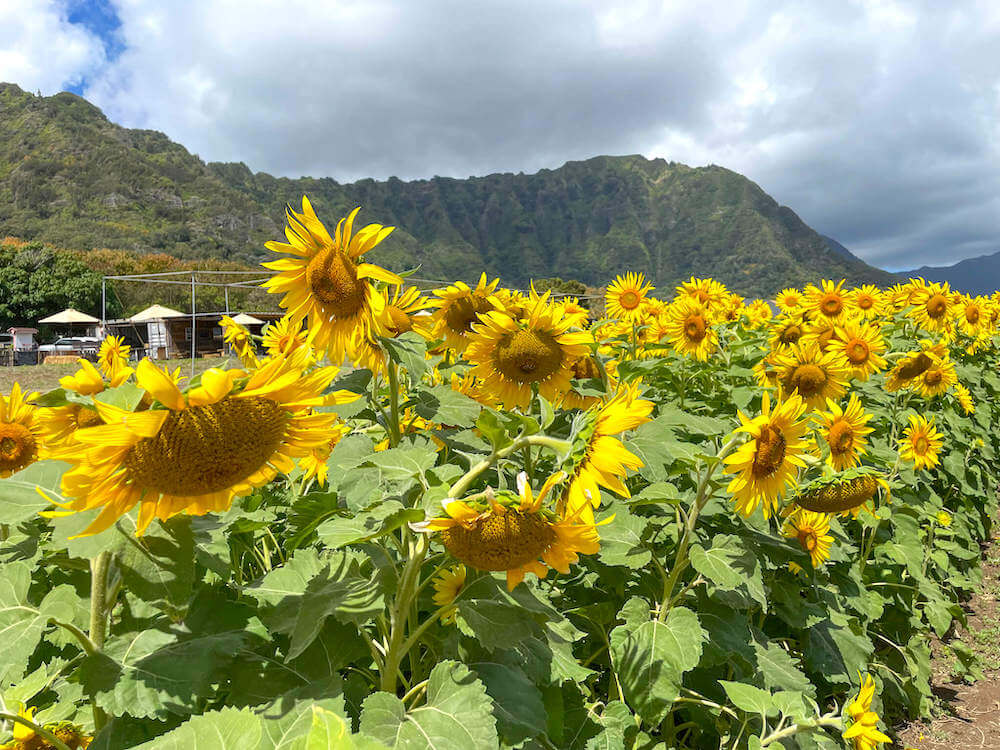 You can also shop at the country market, sip on sweet tea, and visit the sunflower fields.
Visit the Waimanalo Country Farms Website for information.
Nightmare Bar
This fun pop-up event is a must-see in Oahu. Put on your costume and head over to sip on some spooky cocktails, beers, and more.
This space is transformed into a frightening, yet entertaining space and is sure to provide a night of fun and excitement.
Visit Nightmare Honolulu for more information.
Honolulu Zoo Histories and Mysteries Tour
You must be 8 and over to attend this event, but it is a fun one. Check out the walking tour to hear all about the haunted history of the stunning Honolulu Zoo.
There will be guides telling dozens of stories that have been experienced by staff members or passed down through generations.
Visit the Honolulu Zoo Website for more.
Dead End: The Aftermath
This is Hawaii's very first drive through Haunted House. Located at the Aloha Stadium, this is a fantastic experience to be had in Oahu this Halloween.
There are approximately six different eerie and interactive scenes that you can participate in. Be sure to lock your car doors as monsters, clowns, and more surround your vehicle.
Visit the Oahu Haunted House Website for future dates.
Royal Hawaiian Center's Halloween Keiki Costume Contest
This is known as Waikiki's biggest costume contest. Taking place annually at the Royal Grove, this fun event is great for children from infants to 10 years old. Children will get dressed up in gorgeous costumes to compete for prizes.
Those in attendance are also invited to come dressed in their favorite Halloween costumes.
Visit Halloween in Hawaii Things to do for more information.
Haunted Plantation
For one of the scariest things to do, head to the Haunted Plantation. Children under 13 years of age are not allowed, because it can be quite intense.
Eventbrite even named it one of the top 10 most horrifying haunted houses in the United States.
Learn more information here.
Over the Edge
Over the Edge is an annual fundraiser to help locals with intellectual disabilities to be able to participate in the Special Olympics.
If you are visiting Hawaii in October, see if you are around during this event. If you are and can donate to this fundraiser, you might be able to rappel down the Hyatt Regency Waikiki Beach Resort and Spa 40 stories.
It is definitely one of the more unique experiences you will get!
Check out their website for more information.
Harvest Moon Dance
Every year in October at Waimea Valley, you can enjoy this fun event. Each year there is a fundraiser to support a good cause or help support the valley.
There will be dancing, live music, and so much more.
Visit Harvest Moon Dance for more information.
Hawaii Food Wine Festival
During the annual Hawaii food wine festival, you can taste delicious Hawaiian cuisine and incredible wine.
The nice part is that it is on multiple islands, with a couple of days on the Big Island, Maui, and Oahu.
You can learn more information here.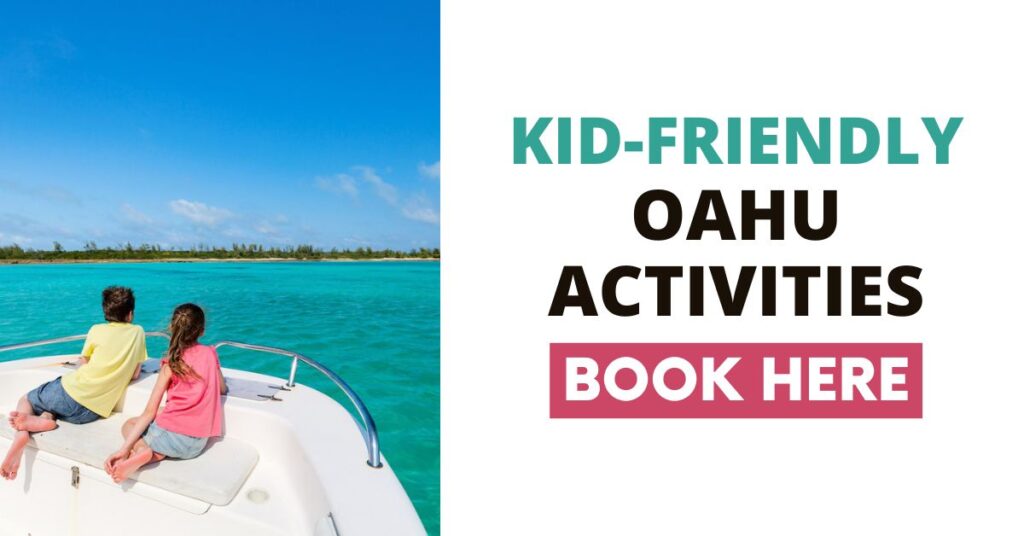 Top 10 Attractions in Oahu in October
Visiting Oahu in October is a fantastic opportunity to participate in several fun activities. There are so many things to do in Honolulu Hawaii in October. In fact, the entire island of Oahu boasts a ton of different exciting attractions.
With so many things to do in Oahu in October, your vacation is sure to be an exciting one.
1. Manoa Falls
Manoa Falls is a great place in Oahu to visit. Nestled in the jungle, you will find a dedicated trail that leads to this spectacular waterfall.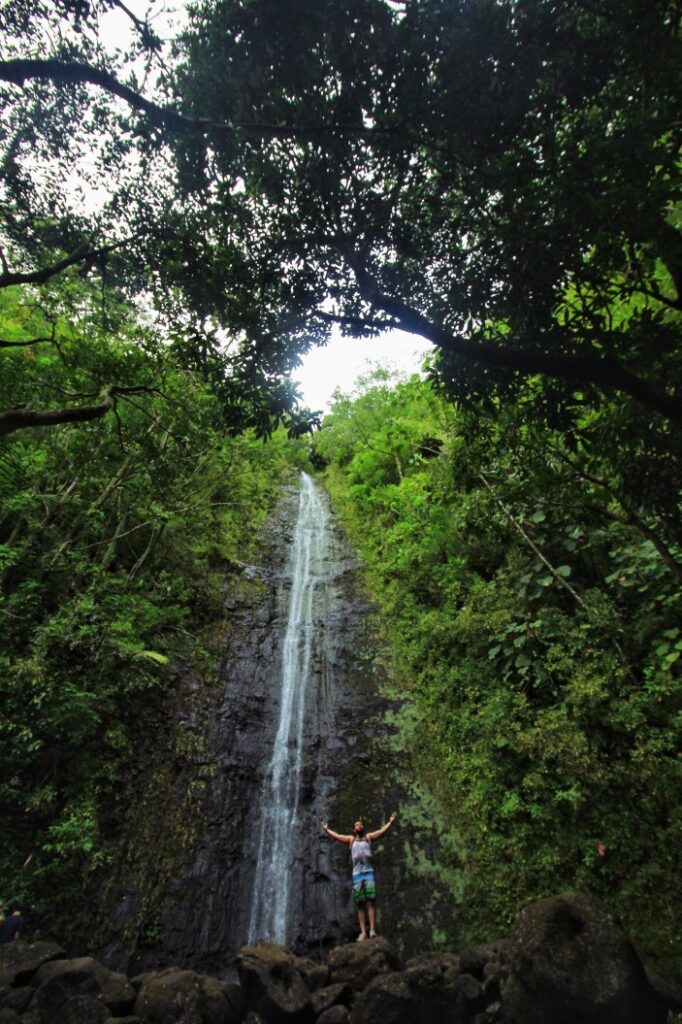 The hike itself is a gorgeous experience, walking through prehistoric-looking plants and stunning tropical trees, you will eventually reach the 45-meter waterfall.
The total round-trip hike is about 1.6 miles long, making it a great quick hike. Please note that swimming in the water under the falls is greatly discouraged for safety reasons. There is too much potential for falling rocks.
While swimming isn't a great idea, there are plenty of areas to have a picnic, and enjoy the amazing views.
2. Sunset Sail
A Hawaiian sunset is absolutely beautiful. There are many different spots on the island of Oahu where you can view the sunset. However, one of the best viewpoints is from the ocean itself.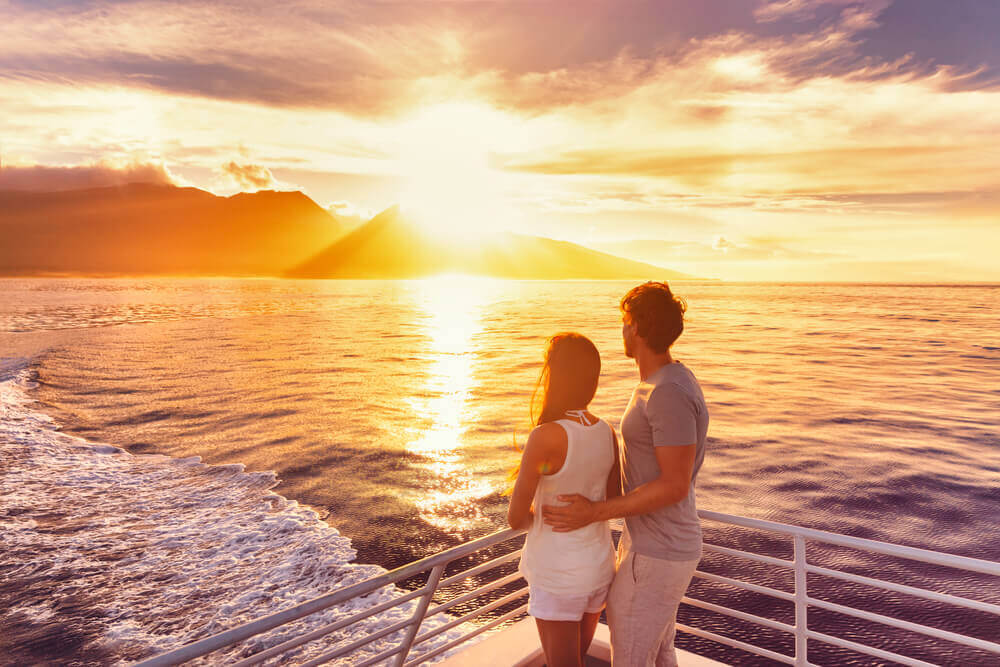 There are several different options for a sunset sail. You can board a sunset sail complete with great food, live entertainment, and excellent beverages. There are options to go on a luxury catamaran or even a traditional Polynesian canoe.
No matter what you choose, the sunset is sure to impress.
Book a Family Photo Shoot
Whenever we travel to Hawaii, we almost always book a family photo shoot with Flytographer. They are super easy, affordable, AND it guarantees that I'll be in some photos. You can get $25 off if you book through this link or use the code HAWAIITRAVEL.
3. Helicopter Tour
The geographical diversity of Oahu is so diverse. With gorgeous towering volcanoes, lush forests, endless coastlines, and more, getting a bird's eye view is a great way to take it all in.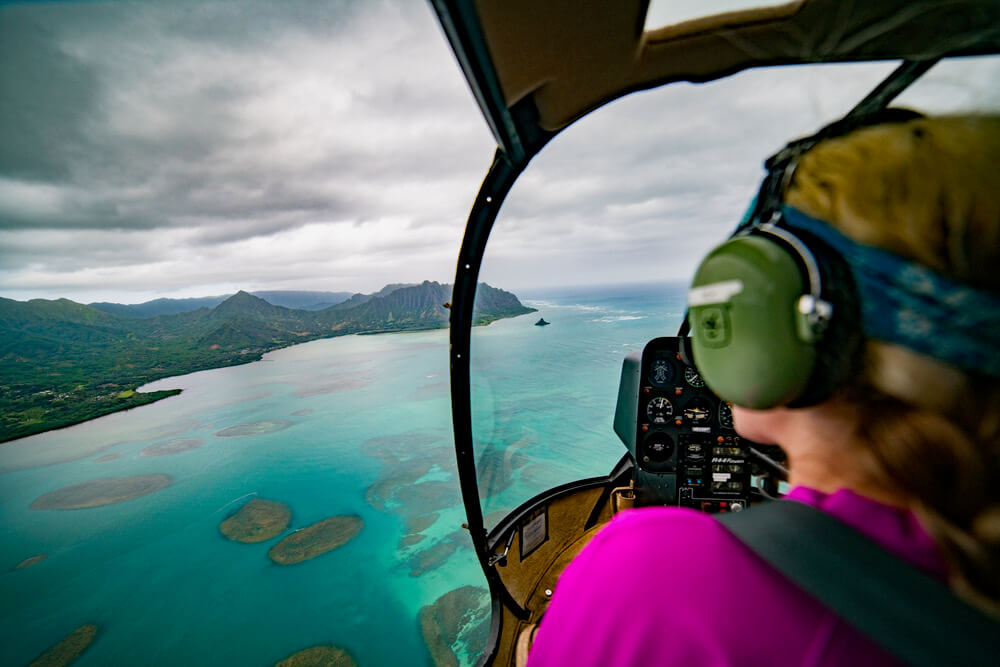 There are many different helicopter tour options. There are different locations, durations, and more to choose from.
Regardless of what you decide upon, these tours are a great way to take in all the beauty Oahu has to offer.
4. Zipline
A zipline tour is another fabulous way to get a bird's eye view of all Oahu has to offer. The best part? You can choose the zipline that works best for you. There are choices ranging in length from 150 meters to over 700 meters.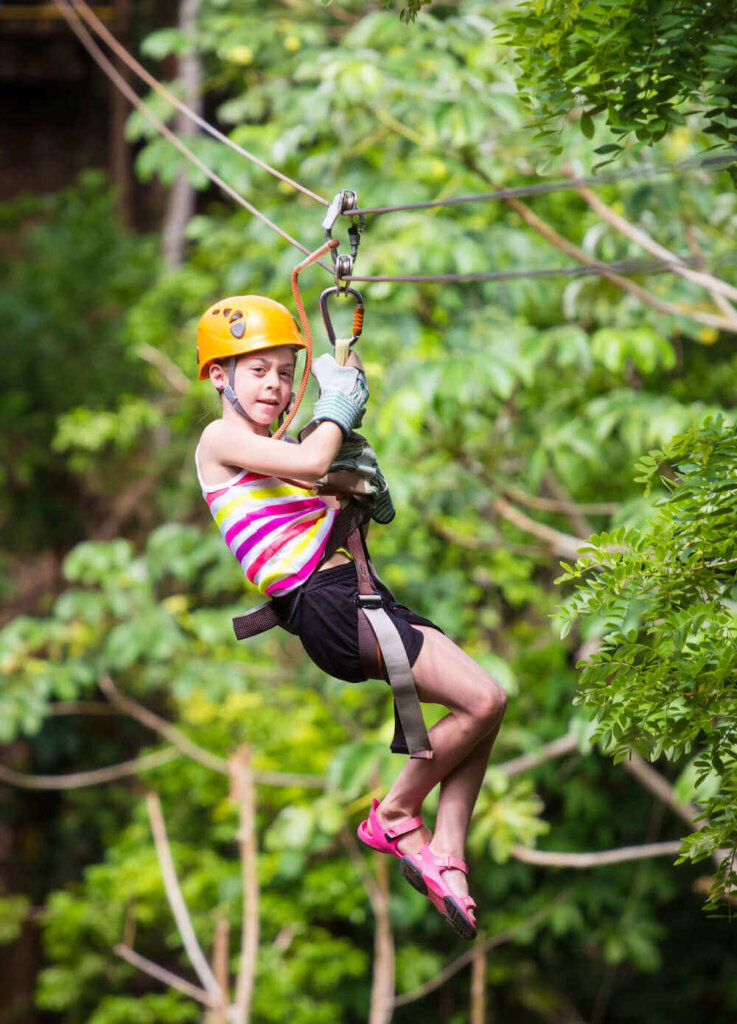 If you are looking for a tandem zipline so you can enjoy your experience with a partner, Coral Crater Adventure Park is a great choice. They even have a zipline experience that is great for all ages, accompanied by a guide.
No matter what zipline experience you choose, you are sure to have a great time.
5. Luau
If you have yet to experience a traditional Hawaiian luau, you are going to want to make sure you check one out while in Oahu.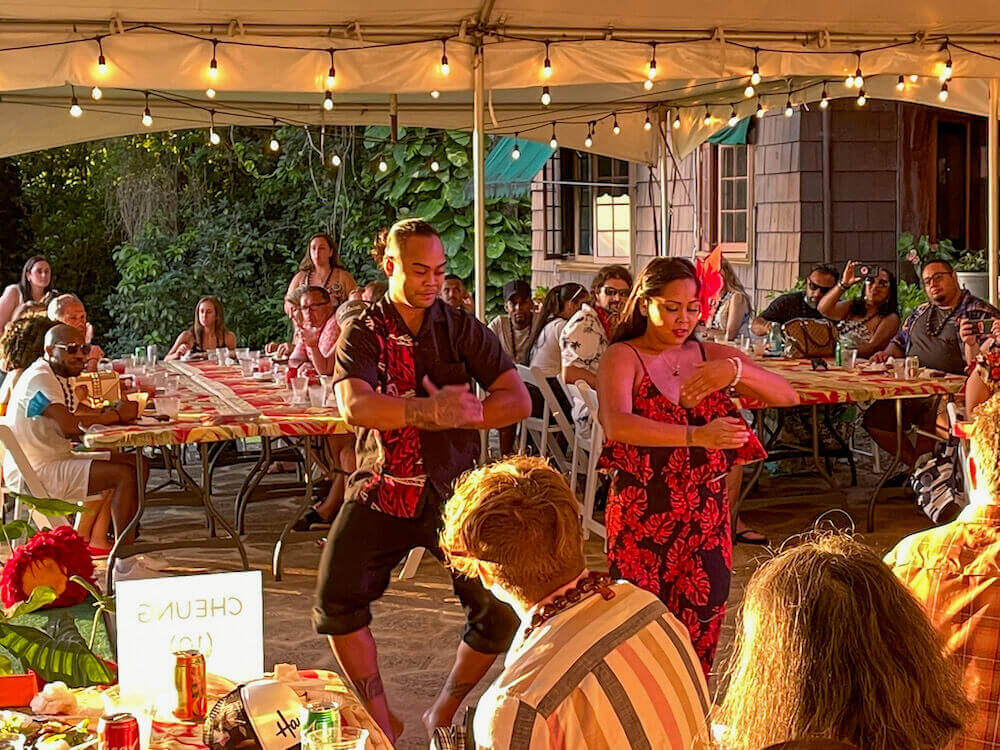 A luau is a great way to learn more about Hawaiian culture and more. You can expect to enjoy a delicious feast of traditional Hawaiian foods, a hula show, fire dancing, and more.
There are so many great luaus to choose from on the island, so pick the one that suits you best. My favorites include Toa Luau and Experience Nutridge.
6. Iolani Palace
You are going to want to visit this stunning palace. This was once home to the final two monarchs of the Hawaiian kingdom.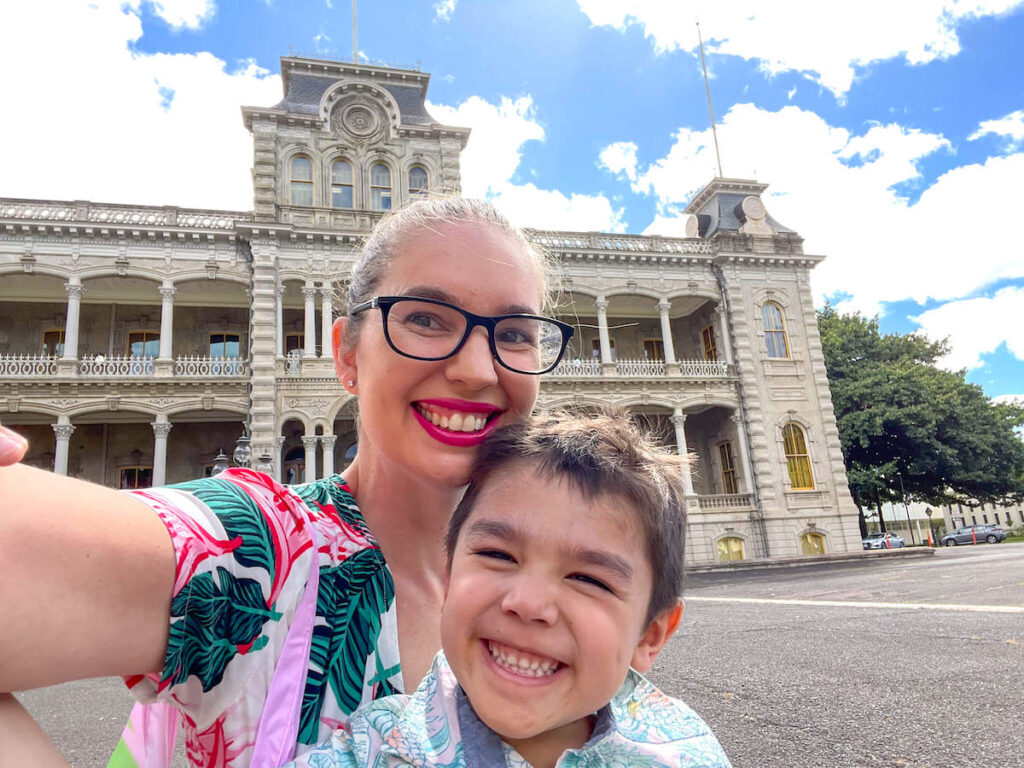 Here you will see breathtaking artifacts, furniture, decor, and more, all from the late nineteenth century.
This is a great way to take in some of Hawaii's rich culture and more.
7. Waimea Valley
This gorgeous wilderness wonderland is sure to impress all its visitors. Spend a day in this little piece of paradise hiking, enjoying the botanical gardens, playing in the parks, and viewing the gorgeous waterfalls.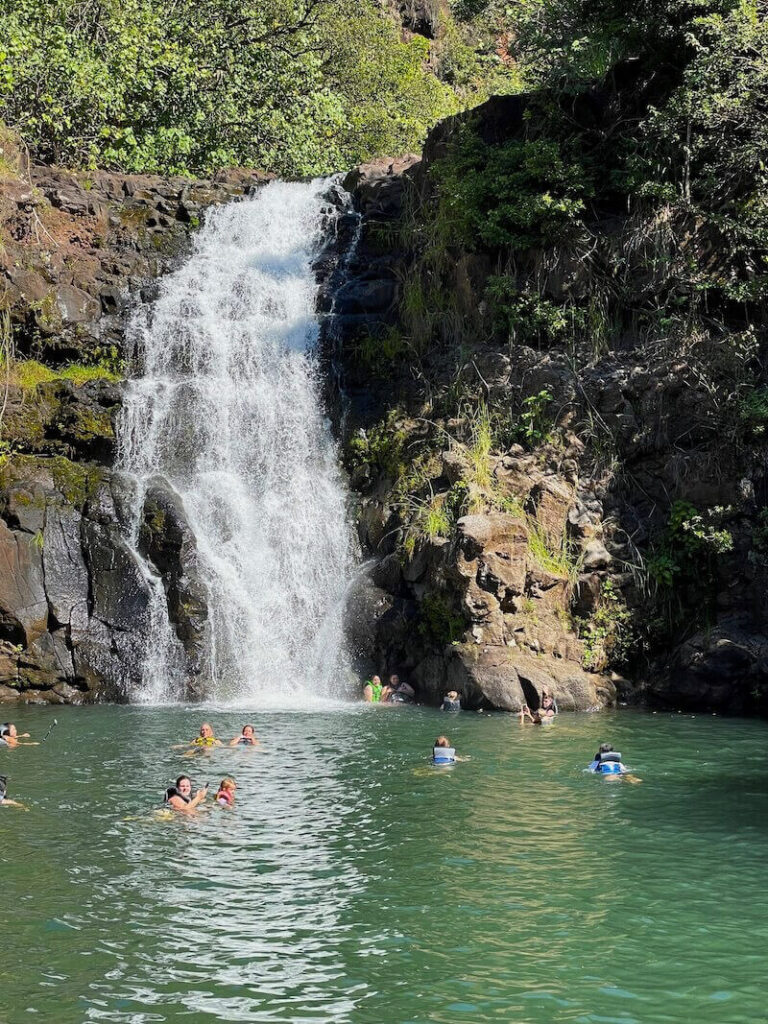 There are even some amazing archaeological sights you can access at Waimea Valley.
You can try some of the Hawaii food at the luau here, head up to the waterfall, look around at the beautiful tropical plants, and so much more.
During the summer season, you can enjoy a movie night, live music with local artists, and so many more educational events.
No matter what you choose to do here, you are going to have a great time.
8. Byodo-In Temple
This popular social media location is an absolute must-visit for fantastic photo ops. There are several different interesting areas to explore here.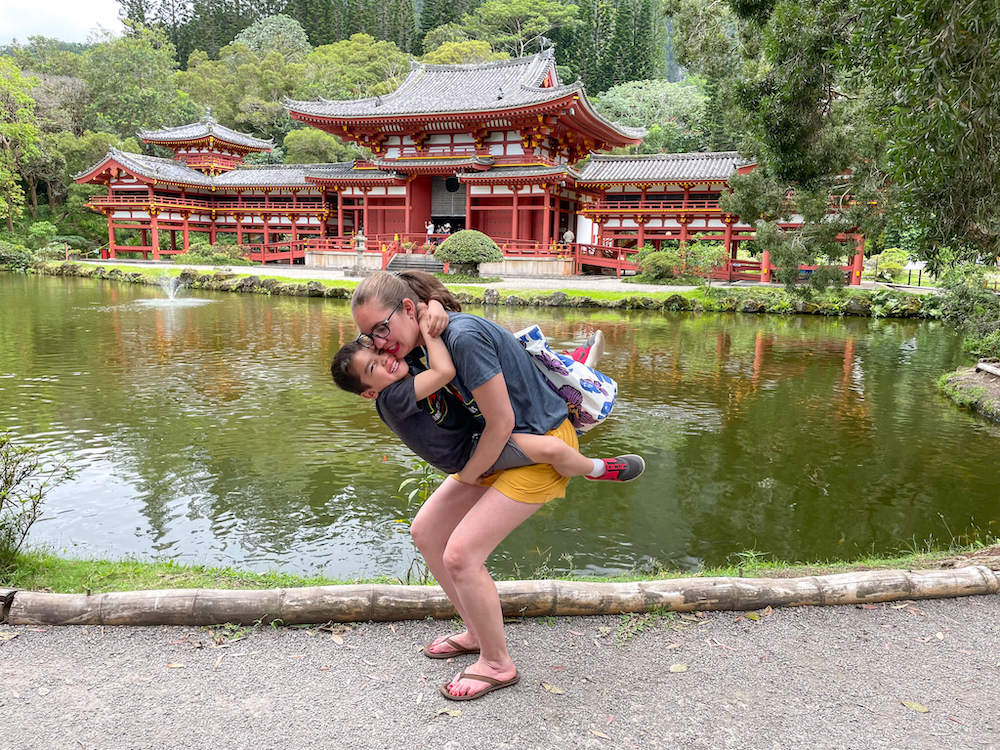 Check out the Buddhist statues, small waterfalls, wild peacocks, the meditation area, and the large reflecting pool.
The views offered at the Byodo-In Temple, are breathtaking. The cliff of the Ko'olau range, situated in the background of the picturesque temple, creates a gorgeous Instagram-worthy photo.
Check out this amazing temple and enjoy your trip to Oahu when you visit Hawaii.
9. Fishing
It doesn't matter if you are a novice fisherman or a seasoned veteran, a fishing tour is a great way to experience a day out in Oahu.
There are several different chartered fishing tours that you can choose from. Whether you want to book a private charter, a public charter, or full or half-day experiences, you can find something that suits your needs.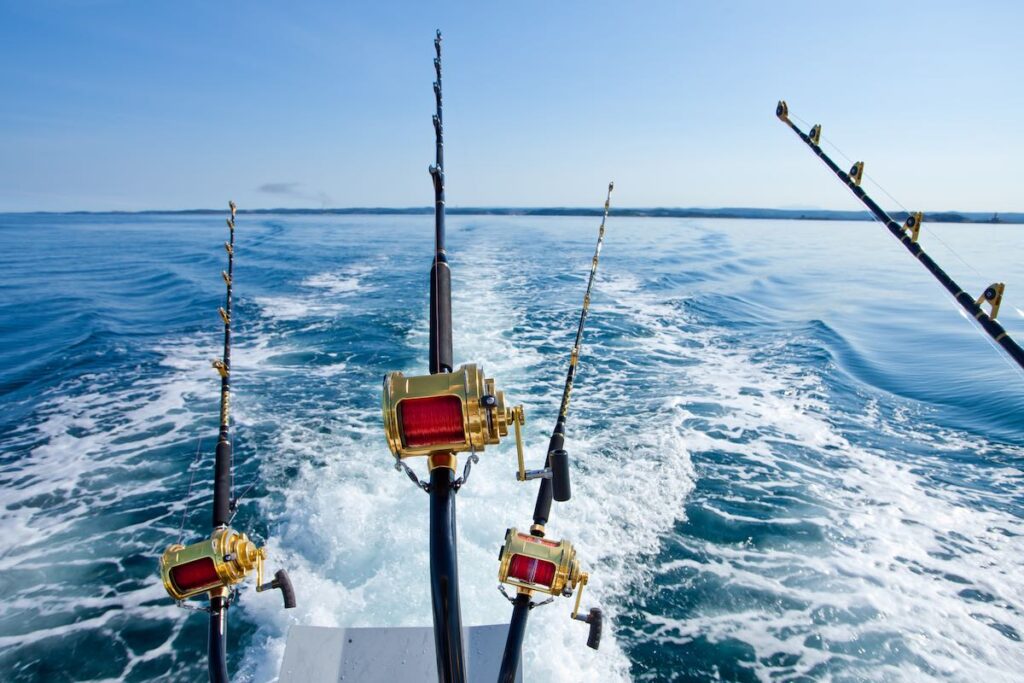 If you are planning on fishing with your children, there are some charters that offer 2-hour tours to keep things lighter for the little ones.
Check out 25 Things to do in Waikiki with kids for more fantastic family-friendly adventures.
10. Lanikai Beach
This beach is a great, quiet spot to enjoy a nice swim, some water sports, and more. In fact, if you are looking for a great place to take your little ones, Lanikai Beach is a great option.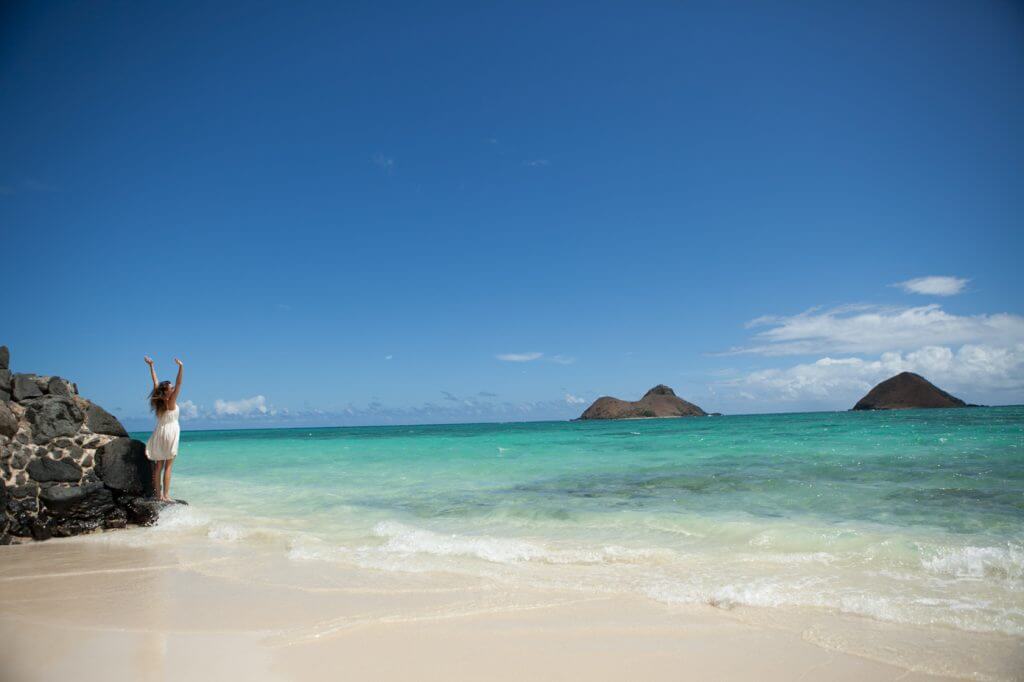 This beach has clear, calm waters perfect for swimming and is also a popular spot to take in a gorgeous sunrise. Check out the beautiful views from the Lanikai Pillbox, or lounge on the beach.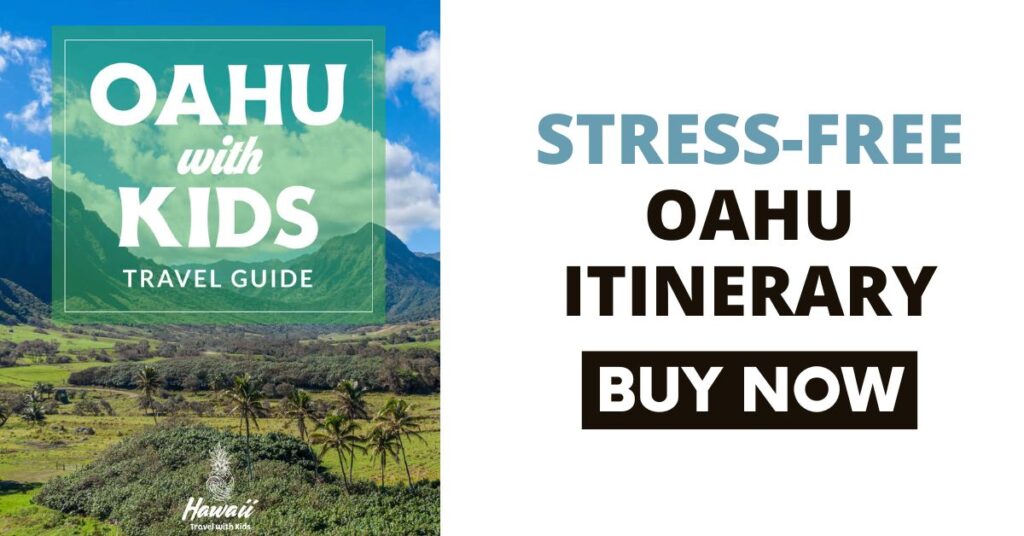 October on Oahu FAQs
Is October a good time to go to Oahu?
October is one of the best times to go to Oahu! Hawaii hotel rates are not as high as during the summer or during the winter holidays. You will avoid the summer crowds and heat too. Plus there are plenty of great things to do during this month too!
Can you swim in Oahu in October?
Yes the ocean temperatures are perfect for swimming during October. Plus, there will be fewer crowds so you can fully enjoy the Pacific Ocean.
How warm is Oahu in October?
October weather is perfect! Temperatures are still pretty high and a little cool a night, it is one of the best months to visit Hawaii.
When is hurricane season in Hawaii?
Hurricane season runs from June to November. There might be some tropical storms while visiting Hawaii but they do not happen all the time.
Oahu Hawaii in October Wrap Up
Going to Hawaii in October is a great way to experience a fabulous vacation. From the gorgeous Oahu weather in October to all the great Oahu October events, your vacation is sure to be a great one.
Spend Halloween in Hawaii with some spooktacular events, or simply enjoy some fun attractions. No matter what you choose, you will create long-lasting memories.