Are you looking for the best luaus on Oahu that don't feel cheesy? Keep scrolling for my honest review of the Experience Nutridge Luau on Oahu.
This Experience Nutridge Luau review contains affiliate links which means if you purchase something from one of my affiliate links, I may earn a small commission that goes back into maintaining this blog.
I love love love going to luaus in Hawaii. I've been going since I was a kid and I just realized that my own boys (ages 7 years old and 4 years old) have already been to 5 luaus. It's one of the Hawaii experiences we do every trip.
One of the top questions I see online from travelers is "is it worth going to a luau in Hawaii?"
I usually want to scream YES, but then I remember that it honestly depends on which one you go to.
Because I really enjoy doing cultural things in Hawaii, I always go to at least one luau each trip.
On our most recent trip to Oahu, we finally got to check out the Experience Nutridge Luau on the edge of Honolulu.
Keep scrolling to find out exactly what to expect and whether or not this is the best luau on Oahu.
Want to skip all the planning and just access my detailed Oahu Itinerary complete with daily schedules, kid-friendly activities, and travel hacks? Click the button below.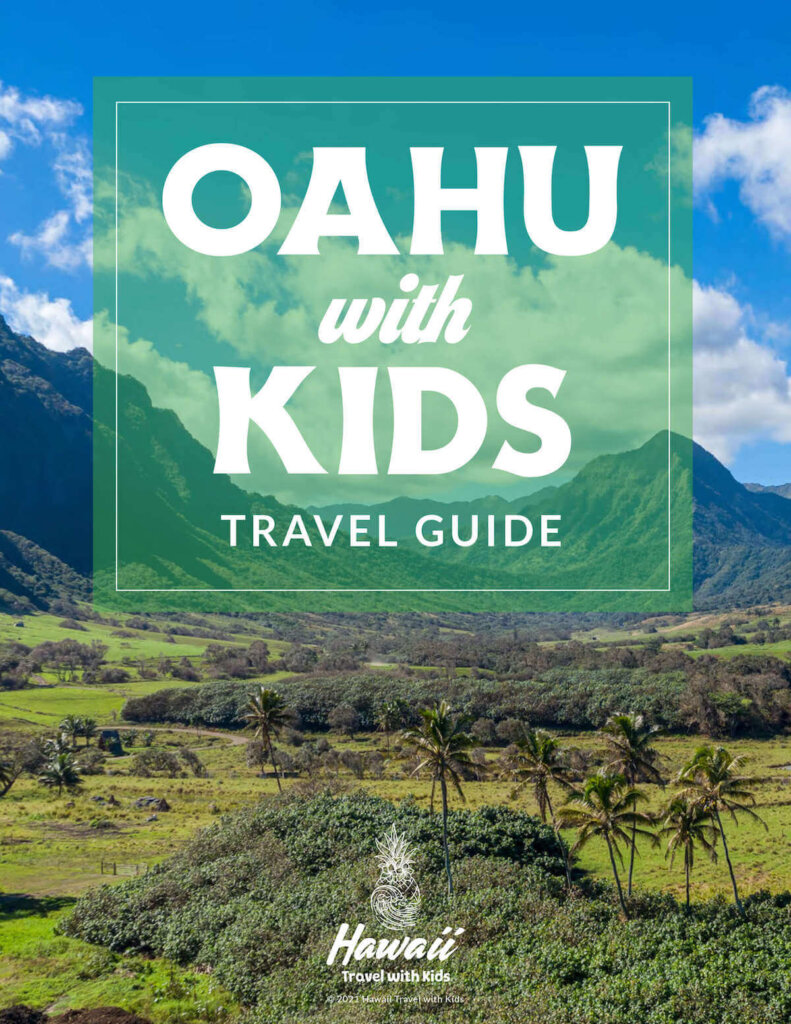 Oahu Luau FAQs
What's the most authentic luau on Oahu?
There are tons of Oahu luaus, so it can be hard to choose the right one for your family. Our favorite luaus on Oahu are Toa Luau up on the North Shore and Experience Nutridge Luau in Honolulu. Both of these offer authentic experiences, tasty food, and have limited capacity (so it's nice and small).
Is there alcohol at Experience Nutridge Luau?
Yes! When you enter, you are offered a complimentary mai tai (it was super tasty)! And you have the option of purchasing several tropical cocktails or other alcoholic beverages before, during, and after dinner. Thee are lots of non-alcoholic options, as well.
How far away is Nutridge Luau from Waikiki?
It took us about 25 minutes to drive there from the East end of Waikiki. They also offer transportation from Waikiki hotels for an extra charge.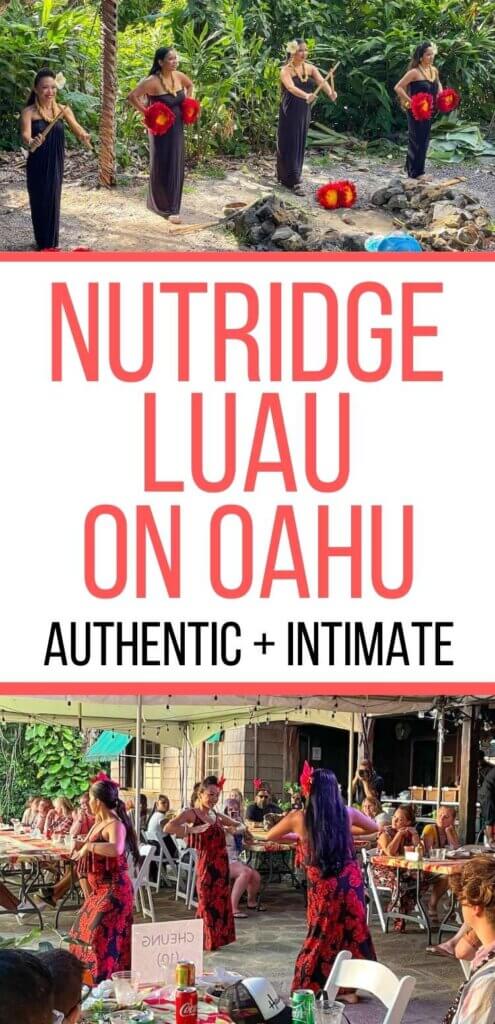 What is a Luau and What Can You Expect at One?
A luau is an evening event that features Hawaiian food, music, and hula dancing. It usually lasts a few hours and can include some hands-on activities, demonstrations, and audience participation.
Many luaus in Hawaii also incorporate dances from other Polynesian islands, like Samoa, Tahiti, and New Zealand.
Guests who attend a Hawaiian luau usually dress up in Aloha shirts and dresses (or at least something dressy casual).
And luaus are fun for anyone traveling with family, going on a honeymoon or babymoon, couples, or even solo travelers.
Click here for my full breakdown of what to expect at a luau in Hawaii.
Where is Nutridge Estate and What's the History?
Nutridge Estate is truly hidden away in the hills above Honolulu at the entrance of Pu'u Ualaka'a State Park.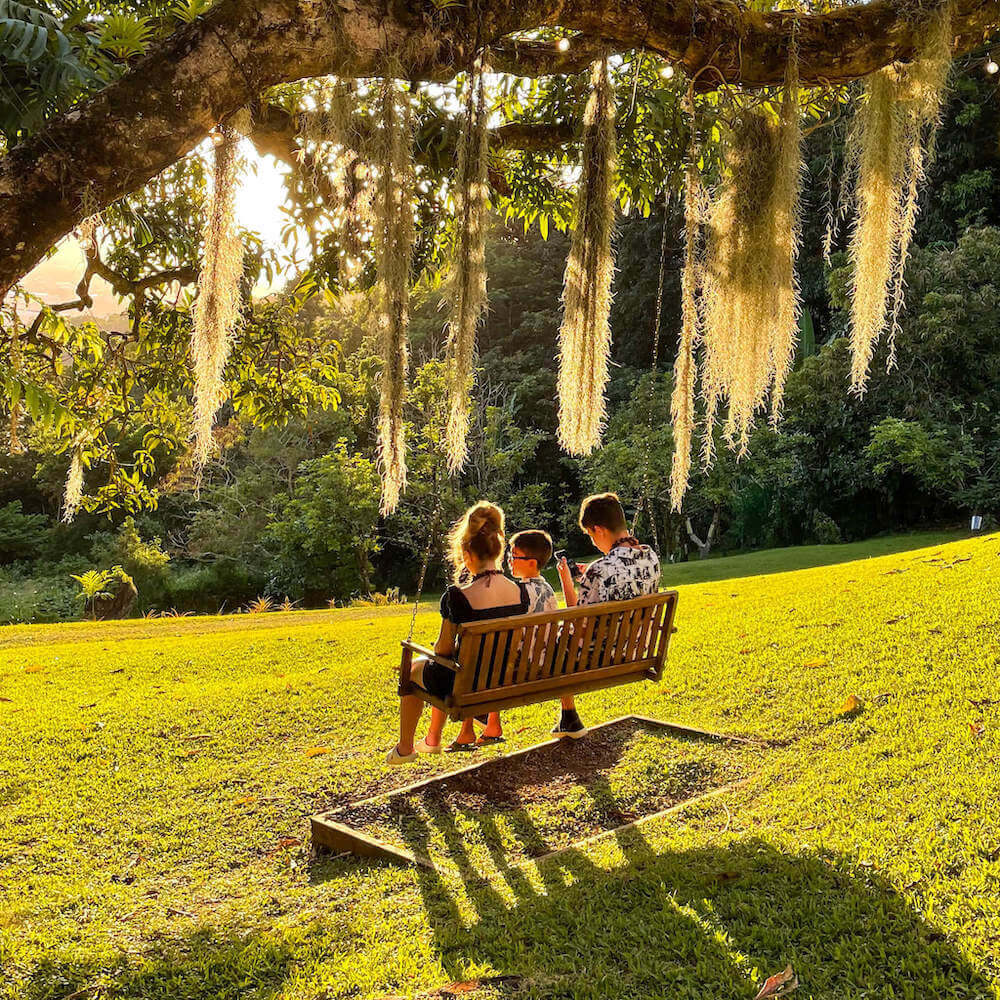 Back in the 1920s, Nutridge Estate was home to the first macadamia nut plantation in Hawaii. It was also a celebrity vacation spot for legendary stars like Elvis Presley, Clark Gable, Marilyn Monroe, and Charlie Chaplain.
Elvis loved the area so much that it became the backdrop for his hit film Blue Hawaii!
These days, Nutridge Estate is a wedding venue and can be booked for private events. And it's home to the Experience Nutridge Luau.
What to Expect at the Nutridge Luau on Oahu
Arrival
The drive up to Nutridge Estate takes you through Honolulu and up into the hillside. There are scenic lookouts along the way with jaw dropping views of the city.
The people at Nutridge Luau did a great job of making sure we had detailed directions on how to get there, since we drove ourselves. They also offer their own transportation for those not renting a car.
As we drove in, they checked our tickets and told us where to park. Then, everyone gathered in their parking lot and the bartender took our drink orders (the choice was ice water or a mai tai).
After everyone had entered, our emcee Kai did a Hawaiian chant to ask permission to enter Nutridge Estates. Several dancers came out to chant their response. It's the first time I've seen something like this at a luau.
Welcome
We walked into the gorgeous property and picked up our drinks, gave each other kukui nut leis, and then sat for a little presentation on what to expect throughout the night.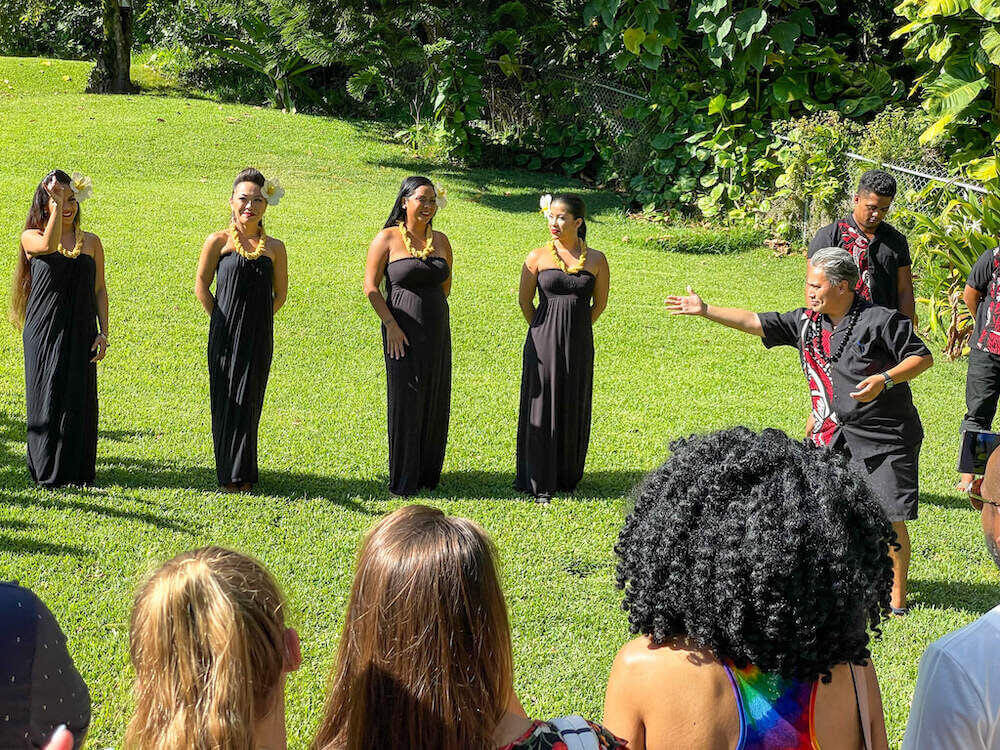 Then, our emcee Kai told us a bit about Nutridge Estates and why most people have never heard of it. We also learned that Nutridge Estates was the first place to grow macadamia nuts in Hawaii!
Hula Dancing
Next, we headed over the imu pit and sat on wooden benches in sort of an amphitheater set up.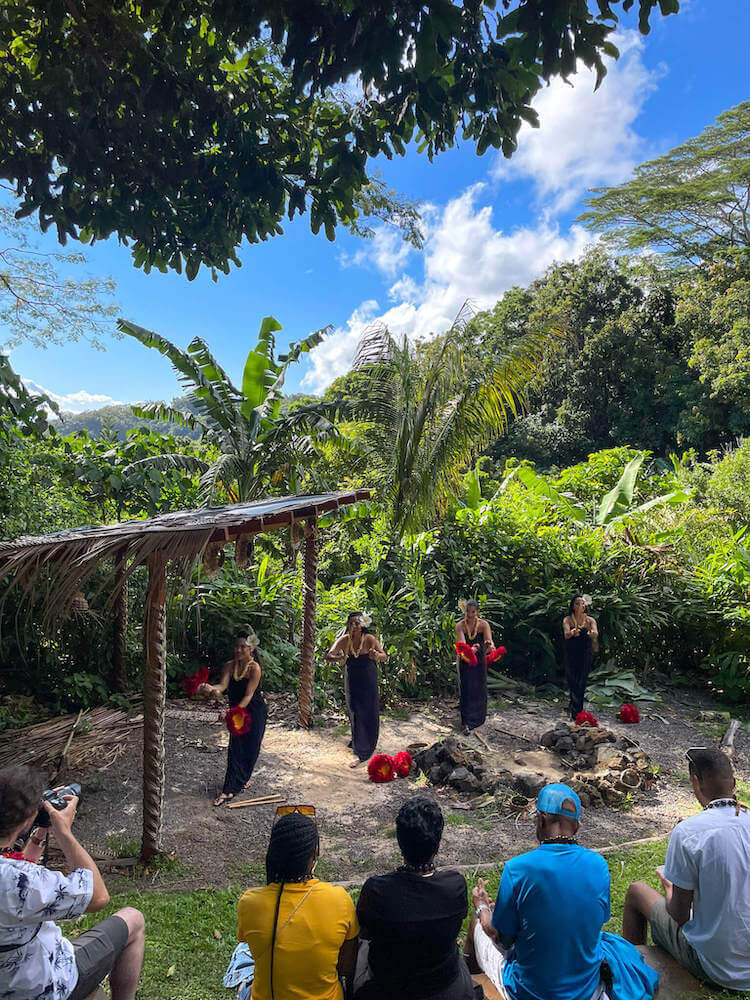 A few hula dancers came down and performed for us. We all had great views of the dancers and it was nice to get a little preview of the show to come.
After they were finished, it was time to learn more about the imu.
Imu Ceremony
Usually when we go to a luau, there's a part where we watch people uncover the roasted pig from the imu or put a new one in. It's cool to see the first time, but then it gets old.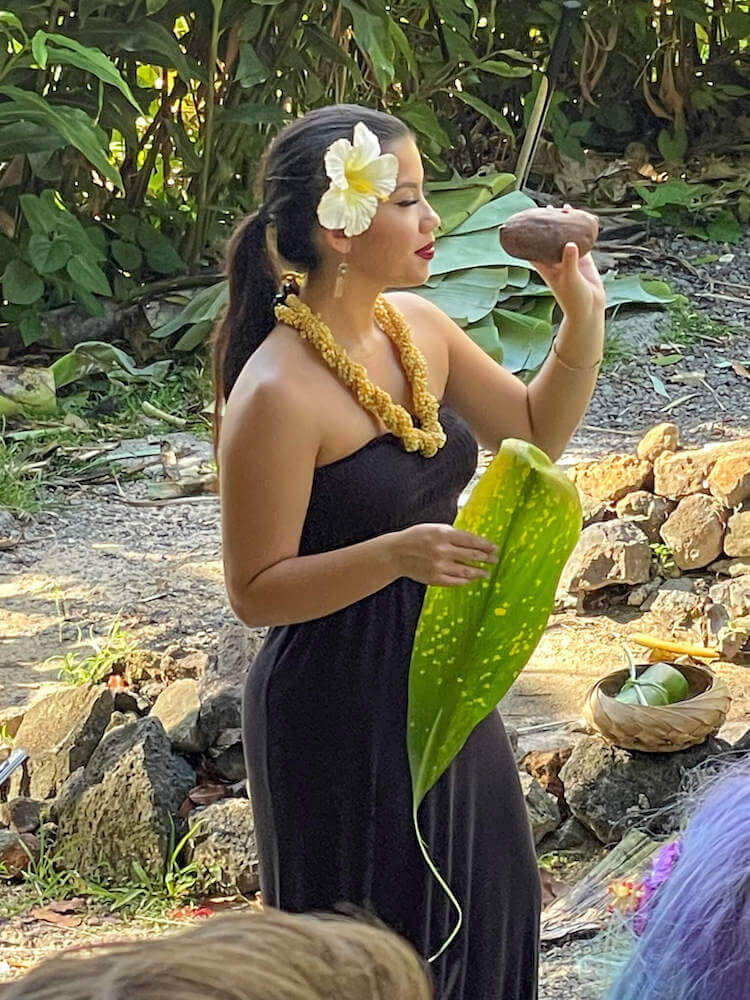 At Experience Nutridge, they invite guests to help them roast sweet potatoes in the imu and the same sweet potatoes are served with dinner.
They did a cool demonstration about how to wrap the leaves around the sweet potato so it almost looked gift wrapped.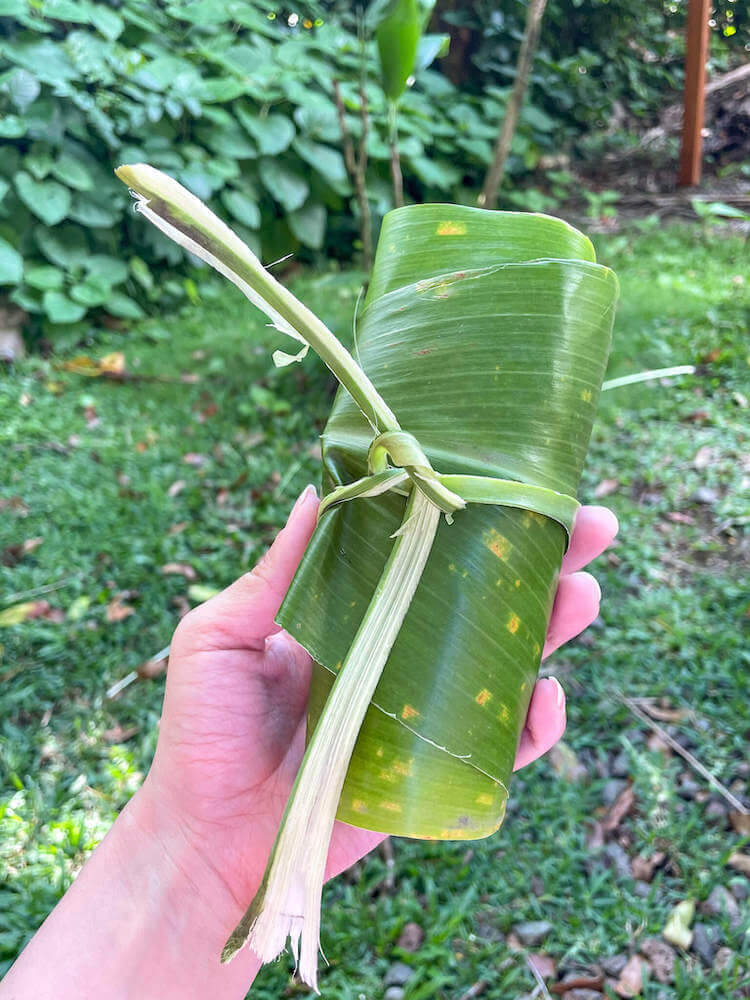 I was one of the people chosen to put the sweet potato in the imu, which was a cool experience. It's always fun to get to try something new and knowing we were going to eat it for dinner was kind of cool.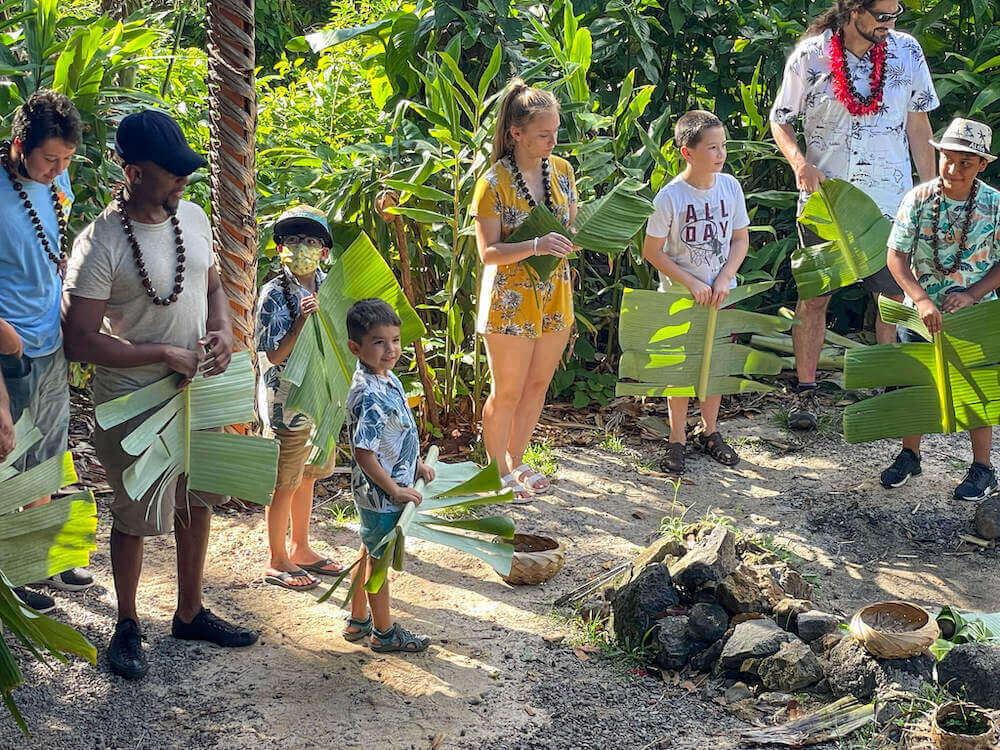 And my kids got to help cover the imu with the leaves, which was a big highlight for them. They said that anyone who wanted to participate could come down. Of course, my boys jumped at that opportunity!
Learning About Pineapples
After the imu ceremony, we all got up and made our way to an area with some pineapple plants.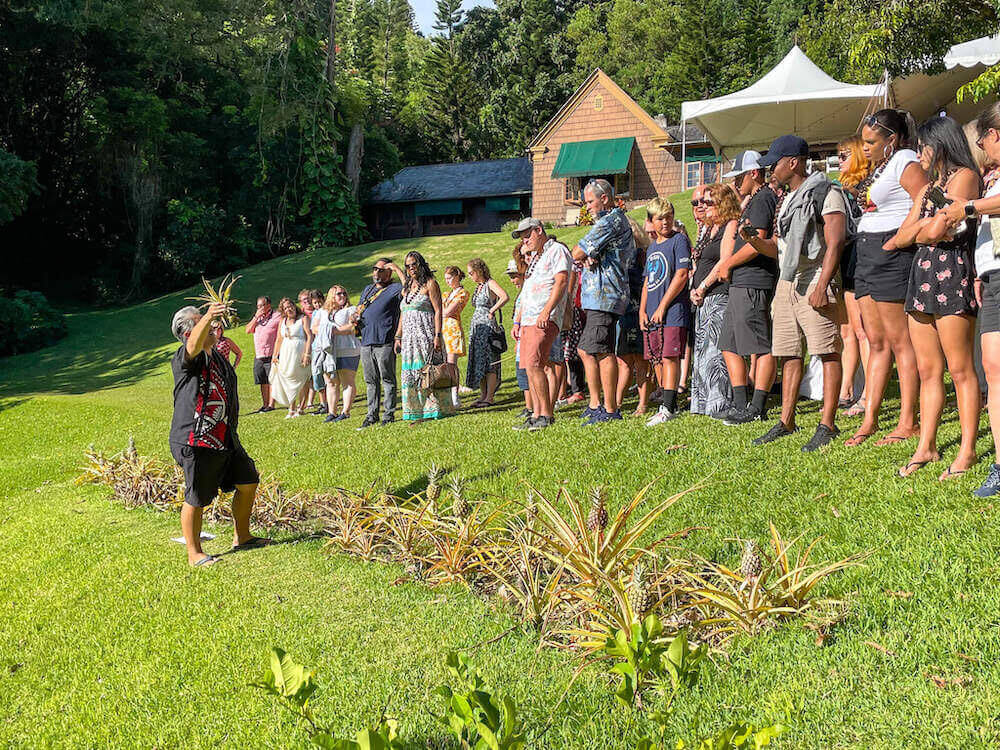 We learned a bit about how pineapples grow and then we got to get a much closer look. These were little baby pineapples, so it will be fun to see them when they are full size!
I want to mention that this area is located on a steep hill so you'll want to keep an eye on kids or people who might fall.
Ancient Hawaiian Dancing
After stopping at the pineapples, we all continued walking into the jungle a bit until we got to another stage area. There were lots of chairs set up (enough for everyone) but I chose to stand in the back to move around a little.
This time, the men blew the conch shells and we learned a bit about ancient Hawaiian dancing, called hula kahiko.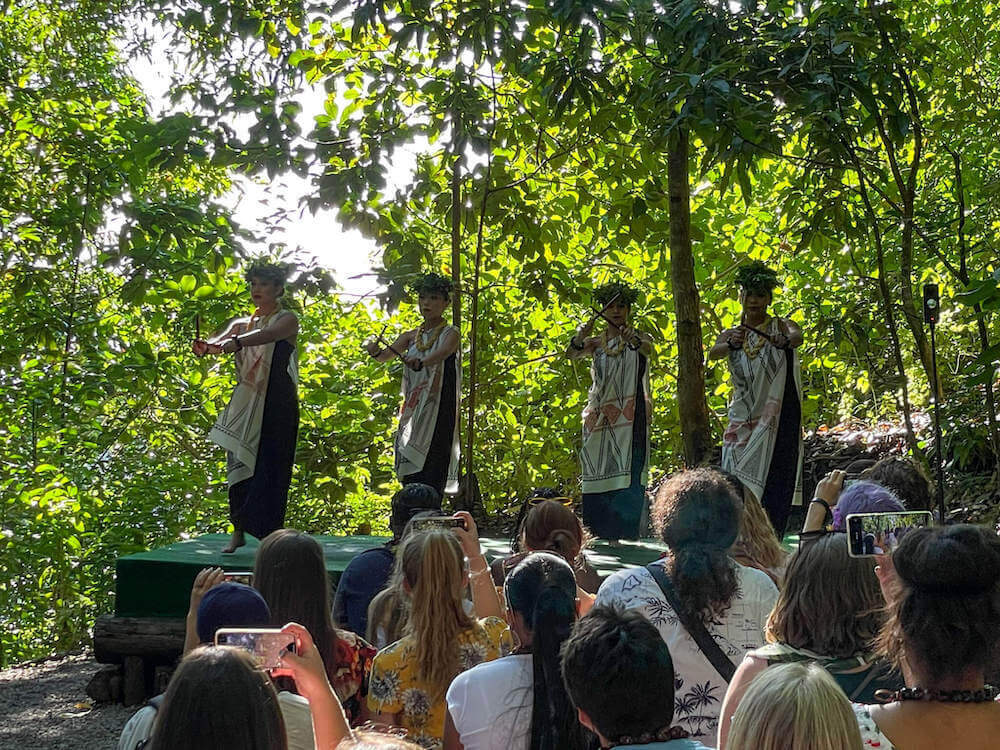 The dancers used wooden sticks (kala'au) in addition to chanting as part of their performance. It was really cool!
Samoan Fire Knife Dancing
After the hula kahiko, it was time to bring up the fire dancer!
Since we stood in the back, we got to watch him get all set up and warmed up which was super cool!
This is usually the big finale at most luaus in Hawaii, so it was interesting to see it before dinner.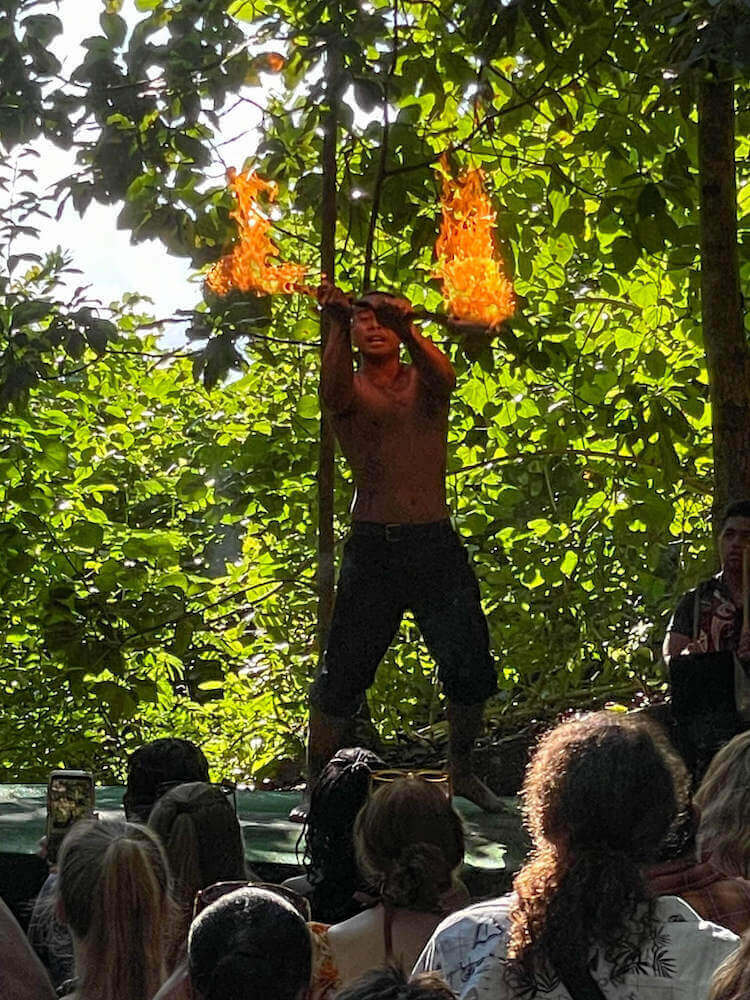 Now, this is probably the only luau on Oahu where you can get so close to the fire dancing that you can actually feel the heat. This is definitely one reason why this is one of the best luaus on Oahu!
He did a fantastic performance that was quite athletic and entertaining and the audience was in awe!
After the performance, our emcee invited us to participate in Hawaiian games, grab a drink, or just relax on the property until he blew the conch shell for dinner. It was really nice to have time to just have some free time.
Hawaiian Games
The Hawaiian games were set up in the same area as the welcome presentation. There were two games available to try out.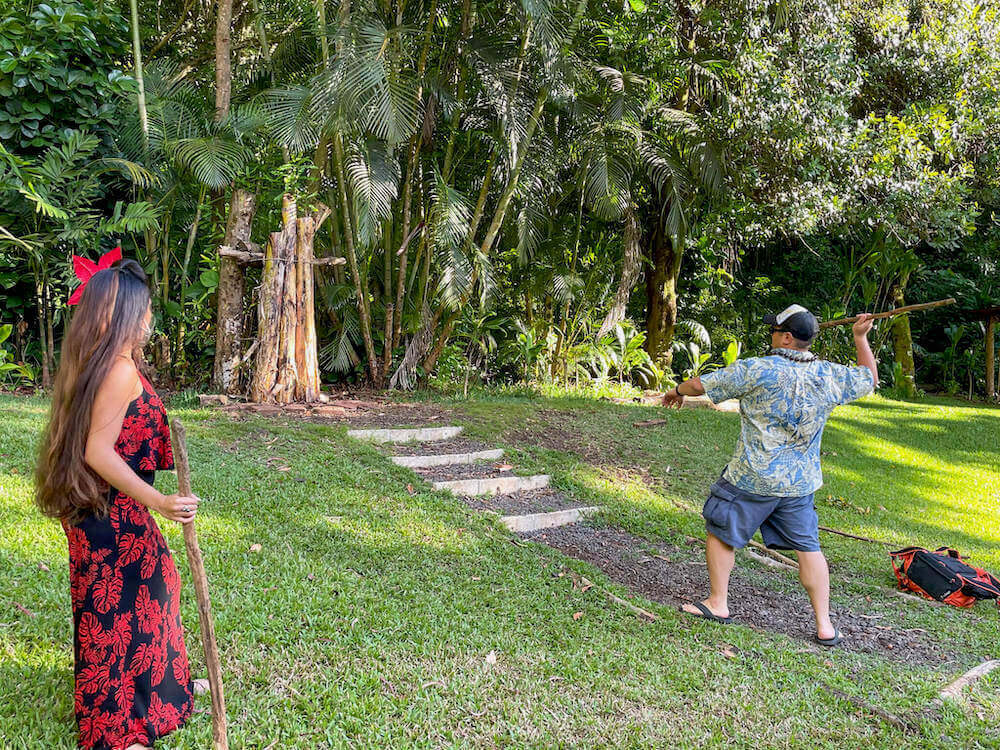 The first game was throwing a wooden spear at a target. It was MUCH harder than it looked and it was fun to see all the different techniques participants used in an effort to win. I didn't see anyone who actually hit the target (but it was fun to see people try)!
The second game was rolling a round rock through two poles in the ground (sort of like bowling). This was much easier and we saw several kids and adults do it successfully. My nephew did it on his first try!
Hawaiian Crafts
So, I'm not sure what the Hawaiian crafts are normally like without health/safety precautions in place.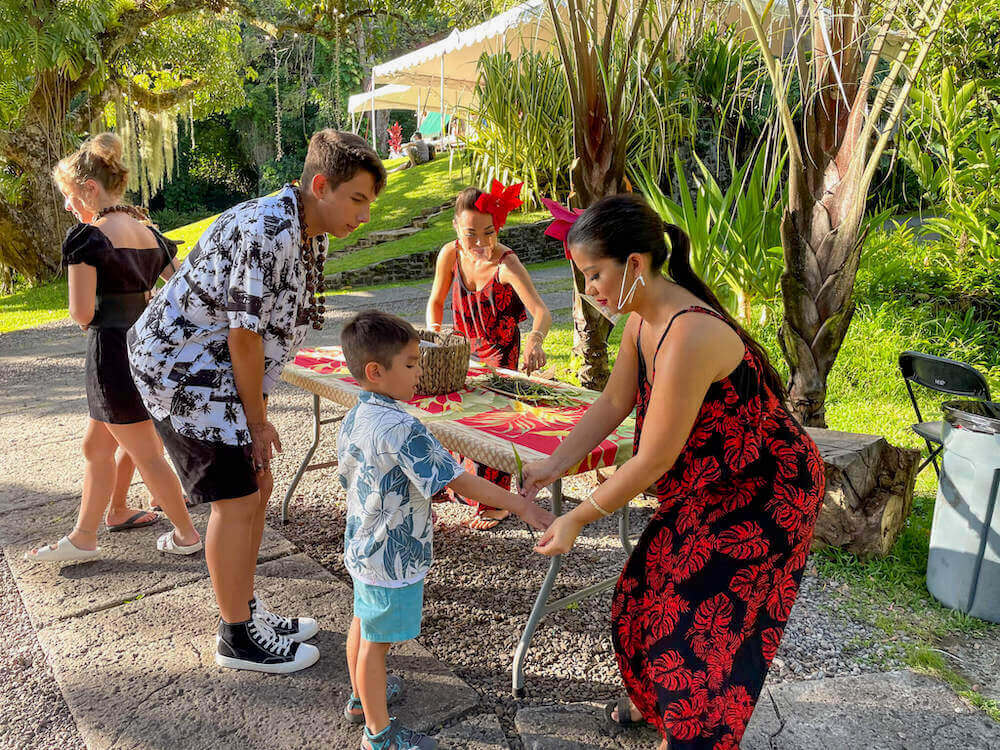 But, when we went in June 2021, there were pre-made ti leaf bracelets that people could wear and take home.
My kids love things like this, so they were excited to get one and proudly wore it through dinner.
Hawaiian Food
Speaking of dinner, let's talk about the food. It was crazy delicious! I wandered over to the buffet area before dinner in order to take a photo of the set up.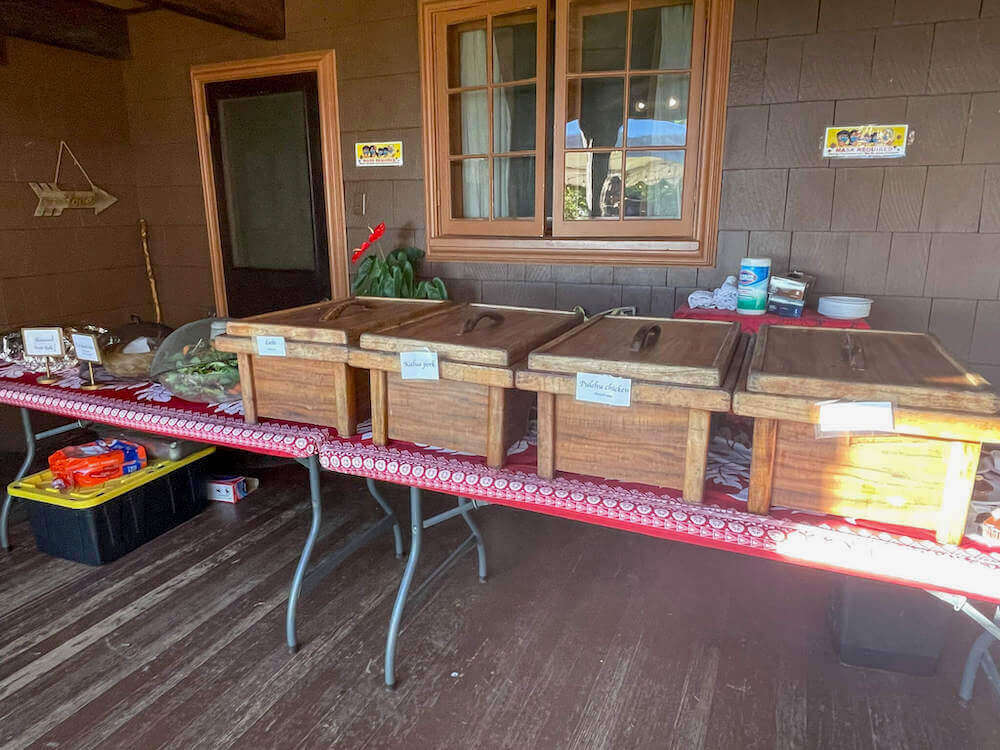 They dismissed us table by table to get up and select food. When we were there, the performers stood behind and placed the food on the plate.
They were even nice enough to help carry food back to our table (which makes it so much easier to make plates for kids)!
Ok, let me break down the items on the menu.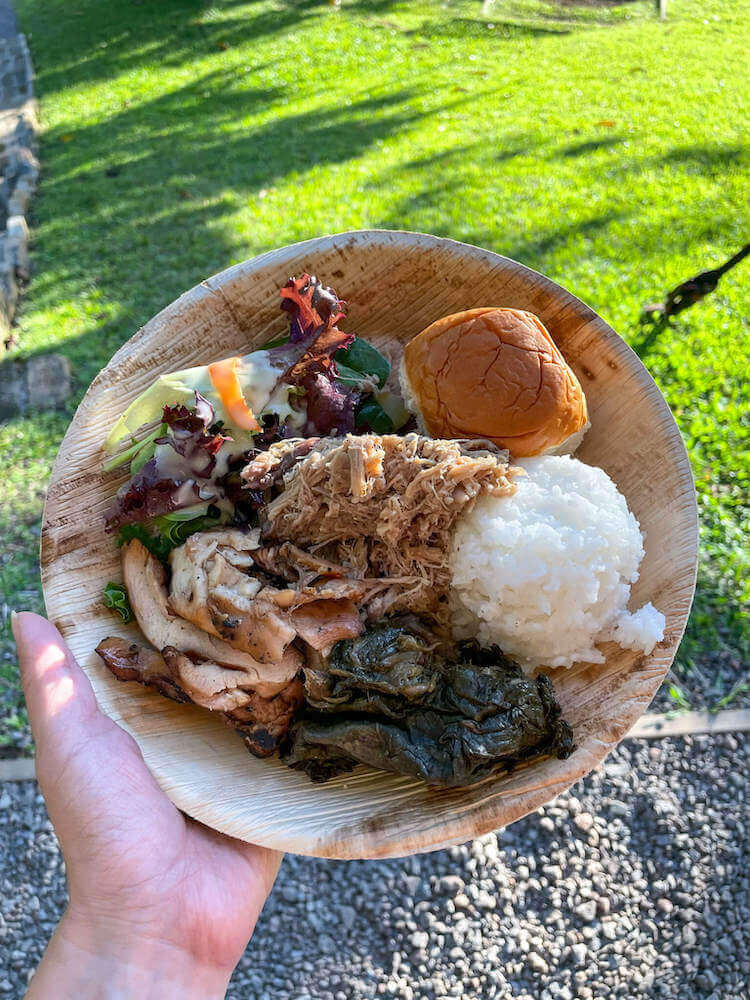 Roasted Sweet Potatoes
Of course, I had to start with the food item I helped make. We got a few small slices of the sweet potatoes and they had such a nice, mild smoky flavor.
Green Salad
So, this was a standard green salad, but there was the choice of two different tropical dressings. I got the one with lilikoi (aka passion fruit) and it was so good I almost licked my plate.
Hawaiian Sweet Rolls
We got to enjoy the popular King's Hawaiian sweet rolls. What's cool about it is that our emcee Kai made a point to tell us that they love supporting local businesses and King's does a lot for the community.
If you're worried about your kids not eating anything, they will totally eat the roll.
Kalua Pork
I've eaten a lot of kalua pork at luaus before, but this one is done perfectly. Not too dry or too watery. It's full of flavor and tastes great with rice.
Mini Lau Lau
This is the first time I've ever seen lau lau at a luau before! It's meat that is wrapped in a leaf and steamed. These are the perfect size for people to try this traditional Hawaiian food.
Hawaiian Chicken
We also got some mouth-watering Hawaiian barbecue chicken. I seriously want the recipe for this because it's hands-down the best Hawaiian chicken I've ever had. It tastes like it was marinated in a slightly sweet sauce before being grilled. So tasty!
Hawaiian Dessert Trio
After walking through the buffet line, there were dessert plates already loaded with chocolate cupcakes, haupia pudding squares, and a wedge of fresh pineapple.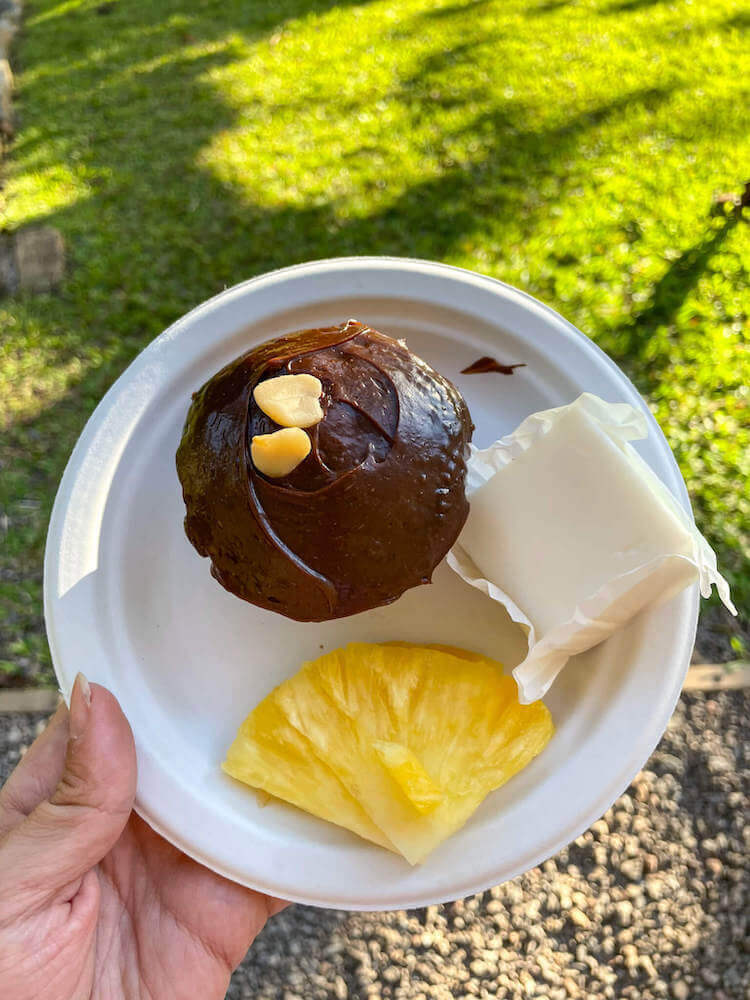 We were traveling with kids who had nut allergies and so I let the luau know ahead of time and they were served desserts without the macadamia nuts.
Hula and Tahitian Dancing
After we stuffed ourselves with the tasty food, it was time for the dancing to resume. There were a few contemporary Tahitian dances in addition to some hula.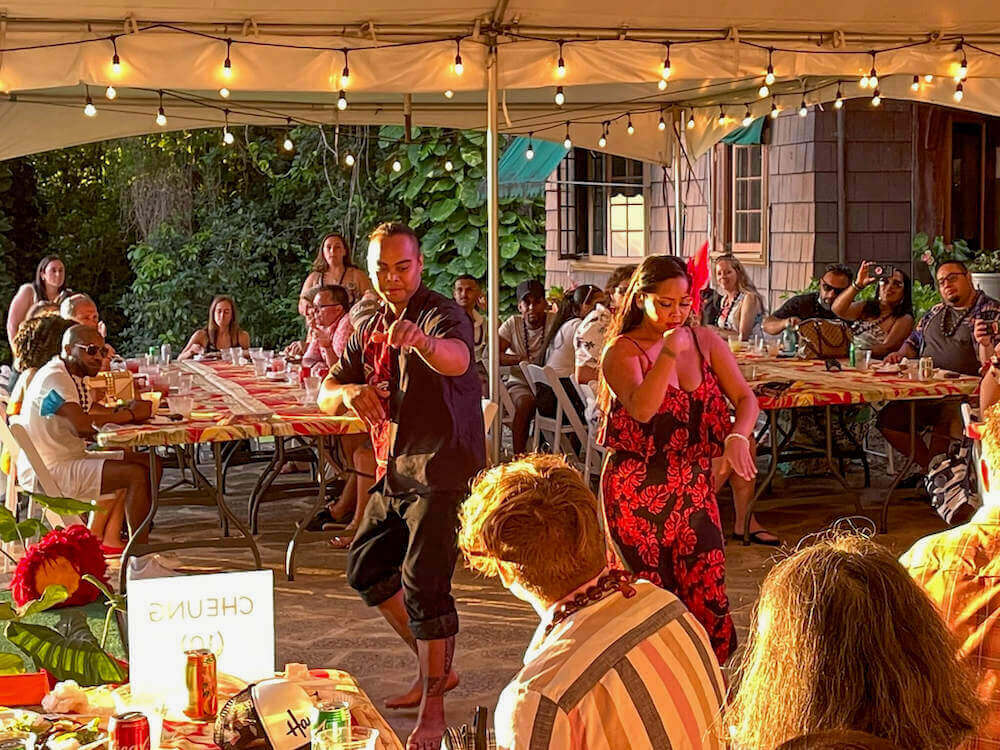 This is the part of the evening that felt like a true Hawaiian backyard luau. They danced in the middle of the tables and it almost felt spontaneous (even though it wasn't).
Because I've been in the hula world for so long, I recognized all the songs and all the artists singing them (the dancing is to recorded music). This totally added to the party vibe.
Audience Participation
After the dancing, everyone was invited to stand up and learn how to hula dance.
Usually at luaus, guests learn how to do the "Hukilau" or a few basic steps. This time, it's a full choreographed dance that includes spinning and it was awesome!
My two kids really learned how to shake their booties and even my teen niece and nephews seemed to crack a smile now and again. This is one of the Hawaiian experiences we will treasure for many years.
Farewell
After the audience participation, they played music and encouraged people to get up and dance.
Our kids were starting to get tired, so we took this opportunity to grab our stuff and start walking back to our car.
We were all smiles and kept saying what a fun evening it was!
Why I went to Oahu's Experience Nutridge Luau
Like I said at the beginning of this post, I really do enjoy going to luaus in Hawaii. But, I'm all about the ones that seem like a unique experience.
I kept seeing people post on Facebook about how Experience Nutridge Luau was unlike any other luau they had attended.
So, that piqued my curiosity. And when I found out that my niece and nephews had never been to a luau, I wanted to make sure to choose the most authentic luau in Oahu.
How Does the Experience Nutridge Luau Compare to Other Oahu Luaus?
If you've ever been to a Hawaiian party or wedding reception, Experience Nutridge has all the same vibes.
It's a pretty intimate experience. I think there were about 60 people total versus the 300-500 at other luaus.
Most luaus have a pretty large staff, but Experience Nutridge is a small operation. Most of the performers also served food and ran the activities. This also means that they don't have live music.
While I do enjoy hearing live Hawaiian music, I thought using music recorded by famous Hawaiian artists really gave the show a "backyard luau" vibe that was really special.
It's by far one of the best luaus in Honolulu, Hawaii. Check the latest rates and more information.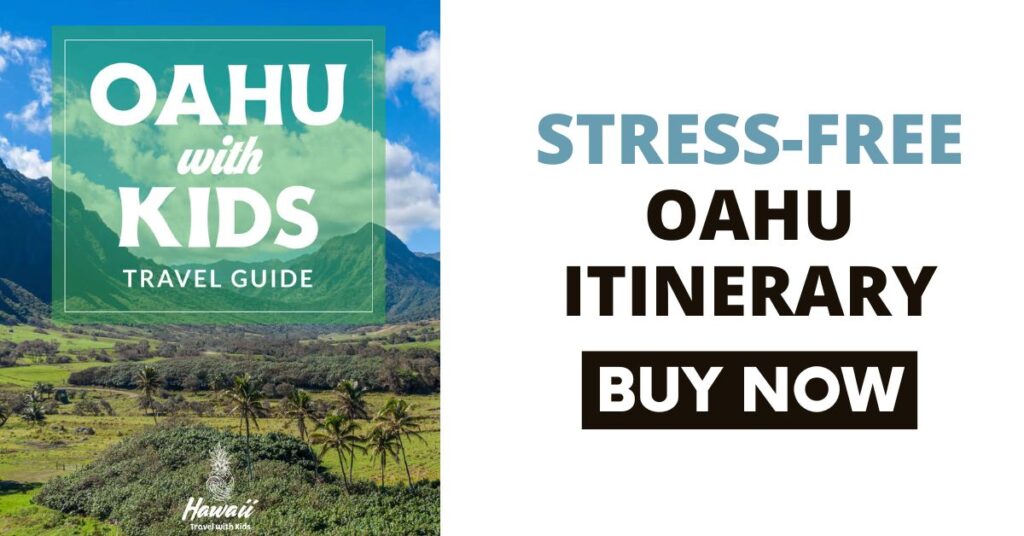 So, Is Nutridge Luau the Best Luau on Oahu?
If you are staying in Waikiki or Honolulu, Experience Nutridge Luau is definitely the best Honolulu luau to book. It's not too far away from Waikiki, but it's a totally immersive experience you won't find anywhere else.
If you're staying up on the North Shore, I'd probably say it's a tough call between Experience Nutridge Luau and Toa Luau. You'll want to read both reviews and make the decision for your family.