Feeling like a mini vacation to Hawaii? While we can't always be on the Islands, we can definitely pretend! Scroll to find out 40+ Hawaiian cocktails to transport you to the tiki bar of your dreams!
This post about Hawaiian Cocktails contains affiliate links which means if you purchase something from one of my affiliate links, I may earn a small commission that goes back into maintaining this blog.
During the past 2 years, we've had to postpone a few trips to Hawaii, and that bummed us out. Of course, we missed the beaches, shave ice, and just relaxing at Disney's Aulani Resort.
However, we still were able to recreate our Hawaiian vacation at home through yummy treats like Dole Whip, fun crafts with the kids, and listening to a lot of Hawaiian music.
And for me, it's not really a Hawaii vacation unless I'm sipping a Mai Tai in Waikiki. It's something I do every trip, and it's my way of commemorating the start of a vacation.
So, I spent the past couple of years trying my hand at recreating some of the most iconic Hawaiian drinks at home.
I've tried to make this a pretty extensive list of tropical drink recipes, so get inspired! I mean, out of all the Hawaiian drinks, alcoholic ones are the best! There are even some pretty amazing Hawaiian cocktail names.
And if you really want to be a little "extra," grab some Hawaiian cocktail essentials like tiki glasses, drink umbrellas, and maraschino cherries!
Ok, let's learn a little more about Hawaiian-themed drinks!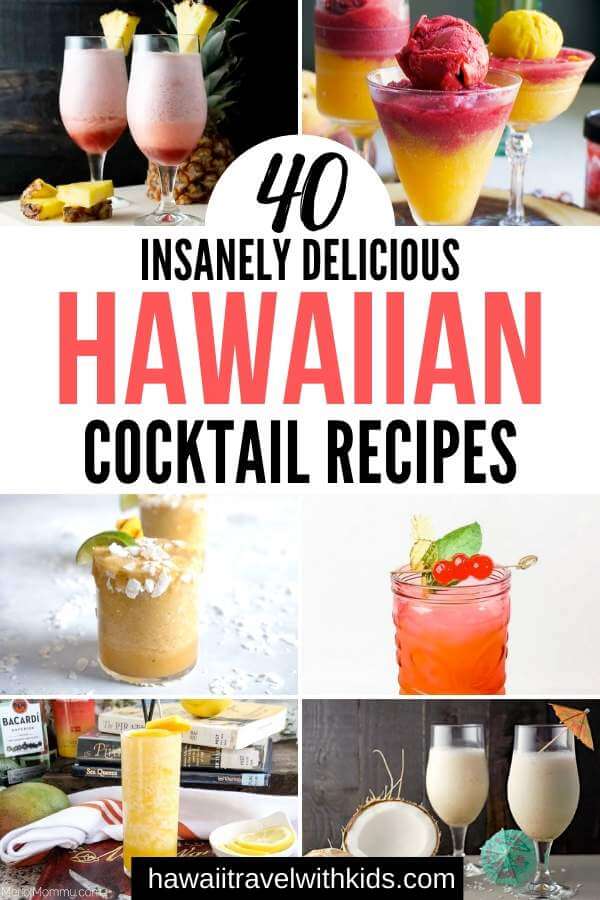 40+ Best Hawaiian Cocktails to Try at Home
Iconic Hawaiian Cocktail Recipes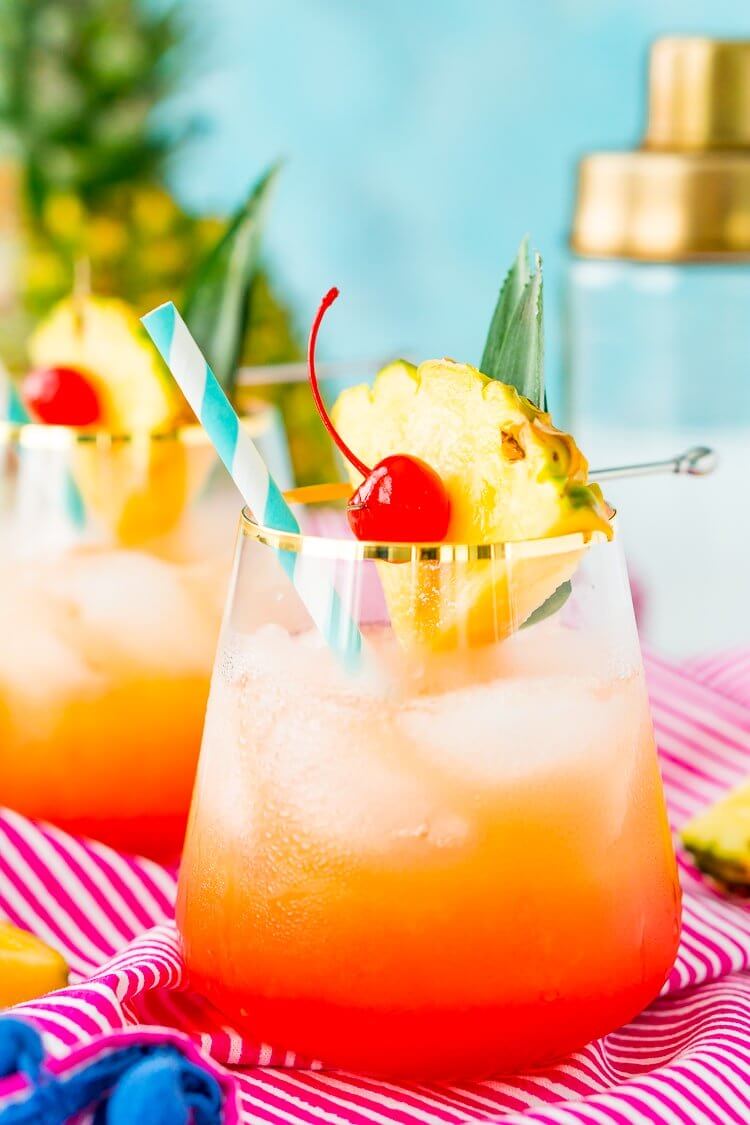 When I think of a signature Hawaiian cocktail, my mind immediately goes to a Mai Tai. It's the perfect rum cocktail mixed with fresh tropical juices.
It's hands down one of the most popular Hawaiian drinks for party or during your vacation. The pineapple wedge is so fun and is just the thing to make this drink incredible.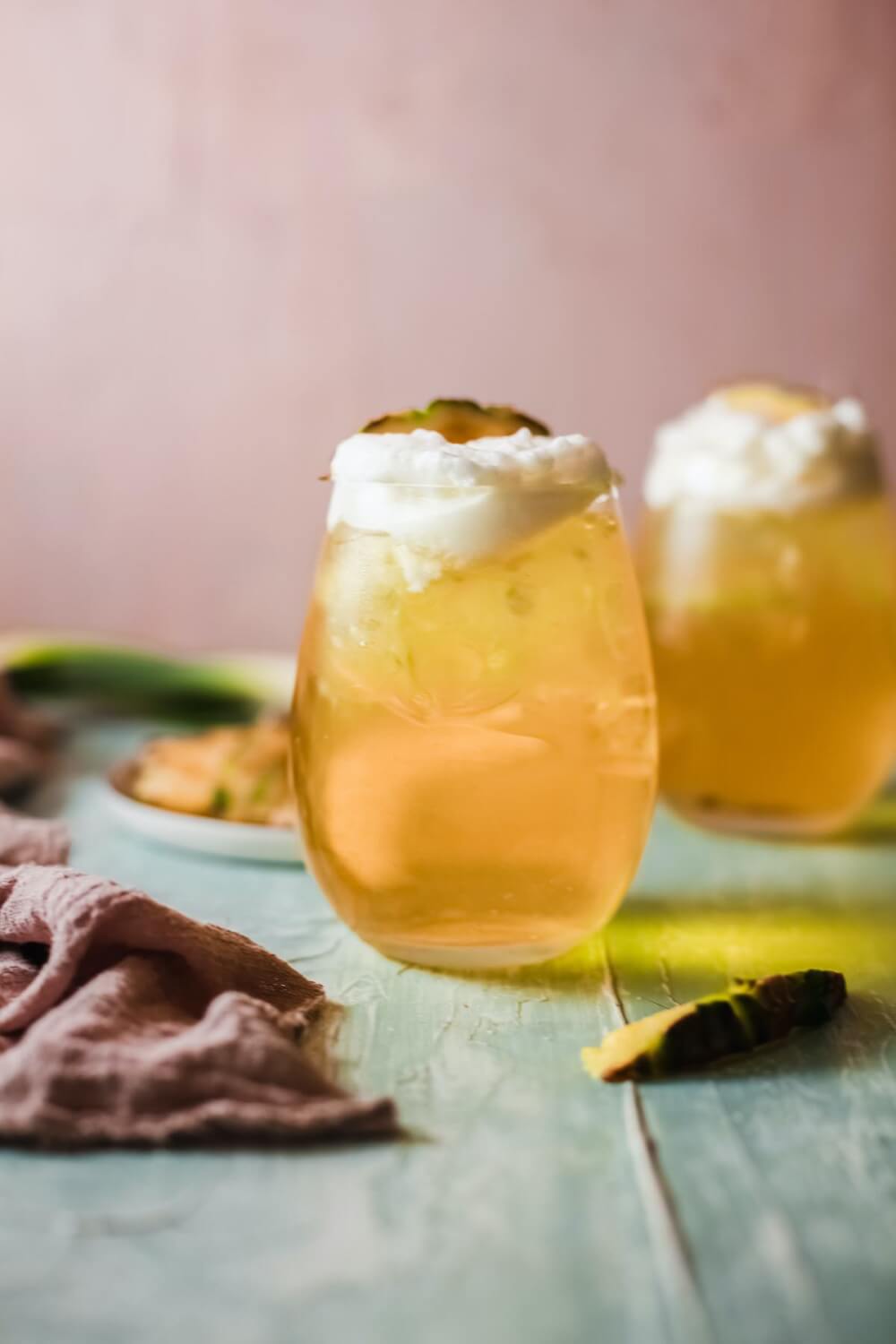 This is a copycat Monkeypod Hawaiian Mai Tai recipe featuring their decadent Lilikoi Foam (which is Passion Fruit.) It will seriously knock your socks off with the delightful combination!
This Hawaiian Lava Flow recipe is creamy and smooth with strawberries, coconut, and pineapple flavors for a refreshing tropical drink.
Out of all the popular Hawaiian cocktails, this is my husband's favorite Hawaiian alcoholic drink! This Hawaiian sunset drink also has pineapple chunks to add some tropical flair.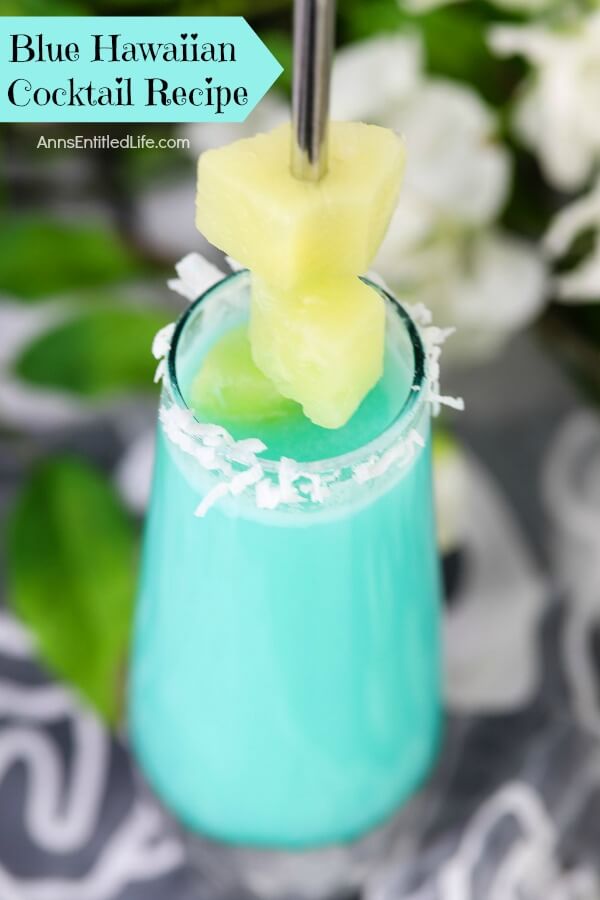 A delightful blend of rum, coconut, pineapple, and blue Curaçao, this Blue Hawaiian Cocktail Recipe is perfect for any occasion.
Plus, a Malibu Blue Hawaiian is one of the most popular Hawaii cocktails to try on a first trip to Hawaii!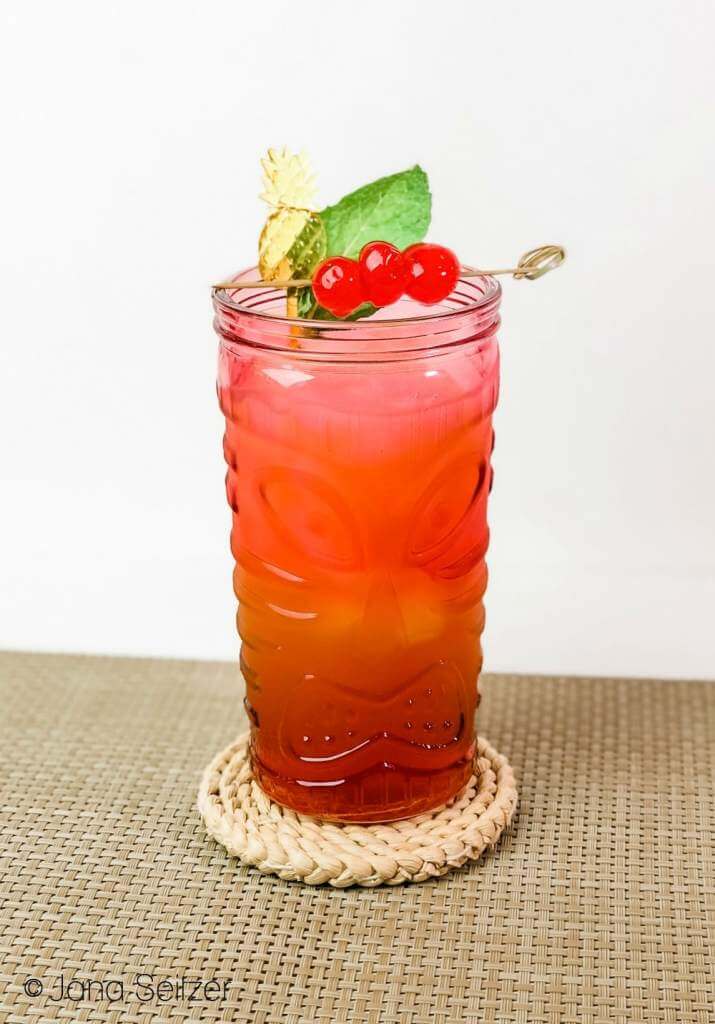 This classic Zombie cocktail was originally invented in 1934 for Hollywood's Don the Beachcomber restaurants. It's the perfect vintage tropical drink and Hawaiian Breeze drink you will love.
This seriously delicious pina colada is a sweet cocktail made with rum, sweetened condensed coconut milk, a touch of nutmeg to kick it up a notch, and pineapple juice blended with crushed ice.
It's one of the most popular fruity beach drinks. And it's one of the best easy Hawaiian alcoholic drinks to impress people.
Plus, these are easy Hawaiian drinks to whip up with items you can keep in your pantry.
This is the perfect Koloa Rum punch recipe to try!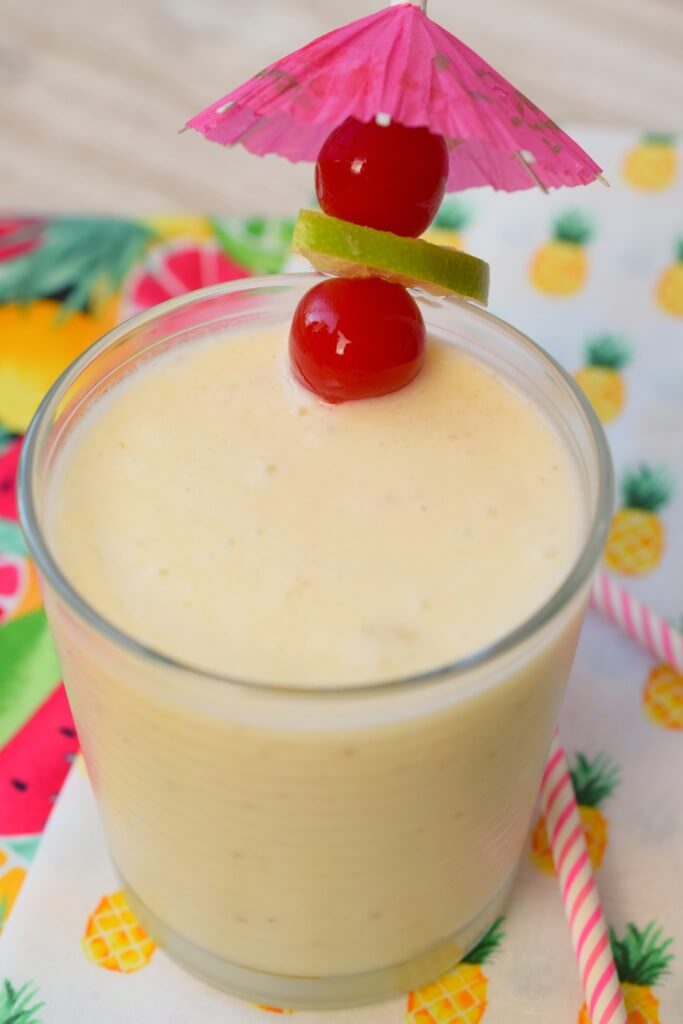 This is similar to a traditional pina colada except that it also includes a ripe banana. It's a fun twist on a popular tropical cocktail, perfect for a hot day.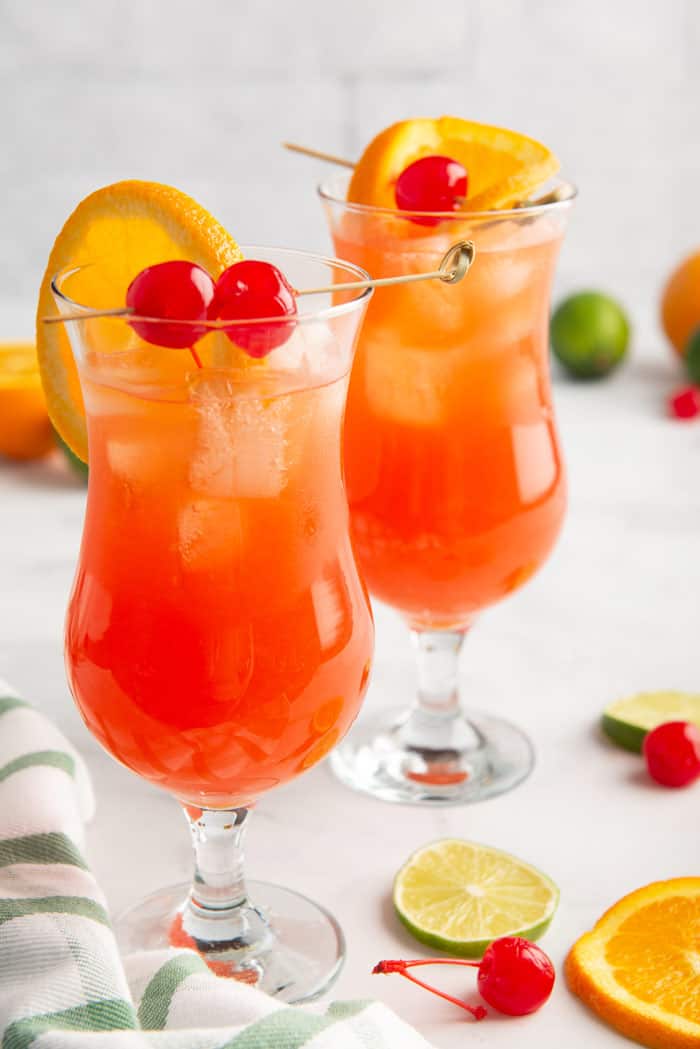 Even those this recipe is billed as a "New Orleans" cocktail, hurricanes are also pretty popular in Hawaii. Plus, many Hawaiian drink recipes are inspired by other places than just the Hawaiian Islands.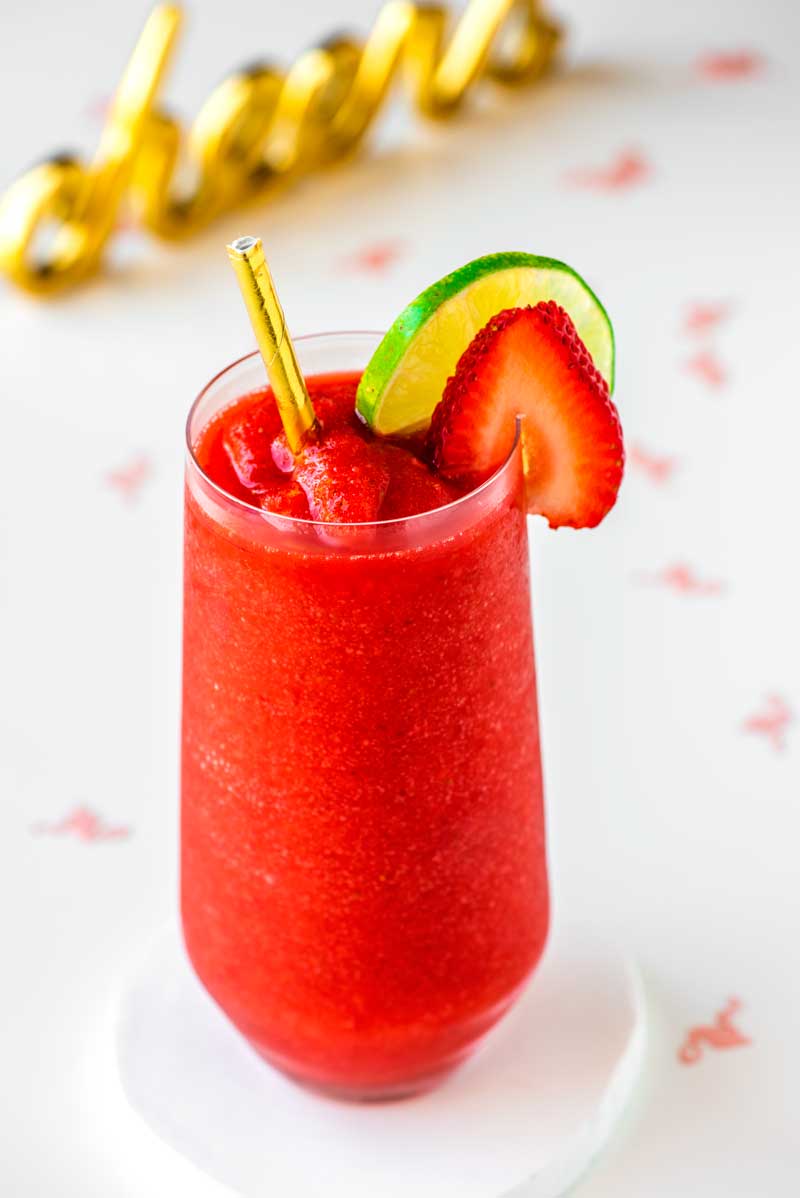 This is my favorite Strawberry Hawaiian Daiquiri recipe because there is no ice involved. That means you won't end up with a watered-down Hawaii drink if you like to take your time sipping.
It is another one of my favorite Hawaiian drink recipes!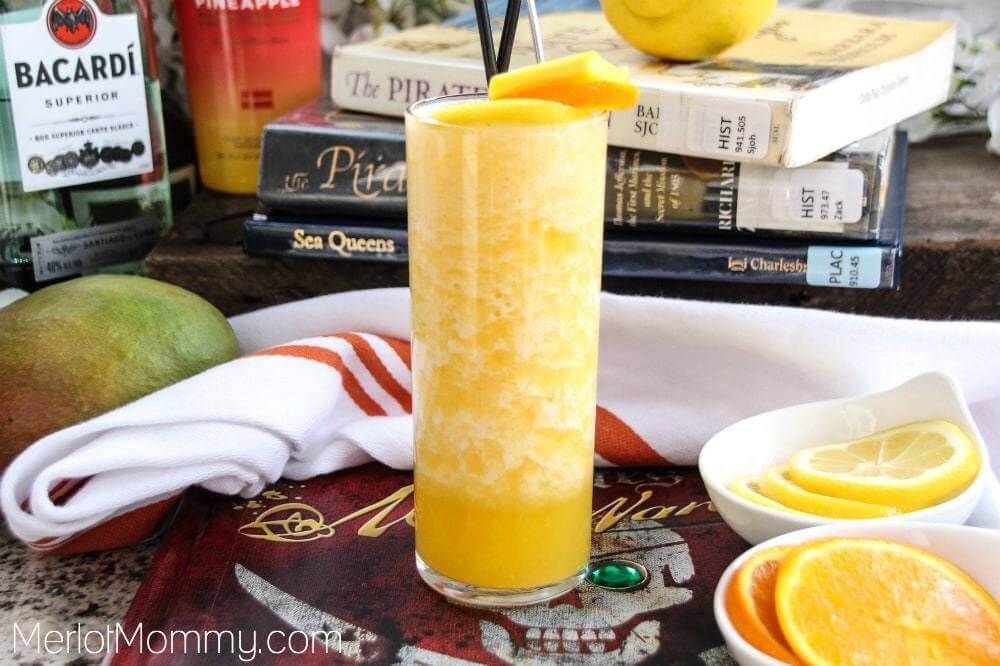 This tropical Mango Sour cocktail is a blend of rum, mango, and Caribbean flavors that will have you sailing the seven seas in no time. It has the perfect sweet and sour mix for your taste buds.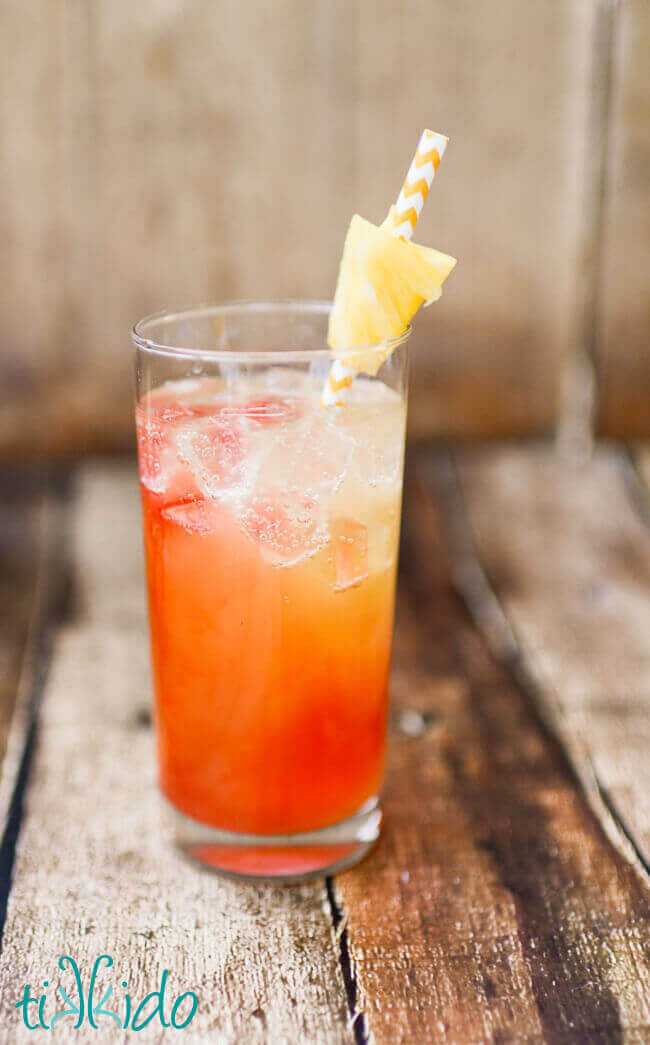 Add some Malibu coconut rum, pineapple juice, ginger ale, and grenadine syrup for such a yummy Hawaiian-inspired cocktail.
These Hawaiian alcoholic drinks can be whipped up in batches in a mixing glass or cocktail shaker for a tropical pool party!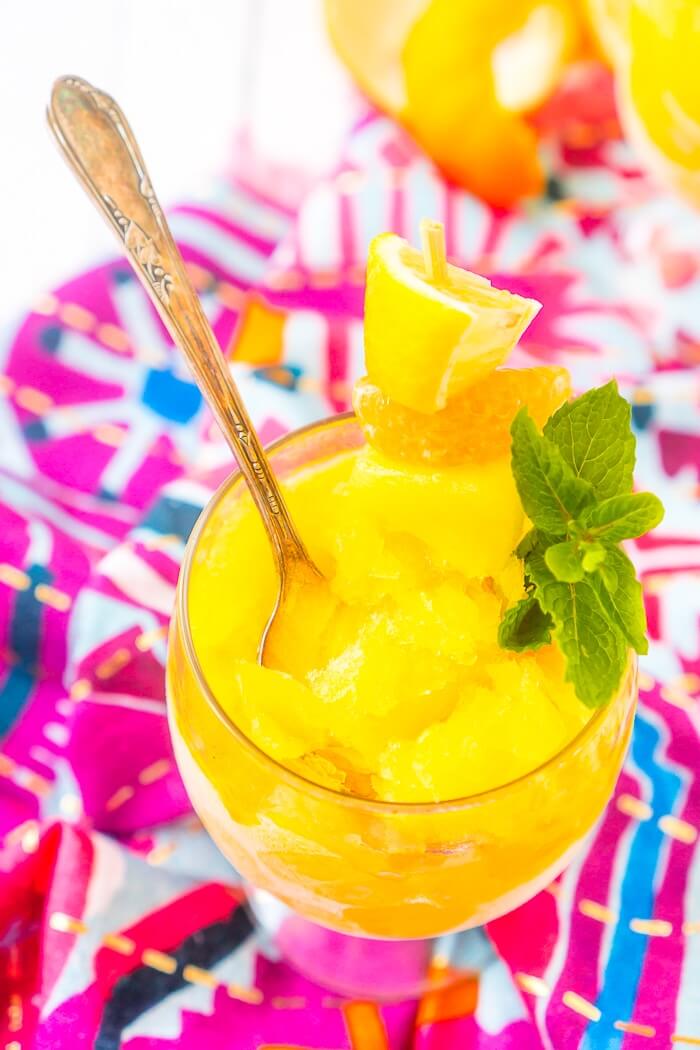 This frozen rum punch is so easy to make, especially if you just mix together and pop in the freezer!
It's a super tasty Hawaiian rum drink and one of my favorite Hawaiian Punch alcoholic drinks for a tiki-themed party!
Tropical Margarita Hawaiian Cocktails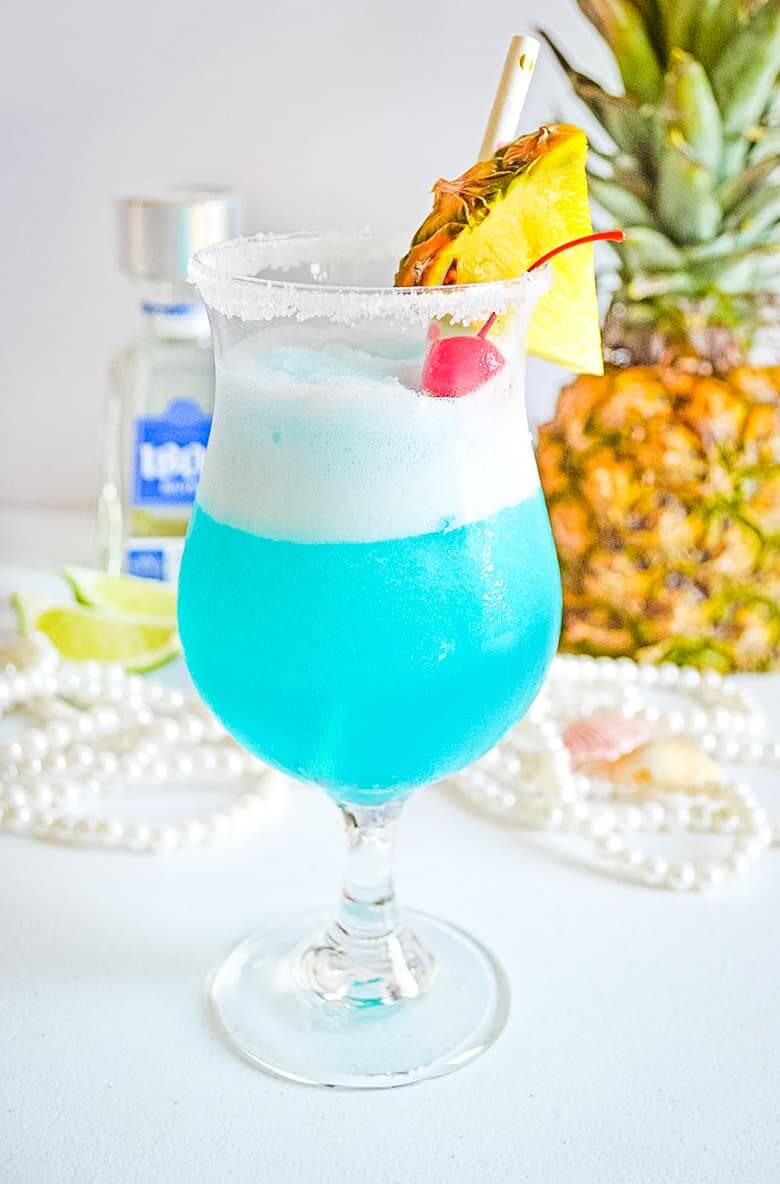 Looking for the ultimate summer cocktail with a tropical twist? The Mermaid Margarita blends tequila, triple sec, blue curacao, fresh lime juice, and honey.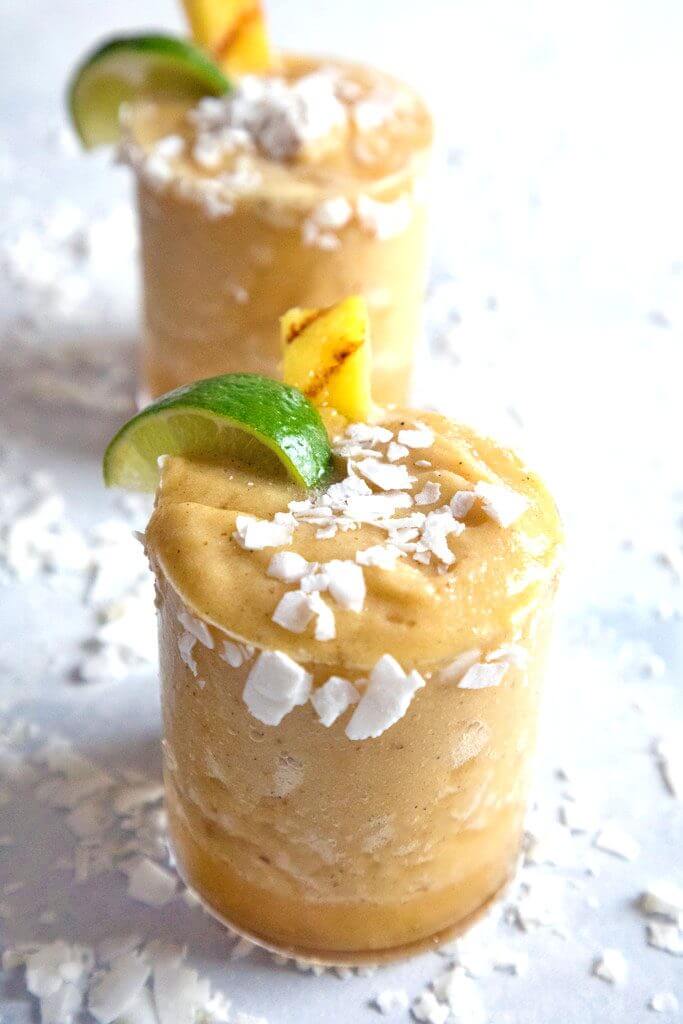 Pineapple is delicious all on its own, but grilling it brings out a whole new depth of flavor. This Grilled Pineapple Coconut Margarita is easy to make and perfect as a tropical cocktail!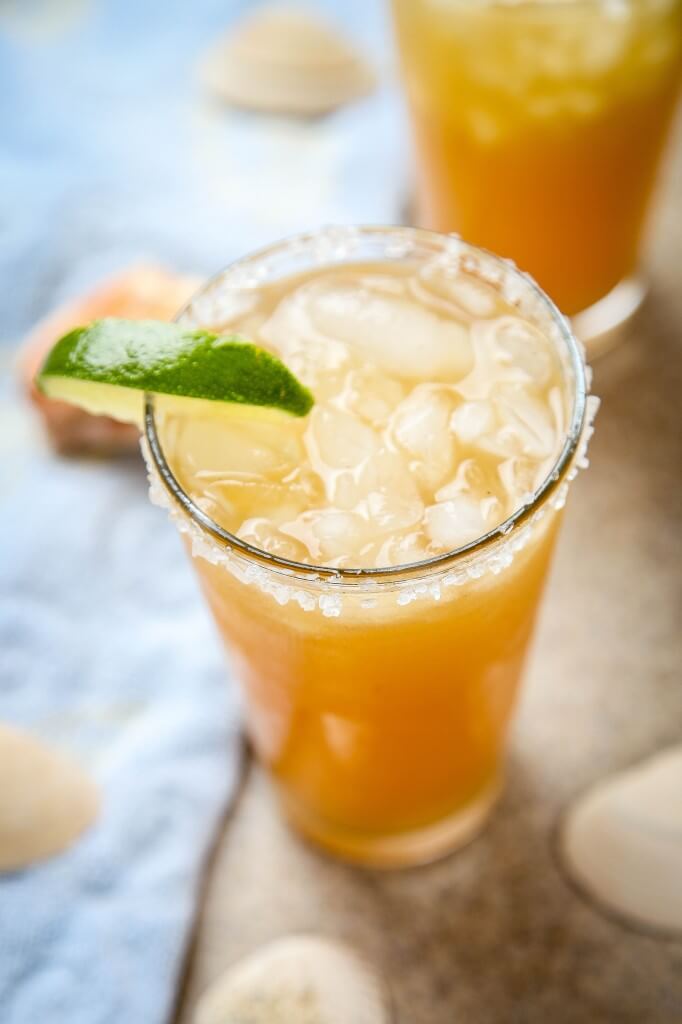 I think what makes this Pineapple Margarita so perfect is the secret ingredient: Vanilla! It's definitely a tasty Hawaiian alcoholic drink!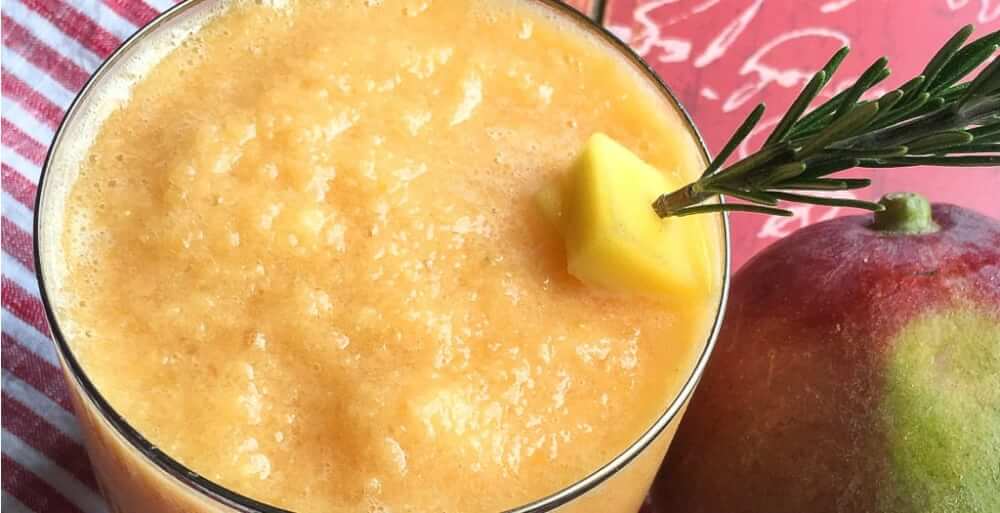 This delicious Blended Mango Margarita has no added sugar, so the true mango flavor pops through. It's the perfect Hawaiian punch mixed drink everyone will love.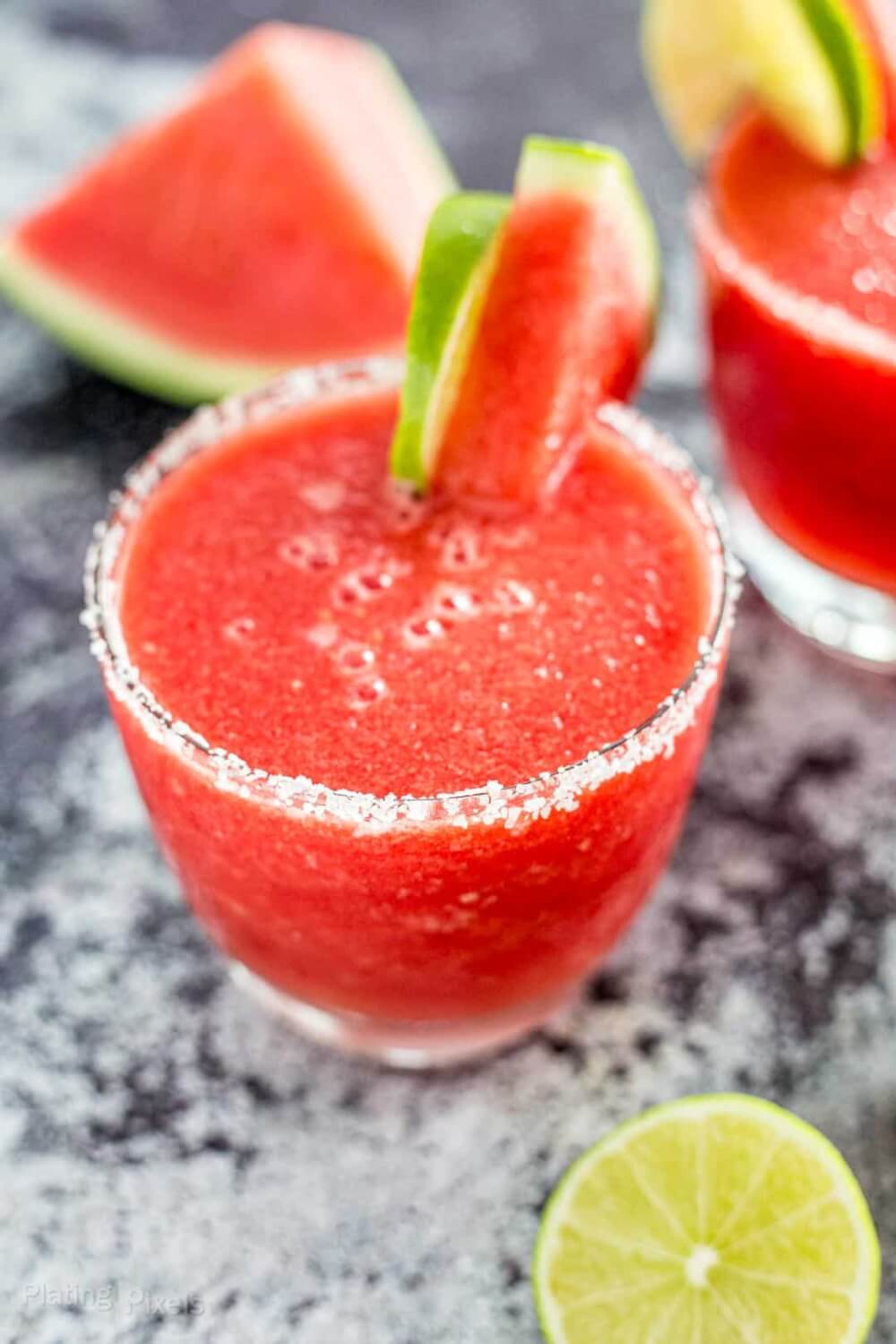 While not always considered a tropical fruit, fresh watermelon goes great with tart lime and refreshing mint for the ultimate Blended Watermelon Margarita.
More Delicious Hawaiian Cocktails Recipes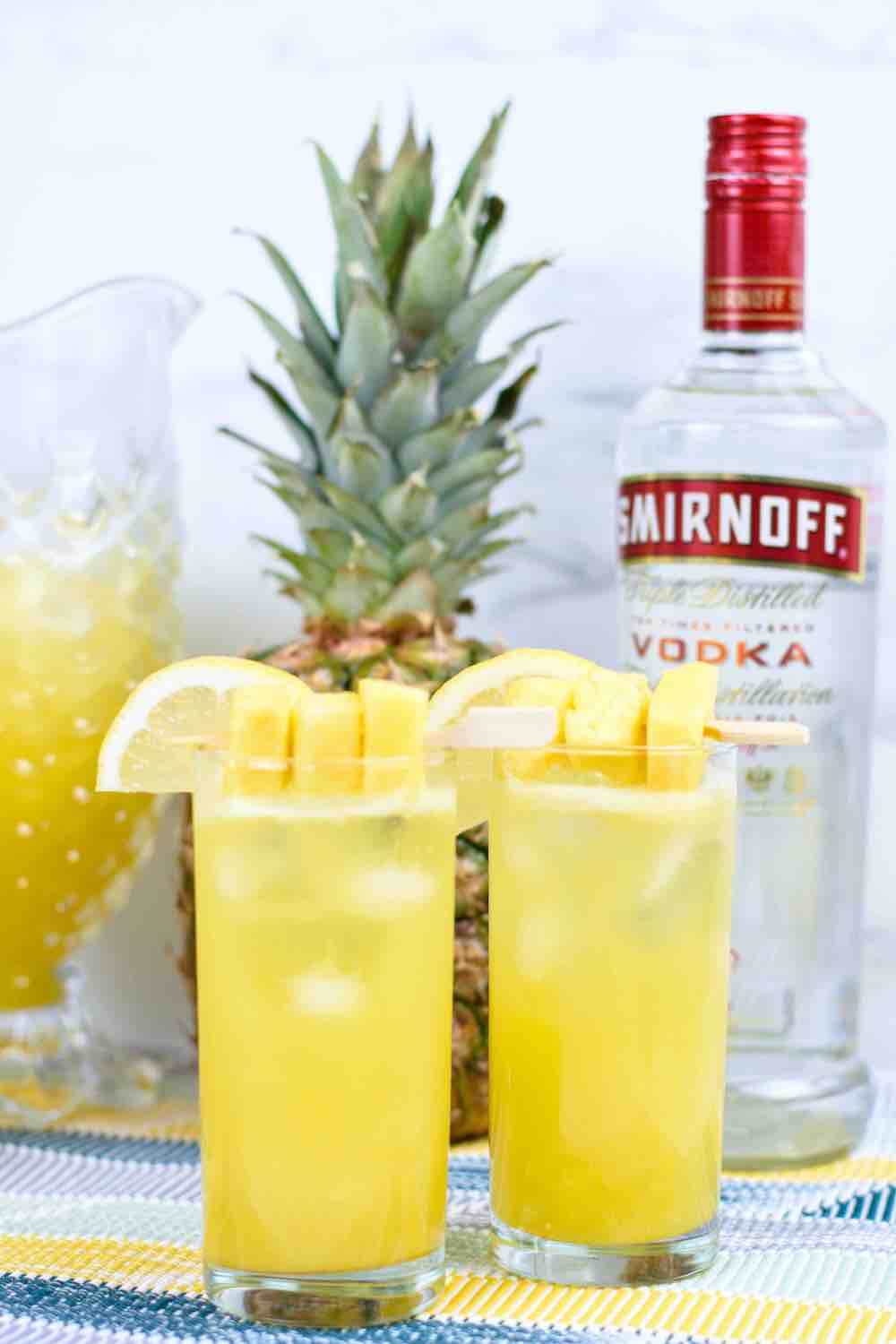 This super easy tropical cocktail can be ready in just 2 minutes, and it only requires a couple of ingredients. Just one sip of this Pineapple Vodka Lemonade will transport you to Hawaii! It's seriously one of the most refreshing Hawaiian punch cocktails.
While it's not one of the most famous Hawaiian drinks, you'll want to sip this all summer long!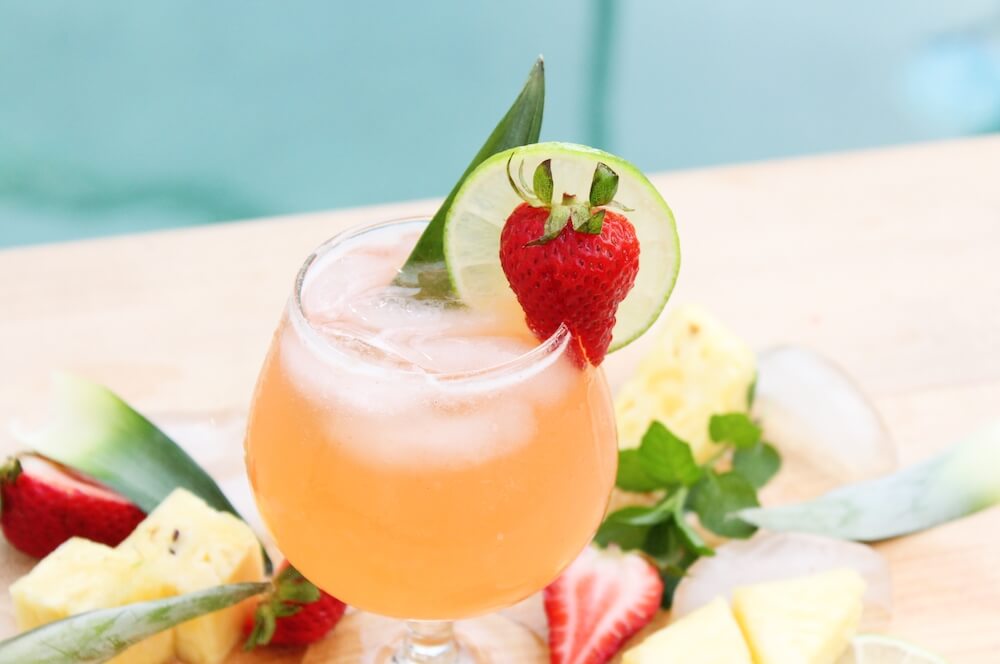 The fresh strawberries, pineapple, lime, and mint really make this Strawberry Pineapple Mojito burst with flavor! It's one of the tastiest Hawaiian mixed drinks!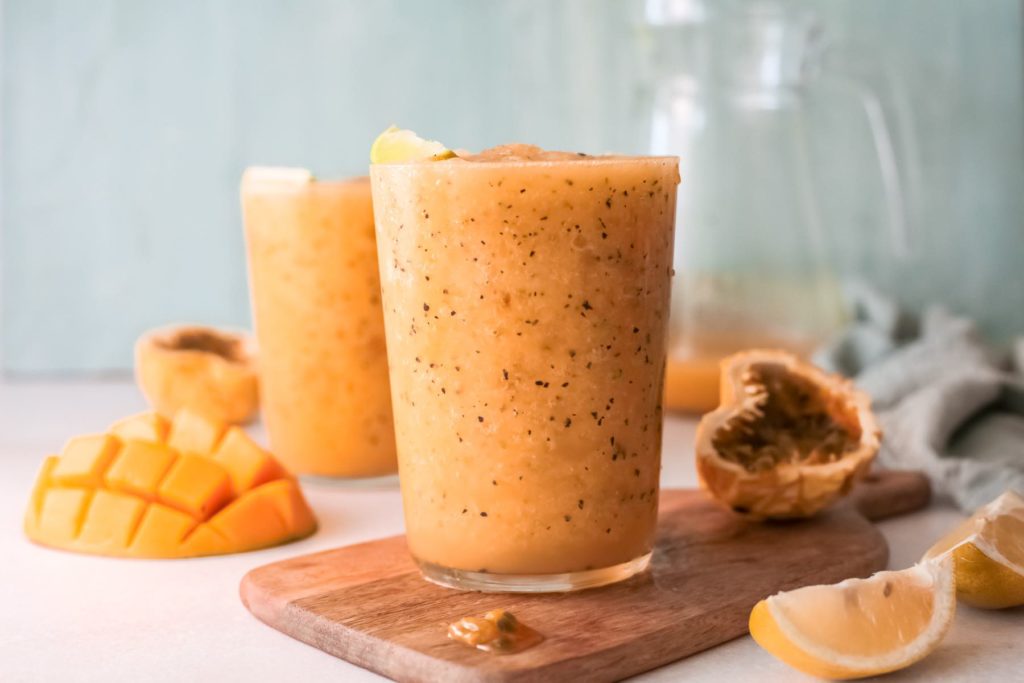 Need a refreshing tropical wine slushie? Try this tasty mango passion fruit wine slushie recipe with just a bit of honey to showcase the sweet Hawaiian fruit!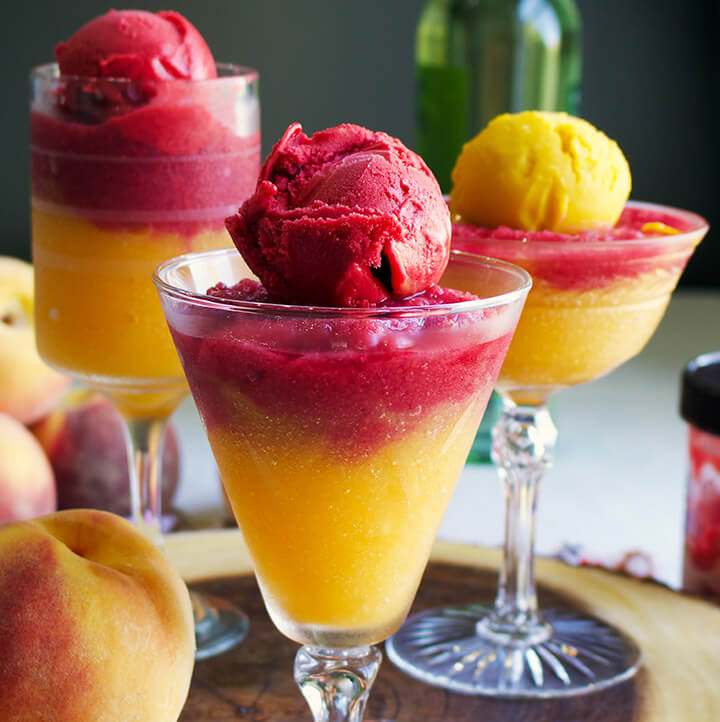 Frozen fruit and white wine is blended up with sorbet, topped with an additional scoop, and (preferably) served poolside. A kiddy pool will do just fine.
Heck, after a couple of these, you can just put your feet in a washbasin filled with water, turn your face to the sun, pretend you're at a 5-star resort, and be happy.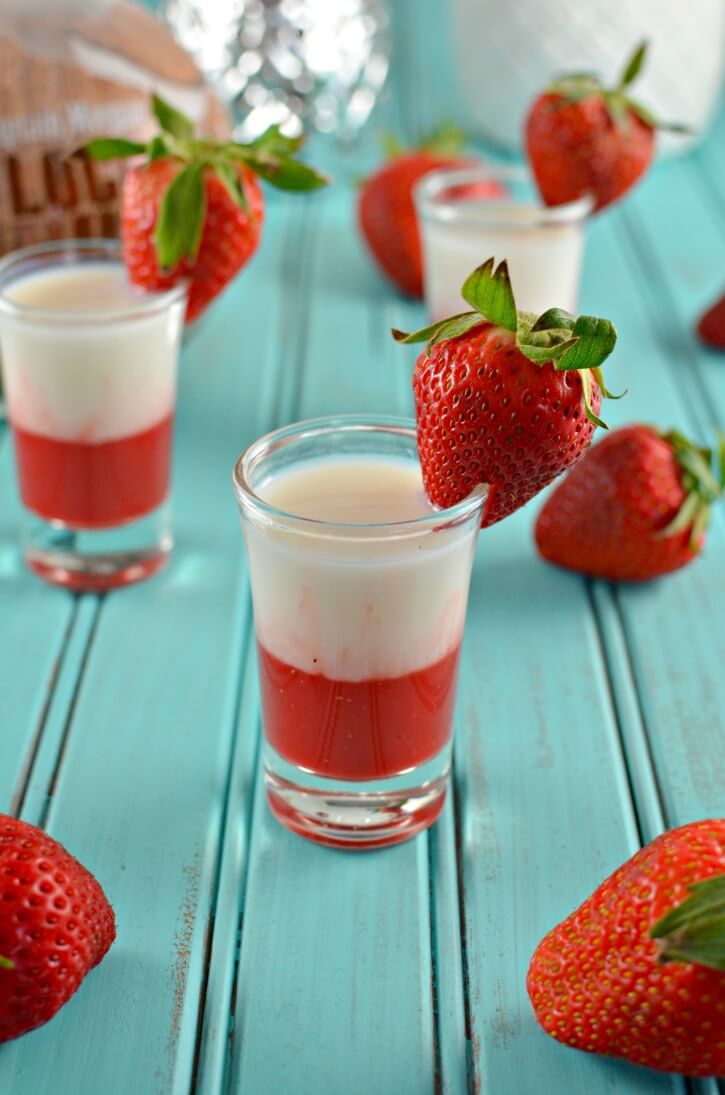 Love a Miami Vice but don't want to drink a full cocktail? Try out this Miami Vice shot!
It's one of the prettiest tropical cocktail recipes.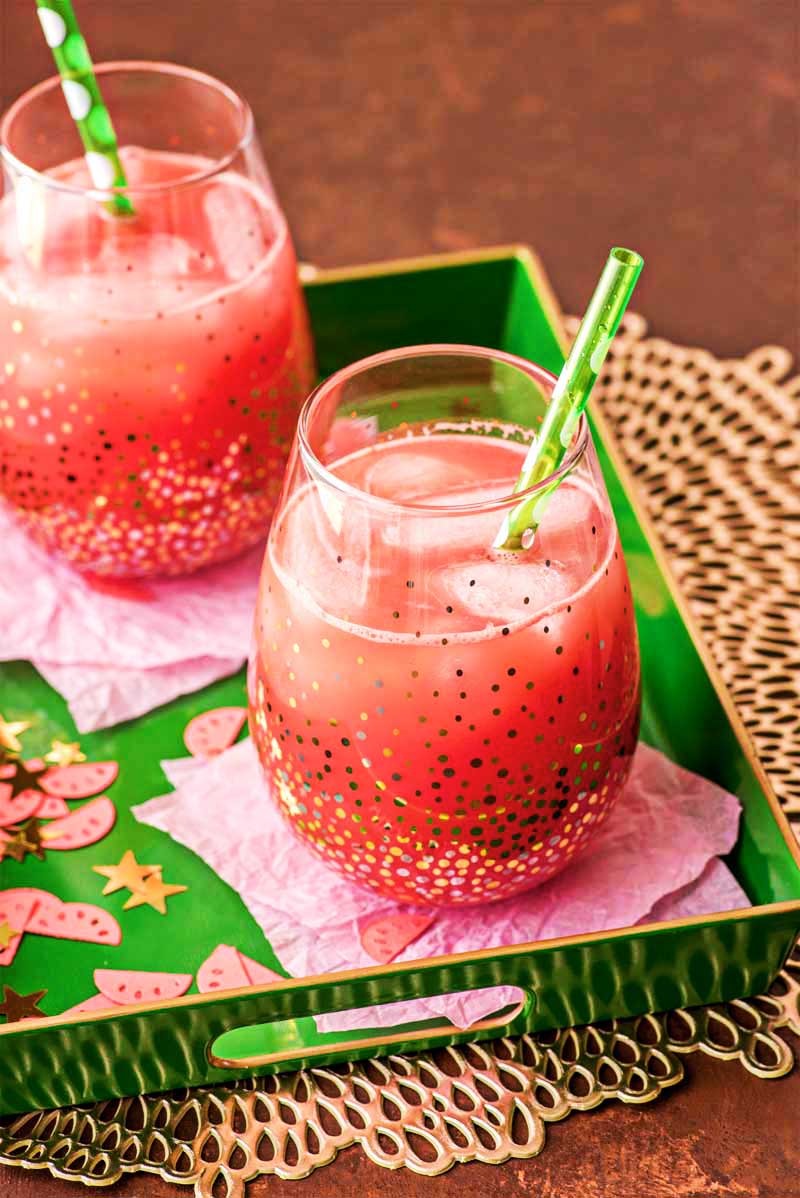 This summery drink uses fresh watermelon, ginger beer, white rum, lime juice, and lemon juice. Doesn't that sound refreshing?
And even though they are super pretty, they are actually easy Hawaiian cocktails to make!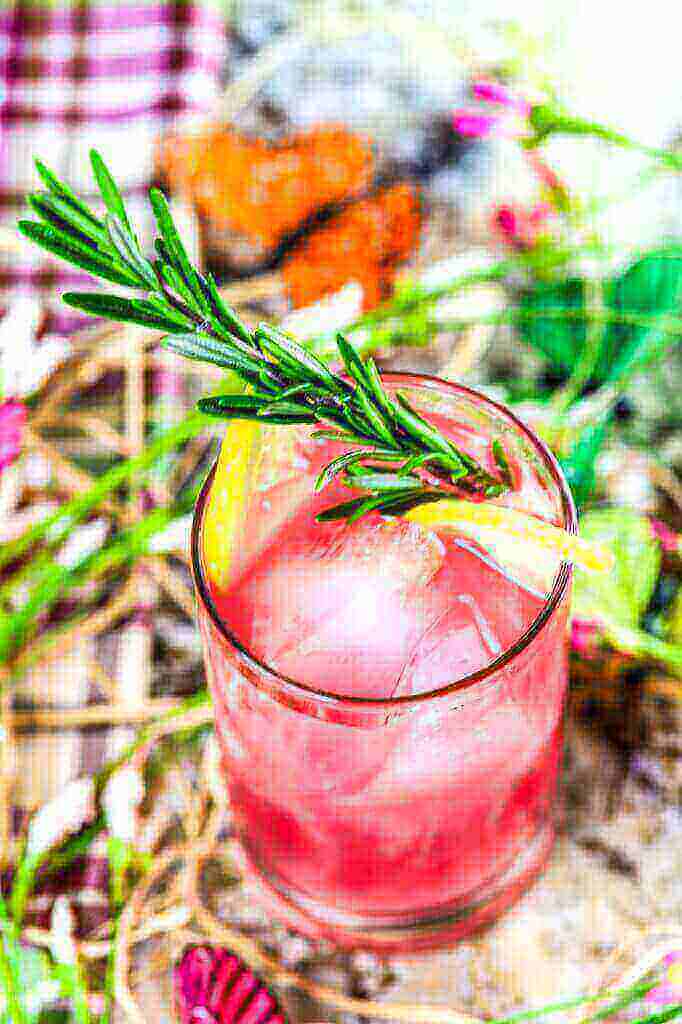 The strong lemon flavor in this Hawaii cocktails recipe is perfectly balanced with the sweet guava flavor. Plus, there are notes of pineapple, papaya, and banana.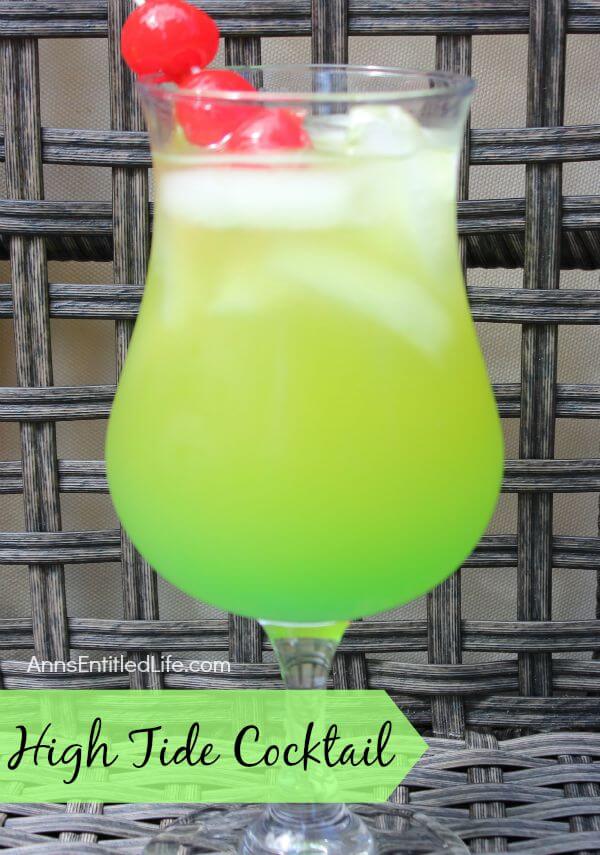 A sweet, delicious rum cocktail with a touch of Midori citrus, the High Tide is a fabulous adult libation. As one of the green Hawaiian cocktails, It goes perfectly with some maraschino cherries and served in a nice tall glass.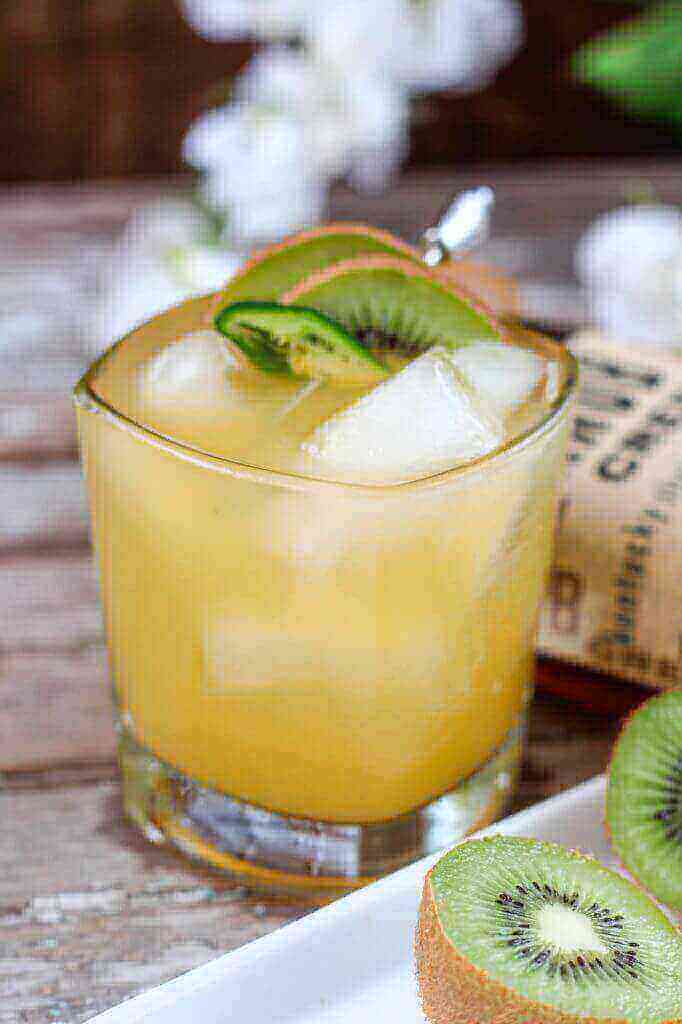 If you like your drinks sweet and spicy, this cocktail is right up your alley! It's got grapefruit, pineapple, and fresh kiwi.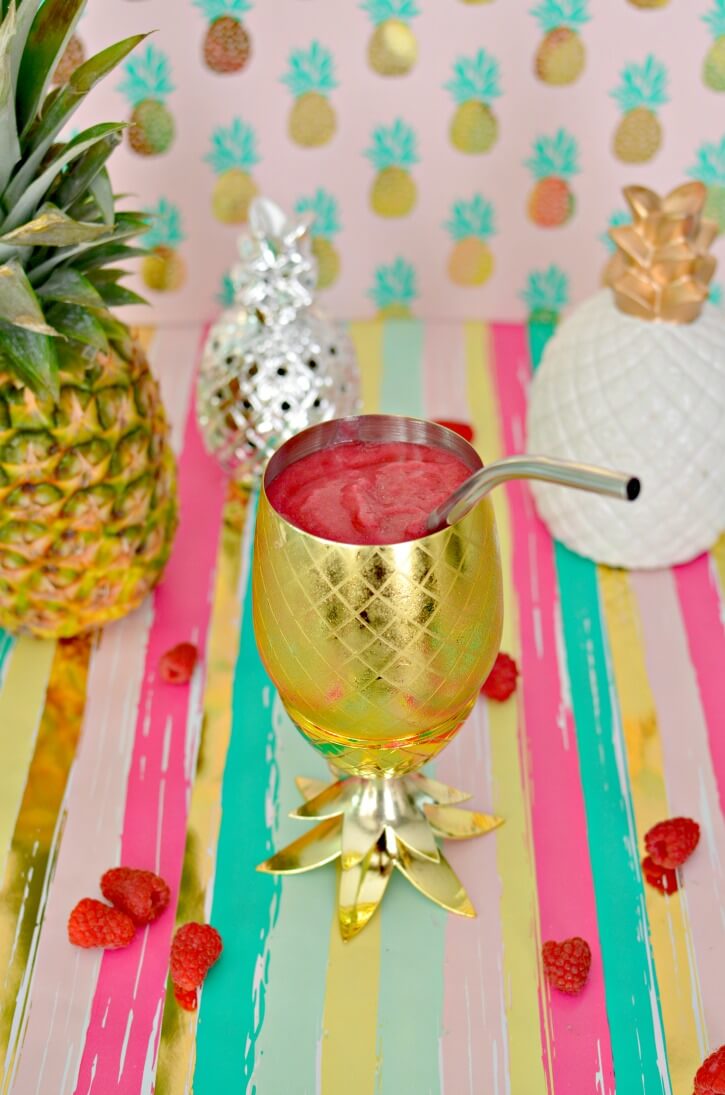 Take a trip to the tropics with a delicious spiked raspberry Pineapple slushie. It is another one of the best Hawaiian drink recipes to make!
Plus, you can also make these for kids without vodka by using club soda instead!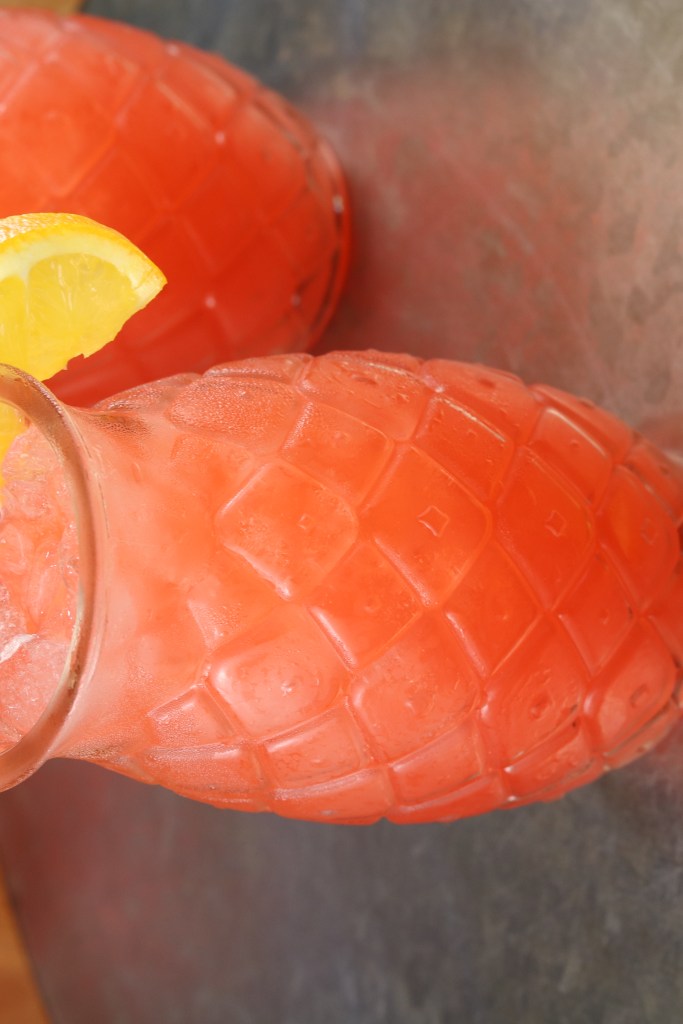 This is a fun drink to make a big batch of and then freeze some to enjoy later. There are even some fun recipe twists to make it a bit different each time.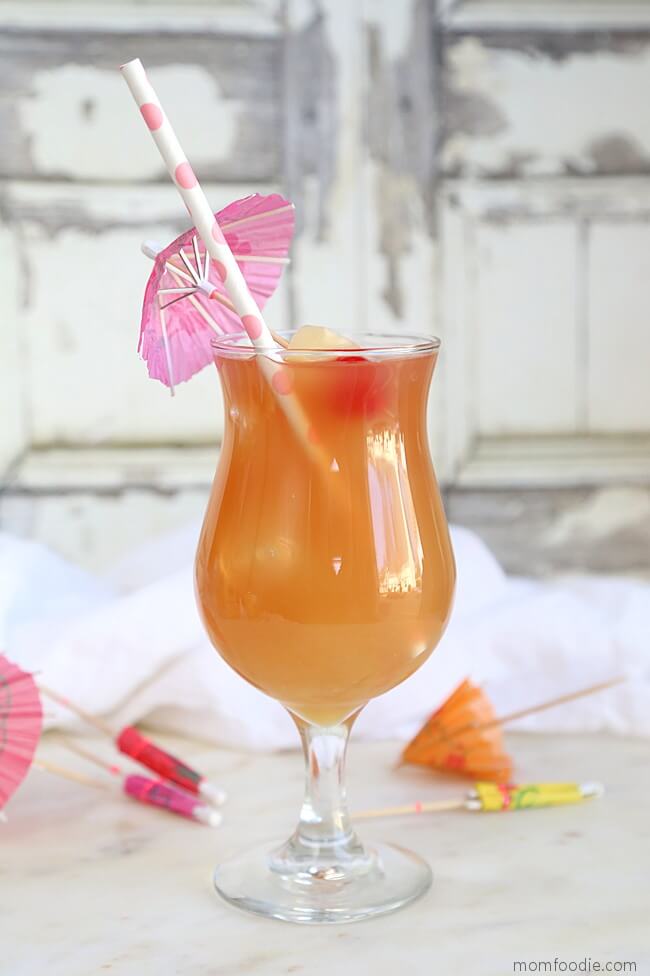 This Hawaiian cocktail with vodka is a tropical twist to a Cape Codder. The pineapple is what sets it apart.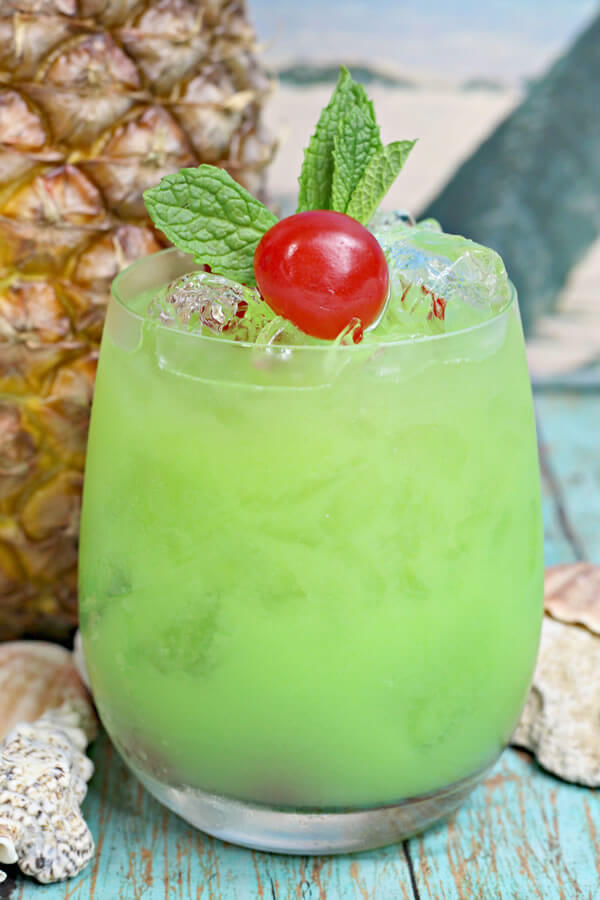 This Hawaiian cocktail has a bit of vodka, rum, coconut cream, Blue Curaçao, and pineapple and orange juices. Yummy!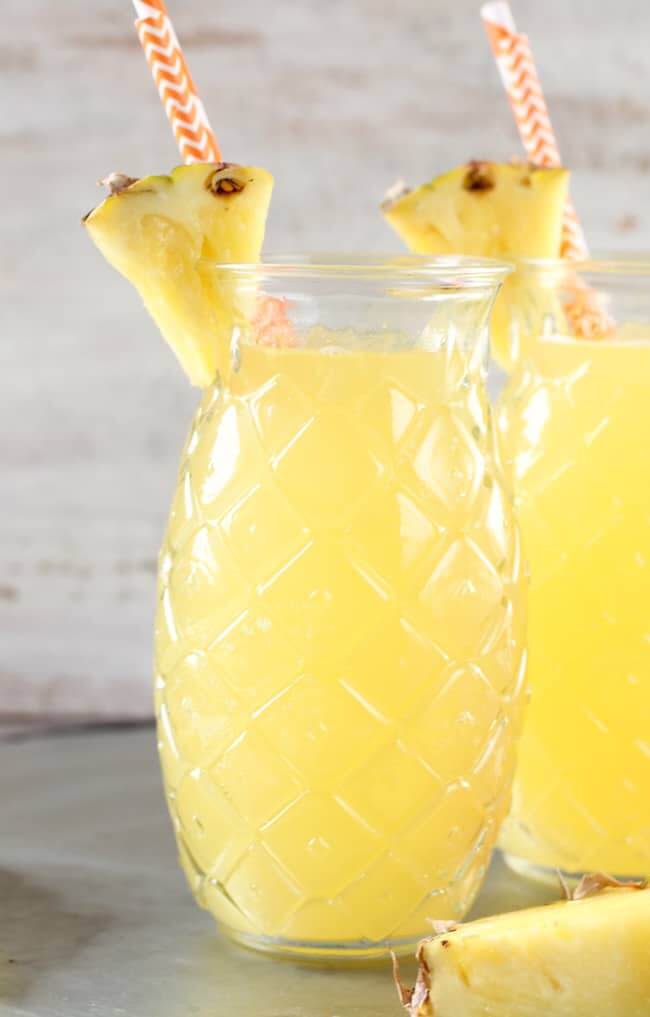 This pineapple wine punch only contains 4 ingredients: Moscato wine, pineapple juice, orange juice, and Sprite club soda. Super easy and super tasty!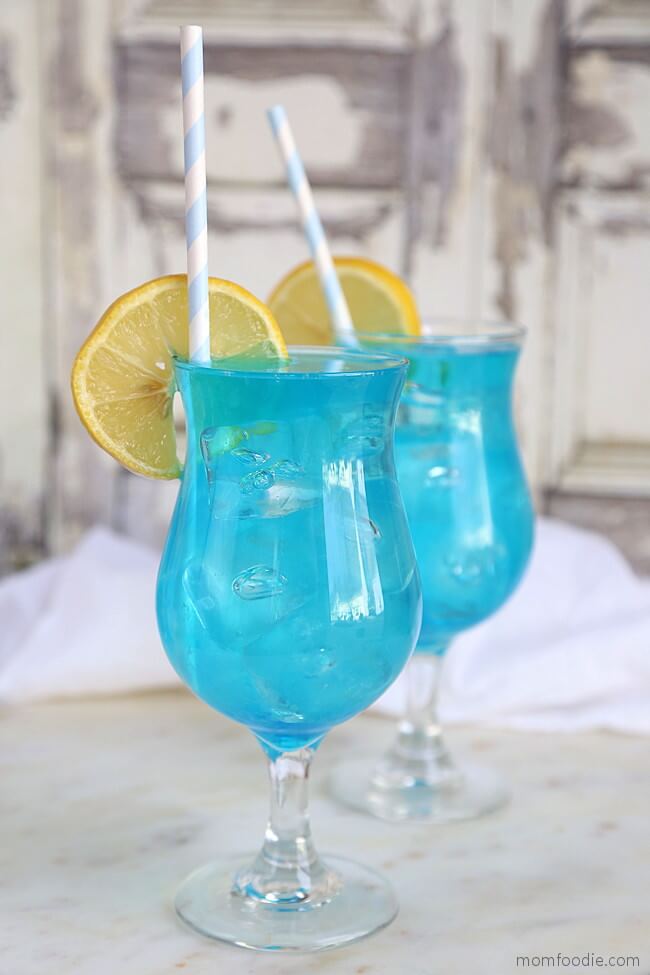 This blue Hawaii cocktail only contains 3 ingredients, and it's as fun to make as it is to drink!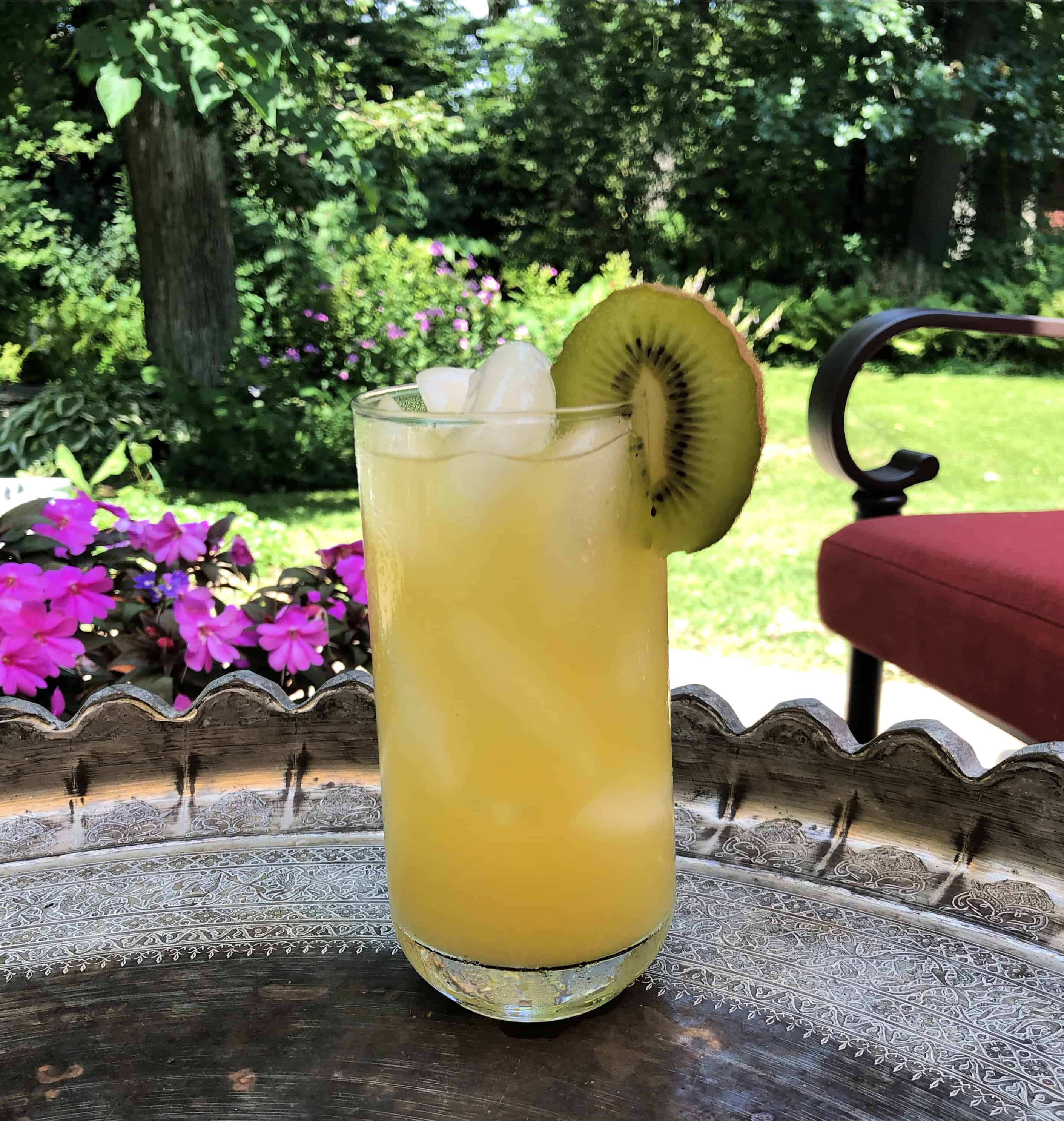 Sip this on a hot summer day, and it will feel like a pineapple-flavored kiss on the shores of Maui. It uses coconut rum and crushed ice to taste absolutely amazing.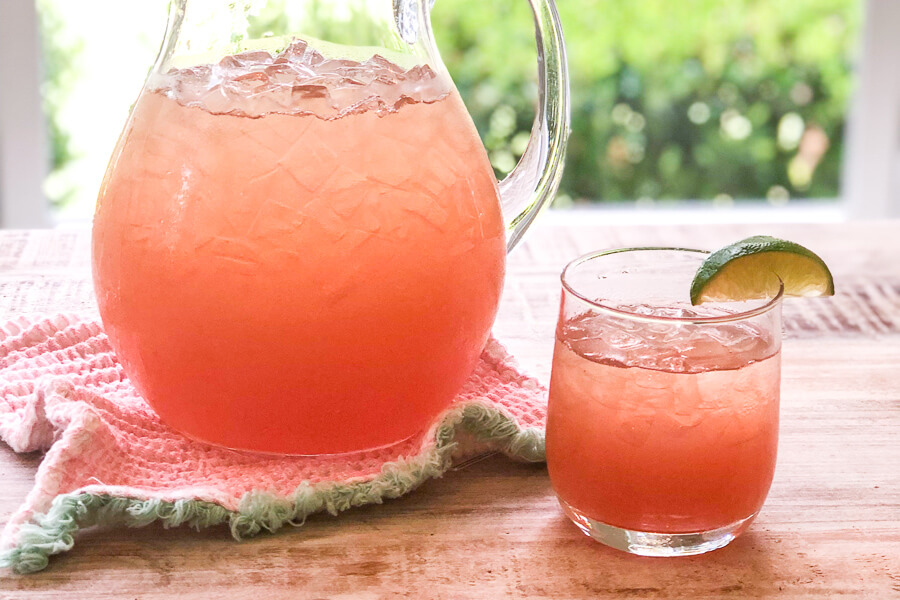 Is there anything better than a pitcher of cocktails in the backyard on a warm, sunny day? This one has a splash of cranberry juice to give it a pop of color.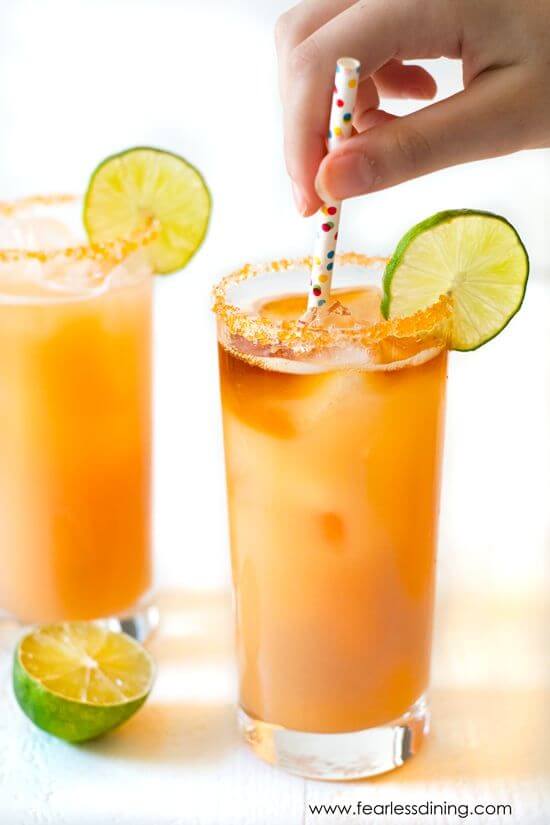 This yummy tropical cocktail uses Passion Fruit orgeat syrup, but you can always use Hawaiian POG juice if your grocery store carries it. It's the simple syrup that makes this drink amazing.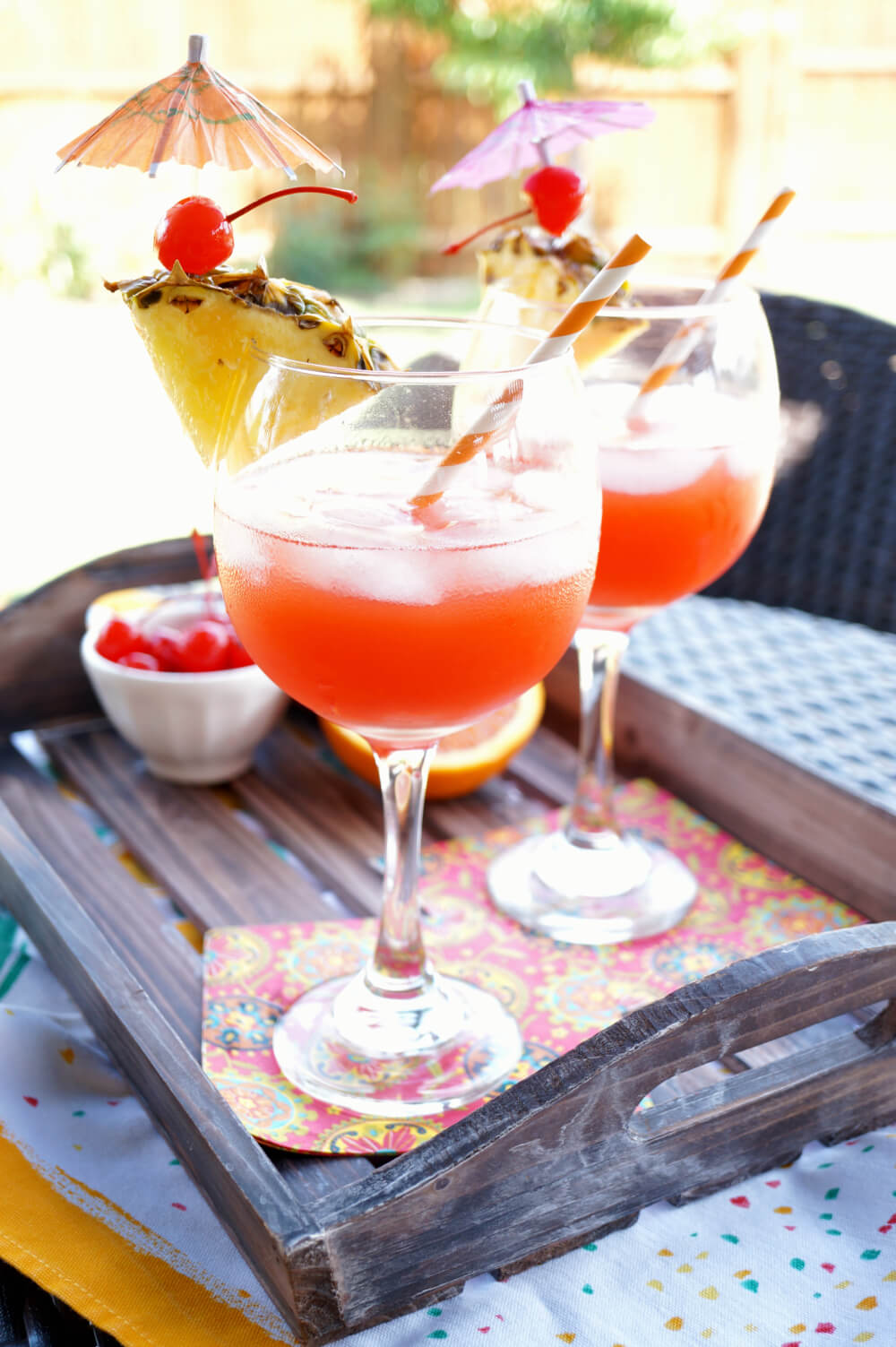 This drink combines orange juice and pineapple juice with rum and grenadine for a beautiful Hawaiian sunset-colored cocktail.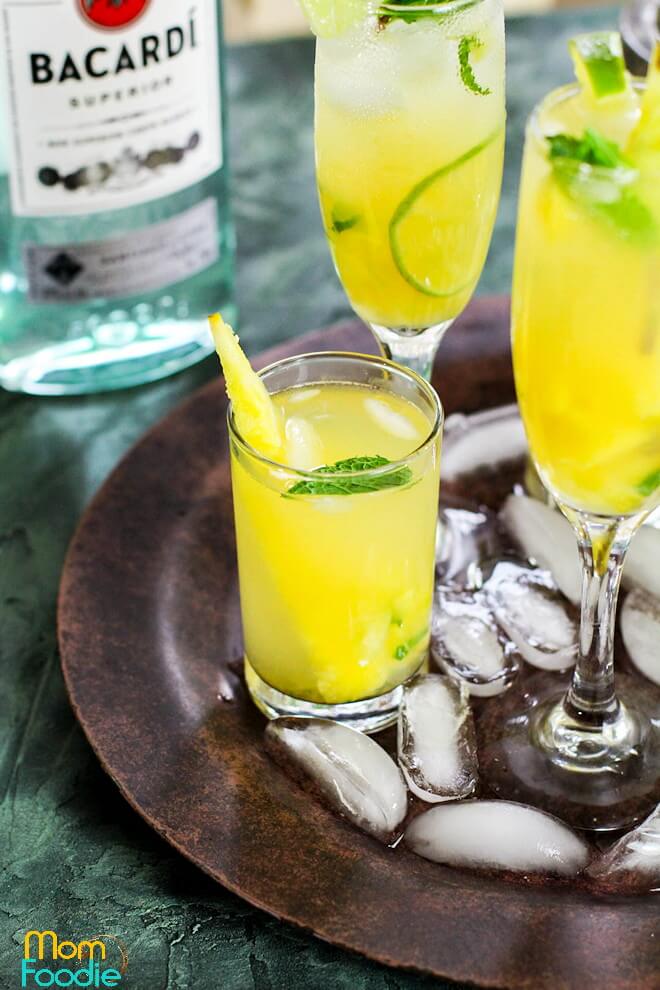 While this drink originated in Cuba, the addition of pineapple gives it a nice Hawaiian twist, perfect for a backyard luau or pool party.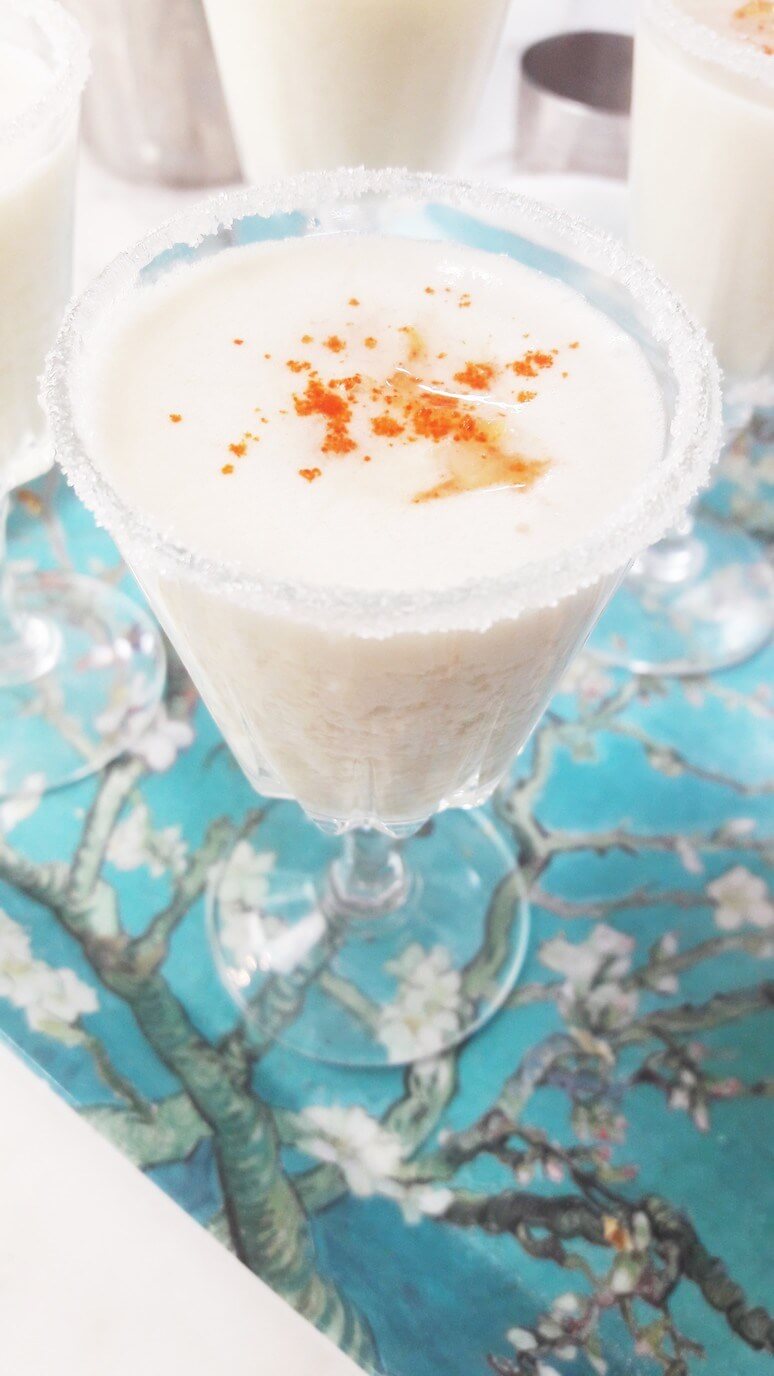 his Pina Colada recipe finishes with a sprinkle of hot chili peppers for a sweet-and-sour mix you will love!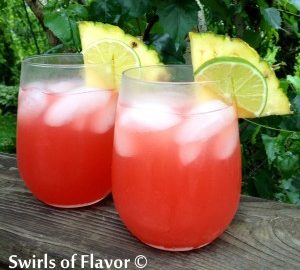 The tropical flavors of coconut, pineapple, and lime blend together beautifully for an island-inspired rum cocktail, Caribbean Sunset. An easy recipe, this Hawaiian sunset drink will be your most requested cocktail at your summer Happy Hours!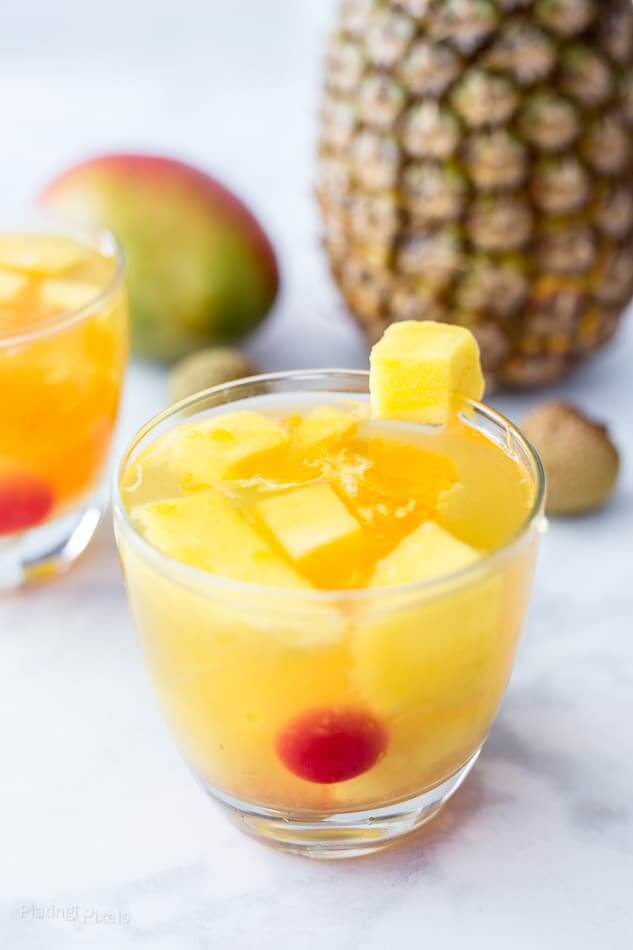 This easy white sangria is made with white wine, rum, and tropical flavors like pineapple, orange, mango, lychee, and passion fruit syrup.
Nothing says summer like this Aloha Sunset Wine Cocktail. The Sauvignon Blanc includes hints of the tropics, and this drink is a refreshing way to beat the summer heat.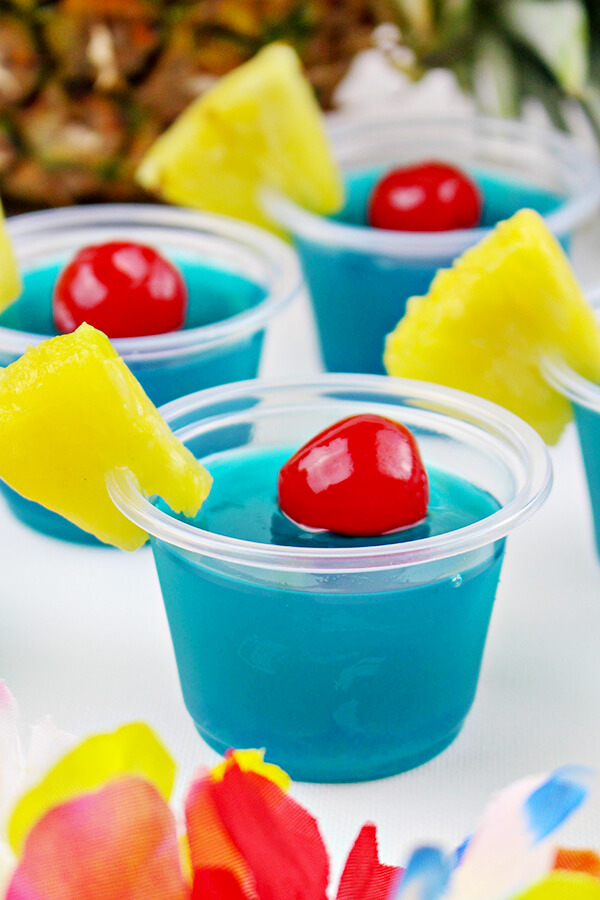 If you're having friends over for any summer party or backyard luau, then this Blue Hawaiian recipe for JELLO shots is a fun addition!
The Blue Hawaiian mixed drink is one of the top favorites in the Hawaiian islands, so be sure to try it!
Best Hawaiian Mocktails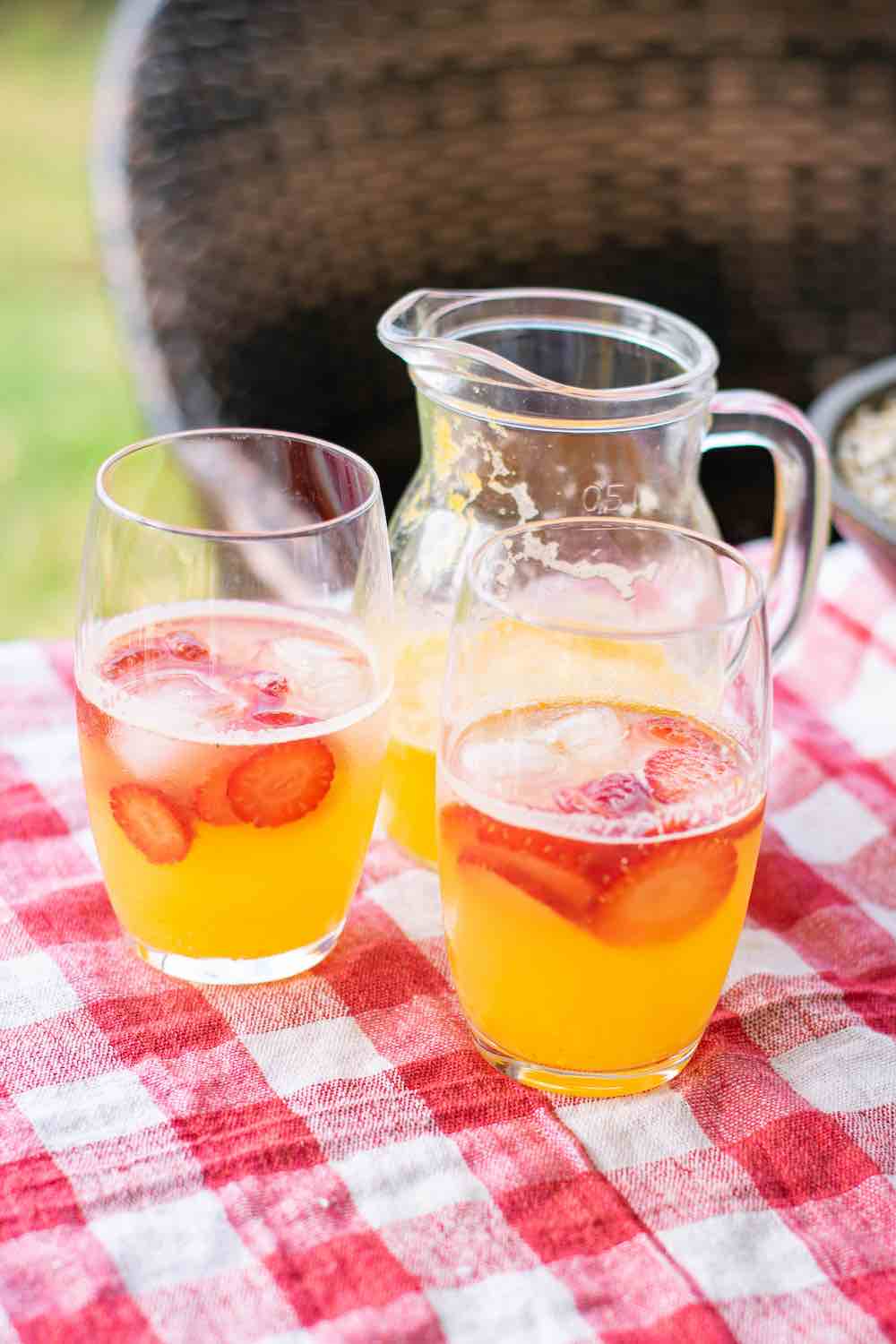 This Hawaiian juice blends together fresh or frozen mango with lemon juice to create a tasty Hawaii tropical drink that's non-alcoholic.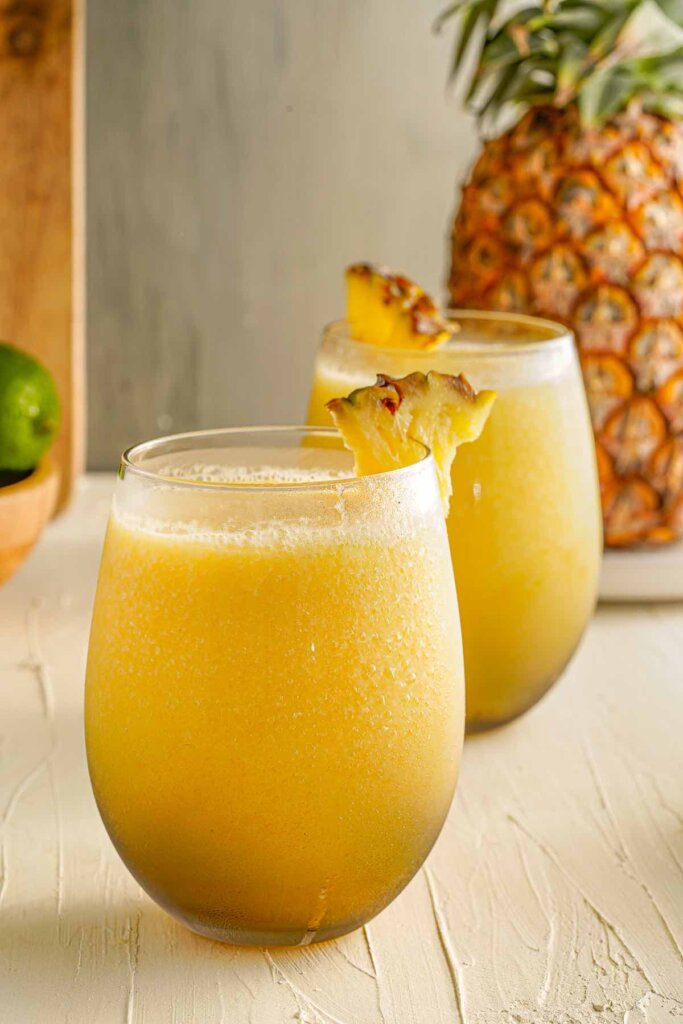 This is a super easy Hawaiian mocktail that uses fresh pineapple, frozen mango, coconut water, and ice for a refreshing summer drink recipe. Plus, there's no sugar added, so it's pretty healthy!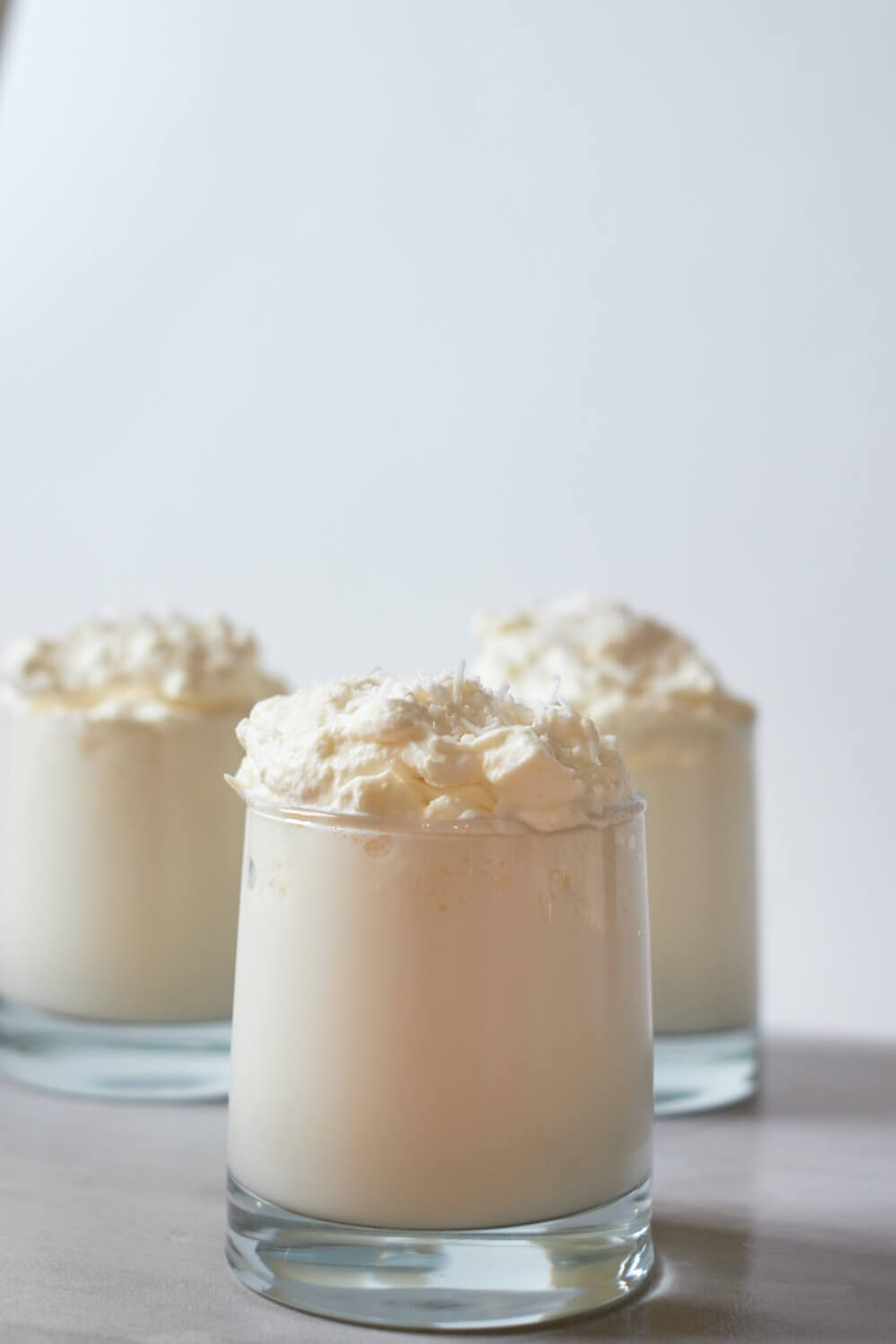 This is an updated twist on a classic Hawaii cocktail recipe. It features Dalgona-style whipped coconut froth for the top of this virgin Hawaiian drink.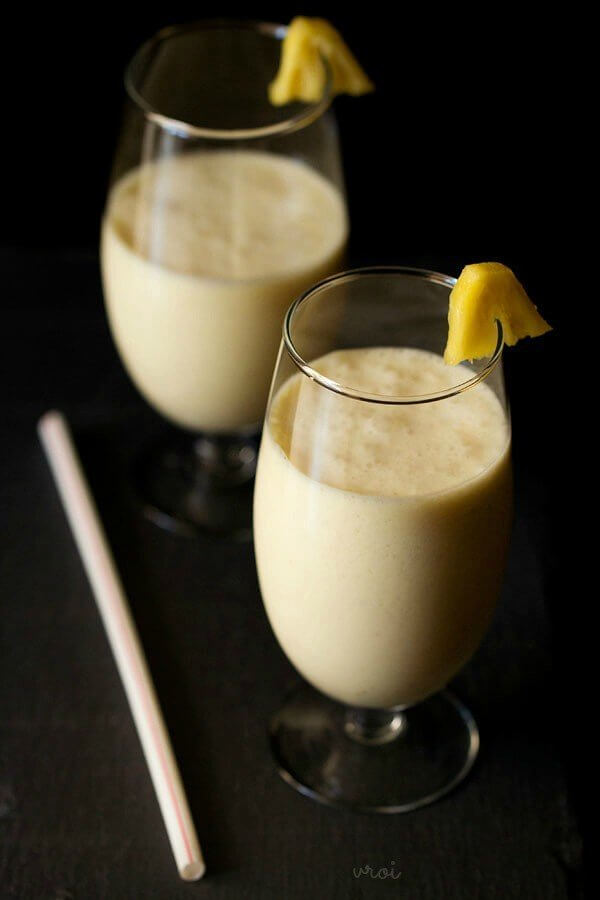 Not everyone in Hawaii drinks alcohol. This virgin Pina Colada recipe is a refreshing vegan mocktail drink made with fresh pineapple juice, coconut milk, and ice cubes.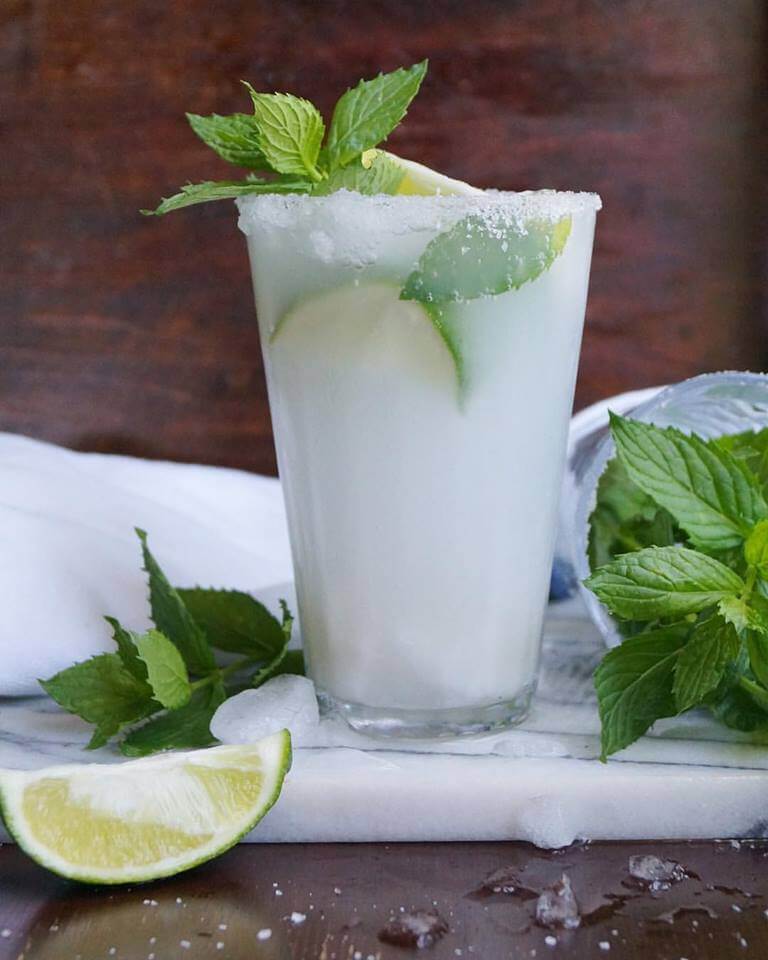 This Whole30 mocktail is a non-alcoholic take on a traditional Coconut Mojito. It's super simple to make and so tasty to drink!
Top Questions About Hawaiian Themed Cocktails
What's the most popular cocktail in Hawaii?
While Hawaii is known for a lot of yummy tropical cocktails, like the Hawaiian pineapple passion rum cocktail, they are most famous for their Hawaiian Mai Tai. And you're in luck; we have included the best mai tai recipes at the top of this post!
What's the best Hawaiian rum?
If you are planning on making any of these Hawaiian cocktails on your next trip to Hawaii, I strongly urge you to try some authentic Hawaii rum. My personal favorite Hawaiian liquor is Koloa Rum. It's made on Kauai and has won tons of awards. If you're heading to Kauai, they offer rum tastings that are definitely worth checking out. Another option is Ko Hana Hawaiian Agricole Rum. You can find it all across Hawaii and on the west coast of the Mainland.
What alcohol is in a Blue Hawaiian Punch Recipe?
After mai tais, the most famous drinks in Hawaii are Blue Hawaiians. The Blue Hawaiian drink recipe consists of blue curacao, rum, vodka, cream of coconut, and pineapple juice.
What do you drink at a luau?
Each luau in Hawaii offers an array of tropical drinks. Typically, luau cocktails will have some sort of mai tai or Hawaiian rum punch for adults. There's also a non-alcoholic option like POG juice. Read my full guides to luaus on Oahu, Maui, the Big Island, and Kauai to get a better idea of the Hawaii alcoholic drinks served.
What's the drinking age in Hawaii?
The legal drinking age in the United States is 21 years old.
Is it illegal to drink on the beach in Hawaii?
Yes. While it may seem like a romantic idea to make your own tropical drinks to enjoy on your favorite beach, it's totally illegal. However, you can definitely head to a beach-side restaurant or bar. Sometimes they have the best Hawaiian drinks and a view you have to see to believe!
What is the national cocktail of Hawaii?
Although there is no official national cocktail of Hawaii, if they did, it would probably be the Hawaiian Mai Tai or a frozen Blue Hawaiian drink.
Hawaii Themed Drinks Wrap Up
Now you know how to make some of the tastiest Hawaiian cocktail recipes. I even brought in a few non-alcoholic Hawaii drink recipes for kids and people who don't drink alcohol.
The next time you're planning a party, consider throwing in some of these delicious drinks that are perfect for summertime. You'll be able to make your guests feel like they've been transported to the island paradise without ever leaving home.
These recipes range from easy cocktails with just three ingredients all the way up to complicated tiki-style concoctions with multiple rums and unusual flavor combinations. So no matter what type of drinker you or someone at your party is, there's something here for everyone!