Are you looking for a new twist on a Hawaiian Virgin Pina Colada? Check out this recipe for a Dalgona-style non-alcoholic Pina Colada milk that's perfect for summer parties!
This non-alcoholic pina colada recipe contains affiliate links which means if you purchase something from one of my affiliate links, I may earn a small commission that goes back into maintaining this blog.
Are you loving the Dalgona craze as much as I am?
I admit, I'm not a fan of Dalgona Coffee. I think it's because I don't like the taste of instant coffee. Or maybe I just used the wrong kind of instant coffee. Oh well.
But, I love the concept of Dalgona drinks!
My kids are big fans of smoothies and milkshakes, so I figured they would probably get a kick out of this Dalgona-style Pina Colada without alcohol.
This delicious alcohol-free pina colada drink is the perfect summer treat for kids and adults alike. The taste of pineapple and coconut will take your taste buds on a trip to Hawaii!
If you are wondering how to make a pina colada without alcohol, keep reading!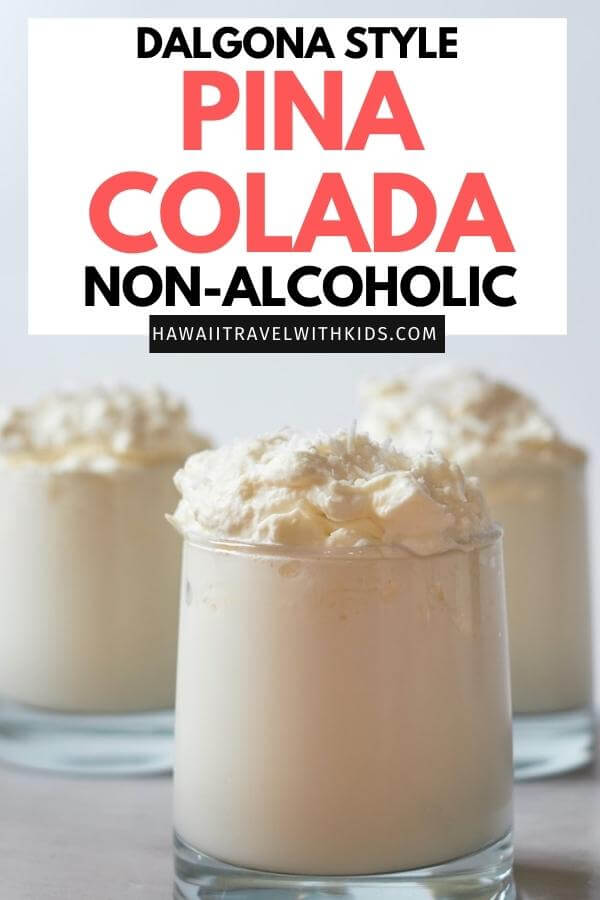 What do you need to make this Dalgona Pina Colada?
Whisk, electric mixer, or frother.
Blender or food processor
Bowl
Cup
Non-Alcoholic Pina Colada Recipe
Here is an easy virgin pina colada mocktail recipe that is a great recipe for your whole family! It's the perfect drink for a hot day and is truly a tropical treat you all will love.
Enjoy this virgin colada mocktail recipe!
Pina Colada Mocktail Ingredients
¼ cup of chopped pineapple
½ tablespoon of water
1 cup of whipping cream
2 teaspoons of sugar
1 cup of milk
Shredded coconut for garnish
How to Make a Non-Alcoholic Pina Colada

In a heavy saucepan, place chopped pineapple chunks and water and simmer until soft, about 10 minutes. Blend in a blender or food processor until smooth and set aside to let cool.
Whip whipping cream until soft peaks form, and then add the sugar. Continue to beat until hard peaks form. This takes approximately 7 minutes in total. If using a whisk by hand, this may take longer.
Gently fold in the cooled pineapple mixture to the whipping cream. Do not over-mix.
Fill a glass with milk to about 2/3 full. Gently spoon on the whipping cream mixture, sprinkle with some shredded coconut, and enjoy.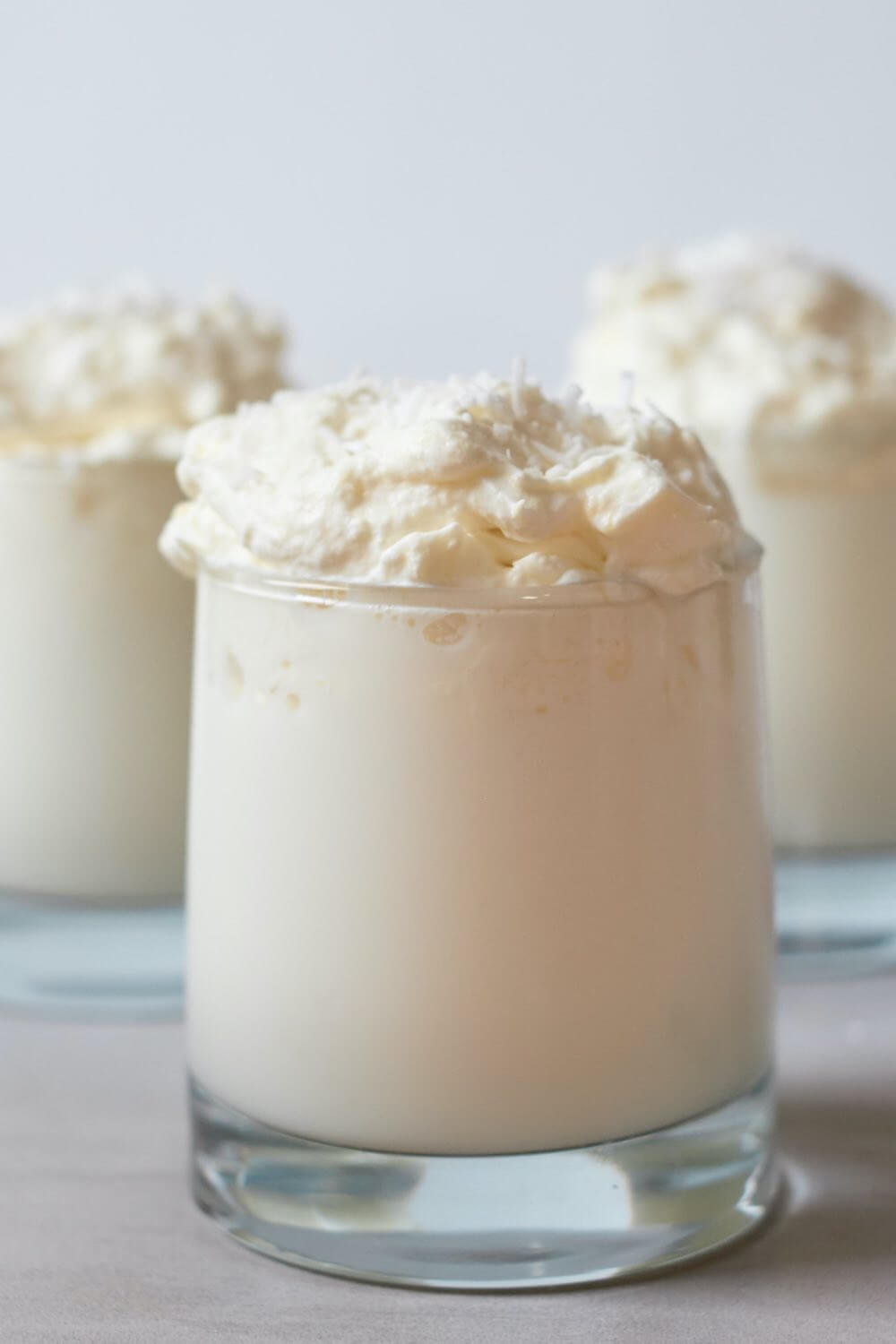 Pina Colada Mocktail Recipe Tips
In order to make the best virgin piña colada recipe, here are a few tips and notes for this virgin colada cocktail.
Frozen pineapple chunks or canned pineapple work for this; just make sure it is crushed pineapple. Even fresh pineapple chunks will do!
If you are trying to be super healthy, you can probably skip sugar added. The frozen pineapple chunks will be sweet enough, along with the whipped cream.
You might also enjoy trading the water for pineapple juice in this alcohol-free pina colada recipe. It might taste extra tropical and be absolutely delicious.
Although the official drink uses coconut milk or coconut cream, you will want whipping cream for this recipe to be more like a Dalgona-style virgin pina colada cocktail.
Add either a pineapple wedge, maraschino cherry, or even little cocktail umbrellas in your hurricane glass for a cute drink photo during your party or celebration.
This is specifically for a pina colada recipe without alcohol; however, if you want a traditional piña colada, you can always include a good rum to make alcoholic beverages too!
Adding ice cubes for those hot summer days in these blended drinks is also a great idea to keep cool.
Turn it into a non-alcoholic piña colada smoothie by mixing crushed ice, milk, and even coconut cream together.
If you want a more coconut flavor, try adding cream of coconut milk to your whipping cream for this virgin pina colada recipe.
Other Delicious Hawaiian Drinks
If you are having a Hawaiian-themed party, you will probably want to have a variety in your drinks aisle. Here are a few great ideas for you!
This Strawberry Pineapple Mojito recipe uses white rum and soda to create a delicious tropical drink all adults will love.
For another great drink for the whole family, try out this Shark Attack Punch. It offers both cocktail and mocktail versions, so everyone can try it!
Mermaid Mocktails are not only beautiful but delicious in every way possible. They will be a hit at your Hawaiian Luau party. The colors are quite stunning! Plus, they don't use any alcohol or soda, just pineapple juice, and Gatorade!
For another similar drink that has awesome colors, try this Lava Flow Drink too. It is another adult-only drink, but the kids can enjoy the Mermaid Mocktails if anything.
You might also enjoy a Mango Margarita. Don't worry; if you offer this drink, you can offer this Pineapple and Mango Mocktail for the kids who will be present, so everyone can have a mango drink they'll love.
Craving a lemonade? Try either a Pineapple Vodka Lemonade or this Mango Lemonade Recipe for a tropical lemonade drink you will love!
If you are feeling more smoothie-style drinks, this Mango Passion Fruit Wine Smoothie will satisfy that craving, or try a healthy Avocado Pineapple Smoothie too.
No matter what drinks you have at your Luau party, to dress up your drinks, add some pineapple wedges, maraschino cherries, or cocktail umbrellas!
Top Questions About Dalgona Drinks
Why is Dalgona coffee famous?
Dalgona coffee became a huge trend after it appeared on social media. People on TikTok quickly started posting videos on how to make it. It's all about the sugary whip on top that tastes a bit like coffee ice cream.
Can you use coconut milk instead of cream for pina coladas?
For this Dalgona-style pina colada, you'll want to stick with whipping cream to maintain the fluffy topping.
No Alcohol Piña Colada Recipe Wrap Up
In this pina colada recipe, no alcohol is used. However, it still is the perfect tropical treat for you. This blended drink has a nice pineapple taste the whole family will love.
Virgin piña coladas are so easy to make and are so tasty they might just become your new favorite drink!
Make this pina colada drink non-alcoholic for your next family-friendly party, and everyone will enjoy it!