Are you looking for the best places to shop in Hawaii with kids? Keep scrolling for my list of the best toy stores in Hawaii to find the coolest Hawaii souvenirs!
This list of the best toy stores in Hawaii contains affiliate links which means if you purchase something from one of my affiliate links, I may earn a small commission that goes back into maintaining this blog.
Are you traveling to Hawaii with your children and want to grab a few fun Hawaiian toys?
If you are, then this guide is for you! We've compiled a list of all the best toy stores in Hawaii so that when it comes time to do some shopping, you know exactly where to go. You can thank us later!
You can have some fun on vacation by visiting these shops that are filled with unique, one-of-a-kind items that kids of all ages will enjoy.
These places are perfect for any family who wants their trip full of memories they won't forget. So get ready for an unforgettable experience when you visit these amazing toy stores in Hawaii!
Don't worry about doing all the research; it is already done for you!
Keep scrolling to see where to buy the cutest toys in Hawaii!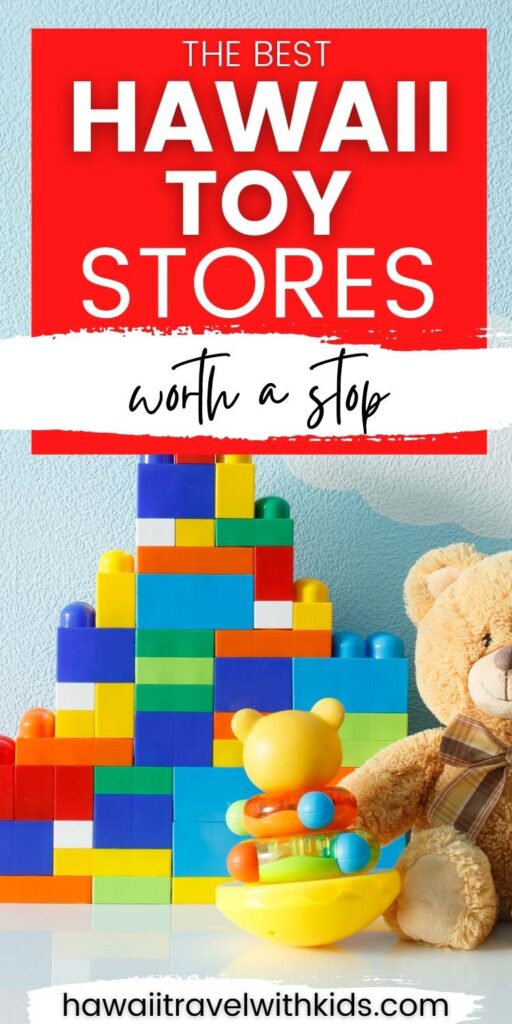 13 Best Toy Stores in Hawaii
Don't worry about trying to find a toy store while you are vacationing in Hawaii; here are 14 of the best toy stores all over the islands!
While you can find plenty of Walmart and Target stores in Hawaii, these Hawaii toy stores are definitely worth a visit!
Thinker Toys Hawaii
Thinker Toys in Hawaii is an amazing store created just for kids! This store focuses on toys that help children use their imagination. You will find Thinker Toys in Honolulu and Kapolei.
This store has toys for kids from birth up to 6 years old. You won't find this store on the mainland, so it is a great place to find new toys that your children don't already have. Plus, there are Hawaii-themed toys as well!
While the Thinker Toys Ala Moana closed down, you can find Thinker Toys in Kahala Mall.
Thinker Things
Thinker Things is a sister store to Thinker Toys. While Thinker Toys has products for younger kids, Thinker Things is for older kids and teenagers. Here you will find toys, puzzles, STEM products, and so much more for 8 years old up to 88 years old! Again, the focus is on educational toys that make you use your mind.
You'll find Thinker Things in Honolulu and Aiea. At Thinker Things, you will find some awesome outdoor games too, which would be great to play on the beach during your family vacation. At both Thinker Toys and the sister store Thinker Things, you will find plenty of fun toys and stuff to do during your stay in Hawaii!
The Lego Store Hawaii
Did you know there is a LEGO store in Hawaii?
If you plan to do some shopping at the Ala Moana Center, then you might as well stop by the Lego Store inside the mall. Your kids will love a break from traditional shopping to create their own Legos and have some fun!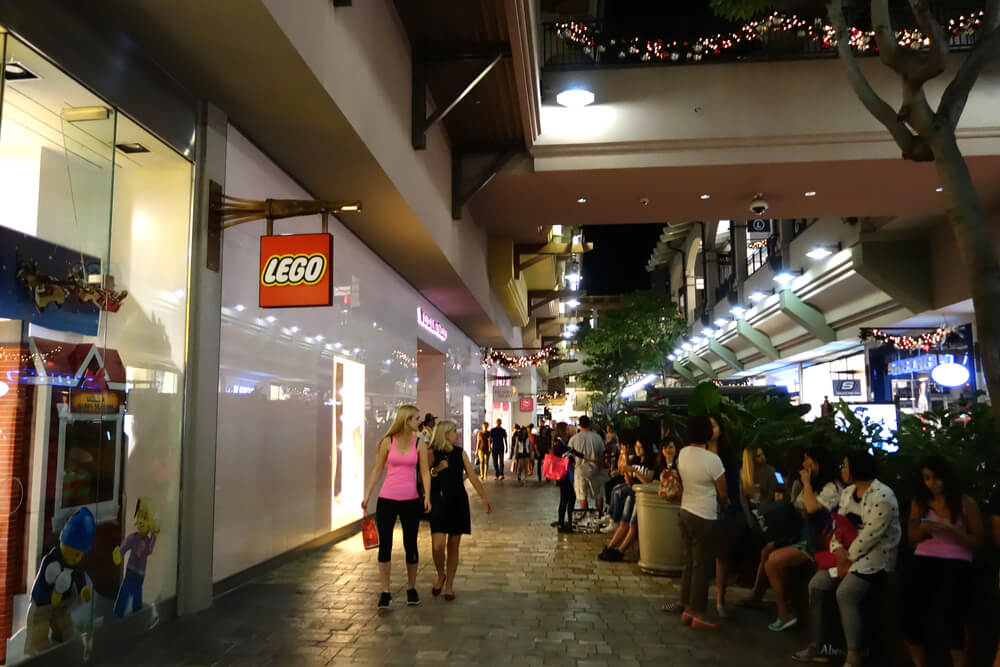 Who knows, you might find some Hawaiian-style Legos to add to your collection!
Island Friends
Nani Makana is a store in Honolulu that sells Island Friends, which your daughters will absolutely love. These are just some of the cutest dolls I have ever seen. Island Friends are Hawaiian dolls, each with their own name and everything.
Each doll wears a different Hawaiian outfit or swimsuit and gives facts about Hawaii, its name, and its location. There are a few different girl dolls and a boy doll too! They even have a mom-and-daughter combo so you can enjoy some quality time and priceless memories playing with your daughter. 
Grab some of these dolls at Nani Makana in this Honolulu toy store during your vacation!
Squishable
Another one of the fun toy stores on Oahu located in the Ala Moana Center that sells some pretty cute toys is Squishable! They're fluffy plush toys. This company has a toy for anyone and everyone! Anyone would love one of these toys, from cute succulents to animals to even food!
At Squishable in Hawaii, you will find their Kawaii line. This line has squishables that are dedicated to Hawaii! You will find some pretty cute ocean animals and seafood in this line too! Grab one or two for your kids as a cute Hawaii souvenir! 
Maui Toy Works
Maui Toy Works is a toy store with toys that revolve specifically around Hawaii! Here are just a few of the many Hawaiian toys you will see at this cute toy store in Hawaii:
Go Fish Hawaii
Aloha Soft Doll
Goodnight Goodnight Lahaina Town
Maui Volcano Lamp
These toys, books, and puzzles are some that you might already be familiar with, but with a cute Hawaiian twist. This is one of the best toy stores in Hawaii, so be sure to check it out!
Your kids will love all the unique toys you'll find here. There are two Maui Toy Works in Maui for you to visit. 
Kira Kids
Kira Kids is another Honolulu toy store worth stopping at during your vacation. This store has everything you can think of! Not only does it sell a huge variety of toys, but it also has clothes and accessories for babies and kids.
This shop is located at the Royal Hawaiian Center and is open every day. There is a shop in Kailua and San Francisco as well. This brand teaches children to be in charge of their lives and their future with cool toys, which is great.
The toys you will find at Kira Kids will empower your children, making it another one of the best toy stores Honolulu has to offer!
Bubbah's Toy Box
Bubbah's Toy Box is a little bit different from the rest of the toy stores in Hawaii you'll find. This one is also a game store too! Here you will find many things, including:
Sport cards
Hot wheels
Comics
And other collectibles
This store is probably best for older children to enjoy, and perhaps the adults too! After you shop, you can enjoy the gaming center too! Your teens will enjoy spending time with you while you shop for collectibles and play some games as well.
Aloha Kona Kids
Aloha Kona Kids is another toy store that does it all. This store is located in Kona on the Big Island. This store was created by a family that had eight kids.
They wanted to have a baby store that had everything available that was convenient and budget-friendly for both visitors and locals.
Not only can you find toys and other kid products here, but they also rent out their products. We all know the struggle of needing a crib or rocking chair during your Hawaii vacation; this shop helps you rent baby products with ease!
This small business is one you'll want to stop at for both renting children's items and grabbing some goodies too.
Keiki Kaukau
If you are looking for a totally Hawaiian toy store to visit, check out Keiki Kaukau. This is a family-run business built by a Hawaiian mom and is one of the best toy stores Oahu has to offer. She started this kid shop to create quality toys representing this Aloha State.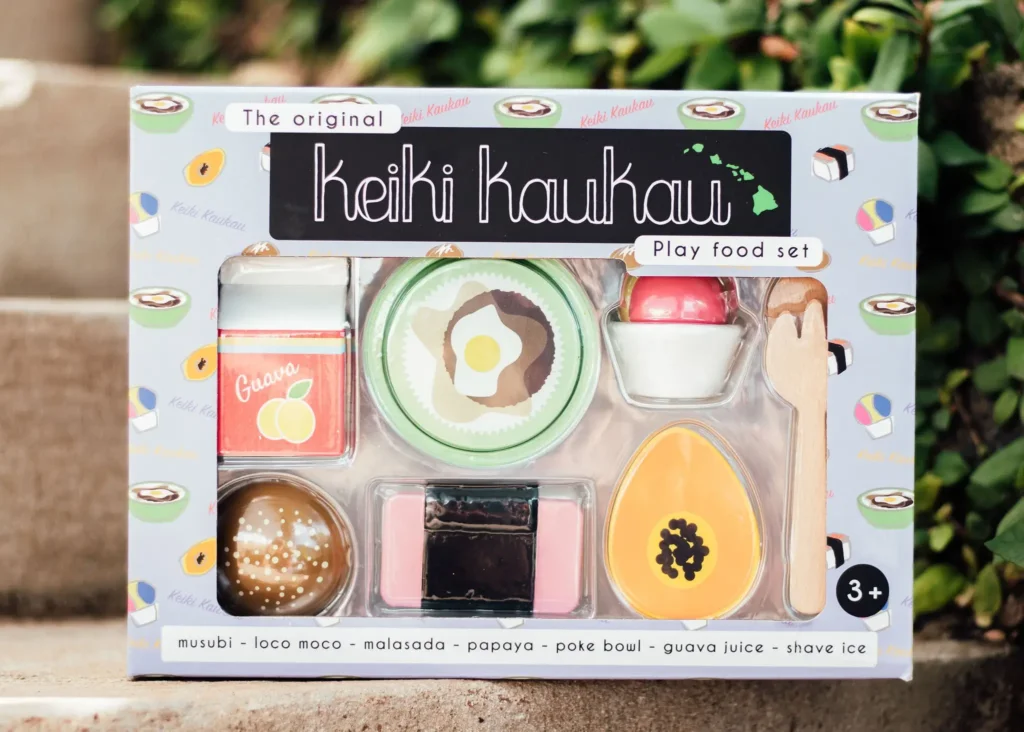 Keiki Kaukau means "kid food" in local lingo, so you will find many food-based toys to enjoy. This shop also partnered with the Hawaii Food Bank to donate meals for every food set that is sold. You are truly giving back when you buy from this company in more ways than one!
You'll find wooden blocks to build Alohaland, many Hawaiian-themed books, food puzzles, and so much more. Grab one of these toys for the perfect souvenir your kid will enjoy playing with even after your vacation! Keiki Kaukau is located in Honolulu. 
This is one of my FAVORITE brands, and you can read my full review HERE.
Growing Keiki
At the Growing Keiki, you will mainly find baby items, including many clothing items. This is mainly what the store was created for. However, there are some of the cutest Hawaii toys inside that I had to include on the list.
This store is located in Haleiwa and is a small shop, so it won't take long to visit. You'll find some of the cutest Hawaiian-style clothes for your little ones. But you will also find some cute handmade items such as ocean fish stuffed animals, books about Hawaii, teethers, and more.
Everything you'll find here is from small Hawaiian businesses as well! It is one of the best baby stores in Hawaii to enjoy.
From the Heart
From the Heart is another toy and collectible store in Hawaii. This one is in Honolulu in the City Center Shopping Center. You'll find anything from Pokémon cards to Marvel items, Funko POPS, and so much more. 
Toys Express
Toys Express is another shop in Ala Moana Center where you will find nothing but toys. This store is part of Go! Toys, and Calendars.
You'll find many of these shops all over the islands, and they make for a great quick stop if you need to grab a toy quickly to calm a troubled child.
Toy Stores in Hawaii FAQs
Where can I find made-in-Hawaii toys?
Many small local shops sell toys that are made in Hawaii! You will find some at Nani Makana, Keiki Kaukau, Aloha Kona Kids, and many others. 
What are the best Hawaii souvenirs for kids? 
While it may seem fun to you, kids might not care for a keychain, necklace, or a pareo. Some of the best souvenirs for kids are Hawaiian-themed toys that they can play with! Check out many of the shops above to find a Hawaiian toy each of your children will love! 
Is there a Disney store in Hawaii?
Unfortunately, the Disney Store at Ala Moana Center on Oahu closed down in 2021. You can still find Disney items at Aulani Resort on Oahu.
Is Toys R Us coming back to Hawaii?
Yes! You can find Toys R Us Hawaii in Honolulu, HI, inside Macy's. They reopened this toy store in Oahu back in 2022.
Toys in Hawaii Wrap Up
Be sure to check out these toy stores in Hawaii during your next vacation with your family!
Whether you are looking for a highly sought-after collectible or a cute Hawaiian-style souvenir toy for your kids, you'll find a huge variety of toy stores all over the islands of Hawaii to find exactly what you are looking for!